Looking for an all-around, easy-to-shoot handgun? It's hard to go wrong with a polymer-framed striker-fired weapon—like the newest generation of Heckler & Koch's iconic polymer striker-fired guns, the VP9.
Striker-fired handguns are renowned for their low felt recoil and muzzle rise, as well as a consistent trigger pull, and are favored by fans for just how easy they are to shoot.
Heckler & Koch aren't new to the striker-fired polymer handgun scene by a long shot—they first introduced their trailblazing VP70 in 1970, more than a decade before the Glock 17 hit the market. Their legacy as an early creator of this type of handgun definitely shows.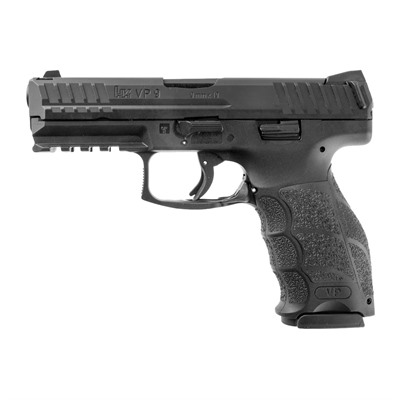 HK VP9
Pros
Customizable grips
Renowned reliability and accuracy
Three-dot night sights standard
Incredibly durable
Cons
Expensive for its class
15+1 capacity is on the low side compared to class
The VP9 follows the legacy of the original Volkpitsole with several thoughtful features that make this handgun friendly for just about anyone who cares to pick it up and give it a try.
We're going to take a closer look at just what makes the VP9 special, discuss how the reliability holds up, and cover some popular upgrades. By the end of this, you'll see just why the HK VP9 might be your new favorite handgun.
Fit and Finish
One of the biggest highlights of the VP9 is its easy customizability. This handgun was intended to be used by a wide range of people (with the name of the gun even translating to "People's Pistol"), and HK has put a lot of thought into making this possible.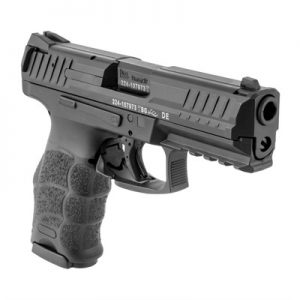 The VP9 is practically dimensionally identical to the Glock 17, which makes it a full-sized duty gun. If you're looking for a concealed carry weapon, the HK VP9 might be a little on the large side.
Heckler & Koch went with a 4.1 inch-long barrel for the VP9. It's cold hammer-forged with polygonal rifling for great accuracy and consistency.
It features three-dot steel sights, which dovetail into the slide. The rear sights are a no-snag model—convenient for those looking at the VP9 for a duty weapon. The sights also feature luminescent dots, which glow a green-tinted white in darkness and are fairly bright.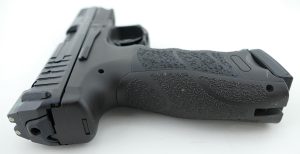 For some shooters, the three-dot sight may be a little on the bright side while shooting, but they stand up well to low-light situations.
When it comes to charging the VP9, you'll have a lot of help. The slide features wide, flat-bottomed serrations that take up a good portion of the front and rear of the slide. In addition, you also can use the charging supports—two polymer grips that dovetail into the sides of the slide at the rear.
These are removable but can be helpful while wearing gloves or for shooters lacking hand strength. From the side, the charging supports are hardly noticeable but they do give the VP9 a fat profile from the rear.
One of the more popular features of the VP9–and indeed one of the features that makes this pistol user-friendly for so many users—are the interchangeable backstraps and side panel grip inserts.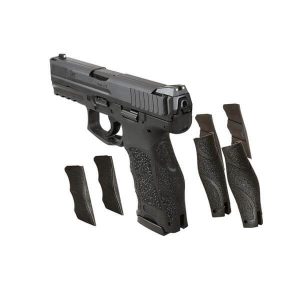 The VP9 comes with three sizes of grip inserts, which also have spaces provided in the case's foam cutouts. The backstraps and side panels are easy enough to remove and replace, simply by removing the roll pin—or as HK engineers call it, a clamping sleeve.
Best of all?
There are 27 unique grip profiles you can create by combining these inserts since they're designed to be mixed and matched by size. There are no sharp edges between pieces when using different sizes.
The VP9 is also a very ambidextrous handgun, featuring a slide release and paddle-style magazine release on that can be operated from either side of the gun.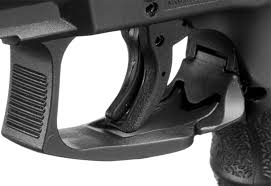 Finally, like every modern duty pistol, the VP9 features a forward Picatinny accessory rail. HK rigorously designed and tested the mounting rail until they were satisfied that it was reliable with any light or laser weighing up to 5.6 ounces—which covers just about every option you'd consider.
Trigger
Heckler & Koch put a lot of work into creating one of the best striker-fired triggers on the market. It's a single-action trigger, which is a surprising feature on a duty weapon when you consider the lengths law enforcement goes into preventing officer-caused negligent discharges.
Removing the slide reveals a sear release catch at the rear. Its sharp corner cocks the striker as the slide goes into battery, and then the catch drops out of the way with the trigger pull to release the striker.
The VP9's single-action trigger does have a longer pull than others out there, but it does have a very smooth press and a short reset. The trigger pull is touted to be 5.4 pounds.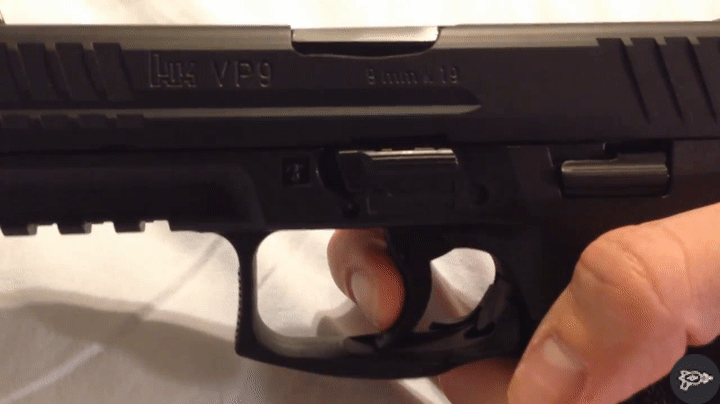 Some shooters notice that the trigger reset pushes their finger back past the reset point, which can make quick follow-up shots a challenge since the slack must be taken up again after each shot.
One of the two safeties on the VP9 is located on the trigger as well. There's a tab on the trigger face that must be depressed fully before the trigger can be pulled.
Accuracy and Recoil
One of the biggest appeals of a striker-fired handgun is the low felt recoil and muzzle rise—giving shooters an easier time making accurate and quick follow-up shots.
The VP9 features a beavertail-like tang that encourages shooters to take a high grip close to the bore's centerline axis, which helps manage the recoil better.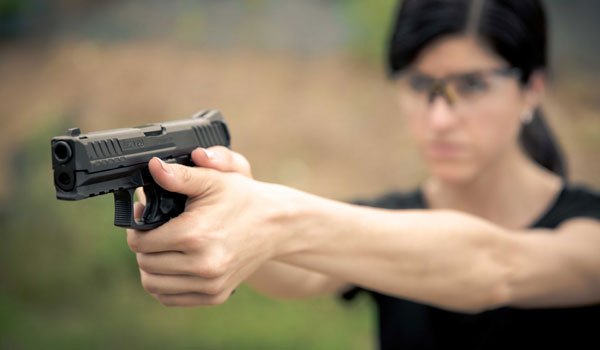 Many shooters report that the recoil feels like what you'd expect from a 9mm, and standard pressure loads were easy to handle. The VP9 is a great choice for shooters looking to break into centerfire cartridges—especially since the grip can easily be customized for the best fit.
The VP9 performs pretty well anywhere between the 7-yard and 50-yard range, with many reviewers reporting their satisfaction at the accuracy of the handgun. The polygonal rifling and cold hammer-forged barrel should give the accuracy a pretty good boost over similar handguns.
Reliability
The VP9 spent 4 years in production prior to its 2014 debut, and it shows. Heckler & Koch extensively tested their test guns, putting tens of thousands of rounds through them to ensure that the VP9 will stand up to any amount of use. HK advertises an expected service life of more than 10,000 rounds for the VP9.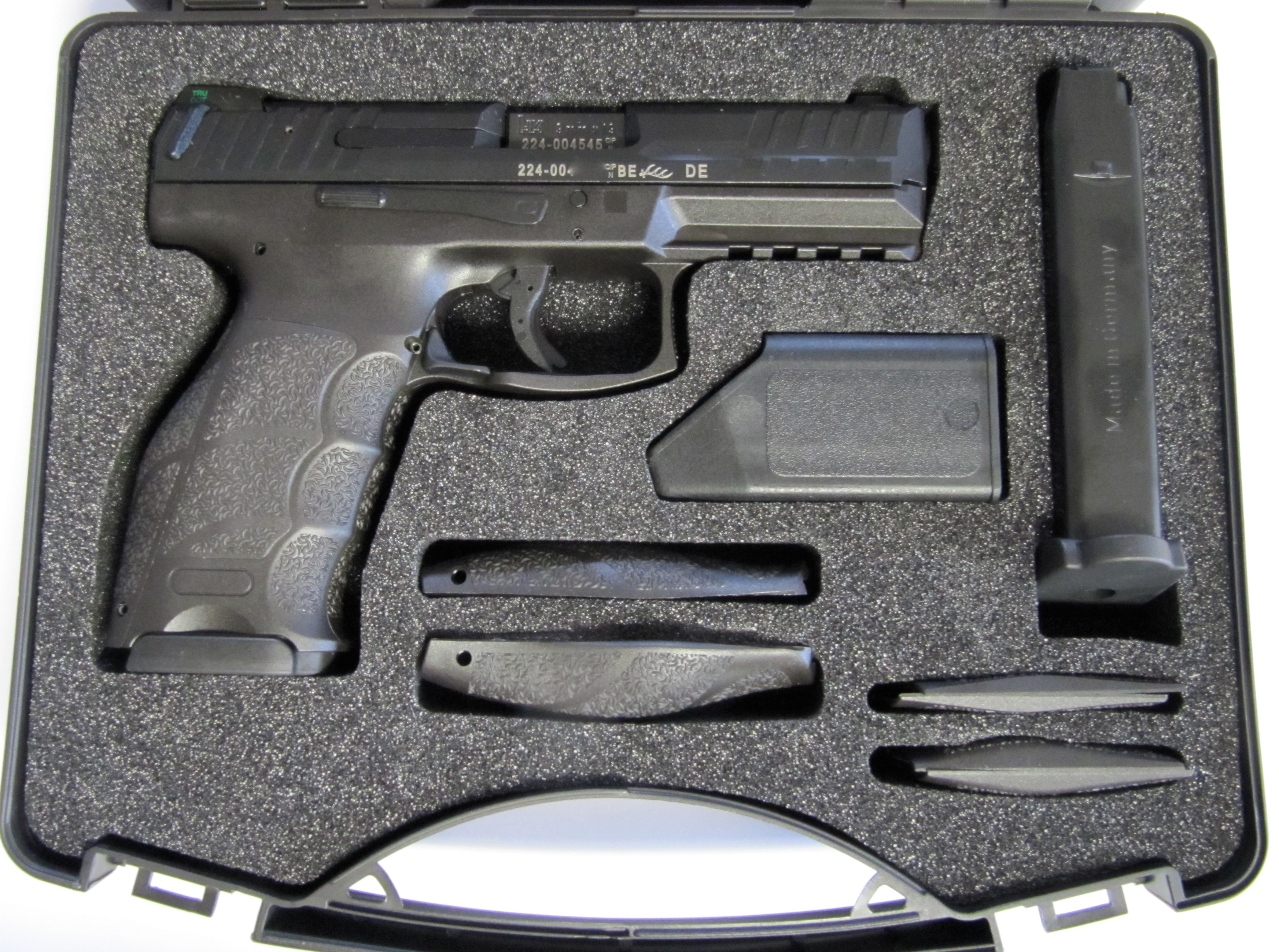 While it's a little hard to test out that claim, the VP9 does show remarkable reliability at the range. A variety of ammo types and brands cycle properly and fire consistently in the VP9. Most reviewers report no problems firing anywhere from 1,000 to 4,000 rounds through their VP9s.
Despite the newness of the design, it seems that Heckler & Koch's reputation for reliability continues with the VP9.
Magazines and Mag Release
The VP9 accepts the same magazines as the HK P30, which is great news for shooters already using those magazines. The magazines are made by Heckler & Koch, unlike other manufacturers who outsource their magazine manufacturing.
The VP9/P30 mags feature metal construction with a polymer base plate, which lets them stand up to bumps and drops quite well. The VP9 comes with two magazines, which feature numbered index holes on the rear.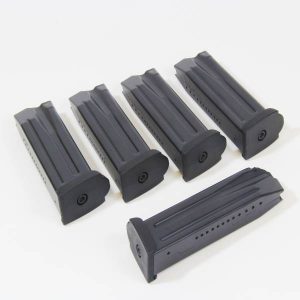 The VP9 carries 15 rounds in the magazine plus 1 in the chamber—which is a little below capacity when compared to some of the competition, many of which hold 17 or 18 rounds. The reason for this low capacity, according to HK, is because the lower capacity extends the lifespan of the magazine by exerting less pressure on the internal springs.
The paddle-style magazine release is one of the more controversial features of the VP9—some shooters love it, while others wish that HK had gone with an American-style button release. It's worth noting that the VP9-B variant is available and features a button mag release.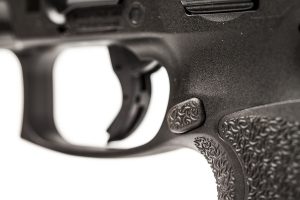 On variants of the VP9 that feature the paddle-style magazine release, the paddle is located on the bottom of the trigger guard. This can mean shooters need to modify their technique to reload, but quite a few shooters report that they quickly got the hang of using the paddle release.
Maintenance & Disassembly
The VP9's disassembly is about as simple as it can get. It easily breaks down into 4 major components—the slide, barrel, frame, and recoil spring—and can be broken down further by those who are more adept at disassembly.
With the takedown lever, it's a breeze to remove and replace the slide. Many shooters also love that you don't need to pull the trigger during disassembly.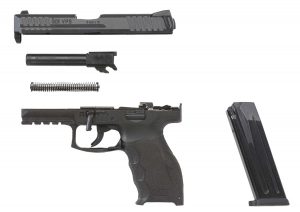 Keeping your VP9 shooting is easy, too. Heckler & Koch offer exceptional repairs and customer service, so getting repairs is pretty painless. If your VP9 is under warranty, you can contact HK's customer service department, and they'll arrange to ship to one of their repair centers, as well as return your gun to you fairly quickly.
Specs at a Glance:
Type: Striker-fired semiauto

Caliber: 9mm Luger

Capacity: 15 + 1

Weight: 26.6 ounces

Barrel: 4.1 inches

Length/Height/Width: 7.3/5.4/1.3 inches

Construction: Polymer frame with a steel slide

Trigger: Single action

Safeties: Firing pin and trigger lever
Bang for Your Buck
Heckler & Koch are known for high-quality weapons, but the VP9 is surprisingly competitively priced. It can be found from anywhere around $630 to $770, depending on the finish, upgraded tritium sights, and variant type.
Considering its reliability, excellent warranty, and overall functionality, the VP9 is a great value when it comes to striker-fired weapons.
It's been compared to a gussied up version of the Walther PPQ–to which it does share a striking resemblance–but the VP9 goes above and beyond when it comes to durability and features.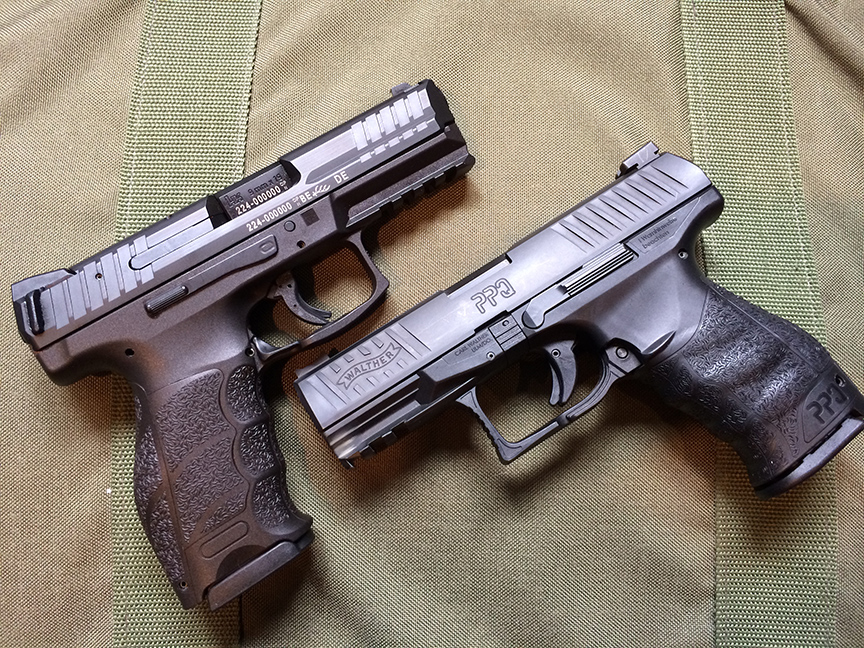 It can be a little more pricey than similar guns on the market, like the PPQ, but you know you're getting legendary design, incredible accuracy, and reliability that can't be beaten by anything else in its class.
Upgrades and Holsters
Sold on the VP9?
Great!
You'll want some great upgrades to get the most out of your new VP9, whether you're carrying it as a duty weapon or just keeping it around the house for self-defense.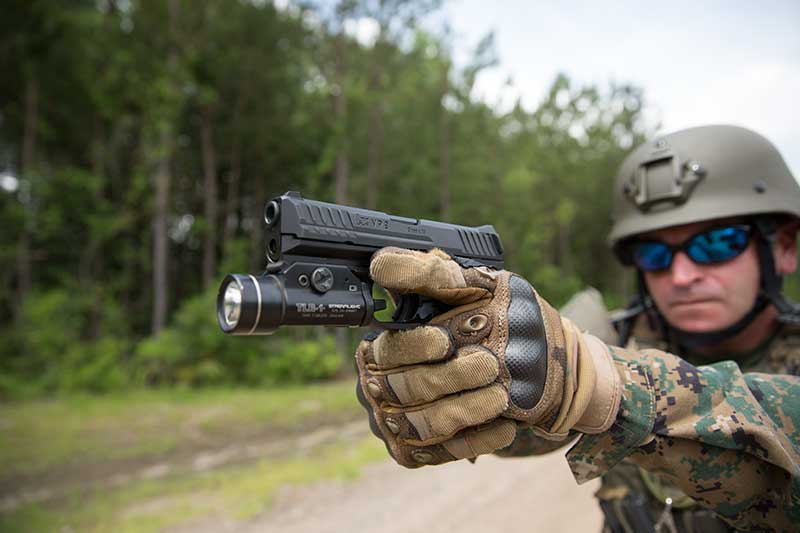 Lights
If you're planning to use your VP9 for anything that may require low-light situations (such as home defense or carrying it as a duty weapon), you'll want a light.
As mentioned above, the VP9's accessory rail has been tested for reliability with just about every accessory you could want, weighing under 5.6 ounces. This includes most lights and lasers.
You may already have a favorite pistol light, but if you don't, here's some of ours.
SureFire X300 Ultra Series LED – $232
Clocking in at 4 ounces, the SureFire X300U packs a 600 lumen, energy efficient LED into an aerospace aluminum body with a universal rail mount.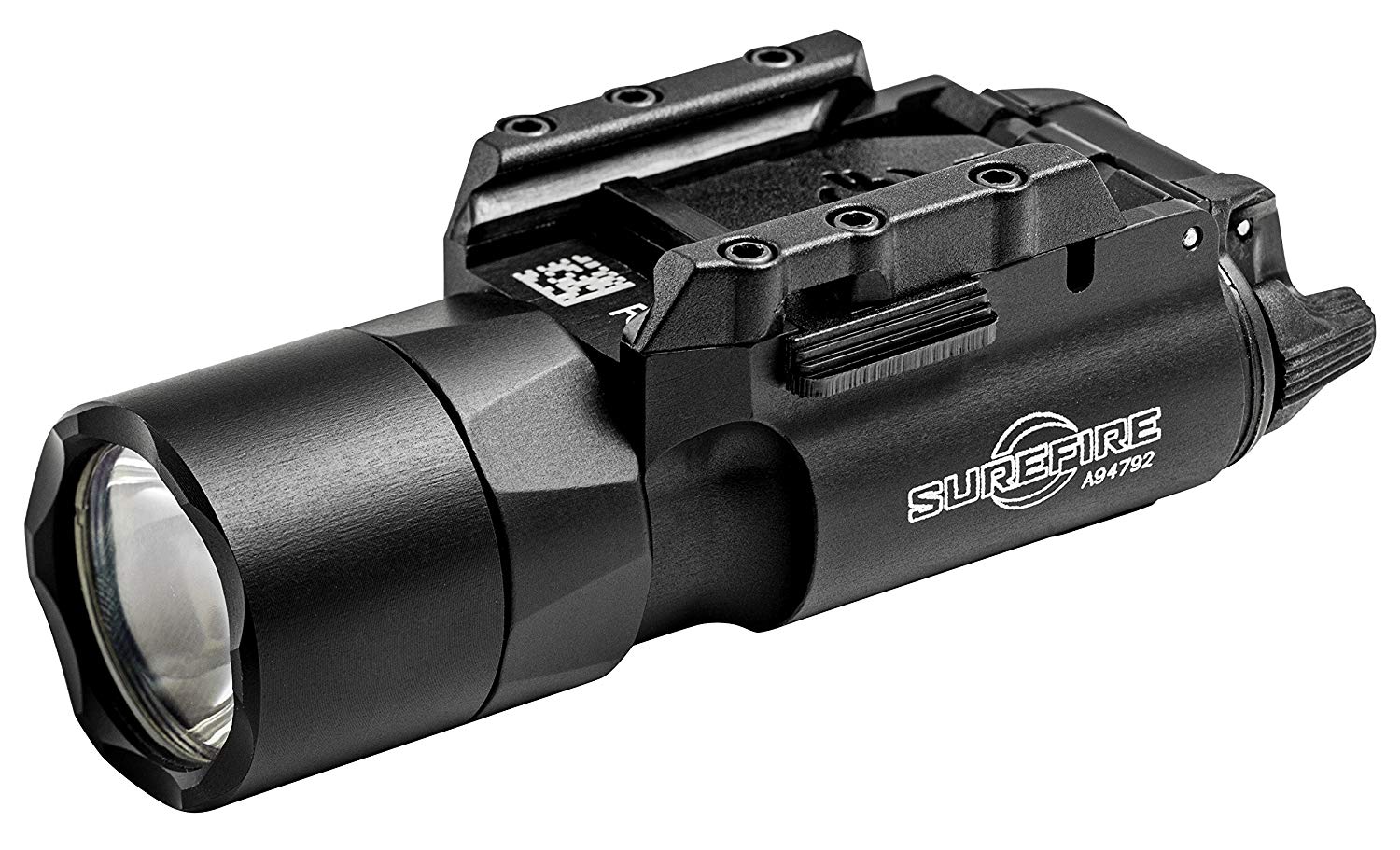 Surefire X300 Ultra LED WeaponLight
Pros
Can be used on both handguns and long guns
600 lumens in the yellow-green light spectrum
Controls located at the back of the light
Cons
Large size compared to other lights on the market
Expensive
It's a favorite around here for the precision TIR lens, which creates a clear white beam with just enough surround light to make your target clear, as well as the ambidextrous push-button settings. It's also weatherproof, which makes it a good all-around light.
Streamlight TLR-7 – $104
If you're looking for a compact light, it's hard to beat the Streamlight TLR-7. This light weighs 2.4 ounces and puts out 500 lumens. It's got a low-profile, ambidextrous on/off switch and a safety-off feature that prevents it from accidentally being turned on.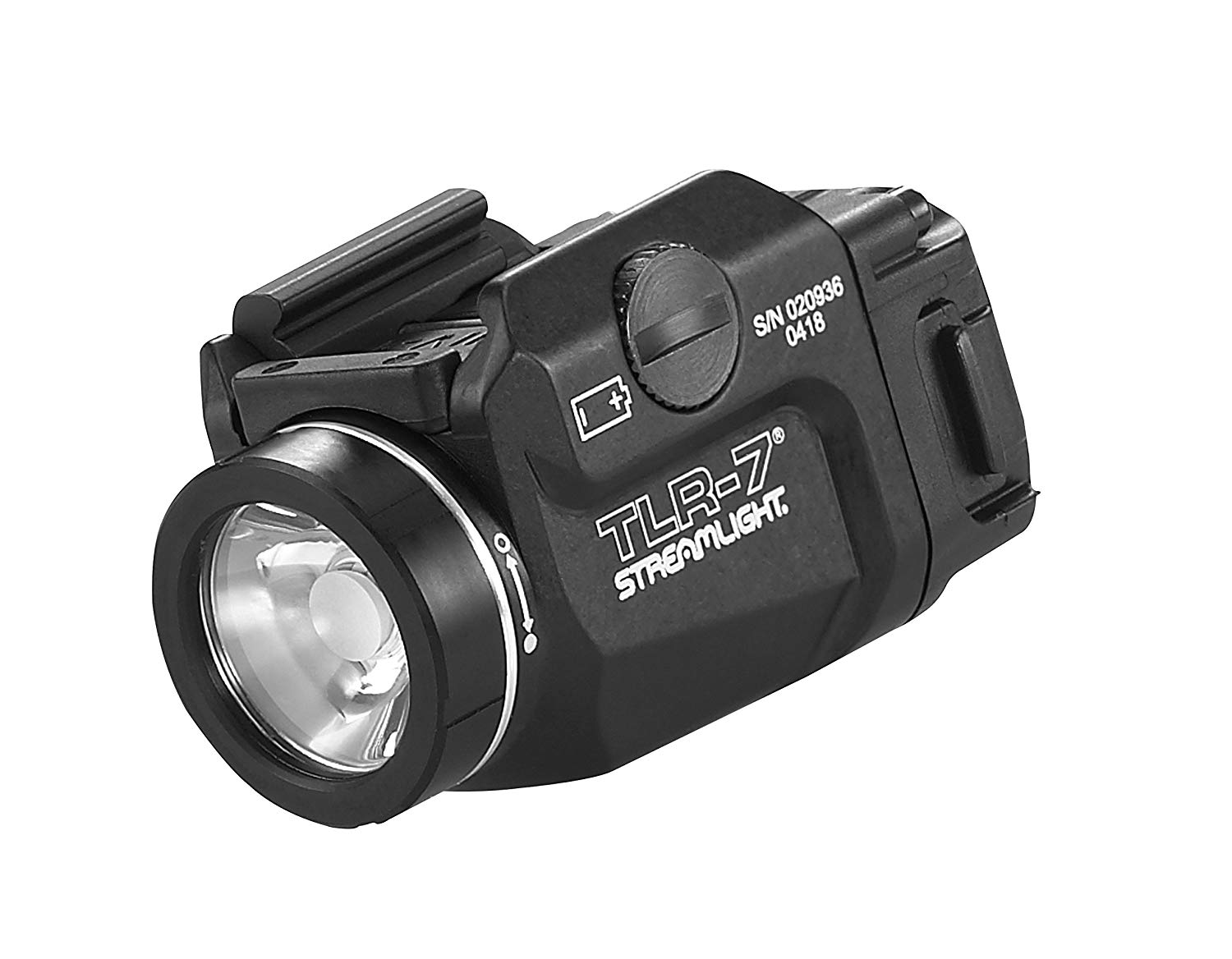 Streamlight TLR-7
Pros
2.4 ounces
500 lumens
Ambidextrous on/off switch
Cons
Controls can be difficult to use
The TLR-7 is a reliable, quality option for shooters on a budget.
Streamlight TLR-2 HL – $289
If you also want a laser with your light, the Streamlight TLR-2 HL is the way to go. You'll get an 800-lumen wide beam of white light, as well as a high-powered visible red laser.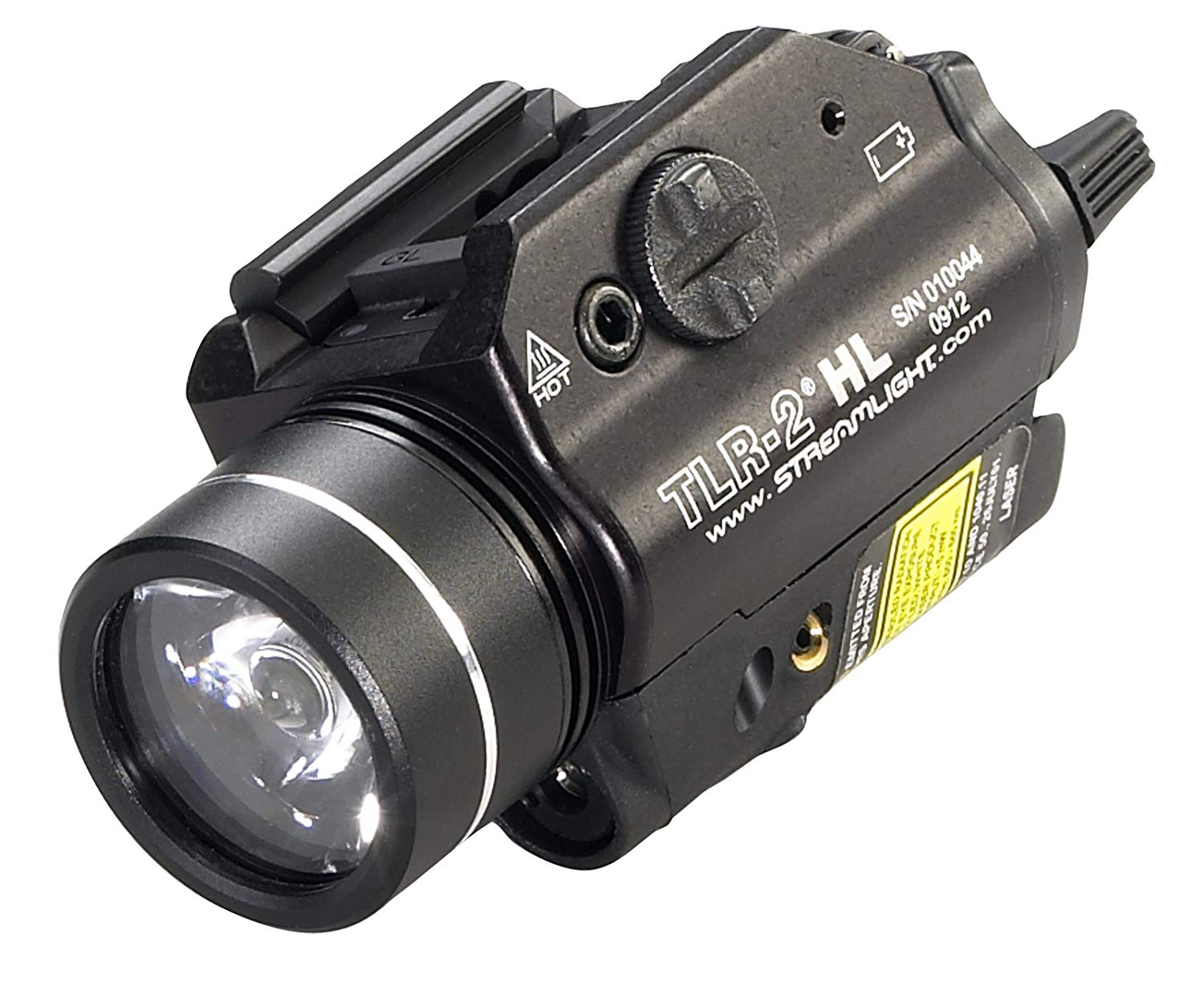 Streamlight TLR-2 HL
Pros
4.8 ounce weight
800 lumens
Visible red laser
Cons
Zeroing the laser can be a challenge on the VP9
With an energy efficient LED, you'll also have a 1.25 hour continuous run time when operating both the laser and the light. This light weighs 4.8 ounces which, while our heaviest pick, is still comfortably within HK's recommended weight limit for the VP9.
Night Sights
The VP9 already comes with night sights equipped, but if you don't like the luminescent three-dot sight, there's still plenty of options.
Truglo TFX Tritium and Fiber-Optic Xtreme Handgun Sights – $108
There's a reason tritium sights are the gold-standard for night sights, and the Truglo TFX sights are fantastic. They don't require batteries or light exposure to glow, so you don't have to worry about powering your sights.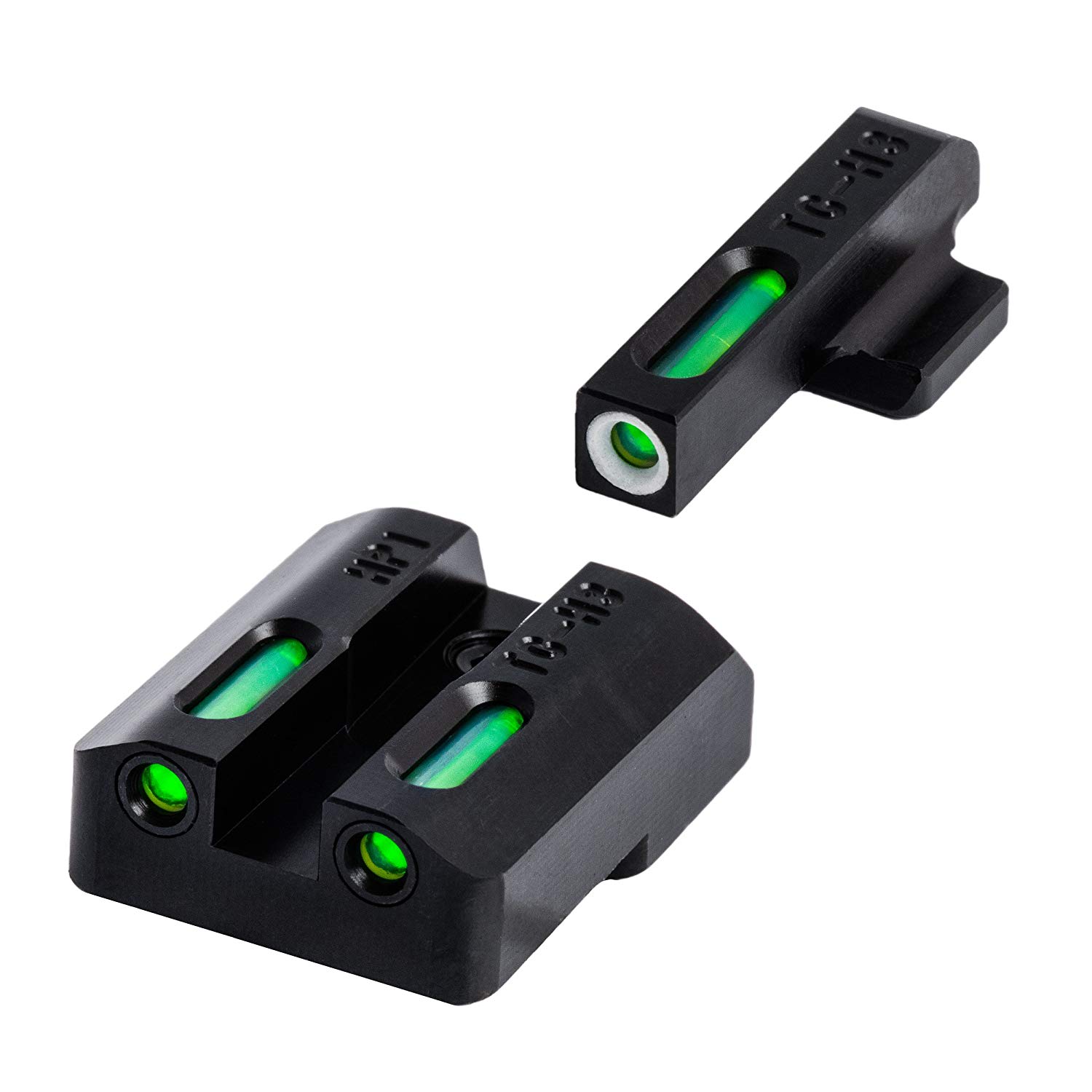 Truglo TFX Tritium and Fiber-Optic Xtreme Handgun Sights
Pros
Fiber optic and tritium powered
Compact, snag-free design
Cons
Tritium loses brightness over time, and the entire unit will need to be replaced
Truglo TFX sights are rugged and designed for unmatched visibility—day and night. They're also a compact, snag-free design to avoid damage and catching when you need your gun free.
Trijicon H&K HD Night Sight Set – $110 
Trijicon has a reputation for being the very best when things get the very worst. This company's products are trusted by law enforcement and military personnel, and their sights fall right in line with that legacy.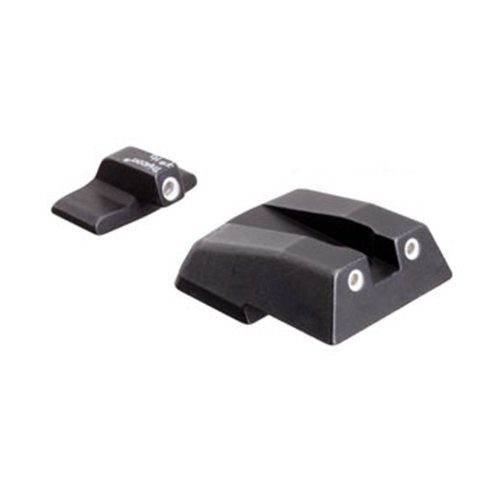 Trijicon H&K HD Night Sight Set
Pros
Thin front sight and large dot for easy target acquisition
Very durable and reliable
Cons
Installing the sights can be slightly challenging
The Trijicon night sights are a pretty standard design—a front blade sight and a U-shaped rear sight—but it's the details that matter. With a thinner front sight, your field of vision is freed up, and a large front dot makes target acquisition quick and easy.
These sights rely on tritium set in an aluminum casing and topped off with a sapphire cap for exceptional light distribution and durability.
XS Sight Systems HK-0014S-5 – $128 
If you're looking for something a little different, we can't recommend the XS night sights enough. Rather than lining up a three-dot sight, XS sights use a larger front dot that lets you pick up your target fast—all you have to do is "dot the i."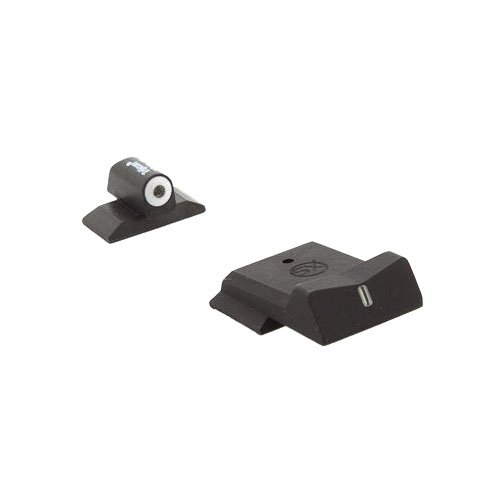 XS Sight Systems HK-0014S-5
Pros
Unique Big Dot sights make for quick aiming
Tritium markings on the front and rear sight for a clear picture in low light
Cons
Fitting these sights to the VP9 takes some work
These sights also use tritium to mark the front dot and vertical bar on the rear sight. XS also highlights the tritium markings with a highly visible white outline, so you won't have a problem accurately aiming your handgun in even the lowest light situations.
Holsters
When a completely new model of handgun hits the market, it can be a challenge to find a great-fitting and high-quality holster right off the bat. Fortunately, the VP9's popularity means that you shouldn't have any problems finding a holster that's just right for you and your VP9.
HK also says that the VP9 should fit many P30 holsters, but not every option is going to be a perfect fit. If you already own a P30 and your VP9 fits, then great! If not, don't worry.
Here are a few we'd choose for ourselves.
CrossBreed Holsters SuperTuck Deluxe – $79 
If you're looking to holster your VP9 for concealed carry, the SuperTuck Deluxe from CBH is a great way to do it. This IWB holster is made of cowhide leather and molded Kydex. It's available in left- and right-handed orientations.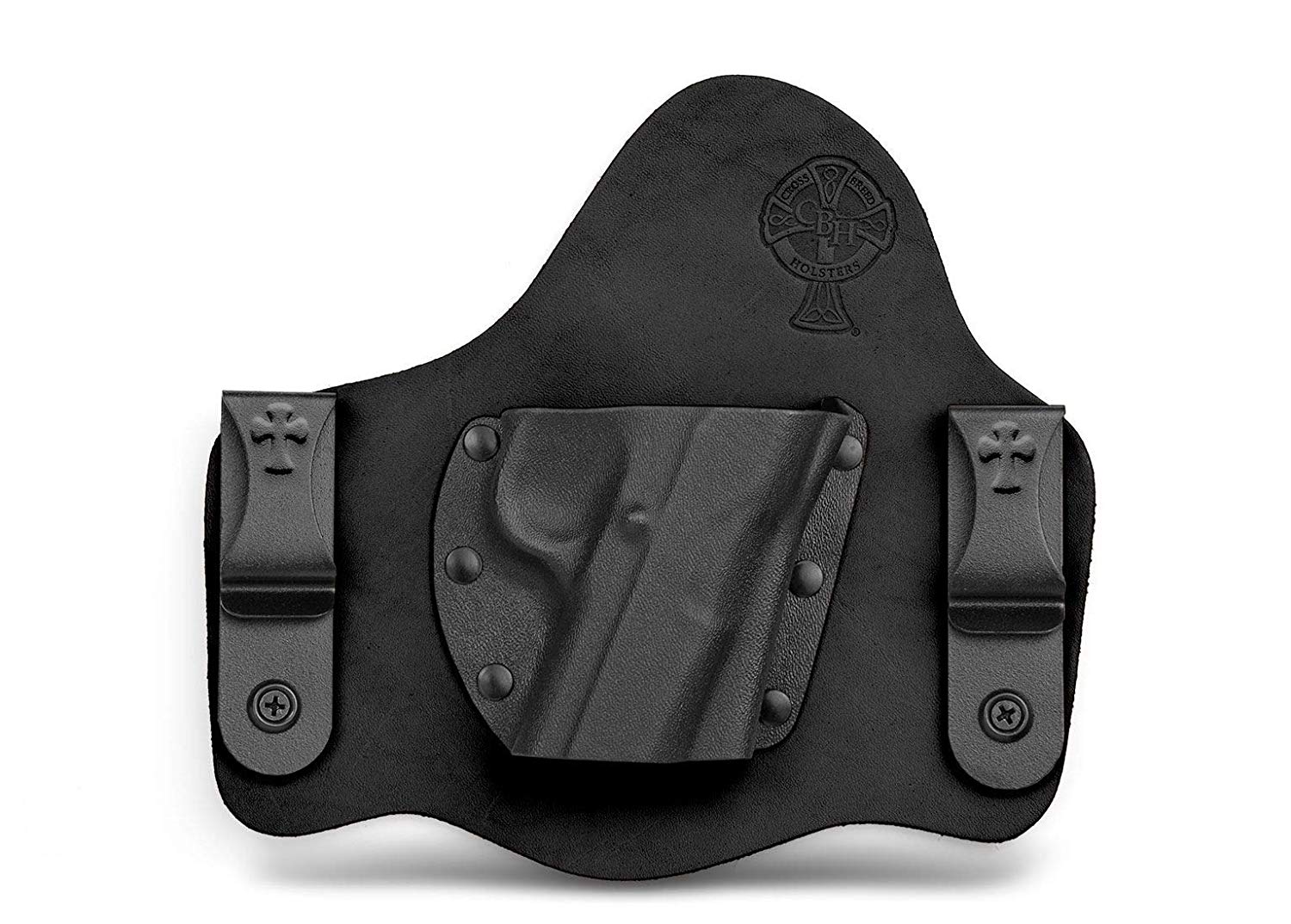 CrossBreed Holsters SuperTuck Deluxe
Pros
Cowhide and Kydex construction for durability and comfort
Firm fit without release buttons
Cons
Can be a very tight fit at first.
We recommend the combat-cut style if you like a full grip when you draw.
Safariland 7360 7TS ALS/SLS Level-III Duty Holster – $118 
If you're looking for an OWB holster, Safariland is a great choice. Their 7360 7TS duty holster is designed to fit the VP9 specifically, and this holster features an automatic locking system and a self-locking system with a rotating hood.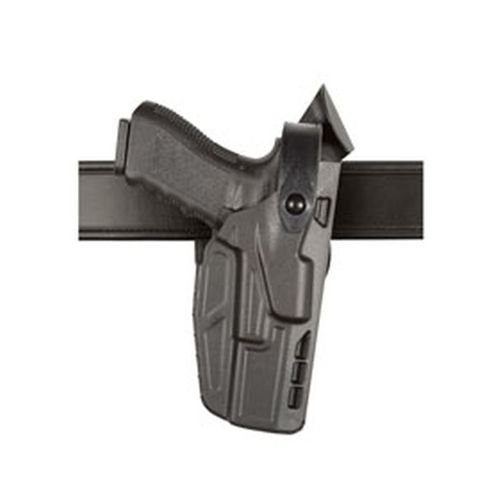 Safariland 7360 7TS ALS/SLS Level-III Duty Holster
Pros
Self-Locking and Auto-Locking safety systems
Non-abrasive nylon construction
Cons
You need to find the right holster for your unique build since there isn't much flexibility
We love its simple, straightforward design, and the fact that you can find a version to fit just about every pistol, hand, and flashlight combination.
Concealment Express IWB Kydex Holster – $35 
Another great option for an IWB holster is the Kydex holster from Concealment Express. If you're on a budget, Concealment Express has your back with a high-quality holster that's available for left- and right-handed shooters.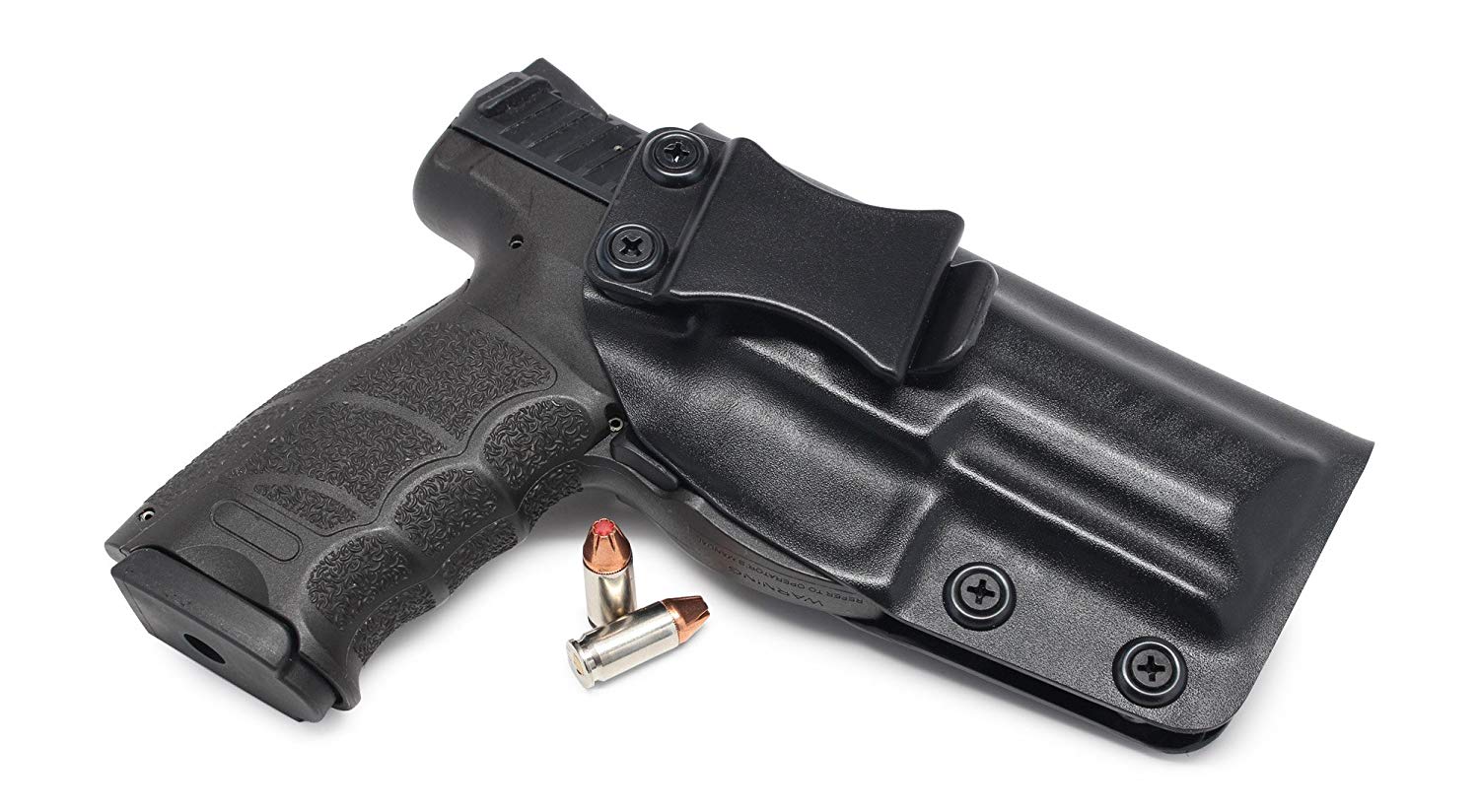 Concealment Express IWB Kydex Holster
Pros
Affordable
Posi 'Click' Audible Retention Lock System
Sturdy Kydex construction
Cons
Limited options on accessories that fit the holster
You can also adjust the cant of the holster easily with a Phillips screwdriver, so it's simple to make this holder sit comfortably for you.
Conclusion
There's a reason Heckler & Koch is a trusted name when it comes to striker-fired polymer handguns—they've been at it for a very long time, and have created some truly fantastic guns. The newest generation of these weapons, the VP9, is well on its way to becoming an icon in its own right.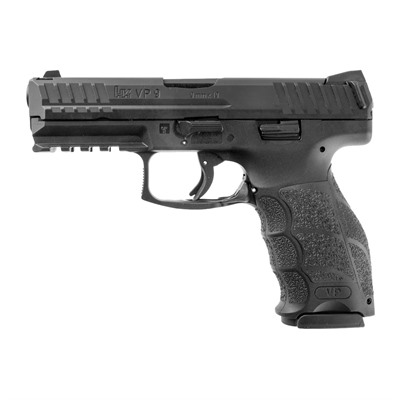 HK VP9
Pros
Customizable grips
Renowned reliability and accuracy
Three-dot night sights standard
Incredibly durable
Cons
Expensive for its class
15+1 capacity is on the low side compared to class
It's hard to beat the HK VP9 when it comes to accuracy, quality, and ergonomics—it's worth every penny. With a stellar trigger and customizable handgrips, we think that the VP9 might just become your new favorite.
Overall rating: 9/10 stars
If you want a practical handgun for duty carry, the range, or even at home, you want the HK VP9.
Do you have a VP9? Let us know what you think of it! Want to get the most out of your VP9 as a concealed carry weapon? Check out our explanation of how to concealed carry a full-sized handgun.