Once you have an AR-15, it's time to hit the range and shoot it, right?
Unfortunately, even though your rifle probably came with a magazine from the factory, having only one on hand can be a serious pain at the range and possibly even deadly in a home-defense situation.
The answer? You need to stock up on a few magazines.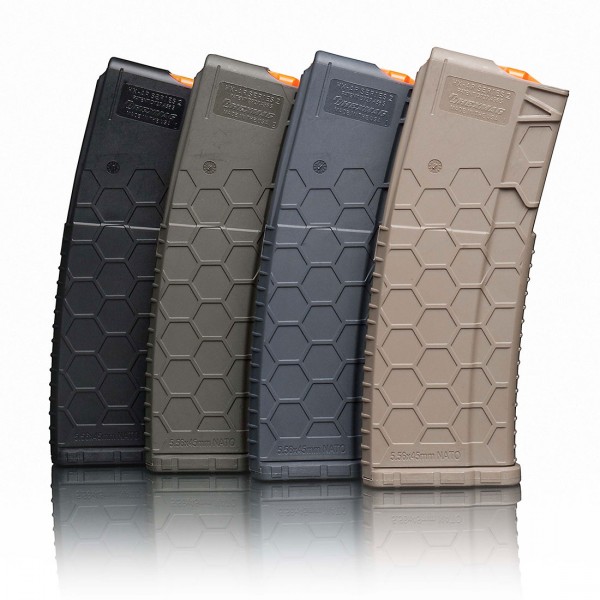 Which brings us to that all-important question: "Which magazines should I buy?"
To answer this question, we tested and reviewed every AR-15 magazine we could get our hands on.
After assessing dozens of brands from the most reliable manufacturers, we created this list to highlight which magazines performed the best in terms of functionality and reliability.
Today, we're going to examine what features you should look for in a magazine, the difference between polymer and metal mags, and, of course, our list of the top 6 AR-15 magazines on the market.
Summary of Our Top Picks
Table of Contents
Loading...
Why Do I Need To Buy More Mags?
There are countless reasons why you should have multiple magazines on hand for your AR-15.
But for the sake of brevity, let's break this argument down to three facts that are universal to most gun owners.
First of all, magazines break. Even the very best mags wear out, get stepped on, are dropped one too many times, and so forth.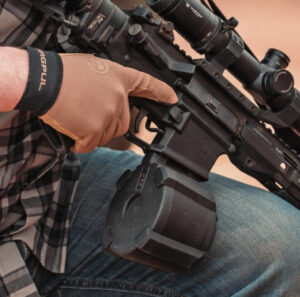 At the end of the day, magazines should be considered a consumable resource. They don't last forever, and when they start having problems, you need to replace them.
The second issue comes down to practicality. Reloading the same magazine is time-consuming and tedious, especially if you're at the range or competing.
In fact, most events require competitors to have multiple magazines on hand, including 3Gun, where you need at least three mags just to take part.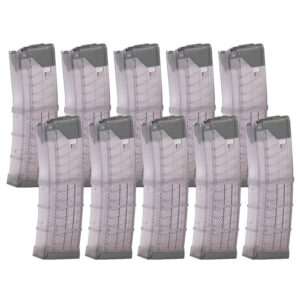 Last but not least, spare magazines are always a good thing to have on hand in case of, well, anything—human error, emergency and self-defense situations, mag malfunctions, etc.
You can never have too many magazines, so it's a good thing they're so easy to store.
What Makes A "Good" AR-15 Magazine?
What makes a magazine worth buying, anyway?
To be upfront, we're only looking at magazines that come from reputable manufacturers.
There are countless fly-by-night operations making questionable mags these days. Because these low-quality options have loose tolerances and are made with sub-par materials, we can't recommend them in good conscience.
Instead, we are focusing on magazines that have a good track record in terms of reliability and functional performance.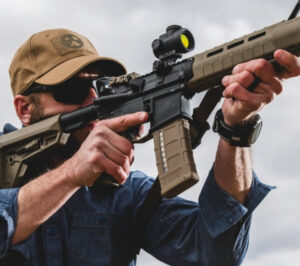 Does the magazine drop free when you hit the mag release? Does it feed well? Does it lock the bolt back on empty?
These are the questions you need to ask when evaluating any magazine, even the ones you already own. Any magazine that doesn't perform to standard should be recycled.
Polymer vs. Metal Mags
This debate has been around since polymer magazines were first introduced as an alternative to metal mags.
Since we're evaluating the "best" magazines, it would be frivolous not to weigh in on this controversial issue before discussing the mags themselves.
Despite competing opinions, there is only one truth: Polymer and metal are both great options, depending, of course, on the magazine you buy and your shooting preferences.
They each have their pros and cons, but the material in and of itself shouldn't be a deciding factor when purchasing a magazine.
The contentious difference between metal and polymer magazines honestly comes down to one feature: the feed lips.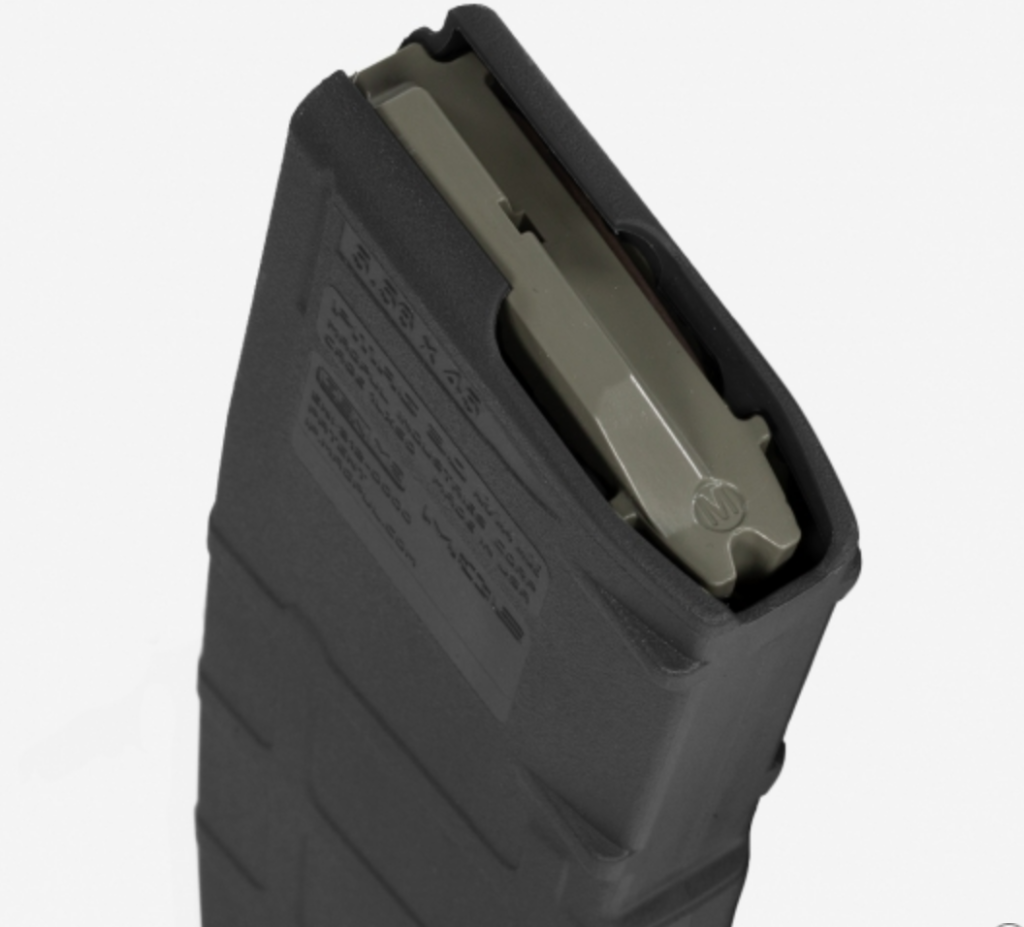 If a feed lip gets bent out of position or broken, the mag is going to be dangerously unreliable at best and totally non-functional at worst.
With a metal magazine, you probably won't even notice that the lip is damaged until the mag stops functioning.
And this is where the polymer magazine shines.
Unlike a metal mag, it's easy to check if your polymer magazine is in good condition. Plus, if the lip gets bent, it will most likely snap back into place on its own and won't permanently deform.
Sure, it can break if you hit it hard enough. But in most cases, if it looks good, then it's okay to shoot.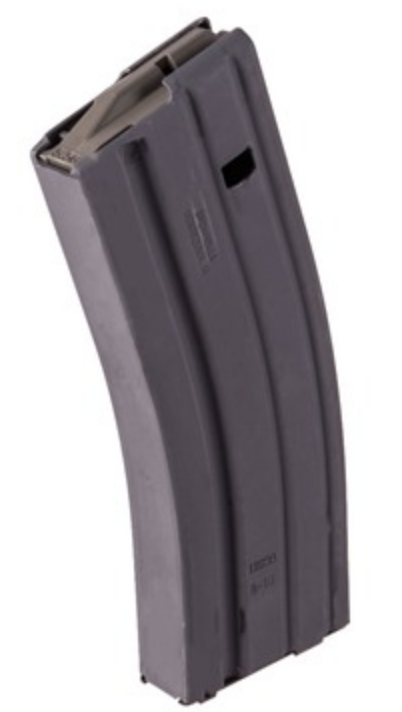 But metal magazines have their upsides as well.
For one, they're lighter and thinner, which can be a great help if you're carrying around multiple magazines with a range bag or chest rig.
They also look right at home on retro-style builds, which may be important if you're trying to match a classic A2 style.
Best AR-15 Magazines
With that out of the way, let's take a look at the best AR-15 magazines on the market.
These are the mags we use almost daily and trust in our personal home defense setups. 
So, whether you're looking to stock up on three or thirty magazines, you're in the right place.
Every magazine on this list meets our high standards when it comes to dependability, functionality, and overall performance.
Standard 30-rounders are the gold standard when it comes to AR magazines. If you're interested in competition, home defense, or an enviable range of toy setups, you can't go wrong with these mags.
1. Magpul PMAGs
Magpul's M2 and M3 PMAGs are easily the most popular AR-15 magazines on the planet.
They're affordable, reliable, 100% American-made, and are manufactured with a high-quality, impact-resistant polymer.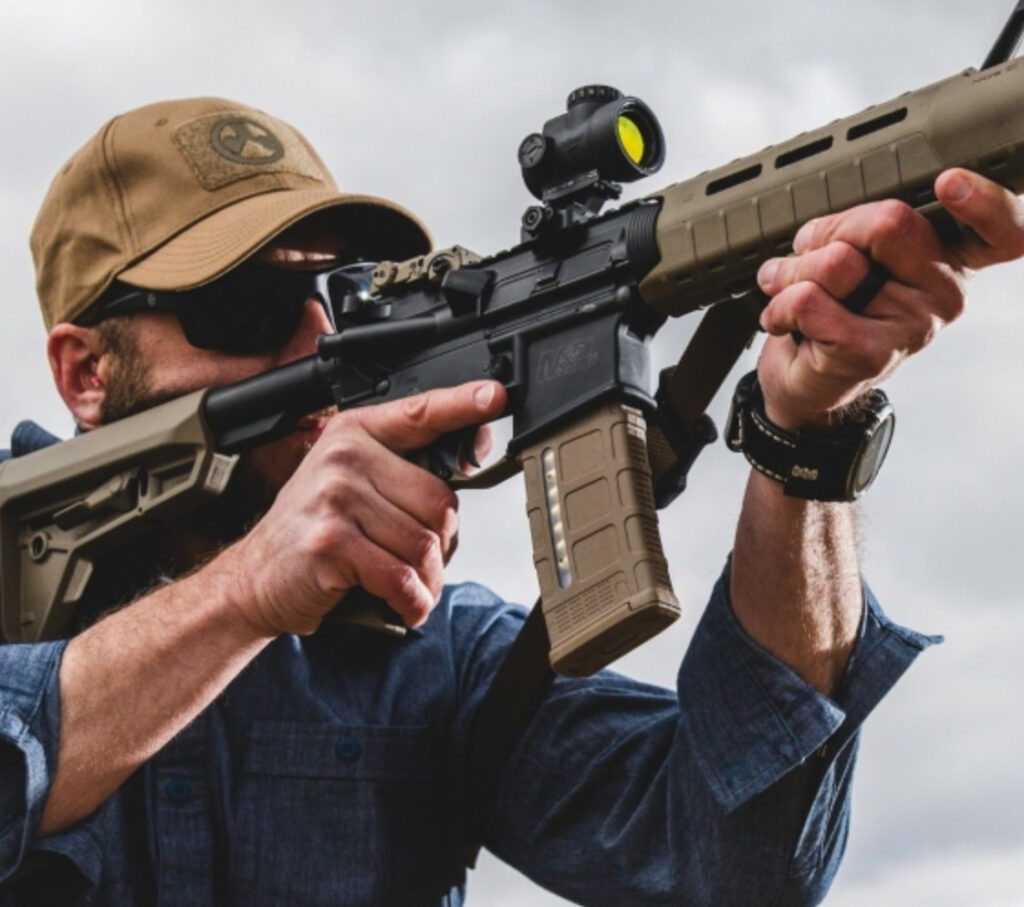 Interestingly, M2 and M3 are two different generations of the same magazine. The fundamental difference between these two magazines boils down to weapon compatibility and magazine capacity.
The M2 MOE is isolated at 30-rounds and was manufactured exclusively for the AR-15 and M4 platforms.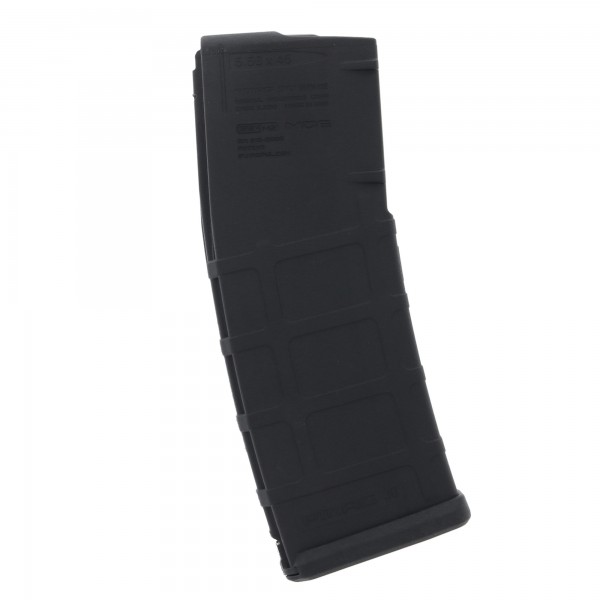 Magpul M2 MOE PMAG
Pros
Fantastic reliability and durability
Pop-off dust cover to prevent dirt or sand from fouling the mag
Overtravel insertion stop
Cons
Can require slight modification to insert well
However, the next-generation M3 is more popular because it was tweaked to work with any STANAG 5.56 firearm, including (but not limited to) the AR-15, M4, SCAR-L, SA-80, HK416, M27 AIR, and even some models of the AUG.
Gen M3 magazines are also sold in various capacities, ranging from 30-, 40-, and even 10- and 20-rounders.
The M2 tends to be cheaper than the M3 due to its limitations. But in our experience, both magazines work amazingly well with the AR-15 platform.
Best Overall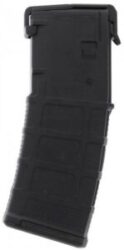 Magpul PMAG GEN M3
Pros
Works in any Stanag firearm
Impact and crush resistant all-polymer body
Easy to find and buy
If you're looking for a fun, safe, and proven magazine, then you can't go wrong with an M2 or M3 PMAG.
They're so ubiquitous that gun owners have taken to calling them "packing peanuts" because so many ammo retailers bundle PMAGs with bulk ammo purchases.
It's not uncommon to see 10 PMAGs bundled with 1,000 rounds of ammunition—and often for little more than you'd pay for just the ammo.
Magpul also sells "windowed" versions of their 30-round M2 and M3 magazines. The clear polymer viewport is located on one side of the magazine to give you a rough idea of how much ammunition you have left.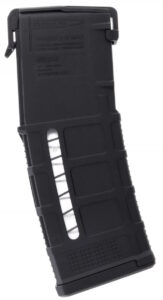 Magpul PMAG GEN M3 Window Model
Pros
Works in any Stanag firearm
Impact and crush resistant all-polymer body
Easy to find and buy
2. Lancer Systems L5AWM
Lancer is Magpul's #1 competitor when it comes to sheer market coverage, and with good reason.
Their Lancer Systems 30 RD L5AWN polymer magazines are just as reliable as the M2 and M3 PMAGs and even benefit from a unique, game-changing feature.
This polymer magazine is completely translucent from any angle, so you will always know how many rounds are still inside, as well as the type and condition of the ammo.
Best Clear Mag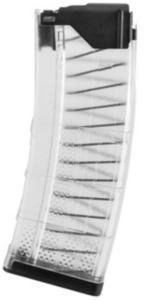 Lancer Systems L5AWM
Pros
Durable, affordable, and reliable
Transparent polymer magazine
Steel feed lips
Cons
Weak spring
Reports that mags won't seat when fully loaded
As you can imagine, checking a fully translucent magazine is far more convenient than trying to count rounds through a small window.
The Lancer Systems Advanced Warfighter Magazines are about the same price as the PMAGs and are available in 5-, 10-, 20-, and 30-round models to accommodate different setups and local gun laws.
Because these mags feature steel feed lips, they can take more abuse than almost any other magazine on the market. 
So, if you're looking for a high-quality, feature-rich magazine that can withstand brutal days at the range, the Lancer Systems 30 RD AWN may be the mag for you.
3. Hexmag Series 2
Hexmag had some issues with their first generation of magazines, but we're happy to report that all of those problems have been ironed out with the second iteration.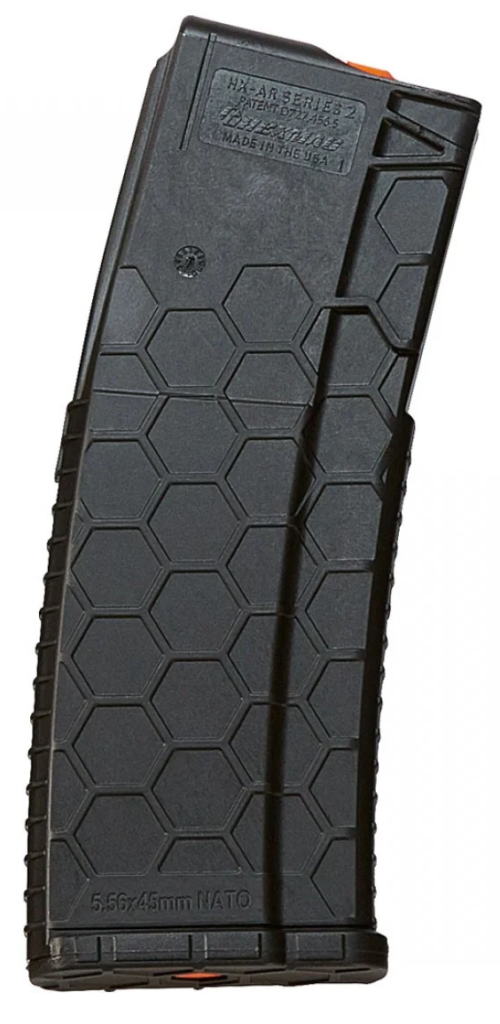 Their Series 2 mags are rock-solid and performed very well in our testing.
Hexmag magazines are somewhat unique in that they have four fairly standard body colors (Black, FDE, OD Green, and Gray) but eight different follower and floorplate colors.
The HexID color identification system makes it easy to identify what type of ammo you have loaded, which is great if you're storing the mag for later use or if you're running different types of ammo in the same holster or chest rig.
Best for multiple guns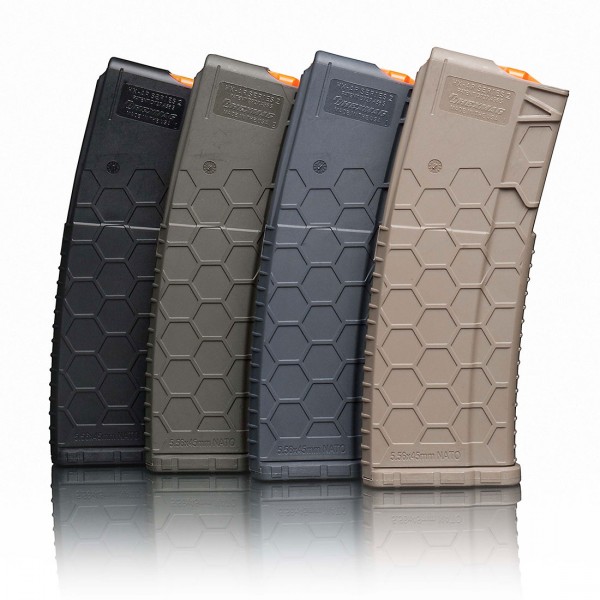 HexMag AR-15 30-Round Magazines
Pros
Tool-less design for easy floor plate removal
Textured for better grip
Stripper clip compatible
Cons
Tight to fit into mag well
It also makes it easy to know which magazines are yours when you're shooting with friends. Magazines aren't expensive, but you still don't want a buddy to "accidentally" take one of yours home—especially if it's loaded.
Hexmag also makes some excellent 10- and 15-round magazines that have the same dimensions as a regular 30-round mag. These magazines could be a great option for anyone who wants to train with a different type of mag or is planning to move to a more AR-friendly climate.
4. Brownells USGI Metal Mag
If polymer isn't your thing, you can always find a slew of USGI-style metal mags.
Out of all the different metal magazines we tested, our favorite ended up being Brownells' 30-round metal mags.
Brownells' magazines are actually better than most official US surplus mags, and they come in 10-, 20-, and 30-round flavors.
Best Metal Mag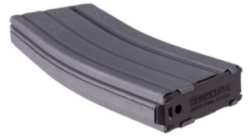 Brownells USGI Metal Magazine
Pros
A solid USGI-style metal mag
Light, thin, and easy to carry
Inexpensive
Cons
Not as durable as polymer mags
Why should you choose this mag over a polymer option?
Well, they're slightly lighter and thinner, as well as a few bucks cheaper. You can easily carry these mags or stack them in ammo boxes in your garage, basement, panic room, or what have you.
A few bucks and a few ounces may not seem worth it, especially if you're only planning to use 2 or 3 magazines. But if you're buying a few dozen, those differences can add up quickly.  
Higher Capacity Magazines 60+
If you're looking for something a little more intense than the standard 30-round magazines, let me direct your attention to some high-capacity options.
There are a number of 40-, 60-, and 100-round magazines out there, but very few perform well.
Fortunately, we found two options that you can trust out on the range.   
5. Magpul D-60 Drum
It's a little heavy, and there's no great way to carry a bulky spare on your person. But for a first-line magazine that stays loaded in the gun, this isn't a bad option.
Best Drum Mag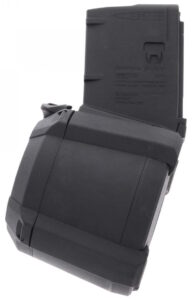 Magpul PMAG D-60 Drum
Pros
Fun and dependable high capacity magazine
Easy to clean
Affordable and easy to buy
Cons
Bulky and heavy
Difficult to carry spares
Besides, if you're just looking to have fun at the range, this is the most dependable (and relatively easy to clean) high-capacity magazine for your dollar.
6. SureFire 60-Round
The SureFire 60-round "coffin" mags aren't quite as reliable as the D-60 drums, but they still deserve a place on this list.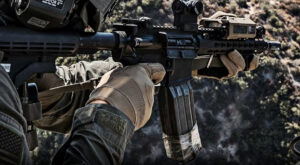 When it comes to high-capacity options, this magazine works better than just about anything else on the market.
Many shooters even prefer the SureFire 60-round because it's shaped like a traditional magazine, a feature that sets it apart from the Magpul D-60 drum.
The standard shape makes it easy to lug these magazines around, especially if you plan to carry them on your body or in a holster.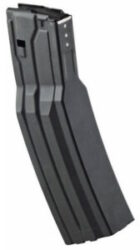 SureFire 60-Round "Coffin" Magazine
Pros
Shaped like a traditional magazine
Easy to store and carry
Affordable and reliable
Cons
Not as reliable as the Magpul D-60
Helpful Magazine Accessories
Now that you're ready to start your magazine shopping spree, it would be remiss of us not to include a few accessories that can improve your overall shooting experience.
They may not be essential, but they are convenient, and at Firearm Review, we support any accessory that makes mags easier to use in different settings and situations.
1. Magpul Ranger Floor Plate
An interesting perk of the modern magazine is that it can safely double as a monopod.
Mind you; this is an incidental feature that is entirely dependent on the brand of magazine you buy and the type of rifle you're using.
But it's still a great bonus, in general.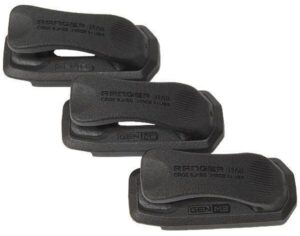 Magpul Ranger Floor Plate
Pros
Balances your mag as a monopod
Doubles as a pull tab
Easy to install
Cons
May not fit in mag pouches with flap closures
In fact, this practice has become so commonplace that Magpul sells Ranger Floor Plates, a popular baseplate upgrade that turns your PMAG into a stable platform.
Because it doubles as a pull tab by design, you can easily remove the magazine to clear a gun malfunction. It's also convenient for pulling magazines out of your pouch or holster.
2. Lancer Systems AR-15 Magazine Coupler
People have been taping magazines together for as long as there have been magazines to tape.
But if you want a reliable, purpose-made coupler that looks more professional, the Lancer Systems AR-15 Magazine Coupler is a good option.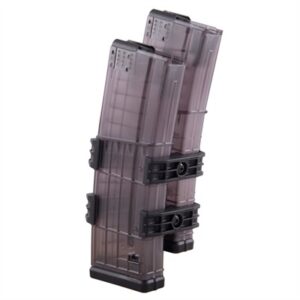 Lancer Systems AR-15 Magazine Coupler
Pros
Helps you reload quickly and easily
Lightweight
Cons
Designed for Lancers, may not fit other mags
Some construction issues
This simple little device keeps your mags together so you can reload quickly and easily. With the Lancer Systems AR-15 Magazine Coupler equipped, you'll never have to go to fumble with your belt or chest rig for a fresh magazine.
3. Taran Tactical AR-15 PMAG Extension
Need a few extra rounds?
Taran Tactical Innovation's high-quality magazine extension adds five rounds of capacity to your standard PMAG.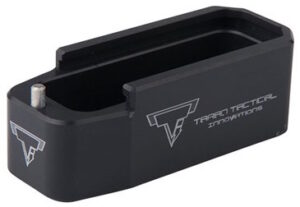 Taran Tactical Innovation AR-15 Mag Extension
Pros
Adds 5 rounds of capacity
Protect your mag's feed lips
Cons
Does not fit all magazines
This small device is a simple switch-out that replaces the basepad on your magazine. Because it provides that extra room, you can seat a full magazine on a full chamber in your rifle.
Based on anecdotal evidence, this extension piece can also help protect your magazine's feed lip. The extra weight causes the mag to fall bottom-first, reducing the risk of it tumbling and damaging that fragile part.
Parting Shots
That's about it for AR-15 magazines. We've covered just about everything you could ever want to know about AR mags, and we've gone over the best ones on the market today.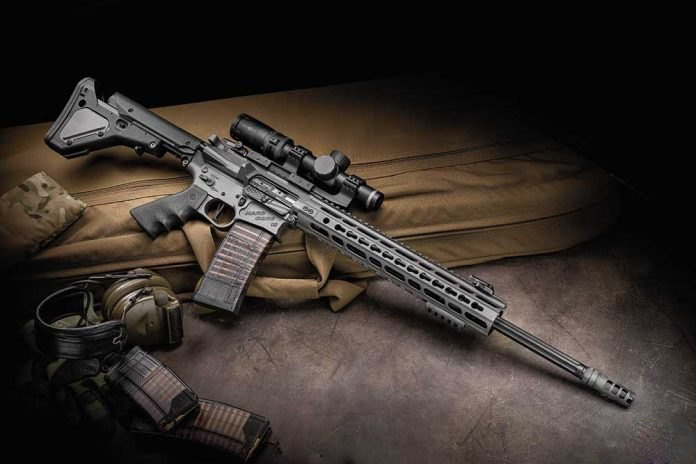 Hopefully, you feel well-equipped to choose your own AR-15 magazines, whether you're just looking for a few spares to complete your competition rig or you're looking to "buy 'em cheap and stack 'em deep" in case of the apocalypse.
Whatever your reasoning, these mags will serve you well for years to come.
What did you think of these AR-15 mags? Planning to add any to your collection? Or is there an option that you think deserves to be included? Let us know in the comments below! Don't forget to check out the Best Places to Buy Magazines Online, too!