Want a short-barreled AR-15 but don't want to pay the tax stamp for it?
We understand, which is why we're going to introduce you to the wonderful world of AR pistols.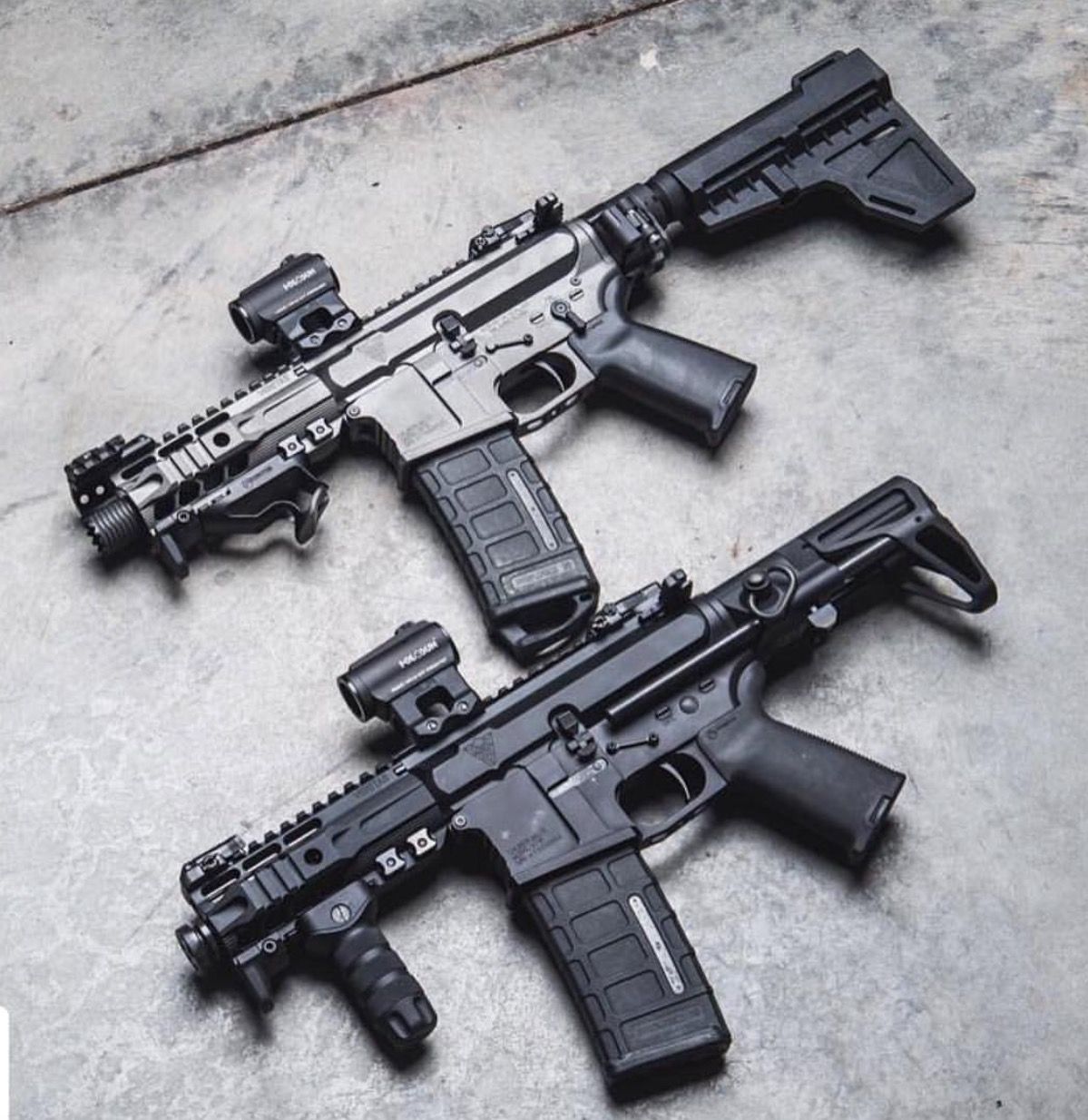 The National Firearms Act, commonly called the NFA, is the law that restricts much of what we're allowed to own, including our beloved AR-15s. The AR pistol was created to be an alternative to an SBR while still staying on the right (and cheaper) side of the law.
We're going to get into that more, as well as get a better understanding of what an AR pistol is, why you need one, and show you the best AR pistols available for a variety of budgets.
Summary of Our Top Picks
Table of Contents
Loading...
What's an AR-15 Pistol?
It seems rather odd that the AR-15 could be a pistol. The AR in AR-15 stands for Armalite Rifle, after all. Most configurations have it firing a rifle round, and even the smallest ARs are much bigger than a pistol.
AR-15 pistol is a classification that exists due to some silly American gun laws and definitions. An AR pistol cannot have a stock but can have a bare and exposed buffer tube. Another no-no is a vertical grip, but an angled grip like the Magpul AFG is legal.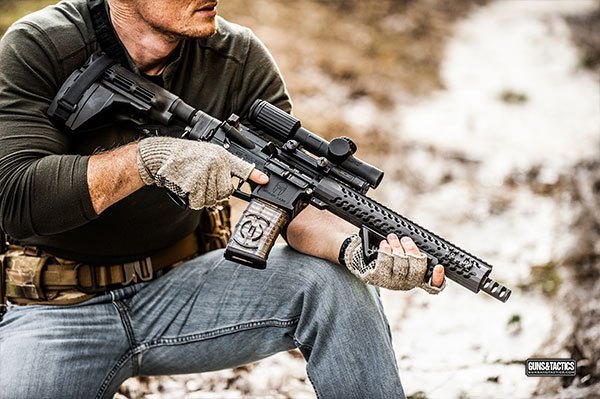 AR-15 pistols can have barrels as short as you want them to. Personally, I own an AR-15 pistol with a 7.5-inch barrel, and while it is ridiculous, it's a lot of fun.
Over the last few years, the popularity of AR-15 pistols has grown significantly. This growth is mostly tied to the advent of stabilizing braces. Stabilizing braces turned a gaudy, heavy, and awkward gun into a stable, comfortable-to-shoot weapon.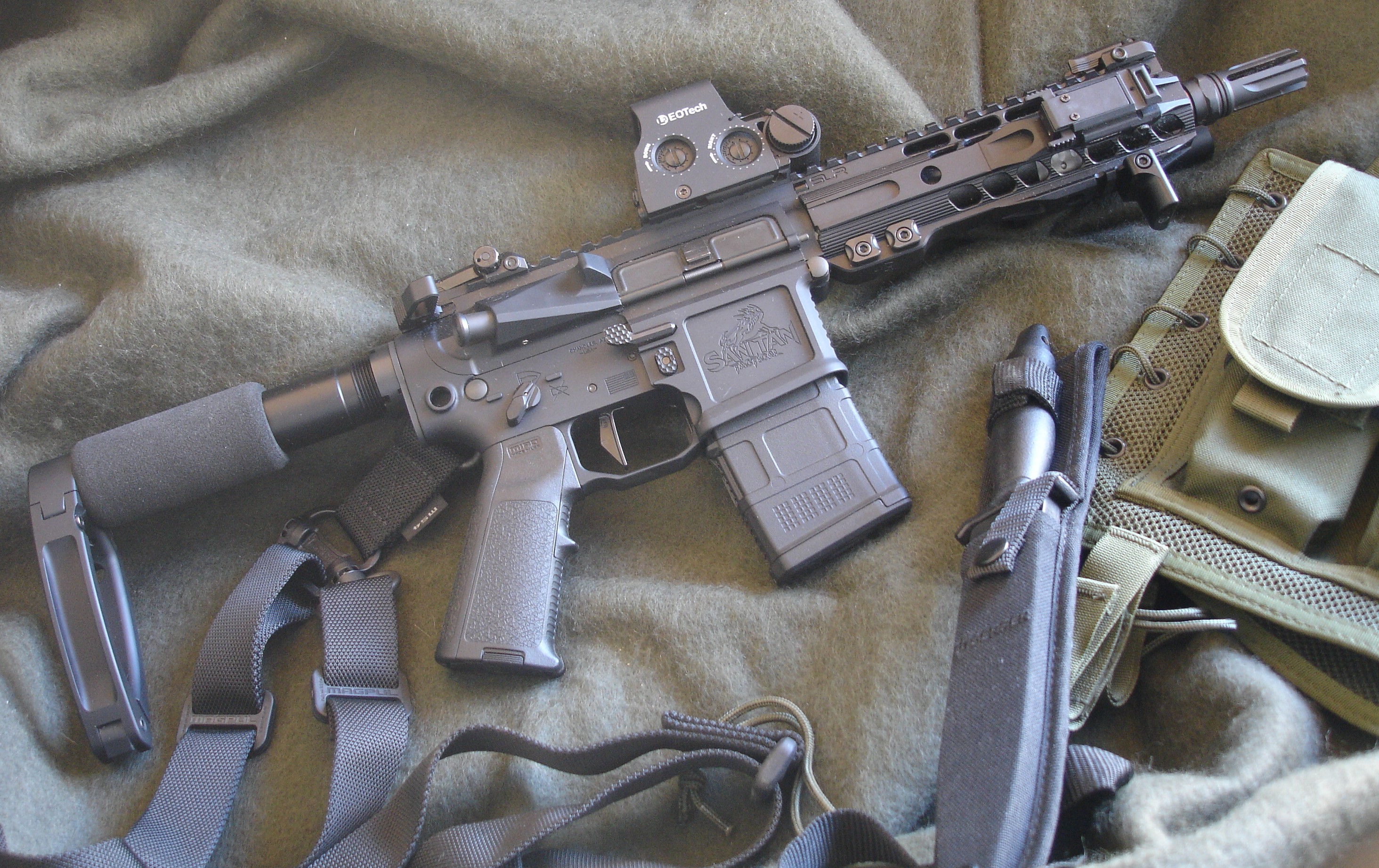 Why Would I Want One?
We won't dive too deep into the NFA, but the section that concerns this article is the law that rifles must have 16-inch barrels, or else they are regulated under the NFA.
So, if you wanted an AR-15 with a 7.5-inch barrel, you'd have to pay a tax stamp, ask for permission, and wait for 3 to 6 months for approval. Once approved, you could then own an SBR. Or you could just buy an AR pistol and skip all that.
There are a lot of other reasons you might want an AR pistol besides just the tax stamp.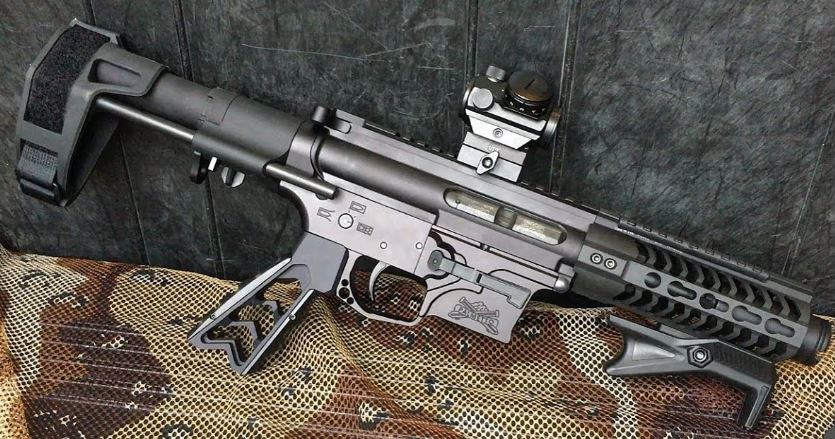 First off, you may live in a state that prohibits SBRs in general, regardless of federal regulation. An AR pistol might be your only choice.
An AR pistol is treated and regulated as a pistol. This pistol classification may mean it's legal to carry in a variety of ways.
For example, some states require long guns to be stored in a vehicle unloaded or even in the trunk or a locked box. An AR pistol is a pistol, not a long gun — it could potentially be legal to be carried concealed in your vehicle and ready for immediate use.
In my state, I could technically, if I found it necessary, toss my AR pistol in a sling bag and carry it concealed legally. While this may not be necessary, in the event of a hurricane or other bug-out situation, I may want a little extra firepower.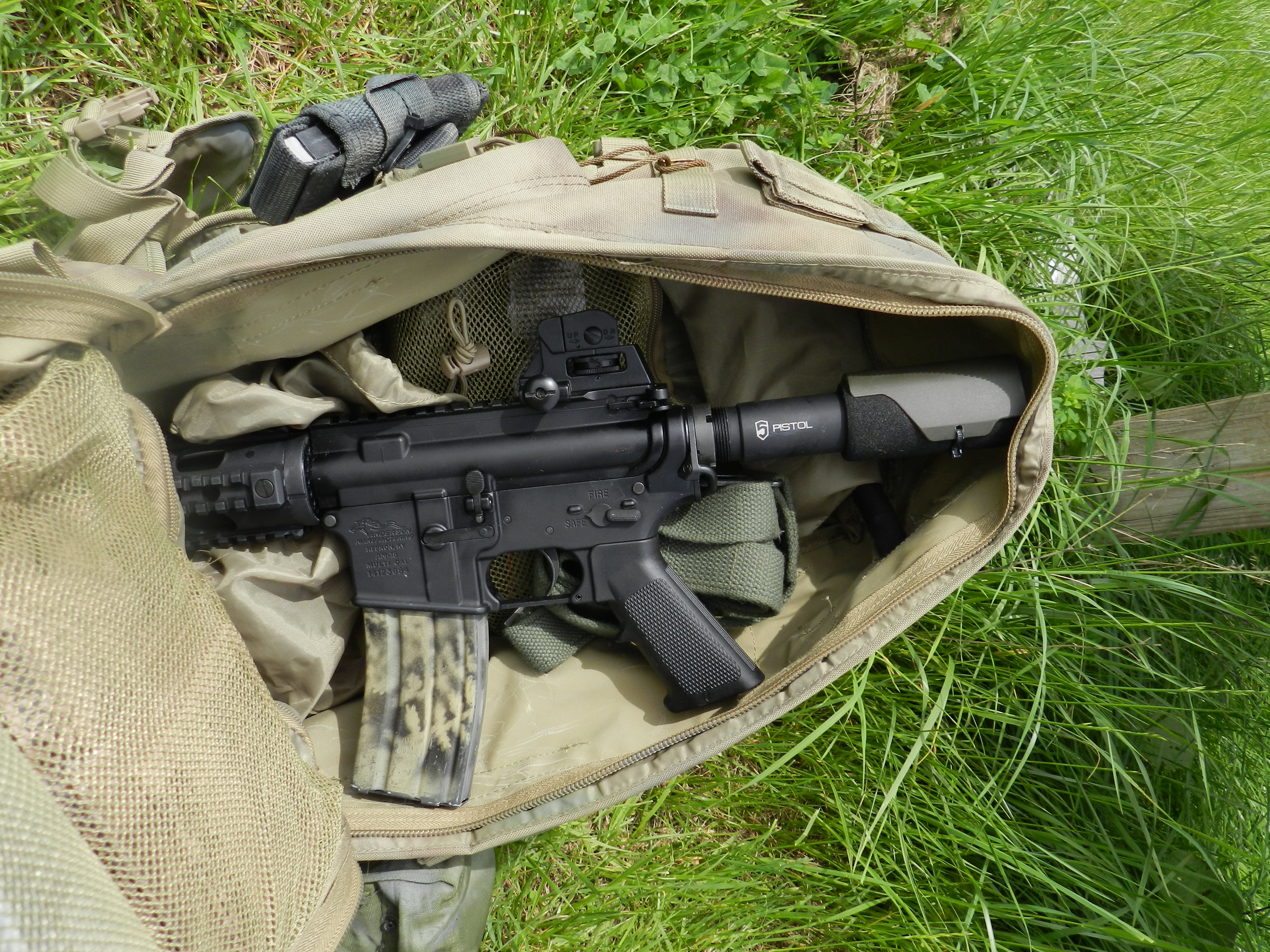 AR-15 pistols require a lot less hassle than an SBR and, with a brace, are great firearms for home defense.
They can be ultra-small and insanely easy to maneuver in and out of buildings with, plus you can attach a can and still have a smaller overall platform than a regular rifle.
Best AR Pistols
When I started thinking of AR-15 pistols to suggest for your guys and gals, I realized there are just way too many out there. To make it easier, I chose eight guns in three different budget ranges. I hope you guys can find one or two on the list that appeals to you.
I also jumped into a variety of calibers when possible, and this will show you just how versatile the AR-15 pistol is.
Budget Buys
If you are shopping on a budget, you still have plenty of quality options available for an AR-15 pistol. It's a hard line to walk between cheap and affordable, but I think I've found three great guns for your AR-15 pistol needs — without making your wallet cry.
1. PSA 8.5" SOB Pistol
Palmetto State Armory is well known and respected for its budget-friendly AR-15 builds. Of course, they have pistols! What's great about this 8.5″ SOB Pistol kit is that it's a complete kit. It comes from PSA with nearly everything you need to hit the range.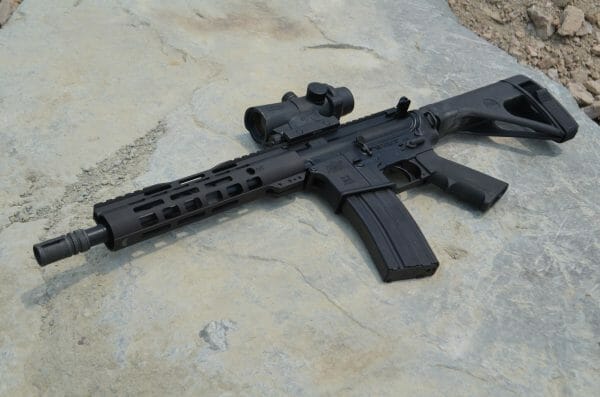 The gun is complete with a brace, magazine, and handguard. It's chambered in 5.56, so ammo is cheaper and more common. The only thing you need to add is a set of sights or an optic.
This build comes with an SOB brace from SB Tactical to help you stabilize this gun.
The SOB is a basic brace that's wholly functional but isn't adjustable in any way. The weapon itself rocks an 8.5-inch barrel that has a 1:7 inch twist.
Budget Pick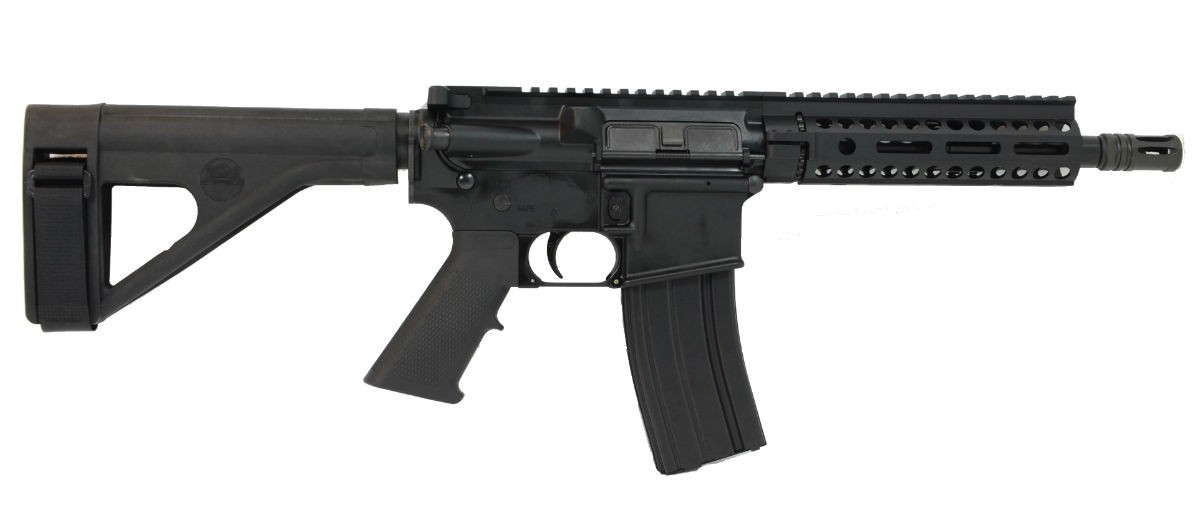 PSA 8.5" SOB Pistol
Pros
Complete kit included
Chambered in 5.56
8.5" barrel with a 1:7 twist
The gun comes with a short M-LOK metal handguard and a monolithic top rail for all your optics needs. And it retails for right around $500.
It's a great base model gun you can customize as your budget allows.
2. Radical Firearms 10.5″ Pistol
Radical Firearms is well known for making affordable and quality little firearms.
They make a variety of pistols in the AR platform, but I wanted to go a little bigger than the other two. This 10.5-inch pistol has a little more barrel than most.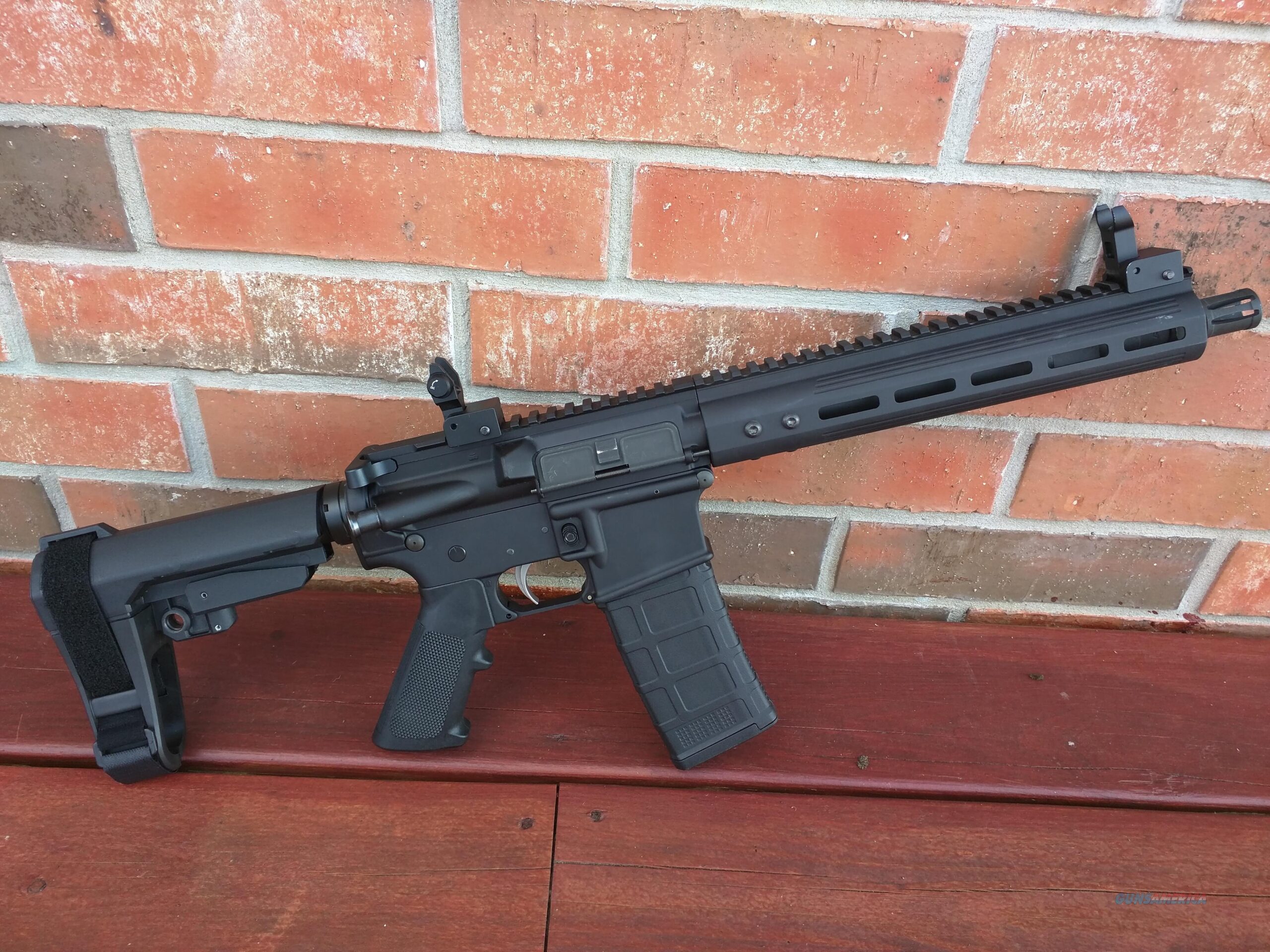 With a 5.56 gun, this gives you a hair more velocity, range, and a little less muzzle blast. A 10.5-inch barrel is pretty standard for military rifles that fall under the shorter length category.
It's an excellent compromise for maneuverability and ballistic performance.
The Radical Firearms 10.5 inch pistol has a 10-inch FGS rail. This rail allows you to mount M-LOK or RF FGSA rail attachments. The rail itself is a completely round handguard. It's very comfortable in hand, to be honest.
Best Beginnger AR Pistol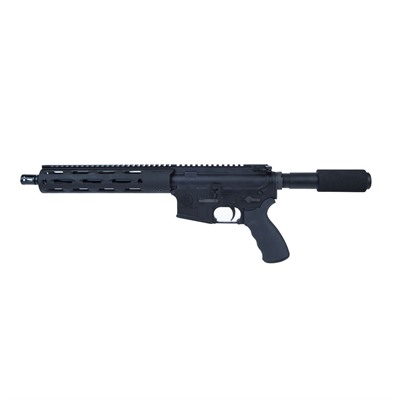 Radical Firearms 10.5" Pistol
Pros
10.5" barrel for a little more accuracy
Chambered in 5.56
Full-length rail
Cons
Doesn't come with a stabilizing brace
If you are a C-clamp enthusiast, this type of rail system is perfect, and you can get an excellent tight grip around the gun in a very comfortable way. This rail system is topped with a full-length rail for optics, sights, etc.
This pistol is a great beginner's AR pistol, and once you toss on a stabilizing brace and a set of sights, you are ready to hit the range.
Mid-Range Picks
Got a little more to spend, but aren't ready to commit to pro-grade? These mid-range AR pistols are a step up from the bare-bones budget models but also don't have a bunch of features you won't use.
3. TNW ASP Pistol
Not all AR-15 pistols come in rifle calibers, and pistol caliber ARs are a natural extension for AR pistols.
The TNW ASP is very far from standard, but to me is still technically an AR-15. Most pistol-caliber ARs don't utilize a standard DI system, so it is hard to judge any as correct ARs.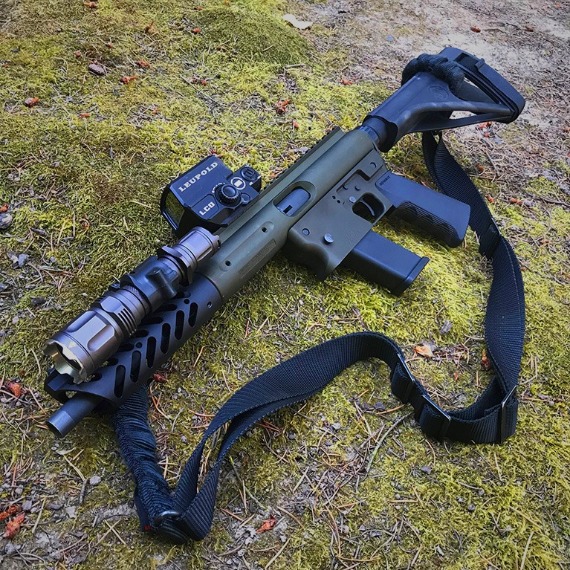 The TNW ASP is a blowback-operated 9mm pistol that takes Glock magazines. It uses a side charging handle, and this particular model even comes with a brace.
As a 9mm it's exceptionally lightweight and weighs in at only 6 pounds.
The barrel is a longer 10.25 inches, but it does allow the 9mm to gain a little more velocity and offers you a longer sight radius.
ASP stands for Aero Survival Pistol, and the idea is to have a lightweight and compact option for bugging out and other survival scenarios.
Best Bugout Pistol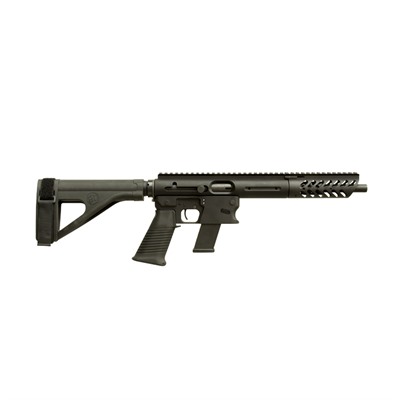 TNW ASP Pistol
Pros
Chambered in 9mm
10.25" barrel
Low recoil
Cons
Less range and penetration
By being chambered in 9mm, you have less range, less penetration, and all the other disadvantages of a pistol caliber. However, you also have less recoil, a lot less muzzle blast, and they are easier to suppress.
Plus, who doesn't like pretending they have an SMG?
4. Diamondback DB 15 Pistol
The DB 15 pistol is my kind of AR-15 pistol. It's short, ugly, and aggressive.
This gun rocks a 7.5-inch barrel with a dynamic and effective flash suppressor. You'll need as much flash suppression as possible with one of these guns, especially with the 7.5-inch barrel.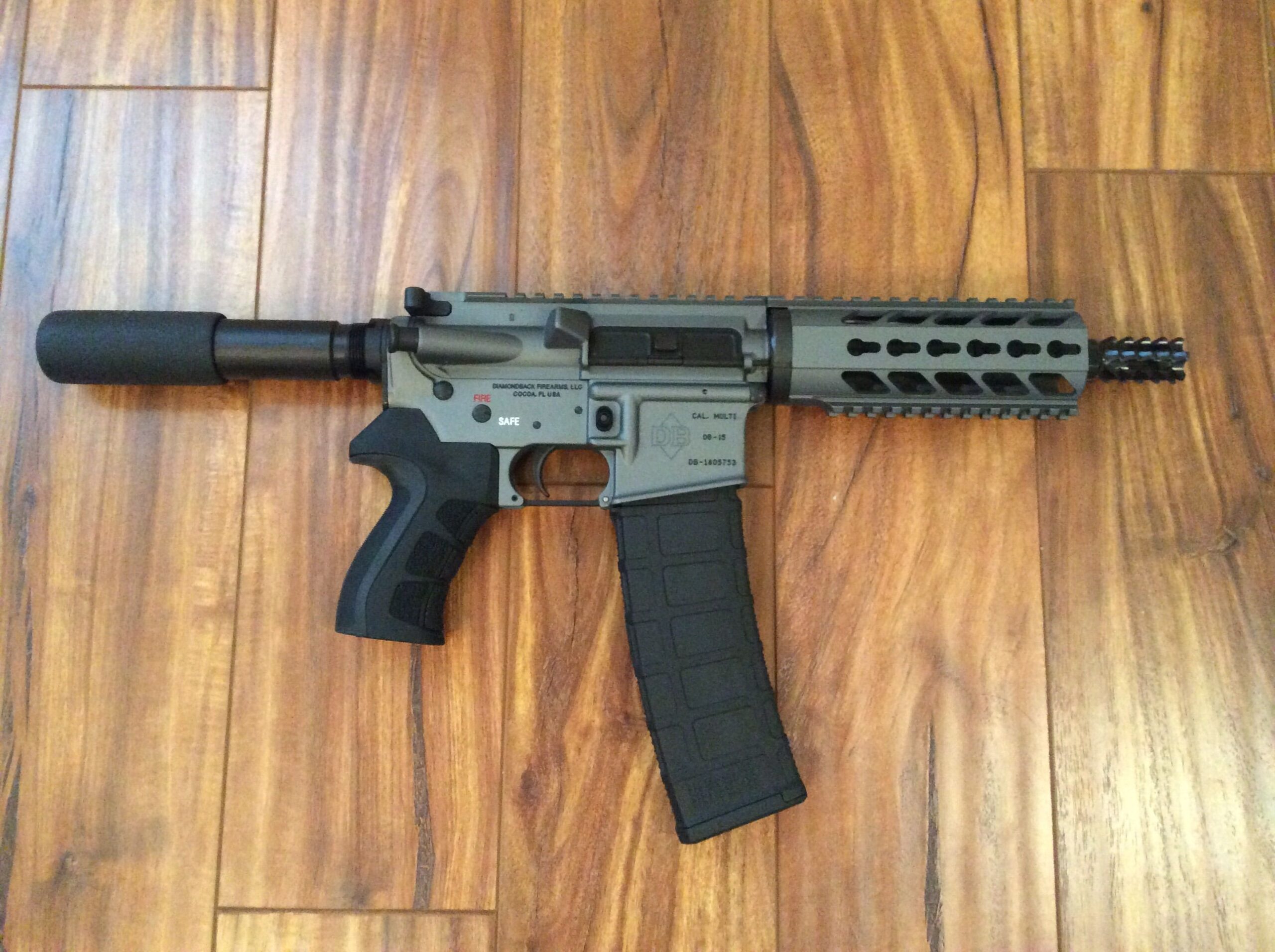 The DB 15 is a 5.56 AR pistol so expect a lot of sound and fury. The gun has a short handguard with a top and bottom rail.
You have plenty of room for optics and accessories. The gun comes with a PMAG and a Magpul grip which is a nice touch.
Unfortunately, no brace is included with this build, but the end of the tube is covered with a soft foam covering. This makes it easy to rest your cheek on the tube and aim the gun.
A brace is a must-have, though, once you try it, you'll never go back to a pistol without a brace.
Best Mid-Tier Pistol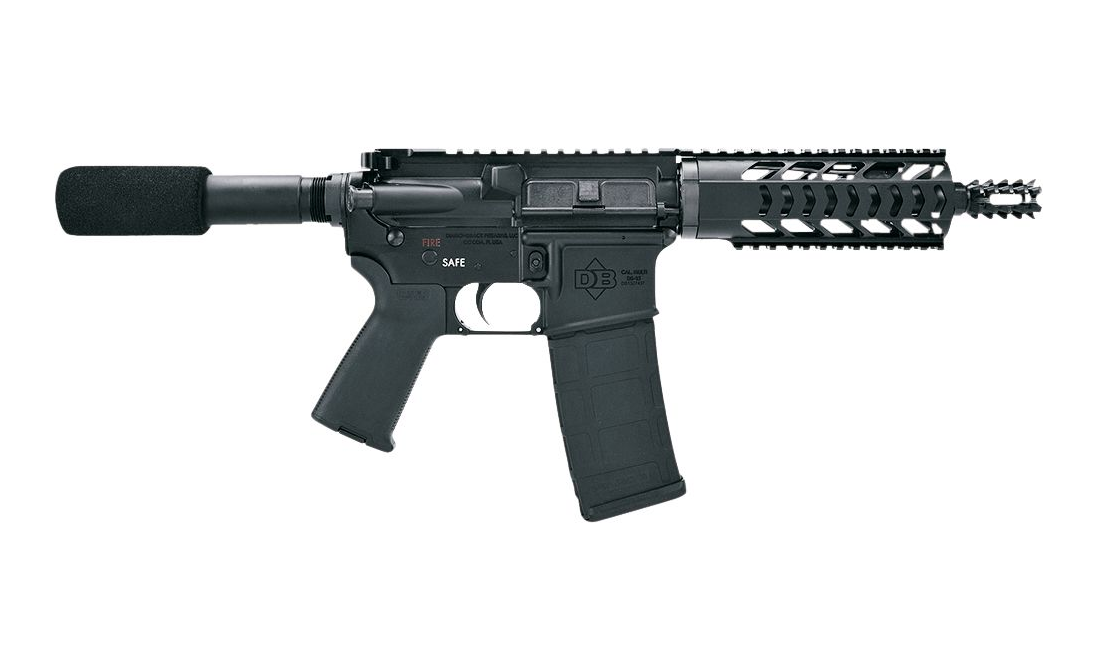 Diamondback DB 15 Pistol
Pros
7.5" barrel
Chambered in 5.56
Top and bottom rail
Cons
Loud to fire and has lots of recoil
The DB 15 is a great little gun, and it's priced well for the included features. The DB 15 is an excellent mid-priced AR-15 pistol.
5. FightLite Industries SCR Pistol
The FightLite Industries SCR Pistol is the most exciting pick on this list. Part of me fell in love with this gun and loved it even more at SHOT Show 2018 when I finally fired it.
The FightLite SCR pistol completely lacks any buffer tube or standard pistol grip.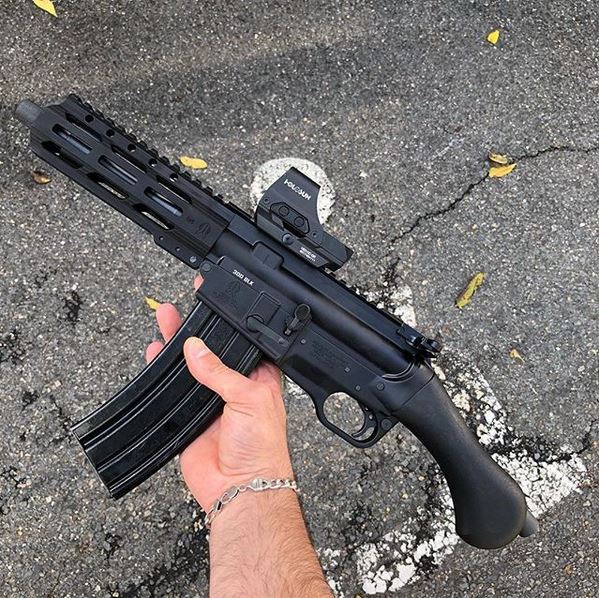 In place of this is the Shockwave Raptor grip. This grip gives this AR pistol a unique appearance I've never seen before. It looks more like a pirate's AR than an actual AR. The gun can't mount a brace but is far from unwieldy.
It's easy to hold and aim and comfortable at the same time. The low recoil from the 5.56 round makes it easy to fire from the eye. It's also easy to shoot with one hand… but it's not very accurate with one hand.
The gun sports a 7.25-inch barrel and an M-LOK rail system. You can mount an optic and AFG, but there isn't much else you can do. The FightLite SCR weighs only 3.9 pounds and is a blast to shoot.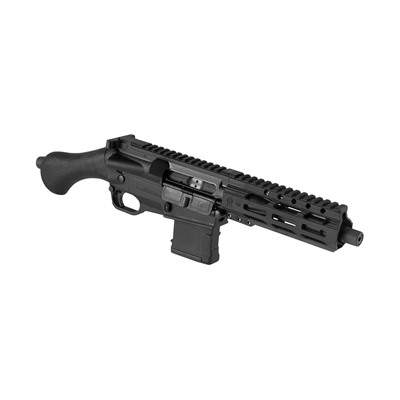 FightLite Industries SCR Pistol
Pros
Shockwave Raptor grip
Chambered in 5.56
7.25" barrel
Cons
Can't equip a stabilizing brace
The lack of a buffer tube brings the overall length down to only 20.25 inches. The SCR pistol is one compact AR.
High-End Splurges
Ready to run with the big dogs? These two AR pistols are pro-grade, and by that, we mean that they are trusted by professional shooters, military, and law enforcement. Take a closer look at these drool-worthy pistols!
6. Daniel Defense DD MK 18 Pistol
Want to use what the pros use? By pros, I mean armed professionals around the world. This gun is the closest you can get to the actual MK18 without having to cross into NFA territory.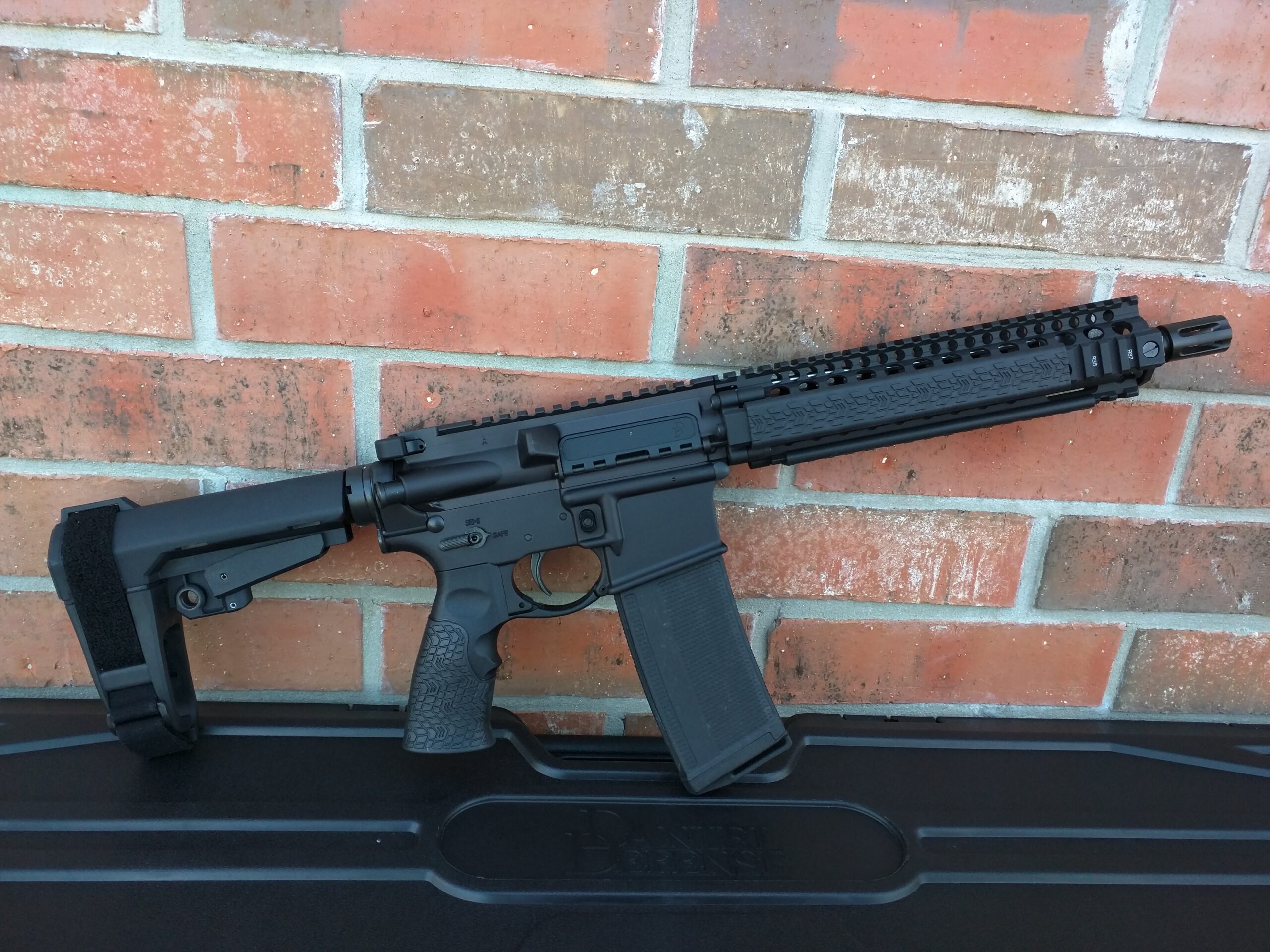 The MK18 is a gun used by Special Ops troops when they need something lightweight, maneuverable, and of course, deadly.
The DDM4 MK18 pistol from Daniel Defense sports a 10.3-inch government profile barrel. It comes with or without a brace, depending on the package you purchase.
Best High End Pistol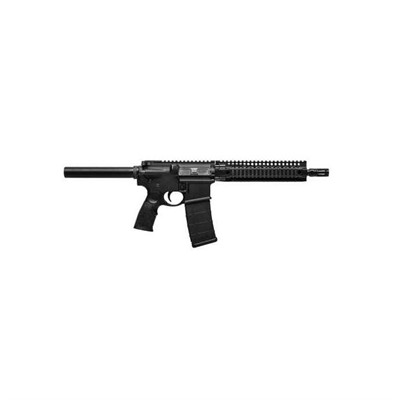 Daniel Defense MK18 Pistol
Pros
10.3" barrel
Chambered in 5.56
Exceptional reliability, durability, and accuracy
The MK18 is one of the highest-quality AR-15 pistols on the market. It's built to extremely demanding standards, and it delivers excellent accuracy, reliability, and long-term durability.
The MK18 pistol does use a standard quad rail that old guys like me tend to appreciate.
Keymod and M-LOK are sexy, but a quad rail is always there for you. Plus, the extra weight helps with muzzle rise. Daniel Defense tosses in their DD 32-round magazine.
7. Bravo Company RECCE-11
The Recce-1 KMR-A Pistol is a bit of a mouthful, so we'll call it the Recce-11 from here on out. This gun has an 11.5-inch barrel, which makes it a little longer than your standard AR pistol. However, it is built off an SBR platform, so it makes sense it is a little bigger.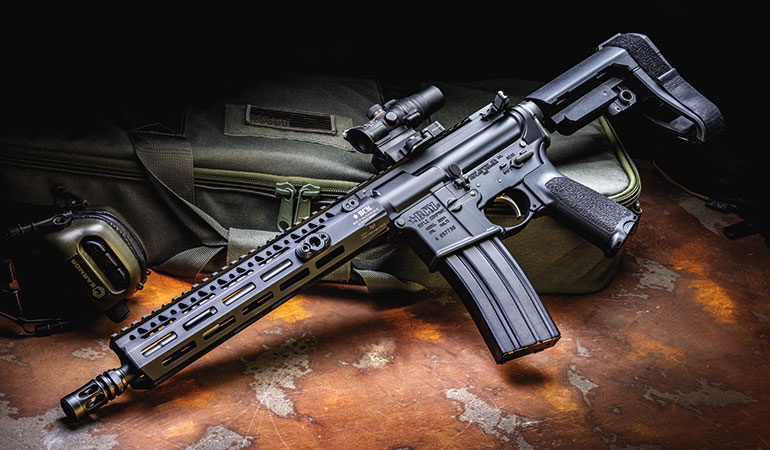 A bigger barrel means more velocity, longer range, longer sight radius, etc. The Recce-11 is the pistol for you if you want something highly customized out of the box. It wears a lot of BCM's Gunfighter gear.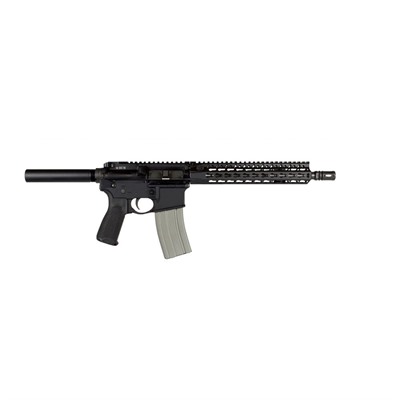 Bravo Company RECCE-11
Pros
11.5" barrel
Chambered in 5.56
Fitted with lots of upgrades right out of the box
Cons
You're paying for upgrades you may want to change out
The Gunfighter gear includes a free-float handguard, the MOD 0 compensator, the Gunfighter charging handle, the Mod 3 pistol grip, BCM trigger guard and so much more.
The only thing this gun needs extra is a robust set of sights and a brace, and you are ready to go.
Conclusion
Rifle styles pistols are an excellent way around the NFA process for an SBR.
With the current braces on the market, I'm not even sure if I see a reason to get a stamp anymore. Regardless of the route you take, be sure you check out a few of the above-listed AR-15 pistols.
What's your take on AR pistols and rifle caliber pistols? Do you own an AR pistol? Tell us about it in the comments below! Want to add a brace to your AR pistol? Check out our reviews of the best AR pistol braces.