What happens when you mix high-velocity projectiles and your tender, squishy eyeballs? Yeah–it's not pretty.
When shooting, whether hunting or just hanging out at the range, you're going to want to make sure that your eyes are protected–unless you really dig that pirate look.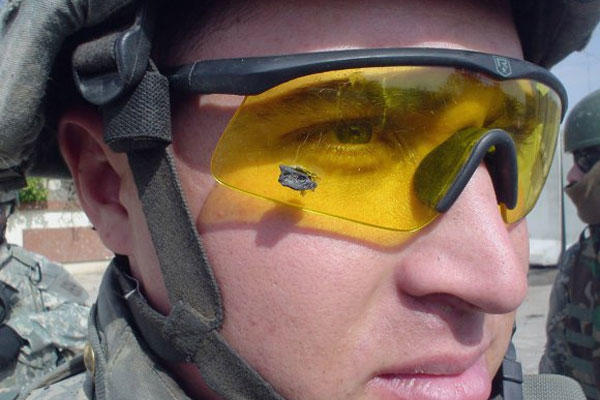 A quick Google search turns up thousands of eye protection options, and some are definitely better than others. We've rounded up 6 of the most popular shooting glasses across a handful of price points to review for you.
Let's get down to it and find the right set for your budget and your eyeball protection needs.
What are Ballistic Eyewear Standards?
It should come as no surprise that there are manufacturer standards for ballistic protection. After all, what's the point in wearing them in the first place if they don't have any impact resistance?
There are three major standards when it comes to ballistic eyewear:
U.S. Civilian Grade:

ANSI Z87.1

U.S. Military Grade:

MIL-PRF-31013

European Grade:

EN166
You're going to want to make sure that your specs at least meet ANSI Z87.1 standards, but if you're really worried about frag or projectiles comin' at ya, step it up to military grade.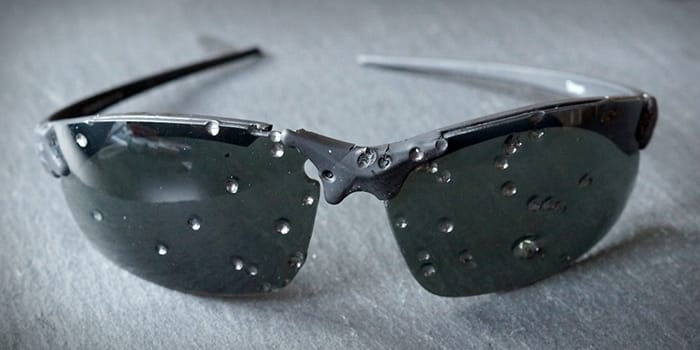 What Factors to Consider When Choosing Glasses
Before you just go and stick anything on your face with an ANSI Z87.1 rating, you might want to consider some other important factors to make sure that you choose eye protection you'll actually wear.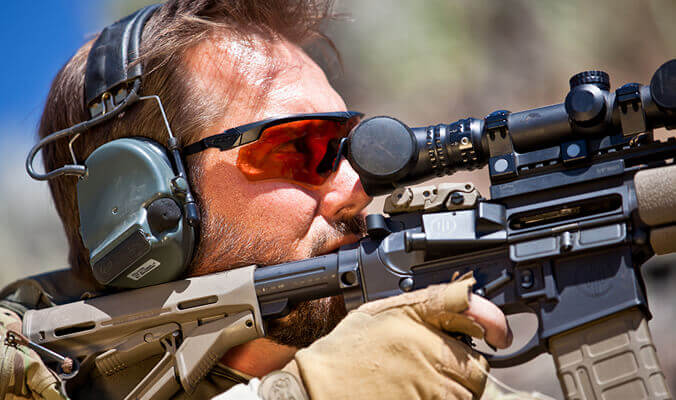 Optical Clarity
Eye protection is important, but you won't want to wear it if you can't see through the lenses. Optical clarity can make a huge difference in the quality of your glasses.
If you're looking down the sights through crystal-clear lenses, you're going to enjoy your eye protection a lot more and feel a lot less eye strain at the end of the day.
UV Protection
Ever get a sunburn after a long day at the range? If your nose is pink and peeling, you should know that your eyes also may have suffered sun damage.
UV protection is a great benefit if you're planning on wearing your eye protection outdoors, especially for long periods of time.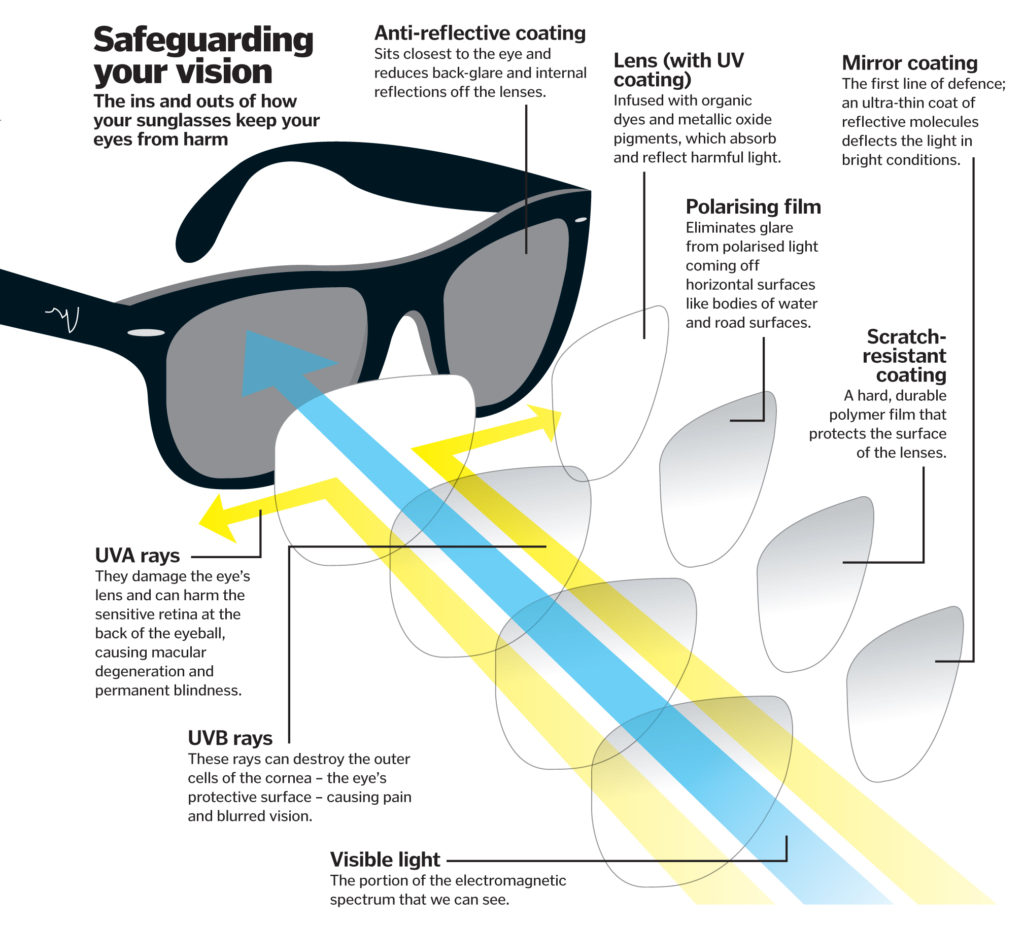 Look for lenses that block both UVA and UVB rays (and don't forget the sunscreen!)
Lens Color
Is there a difference between clear lenses, amber lenses, and smoke lenses?
Different lens colors can be good for different lighting conditions and can make it easier to see certain colors (like your red dot or an orange clay pigeon), but it also depends on what you like.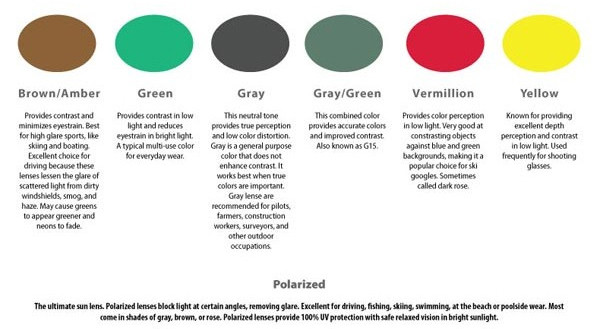 You may even figure out you want different colors for different venues or lighting conditions.
Frame Fit
Eye protection that doesn't fit comfortably underneath your hearing protection won't make for a good range day. You also won't enjoy pushing them back up your nose if they're too big, or getting a headache from them pinching your face or nose.
Some frames have more adjustability than others, which means you can customize the fit to your face.
Age of Your Shooting Glasses
Have an old pair of shooting glasses kicking around? It might be time to upgrade them for your safety. Even a few years of use is enough to significantly weaken your glasses, meaning that they won't do the job they're supposed to do, even if they're rated to meet protective standards.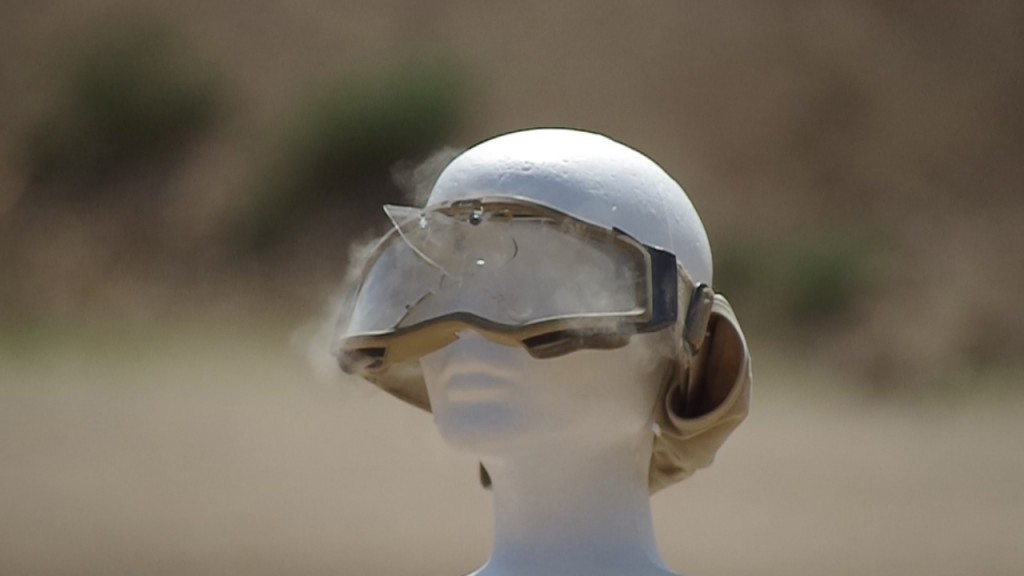 Change out your shooting glasses every few years if they see a lot of use and UV exposure.
Best Shooting Eye Protection
Now that we've got you sold on protecting your peepers, let's take a look at the best shooting glasses we've found for just about any budget!
These budget glasses ended up being one of our favorites for looks, protection, and coverage. The Wiley X Saber glasses exceed even MIL-PRF-31013 standards for impact resistance, UV protection, and optical clarity.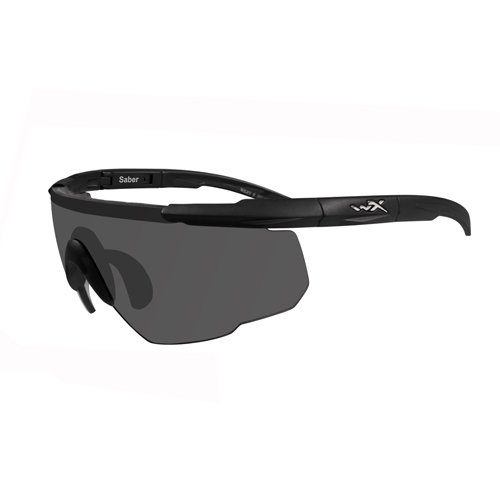 Wiley X Saber
Pros
Exceeds MIL-PRF-31013 standards
Slim, comfortable frames
Great protection for the price
Cons
Scratches a little easily
The frames are lightweight and slim, so they nestle underneath earmuff-style hearing protection without a problem. Wiley also used an adjustable nose piece, which we've found makes a big difference in how long these glasses remain comfortable.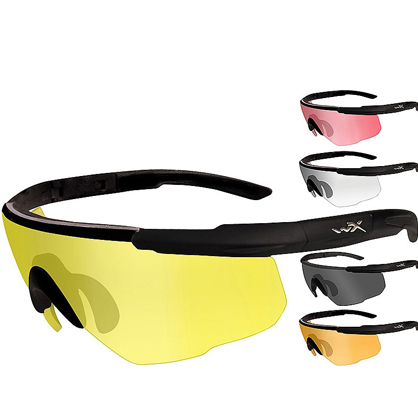 Smoke grey lenses also give you a good color balance on sunny days and cloudy days alike, so you won't need to switch it up just because some June gloom rolled in.
If you're on a shoe-string budget but still need to protect your eyes (and avoid hospital bills at all costs), the Radians Revelation glasses are the bare minimum you should get.
Style-wise, they're not too bad to look at and they come in a few different lens colors, including clear, smoke, amber, and red. You can feel their affordable price point in the construction, though.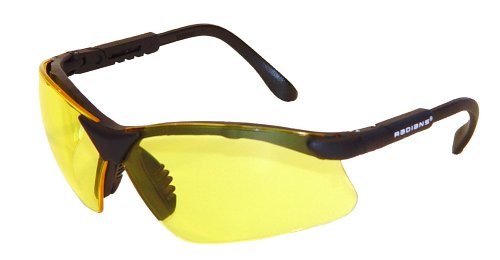 Radians Revelation
Pros
Meets ANSI Z87.1+ standards
Several lens color options
Adjustable arms
That being said, they do meet ANSI Z87.1+ standards for high-velocity impacts, so they'll get the job done.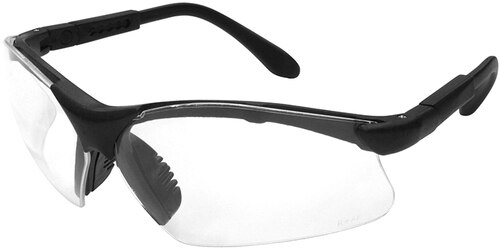 We do like that the thin frame sits comfortably under your earmuffs and have adjustable arms for a perfect fit.
It's hard to go wrong with a good ol' pair of Oakley Radars. These glasses are a favorite with shooters of all experience levels for a reason–they offer fantastic coverage, meet protection standards, and even are available with different sized nose pieces.
The arms look like they're on the thicker side, but we haven't found them to be uncomfortable, even under our tightest earmuffs.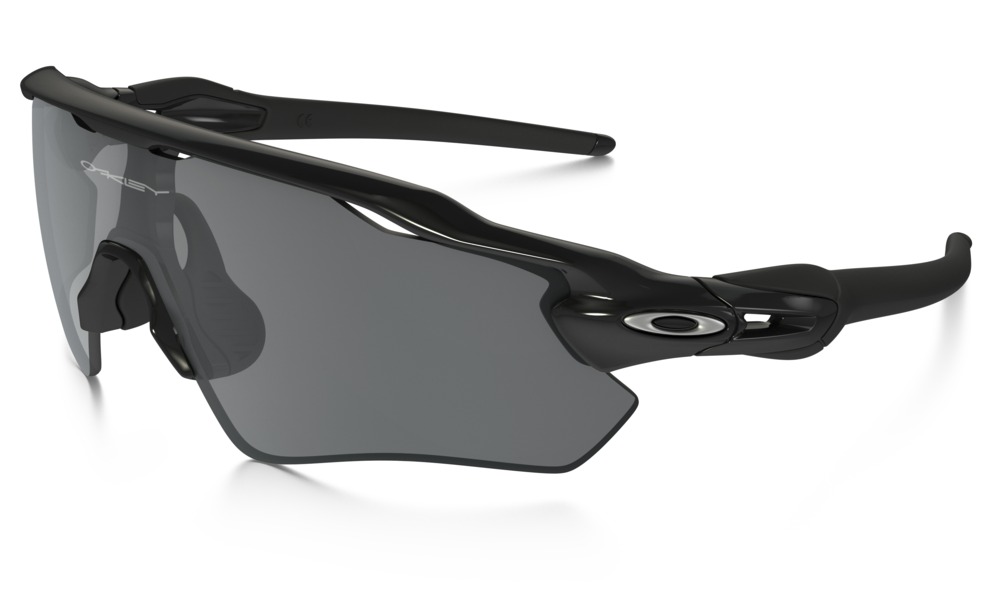 Oakley Radar
Pros
Customized fit and color combinations
Rugged build
Wraparound protection
Best of all?
Their customized fit means they'll stay on, even when things get a little sweaty.
Fit isn't the only thing you can customize. You can also find a practically limitless variety of lens and frame color combinations.
If you liked minimalistic frames, you might like a slightly different model of Oakleys–the Tombstone. These were designed with shooters in mind, and they don't have a top frame.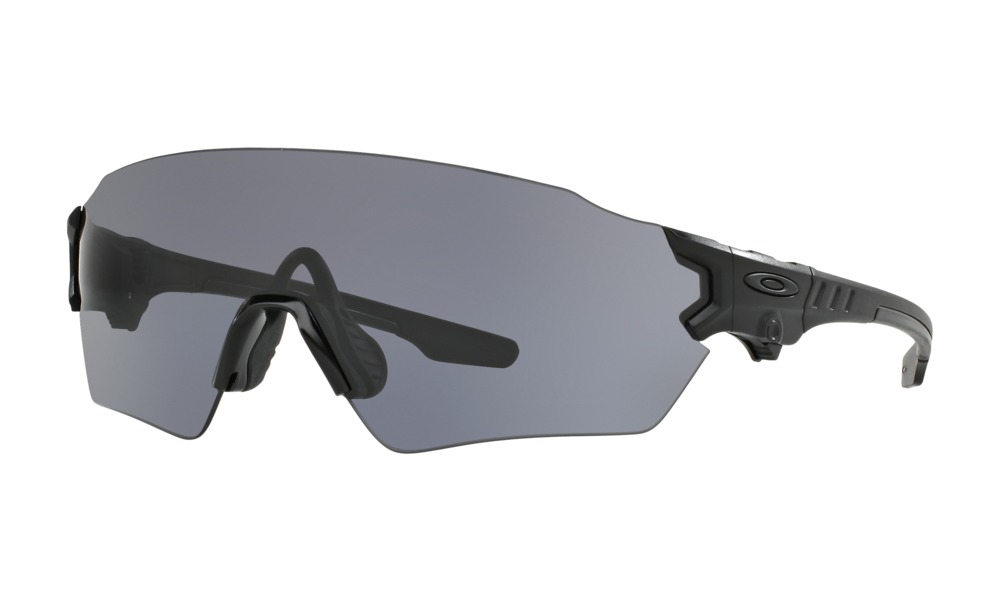 Looking for some eye protection that will take your clay shooting to the next level? If you can rock red lenses, then the Radians Clay Shooting Glasses might be for you.
Why is that?
Because their color is meant to help make the bright orange of the clay stand out even more.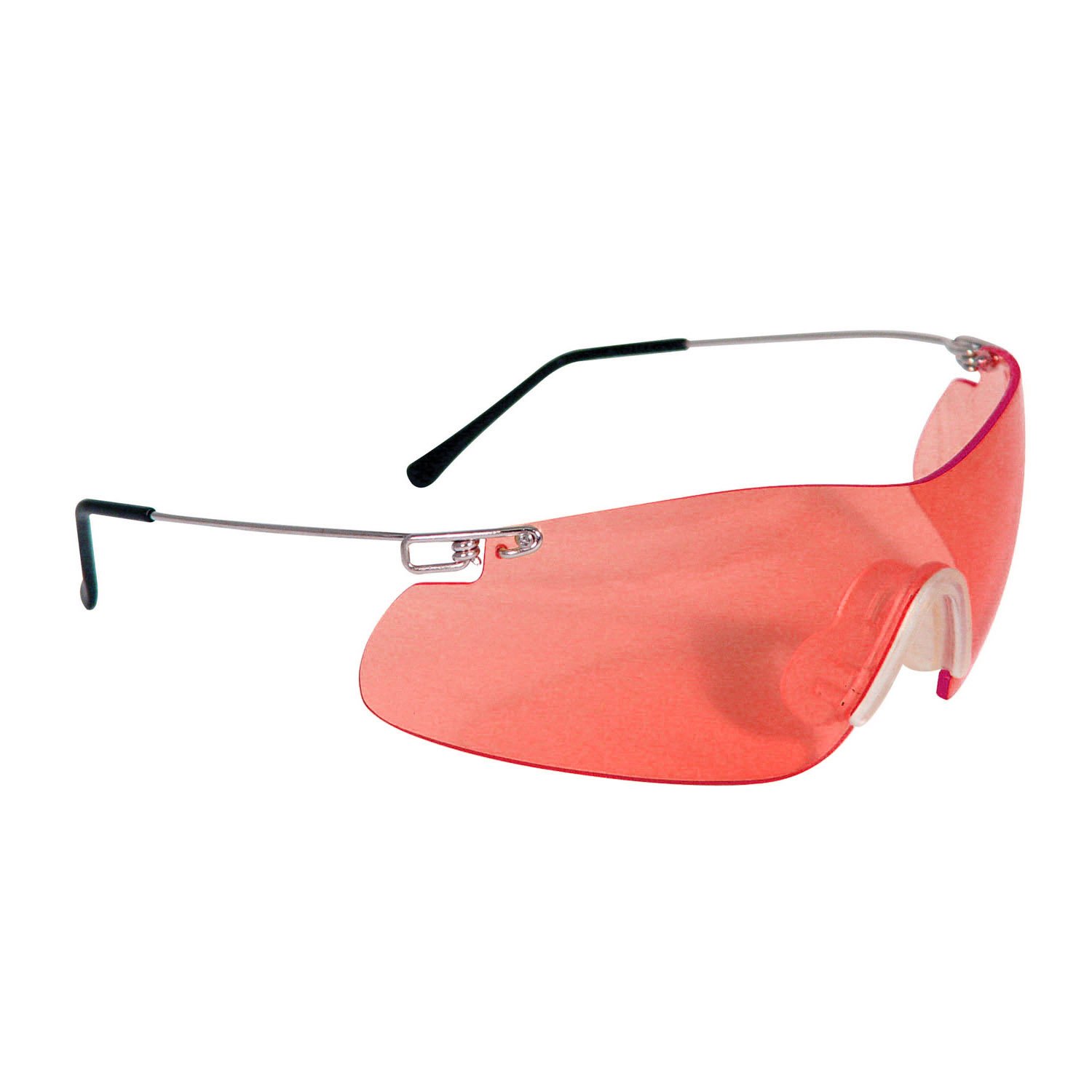 Radians Clay Shooting Glasses
Pros
Frameless style clears your field of vision
Vermilion color helps orange targets to stand out
Thin wire frames fit under hearing protection well
There's also no top frame to obstruct your field of vision, which can be helpful when shooting upwards. The sides are nice and slim, so they fit under most hearing protection without a hitch or a pinch.
The nosepiece doesn't adjust, so you might be sacrificing a little comfort, but if your nose doesn't mind, these are still a great choice.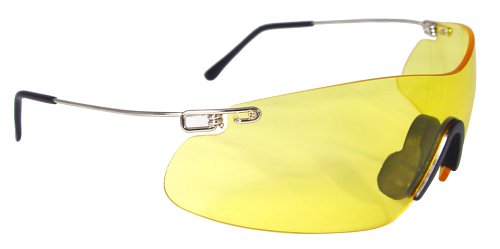 They are ultra lightweight, though, which means they can feel a little flimsy. Radians does make sure these glasses meet ANSI Z87.1+ standards for higher velocity impacts, so your eyes will be nice and safe.
We're not forgetting about you, prescription glasses-wearing people! We know it can be hard to find eye protection that fits with your frames, but fret no longer–you don't have to deal with fussy contacts or forgo your glasses just to protect your eyeballs.
The Allen Over Shooting Glasses probably won't be making any Fashion Week lists, but they will fit over most prescription glasses, leaving you free to see.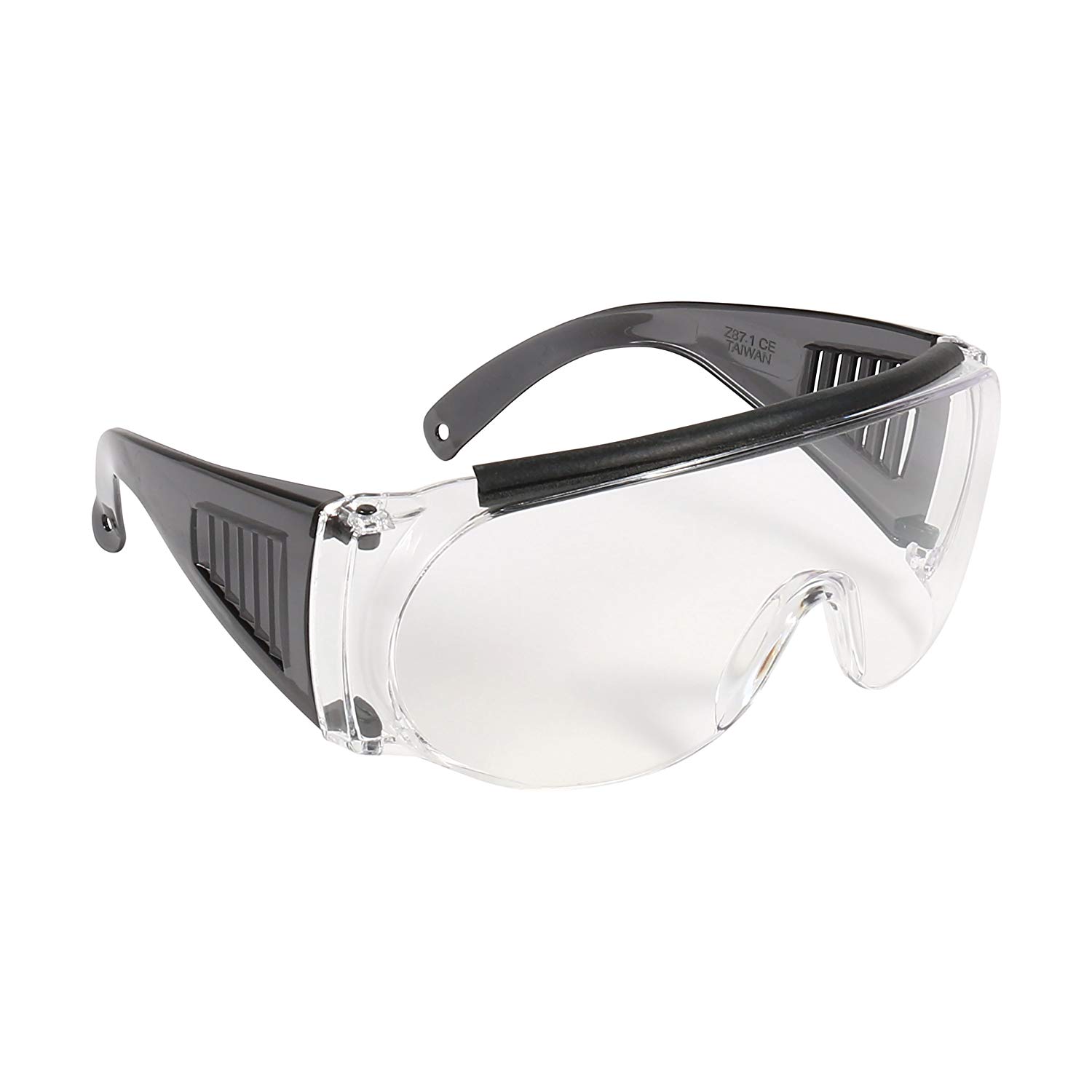 Allen Over Shooting Glasses
Pros
Fits over prescription glasses for better protection
ANSI Z87 impact resistant
Lens color options available
Cons
Don't fit under earmuff protection
They can add a little extra weight to your face, but you'll get used to it quickly. The frames are on the thicker side, which gives you more coverage.
Unfortunately, that also means that they might get in the way of your hearing protection. Earplugs might be the best way to go with these.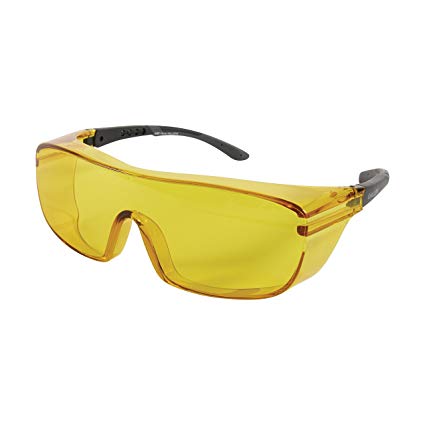 You can find these in amber, clear, and mirrored smoke, for that extra bit of cool factor on your grandpa glasses.
If you're regularly around firearms, such as a law enforcement officer or active duty military, you may want something that blends the look and comfort of sunglasses with the ballistic resistance of shooting glasses for all-day wear.
The Smith Optics Hudson Tactical Sunglasses were designed with your needs in mind! They meet the MIL-PRF-31010 standards and protect against UVA, UVB, and UVC rays for total eye protection.

Smith Hudson Tactical Sunglasses
Pros
Meets MIL-PRF-31010 standards
UVA, UVB, and UVC protection
Comfortable for all-day wear
Cons
Might not be comfortable under earmuffs
We found these glasses to be great for all-day wear since their ultra-lightweight frames and padded nosepiece fit comfortably. If you have a thinner face, these might not fit as well, and you may find yourself needing to push the glasses up your nose again and again.
The tapered lenses wrap around for a full field of view without any distortions.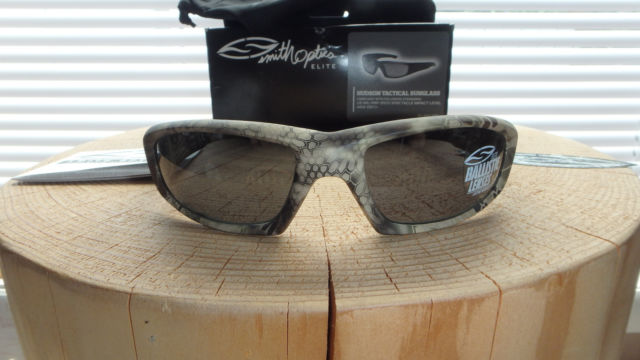 Since these are intended to be worn as sunglasses, the Hudsons definitely sacrificed thinness for durability–which means you'll probably feel them under your earmuffs. We didn't think it was too bad, but if you're sensitive, be warned.
Sure, it's cool to be able to buy your favorite shooting glasses in different lens color variations, but what about shooting glasses that include all the lens colors?
The Radians Shift Interchange Glasses come with five different lenses in a variety of performance colors, and you can snap the right lenses for the light condition right into the frames as needed.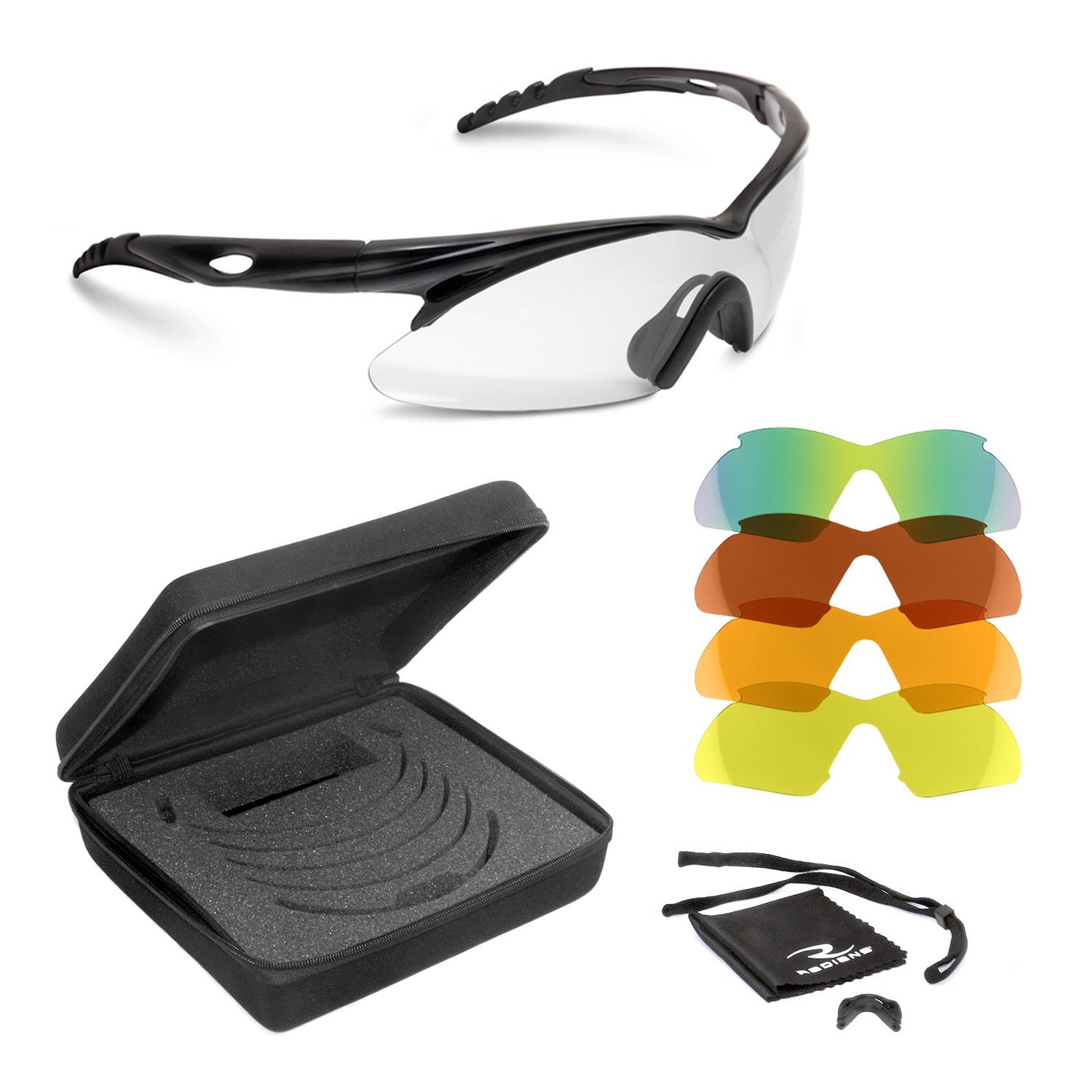 Radians Shift Interchange
Pros
5 interchangeable lenses
Exceeds ANSI Z87.1 standards
UVA and UVB protection
Cons
Changing lenses can be difficult
The set includes green mirrored, copper, amber, yellow, and clear lenses, all in a padded carrying case to prevent scratches. You'll be ready for any situation you might be shooting in.
All of the lenses in the kit protect against UVA and UVB rays, as well as exceed ANSI Z87.1 standards.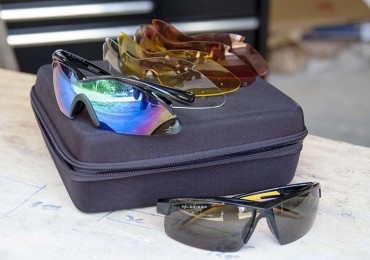 The frames themselves feature rubber tipped temples and nosepiece, which can be removed and fitted to the included lenses. It can be a little challenging to swap lenses at first, but with practice, it gets easier.
We thought the arms of these glasses was a little thick, and we're concerned about how they fit under our earmuffs. They could work well with earplugs, but if you use muffs, be sure they are settled into place correctly.
There is no denying that these are some incredibly badass shooting glasses. The Smith Aegis Echo II meets all three ballistic protection standards, covers your eye area completely, and even has an adjustable nose piece.
Not to mention, the slim, flat temples fit nicely underneath earmuffs. The rest of the frame isn't chunky, but there's a certain quality feel and weight to them.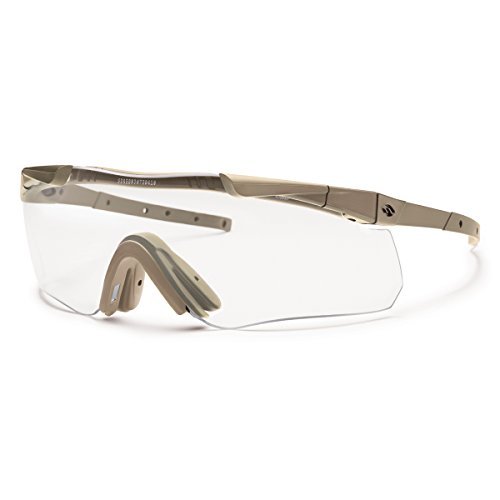 Smith Aegis Echo II
Pros
Meets ANSI Z87.1, MIL-PRF-31013, and EN166 standards
Slim frames fit under ear protection
Clear and smoke lenses included
Cons
Tactical look might be a bit of a turn-off
The aggressive upper frame may be just right for you… or it may be a little too tacti-cool, like it was for us. Not that there's anything wrong with that style, but it's just not one we wanna rock.
While they're a little spendy, you also get two sets of lenses (clear and smoke) and a case to keep it all safe.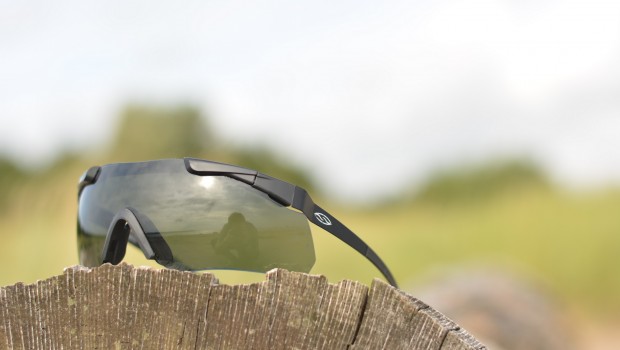 If you're willing to drop some coin for premium glasses that go above and beyond, there are it.
Taking a Last Look
That wraps up our recommendations. If you're looking for something affordable, our top choice is the Wiley X Saber glasses. You get plenty of comfort and features, and they're at a very fair price.
If you want to be ready for anything, we think the interchangeable lenses of the Radians Shift Interchange glasses are super neat.
For a more bougie option (and a little more protection) you can't go wrong with the Smith Aegis Echo II. Go on, you know you're worth it.
Got any recommendations that we missed? Do you know someone who knows someone that really should have worn shooting glasses? Tell us all about it in the comments, and don't forget to get our recommendations on the best hearing protection.