Struggling to choose a new completed upper for your AR?
Well just relax, because we've got your back.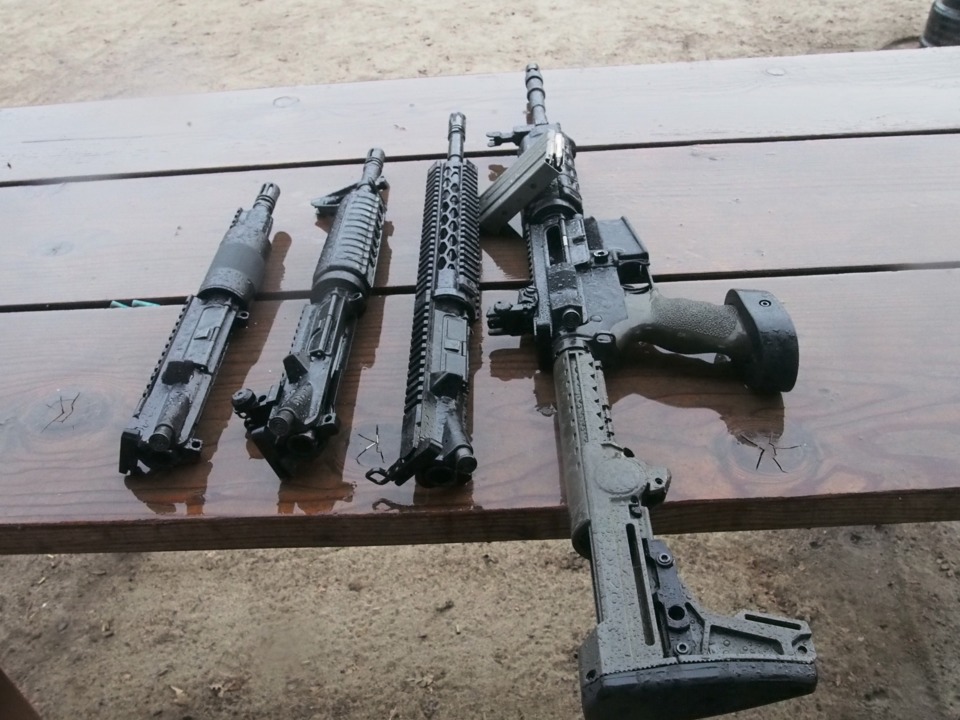 If you're not sure which one to pick, or you're worried about blowing your budget for your whole build on just the upper, don't stress! We've got everything you need to know about choosing a new upper, including the basics, what brands to look for, and which specific models will best fit your needs. 
What is a Complete Upper?
An AR-15 can be divided up into two main parts, the upper receiver and the lower receiver. 
The upper contains the barrel, bolt carrier, charging handle, ejection port, and the gas system, while the lower contains the trigger, safety, bolt release, magazine well, and buffer assembly.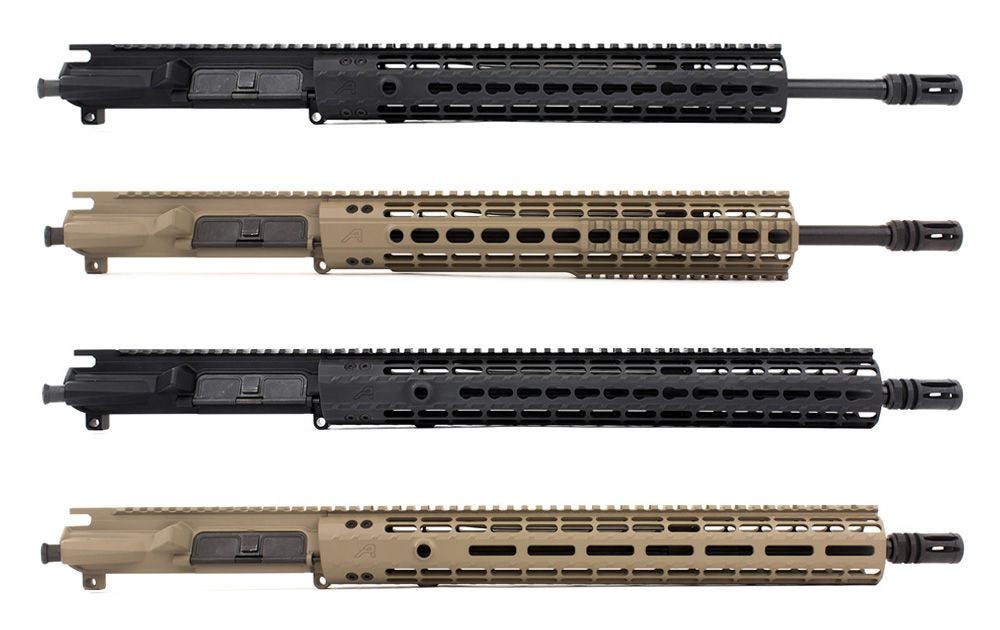 A "complete upper" generally consists of everything you need to be able to simply attach the upper to the lower using the two takedown pins to make a functional AR-15. 
This dual-receiver design has a few benefits from a manufacturing standpoint and has made the lives of gunsmiths and armorers vastly easier over the years, but most importantly it allows for an unmatched level of modularity. 
We sometimes say that the AR-15 is just a Lego set for people who outgrew Legos because they're so customizable to the end-user.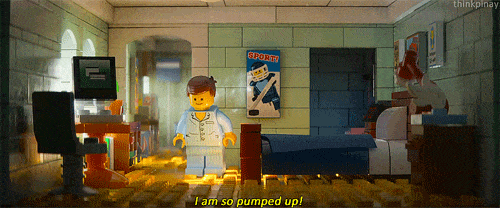 The upper receiver is a big part of that modularity for a few reasons, and that modularity is the driving force behind most people looking to purchase a new upper.
Why Get a New Upper At All?
First and foremost, you can swap uppers and lowers around to your heart's content.
An AR-15 with a 20" heavy barrel designed for precision shooting at a distance can be turned into a short-barreled CQB/home defense tool with a lightweight barrel in about thirty seconds, with no tools as long as you have a new upper.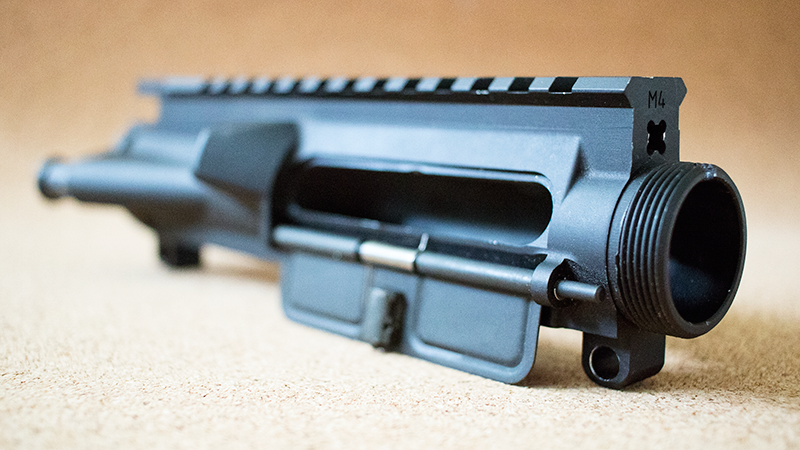 This is great for mission readiness in a combat situation and makes repairs and fixing burnt out barrels quick and easy, but from a more practical perspective (at least for civilian users) this means that you can effectively have multiple rifles, and only pay for the one lower.
In fact, since the lower receiver is the only serialized part, the "firearm" as far as the ATF is concerned, you can actually have completed uppers sent to your door, no FFL required. 
All sold on the idea of a completed upper? Ready to figure out which one you need to finish your build or upgrade your rifle?
Great! Let's start with a few favorite companies.
Best Complete Upper Manufacturers and Brands
It seems like every time you turn around, somebody with a CNC machine and a dream is starting an AR-15 company, so the number of options can be overwhelming when it comes time to pick an upper. 
To help with that, we've put together a list of upper manufacturers that put out products that are both readily available and a good value for the cost, and we've broken the list down into tiers based on quality.
Top-Tier Complete Uppers
If you're looking for the best of the best, and you have the money to spend, these are the best uppers around.
Mid-Level Complete Uppers: The Best Value
For most users, this is where you'll want to start if you're building a new AR, or upgrading an old one. These uppers are all solid and reliable, and a very good value for the price.
Budget Uppers: Cutting Costs Without Cutting Quality
If you're looking to build a rifle on the cheap, whether you're looking to put together an off-the-wall build and don't want to sink too much money into it, or you're just on a really tight budget, these are the uppers you should be looking at.
With all that out of the way, let's start looking at what uppers you should buy to meet your specific needs, no matter what those might be.

We're going to break down our list by a few different categories of uppers, such as 16″, precision, and SBR and pistol uppers.
Best 16" AR-15 Uppers
These are the best uppers for most "standard" builds. These uppers have either a 16" barrel (which is the minimum for a rifle per the NFA) or a 14.5" barrel with a pinned and welded muzzle device to get them to that magic 16" mark.
Most of these uppers use a mid-length gas system instead of a carbine-length gas system, as a middie will typically give you a softer recoil impulse.
BCM is probably a name you've heard if you've been shopping for high-end uppers, and their mid-length offering is a good representation of their stellar work. These uppers are designed for the professional shooter, whether competition shooters, military, or law enforcement.
The BCM BFH upper comes with BCM's excellent MCMR-15 handguard, as well as a mil-spec, Gov't-profile, chrome-lined barrel that will last for several thousand rounds, and stand up to even the hardest use and abuse.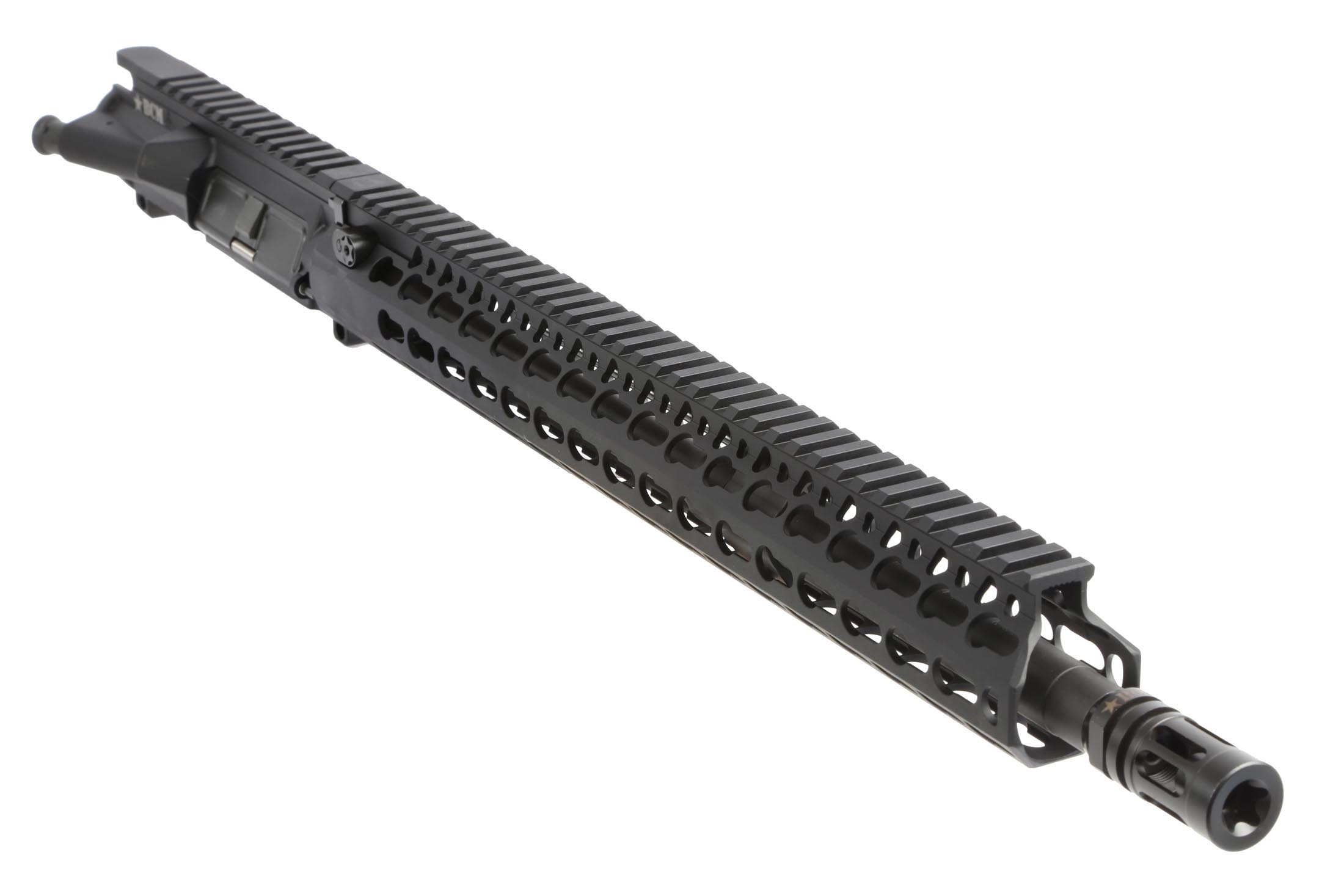 Bravo Company BFH 16" Mid-Length 5.56 AR-15 Upper
Pros
Mil-spec, Gov't-profile, chrome-lined barrel
USGI 1:7 Twist Rate
Magnetic Particle Inspected
The DDM4A1 upper gives you a 14.5" barrel with a permanently-fixed flash hider to that adds 1.5" to the barrel length. You get a 1:7″ twist M4-profile barrel with a carbine-length gas system, and comes with DD's incredibly popular M4A1 RIS II handguard.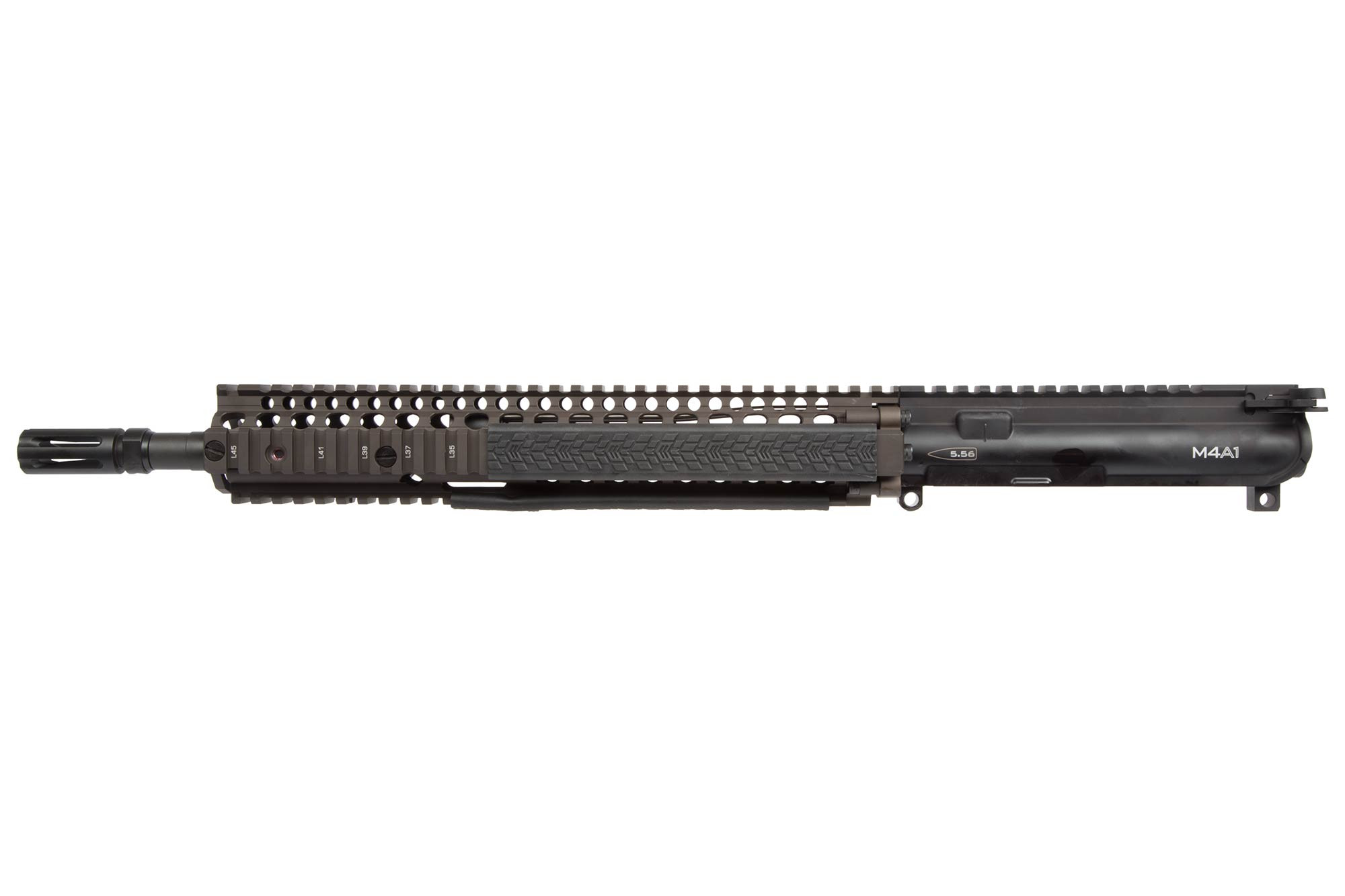 Daniel Defense DDM4A1 Complete Upper
Pros
14.5" barrel
1:7" twist M4-profile barrel
Chrome-lined 41V50 chrome moly vanadium steel barrel, manganese phosphate finish
Aeros is a hugely popular name due to the support they offer AR builders, but they also offer some excellent complete rifles and complete receivers as well.
The M4E1 14.5" Mid-Length upper here comes with Aero's M-LOK Atlas handguard, with a full-length top rail so you can slap whatever optics, lights, lasers, and other devices you want onto it without worrying about running out of room.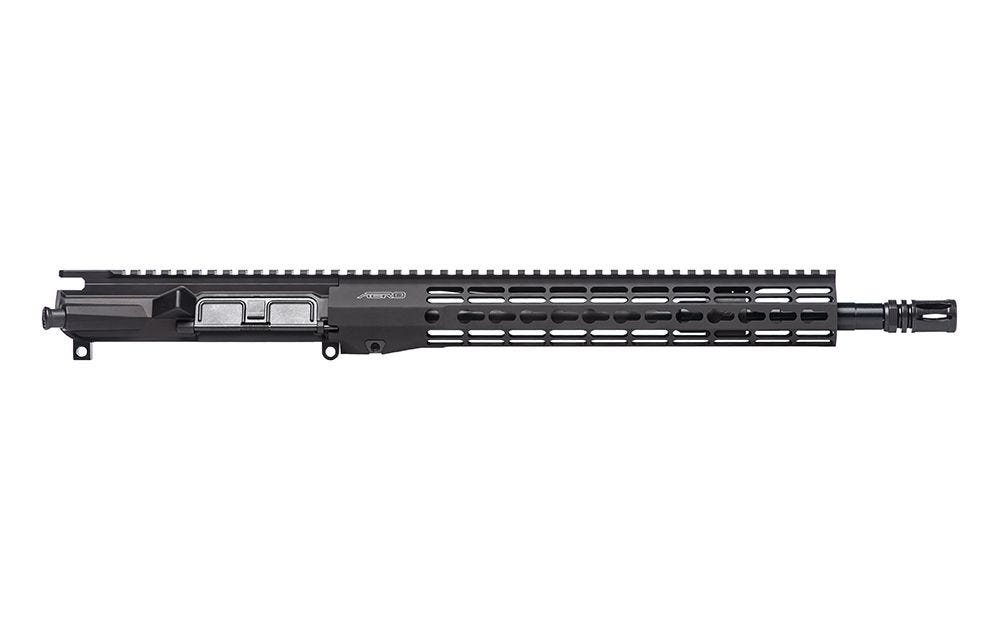 Aero Precision M4E1 14.5" Mid-Length Upper with Atlas R-One Handguard
Pros
14.5" 5.56 Mid-Length CMV Barrel
Low Profile Gas Block and Mid Length Gas Tube
ATLAS R-ONE Handguard of choice
Cons
Doesn't include BCG and charging handle
You also get a pinned and welded VG6 Epsilon 556SL muzzle brake (an $85 value by itself) that is actually the same diameter as the CMV barrel, so you can change gas blocks if you want without any issues. 
You can also get this one in a variety of calibers, including .300 BLK so if you're looking for a non-traditional caliber, this may be the way to go.
If you're on a tight budget, or just don't want to spend a lot on whatever build you're playing around with, PSA has got your back, as usual when it comes to affordable firearms. 
Their PSA 16" Upper Receiver comes in many different flavors.
You can tweak and customize based on what you're looking to build, but no matter what options you pick, you're still going to get a quality upper delivered to your house for under $350 in almost every case, and closer to $250 if you already have a BCG and charging handle.

Palmetto State Armory 16" Upper Receiver
Pros
Mix and match your length and caliber
Cold hammer forged chrome moly vanadium barrel
Inexpensive
Best Precision Uppers for Increased Accuracy and Performance
If you're looking to put holes in something from a long way away, or you need extra accuracy and performance for a competition, there are a number of uppers out there that can help you get what you need from your rifle. 
This upper would do well in anything from a Designated Marksman rifle to a dedicated varmint rifle for getting rid of those pesky coyotes. There are also some options here for a high-end 3-Gun rifle if that tickles your fancy. 
Speaking of high-end 3-Gun rifles, the DDM4v7 Pro is specifically designed to help you build just that. With a mil-spec handguard featuring T-marks and a full-length top rail, you have room for any optic, as well as an off-set red dot, or BUIS, or… you get the idea.
You also get a cold hammer-forged, CMV barrel with a 1:7″ twist for stabilizing heavier bullets typically found in match-grade ammo.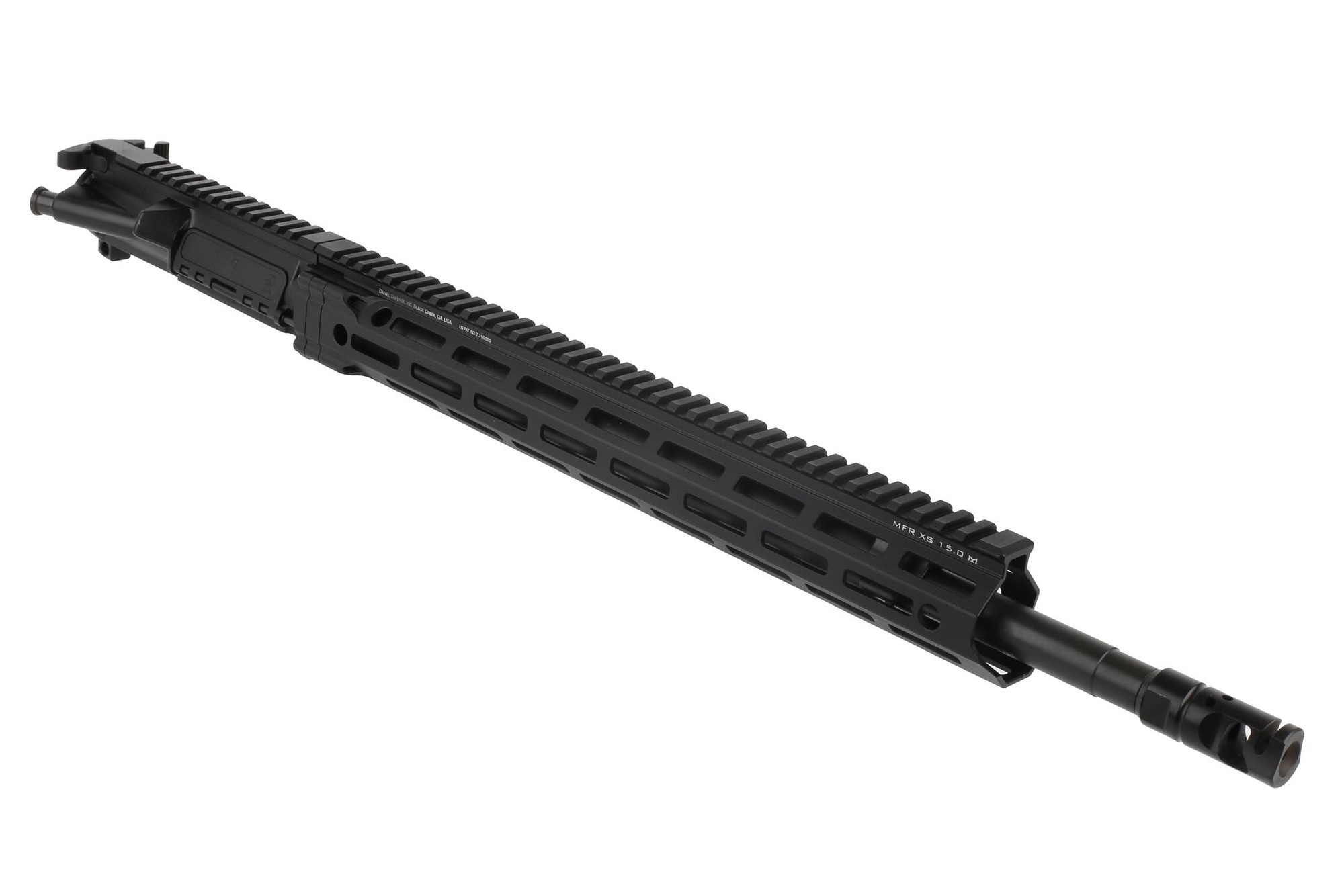 Daniel Defense DDM4v7 Pro 
Pros
Mil-spec handguard featuring T-marks
Full-length top rail
Included Muzzle Climb Mitigator
That barrel is topped with DD's creatively-named "Muzzle Climb Mitigator". While the muzzle device on this won't win any prizes for naming, it will surely help you take home something fun from the prize table at your next multi-gun match. 
If you want something a little different, Aero Precision also offers their M4E1 upper in .223 Wylde.
The .223 Wylde chamber was designed to take advantage of the tighter chamber spec, and therefore greater accuracy, of the .223 Remington cartridge, without tightening the chamber so much as to create a problem when shooting higher pressure 5.56 NATO ammunition.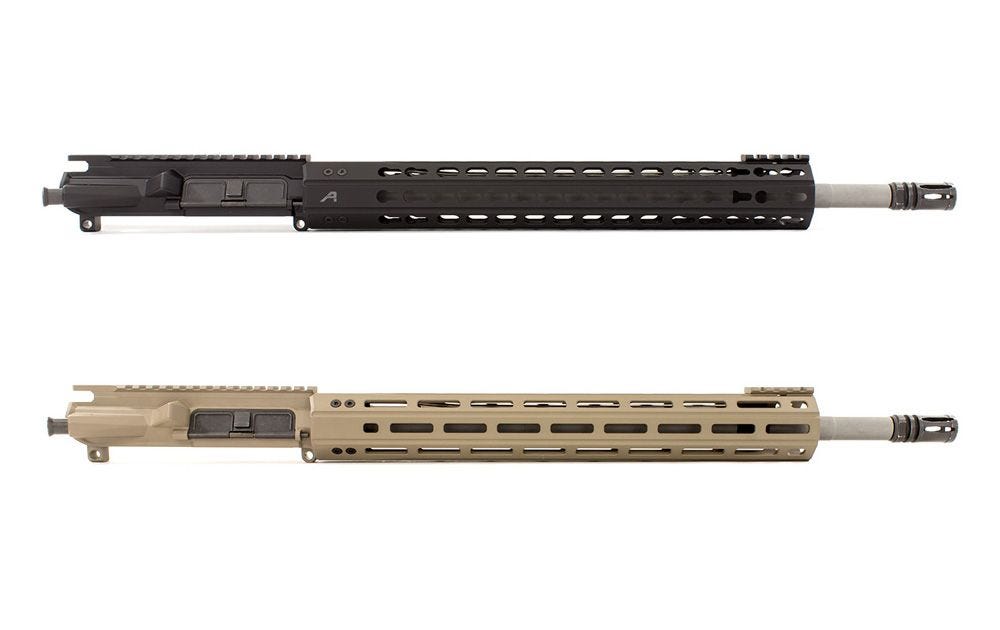 Aero Precision M4E1 18" .223 Wylde Upper with Quantum Handguard
Pros
Tighter chamber for increased accuracy
Low Profile Gas Block and Rifle Length Gas Tube
Forged from 7075 T6 aluminum
Cons
Doesn't come with BCG or charging handle
Basically, this gives you enhanced accuracy due to the tighter chamber, and the higher velocity from the 5.56 NATO ammo, which is a win-win when it comes to long-range shooting with .223 ammo, making this a great choice for both competition and varmint hunting. 
If you want something other than a .223 however, you have a number of great options for stretching the accuracy and long-range capability of the AR-15 platform.
One excellent option is PSA's 20" .224 Valkyrie Upper. PSA has again brought a cheap but not cheaply-made AR upper to the market that performs well above its price bracket. 

Palmetto State Armory .224 Valkyrie 20" Upper 
Pros
.244 Valkyrie has great accuracy
416R Stainless Steel barrel with a 1:7 twist rate
Made in-house by PSA
The .224 Valk upper here is more than capable of ringing steel at 1000 yards, and it'll put your skills to the test sniping prairie dogs too. 
PSA makes everything in-house, so you can actually get blemished versions of must of these uppers even cheaper, and you'll just have a small scratch in the finish or weird machining burr here or there.
Best Short Barrel & Pistol Uppers
Building an AR pistol or SBR? These are some of the uppers you should look at first.
The MK18 is the rifle currently used by USSOCOM, and this particular upper has been shipped to Special Operations command to the tune of about 20,000 units. In other words, its a pretty solid little upper. 
In accordance with MK18 spec, the MK18 upper has a 10.3" barrel, KAC-style RIS II rail, and a low-profile gas block. The MK18 was developed by the US Navy to aid in urban warfare, and other CQB situations, particularly ship boarding actions and other fighting in confined spaces.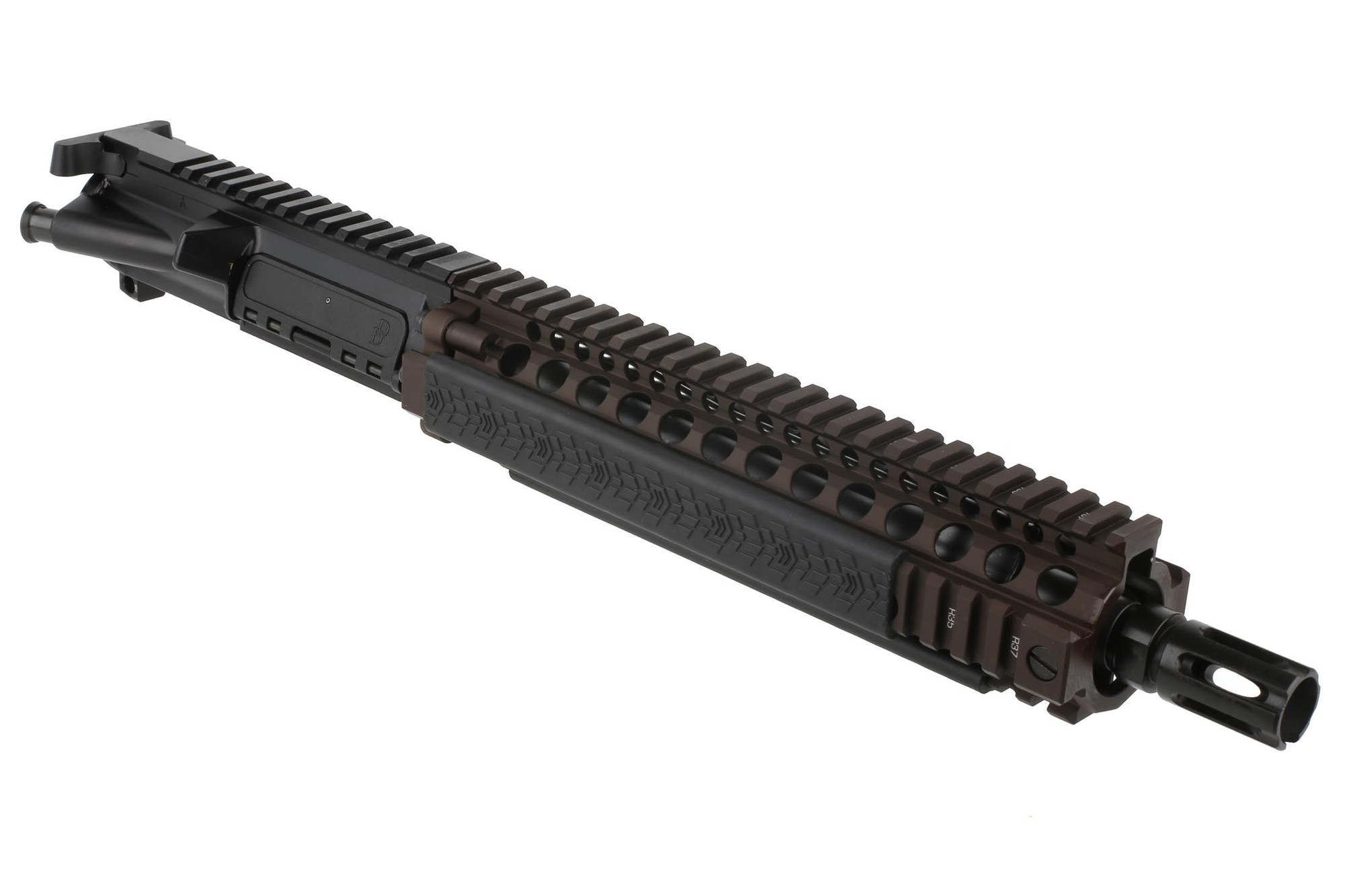 Daniel Defense MK18 10.3" Complete Upper
Pros
MIL-SPEC M16 bolt carrier group
Chrome lined 41V50 chrome moly vanadium steel barrel, manganese phosphate finish
Daniel Defense Flash Suppressor
Cons
Requires tax stamp for SBR
In other words, if you're looking for a home defense upper, and you're willing to pay for an SBR or use a pistol brace, this is the upper you want. 
For the rest of us with slightly less money, Aero is here to save the day yet again. Their M4E1 Upper 10.5" variant has all the same upsides as their 16" and 18" offerings, but with the obvious benefit of being short enough for a pistol or SBR build.
We've tested and frankly beaten the living daylights out of this particular upper, so we can personally attest to its ability to stand up to adverse conditions.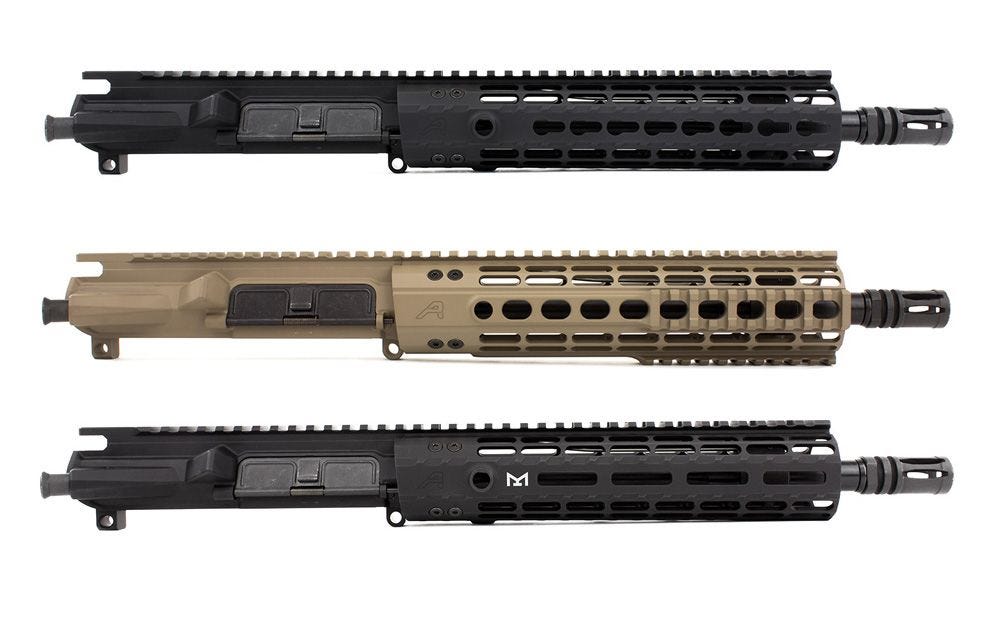 Aero Precision M4E1 10.5" Complete Upper
Pros
10.5" 5.56 CMV Barrel
Enhanced Handguard of choice
Forged from 7075 T6 aluminum
Cons
Doesn't include BCG or charging handle
Best Left-Handed AR-15 Uppers
If you're one of the 10% of the population that's left-handed, and one of the 100% of people who don't want brass from an AR-15 to hit them in the face, you may want to look into a left-handed AR-15 upper. 
If you are, you have one good option that we've tested, the Stag Arms 15L Tactical Upper. You get a full-length rail, as well as M-LOK compatibility so you can actually build the rifle the way you want, and you won't have to learn how to shoot with your offhand or deal with brass hitting you in the mouth.

Stag Arms 15L Tactical Upper
Pros
Designed for left-handed shooters
Can be configured for state requirements
16", 4150 Steel, Chrome Lined, Government Profile, Manganese Phosphate Coated Barrel
Cons
Good luck sharing with your buddies
Finishing Touches
Getting a new complete upper is a great way to get more use out of your existing rifle, and is, of course, essential for finishing off a rifle build–unless you're looking to build your own upper.
Hopefully, there's an upper here that has sparked your interest, and maybe even one that will find a home on one of your rifles in the days to come.
What do you think of these complete uppers? Have a favorite we didn't list? Let us know in the comments. While you're at it, don't forget to check out our reviews of the best AR-15 optics!