Building an AR-15 or AR-10 has a lot of advantages–like allowing you to fully customize every part of your gun to fit exactly what you as an individual need and want from your rifle.
But it's also just a lot of fun, like Legos for adults. But when you're done, you have a gun.
On the other hand, picking out every single piece can be kind of exhausting, especially when you're not too fussed about each and every part.
It's kind of like if you were handed the instructions for a Lego build, but then had to go handpick every single block yourself out of all of the individual blocks that Lego offers. See? Exhausting.
Sure, some people might enjoy that. For most of us, though, we're mostly worried about a few specific parts and most of the fun is in the build. 
That's where build kits come in. Kits are great for people new to building or who just don't want to bother with picking out every single part individually.
Today we're specifically going to focus on lower parts kits, or LPKs, which allow you to convert a stripped lower receiver to a complete and fully functional lower. Or at least mostly. 
Let's talk a bit more about what you can expect to get in a lower parts kit, then move on to our top LPK picks for the AR-15, then the AR-10 since there are a few differences between the two platforms.
Finally, we'll finish up with a couple of kits that are great for spare parts in the event that you lose or break one of yours. 
What's in a Lower Parts Kit?
To fully complete your lower assembly, you'll need quite a few different parts:
Trigger
Trigger Spring
Trigger Pin
Trigger Guard Assembly
Hammer
Hammer Spring
Hammer Pin
Bolt Catch
Bolt Catch Spring
Bolt Catch Roll Pin
Bolt Catch Plunger
Disconnector
Disconnector Spring
Safety Selector
Safety Selector Detent
Safety Selector Detent Spring
2 Takedown Detents and Springs
Rear Takedown Pin
Pivot Pin
Buffer Retainer and Spring
Magazine Catch Assembly
Pistol Grip
We know that's a long list, but that's the whole point of lower parts kits!
They'll include most of that stuff for you already, but they may or may not contain parts that people tend to be more particular about, like the pistol grip and trigger.
Some include a buttstock as well. Most also do not include the buffer assembly. 
And once all that stuff is together, the hard part of building your lower assembly is all done!
Everything else is just putting things in the right place, then using a hammer and wrench to make sure it stays there. 
Sound good?
Then let's talk about some of your options for lower parts kits.
AR-15 Lower Parts Kits
These are the best lower parts kits out there and are the ones I keep coming back to for build after build. 
1. Brownells MOE AR-15 Lower Parts Kit
Store brands often get knocked for their quality, but the Brownells Lower Parts Kit is actually really great parts, especially for their price point.
Now, in this case, Brownells is more expensive than a lot of others, but that's because their lower parts kit includes the buffer assembly, which most LPKs don't include, as well as a Geissele trigger (your choice of either the Geissele 2 Stage Enhanced Trigger or the Geissele Rapid Fire Trigger) and a Magpul MOE stock and grip. 
This makes it a good choice for beginners who are more focused on the experience of the build than getting the most possible savings or choosing the best possible parts.
Now that's not to say that this kit is overpriced or that the parts aren't good quality, but you will get more savings and better parts if you choose certain parts individually.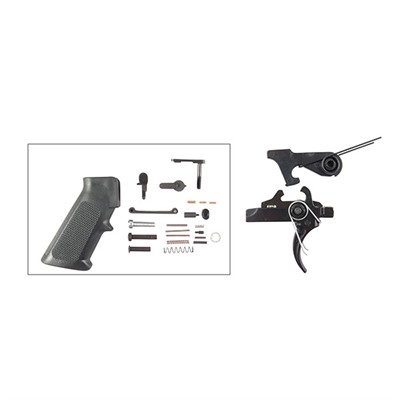 Brownells MOE AR-15 Lower Parts Kit
Pros
Giessele trigger
Everything you need at a great price
Great for beginners
It's certainly convenient that this kit is more complete than others and has excellent parts. Plus, it's over Brownells's minimum cost to qualify for free shipping.
2. CMMG AR-15 Lower Parts Kit
CMMG is a huge name in the AR-15 game and the CMMG LPK is up to their usual standard. It's on the low end of the middle of the road in terms of pricing, but it offers excellent value for your dollar.
The parts all come in color-coded zipper bags with related parts sharing a baggy, and there's a corresponding legend on the box to help you keep all your parts nice and organized. The front of each bag is clear so you can actually see the contents, but the entire back panel is colored. 
This makes the kit especially good for beginners who've never built an AR-15 before so you don't get your springs and pins mixed up. In addition, the parts all fit together really well without any filing or sanding, saving you some work there too.
The kit is mil-spec, which guarantees a certain level of quality, but we should also note a few issues that come with that: A2 pistol grips aren't super comfortable and are awkwardly angled, the trigger guard isn't roomy enough for use with gloves, and while the advertised trigger press is 6 to 6.5 pounds, mil-spec triggers frequently have a heavier than spec pull.
Beyond that, trigger and pistol grip are nothing special and it doesn't include a buttstock, but that's fine if you're not ready to upgrade yet or are buying them individually.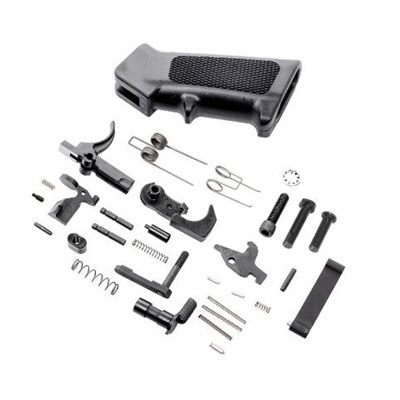 CMMG AR-15 Lower Parts Kit
Pros
Color coded for easy assembly
Great value
Great durability
Cons
Mil-spec, so not comfortable
On the other hand, the hard coat anodization is actually thicker than mil-spec standards, so it's got the same look but with greater durability. The safety selector is also more crisp and positive than mil-spec safety selectors, without creep. 
Overall, this LPK offers the mil-spec look, but it's frequently better in terms of performance and feel.
3. Geissele Automatics Lower Parts Kit
Geissele is best known for their triggers, handguards, and muzzle devices, but they also make plenty of other great parts and even complete rifles.
This lower parts kit is one of those other great products.
It's a high quality and utilitarian kit without any extra frills. The parts are precision machined and durable, though you may need to do a bit of sanding or filing on some of the pins.
It includes everything you need, except the trigger or pistol grip, which is good if you want to keep your trigger and/or pistol grip, or wanted to select either or both individually anyway. It's also really affordably priced even factoring in that it doesn't include those parts.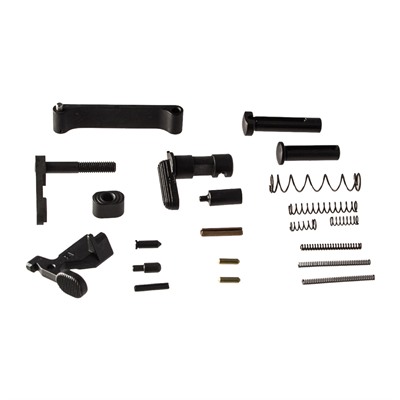 Geissele Automatics Lower Parts Kit
Pros
Lets you choose your own trigger and pistol grip
Milspec design
Great value
You can match this kit with one of Geissele's excellent triggers, or you can check out our Best AR-15 Drop-In Triggers list for other options.
4. Palmetto State Armory Magpul MOE Lower Build Kit
Palmetto State Armory, or PSA, has established themselves as one of the United States' top manufacturers of complete AR-15s and their corresponding parts and accessories, so naturally we couldn't do a list like this and not include at least one PSA LPK.
The parts come sorted into baggies by area, like the CMMG kit. They aren't color-coded, but the bags still go a long way in keeping things straight and making sure you don't get similar looking pieces like springs mixed up.
It's also one of the more complete lower parts kits available, with a Magpul MOE stock, grip, and trigger guard, as well as a buffer tube assembly, all included. And with so much included, it also makes a good repair kit to keep on hand for spare parts.
The parts are all mil-spec, so everything fits well without sanding or grinding, making it easy to assemble, and the parts are durable, dependable, and long-lasting in both materials and construction. The springs are sturdy but compressible and the metal pieces are thick and sturdy without being too heavy or bulky.
The one possible downside is that it's a very utilitarian looking kit with no panache, but if you want a minimalist build or prefer to let somewhere else on the finished rifle get all the attention, that works just fine.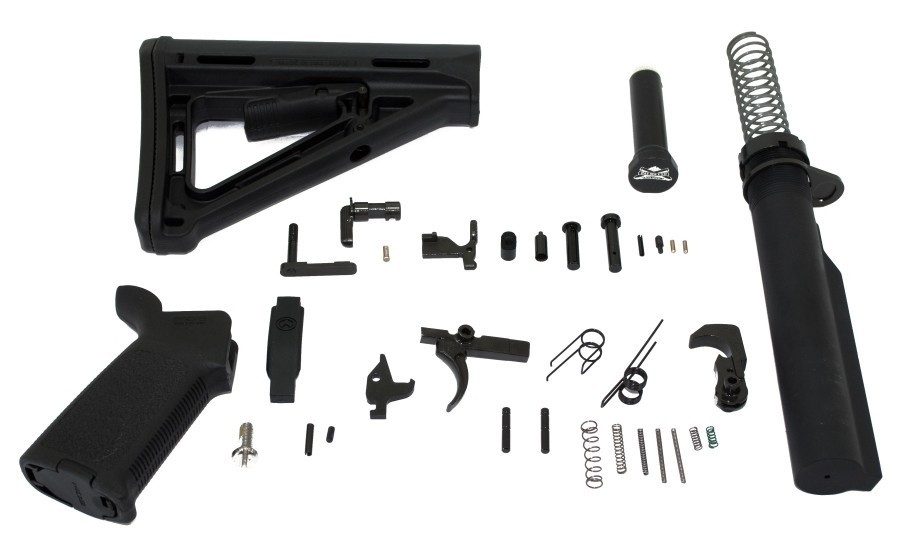 Palmetto State Armory Magpul MOE Lower Build Kit
Pros
Included buffer tube assembly
Good value
Great for a repair kit
While this kit is great, PSA has a bunch of other great build kits, too, both LPKs and other types, so you may want to check them out as well.
5. Aero Precision Standard LPK
There are plenty of LPK options from Aero, depending on whether you want to include a fire control group, grip, or stock, but all of their kits come with an Aero Precision Standard LPK.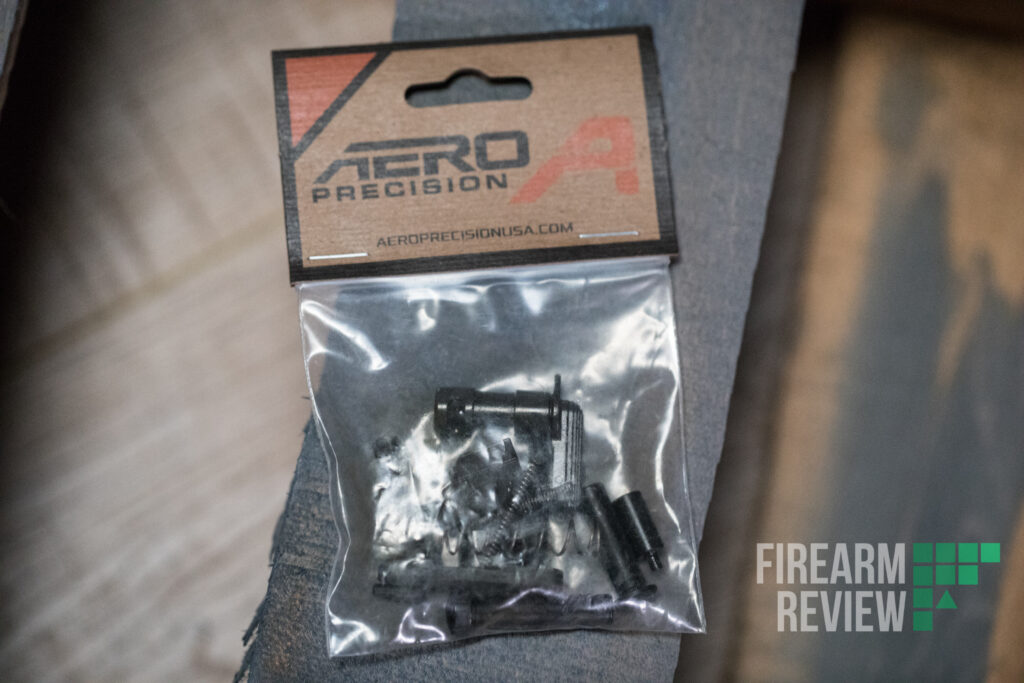 It's all mil-spec so it will play nice with just about anything you have. If you've ever used an Aero lower though, you might be aware that some of their parts don't play too well with other brands, even if they should. An Aero LPK is a great way to minimize the headaches and the hairpulling that can come from doing your own build.
We also like that Aero sends you everything sealed in a heavy-duty plastic baggie, because nothing is more frustrating than looking for your roll pin and then noticing a teeny tear in the baggie.
It also includes the 4-40 set screw that a threaded rear takedown pin needs for retention on some Aero lower models.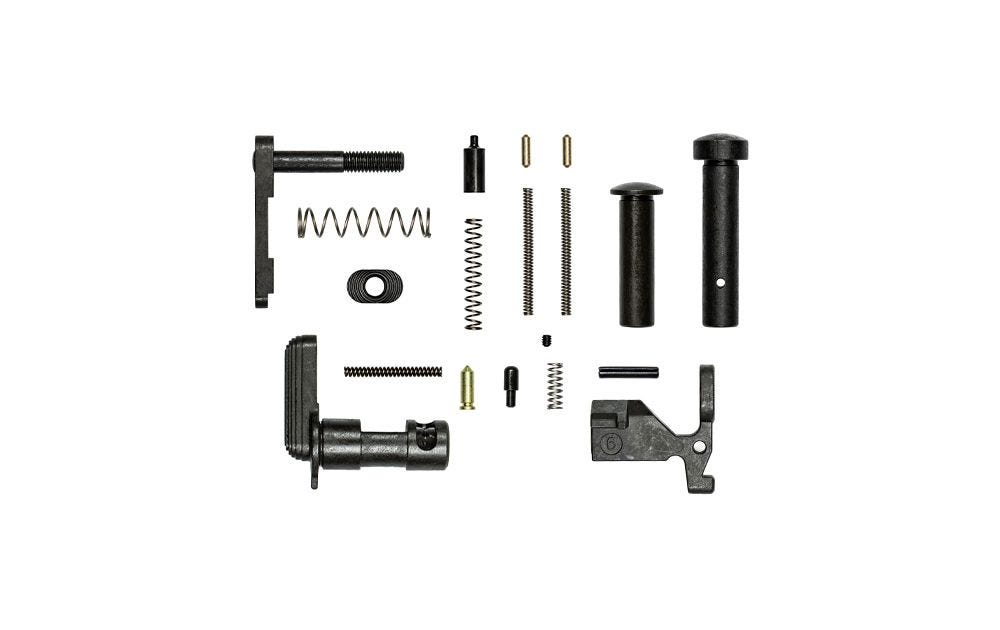 Aero Precision Standard LPK
Pros
Easy to mix with other lower parts
Includes a 4-40 Set Screw
Works well with Aero's lowers
Cons
Sometimes is a tight fit with other lowers.
AR-10 Lower Parts Kits
Now for the AR-10, the larger, older counterpart of the AR-15.
Most parts in an AR-15 LPK will also work for an AR-10, but the larger caliber and by extension, the larger magazine and receiver, mean that these parts won't:
Bolt Catch
Bolt Catch Roll Pin
Pivot Pin
Takedown Pin
Buffer
Buffer Spring
Magazine Catch
To deal with this, you can get an AR-15 LPK with the understanding that you'll also have to buy AR-10 compatible versions of those parts separately or you can just buy an AR-10 lower parts kit like one of these.
6. DPMS AR-10 Lower Parts Kit
AR-10 lower receivers come in two different patterns: Armalite and DPMS. The latter is far more common, so unless your receiver specifically says it's Armalite, it's probably safe to assume that it's DPMS. 
Which is why it's hard to go wrong with an LPK from the company that designed that lower receiver pattern.
This DPMS LPK is very complete, with the trigger assembly and pistol grip included. The trigger has a nice, smooth pull and no trigger creep, while the pistol grip is comfortable, allowing you to get a good, strong hold, and is made from polymer, making it durable and easy to care for.
The metal parts are well crafted and will need very little sanding or grinding, if any.
This kit also offers noticeable recoil reduction compared to most stock parts.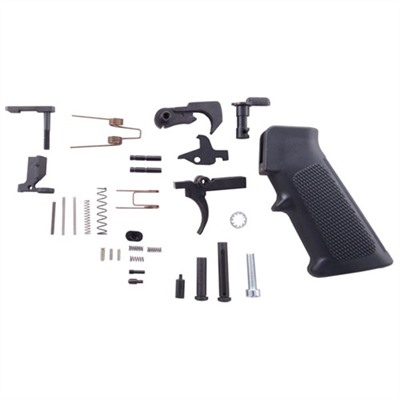 DPMS AR-10 Lower Parts Kit
Pros
Smooth trigger pull and clean break
DPMS pattern
Good value
And the best part: it's really affordably priced, especially for the quality.
7. CMMG AR-10 Lower Parts Kit
Just like CMMG makes great AR-15 lower parts kits, they also make great LPKs for the AR-10.
In fact, their AR-10 lower parts kit is actually very similar to their AR-15 LPK, down to the parts divided conveniently into color-coded baggies.
And it's as close to mil-spec as an AR-10 LPK can get and allows for fast, easy assembly, but you may have to do some minor sanding or grinding to get things to fit exactly right.
It's a pretty comprehensive kit, with a comfortable, durable polymer grip and crisp trigger included. The parts are all long-lasting and high quality in terms of both materials and construction.
Overall, this kit is great for building a custom AR-10, upgrading an existing one, or keeping on hand as a repair kit for when something on your AR-10 breaks.
One thing to note: while the CMMG AR-10 Lower Parts Kit is made for DPMS pattern lowers, it's not compatible with all DPMS lowers, such as the PSA PA10, so do your homework before you buy.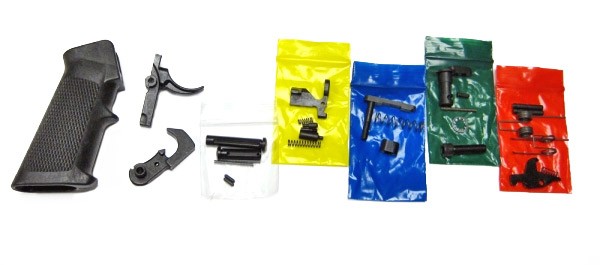 CMMG AR-10 Lower Parts Kit
Pros
DPMS pattern
Color-coded installation
Comprehensive kit
And speaking of Palmetto State Armory and the PA10…
8. Palmetto State Armory PA10 MOE EPT Lower Build Kit
PSA is another company that offers LPKs for the AR-10 that are just as good as the ones they do for the AR-15.
PSA's PA10 is a great proprietary AR-10 (you can read our review of it here), but with this kit, you can get the same lower build in DPMS pattern AR-10s from other manufacturers. Seriously: it has just about everything but the receiver itself, including the trigger, pistol grip, stock, and even the buffer tube assembly.
Like the CMMG kit, the stock and pistol grip in this one noticeably reduce perceived recoil. And it's all very easy to put together, plus it's really competitively priced, especially for the stellar quality.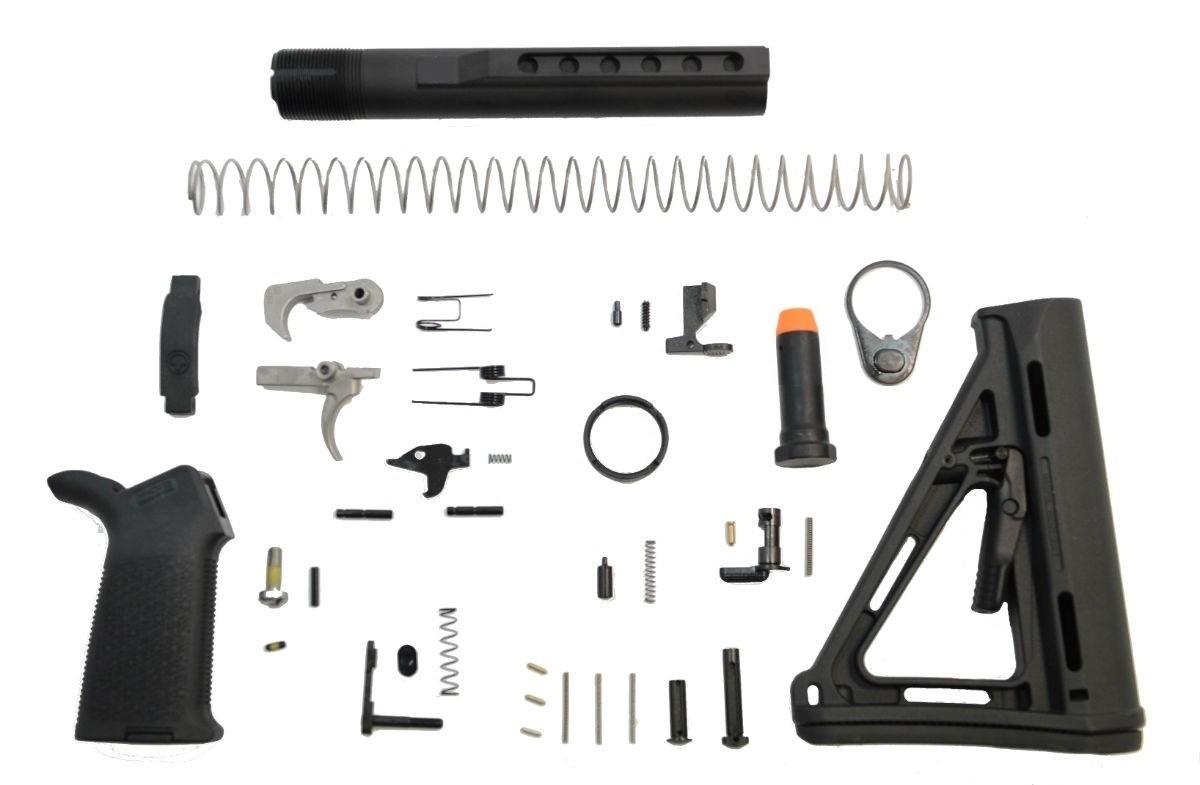 Palmetto State Armory PA10 MOE EPT Lower Build Kit
Pros
DPMS pattern
Competitive Pricing
Reduces felt recoil
Also, while we love this particular LPK, Palmetto State also has a bunch of other lower parts kits with different triggers and grips, so you may want to give them a look as well.
Spare Parts Kits
Anyone that's built anything with small parts from a kit, whether Legos, a model, or an AR, knows that sometimes parts just seem to vanish without a trace into some sort of parallel dimension.
Probably the same one where your single socks end up and your keys like to take a brief trip to when you're running late. 
And sometimes things break, usually at the worst possible moment, or just weaken over time with repeated use. Springs are especially prone to the latter situation.  
In these situations, you can just order the part you need, but you usually end up paying more for shipping than you do for that one part, plus you have to put your build on hold while you wait for the part to arrive.
Doing that once is annoying, but if you're a hobby builder it's going to happen more than once and it will quickly become infuriating—not to mention expensive.
That's where spare parts kits come in handy. They contain all of those tiny pieces that are most prone to being lost or wearing out so you have them on hand right when you need them, and you only have to pay shipping once to get all those parts. 
Definitely worth the investment. You may even want to grab two, one for your workspace and one for your range bag.
Here are a couple of our favorites:
Anderson has a great reputation for high
Anderson AR-15 Oops! Kit
Anderson makes high-quality, American-made AR-15 rifles and parts (and they make one of our favorite 80% lowers, if you're still looking for a receiver to start your build), so you can rest assured that all the bits in this kit are excellent. 
The Anderson AR-15 Oops! Kit contains all the little parts that most frequently get lost or broken, plus extras of the parts that you need more than one of per rifle. 
Here's the complete list: 
Bolt Catch Detent
Bolt Catch Pin
Bolt Catch Spring
Buffer Detent
Buffer Detent Spring
Disconnect Spring
Magazine Catch Spring
Safety Selector Detent
Safety Selector Spring
3 Takedown Pivot Pin Detents
3 Detent Takedown Springs
Mil-Spec Hammer Spring
1/8 x 5/8 Coiled Roll Pin Trigger Guard
3 Trigger and Hammer Pins
Mil-Spec Single Stage Trigger Spring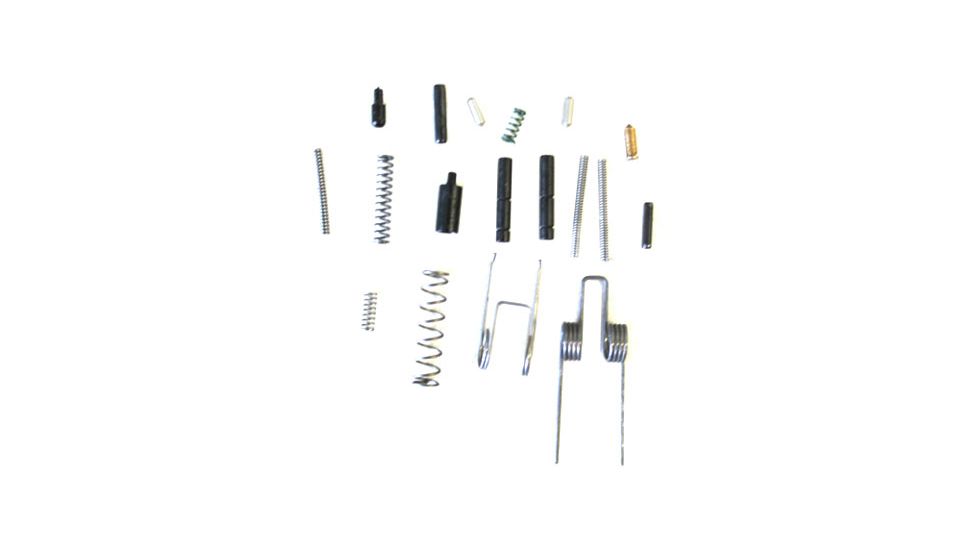 Anderson AR-15 Oops! Kit
Pros
Spares of all the little parts you'll lose
Great quality
American made
Cons
You know you're going to need spares
CMMG AR-15 Survival Kit
The CMMG AR-15 Survival Kit is quite a bit more expensive, but it's also quite a bit more comprehensive, almost a complete kit, with duplicates of many parts and some parts that the Anderson kit doesn't include at all. 
Plus, if you're already using CMMG parts elsewhere on your lower build, the parts in this kit are more likely to fit smoothly into the existing set up with minimal sanding or grinding or even none at all. 
Here's the complete list of parts:
Magazine Catch Spring
Selector Detent Spring
Disconnector
Disconnector Spring
2 Extractor Springs
Extractor
Extractor Pin
2 Extractor Buffers
3 Gas Rings
Trigger Spring
Hammer Spring
Firing Pin
2 Firing Pin Retainers
Cam Pin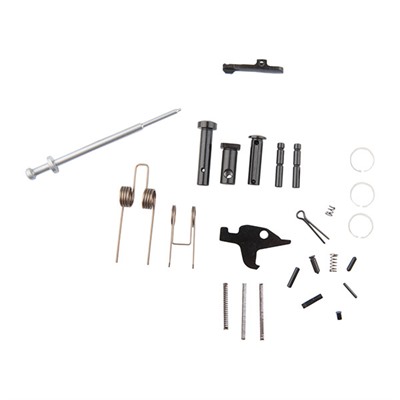 CMMG AR-15 Survival Kit
Pros
Compatible with other CMMG kits
Plenty of extra parts
Comprehensive kit
Parting Shots
Well, that wraps it up for lower parts kits. Hopefully, at this point you know what parts you need for your AR-15 or AR-10 lower assembly build and what makes a good lower parts kit, so that you can effectively choose an LPK and finish up your build once you've gotten one. 
If you're in the market for other AR-15 parts or upgrades you can make to these kits, be sure to check out the Best AR-15 Upgrades. Or, if you're still looking for a lower receiver to become the base of your lower assembly build, check out the Best AR-Lowers and the Best 80% Lowers. 
Have you decided on a lower parts kit yet? Which one? What other parts are you using for your build? Let us know and ask any questions that you have in the comments below.