You ever shoot an AR-15 and think, "This is great, but what if I had even more stopping power?"
Don't get us wrong–we're big fans of the AR-15 platform, but sometimes you want to make sure the job gets done right the first shot.
In comes the AR-10.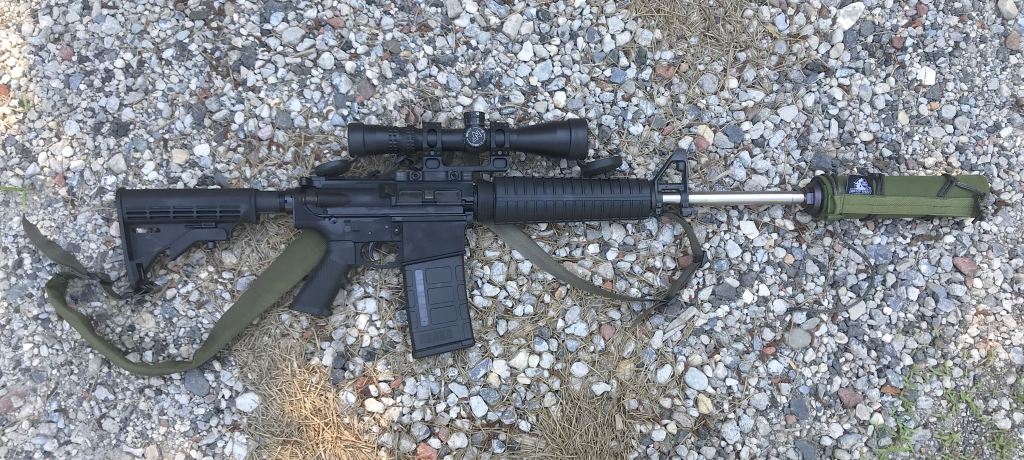 Unfortunately, AR-10s can run on the more expensive side when it comes to AR-platform rifles, but Palmetto State Armory may just have a solution that's worth your hard-earned pennies.
PSA's PA10 blends quality and affordability for a balance that makes this gun just right to add to your precision shooting or hunting lineup, without pulling the trigger on more than a grand worth of rifle.
Let's take a closer look!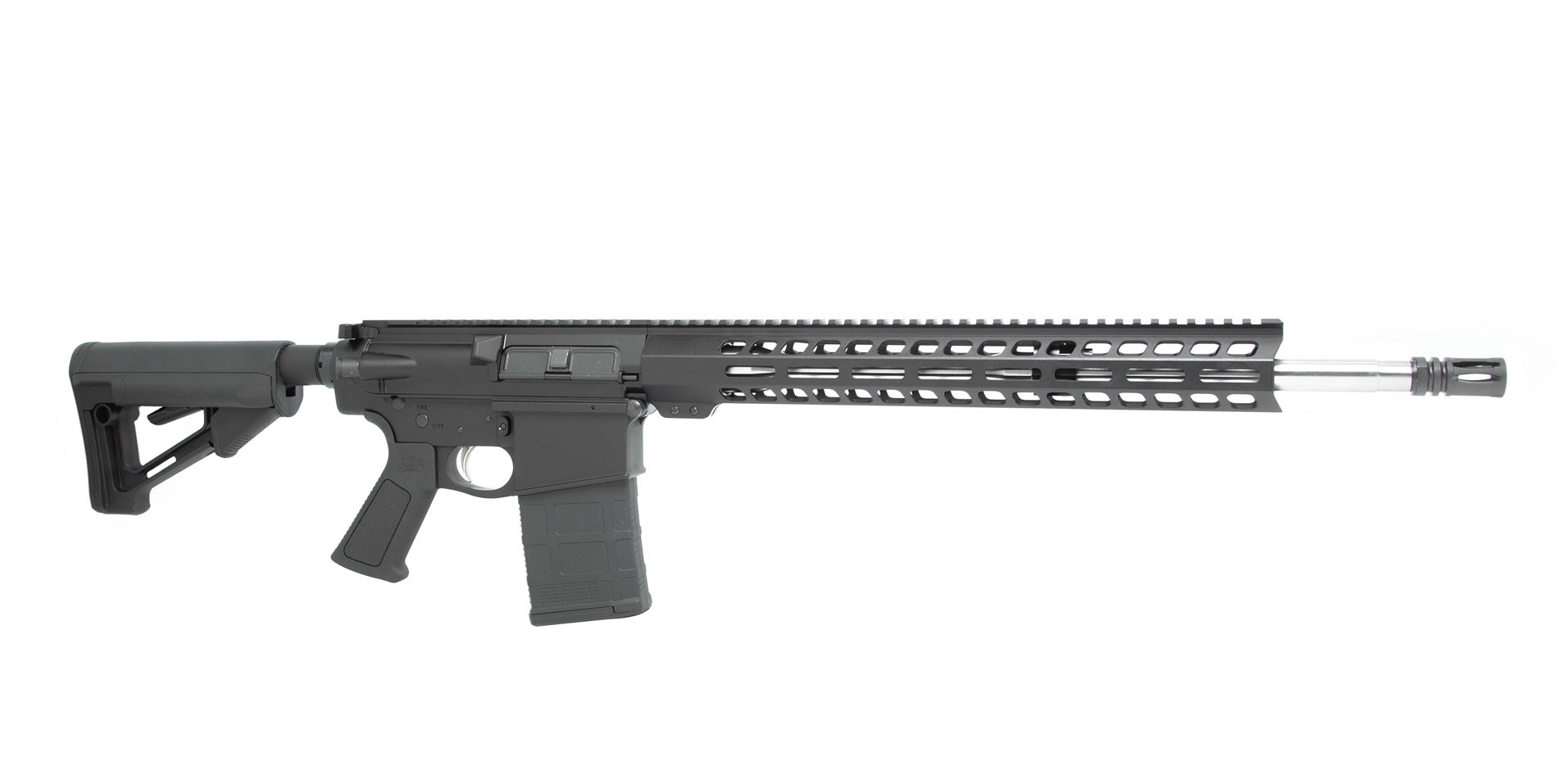 PSA Gen 3 PA10 .308 18" Mid-Length Rifle
Pros
Chambered in .308
18" 1:10 twist 416R stainless steel barrel
6 position telescoping stock
Cons
Finishes aren't always neat
Fit and Finish
First off–you might notice the price and automatically write off the PA10 as being low-quality. That's where you'd be wrong.
PSA has built a name for themselves by being the market leader in affordability, but that doesn't mean they're cutting corners or producing a sub-par product. Their products might not be the prettiest ponies at the show, but they're great for learning on and they'll take quite a beating.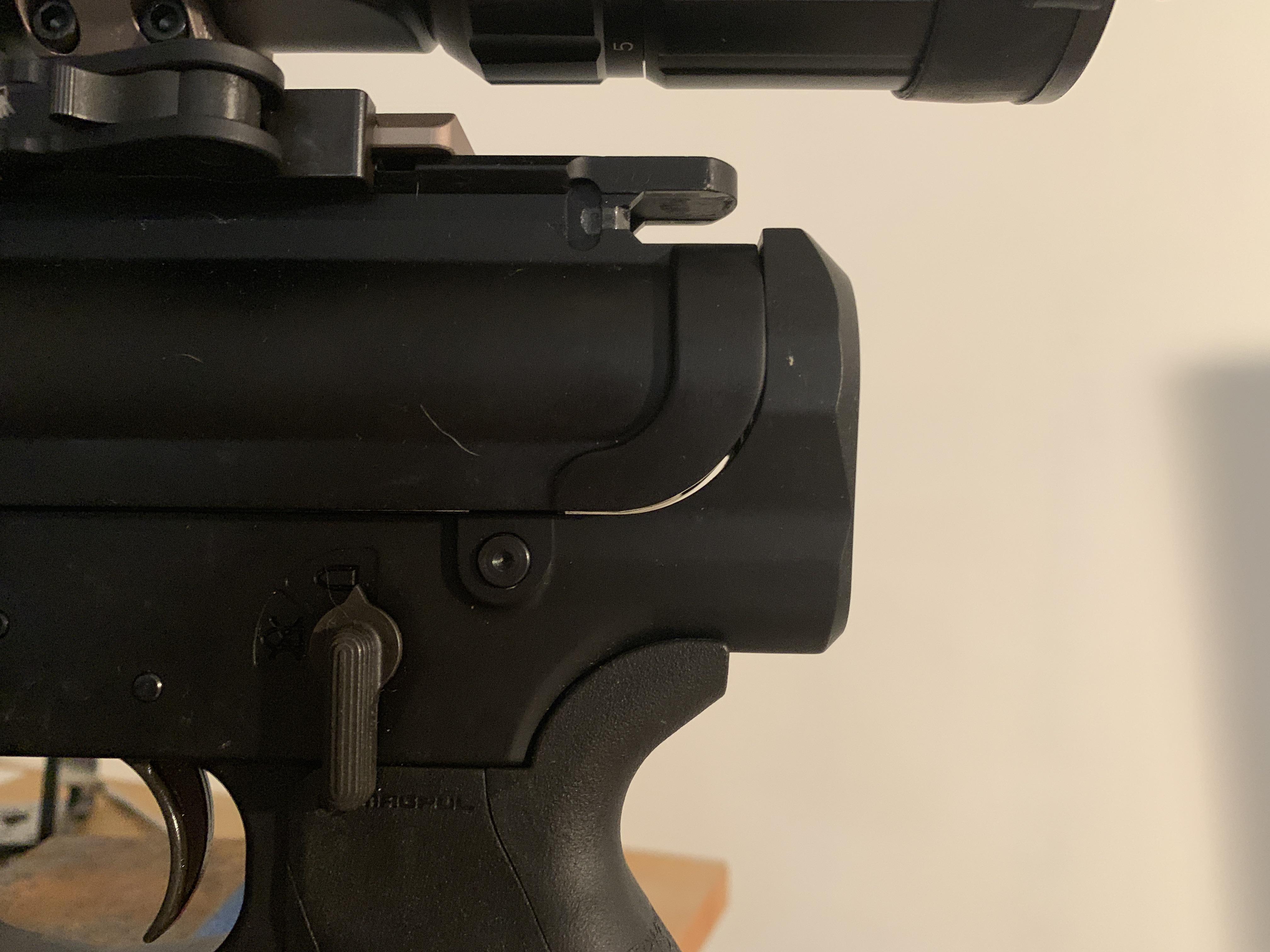 Besides, there's no reason to feel bad about it getting dinged up when it came from the factory with a little blemish or two.
Ultimately–it's an AR-10. If you're familiar with an AR-15, you're familiar with an AR-10, it's just chambered in .308. 
The machining from PSA can be hit and miss–we've seen some of their handguards have sharp edges, and an occasional burr or machining mark happen. We were pretty pleased to find that the M-LOK handguard on the AR-10 was pretty well done.
We opted for the 18" barrel, since we decided to go for something quicker handling than the 20" barrel, which would have given us a touch better velocity and accuracy. It's made from 416R stainless steel, and comes with a 1:10 twist rate.
It's a dimpled barrel and it was fitted with a low-profile 5 position click switch adjustable gas block. Thanks to the dimpled barrel, it's a lot easier to align a new gas block if you decide to change it up.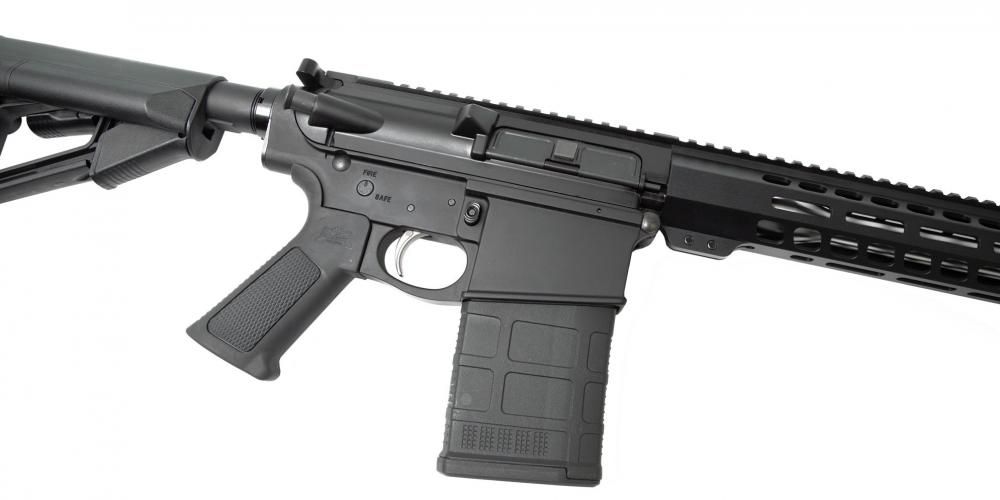 It's also nice that the PA10 uses as standard .750 gas journal, so it's compatible with most AR-15 gas blocks! Topping the whole thing off is a birdcage-style flash hider.
The gas key was properly staked, and the bolt was machined from 9310 steel by Toolcraft, who have built a reputation for their excellent quality for the price–definitely a good sign that PSA is taking quality seriously.
It comes with extra-strength extractor springs and it's all nitride treated. An included 7075 T6 aluminum charging handle rounds out the BCG assembly.
It's worth noting that the PA10 extractors can be a little overzealous, and have been found by some reviewers to shave the shells or fling them out at strange angles. Replacing the extractor spring can help the matter.
When it comes to the lower, we were pretty satisfied. It's a solid lower, the furniture lines up well, and the pistol grip holds two detents–the safety detent, and the rear takedown pin detent. This makes for a much easier installation.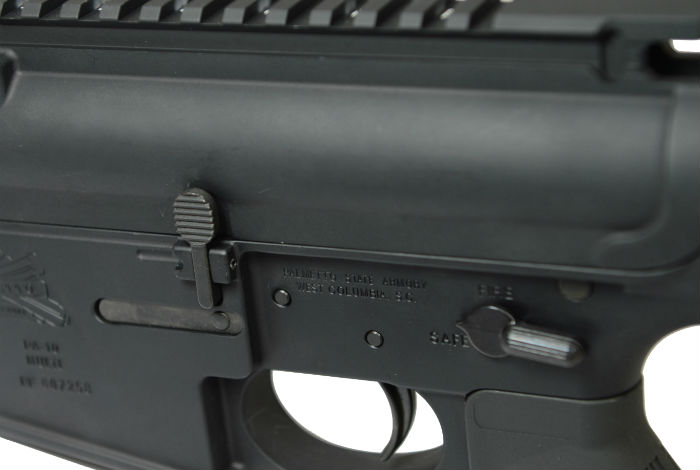 One thing that we, as well as many other reviewers have noticed, is that the takedown pins are super tight, and tend to remain that way, even with use. So, be prepared for a fight (and maybe keep a punch handy).
Trigger
PSA includes a two-stage nickel boron EPT trigger, which we found was surprisingly crisp–especially when compared with a mil-spec trigger.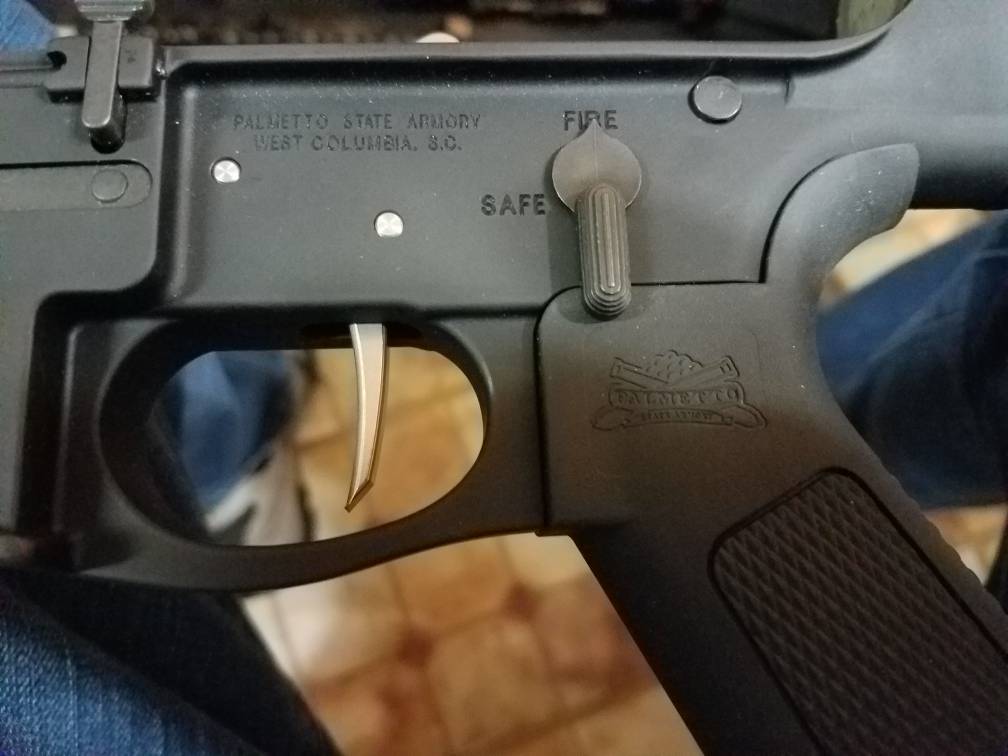 That being said, we'll have some aftermarket trigger suggestions below, too! If you're really looking to wring some serious accuracy out of your AR-10, then upgrading the trigger should be one of your first steps.
Accuracy and Recoil
Considering that .308 is great for long-range shooting, we were pretty excited to see how the PA10 would perform. 
Some reviewers reported that they could get down between 1.5 and 2.5 MOA groups at 100 yards, depending on the type of ammunition they used and how much time they allowed the barrel to cool between shots. 
The PA10 does all right with cheap ammo, but if you're looking for precision, you should drop a little extra on match ammo, like Federal's Gold Medal match ammo.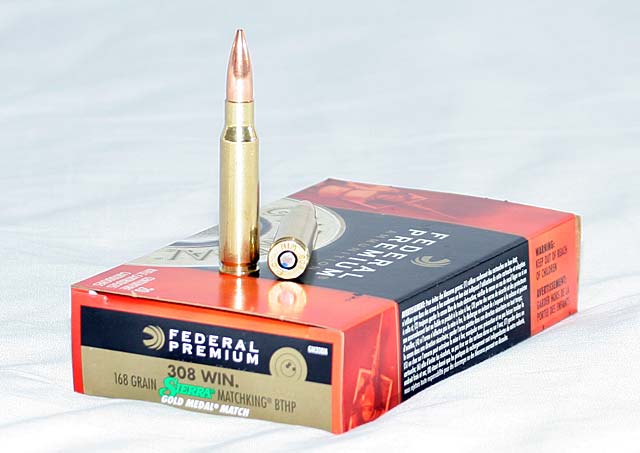 Skill and position definitely played a huge role in the accuracy of the PA10. It performs best when shooting supported from a bench or while prone–though with the kick that .308 delivers, you're going to want a stable shooting position.
As for recoil, you'll definitely feel it if you're used to only shooting AR-15s. The .308 is a more powerful round, and it shows. That being said–the recoil was manageable and didn't leave reviewers regretting their life choices afterward.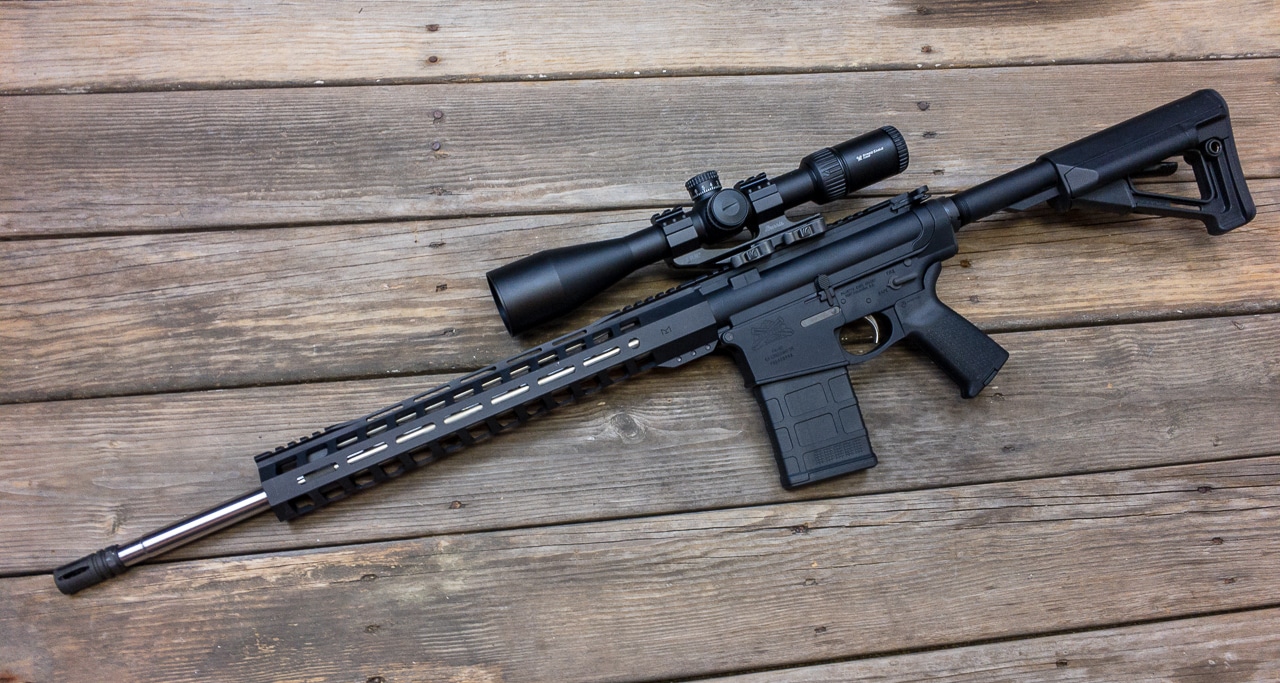 Reliability
If you've heard that PSA overgasses their rifles, you'd be right. While this can make it harder to control, it does mean that the reliability goes way up. The Gen 1 and Gen 2 PA10 didn't have an adjustable gas block, but PSA upgraded the Gen 3 with one, so you can tune a bit. 
Multiple reviewers report feeding thousands of rounds of various ammo types through their PA10 and feeling pretty satisfied with its functioning. The bolt locked back on empty for both PMAGs and DPMS magazines, too.
Magazines and Mag Release
PSA ships the PA10 with a single Magpul 20 round PMAG. It's enough to get you started, but you'll definitely want to pick up a few more magazines to save you from constantly reloading magazines.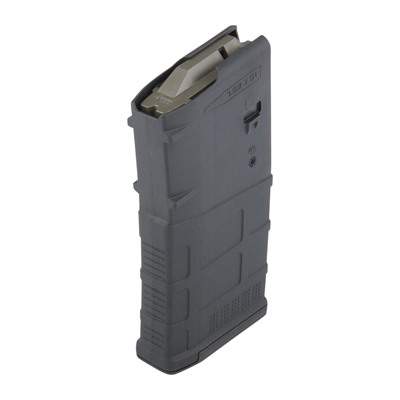 We've got no complaints about PMAGS. They're one of our favorites for the AR platform. They're a bit of a tight fit when inserting them into the mag well, however, they do drop free easily once the mag release button has been pressed.
Maintenance and Disassembly
The AR platform is notoriously easy to disassemble and maintain. They take a beating and aren't picky about firing conditions, and the PA10 is loyal to this legacy.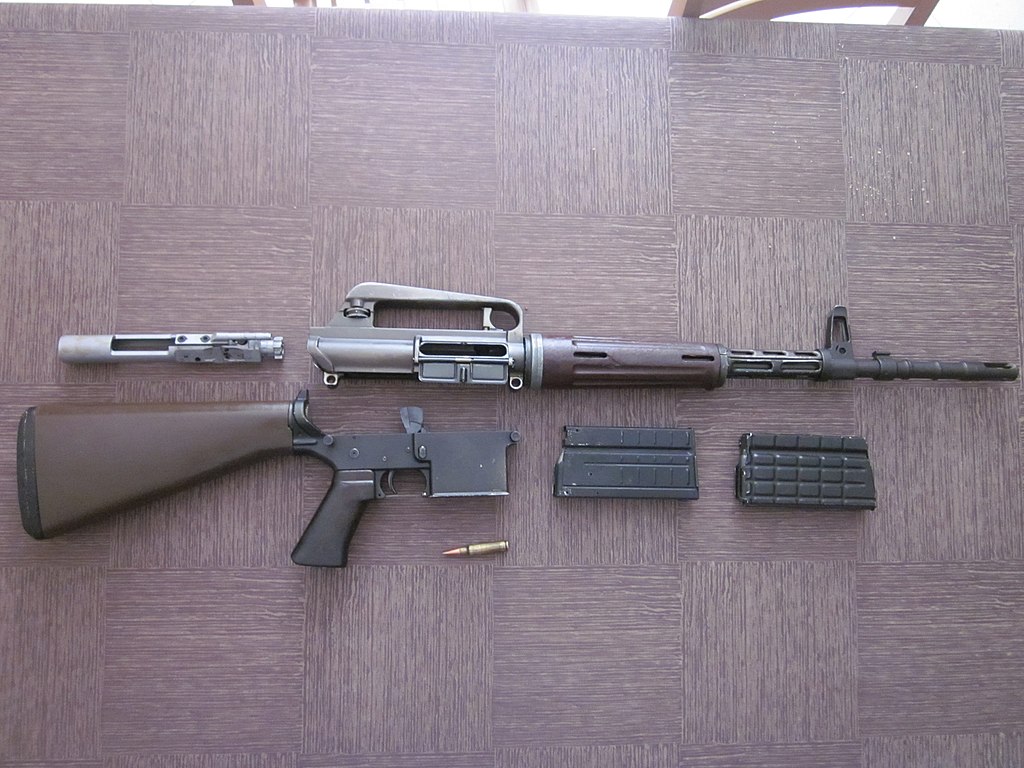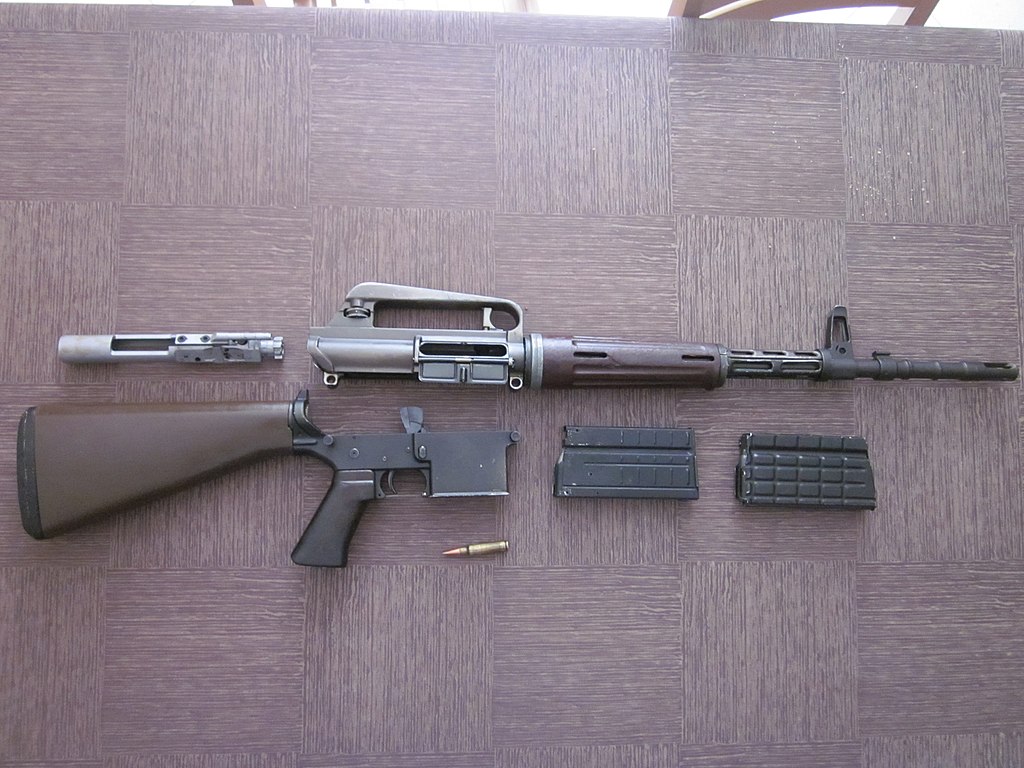 As we mentioned the takedown pins get tight, so breaking down the PA10 and putting it back together may take a little more work than normal. 
Another thing worth noting is that the PA10 uses quite a few proprietary parts, and PSA uppers and lowers may not play nice with others if you're looking to mix and match. Keep that in mind when choosing your components.  
Bang for Your Buck
It's hard to beat a functional, fairly accurate AR-10 for under $1000, which is exactly what PSA is giving you. The next most affordable option comes from Aero Precision, which clocks in at somewhere around a grand and a half.
If you want to give .308 a try, get a PA10. It may not be a finely tuned precision machine, but you can try out an AR-10 without making your wallet cry.
Upgrades
Now, what fun would an AR be without any upgrades? While the AR-10 doesn't have nearly as many options available as its smaller sibling, the AR-15, there is still plenty out there to upgrade the beast!
Bipods
If you're going the distance, you're going to need a bipod. After all, the .308 can reach out and touch something beyond 600 yards, but only if you can hold it steady.
We recommend the Accushot Atlas Bipod to get you started. It comes in a little above a budget buy, but for a little extra, you get a rock-solid bipod that will put up with even the most adverse conditions without letting you down.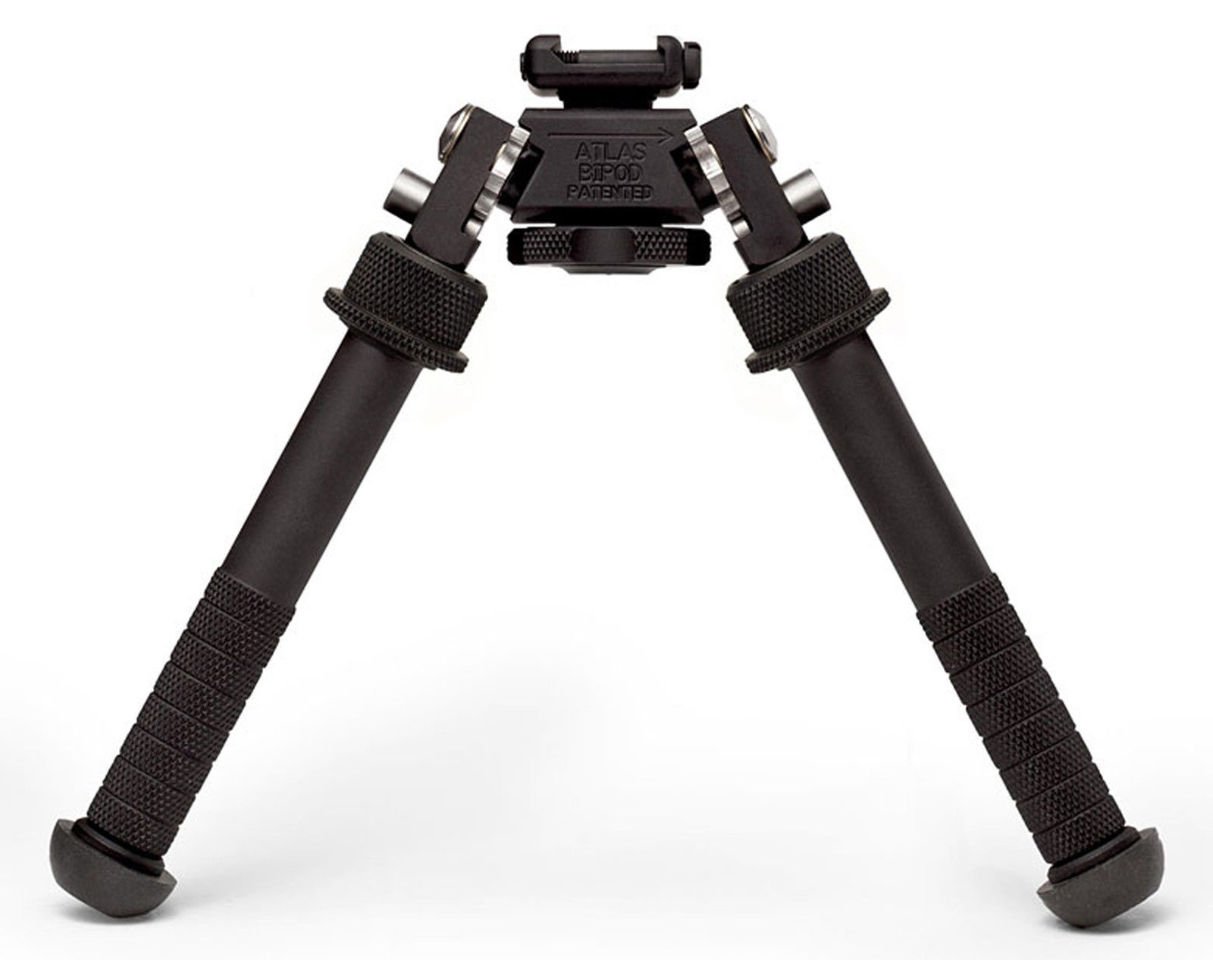 Accushot Atlas Bipod
Pros
Mounts Directly to any 1913 Style Picatinny Rail
Height Range Approximately 4.75 - 9.0"
11.0 Oz.
What we love about it is how steady it stays, even under heavy recoil, the great height adjustment, and the huge variety of OEM and aftermarket feet that you can swap out to your heart's content.
Triggers
The trigger in the PA10 isn't all that terrible, but let's be honest–you're going to change it out anyway. So why not go for this Timney AR-10 Competition Trigger? 
It's a good chunk of change, but Timney Triggers are our favorites around here for a reason. They all have an easy, drop-in installation, a factory customized pull weight, and glass rod-like creepless break.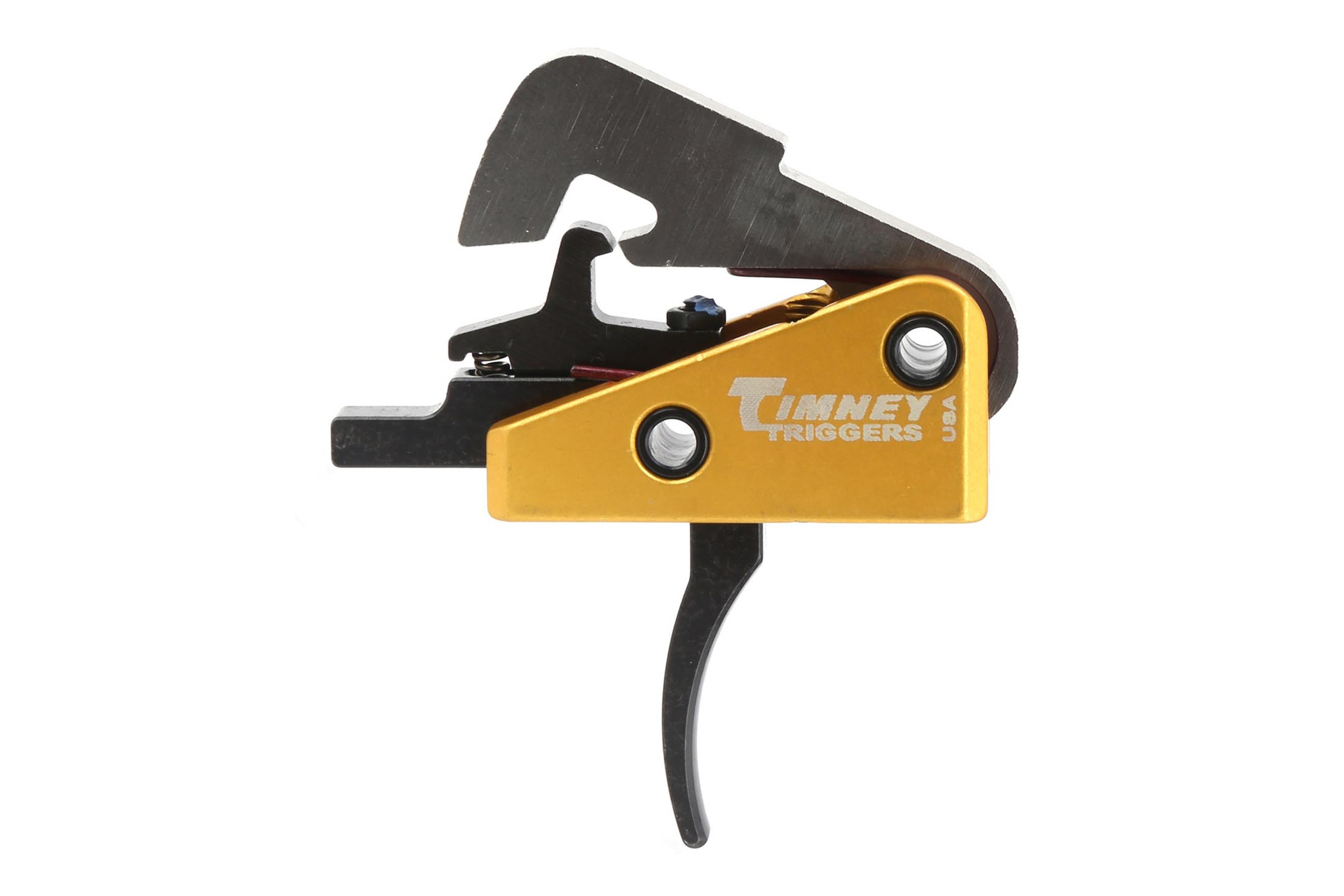 Timney AR-10 Competition Trigger
Pros
Single stage 4 lbs pull
Almost zero overtravel and take-up
Drop-in installation
Optics
Can't hit it if you can't see it! There's a ton of scope options out there, depending on just how far you want to be shooting.
There's an old saying that you should spend as much on the scope as you did on the rifle, which is still a pretty steep price tag, even when you consider PSA's budget-friendly prices. We say you don't need to spend nearly that much to get a great scope.
Our pick is the Vortex Viper PST 4-16×44. This scope's good enough to keep up with even your longest-range shots, but won't annihilate your wallet while it's at it.
With Vortex's lifetime, transferrable warranty, we call it a definite win!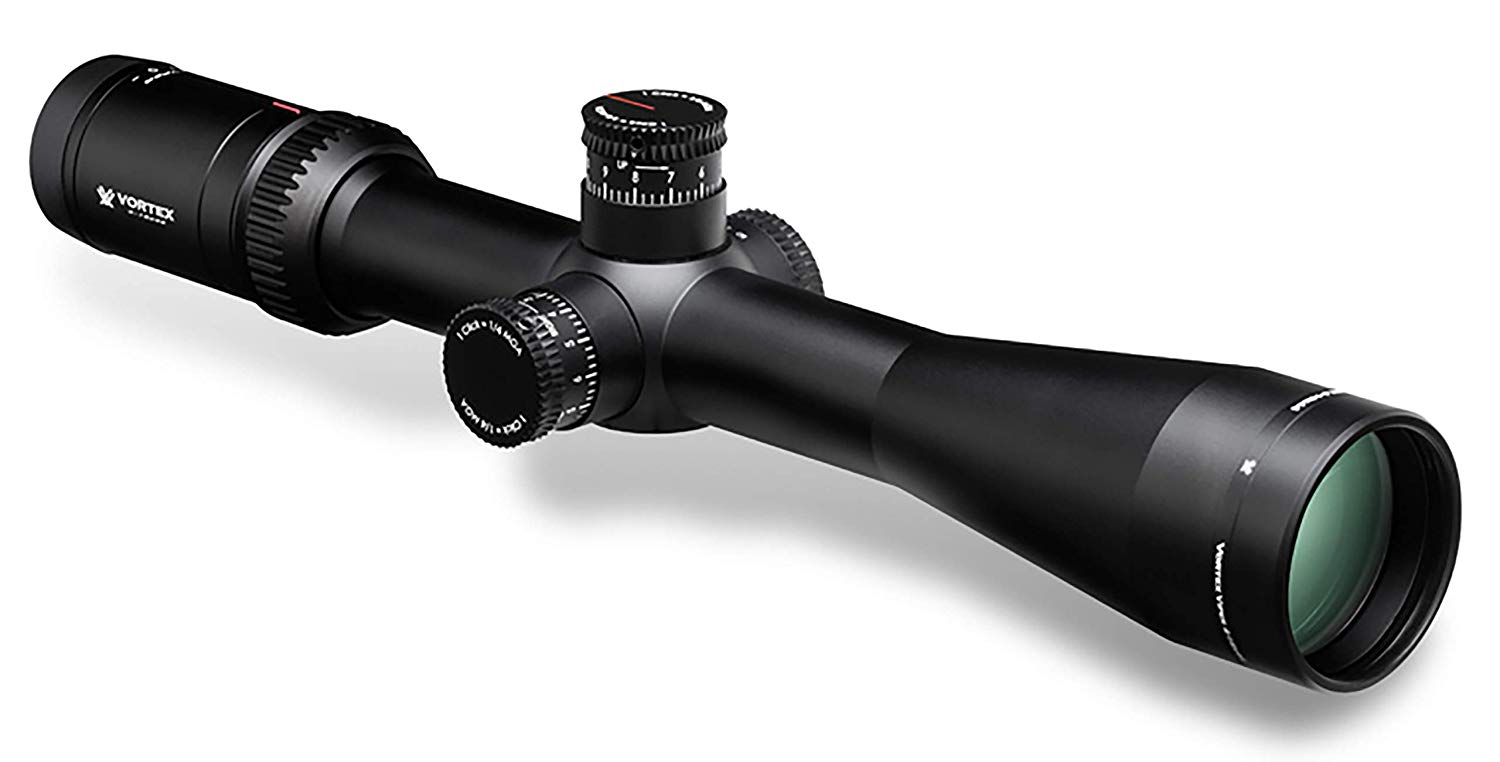 Vortex Viper PST 4-16x44
Pros
Waterproof and fogproof
Multi-coated, extra-low dispersion lenses
Fantastic clear glass
Magazines
We're a fan of PMAGs, for obvious reasons (most battle-tested AR platform magazine, anyone?) but if you want to try something a little different we recommend giving a DPMS .308 magazine a go.
They hold 20 rounds–the same as a PMAG–but are all-steel. We found they worked pretty well with the PA10, too, so if you're willing to trade off on the weight for more durability, go for these with confidence.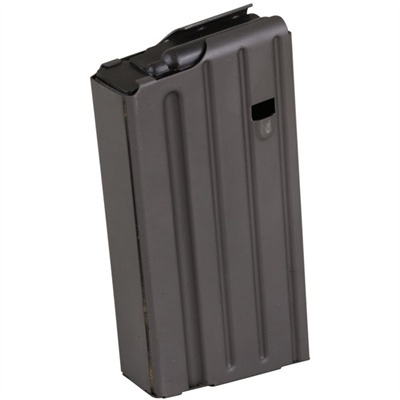 DPMS .308 magazine
Pros
All-steel construction
20 rounds
Easy to disassemble
Wrap Up
Ultimately, we liked the PA10. It may be a little funky looking in places and a lot overgassed, but we haven't had too much in the way of problems with this rifle, which is the way we like it.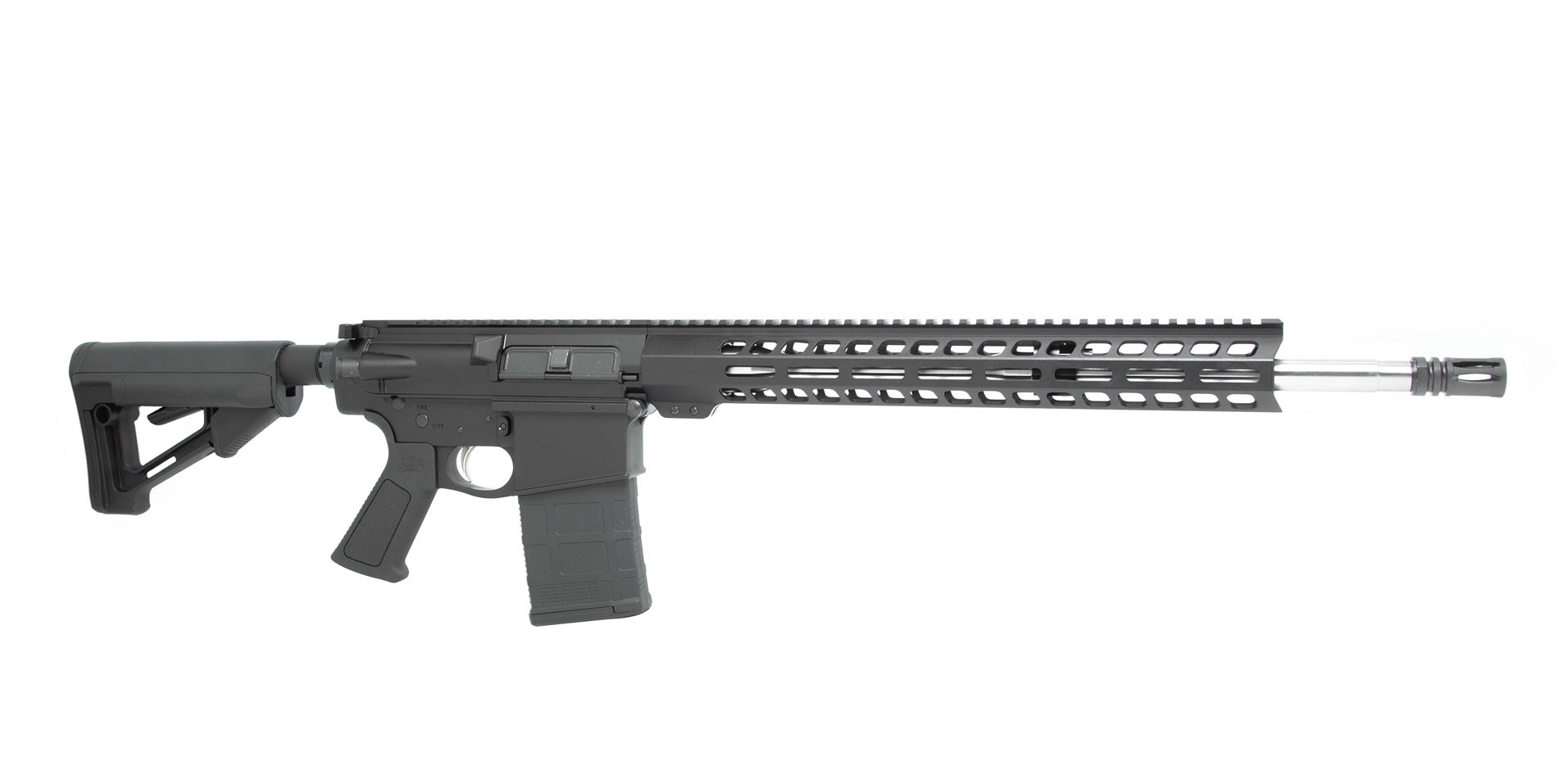 PSA Gen 3 PA10 .308 18" Mid-Length Rifle
Pros
Chambered in .308
18" 1:10 twist 416R stainless steel barrel
6 position telescoping stock
Cons
Finishes aren't always neat
Overall Rating: 9/10
Do you have a PA10? Have another AR-10 you prefer? Thinking about getting one? Tell us about it in the comments! Check out our AR-10 buyer's guide for more great builds!