If you're a resident of California, you probably know the state comes with some confusing gun laws — especially about ARs.
Struggling to navigate these laws? We feel you.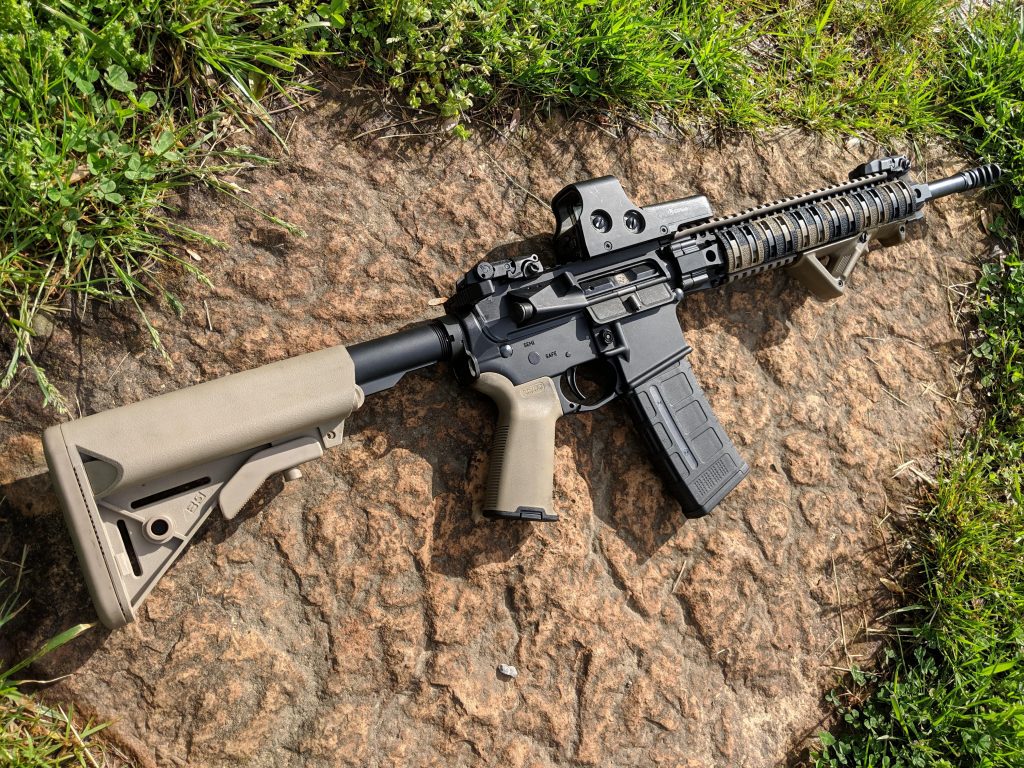 California added a lot of laws in the past few years, and it can be tough to keep up with what is and isn't legal.
So today, we're going to talk about one particular area where people tend to have questions, featureless rifles.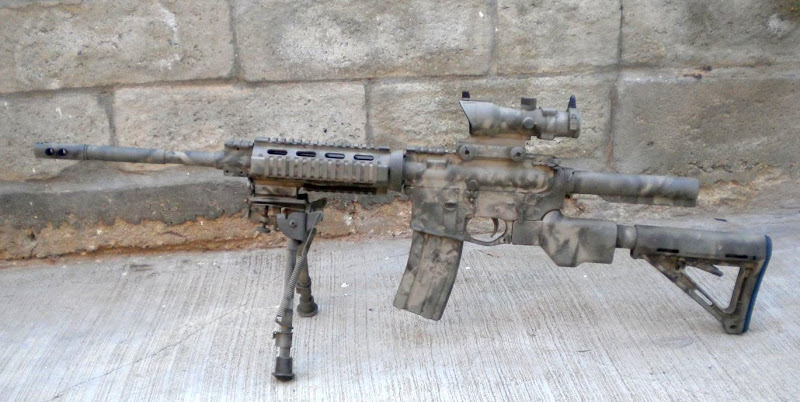 But first, a disclaimer: though the information discussed here is legal in nature, this is not legal advice.
We're not lawyers. Talk to one if you're not sure if your firearm is legal or not.
In addition, this is not a complete discussion of California gun laws or even those related to so-called "assault weapons."
We're just talking about a few specific laws to help us define featureless rifles.
Table of Contents
Loading...
What is a Featureless Rifle?
A featureless rifle is a semi-automatic, centerfire rifle without:
A pistol grip

A thumbhole stock

A folding/telescoping stock

A grenade launcher or flare launcher

A flash hider/suppressor

A forward pistol grip
A semiautomatic, centerfire rifle with any one of those features and a detachable magazine is considered an "assault weapon" under California law and is illegal.

If you live in California and have a rifle that fits that description, it should have been registered by July 1, 2018.
We're not lawyers, but according to the NRA, if you didn't register your weapon by the deadline, you have a few options:
Modification

Disassembly

Remove it from California

Surrender it to law enforcement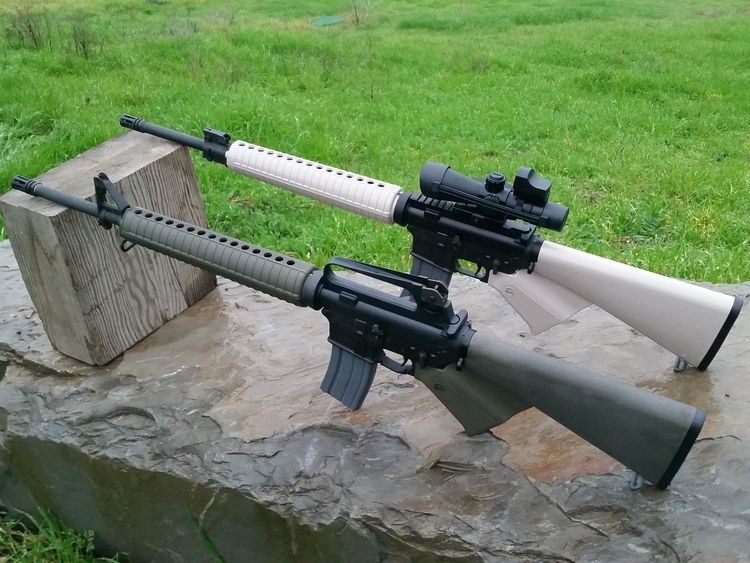 Until you do one of those things, you are in possession of an illegal firearm.
Since modification is the lesser of the four evils, we'll be talking about the parts you need to modify an existing "assault weapon" and recommend a few of our favorites.
But we'll also be giving lots of helpful info if you're doing a featureless AR-15 build.
Finally, we'll also be discussing a few pre-fab featureless ARs that you can buy if you want an AR but also need to make sure it's California legal.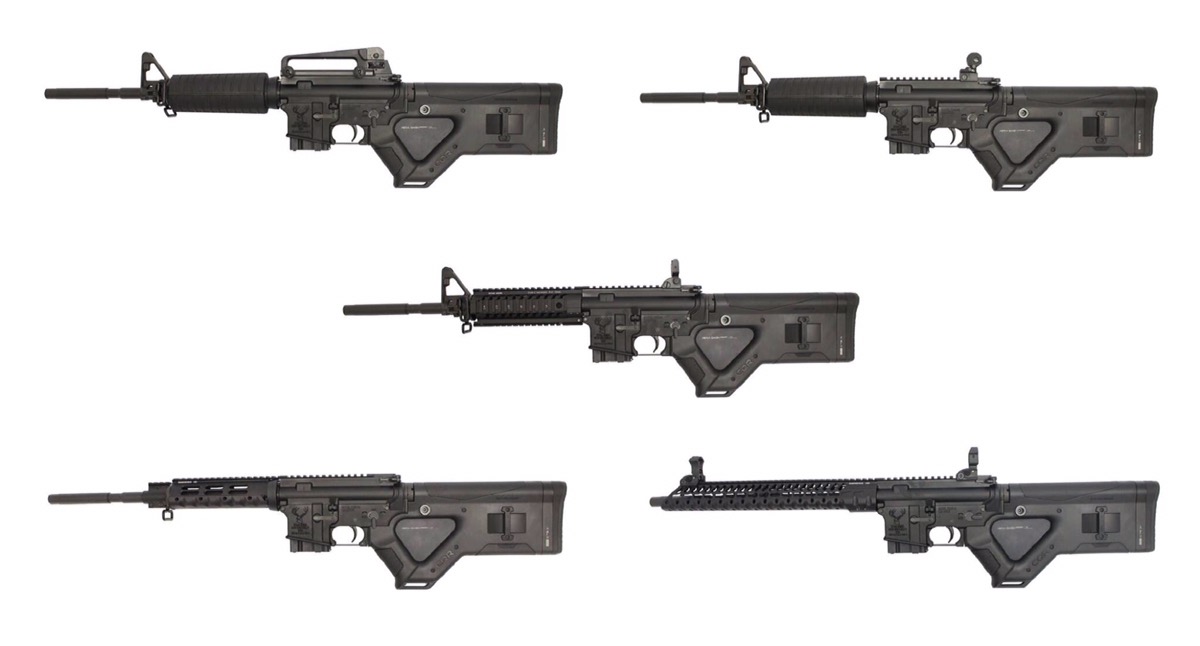 There are several categories that a firearm can fall into to be considered an "assault rifle" under California law, and featureless rifles are intended to avoid one particular one.
As we stated above, to be considered featureless, a rifle cannot have certain features, including the popular pistol grip or the less popular grenade launcher.
However, this only applies to semi-automatic centerfire rifles without fixed magazines. If your rifle has a fixed magazine, it can have any of those features, and manual and rimfire rifles are not affected by these laws.
But be warned: in the past, if you used a bullet button (the branded name for a magazine lock that requires a tool for the magazine to be released), your magazine was considered fixed, but that is no longer the case.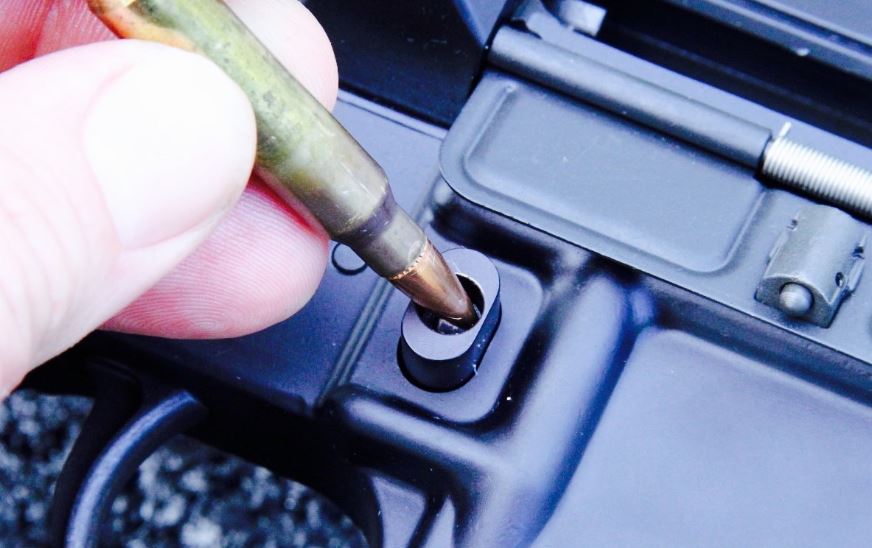 Finally, regardless of magazine type, rifles can't have an overall length of less than 30-inches.
If you live in California and missed the deadline to register your "assault weapon," going featureless is the only way you can keep your rifle legal, functional, and in-state.
And if you want to acquire an AR that's California legal without dealing with the hassle of a fixed magazine, a featureless rifle is the only way to go.
Now that you've got a general idea of what a featureless rifle is let's talk about each of the "features" in a bit more detail.
Pistol Grip
This is the typical grip for an AR-15, where you wrap your hands around the protruding grip while firing and the web between your thumb and pointer finger rests below the exposed trigger.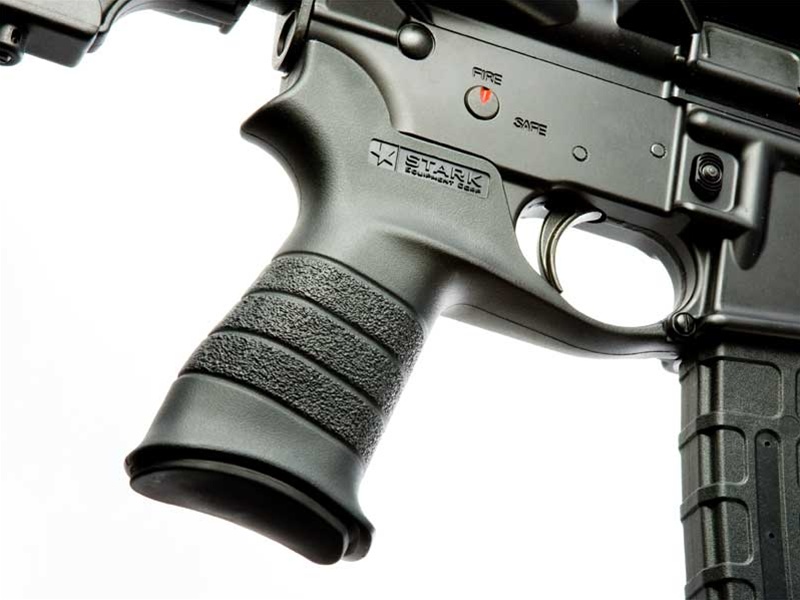 Thumbhole Stock
Exactly what it says on the tin, so even if you aren't familiar with thumbhole stocks, you can probably guess what one is.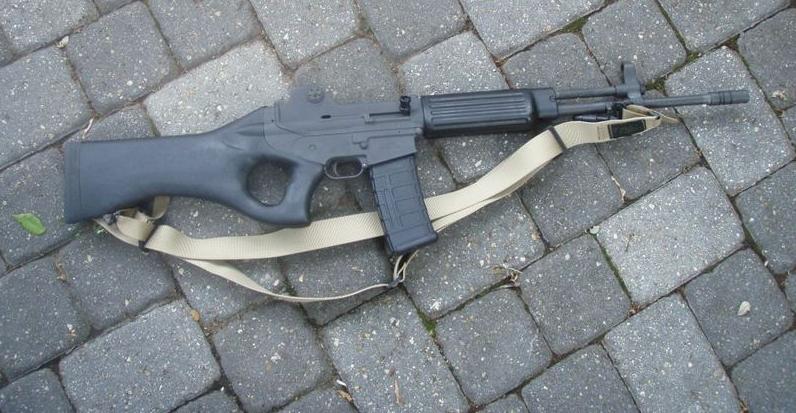 Just in case, a thumbhole stock is a stock with a hole that the shooter can place the thumb of their trigger hand through while firing the rifle.
Folding/Telescoping Stock
A folding stock can be folded over to one side so that your rifle is shorter for more convenient storage.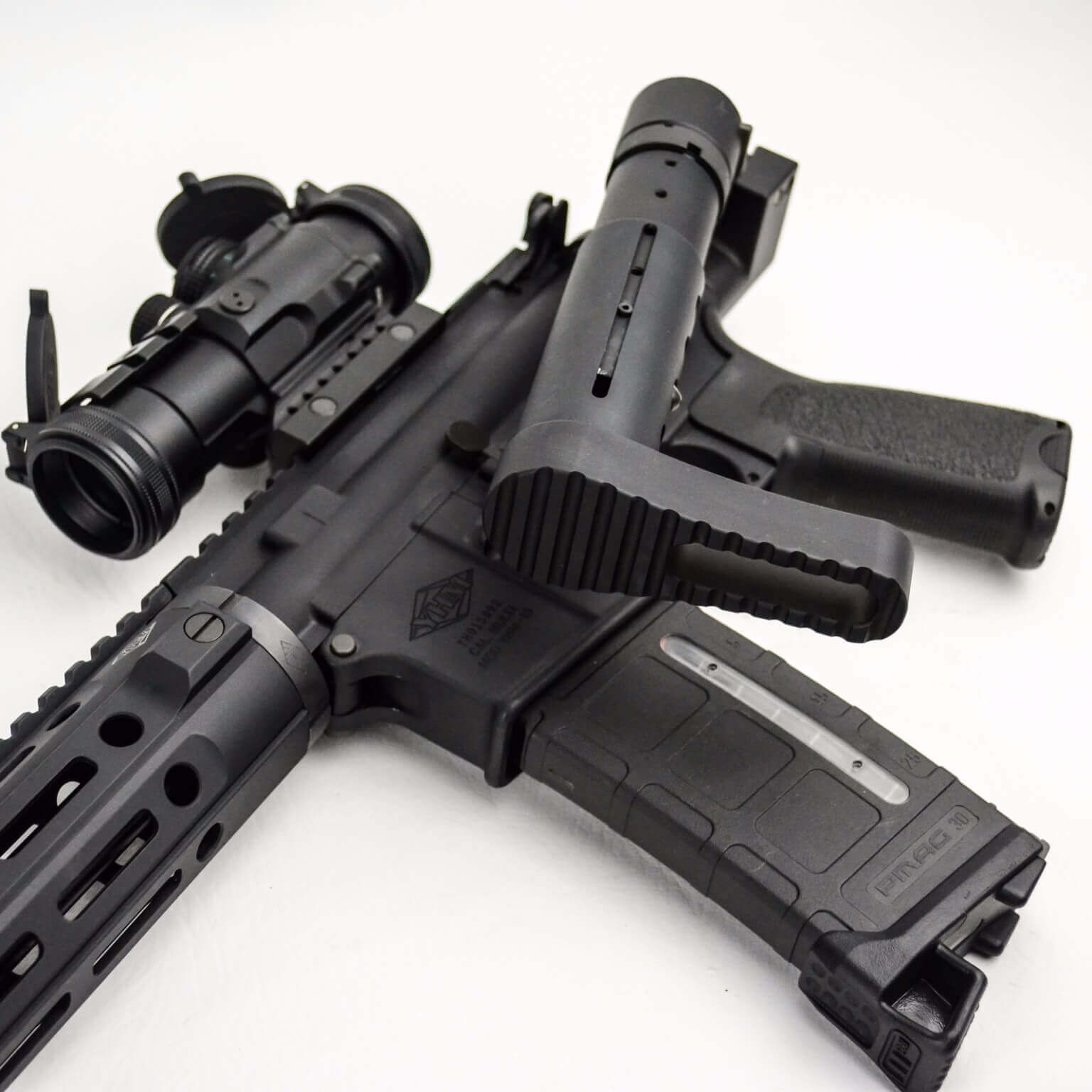 Telescoping stocks, AKA collapsible stocks, serve the same purpose but instead collapse within themselves (think expanding and collapsing a telescope).
They may be able to be adjusted in length for accuracy, convenience, and comfort.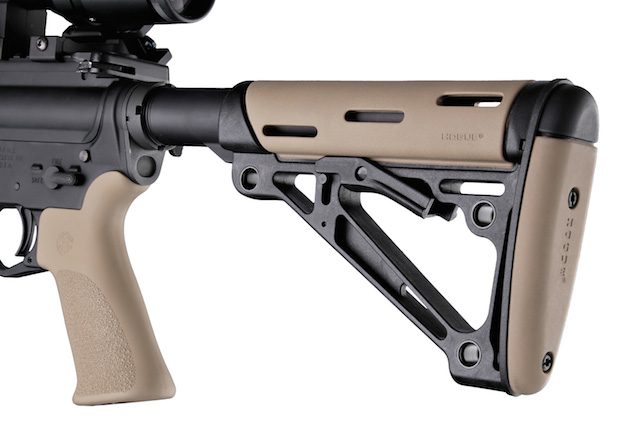 Grenade Launcher or Flare Launcher
Self-explanatory and incredibly easy to avoid.

Flash Hider/Suppressor
Flash suppressors, also called flash hiders, are muzzle devices. As the name suggests, these reduce visible flash when a gun is fired by either cooling or dispersing ignited gas as it exits the muzzle.
Flash suppressors come in two different types: multi-prong style (or duckbill style) and birdcage style.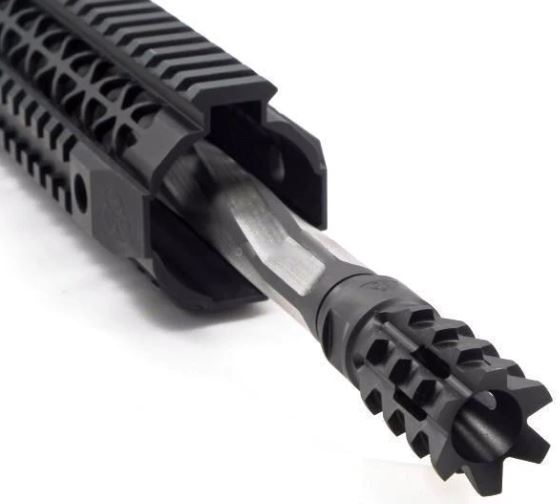 Most shooters use flash suppressors to minimize the sudden burst of light while night shooting.
But, they can be used to hide the flash, which is presumably what California's state government is worried about.
Forward Pistol Grip
This is also called a vertical foregrip. It's a vertical grip placed towards the front of the rifle on the handguard that can be held like a pistol grip.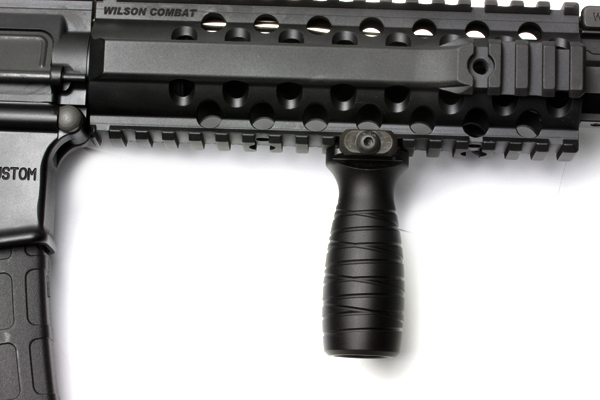 Building or Modifying a Featureless AR
So how do you build or modify your rifle to make sure it's compliant with California law?
Below, we'll talk about what components you may need to change out and some recommendations for parts you can use instead.
Featureless Muzzle Devices
You can't have a flash suppressor, but that doesn't mean you can't have a muzzle device at all. Avoid anything that talks about minimizing flash and instead go with a compensator or muzzle brake.
There are plenty of options out there, but as always, we have a few favorites.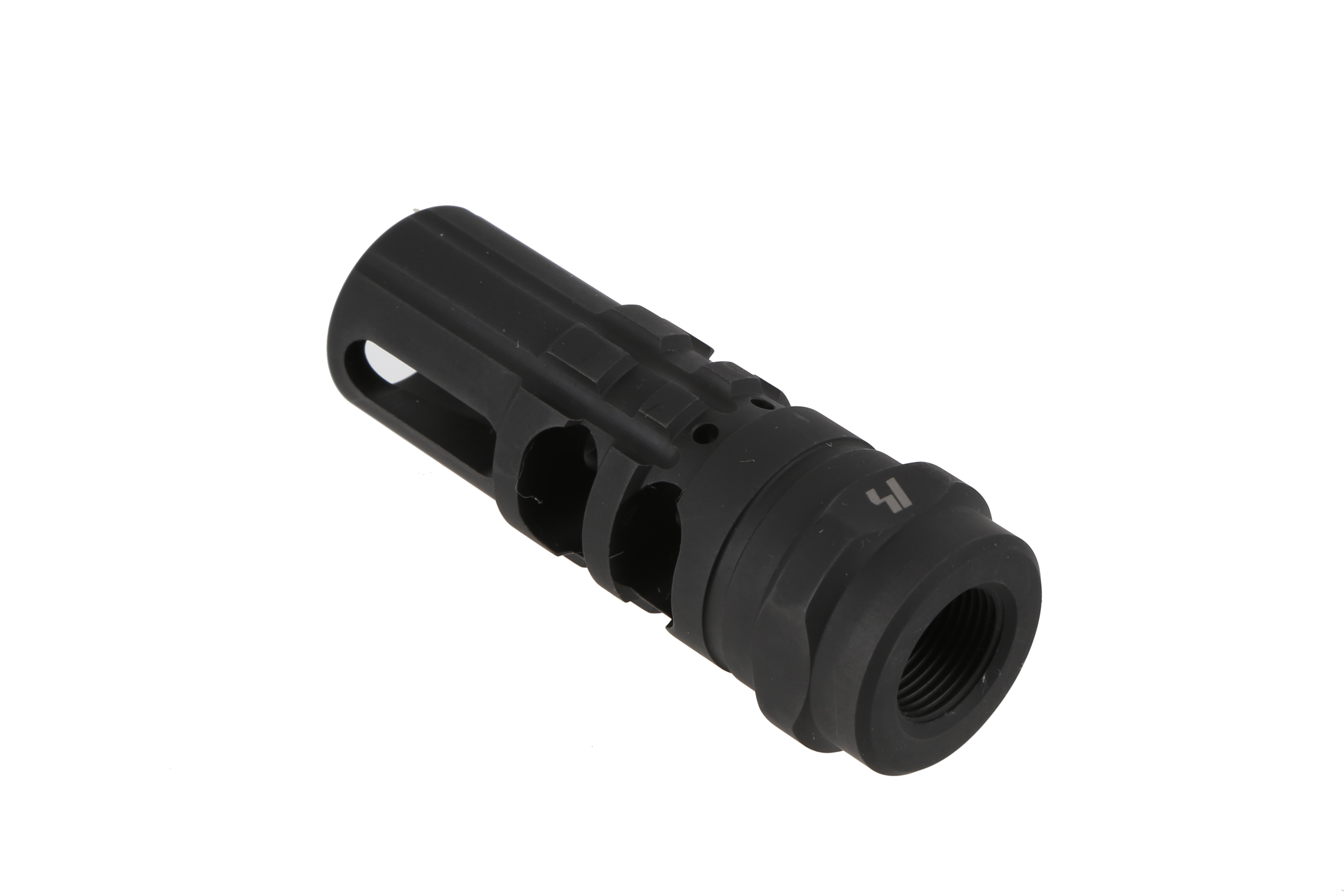 The Strike Industries J-Comp is an affordable but effective compensator that will definitely get the job done.
You may see some rumors floating around that the J-Comp is a flash hider, but according to Strike Industries, this is due to a packaging error in the past. The J-Comp is not a flash hider, but another version, the J-Comp V2, is.
The Precision Armament M4-72 Severe Duty is a top-of-the-line compensator that's pretty much unparalleled for recoil reduction.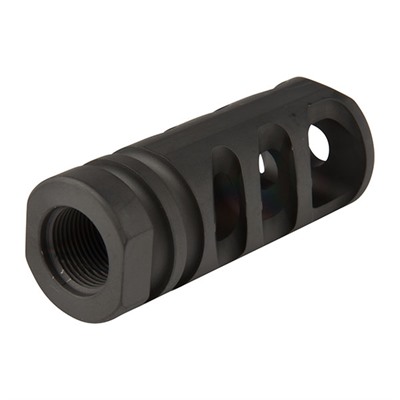 Precision Armament M4-72 Severe Duty
Pros
Incredible durability
Fantastic recoil reduction
Stainless steel construction
Featureless Grips
Different grips are the biggest difference in both function and appearance between featureless rifles and standard ARs.
Without the pistol grip, your AR won't look so much like an AR, but you'll quickly get a feel for the different grip, which will feel more like a hunting rifle grip, and you shouldn't see an impact on your performance once you're used to it.
There are various models from Shark Fin Grips.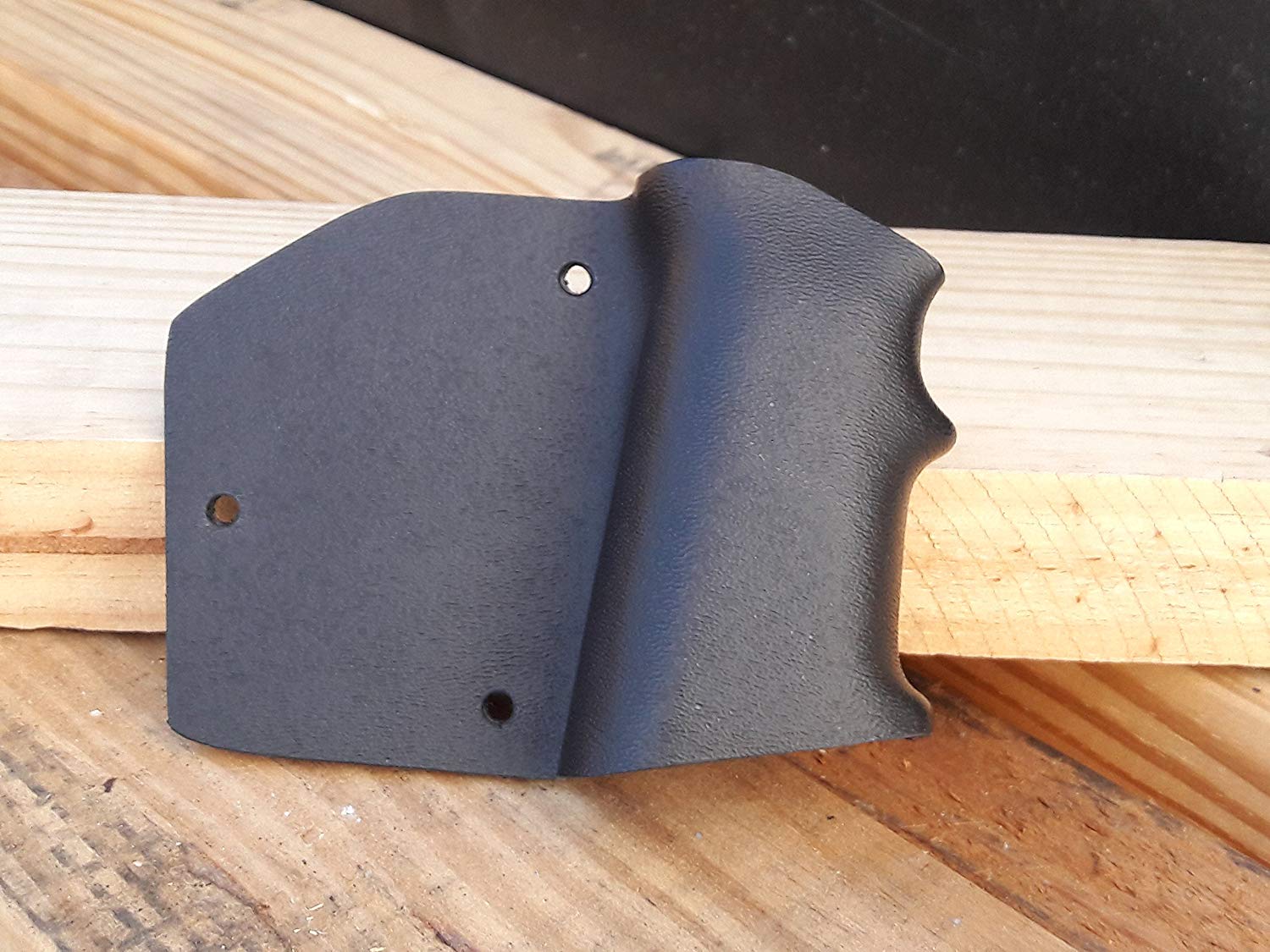 Shark Fin Grip
Pros
Good "right now" solution
Affordable
Can easily be removed when out of state
These are basically Kydex sleeves with a fin protruding from the back that you slip over your existing pistol grip to prevent you from using it as, well, a pistol grip.
They're a good option if you need a fix right now, but they're very awkward to shoot with, so we wouldn't recommend them for a long-term solution.
The Strike Industries Megafin Featureless Grip offers a similar solution but much more effectively executed.
Like Shark Fin Grips, the Megafin Featureless grip has a fin that extends from the back of the grip, but the Megafin is a grip of its own, rather than something you fit over your grip.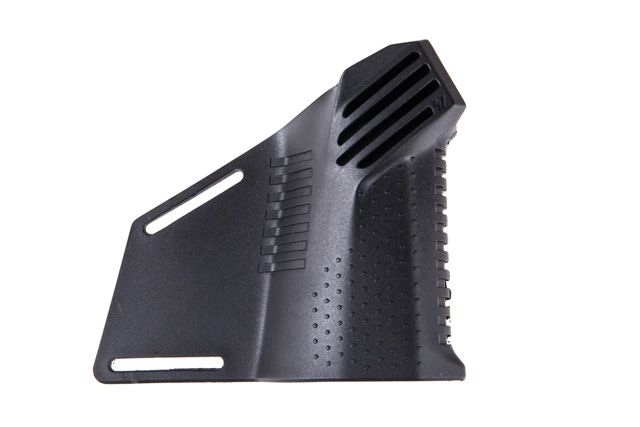 Strike Industries Megafin Featureless Grip
Pros
Entire replacement grip
Includes a thumbrest
Fin angled for more comfortable use
Cons
Requires replacing your rear grip
In addition, the Megafin angles back and has a built-in thumb rest for a more comfortable feel.
One thing to remember: with a featureless grip, you won't be able to use most safeties anymore since all your fingers are on the right side of your weapon.
Lucky for you, we've recommended a couple of ambidextrous safety options in the "Helpful Additions" section below.
Featureless Stocks
Theoretically, you can use a blind pin and epoxy to render your collapsible or folding stock immobile, but there are items available that are specifically designed to convert your favorite folding or telescopic stock to a fixed stock.
Strike Industries Stock Stop allows you to convert your collapsible stock to a fixed stock without drilling, pinning, or otherwise damaging your stock, so you can easily change it back if you leave the state.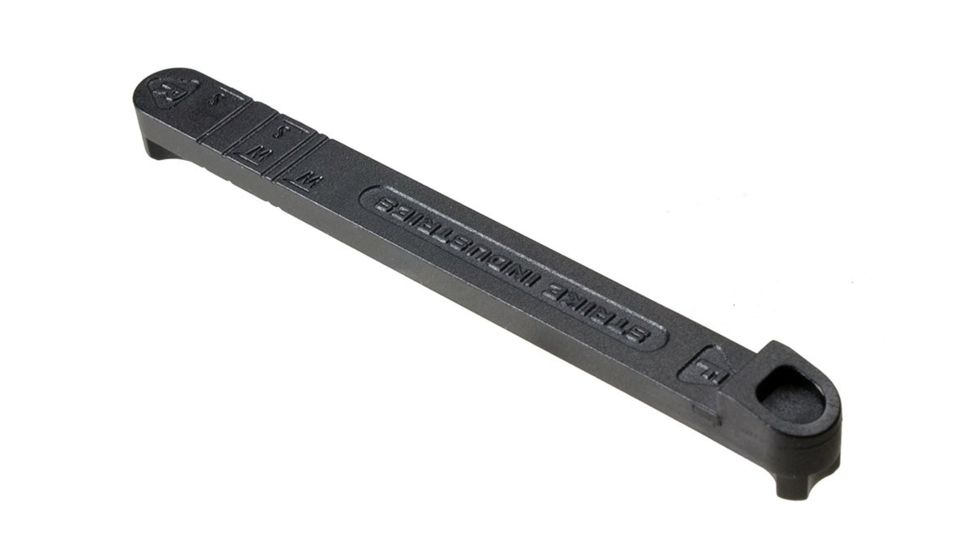 Strike Industries Stock Stop
Pros
Simple installation takes just a few seconds
Non-damaging
You just use it to fill all but one of the holes on your adjustable stock. Unfortunately, you can't customize the length, but it is what it is.
With that said, some people think it's safer to just go with a fixed stock.
The Magpul MOE stocks are some of the most popular and best-known aftermarket stocks currently available.
Our favorite of their fixed stocks, the Magpul MOE Mil-Spec Fixed Stock is an excellent and affordable choice.
Some people have reported that they don't find it particularly comfortable, but with a variety of stock accessories available from Magpul, including alternative buttpads, you can make it your own.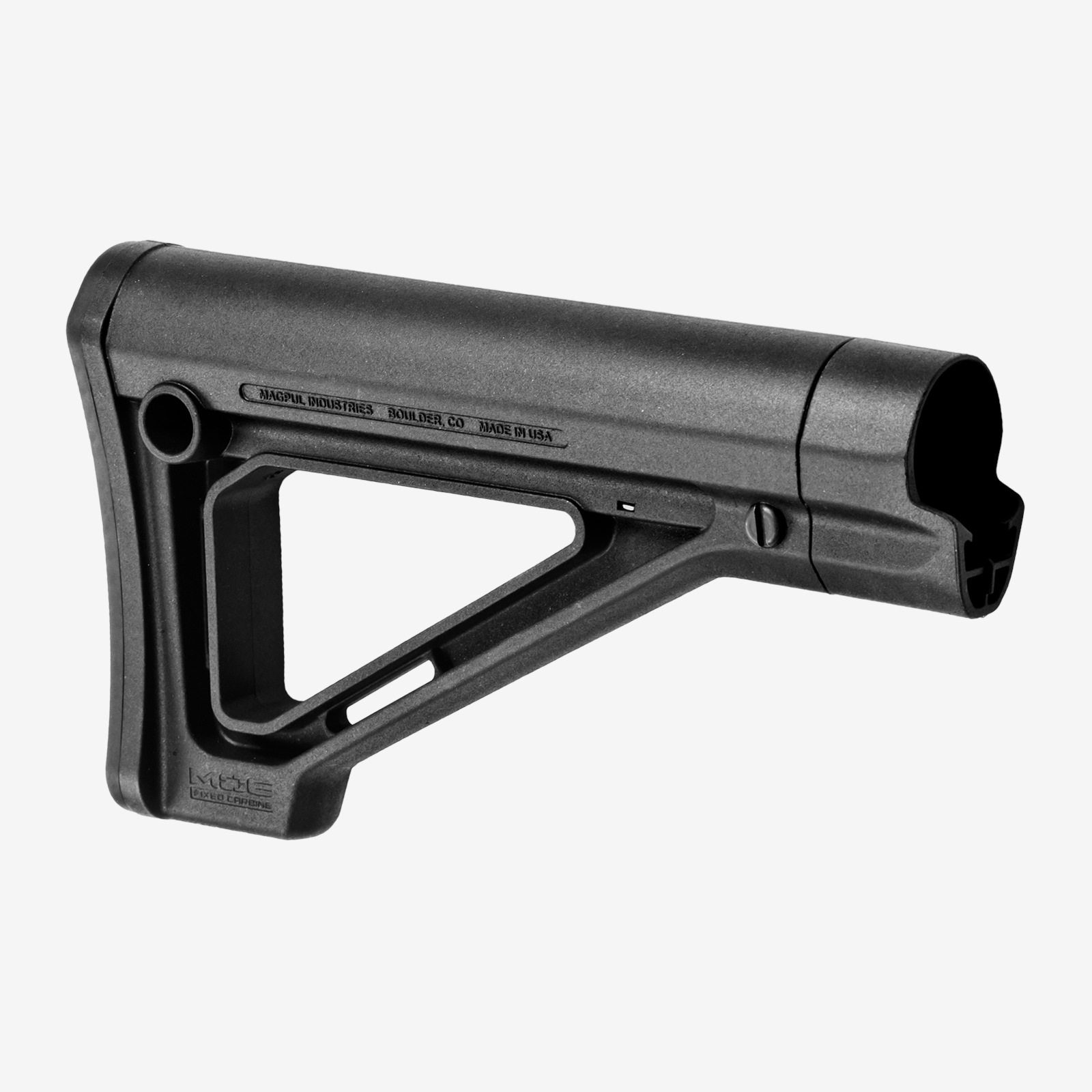 Magpul MOE Mil-Spec Fixed Stock
Pros
Affordable
Customizable
Durable
For a lightweight but durable high-end fixed stock, go with the aluminum DoubleStar Ace Skeleton Stock. This stock can handle anything you put it through with ease.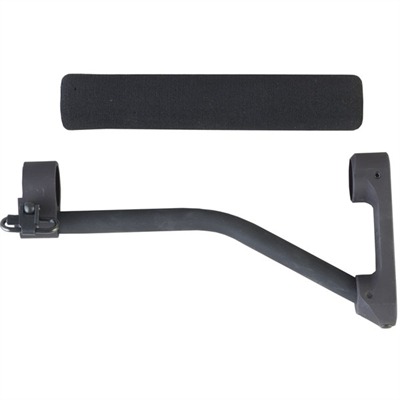 DoubleStar Ace Skeleton Stock
Pros
Ultra-light skeletonized design
Durable aluminum construction
A2 buttstocks are a solid choice if you want a vintage look. They're available from a wide variety of manufacturers and, as an added bonus, have storage compartments.
Thumbhole Stock, Grenade/Flare Launcher, & Forward Pistol Grip
These last features (thumbhole stock, grenade or flare launcher, and forward pistol grip) are just not allowed, so just don't have them in the first place.
If you have one on your rifle, remove it. If you don't, then don't add one.
Featureless Rifle Kits
If individually picking out pieces seems like too much of a hassle, you can go with a conversion kit instead.
The Thordsen FRS-15 Stock kit allows you to make both your pistol grip and your stock (which we're discussing next) featureless using the same kit.
These kits are available in a few different colors and a couple of generations, both of which are totally California legal.
If you're concerned with preserving the aesthetics of your AR, going with one of these kits, especially a Gen II option, is your best bet.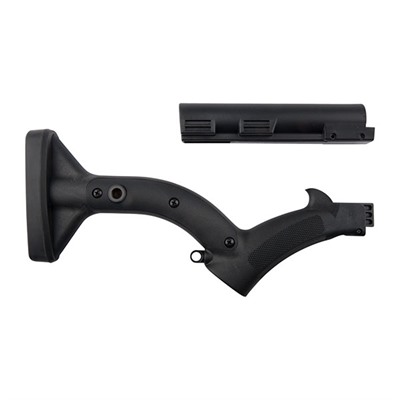 Thordsen FRS-15 Stock kit
Pros
Replaces stock and pistol grip with one piece
Simple installation
Cons
Loses out on the AR-15 aesthetic
Moriarti has several different California Legal Conversion Kits in a variety of styles available both with and without a muzzle brake or thread protector.
They're all high quality, and with so many options available, the hardest part will be narrowing your choices down to which one you like best.
And if you like the feel of your telescoping stock, you can go with the full featureless Stock-Lok Kit. This includes a Stock-Lok, a featureless grip with convenient thumb rest, a muzzle brake, and all the tools and hardware you need to install your new featureless items.
Helpful Additions
Once you've got your featureless rifle, there are a couple of other additions you might want to make, so it's more functional and convenient.
We mentioned above that finned grips make most safeties basically unusable since all your fingers are positioned on the right side of the gun.
You'll want to get an ambidextrous safety that works with your grip.
Seekins, Battle Arms, and DPMS all make excellent ambidextrous safeties that will be easy to use with your featureless grip.
A lot of featureless grips and stocks also force you to modify your grip in a way that doesn't leave a great place for your thumb.
Adding a thumb rest, like the Juggernaut Tactical Thumb Rest, allows you to use your featureless grip more comfortably and effectively. It also leaves your thumb in an excellent position for manipulating your fancy new ambidextrous safety.
Pre-Fab California Legal ARs
Finally, if dealing with a build or modding an existing rifle seems like too much work, you can always just buy a featureless rifle.
One of the best options out there is Springfield Armory's California Compliant SAINT AR-15. It gives you the performance and reliability of any Springfield rifle but also does a pretty great job of maintaining that AR aesthetic — all while staying within the boundaries of California law.

Springfield Armory CA Compliant SAINT AR-15
Pros
CA Compliant featureless rifle
Features Springfield's Accu-Tite™ tension system​
Classic AR-15 appearance, while still CA legal
Cons
Missing out on some features that aren't CA legal
If you don't mind giving up some of that AR appearance, then your options open up.
The Ruger Mini-14 is an excellent general-purpose rifle that is chambered in 5.56 NATO and accepts AR-15 magazines. So, you can still use any that you have laying around — just make sure their capacity is 10 rounds or less, in accordance with California law.

Ruger Mini-14 Ranch Rifle
Pros
Meets CA featureless rifle standards
Chambered in 5.56 NATO
Accepts AR-15 magazines
Cons
Doesn't have the same look of an AR-15
Another great option is the Springfield M1A. This gun packs a big punch in a small body, but make sure you pick up a California-compliant model.

Springfield M1A
Pros
Classic, reliable design
Maintains some tactical style
Many models are CA compliant featureless rifles
Cons
Doesn't have the same general style as an AR-15
Bonus: Mag Locks
So does a featureless rifle still sound boring? Well, you can get around these requirements by instead making sure your rifle has a fixed magazine.
Bullet buttons may no longer be added to firearms to convert a detachable magazine to a fixed magazine, but you can use magazine locks, which require you to separate your upper and lower receivers to release your magazine.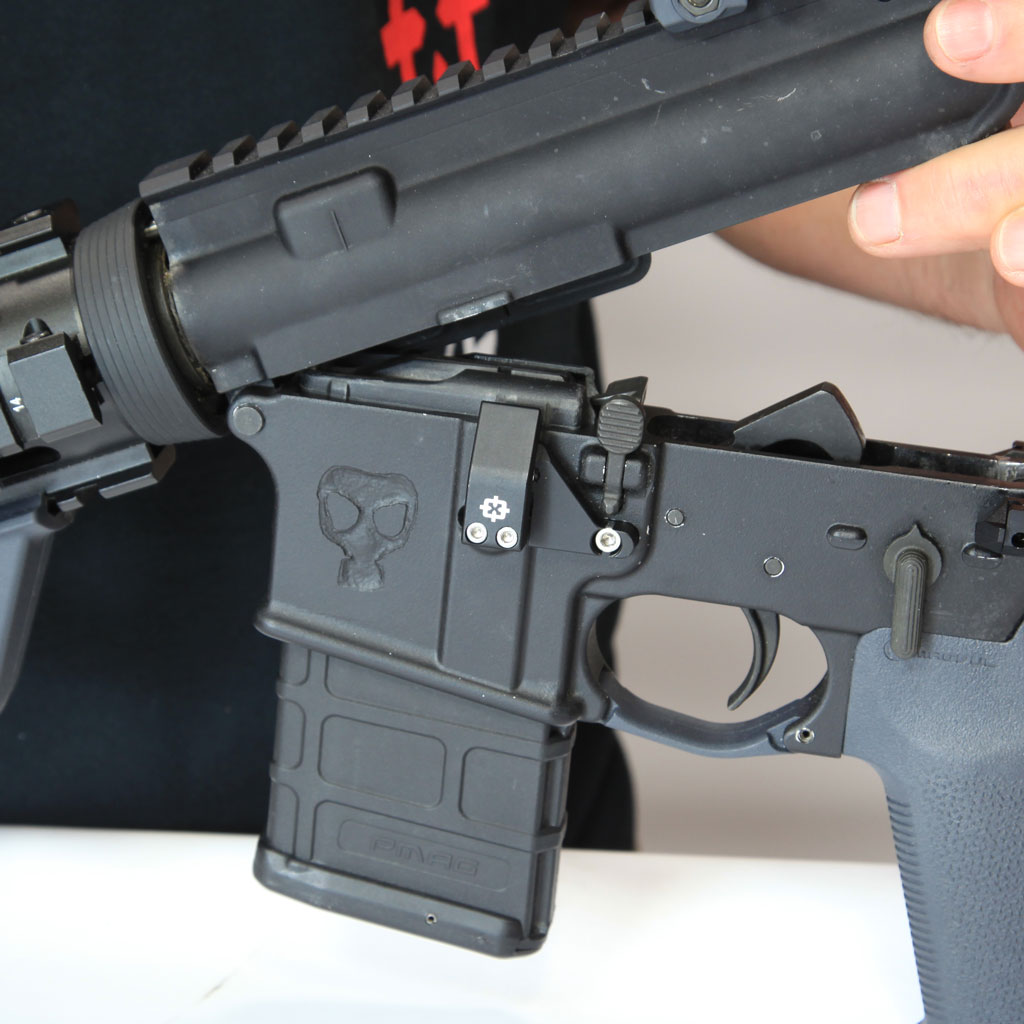 There are tons of options out there, but our favorite is the Juggernaut Tactical Hellfighter Kit.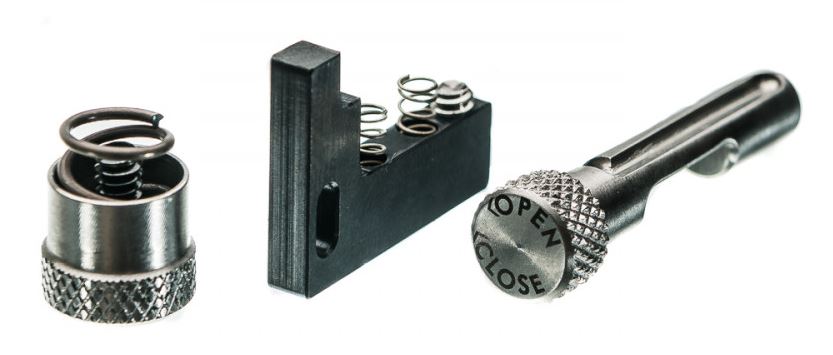 Juggernaut Tactical Hellfighter Kit
Pros
Lets you modify your existing AR-15 to be CA Compliant
Still allows for easy takedown to reload
Easy to install
Cons
Jams and double feeds are harder to fix
Conclusion
Living in California doesn't mean you have to forfeit all fun…with a few modifications, you can still enjoy your AR-15.
Do you own a California Compliant AR-15? Tell us about it in the comments! For more interesting ways to mod your AR, check out our guide to the Best AR-15 Upgrades.