As America's favorite gun, the AR-15 is one of the most upgraded and customized firearms on the market.
Because of its overwhelming popularity, there's no shortage of aftermarket parts that can completely transform the way your gun looks and fires.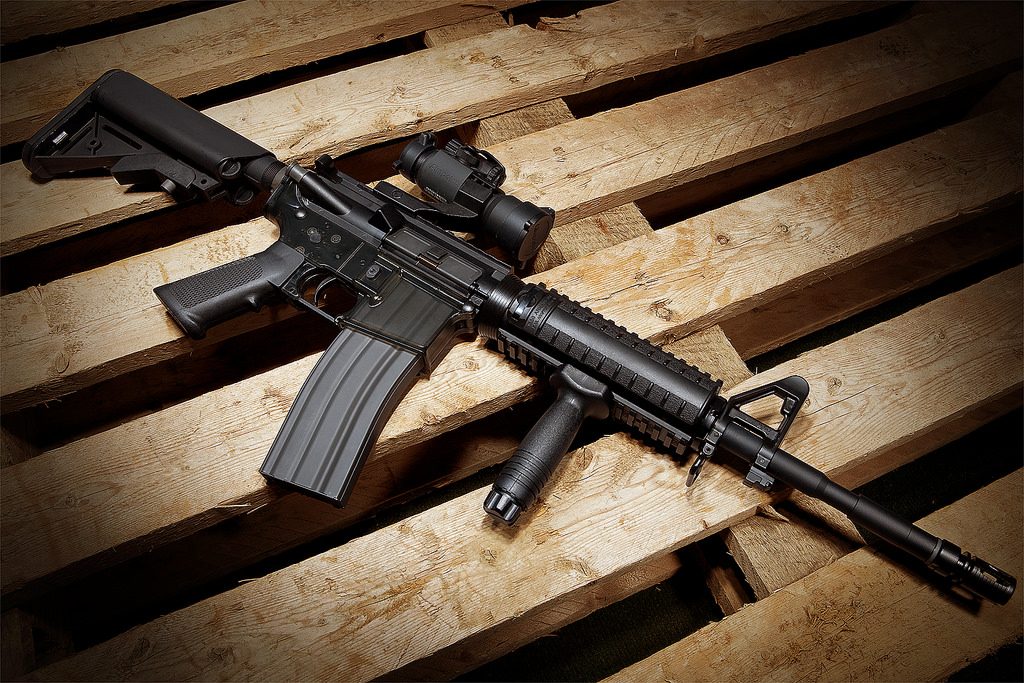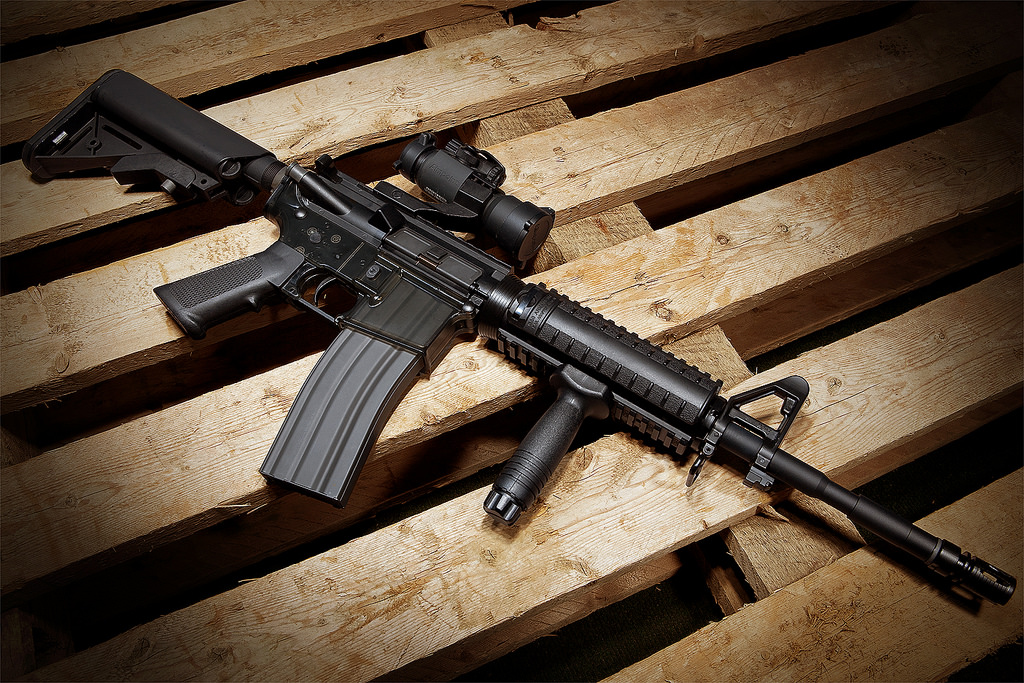 One of the best features of the AR-15 is its customizability. If you've got a little time and money, you can build an excellent rifle from the ground up.
And because of the AR-15's modular design, anyone with a basic set of tools can upgrade or swap out components without making any major changes to the gun.
For this reason, we recommend the AR-15 to any beginner who's interested in learning the basics of modding or gunsmithing.
Today, we're going to cover various aftermarket pieces for your AR-15 that will maximize your performance.
Although this isn't everything you can upgrade or mod on an AR-15, these are some of the big ones. We're looking at:
Adjustable Gas Blocks
Barrels
Handguards
Charging Handles
Bolt Carrier Groups
Ambidextrous Safety
Triggers
These are generally the parts with the most impact on how your rifle feels and functions and provide a great starting point for anyone looking to mod their AR-15.
Choosing the Right Adjustable Gas Block
One easy way to improve the performance of your AR-15 is by changing the factory gas block for an adjustable one.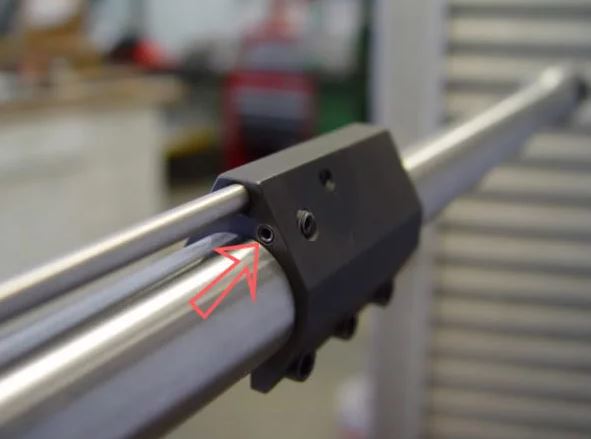 The benefit of shooting with an adjustable gas block is that it allows you to change the gas flow depending on the ammo you shoot.
The reason why this can improve performance is that most AR-15s with factory gas blocks are actually over-gassed, which is causing the shooter to experience unnecessary recoil as a result.
Furthermore, the extra gas inside your rifle creates more carbon buildup, which can lead to hotter internal temperatures and issues with firing ammo. By regulating gas flow with an adjustable gas block, you reduce the amount of gas inside your gun, keeping it clean for longer.
To choose the right gas block for your gun, you need to first match the block's diameter to your barrel's contour. Just remember the following diameters:
.625" for light profiles.

.750" for normal profiles.

.936" for heavy profiles.
And if you want to add a free-floating handguard, you'll need to make sure that your gas block is also low profile.
Superlative Arms' Adjustable Gas Block
Although any gas block can be run with a suppressor, there are some that do it better than others. Adjustable is a step in the right direction – but adjustable plus a bleed-off hole is best.
The great thing about this adjustable gas block is that it comes with a bleed-off hole which limits gas blowback, making it a great choice for anyone who frequently shoots their AR-15 with a suppressor fitted.
Seekins' Adjustable Gas Block
Seekins also makes a good adjustable gas block for a reasonable price. What's nice about this model is that it comes with a screw which you can use to lock in your adjustments.
While it doesn't have a bleed-off hole, this gas block is able to get the job done.
Odin Works' Adjustable Gas Block
Odin Works' carbon-steel adjustable gas block has received a lot of praise for its design.
What makes this low-profile gas block special is how it's been optimized to make adjustments easy as possible. Odin Works does this by providing you with a total of 20 different adjustments that click when you turn the screw so that you never lose track of your adjustments.
Barrel Upgrades for Your AR-15
People upgrade barrels for different reasons.
Some hobbyists want to invest a little extra money in a match-grade barrel that helps improve accuracy, while more frequent shooters simply need to replace their worn-out barrel.
But before you switch barrels on your AR-15, there are a couple of things you should know.
Barrel Contours
If accuracy is your primary concern, a heavier barrel contour tends to work best. This is because heavier contours make the barrel stiffer, reducing the chances of barrel whip and heat-related drop-offs.  
If you have no intention of shooting 300 yards or greater or you'd like to lower your rifle's overall weight, medium and light contours should work just fine.
Barrel Twist Rate
When shopping around for barrels, you might notice ratios that look something like 1:7 or 1:9.
These are known as barrel twist rates, and they're used to represent the number of times that a projectile spins per inch traveled. So a twist rate of 1:7 means that the bullet twists one time per seven inches.
The most common twist ratio for an AR-15 is 1:9, and this is because 55-grain ammo is the most readily available. But the best twist ratio depends on what type of ammo you're shooting.
As a general rule, the heavier the bullet, the lower the ratio should be.
Types of Barrel Material
There are a number of different types of barrel materials available, and the one you choose depends widely on what you're looking to get out of your gun.
4150 Steel:

Mil-spec barrel. Cheap and readily available, but nothing too special about it.

Chrome Molybdenum Vanadium (Chrome Moly/CMV):

Great for longevity and preventing corrosion.

416R Stainless Steel:

Extremely resistant to corrosion and can be as much as

30% more accurate than CMV barrels

. Match-grade barrel with incredible accuracy, but has the shortest lifespan of all barrel groups.

Carbon Fiber:

Best all-around barrel that gives maximum accuracy and longevity, but is significantly more expensive than other types of barrels.
Top Barrel Manufacturers
If you've looked around for barrel replacements before, you have probably noticed that there are a lot of different manufacturers and models to choose from.
Naturally, finding the perfect barrel for your gun depends on whether you're a casual enthusiast, someone who spends a lot of time at the firing range, or a competitive shooter running 3-gun competitions.
Here are some of our favorite barrel manufacturers:
Christensen Arms AR-15 Carbon Fiber 16" Barrel
Carbon Fiber is a fairly new material when it comes to barrel manufacturers, although it has a price tag that is generally excessive – it does have some nice benefits if you're looking for long-range accuracy and weight reduction.
Crafted from the same materials used in aerospace engineering, this carbon fiber barrel supports .223 Wylde cartridges and comes with a 416R stainless steel barrel lining.
Faxon Gunner, 5.56 Barrels
Faxon's Gunner line of barrels is built with 4150 Steel and given a coat of nitride (QPQ) finish for longevity.
Faxon is well known for having some of the best pencil profile barrels on the market, but their Gunner profile barrels are actually our favorite since they offer almost as much weight reduction while providing significantly more heat management.
In our experience, the Gunner profile barrels strike the perfect balance between the two.
Daniel Defense AR-15 Hammer Forged 5.56 Barrels ($275 – $332)
Crafted from Chrome Moly using the CHF method, Daniel Defense barrels are strong enough for the frequent shooter and accurate enough for competitive matches.
Daniel Defense is also widely accepted as being one of the best manufacturers of AR-15 rifles and parts on the market, they are also the current supplier for US Special Operations Command and the UK Ministry of Defense of the RIS II Rail Systems.
White Oak AR-15 .223 Wylde Match Barrels ($269 – $414)
Perfect for shooters looking to improve their accuracy, White Oak's mid and rifle-length gas systems offer durability and precision.
Ballistic Advantage AR-15 5.56 Hanson Profile Barrels ($182.25 – $228)
Ballistic Advantage's barrels come with a QPQ finish for improved corrosion resistance and are given high-pressure and magnetic particle inspections (MPI) to make sure that every barrel is manufactured without defects and hidden flaws.
Choosing a New Handguard for Your AR-15
Not only is the handguard one of the most common modifications on the AR-15, it's also one of the most dramatic.
Switching from the factory tube to an aftermarket handguard will completely change the way your gun looks and operates – giving your AR a more menacing look while often providing a tactical advantage.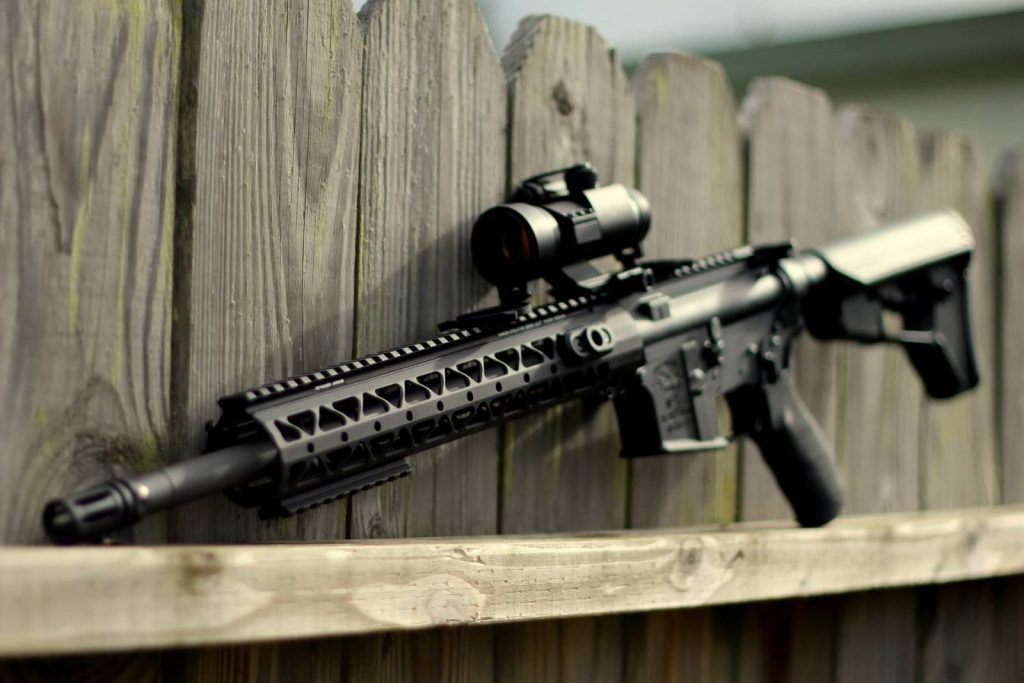 There are two different types of handguards available: drop-in and free-float. While they both serve the same purpose, there are some key differences between the two.
Another thing to consider when choosing an aftermarket handguard is which attachment system you want to go with: M-LOK or KeyMod.
Both are used to secure gadgets onto your handguard. Initially, they both were equally as popular, but after drop tests between the two, M-LOK was found to withstand impact better than KeyMod, causing it to soar in popularity.
While both attachment systems still have a good following, M-LOK has more support these days.
Drop-in Handguards
Drop-in handguards are known for being easy to install and for their simplicity. Installing drop-in handguards is quick and requires no major modifications – you just take off the delta ring and drop it in, as the name suggests.  
Because of their simplicity, drop-in handguards are often cheaper than their free-float counterparts. They work best with guns that have a front sight base (FBS), simply because they let you switch out handguards without having to tamper with the FSB.
The drawback, however, is that the FSB limits you to handguards that equal the length of your gas system
Troy Industries Drop-in Battle Rail
Although losing their popularity, quad rail handguards are still enjoyed by many shooters due to their simplicity and their aesthetics.
They are functional, simple, and robust – perfect for budget and clone builds of many varieties.
Magpul MOE M-LOK Handguard
Magpul makes a huge range of polymer stuff for the AR-15, all of it good, all of it trusted. When it comes to drop-in rails, this is one of the best.
Lightweight, M-LOK mounting points, and durable construction – Magpul did a good job with this.
Midwest Industries Two-Piece AR-15 Handguard
One of the more expensive options, Midwest Industries makes a product worth the price if you're looking for a truly quality drop-in handguard.
Free-Float Handguards
The biggest advantage that free-float handguards have over drop-ins is that they don't make actual contact with the barrel – hovering around the barrel instead.
The benefit of this is that the extra weight from your gadgets, as well as the positioning of your hand, doesn't have any impact on the harmonics of your barrel as you're firing.
Another benefit of free-float handguards is that they provide you with more flexibility than drop-ins. Your handguard can be any length, provided it's able to go over your low-profile gas block.
This gives you the opportunity to choose from a number of different lengths without being confined to the measurements of your gas length.
With that said, you should still measure the length of your barrel plus your muzzle device (if you have one) to help you decide an approximate handguard length. We recommend a 12" or 13" handguard for most rifles, as it seems to optimize space for most arm positions.
Brigand Arms Edge Woven Carbon Fiber Lightweight Handguard
Don't let the weird look of this handguard fool you – this is one of the best handguards on the market!
If you're looking for lightweight, woven carbon fiber is hard to beat. It is also a lot more durable than it looks like it should be – we've used one of these in a number of competition shoots and it has also performed like a champ.
Aero Precision ATLAS S-ONE AR-15 Handguard
Hands down one of our favorite handguards. Strong, light, aesthetically pleasing, and comes in every color and length you could possibly want.
The best part is that it is a truly reasonable price for what is offered. And that makes us happy. Once again, Aero Precision hits that wonderful ratio of value to cost.
AT3 PRO-Series AR-15 Free-Float Handguards
Comes available in both KeyMod and M-LOK configurations.

Built from lightweight 6061 aircraft aluminum alloy (total weight including barrel nut for 12" is 12.4oz).

Backed by a lifetime warranty.
Charging Handles
Aftermarket charging handles may not be a top priority for the casual hobbyist, but it's actually one of our favorite upgrades.
A good charging handle allows you to smoothly transition your gun into the ready position. For competitive shooters, in particular, this translates into less time between reloading and firing their rifle.
For everyone else, a premium charging handle is more comfortable.
Radian Weapons Ambidextrous Raptor Charging Handle
The Raptor is probably one of the more expensive charging handles you'll come across, but if you're looking for a smooth reloading experience, it doesn't get much better than this.
The Raptor is one of the easiest handles to operate, regardless of whether you're right or left-handed. The handle is also just large enough to where you can use it easily with gloves, but not too large that it gets in the way.
Whether you pull it back with your fingers or you use your palm, the Raptor delivers smoothness every time. All in all, we think it's a great piece that's worth its price tag.
Bravo Company AR-15 BCM Gunfighter Charging Handle
Made from reinforced billet aluminum, the Gunfighter charging handle is strong enough to handle extensive wear and tear without bending or breaking.
Along with its heavy-duty design, this charging handle also has a slightly oversized latch that helps prove a better grip, as well as makes it operating the handle smoother and more reliable.
The Gunfighter comes in three different latch sizes: small, medium, and large.
While they all have their benefits and drawbacks, we prefer the medium because it strikes a perfect balance. The small latch can be harder to grab onto, especially with gloves, while the large latch has been known to grab ahold of slings and clothing for right-handed shooters.
Geissele Automatics Airborne AR-15 Charging Handle
While a bit expensive for a charging handle, the Airborne handle comes in a low-profile design that's easy to grip and won't grab ahold of your gear or objects around you like brush and tree branches.
It's also made from durable 7075 T6 aluminum, which all but guarantees that it won't break away at an inconvenient time.
For the most part, the cheaper charging handles we covered are just as good as the Airborne.
But if you're looking for some extra grip that provides smooth operation when your hands are gloved or wet, but still smooth enough to tear or irritate your hands, then the Airborne can't be beaten.
What to Know before Upgrading Your Bolt Carrier Group (BCG)
If you're currently building an AR-15 from the ground up or you'd like to cut back on a little bit of weight, you're going to need to buy a BCG for your gun.
You can read our in-depth analysis of BCGs and recommendations here, but here are some things you need to know before replacing your mil-spec BCG:
Aluminum BCGs are the lightest of the group, but they wear down after heavy usage.

Titanium BCGs aren't quite as light as aluminum, but they're 40% lighter than 8620 steel and offer the best durability.

Nickel boron (NiB) coating helps keep your BCG lubricated and resistant to corrosion.
And if you're building a competition AR-15, take a look at some of our favorite lightweight BCGs.
JP Enterprises AR-15 Ultra-Low Mass BCG
Sure, you can build a budget rifle for the same price as this BCG – but if you're looking for the best parts, you have to pay the highest prices.
Although this BCG won't appeal to everyone if you're looking for a top of the line BCG the JP Ultra-low mass really delivers.
Rubber City Armory Titanium M16 BCG
Another Gucci option but this one is Titanium. Titanium is as strong as steel but at almost half the weight. It is also far more durable than aluminum but at almost twice the weight. In this case, though the extra weight can be a good thing.
While aluminum is a good material and if you're looking for maximum weight savings it is a clear choice, that lightweight can cost you some reliability. The extra weight of titanium mitigates that while still retaining most of the weight reduction.
WMD Guns 5.56 AR015 NiB BCG
It's simple, but it works. And that's why we like it. Strong, functional, and at a fair price. The only thing that is a minor detraction is that NiB discolors after use, so you'll never have that factory fresh look again after your first range trip no matter how much you clean it.
As long as you're not building a wall hanger or a safe queen, that discoloration won't matter as it does not affect functionality at all.
Adding an Ambidextrous Safety
If you're a left-handed shooter, you might want to think about installing an ambidextrous safety on your AR-15.
Because regardless of whether you're a competitive shooter or you purchased your AR-15 for home protection, being able to quickly switch to firing position without fumbling around is important.
Here are some of our safety recommendations:
CMMG Ambi Safety for Budget Buyers
This is the model of ambi safety that several of us at Firearm Review use on our personal rifles. It's cheap, works, and we like it.
Takes a little time to wear in, but almost all safeties do.
Battle Arms Ambi Safety for Competition-Grade Shooters
If you're right haded an ambi safety can get in the way sometimes if it has a full size are on both sides. Battle Arms resolves this by making the right hand arm smaller, but still functional.
It's there when you need it and out of the way when you don't. It does take some extra time to get used to though since your finger is aimming for a slightly smaller target now.
New AR-15 Trigger Systems
Another upgrade that will dramatically change the way your AR-15 operates is the trigger system.
Functionally speaking, the mil-spec trigger will get the job done. However, a premium trigger system will provide you with a cleaner break with every pull, ensuring that your follow-up shots are just as accurate as your initial one.
There are three types of trigger systems that we're going to cover: single-stage, two-stage, and drop-in triggers. Each one is a little different, and choosing the right one for you depends solely on what you expect to get out of your AR-15.
Single-Stage Triggers
Single-stage triggers are the most common type of factory trigger system that you'll encounter.
What's important to remember about single-stage trigger systems is that they're not created equally. A good single-stage trigger will give you a consistently clean break, whereas a bad one might feel choppy and heavy.
For most people, the mil-spec AR trigger falls into the second category.
The benefits of owning a good single-stage trigger are:
Minimal trigger travel.

Clean trigger break.

Usually a lighter pull weight.
The downside to using a single-stage trigger is also in its lighter pull weight. For inexperienced shooters intense situations, a feather-light pull weight could mean unintentionally firing the weapon – especially for those without proper trigger discipline.
Still, a good single-stage trigger provides more than its fair share benefits. Here are a few of our favorites:
Geissele Automatics Super 3-Gun AR-15 Trigger
As you can guess by the name, this trigger system was designed specifically for 3-gun matches, where accurate follow-up shots are important. Its light pull weight of 3.25lbs, combined with its rapid reset, make it great for 3-guns – but not the type of trigger system you'd want for service use or sharpshooting.
ALG Defense Enhanced Military AR-15 Triggers
Marketed as an enhanced standard trigger, ALG's military triggers more like an upgrade to the mil-spec AR trigger than a new system entirely.
The pull weight is around 6 ½ pounds and the parts have been given NiB and nickel-Teflon coatings to reduce friction and provide a smooth shot.
Two-Stage Triggers
The two-stage trigger system needs an additional pull range in order to fire.
With this type of trigger, the first pull takes up the majority of the slack and the second pull, usually just a pound of pressure, is needed to actually fire the round.
The two-stage trigger is great for precision shooting, where the shooter is expected to spend more time concentrating on the target. But they're not the best choice for rifles used for combat or home defense due to the extra time it takes to shoot.
Rock River Arms National Match 2-Stage AR-15 Trigger
This two-stage trigger system is designed to meet the needs of competitive shooting as well as varmint hunting. It offers between 4 ½ to 5lbs of trigger pull and provides a crisp, clean shot every time. Praised for its longevity, this trigger system should allow for tens of thousands of rounds fired without any issues.
Geissele Automatics Enhanced AR-15 Trigger
Geissele's enhanced two-stage trigger system provides reliability and smoothness with each pull, making it an optimal choice for anyone looking for improved precision and accuracy.
Like other Geissele models, this trigger system lives up to the hype of being one of the best two-stage triggers on the market. It's dependable, long-lasting, and easy to use.
It comes available in two models: the enhanced trigger system and the rapid fire.
Enhanced triggers have a pull weight of 2.3lbs in the first stage and 1.2lbs in the second.
Rapid fire triggers have the same pull weight, but has a lighter pull and reset which makes them great for rapid target engagement or shooting follow-up shots.
Drop-in Trigger Systems
Drop-in triggers can be either single or two-stage, meaning that they're not necessarily a different type of trigger system.
However, drop-in triggers are a little different from standard trigger systems in that they're easier to install. As the name suggests, you simply drop the trigger in and make a few minor alterations and the gun is ready to fire.
This is because drop-in triggers come already assembled in their own casing or cartridge, making them perfect for people looking for a quick upgrade.
Here are a couple of our favorite drop-in triggers for the AR-15 – but if you want to know more, you'll want to read our Best AR-15 Drop-in Triggers article:
Triggertech TT-AR-15 Adjustable Trigger
While pricey, Triggertech's drop-in is known for its durability – allowing for as much as 50,000 shots without any real signs of wear and tear. This is because the trigger uses a roller system design that sweeps away dirt and grime instead of trapping it in.
Velocity Triggers AR-15 Curved Steel Cased Trigger
Velocity's trigger systems are a good deal for their price. Designed to minimize trigger creep and overtravel, this single-stage trigger is perfect for anyone looking to maximize precision and accuracy without sacrificing speed.
Looking to Mod Your AR-15?
As you can see, there are a lot of things to consider when upgrading or building your AR-15.
The good thing about this gun is that it's one of the most modified rifles on the market, which means that there's no shortage of aftermarket pieces to tweak your gun and have it working just the way you want it.
And while this guide is far from comprehensive, it can help you get started as you discover how fun it is to mod and assemble your rifle.