Ever been stung by a "too good to be true" deal? Makes you wary, doesn't it?
Well, we weren't too sure what to expect when it came to the Palmetto State Armory Complete PA-15, but we certainly didn't expect to be so impressed about just how great this bargain-priced rifle really is!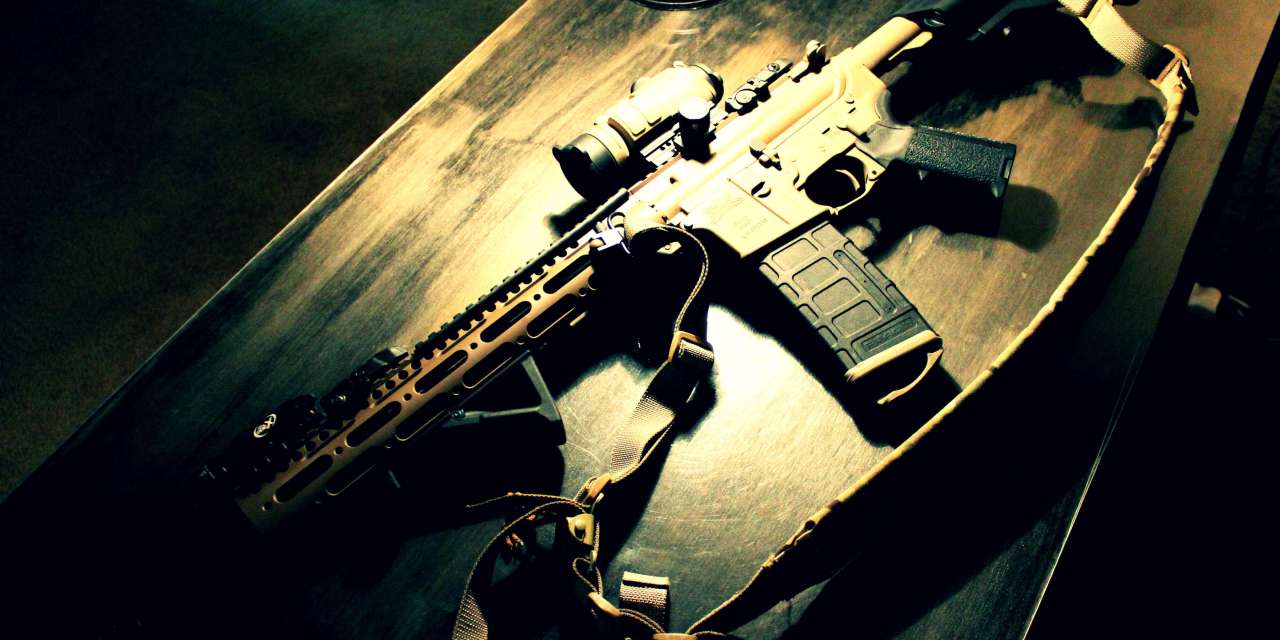 PSA's reputation for quality on a budget is well known, but how much of it is hype, and how much of it is true? Turns out–there's a lot of truth in it.
Let's take a closer look at some of the complete AR-15 rifles that PSA offers.

Palmetto State Armory PA-15 16" Mid-Length M-LOK Classic Rifle
Pros
Mil-spec everything makes it easy to swap out parts
Super affordable
Versatile
Cons
Some cosmetic corners get cut
Fit and Finish
Like the PSA PA10 we reviewed last week, the PSA PA-15 is a pretty basic beast. Sure, you can fix them up and pick from PSA's higher-end lines, but we wanted to check out their more affordable offerings.
If you're up for building your own rifle, you can get a PSA completed upper and lowers for pretty cheap–all you have to do is put in a few pins and you've got a rifle. You can break it down even further and order all your individual components to assemble–but we decided to go with a completed rifle build.
We kept it nice and basic with the PA-15 16" Mid-Length M-LOK Classic Rifle, chambered in 5.56 NATO.
It's not as basic as you can get with PSA, but it is their most affordable completed rifle, coming in at a penny under $500. We went with a mid-length over a carbine length because, honestly–unless you're looking for that M4 look–a mid-length system is just so much nicer to shoot. 
PSA built this rifle to mil-specs, which is passable. It's not the best on the market, but it'll shoot, and it's fairly modifiable.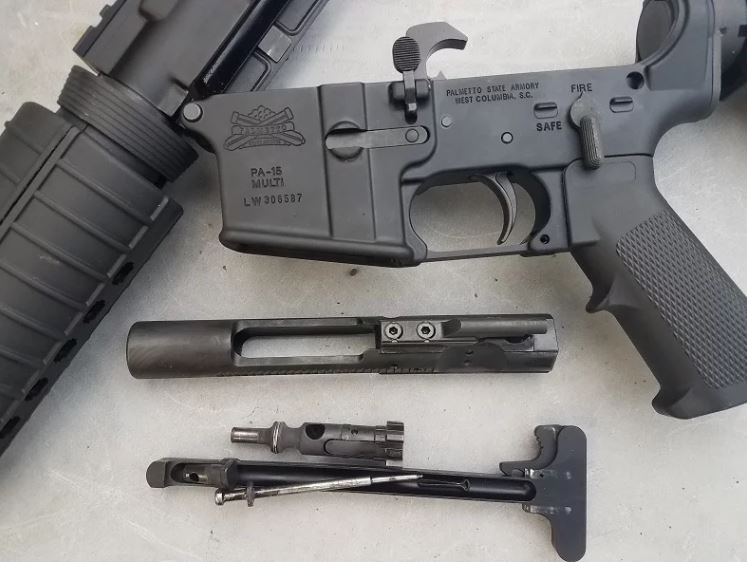 The upper receiver is hardcoat anodized, which will stand up to moderate wear and tear just fine, especially if you're not too worried about how pretty your gun looks. You'll probably notice a few small machining marks on one of your receivers, but for the price you paid, it's not unexpected.
PSA uses a 16" 4150V chrome moly vanadium steel A2 profile barrel with a 1:7 twist rate. It comes with an A2 flash hider, a 15" PSA M-Lok free-float handguard, and a low-profile gas block.
We'd have liked to have seen a little more attention paid to the finish on the handguard since it had some sharp edges, but overall, it's not a deal-breaker for us.
You get a full-auto profile bolt carrier group with a mil-spec, shot-peened Carpenter 158 steel bolt. The gas key is hardened to USGI specifications, and staked properly. The carrier itself is machined from 8620 steel with an M16 full-auto profile.
This rifle comes with one of PSA's forged 7075-T6 aluminum lowers, which is hardcoat anodized as well, and marked "MULTI" for the caliber. The buffer tube is mil-spec in diameter and offers 6 adjustment positions.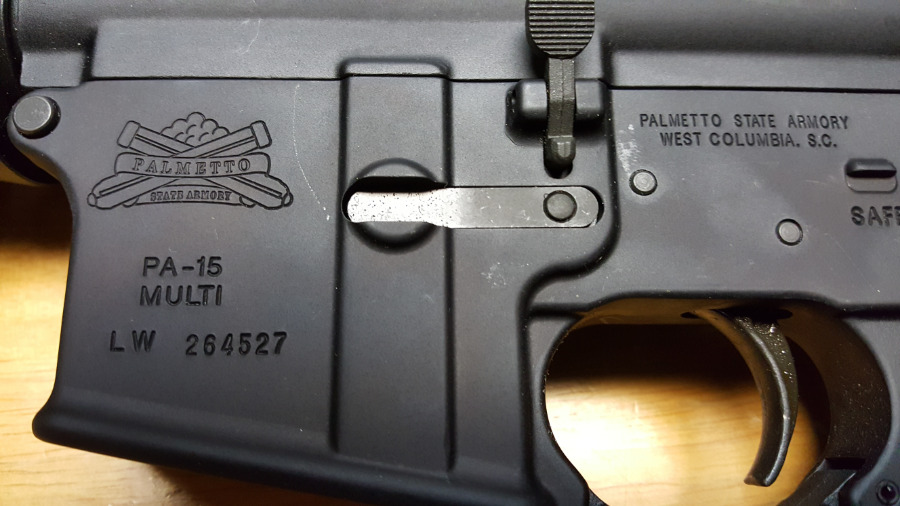 PSA slapped on a PSA Classic Carbine Stock, which gives you that really traditional M-16 look. We probably wouldn't have selected that stock if we were building our own AR-15, but it is a stock, and it can be shouldered.
Rounding out this build, you have a PSA Classic A2 grip and standard Mil-Spec AR-15 Fire Control Group.
Trigger
The PA-15 uses PSA's AR-15 Fire Control Group kit, which is a plain old mil-spec, semi-auto fire control kit.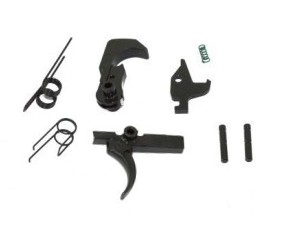 That being said, it's not a stellar trigger. You already know that a mil-spec trigger will perform only so well, so it shouldn't be surprising that the PA-15's trigger is a little gritty, sloppy, and features a weirdly squishy reset.
Pull weight clocks in at 6 pounds, 10 ounces. You may find this trigger a little hard to squeeze with just the first joint of your finger–it's not elegant, but moving the trigger down your finger may help. Since the trigger itself isn't exactly precise, you probably won't lose out too much on accuracy.
Accuracy and Recoil
It might be a little much to ask a sub $500 AR-15 to exhibit pinpoint accuracy, but we found the PA-15 to be acceptably accurate. 
The PA-15 can maintain a 3 MOA group with iron sights and does tighten up a bit with a red dot, but it's still a mil-spec rifle. Cheap plinking ammo performs only marginally worse than more expensive ammo, so save your pennies and buy the cheap stuff to feed the PA-15.
As for recoil, we're pleased to report that it falls on the softer side of average for a rifle chambered in 5.56.
Reliability
Sure, accuracy is important, but what about the reliability? A rifle isn't worth its salt if it won't reliably cycle and fire when you pulled the trigger, but the PA-15 looks to be worth it!
Reviewers reported running anywhere between 200 and 2,000 rounds through their PA-15s, and there were only a handful of reported failures to load a new round as the rifles were being broken in.
Magazines and Mag Release
PSA ships the PA-15 with a single D&H 30-round magazine (where legal). They're resistance welded to mil-specs, heat-treated, and hardcoat anodized. They have a slick Teflon coating inside and out, and come with a Magpul follower.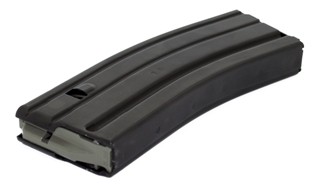 The magazine release is a plain old button release, just like you'd expect of a basic AR-15. None of our reviewers had any complaints about loading or unloading magazines.
Maintenance and Disassembly
It's an AR-pattern rifle. They're designed to be easy to breakdown and maintain, especially in adverse conditions. PSA does tend to overgas their rifles which means they get dirty more quickly and need maintenance more often, but they get a reliability boost.
Bang for Your Buck
Considering the price of this AR-15, all the little quibbles we have do seem to fade away. Yeah, it's less than $500 by a smidge, but that doesn't mean you're missing out on quality, either. 
If you're looking for a first AR-15, it's hard to go wrong with the PA-15. You'll get a feel for the platform, and you can always tinker and upgrade to your heart's content.
Upgrades
Speaking of upgrades… we figured we'd toss in a few favorites to get you inspired and ready to rock with your new AR-15!
Slings
So, unless you wanna stand around all day, clinging to your rifle, you're going to need a sling. Slings give you support, free up your hands, and just come in handy.
We like the Blue Force Gear UDC Padded Bungee Single Point Sling. Not only is it super comfortable to wear for long periods of time, but it's easy to adjust and move around with.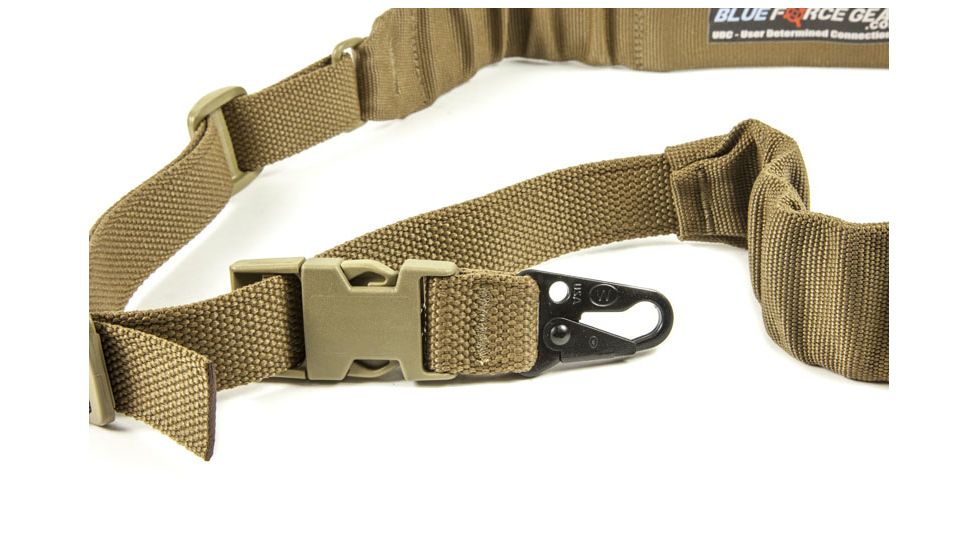 Blue Force Gear UDC Padded Bungee Single Point Sling
Pros
Short bungee sections absorb shock
Padded for comfort
Versatile attachment adapters
Looking for something else? Check out our guide to the best rifle slings!
Triggers
Besides the barrel, the trigger is the next biggest change you can make to affect your rifle's accuracy.
The PA-15's trigger is passable, but passable isn't good enough for us! We recommend Timney's drop-in AR-15 trigger.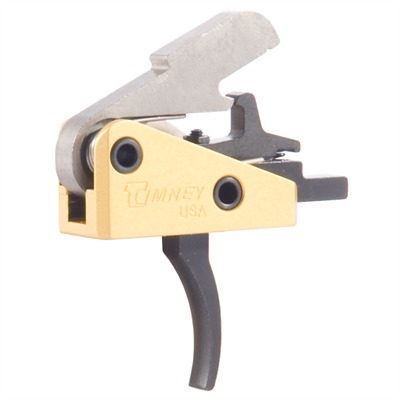 Timney AR-15 Trigger
Pros
A favorite among competitive shooters
Stright, clean, crisp pull
Cons
Expensive for a rifle that isn't a competition build
It's a breeze to install, and will give you an incredibly smooth pull and clean break–a far cry from mil-spec.
We cover other great AR-15 triggers elsewhere, if you're looking for some ideas.
Optics
PSA doesn't ship the PA-15 with any sights, so obviously, those are a pretty big priority. 
You can add some fantastic back-up iron sights and a red dot, or you can go for a shorter handguard and add a pinned monolithic front sight and flip-up back sight, or you can add a scope, or… well, you get the idea.
To start your shopping spree, may we recommend the Holosun HS403A? It's a great value, and we think it'll be great on top of your PA-15.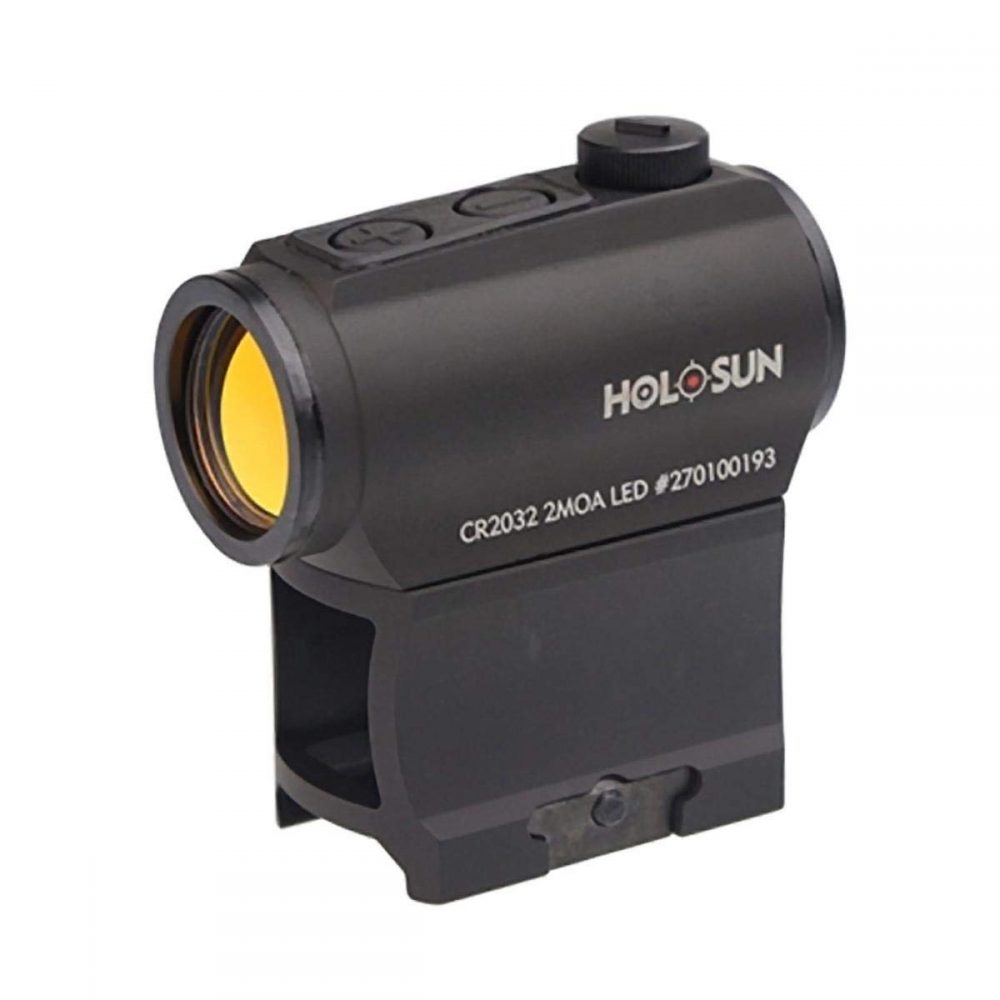 Holosun HS403A
Pros
Amazing value
50,000 hour battery life
Good glass
Magazines
Since PSA only sends on magazine with the PA-15, and we know that you absolutely need like, 12 magazines–you should definitiely pick up one or tow of our favorites. 
First up is the good old Magpul PMAG. These are the best basic AR-15 magazine and have seen action on the frontlines for many years. They're durable, lightweight, and, best of all, affordable!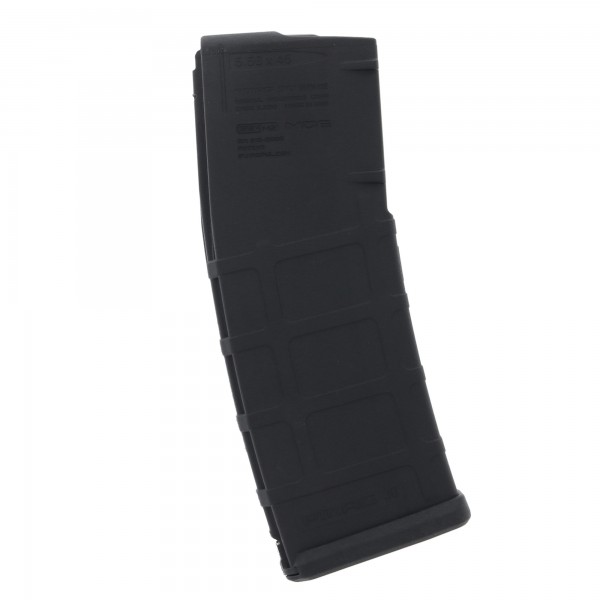 Magpul M2 MOE PMAG
Pros
Fantastic reliability and durability
Pop-off dust cover to prevent dirt or sand from fouling the mag
Overtravel insertion stop
Cons
Can require slight modification to insert well
We also like HexMag AR-15 30-Round mags if you're looking for something different. They feature a fun hexagonal texture that increases your grip on them. They're also high quality, super reliable, and easy on your wallet.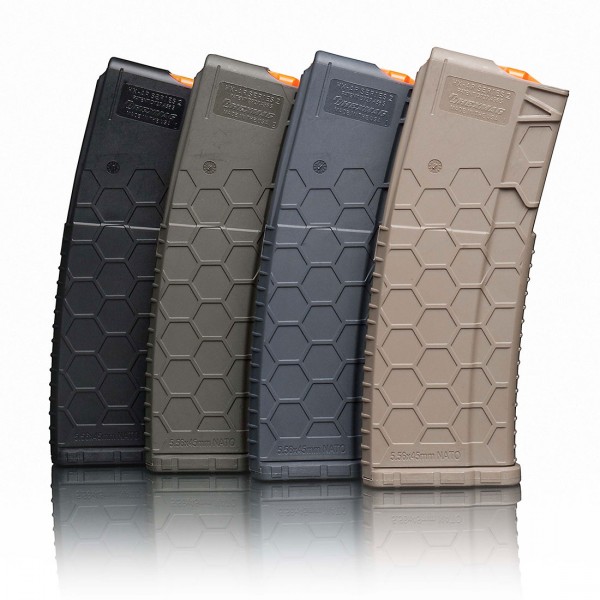 HexMag AR-15 30-Round Magazines
Pros
Tool-less design for easy floor plate removal
Textured for better grip
Stripper clip compatible
Cons
Tight to fit into mag well
Wrapping It All Up
Call us a fan! After all, where else can you spend $500 on a rifle and still get something that actually works like a charm?

Palmetto State Armory PA-15 16" Mid-Length M-LOK Classic Rifle
Pros
Mil-spec everything makes it easy to swap out parts
Super affordable
Versatile
Cons
Some cosmetic corners get cut
PSA may get a bad rap for being so bargain-bin, but don't judge them based off their prices alone–just take a look at reviews and comments across the gun-webs to see just how well-loved these rifles are.
Overall Rating: 8/10
Do you own a complete PA-15, or have you used any of PSA's parts in your own build? Do you recommend them? Tell us all about it in the comments! If you're shopping for the best AR-15 upgrades, don't miss our guide!