What's in your everyday carry (EDC) collection?
If you're reading this, it probably consists of at least a knife and almost certainly a gun as well. But if it doesn't also include a flashlight, you're missing out on a lot of utility.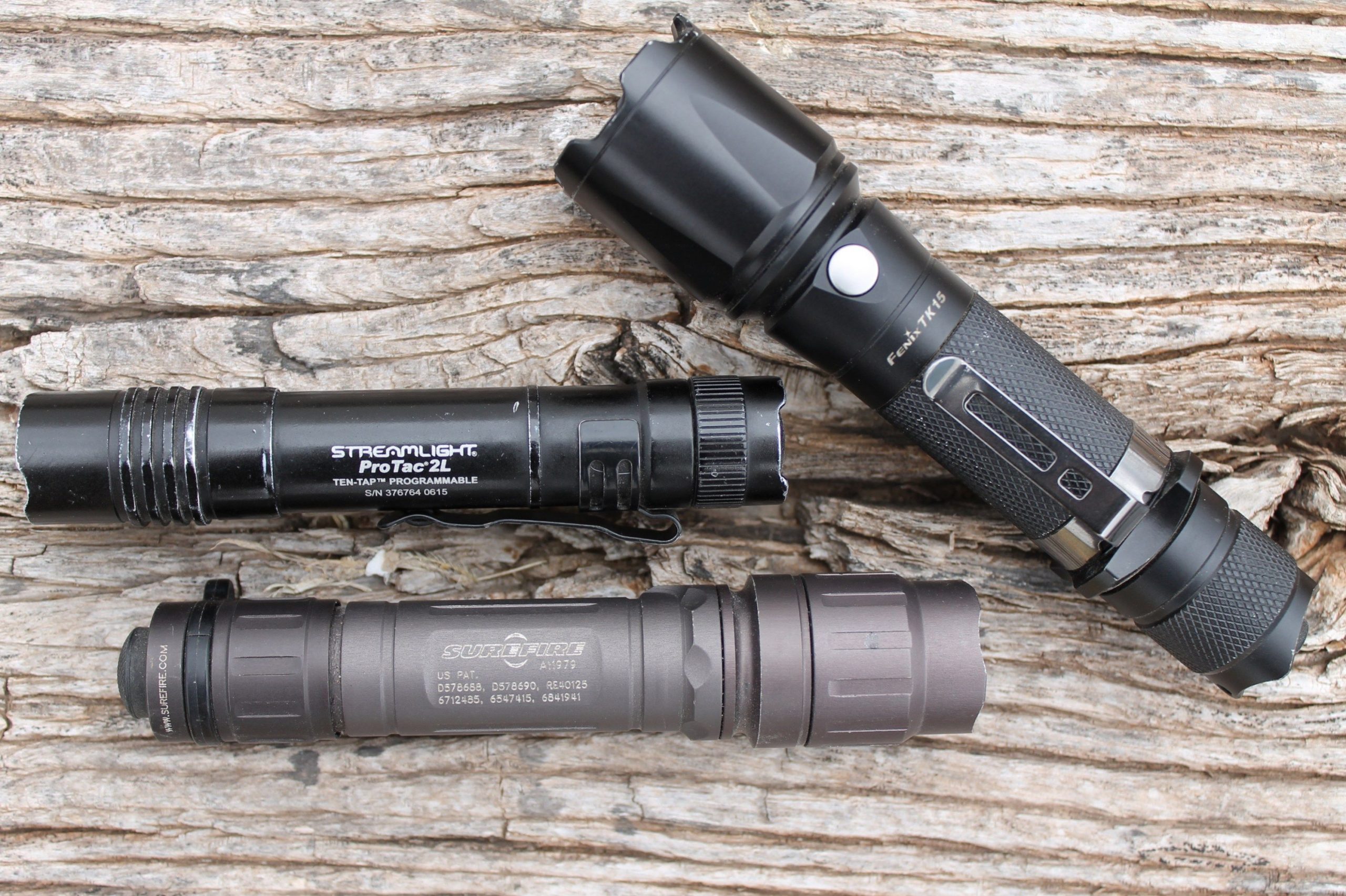 Ever found yourself squinting between your car seats looking for the credit card you dropped? Or dropped your keys in the grass at night or early in the morning? Or found yourself sitting in the dark after the power's gone off at work?
Not with an EDC flashlight, you haven't. You can even use a flashlight to temporarily blind an attacker, giving yourself an upper hand. 
So if you're looking to add a flashlight to your EDC or are looking to replace the one you already carry, you've come to the right place. We're going to talk about the top EDC flashlights on the market.
But first, let's do a quick intro to EDC flashlights for the inexperienced.
What You Need to Know About EDC Flashlights
Before we get too far in, we're specifically talking about flashlights that you carry separately from your EDC pistol, not pistol flashlights that you can mount on your EDC gun. If that's what you're looking for, we also have a list of the best pistol flashlights that you should check out, but here we're talking about flashlights with more general-purpose utility.
Now that that's clarified, let's get to the details.  
Size & Ease of Carry
The most important thing for an EDC flashlight to be is portable, so it should be small and lightweight. 
There are corresponding holsters made for some EDC flashlights, providing you with an additional option, but they're typically OWB holsters, so they're not great for using with a tucked-in shirt.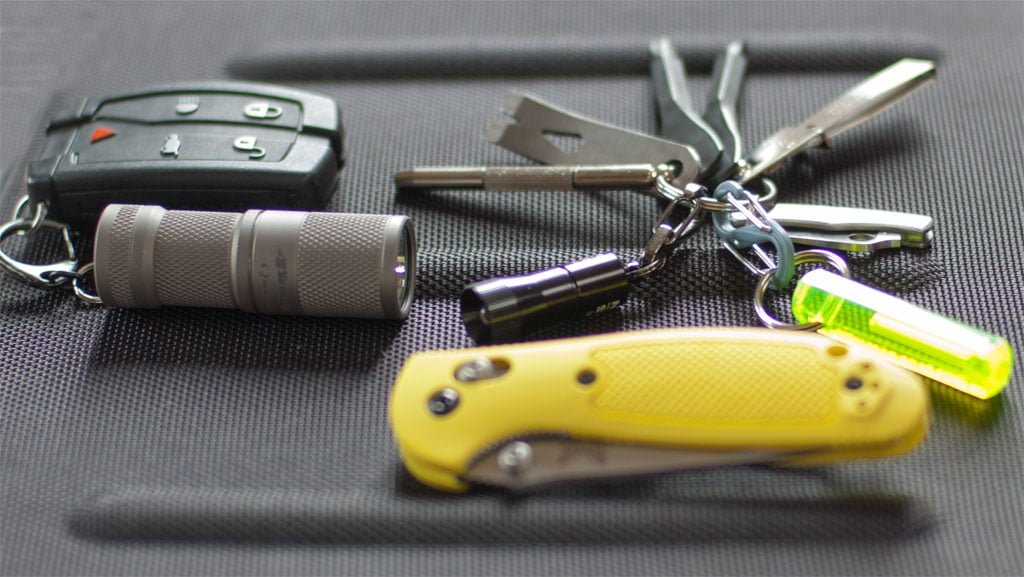 Not that you need to conceal a flashlight for the same reasons you do a gun, but if it's an event you need to tuck a shirt in for, "utility belt" is probably not the look you're going for.
On the other hand, many EDC flashlights will fit into mag pockets on soft holsters, so you may be able to use one of those instead.
Most also have clips that you could use to attach the flashlight to your waistband, either in or outside, or to secure it to the top of your pocket. 
Or you can just carry the light in your pocket without using a clip or other device to secure it.
Simply use the method that's most comfortable for you while also ensuring that the light is easy to access.
Lumens
In addition, you want it to be sufficiently bright. 
The brightness of lights is measured in lumens, with one lumen representing the amount of light in a square foot area one foot away from a single lit candle. Not that that's a particularly helpful description.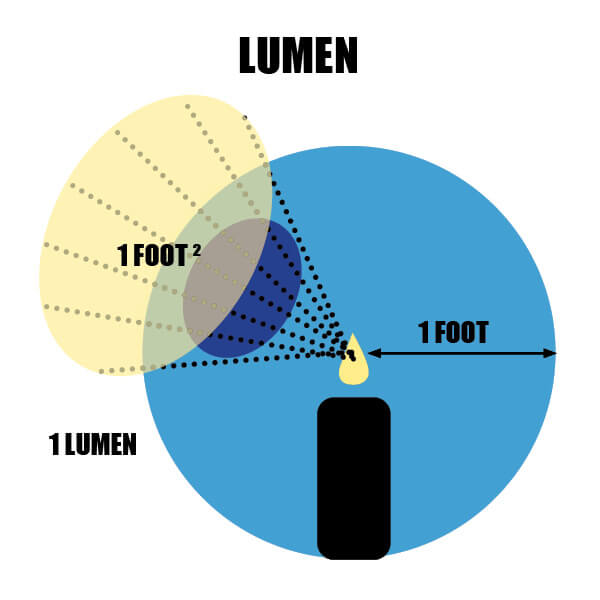 For a more meaningful point of comparison, a 100W incandescent lightbulb produces about 1,600 to 1,700 lumens while most car headlamps are around 1000 lumens, give or take a couple hundred.
Remember, a lumen only measures a single square foot area a foot away from a candle, so all the light produced by a candle including its full range is typically about 12 lumens. Most night lights are about 10 lumens.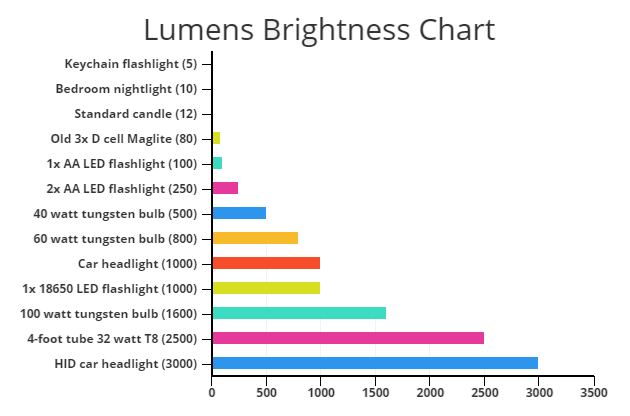 We generally consider 100 lumens the minimum brightness for an EDC flashlight to give it sufficient range and visibility without requiring too much bulk from the light. All the lights on here are at least that bright.
Batteries
In addition, let's talk about batteries. Sure, there are plenty of options that take traditional alkaline batteries (AAA, AA, C, or D batteries), but there are also many that take smaller lithium batteries like CR123, 18650,  or 14500. 
Alkaline batteries are cheaper and often easier to find, but lithium batteries offer a greater amount of power for their weight, making them especially well suited for EDC lights. Lithium-ion batteries also typically offer a longer battery life, so they can actually come out cheaper if you consider the cost per hour of battery life, especially if you go with a rechargeable option.
Best Everyday Carry Flashlights
Now that you know the basics, let's talk about our actual recommendations.
The Fenix PD35 TAC is an excellent all-around EDC flashlight and is one of the most popular. 
It has six settings:
Economy Mode: 8 lumens (140 hours)

Low: 60 lumens (29 hours, 15 minutes)

Medium: 200 lumens (8 hours, 30 minutes)

High: 500 lumens (2 hours, 55 minutes)

Turbo: 1000 lumens (1 hour, 10 minutes)

Strobe: 1000 lumens
The tail switch allows you to turn the light off and on, use the momentary-on Turbo mode, and choose between Turbo, Strobe, and Medium light settings, while the side switch allows you to cycle through all six light settings.
The tail switch is easy to use, but the side switch can be a little tough to find without looking since it doesn't protrude very far from the edge of the light.
It's impact resistant up to 1 meter and waterproof up to 2 meters, so it'll stand up to most anything that's likely to happen to it during EDC. While a lot of lights this bright have problems with getting too hot and damaging themselves, the Fenix PD35 Tac doesn't get as hot as other lights do on its hottest setting and automatically switches down to High mode after 5 minutes on turbo to prevent heat damage to the light.
The light takes 2 CR123 batteries or a 18650 rechargeable lithium-ion battery, which you can purchase in a bundle with the light or separately. Fenix's batteries are micro-USB rechargeable.
The beam has a nice spread that will light a room, but is still concentrated enough in the center to reach up to 656 feet
It's about 5.5 inches long with a 1-inch diameter and weighs 3.1 ounces without the battery, which is just a bit bigger than we'd like, but should still be fine for most people.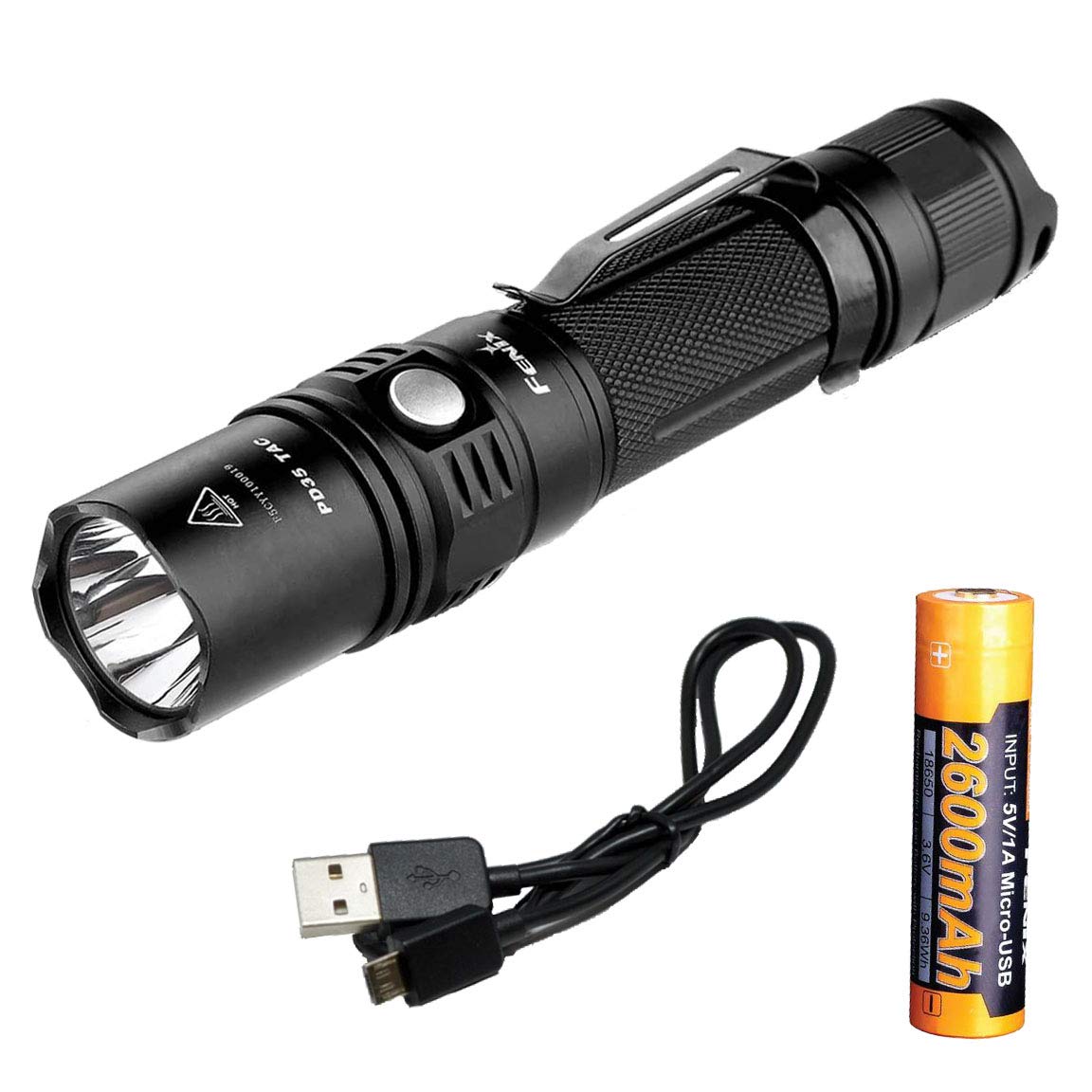 Fenix PD35 TAC
Pros
6 brightness levels
3 ounces
5.4 inches long
Aside from the side switch issue, the only other real problem with the PD35 TAC is that we wish the Economy mode wasn't quite so bright. Everything else is great, however, and the rechargeable battery is a strong advantage.
It does come with a relatively hefty price tag, though, so the Fenix PD35 TAC is more of a premium choice.
The Fenix PD25 is basically the Fenix PD35 TAC's little brother.
It's 3.7 inches long with a 0.8 inch diameter and weighs 1.7 ounces without the battery. 
It has five settings:
Low: 5 lumens (53 hours)

Medium: 52 lumens (7 hours, 10 minutes)

High: 150 lumens (3 hours, 15 minutes)

Turbo: 550 lumens (35 minutes)

Strobe: 400 lumens
Those run times are for use with a 16340 rechargeable battery. A USB rechargeable 16340 battery is included with the light, but battery life is extended if you use a CR123A battery since it has a lower voltage. The exception is Turbo. The lower voltage of a CR123A battery limits the brightness in the Turbo setting to only 440 lumens, which allows it to last twice as long. 
The light's tail switch allows you to turn it on and off or use the momentary-on option, while the side switch allows you to cycle through the Turbo, Low, Medium, and High settings or use the Strobe setting.
Like the PD35 TAC, the PD25 handles heat very well. It only gets warm after about 30 minutes left on the Turbo setting. The beam spread is also good and it will illuminate a room nicely with a range of up to 427 feet. 
It's impact resistant up to 1 meter and waterproof up to 2 meters.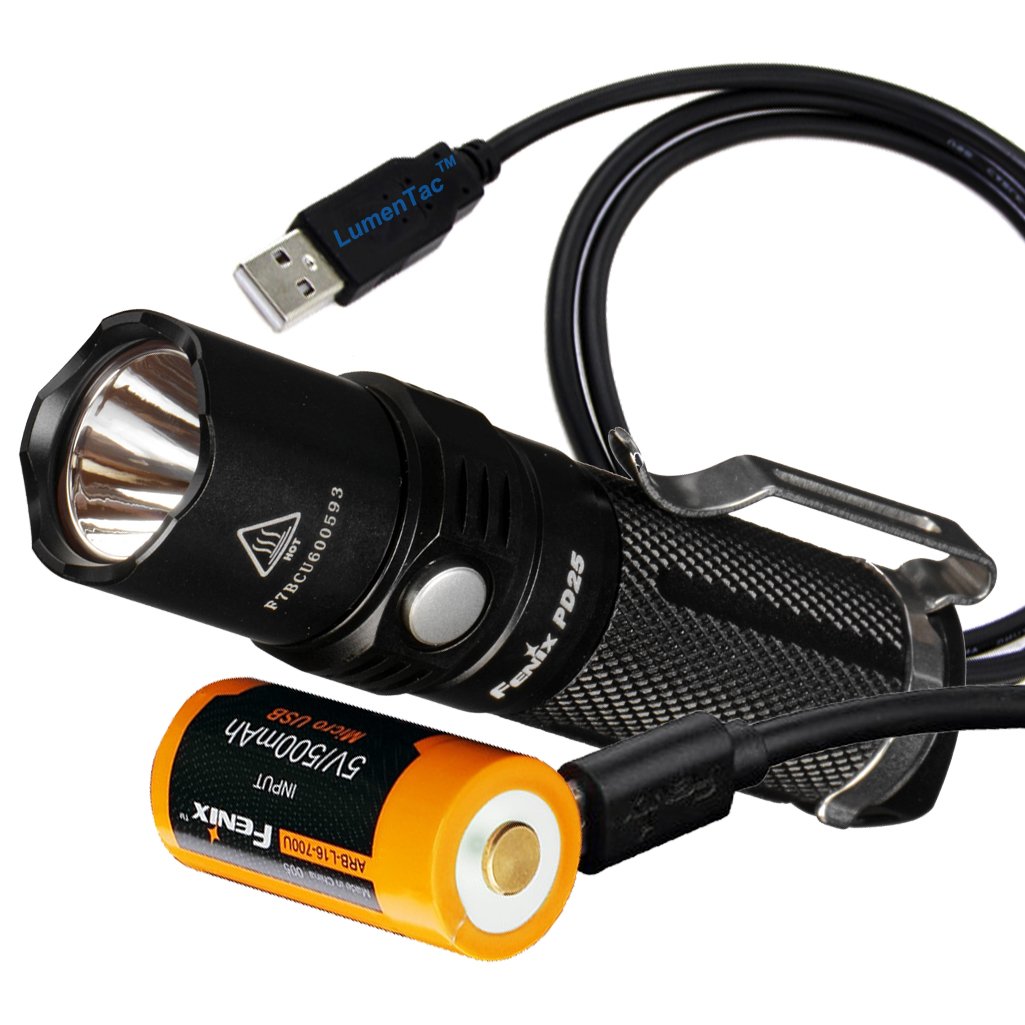 Fenix PD25
Pros
Compact tac light style
Rechargeable 16340 battery
4 light settings
Cons
Light dims after extended time on
While the PD35 TAC has more features, the PD25 is probably our preferred EDC flashlight since it's still plenty suited for its purpose, but is also smaller and easier to carry. We also like the slightly lower lowest light setting, though it's still not a true moonlight setting, and that the light comes at a lower cost.
The Olight S2R is a more budget-friendly option than either of the Fenix lights that we've talked about so far, but it's still an all-around excellent EDC light and feels like a premium design. 
It doesn't have a tactical end button, which may take some getting used to, but that actually allows for some extra utility. 
Instead, it has a magnetic tailcap, allowing you to secure it to any ferrous metal surface to use the light hands-free. That magnetic tailcap also attaches to the magnetic contact USB charging port for charging the Olight 18650 battery without removing it from the light.
In addition, while the pocket clip on most flashlights positions the light so it's illuminating end down, the clip is the opposite direction on the Olight S2R so you can attach it to a thin surface for more hands-free lighting options. You can also remove the pocket clip altogether if you prefer.
The side switch can be a bit difficult to find at first, since it doesn't extend far from the side of the light, but once you get used to it you shouldn't have a problem and the learning curve is worth the handiness of the magnetic end cap. One trick to help you find the switch is to position the pocket clip so it's immediately opposite the button. The clip is easy to find tactilely and will guide you to the button.
Another handy feature is that a single press of the power switch when the light is off returns you to whatever setting you were last using, so there's typically no need to cycle through other settings to get to the one you use most of the time.

Olight S2R
Pros
Magnetic tailcap for hands-free use
Battery indicator light
Magnetic charging capability
The light has six settings in total:
Level 1: 1020 lumens (2 minutes, before dropping to level 2)

Level 2: 500 lumens (3 hours, 20 minutes)

Level 3: 120 lumens (13 hours)

Level 4: 12 lumens (120 hours)

Level 5: 0.5 lumens (60 days)

Strobe
As you can see, another perk of this light is the moonlight setting for when you just need a bit of extra help seeing, which the Fenix EDC lights don't have. The beam is nice and broad. 
At 4.13 inches long and 0.9 inches in diameter, the Olight S2R is between the sizes of the two Fenix lights. It weighs 3.58 ounces with the included customized 18650 battery.
The Thrunite Ti4 is a great EDC flashlight for close-fitting clothes or attire that needs to lay flat and smooth, like suits and blazers, because it's so slim, just 0.56 inches in diameter and 5.23 inches long. For reference, that's a little shorter but thicker than a Sharpie marker. Those dimensions also make it great for slipping into a pen loop in a computer bag or backpack.
The slim construction of the flashlight means it can also be used as a striking weapon in an emergency, which can be handy if you'll be on campus or at a workplace where firearms aren't permitted.
The small size does limit the brightness capabilities and battery life of the light, but the High setting is 252 lumens (with a 51-minute battery life), which is actually pretty bright for a light of this size, so it's still bright enough to use as an EDC light. The other settings are:
Firefly: 0.3 lumens (137 hours)

Low: 24 lumens (12 hours)

Strobe: 252 lumens (90 minutes)
The maximum range of the light is 67 meters and it has a decent beam spread for its size.
You can cycle through the settings by using the light's tail switch. It starts at the Firefly setting and goes through the rest in increasing order of brightness which can be an advantage or disadvantage depending on how you think you'll use the light.
The low profile of the light is aided by the smooth sides of the light which also make the light comfortable to hold, but this comes at the expense of grippiness. It does, however, have a slight curve around the middle of the light to help counteract this and make the light more ergonomic.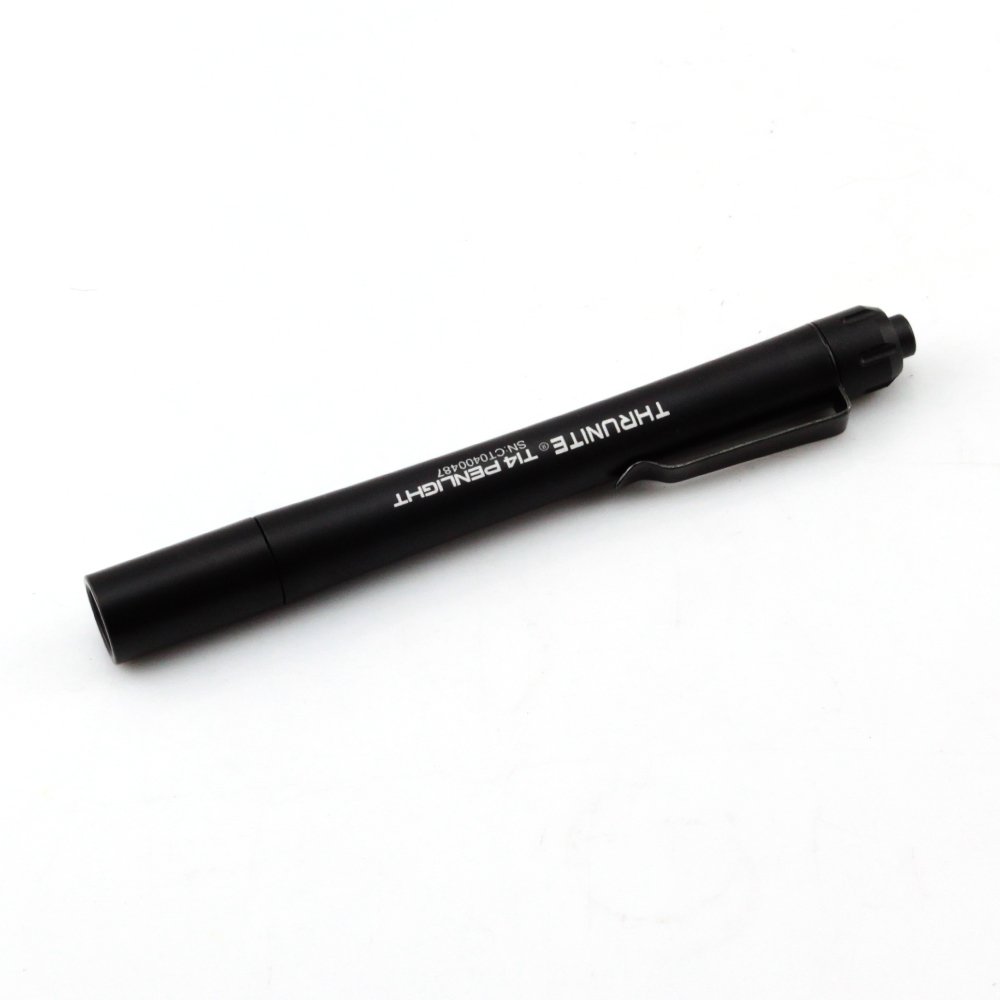 ThruNite Ti4
Pros
Small size
252 lumens max output
3 brightness settings and strobe
Cons
Might turn on in your bag
The ThruNite Ti4 is powered by two AAA batteries.
Ultimately, we would generally prefer one of the lights we've previously discussed for our main EDC light, but the ThruNite Ti4 is still a great light to have for the situations we've mentioned above or to use as a backup light. It's also a good deal cheaper than the previously mentioned lights, making it a great choice for buyers on a tight budget. 
The ThruNite Ti3 is another great small light. Like the Ti4, we probably wouldn't use it as our main EDC light since the small size limits the brightness and battery life, but it's small enough to fit on your keys (and it comes with a keychain for doing just that) without being too noticeable, making it a great backup light.
It's also impact resistant up to 1.2 meters and waterproof up to 2 meters, so it's totally equipped for the bumps and tumbles that keys so frequently fall victim to. It uses a single AAA battery, so it's easy to replace. 
While this list is specifically about EDC lights, we feel like we'd be remiss not to mention that the ThruNite Ti3's small light makes it great for throwing into a desk drawer, small toolbox, the center console or glove compartment of a car, or any other place where having a light would be useful but storage space is at a premium.
The pocket clip is removable and there are two places on the body of the light where it can be attached, so it can be used to stow the light illuminating end up or down based on your preferences. If you attach it so the open end of the clip is facing towards the tail cap, the light is small and light enough that it can be clipped to the brim of a cap and used as a headlamp.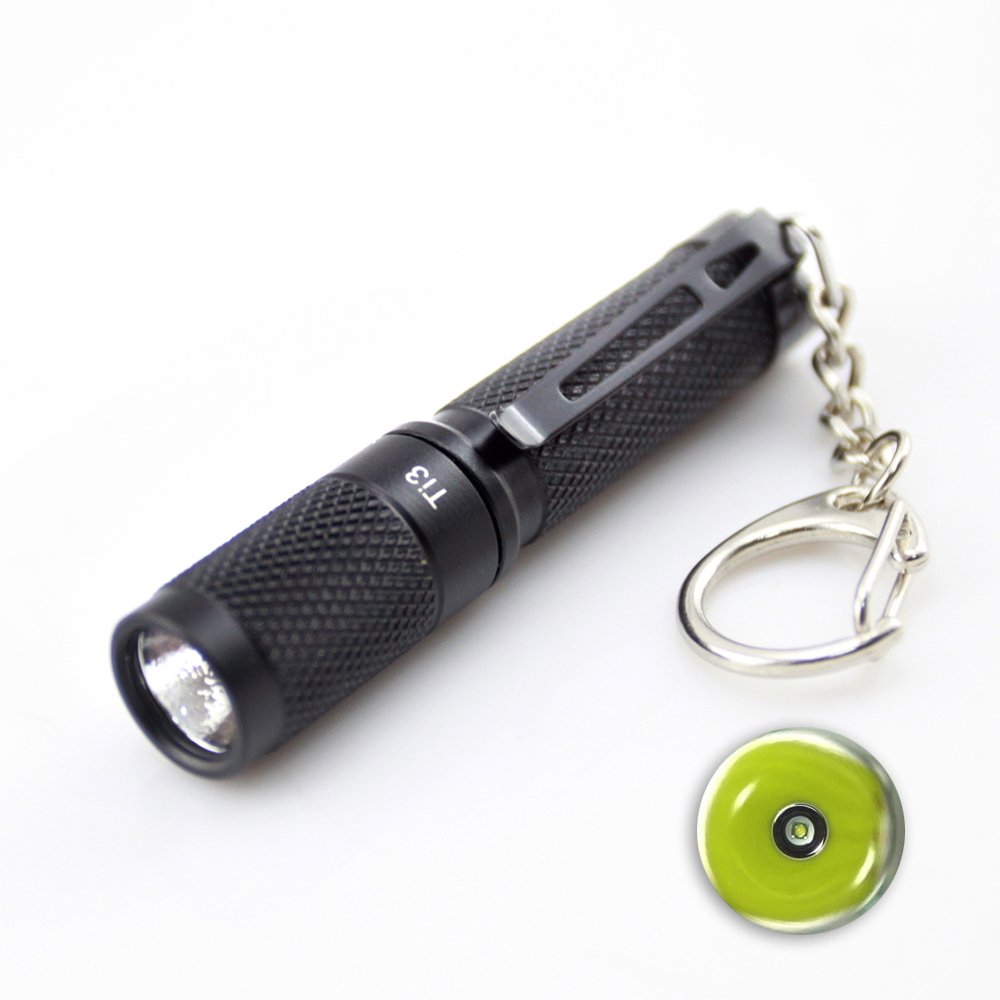 ThruNite Ti3
Pros
Tiny size is a great backup light
Clips to a ball cap, hangs off your keys, and fits in a pocket
3 light settings
The ThruNite Ti3 has four light settings:
Firefly: 0.04 lumens (115 hours)

Low: 12 lumens (6.3 hours)

High: 120 lumens (30 minutes)

Strobe: 120 lumens (1 hour)
To cycle through the settings, you use a twist switch and like the Ti4, the settings go from least to most bright. The beam has a max range of 50 meters and a decent beam spread. It's not going to fill a room, but it'll illuminate a sidewalk.
Conclusion
We've presented you with a variety of lights and each one is great but best suited for a different person. 
The Fenix PD35 is a premium light, but it comes at a premium price and is a bit big for an EDC light. The Fenix PD25 offers much of the same quality, but in a smaller package and with a lower price tag. The Olight S2R is a good general-purpose option with a more middle of the road price tag. Finally, the ThruNite Ti4 and Ti3 are good small, budget-friendly options, but they're best suited to be backup lights or alternative lights for specific situations rather than as primary EDC lights.
For more gear to include in your EDC collection, be sure to check out our recommendations for the best EDC knives.
So what do you think? Are you leaning towards any particular one of these lights? Do you have another favorite EDC light that you think we should have included? Let us know in the comments.