If you've ever watched a 3-gun competition, whether online or in person, you may have noticed shooters tilting their rifle to the side for certain shots. 
What you may not have been able to see is that they're doing so to be able to use iron sights that are at an angle to the top of the rifle.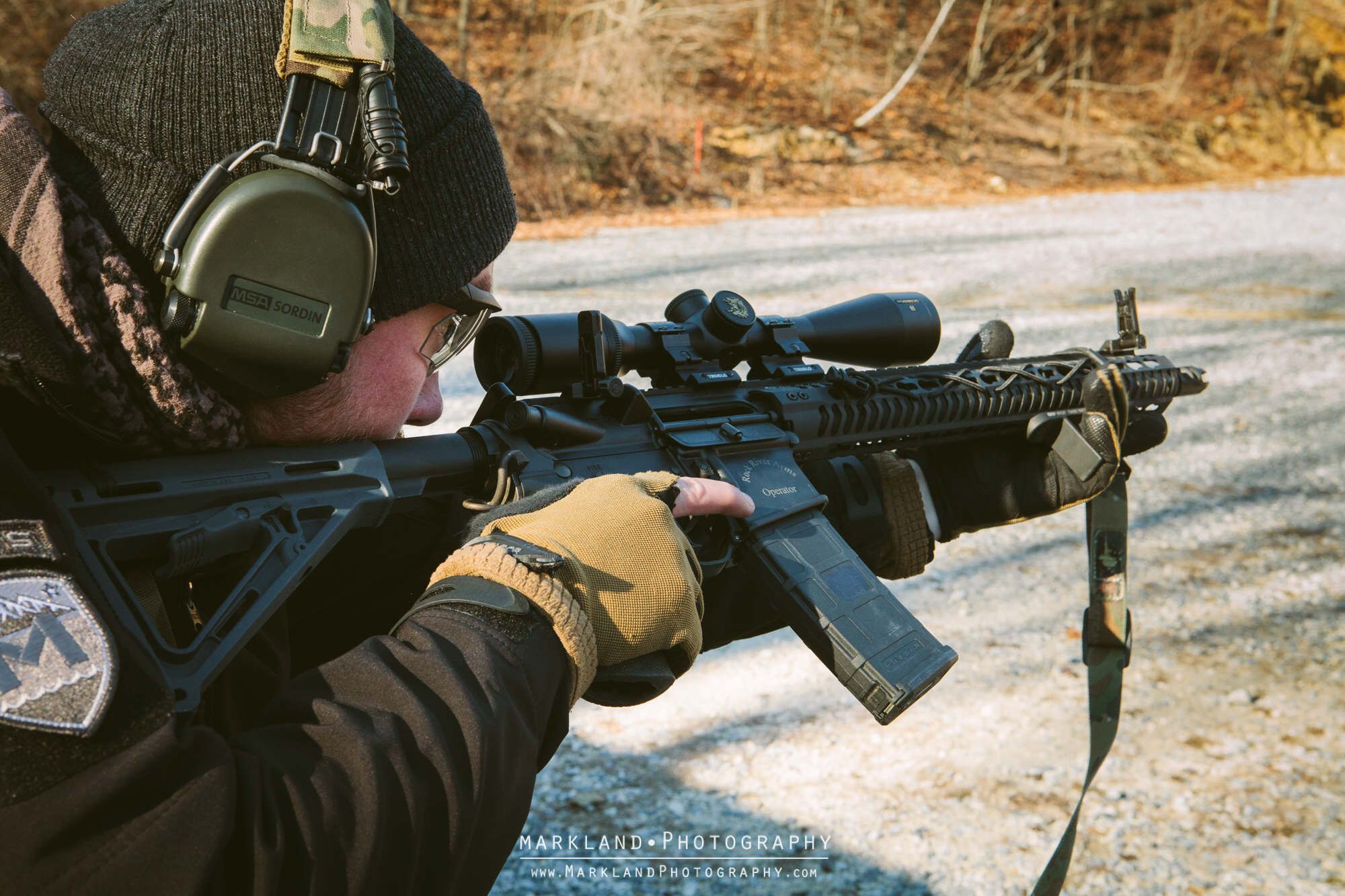 Shooters can't use regular iron sights, since they already have a scope or other magnified optic mounted on the top of the rifle for longer distance shots. 
Instead, they use these offset iron sights, which are mounted to the top rail but are offset from it by an angle of 45 degrees, for shorter-range shots.
Offset iron sights allow shooters to switch between medium to long and short-range targets by simply tilting their rifle, taking just a fraction of the time and effort of trying to line up your scope for a shorter distance.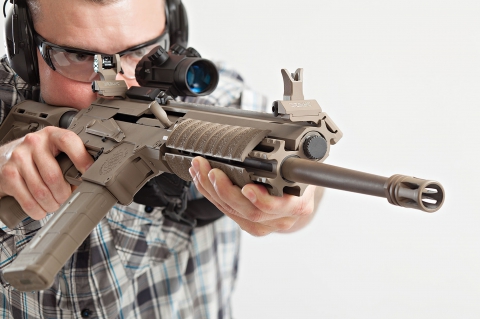 This is a huge advantage in situations where time is of the essence, including competition, tactical situations, and even hunting. 
Interested in replicating that set up on your own rifle? Great! We're going to talk a little bit more about why you might want to use offset iron sights, then move on to discuss some of our top picks for offset iron sights.
Why Use Offset Iron Sights?
Flip-up inline iron sights are another popular solution for this same problem.
The primary advantage of offset iron sights over flip-up inline iron sights is that, well, you don't have to flip them up or down to use the scope. Many offset iron sights do flip up, but leaving them up doesn't hurt your ability to use your scope.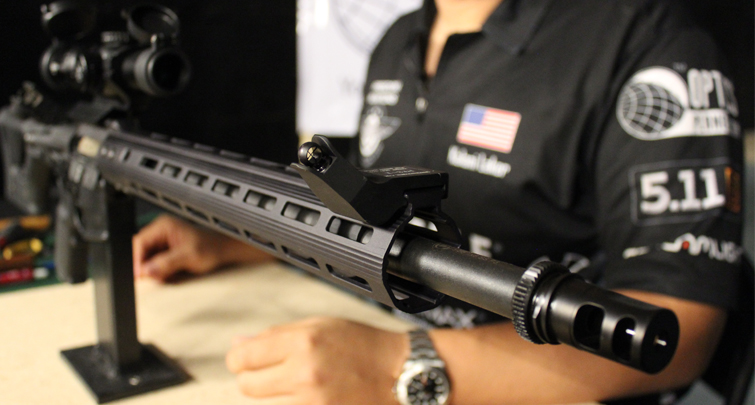 The other advantage is that if your optic breaks, you can still easily use offset sights without removing the optic. 
The big advantage, however, is being able to quickly and easily switch between short-range targets and medium to long-range targets without having to fuss with flip-up sights or your optic mount.
When hunting it may just be the difference between taking or missing some opportunities and in competition, it might affect your placing, but in a tactical situation–it can mean the difference between life and death.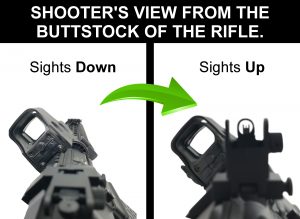 The flip side is that offset iron sights take some getting used to, so you'll want to train with them to make sure you've got a good handle on them before relying on them for something important.
This is especially true for lefties, since offset iron sights tend to tilt to the right, while left-handed shooters may instinctively want to tilt to the left. However, some companies do make left-handed offset iron sights which lefties may prefer, though it's typically only pricier, more high-end brands that do this, so it comes at a cost in a very literal sense.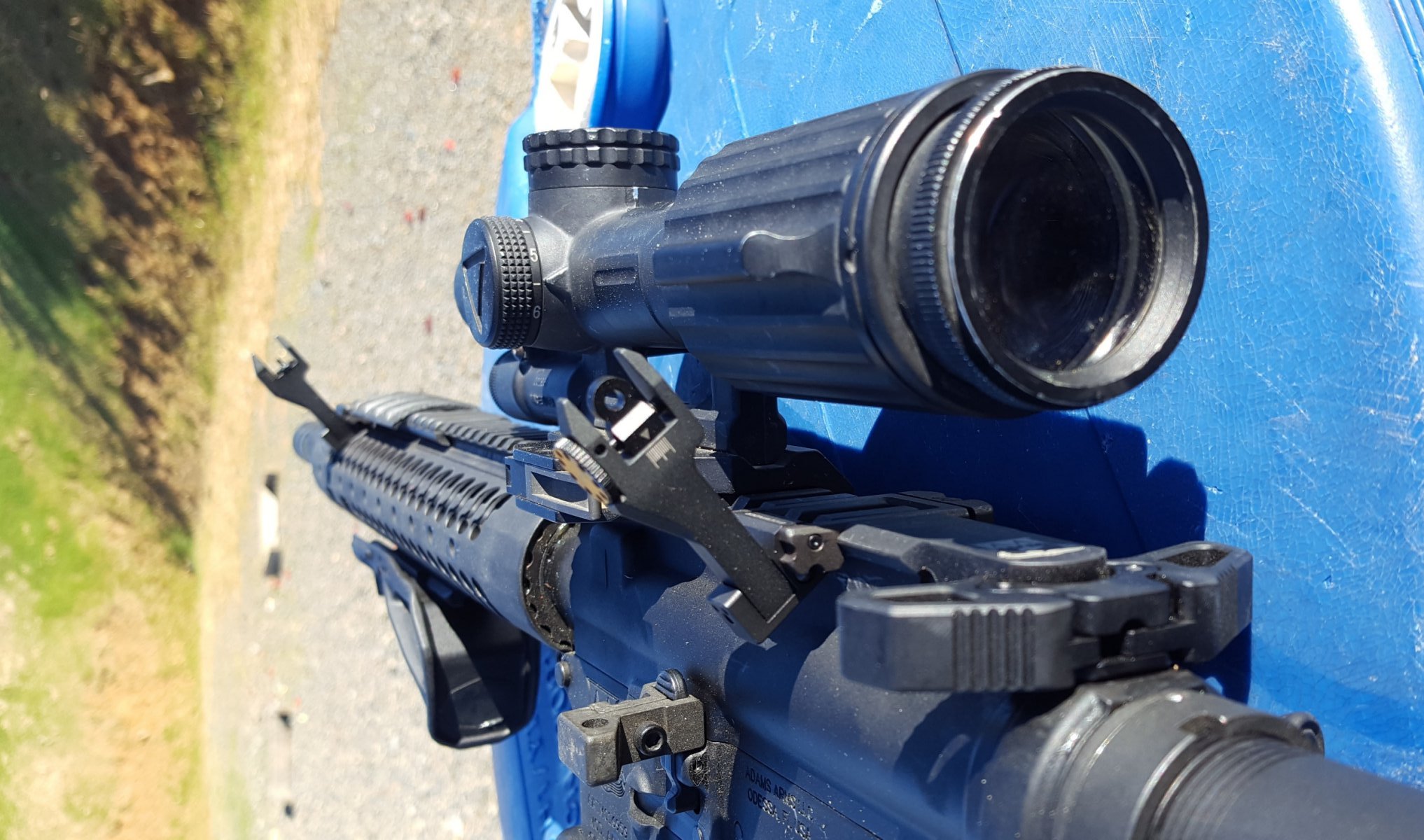 That said, you should train with any new firearm accessory to make sure you're used to it before relying on it, not just offset iron sights. 
The other possible negative is that offset iron sights can snag and bump on things if you're not careful, but using flip-up offset iron sights can minimize this and either way it'll become less frequent as you adjust to having them on your rifle.
Now let's talk about the sights themselves.
Our first couple of picks are some decent quality but very affordable options that are great if you're on a tight budget or just want to give offset iron sights a try before investing too much, while the last couple are a bit higher end for those who want the most out of their offset iron sights and are willing and able to pay more to get it.
The Best Offset Iron Sights
Tacticon Offset Flip Up Iron Sights
With a price tag of only about $30, you should not expect Tacticon Offset Flip Up Iron Sights to be packed full of fancy features. They are budget sights. With that said, what they do offer for just $30 is pretty impressive. 
They're, as the name suggests, flip-up sights, and they're made from high-quality anodized aluminum. Windage can be easily adjusted on the back sight without a tool, and both the front and back sights are super easy to adjust. They flip up with the push of a button and stay in position well.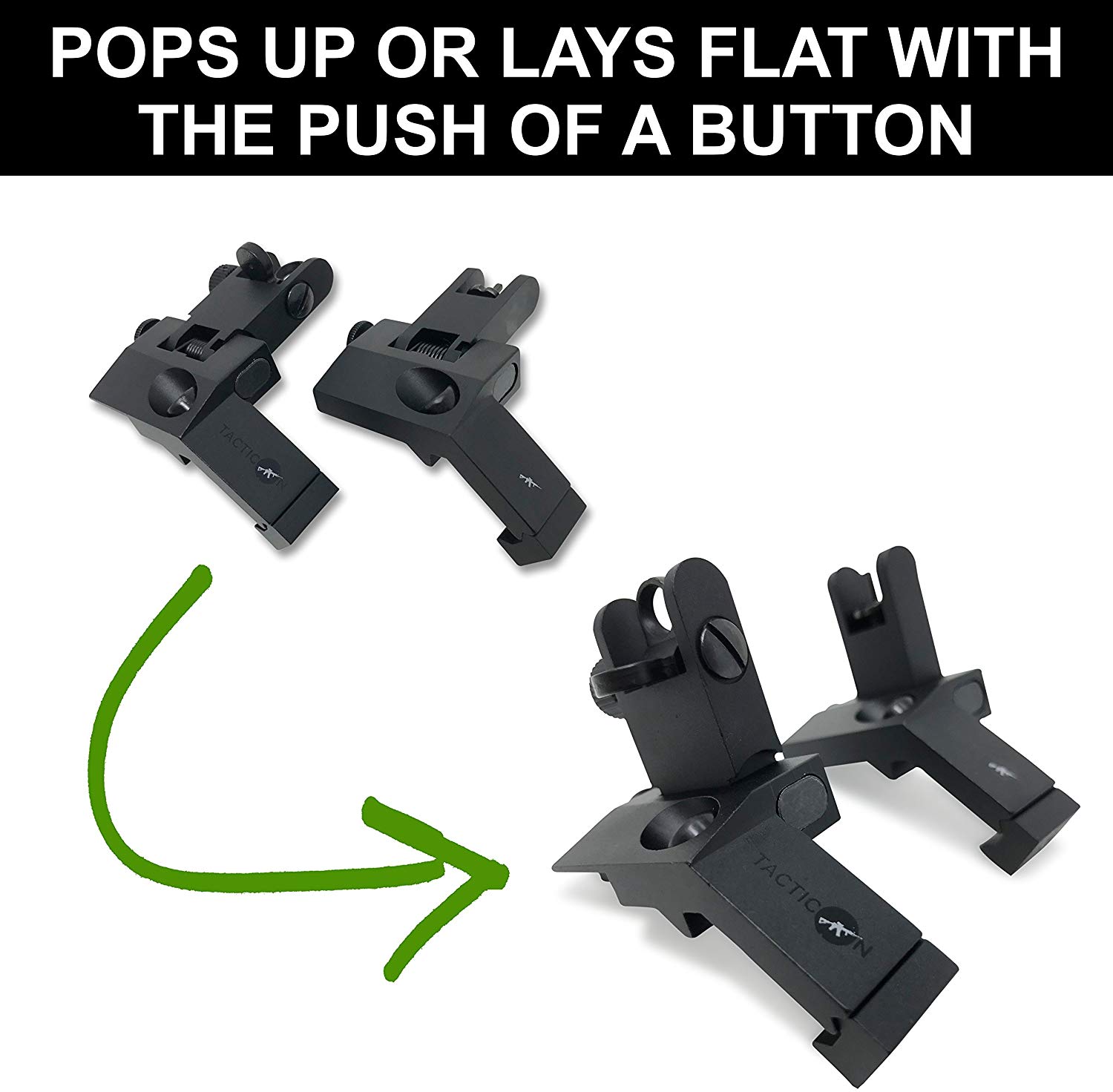 Tacticon Offset Flip Up Iron Sights come with an attractive wooden box for storage, a tool for adjusting elevation on the front sight, and an allen wrench for mounting the sight to the rail, which makes it a pretty solid value. Tacticon also offers a lifetime warranty to protect the value even more. 
The downside is that while the sights themselves are durable, you do have to really tighten the hell out of them with that allen wrench to make sure they stay in place on your rails and maintain zero, especially with more powerful ammo.
We probably wouldn't use them for anything medium or long-range, but that's what magnified optics are for and they're plenty well suited for close range. They're also not a bad choice if you're going to primarily use a scope or red dot and plan on using your offset iron sights strictly as BUIS.
They're also only available with a right-hand tilt.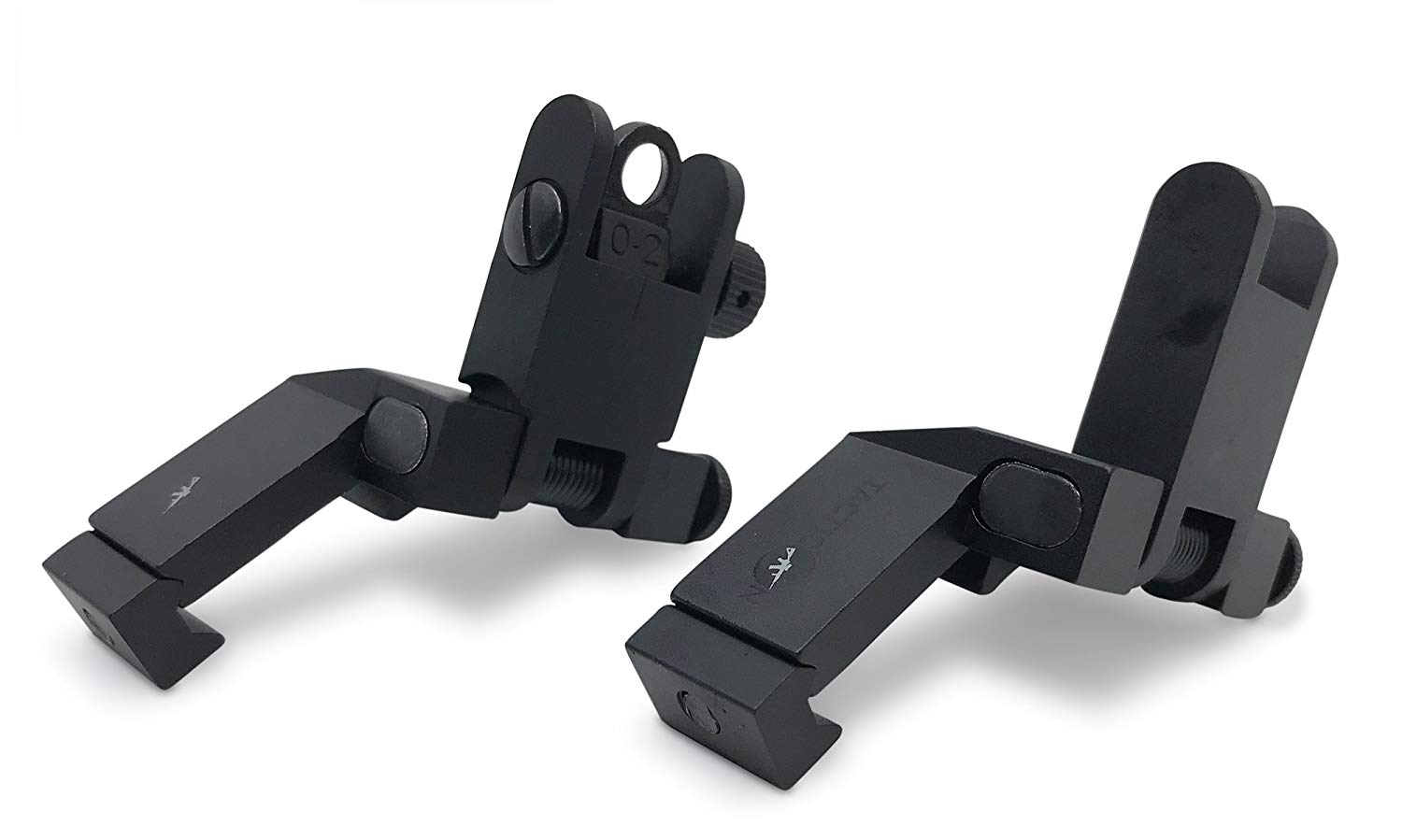 Tacticon Offset Flip Up Iron Sights
Pros
Good value
Includes adjustment tools
Lifetime Warranty
Ozark Armament 45 Degree Offset Backup Sights
These next sights are another budget-friendly option that retail around the same price as the Tacticon sights, though they don't come with quite the same accouterments (just hex screws and an allen wrench) so technically the sights themselves are more expensive than the Tacticon ones.
Despite the low price of Ozark Armament 45 Degree Offset Backup Sights, or perhaps in part because of it, these are some of the most popular offset iron sights out there. So why do we say the price is only part of what contributes to the popularity?
Well, because they're also just damn good sights.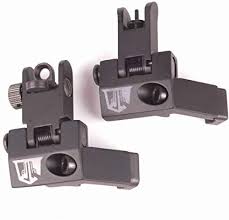 They're made from aluminum so they're lightweight and durable. They're easy to attach and maintain zero well. They are fully adjustable for both windage and elevation.
There are both flip-up and fixed versions of these sights and they sell for the same price, so you can go with whichever style you prefer. The flip-up version has a nice low profile, but both have a rounded design to keep them from catching. The flip-up version is spring-loaded for quick, crisp deployment with the push of a button.
Sure, they don't have much as far as fancy extra features, but if you're looking for a budget fixed sight or just a budget flip up that's a little different from the Tacticon Flip-Up Sight, Ozark Armament 45 Degree Offset Backup Sights are a great choice. But like the Tacticon sights, they're only available with a right-side tilt.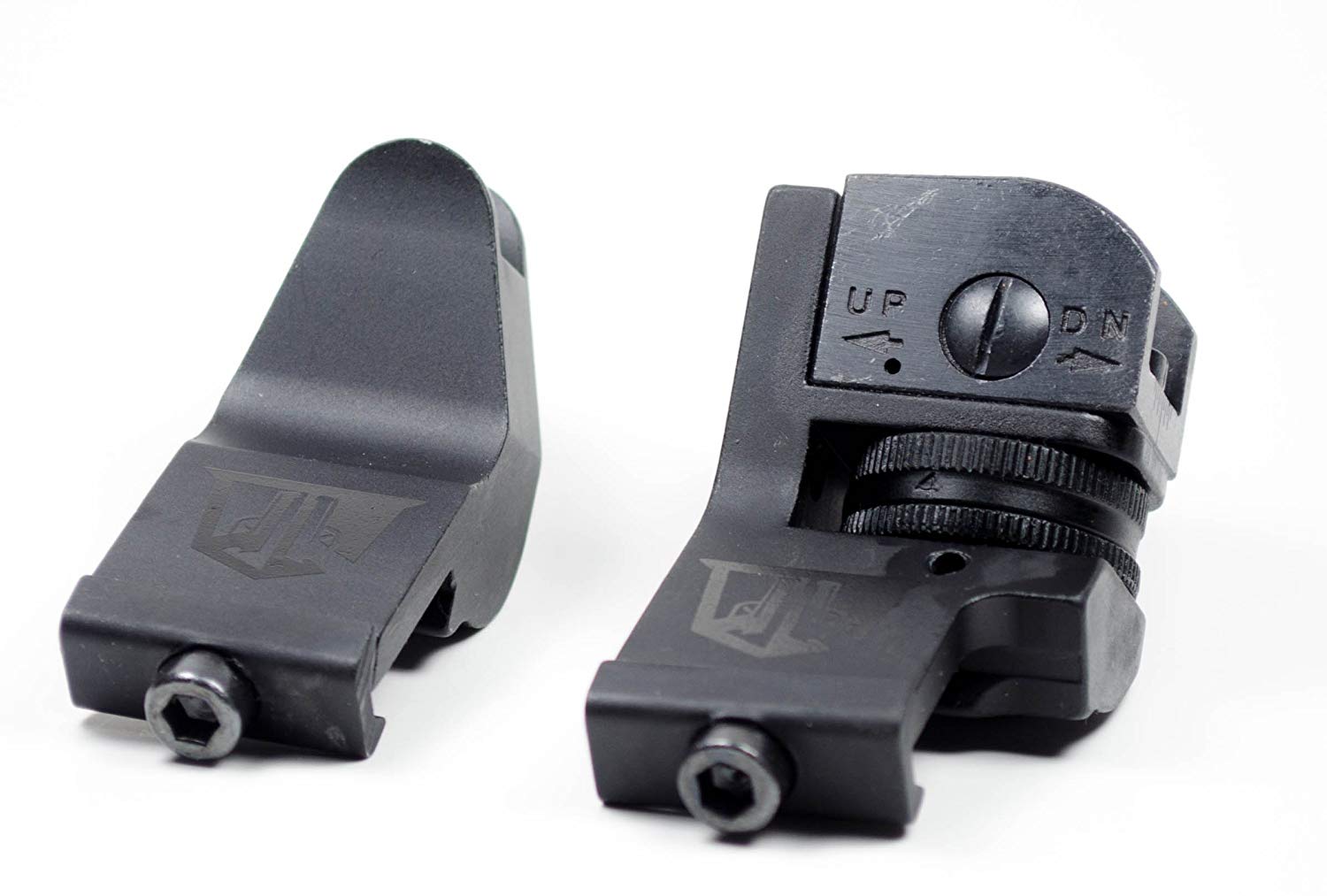 Ozark Armament 45 Degree Offset Backup Sights
Pros
Lightweight and durable
Easy to install
Maintains zero well
Magpul MBUS Pro Offset Sights
Magpul is one of the biggest names in the firearm industry for aftermarket tactical accessories, so of course, there's a Magpul sight set in our top picks.  
The inline version of the Magpul MBUS Pro sights is quite popular, so you may already be familiar with them. The offset version offers the same advantages of quality, durability, and dependability as the inline one because they're virtually identical. Well, except for the difference of 45 degrees.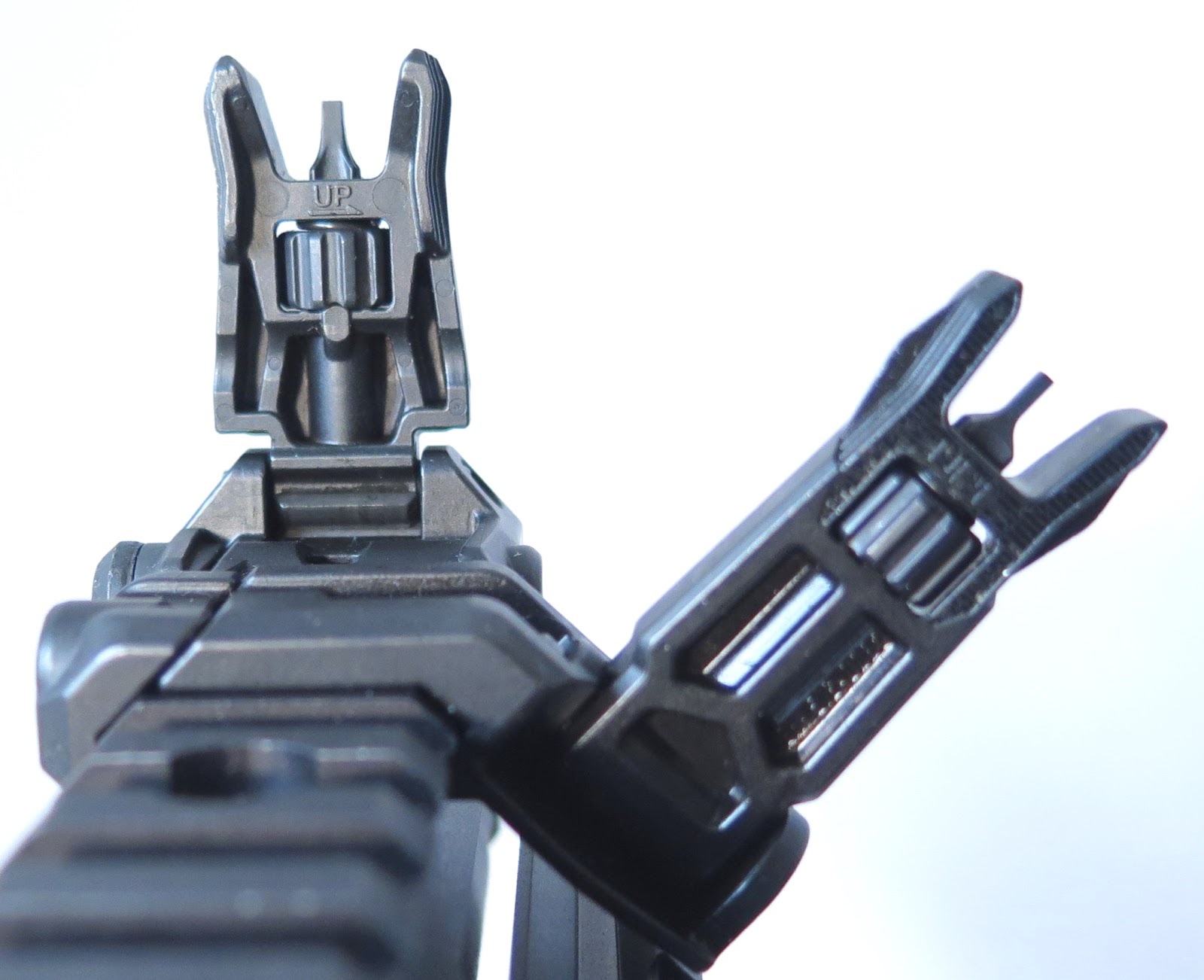 Like the inline sights, Magpul MBUS Pro Offset Sights are flip-up sights, so you can tuck them down and out of your way while moving around with your rifle and getting yourself in position, then flip them up when you need them.
They have toolless elevation and windage adjustment and they're low profile so they can be used with just about any rifle configuration as long as there's a Picatinny top rail to mount them. 
These sights don't have some of the features you'll get from the last set of offset sights that we'll talk about, but they're straightforward and easy to use and can take a lot of abuse. The price tag is still quite a bit higher than that on the first few sights that we discussed, but the durability and quality makes these sights worth it.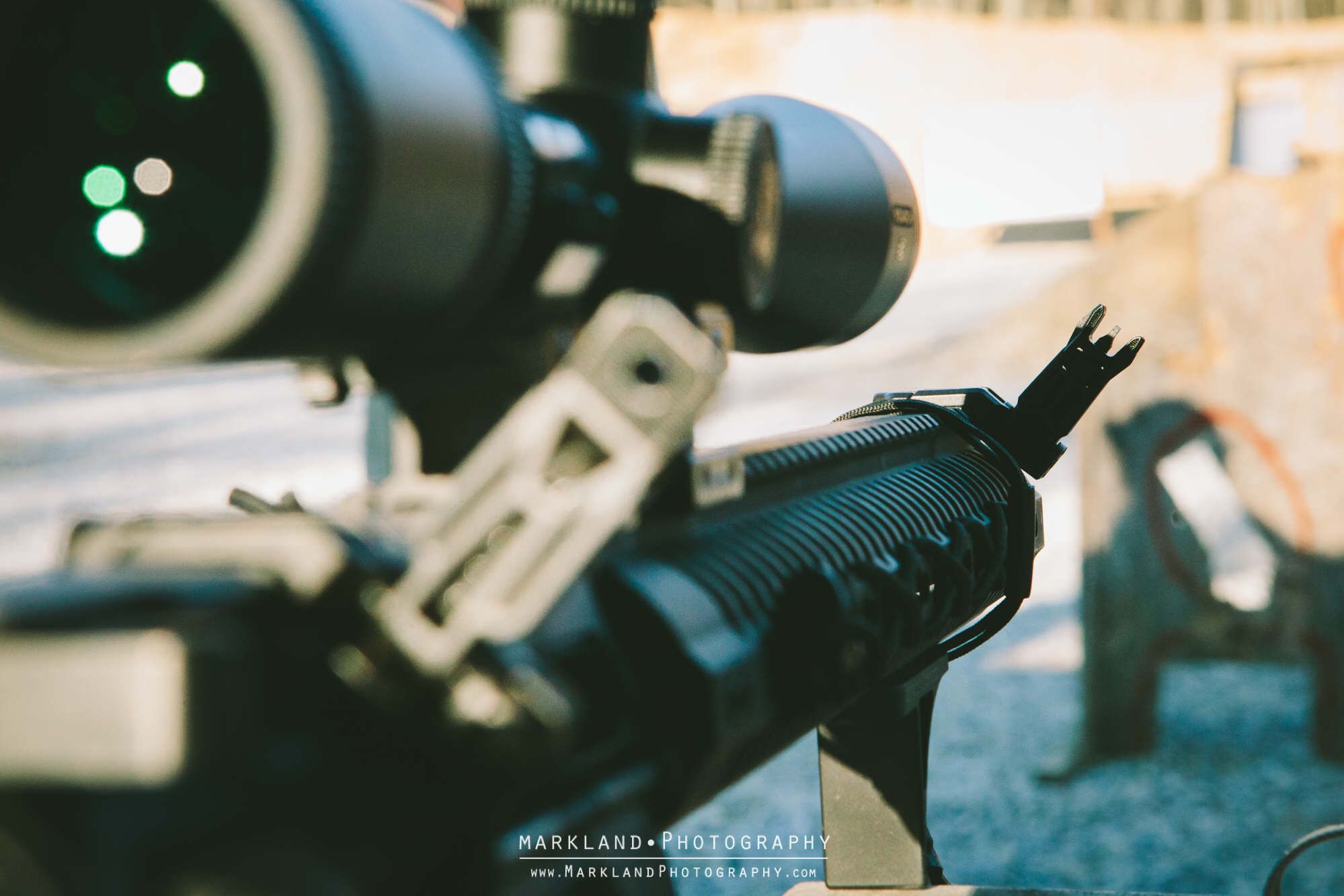 Of course, you don't want to go around slamming your sights into things, but things do happen. These sights are constructed entirely from steel and are coated with Melonite QPQ to help them stand up to not just bumps and scrapes, but also corrosion.
Unfortunately, these sights are yet again only available in a right-hand tilt.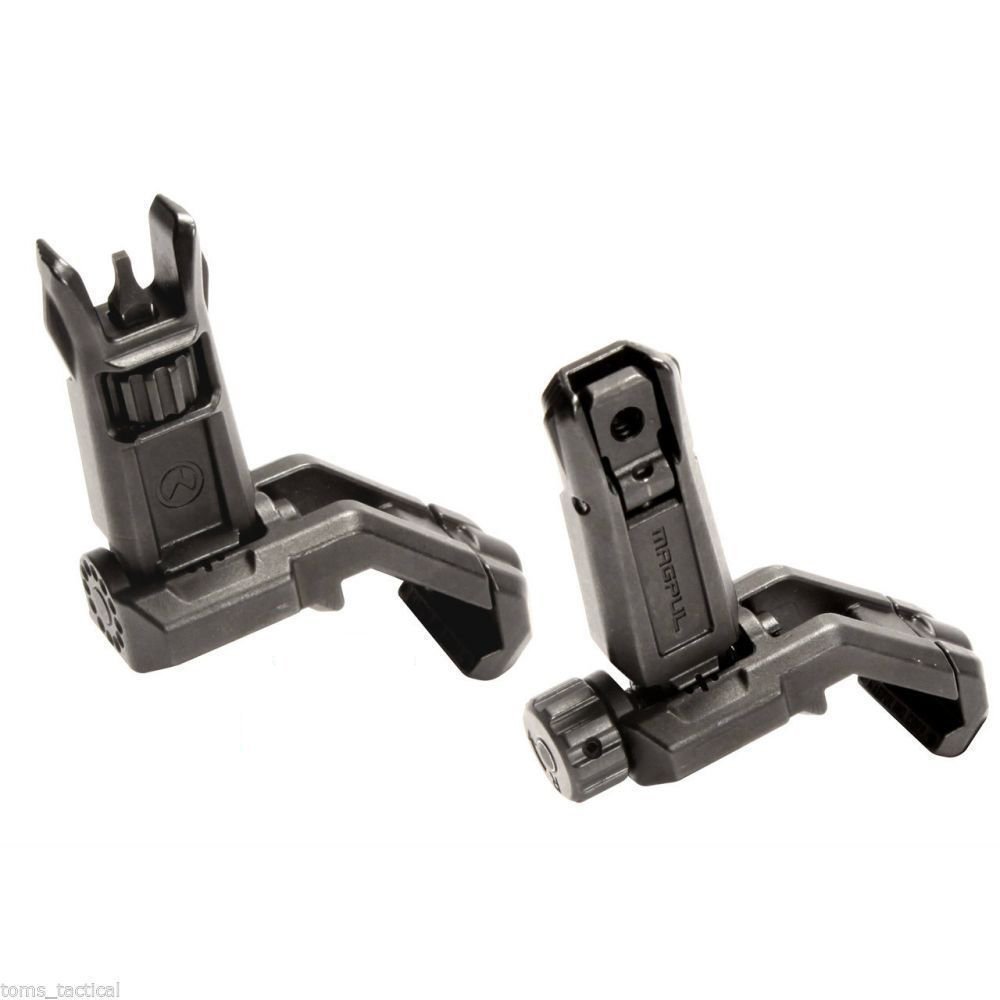 Magpul MBUS Pro Offset Sights
Pros
Awesome durability and reliability
Flip-up sights stay out of the way
Toolless elevation and windage adjustment
Dueck Defense Rapid Transition Sight
There's only so much you can do to make iron sights high end, which is why the sights we've talked about so far have been pretty simple and straightforward. However, if there ever was such a thing as a premium offset iron sight, this one from Dueck Defense is it. 
And it comes from renowned 3-gun shooter Barry Dueck, so you know it's competition ready, just like all Dueck Defense iron sights. The Rapid Transition Sight is one of Dueck's most popular, though.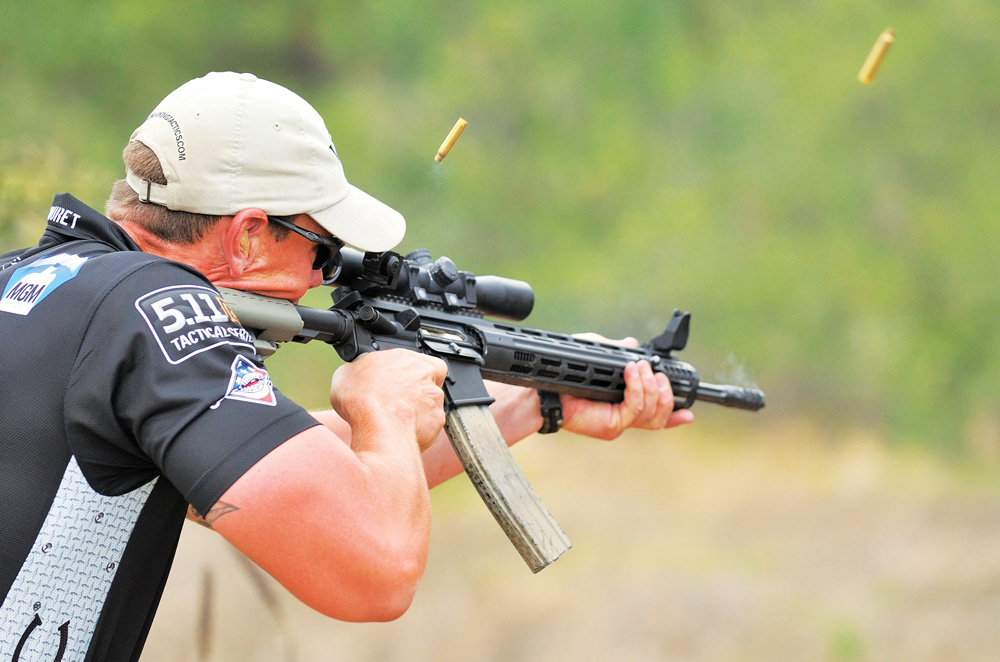 Dueck designed the Rapid Transition Sight for his own use in run-and-gun situations so he could switch between optics and iron sights as quickly and efficiently as possible. Hence "Rapid Transition Sight."
They're made out of 7075 aluminum alloy which makes them lightweight but twice as strong as sights made from 6061 T6 aluminum, which is most of them. That's a massive advantage considering how much more wear offset sights get compared to inline sights due to their offset position.
In addition, they have a mil-spec hard anodized finish in black or a Cerakote finish in flat dark earth. 
You aren't just getting more durability, though. They're also very low profile, raising just 0.2" above your top rail and they're highly adjustable with half MOA adjustments for both elevation adjustments. Making the actual adjustment is also easy.
In fact, all types of adjustments are easy, since these sights require no tools for installation, zeroing, or adjustment. They only have a flat head screw.
Finally, they're available in both right and left-handed configurations.
And if you really want something fancy, you can go for a version with fiber optic or Trijicon night sights for visibility in low light.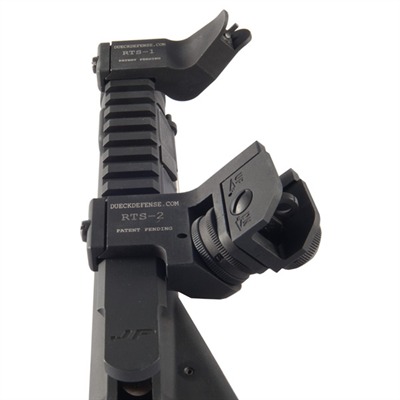 Dueck Defense Rapid Transition Sight
Pros
Left- and right-hand tilt
7075 aluminum alloy
Toolless adjustment and installation
Conclusion
So there are the basics on offset iron sights. 
They're not an essential accessory for every shooter and they definitely take some getting used to, but they do offer major advantages if you have to switch between shorter and longer ranges on the fly.
Still think you prefer an inline backup iron sight? Check out our list of the best AR-15 BUIS or, for a little bit of everything optics, check out our list of the best AR-15 optics, which includes our top picks for a variety of optic categories from BUIS to red dots and holos to long-range scopes.
So are you sold on offset iron sights? Have you used them before and what did you think? Are you leaning towards one of these offset iron sights or do you have another that you prefer? Let us know and share your thoughts and experiences with other Firearm Review readers in the comment section below.