We know, we know–the word "tactical" doesn't mean too much anymore in the gun world, and it's about the same in the knife world. Often, "tactical" is an overhyped, somewhat useless descriptor, but we're going to show you ten of the best, real-deal tactical knives.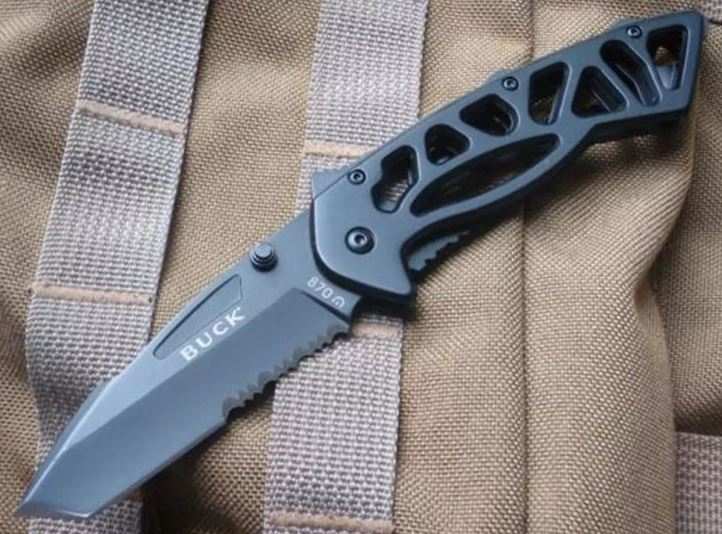 Our team has rounded up our favorite tac knives, each one chosen for its utility, ease of use, and durability in the face of whatever you find yourself doing.
But first, let's get into just what makes a tactical knife tactical, and why you ought to carry one.
What's the Difference Between a Tactical Knife and a Normal Knife?
While you can absolutely use a tactical knife as your EDC knife, there are a few things that set a tactical knife apart from your average boy scout pocket knife.
In short–tactical knives often feature aggressive grips, rapid one-handed opening, and purpose-built blades. These knives are ready for the worst possible conditions.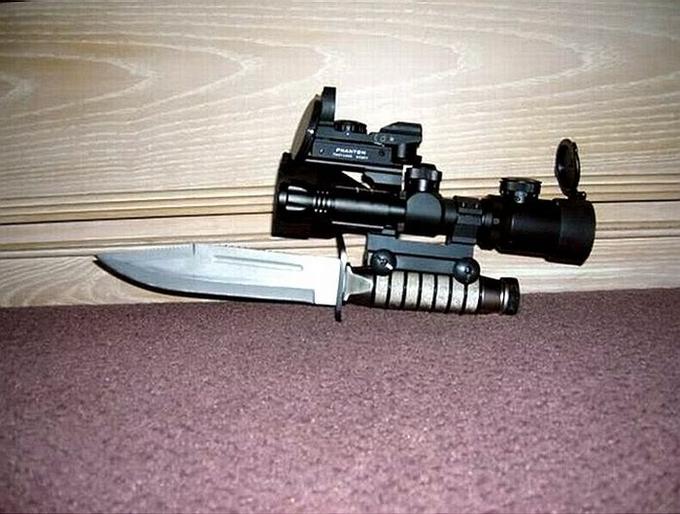 How to Choose a Tactical Knife
If you're looking for a rugged knife to go with you everywhere, you're going to want to make sure you're picking out the best one for your needs. Of course, that means there are some considerations to keep in mind.
First off, what are you intending to primarily use your knife for? With purpose-made blades, it's best to get a knife that's exceptional at your most common tasks–unless you're just looking for a good all-around knife.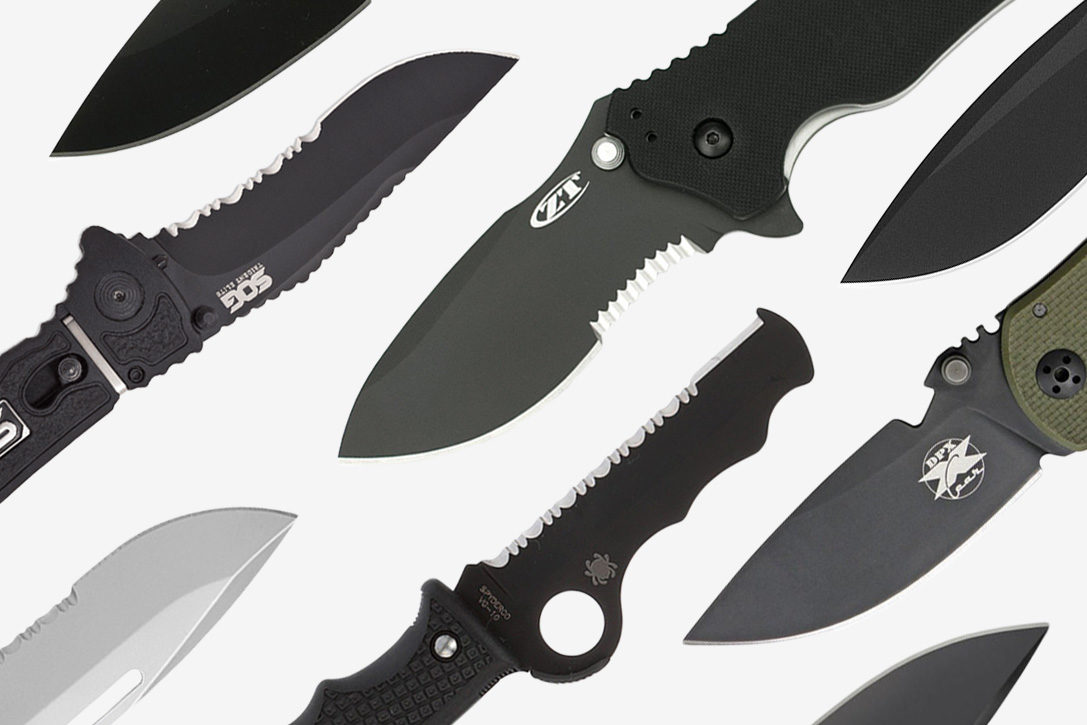 Second, how does the knife fit in your hand? Does your thumb rest well on the thumb rest? Can you fit all of your fingers around the handle? Are there angles or textures that just aren't comfortable to hold?
Trying a few different knives out, if possible, can give you a better feel for what you like to hold.
The Great Debate: Serration or Straight?
Since about the dawn of all things sharp and pointy, people have been arguing over which is better–straight blades or serrated?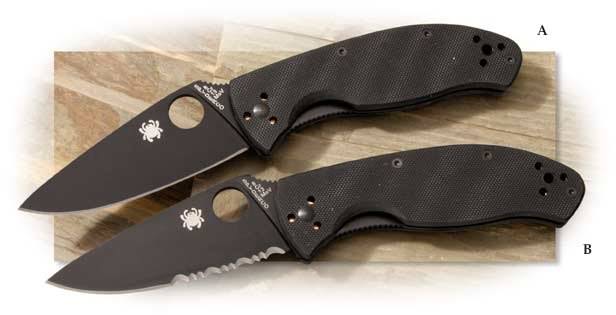 Typically, we'd tell you it comes down to preference, so you do you. But when talking about tactical knives, the answer really depends on how you're using your knife.
Often, people want tactical knives for really harsh conditions and use. Sawing through webbing, tough fabrics, or wood is a job best suited for a serrated blade. While they're harder to sharpen, they keep cutting for a long time, so it's also a good choice if you can't or don't want to sharpen your knife often.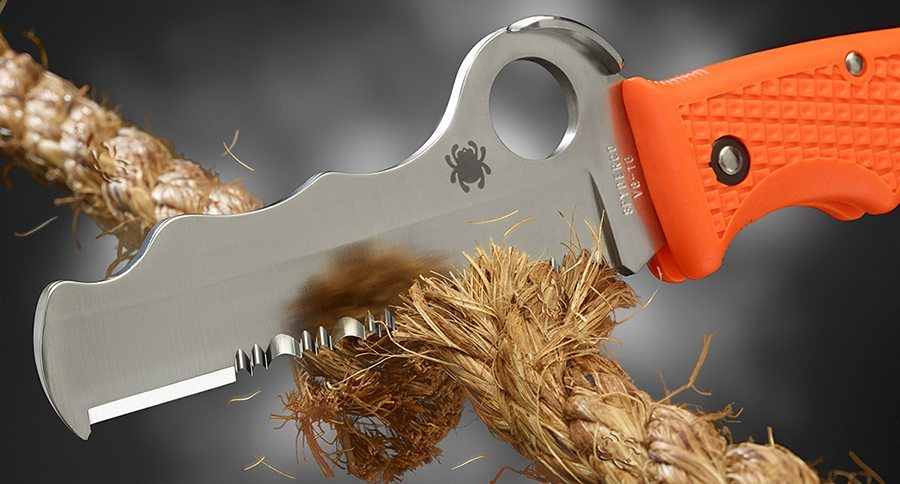 That's not to say that straight-edged knives don't have their place in tactical situations, though! Straight blades are great for quick slices, such as cutting clothing or bandages, as well as for self-defense.
You might also find a knife that has a partially serrated blade, which can give you the best of both worlds.
Why Do I Need a Tactical Knife?
Tactical everything is marketed to anyone who is interested, so why do you need to drop the extra bucks on a tactical knife over a regular ol' pocket knife?
Again, it boils down to use–if you're an LEO, a first responder, or in the military, a sturdy duty knife makes a big difference in your ability to do your job quickly and effectively.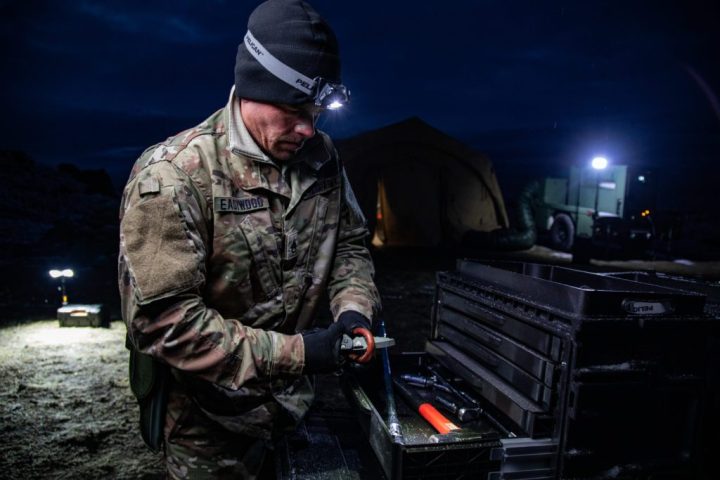 If you're not in tactical situations, however, you can still benefit from a knife ready for those situations. In an emergency, such as freeing yourself from a car crash, protecting yourself or others, and survival situations, a durable tactical knife can be a life saver.
Finally, your tactical knife can be your last line of defense if necessary, so it should be up to the job.
There are hundreds of fantastic knives out there, but not all of them are made to perform under such tough situations. Choosing a tactical knife can help make sure that your blade isn't going to fail when you need it most.
Best Tactical Knives
Now that you've seen just why you need a tactical knife and what to look for, let's talk about some of our favorite picks. These knives span a variety of budgets, but each one is pretty excellent.
Note: Check your local laws for any restrictions. Not every knife is legal in every area, and you should make sure that you can own a specific knife before ordering.
If you're looking for a workhorse folder, the Cold Steel Recon 1 is your go-to. You may have noticed that it made it into our EDC knives round up too, and that's because we just love it so much.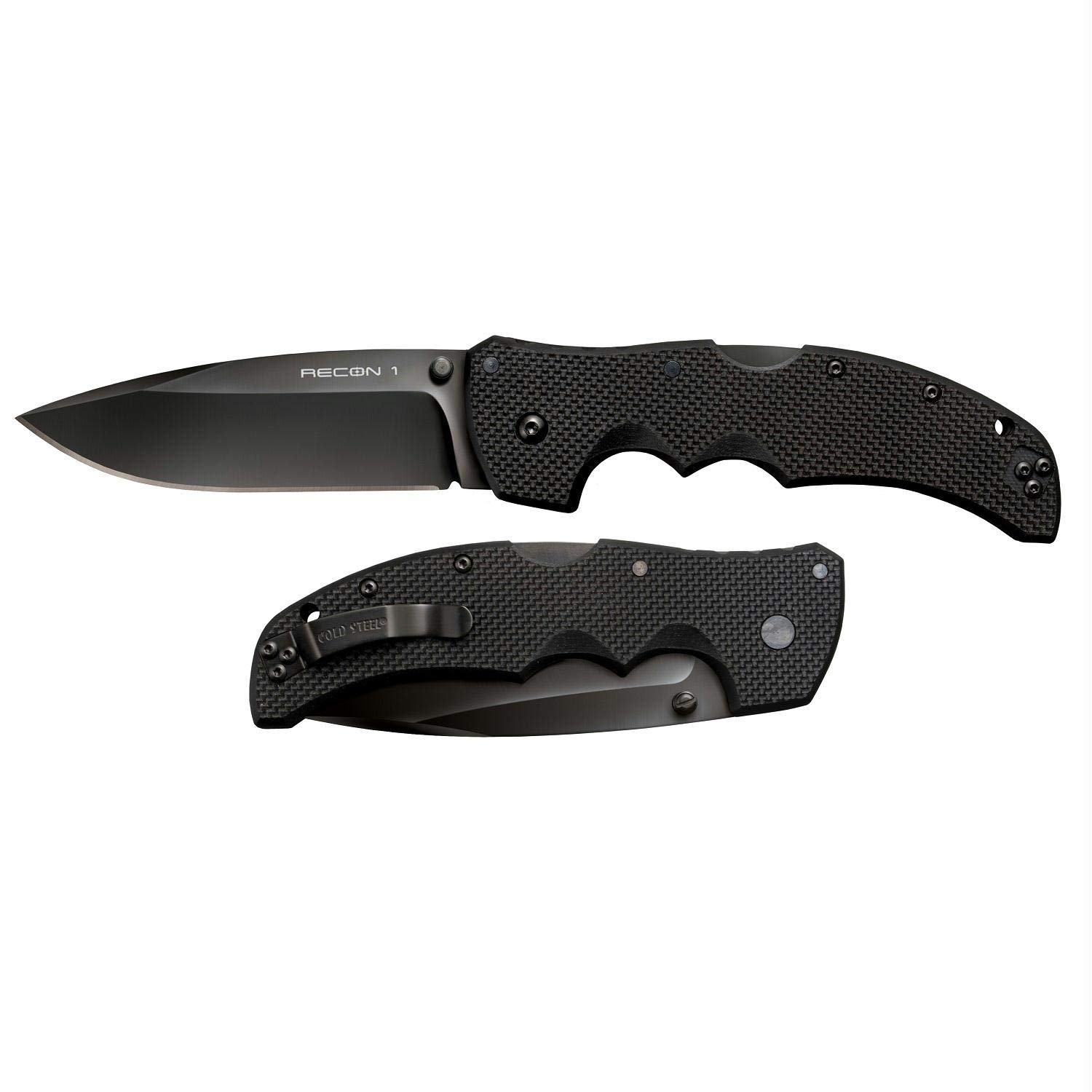 Cold Steel Recon 1
Pros
Textured, contoured G10 grip
Large blade
CTS-XHP steel
Cold Steel did a lot of things right with this knife, including their Tri-Ad lock that means you can trust this knife in tactical situations and it won't fail you.
You can find the Recon 1 in a few different blade patterns, and all are equally excellent–it's just a matter of personal preference. Drop point and tanto blades are pretty popular for tactical use.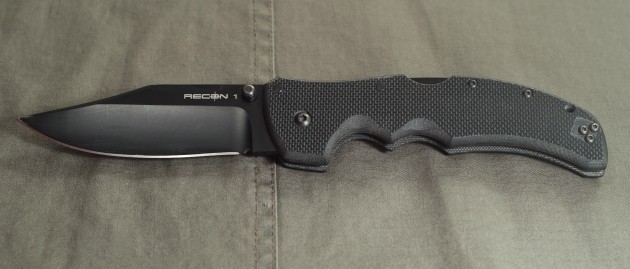 As much of a tank as this knife is, it's not lacking refinement, either. The G-10 scales are plenty grippy, but won't shred your hands under heavy use. It's a fully ambidextrous design and made from premium steel for a long-lasting edge.
Best of all?
It's a comfortable size to tote with you, on duty and off.
Even if your wallet is a little light, your options for a great knife shouldn't be, and the Kershaw Emerson CQC-7 is proof of that.
And inexpensive production of a tried-and-true Ernest Emerson design, we were pleasantly surprised at the quality and durability of the CQC-7.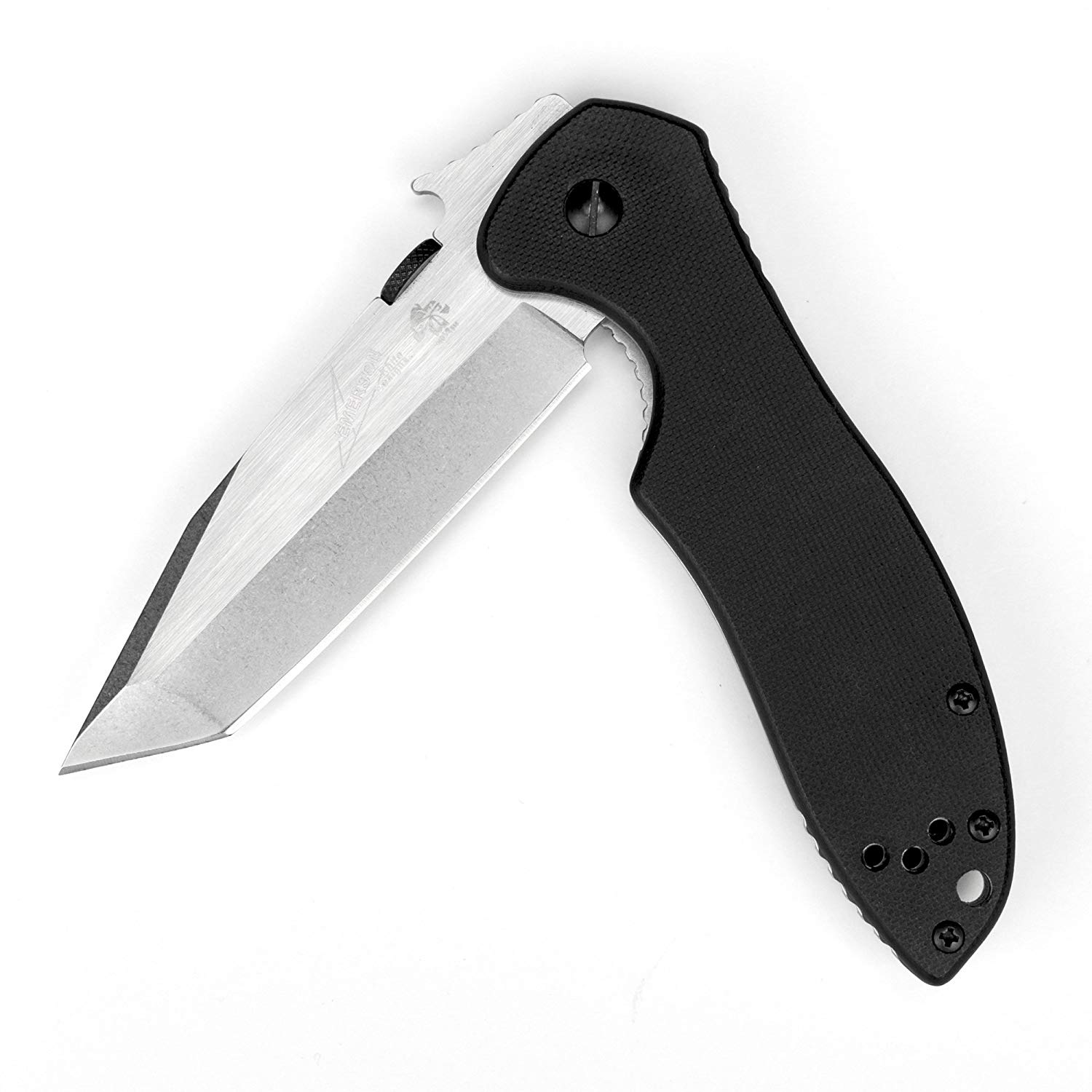 Kershaw Emerson CQC-7
Pros
Emerson Wave design for one-handed opening
Versatile hollow ground point
8Cr14MoV steel blade
There are a few features that make this knife a great option for self-defense. The hollow ground clip point blade is a great all-around blade for many tasks.
The back of the blade features a thumb disk that gives you great control and doubles as an easy opener.
The Emerson Wave, as this particular shape is known, was designed for Navy SEALS in self-defense situations. When pulled from a pocket correctly, the opener catches on the pocket and opens the blade for single-handed deployment.
While you may not need it for self-defense, it's a pretty handy way to open your knife and impress your pals.
Benchmade is a favorite among many knife owners, and the 917 Tactical Triage was designed for first responders, law enforcement officers, and others on the front lines.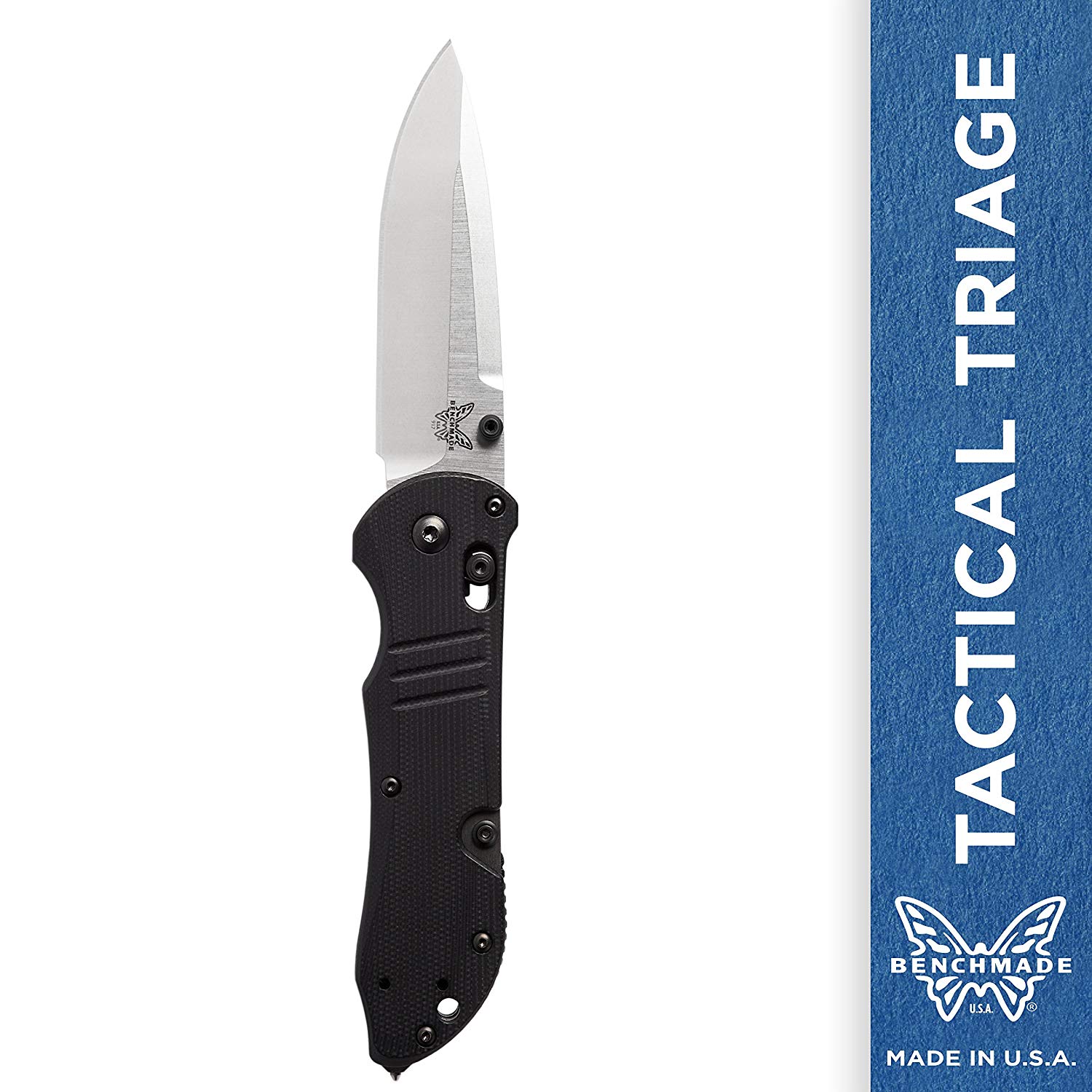 Benchmade 917 Tactical Triage
Pros
Slide lock to secure blade
Seatbelt cutter and glass breaker
CPM-S30V steel
This knife has a drop point blade made from CPM-S30V steel with an ambidextrous thumb stud opener and slide lock. You won't have to worry about accidental closures or deployments.
It also is equipped with a seatbelt cutter and glass breaker tool on the pommel, so you're ready for emergencies.

The G-10 scales are a bit smooth, so gripping this knife when things get we might be a challenge, but the handle size is big enough to wrap your hand around it. It's worth noting that the blade doesn't feature a textured thumb rest, but the seatbelt cutter does.
For a great rescue tool, the 917 Tactical Triage will serve you well, day in and day out.
Automatic knives are popular for tactical uses since they can be opened single-handedly by pressing a button. The Boker Plus Strike Automatic is a great budget auto that manages to be solidly built and ready for action.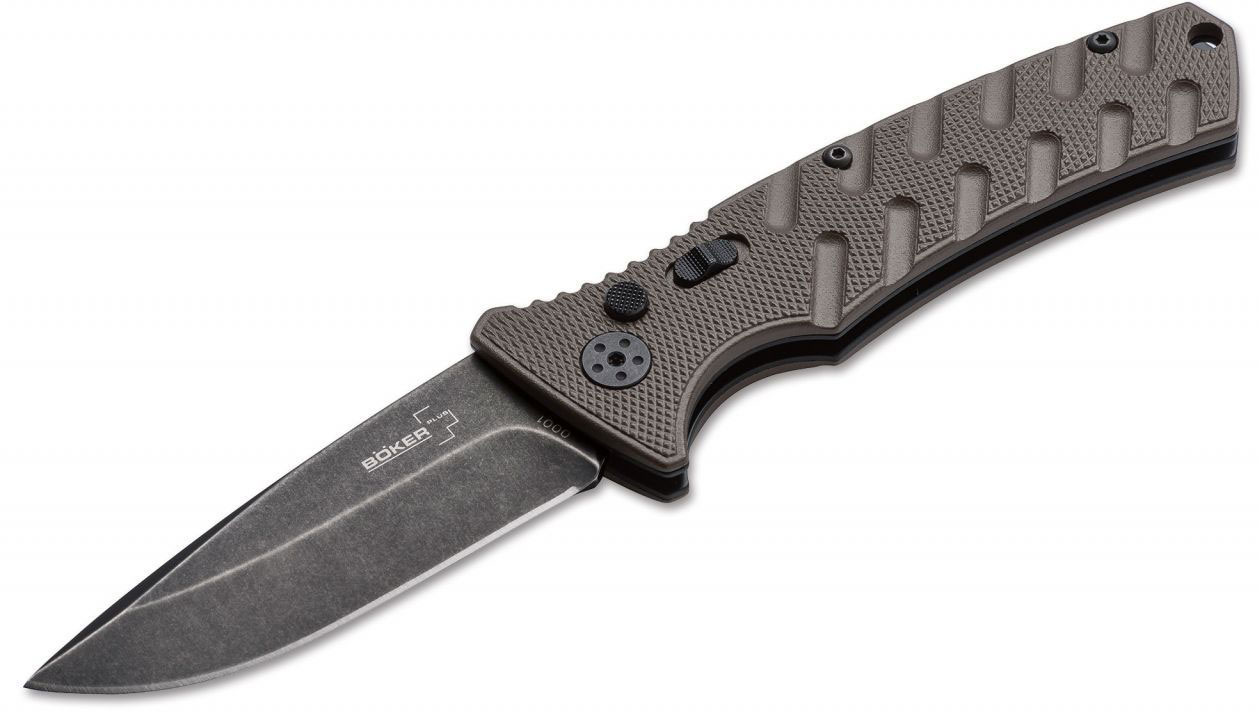 Boker Plus Strike Automatic
Pros
Large, textured aluminum grip
Built to last
Great price
Cons
Auto open isn't very strong
It's got a pretty large grip, which is great for gloved hands, but the textured aluminum handle keeps the weight down.
The drop point blade is pretty dang burly, especially considering the price of this knife. It's available in plain and partially serrated edge options, whichever is your pleasure.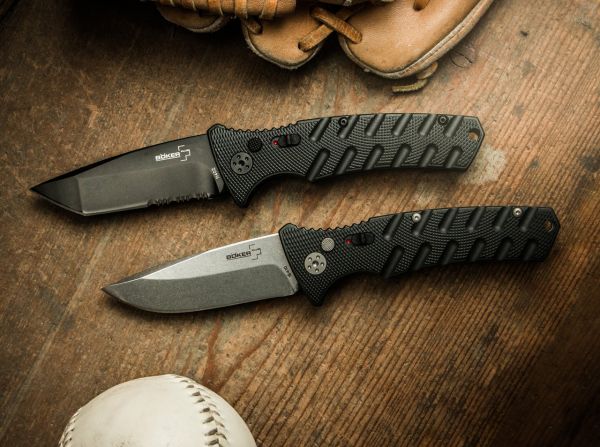 It comes with a built-in slide lock safety to prevent accidental deployment or closing (and protect your legs and fingers from mishaps). We're a big fan of this feature since safety is our number one priority.
All in all, we think that the Plus Strike Automatic perfectly walks the line of reliable, affordable, and dang useful.
The legendary Gerber 06 Auto is renowned for its popularity with members of our armed forces. This no-nonsense blade is going to get the job done without complaint.
It's beefy, overbuilt, and designed for any situation, from self-defense, to rescue, to cutting ribbons off Christmas presents in style. You can find a variety of blade shapes in plain and serrated edges.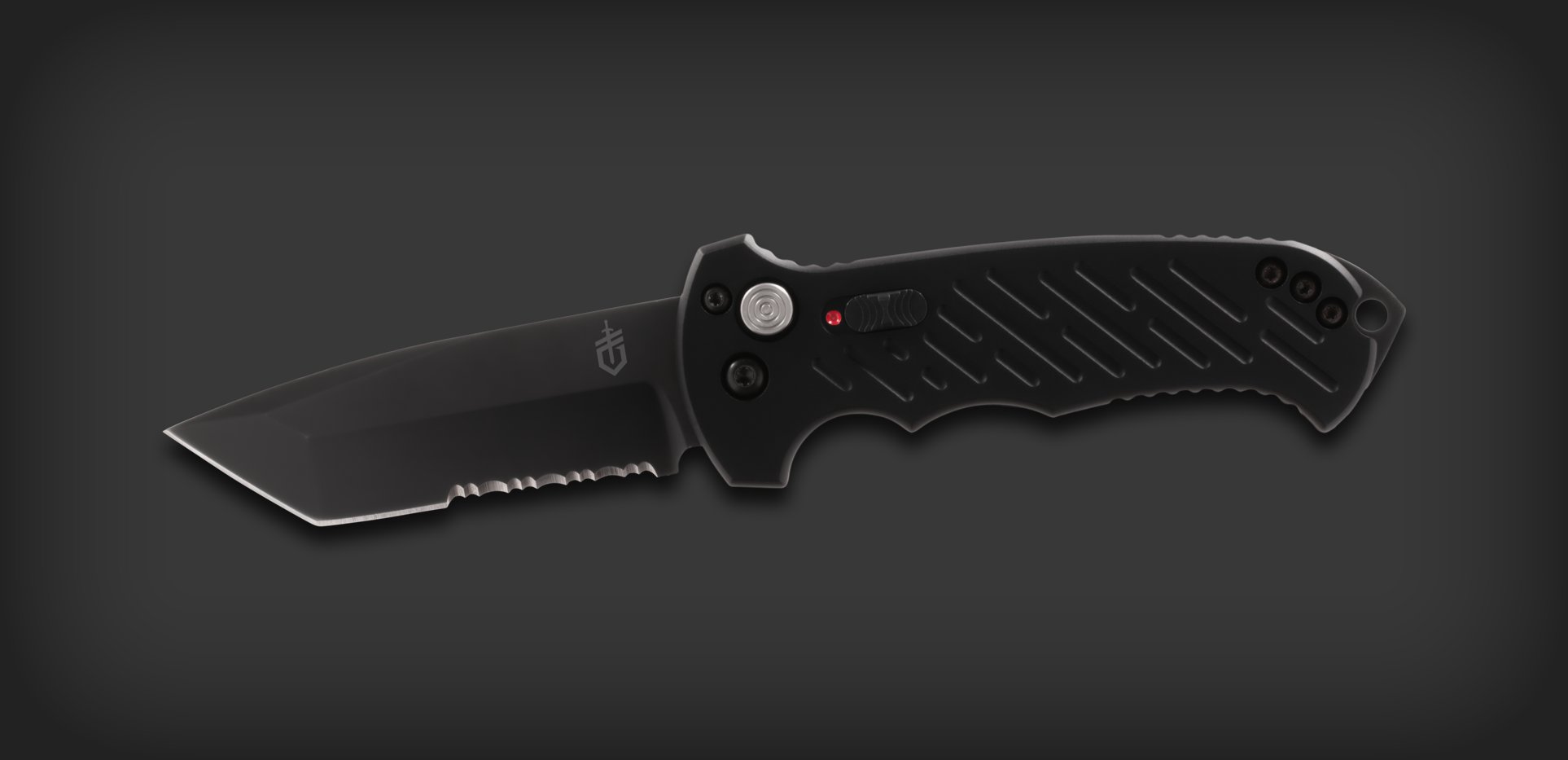 Gerber 06 Auto
Pros
Trusted by our military
Dependable and durable design
Glass breaker strike point
The 06 Auto integrates a number of features that make this knife handy to use and carry, including a stainless steel pommel strike point, a lanyard hole, premium blade steel, and G-10 scales.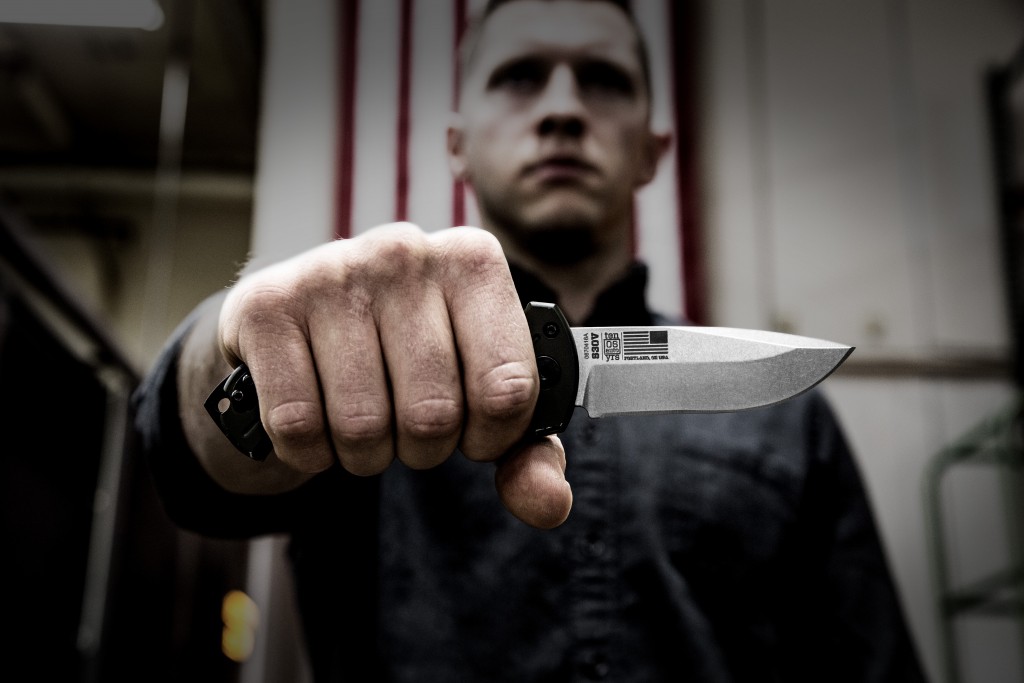 There's a reason this knife is trusted by deployed men and women around the world–it is one of the best tactical knives out there, hands down.
While folders are among the most popular tactical knives, they don't corner the entire market. Fixed-blade knives are sturdy, useful, and a great tactical option.
Among fixed blades, the ESEE-4 is one of our favorites. It was developed with survivalists in mind, which shows in its robust design.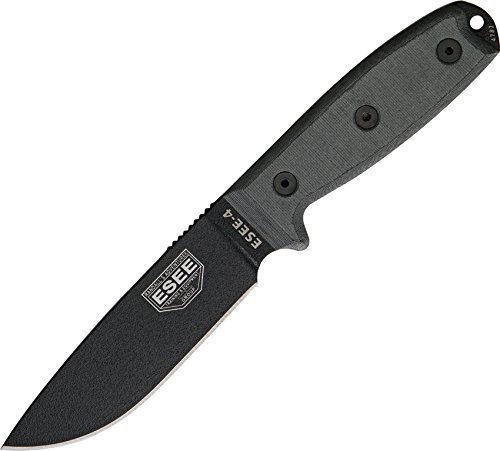 ESEE-4
Pros
Full-length tang
4" 1095 high carbon steel blade
8 oz. weight
Cons
Harder to carry than a folding knife
The 4" blade has a full tang–which means that the steel of the blade continues down the length of the handle. It's made from 1095 high carbon steel and the handle is lightweight Micarta.
This knife is pretty light, despite the size, coming in at only 8 ounces.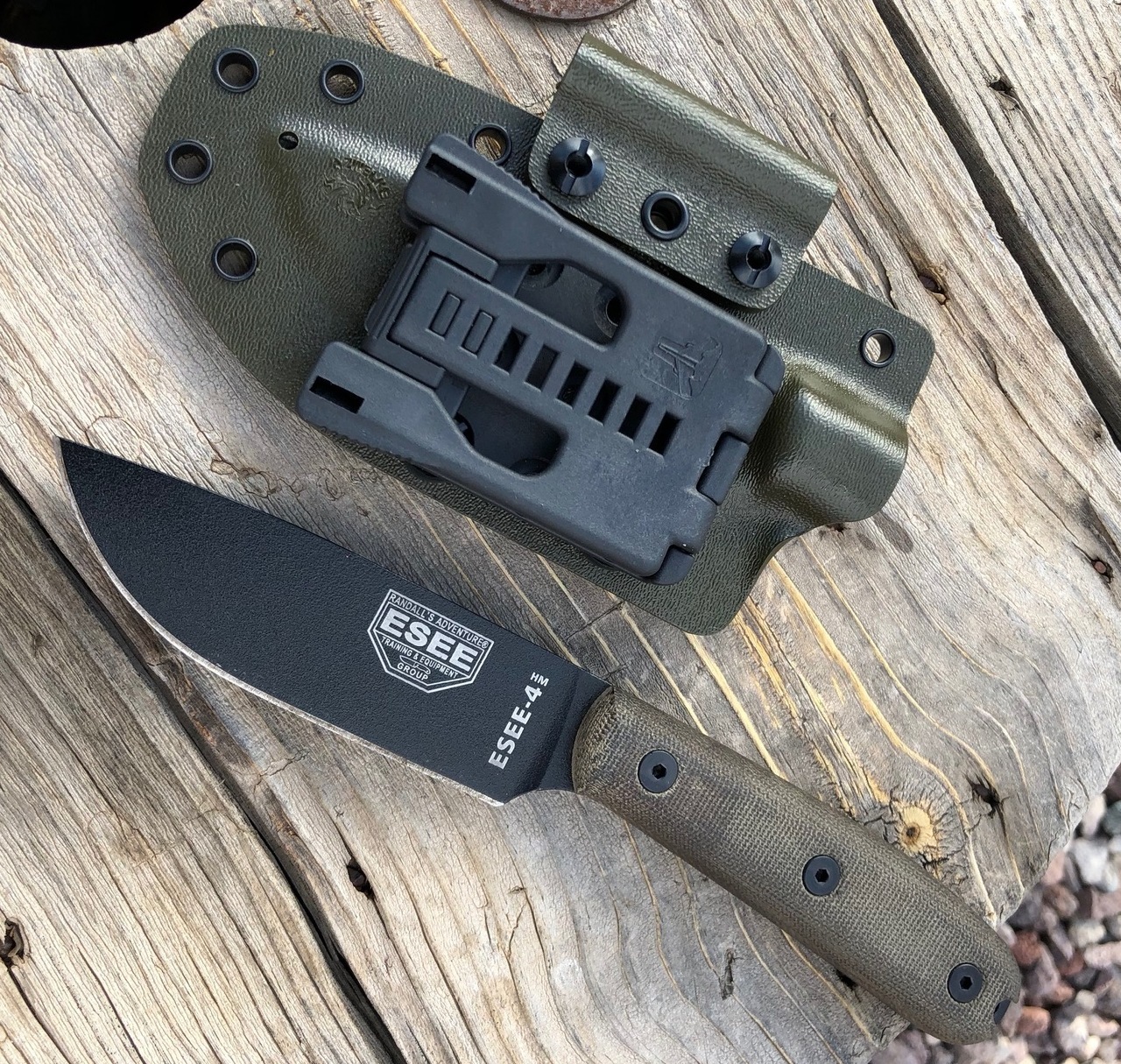 We liked the shape of this blade, with its sturdy point and belly, which gives you plenty of blade for deep slices and stabs. The square spine features and ridged thumb rest give you exceptional control for fine cuts.
While you're going to need a sheath to carry a fixed-blade knife, the ESEE-4 has a ton of aftermarket options, including leather and Kydex sheaths.
It's hard to go wrong with the Gerber StrongArm for a budget fixed-blade tactical knife since they're incredibly durable and comfortable to use. They're a little on the larger side, but they offer a lot of versatility in exchange.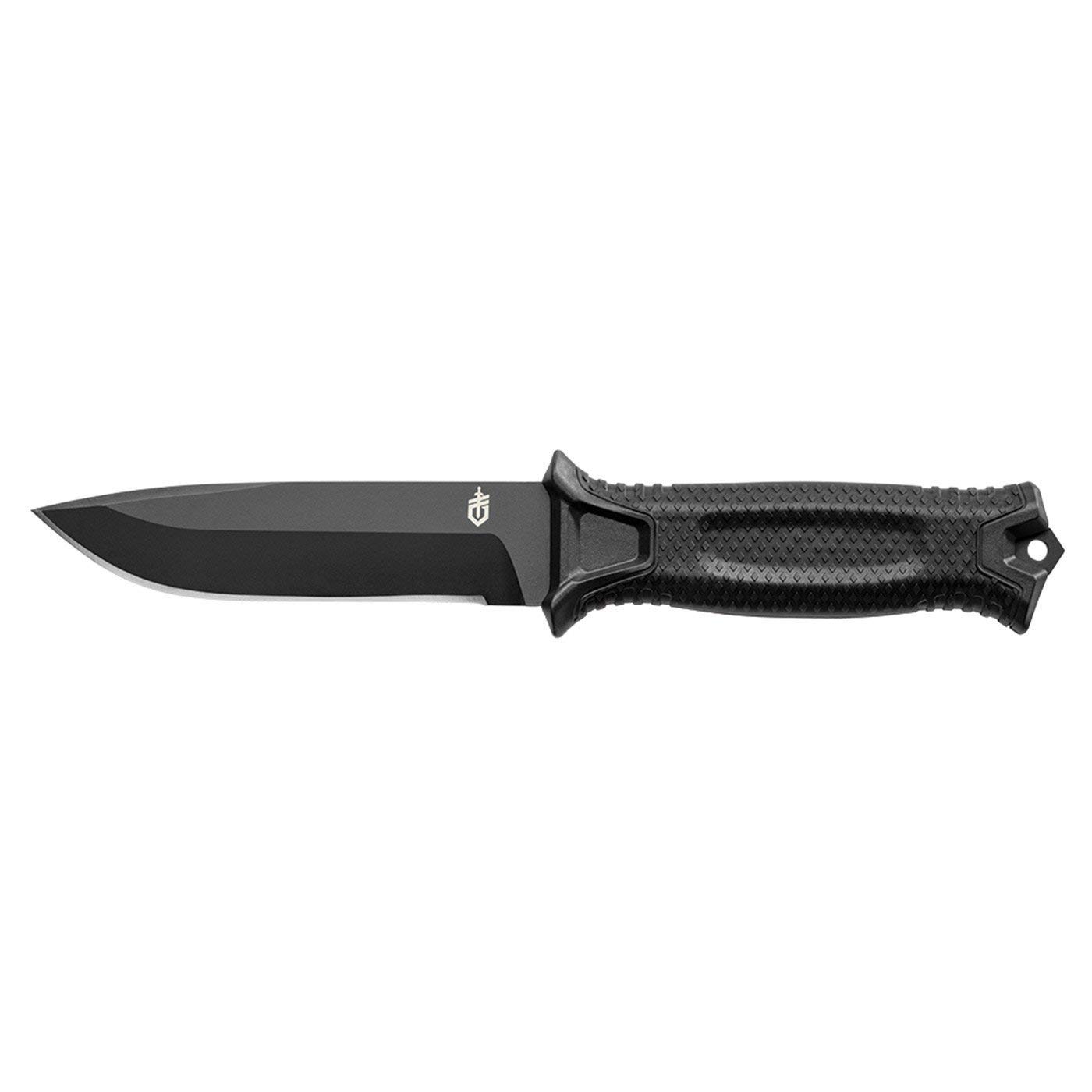 Gerber StrongArm
Pros
Full tang
Glass-reinforced nylon and molded rubber handle
Great quality for the price
The drop point blade is a 420HC steel with a full tang and is available in straight or partially serrated versions. To increase the durability, the blade has an ultra-tough Cerakote finish, which prevents wear significantly.
We're a big fan of the grip on the StrongArm–a glass nylon-filled handle with a soft, textured rubber grip. It's perfect for heavy-duty use without getting uncomfortable.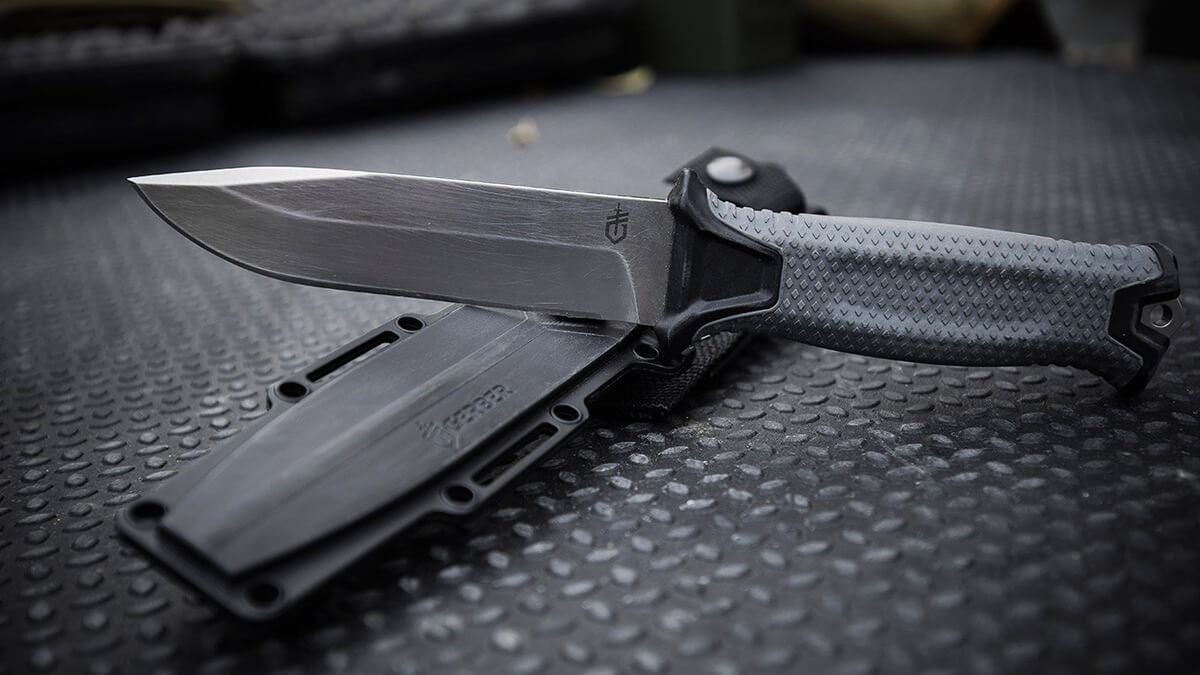 On the pommel, you'll find the ever important glass breaker and lanyard loop. The square spine is also great for striking Ferro rods for fire starting.
Gerber ships this knife with a versatile sheath that allows for a number of carry options, including vertical, horizontal, and on a MOLLE platform, so you can keep it close at hand, however is the most comfortable for you.
From skinning game to cutting seatbelts, the StrongArm has your back.
Final Points
There are hundreds of great knives out there that can stand up to tactical demands… and thousands that can't. FInding a great tactical knife goes beyond just great looks and cool features–quality, durability, ergonomics, and utility all count, especially in tense situations.
When looking for your next tactical knife, remember that you get what you pay for and quality is key. With that in mind, happy shopping!
What's your favorite tactical knife? Are there any we should have included? Let us know in the comments! Pair your tactical knife with a great EDC flashlight.