Does carrying a pistol have your pants sliding south?
A great gun belt is a must, regardless of whether you carry openly or concealed, but finding one doesn't have to be a pain in the butt!
We've taken the heavy lifting out of shopping for a belt to hold your gat (and your pants) up with our buyer's guide on the best gun belts we could find! Let's take a closer look at our top picks and why we think you're going to love them.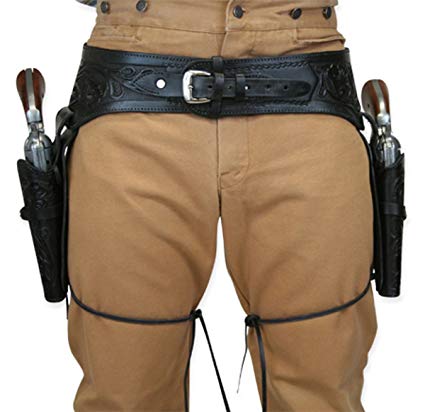 What to Look For In a Gun Belt
As we go into these great gun belts, it's important to keep in mind that what's best for someone else may not be what's best for you. With that in mind, make sure you're choosing something that not only fits your style, but also your intended purpose.
If you're mostly interested in a low-key belt for CCW purposes, some of these belts are going to be better than others, just like you're going to want to go with certain ones for open carry on duty or at the range.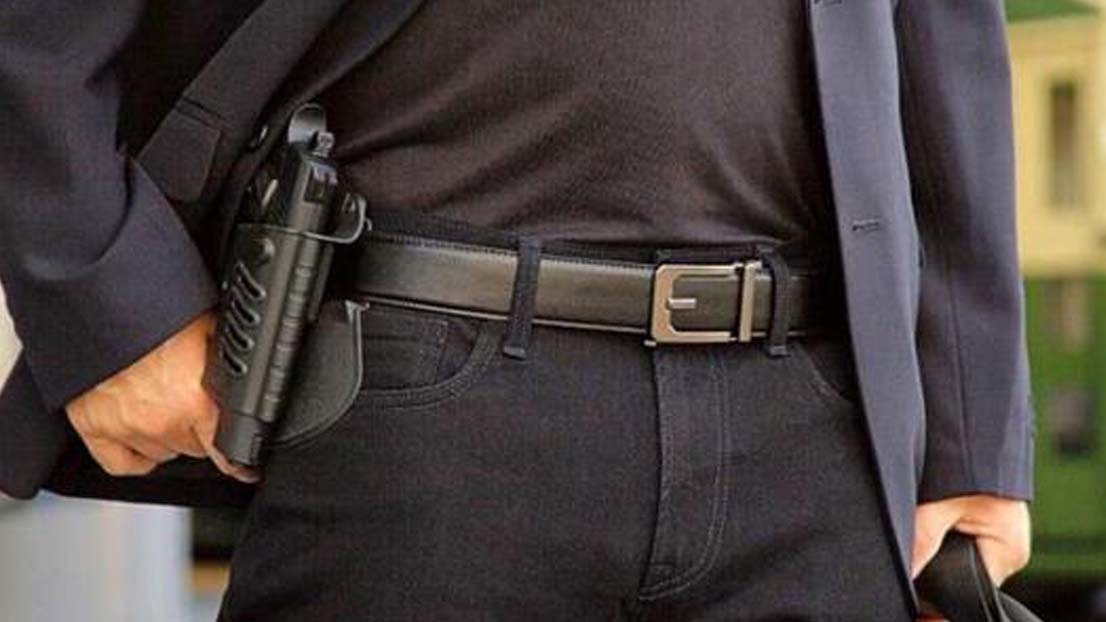 That said, the most important thing might be comfort. None of these belts are worth a darn if they're uncomfortable and get left in the closet, so try them out before you buy, whenever possible. If you can't, definitely make sure you get them from somewhere like Amazon that has a good return policy for things like this.
Finally, you want a belt durable enough to stand up to years of use and abuse carrying your firearms, mag pouches, and whatever other gear you need to hang off your belt. When you're counting on your belt to keep your gear on board, you want to make sure it's up to the job.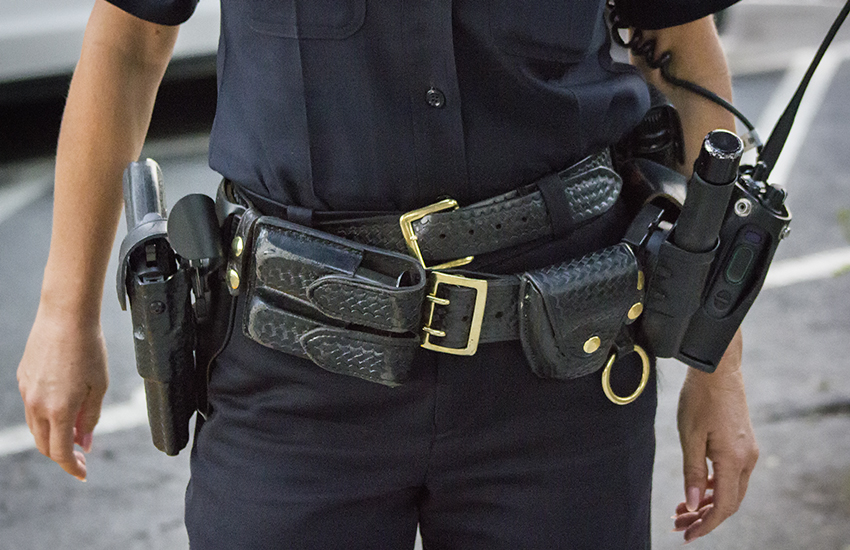 Best Gun Belts
Comfort, durability, and style? How on earth are we going to find that?!
We're glad you asked–because we have. Just check out this list of our favorite gun belts on the market.
The Crossbreed Classic is an industry standard for a low-key, belt that looks… like a belt. Nothing about it advertises the fact that you're carrying a weapon, making it ideal for concealed carry without drawing attention to yourself.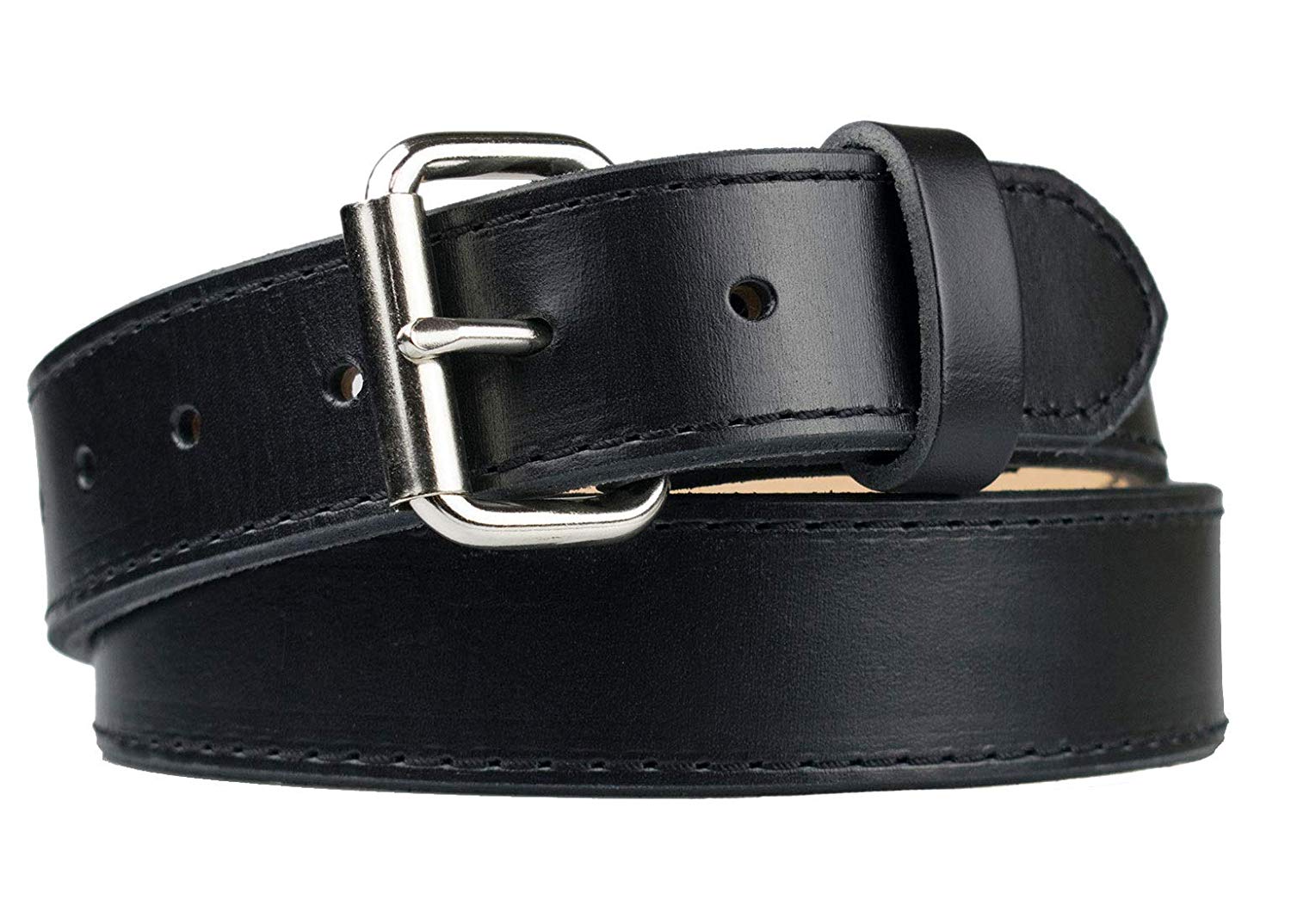 Crossbreed Holsters Classic
Pros
Inconspicuous
Comfortable
Available in many colors
Cons
Not as solid as other belts on this list
Nickel buckle can aggravate allergies
The belt itself is made of ¼" thick hard rolled leather with extra strong stitches that go across the grain for maximum rigidity. Each belt is hand finished and treated by Crossbreed to ensure even tone and shine, and it comes with a simple roller buckle that minimizes wear to the leather.
It is comfortable enough for everyday use, while still being stiff enough to facilitate easy carrying of a pistol, as well as smooth draw from a holster during a high-stress situation.
This belt is also one of the most affordable in its class and is perfect for those who are looking for something just a small step above a standard belt. The only thing that could potentially hold it back from being the ideal average carry belt is the nickel buckle, which can cause a reaction if you're allergic.
If you're looking for something a little sturdier, particularly if you're going to be hanging a bunch of gear off your belt, but still want to be able to shed it quickly in an emergency, Blue Alpha Gear has got you covered.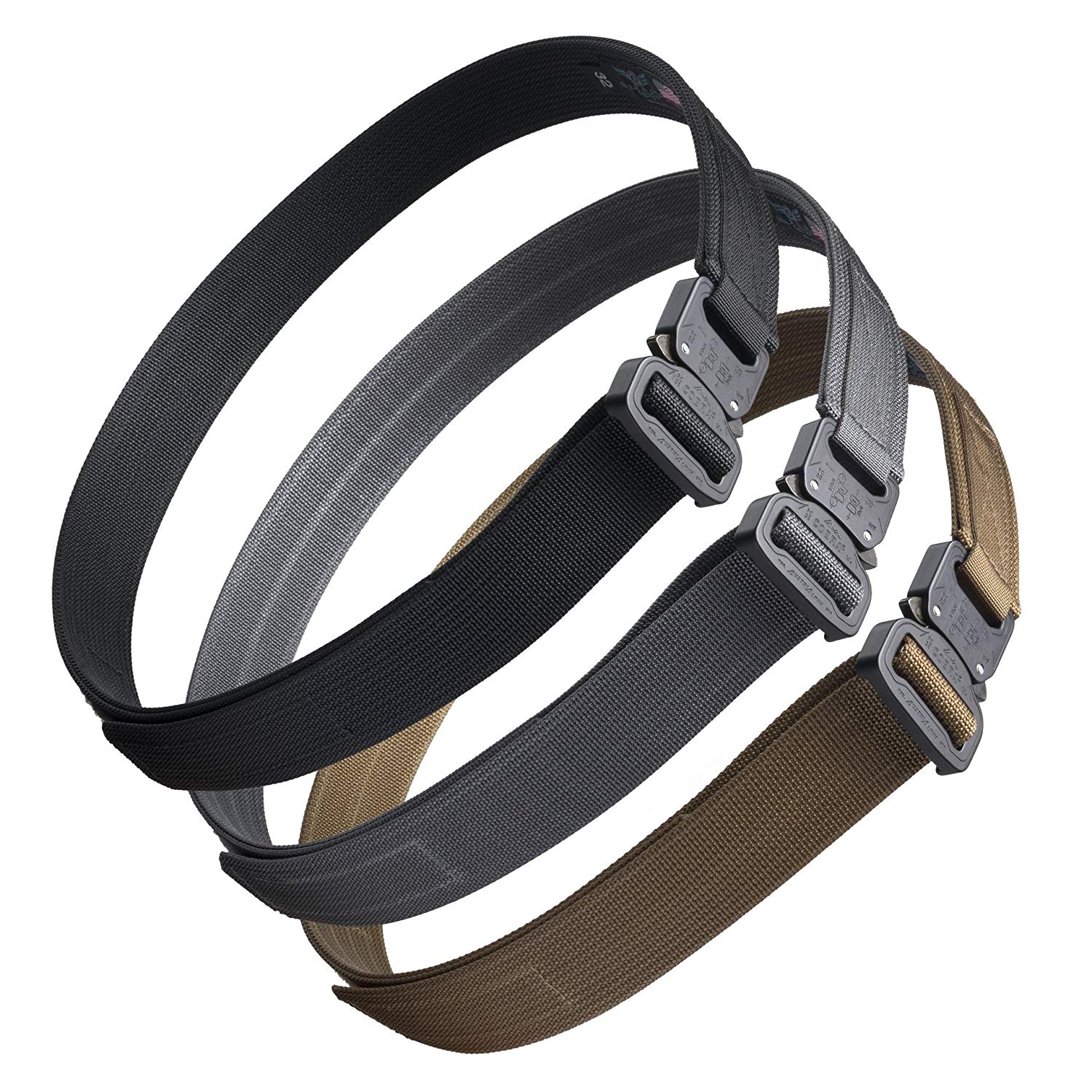 Blue Alpha Gear 1.5" Hybrid Cobra EDC Belt
Pros
Solidly built
Utilizes the amazing Cobra Buckle
Extremely adjustable
They have two belts in particular that are extremely deserving of some attention from those looking for a solid gun belt for range or duty use, particularly those in law enforcement or security, but there's plenty here for the average citizen to love too.
First is there Cobra belt, so called because it features the genuinely outstanding (if very "tactical looking") Cobra buckle. This is one of the strongest all-metal buckles in existence and is engineered to be as solid as possible. If you need a belt that will stand up to plenty of abuse, this is the one.
If the regular Cobra belt is perfect for duty use, the Cobra hybrid is ideal for the average Joe who needs something a little more sturdy for carry. The buckle on the hybrid is designed to fit through standard belt loops on everyday pants, unlike the standard Cobra buckle which is sized for the larger loops typically found on uniform or tactical pants.
If you're looking for something simple that you can still depend on, Blue Alpha Gear also makes a cheap, simple, but reliable Low-Profile EDC belt. This belt is made of two pieces of nylon webbing stitched together for a great combination of stiffness and comfort.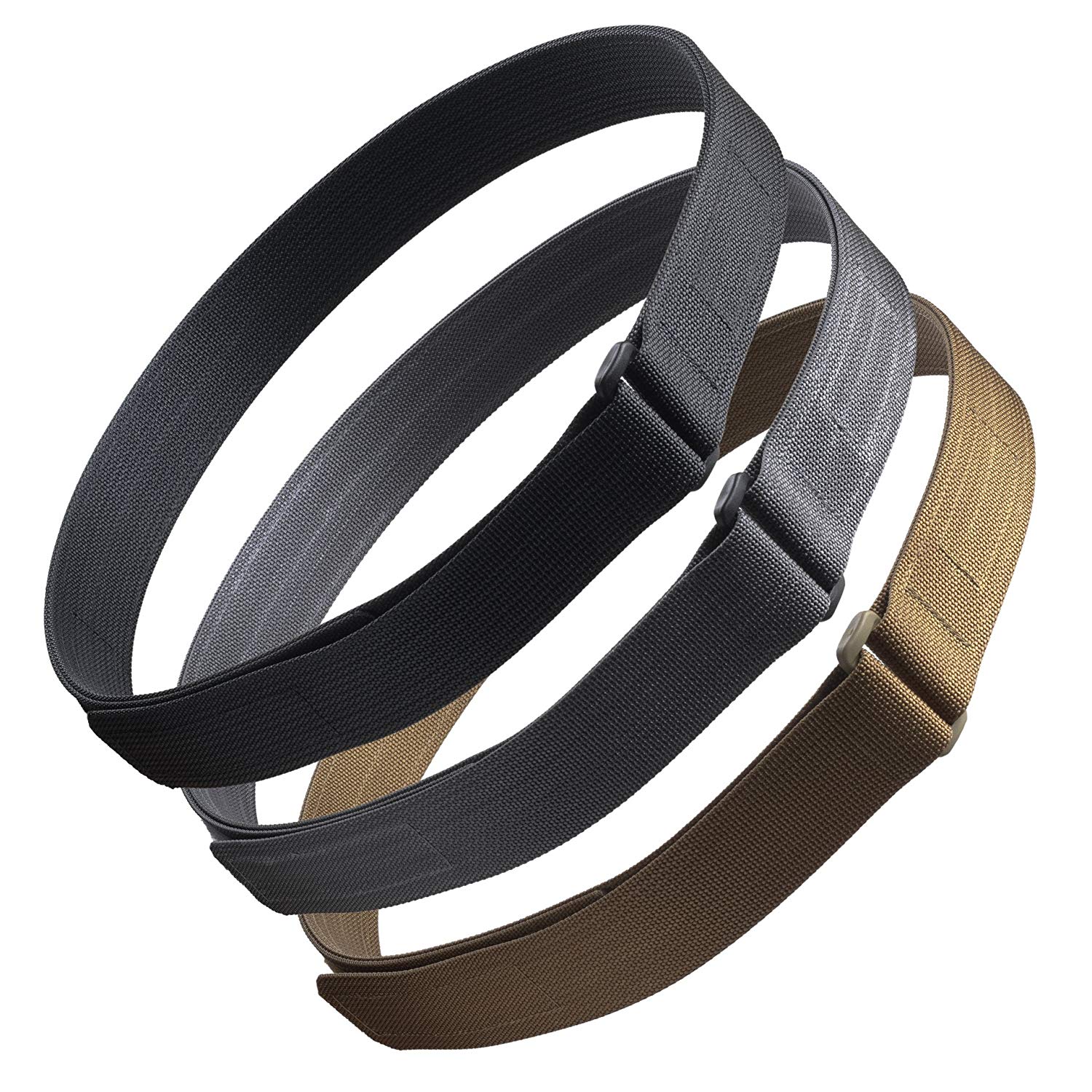 Blue Alpha Gear Low-Profile EDC Belt
Pros
Extremely affordable
Won't stretch
Highly adjustable
Cons
Not particularly stylish
Velcro is loud when taking off, and can collect lint
It utilizes a simple and comfortable low-profile buckle, just a thin piece of high-strength polymer that's thin and barely noticeable, even while you're moving around.
The belt locks in place with velcro on one side, so not only is it going to secured solidly in place, but it's extremely adjustable to get the exact sizing you need. It's also made with entirely US-sourced parts, and assembled in the US as well.
Best of all, the belt is one of the most affordable around–coming in at under $40 and sometimes dropping as low as $30 on sale. Not bad at all for such a great EDC/CCW belt.
Relentless Tactical is most known for their excellent pistol and magazine holsters for CCW use, but they also make a very nice belt to hold all those holsters up securely and comfortably.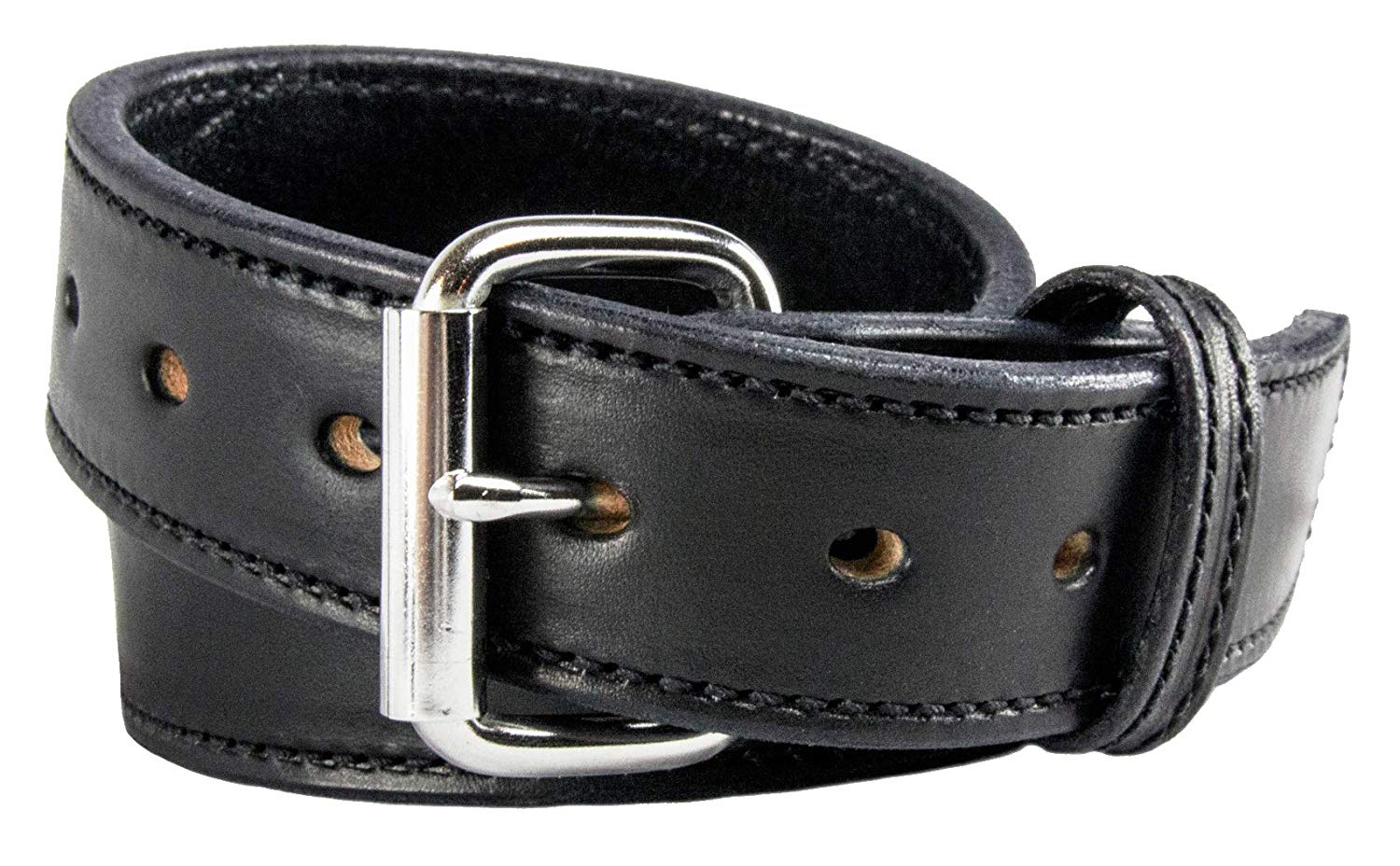 Relentless Tactical Belt
Pros
Premium hand-finished leather
Made and sourced in the US
Incredibly thin and comfortable
Cons
Leather can stretch over time
The Relentless Tactical belt is a solid piece of premium, hand-finished, 14oz leather made in the US by US craftspeople. There are no inserts or backing that can peel away like some other belts, and the whole belt is finished with a premium dye and sealing agent to keep the belt from fraying, cracking, or splitting at the edges.
The buckle is a standard roller buckle, and the strap is available in either an edge-stitched style, or a basket weave for a slightly different look, but both are equally sturdy.
The belt is also fairly thin, and is actually one of the thinnest on this list, making it surprisingly comfortable, especially if you're used to stiffer, bulkier belts. In fact, you'll likely be hard pressed to notice the difference between this belt and a standard dress belt… until you go to draw.
Hanks makes some virtually peerless leather goods, but their belts are their standout product. These belts are designed specifically to be the best leather gun belts around. They're made entirely by Amish craftsmen from 100% full grain leather. and are just about as rugged as a belt can be.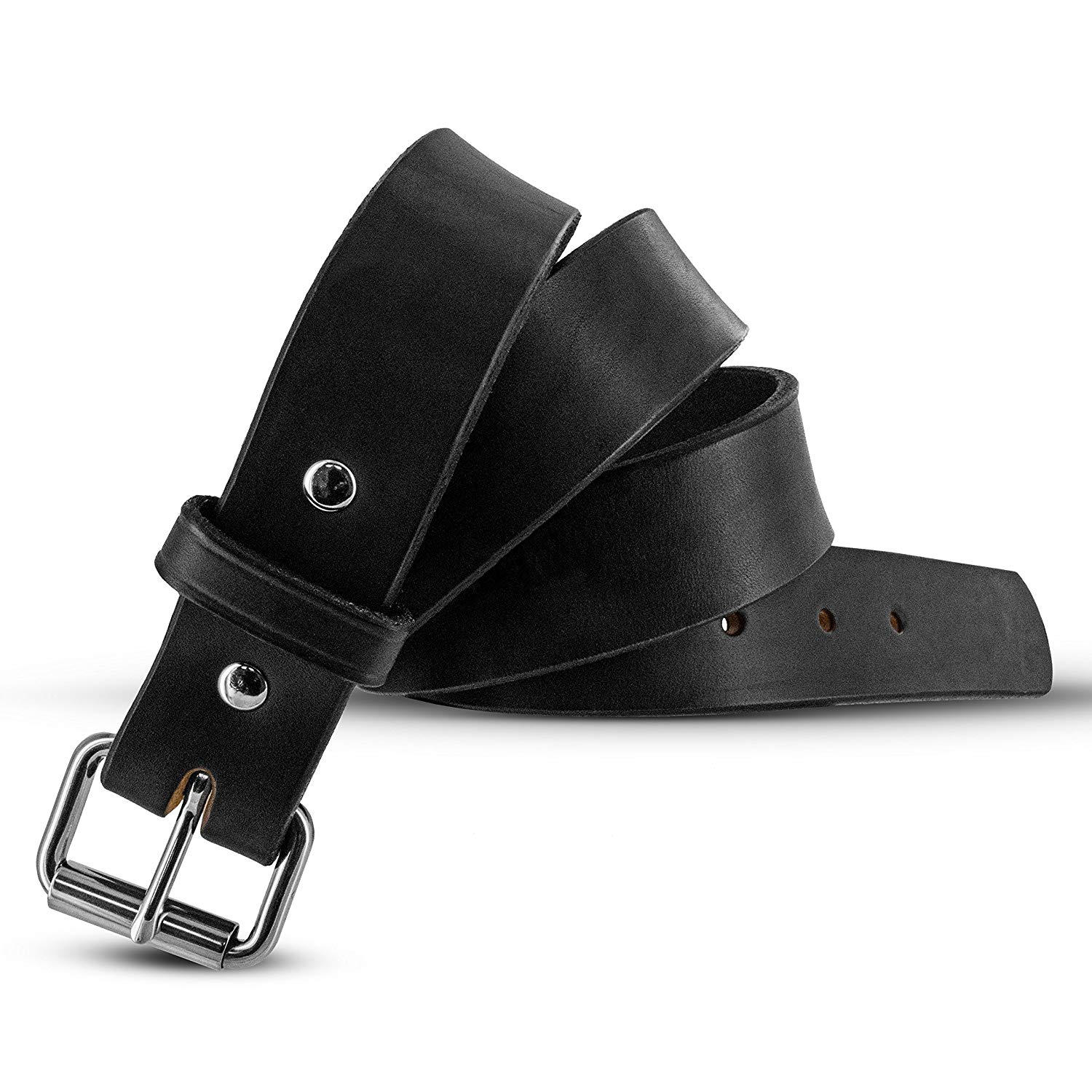 Hanks Gunner CCW Leather Gun Belt
Pros
100-year warranty
Removable buckle
Handmade in the US
Cons
Limited design selection
You have to figure out who to leave it to in your will
The Gunner belt is one of their most popular CCW options and is a little under a quarter of an inch thick, and an inch-and-a-half wide. The leather is vegetable tanned and is guaranteed not to stretch.
The buckle is secured with Chicago screws and is removable for cleaning, or to swap it out for another if you don't like the factory one, or want to change things up for some reason. Oh, and if you're looking to get something that matches the rest of your cowboy action gear or leather holster, it comes in six different colors.
Finally, we have to discuss their warranty. How many companies do you know of that offer a one-year warranty? How about a ten-year warranty?
How about a one-hundred-year warranty? Hanks does. On all their products, including this belt. They'll even pay shipping both ways if you have to send your belt back for any reason. It's hard not to love a company that's willing to stand behind their products for longer than the purchaser is liable to be alive.
Final Thoughts
A good gun belt can be the difference between a win and a loss on the field of competition, or even the difference between life and death in a self-defense scenario. If you're going to carry regularly, it's worth the money to upgrade from a regular belt to one that's designed for carrying a firearm.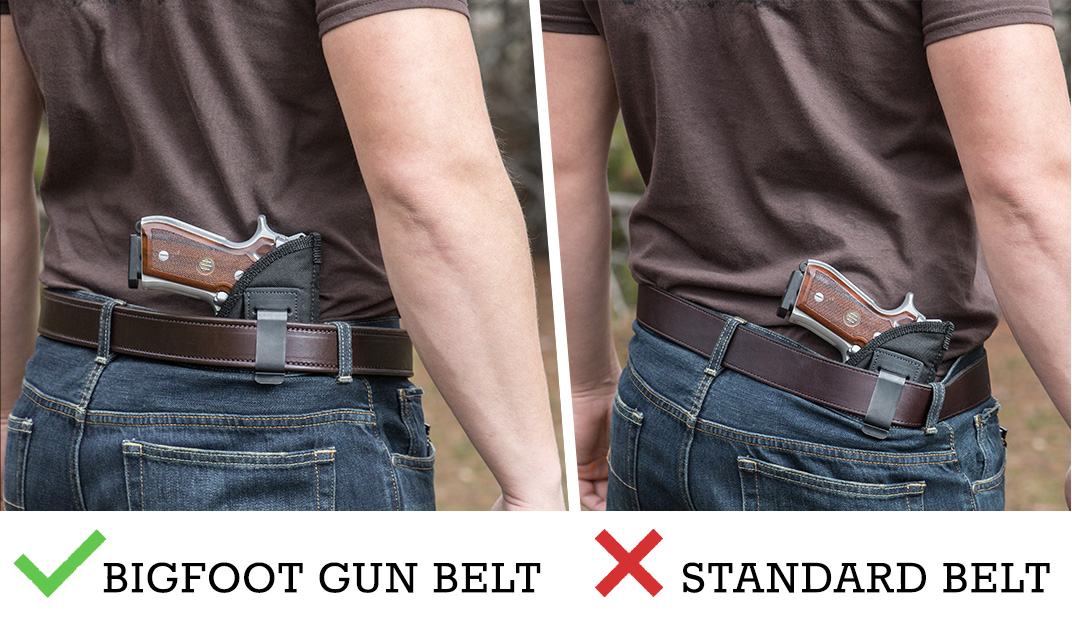 These belts offer you a wide selection of quality options for everything from a night on the town, to a day on patrol, and everything in between. If you're looking for a high-quality gun belt that won't let you down, these are the ones to look at first.
What do you think of these gun belts? Which one is your favorite? Let us know in the comments below! Looking for a holster to go with your gun belt? Here are some of our favorite holsters for Glock 19s.