Part of the reason the AR-15 is so enduringly popular in America is the simple fact that you can upgrade and tweak it to your heart's content. 
They're probably the most upgradeable and customizable firearms on the planet, with the only close competition being Glock pistols. Literally every part of your AR can be changed, swapped out, and improved to better meet your specific needs.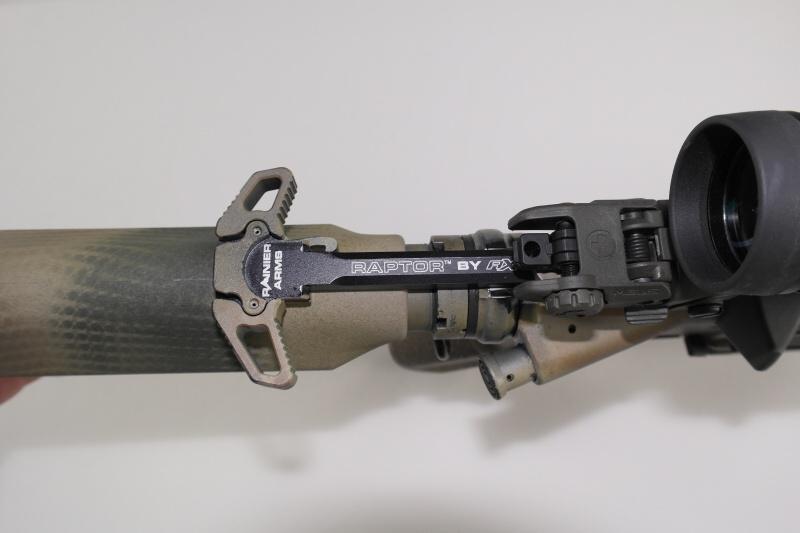 One of the easiest upgrades, and one that we recommend everyone do ASAP, is swapping out the stock charging handle for a better one. Stock charging handles kinda suck, and having an upgraded one is an easy way to improve your AR and add a little personal flair at the same time.
And of course, like every other AR-15 part, you have about ten million options to choose from, or at least it feels like that when it comes time to choose the charging handle you want.
There are so many options that it can be a little overwhelming when you start looking into just which AR-15 charging handle would make the best addition to your rifle.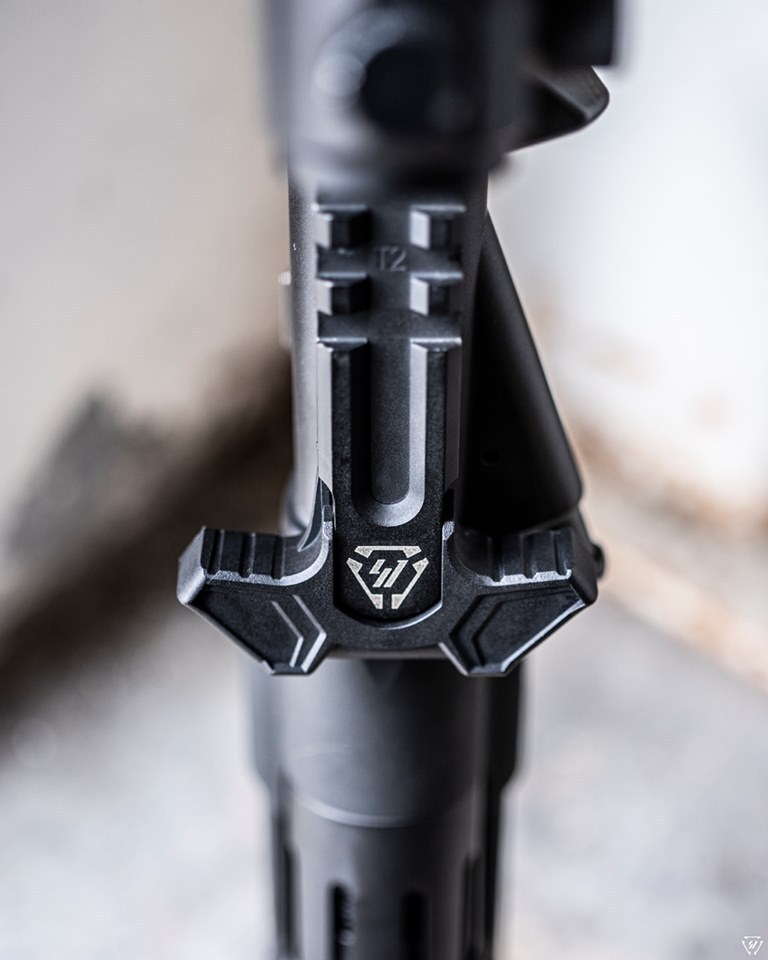 To help you out, we've gathered all of the best charging handles on the market today and tested and abused all of them until we could narrow down the top 10 AR-15 charging handles available today.
Best AR-15 Charging Handles
Aero Precision Ambidextrous
Aero Precision is one of our favorite manufacturers for AR-15s and AR-15 accessories, and their entry into the charging handle market feels like a good place to start our list.

First and foremost, as the name implies, the Aero Precision Ambidextrous an ambidextrous charging handle, meaning you can release the latch from either side, with either hand. This is great for those tricky manipulations with gloves on, on just when you're running and gunning in a hurry.
This is also one of the larger charging handles on this list, which makes it great for a precision AR or just any AR with a large optic. The latches are also very large, making it easy to hit either latch even with a large optic in the way.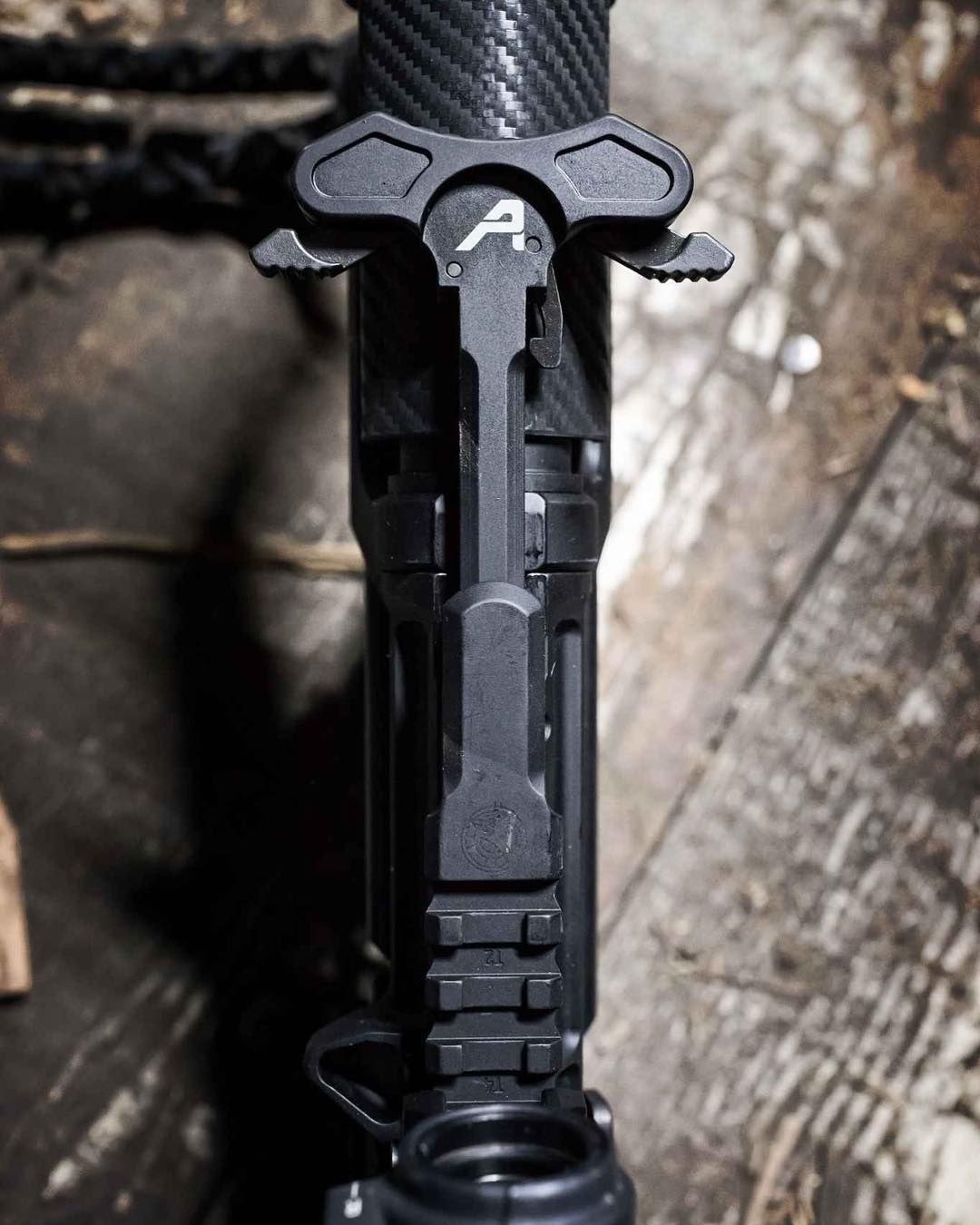 The whole thing is made of 7075-T6 aluminum which makes it very rugged and resistant to wear and corrosion. It also has a very slick finish that helps you cycle your rifle smoothly.
Overall, this is one of the best options if you're worried about a charging handle having good clearance on either side of your objective lens, and is great if you frequently shoot with gloves on.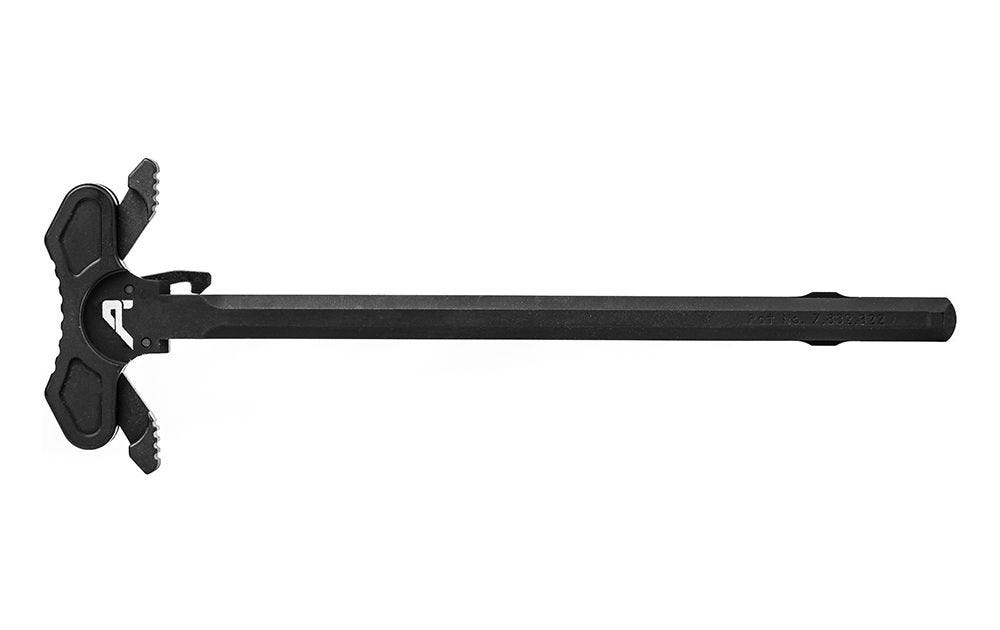 Aero Precision Ambidextrous Charging Handle
Pros
Ambidextrous!
1.92 oz
7075-T6 aluminum
BCM Gunfighter MOD 4B
BCM is another company that we love around here, and their charging handles are a big part of that. Thet actually redesigned the standard charging handle to take the force off the roll pin and moving it to the rear of the charging handle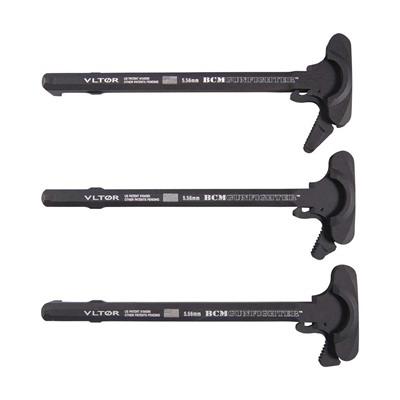 The Gunfighter MOD 4B is a little different. This one is designed to mimic standard military spec, but with slightly improved ergonomics and materials. That makes it a really great option for anyone familiar with the standard manual of arms for a military rifle like an M4 or M16.
It's also made of 7075-T6 and has a type 3 hard-anodized finish to protect it from wear and corrosion. You can find it in both a mil-spec and an ambidextrous version, so you have a few options.
Either option is great for anyone looking for a low-profile charging handle, but this one is especially great for anyone with military training and a lot of time on the AR platform in that setting.
It's also textured for a better grip, and it, of course, uses BCMs altered load distribution design versus a standard charging handle, which reduces wear.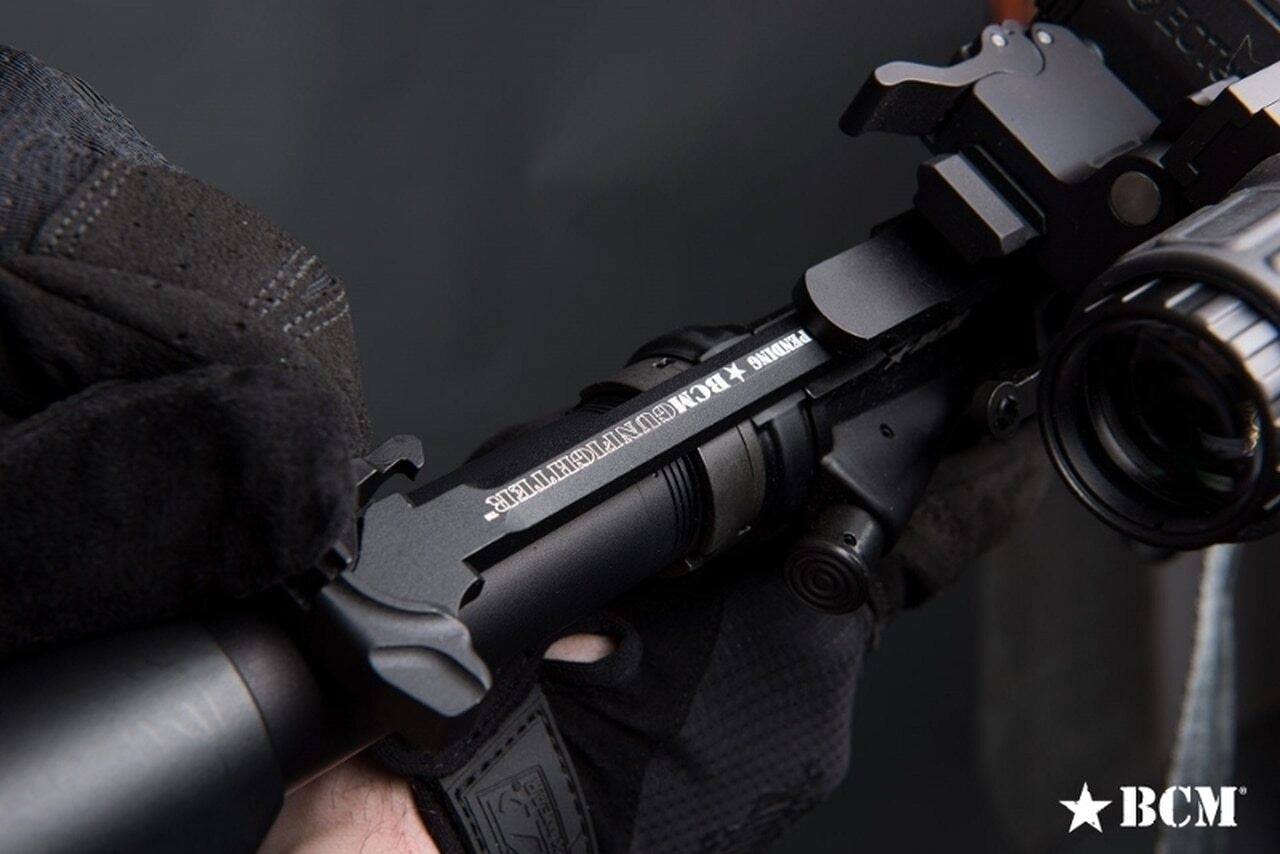 We love that their latch is designed with a nice flat front to make it easy to slam the charging handle back with your palm or a crooked finger, and the redesign keeps even the most ham-fisted of manipulations from hurting the charging handle or the latch itself.
This adaptation for modern tactics, specifically the ability to more easily "blade" the charging handle makes for a great upgrade over standard charging handles, and it's this commitment to advancement and improvement that gives Bravo Company a lot of spots on this list.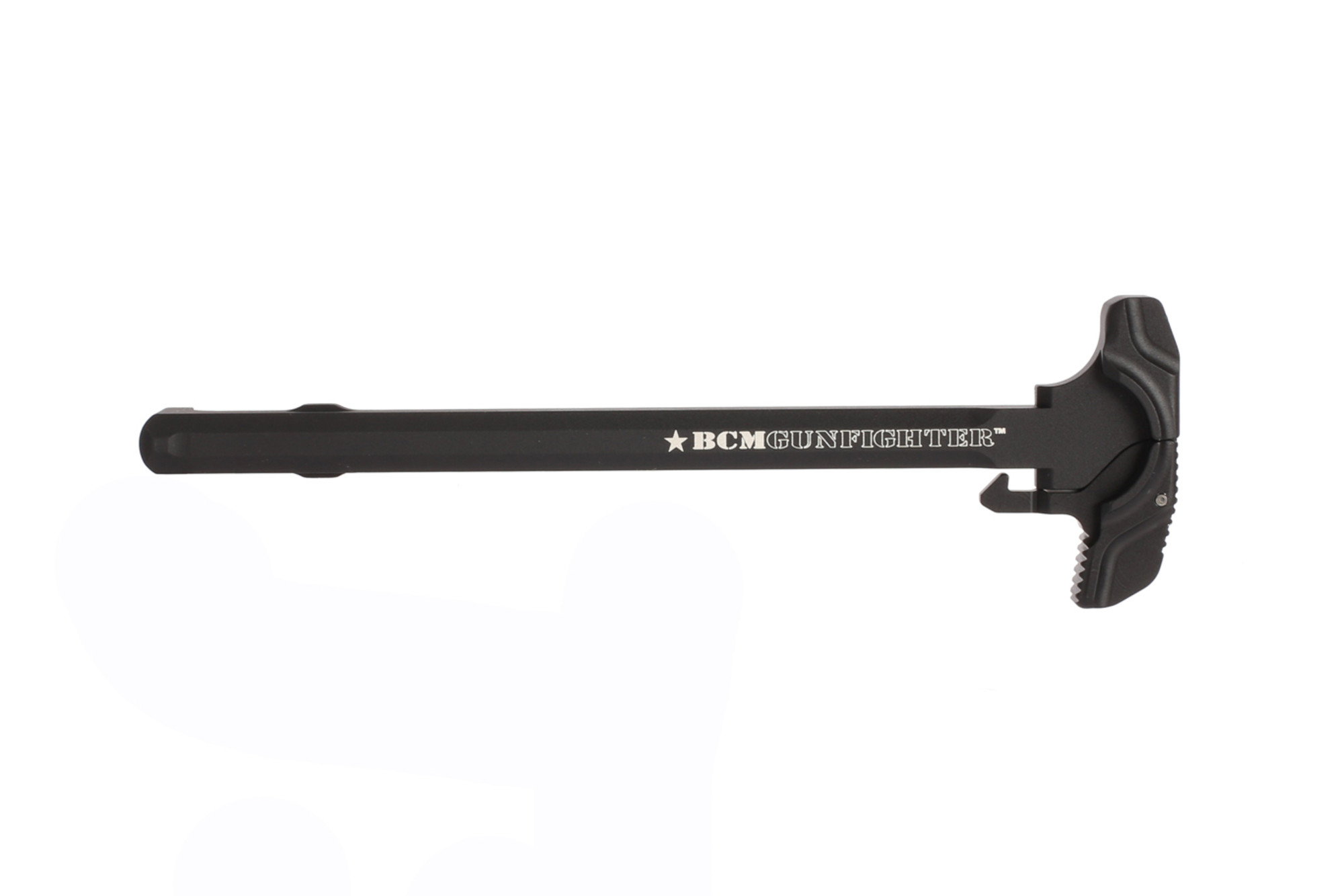 BCM Gunfighter MOD 4B
Pros
Super affordable
Machined lip protects from rearward gas discharge
Redesigned to eliminate stress on roll pins
Cons
Not compatible with adjustable gas keyed BCGs
BCM Gunfighter MOD 4×4
The 4×4 is an ambidextrous option that's very similar to the MOD 4. It fits normal mil-spec dimensions which means it's fairly compact and doesn't extend too far to the side of the rifle. You do have a latch on either side though so you can release it with either hand.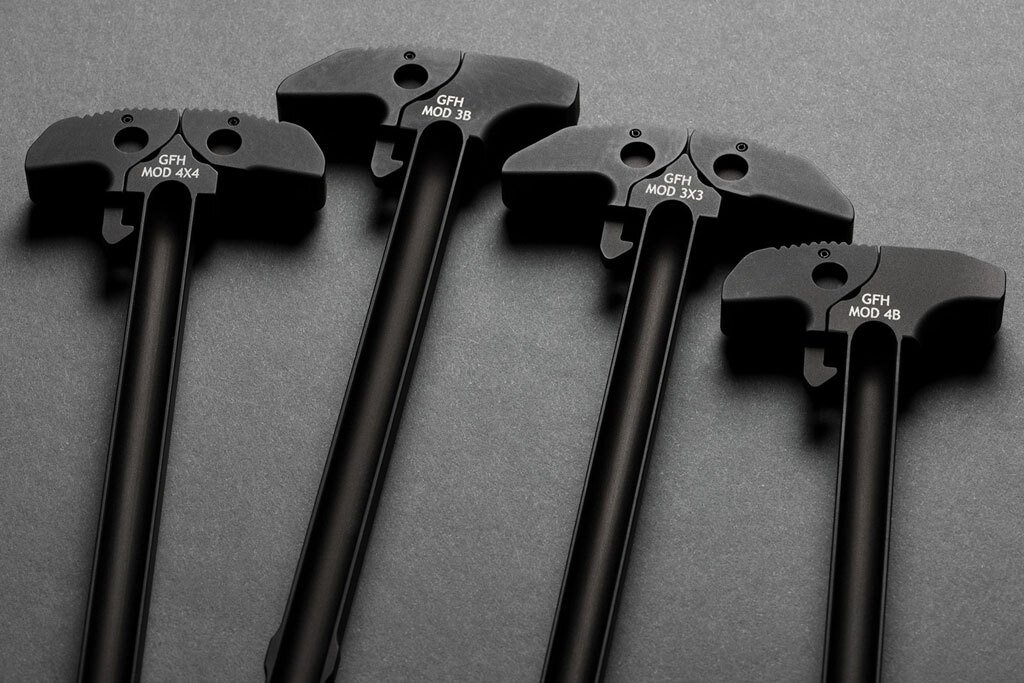 This not only makes it a really good option for anyone looking for an ambi charging handle, but it makes it a great option for lefties who are looking for something that won't make their rifle wonky to use if a rightie picks it up. It's also one of the more affordable options on the list, even though it is a little on the pricey side.
Then again, you get what you pay for–especially when it comes to high-end AR parts.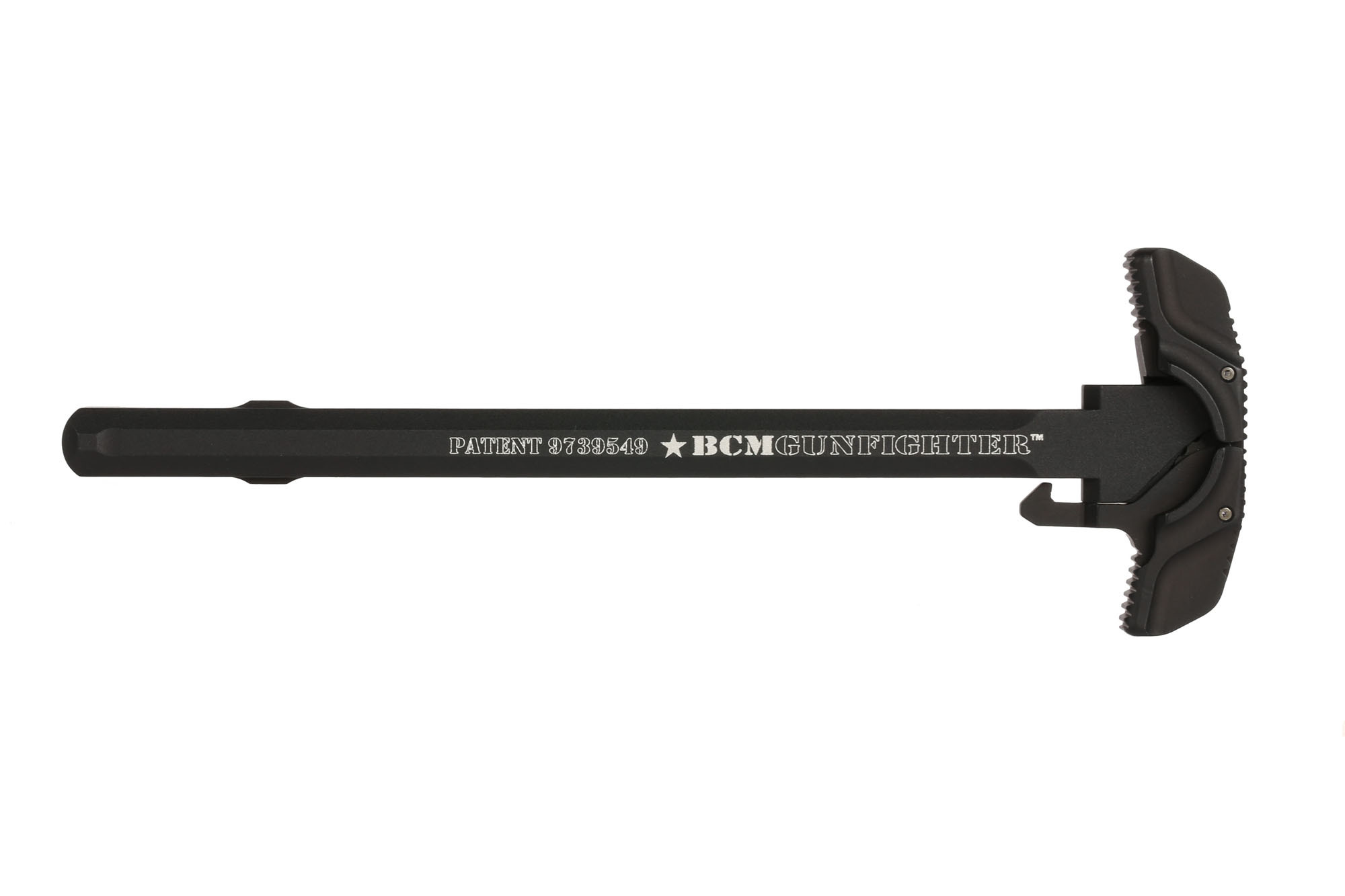 BCM Gunfighter MOD 4x4
Pros
Fully ambidextrous
7075-T6 billet aluminum construction
Compatible with MIL-SPEC AR-15 direct impingement
Cons
Not compatible with adjustable gas keyed BCGs
Strike Industries ARCH-EL with Extended Latch
If you're looking for something a little less tuned-up, Strike Industries has you covered. Their ARCH-EL handle has precisely zero bells, buzzers, or whistles. 
What it does have is a mil-spec latch and mostly mil-spec dimensions.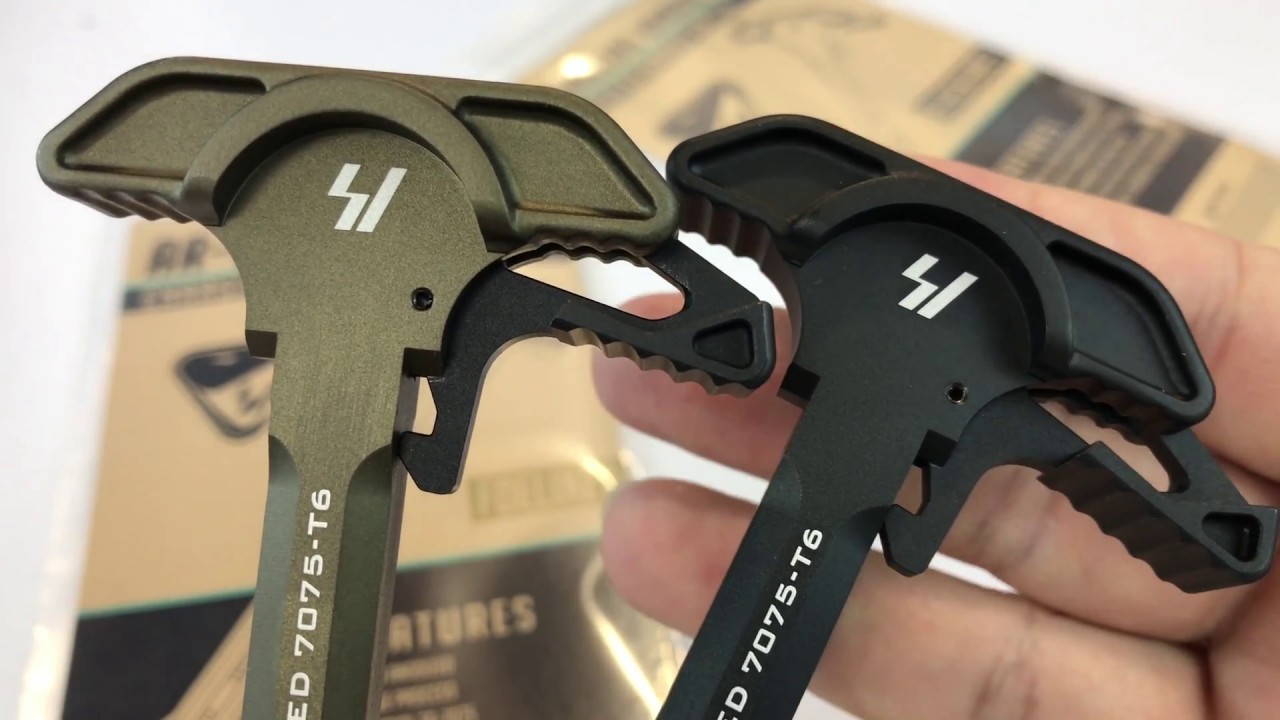 This is the upgraded version of the standard (and discontinued) ARCH and it comes–as you probably guessed–with an extended latch. This is still a relatively inexpensive option at about $30, but it does come with a few notable improvements over the standard model.
The rear of the charging handle has been rounded off but has some sharp angles on the side to catch well on your hand, fingers, gloves, teeth, or whatever you're using to charge your weapon. Texturing here is especially good and makes it easy to use the charging handle even with wet, dirty, greasy, or gloved hands.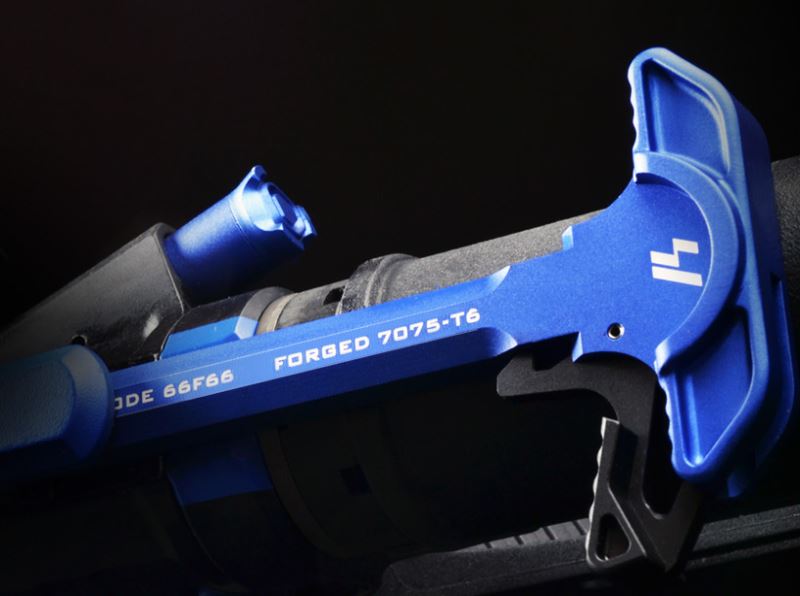 On top of that, the hard-anodized finish is buttery smooth so you will always be able to charge your rifle and clear jams with ease. And it just feels nice. That's worth something to us, and if it's worth something to you, this might be the way to go if you're looking for an option that isn't too fancy.
The main thing is the latch, of course. It sticks out about 3/4ths of an inch further than the standard latch, which gives you a little more room to grip the handle and charge your rifle. That extra length really does make a difference when you're manipulating the rifle quickly in a high-stress situation.
Gross motor movements are a lot easier than fine movements when the adrenaline is pumping, whether that's on the battlefield or when you're running a 3-Gun stage, so being able to just slap the handle to the rear with your whole palm versus having to carefully pinch a smaller latch is a big advantage.
And, of course, if you're running an optic that comes close to the rear of your rifle having that extended latch is a godsend.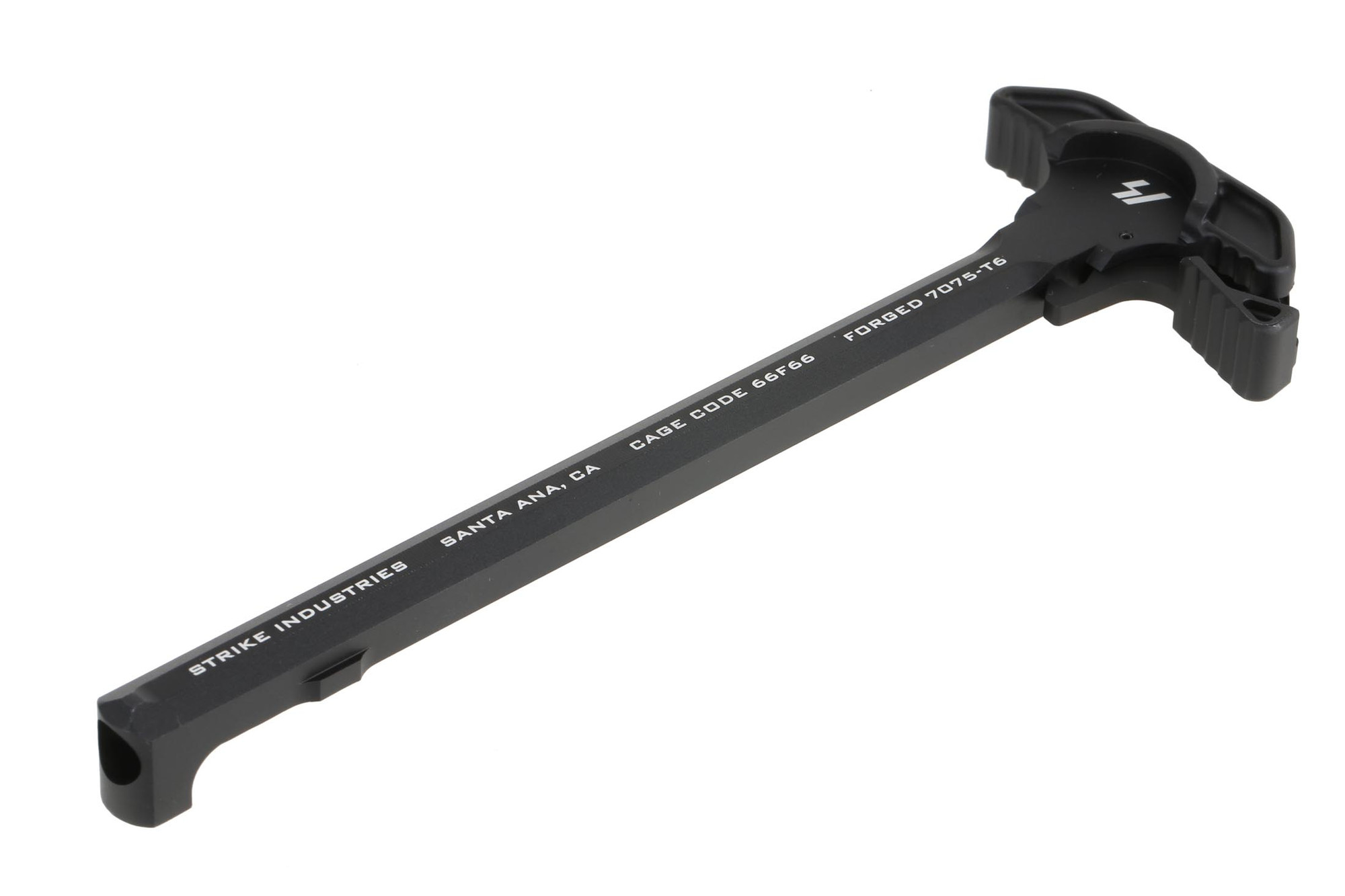 Strike Industries ARCH-EL Charging Handle
Pros
Basic
Affordable
Easy to Use
Cons
Definitely better products out there
Strike Industries Latchless Charging Handle
If you're into the idea of Strike Industries but you're looking for something shiny and new, a latchless charging handle may be worth looking at.
The latchless design does have a latch. Well, kind of. It's just automatic.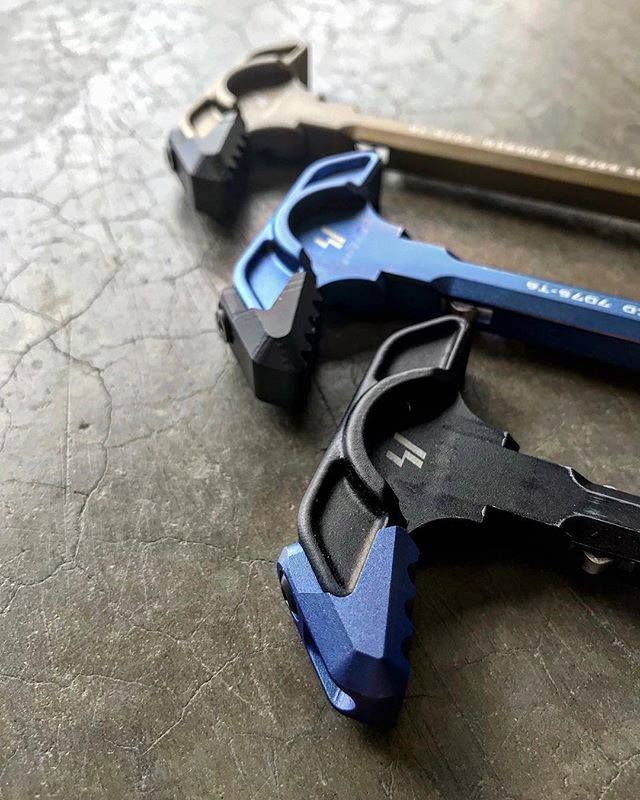 Unlike a regular charging handle that requires you to trip the latch when you pull the handle to the rear in order to release it, this handle is simply held in place via a spring that engages when the handle is forward.
As soon as you apply any pressure towards the rear, from either side of the handle, the spring disengages, and the handle moves as normal, just as if you'd released the latch. This makes it almost impossible for the user to fumble the charging handle in a high-stress situation, which is great–though it does take a little getting used to.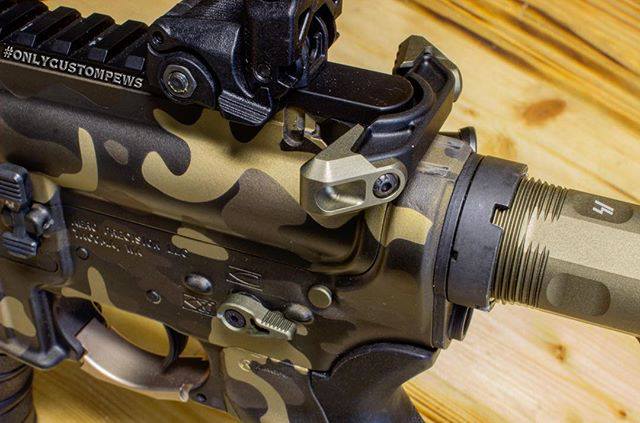 Like the other SI options, this one is made of 7075-T6 aluminum and it utilizes the same slick anodized finish to keep things moving smoothly. 
Finally, you have some optional extensions you can buy for around $10. These just make the handle a little bit bigger on the left, right, or both sides so you have a similar experience to a standard handle with an extended latch, which is great if you're running an optic.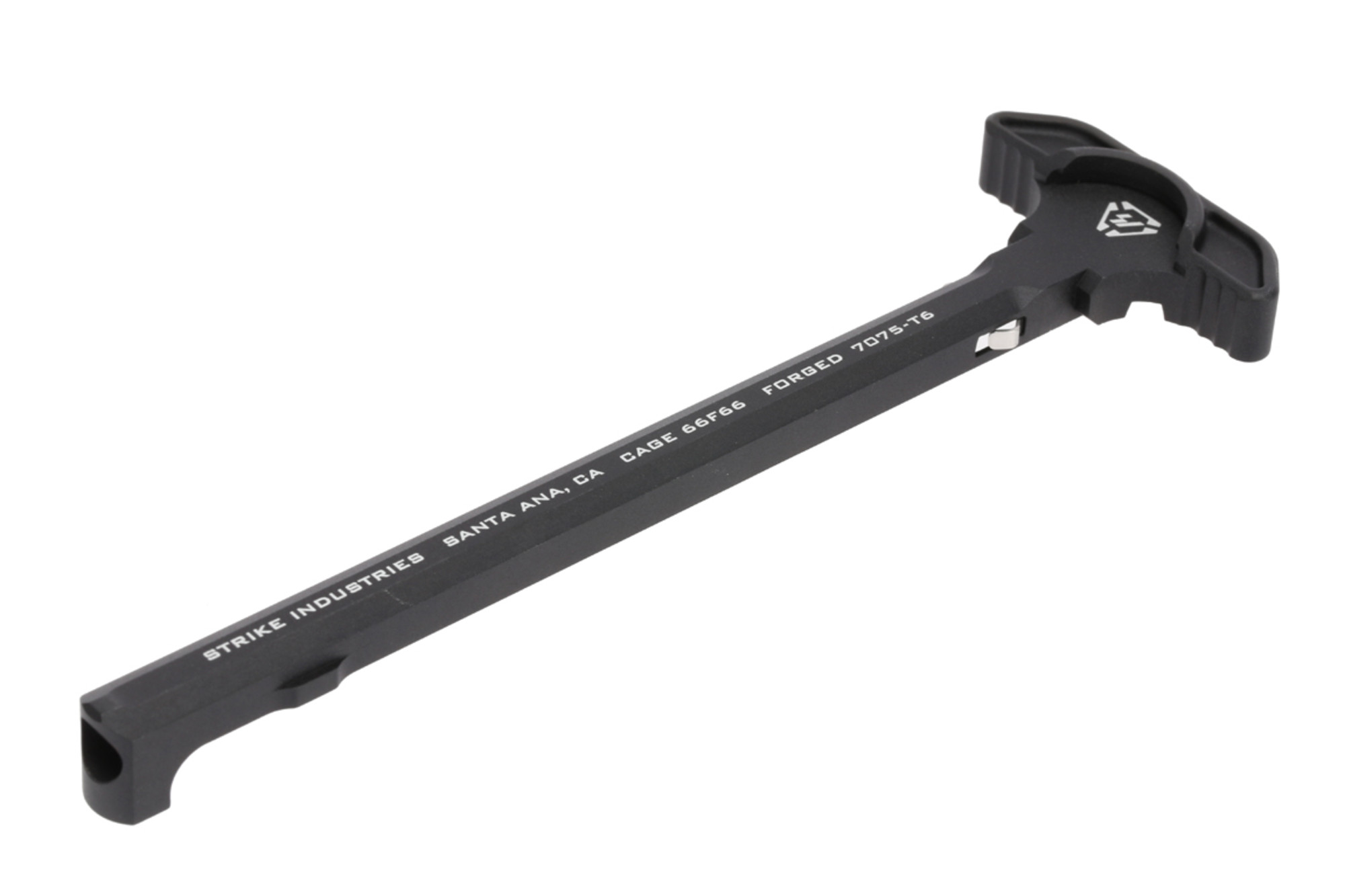 Strike Industries Latchless Charging Handle
Pros
Radiused internals to reduce wear
No moving parts that are potential break points
Gas vents to help reduce blow-back
Cons
Not rated for suppressed, full auto, SBRs, or pistol length barrels
Radian Raptor
The Radian Raptor was one of the first modern extended charging handles on the market, so it would feel almost criminal to leave it and the other Raptor options off this list. Ten years ago, if somebody had a non-stock charging handle, it was almost certainly one of these bad boys.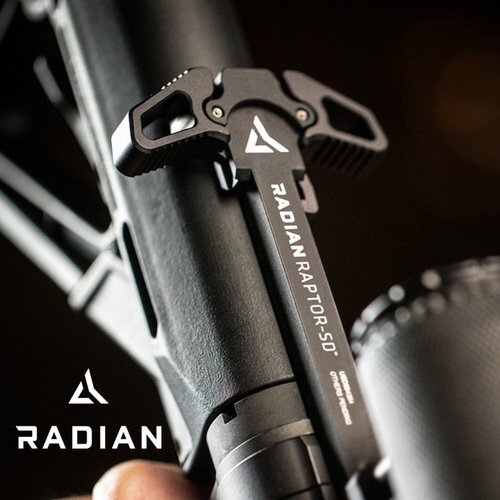 The original Raptor utilizes two extended handles that both actuate the latch, giving you plenty of real estate to grip and rip as the situation demands. The texturing and design of the handle give you plenty of purchase even if your hands are wet or you're wearing thick gloves.
Like most other options on this list, it's made of 7075 aluminum, but unlike most other options it's available in a wide variety of color options, allowing you to add a little flair to something like a competition gun. We like the FDE version quite a lot.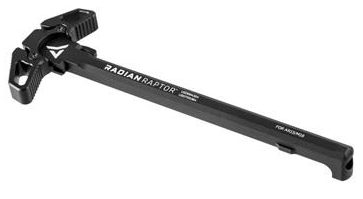 Radian Weapons Ambidextrous Raptor Charging Handle
Pros
Ambidextirous
Very smooth operating
Radian Raptor LT
The Raptor LT is for those ultralight junkies who are trying to build the lightest, fastest AR they can. With some modern materials allowing us to get rifles down to around the 5lb mark, chasing improvements means trimming ounces and even half ounces when and where we can.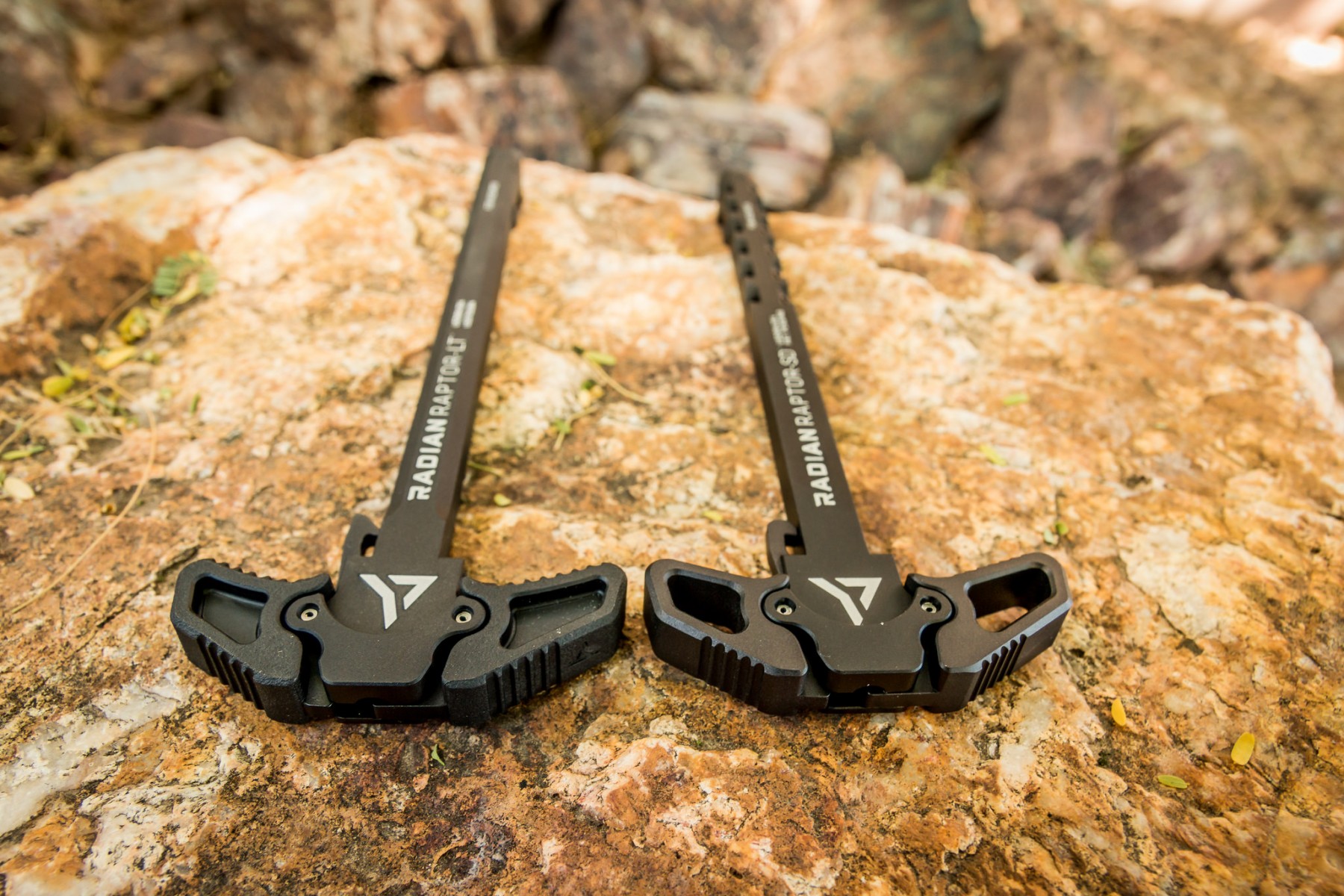 This charging handle comes in at a whopping 1.2 ounces, but it still has two extended wings on the end for easy manipulations in difficult situations. Like the standard Raptor, it's made of 7075 aluminum and has a mil-spec hard-anodized finish that will stand up to all kinds of wear for years and years.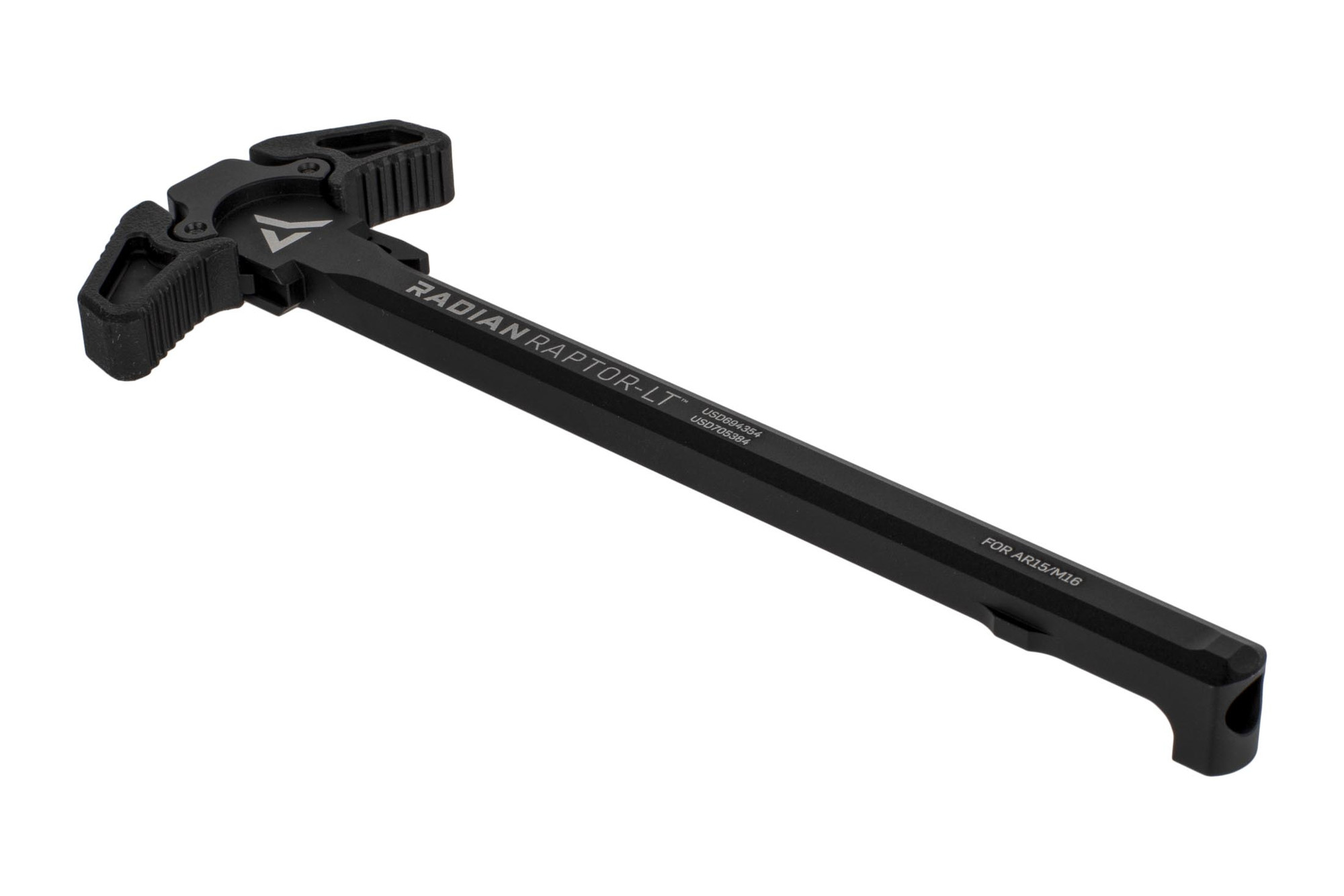 Radian Raptor LT
Pros
Extra light
Fiberglass reinforced polymer latches
Ambidextrous
Cons
Mixed material construction
Radian Raptor SD
Finally, we have the Radian Raptor SD, which is a specially-ported handle that's designed explicitly for suppressed guns.
ARs have quite a lot of gas blowback when you're running a suppressor, so having something that helps mitigate the amount of gas, carbon, and other debris that gets blown back into your face.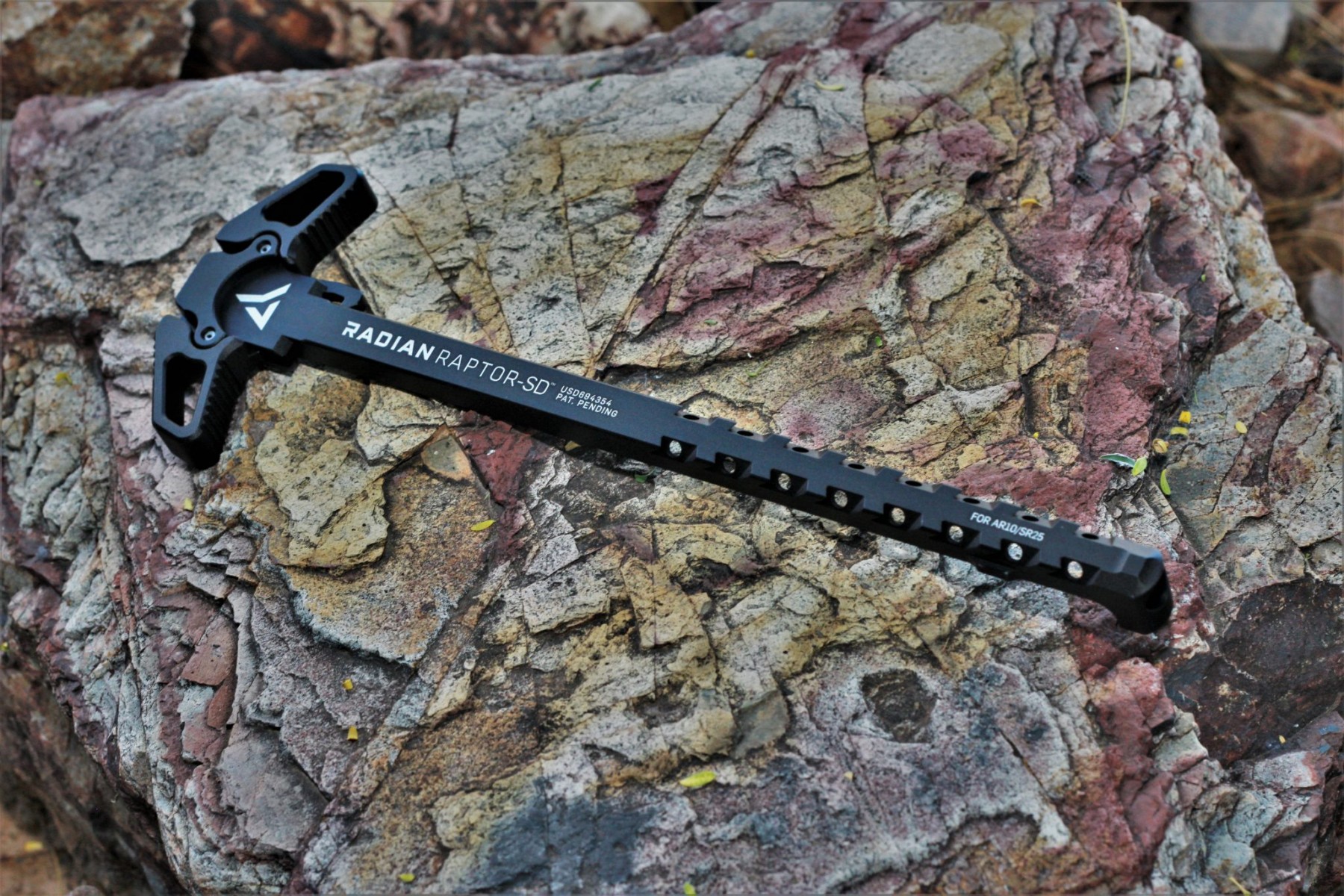 This helps greatly in terms of performance because even the best AR on the planet is virtually useless if it blinds the user. Shooting suppressed is a great joy and is a phenomenally improved experience, but only if you aren't searing your precious eyeballs as you do so. 
The Raptor SD is a great way to mitigate that gas blowback and keep you on target during long streams of shooting.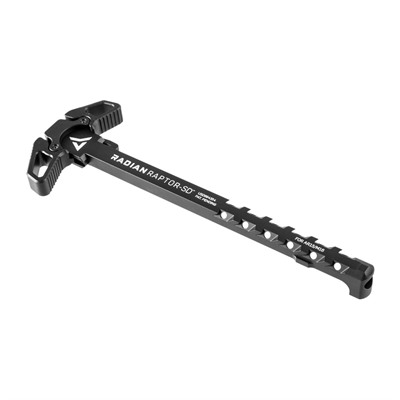 Radian Raptor SD
Pros
Ported shaft designed to redirect gasses
7075-T6 aluminum
Milspec Type 3 Hard Coat Anodized Finish
Parting Shots 
That's about all we have for the best charging handles. Hopefully, there's enough variety on this list that there's something for everyone here. We really believe an upgraded charging handle is a great way to get started with customizing your AR, and it does actually improve functionality a lot as well, especially over a factory charging handle. 
These are the charging handles we use in our personal rifles, and they've more than stood the test of time in our evaluations. Any one of them will serve you well in your own rifle.
What do you think of these charging handles? Which one are you thinking about picking up? And do you have a personal favorite that we left off the list? Let us know in the comments below! Check out other great AR upgrades on our Best AR-15 Upgrades list!