Want to keep your guns out of the bad guys (or your kids') hands? Want to protect your pretties, keep a gun on hand, or take them in your trunk?
Then you need a gun safe.
Problem is… there's a lot of gun safes out there, and they can get up into the tens of thousands of dollars.
So, how do you even begin to choose the right one?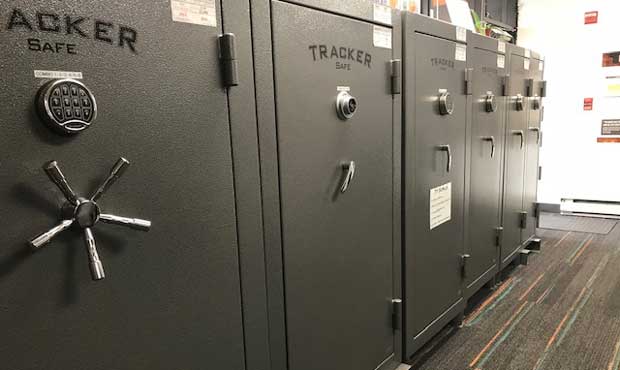 We're glad you asked because we're here to help. Not only are we going to talk about different sizes of safes so all your guns can have a home, but we're also going to introduce you to safes that are just right for a variety of budgets.
Sounds good?
Let's go!
How Much Safe Do I Need?
As we mentioned, gun safes can get expensive. A lot of people find themselves wondering if it's really worth it to spend thousands of dollars on a safe, or if they can get away with spending less.
While a safe is an investment, it shouldn't break the bank, either. Point is, the amount you need to spend on a safe should be related.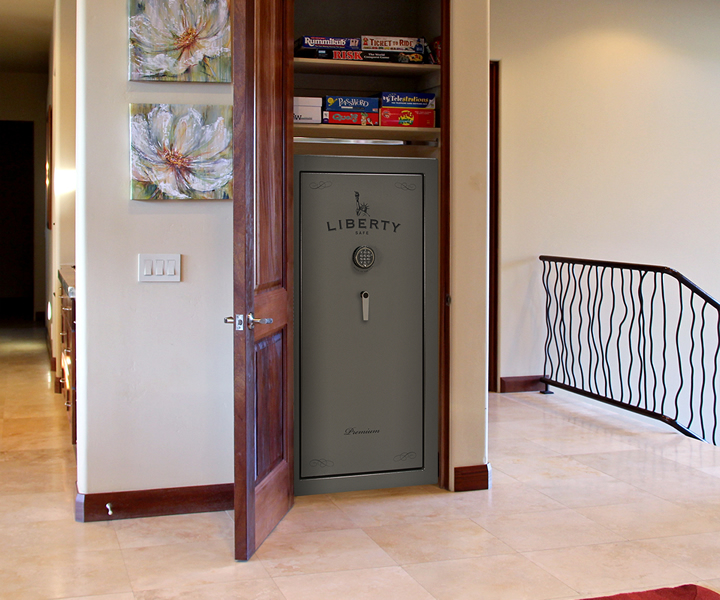 If you've got some priceless heirloom firearms in your collection, you're going to want to spend a little more than you would if you only had mass-produced or replaceable firearms. Pretty much, if you lose everything in the safe, how much will you spend to replace it all?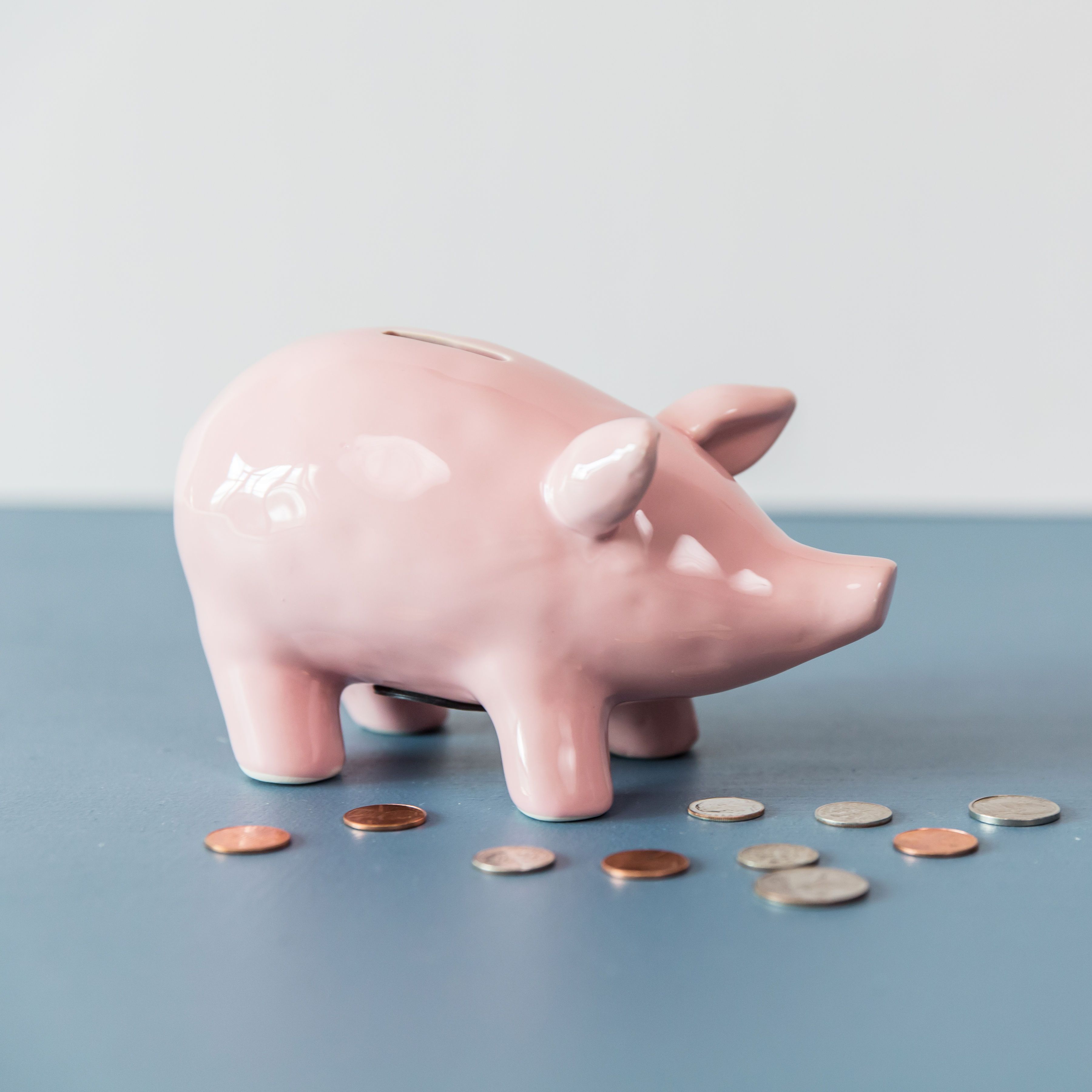 Another factor you'll want to consider is the size of safe you'll need. If you keep a handgun around for defense, you'll probably need a smaller safe than someone who is trying to collect every AR build possible. 
A general rule of thumb is double what you think. 
Why's that?
Well, a) you're going to keep collecting and b) the numbers manufacturers quote is for unscoped rifles stacked in there like sardines. If you want a little wiggle room, size up. 
Need to Know Numbers & Ratings
Before we jump into the best safes, we wanted to go over a few of the important ratings you should know about to help you navigate your options.
You'll see us refer to "gauge" as we talk about our choices–it's the term that refers to the thickness of the steel used to construct the safe. It can be a little confusing, but basically, the bigger the number, the thinner the steel.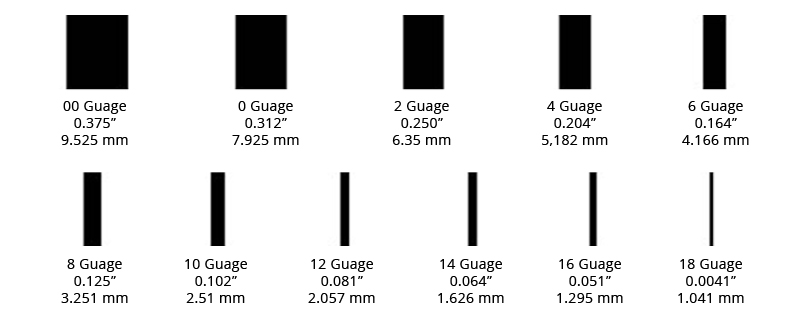 Another term you'll see us use is "RSC," or Residential Security Container. It's a term that was coined by Underwriters Laboratory (UL), which is responsible for developing standards for consumer products.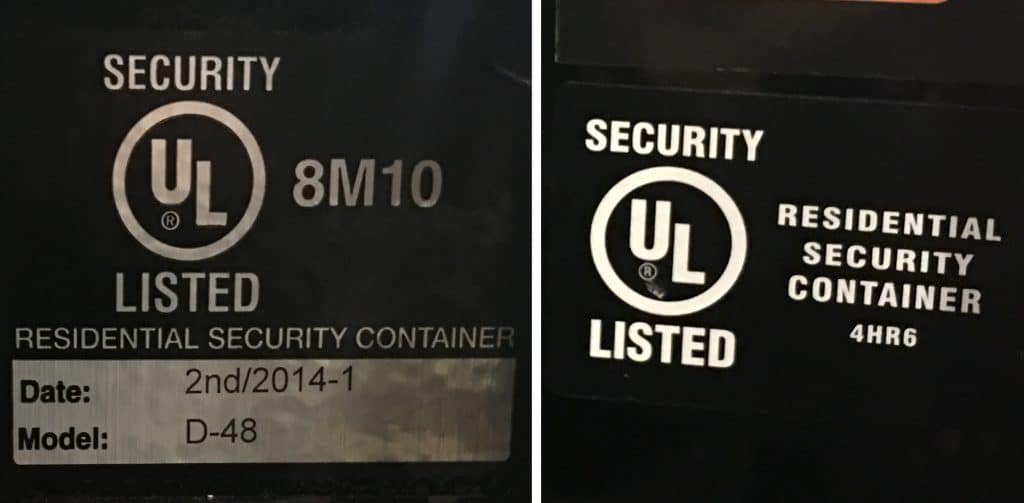 RSC basically means that the unit was found to withstand hammers, prybars, chisels, wrenches, screwdrivers, and punches for at least 5 minutes. There's a bunch of categories that fall under RSC, but that's really what you need to know.
Best Handgun Safes
First up, let's chat about safes for your handguns. Whether you're looking to keep one handy at your beside or only own handguns and don't have a need for a huge long gun safe, handgun safes offer you plenty of options.
Our top pick for a simple, hard-to-go-wrong-with handgun safe is the Fort Knox FTK-PB. It's got a mechanical Simplex lock that is ridiculously easy to operate, even under pressure and is made of 10 gauge steel. 
While it's pretty heavy at 20 pounds, you'll still want to bolt it down, which is possible with the bolting holes. It can hold two or three pistols and even som spare magazines, depending on how good at Tetris you are.
One thing we don't like is that there are only 1081 possible combinations, so it's certainly not foolproof–just very time-consuming. 
Don't have too much to spend, but still want an electronic safe? GunVault is going to probably be your go-to. They offer a variety of electronic lock handgun safes, all for very affordable prices.
Their GV1000 safe is a great alternative to the Fort Knox above. Big enough for two pistols, it's cable securable (not as good as boltable, but much more flexible) and is 16 gauge.
The lock is powered by a 9v battery, which has about a year of battery life. When it starts getting low, it'll beep at you to let you know it needs to be replaced.
If you've only got one handgun (and absolutely no plans to ever expand your collection), or you just want a travel-friendly safe, the GunVault NV300 NanoVault should catch your eye. 
It's great to take with you in the car since it can be moved easily between the car and your hotel room, and be cable-secured just about anywhere. 
You can just barely fit a Glock 17 and two magazines, but really, it's plenty of storage for on-the-go. If you carry on the regular, you can leave one of these in your car to hold your carry gun when you aren't able to have it on you, too.
Need something you can quietly open at the touch of a fingerprint? The SentrySafe QAP1Be offers a biometric lock, as well as buttons and a back-up key, so you'll always have access. It's highly rated, too, which doesn't hurt. 
12 gauge steel offers some pretty good protection, though, and the diminutive size is easy to conceal under your bed, in a closet, or anywhere else where you may need your handgun close at hand.
Not to mention, it's practically silent to open, so it's great for when you hear a bump in the night.
Let's move up in the world. If you're always connected to your phone, why not connect your safe, too? The Vaultek series have not only a key, electronic button lock, and a fingerprint, but a Bluetooth phone app, too. Neat, right?
They even look and feel great.
The biometric reader is fairly accurate, but it'll still sometimes refuse to open on the first try–not great when you're in a hurry. Of course, you have three other ways to get your safe open.
If you don't need to store too much, the VT10i is great for a single full-sized pistol and some mags.
The VT20i can hold a larger handgun and mags, or even two compact guns.
Best Rifle and Shotgun Safes
These might be a little more along the lines of what you think of when you think of a gun safe–big, heavy, and hulking. 
Long gun safes can hold pistols, but they also are a safe spot for your rifles and shotguns. They're a lot bigger and definitely more expensive than the safes we've been looking at, but there are still some great, affordable options on our list.
If you're on a tight budget and don't need a lot of security, the Stack-On 8-Gun Cabinet is a great place to start.
It comes with a keyed lock and is made from 18 gauge steel. At 10" by 21" by 55" and weighing only 64 pounds, it's one of the smallest long gun safes on our list.
This safe also isn't RSC-rated, which means really it's more of a locked cabinet… but it will get the job done. Don't forget, an 8-gun safe will really hold more like 4 guns in reality.
You also can step it up with a Stack-On 18-Gun Cabinet for a little bit of extra space.
Stats:
Exterior dimensions: 10″ (D) x 21″ (W) x 55″(H)

64 lbs

No fire protection
So, these safes are pretty much the exact same thing, just the ProVault is Cabela's special edition and comes in a gorgeous charcoal color.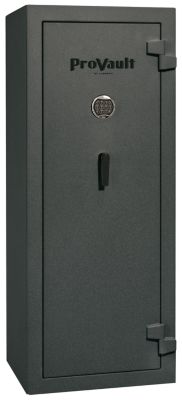 You can find both in a 12-, 18-, and 24-gun model, so there's some flexibility, depending on what you need. The 18-gun Centurion is a great size if you aren't quite sure how much space you need, since it's small enough to park in a closet without too much trouble.
The 24-gun safe can be a little unwieldy, and you can pretty much assume it's not going anywhere once you place it, but unless you have some really, really good friends who are willing to help. It's about 375 pounds, so it probably won't walk away, but it's still worth bolting down.
If you spring for the "Flex" upgrade, you'll get a modular interior that can be used to customize your storage to your heart's content. 
What we loved was the exceptional fire protection these safes offered–30 minutes at 1200 degrees Fahrenheit with heat-activated Palusol door seals. 
And what's more, it's US-made! It isn't RSC-rated, though, but for the price point, it offers a lot of protection.
Stats:
Exterior dimensions: 59.5″(H) x 28.25″(W) x 22″(D)

Interior dimensions: 57.4″(H) x 26.7″(W) x 15.6″(D)

370 lbs

30 minutes at 1,200 degrees fire protection
If you're looking for an option that is a little more… agile… the SecureIt Agile Model 52 might be just the thing! This ultralight safe requires some assembly, but it's flat-packed and easy to ship (and get in the house!).
It's worth noting that this is no mere IKEA knockoff–the Model 50 features an entirely internal assembly, so there's no way to disassemble it from the outside. Any baddies will have to break in the old-fashioned way: lots of elbow grease.
That being said, you do need to bolt this safe into place. Standing at only 52" tall and weighing only 105 pounds, a few enterprising 12-year-olds could move this thing around. Even if you're going to tuck it out of sight in a closet, be sure to secure it to prevent it from walking away.
The disadvantage to this safe is capacity–you'll only fit about 6 scoped rifles inside. The CradleGrid backing lets you configure it to your needs though, so it's great for stashing a small, but varied, collection.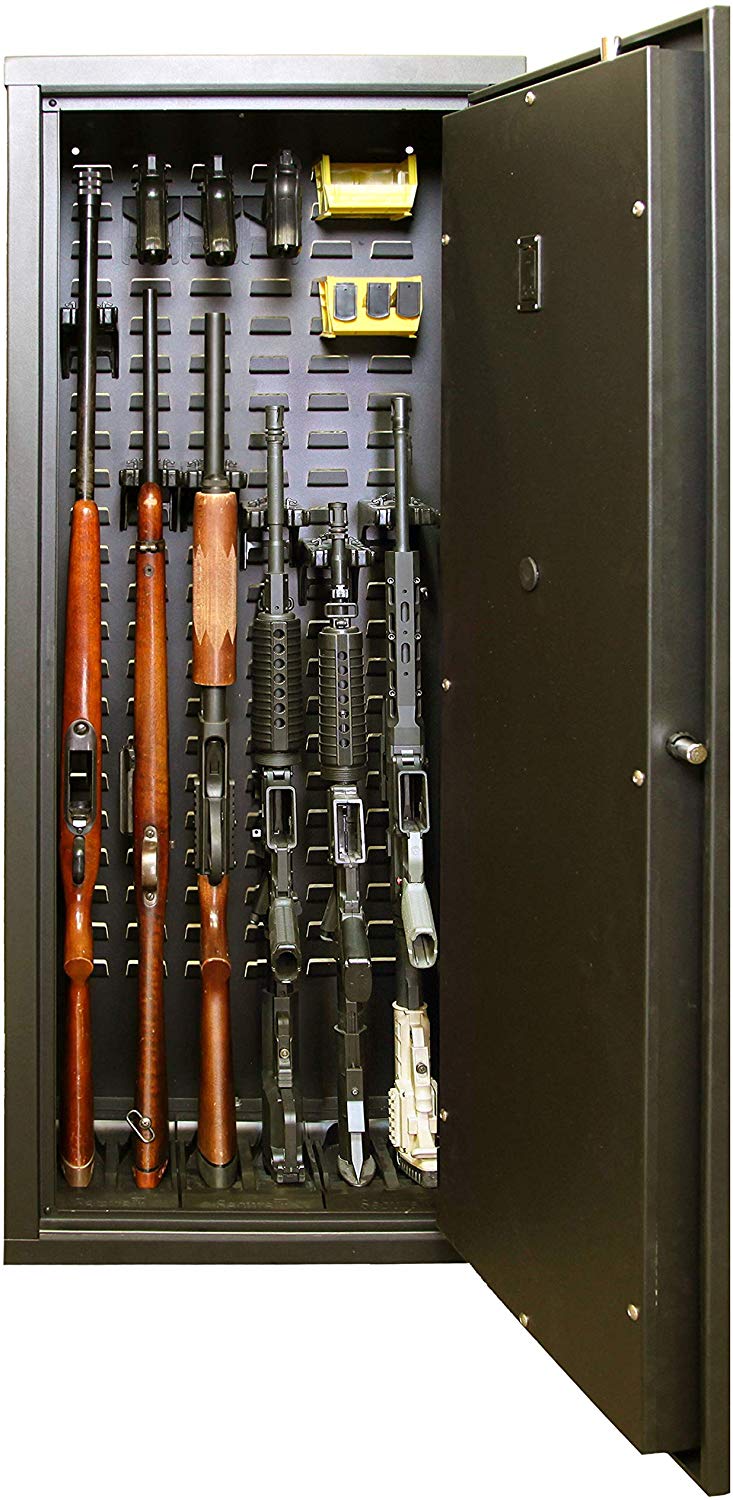 You can even add the optional bins and shelves which will help you organize all your little tools and accessories. 
While it definitely doesn't have the same level of fire protection or break-in protection as some of the pre-built safes on our list, it is, by far, the cheapest option to ship–around $70 to ship to the west coast, which is across the country from SecureIt's warehouse.
Stats:
Exterior dimensions: 52″(H) x 20″(W) x 15″(D)

105 lbs

No fire protection
There's a reason that the Winchester Ranger 26 is a really, really popular safe–it can hold most moderate-to-large collections and offers some great protection while it's at it.
It uses an electronic lock or a UL-listed mechanical lock and is RSC rated (yay!) with 12 gauge steel, so it'll stand up to a lot of abuse.
The interior gives you some good options for storing smaller things, like handguns, ammunition, valuables, accessories, magazines, and the like. It's a little tight for rifles, especially if yours have optics, but you still will have space for a good-sized collection.
Not to mention, if you order from Gunsafes.com, you get free shipping–or if you upgrade your delivery, they'll even move it into place.
Stats:
Exterior dimensions: 59″(H) x 30″(W) x 25″(D)

Interior dimensions: 55″(H) x 27″(W) x 17″(D)

602 lbs

60 minutes at 1,400 degrees fire protection
We'd be remiss if we didn't share the #1 selling line of safes in the U.S.–the Liberty Fat Boy series. Specifically, we wanted to tell you about the Fat Boy Jr. 48, which is what we recommend for larger collections.
It's made from beefy 11 gauge steel and is RSC rated all the way around–including its locks!
While it's on the higher end of the price spectrum, it's well worth it. Everything has a quality feel to it, and it's practically pretty enough to put in your living room–which you may have to do because it's not small.
Stats:
Exterior dimensions: 42″ (W) x 25″(D) x 60.5″(H)

Interior dimensions: 38″(W) x 14.5″(D) x 56″(H)

760 lbs

60 minutes at 1,200 degrees fire protection
And of course, the Winchester equivalent of the Fat Boy Jr. safe is the Big Daddy XLT 56. We're seeing a theme, here.
The mechanical lock is RSC rated and UL listed, and while the 12 gauge steel is ever-so-slightly thinner than the Fat Boy Jr.'s 11 gauge, but this safe still comes in at a whopping 1,080 pounds, so you'll get plenty of protection… and probably need upgraded delivery service.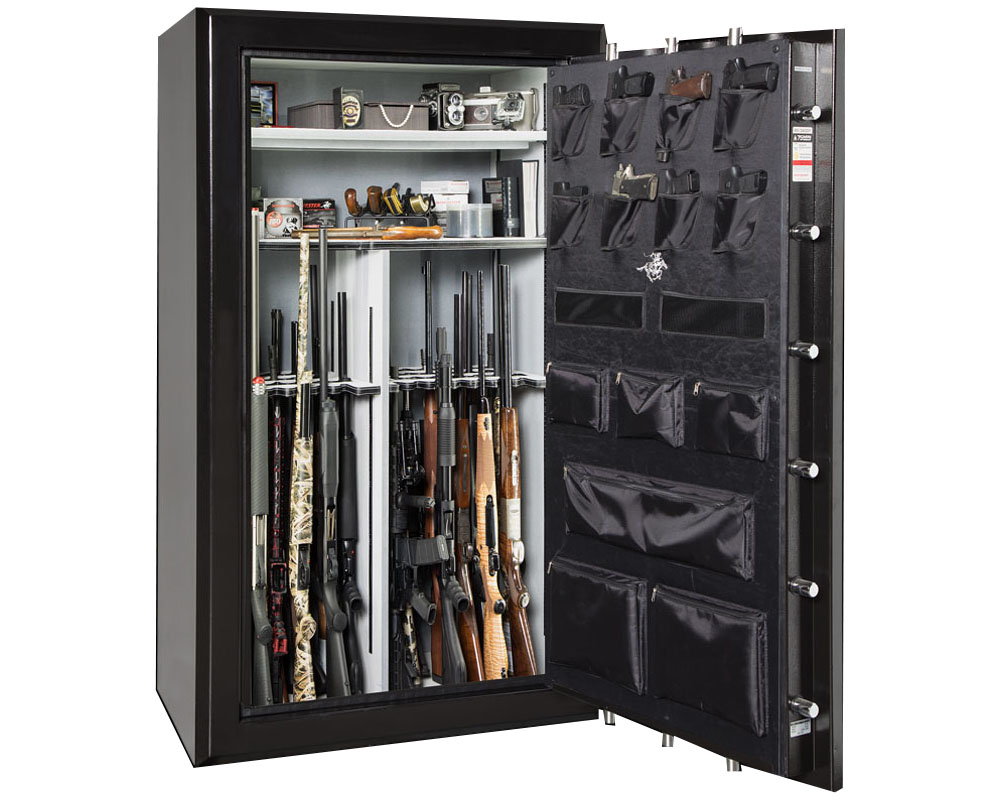 Stats:
Exterior dimensions: 72″(H) x 42″(W) x 27″(D)

Interior dimensions: 66.5″(H) x 39″(W) x 17″(D)

1,080 lbs

75 minutes at 1,400 degrees fire protection
American Security, or "Amsec," is one of the best in the business for higher-end safes, so of course, we had to include them. One of their most popular models is the American Security BF6032 18 Gun Safe, which is not only gorgeous, but has the longest fire rating on our list. 
It's RSC rated with .375" solid steel construction. Not to mention, there's a lot of customization upgrades, so you can spend a pretty penny or two on the safe of your dreams… and lots of peace of mind.
Stats:
Exterior dimensions: 59.25″(H) x 30″(W) x 21″(D)

Interior dimensions: 52.8″(H) x 26″(W) x 14″(D)

913 lbs

120 minutes at 1,200 degrees fire protection
Rhino Safes have been in the business for more than 20 years, and it certainly shows. Their hand-crafted safes blend a serious safety rating with some serious style.
They come in a range of sizes, but the Ironworks 6033 is the most popular. The inside is just as beautiful as the outside, with plenty of storage spots for everything you could possibly want to keep in there.
With thick 10 gauge steel, there's almost no need for the tons of security features, including an RSC rating, that Rhino includes… but they built it in anyways. It even has the best fire protection on our list, so it not only looks great, but performs great, too.
Stats:
Exterior dimensions:

60″(H) x 33″(W) x 27″(D)

960 lbs

130 minutes at 1,400 degrees fire protection
Long Gun Safe Upgrades
So, if you didn't get the fancy-pants safe with all the cool features (because ouch those can get expensive!), all isn't lost.
You can still get some very cool accessories to upgrade your safe and make it fit your needs.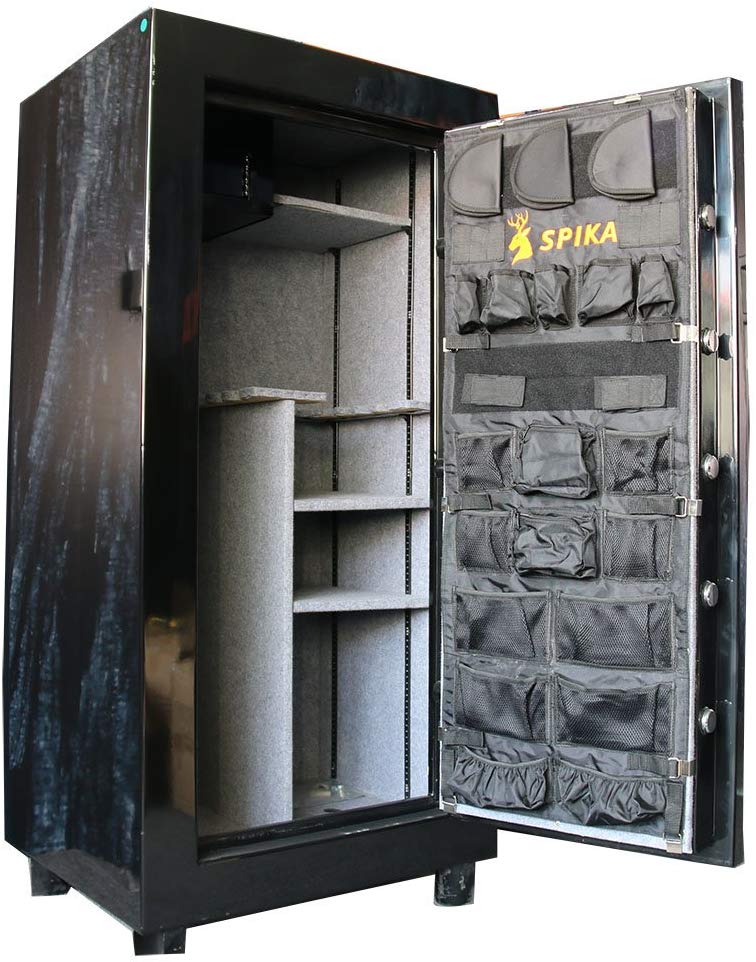 Our first recommendation is the Spika Gun Safe Panel Organizer, which fits on the door of your safe and offers you plenty of storage for handguns, tools, and accessories.
Finding it hard to keep all your pistols in one place? Handgun Hangers are nifty hooks that fit on your shelves and let you hang your pistols below the shelf. Don't forget to take some measurements, first, though!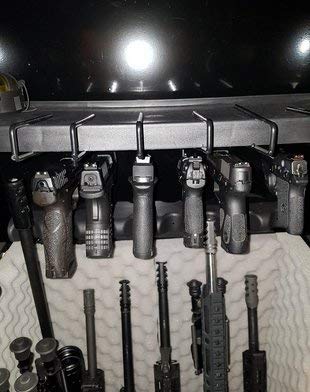 Many safes don't come with interior lights, but it can be pretty dang hard to see inside, especially in the back. LED Light Switches pop onto the wall or ceiling of your safe really easily, and offer you clean, bright light at the flip of a switch–no wiring needed.
Finally, you should look into a dehumidifier, especially if you live anywhere with even a hint of humidity. You can find renewable mini-dehumidifiers, like Eva-Dry, but you can also find plug-in safe dehumidifiers that are a lot less maintenance.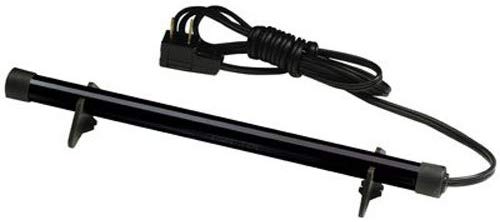 Best Hidden Safes
Sometimes, you just don't want people to know you have a gun in the room. These safes keep your gun secure and aren't easy for strangers to find.
Not to mention, they also kinda make us feel like James Bond.
Mirror mirror on the wall…
No one will look twice at the Tactical Walls 1450M, a recessed safe hidden behind a shatterproof, plywood backed mirror. When you need to access your secured belongings, all you need to do is use a magnetic key to unlock the safe and slide the mirror to the side.
You'll have to mount this safe into your wall, but it's designed to fit in a 16" gap between wall studs.
Spend most of your day at a desk or a workbench? The GunVault SpeedVault is an awesome way to store a handgun where it's easy to get to, but tucked discreetly out of the way. 
Using a four-digit code, the SpeedVault is quick to open and drops open to reveal your pistol, ready to draw and easy to grip.
Unfortunately, it won't hold an extra magazine and doesn't work with revolvers, which we think is kind of a bummer. It does, however, keep your handgun close at hand for when you really, really need it.
Best Travel Safes
Going somewhere? Don't forget to secure your firearm! In some states, you may be allowed to transport your gun in a vehicle without a safe, but others require guns to be secured–not to mention securing your guns is an important protection against baddies and curious kiddies. 
Some of the handgun safes we talked about work great in the car, like the GunVault NV300 NanoVault.
But that doesn't mean there aren't other options made just for the car!
Looking for a lightweight travel safe with a nice simplex lock? The V-Line Top Draw Simplex Safe is our pick for keeping guns secure in our vehicles.
It can be chained underneath a car seat to keep your gun just where it's supposed to be–in your car. 
One thing worth noting, it's not the fastest to open since it's a top-opening safe, so you have to lift the lid to access your gun.
Locking It All Down
No safe is impenetrable, so it's important to make sure that bad guys don't even have a chance to try and break your safe.
Here are a few tips to make it a little harder to steal your guns:
Always lock your home and your vehicle

Invest in an alarm system

Teach your children and teens (or untrained adults) not to touch your guns

Never advertise that you have guns with stickers, clothing, etc. Yes, this means your NRA bumper sticker, too.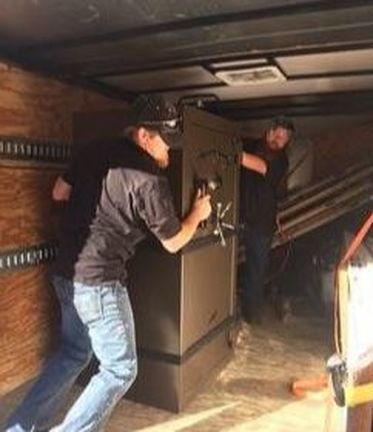 But of course, you don't want to skimp on your safe's abilities to withstand an attack, just in case. A good safe should make it just hard enough to get into that attackers won't bother or will give up before succeeding.
Any other types of safe you want to learn about? Have a recommendation or a break-in story to share? Tell us all about it in the comments. Fill your new safe with one of the best home defense shotguns!