You did it! You finally settled on the perfect concealed carry gun. It's here, and you can breathe a sigh of relief that you're finally done… right?
Your decision-making process isn't finished once you choose a concealed carry weapon–you also need a holster for it!
Fortunately, there are more concealed carry holsters currently available than ever, giving you tons of options to choose from.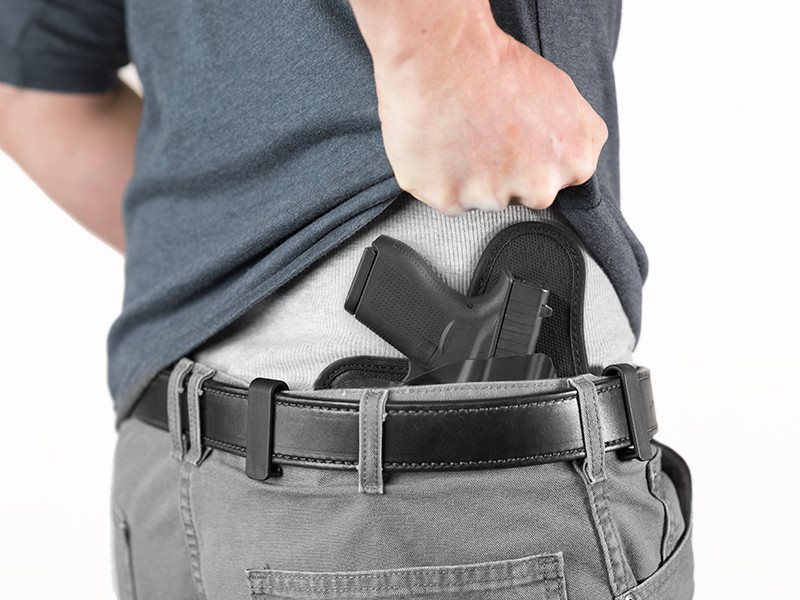 Unfortunately, that huge selection can also be overwhelming, making it difficult to figure out which holsters are good and which aren't, as well as which type of holster would suit you best. 
So it's a good thing that you have this guide. In it, we'll talk about what you should look for in a holster, then discuss the different holster times, giving you some recommendations of excellent holsters of each type as we go. 
Let's get down to it. 
What to Consider
On top of, you know, just holding your firearm for you, your holster plays a few other important roles.
It needs to protect your firearm, prevent accidental firing, and allow you to quickly and easily draw your CCW, all while being something you don't mind wearing.
To make sure your holster can do all those things, look for concealed carry holsters with the following qualities:
Comfort
If your holster isn't comfortable, you're less likely to wear it or you might take it off partway through the day (do you have somewhere secure to store your weapon if you do?). If you do wear it, you'll end up being distracted by it all day. Just get a comfortable holster.
Your holster should feel secure and shouldn't shift with movement. 
You may have a personal preference or dislike for particular holster types and different body types can have issues with different types of holsters. 
Choose a holster that doesn't rub or chafe, as even slight rubbing can lead to irritation after a few hours. This can especially be a problem with holsters made from harder materials.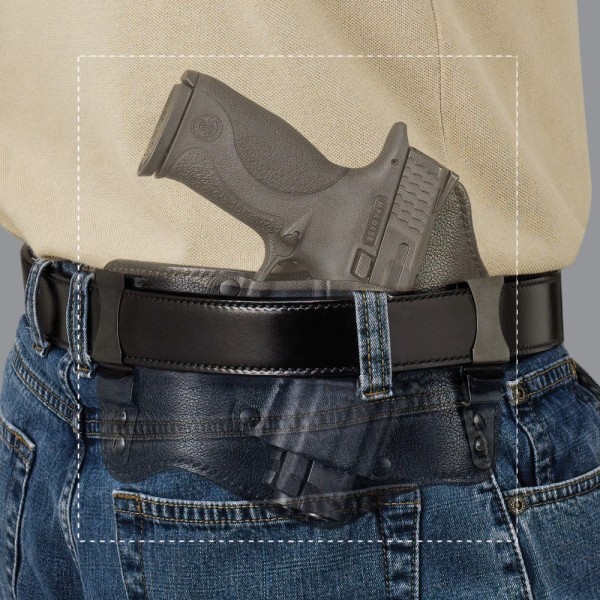 A padded backing can help with this. So can wearing an undershirt, but it won't totally solve it with all holsters and you'll have to decide whether or not you're okay with wearing an undershirt whenever you carry.
If you live in a warm climate or even just somewhere that gets hot during part of the year, you may find the extra layer too hot. 
And speaking of heat, breathability is a huge advantage for holsters that make a lot of skin contact.
In addition, some holsters can damage clothing, such as metal clips wearing holes in shirts or damaging belts/waistbands with their teeth. If you're going to be upset if favorite articles of clothing are damaged, you might want to opt for a gentler alternative, such as plastic clips.
Concealability
Obviously, you need to be able to conceal your concealed carry holster.
Exactly how easy it is to do that depends on your body type, the type of holster, and the clothing you typically wear. As a general rule, though, the larger the holster and the smaller your frame, the harder it is to conceal.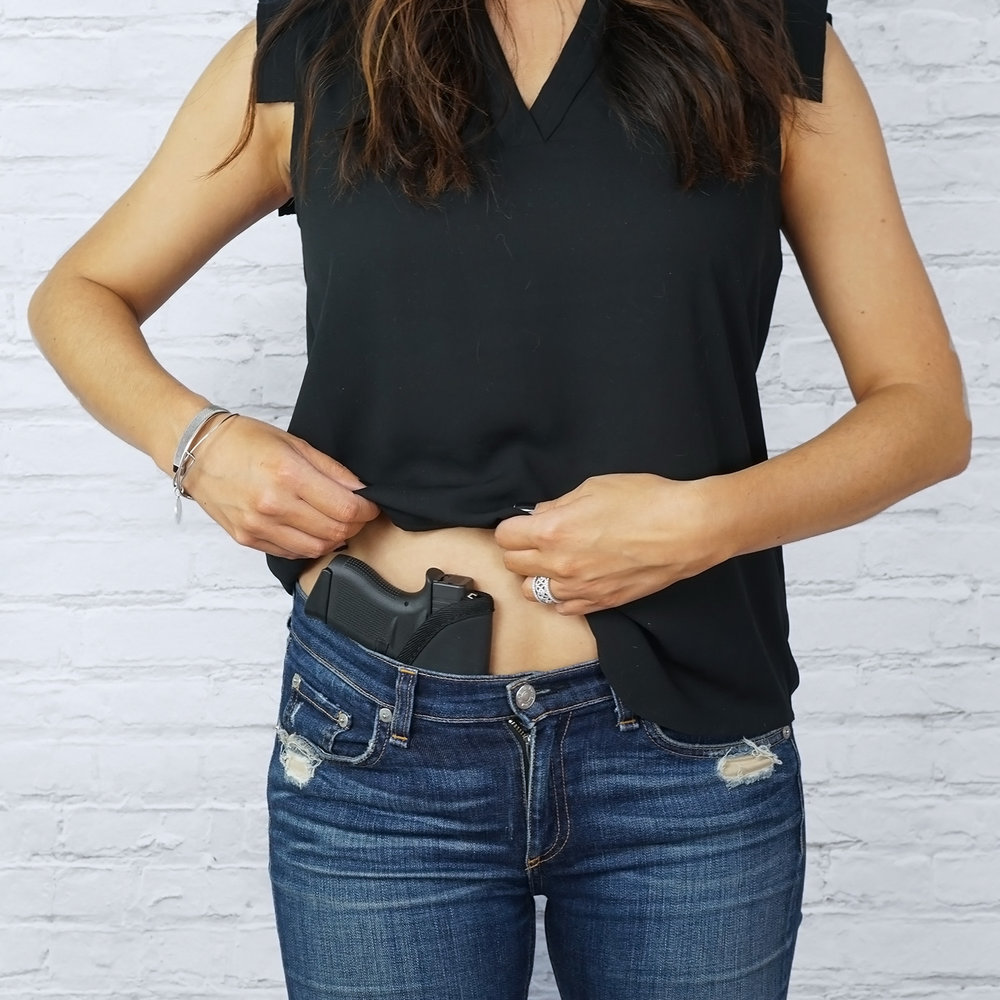 We'll talk a little bit about how easy it is to conceal each holster when we discuss them below.
Protection
Your holster needs to be constructed from a sturdy material to protect your gun.
Leather or a polymer like Kydex are both great options that are easy to find, but there are also holsters made from other rugged, protective materials like thick nylon. 
Be careful with holsters made from hard materials– though they offer more protection from external damage and are generally custom shaped to your gun, they can also scuff your firearm themselves. Look for ones lined on the inside with a softer material.
Some holsters are made of multiple materials to balance comfort and protection. For example, holsters with a Kydex shell on a leather panel (or a Kydex panel with leather backing) are common. 
Retention
No matter which way you turn your holster, your gun should stay securely in place. 
Generally, retention is guaranteed either through a retention strap that fastens over the back of the gun, or through friction, which is typically adjustable with a screw.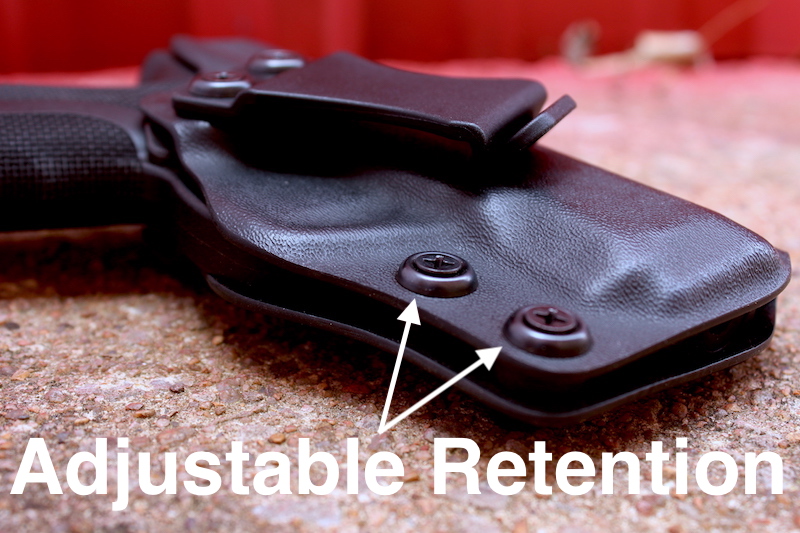 If a holster has adequate retention, it only releases your gun when you pull it, but does not make it overly difficult for you to do so. 
Trigger Coverage
Your holster needs to fully cover the gun's trigger with a sturdy material like we discussed above in order to avoid accidental discharge. 
Not every holster does this, but there are plenty that do and there's absolutely no reason to put that risk on yourself and others. It's your responsibility to be safe.
Grip
Your gun should allow you to quickly and easily get a positive grip on your weapon.
That just means that you should be able to remove your gun from the holster with one hand, ideally either hand, and be immediately ready to shoot, regardless of position.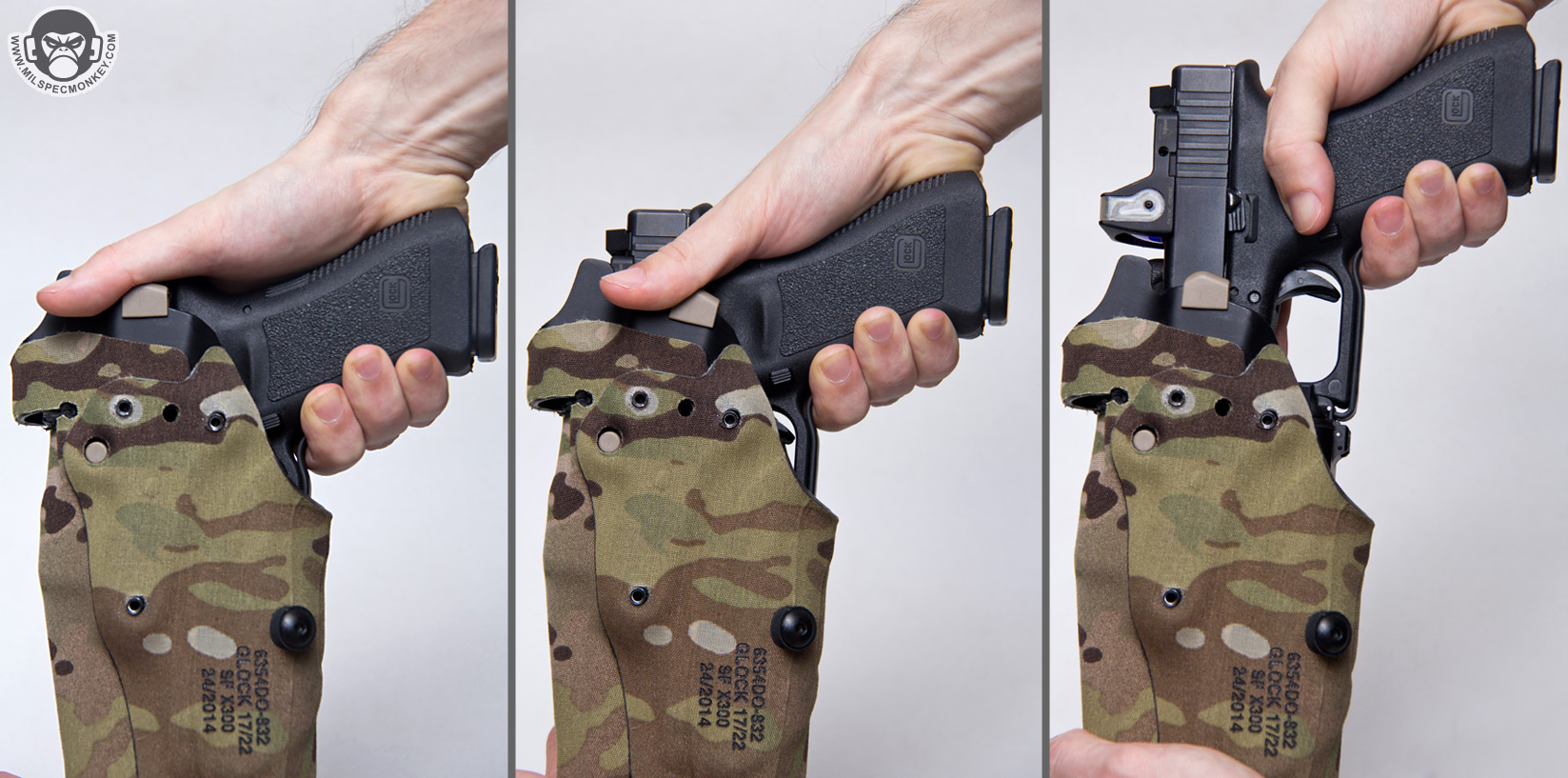 If your holster doesn't allow that, you need to get a new one. The cost to replace it isn't worth the risk to your life should you need to defend yourself.
This isn't a substitute for training though. You should still drill with your holster and gun so you can act as quickly and effectively as possible.
OWB Holsters
OWB (Outside the Waistband) holsters are exactly what they sound like. They attach to your waistband or belt and sit on the outside of it. 
OWB holsters don't typically make great concealed carry holsters because they're difficult to conceal. They can't be worn with a tucked-in shirt unless you have a jacket over it, but even with a jacket you have to be mindful to keep the holster covered by that outer layer.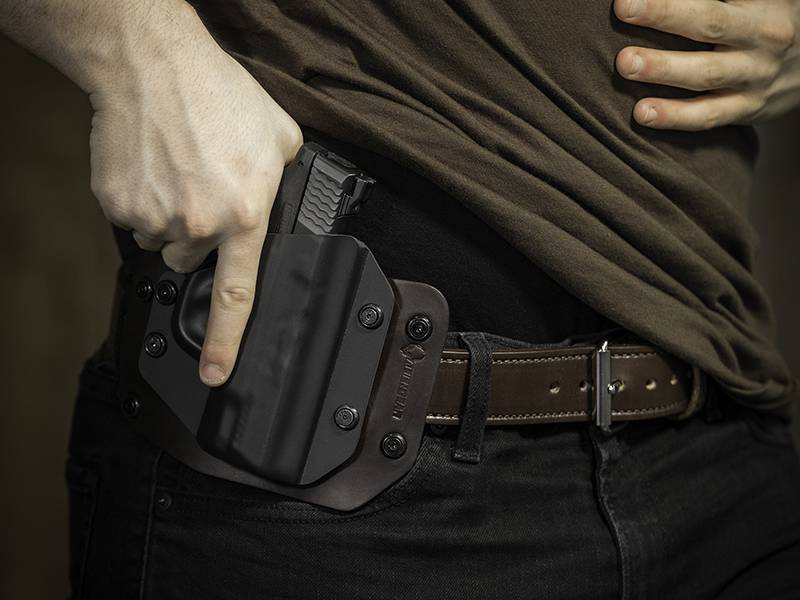 You can't take it off or even let it move too much out of position. OWB holsters also tend to print easily because they don't fit as close to the body as other holsters and the waistline doesn't do a lot to help disguise it.
On the other hand, sitting farther from the body means OWB holsters tend to be more comfortable, since there's less skin contact for poking or rubbing, and gives you more room to get a strong, reliable grip, so you have to decide if it's worth the advantages.
If you opt to go with an OWB holster, there are a bunch of really great options, but here are a couple of our favorites. 
This Kydex holster can be worn as a paddle holster (the configuration it comes in) or you can swap the paddle out for the included belt slide.
You can also swap out the shell for any Alien Gear shell, so if you carry different CCWs from day to day, you can use the same holster for all of them (assuming Alien Gear has a shell for them).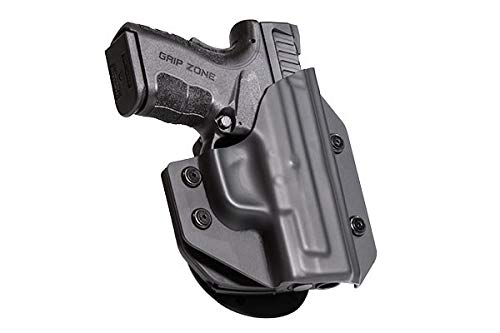 Alien Gear Cloak Mod Holster
Pros
Adjustable cant
Sturdy Kydex construction
Interchangeable with other Alien Gear products
Cons
Can be difficult to attach to your belt
It also has adjustable retention and cant.
This holster has similar versatility to the Alien Gear Cloak Mod, but in leather.
It attaches with a belt clip, so it can actually be worn on the inside or outside of your waistband, and since there's relatively little to the DTOM Universal holster, it's a lot lower profile and easier to conceal than a Kydex holster. It's also ambidextrous and universal, so you can use it with virtually any handgun.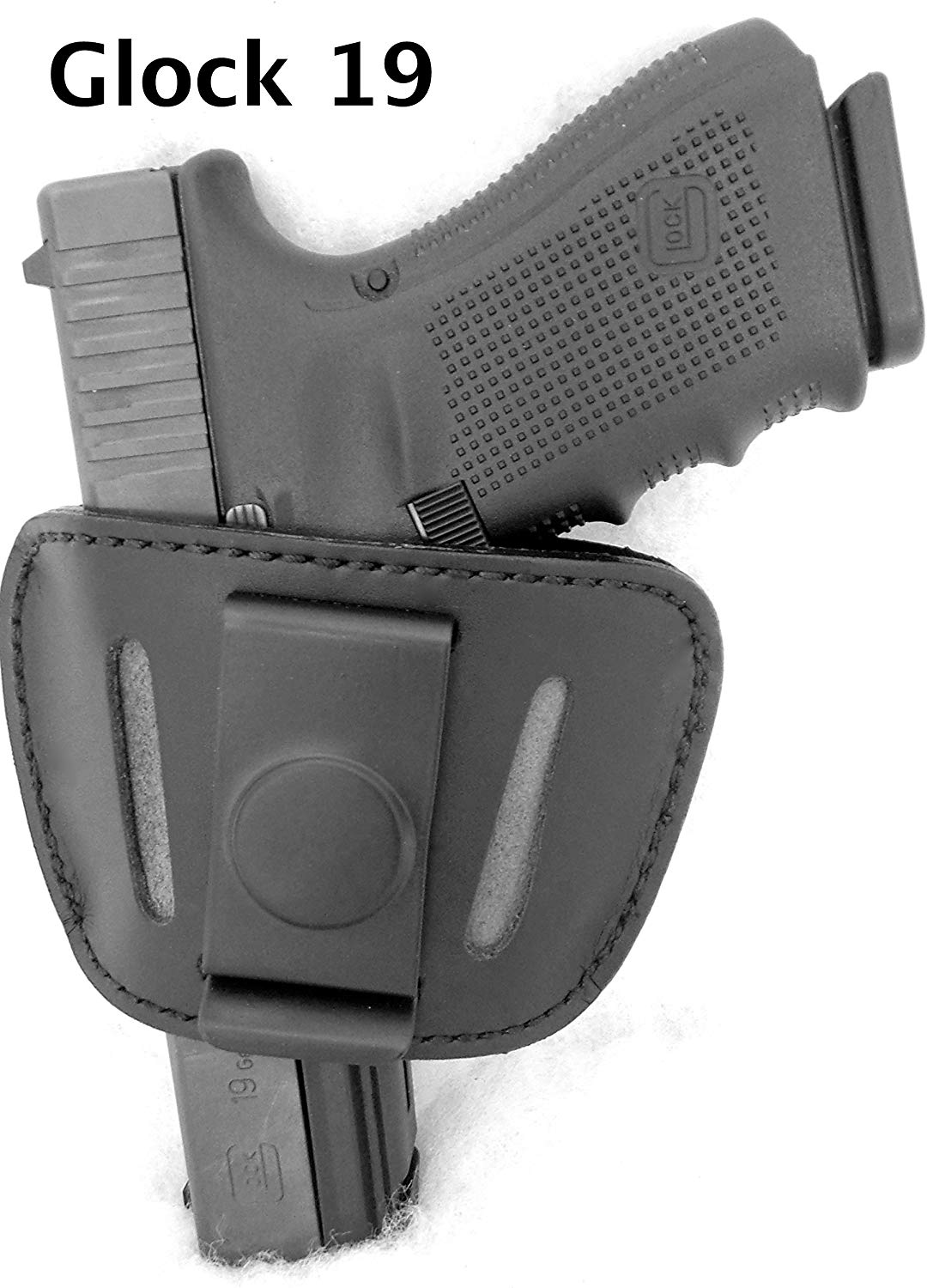 Don't Tread On Me Universal IWB/OWB Holster
Pros
Ambidextrous
Versatile
Premium leather
The tradeoff is retention. While it's fine for most people's day to day activities, it won't stand up during high levels of activity.
IWB Holsters
The fraternal twin of the OWB holster is the IWB, or Inside the Waistband, holster, which is also by far the most popular holster type for concealed carry.
IWB holsters attach to your waistband and rest between your pants and underwear. This keeps your gun close to your body, which makes it much easier to conceal and even helps somewhat with retention, but also makes it harder to good a positive grip on your gun.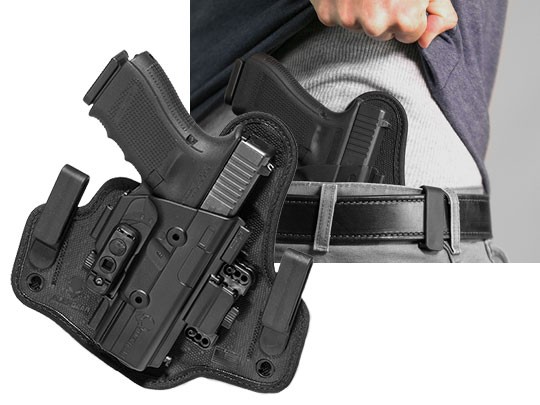 Fortunately, that's a problem that can be fixed with training, which you should be doing regularly with your CCW anyway.
The other disadvantage of IWB holsters is that they can rub, but you should be wearing a layer underneath them anyway.
The Cloak Tuck 3.5 is one of the most widely recommended IWB holsters, as was the previous iteration, the Cloak Tuck 3.0.
Like the Cloak Mod, it's a Kydex holster with adjustable cant and retention level, but the Cloak Tuck also has adjustable ride height.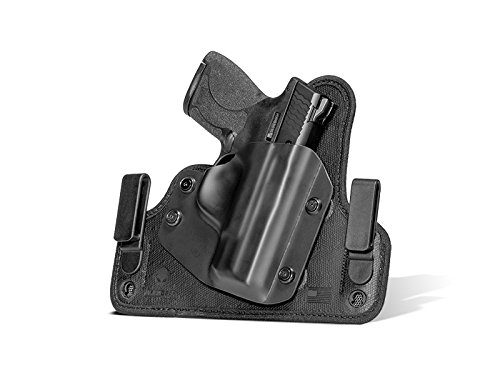 Alien Gear Cloak Tuck 3.5 IWB Holster
Pros
Adjustable cant, ride height, and retention
Neoprene and Kydex construction for comfort and durability
Paddle-style holster for secure wear
Cons
Plastic belt clips can be hard to fit over a thicker gun belt
A neoprene panel on the back of the holster helps keep it comfortable and two plastic clips help keep the holster securely in place.
Concealment Express is another one of our favorite holster manufacturers, and this is one of our favorite holsters from Concealment Express.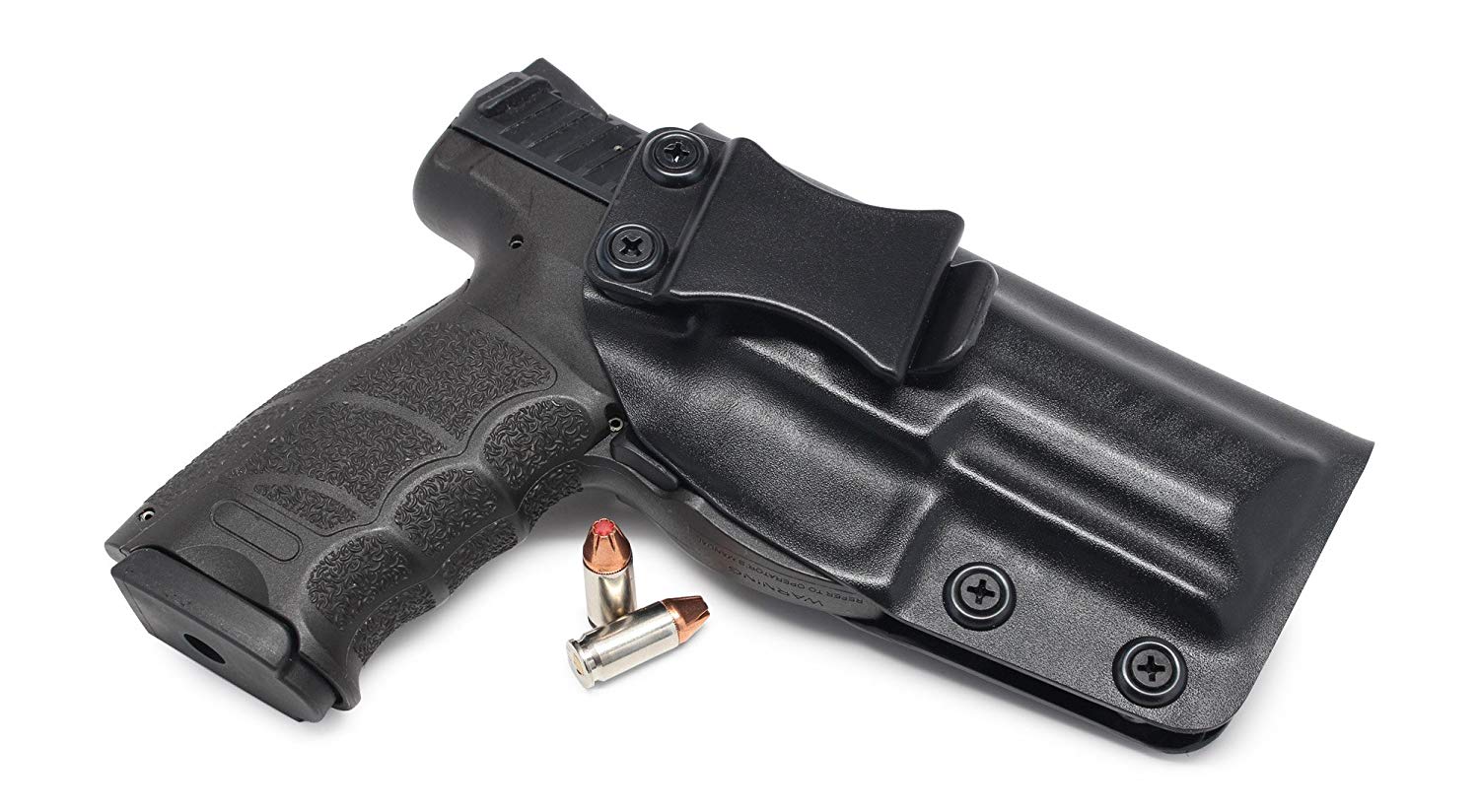 Concealment Express IWB Kydex Holster
Pros
Affordable
Posi 'Click' Audible Retention Lock System
Sturdy Kydex construction
Cons
Limited options on accessories that fit the holster
With a low profile and lightweight construction, this holster is comfortable and discreet. It has a single plastic clip for attaching to your belt and that's all it needs.
Belly Bands
Belly Bands are at least somewhat stretchy bands that wrap around the torso. Despite the name, you can wear them as high or low on your torso as you'd like and your clothing necessitates. They're most frequently worn at around the same level as your waistband though.
You can also switch between appendix, small of back carry, cross draw, or behind hip carry simply by rotating the band around you.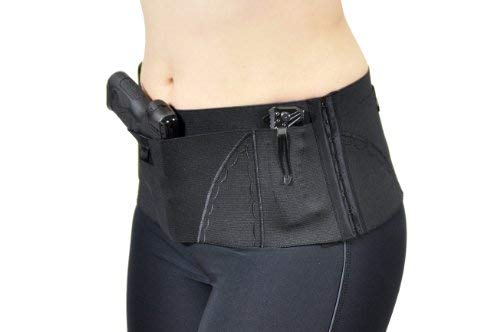 They add very little bulk, which is great for concealment, and they frequently have extra pockets for magazines or flashlights, which is very handy. They also eliminate the need for a belt, which makes them great for physical activity and other times when a belt is not wanted or practical. 
The flexibility of the material can make belly bands more comfortable than other types of waistband holsters, but they can also be prone to rolling. 
Because they cover so much skin, things can get sticky underneath, but choosing one that's more breathable can help with that.
This belly band is made of soft neoprene for comfort and breathability and is adjustable for waistbands up to 44 inches. It fits handguns in pretty much all sizes from full size to subcompact. 
It has an additional integral pocket, which can be used to store odds and ends like cash, cards, a cell phone, a spare mag, or a knife, as well as a removable and repositionable mag pouch.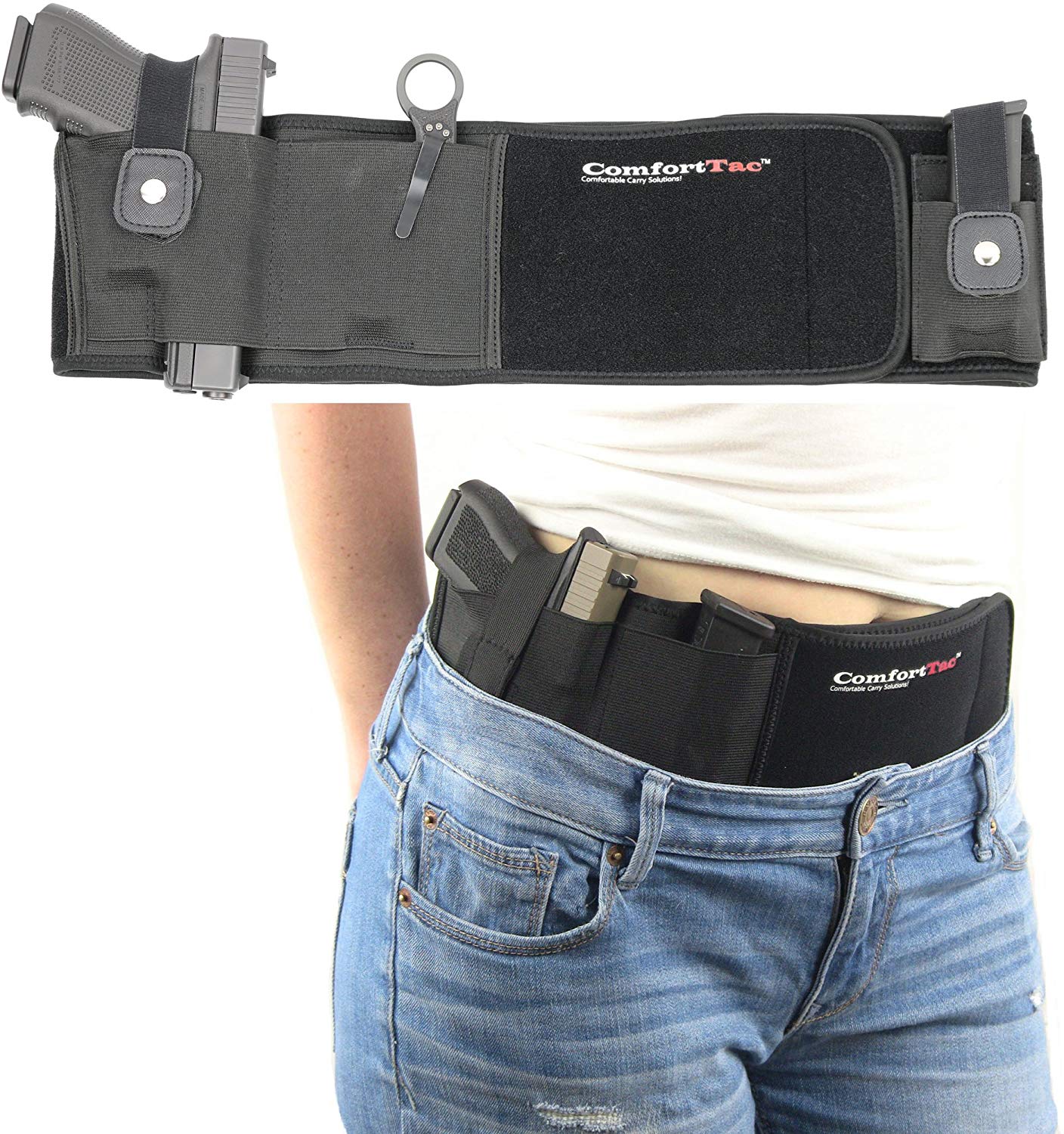 ComfortTac Original Ultimate Belly Band Holster
Pros
Soft, comfortable neoprene band
Universal fit
No belt needed
Your gun is held in place by a retention strap with a snap.
This belly band offers more trigger protection with a Kydex holster and the elastic band itself wraps both under and over the gun to provide additional support. The holster is a CrossBreed modular holster which can be detached and used with several other CrossBreed holster systems.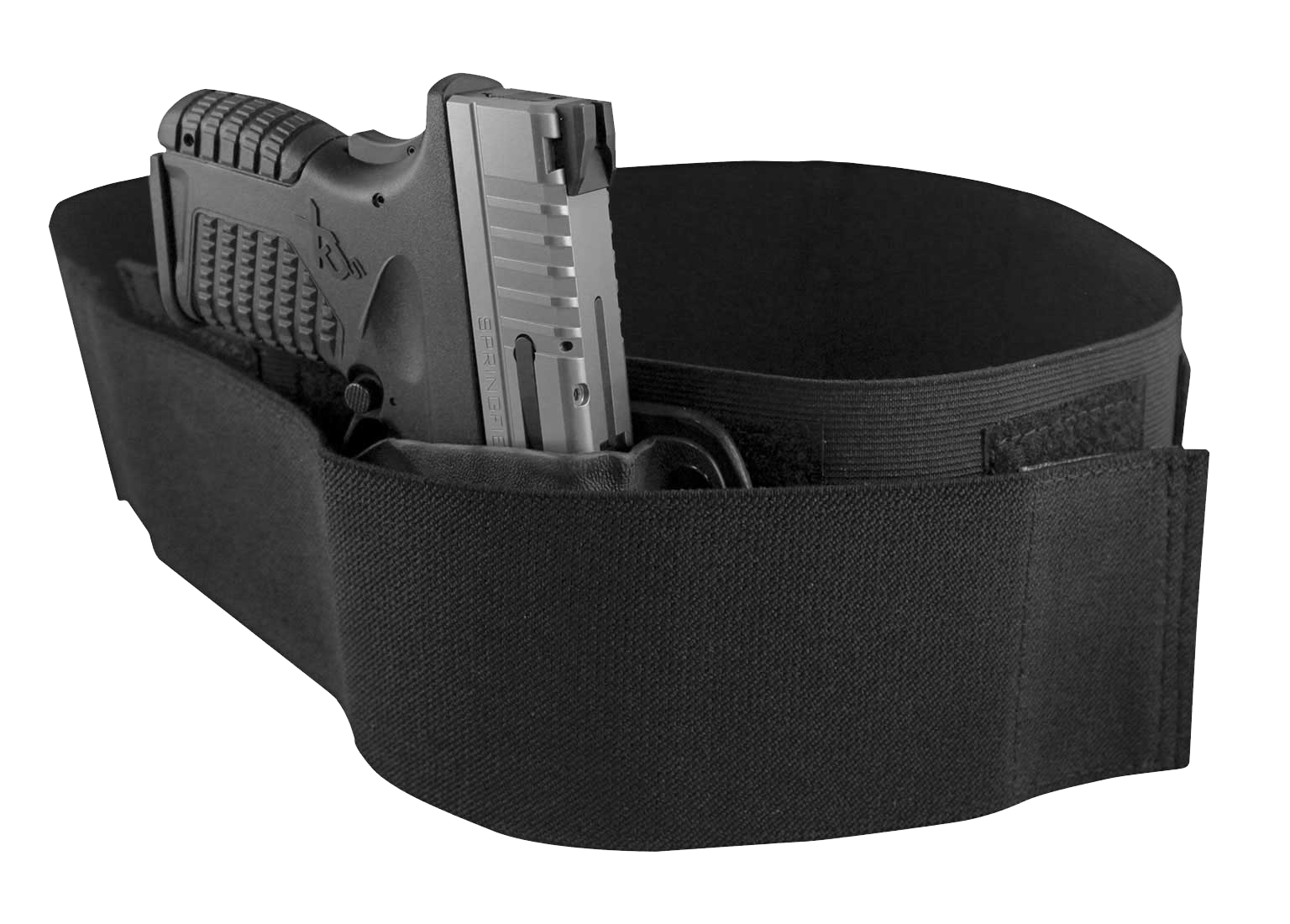 CrossBreed Modular Belly Band
Pros
Kydex and elastic construction
Magazine or flashlight pouch
Highly adjustable
You can also get a Kydex magazine holster separately to add on to this belly band but it already incorporates a sewn pouch perfectly sized for a magazine or flashlight, as well as a horizontal hook-and-loop closure accessory pouch.
Ankle Holsters
Ankle holsters keep your gun kind of out of the way, so they're not typically the first choice except for backup guns or when waistband carry isn't feasible. 
Some ankle holsters can tug on leg hair. You can wear a sock underneath, but this makes the holster more likely to slip, an issue that ankle holsters can be prone to anyway without any extra assistance.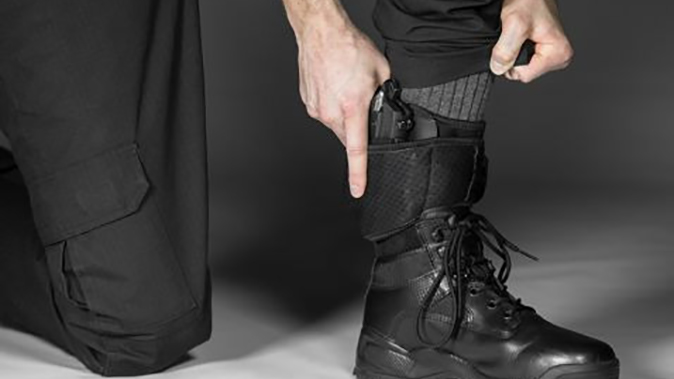 As long as you avoid tight pants and match your gun size to your frame size, printing is not usually an issue, and ankles aren't most observer's first place to check for a gun anyway. Just remember that your pants leg tends to rise a couple of inches when you sit and that your holster is placed accordingly.
Whoever Uncle Mike is, he knew what he was doing when he whipped up this ankle holster.
It has a velcro adjustable wrap-around design with an elastic calf garter to ensure a secure fit. Padded backing ensures comfort. The holster can be worn on either the inside or outside of the leg.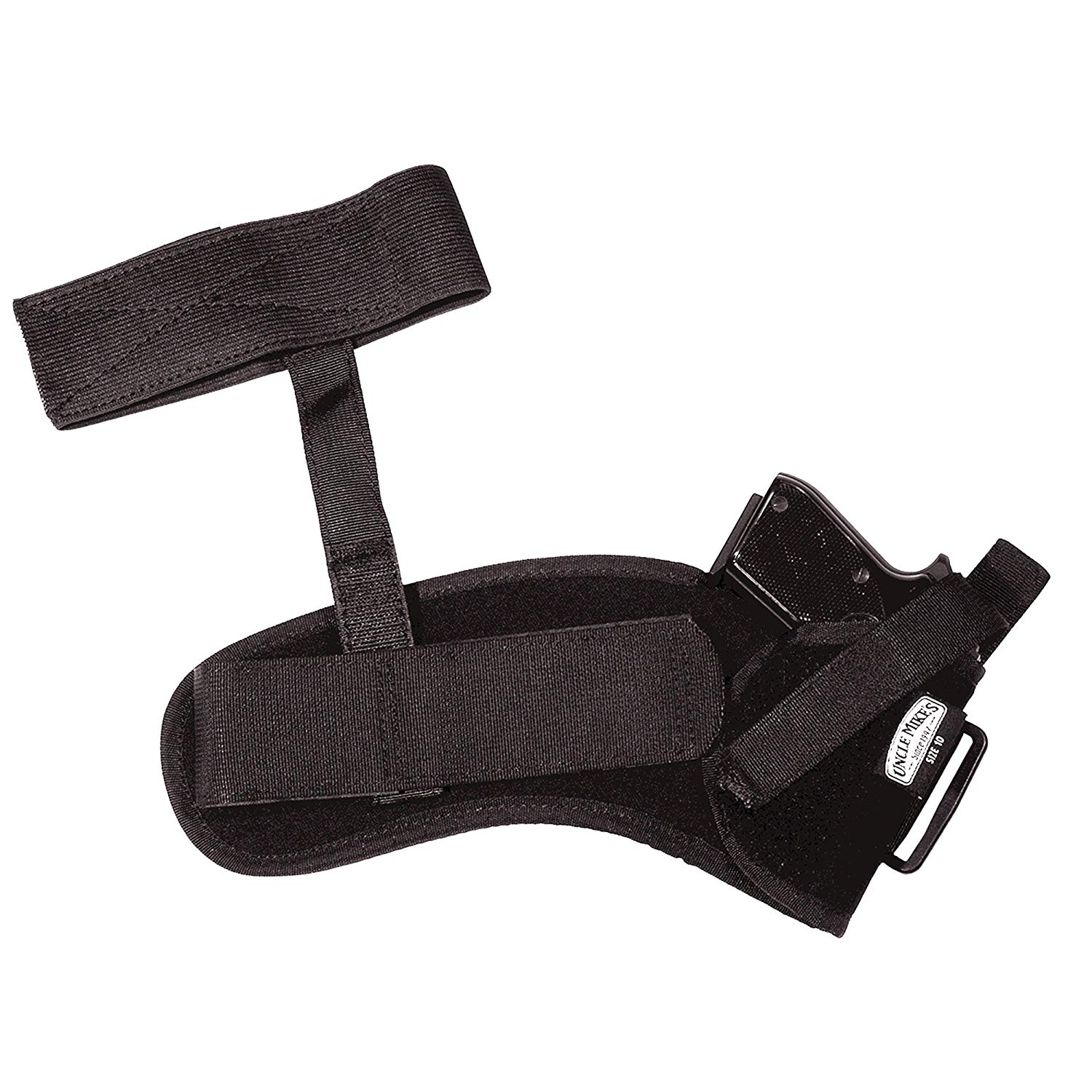 Uncle Mike's Nylon Ankle Holster
Pros
Padded backing for comfort
Nylon retention strap with reinforced thumb break
Can be worn on the inside or outside of the leg
Cons
Difficult to conceal on smaller frames
A nylon retention strap with a reinforced thumb break keeps your gun securely in place in the holster.
Don't let the brand name fool you: Femme Fatale Ankle SoxXx come in styles for both sexes.
They're also not really socks, more like elastic sleeves that you slide over your ankle. They have a five-inch gun pocket, backed by a plastic shield which supports the gun in the holster and prevents uncomfortable rubbing.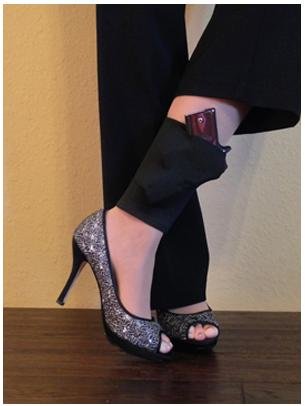 Femme Fatale Ankle SoxXx
Pros
Available with retention strap
Variety of colors to blend under your clothes
Men's and women's sizes available
Cons
Not all varieties available with a retention strap
They come with or without a retention strap, but we suggest getting one with a strap, especially since ankles tend to find themselves moving frequently and positioned in a wide variety of angles. They also come in black, white, and nude to help them blend in with your socks or skin.
Shoulder Holsters
Some shoulder rigs loop over just one shoulder (usually kept more securely in place with a tie-down that attaches to the wearer's belt), but for the most part, they extend over both shoulders like backpack straps without the actual pack. 
The holster itself is typically against your rib cage on your support side (the side opposite of your strong hand, or the hand you shoot with).
It's a favorite of plainclothes law enforcement officers and can be spotted frequently in police shows and spy movies.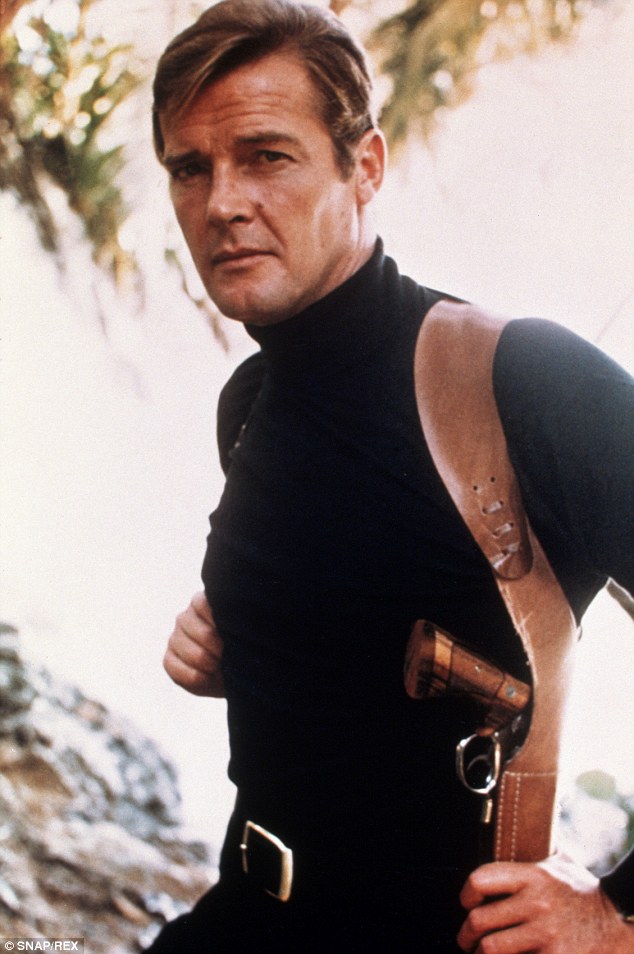 It looks pretty badass and positions your gun quite conveniently, but at the cost of some major downsides.
For one, retention can be a major issue, but a good shoulder holster will have some sort of retention device. The other problems aren't so easy to solve. 
Shoulder holsters only conceal as long as you have a layer over them, so you can't remove your jacket no matter how toasty you get. Similarly, shoulder holsters frequently result in sweat marks on your shirts.
Finally, inherent to their design, shoulder holsters mean you're muzzling whoever's behind you, and it's almost unavoidable to muzzle other bystanders as you draw. 
This is the sort of old-school leather shoulder holster you see in movies and tv shows and it's made by Galco Gunleather, so you know it's a high-quality holster made from high-quality leather.
The holster comes in left- and right-handed versions. In both, the weight of the gun on one side is balanced by a spare mag holster and gear loop on the other side to keep the holster comfortable and in place.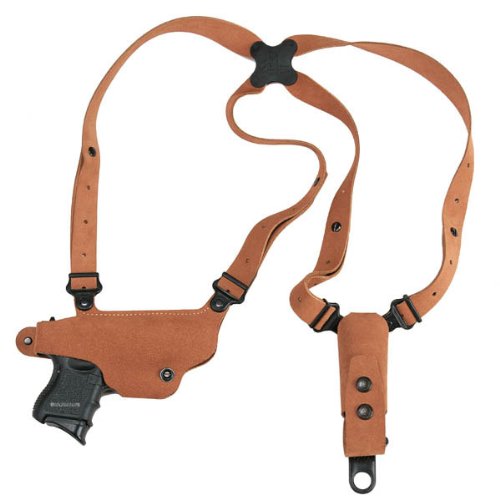 Galco Gunleather Classic Lite Shoulder Holster
Pros
Snap closure retention
Left- or right-handed configurations available
Magazine holder and gear loop
The shoulder straps are adjustable and the holster is compatible with Galco tie downs that attach to your belt to further help keep the holster in place, as well as other Galco harness system accessories like a cuff case and additional mag pouches.
The snap retention keeps your gun securely in place as well.
This one is a more modern take on the shoulder rig. It's made from lightweight, durable, rugged, and waterproof nylon.
Padded shoulder straps and an adjustable design keep the holster system comfortable and help you get exactly the right fit.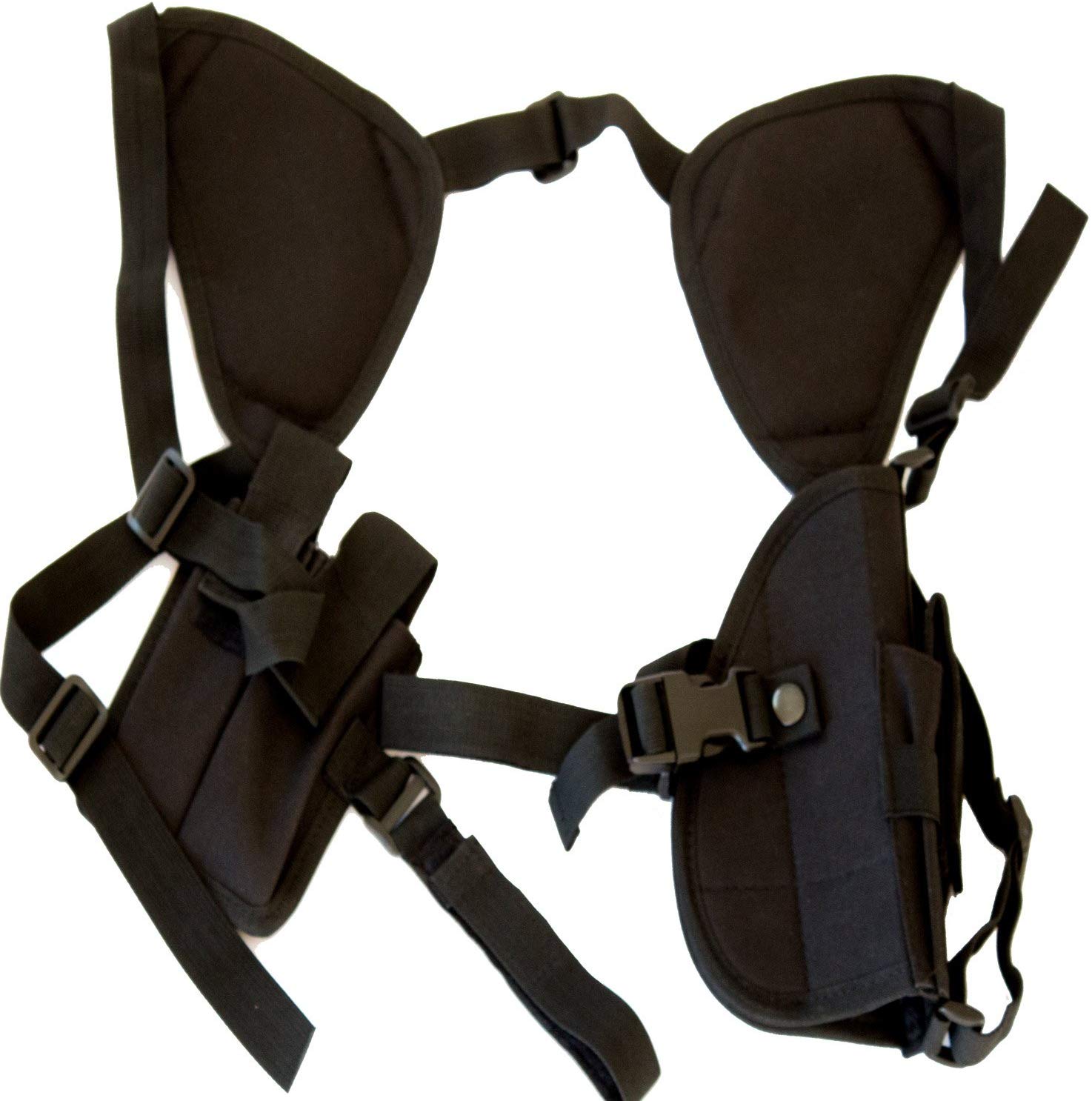 Under Control Tactical Concealed Carry Shoulder Holster
Pros
Padded shoulders
Magazine pouchs
Waterproof nylon
Cons
Fits large guns well, but smaller guns get "lost"
Like with the Galco shoulder holster rig, this rig is kept balanced by a pair of extra pouches sized for spare mags or a flashlight on the side opposite the holster itself.
Parting Shots
These are the main holster types, but not the only ones. 
There are also thigh holsters, pocket holsters, bra holsters, off-body holsters that can be concealed in a bag, and even clothing with integrated holsters, so don't be afraid to explore your other options as well.
It's always a good idea to try out a few different options to see what you like the best.
All of the holsters we've talked about here will do a great job though. 
No matter what holster you go with, it's essential that you regularly drill with it to make sure that you're ready and capable when it comes down to the wire and you need to defend yourself.
Ready to start carrying?
If you're still in the research phase, check out the Best New CCWs to get some ideas about what kind of handgun you'd like to carry. If you've already checked that box, you might want to look at our comparison of the Top Five Concealed Carry Insurance Plans.
So what's your favorite CCW holster? Do you have questions about CCW holsters that we didn't answer here? Hit us up in the comments to let us know. And don't forget that you need a good, strong belt, so be sure to check out the Best Gun Belts too.