Choosing a fantastic concealed carry weapon can be a fun challenge, but it can also get frustrating. Some of the old standards may not work well, but if you don't know what else is out there, you may feel stuck with a gun that just isn't a great fit.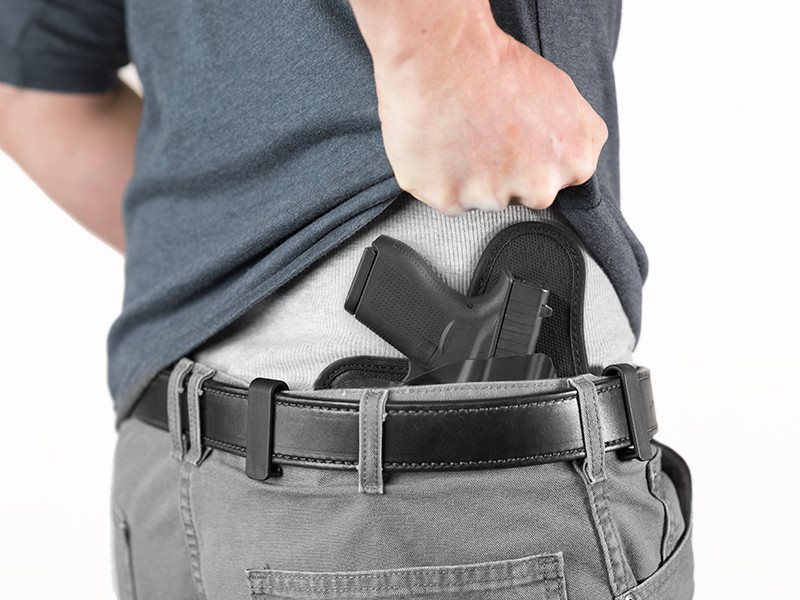 That's why we thought it was high time to take a look at some of the new CCWs on the market.
We've rounded up a few of our favorite concealed carry pistols that have been released in the past two years. Whether you are totally new to guns or are an experienced shooter considering adding to your collection, all of these pieces are excellent options.
Ready to see our favorites? We can't wait to show you!
The 9mm version of the Springfield Armory XD-E is one of the oldest guns on this list, released in early 2017. It quickly got a lot of hype, and firearms enthusiasts both in and outside of the industry were excited for the release of the XD-E chambered for .45 ACP in the following November.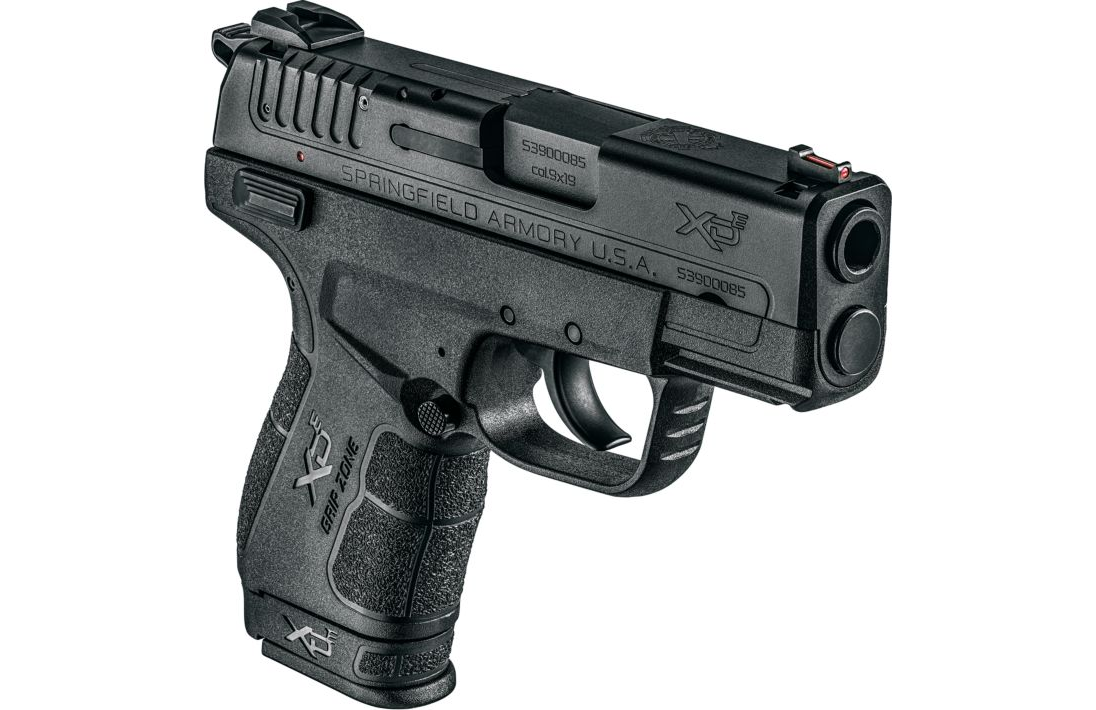 Springfield Armory XD-E 9mm
Pros
Ergonomic design reduces fumbling and fatigue
Dual-spring recoil system and Low Effort Slide for easy shooting
Available in 9mm and .45 ACP versions
Cons
A little large for a small CCW or pocket gun
Both the 9mm version and the .45 ACP version are excellent options if you're interested in a hammer-fired pistol.
The 9mm version is very easy to shoot, and Springfield Armory has taken steps to ensure that the .45 ACP version is the same way. It has a dual-spring recoil system and a Low Effort Slide, making it a great choice for those with lower hand strength.
Springfield Armory also gave the pistol's hammer an ergonomic shape to make it easy to find without fumbling in any conditions, even in high-pressure, time-sensitive situations. The hammer also features an aggressive texture to prevent slips and make it easy to hold on to the hammer once you've made contact with it.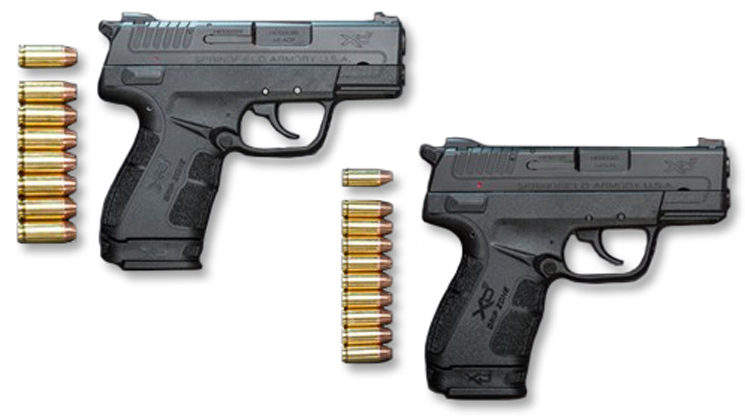 These factors, combined with the extra stopping power of the .round, make the .45 ACP version of the Springfield Armory XD-E series an ideal concealed carry weapon.
The 9mm version is no slouch either, but many people carrying for defense prefer the higher powered round.
In fact, Springfield Armory has stated that development of the .45 ACP version was in direct response to feedback that the company got from their customers, who said that they liked the form factor of the 9mm version, but wanted an iteration with the stopping power of the .45 ACP round.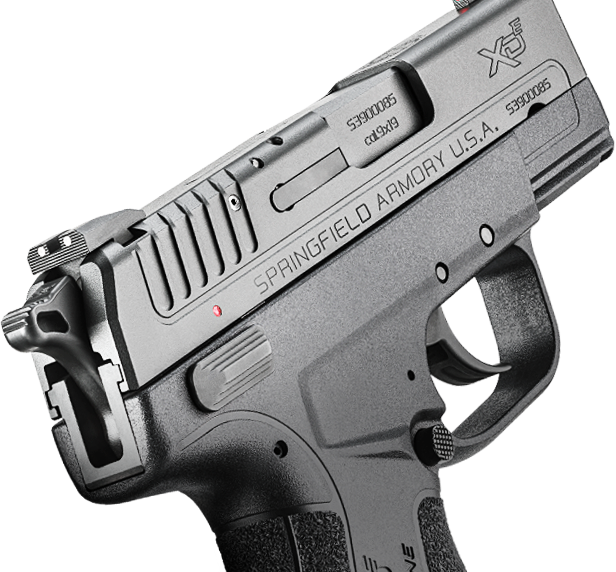 Both versions of the XD-E have excellent reputations for accuracy and reliability and make it easy to get a close spread every time. They're truly a joy to shoot.
The Gen 5 Glock 19 is a little bit younger than the XD-E, having been released towards the end of 2017.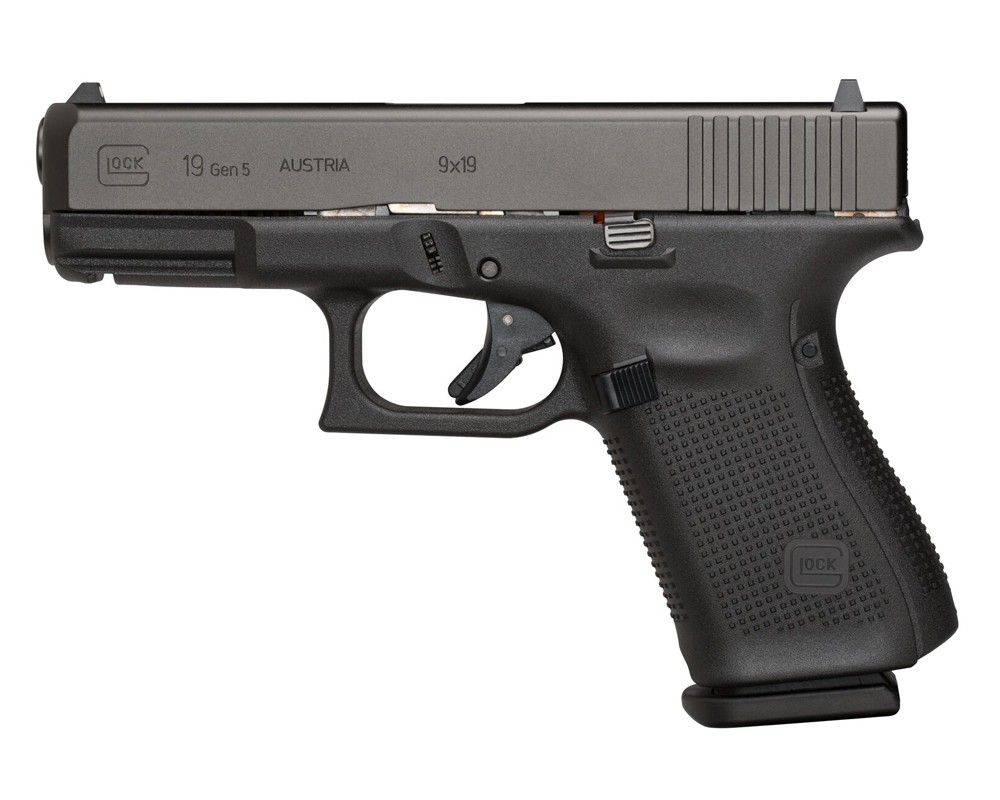 Glock 19, Gen 5 9mm
Pros
Redesigned from the Gen 4 for better comfort and reliability
Flared mag well for faster and easier reloads
Glock Marksman Barrel with improved rifling
Cons
Low capacity compared to some competitors
Glock is, of course, a time tested brand and the Glock 19, in particular, has been one of the most popular, if not the most popular, defensive carry pistols since it was released three decades ago.
The popularity isn't surprising. After all, the Glock 19 is a lightweight and affordable compact pistol, but still manages to be reliable, accurate, and all around high quality.
The Gen 5 version of the Glock 19 only improves on the quality of the previous thirty years. In fact, Glock boasts that the Gen 5 Glock 19 has more than 20 different upgrades from the Gen 4 version.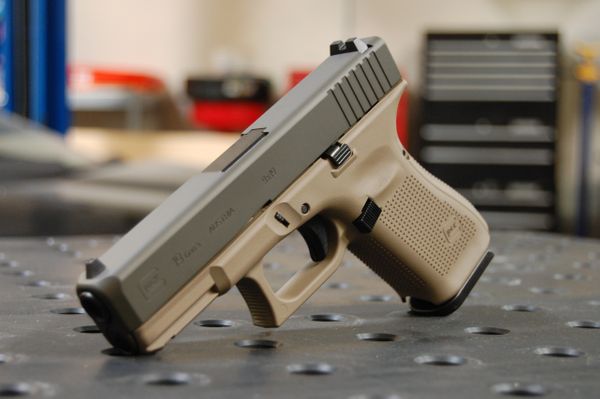 Among these upgrades, Glock says that there are five that are the most distinct:
A proprietary nDLC finish to make the Glock 19 stand up better to wear and tear,

A new Glock Marksman Barrel (GMB) with new and improved rifling and crown for enhanced accuracy,

No more finger grooves to improve the comfort and grip,

A flared mag well to make switching out the magazine quicker and easier, and

An ambidextrous slide stop to make the pistol more left-hand friendly.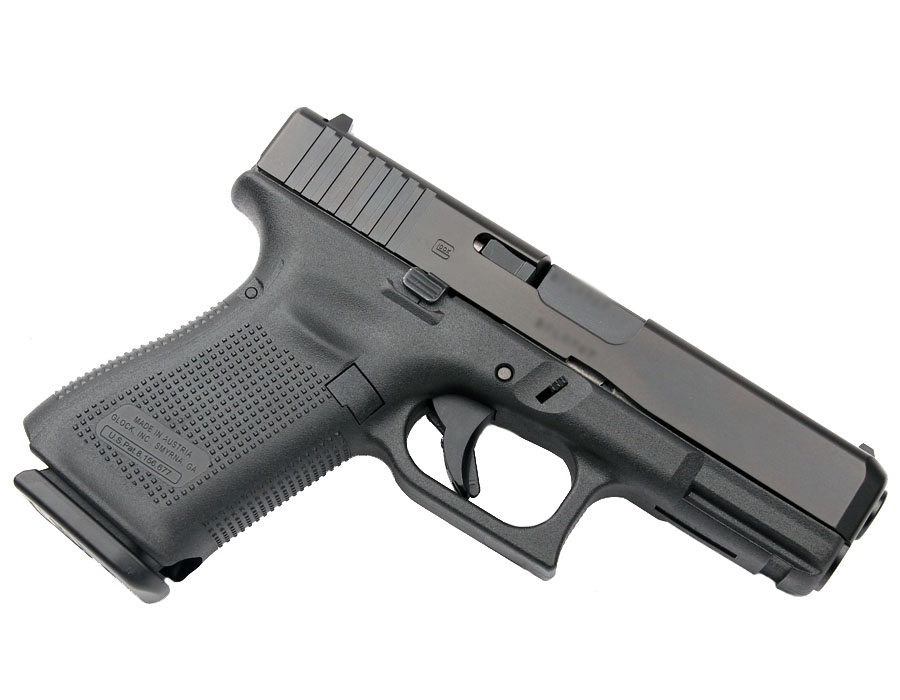 Another huge advantage of Glock's pistols, especially the Glock 19, is the unparalleled market support. Even if there is something about the Glock 19 that you don't like, you're basically guaranteed to be able to fix the problem with an aftermarket replacement.
The Sig Sauer P365 was the darling of this year's SHOT Show, an impressive achievement considering how saturated the market for sub-compact 9mm pistols is.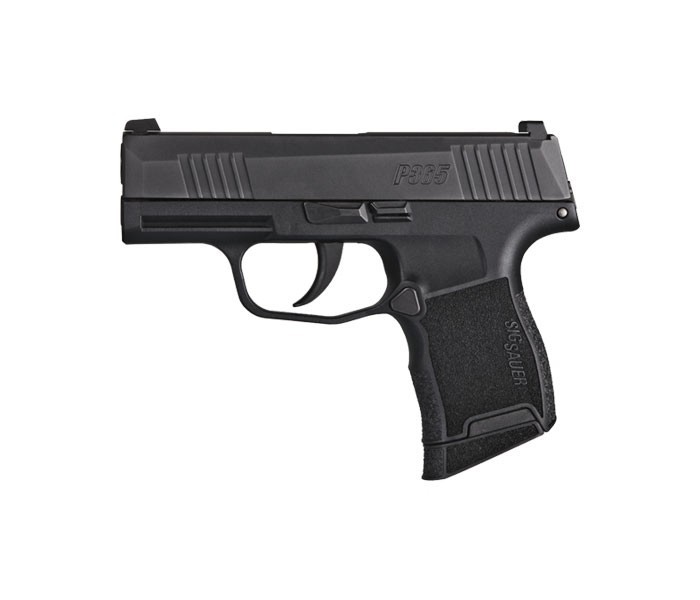 Sig Sauer P365
Pros
Micro compact with a 10+1 capacity
Comes with an extended grip mag for better control
Manageable recoil, even with high-power rounds
Cons
The tiny frame can be hard to hold for larger-handed shooters
Sig Sauer advertises the P365 as "the one gun you can carry every day of the year," hence the name P365. But what really helps this tiny mico-compact stand out in a market flooded with single-stack, sub-compact 9mm defensive carry guns?
The answer is simple: the P365 is not actually a single-stack pistol.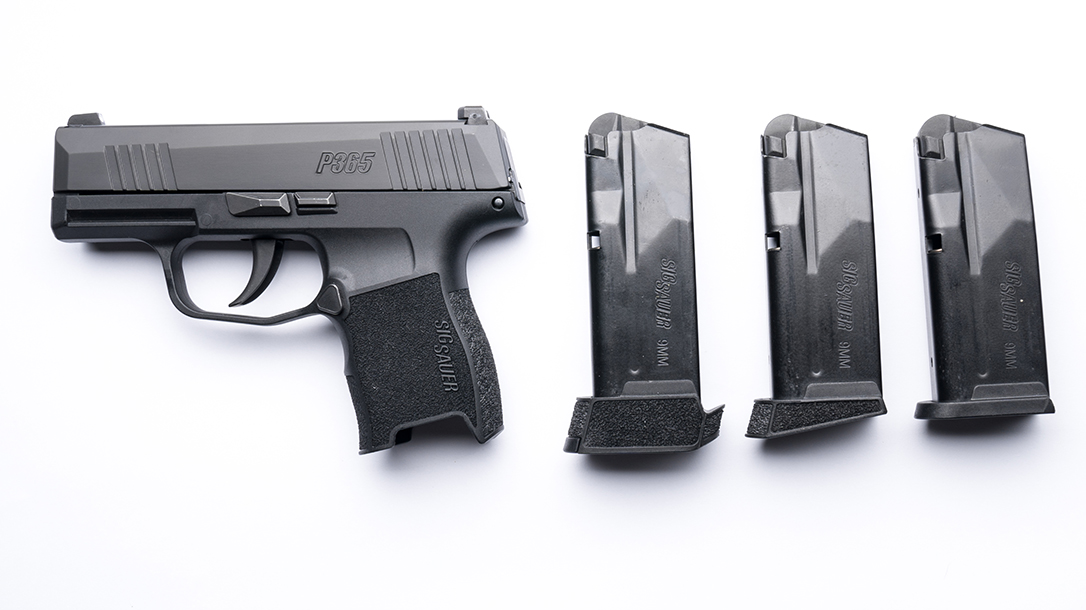 This gives the Sig Sauer P365 a massive magazine capacity compared to similar pistols, with a capacity of 10 rounds in a standard mag.
It's almost the exact same height as the Glock 43, which can only hold half that number. The P365 also holds two more rounds than its closest competitor, the Smith & Wesson M&P9 Shield M2.0.
Shooters often complain about the comfort of the grip on sub-compact pistols, but Sig has addressed that issue, too.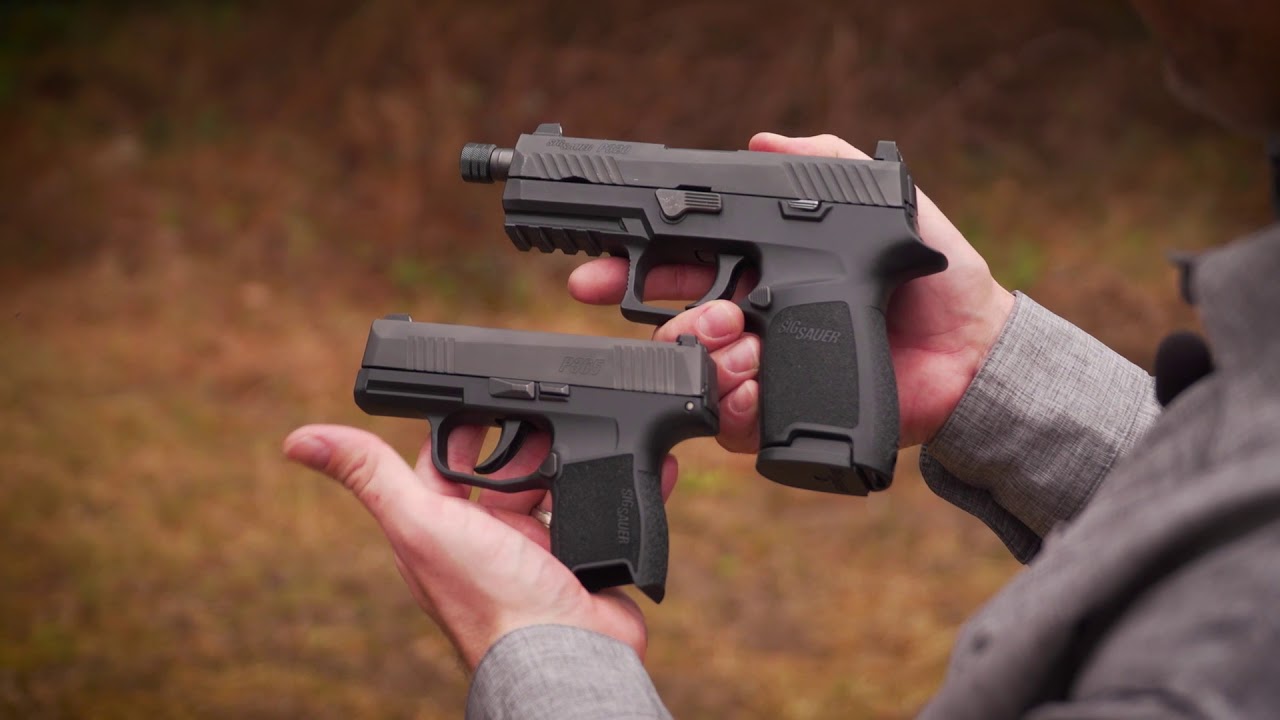 In addition to the standard magazine, Sig Sauer has also released a pinky-grip magazine and an extended magazine with a 12 round capacity. Both of these magazines are excellent choices to make the tiny P365 more comfortable for use by shooters with larger hands.
And despite the gun's tiny size, the recoil is very manageable, even with higher powered ammunition. Having the reliability of the 9mm round is always a bonus, as well.
Okay, so a 1911 isn't exactly a compact carry weapon. Not that there's anything wrong with a 1911, especially for open carry, but their size and weight means that 1911s are commonly overlooked for concealed carry weapons, particularly among people with smaller frames.
But hear us out, because the Remington R1 1911 Ultralight Executive isn't like most 1911s.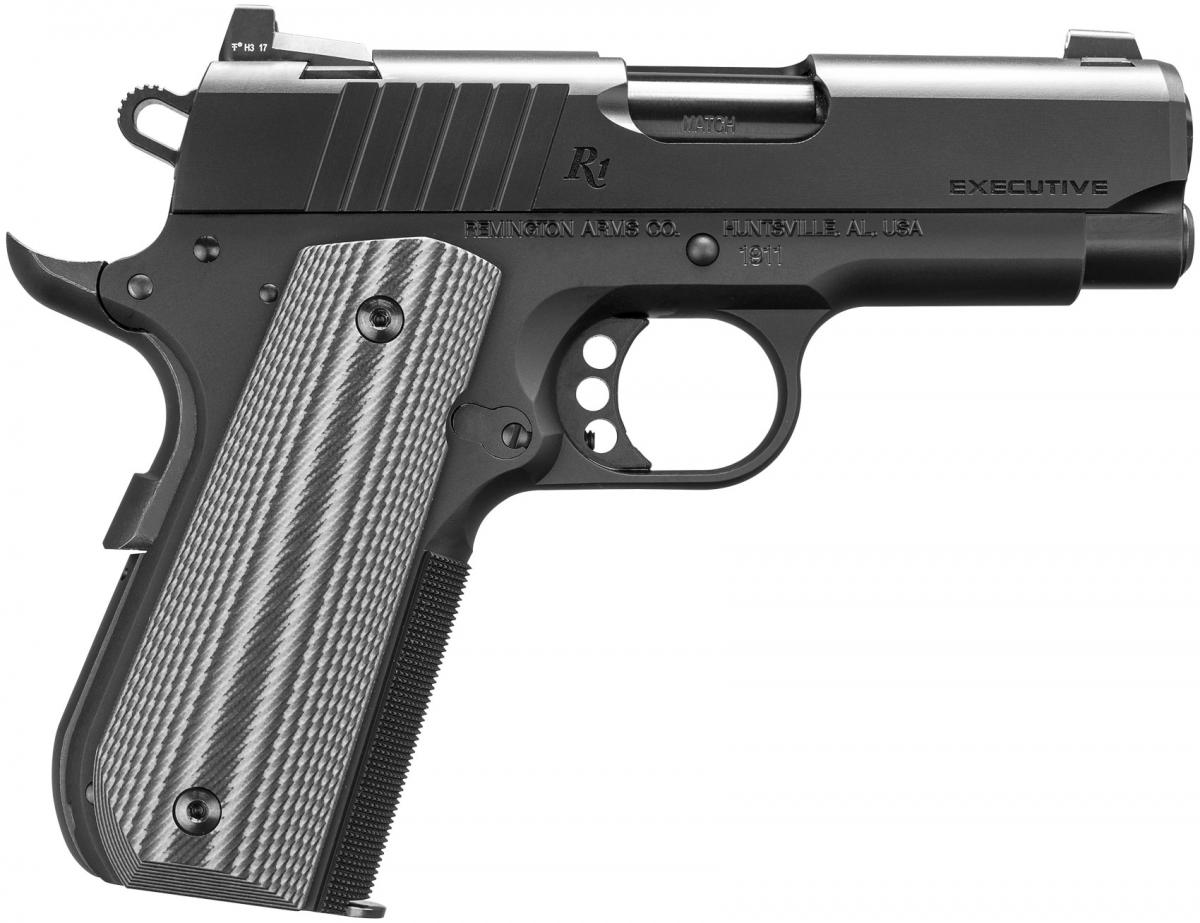 Remington R1 1911 Ultralight Executive
Pros
Lightweight aluminum frame
3.5" bull barrel
XS tritium night sights
Cons
Expensive option for a larger CCW
Remington first introduced the R1 in 2010 and has since then added incredible 1911 after incredible 1911 to the R1 series. The Ultralight Executive is the latest handgun in that trend.
The Ultralight Executive has that name for good reason.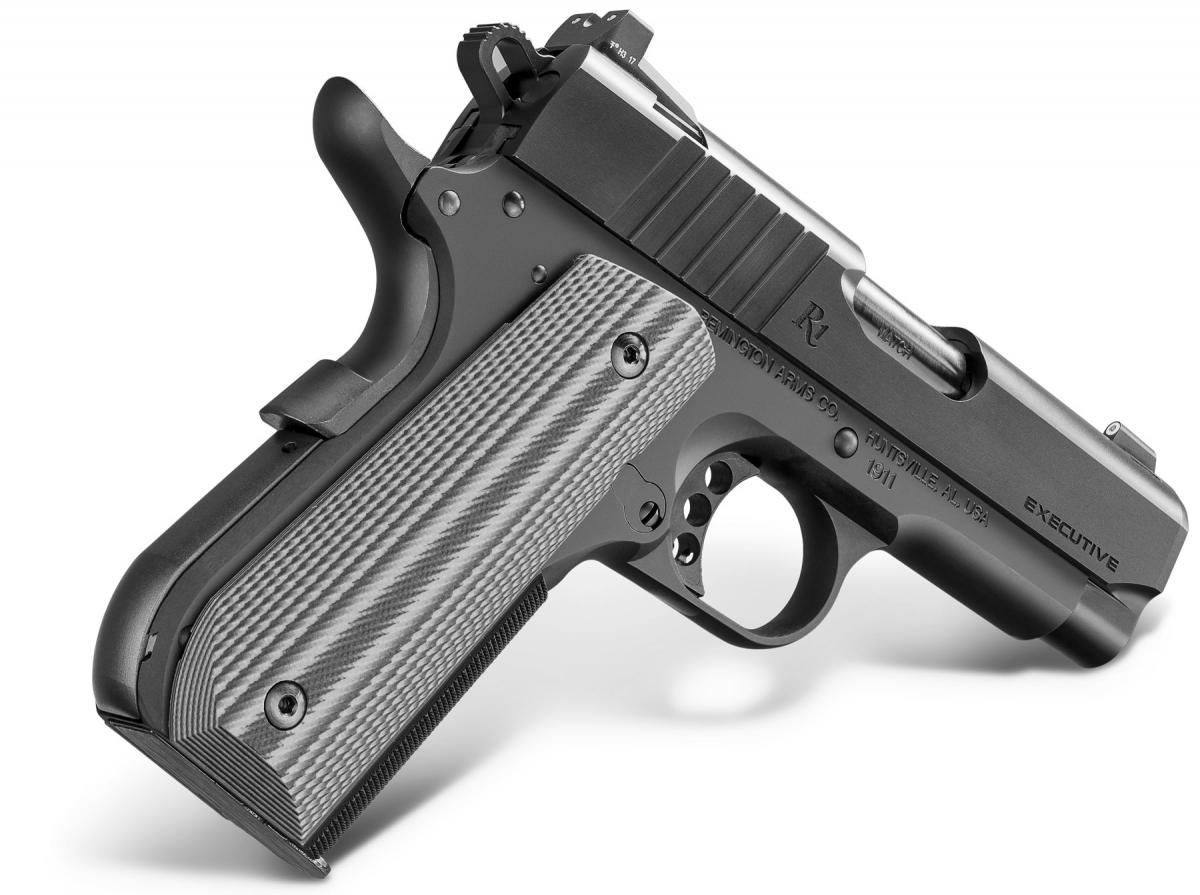 This 1911 has an aluminum frame to reduce the gun's weight. The Ultralight Executive is a mere 28 oz empty, about 10.5 oz lighter than the standard Remington R1 1911 and only a few ounces heavier than either the Springfield Armory XD-E or the Glock 19.
In addition to the gun's lightweight frame, Remington also made a few other design choices to enhance comfort while carrying; the Ultralight Executive has a rounded grip and mainspring housing, and has a 3.5 in. match bull barrel.
These features also make the Ultralight Executive very comfortable to shoot, even with high powered .45 ACP rounds.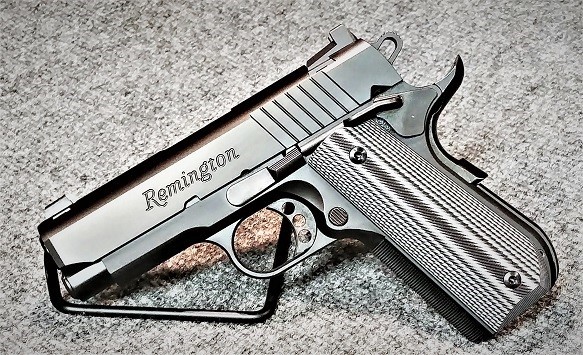 Remington wasn't holding back with this gun, though. Other features of the Ultralight Executive include an adjustable skeletonized trigger, XS tritium night sights, and a black PVD finish.
Add to that the 1911's beveled G10 grips and front strap checkering, and you've got a classically styled, yet cutting edge 1911 that's a dream to shoot and comfortable to carry.
The one problem: the magazine port isn't beveled, so quick reloading requires a little more accuracy while under pressure.
This is the only revolver on our list, because most people these days prefer semi-automatic, especially when it comes to their concealed carry weapon. With that said, if you want to go the revolver route, then you can't beat the Kimber K6s CDP (Custom Defense Package).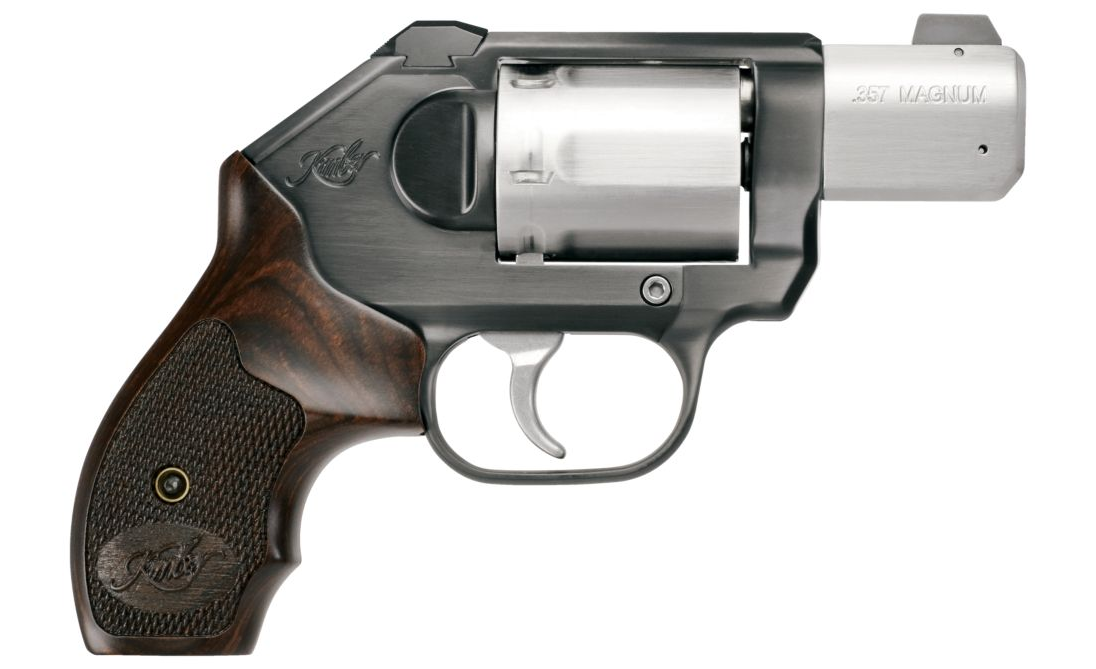 Kimber K6s CDP
Pros
Checkered rosewood grips
Low-profile, 3-dot tritium night sights
Carry Melt treatment to round out sharp edges
Kimber boasts that the K6s platform is "the world's lightest 6-shot, .357 Magnum revolver."
The K6s CDP takes that achievement and gives it a boost in terms of both style and performance.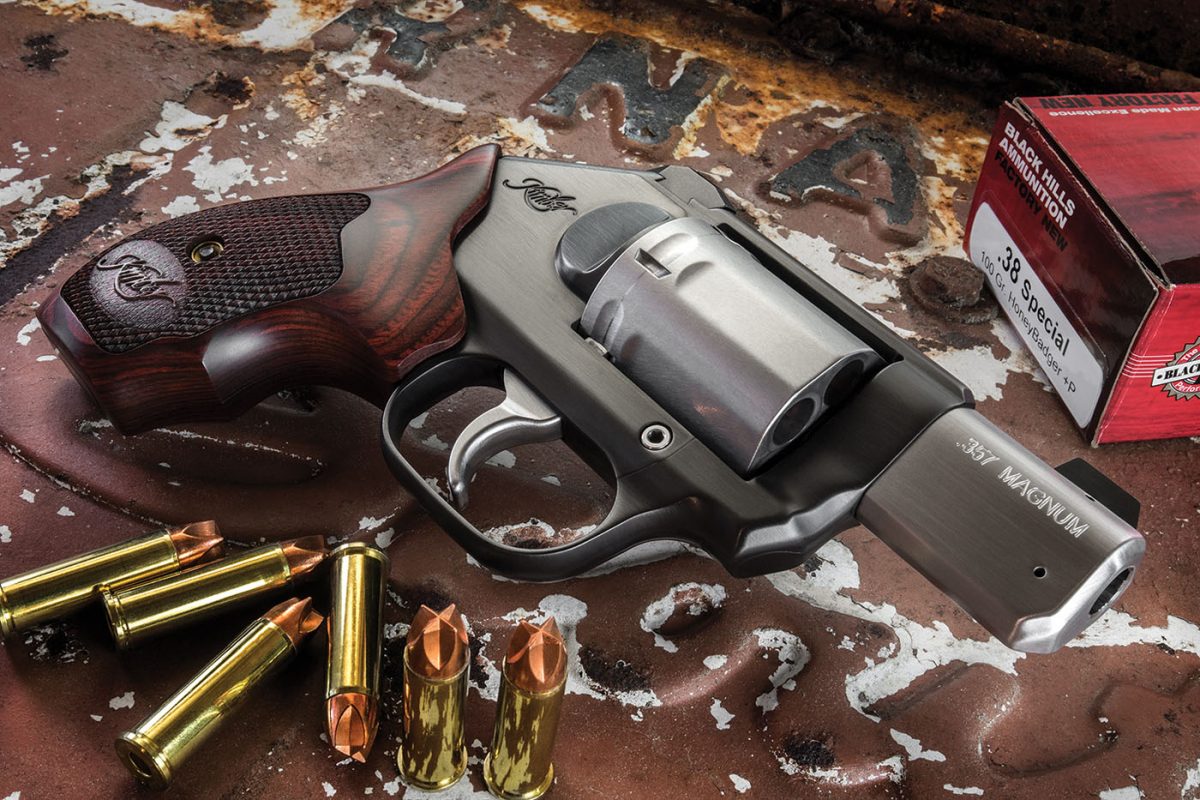 The CDP version switches out the original K6s's rubber grips for checkered rosewood ones with improved ergonomics. While the original had black serrated sights, the CDP has low-profile, three dot tritium night sights. Both versions have the same smooth match trigger.
Both also have great brushed stainless steel finishes on the barrel, cylinder, and small parts, but the K6s CDP has a contrasting matte black diamond-like carbon (DLC) finish on the frame. That DLC finish protects the K6s CDP from the elements and adds aesthetic appeal.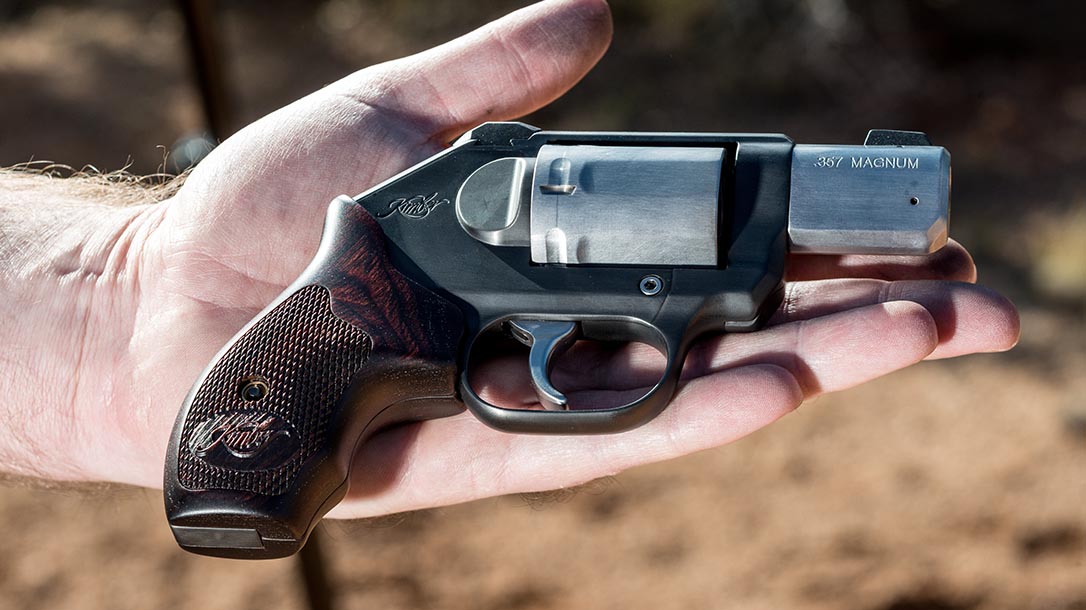 In addition, Kimber has put the K6s CDP through their signature Carry Melt treatment, which rounds the edges of the gun, making it more comfortable to carry and manipulate.
The Kimber K6s CDP is a double-action only revolver and has a standard six round capacity.
Concluding Thoughts
All five of these guns are fantastic compact carry guns that have already gotten a lot of attention and made huge impressions, despite being relative newcomers.
Which one is best for you just depends on what you want from your carry weapon!
If you want a revolver, then the Kimber K6s CDP is obviously the way to go.
For something small but high capacity, the Sig Sauer P365 is the obvious choice, while the Remington R1 1911 Ultralight Executive is a great full sized option with a weight comparable to true compacts.
And for a true compact, either the Springfield Armory XD-E or the Gen 5 Glock 19 is an excellent choice.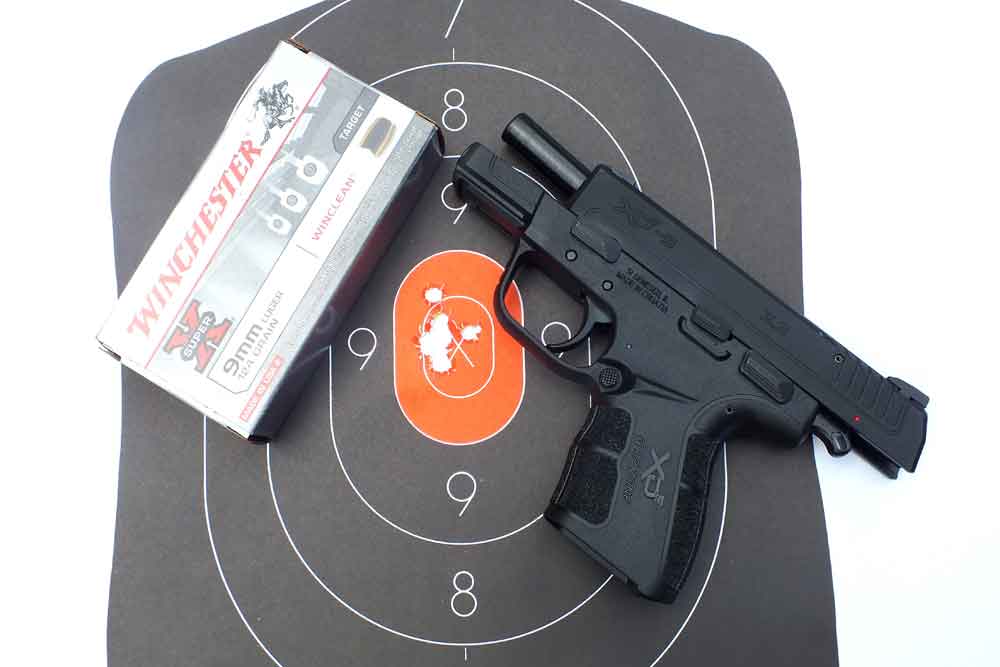 So what's your compact weapon of choice and why do you like it? Are you considering switching it out for one of the ones on this list? Share your thoughts with us in the comments. Don't forget to check out our comparison of the best concealed carry insurance plans!