Ever do the pocket check before you leave the house? Keys, phone, wallet, knife… flashlight? Yep, we're talking EDC flashlights, specifically the best ones.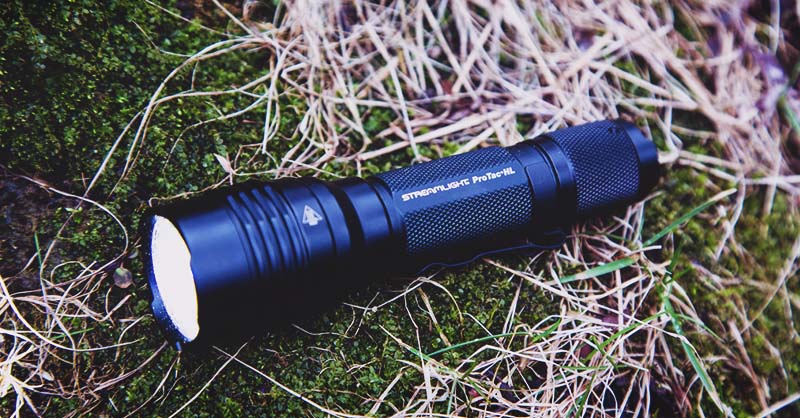 Firearm Review is taking a break from gun reviews to take the guesswork out of finding a trusty EDC light for you, so pull up a chair while we tell you all about it.
Let's talk about why you need an EDC flashlight, what to look for in your light, and which ones we'd carry if you asked us.
What's an EDC Flashlight?
You might be familiar with tactical flashlights, which typically are ultra-bright and have a power button on the end cap. While these are often great lights, they might not be the best for toting around with you every single day.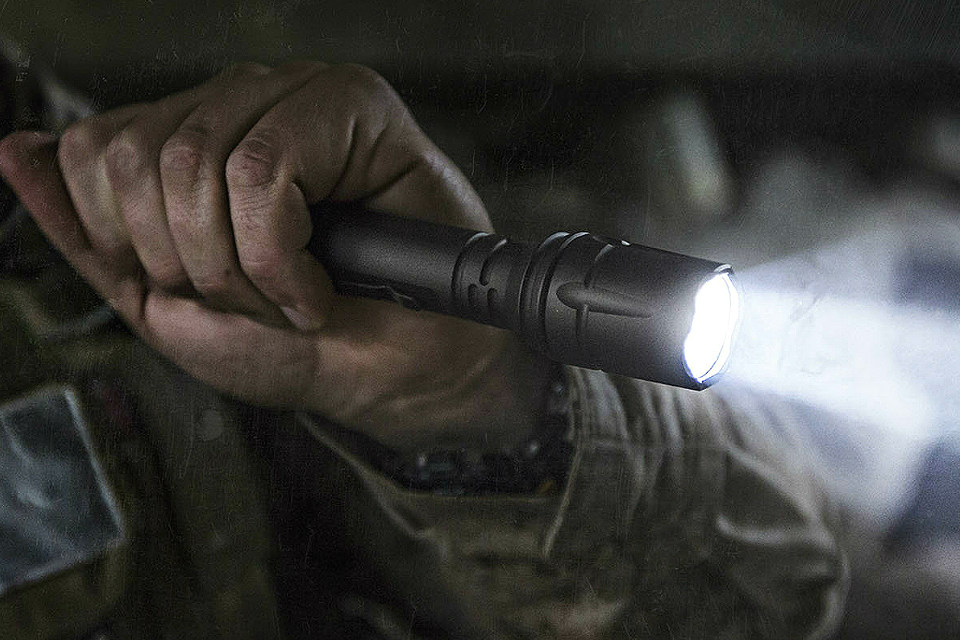 EDC lights, on the other hand, are just that–every day carry. They're small, lightweight, and portable. You won't have any problem taking these with you anywhere you go.
What to Look For: Our Selection Criteria
We've already narrowed down the list to just 5 flashlights, but it's been a challenge.
Just so you understand how we arrived at these ones, here are our selection criteria:
Size:

We wanted lights that are easy to carry, while not sacrificing their performance.

Reviews:

We scoured Amazon for lights that averaged more than 4.5 stars and had at least 50 reviews.

Brightness:

We choose lights with at least 100 lumens of brightness, so you will have enough reach to see what you need to see, from a safe distance.

Price:

We wanted to keep this list budget-friendly, so most of our picks are less than $100.

Batteries:

We don't want a light that's hard to find batteries for, which is why we've pretty much stuck with common battery types for our picks.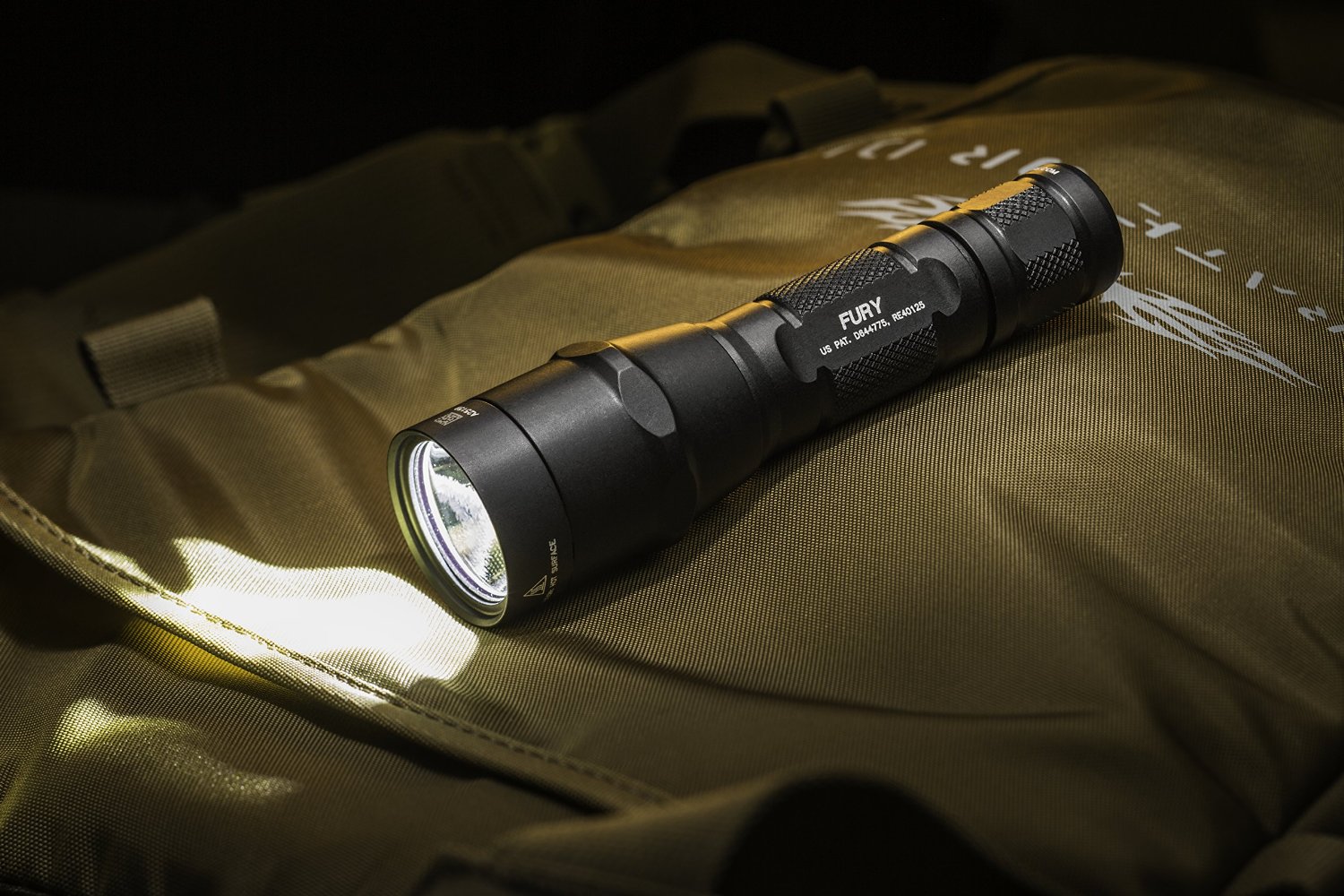 Side Note: What's a Lumen?
If you're not familiar with a lumen, our reviews might not make a whole lot of sense at times. A lumen is a measurement that quantifies the amount of light being produced by a source within a given time and area.
In short, more lumens = more light.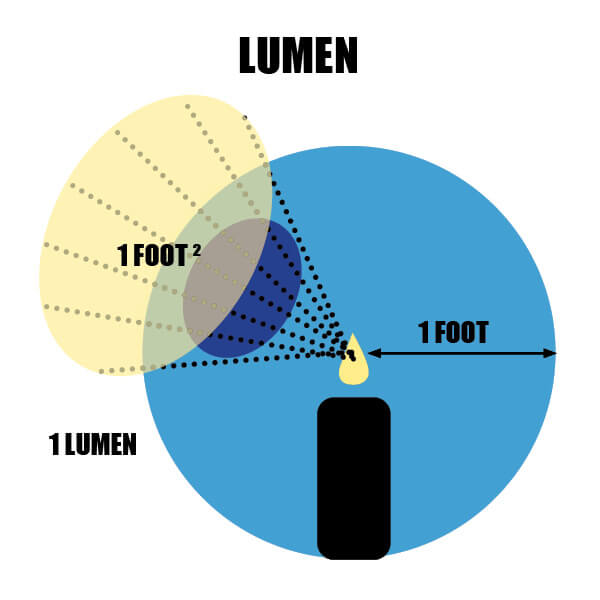 The technical definition of a lumen is that one lumen equals the amount of light received at a one square foot area, one foot away from a lit candle. Phew!
For reference, a 100w incandescent bulb generates about 1,600 lumens. A car headlight outputs somewhere between 700 and 1,200 lumens.
Powering Your EDC: Batteries
Though they may not seem like they matter too much, batteries play a big role in the size, function, and life of your flashlight.
There's a lot of lights that use traditional alkaline batteries, such as AA, AAA, C, and D Cells, but many modern lights take more modern batteries that increase their power while cutting the weight.
Some of these newer batteries are:
CR123:

These 3v lithium batteries have a high power output, and are commonly used in high-performance electronics. A good quality battery can have up to a 10-year shelf life and are pretty affordable–just $1 to $2 a battery.

18650 (18mm by 65mm):

These 3.7v rechargeable lithium-ion batteries are pretty popular for modern EDC lights too. They're also the same type of battery used by Tesla for their Model S sedans. Generally speaking, flashlights will take either one 18650 or two CR123 batteries. These are a little more expensive, at $3 to $6 a battery.

14500 (14mm by 50 mm):

 These are also 3.7v rechargeable lithium-ion batteries, but these ones are the same size as your standard AA battery and will run you about $2 to $6 per battery.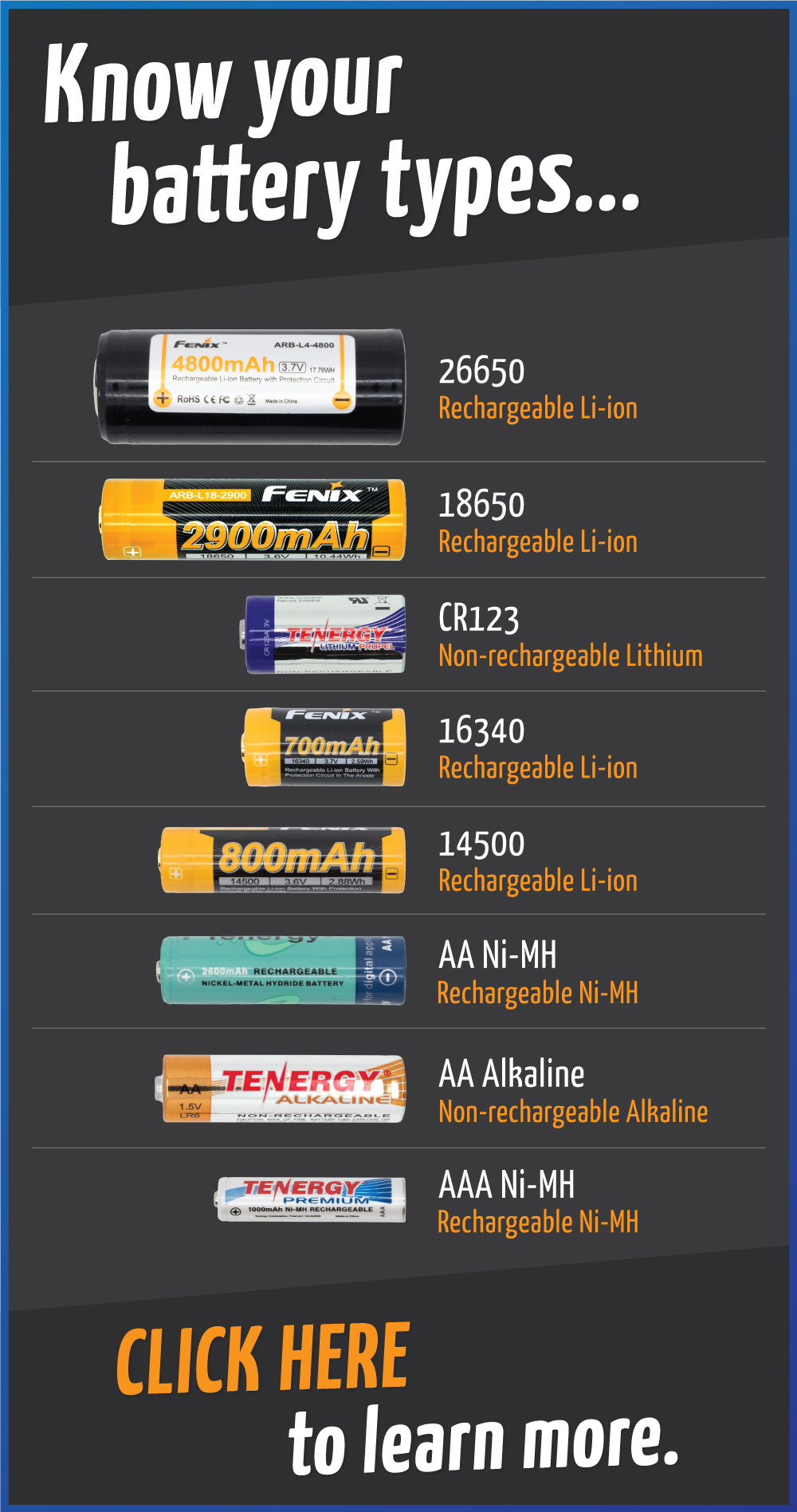 How to Carry an EDC Light
You've got a couple of different options for carrying your flashlight, depending on what's comfortable for you. You can always shove it in a pocket and go, but your light might interfere with retrieving anything from your pocket.
A belt holster is a popular option for casual carrying, especially on your support (non-dominant) side. This makes it easy to get to your light quickly and prevents it from getting turned on in your pocket.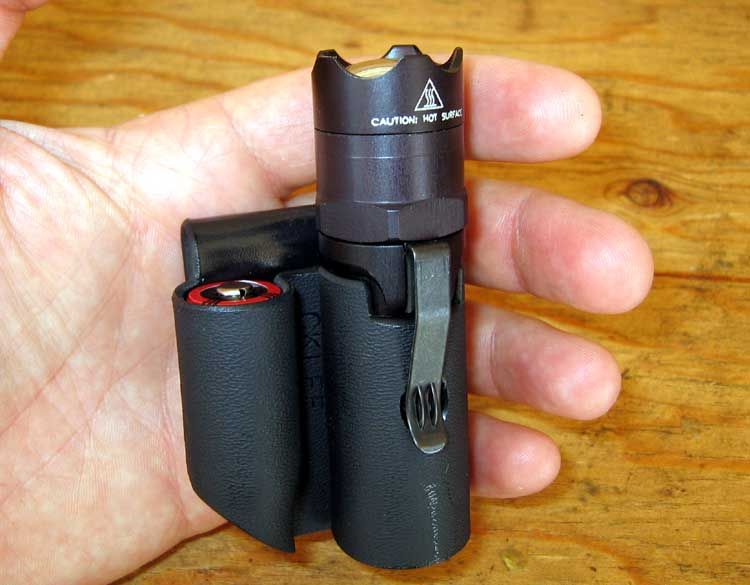 At times though, a belt holster might be inappropriate, such as when dressing nicely. If you don't want to slip your light into your pocket, you may want to keep a backup light that can clip to your keys.
For those who carry a bag or purse, you'll want to make sure your light is easily accessible from the outside of the bag, if possible. Not much is worse than fumbling through your purse, looking for your light.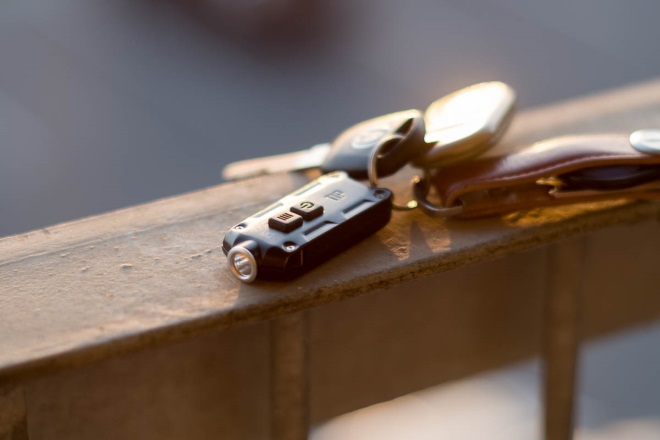 Pro Tip: a keychain light makes it easy to illuminate your path between your car and your door, since you'll already have your keys in hand.
Best EDC Flashlights
And now, without further ado, the reason you're all here–our favorite rugged, convenient everyday carry flashlights. We're pretty sure that these are some of the best (and pretty affordable) lights for all your carry needs.
This light is a pretty simple, compact tactical light, so if you're looking for a smaller alternative to your favorite tac light, listen up!
The Fenix PD25 is powered by a mini-USB rechargeable 16340 battery. Now, when we say mini-USB rechargeable, we mean that the battery itself plugs in. There's no need for an extra charger to charge this battery.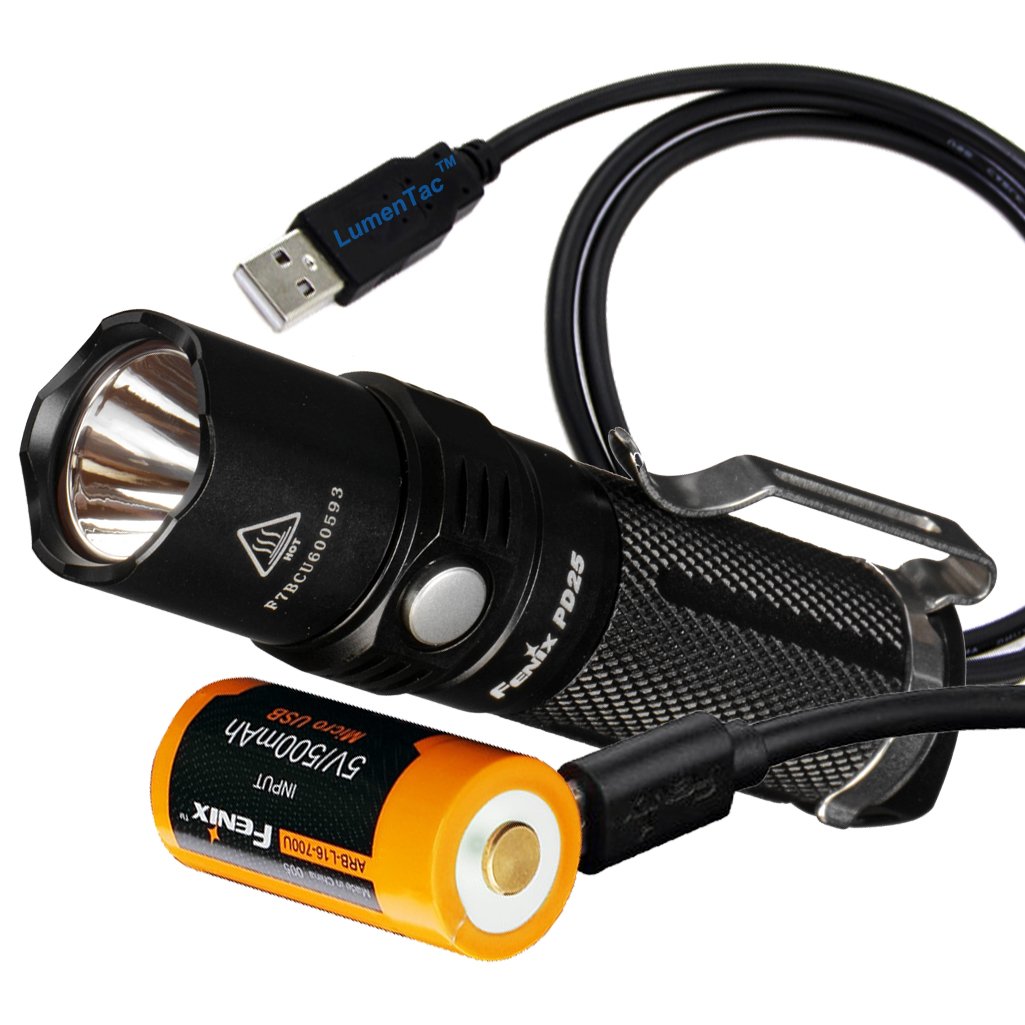 Fenix PD25
Pros
Compact tac light style
Rechargeable 16340 battery
4 light settings
Cons
Light dims after extended time on
The 16340 is the same size as a CR123 battery, which means you can swap it out, but the 16340 has a higher power output, which means more lumens. 550 lumens versus 400 lumens with a CR123, to be exact.
Because this battery is pushing more power, it does have a slightly lesser capacity, so the light won't run as long as it would on a CR123. You still have 2 hours and 25 minutes of on time, but a CR123 will give you 3 hours and 15 minutes.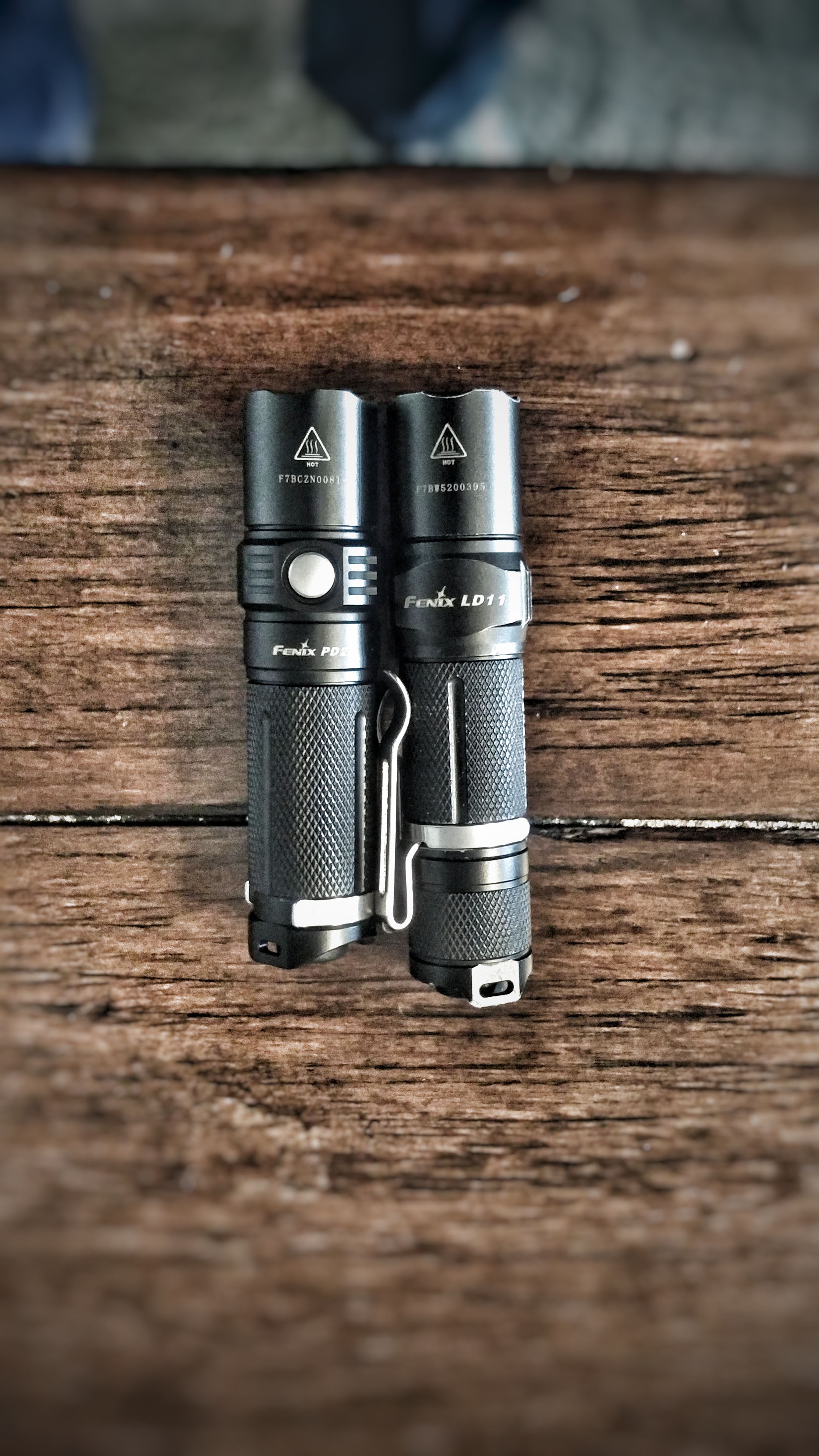 The on/off switch is a push button on the back, but the light settings are cycled by a second button. The Fenix PD25 has four settings: Turbo (550 lumens), High (150 lumens), Mid (50 lumens), and Low (5 lumens). It's worth noting you can only use Turbo with the included 16340 battery.
While you don't have the one button operation with this light, the tail-end power switch does let you use the Harries technique with your handgun. If you want something that can give you both tactical and EDC function, this light is it!
Temperature is a big deal for a light that is compact, and the PD25 manages its temperature pretty well over a long run time. We left it on Turbo mode for 30 minutes, and found that it only gets a little warm.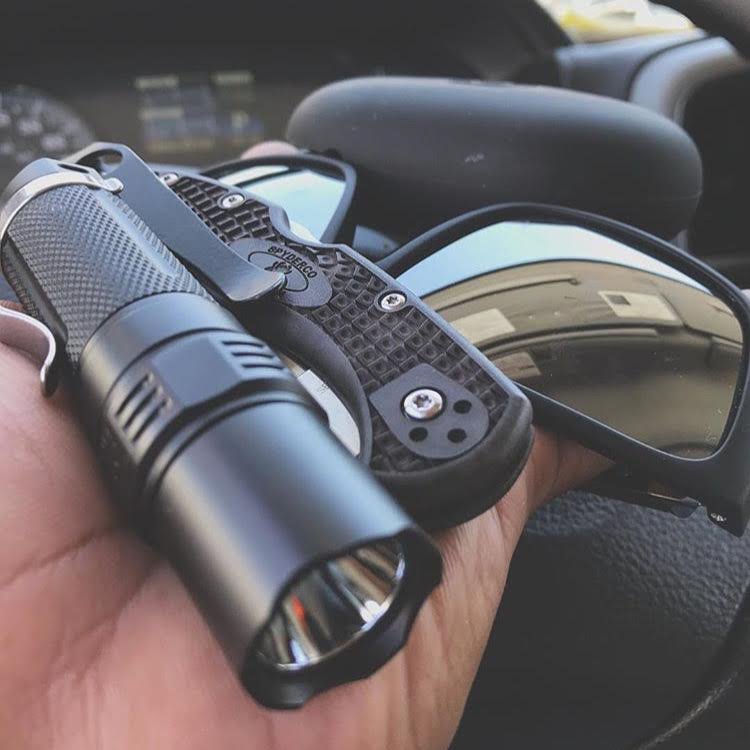 We did notice that, after 15 minutes, the light does dim significantly. That means that the bulb isn't generating as much heat, so it keeps the temperature lower.
The beam spread is decent, so you'll have a wide area lit, without losing too much illumination.
We're pretty sure that this light is our favorite out of our list, since its small size, easy recharging, multiple modes, and tactical features gives you lots of versatility for a great price.
Combining the best features of a tac light and an EDC light, the Streamlight ProTac 2AAA is a pocket-sized but fully functional light.
This light is only about the size of a marker, but it delivers 130 lumens on High and 20 lumens on Low. You also can access a strobe function with the multi-function tail switch.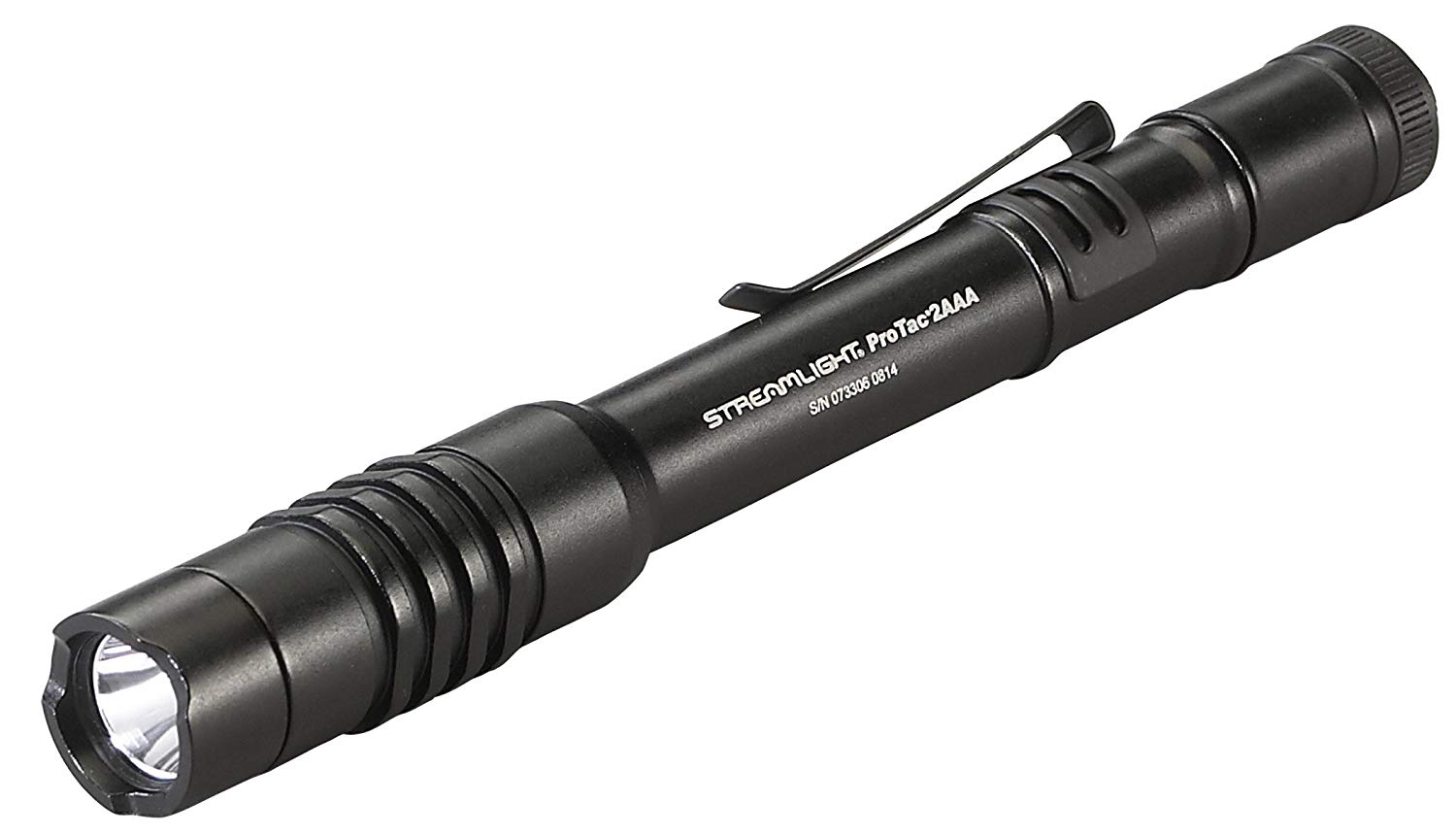 Streamlight ProTac 2AAA
Pros
Weighs only 2 ounces
Beveled head prevents rolling
2 light settings
Cons
2 AAA batteries mean less lumens
We really liked that it only takes two standard AAA batteries, so you don't need anything special for it.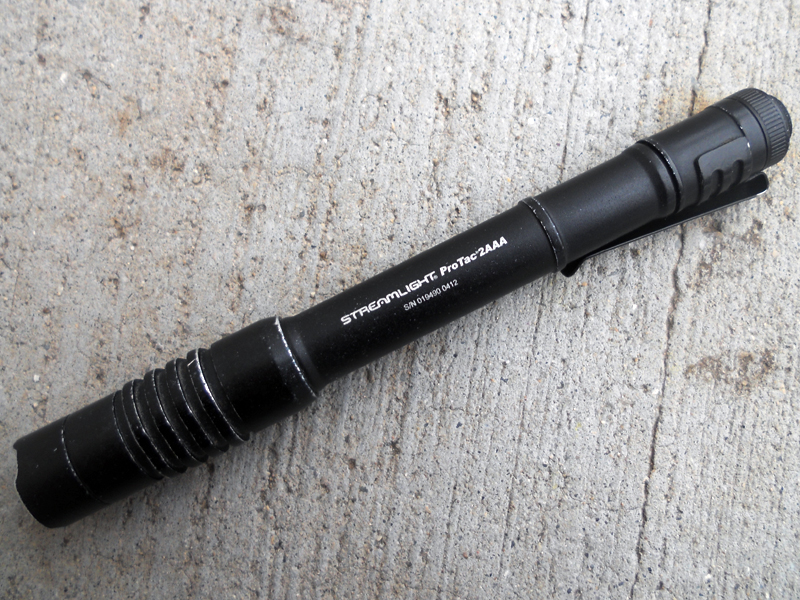 Weighing only 2 ounces, the ProTac 2AAA is effortless to carry and fits into most pockets quite handily. It comes with a pocket clip and an innovative beveled head, which helps prevent it from rolling away when set down.
We found the beam to be nice and crisp, with just a little over-spill to illuminate the surrounding area.
So, Zebralights are kind of a big deal in the flashlight world–awesome design, easy use, and phenomenal craftsmanship. It's no surprise to us that this company makes an appearance on our list.
The Zebralight SC63 is pretty small, at only 3.64" long, but it's still a nice fit for the average adult man's hand. The body has texturing and grooves machined into the body for better grip, and you can feel the quality put into the design.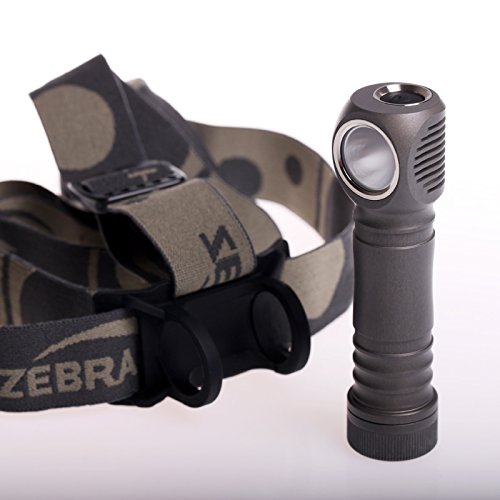 Zebralight SC63
Pros
3 light settings and 3 user-programmable settings
Machined body makes it easy to grip
Long run time
Cons
Gets very hot after a short time
Doesn't include the non-standard battery
We found the switch to be pretty intuitive and easy to locate without looking, but we did kinda wish that it was at the rear like the PD25, instead of just behind the bulb. The light has three modes–High, Medium, and Low–as well as 3 user-programmable settings, all on the power button.
The SC63 uses an unprotected 18650 battery, which is a non-standard battery. A typical 18650 battery has an internal protective circuit, but the circuit wouldn't physically fit the light.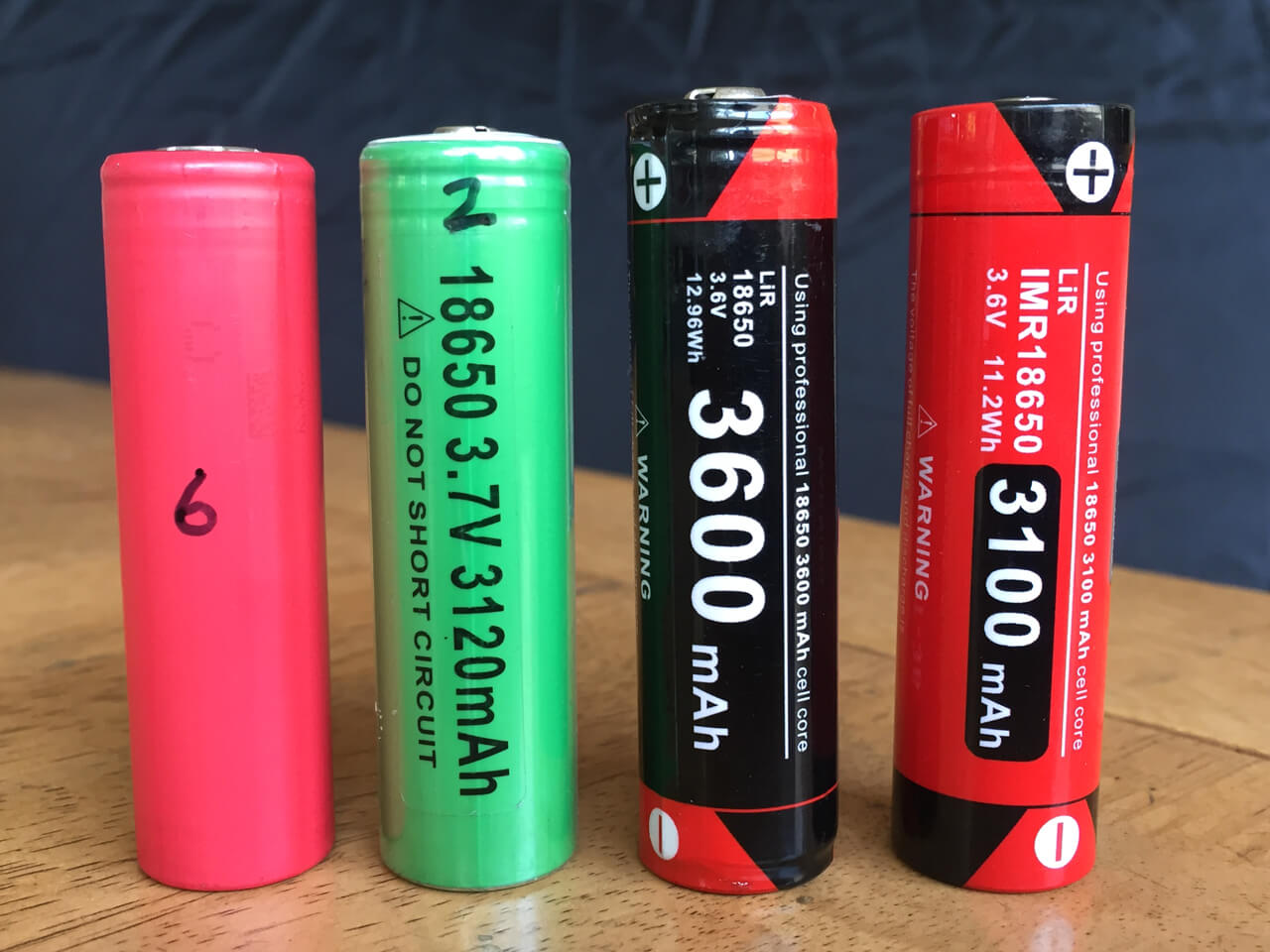 Zebralight doesn't send the light with one of these non-standard batteries, though, so expect to tack on about $7 to $14 purchasing one to go with it. Fortunately, these batteries can be recharged in a normal battery recharger.
The light comes with an installed pocket clip and two spare O-rings, which is nice, but doesn't quite make up for the missing battery.
As for its beam spread, we've found that stays bright and focused, but offers a wider illuminated area at close range.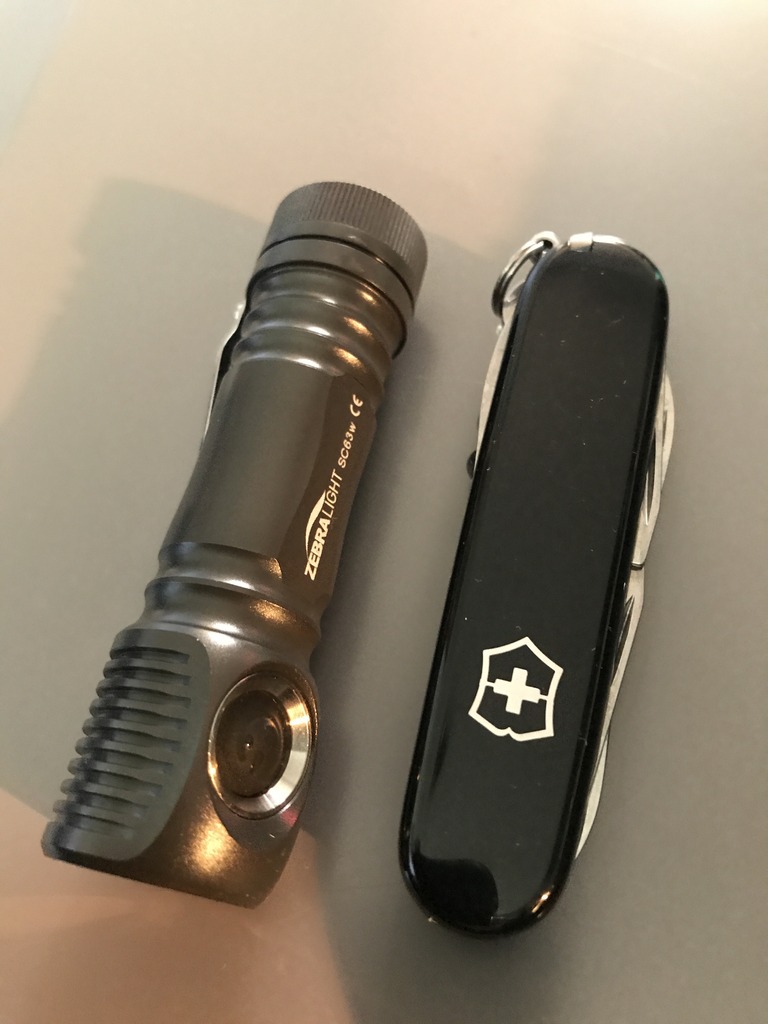 There are a few things we did notice that might be of concern.
The first thing we noticed–this light gets hot. Like, uncomfortable-to-touch kinda hot after just 3 minutes on High. Ouch.
The second thing we noticed is that this light can get turned on pretty easily, especially if you have other stuff in your pockets. Combined with how hot it gets, that can be a painful accident. There are some ways to avoid it, though, such as carrying the light on your belt.
Even though it gets hot, the SC63 will remain on for hours, so at least the heat produced by the bulb doesn't get in the way of functioning.
We really do like tail cap switches on our lights, so we're including one more. The SureFire E2D Defender is probably the toughest light on the list, but the price does reflect that.
It's a little more simple than some of the other lights since it only has two settings: High (1,000 lumens) and Low (5 lumens). You also can use a press of the tail switch for a momentary-on high.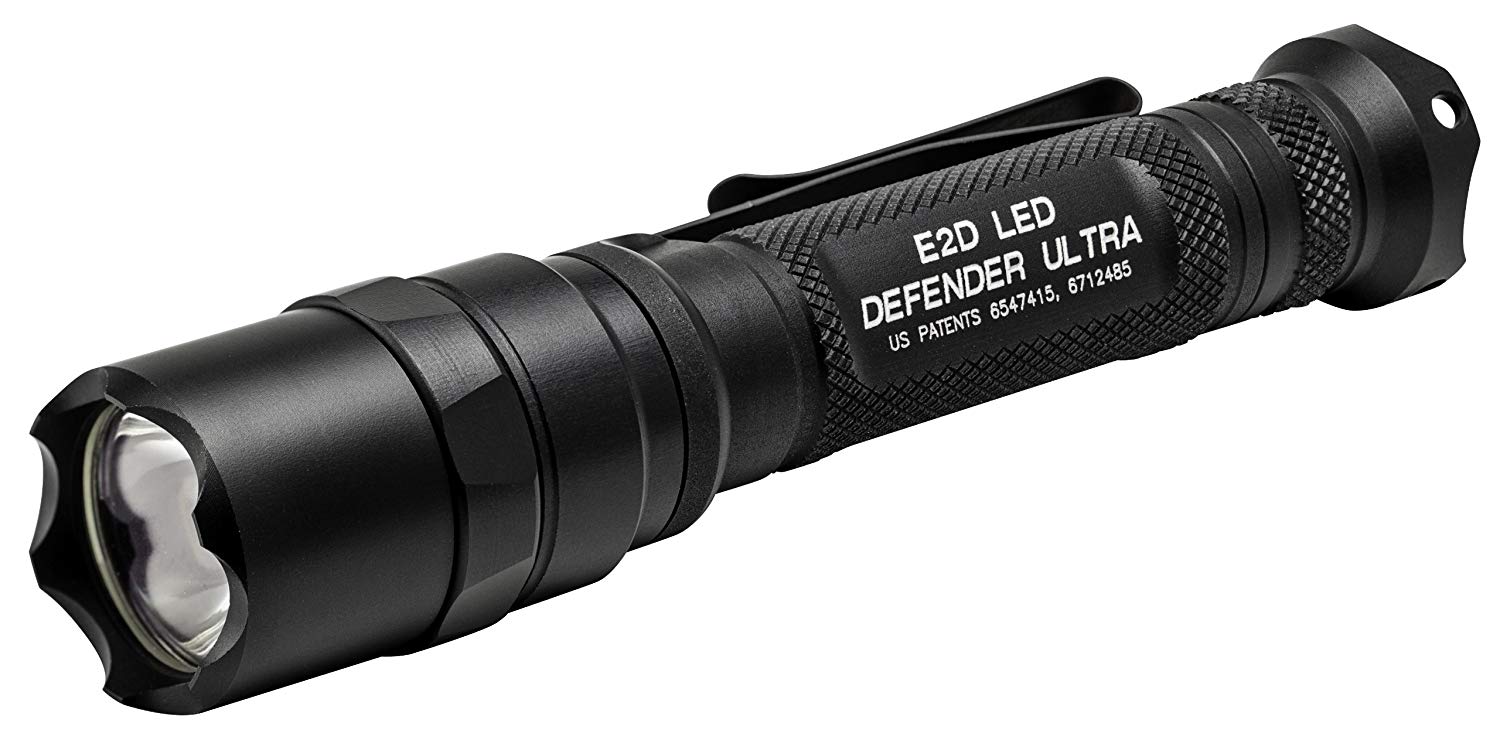 SureFire E2D Defender
Pros
Extra durable aluminum casing
Striking tool bezel
2 light settings
Cons
Uses batteries up quickly
If you don't need three or four light settings, the Defender is easy to operate, even in stressful situations.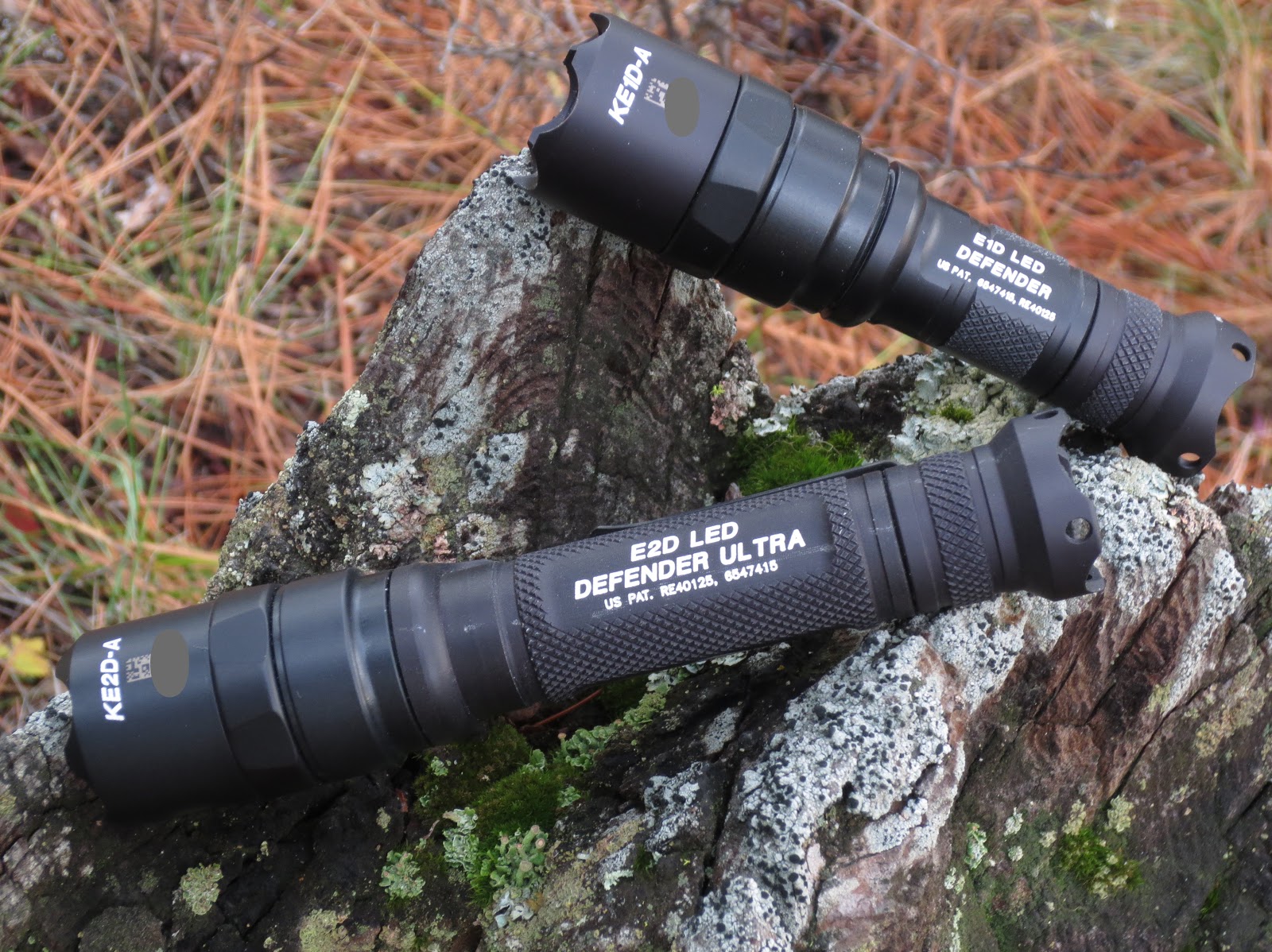 The milled aerospace aluminum body is really easy to grip, and the Mil-Spec hard-anodized coating means that your light will last for years and years. It takes two CR123A batteries, which do come included.
The dual-function pocket clip means you can carry your light bezel up or bezel down, however you prefer and find easiest to access.
This light is equipped with a TIR lens, which gives you a tight beam with enough surround light that you can still use your peripheral vision.
Because you can never be too careful, how about a backup light? The ThruNite Ti3 can attach to your keys or clip onto a baseball cap to serve as a headlamp, so it's an easy choice for a secondary light.
The Ti3 is so small, you practically can't feel it clipped in your pocket, hanging off your keys, or even mounted to your hat. This is the epitome of portable, and we like that you can adjust the pocket clip to work well for however you carry it.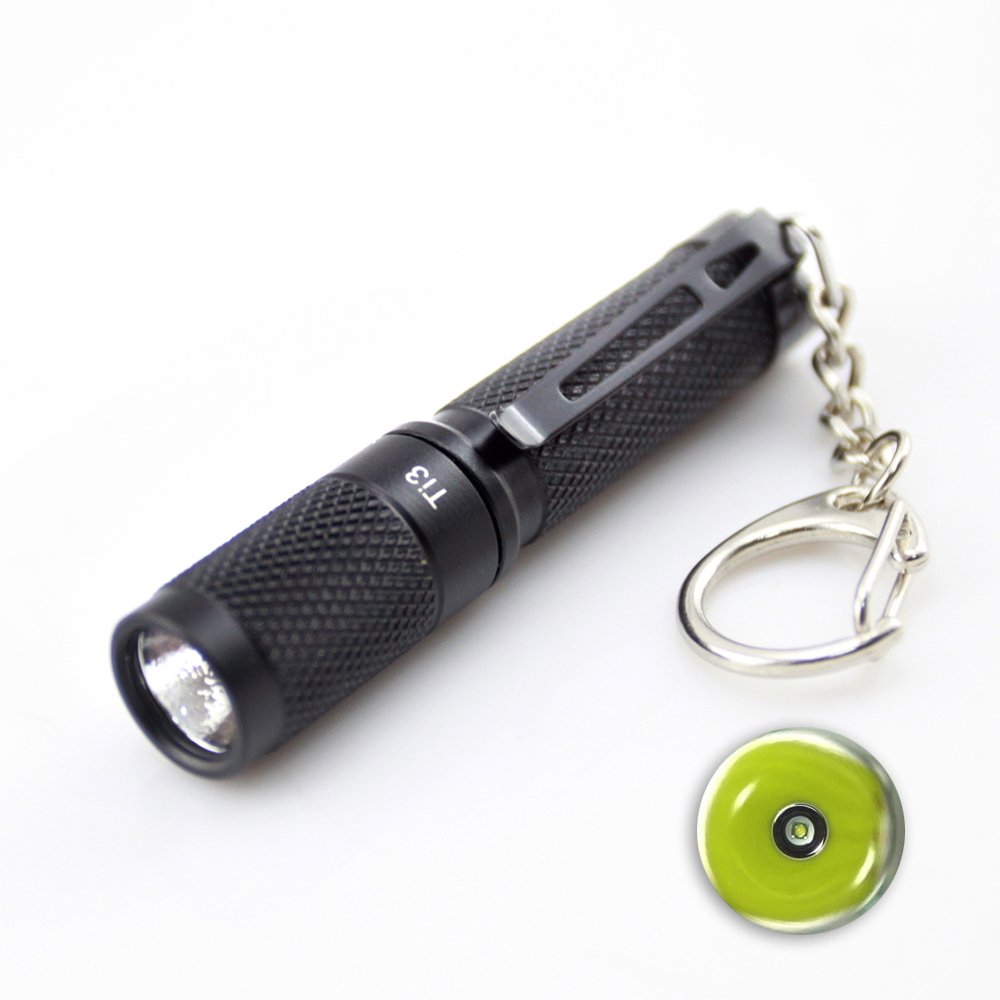 ThruNite Ti3
Pros
Tiny size is a great backup light
Clips to a ball cap, hangs off your keys, and fits in a pocket
3 light settings
We thought the milled surface is nice, since it can help you keep a hold of this lil guy without any problems.
The beam spread is alright, considering the size of the light, and the brightness is pretty impressive for such a teeny thing. On low, it's still brighter than the LED light on our cell phone.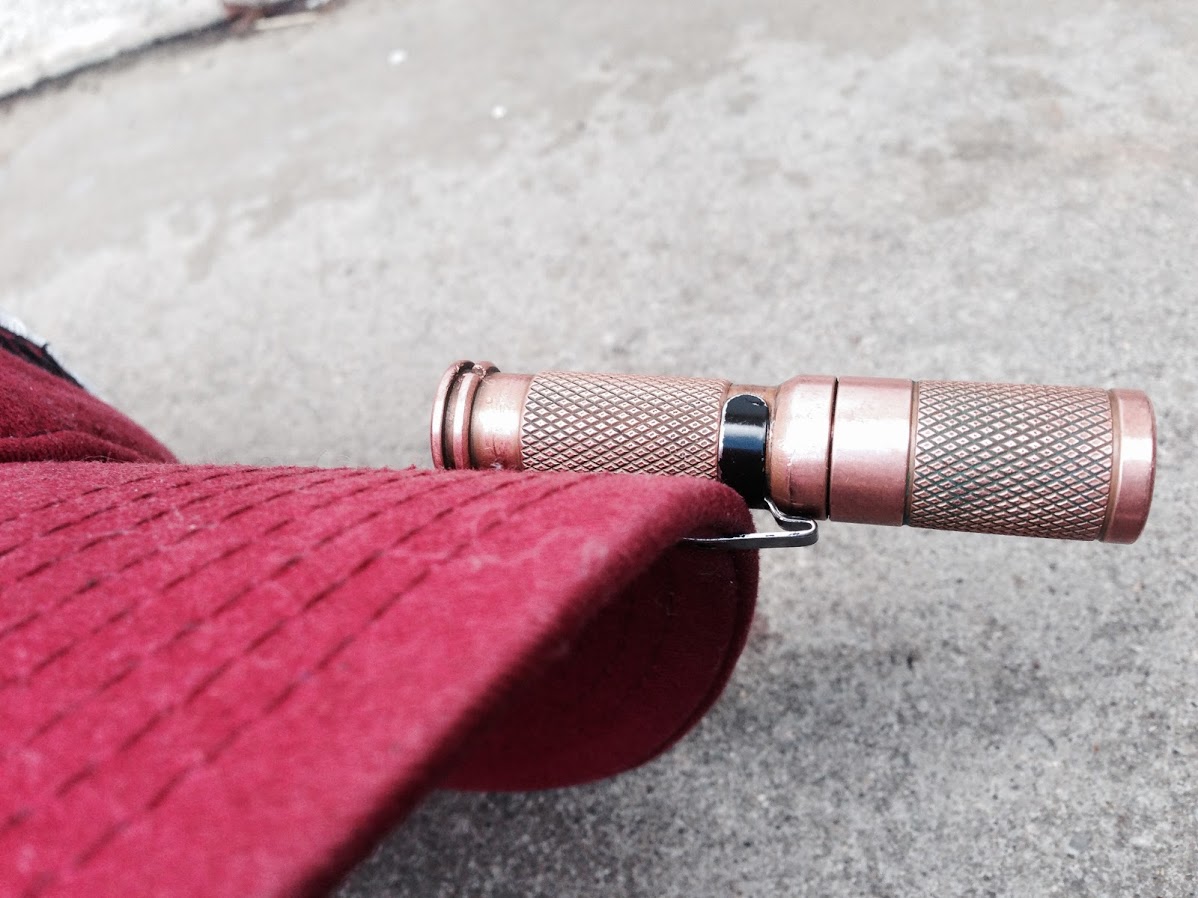 Your Ti3 cycles from its lowest setting to its highest, and it does have a strobe setting. The settings are Firefly (0.4 lumens), Low (12 lumens), and High (120 lumens).
This is plenty of power to light up a smaller area, but expect the light to choke up a little bit when used at a distance. For a literal keychain light, though, we feel this is pretty acceptable.
To Shed Some Light on It…
Product engineering is, and always will be, a bit of a trade-off. Power, battery life, and size are hard to balance, so figure out what you need the most, and start your search there.
If you like a more tactical feel, we think you'll love the Fenix PD25. The SureFire ED2 Defender has some amazing engineering and we love the ease of the single button functioning, but it's not the smallest option. For a super tiny back up or EDC light, we recommend the ThruNite Ti3.
Do you carry an EDC light? Have a favorite one that isn't on our list? Let us know in the comments below! Find a great light to mount to your AR with our best AR-15 lights.