Finding the perfect holster for your Glock 43 shouldn't be as difficult as it tends to be.
The tiny subcompact Glock 43 is wildly popular as a CCW, making it one of the most successful models that Glock has produced. That popularity has led to many holster companies releasing diverse options for the Glock 43.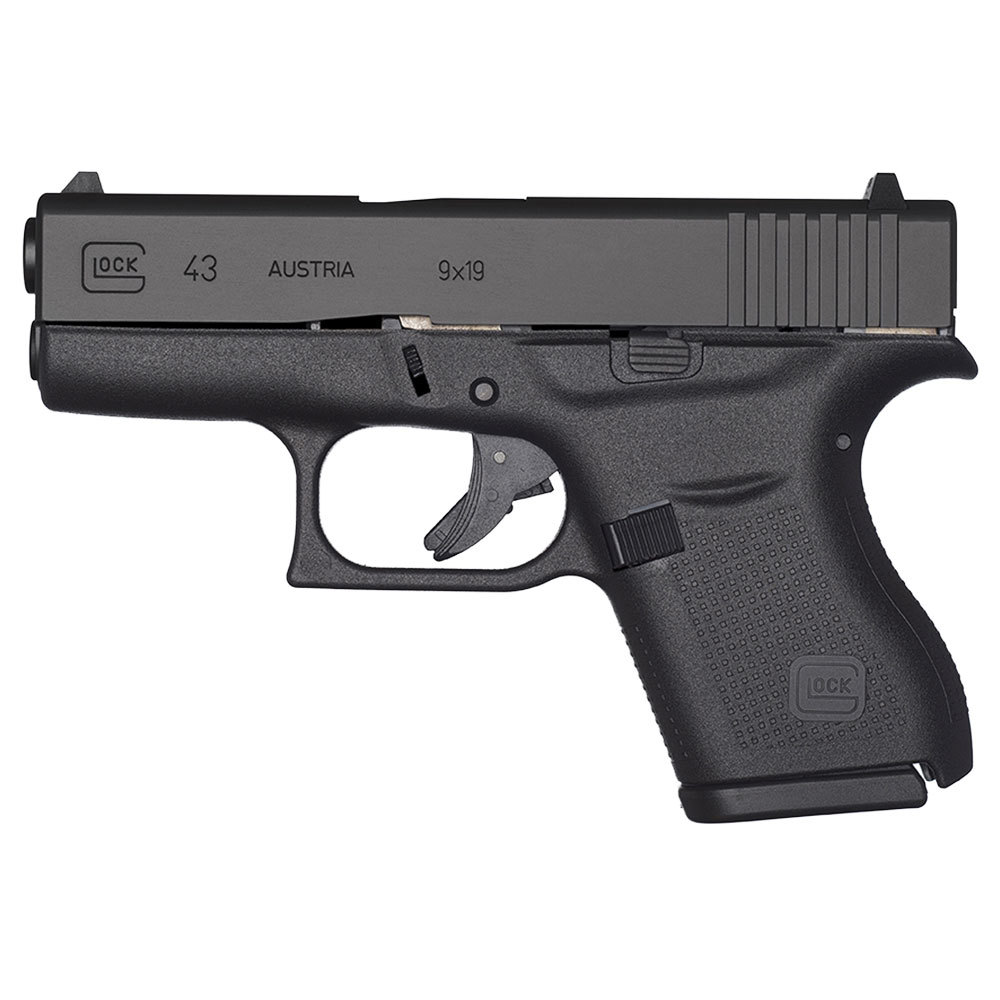 While the breadth and diversity of options certainly benefits you, the consumer, it can also make it very difficult to sort through your options and determine which ones are best, both for you and in general quality.
Fortunately, we've done most of the work for you.
In this guide, we'll tell you what makes a good holster and why you need one, discuss the types of holsters that you can choose from, and finish up by giving you our recommendations for the best of each type.
Of course, if you're already knowledgeable about holsters, you can just skip down to the recommendations, unless you want a refresher (which is never a bad idea).
How to Choose a Good Holster
If you're new to body carry or firearms in general, it may seem like your holster is just there to hold your gun when you aren't using it, but in reality, your holster's purpose is much more significant than that.
Your holster needs to not just hold your firearm but also:
Protect your firearm while not in use (including from being dropped or stolen),

Prevent accidental discharge, and

Allow you quick access to your firearm when you need it.
When you select a holster, you'll want to make sure it does all of those things effectively.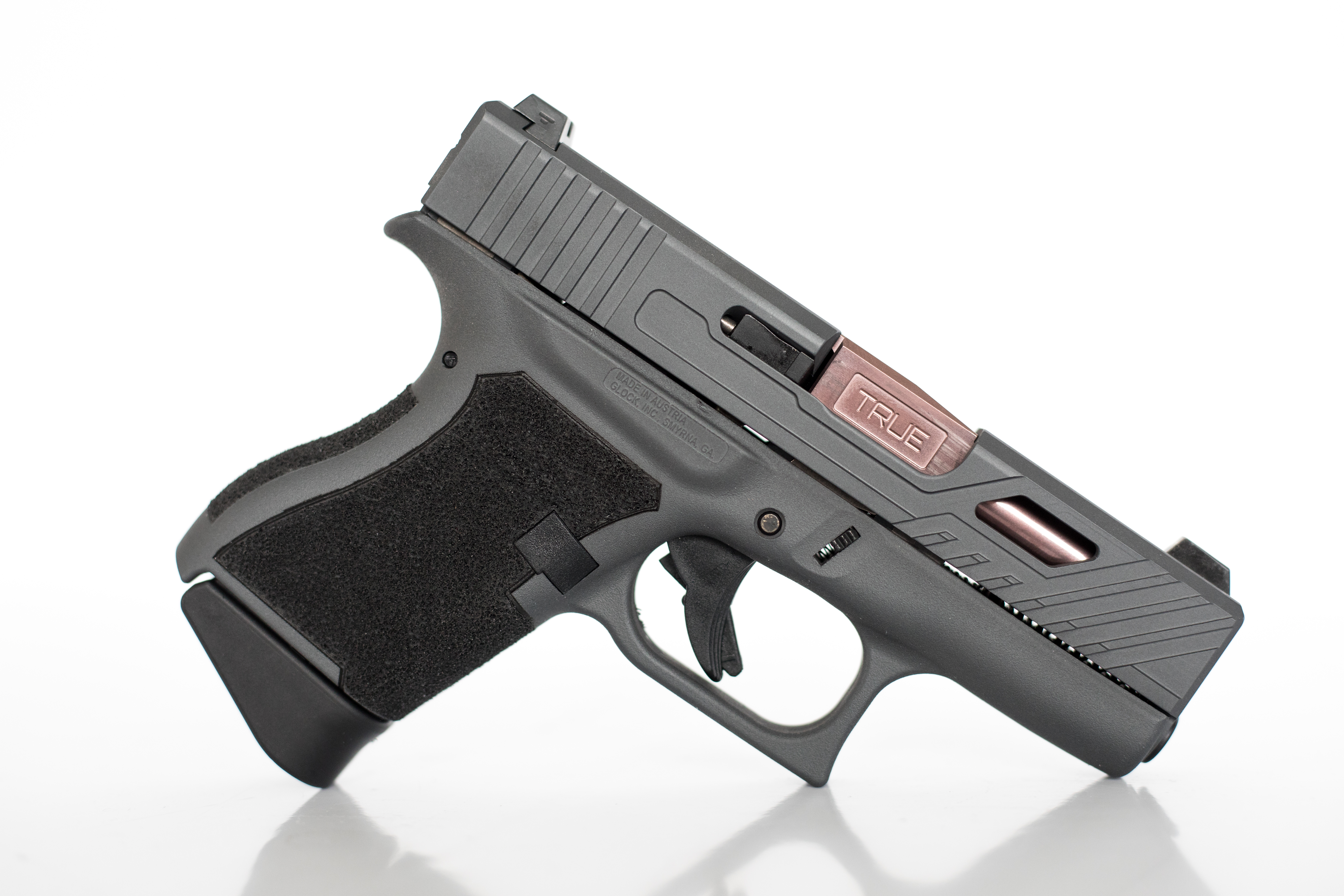 You can ensure that by looking for a holster with features like concealability, comfort, trigger protection, and more. 
Now let's talk a little bit more about each feature your next holster should have.
Comfortable Materials and Fit
Personal preferences may mean you just won't like a certain type of holster, in which case it's not a big deal. Just go with a different type of holster.
For individual holsters, as opposed to holster types, you'll just want to make sure it feels comfortable.
Make sure it feels secure and won't fall or slide out of place as you move around. You don't want to be constantly adjusting your holster or even just concerned that you'll need to.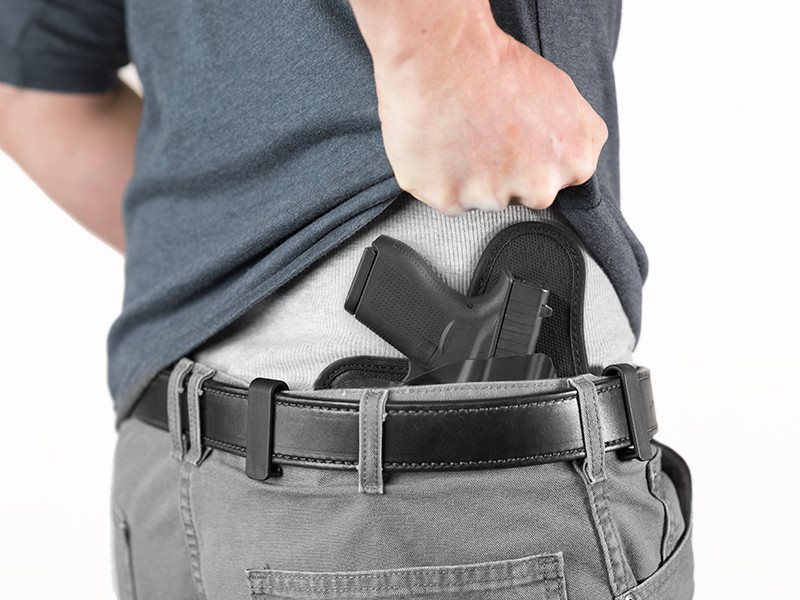 Pay special attention to whether or not the holster rubs against your skin when you move. While it may not feel like a big deal at first, after prolonged wear, rubbing can lead to pretty significant irritation and even blisters, especially if your holster is made from a harder material.
Don't underestimate the importance of comfort; if you're not comfortable when wearing your holster, you probably won't use, in which case, what's the point?
Protection of the Firearm
You want a holster made from sturdy material, like leather or polymer, that will protect your firearm from scuffs and bumps.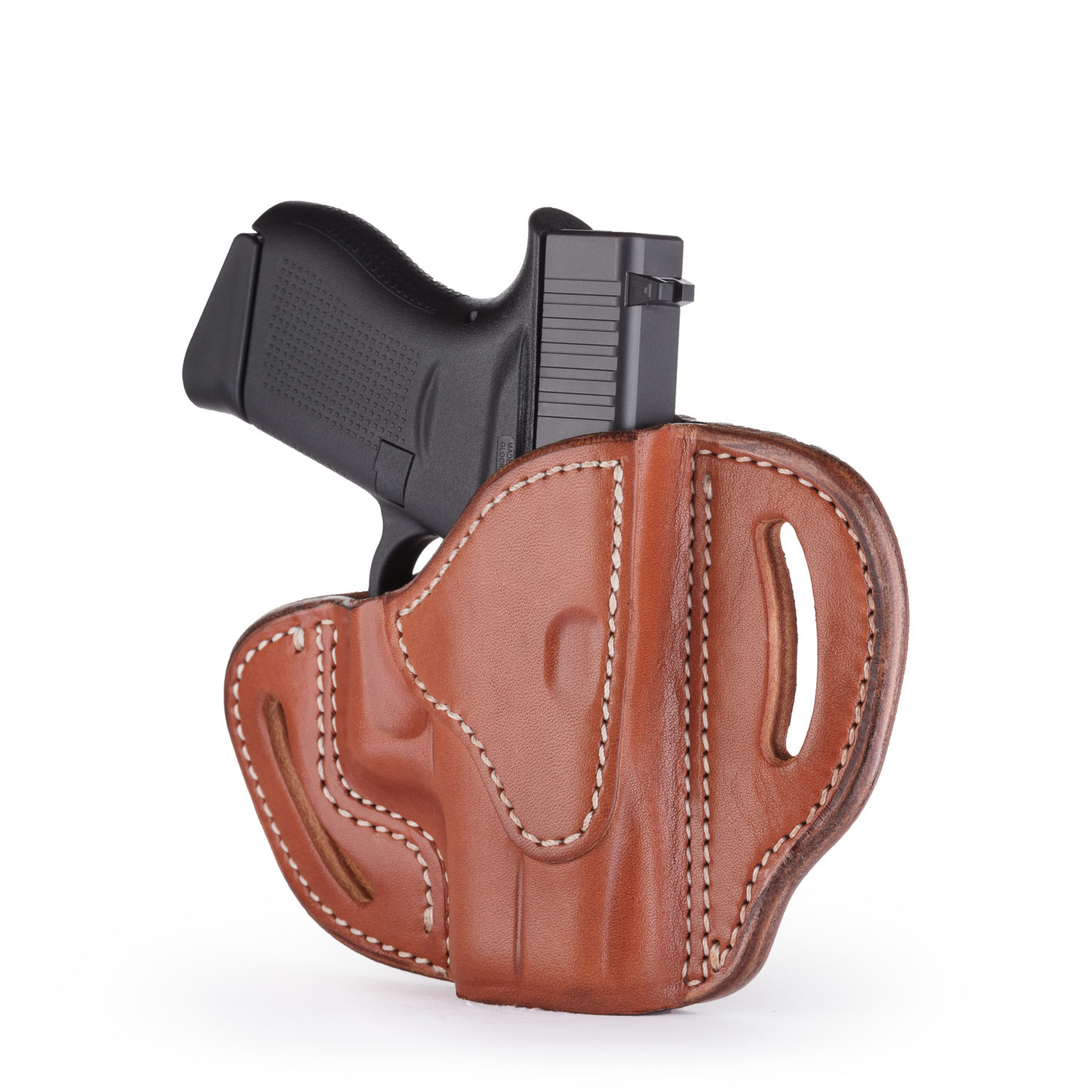 That said, harder materials can also scuff and rub your gun over time as you holster and draw it, so if you go with a polymer option, make sure it's padded on the inside to protect your firearm.
Firm Retention
A general rule of thumb is that if you turn your holster upside down, your gun should stay put.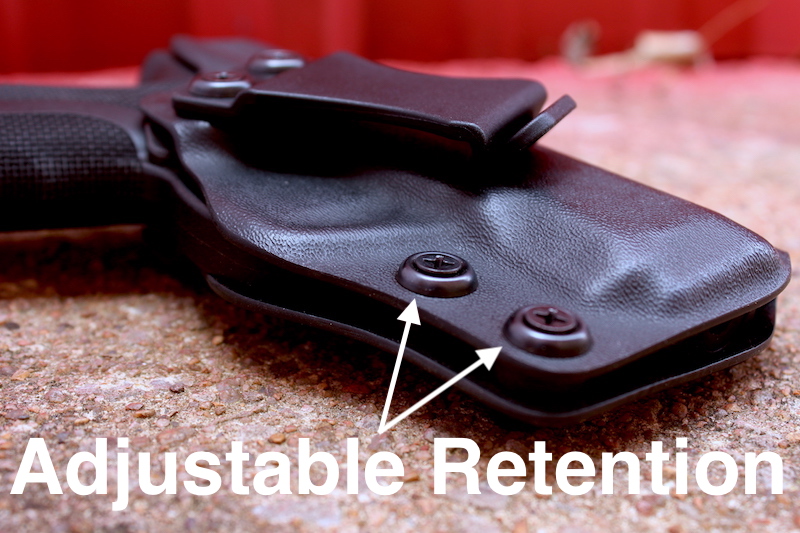 Some holsters use a friction fit to keep the gun in place, in which case the retention is usually adjustable, while others use a strap to keep the gun inside.
On the other hand, you should be able to quickly and easily pull your gun from your holster when you need it.
Concealment
Ease of concealment varies widely based on holster type, your build, and the types of clothing you wear.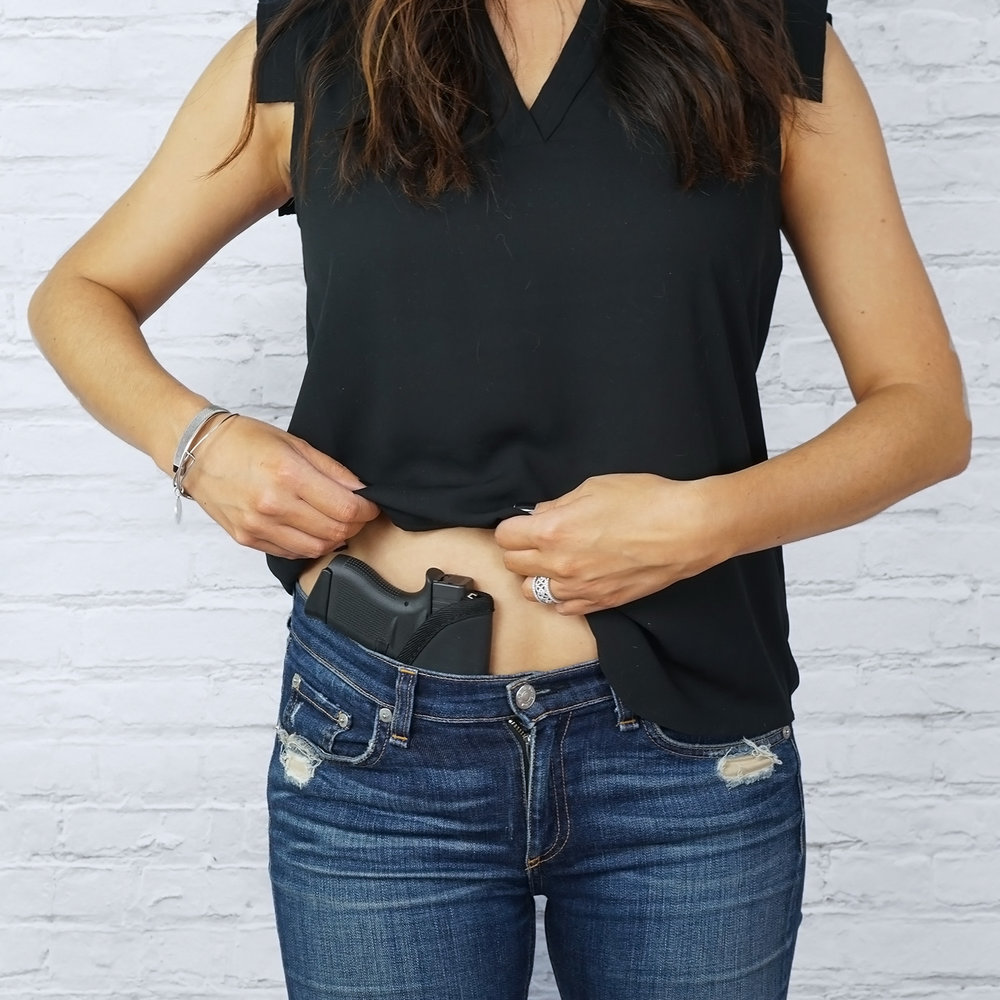 That said, if you only ever plan on carrying openly, you don't necessarily need to be able to easily conceal your firearm.
Still, it's nice to have the option should you decide you want to concealed carry, so we suggest going with a holster that's easily concealable.
Complete Trigger Coverage
There's not much to say here.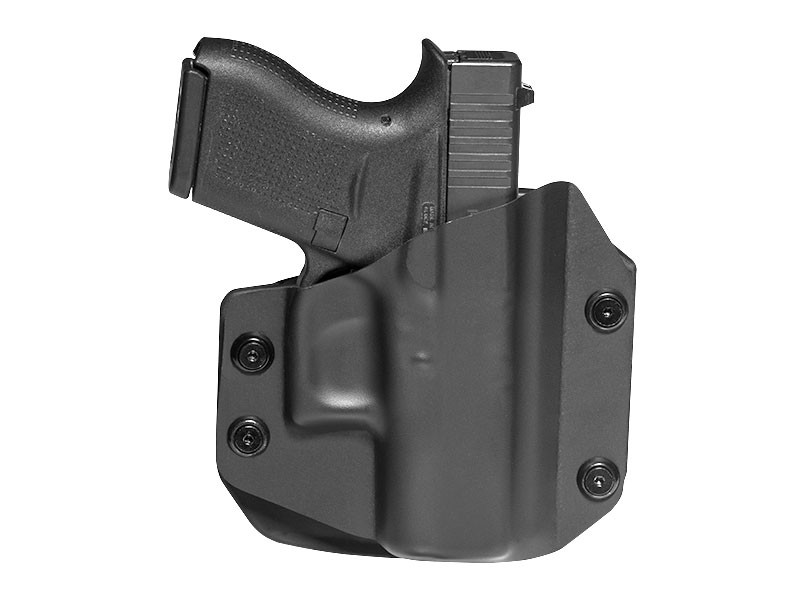 You need a holster that covers your gun's trigger with a sturdy material to prevent accidental discharge. Once again, Kydex and leather are great for this purpose.
There are plenty of holsters out there that don't do this, but there's no reason to risk it, so don't.
Positive Grip
This means that you should be able to pull your gun from your holster with a combat grip, ready to shoot, with one hand.
You should be able to do so from any position and in close quarters, should you be in a cramped space or need to defend yourself from a very close attacker.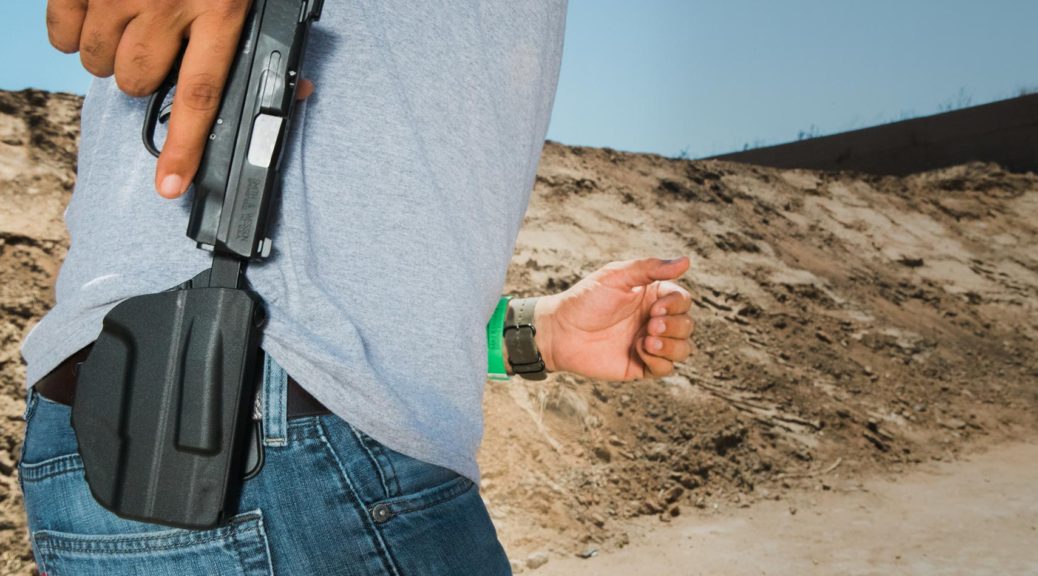 If your holster doesn't allow for all of this, choose a different holster.
Once you've chosen your holster, you'll need to practice holstering and drawing your firearm quickly and effectively to make sure that you're able to do so in a defensive situation.
Types of Holsters
There are several different types of holsters that you can choose from.
OWB (Outside the Waistband)

IWB (Inside the Waistband)

Belly Band

Shoulder

Thigh

Ankle
Let's talk about the benefits and drawbacks of each, so you can figure out which is best for you.
OWB (Outside the Waistband)
OWB carry is, as the name would suggest, when the holster sits on the waistband outside of your pants (or shorts or skirt or jumpsuit or kilt or whatever).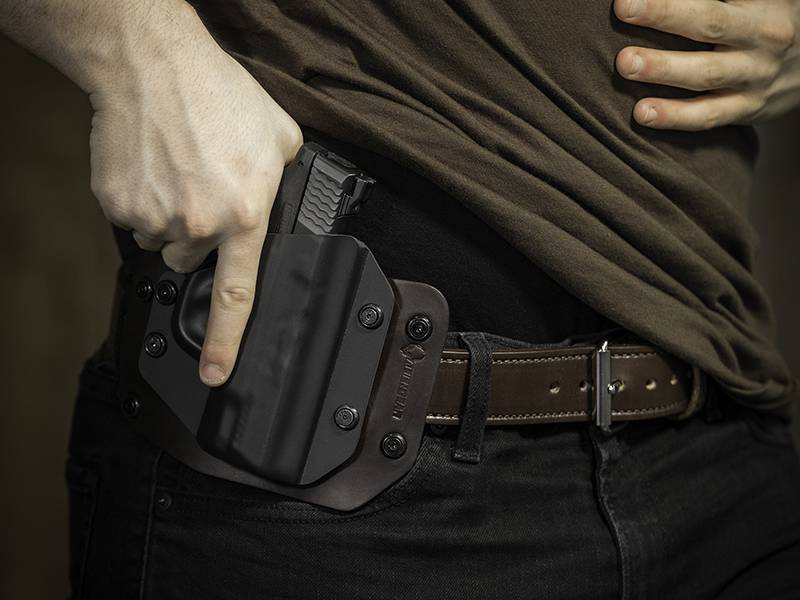 This is one of the more popular methods of open carry because it's generally very comfortable and allows easy access to your firearm.
It's far less popular for concealed carry because, well, it's very difficult to conceal a gun and holster sitting on the outside of your pants.
Even with a jacket or untucked shirt, OWB holsters tend to print (show through your clothing). Fortunately, the Glock 43 is small enough that this isn't as much of an issue as with larger guns.
IWB (Inside the Waistband)
IWB carry is similar to OWB but, once again as the name would suggest, the holster sits tucked inside the waistband, between your pants (or shorts or skirt or jumpsuit or kilt or whatever) and underwear.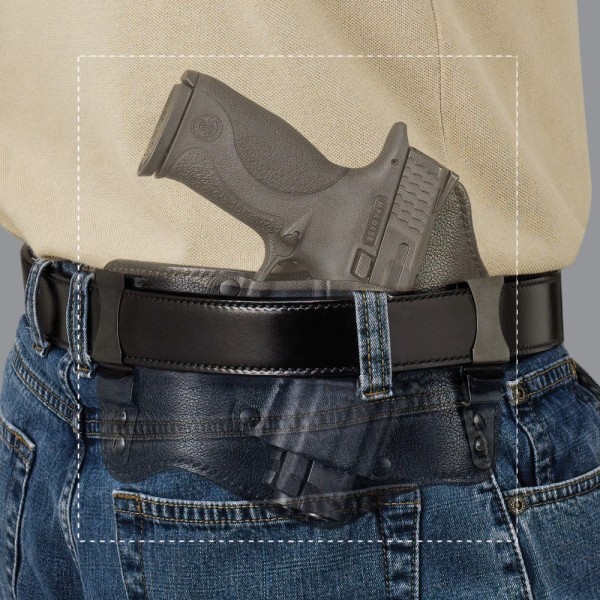 This is great for concealed carry and IWB is, in fact, the most popular form of concealed carry, at least according to a very unscientific poll from USA Carry.
Because they sit so close to your body, IWB holsters don't print very much, but it's also more difficult (but still possible with extra practice) to get a proper grip on the gun before drawing.
Shoulder
Shoulder holsters have straps that go around each shoulder and across the back. The gun sits against your ribs on your support side (the side opposite from your dominant side or strong hand, which you pull the trigger with).
They're generally worn over your shirt.
Sometimes they also have a strap across the chest.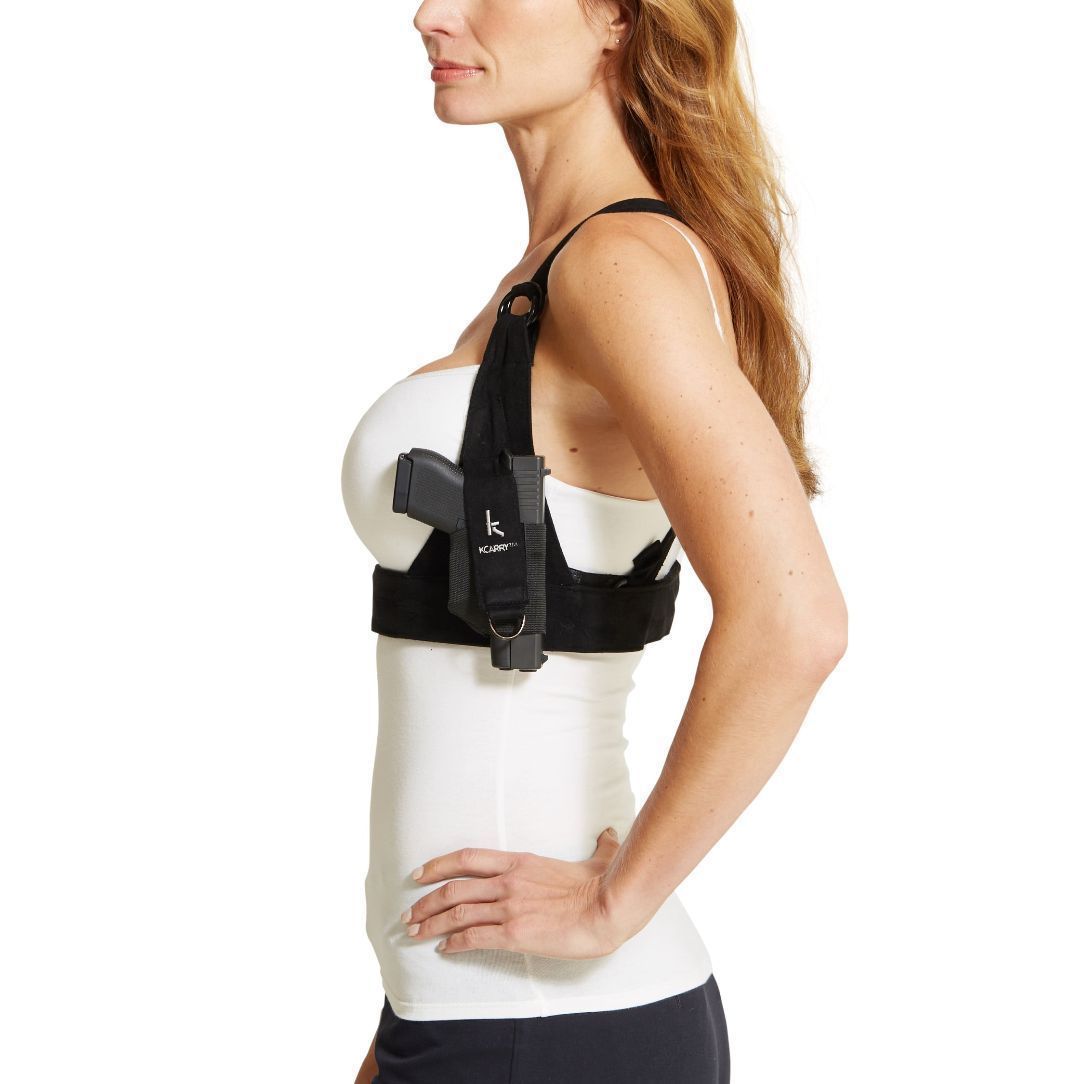 Shoulder holsters are great for when you're wearing a jacket and are popular among plainclothes law enforcement. You've almost certainly seen them worn in spy films and police procedurals.
There are some downsides though.
Since it's worn over the shirt, your gun isn't concealed if you take off your jacket, though there are some that are designed to be worn between an undershirt and a button up or blouse. These are generally not as easily accessed, however.
In most shoulder holsters, the gun is pointed directly behind you, muzzling anyone who happens to be back there. A design where the gun points down is preferable for safety and has the added advantage of keeping the gun more securely in the holster, which can be a problem with shoulder holsters.
In either case, though, it can be difficult to draw the gun without accidentally muzzling bystanders before you get your aim.
Ankle
Ankle carry is generally not the first choice for concealed carry, unless other areas are for some reason not viable, but is a popular place to carry a backup gun.
Your gun is generally more difficult to get to and ankle holsters can be uncomfortable, especially on hairy legs.
On the other hand, unless you're wearing pretty tight pants, have a very small frame, or both, printing is rarely an issue, especially with small guns like the Glock 43.
Our Recommendations: Best Holsters for the Glock 43
Now, the part you're here for–our top recommendations on holsters for your Glock 43! Here's a variety of our favorite holsters for different carry styles. we're pretty sure you're going to find one you love in the list below.
OWB Holster Recommendations
The Alien Gear Cloak Mod is a similar Kydex paddle holster, but can also be worn as a belt slide holster by detaching the paddle and switching it out for the included belt slide.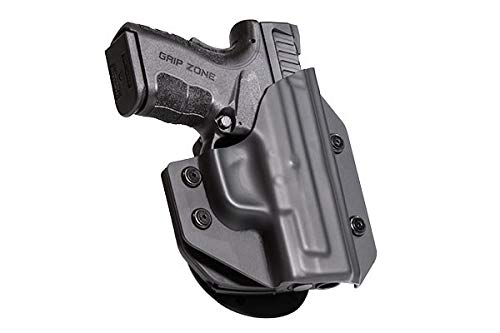 Alien Gear Cloak Mod Holster
Pros
Adjustable cant
Sturdy Kydex construction
Interchangeable with other Alien Gear products
Cons
Can be difficult to attach to your belt
You can also adjust the cant and level of retention of the holster, making it even more customizable.
Furthermore, the Cloak Mod holster can be used with any Alien Gear shell, so if you're ever carrying a different gun and have an Alien Gear shell for it, you can still carry using your Cloak Mod holster. And if you already have an Alien Gear G43 shell, you can avoid redundant shells by just purchasing the holster without the shell.
We can't do a holster round up and not include a leather OWB holster.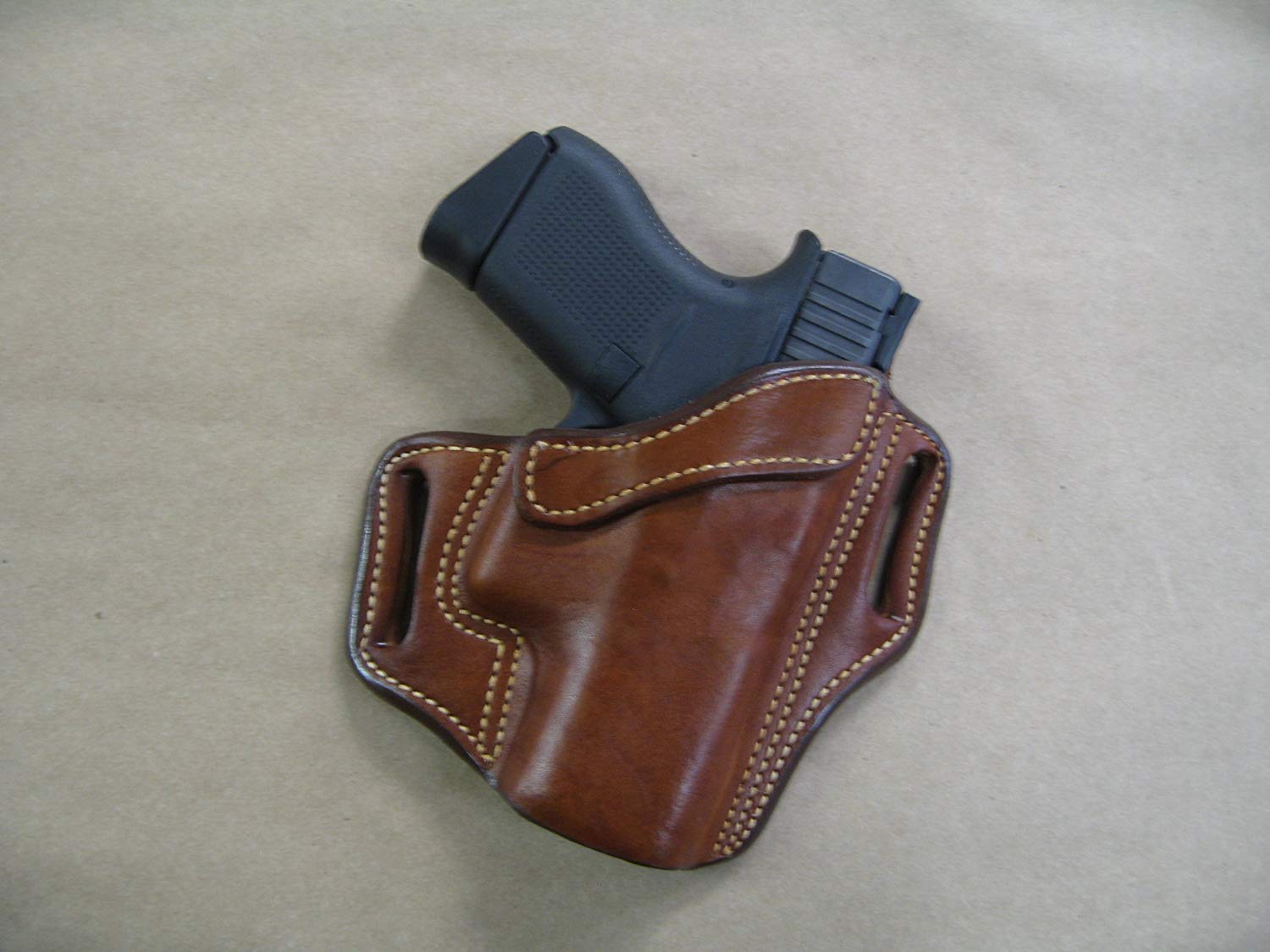 Azula OWB Leather Pancake Holster
Pros
Classic look
Soft leather won't scratch your gun
Available in brown and black
Cons
Requires some break-in time
This one from Azula is a pancake holster, which means that it's made of two pieces of material attached to one another with a molded space for the gun in between them and slots for your belt.
It's made out of beautiful, high-quality leather, available in either black or brown, and is perfect if you want a soft holster or a holster with a more classic appearance.
IWB Holster Recommendations
This Kydex holster is one of our favorite holsters, period.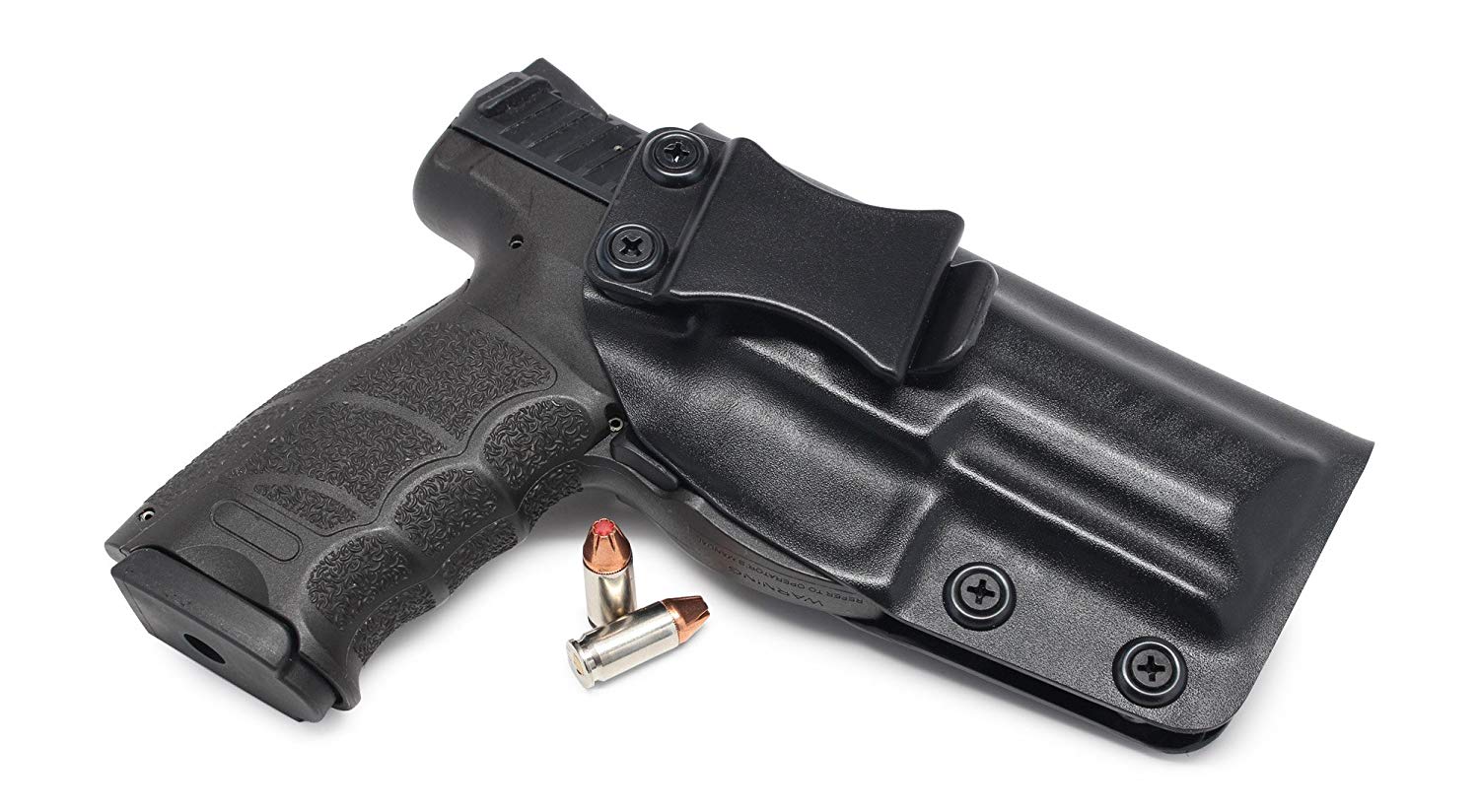 Concealment Express IWB Kydex Holster
Pros
Affordable
Posi 'Click' Audible Retention Lock System
Sturdy Kydex construction
Cons
Limited options on accessories that fit the holster
It's lightweight, durable, protective, and barely imprints, yet it's still comfortable and securely holds your firearm.
It's especially good for appendix carry, but it's also effective for hip or back carry.
It attaches to your waistband via a 1.5" plastic belt clip.
The Cloak Tuck 3.5 holster is another winner from Alien Gear.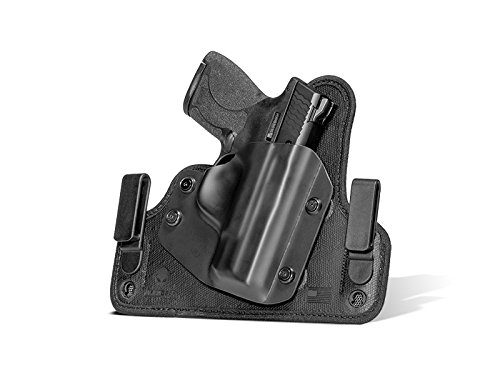 Alien Gear Cloak Tuck 3.5 IWB Holster
Pros
Adjustable cant, ride height, and retention
Neoprene and Kydex construction for comfort and durability
Paddle-style holster for secure wear
Cons
Plastic belt clips can be hard to fit over a thicker gun belt
Like the Cloak Mod holster, the Cloak Tuck 3.5 is highly customizable compared to its competitors, with adjustable cant, ride height, and retention.
The broad, paddle-like construction and two clips keep the holster securely in place.
The neoprene panel makes the holster more comfortable to wear, while the hard shell keeps your Glock nicely protected.
Shoulder Holster Recommendations
This is a classic (and classy) leather shoulder holster system.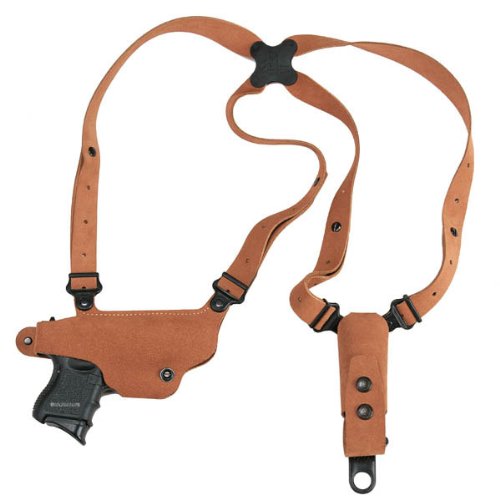 Galco Gunleather Classic Lite Shoulder Holster
Pros
Snap closure retention
Left- or right-handed configurations available
Magazine holder and gear loop
A snap closure helps combat the retention problems of the shoulder holster setup, but also slows access to your firearm.
This holster is available for either right- or left-hand draw, and the side opposite your gun has a mag holster and a loop for attaching additional gear. In addition to being handy, these also help keep your holster balanced.
This shoulder holster system has an elastic pocket that will fit not just your G43, but also just about any other small to medium-sized handgun. Despite the elastic gun pocket, it does have a Kydex trigger guard to prevent accidental discharge.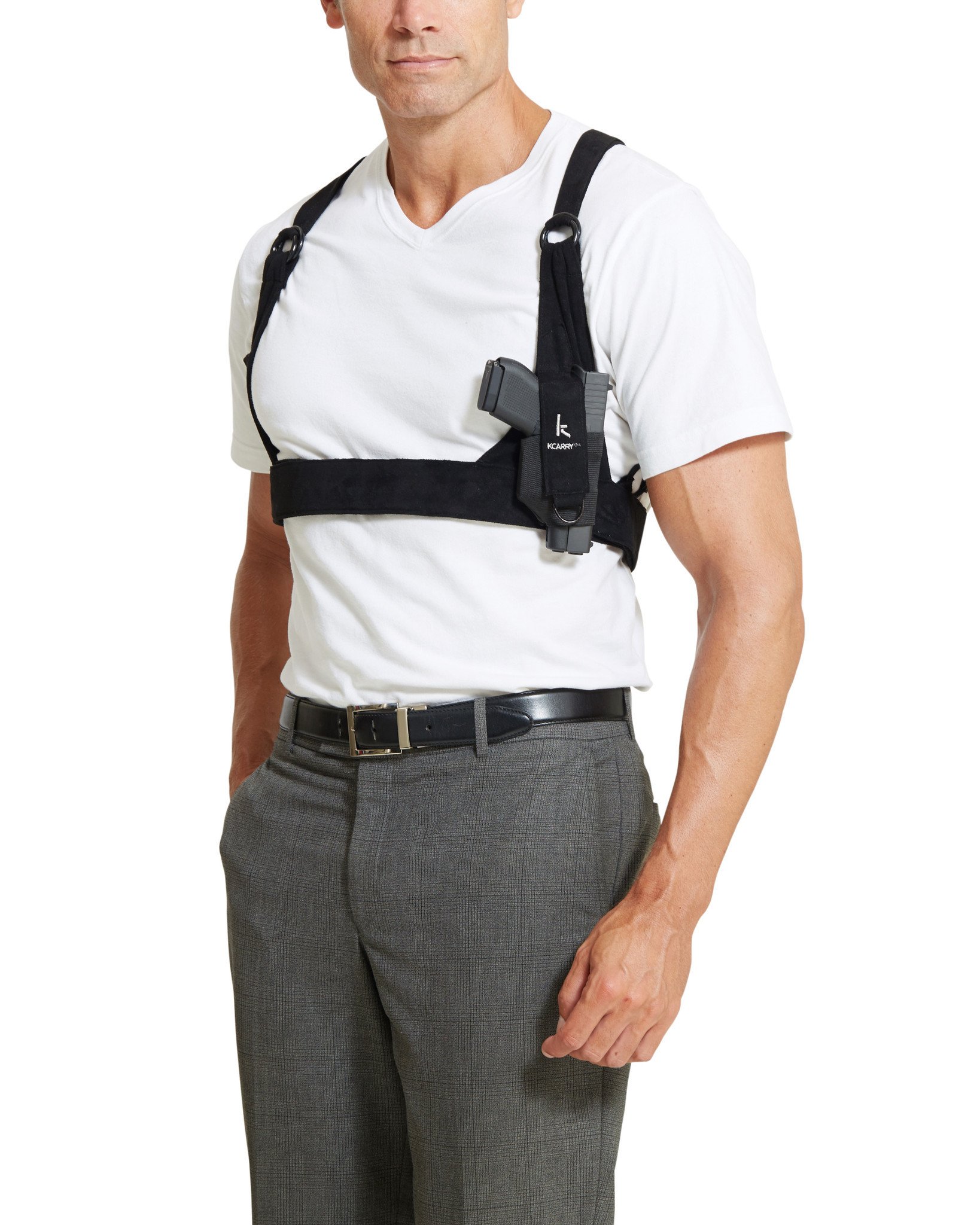 KCarry Shoulder Holster
Pros
Flexible elastic holster accommodates a variety of guns
Kydex trigger guard
Adjustable fit
Cons
Chest band is hard to conceal
It comes in designs for both men and women, so ladies, you can have a shoulder holster that's actually designed for someone with breasts.
KCarry shoulder holsters are made of microfiber for breathability and comfort and are highly adjustable.
Like the Glaco Classic Lite Shoulder Holster, they're available for either hand draw and have a magazine pocket opposite the gun pocket. Also like the Galco shoulder holster, a strap aids retention, but slows access.
Ankle Holster Recommendations
This might be the most widely recommended ankle holster and for good reason.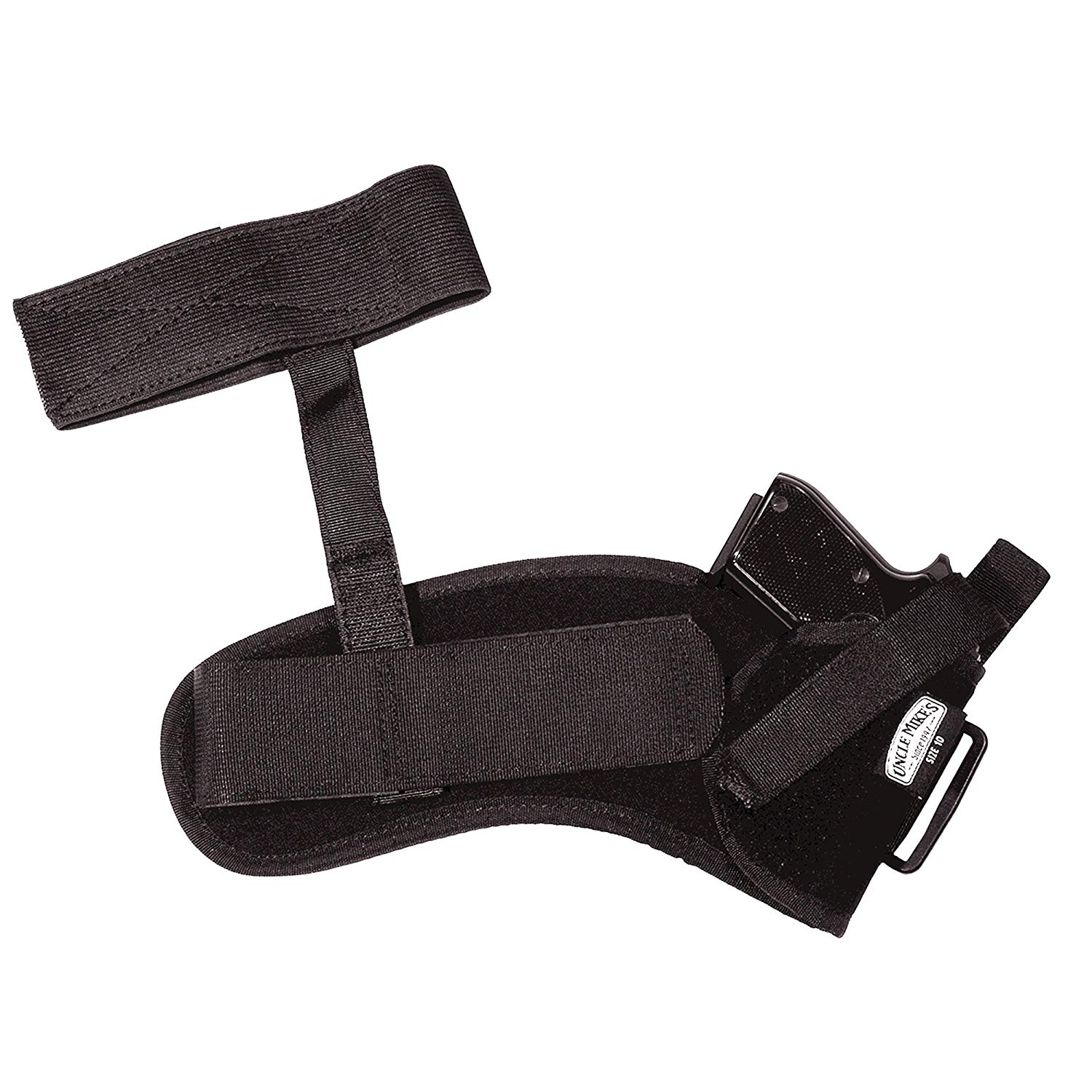 Uncle Mike's Nylon Ankle Holster
Pros
Padded backing for comfort
Nylon retention strap with reinforced thumb break
Can be worn on the inside or outside of the leg
Cons
Difficult to conceal on smaller frames
It's padded for comfort and has a wrap around, velcro adjustable design for a secure fit on a variety of leg sizes. An elastic calf garter helps prevent slipping.
Again, we have a retention strap to offset retention issues inherent in the holster type. This one comes with the added disadvantage of a velcro closure, the noise of which can give away your position in a tactical situation, but if you're only using it for a backup gun, this is less of an issue.
If that's a make or break issue for you, or you prefer a different style all together, our next recommendation may suit you better.
Despite the brand name, Femme Fatale Ankle SoxXx are available in designs for both men and women.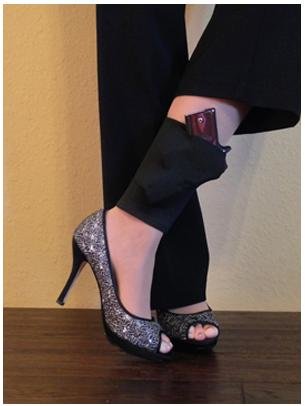 Femme Fatale Ankle SoxXx
Pros
Available with retention strap
Variety of colors to blend under your clothes
Men's and women's sizes available
Cons
Not all varieties available with a retention strap
They're essentially elastic sleeves with a 5" gun pocket, similar to a garter holster, and are very comfortable. A plastic shield between the leg and gun pocket aids in comfort and security.
Ankle SoxXx are available in black, white, and nude to aid concealment. They are also available with or without a retention strap, though the pocket is deep enough that you probably don't need one.
Women Specific Holsters
Ordinarily, we recommend something a bit sturdier than the Femme Fatale Hipster Holster, but with a gun this small, you can get away with it. With its lacey design, this belly band is probably going to be more interesting to our female readers, but we don't judge.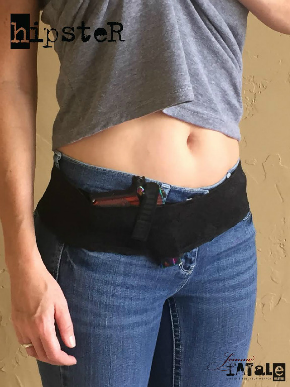 Pros
Lace design and colors blend with outfits for better concealment
3 hook-and-eye closures for easy wear
Moisture barrier to protect your gun
Cons
Not a great fit for larger guns
The lightweight lace makes this belly band very breathable, while a moisture barrier on the inside of the gun pocket keeps your firearm protected from any sweat. The lace also means that should someone catch a glimpse of the belly band, unless they see your firearm itself, they'll probably assume you're just wearing a camisole rather than realize that you're packing heat.
The gun pocket has muzzle ports on either side, allowing for ambidextrous strong side or cross draw, or even back carry.
Military grade compression elastic and hypoallergenic Non-Slip Tacti-Grip keep this garter holster firmly in place, but if you want even more security you can attach it to Can Can Concealment's Garter Belt using the built-in garter belt attachment loops.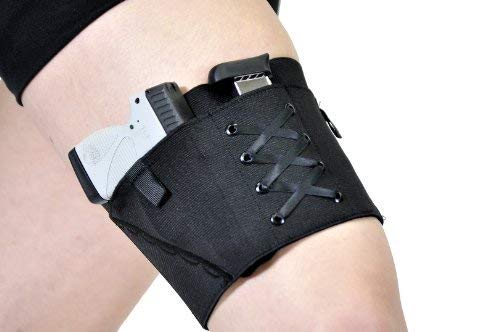 Can Can Concealment Shebang Garter Holster
Pros
Rare earth magnet retention
Different color options
Hypoallergenic Tacti-Grip backing for security
You can wear the garter on either the inside or outside of either thigh.
The Classic holster fits two firearms, plus a spare mag, all held securely in place using rare earth metal magnets.
The Can Can Concealment Garter Holster comes in four sizes and has three rows of hook and eye closures for an even more personalized fit.
We generally don't recommend off body carry, but if you do like purse carry, this is the way to go.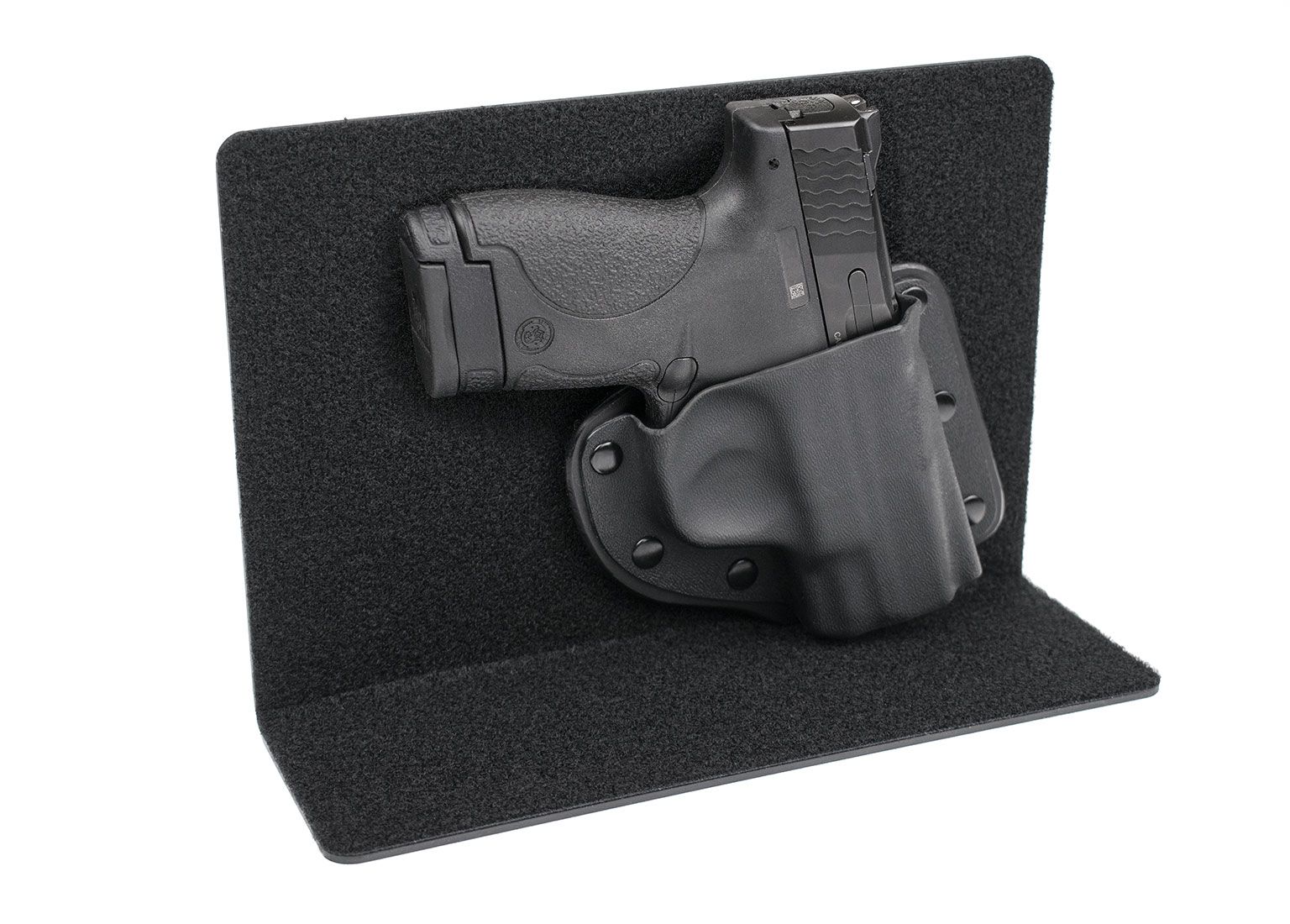 CrossBreed Purse Defender
Pros
Modular system can be moved between the purses you own
Designed not to tip over
Keeps your gun accessible in your purse
Cons
Bulky for use in smaller bags
Instead of buying an expensive and ugly CCW purse (or several, if you don't carry the same bag all the time), this holster fits securely into your favorite bag, letting you easily carry with any purse you like and easily switch between bags.
Bonus! A Gun Belt Recommendation
We agree with Blade-Tech that this is the ultimate carry belt.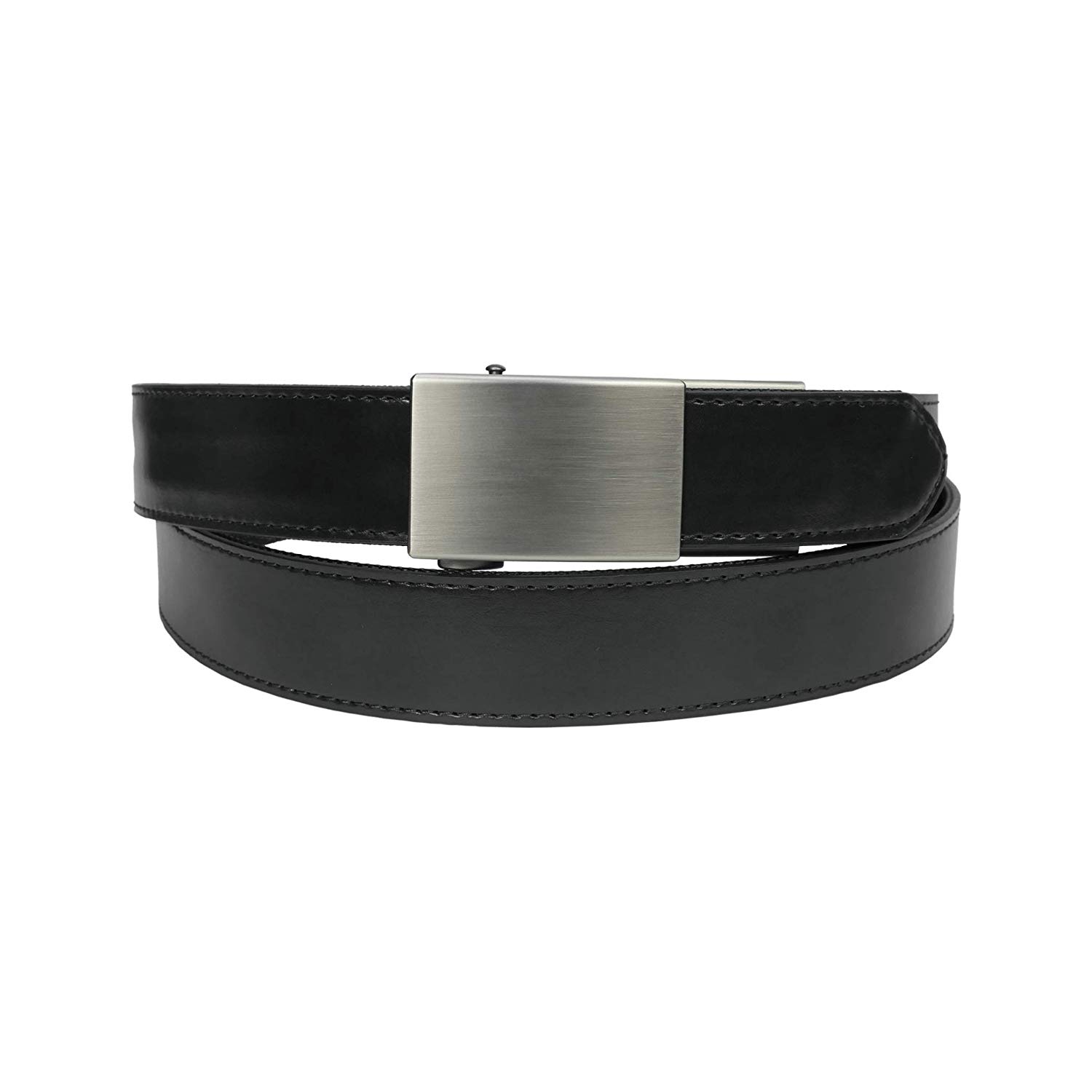 Blade-Tech Ultimate Carry Belt
Pros
Sturdy leather or nylon webbing
Highly adjustable
Available in brown and black options
It fits waist sizes from as small as 25" all the way up to 50". On top of that, it has up to 6" off instant adjustability with no unbuckling required, great for moving your IWB holster on and off body quickly and conveniently or for just making a little bit of extra room after a large meal.
It's available in black and brown leather and nylon, so there's an option for all occasions, and all styles are unisex.
Conclusion
All of these holsters are great, but no matter which one you go with, it's imperative that you take the time to drill with it to make sure that you're ready when it really counts.
You may need to try out a few to find one that you really like, and may just find that you have a few favorites that you go between for different situations (but again, make sure you're practicing with each).
So what holster do you carry? If you're looking for your first G43 holster, did we help you in your search? Let us know, and ask any questions of your own, in the comments! Check out our reviews on the best aftermarket slides for your Glock, too.