The 1911 is one of the most recognizable and iconic handguns of all time.
Despite its design, which is more than a century old, the 1911 is still quite popular today. Like the AR-15, its success of the Colt 1911 has inspired a number of other companies to make pistols following the 1911 platform. While each type of 1911 is a little different, they keep the essential shape and design associated with the original 1911 handgun.
The Original Colt M1911
The Colt 1911 was developed at the turn of the 20th century by John Moses Browning. If his name looks familiar, it's because he's the same Browning that founded Browning Arms Company, which is known for their excellent hunting and sporting rifles, pistols, and shotguns.
After the end of the Philippine-American War in 1902, the US Military wanted to replace their Colt M1892 revolver sidearm with a stronger, auto loading pistol. A number of companies were competing to develop the military's new sidearm, including Smith & Wesson and Savage Arms, but Browning's M1911 outperformed the rest in various tests and was subsequently produced by Colt – and thus, the M1911 was born.
The development of the M1911 brought us something equally innovative: the .45 ACP.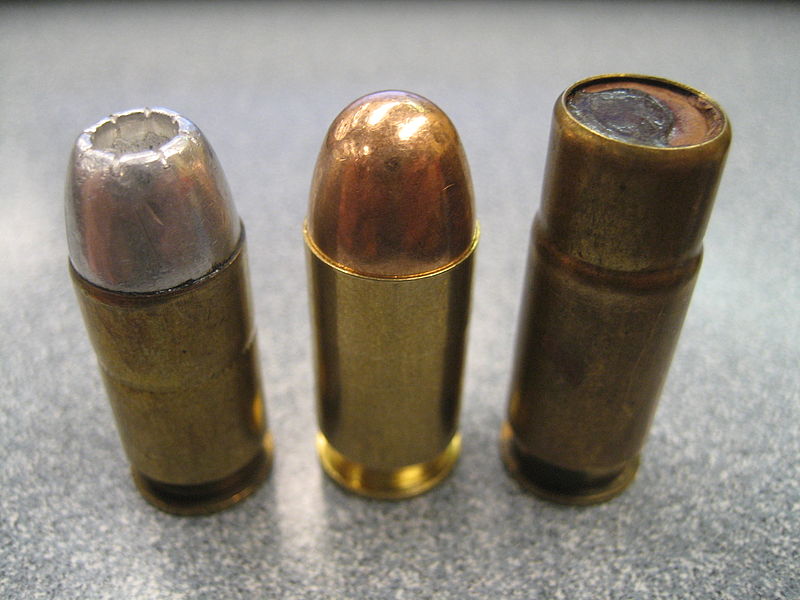 Not to take away from the accuracy and dependability of the M1911, but the introduction of the .45 ACP cartridge played a big role in helping Browning's M1911 become the official sidearm of the US Armed Forces. Stronger and more capable than the .38 Long Colt round used at the time, the .45 ACP continues to be one of the most popular handgun cartridges on the market.
Why Are There Non-Colt 1911s?
These days, a lot of manufacturers produce 1911s – even models chambered for other cartridges., like the 9mm, 10mm, and the .40 S&W.
There's a common misconception among traditionalists that the only real 1911 is the Colt 1911, but that's not exactly true. In fact, Colt outsourced a lot of their M1911 production during World War I and II to a number of overseas companies, including Remington and Savage Arms. Even companies like Singer Sewing Machine and Union Switch & Signal, which don't even specialize in firearms, helped with the production.
Because the 1911 was such a popular service pistol, it's become a collector's item like AR-15s and AK-47s. This, combined with its popularity in Heavy Metal 3-Gun competitions, has created a demand high-end 1911 models that look and shoot better than the standard issue M1911. And today, we're going to look at a few of them.
The Gold Cup has a look and feel of the vintage M1911, but with a more polished look.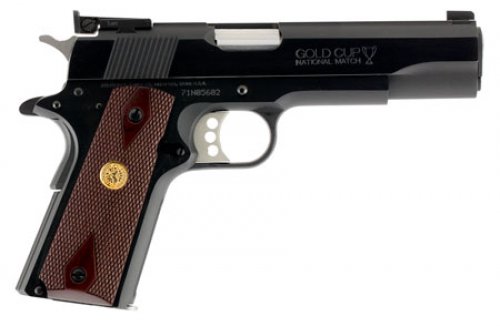 Colt Gold Cup
Pros
Fiber Optic Front Sight
Adjustable Rear Sight
National Match Barrel
Introduced in the 1950s, this gun is more than just a collector's item – it's a finely-tuned competition pistol that's been designed for precision and accuracy.
Its specs include:
Aggressive checkering

Fiber optic front sight

Bomar adjustable rear sight

National Match barrel
For an extra $100, you can get the Gold Cup Trophy model, which comes with a skeletonized hammer (commander hammer), extended beavertail, and stainless steel finish.   
Colt Gold Cup Trophy
Springfield's 1911 MC Operator isn't cheap, but it's regarded as one of the top premium 1911 models in production.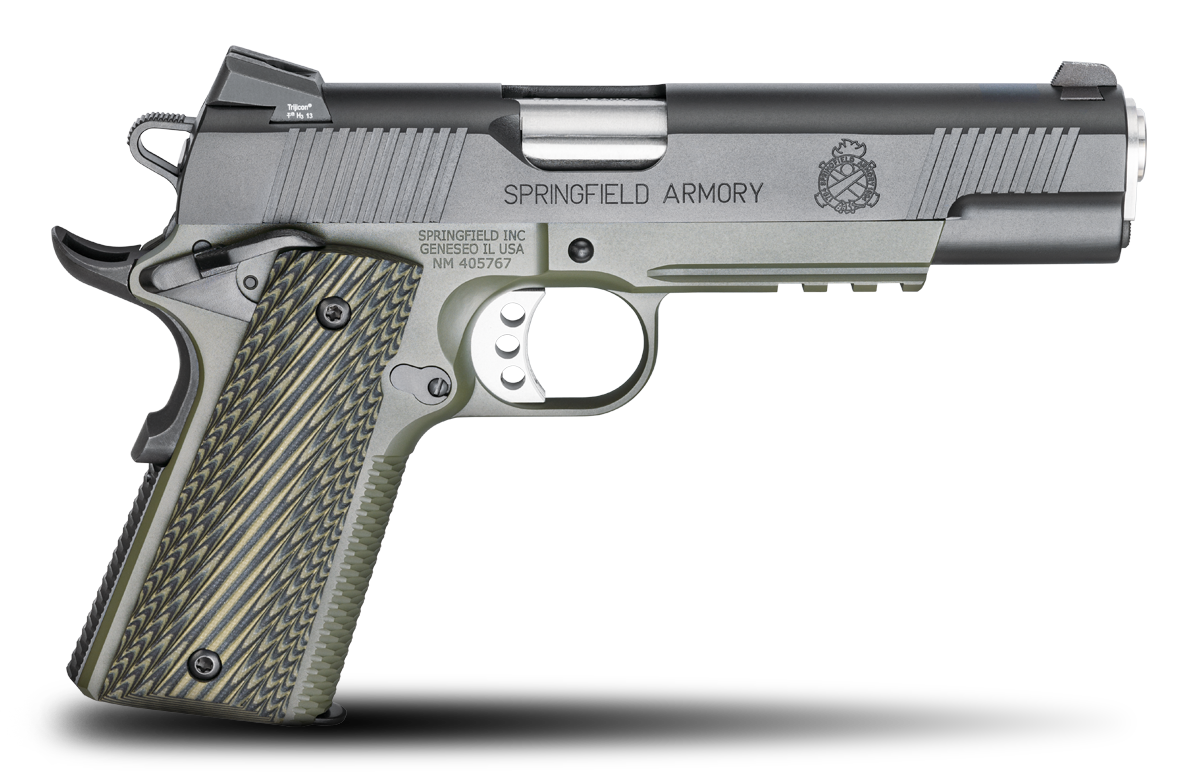 Great for the competitive shooter, the MC Operator is built for style and performance. It comes with a lot of perks that you won't find with your average 1911, including:
3-dot tritium sights

Match grade stainless steel barrel

Flared ejection port

Built-in accessory rail

Ambidextrous thumb safety
Overall, the MC Operator is effective and reliable, making it one of the better competition pistols available. It's accurate, sits comfortably in the hand, and has a responsive and smooth trigger system. Despite its hefty price tag, the MC Operator is definitely worth it for anyone willing to spend more than $1000 on a 1911 – or any .45 ACP for that matter.
Rock Island Armory is known for providing shooters with the most bang for their buck. While most of their 1911 models are low cost, Rock Island Armory pistols have earned the reputation of being accurate, reliable, and comfortable to shoot.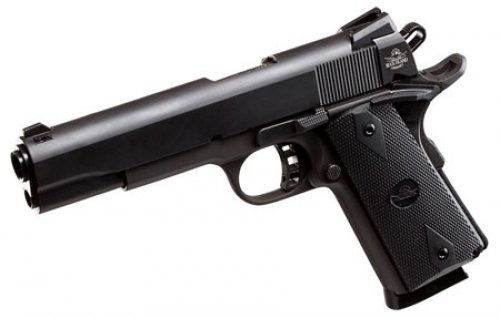 Rock Island Armory 1911-A1 Tactical
Pros
Lots of features for the price
Built solid
With regards to perks, don't expect Rock Island 1911s to come with the same upgrades seen on the high-end competition 1911s. The A1 Tactical doesn't come with a match-grade barrel or accessory rail. It's a functional gun, and it performs its function very well.
For this reason, we recommend the A1 Tactical 1911 to anyone looking to buy an affordable 1911 for target shooting, home defense, or just to add to their gun collection.
One of the higher-end 1911 manufacturers, Ed Brown has been developing quality handguns for the past five decades.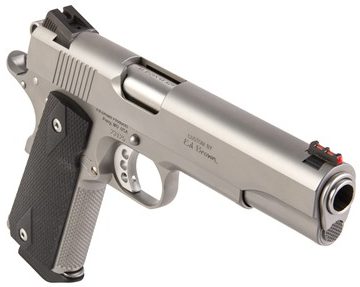 Ed Brown Special Forces 1911
Pros
Top tier 1911
Amazing fit and finish
What separates the Special Forces 1911 apart from your run-of-the-mill handguns is the materials used. Ed Brown uses only the highest quality material to make their handgun components. Their guns are made through a combination of machining and hand finishing and are then given thorough inspections to ensure their quality and performance.
Springfield's Mil-Spec 1911 is perfect for the purist hobbyist looking for a 1911 that shoots like the military-issued M1911.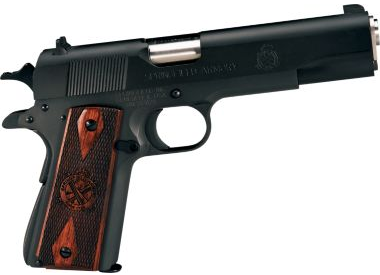 Springfield Armory Milspec 1911
Pros
True to the original design
A truly authentic 1911
Cons
None of the upgrades that 100 years of development has produced
In terms of performance, there's not much special about the Mil-Spec 1911. It's a dependable handgun that's able to withstand heavy use and continue to perform, but it isn't built with performance-grade components designed to give a competitive edge.
With that said, the Mil-Spec 1911 is built to last and is a solid choice for anyone interested in buying an "authentic" 1911.
Similar to Ed Brown, Nighthawk Custom manufacturers premium 1911 models that support a number of different cartridges.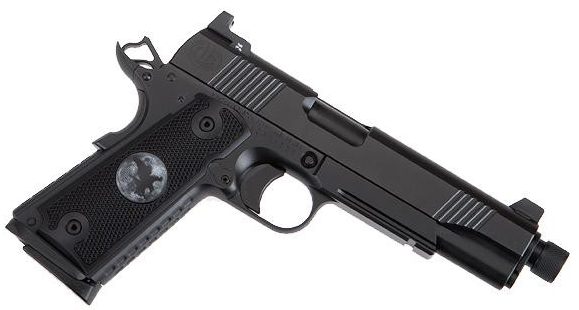 Nighthawk Custom Advanced Armament Recon 1911
Pros
Undisputedly one of the best 1911s on the market
Suppressor ready barrel
Match grade trigger
Built-in rail system
The Advanced Armament Recon 1911 is chambered for .45 ACP and comes with a number of perks. Optimized for competitive shooters, this handgun comes with:
A suppressor-ready barrel and steel thread protector

Lightweight match-grade trigger system

Built-in rail system
While one of the more expensive 1911s in production, the Advanced Armament Recon shoots great and is beautifully crafted. We recommend it to anyone who wants to buy a 1911 and doesn't need to stick to a budget.  
Wilson's CQB Tactical LE is a fully-upgraded 1911 designed to suit the needs of the modern shooter.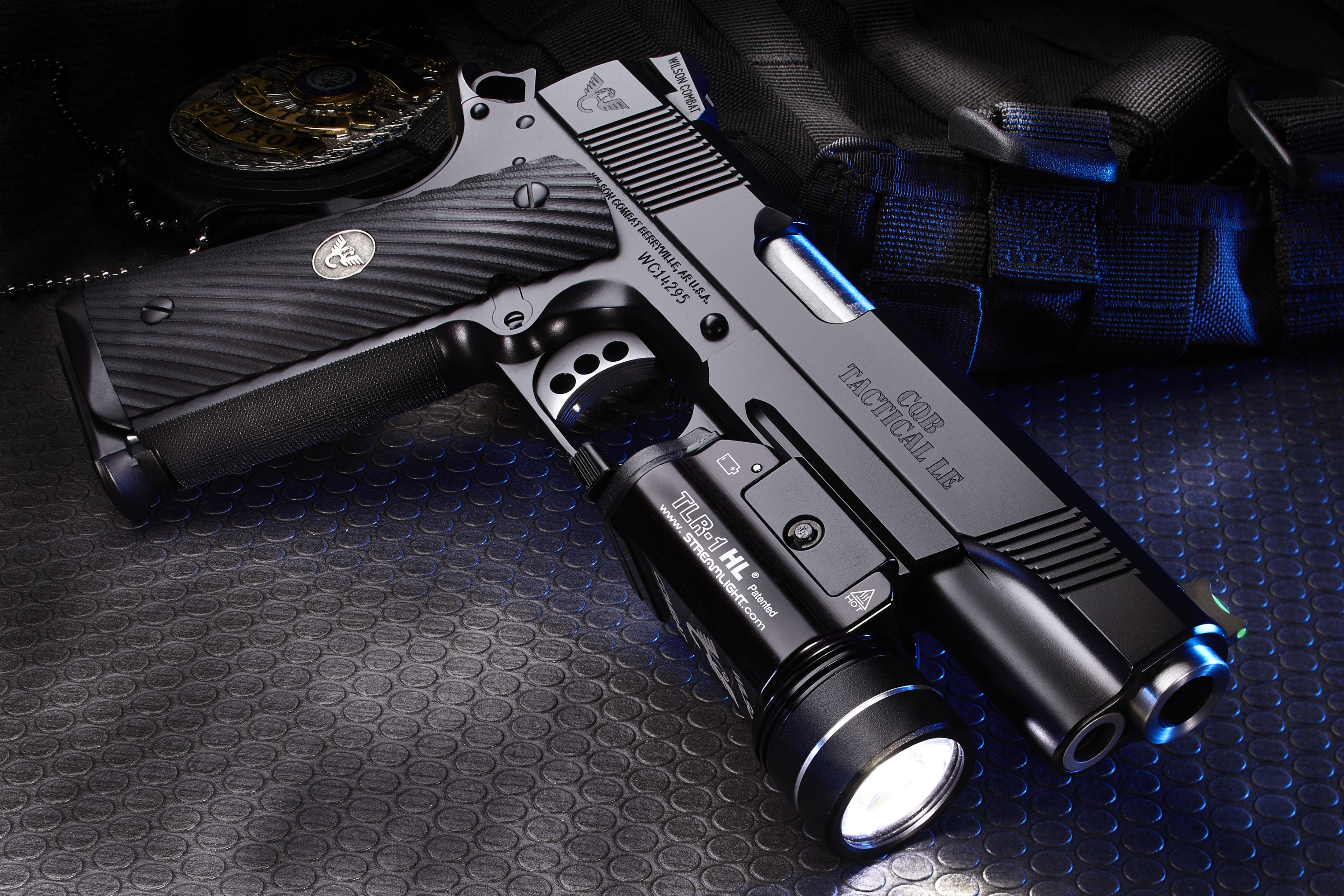 Beautifully crafted and equipped with a lightweight carbon steel slide, the CBQ Tactical LE is arguably one of the best looking 1911s money can buy. But this stylish handgun has more than just looks – it's also been designed to suit the tactical needs of military and law enforcement specialists.
Benefits of this gun include:
Built-in rail system for light or laser attachment

Patented

Speed-Chute

magazine well for faster reloading

Lightweight and durable stainless steel frame

Comfortable diagonal grips and aggressively checkered front strap

Fiber optic front sight
Remington's R1 is a mid-range 1911 that's perfect for home defense or open carry. Its double stack configuration gives shooters a 15+1 capacity, twice as much as most other 1911 models.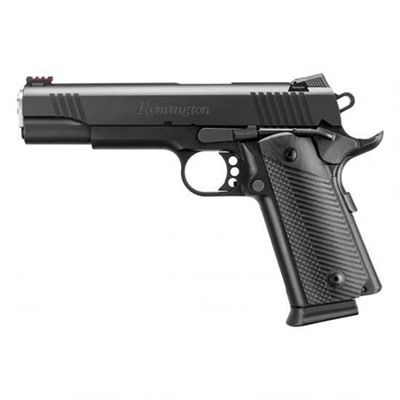 Remington R1 Double Stack 1911
Pros
15+1 capacity
Fiber optic front sight
G10 grips
Performance trigger
The R1 may look like the original M1911s that Remington helped Colt manufacture during the war, but it's anything but basic. For less than $900, this gun has been optimized or shooting and comfort and comes with:
A fiber optic front sight

Performance trigger designed to reduce overtravel

Aggressive yet comfortable G10 grips
And while the R1 might not look incredibly fancy, it shoots as well as 1911 models that cost $2000 or more.
Not for the purists, the Amethyst Ultra II is a compact 1911 model chambered for 9mm rounds.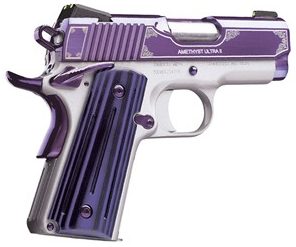 Kimber Amethyst Ultra II
Pros
9mm 1911
Stunning to look at
The Amethyst Ultra II is built with the same quality and craftsmanship that Kimber is known for, but its unorthodox look might not be for everyone. Its small size and flashy appearance might be too much for hobbyists who collect 1911s, but its slim body and 3" barrel makes it perfect for anyone looking for a concealed carry pistol.
The EMP Lightweight Champion is a compact 1911 chambered in 9mm. Great for shooters who love the 1911 design but want something a bit easier to carry, this gun is lightweight, short, and comes with a 10+1 capacity.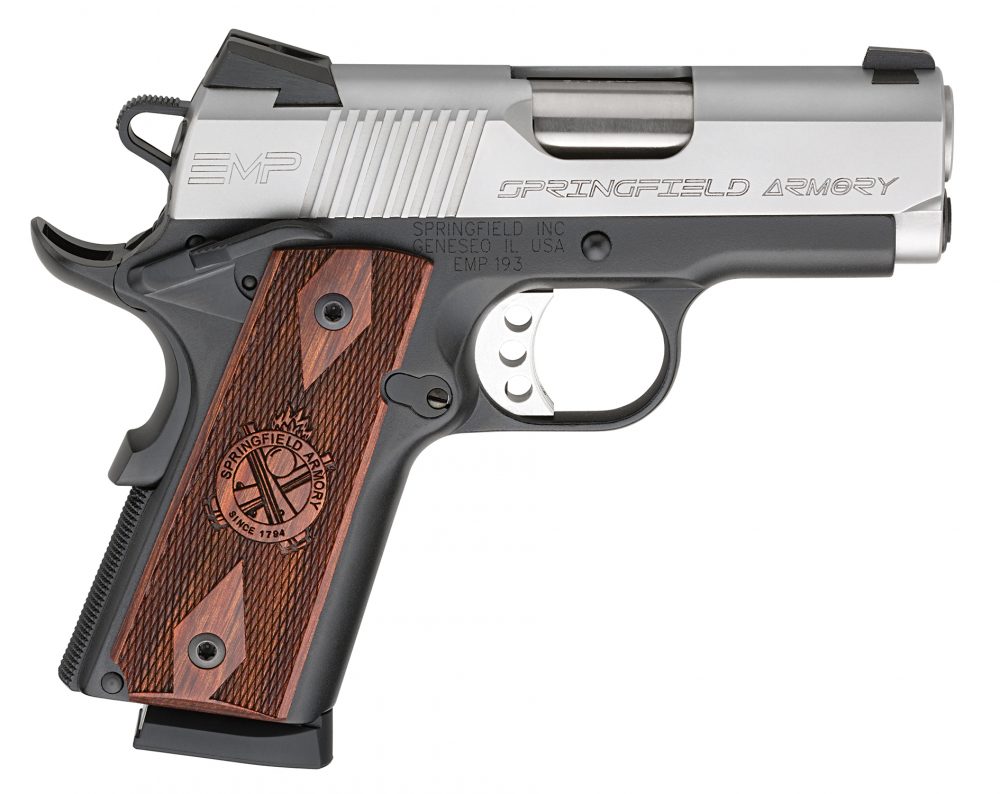 Springfield Armory EMP 4 Lightweight Champion
Pros
10+1 9mm
Steller CC 1911
Fiber optic front sight
Highlights of the Lightweight Champion include:
Sleek stainless steel finish

Fiber optic front sight

Comes with three magazines, each with 10-round capacity
The Lightweight Champion comes highly recommended to the 1911 lover who wants a gun with low recoil that's easy to shoot.
The DVC Classic is a premium single-stack 1911 that's been optimized for competitive shooting.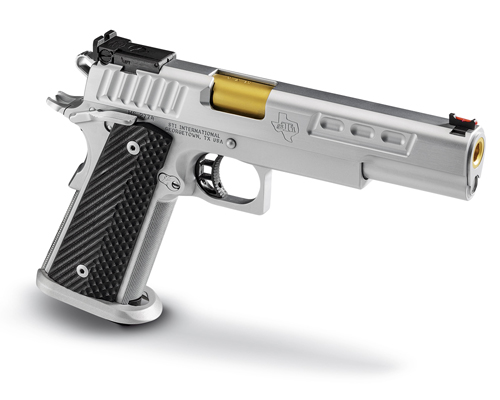 Chambered for 9mm, the DVC Classic gives a modern look and feel to the 1911. Everything about it is an upgrade from the "traditional" 1911 models found on the market, which helps to justify its high sticker price.
Not built just for looks, the DVC Classic is a competition-grade pistol that maximizes precision and accuracy. Its smooth action, lightweight trigger system, and adjustable sights with fiber optic front make it perfect for any single-stack competition.
If you're looking for the power of the .45 ACP and the shootability of the 9mm, Colt's 10mm Delta Elite 1911 is the perfect gun for you.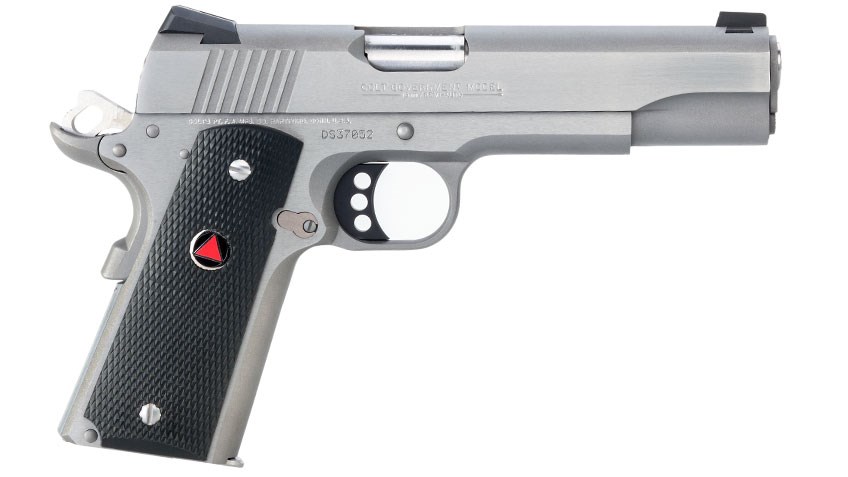 Colt Delta Elite
Pros
10mm for more power than .45ACP
The Delta Elite has the look and feel of the original M1911. It's comfortable, easy to shoot, and packs a tremendous punch. The only downside is that 10mm ammo is expensive and not as readily available as 9mm and .45 ACP cartridges.
There's a 1911 for Every Type of Job
The great thing about the 1911 is that there's one available for every budget.
You can find a basic 1911 for less than a thousand dollars or you can get a match-grade model for a couple thousand. And if you're a gun collector willing to spend top dollar for a 1911 to put on display, Cabot Guns makes a number of rare and unique 1911 pistols starting at $3500 going into five figures.