Glocks have earned the reputation of being some of the most dependable firearms in the industry – and for good reason. When it comes to stress and wear-and-tear, Glocks can take a lot of abuse and still operate as if they were brand new.
Despite being one of the most balanced handguns out the box, there are some things about Glocks that leave something to be desired; like the bulky grip of the first, second, and third generation Glocks, or their trigger system.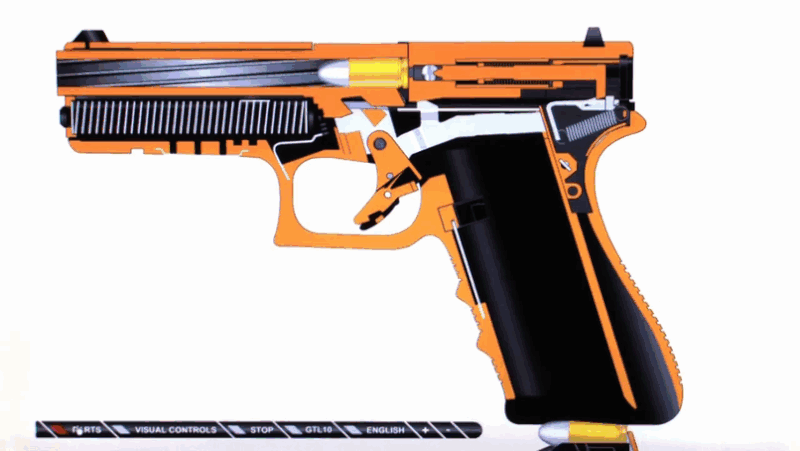 Functional, but Nothing to Write Home About
People switch to aftermarket Glock triggers for a number of reasons.
While the standard Glock trigger performs well, many people find it to be a very basic trigger system. Glock makes all standard triggers with a pull weight of 5.5 pounds. However, many hobbyists have reported inconsistencies with Glock's trigger, saying that pull weights often feel much lighter or heavier than 5.5 pounds – both of which could have a negative effect on precision and accuracy.
Glock triggers have also been described as "sticky" or "spongy." Overtravel is associated with standard Glock triggers, and they just don't provide the same smooth action that comes with premium aftermarket triggers.
With that said, there's nothing inherently bad about standard Glock triggers – but there's nothing special about them either. With the exception of a handful of undertrained police officers that accidentally discharged their Glocks, leading to the creation of heavier "New York Glock Triggers," there hasn't been a lot of negative publicity around Glock's trigger system.
But there are better aftermarket triggers available on the market. Today we're going to look at aftermarket Glock triggers, in addition to everything you need to know about changing the trigger system for your Glock.
Changing Your Glock Trigger
Like most Glock parts, changing the factor trigger system is a relatively simple process – especially if you're using a Glock tool.  
The Glock Takedown Tool costs approximately $6 on Amazon

It only takes a couple of minutes to remove the trigger. After taking a couple of pins out of your Glock, wiggling out the slide stop lever, and removing the trigger bar assembly, the trigger should pop right out. If this is your first time removing your Glock trigger, watch the video below for a step-by-step guide for removing the trigger and installing a 3.5 pound trigger connector.

You have two options when upgrading your Glock's trigger system: change the entire system or upgrade the trigger connector. Both have their advantages, but if all you're looking for is a lighter trigger pull, you might want to look into upgrading the trigger connector before spending money on a premium aftermarket Glock trigger.
Let's take a look at some popular trigger upgrades.
The Grandmaster Upgrade by Taran Tactical
Taran Tactical Innovations (TTI) is a company run by competitive shooter and instructor, Taran Butler. As an avid 3-gun competitor, Butler was always looking for ways to improve the accuracy of his Glock pistol.
Butler found that the easiest way to optimize the factory Glock trigger was upgrading the springs and rear trigger pin. And that's how the Grand Master Connector Kit was born.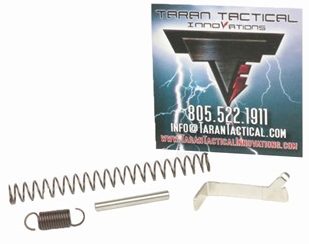 Grand Master Connector Kit
The connector kit works for all Glocks from Gen2 up to Gen4. It brings the trigger pull down to roughly 3.5 pounds (can vary, depending on the gun) while giving a smoother trigger break than your factory trigger system.
The Grand Master Connector Kit comes with a number of different springs, including trigger return springs. Along with making the trigger pull lighter, the return springs provide you with a consistent trigger reset that reduces the chances of overtravel.
Other Connector Upgrades
There are a few other quality upgrades on the market that function just like the Grand Master Connector Kit by Taran Tactical. These kits are good for the hobbyist looking to save a little extra money, as well as anyone who can't get their hands on a kit by TTI.
The 3.5 Pound Connector by Lone Wolf  works with all Glock models except the G42/G43. Not as comprehensive as the TTI trigger kit, which comes with springs and a rear trigger pin, the Lone Wolf connector does improve shooting by dropping the trigger pull weight to 3.5 pounds, eliminating the need for shooters to jerk on the trigger.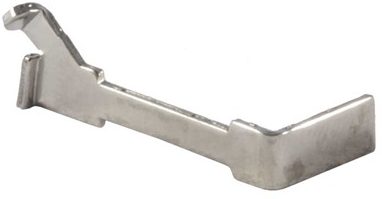 Lone Wolf 3.5 Connector for Glock
There's also the Ghost Rocket 3.5 Connector by Ghost Inc which functions just like the Lone Wolf connector by reducing the pull weight. The thing about the Ghost Rocket, however, is that it was designed with an extra tab that helps to prevent overtravel – which is why it's a little more expensive.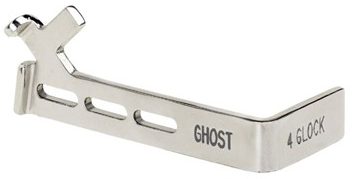 Ghost Rocket 3.5 Trigger Connector
Pros
Easy to install
Reduces over travel and pull weight
Aftermarket Glock Triggers
If you're looking to get something a little more precise from your Glock than just a lighter trigger pull, you're going to need to change the entire trigger system. The good news is that Glocks are some of the most customized guns around, so finding the right trigger for you should be relatively easy.
Below is a list of our favorite aftermarket Glock triggers.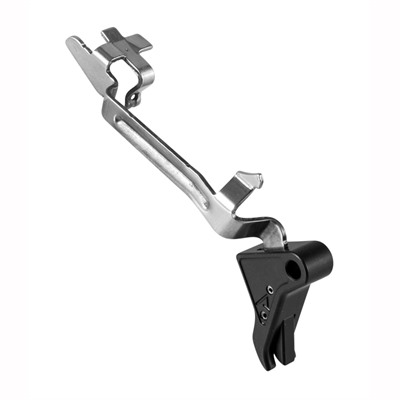 Agency Arms Drop-In Flat Glock Trigger
Pros
No more spongy Glock feel
Agency Arms trigger systems have built quite the following over the past few years.
Hardy and dependable, their drop-in trigger system takes away that spongy feel associated with factory Glock triggers and replaces it with a smoother system that gives you a crisper, cleaner trigger pull.
A lot of people love Agency Arms' triggers, but the general consensus is that they're a solid trigger system – not a perfect one. For about $60 more, you can get a match-grade trigger from a company like Zec-Tech that's even smoother.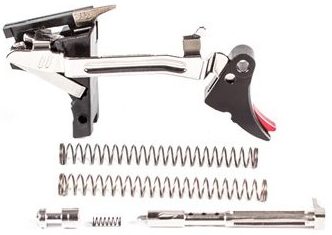 Zev Fulcrum Ultimate Trigger
Pros
Competition oriented trigger
Improves trigger in every way, springs, trigger shoe, pull weight, striker
Cons
NOT recommended for service weapons
If you want a trigger system that gives your Glock a complete overhaul, Zev's Ultimate Trigger System is your best bet. Not only does this trigger set come with an upgraded trigger and springs, you also get an upgraded, lightweight striker – all of which is designed to reduce pre and over-travel, helping make your initial and follow-up shots more accurate.
Despite its price tag, the Ultimate Trigger kit is arguably one of the most effective trigger systems you can put on your Glock. With that said, Zev doesn't recommend this trigger system for service use, as it's much more sensitive than your factory Glock trigger.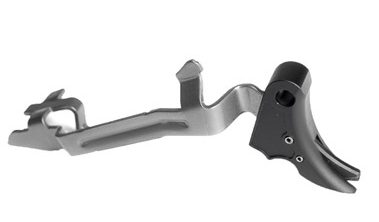 Overwatch Precision Glock Trigger
Pros
Great budget trigger upgrade
Great for new or casual shooters
Cons
Does not fully solve pre-travel
Not the best competition trigger
Overwatch Precision makes a number of drop-in replacements for various Glock generations and models. Built from an aluminum alloy, these triggers are a great upgrade from Glock's factory trigger system.
A lot of hobbyists report that Overwatch triggers don't completely address the pre-travel commonly found in OEM triggers. Because of this, Overwatch's line of Glock triggers may not be the best choice for the competitive shooter looking for maximum precision. But they're still great for the casual Glock owner who's just looking to tweak the way their Glock fires.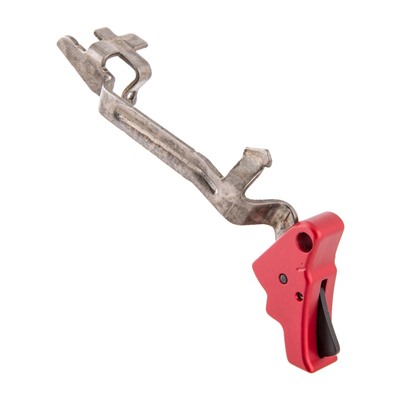 Apex Tactical Glock Enhancement Trigger
Pros
Best bang-for-your-buck Glock trigger
Improves trigger in almost every way, but not to the extent of higher-tier triggers
Apex Tactical's Glock Enhancement Trigger is arguably one of the best-priced aftermarket triggers for Glock models.
While the Glock Enhancement Trigger isn't quite as precise as some of the high-dollar match grade triggers, it's a great upgrade for $100. Replacing your factory trigger system with this upgrade will give you a smoother uptake, cleaner trigger break, and reduces trigger travel.
Maximizing the Performance of Your Glock
There's no denying that Glocks are finely-tuned handguns. But getting used to their trigger can be frustrating, especially if you're used to shooting a gun that's a bit more responsive. Fortunately, upgrading your trigger system is a quick and simple procedure, and is a great way to have your favorite Glock handgun shoot in a way that works for you.