Almost all gun owners have taken part in or at least heard of, the 9mm vs .45 ACP caliber debate.  You've probably also seen this debate with the .40 S&W caliber thrown in for good measure. There's one caliber, however, that doesn't get as much attention, the 10mm Auto.  
10mm Auto is one of the most powerful pistol cartridges, offering greater muzzle energy and deeper penetration than its similarly sized competitors.  The cartridge is able to maintain accuracy past 50 yards and can reach speeds of up to 1,200 feet per second. Of course, this comes at the cost of a whole lot of recoil.
While it was one of the most popular rounds of the early 1980s, these days it doesn't have the same widespread popularity as the 9mm or .45 ACP. It does, however, have a significant cult following and has gained a lot more notoriety over the past few years.
Because of that recent rise in popularity, we've assembled a list of some of our favorite handguns chambered in 10mm Auto for those of you who want to hop on the 10mm train.
In no particular order, those guns are:
Now let's get started.
Kimber Manufacturing is well known as a leader in the manufacturing of high quality 1911 pistols, and their Eclipse and Custom models are particularly renowned.  The Kimber Eclipse Custom II blends the best of these two models to create one of the most impressive 10mm handguns on the market right now.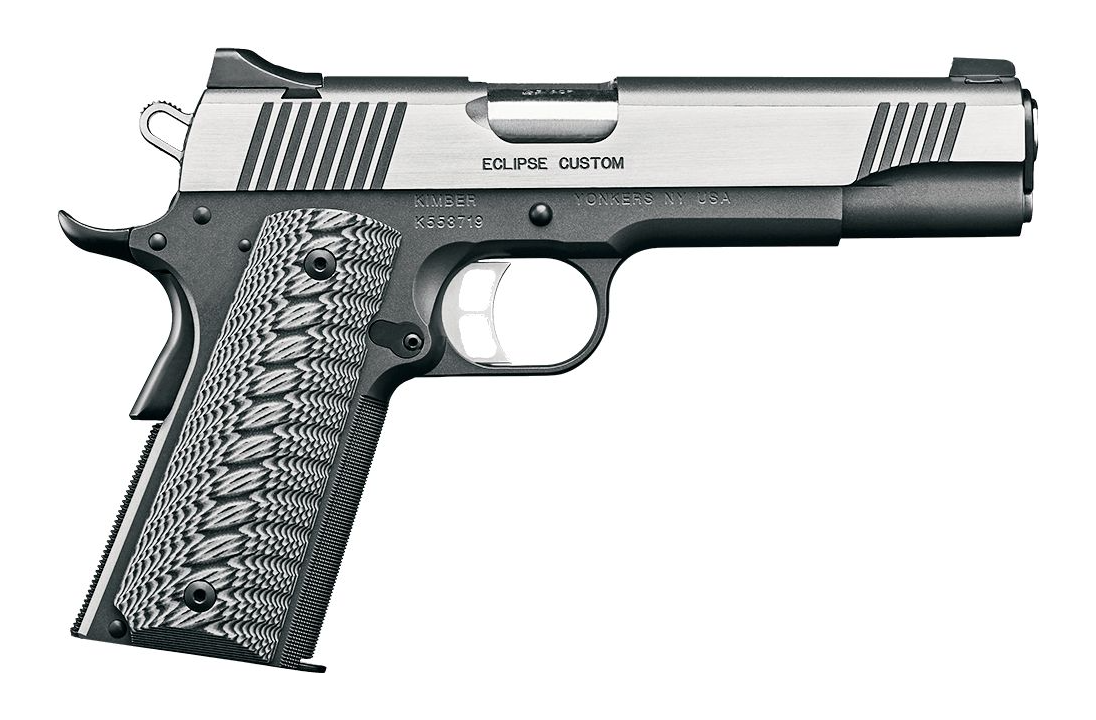 Kimber Eclipse Custom II
Pros
Very high quality
3-dot tritium night sights come standard
The Kimber Eclipse Custom II is fairly compact for a 1911, with a frame that's 5.25 inches tall and 8.7 inches long.  It's a relatively narrow 1.28 inches wide and weighs just 38 ounces with an unloaded magazine.
It has a five-inch stainless steel barrel and an 8 round magazine capacity.  It also features fixed low-profile 3-dot tritium night sights. The aluminum trigger is comfortable, has a factory set pull weight of about 4.5 pounds, and shoots like a breeze.
The quality is incredible and the pistol is a blast to shoot, but what stands out most about the Eclipse Custom II is its appearance.  
The gun has a gorgeous brush-polished finish with a stainless steel slide and charcoal gray frame.  The Eclipse Custom II also features black and gray Cyclone G-10 grips with 30 lines per inch front strap and mainspring housing checkering.  And if that's not totally your thing, Kimber also has plenty of other gorgeous aftermarket grips available.
This next gun is more evocative of the traditional 1911, which only makes sense when you consider that the Colt Delta Elite has been around since the late 1980s and is designed by the same company that makes the classic Colt 1911.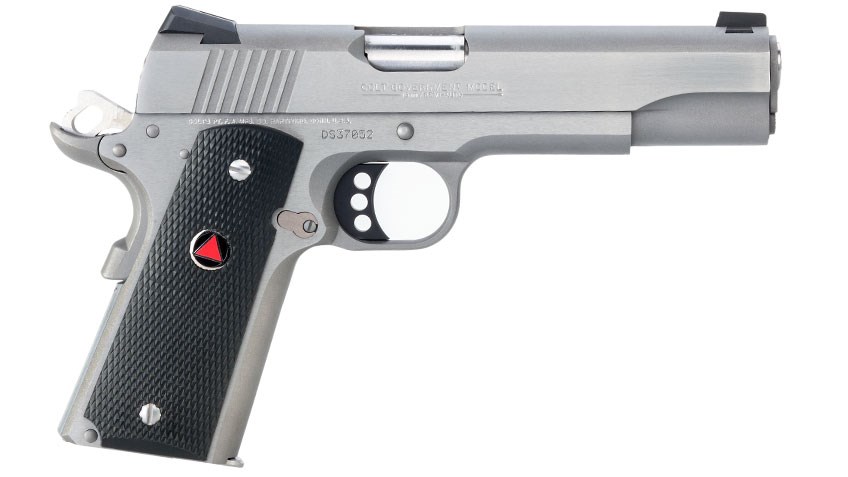 Colt Delta Elite
Pros
Cassic Colt
Available with and without a rail
The 10mm Auto caliber, however, means that the Delta Elite offers a little more oomph than the Colt 1911.  This makes it a great gun for not just self-defense and range shooting, but also for hunting medium sized game.
The Colt Delta Elite has all of the same quality as the Kimber Eclipse Custom II, but with a simpler design.  That doesn't mean it's nothing special, though.
While the Delta Elite doesn't feature a rail system (though it does have Novak white dot sights), it has a double-recoil spring system to reduce some of that 10mm recoil.  It also has a beavertail grip safety that's far more comfortable to whole than that on just about any other handgun. And if a rail is a make or breaks feature, you can buy the Delta Elite Rail (essentially the same gun but with a rail) for only about $100 more.
In short, the Colt Delta Elite is a great option for those who want a simple, traditional 1911 like the classic Colt 1911, but with more power and an improved and more modern design.  
Of course, we can't write about the best handguns of any kind without mentioning Glock.  
The go-to brand for high quality, but affordable handguns, Glock offers three options chambered in 10mm Auto the Glock 20, Glock 29, and Glock 40.  
Because all three have mostly similar features and feels, we're listing them all together, but which one is best for you may vary.  Don't worry, though, we'll talk about the differences, too.
With the G20, G29, and G40, you get the extra power of the 10mm Auto with the famous quality that comes with any Glock handgun.  There's also the advantage of price: all three of these Glocks are far less expensive than the other guns on this list.
If you're already familiar with Glock handguns, you should be comfortable with any of these pistols right off the bat.  They have the durability, reliability, and accuracy that you've come to expect.
Glock 20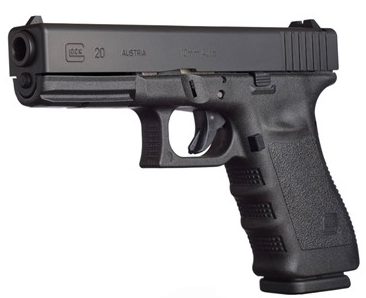 Glock 20
Pros
15+1 capacity, massive for 10mm
Huge Glock aftermarket options
The Glock 20 is the standard version of the weapon and is a little larger and heavier than the more popular Glock 17.  It's 8.03 inches long, 5.47 inches tall, and 1.27 inches wide, with an unloaded weight of almost 31 ounces. Otherwise, it feels almost exactly the same in your hand as the G17.  The Glock 20 also comes in a short frame (SF) version for those interested in a slightly slimmer grip.
While most of these other 10mm handguns only have an 8+1 round capacity, the G20 has a capacity of nearly twice that, holding 15 rounds in the magazine and one in the chamber.
Glock 29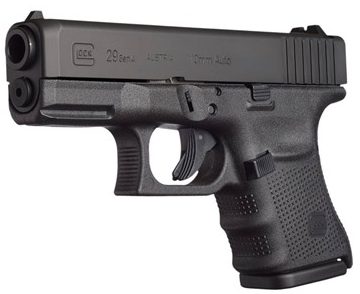 Glock 29
Pros
Compact, still has a capacity of 10+1
The Glock 29 is the subcompact version of the G20, with a length of 6.88 inches, a height of 4.45 inches, and an unloaded weight of 26.83 ounces.  
Because of the smaller size, it has a standard 10 round magazine capacity, significantly less than the G20, but still a bit larger than most 1911s.  Extended magazines, however, are available for those who want to be able to get off more shots before changing magazines.
Glock 40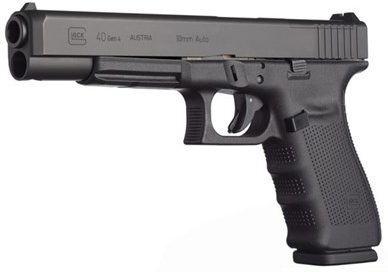 Glock 40
Pros
Configured for Glock Modular Optics System (optics sold separately)
Lastly, the Glock 40 is the long slide version of the pistol, with a length just under 9.5 inches.  Like the G20, it has a 15+1 capacity.
The extended barrel length of 6.02 inches (compared to 4.6 inches on the G20 and 3.77 inches on the G29) makes it great for longer range shooting.  To add on to the Glock 40's effectiveness in this area, it's also configured for Glock's Modular Optics System (MOS). The optics system must be purchased separately, but the Glock 40 does come with the necessary baseplates to adapt the pistol for use with all popular red dot sight systems.
All three of these Glocks are great options for those on a limited budget, those who are new to the 10mm Auto game but are already familiar with Glock handguns, and, due to the higher magazine capacity, those interested in a self-defense weapon.  
The Glock 20 and Glock 29, in particular, make great concealed carry weapons, while the extended barrel of the Glock 40 makes it an excellent weapon for competition shooting or hunting medium sized game.
Last on our list is the Sig Sauer P220 Hunter.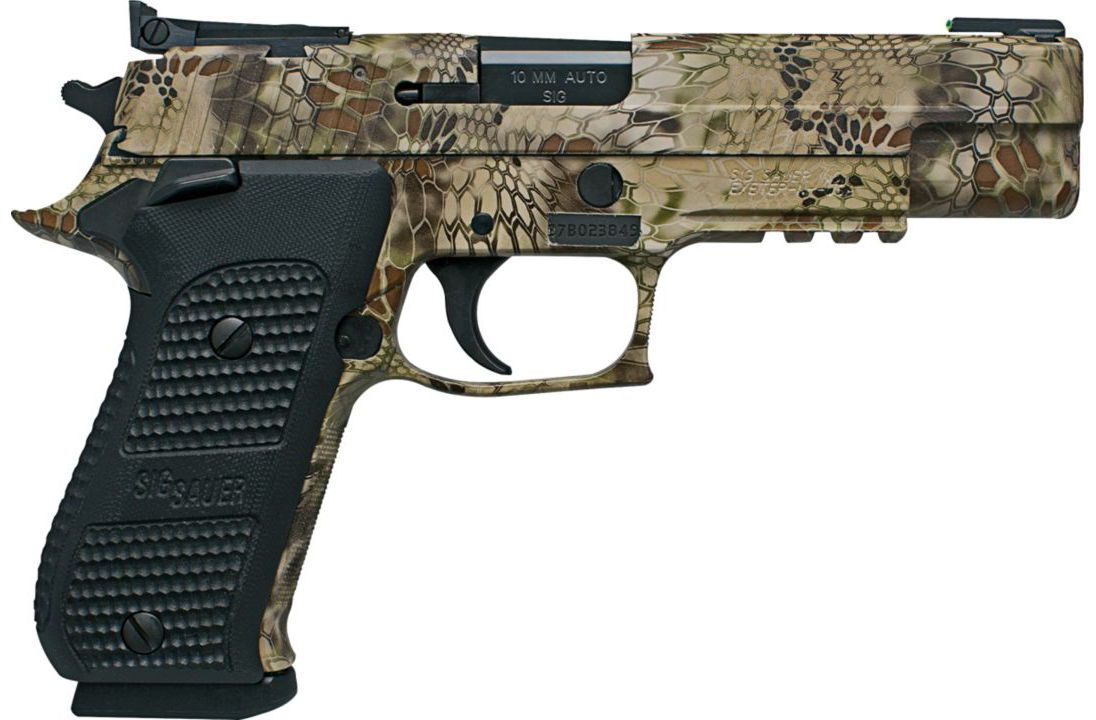 Sig Sauer P220 Hunter
Pros
Tritium Fiber Optic Front Sight
Adjustable Rear Sight
Kryptek camo finish looks awesome
Like Kimber, Colt, and Glock, simply being manufactured by Sig Sauer is a certain assurance of quality for a handgun and the popular P220 line is no exception.
The P220 Hunter is by far the most expensive gun on this list, but that extra money buys a lot of extra features.  
The P220 Hunter features a 5-inch match grade barrel as well as a tritium fiber optic front sight and adjustable rear sight to help you shoot more accurately over longer ranges.  On top of that, the P220 Hunter also features an aggressive grip texture to help you hold the gun steady despite the greater recoil from the 10mm Auto round, further helping your accuracy as you shoot off round after round.
The gun has an easy-to-use ambidextrous safety so you can start shooting as quickly as possible, whether you're hunting or defending yourself.
Finally, the Sig Sauer P220 Hunter is simply an incredibly unique looking gun, with a Kryptek camo finish over the gun's stainless steel slide and frame to prevent wear and corrosion, and a matte black grip and small parts.
The P220 Hunter is one of only two guns in the P220 line that's available chambered for 10mm Auto.  The other is the P220 Legion, a similar but more compact and somewhat less expensive version of the P220, which is a great choice for those who want a smaller firearm or don't need to shoot at quite the same distances.
Choosing a 10mm Auto Handgun
Every caliber has its loyalists, but the 10mm Auto has until recently been a bit of an unsung hero when it comes to handgun calibers.
If you've never shot 10mm Auto before, or it's just been a while, we strongly recommend giving it a chance (or another chance) by borrowing a 10mm handgun from a friend or renting one at the range.  The greater recoil may be overwhelming at first, but the more you shoot, the more manageable it will become.
Of course, some shooters feel that 10mm has too strong of a recoil no matter how much they shoot it, and prefer the .45 ACP, 9mm, or .40 Smith & Wesson.  Which caliber is best for you depends on a lot of factors and, at the end of the day, is a decision you simply have to make for yourself based on what's easiest and most comfortable for you to shoot.
And if you're on the fence, a budget-friendly Glock is always a great place to start.