Wouldn't it be nice if you could skip the transfer process of buying a new lower and save some money by skipping FFL fees?
It doesn't have to be a daydream–80% lowers are real and ready to go home with you!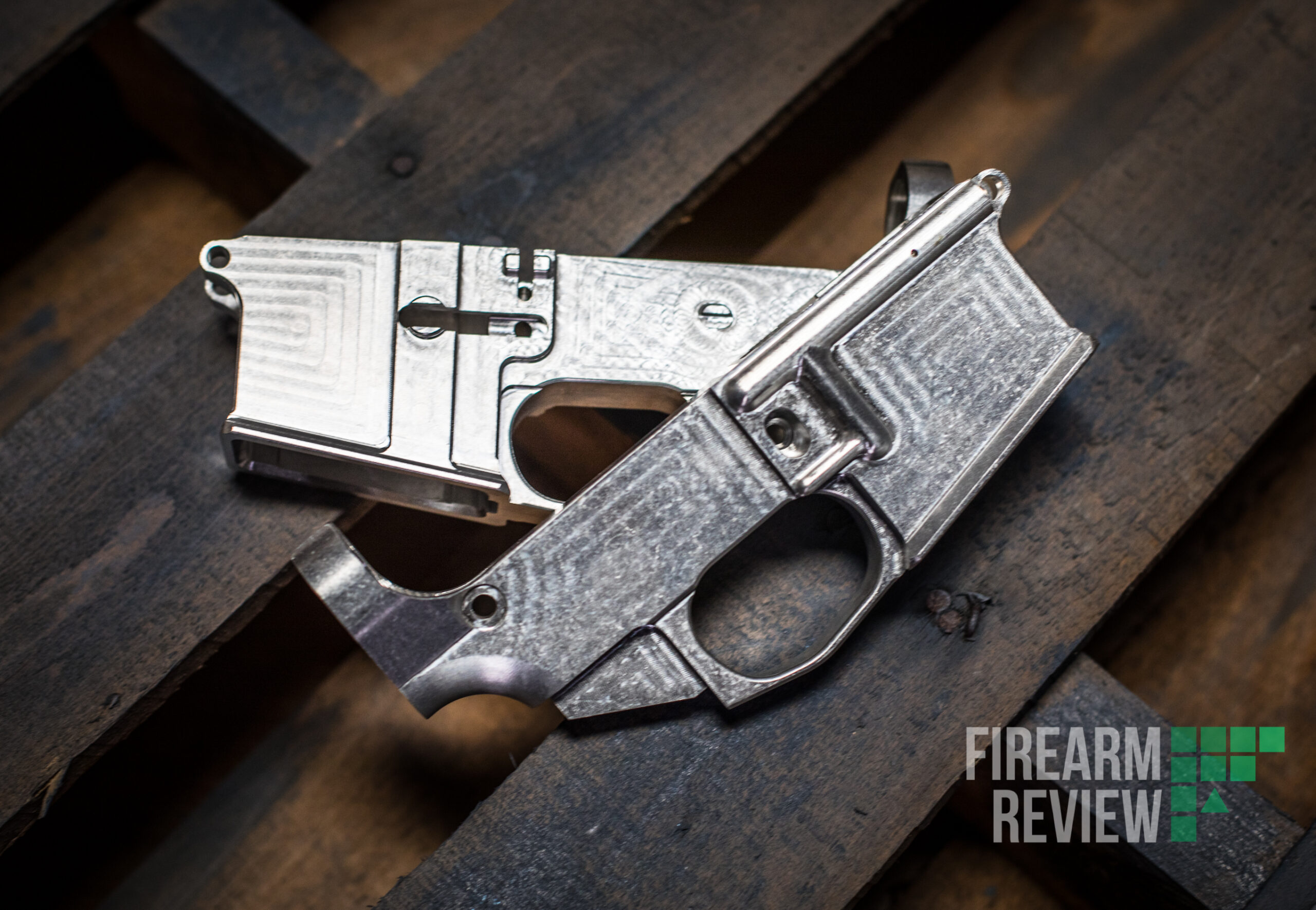 We're going to talk about what an 80% lowers is, why you want one, and, of course, the best 80% lowers for AR-15s, AR-10s, and AR-9s on the market, as well as jigs and other tools you need to get started!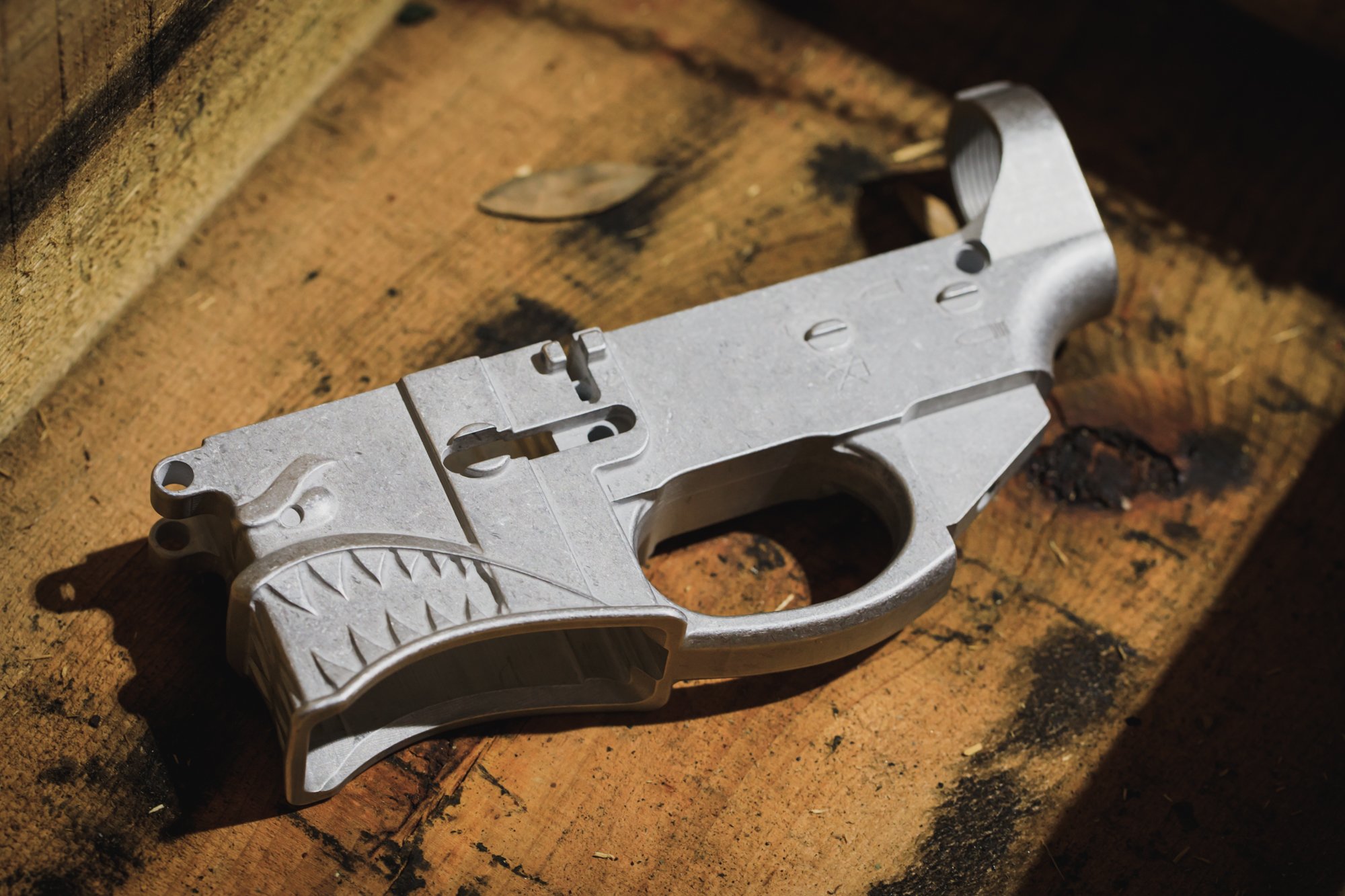 What's an 80% Lower?
Well, according to the letter of the ATF, a lower receiver is only legally a firearm if it's completed.
Technically, an 80% lower isn't so much a firearm as it is a paperweight or novelty. And since it's not a firearm, it can be delivered directly to you rather than to an FFL for you to deal with the cost and inconvenience of a transfer.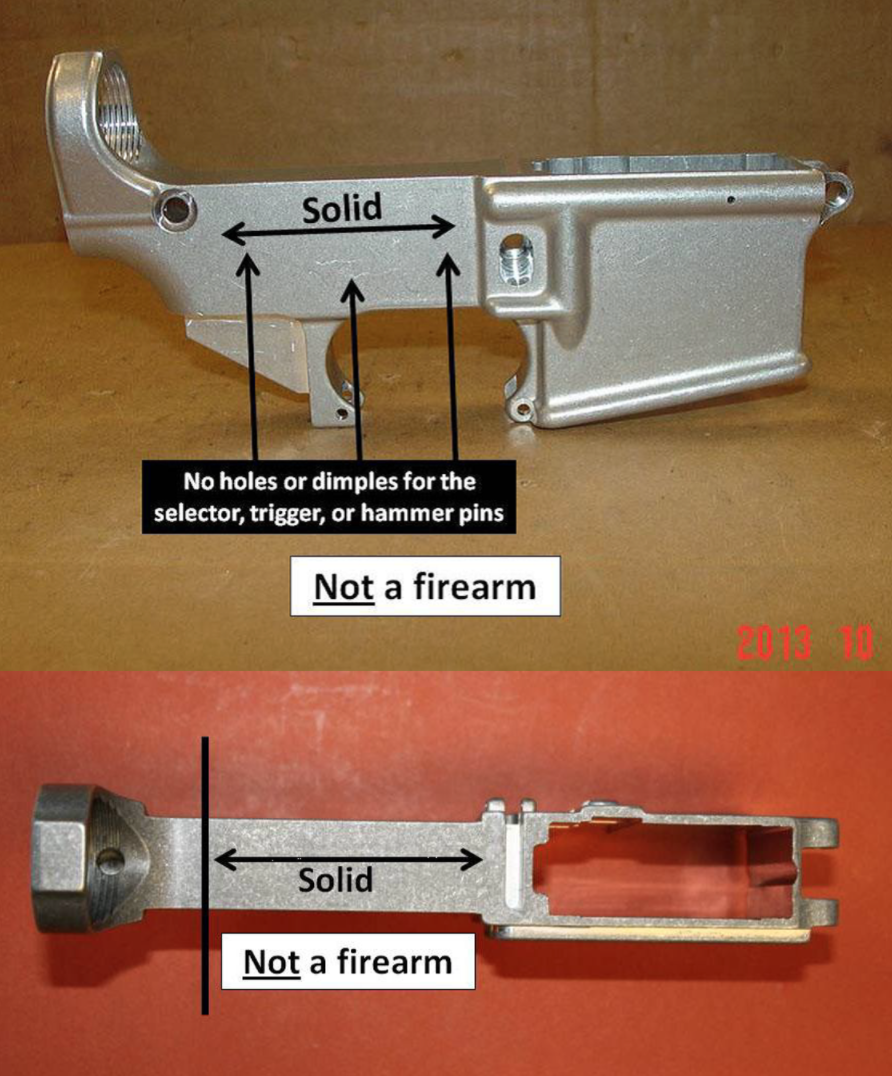 Fortunately for you, it's super easy for you to turn that paperweight into a completed lower receiver with tools you likely already own, like a drill and a router, over the course of a single day.
Of course, you also need a jig to finish the job to make sure all the holes and such end up in exactly the right places.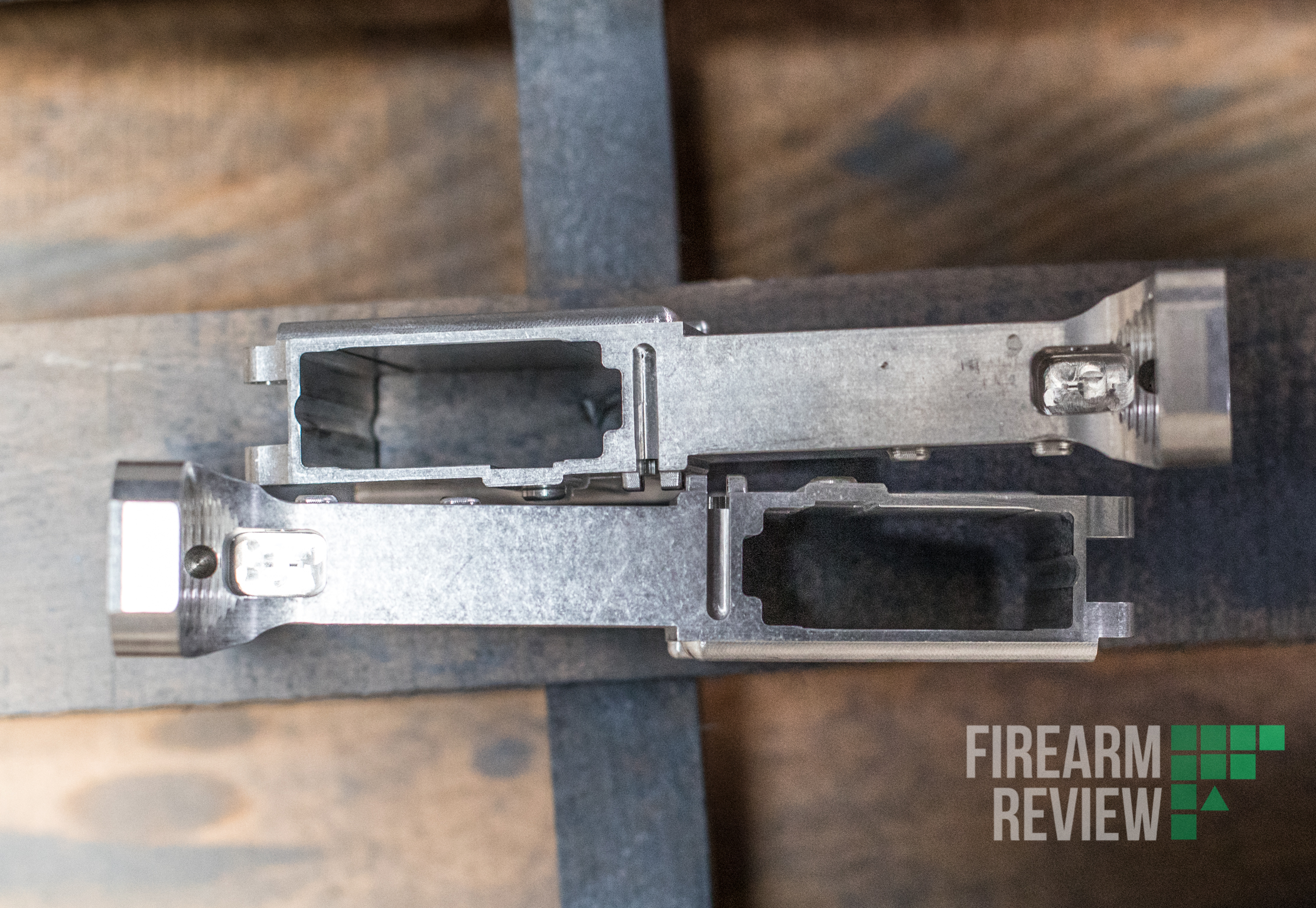 But before you get started, know that finishing an 80% lower counts as manufacturing a firearm, so you can only legally do it for personal use and you still have to be legally allowed to own the firearm.
On the other hand, you don't have to get a serial number for the gun or register it in most places, with California being a notable exception.
As always, check your state and local laws to make sure you're on the straight and narrow.
AR-15 Lowers
Let's start with the most common type of 80% lower, AR-15 lowers.
It's worth mentioning, that some of these models are tough to find given the current political environment surrounding 80% lowers. 
1. 80% Arms Type III Hard Anodized Billet AR-15 80% Receiver
This is another excellent 80% receiver, this time from a company that specifically focuses on 80% builds.
It's made from 6061 billet aluminum, which isn't as strong as 7075, but allows for deeper milling cuts so machining doesn't take as long.
The machining that's already been done is extraordinarily clean and precise. It features more aggressive lines than more mil-spec lowers but is still fully compatible with mil-spec parts.
It has a completed rear takedown lug pocket, an integrated trigger guard, and a pre-machined safety selector stops. "Safe" and "Semi" are pre-engraved. It also has a flared mag well and allows for bolt catch installation with a regular punch rather than requiring a special tool.
This receiver works great with the 80% Arms Easy Jig, which we'll talk about below.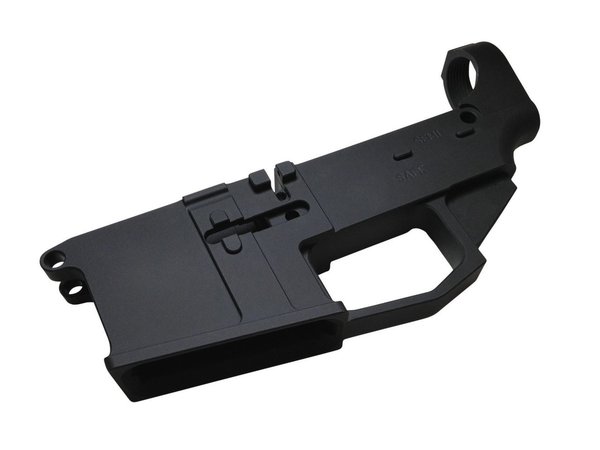 80% Arms Type III Hard Anodized Billet AR-15 80% Receiver
Pros
6061 billet aluminum
Faster to machine
Type III hard anodized black finish
Cons
Not as strong as 7075-T6 aluminum
In addition to the type III hard anodized black finish, this 80% lower receiver is also available in several other finishes, including raw and flat dark earth cerakote, olive drab green cerakote, and pink cerakote that perfectly matches Magpul's pink.
The price ranges from $80 to $120 depending on the finish, but blemished lowers are available for $20 to $40 less than the list price. Non-blemished lowers are also eligible for bulk discounts. You even can enjoy a lifetime warranty on these lowers.
80% Arms has great products for the entire build process that you know are compatible and designed to match one another, so they're great for making it easier to find coordinating parts, especially for beginners. And they even sell complete build kits to make things even easier.
2. Anderson Manufacturing 80% Lower
Anderson Manufacturing is a huge name in AR parts so with this 80% lower, you can rest easy knowing you're buying from a reliable and experienced manufacturer
It's made from forged 7075-T6 aluminum, which is pretty much the strongest, most durable material you can get a lower receiver made out of, and at only around $60, it's very high quality relative to price.
Part of the reason for this is that it's so simple. This high performance lower has all of the features you'd expect in a standard 80% AR-15 lower without any extra, unnecessary bells and whistles.
You'll need to finish the fire control group milling, rear pocket, safety selector hole, and trigger and hammer pins. The receiver has a pre-machined mag well and a Cerro Forge keyhole mark on the lower right of the trigger guard.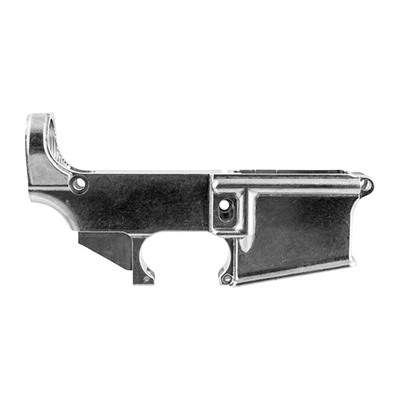 Anderson Manufacturing 80% Lower
Pros
Forged 7075-T6 aluminum
American-made
Mil-spec
7075 aluminum is very hard, which makes the receiver strong and durable, but it also means that you'll need to go slow while machining.
This mil-spec, American-made receiver is compatible with virtually all aftermarket AR-15 parts. It's available in type III hard coat anodized black or with a raw finish. You can buy the receiver by itself or, with a raw finish, as part of a lower parts kit that includes tons of other Anderson odds and ends to help you complete your rifle.
This receiver doesn't come with a jig and the one that Anderson makes doesn't have a great reputation, but you can grab one of the ones that we recommend below.
3. James Madison Tactical Lower Gen 2
The James Madison Tactical Lower Gen 2 is one of the best-reviewed polymer AR-15 lowers in general, including not just 80% lowers, but also stripped lowers and complete lowers. It's not uncommon to see this lower at 3-Gun and Precision AR competitions.
Basically, it's just a really great lower.
It's made out of a proprietary high-grade, reinforced polymer-fiber blend that makes it lightweight and far more resistant to corrosion than metal lowers.
This lower is thicker than many other lower receivers and is reinforced at weak points and areas that experience a lot of stress like the bolt release posts, the upper receiver interface points, and the magazine well for extra durability. 
It's more durable than most other polymer lowers, nearly rivaling aluminum ones.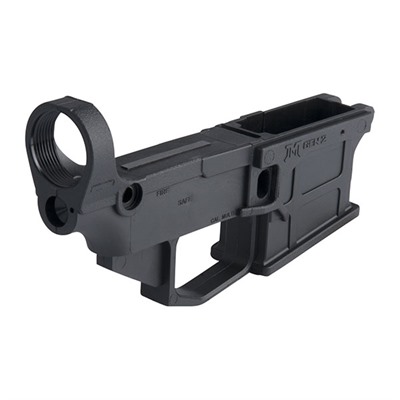 James Madison Tactical Lower Gen 2
Pros
High-grade, reinforced polymer-fiber blend
Corrosion resistant
Easy to work with
Cons
Pay attention to the order of machining steps
The mil-spec lower has a pre-machined rear pivot pinhole, bolt release cavity, and buffer tube threads and is machined to fit just about any upper receiver or other AR-15 parts. It also has an integrated rounded trigger guard for improved ergonomics, even while wearing gloves.
Serrations along the front of the mag well provide a better grip for your support hand. 
Another advantage of polymer is that it's very affordable (about $100) and easy to work with. With that said, if you're used to working with aluminum, it's easy to get a little too enthusiastic and drill too quickly, producing too much friction and resulting in accidentally melting the polymer. 
Since the polymer is already colored and is inherently corrosion resistant, you don't have to deal with coating your completed receiver. It comes in black, OD green, and FDE.
The receiver comes with a three-piece jig and instructions to help you get started, but you have to provide the actual tools for completion. 
4. Polymer80 G150 AR-15 Lower Receiver
Polymer80 is another strong name in the polymer 80% lower game. 
As the name suggests, Polymer80 creates polymer items for 80% builds, though they don't only produce 80% AR-15 lower receivers. They also produce 80% builds for AR-10s and Glocks of a variety of sizes. They're definitely the specialists in what they do and the value that they provide is hard to beat.
Their AR-15 lower is very lightweight at only 0.3 pounds. The composite solid core design makes it durable, though not as durable as aluminum. It has a reinforced buffer tube housing, an integrated trigger guard, and a stiffened mag well to help keep it going strong.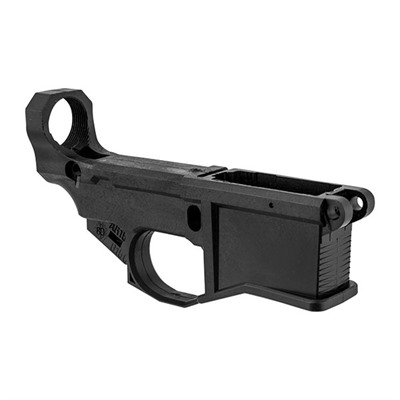 Polymer80 G150 AR-15 Lower Receiver
Pros
0.3 pounds
Available in lots of colors
Great for novice builders
The lower is available in lots of colors, including FDE, OD green, gray, purple, white, neon zombie green, pink, and black–so your AR can be as vibrant or as tactical as you like.
Polymer80 lowers are made in the United States and backed by a lifetime warranty.
You can buy the G150 lower by itself or with the complete jig system, which includes everything you need to complete your lower but the drill, including one of the highest-rated jigs out there.
Since everything is included yet the kit is still cheap (only about $80), we especially recommend the kit for AR build novices or builders on a tight budget. As we've covered, polymer is really easy to work with and this kit makes it even easier, so you can finish your lower in an afternoon.
Polymer80 also makes a universal jig set which is on our list of recommendations.
AR-9 & AR-10 Lowers
There aren't a lot of 80% lowers on the market for the AR-9 and AR-10 platforms, but 80% Arms makes excellent 80% lowers (and complete build kits) with the same outstanding quality as their AR-15 lowers for each.
5. 80% Arms 9mm AR-9 80% Lower
Since it's also made by 80% Arms, it's probably not surprising that this 80% AR-9 lower is very similar to the 80% Arms AR-15 lower that we discussed above.
This AR-9 lower comes with a threaded bolt catch hole, a threaded hole for adjusting upper receiver tension, a completed rear takedown lug pocket, engraved safety marking, and an integrated trigger guard that's very ergonomic, even in winter gloves.
It also accepts Glock 9mm magazines, has a pre-installed magazine release, and has a flared, competition-style magazine well to make reloading simple and quick.
It's compatible with mil-spec parts to allow for versatile customization and was precisely made in the United States by CNC machines from strong, highly durable aircraft-grade 6061 billet aluminum.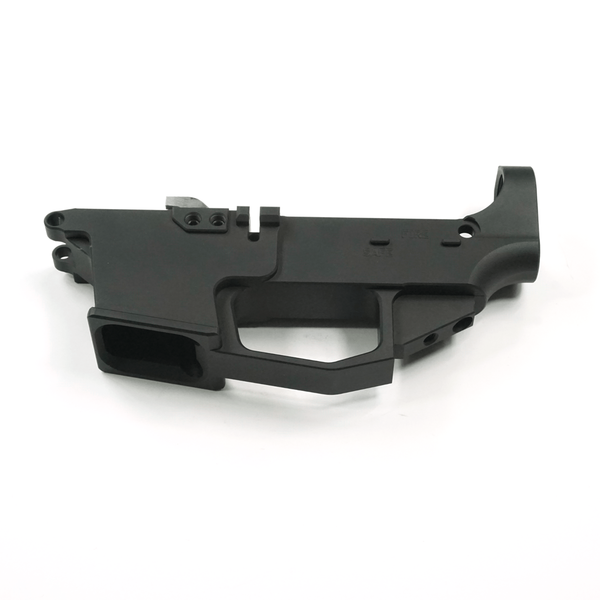 80% Arms 9mm AR-9 80% Lower
Pros
Pre-installed magazine release
Flared, competition-style magazine well
Accepts Glock 9mm magazines
Cons
Works best with the AR15/AR9 Easy Jig
It can be used with standard AR-15 lower parts kits and any AR-9 upper with the G-9 Hybrid bolt carrier group installed. This lower can be bought raw for you to custom finish, or in a mil-spec Type III hardcoat anodized finish in either black or FDE.
It works well with both of the jigs we recommend but probably works best with the 80% Arms Easy Jig Gen 2. 
6. 80% Arms Black Anodized Billet 80% AR-10 Lower
This DPMS Gen 1-style AR-10 lower is another high-quality billet aluminum 80% lower from 80% Arms.
It has an integrated trigger guard, broached magazine well, milled rear takedown lug, and engraved safety selector markings on both sides. The lower is machined to mil-spec standards and must go through multiple inspections before it's sent out, so you know this lower is high quality.
You'll need to finish the trigger slot, trigger pin, hammer pin, fire control group, and safety selector.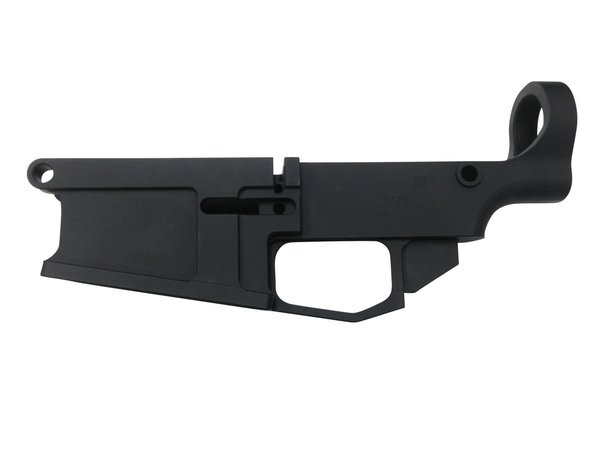 80% Arms Black Anodized Billet 80% AR-10 Lower
Pros
Compatible with both DPMS and SR-25 Magazines
DPMS Gen 1 pattern
Available in type III hard-anodized black, FDE cerakote, and raw finishes
Cons
AR-10s aren't as standardized across aftermarket parts
Because the AR-10 platform wasn't standardized by the military the way the AR-15 was, it's, unfortunately, more difficult to mix and match AR-10 parts, especially uppers and lowers.
80% Arms uses the DPMS Gen 1 pattern, which is the most popular one. This means it's compatible with any upper that also uses the DPMS Gen 1 pattern, including DPMS, Aero Precision, CMMG, and Thunder Tactical. In addition, it's compatible with DPMS and SR-25 magazines.
You can also make things easier on yourself by just going with a complete build kit.
This lower is available in type III hard-anodized black, FDE cerakote, and raw finishes.
Jigs
To complete your 80% lower, you need a jig. Without one, your lower stays a paperweight instead of becoming part of an actual firearm. And using the right jig makes turning your 80% lower into a complete lower much faster and easier.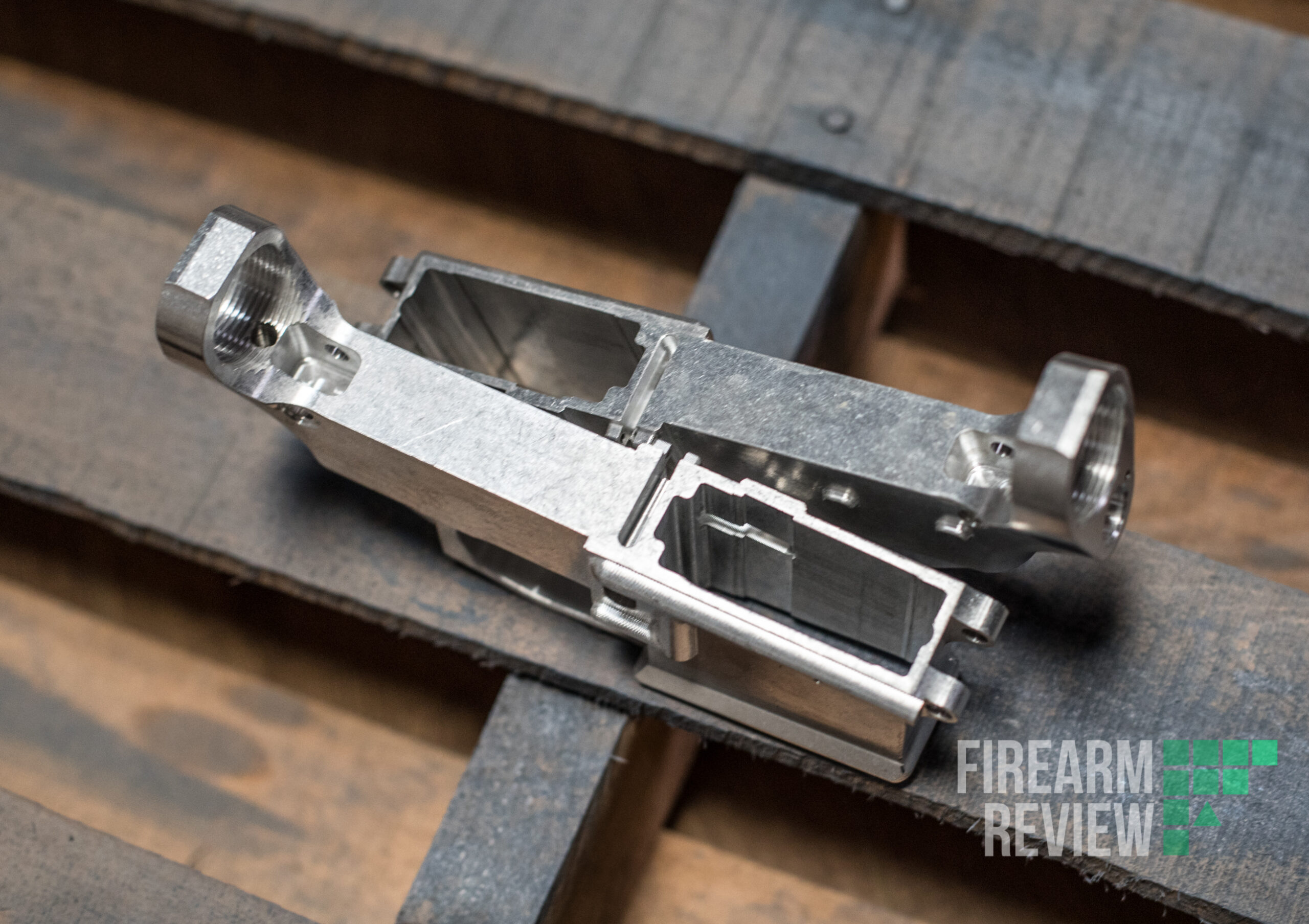 As a general rule, it's best to go with a jig made by the same manufacturer, but if your lower's manufacturer doesn't make a jig or their jig doesn't have a good reputation, you can go with a universal jig.
These are a couple of our favorites.
5D Tactical Router Jig Pro Multiplatform 80% Jig
With this one universal, router-based jig, you can complete AR-15, AR-9, and AR-10 80% lowers. It's pricier than most other jigs, especially older jigs, but its professional-level quality is virtually unbeatable.
The 5D Tactical Router Jig's pins and guide cavities are designed to stop your router and bits from making contact with the jig, allowing you to work more quickly and protecting your jig and bits from extra wear.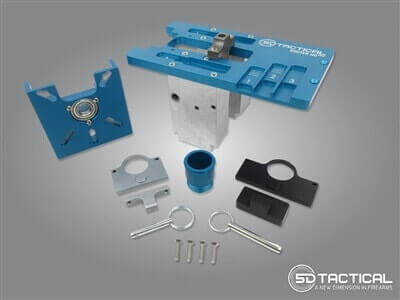 Speaking of which, we recommend also getting 5D Tactical's Router Jig Pro Tool Kit to make the whole process faster and easier. Since the jig is router-based, if you also get the kit, the only other things you'll need to finish your lower are a drill and router.
With the jig and tool kit, you can finish your lower in less than half an hour and even as little as fifteen minutes or so. Of course, users new to completing 80% lowers will probably take longer, but they'll still go much faster than if they were using other jigs, which makes it great for beginners.
80% Arms Easy Jig Gen 3 Multi-Platform
This is another universal jig that can be used to finish AR-15, AR-10, and AR-9 lower receivers. And, like the 5D Tactical jig, it only requires a router and drill — no drill press!
It does, however, require a special end mill, which is included in 80% Arms' Easy Jig Gen 3 Tool Kit for convenience, but you can also buy just the High-Speed End Mill on its own and pick up the rest of the drill bits elsewhere for cheaper.
The Easy Jig Gen 3 takes longer than the 5D Tactical jig, but it's also about $40 cheaper and it still takes much less time than most other jigs, especially older ones.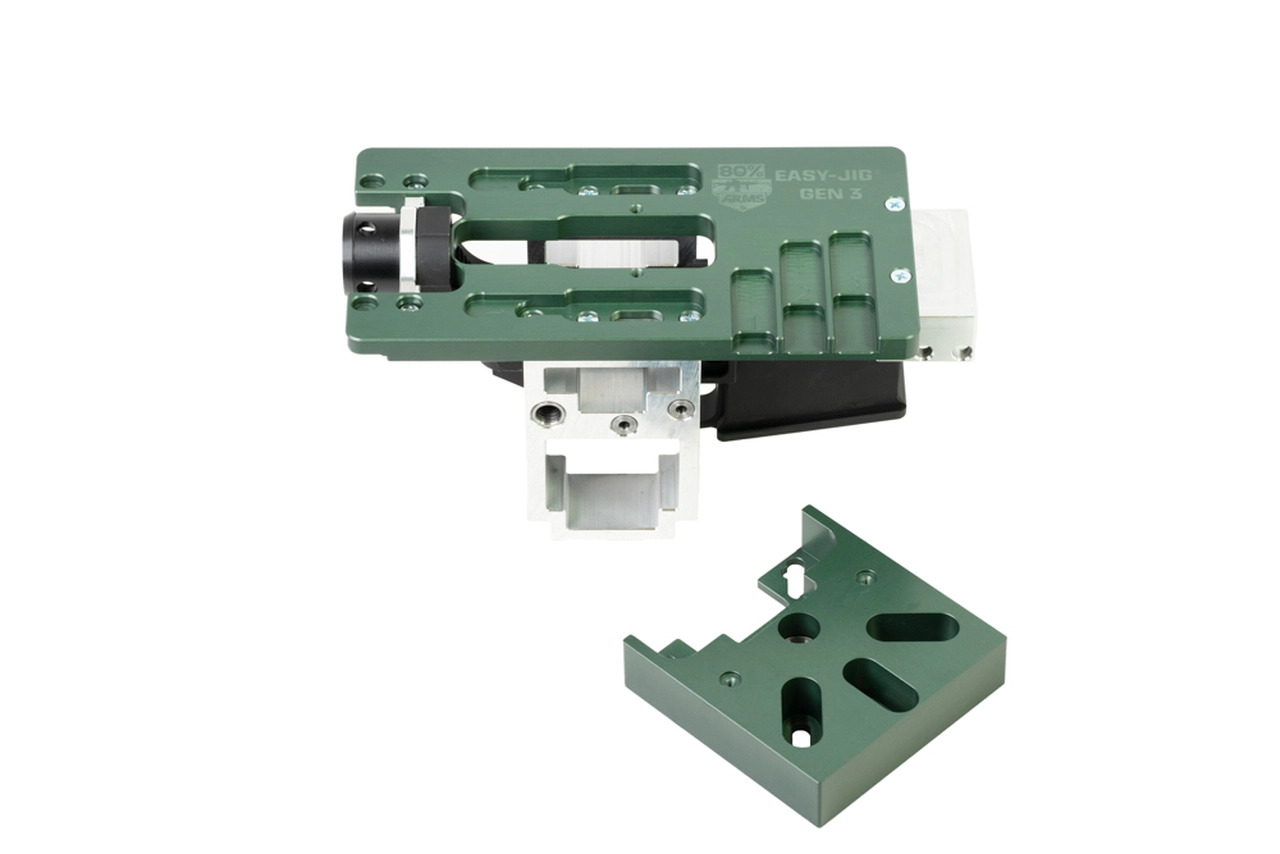 You can save another $60 or so dollars by going with the AR-15 and AR-9 only version, assuming you won't need a jig that's compatible with the AR-10 platform. 
You can save even more by going with the Easy Jig Gen 1, which is only compatible with the AR-15 and AR-10 platforms, but you'll have to sacrifice some of the nice upgrades that Gen 2 made, like easily switching between platforms without disassembling the jig, faster machining, and a shop vac attachment that makes cleaning as you go a breeze.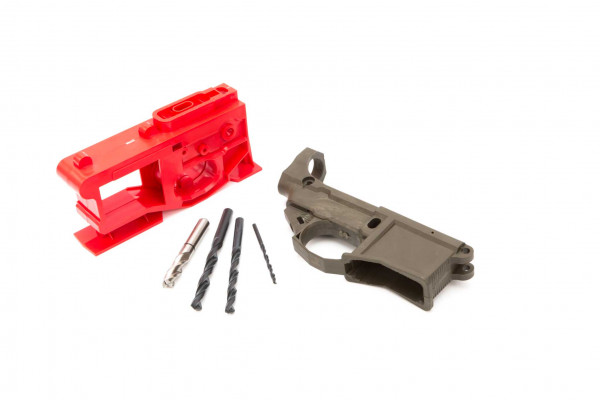 Parting Shots
These are our favorite 80% lowers and jigs, but which one's right for you just comes down to personal preference.
We really like lower build kits that include both the lower and jig, like the one from Polymer80, especially for beginners and the more other necessary pieces they include the better. It just makes the process much easier and, after all, making things easier is a strong advantage of 80% lowers in the first place, right?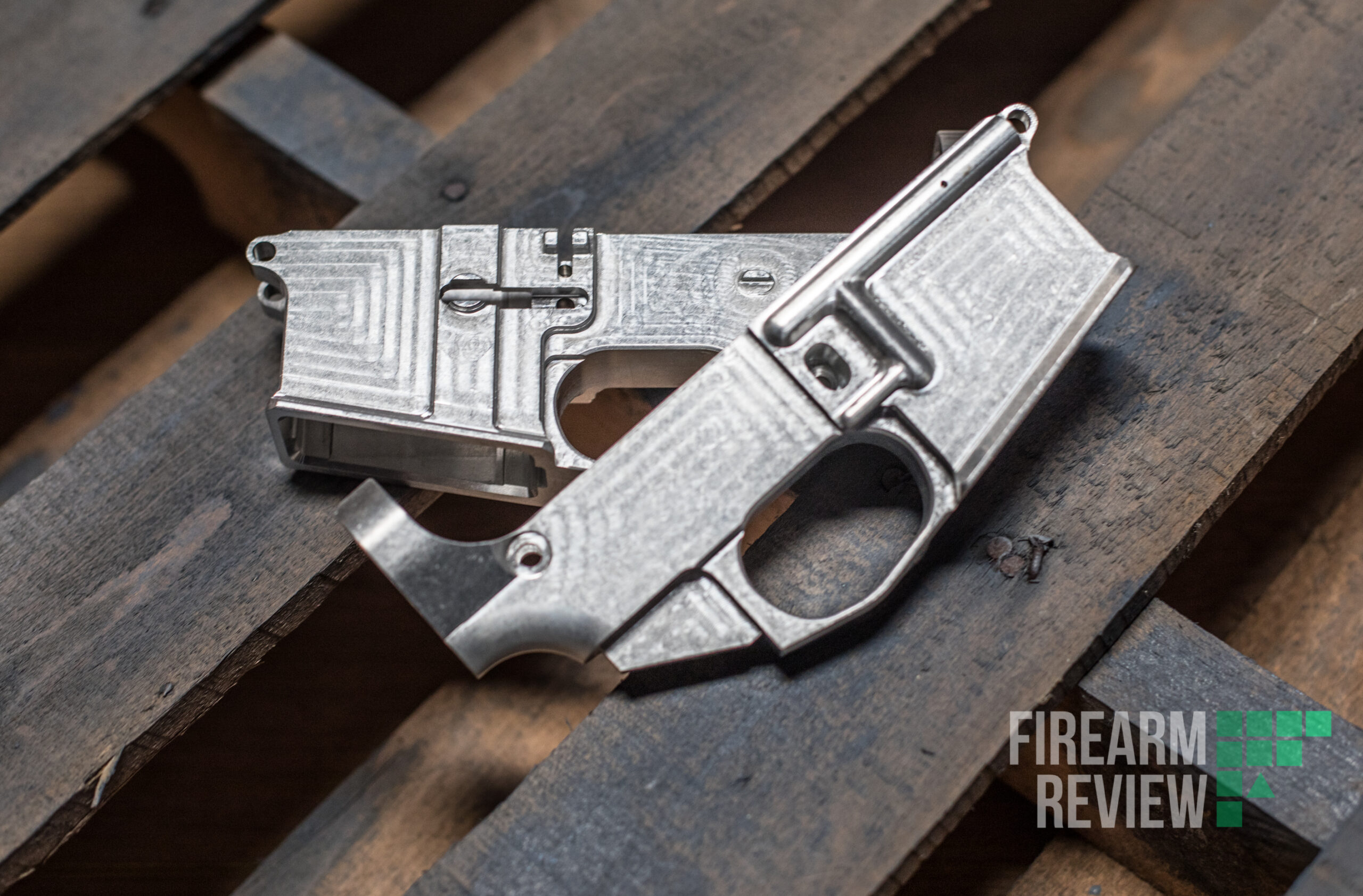 Lowers that are more complete are also obviously easier to work with and don't forget the role that material plays either.
Any of these lowers will do a great job, though, so if you're more experienced we encourage you to explore your different options and experiment a little.
Not sure what to do with the rest of your AR-15 build? Take a look at our Best Complete AR-15 Uppers for the other half of your receiver and our Best AR-15 Upgrades for all the rest. And if you have questions or other thoughts to share, let us know in the comments.