With all of the different types of concealed carry insurance out there, it's tough to pick the right one, even with a clear and concise article comparing all the big name ones out there.  
Like the one on our site. The one you already read.
Right?? I'll wait.
Now that you're back (or never even left), let's get down to brass tacks.  
You want to know which insurance is the best, and I'm here to tell you: it depends.  
I personally prefer USCCA (and am now a personally paid member) since they seem to offer most of what I expected in a concealed carry insurance policy, though ultimately, it's up to you to decide which insurance works best for your budget and gives you the coverage you want.  
You might even decide the best insurance is not to have any since you'll probably never need it. But like the saying goes: better to have it and not need it, than need it and not have it.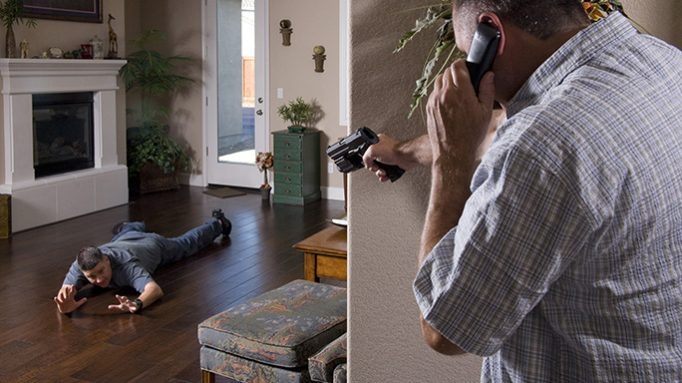 What's concealed carry insurance anyway?
Before we get too far into the nitty-gritty, here's a quick refresher on what concealed carry (CCW) insurance is in general.  
First of all, this insurance doesn't just cover use while carrying a concealed firearm, but the use of a firearm for self-defense in general.  Aside from that, CCW insurance is just like any other type of insurance but covers a large chunk of the costs that you come across as a result of defending yourself.  
What this means is, if you ever happen to end up in a situation where you use your firearm in self-defense, you'll get a nice surprise afterward when the police show up, and, depending on your luck, decide to take both you and the bad guy down to jail while they try to sort out what happened.  
In that situation, you'll not only need your standard bail bond payment, but money to pay that attorney you'll need to get you out of jail and keep you out
In other words, even in the event of justified use of your firearm, you may still need to post bail, hire an attorney, and prepare for defense in civil and criminal court.  All of that adds up, and unless you're drowning in extra cash, it wouldn't hurt to consider getting CCW insurance. And if you ARE drowning in cash, you can always use it to buy more guns for yourself. Or your favorite firearms blogger.  
Speaking of cash…
So just how much are you expected to fork over?  Again, it depends. Like any insurance policy, there are multiple tiers to CCW insurance as well.  For USCCA, my preferred CCW insurance, they have 3 tiers:
Gold – $22/mo ($500k civil defense/$100k criminal defense)

Platinum – $30/mo ($1mil civil defense/$150k criminal defense)

Elite – $47/mo ($2 mil civil defense/$250k criminal defense)
Being the practical guy that I am, I went with the mid-tier Platinum level.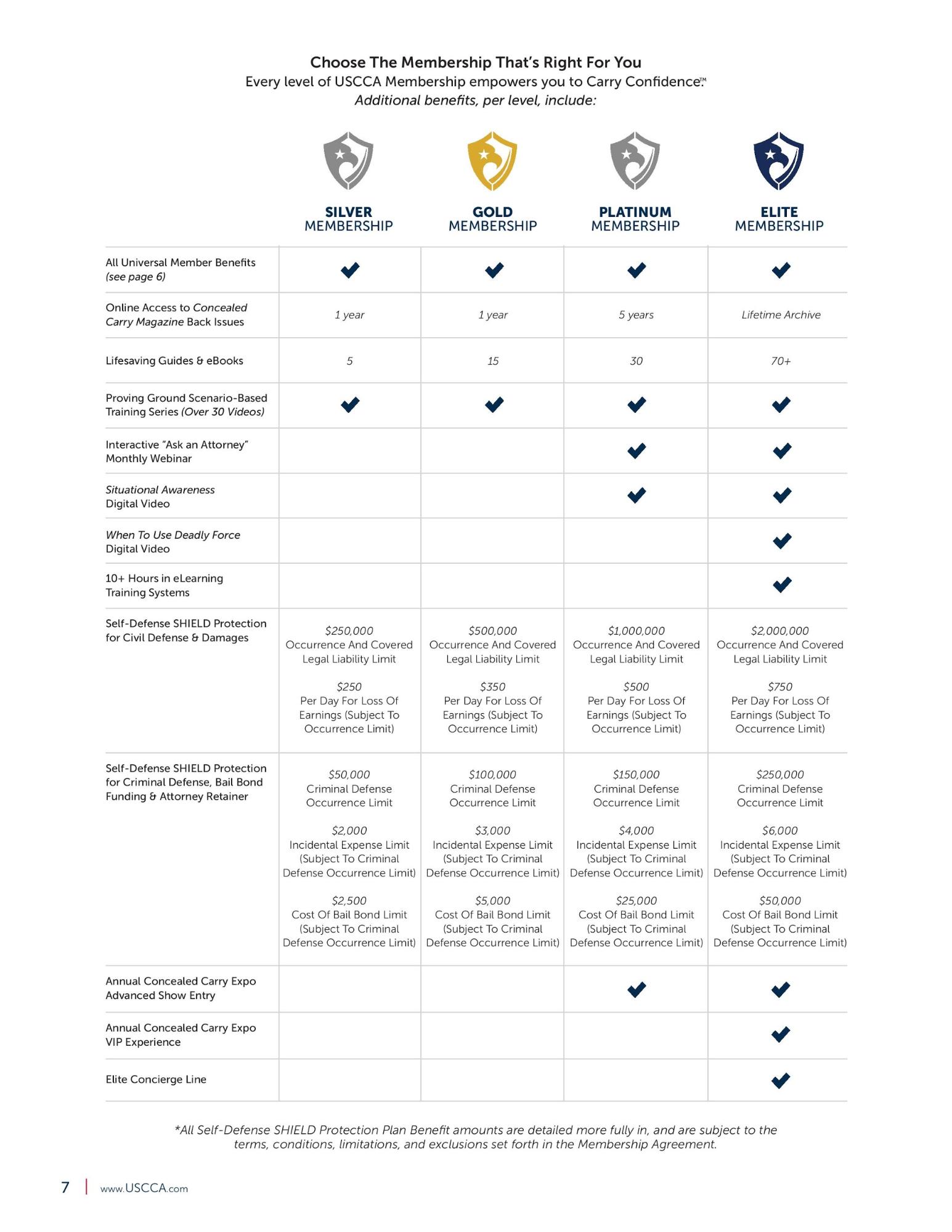 The main thing for me when deciding between the tiers was just the amount of coverage.  The cheapest tier for $22/mo vs the middle tier at $30/mo doubled my coverage for civil and criminal case defense funding.  Going from Platinum to Elite would be an extra $17, and that didn't really seem worth it to me.
More importantly, at the Platinum tier, the bond payment is $25,000, which is five times the amount at the Gold tier.  A $25,000 bond payment can cover up to a $250,000 bond amount.  A $5,000 bond payment covers… $50,000. It's going to be pretty rare that a bond will only be set for $50,000, and I would rather pay the extra $8/mo to make sure I can post bail if I ever end up in jail after a self-defense shooting than spend the night in jail.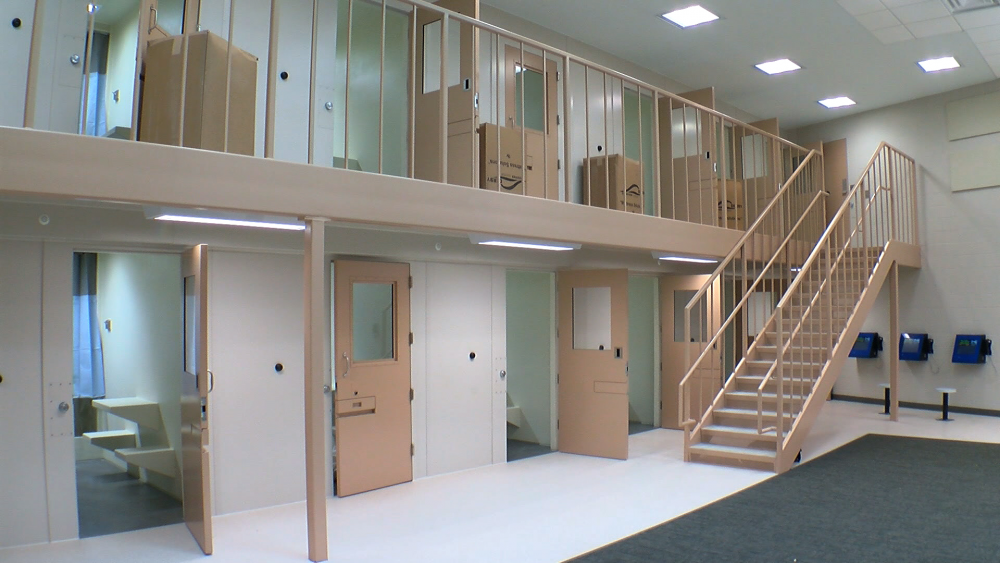 But wait, there's more!
Observant readers will notice a couple things on this pricing chart from USCCA.  First of all, what happened to the Silver tier? I'd like to know that too. My best guess is that this chart was made back when they still had a Silver tier, and they just stopped offering it.  
The second thing you'll notice is that USCCA doesn't just offer insurance, but they've got stuff about magazines and training also.  It's not really necessary if you're just looking for CCW insurance, but it doesn't hurt to have some extra goodies. At the higher tiers, you'll also have access to webinars with attorneys and even entry to the Concealed Carry Expo.  Again, not really necessary, so you aren't missing out on much even at the lowest tier.
USCCA Disallowed States
Attacking gun rights doesn't always come in the form of banning guns or magazines, sometimes anti-gun movements take a more indirect approach. One of those recent pushes has been to target CCW groups such as the USCCA. The following states have blocked the USCCA from offering their program:
New York
New Jersey
Washington
What about the other guys?
Of course, there are lots of other CCW insurance companies in the arena too.  When picking my own, I actually looked at the NRA insurance first. I've been a member of the NRA since my first Glock back in the day, so when they introduced their NRA Carry Guard insurance, I immediately went to check them out.
No surprise, Carry Guard has multiple tiers to their insurance plans too.  The good thing about them is that they have 4 tiers, where USCCA only has 3.  What this means is there is a much wider range of prices you can choose to pay, so if paying around $22/mo is to much for you, you can go with a $17/mo plan instead with Carry Guard.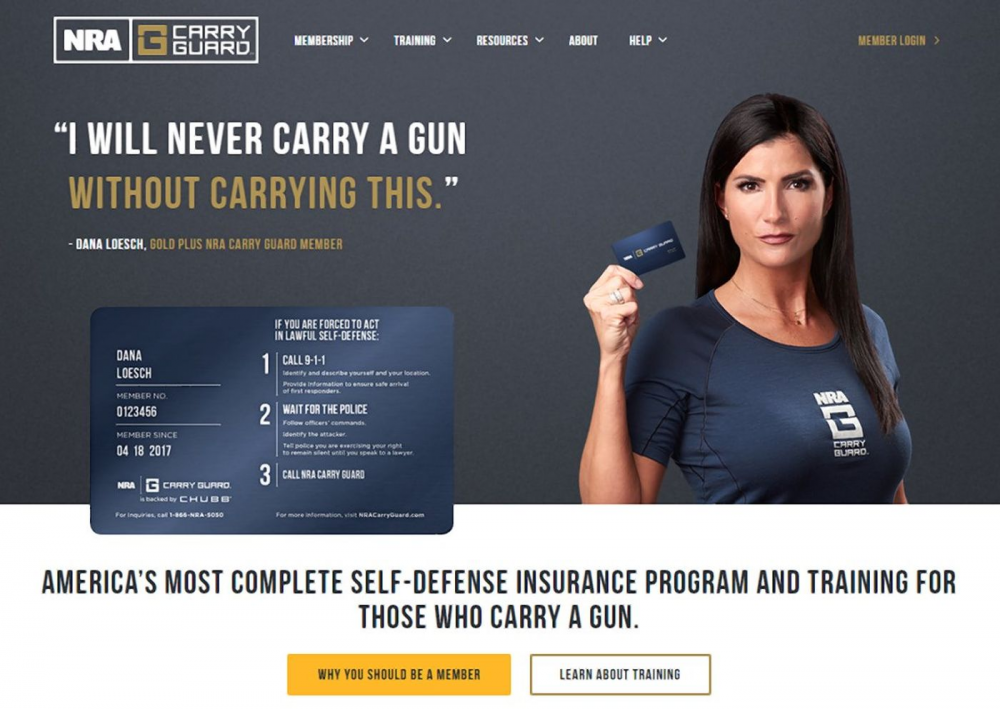 For the most part, there really isn't too much of a difference between USCCA and Carry Guard.  What tipped the scales for me was that at the Platinum (middle) tier with USCCA, I was actually getting twice the coverage for defense in a civil trial, and an extra 50% coverage for a criminal trial defense compared to the Carry Guard Silver tier, and the Carry Guard Silver tier actually cost an extra 89 cents extra per month more than the USCCA Platinum tier.  Saving an extra 89 cents a month only lets me supersize my meals a couple times a month, but for the extra coverage I'd get with USCCA, it was a no brainer for me.
Of course, some of the math is a little different at the other tiers, like the highest Carry Guard tier offering about $500,000 less for civil defense by charging you $4/mo less.  Our comparison chart can definitely help with whatever comparison shopping you need to do, but I can safely say that for people looking to get basic to middle tier coverage, USCCA seems to be the better bang for your buck.  Get it? Bang.
Another pretty big selling point for me, though only after I thought about it for a bit, was that USCCA CCW insurance covers all legal weapons, not just firearms.  This means that any weapon, whether it's a baseball bat, knife, taser, pepper spray, or even your own fists, would be covered. Having taken a couple karate lessons when I was 7, my fists of fury are considered weapons by some (my little cousin), and it's good to know I would be covered if they were used in a self-defense situation.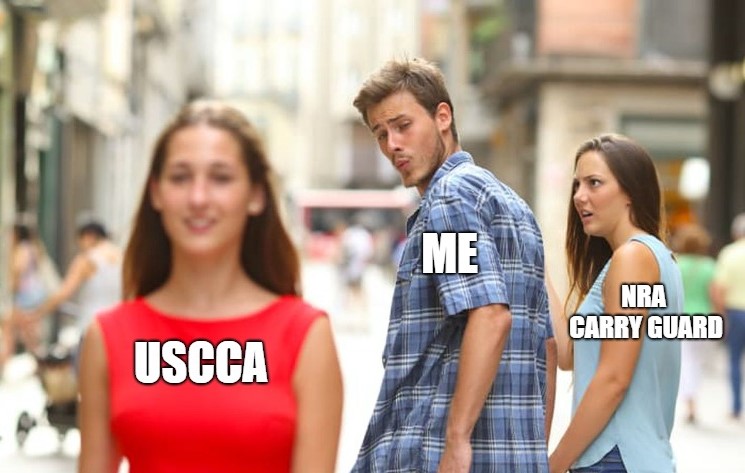 Seriously though, if you were to use something like a bat or a taser to defend yourself and as a result, the bad guy (hopefully) gets seriously injured, your defense in criminal and civil court would be covered under a USCCA policy, but not a Carry Guard one.  
Don't forget about us!
Of course, there is more than just USCCA and NRA Carry Guard when it comes to shopping for CCW insurance.  Some of the other more reputable companies out there are:
Again, be sure to check out our comparison charts for all of these companies to see if they might be a better fit for you over USCCA or even NRA Carry Guard.
While I personally chose to go with USCCA based on what was important to me, I have plenty of friends who have gone with NRA Carry Guard and some with Second Call Defense.  Some even supplement their policies with membership to ACLDN.
There really isn't a single "best" CCW insurance that works for everyone.  For me though, USCCA seems to offer the best amount of coverage for the price when it comes to paying for criminal and civil trial costs, while also giving coverage for all forms of legal weapons, not just firearms.  
At the end of the day, you can get training videos and firearms magazines anywhere.  It's the actual coverage for court costs that should drive your decision on which CCW insurance policy to go with.  If that happens to be USCCA, then great! If not, you really can't go wrong with any of the other ones either.