It's no secret that once you get into firearms, the gear starts piling up.
As your collection grows, you're going to need a quality bag to transport your equipment to and from the range.
Sure, you can use a backpack or laptop case, but most everyday bags aren't designed to provide the optimum levels of organization and durability that your gear requires.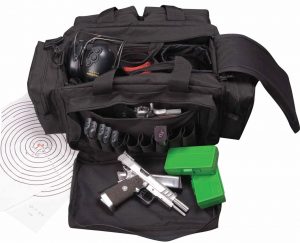 Range bags are manufactured to provide plenty of storage space for all of your shooting essentials.
Guns, ammo, spare mags, eye and ear protection, targets, tools, cleaning supplies—the list is endless, limited only by your needs and the capacity of your bag.
Fortunately, whether you're a range bag minimalist or maximalist, we have options here for you.
Best Range Bags
1. Osage River Tactical Range Bag
Our first pick is highly rated and budget-friendly.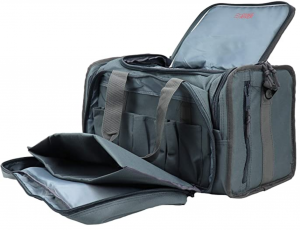 The Osage River Tactical Range Bag comes in two sizes, Light Duty and Standard Duty. 
Both options are made with 600D ballistic nylon and are lightweight and packable, so they're easy to store when not in use.
The two bags share similar features, including three external zipper pockets, rubberized feet, attachable hand straps, and a removable shoulder strap.
That said, you probably don't want to use the hand straps if your Standard Duty bag is full.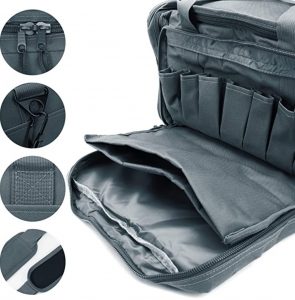 The Light Duty bag measures in at 13.5 x 10.5 x 7.5 inches.
True, the bag is pretty small, but it's still great for a day run, so long as you plan to fire one or two handguns—preferably compact—and less than 200 rounds.
But don't get too excited about that ammunition estimate. You would need to fill the bag's pockets and remove every non-essential item to fit that many rounds.
The Light Duty bag has a single-padded adjustable divider in the main pocket. You might be able to stow an additional pistol in the main pocket by fixing the divider, but doing so will cut into your ammo storage capabilities.
It also has two large external zipper pockets, each with a removable pistol pouch and five magazine holders.
The Light Duty comes in olive drab green, gunmetal grey, and black.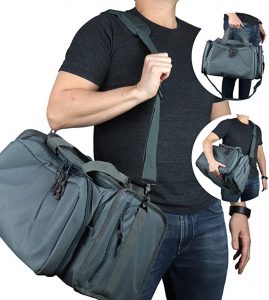 You'll find that it's much easier to pack an additional handgun in the Standard Duty. This range bag is a larger version of the Light Duty and measures in at 18 x 13 x 10 inches.
It comes with two padded dividers that allow you to split the main compartment into three sections.
The Standard Duty also has a removable pistol pouch and seven pistol mag holders in the external pockets.
If you're torn between the two options, we recommend trying the Standard Duty. It holds a fair amount of gear and is great for a quick range run or a long shooting trip.
The Standard Duty comes in the same colors as the Light Duty size, plus pink and teal.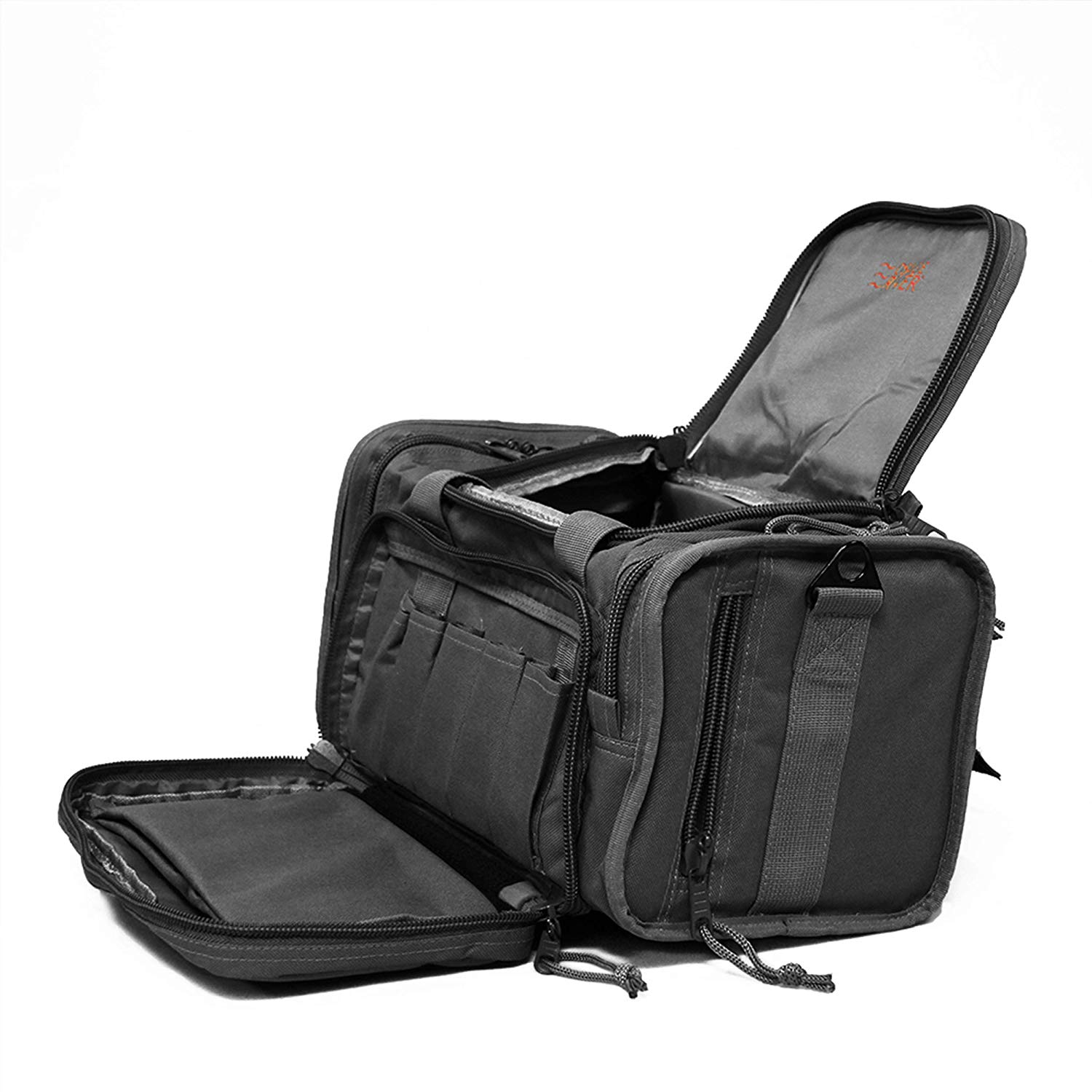 Osage River Range Bags - Standard
Pros
Tons of customizable storage
Heavy-duty construction to last for years
4 color options
Cons
Padding is on the thin size
Our only complaint with the Osage River Tactical Range Bag is that the Velcro dividers connect to the sides of the bag, but not the bottom, so small equipment may slip between the sections.
That's not a deal-breaker, but it does make organizing the bag a little more difficult.
If you can, keep any small items in one of the external pocks or add internal organization items, like utility pouches, MOLLE inserts, or Cocoon Grid-It organizers to keep things where they belong.
It would also be great if the bag had rifle magazine slots, but it's clearly designed for handgunners, so we can't really consider it a flaw. Luckily, you can definitely fit a few rifle magazines inside the Standard Duty.
2. GunMate Range Bag
The GunMate Range Bag is another reliable and affordable option.
It has a simple design that doesn't incorporate any extra or unnecessary features. But it doesn't skimp on quality, so it's still a great value.
The GunMate Range Bag measures 16 x 8 x 7 inches, weighs about 2.5 lbs. (empty), and is perfect for shooters who only want to carry the strict essentials.  
It has two external pockets that are padded with pistol rug, allowing you to store one handgun on each side of the bag.
The main compartment comes with two dividers that can be inserted or removed as needed.
These dividers are great because you can personalize your bag into a configuration that suits your gear.
The padded, flap-style top has connected double zippers to ensure fast, easy, and unobstructed access to the interior compartment.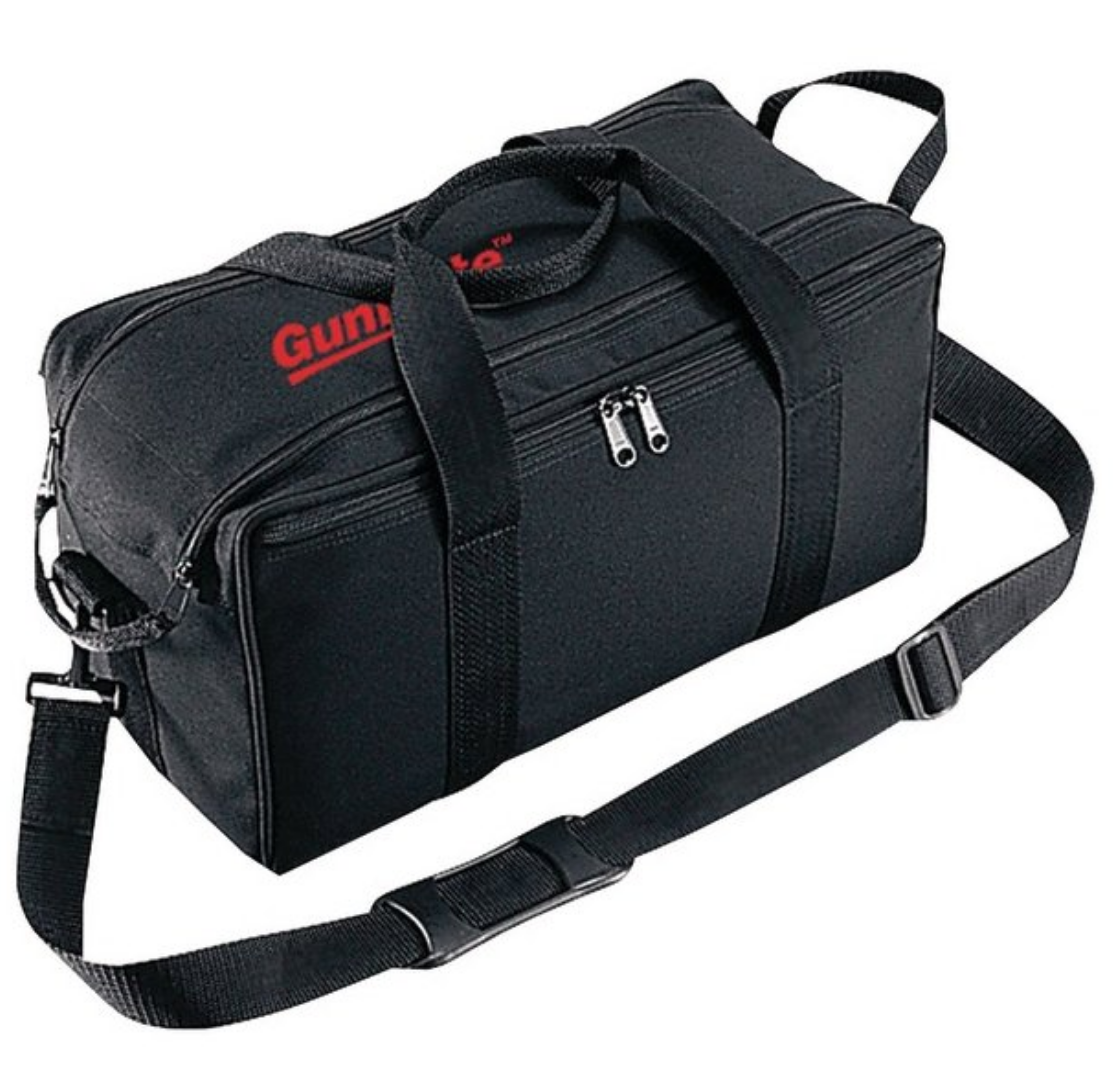 GunMate Range Bag
Pros
Simple but affordable
Removable dividers
The GunMate Range Bag is made with moderately thick black nylon and steel hardware. Unfortunately, the bottom of the bag isn't rigid, so it might sag under too much weight.
But this range bag does offer two main carry options. There are hand straps, which don't attach to one another, as well as an adjustable, detachable shoulder strap.
All the straps wrap under the bottom of the bag for extra support and security. Even if the stitching on one strap fails, the straps as a set would still be usable.   
Even so, the stitching and nylon are both pretty durable, so it would likely never become an issue. The corners are also reinforced, so the bag should keep its shape over time.
It would be great if the bag had magazine holders or MOLLE webbing, but you can add your own utility pouches, MOLLE inserts, or Cocoon Grid-It organizers to keep things organized.
3. Orca Tactical Shooting Range Duffel Bag
Our next bag is a high-end, military-grade option that prioritizes compactibility.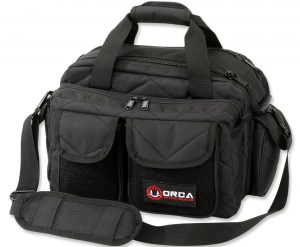 The Orca Tactical Shooting Range Duffel Bag measures 16 x 11 x 9 inches, which puts it between the two Osage River bags in terms of size.
However, this bag is visibly sturdier and more durable than the other options on this list.   
It's made from 600D polyester and contains a significant amount of padding to protect any items stored inside the bag.
The stress points are double stitched for reinforcement, and the bag has a distinctive diamond-shaped stitch pattern.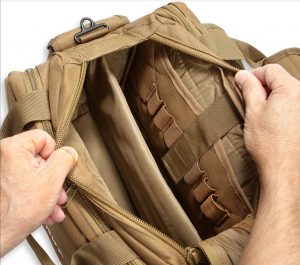 The Orca Tactical Shooting Range Duffel Bag has tons of pockets, pouches, and elastic loops for storing your gear.
So much so, in fact, that the bag often seems much larger than it actually is.
For example, there are two large exterior pockets that are sized to store guns or gear, two additional pouches on top of the large front pocket, and additional pouches located on the right and left sides of the bag.
One of the large exterior pockets contains four elastic slots that are big enough to fit rifle magazines. Of course, you'll need a separate gun case for the rifle itself.  
The other large exterior pocket encompasses a pistol pouch with a center-support Velcro strap closure, two more storage pockets, and a line of elastic loops.
Both of these pockets are closed by lockable, two-way zippers.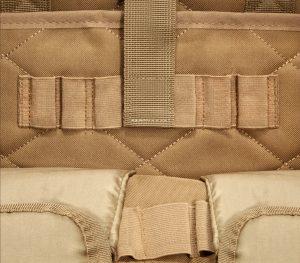 The main interior compartment is 15 x 7 x 9 inches. It has a removable divider, a side pouch with a Velcro strap closure, and two side pockets large enough to hold drink cans.  
There are also elastic loops for pistol mags, shotgun shells, and other small items.
The flap-style top incorporates an interesting double zipper design. Because these zippers are attached by a rubber handle, you can quickly and easily open the bag with a single tug.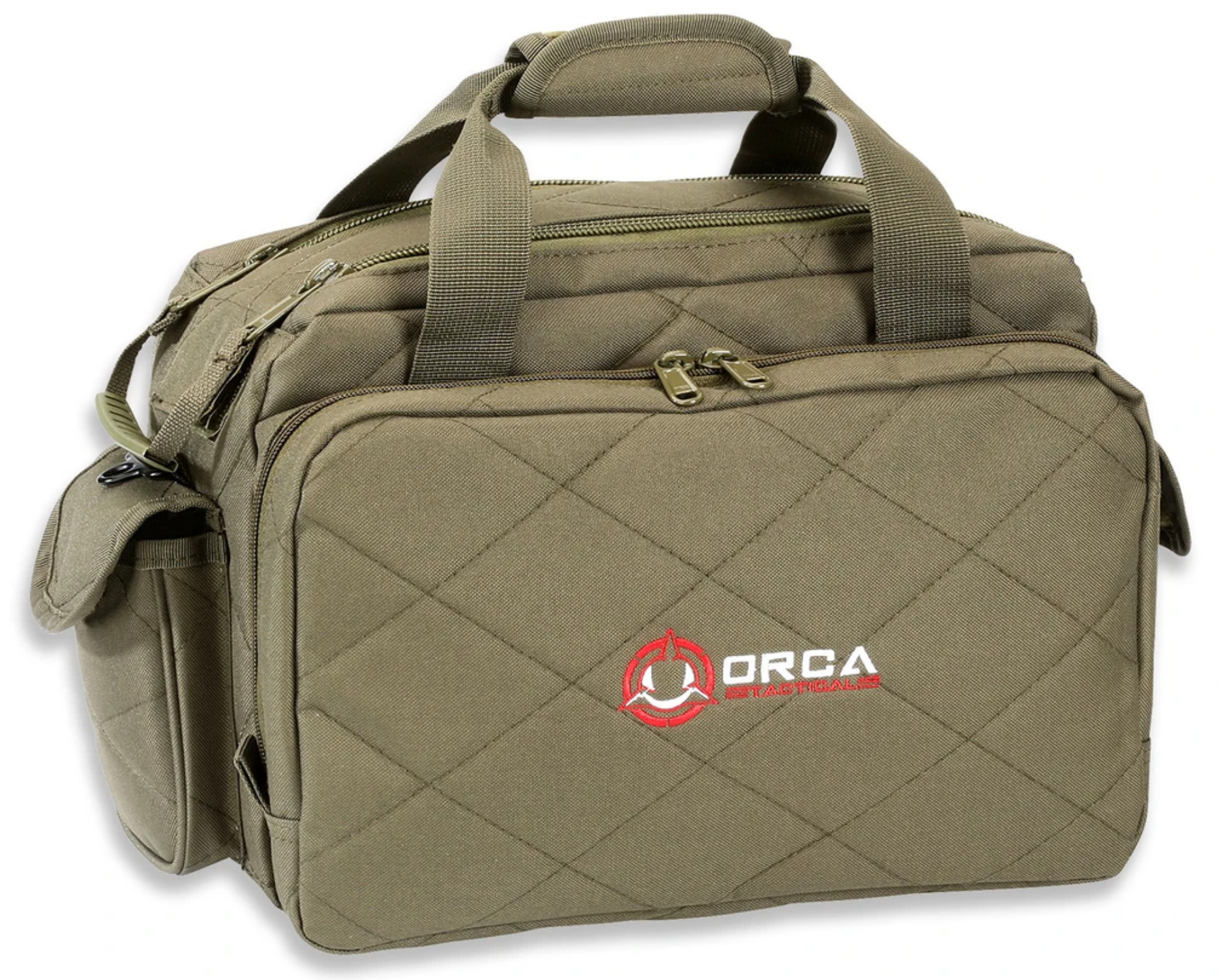 Orca Tactical Shooting Range Duffel Bag
Pros
Tons of pockets, pouches, & elastic loops
Sturdy military-grade range bag
Elastic slots for rifle magazines
All in all, the Orca Tactical Shooting Range Duffel Bag has 13 compartments in total.
Aside from all the impressive nooks and crannies, this bag also features rubberized feet, Velcro on the outer pockets for slapping on patches, a comfortable shoulder strap, and attachable hand straps.
The Orca Tactical Shooting Range Duffel Bag can be purchased in black, coyote, and OD green.
4. 5.11 Tactical Range Ready Bag
The last item on our list is another high-end range bag.
The Range Ready Bag is manufactured by 5.11 Tactical, a leading tactical gear company based in California.
This company supplies equipment to the military and various law enforcement organizations across the country, so you can trust that their range bags are both reliable and thoughtfully designed.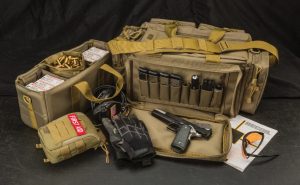 The 5.11 Tactical Range Ready Bag measures in at 24x16x10 inches, making it the largest bag on our list by far. And like the Orca bag, it isn't short on storage and organization features.
It has five external pockets, including a drop-down front flap that stores eight pistol magazines. Each pouch in this section can fit one double stack mag or two single stack mags.
This pocket unzips down the sides and a little bit underneath, creating a flat surface to clean and organize your gear, so don't forget to pack your cleaning kit.
There are three exterior pockets, two on the back and one on the left side, that are perfect for ammo boxes, optics, and earmuffs. You can also make use of the ID window on the left-side pocket.
The final exterior pocket is on the right side of the bag. It's slimmer because it's situated next to a water bottle pouch.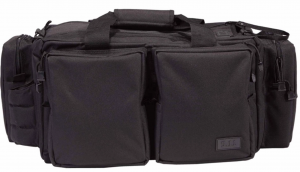 The interior compartment is 9 x 18 x 10 inches and offers flap-style access, much like the other bags on our list.
It contains a removable 6 x 16 x 7-inch ammo tote (though you can certainly use it to carry other items) and a brass bag.
There are also two removable, but not repositionable, section dividers within the tote.
The bag itself is made from 600D polyester, and its overall construction falls somewhere between the Orca and Osage bags. After all, if this bag were as heavy-duty as the Orca, it would be difficult to carry.  
Other notable features include rubberized feet, a removable padded shoulder strap, and reinforced attachable hand straps.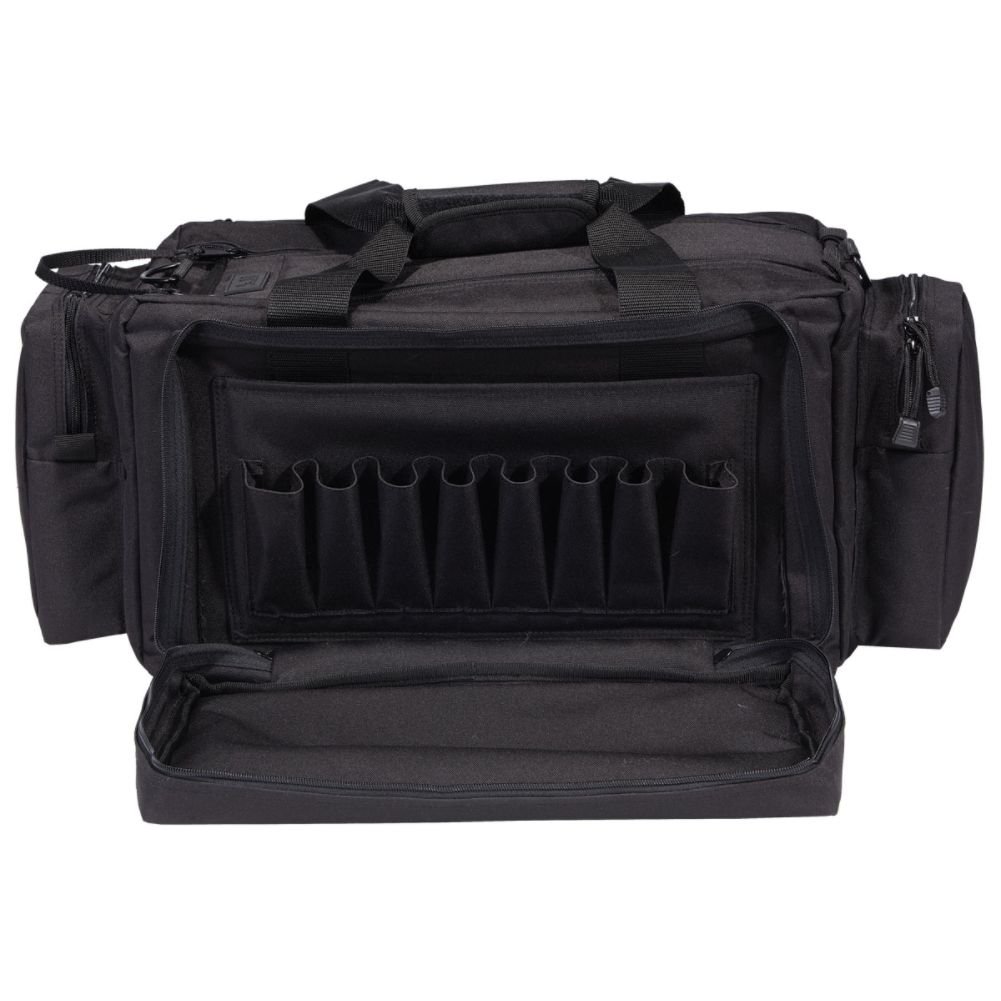 5.11 Tactical Range Bag
Pros
Removable ammo and brass totes
8 magazine slots
Padded shoulder strap
The 5.11 Tactical Range Ready Bag comes in two colors: Sandstone and Black.
Parting Shots
That wraps up our list of the four best range bags.
The first two options are great for more budget-conscious shoppers, while the latter two are perfect for shooters aiming to get the most out of their range bags.
It's important to plan ahead before making any purchase. I recommend reviewing the gear you plan to store in your range bag, while still leaving a little wiggle room for unexpected items. You should also think about how you plan to use your range bag.  
If you're uncertain about what to put in your range bag, please review our list of the best range gear. And if you're looking for something to hold your guns and little else, be sure to read our recommendations for the best gun cases. 
So, what range bag do you carry? What do you like about it? Have any tips for keeping range gear organized? Share your thoughts and experiences with us in the comments!