Are you looking for an easy way to upgrade your shooting, without any gunsmithing?
Turns out, all you need is a great rifle sling.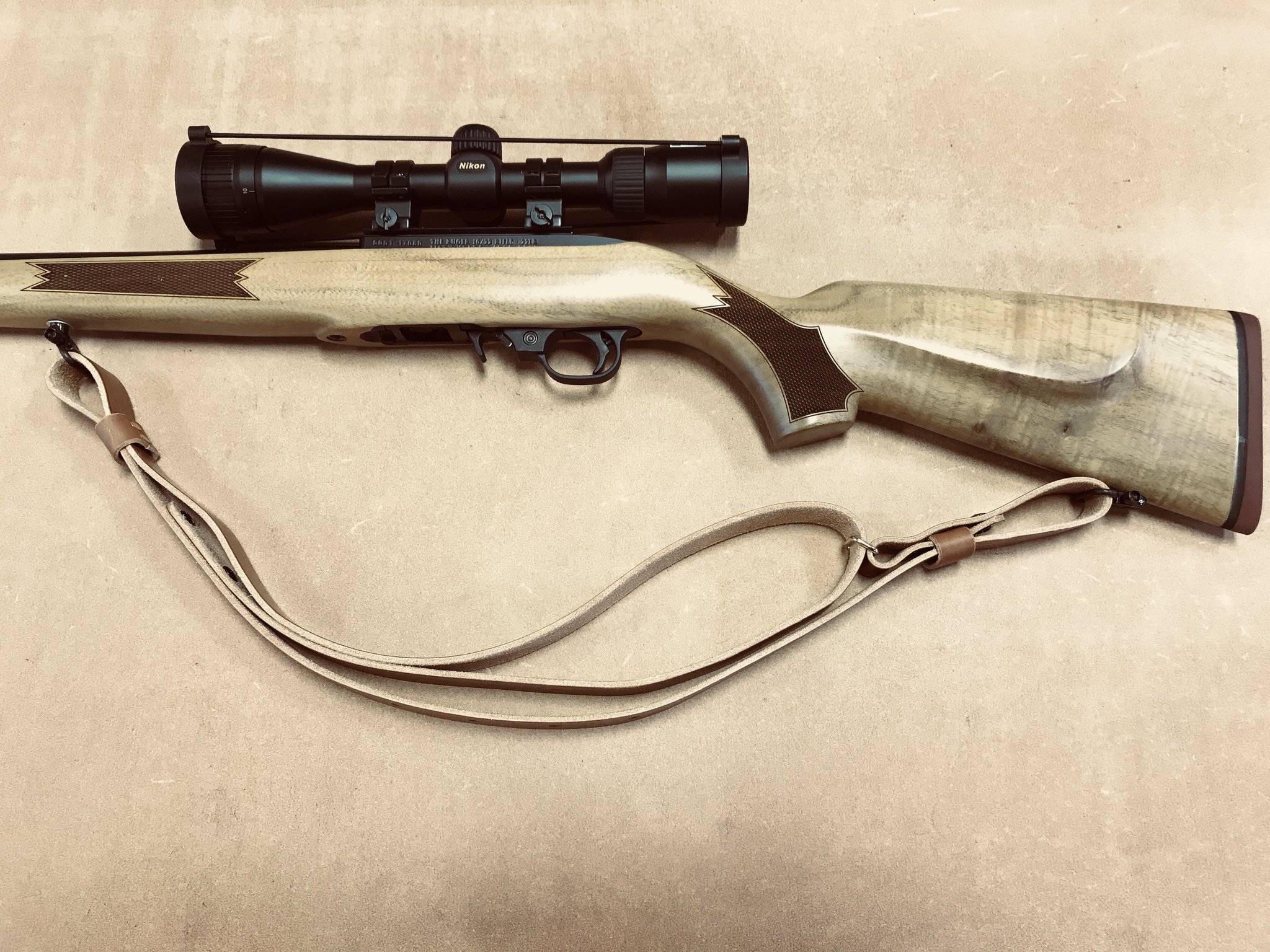 A sling is one of the best accessories for your rifle, without a doubt. A quality sling gives you a way to comfortably and conveniently carry your rifle, and makes things like switching to a pistol, unlocking a door, or other tasks much simpler.
They can also be used to help stabilize your rifle for longer shots when you don't have something to brace against.
We're going to cover everything you need to know about gun slings, from the types of slings to the materials, to accessories and brands to check out.
Let's get started!
Sling Materials
You generally have two different options when it comes to material for a gun sling: leather and nylon.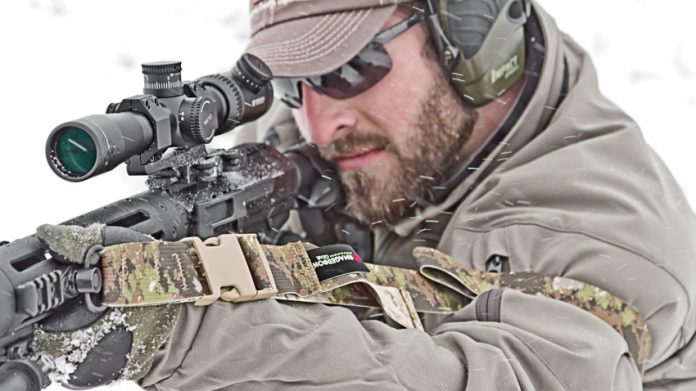 Neither is inherently better than the other, so which one you want just depends on what you want from your rifle sling.
Nylon is light but doesn't bend or give as much as leather. Leather is softer and more flexible, but it can also stretch out over time.
Types of Slings
There are three primary types of slings out there for firearms: single-point, two-point, and three-point. The "point," in this case, refers to the number of points at which the sling attaches to the gun.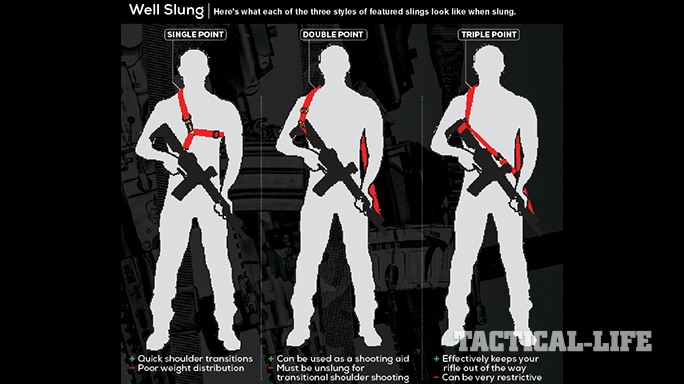 There are also a couple of kinds of rifle slings that fall into the overarching category of "shooting slings," the ching sling and the cuff sling.
There are pros and cons of each, as well as a few considerations to keep in mind to get the best benefit out of each type.
Single-Point Slings
A single-point sling attaches to the gun at one point, almost always along the rear of the receiver. There are two types, one that has a loop that goes around the shooter's neck and one shoulder, and another that consists of just a short strap to attach to the front of body armor or a chest rig.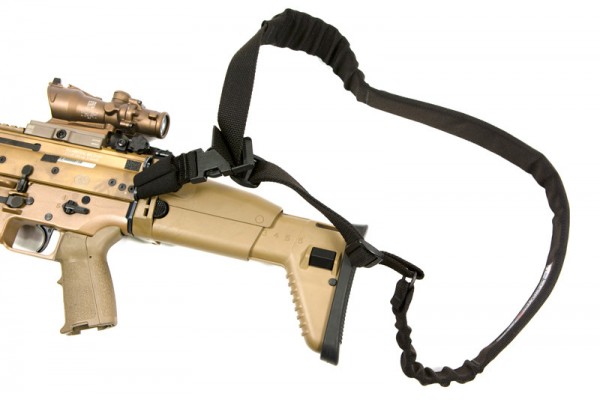 Pros
The chief upside to the single-point sling is its simplicity. It allows your gun to hang down directly in front of you at all times, which means you'll always be able to get your hands on it quickly.
A gun carried by a single point sling is also highly mobile and maneuverable, making it a good choice for things like executive protection details and the like where you'll be moving in and out of cars, or for a home defense gun you may have to move around within a tight hallway.
Cons
First and above all, you don't get any shooting support from a single-point sling. That means that if you're firing while standing up, you're relying on just your standard firing grip to stabilize the rifle, which can be detrimental at longer ranges.
Even while kneeling or prone, you can't use the sling to help stabilize the front of the gun like you can with the other types of sling.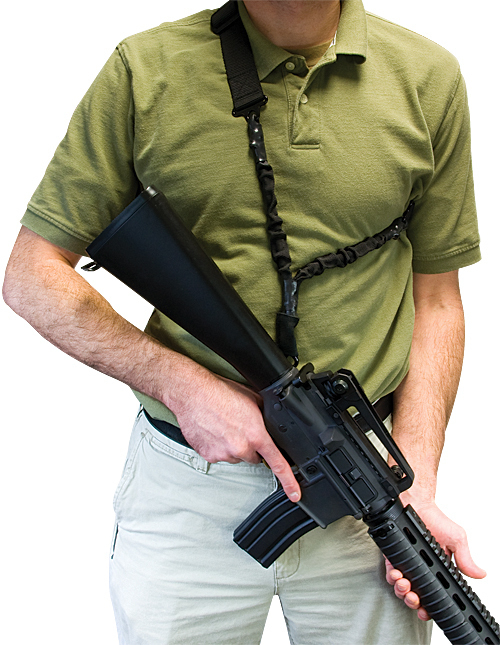 The biggest drawback, however, is the movement of the rifle itself. If you're running, unlocking a door, climbing a ladder, or really doing anything that requires the use of your hands, you now have a 10lb rifle swinging around, potentially hitting you in the knees or groin, bumping into things, getting caught on that ladder, etc.
This is the main problem with a single-point sling. While tightening it down and adjusting it properly eliminates a lot of movement, you still have a lot of weight swinging from just one attachment point, which makes moving hands-free difficult.
That said, if you're looking for something simple for a home defense shotgun, 3-Gun rifle, or just a general application where your hands will be on the rifle most of the time anyway, a single-point sling is fine.
Best Single-Point Slings
The Magpul MS4 is a great single-point option that uses a slightly wider-than-average (1.25") nylon webbing that has the edges stitched for extra strength and to keep the sling comfortable against your skin.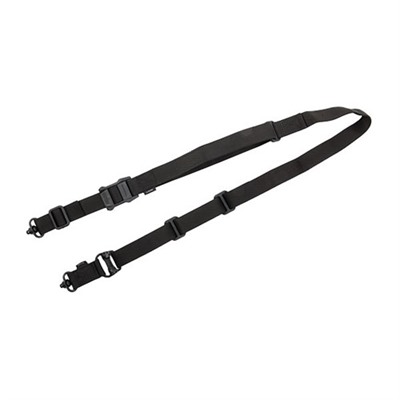 Magpul MS4
Pros
Comfortable nylon webbing
Dual quick detach swivels
Can be used as a two point sling
Cons
Less control over your gun when using your hands
The nylon is tough and very wear resistant, and the sling comes with Magpul QD buckles to quickly attach or remove it from your rifle.
Best of all, for reasons we'll discuss in the two-point section, you can convert the MS4 to a two-point sling, which gives you a lot of versatility in how you carry your rifle and what you can do with it.
The Blue Force Gear UDC Padded Bungee Single Point Sling is another great single-point option.
UDC stands for "User Determined Connection," which means that you can easily switch the attachment type of your sling by swapping out the attachment adapter.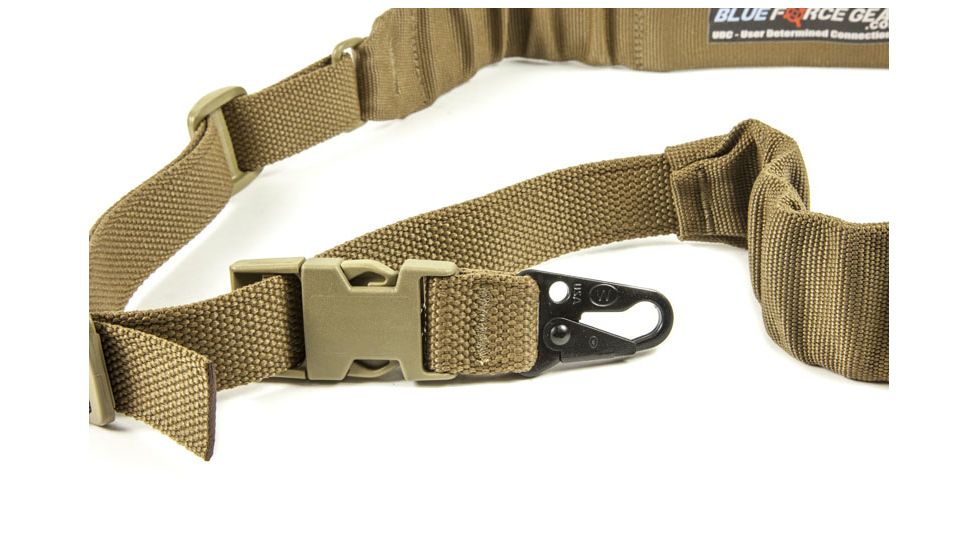 Blue Force Gear UDC Padded Bungee Single Point Sling
Pros
Short bungee sections absorb shock
Padded for comfort
Versatile attachment adapters
The sling can be bought with either a strap adapter, sling snap hook adapter, MASH hook adapter, or push button swivel adapter, but you can also buy each of these plus several other adapters individually so that you can use your sling with just about any rifle you want.
It's even wider than the Magpul MS4 (2") and is padded for even more comfort. On each side of the padding is a short section of bungee to help absorb shock.
The sling is made from durable nylon and is adjustable from 35″ to 55". The bungee gives 2" of travel.
Two-Point Slings
A two-point sling is the most common sling type. As the name suggests, it connects to the rifle at two different points: the bottom of the stock at the rear of the firearm and the bottom of the handguard towards the front.
This sling connects to the rear and front of the firearm, on the bottom of the stock. It's perfect for carrying a long gun over the shoulder during long hunting treks.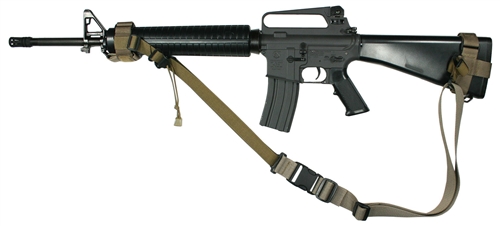 Pros
Two point slings are great for keeping your rifle slung over your shoulder while you're moving about.
On top of that, they can also help you shoot better if you use either of a couple of different methods, the hasty sling method and the loop sling method.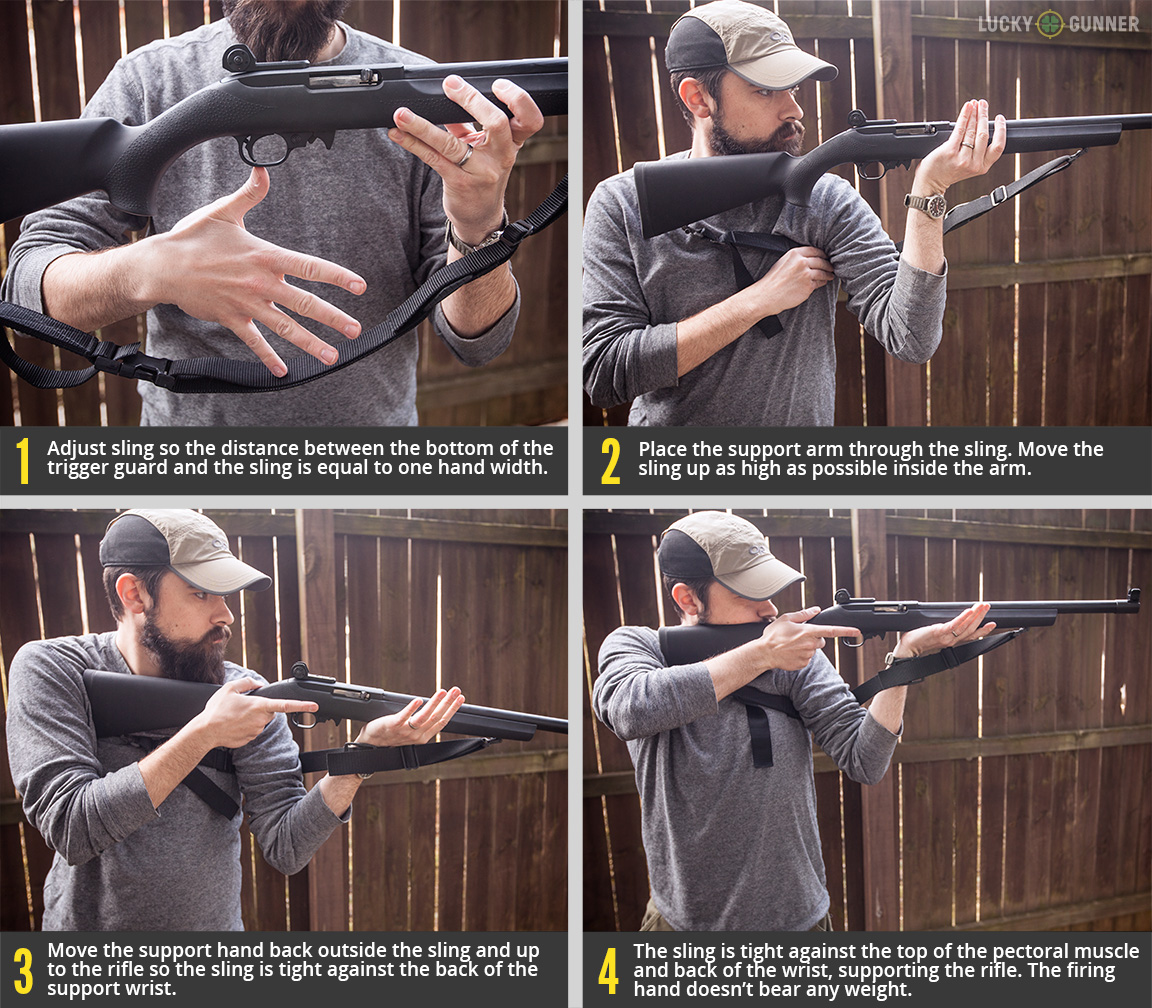 To use the hasty sling method, simply loop the sling around your non-shooting arm, then use the resulting tension to stabilize your rifle.
To use the loop sling method, also called the USGI sling method, start by disconnecting the rear point of the sling. Pull a loop through the adjustment slid, insert your arm through the loop, and pull it tightly.
Cons
While two-point slings are convenient for carrying your gun around, they're not great for manipulating your weapon.
It can be difficult to get your rifle into shooting position while it's on a two-point sling and even more difficult to do so quickly. It can also be tricky to swap the swing from shoulder to shoulder unless you leave the sling loose enough to move over your head.
Best Two-Point Slings
The STI 2 Point Rifle Sling is one of our favorite two-point slings on the market.
It's constructed from durable, high-quality nylon tube webbing that STI advertises as tangle and chafe resistant. The webbing has been tested against weights up to 4,000 pounds, making it some of the strongest available. The sling also features heavy stitching and a high impact polymer buckle.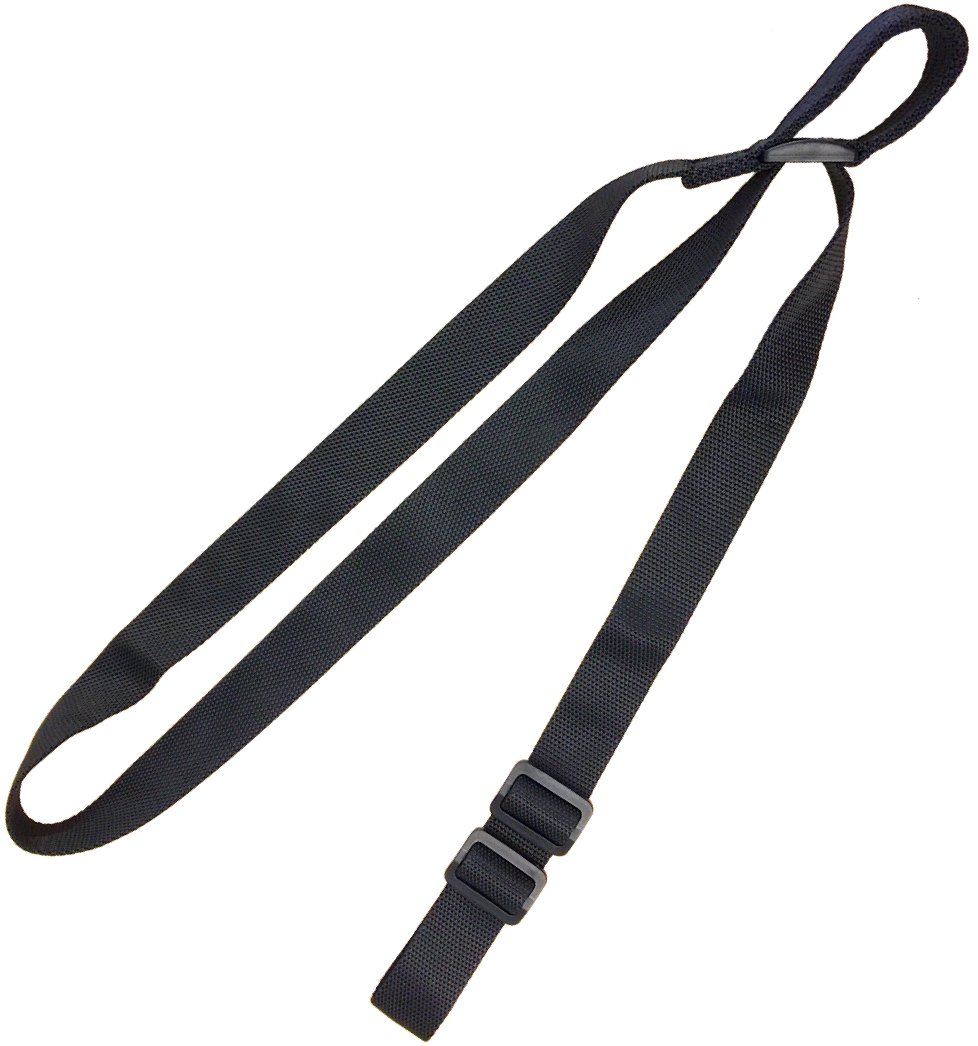 STI 2 Point Rifle Sling
Pros
Tangle and rub-resistant nylon webbing
Heavy-duty construction
Double adjustment points for a wide range of sizes
You can adjust the sling from 30" to more than 55" using two different strap adjustments. The sling is 1.25" wide, plenty wide enough to comfortably disperse the weight of your gun, and can be used with just about any 1.25" attachment hardware.
If you have specific wants or needs for your rifle sling, then check out a custom rifle sling from Savvy Sniper like the Savvy Sniper QUAD Dual QD MS Sling to get exactly what you want.
Savvy Sniper offers a variety of color and width options ranging from 1″ to 2", as well as women's sizes and custom sizing at no extra charge. Slings are also available with or without bungee sections.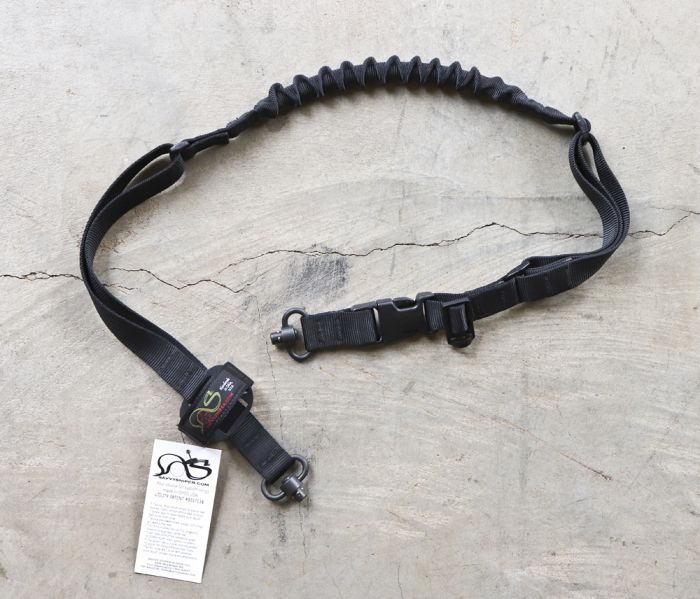 Savvy Sniper QUAD Dual QD MS Sling
Pros
Variety of customization options
Sizing for men and women
Can switch between single- and double-point attachment
Multiple interchangeable attachment options are available, including open-ended strap attachments, HK attachments, QD attachments, MASH attachments, and rifle swivel attachments.
Finally, thanks to the design of the sling's metal alloy attachment plate, you can also convert the sling between single-point and two-point configurations.
Three-Point Slings
Like the two-point sling, the three-point sling connects to the stock and handguard of the rifle, but it also has a loop that wraps around the shooter's torso. The three-point is probably the most divisive type of rifle sling, with people either loving or hating it.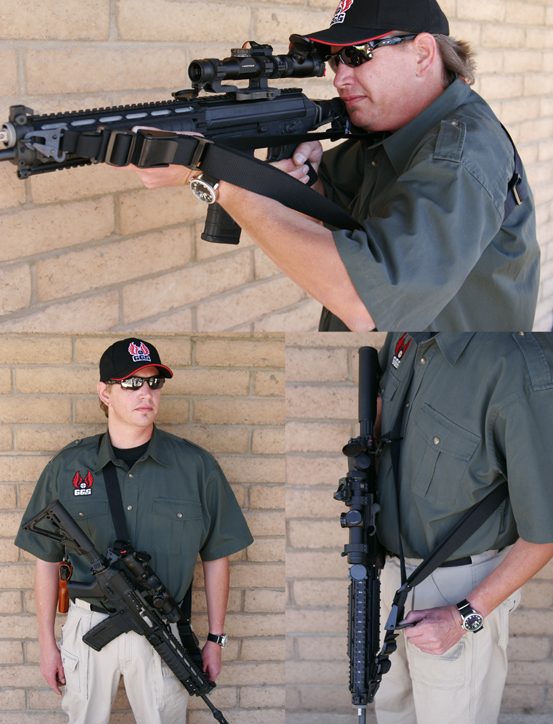 Pros
The three-point sling does a solid job of keeping your gun close, but also keeping your hands free.
It's better than the other sling types at keeping your rifle under control, which makes it easy to switch from your rifle to a sidearm and vice-versa without you having to fumble either gun during the transition.
Cons
While the three-point sling gives you more control over your rifle, the sling itself is more unwieldy.
They can block ejection ports, get caught on bolt release mechanisms, and are a huge pain to put on and take off your body.
Best Three-Point Sling
The Specter Gear Close Quarters Combat (CQB) Sling is our favorite three-point sling.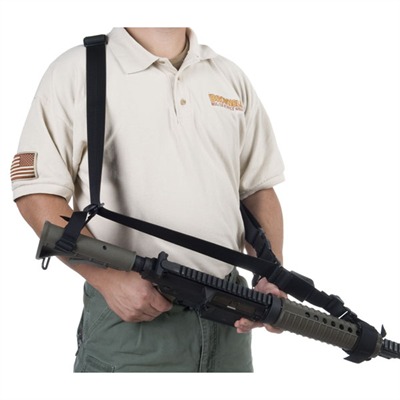 Specter Gear Close Quarters Combat (CQB) Sling
Pros
Double stitched for durability
Ambidextrous use
Emergency quick-release buckle
Cons
Requires practice to use effectively
Three-point slings are often uncomfortable, but the CQB Sling is soft and less prone to chafing than other three-point slings, despite being made of nylon, and it doesn't limit the wearer's range of motion. Double stitching enhances the sling's durability.
The sling is ambidextrous and an optional emergency release buckle makes it easy to quickly remove in the field.
Shooting Slings
While the other slings we've talked about are for helping you carry your rifle around, shooting slings are designed to help you while you're actually shooting your weapon.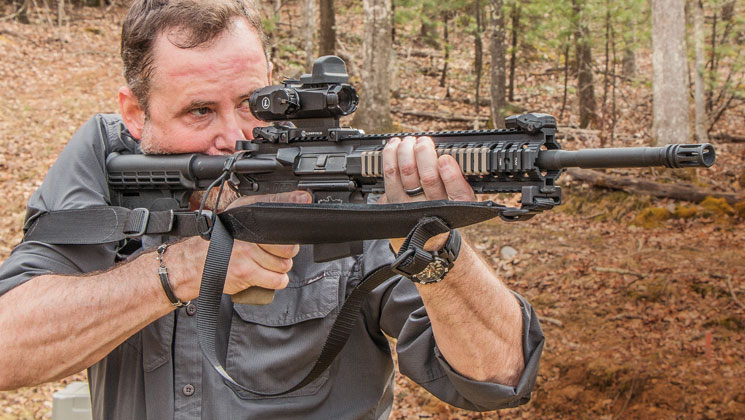 Ching Slings
Ching slings are similar to two-point slings, but are designed especially for use with the hasty sling method we discussed above.
It has attachment points at the front and back of the gun like a two-point sling, plus another short strap that connects at the center of the firearm. Place your arm through the loop between the front and middle attachments to shoot, then slide the short strap out of the way when you're carrying your gun.
One of our favorite ching slings is Andy's Leather Ching Sling. It's easy to adjust and has a soft, comfortable, yet beautiful leather design.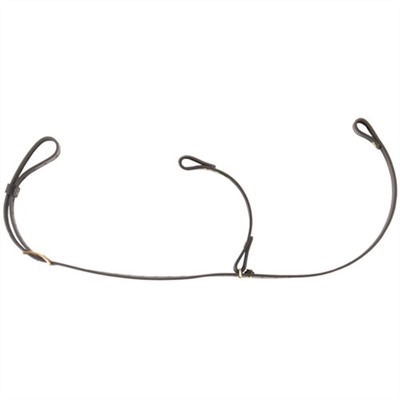 Andy's Leather Ching Sling
Pros
Beautiful finish
Soft, flexible leather construction for comfort and durability
Fast to use
Cons
Leather can stretch over time
Requires additional care
It's available in 1 and 1.25" widths and with a walnut, chestnut, or black finish. You can get the sling with or without swivels, and the hardware is available in brass, nickel, and black cerakote finishes.
Cuff Slings
Cuff slings fit around the shooter's bicep, similar to a blood pressure cuff, and are actually designed to do what loop sling methods approximate.
Sharpshooters tend to like cuff slings because they're easier to use than loop sling methods with two-point slings and they let you stabilize your rifle for a more accurate shot without a bipod.
The Tactical Intervention Quick Cuff Rifle Sling is our preferred cuff sling.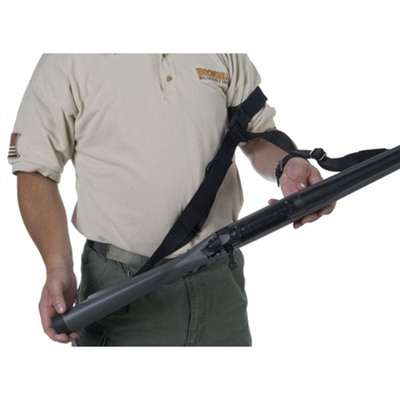 Tactical Intervention Quick Cuff Rifle Sling
Pros
Easy stabilization for better accuracy
Durable mil-spec nylon construction
Easy to adjust velcro closure
Cons
Limited options for carry
It's made of 1.45" wide mil-spec nylon that will hold up to just about anything you throw at it. The cuff is velcro adjustable and features a quick release buckle. The Quick Cuff Rifle Sling can also be used as a traditional or hasty sling.
Accessories
A sling is no good if you don't have a way to attach it to the rifle or shotgun you're wielding, so there are a few things you're likely going to need.
For an AR-style gun, we strongly recommend these Magpul M-LOK quick detach mounts. Coupled with a QD swivel, this will allow you to quickly detach the sling in an emergency, or in the event it gets caught on something.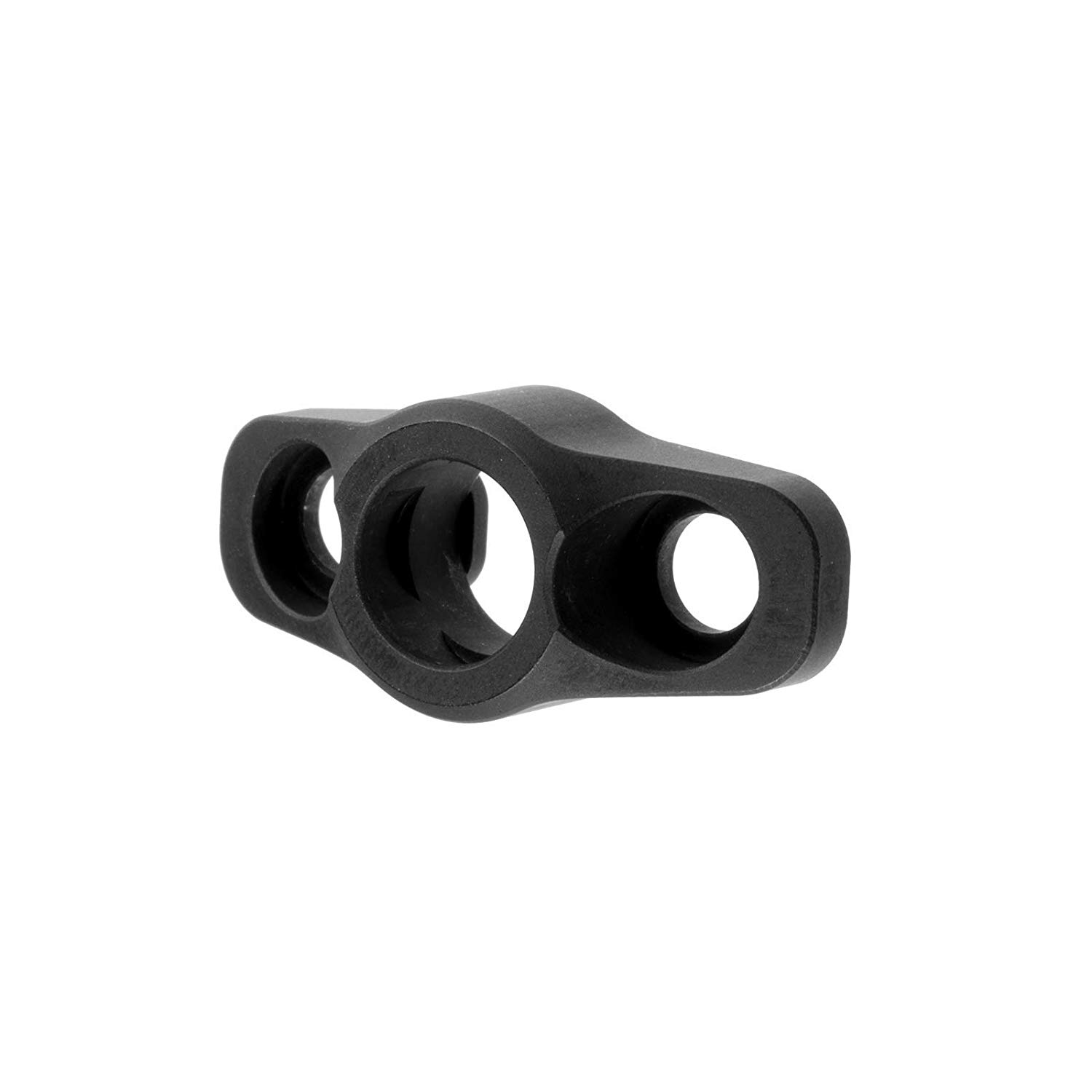 Magpul M-LOK QD Quick-Disconnect Sling Mount
Pros
Provides a QD forward mount
Mil-spec anodized aluminum construction
Easy to mount
Finally, if your buttstock doesn't have a QD or other sling attachment point, you can pick up this BCM QD end plate. This will allow you to attach a QD swivel to your AR-pattern rifle at the rear.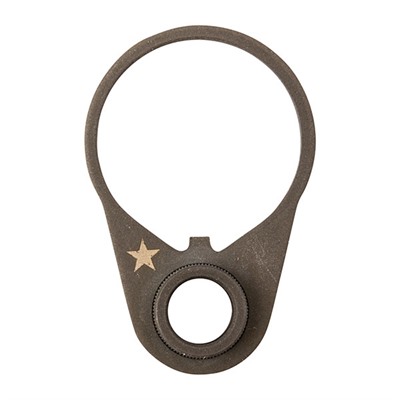 Bravo Company QD End Plate
Pros
Easily attaches to ARs for a sling
Machined from steel
Features QD connection
Cons
Only for AR pattern rifles
Parting Shots
A good sling greatly improves the usability of your rifle, from simply carrying it at the range, to stabilizing it in difficult shooting positions, and even improving retention in a CQB-scenario where you could potentially have someone trying to take the rifle from you.
Many of the slings here are a relatively cheap, but extremely effective way to upgrade your gun, and we think everyone should have one.
What do you think of these different slings? Do you have a favorite that's not on this list? Let us know in the comments below! Fine-tune your AR with one of the best adjustable gas blocks on our list.