Modern sporting rifles are most commonly found topped with optics these days, from red dots to long-range target scopes, but that doesn't mean the humble iron sights of old have fallen out of fashion.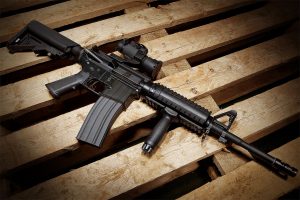 In fact, even though most rifles you see will have some kind of optical sight system, most serious shooters also have backup iron sights as well. Why?
Well, it just makes sense. That high-magnification scope or fancy holographic sight may be great, but if something breaks in a tough situation, whether you're on the field of competition, out on the hunt for that record-breaking trophy, or, worst of all, in a defensive situation, you've suddenly made a tough situation downright impossible.
Backup iron sights (BUIS) take up next to no space, add virtually no weight, and are really something that every rifle should have (and we'll explain why in a minute).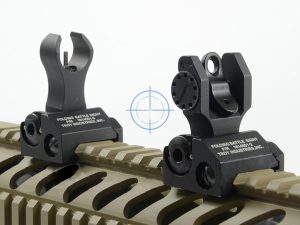 But which ones?
There are so many BUIS out there that we had to test several of them to find the very best ones. Let's take a closer look!
Why You Need Backup Iron Sights on Your Rifle
If you already have a red dot or even a magnified rifle scope, you might be wondering why you even need backup iron sights.
While "need" is relative, think of it like having a spare tire for your vehicle. Sure, if everything goes right, 99% of the time you won't need it. But then if something goes wrong, what are the consequences of not having that backup system in place?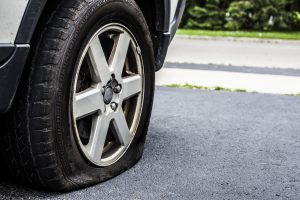 For your car, that can mean an awkward 45 minutes on the side of the highway while you call a friend or a tow truck. For your gun, that can mean losing a match in a competition or losing your life in a self-defense situation. Again, 99% of the time, will you need them? No.
But this is a strong case that proves the old adage "Better to have it and not need it than need it and not have it". BUIS take up next to no space, and you won't even notice the weight, but having them there when you need them could be the difference between life and death.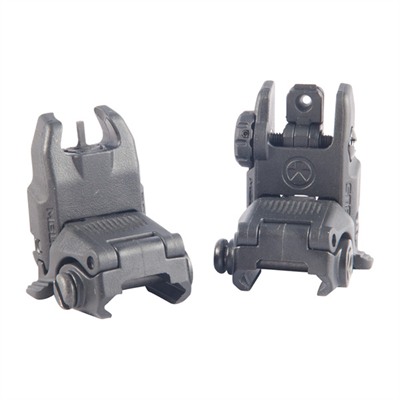 MAGPUL AR-15 MBUS Gen 2 Sight Set
Pros
Easy to find in stock
Spring-assisted
Cons
Polymer can melt under heavy heat from firing, can't be mounted to railed gas block safely
Magpul is known for their gear and accessories, particularly their AR magazines, but they are also more or less the industry standard for backup iron sights as well. The Magpul MBUS are by far the most popular BUIS in the world.
Their popularity isn't necessarily because they're the best–though they are very good–but because they're everywhere. You can get this at just about every gun store around.
As you might expect from Magpul, these iron sights are made from an impact-resistant polymer that, in some ways, is more rugged than metal (these will flex where metal sights can shear off or bend). They're easily mounted to any rifle with a picatinny rail and can be put on or taken off in just a few minutes.
Note: Magpul does also have a steel version of these BUIS.
Like most BUIS, they fold down when not in use, and are spring-loaded to help them stay up and in position without getting folded down when moving in tight spaces, such as in and out of vehicles.
Finally, they are windage and elevation adjustable, and are the same height as a standard A2 sight so if you're used to that, or worried about co-witnessing with standard optics, you'll be just fine.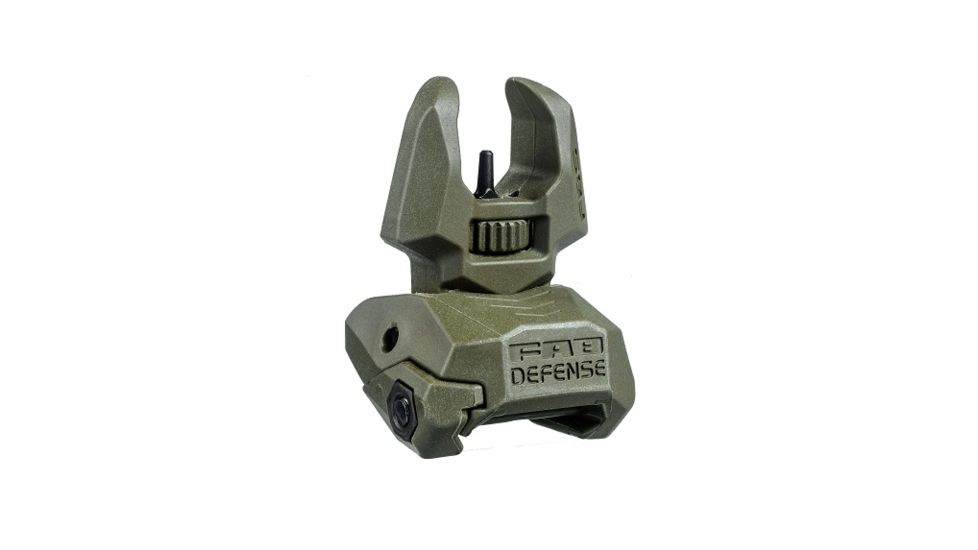 FAB Defense Front Polymer Flip-up Sight
Pros
Unlikely to be accidentally deployed
Streamlined and avoids snagging
Cons
Not spring-assisted
Polymer cannot be mounted to railed gas blocks
FAB Defense got their start as a supplier for Israeli military and police and quickly earned a reputation for quality, well-machined parts, and accessories. Their flip-up sights are extremely lightweight and are a little more streamlined than the Magpul version.
They're windage and elevation adjustable, very easy to see through, and easy to adjust for zero.
They don't have the spring-assisted deploy, or the forward pressure to keep them from being folded down accidentally, but some may like this more as it means you're less likely to accidentally deploy the sights when you don't need them.
If you're only running a set of backup irons in case of emergency, the FAB Defense Flip-Up sights might be the way to go since they're guaranteed to stay down and out of the way until you really need them. 
This is especially important for 3-Gun/Tactical shooters using a forward c-clamp grip with their hand near the or indexed on the front sight.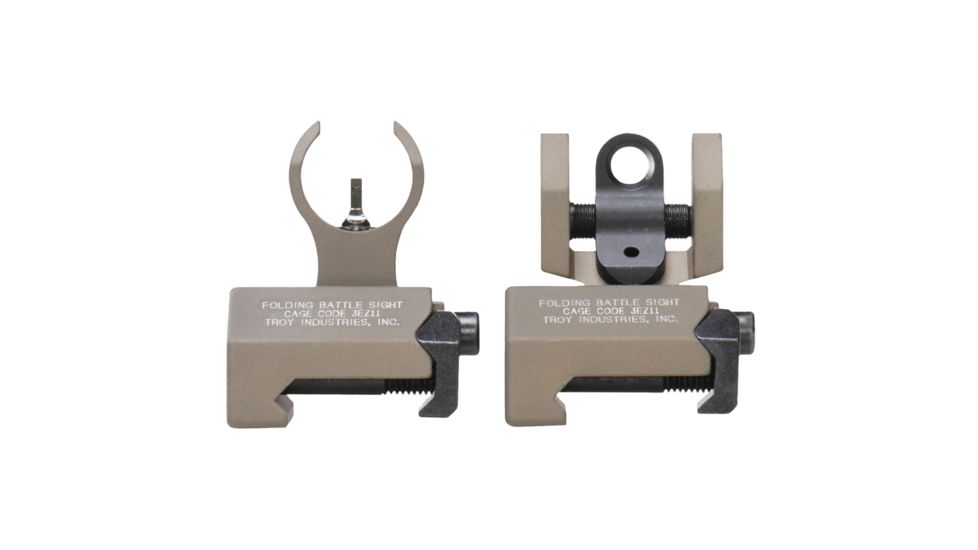 TROY Micro BattleSight BUIS
Pros
Dual rear apertures
Very streamlined
Tritium insert
If you're looking for a low-profile set of BUIS that takes up the minimum amount of space, the Troy Mirco BattleSight BUIS are a great option. They're just under 1.5" long and weigh even less than normal BUIS so they're perfect for a "just in case" set of BUIS.
They are easy to mount, and the rear sight has an adjustable aperture to switch quickly from close-range (under 300 yards) to long-range (300-600 yards) shooting quickly, which makes the sights extremely versatile.
These sights are all metal, and the HK-style design is a proven design that helps prevent snagging and is easy to see through. It also just looks good.
Speaking of looking good, the sights actually come with tritium inserts as well to help you see them better in low-light situations, or just pick up that front post a little faster during daylight shooting.
Overall, these are very good sights, and are perfect for those who don't mind spending more for a premium product.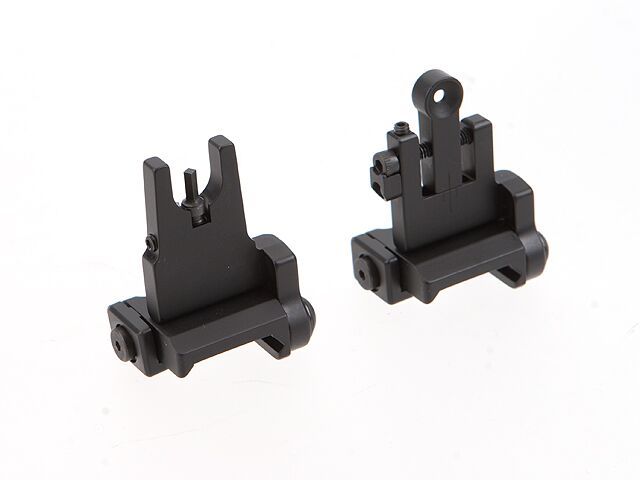 Bobro Lowrider BUIS
Pros
Infinite adjustment
Very low-profile
Great for SBRs
Cons
Difficult to adjust
Expensive
The Troy Micros aren't the only low-profile BUIS out there and while the Bobro Lowrider BUIS are a little pricey, they're certainly worth the money if you're looking to save space on your rails. These flip-up BUIS are designed to leave you plenty of room for all the other things on your rails (primary optics, lasers, lights, etc.) while still being easy to access when you need them.
They're a little finicky to adjust given their size, but since you should only be zeroing them on rare occasions, this shouldn't be a problem. That said, they are totally windage and elevation adjustable and hold a zero well, even if your rifle gets bumped around a lot.
They are especially good for SBRs where you don't have a lot of rail space to start with, which is one of the reasons they're so popular. These are one of the more common BUIS choices for those with a short barreled rifle, and the space savings is a big part of that.

The only downsides are the fact that there's only one rear aperture, and the sights don't lock into place when flipped up so they are susceptible to getting bumped back down.
They are still excellent sights overall, and actually feature infinite adjustment instead of click-based adjustment, which can help with zeroing and overall make these BUIS a breeze to use.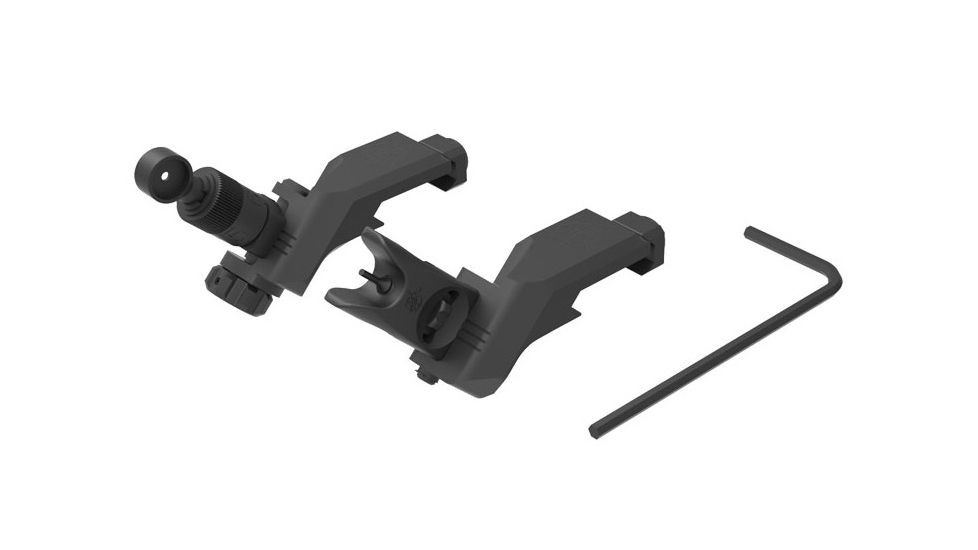 Knight's Armament 45 Degree Offset Folding Sight Set
Pros
Sights are always available
Lets you use iron sights in addition to your primary optic
For something a little different, Knight's Armament Company has their 45-degree offset BUIS. This BUIS are on 45-degree mounts that allow you to run your iron sights and your primary optic together seamlessly.
These sights let you simply cant your rifle to the side when you need them, rather than go through the process of deploying them via pushing a button or manually flipping them up. They're always there, always available, and are easy to use.
They're great for 3-Gunners and other tactical shooters who want iron sights on hand as a close range compliment to a longer range magnified optic, rather than just as a backup in case their optic goes down.
One potential issue the sights themselves is the fact that they can snag easily when moving, especially when getting into and out of vehicles. For most people, this shouldn't be a problem, though.
The real problem, however, is the price. These offset BUIS cost more than many red dots, and for many folks, it may be difficult to justify the price. If you can afford it though, there's almost nothing better.
Parting Shots
Backup iron sights are an underappreciated accessory and are something that should be on just about every rifle. These iron sights are all great additions that can make your rifle more functional, and can really save the day in a pinch, whether you're hunting, competing, or defending hearth and home.
Which of these BUIS is your favorite? Do you have any of these on your rifle? Let us know in the comments! If you're looking for a new optics for your AR-15, check out our list of best long- and short-range optics for AR-15s.