Looking for the perfect rifle to create your own custom build? The Ruger 10/22 has been one of the most popular rifle platforms in history, which means that it also has a massive market of third-party manufactured parts and accessories.

The availability of aftermarket parts and accessories, combined with the Ruger 10/22's simple design, make the rifle a modder's dream.
In fact, there are actually so many aftermarket options available that you could even build your own 10/22 completely out of aftermarket parts if you wanted to. That market is great for giving you plenty of options, but it can also be easy to get overwhelmed by choice.
That's what we're here to talk about today. In this post, we'll discuss some of the most common upgrade options for the 10/22 and recommend some of our favorite parts and accessories to help you make those upgrades a reality.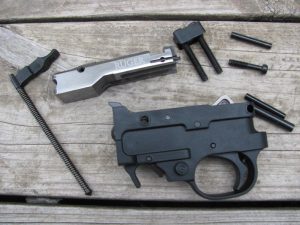 We'll be going over a lot of different items in this post, so here's an outline to help you find your way. If you're only looking for a little bit of information on one or two pieces, feel free to skip ahead–but you still might want to check out all the parts we're highlighting. You never know!
As you can see, by the time we're done, you will be an expert on all of the best upgrades for your Ruger 10/22. We've got a lot of information to cover, so let's get going.
10/22 Stocks
A rifle's stock is the single most important factor in giving your rifle the look and feel that you want. 
There are lots of different avenues that you can take and which stock is best depends on your needs, so we're recommending several different stocks. Take a look, and you're sure to find one that suits your individual style and needs.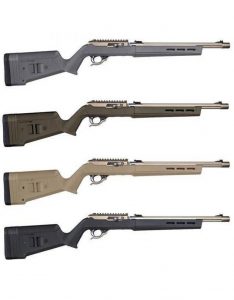 And if you don't want to choose? Well, you can always get a couple and switch them out to match your whims!
While we can't say for sure that the Magpul Hunter X-22 is the most popular aftermarket stock for the Ruger 10/22, it's definitely up there. The black polymer gives the rifle a simple, but still somewhat tactical feel, especially in black–though maybe less so in pink.
It has multiple sling mounting options, adjustable length of pull and comb height, and a non-slip rubber butt pad for comfort. This stock will fit regular or bullpup barrels.
Like the Magpul option, the Hogue OverMolded rubber rifle stock is very popular and has a simple, yet tactical feel. The rubber material is very durable and goes a long way for comfort. It absorbs recoil and is very comfortable to hold.
This stock is also available for both standard and takedown versions of the 10/22.
The ATI Fiberforce is another polymer stock, but this one is a thumbhole stock. This allows your wrist to be more relaxed while shooting and makes the gun more lightweight. It's a great choice if you plan on using your Ruger 10/22 for varmint hunting or long days at the range.
The Vantage RS is another thumbhole stock, ideal for precision shooting. It's more expensive than other stocks on this list, but the beautiful wood construction is well worth it. It's also ambidextrous, but is only compatible with bullpup barrels.
This carbon fiber filled polymer stock is an all-around fantastic tactical style stock. It's adjustable and ambidextrous, and has built-in Picatinny rails, a soft rubber recoil pad, and four different sling points.
10/22 Triggers
The factory 10/22 trigger is… well, not the best. Switching out the trigger is also one of the simplest and easiest upgrades you can do for your 10/22, so it's well worth it to switch the factory trigger out for one that's better. Here are a few choices we recommend.
One of the few things on this list that's actually made by Ruger, the BX Trigger is Ruger's factory upgraded trigger assembly and it's pretty great. It has a 2.5 – 3-pound trigger pull with a clean break and minimal overtravel.
Timney Triggers is one of the leading trigger manufacturers right now, and this trigger holds to that standard. It has a 2.75-pound trigger weight and an oversized magazine release that reaches below the trigger guard for quick and easy access with the shooting hand.
Sights
The 10/22's stock sights are alright, but just alright. For shooting with increased speed or precision, you'll want to upgrade.
These sights are designed to imitate the sights on the M16/AR-15, so you know they have the precision that you need, whether that's for hunting, competition, or time at the range.
And if you want something that will help you line up those shots a little faster, then a red dot is the only choice. We like this one from Holosun for its high quality at a reasonable price.
Scopes
Of course, if you want something good for a little more distance, why not just add a scope?
Simmons makes plenty of great scopes that would work for your 10/22, but this one is a great all-around option. Just make sure you can use the dove-tail attachments with your mount.
Barrels
The best sights and scopes in the world are still limited by the gun's barrel, though. If you really want the best possible accuracy, you have to upgrade your 10/22's barrel.
E.R. Shaw makes a variety of heavy contour barrels for the 10/22, available in stainless steel, 18-inch, and fluted incarnations.
You'll see Volquartsen come up on this list several more times before we're through.
These barrels are a great deal pricier than E.R. Shaw's, but they are made of carbon fiber, so they're incredibly lightweight, plus they have match chambers and some come with built-in compensators.
Internal Components
Now let's get into really improving the guts of your Ruger 10/22.
Fix the 10/22's tendency to jam with an upgraded extractor and an upgraded firing pin will improve your ignitions, even with low-quality ammo.
Volquartsen (told you that they'd be appearing again) sells each individually, or you can buy them both together with the company's Tune-Up Kit.
The 10/22's bolt release is another weakness. Fortunately, it's not an expensive fix and Volquartsen has a solution for it, too.
Their automatic bolt release allows you to simply pull the bolt slightly back to release it without any extra steps or difficulty.
Accessories
It's not just what's on the inside of your gun that determines performance, though, is it? No, so let's talk accessories.
We're taking a break from Volquartsen for this one.
The 10/22's safety is a little bit too discrete to be easily located without looking at the rifle. Power Custom solves that problem with their Double Big Headed safety buttons. Install these oversized safety buttons and you'll be able to find your safety with a touch of your finger.
What rail is best for the 10/22 really just comes down to whatever you want to use, just as long as it works with whatever you want to mount. For you firearm newcomers out there, there are three types of rails you should know: Picatinny, Dovetail, and Weaver. Pick out your other accessories first, then choose a rail to go with them.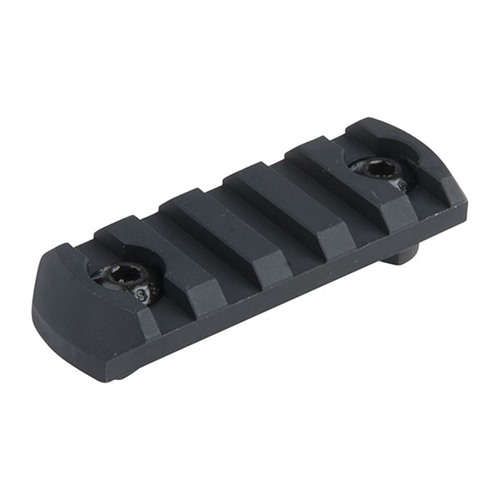 Magpul AR-15 Picatinny M-LOK Rail
Pros
Lightweight Polymer construction
Lots of accessory options
Picatinny is probably the most common rail type, though. Our favorite Picatinny rail is the Magpul AR-15 Picatinny M-LOK Rail, which is affordable and comes in a few different sizes to fit all your accessories.
If you have the takedown version of the 10/22, then the Twister Titanium Takedown Knob by Tandemkross (another name we'll be seeing more of) is essential.
It allows you to quickly and easily takedown your rifle by hand, saving you a lot of time and hassle. 
Charging Handle
An extended or oversized charging handle is also a great upgrade because it makes the bolt far easier to manipulate, especially when trying to shoot quickly and under pressure–such as during competitions.
The Rim/Edge Spartan Skeletonized Charging Handle is a great extended charging handle with a lot of style and a lightweight construction.
If a skeletonized charging handle isn't your thing, you may like the Superior Concepts Ruger 10/22 Charging Handle.
Muzzle Break
Okay, so at .22 LR a muzzle brake isn't an essential upgrade since there's so little recoil. With that said, it does make a difference, especially when trying to fire quickly. And since it's such an affordable upgrade, why not?
Our choice is the Tandemkross Game Changer Compensator.
Magazine Upgrades
Last, let's talk about a few improvements you can make to your 10/22's magazines to get the most out of each one.
10 round magazines do the job, but more capacity means more fun. The Ruger BX-25 is a 25 round magazine to let you go longer between mag changes.
Of course, high capacity magazines aren't allowed in all places. Please follow your local laws, but if you're looking for legal options to increase your magazine capacity, keep reading. A magazine coupler or an extended magazine release can help you to keep your speed up and stay on the right side of your local gun laws.
Since high-capacity magazines aren't legal everywhere, you may have to look into more creative options to provide you with greater capacity while staying legal. Magazine couplers are designed to do exactly that, by connecting your standard-sized magazines together for easy and fast switching. We like the Alangator TriMag Triple Magazine Coupler for this.
And if you really want to up your reload speed, get an extended mag release. 
The Fireswitch Extended Magazine Release from Rim/Edge is one excellent option that we love since it allows you to release the magazine by either pushing or pulling it.
Finally, keep your magazines safe and sound with a Tandemkross Companion Magazine Base Pad Bumper. This extended base pad can help you get a better grip on your magazine and keep it from getting stuck in the magazine well.
Conclusion
So there you go–the best upgrades for you to get the most out of your Ruger 10/22, whether you're looking to upgrade or are building your own. The Ruger 10/22 is an awesome rifle that's easy to modify, even with limited or no gunsmithing skills, so take advantage of that with these excellent parts.
Have you ever modded your Ruger 10/22? Any other parts or accessories you'd recommend? Let us know and ask questions of your own in the comments. Learn about the best ammo for your customized 10/22 in our guide to the best rimfire ammunition.