You never know what a day will bring.
That's why we're such big proponents of having an EDC kit to prevent all of those "I wish I had…" moments. Well, most of them anyway.
But if your EDC kit doesn't include a multitool, you're missing out on a lot of utility.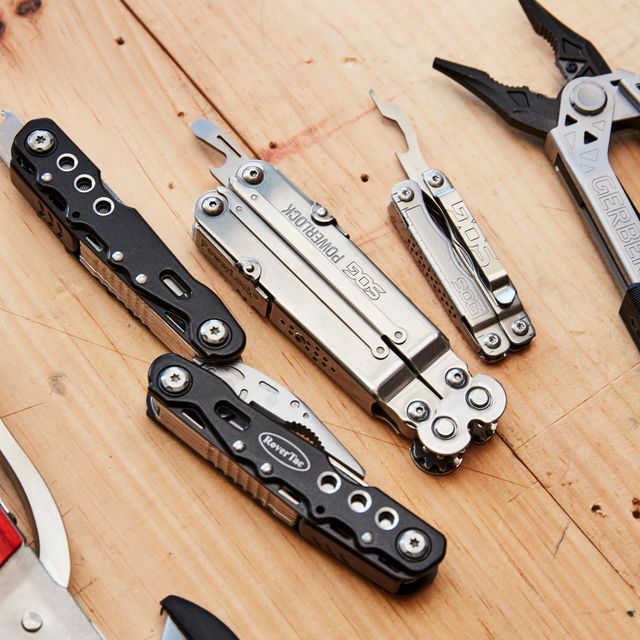 So whether you're looking for your first multitool, are ready to replace an old one, or just want another option, you've come to the right place. We've put together a list of our top multitools across a range of price points. Check them out to find the perfect multitool for you.
Best Multitools
1. Gerber Dime
Let's start with our most affordable pick and move up from there.
The Gerber Dime is a great option that's not just affordable, at around $20, but also is small enough to fit on your keys. It even has a ring to let you do just that.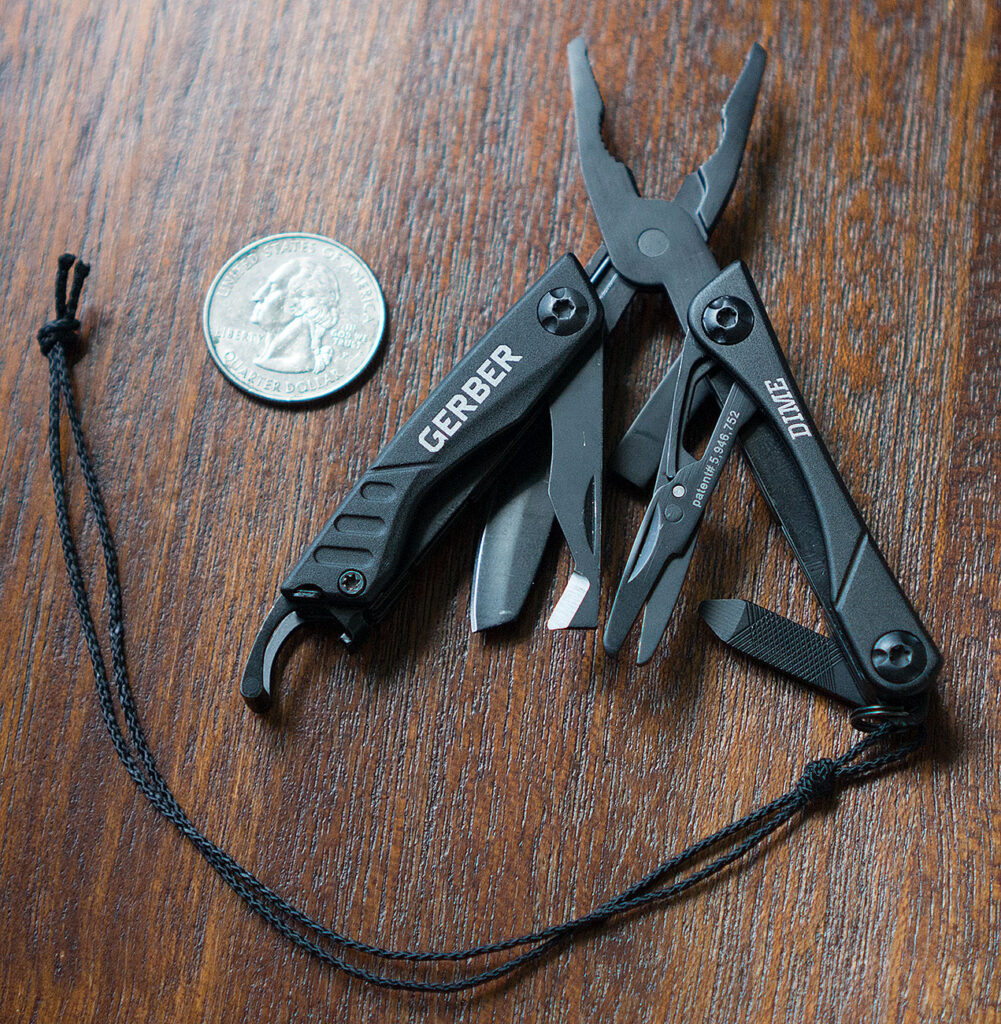 It's a mere 2.75 inches long when closed and weighs just 2.2 ounces. It's also durable, though, and is made of HC stainless steel.
In that tiny package, it contains ten different tools that will make your life so much easier. Our favorite is the package opener, which makes opening those fused clamshell retail packages much easier.
That said, the small size of this multitool also makes it a little difficult to manipulate unless you have small hands. Even then, the shape isn't exactly ergonomic.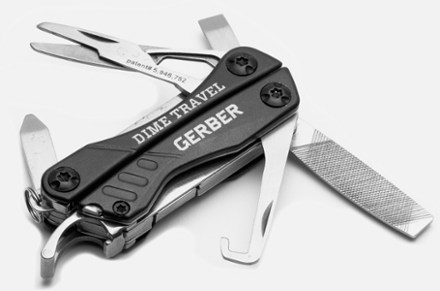 Also, while the Gerber Dime does offer convenient butterfly-style opening, the tools only use tension to hold them in place while deployed, so it can be a bit unwieldy if you're doing something that requires much pressure.
Ultimately, the Dime is a great option if you're on a tight budget or are looking for a minimalist EDC option or backup multitool. Otherwise, we think one of our other options might suit you better.
Tools Included:
Needle nose pliers
Wire cutter
Plain edge blade
Package opener
Scissors
Flat head driver
Crosshead driver
Bottle opener
Tweezers
File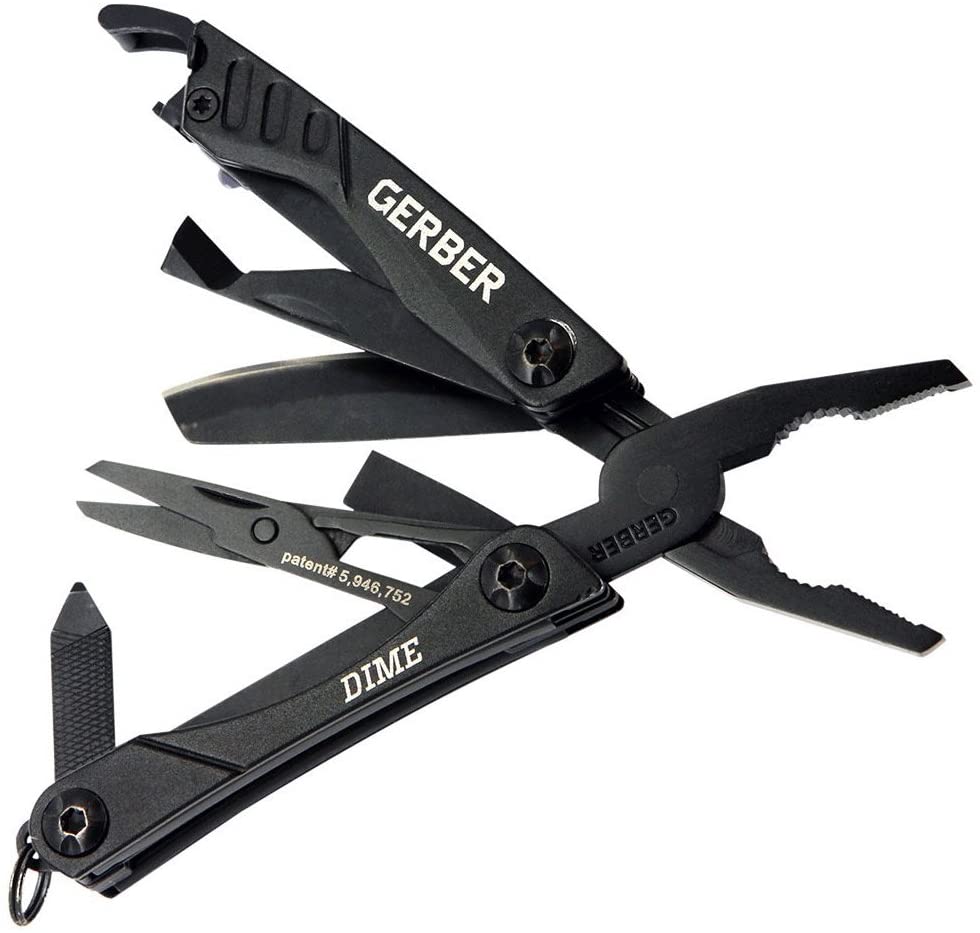 Gerber Dime
Pros
Budget-friendly pick
Stainless steel construction
Tiny, convenient size
2. RoverTac Multitool
Okay, so this multitool isn't really for EDC. It is, however, a great option for adding to your camping kit, throwing into your tackle box, or keeping in your car for emergencies.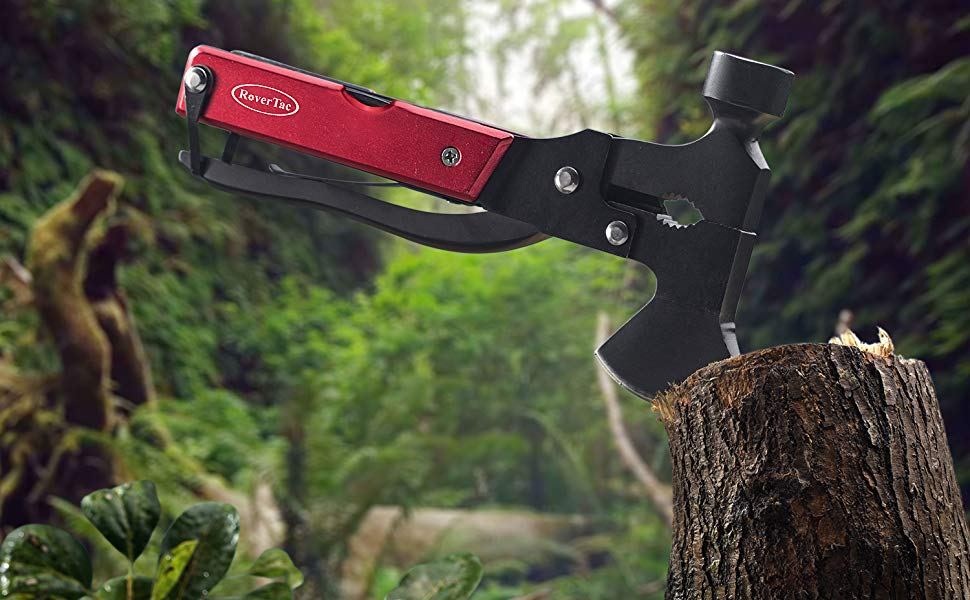 At 14.9 ounces and almost 7 inches long when closed, this RoverTac multitool isn't exactly small. However, the inclusion of both a hammer and a hatchet is enough to make that size and weight worth it. And that's not even getting into the other 12 included tools. For all that's included, the size and weight aren't too bad at all.
It also includes a blade, a wood saw, screwdrivers, pliers, and various other tools that could come in handy in an emergency or outdoor situation. It also comes with a sheath that fully covers the hatchet blade to keep it — and you — safe. The sheath can be secured to a belt to keep the tool handy and accessible.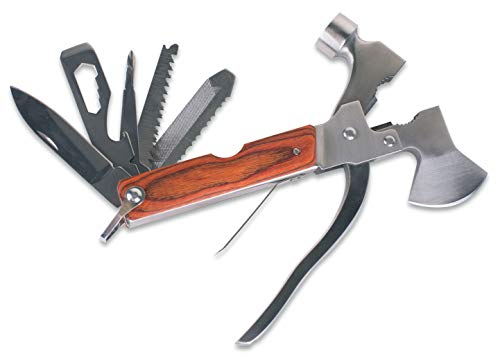 It's made from stainless steel and has an oxidized finish. The handle is red to help keep the multitool visible so it doesn't get lost.
Tools Included:
Axe
File
Saw
Hammer
Knife blade
Wire cutter
Flat jaw pliers
Regular pliers
Fish descaler
Bottle opener
Assorted hex wrenches
Philips screwdriver
Two slotted screwdrivers in different sizes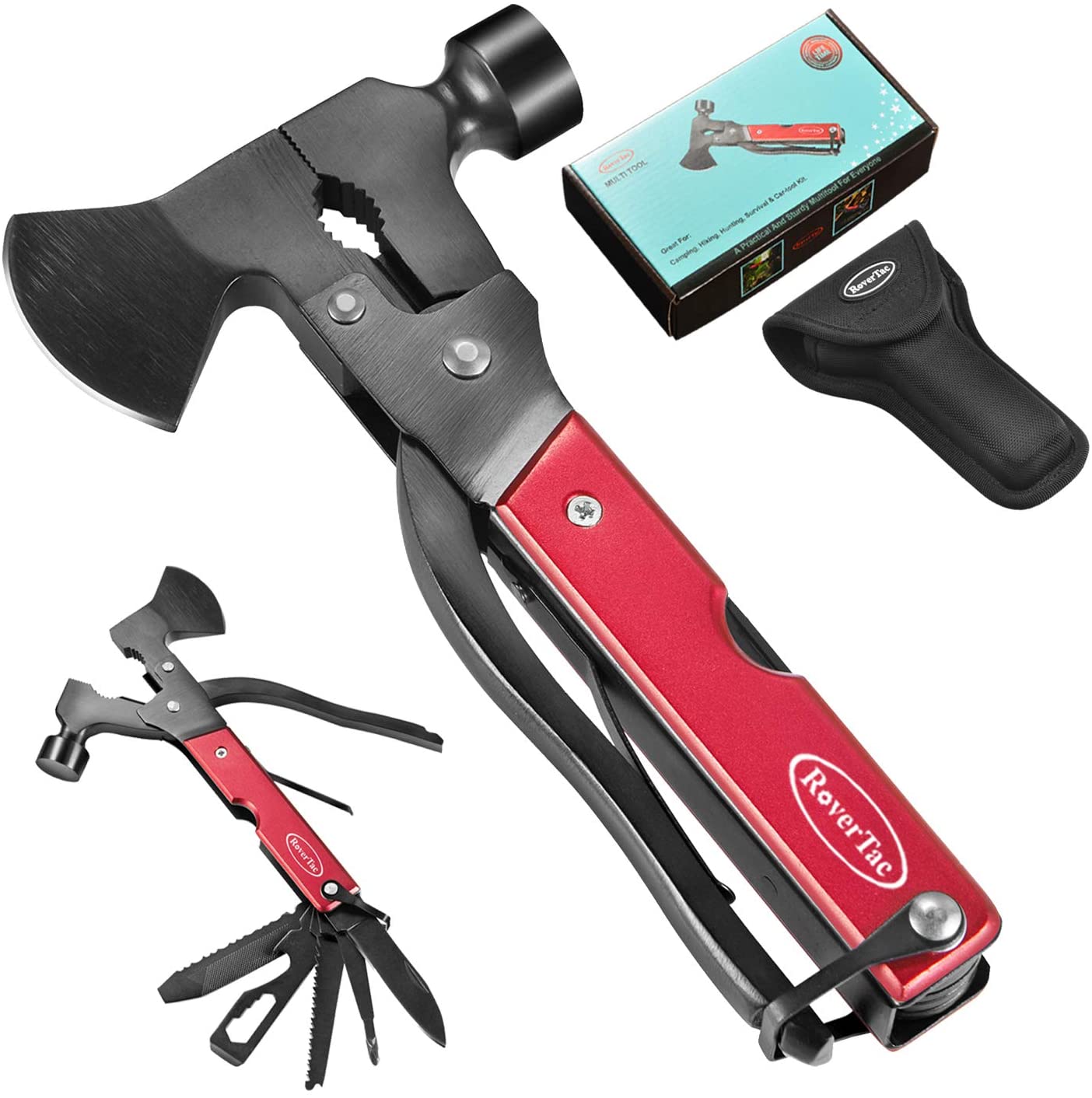 RoverTac Multitool
Pros
Lots of uses in a small package
Heavy-duty nylon sheath
Super affordable
3. Victorinox Huntsman
The red Swiss Army Knife is truly iconic. These days Victorinox makes a ton of different versions, but we like the Huntsman for a great affordable multitool with all of the basics.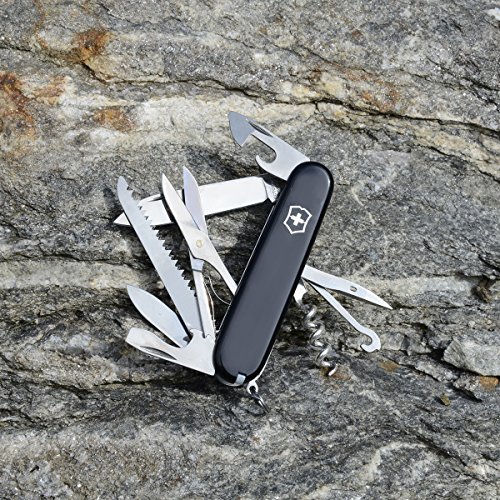 With 15 different functions, it has plenty of options for day-to-day use, as well as outdoor situations. It's more or less the same as the traditional Officer's knife, but also with scissors and a wood saw.
The classic look is red, but this multitool also comes in several other colors and patterns. Like the Gerber Dime, it has a ring for convenient attachment to your keys.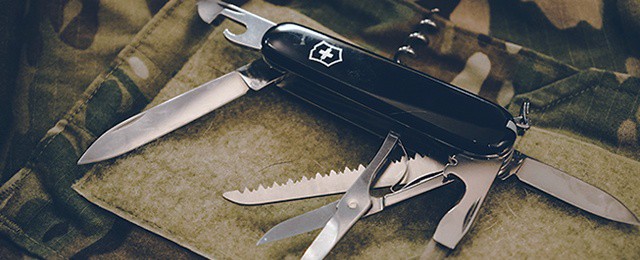 While the Huntsman isn't as compact as the Dime, it's still relatively small. It's just 3.6 inches long and weighs only 3.4 ounces. Like the Dime, the Huntsman isn't exactly ergonomic, but it'll get the job done and is fine for a budget-friendly option.
If you want an option that's a little bit more comprehensive, the SwissChamp is also great.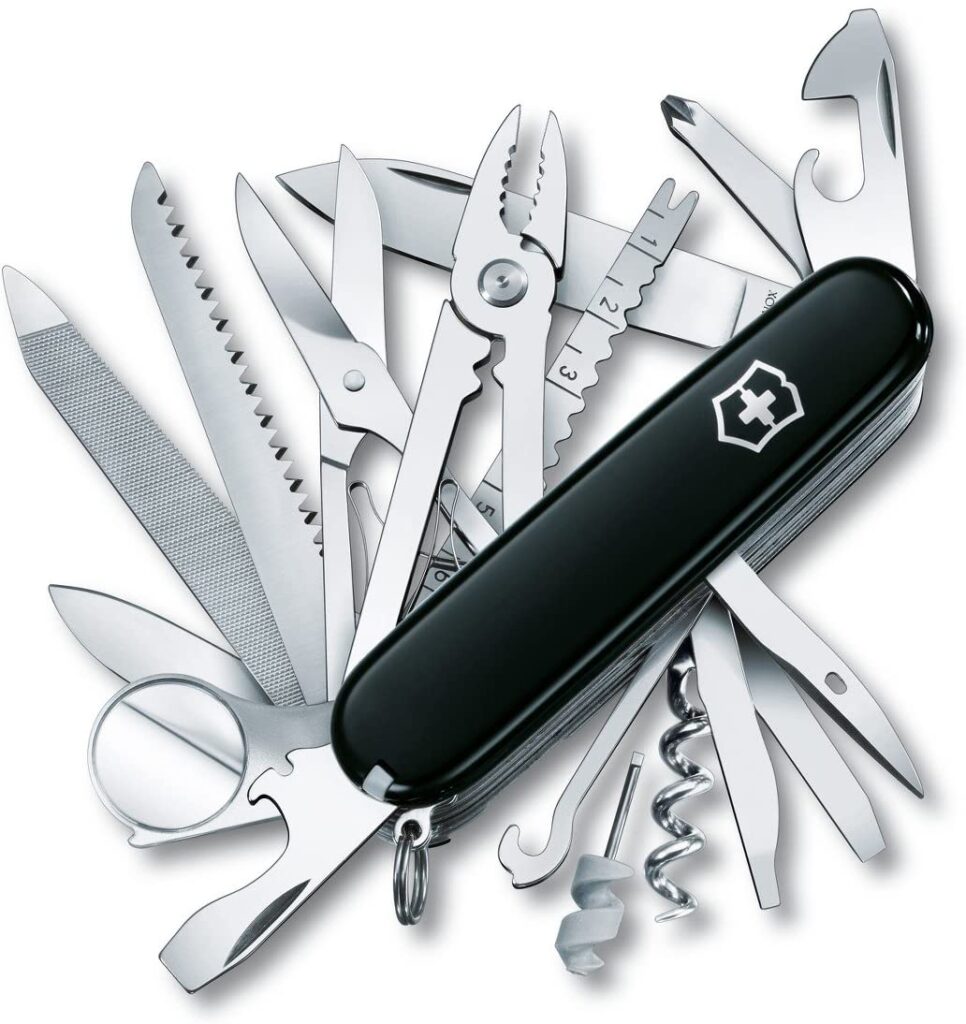 Tools Included:
Large blade
Small blade
Can opener
3mm screwdriver
Bottle opener
6mm screwdriver
Wire stripper
Reamer, punch, and sewing awl
Corkscrew
Scissors
Wood saw
Multipurpose hook
Toothpick
Tweezers
Key ring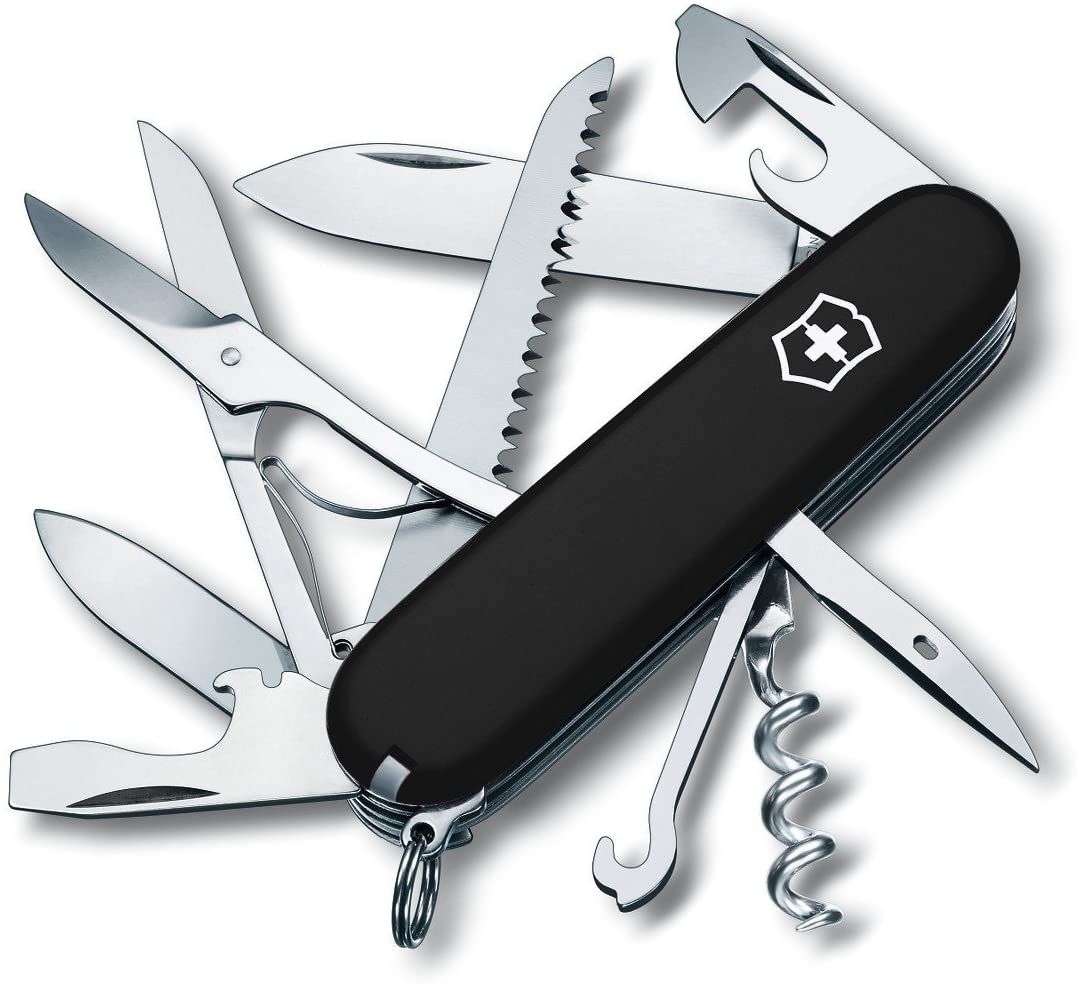 Victorinox Huntsman
Pros
Classic design
Trusted quality
Everything you need, nothing you don't
4. Gerber Suspension
Next up is another pick from Gerber. The Gerber Suspension is another more basic multitool, but the longer and more ergonomic handles make it easier and more comfortable to use than the Gerber Dime or Victorinox Huntsman.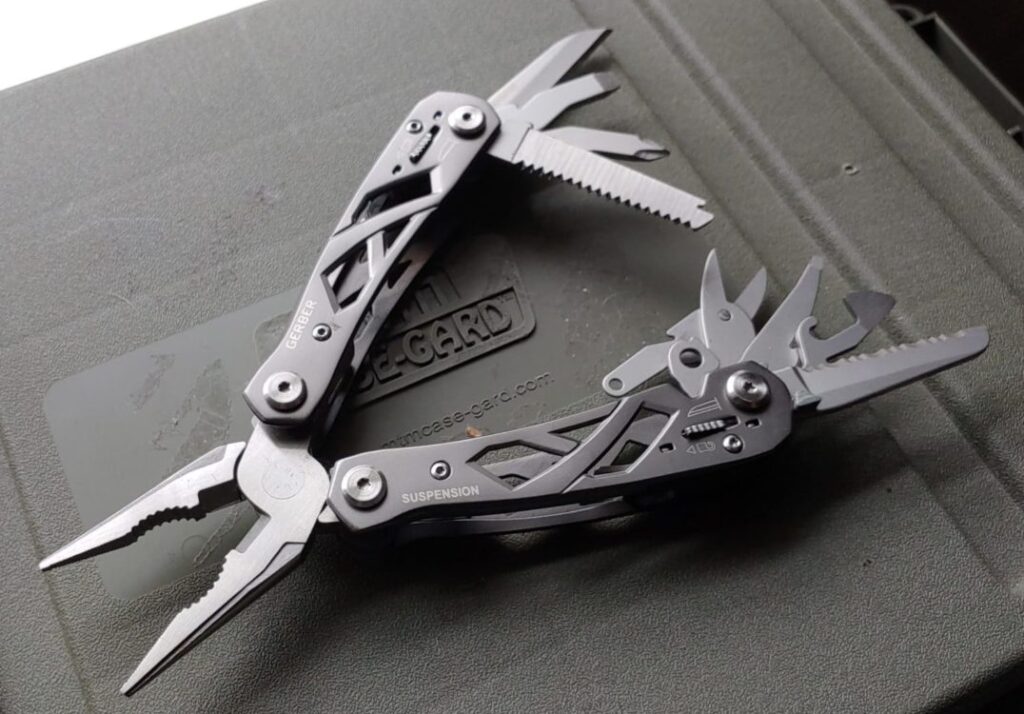 It also has built-in locks to keep the tools in position while you use them. This is great for convenience and ease of use, but also for safety since it assures that the blades won't slip, potentially cutting you, while you're using them.
It opens butterfly-style to deploy the pliers, which includes both needle nose and regular. All of the other 10 tools can be accessed while the multitool is closed.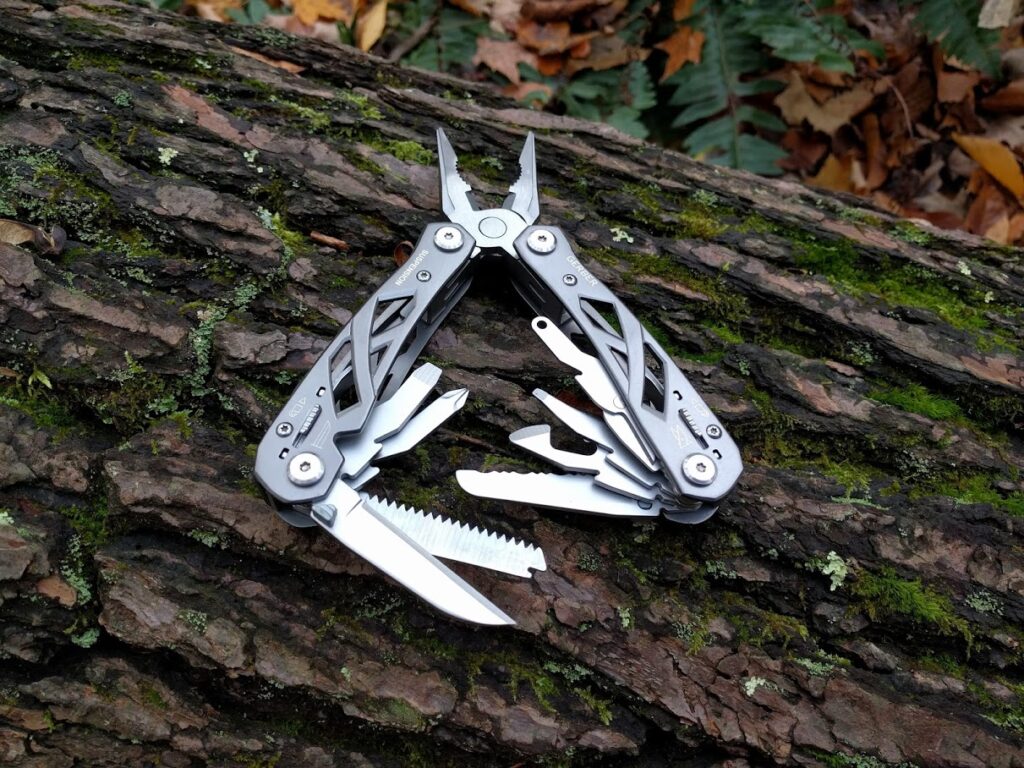 The multitool is 4 inches long when closed. The inclusion of the pliers and the larger handles mean that this multitool is a good bit heavier than either the Dime or the Huntsman. It does, however, cut-outs in the frame to help cut down on the weight, so it weighs 9.6 ounces.
The Gerber Suspension comes with a ballistic nylon sheath that can be attached to a belt for convenience. It also has a lanyard hole for hanging or attaching to keys.
Tools Included:
Needle nose pliers
Regular pliers
Wire cutter
Plain edge knife
Serrated edge knife
Saw
Scissors
Crosspoint screwdriver
Small and medium flat drivers
Can opener
Bottle opener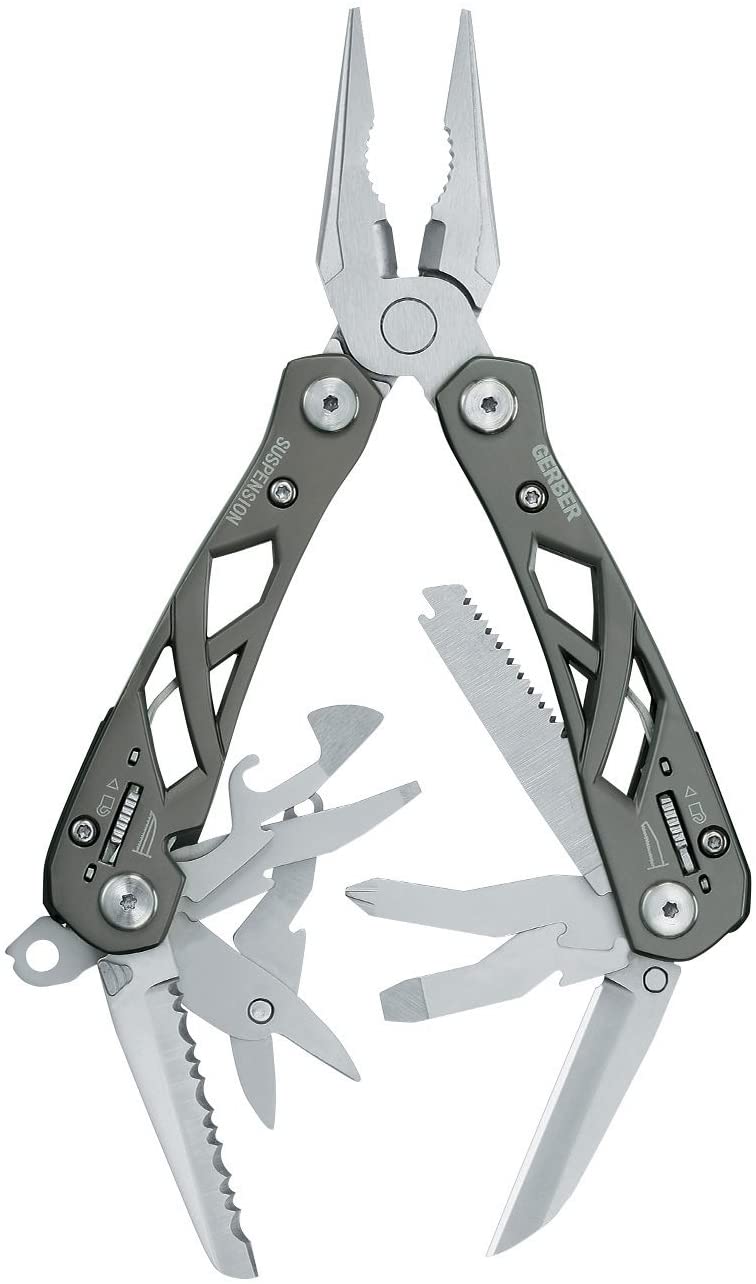 Gerber Suspension
Pros
Lightweight
Built-in locks to prevent accidents
Titanium construction
Cons
Skeletonized frame catches debris
5. Leatherman Skeletool CX
Leatherman is another big name in the world of multitools.
Unlike many other multitools, the Skeletool CX isn't an attempt to cram as many tools into the same multitool as possible. If you're looking for just the basics, this is the way to go.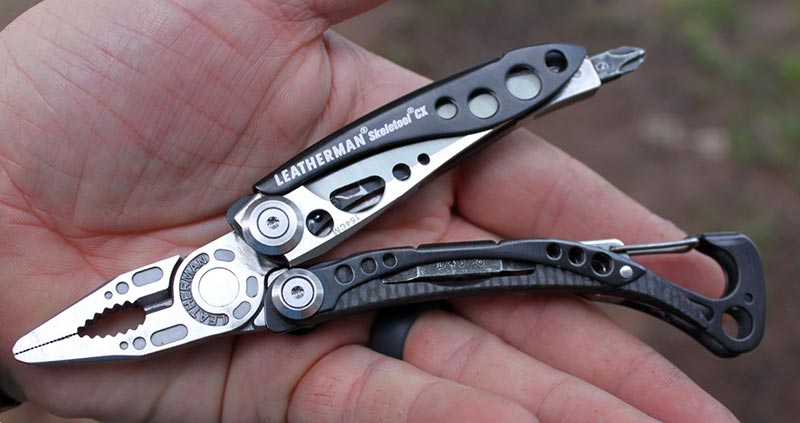 The pliers on the Skeletool CX function as needle-nose pliers, regular pliers, hard-wire cutters, and regular wire cutters. Other than that, the multitool has just a knife blade, a large bit driver, and a carabiner for attaching the knife to a big or key chain. The carabiner also doubles as a bottle opener.
The Skeletool also includes four total driver bits, so you can use the one you need the most. The blade locks into place for safe usage and the blade, carabiner/bottle opener, and driver are all accessible with the knife closed. The handles are very ergonomic and the multitool is designed to be operable with just one hand.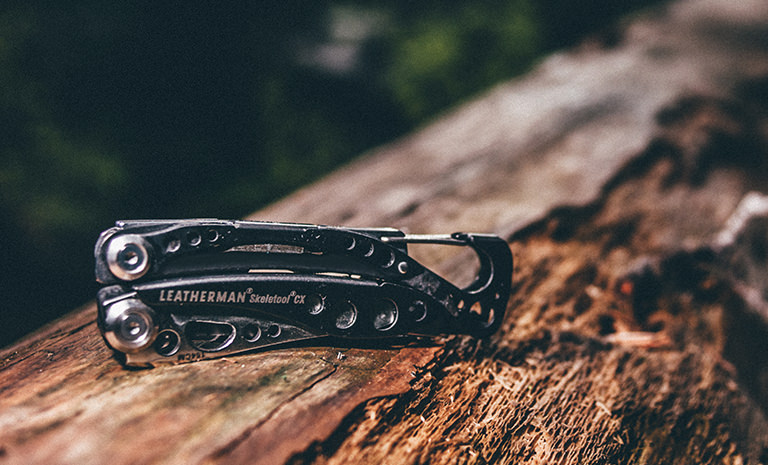 Like the Gerber Suspension, the Leatherman Skeletool CX is 4 inches long when closed. The Skeletool CX is a lot lighter though, weighing just 5 ounces. Leatherman is able to make it so light by using carbon-fiber for much of the body of the knife. The rest, as well as the knife blade, are made from 154CM stainless steel.
Finally, the Skeletool CX comes with a removable pocket clip, but can also be bought with a nylon sheath.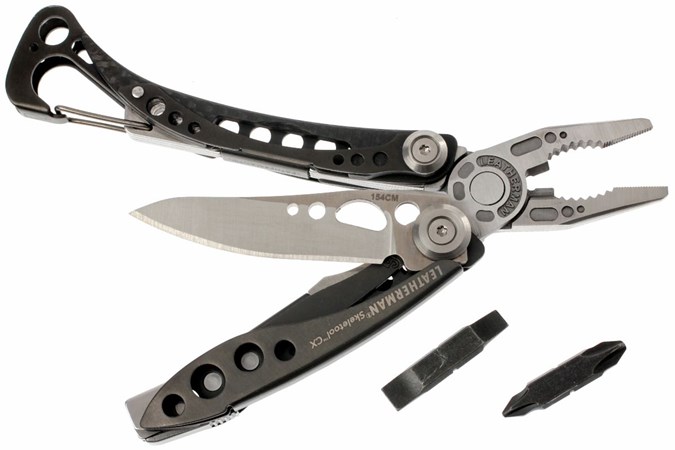 Tools Included:
Needle nose pliers
Regular pliers
Hard-wire cutters
Wire cutters
Knife blade
Carabiner/bottle opener
Large bit driver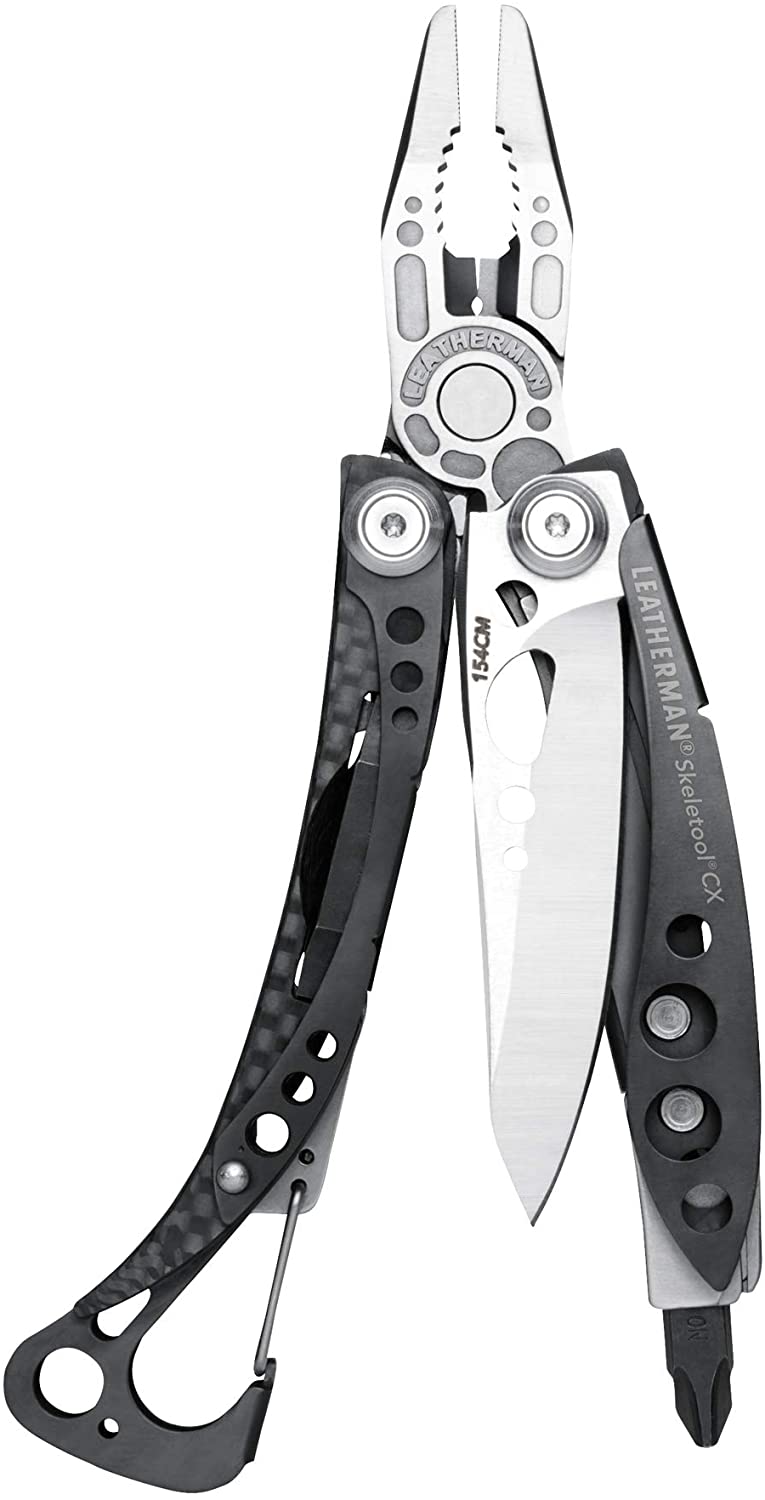 Leatherman Skeletool CX
Pros
25-year limited warranty
One handed opening
Built in carabiner clip
Cons
Pocket lint might be your downfall
6. Leatherman Wave+
If the Skeletool CX is a little too minimalist for you, another great option from Leatherman is the Leatherman Wave+.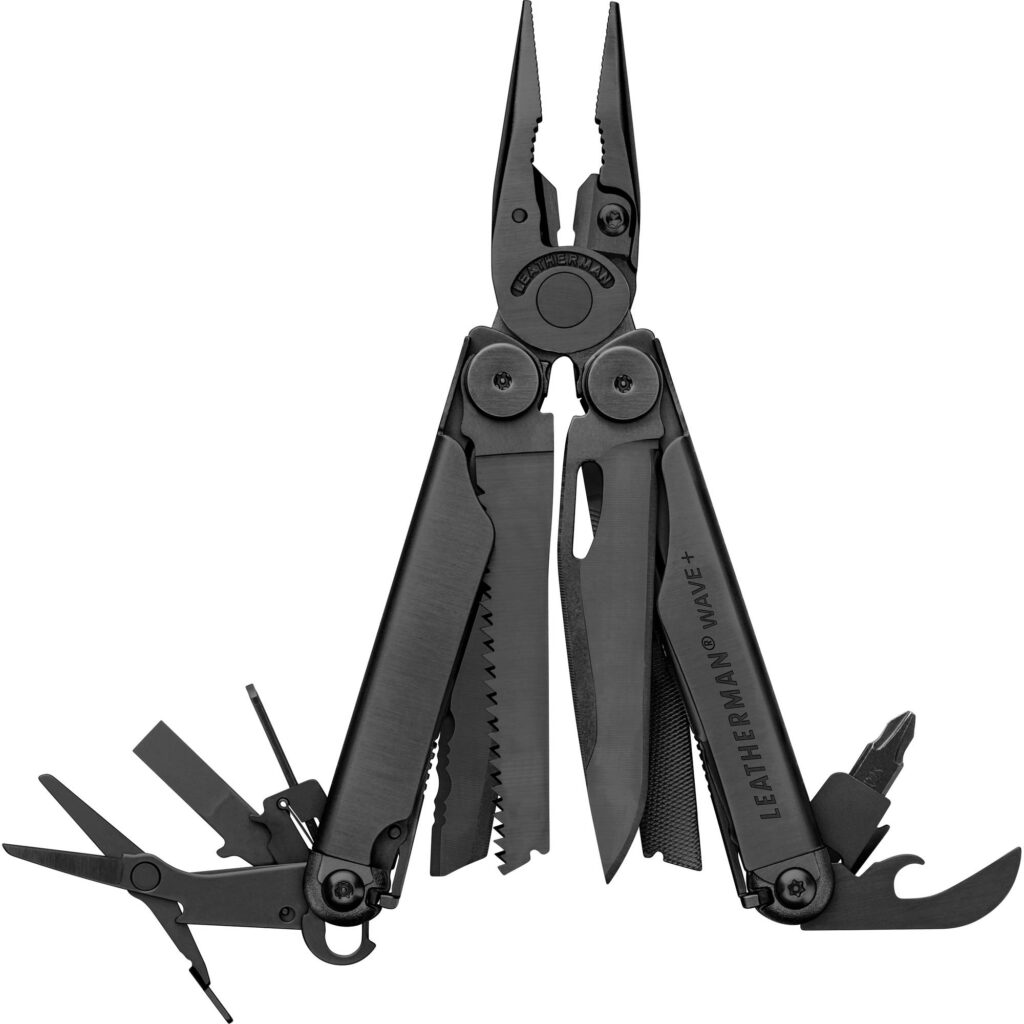 You may already be familiar with the Leatherman Wave, which was first released back in 1998 and has been a best seller for Leatherman since then. The Wave+ is an updated version that Leatherman introduced to replace the Wave in 2018. It's pretty much the same thing, but with the addition of replaceable wire cutters.
The Wave+ has 18 tools total and all lock into place for safe, easy use. It's very smooth to operate and is designed for one-hand operation. Most tools are accessible from the outside when the knife is closed.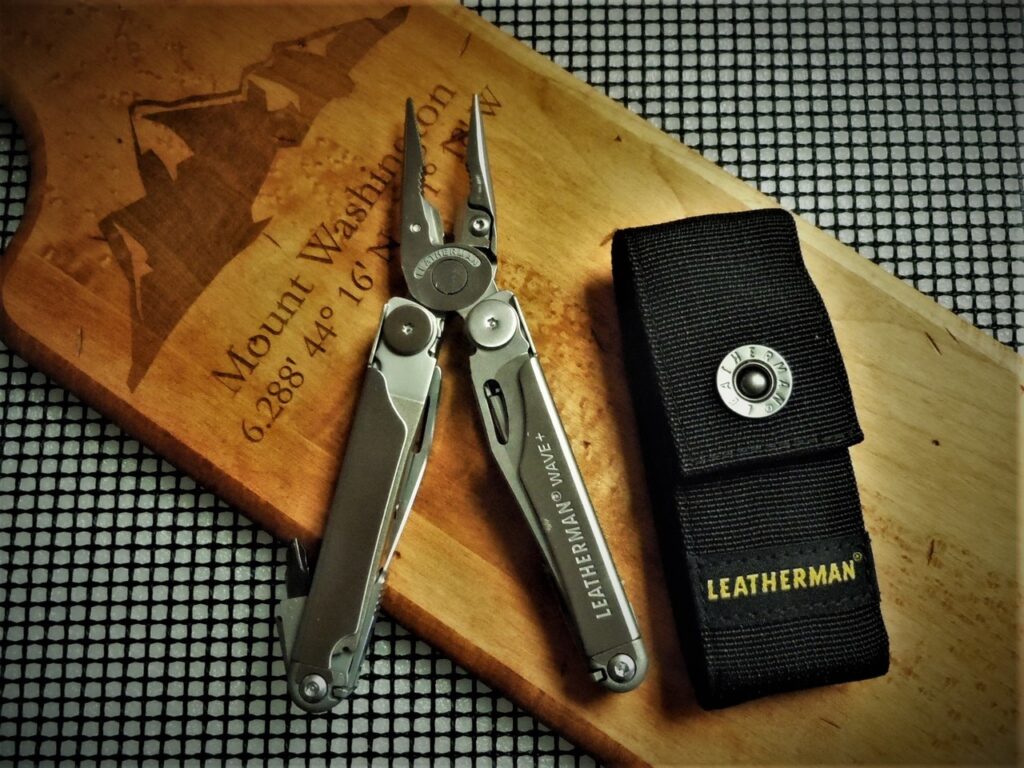 The tool's knife blades (it has both plain and serrated blades) aren't however. This is a bit less convenient, but a huge plus for safety since it prevents the knives from accidental deployment. And these blades come sharp, so you definitely want that safety precaution.
Like the Skeletool CX and the Gerber Suspension, the Wave+ is 4 inches long when closed, so it's a perfect size for EDC. It weighs 8.5 ounces though, so it's not nearly as light as the Skeletool CX, but also not as heavy as the Suspension.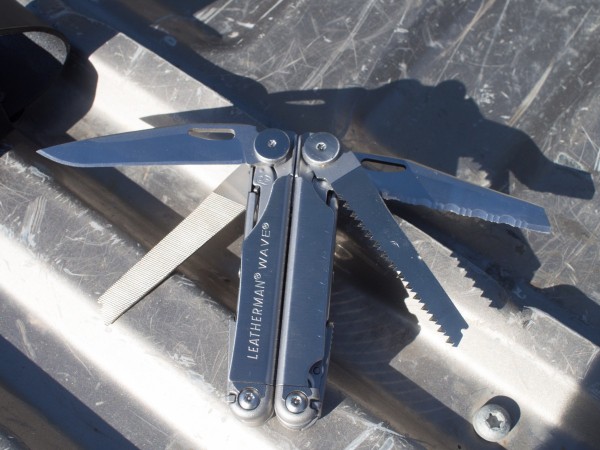 Tools Included:
Needle nose pliers
Regular pliers
Replaceable wire cutters
Replaceable hard-wire cutters
Electrical crimper
Wire stripper
Knife
Serrated knife
Saw
Spring-action scissors
Ruler (8 inches/19cm)
Can opener
Bottle opener
Wood/metal file
Diamond-coat file
Large bit driver
Small bit driver
Medium screwdriver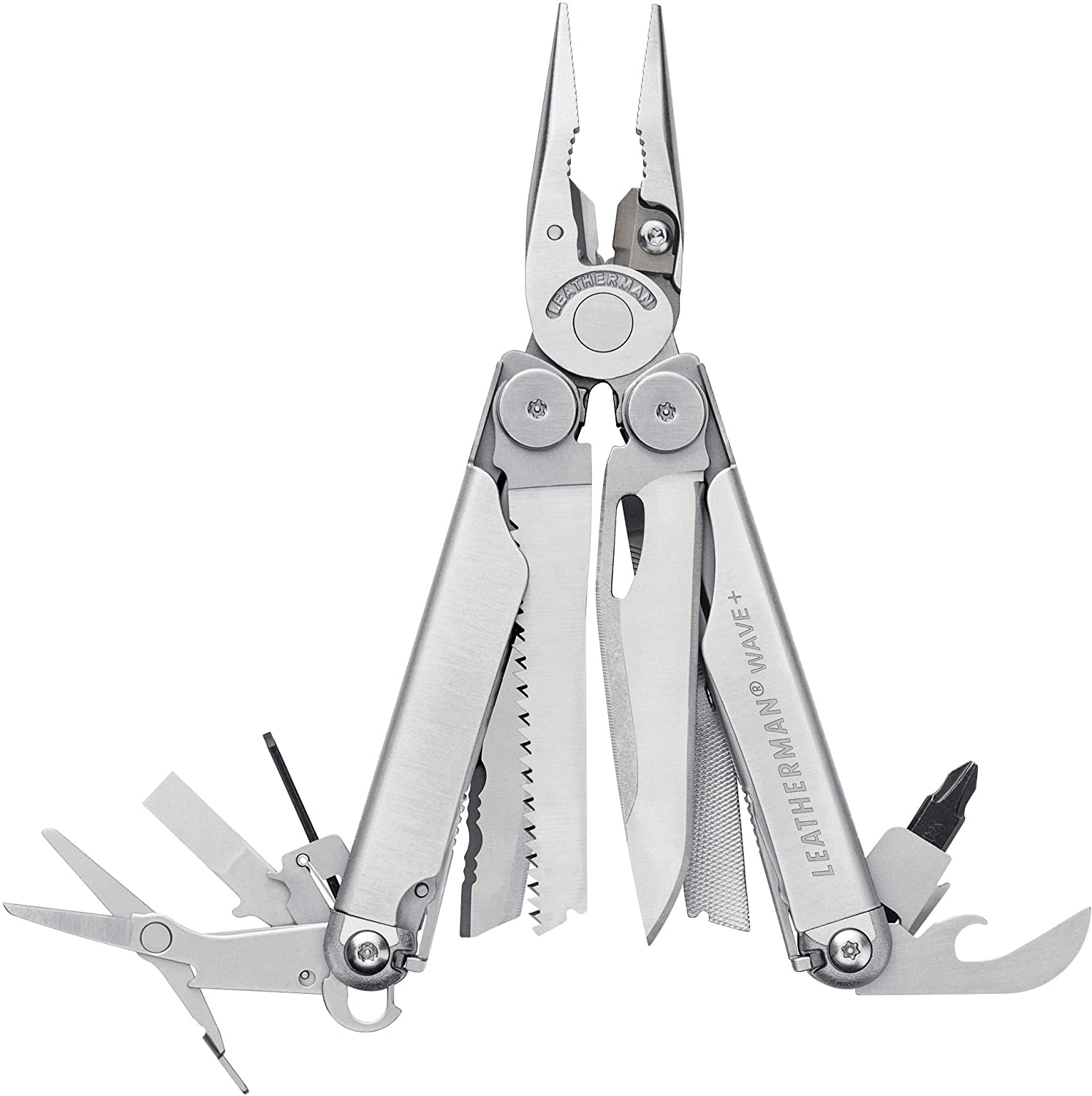 Leatherman Wave+
Pros
Stainless Steel construction
18 different tools
Locking tools
7. Leatherman Free P2
Our last Leatherman pick, and our first multitool over the $100 mark, is the Leatherman Free P2.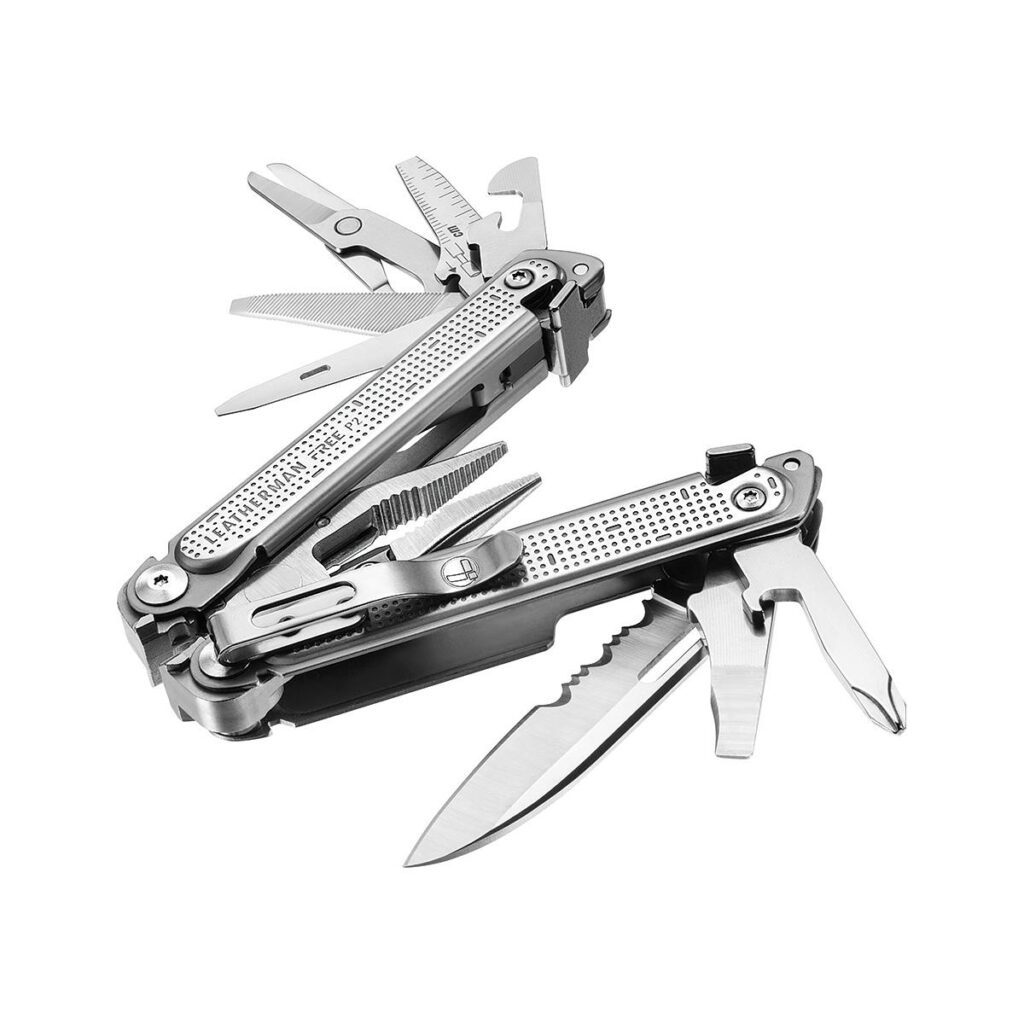 It's similar to the Wave+, with most of the same tools, though there are some substitutions. The main difference is the use of Leatherman's integrated Free magnetic technology.
This technology means that not only are all of the tools on the outside, accessible with one hand, but the knife can be opened with one hand as well for easy access to the pliers. In addition, it allows the tools to move smoothly and snap into place securely.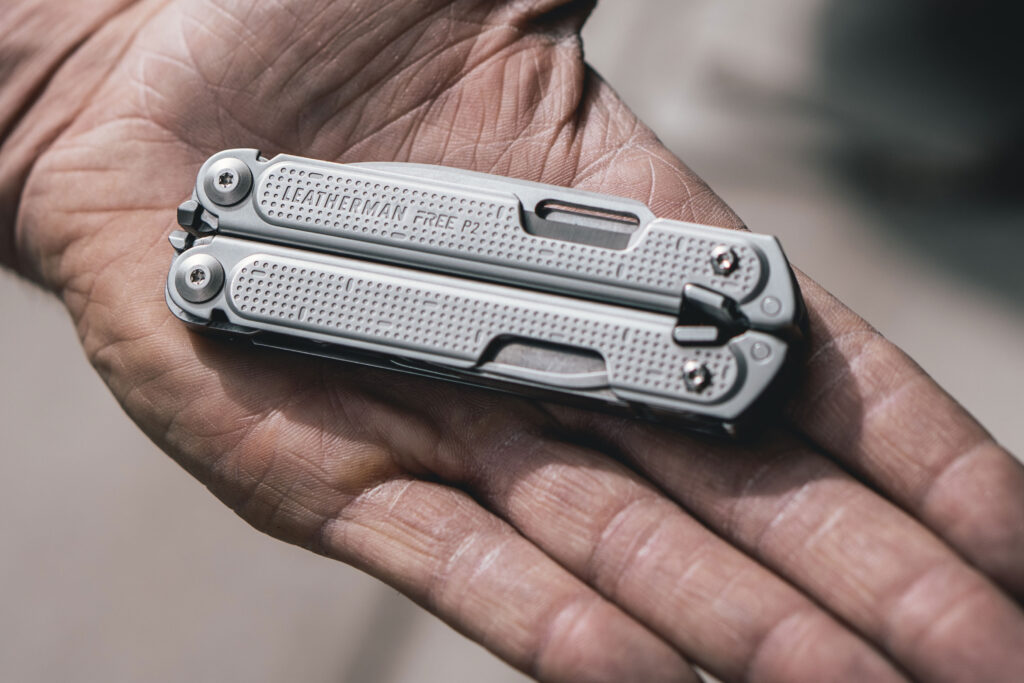 The P2 is also a bit larger than the Wave+ at 4.25 inches long when closed. It's lighter, on the other hand, weighing about an ounce less.
Tools Included:
Needle nose pliers
Regular pliers
Replaceable wire cutters
Replaceable hard-wire cutters
Electrical crimper
Wire stripper
Combo knife
Spring-action scissors
Package opener
Awl
Can opener
Bottle opener
Wood/metal file
Phillips screwdriver
Medium screwdriver
Small screwdriver
Extra-small screwdriver
Pry tool
Ruler (1.41 inches/25mm)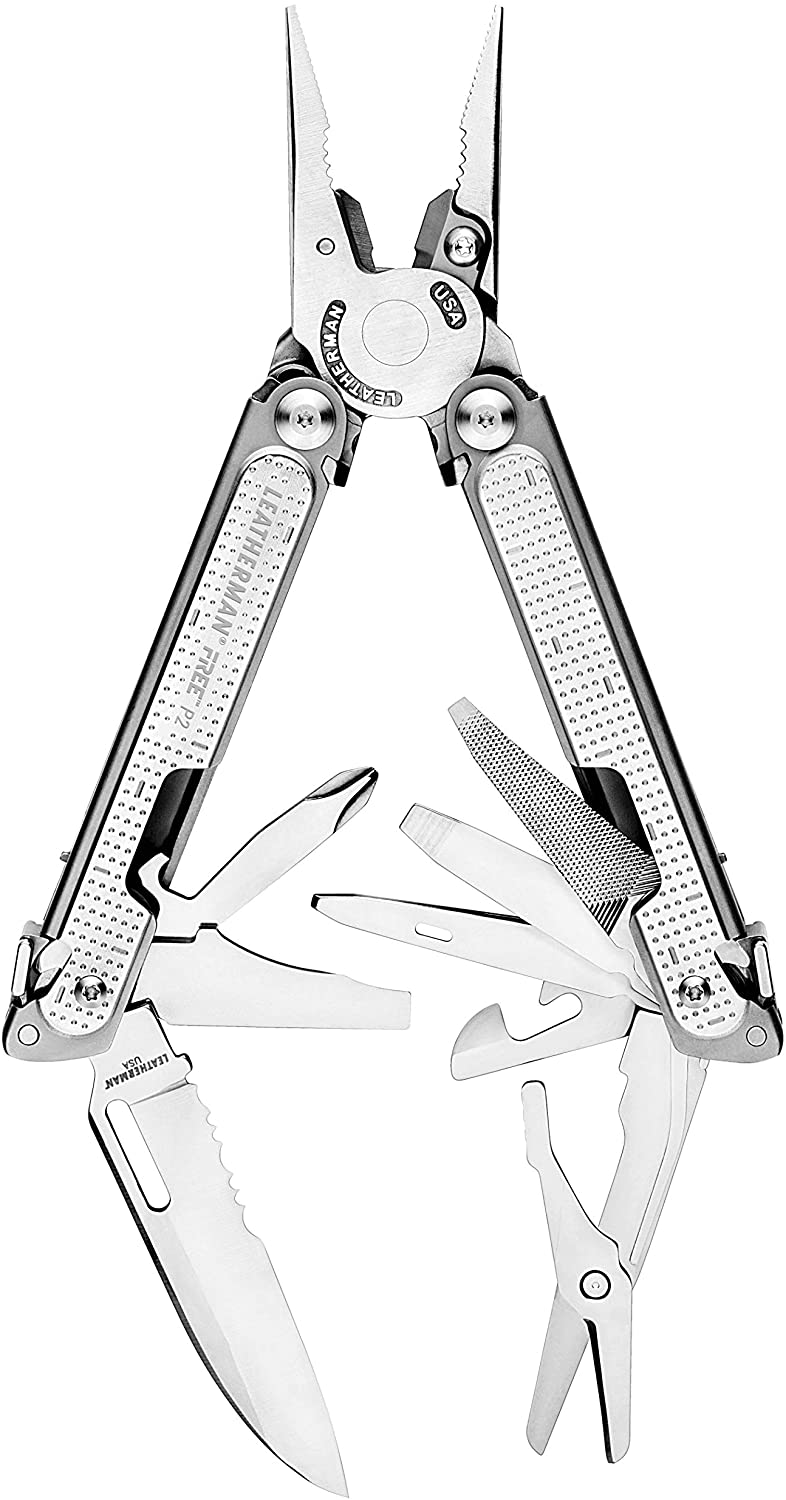 Leatherman Free P2
Pros
Stainless Steel Construction
25-year limited warranty
One-handed access
8. Victorinox SwissTool Spirit X
Last up is a multitool that proves that Victorinox isn't just good at making traditional swiss army knives. The SwissTool Spirit X is a much more modern multitool that costs about the same as the Leatherman Free P2.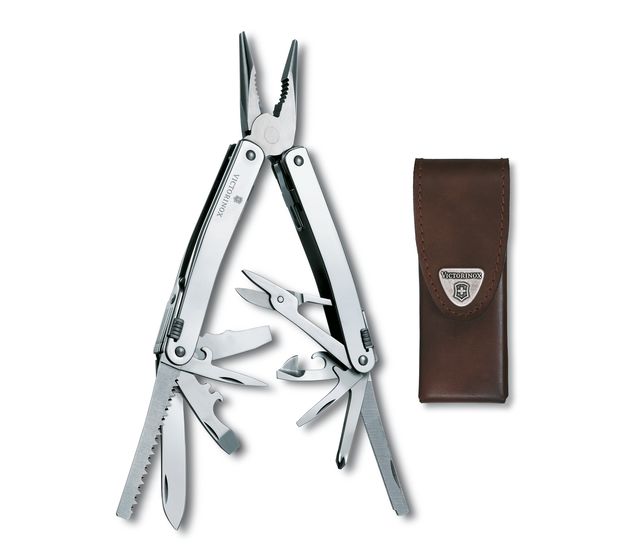 With 27 total functions, this multitool is not for minimalists. At the same time, the Spirit X doesn't have a bunch of useless tools for novelty or to justify bumping up the price.
For the most part, it just gives you options to choose the best tool for a job. For example, it has four different sizes of screwdrivers so you can actually use one that fits the screw instead of trying to make do with one driver for all jobs. It also includes useful tools that most other multitools skip over, like a punch and chisel.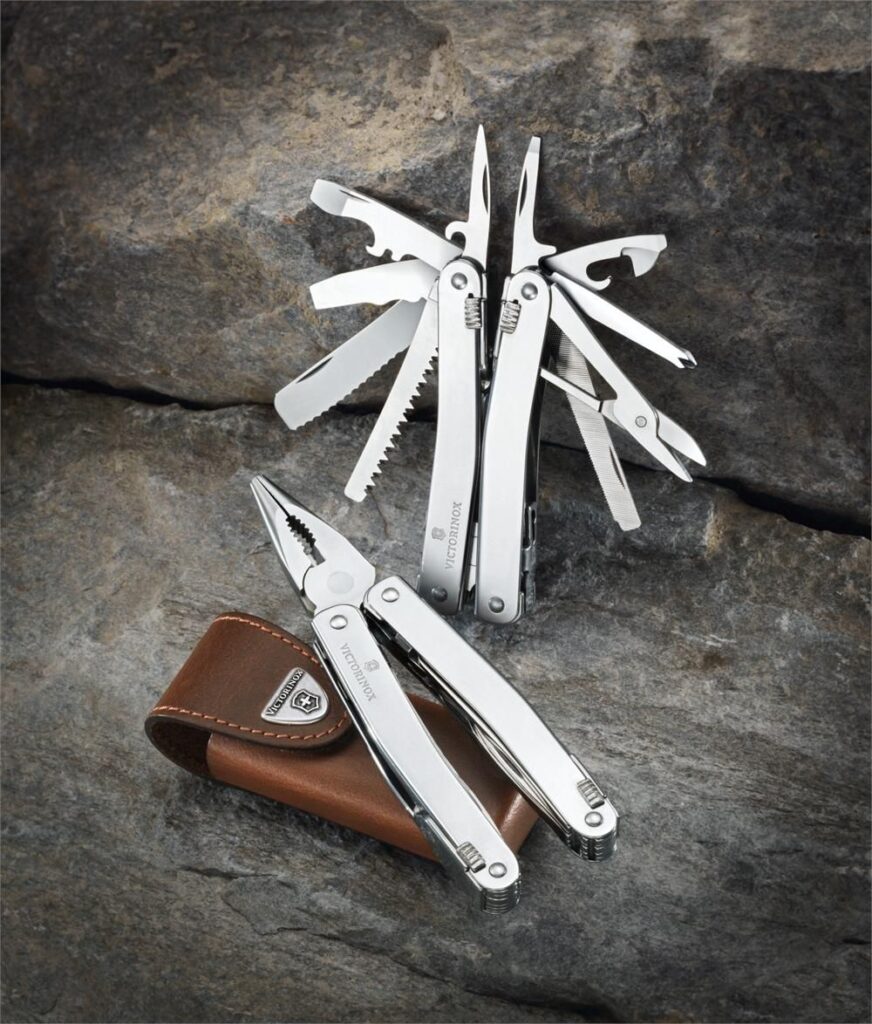 And all of this fits into a pretty small package. The multitool is only 4.1 inches long and weighs just 7.4 ounces. That's about the same weight as the P2, but with almost a quarter-inch less length.
The Spirit X also comes with a leather storage pouch.
Tools Included:
Needle nose pliers
Wire cutter
Hard wire cutter
Large blade
Phillips screwdriver ½
Screwdriver 2mm
Screwdriver 3mm
Screwdriver 6mm
Reamer/punch
Multipurpose hook
Can opener
Bottle opener
Crate opener
Wire bender
Scissors
Wood saw
Metal saw
Metal file
Chisel 7mm
Cable cover longitudinal cutter
Cable cover crossways cutter
Wire stripper and scraper
Lanyard hole
Coupling for corkscrew
Victorinox SwissTool Spirit X
Pros
Sleek, beautiful design
27 functions
Swiss Army quality
Conclusion
All of these multitools are great, but not in all of the same ways.
We particularly like the Gerber Dime and Victorinox Huntsman for the EDC minimalist, while the RoverTac Multitool is a great option for tackleboxes, camping kits, and emergency gear stashes. The rest are all great options for more standard EDC setups.
To choose the best one for you, consider your budget, then compare the list of tools included and the other features of each multitool to determine which fits your lifestyle and needs.
So what multitools do you love? Which do you use for your EDC? Do you feel like we missed out on a great one? Let us know in the comments! And, for more EDC gear, be sure to check out our lists of the best EDC flashlights and the best EDC knives.