How do you balance the need to have a loaded gun readily accessible for home defense and the need for safe weapon storage?
This is a challenge many gun owners face, but there is a solution!
The best way to accomplish this is by storing your firearm loaded and ready to fire, but in a quick access gun safe in a place where you can quickly get to it–but others can't. This lets you have the gun ready quickly, but it also keeps it safe from unauthorized use.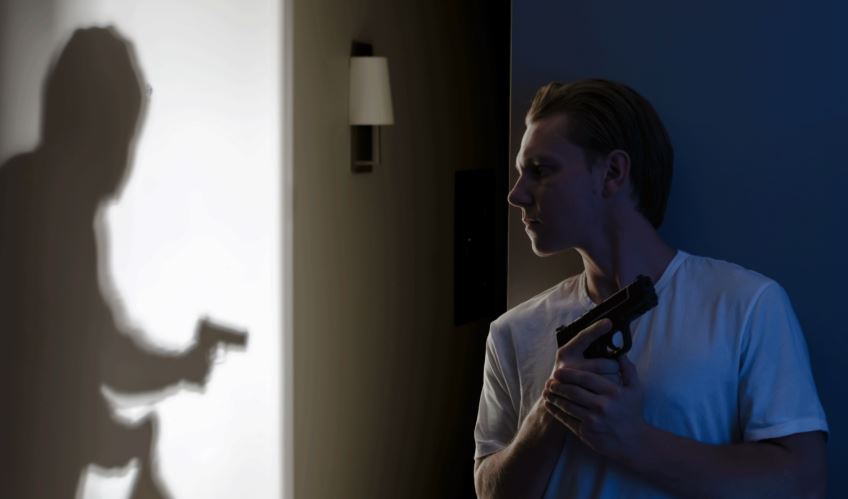 For many of us, a bedside gun safe is the best way to do this, so today we're talking about how to choose an effective bedside gun safe and sharing a few recommendations for our favorites.
Let's jump in!
Choosing a Bedside Gun Safe
In some ways, selecting a gun safe can be even more difficult than choosing a handgun.
With lots of options across a huge range of prices, it's tough to know the differences between options, not to mention how many of those extra security features are actually helpful and how many are just an excuse to charge you more for something you don't need.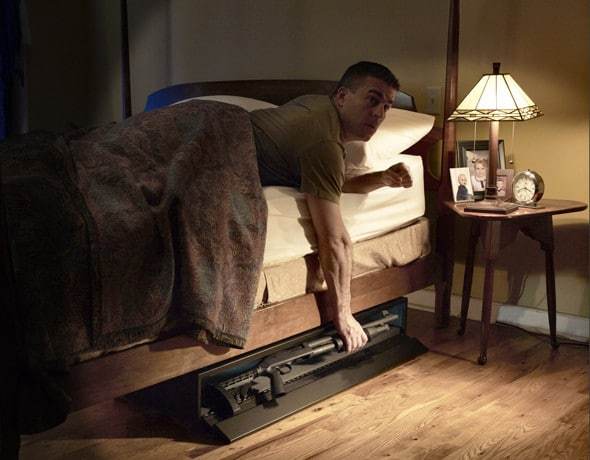 So we're going to start out by discussing a few factors you'll want to consider when choosing your safe:
Accessibility:

Since you're relying on this safe to house a home defense handgun, you want to be able to open it and access your gun in just a couple seconds, even when you've just been woken up and are in the dark.

Protection:

Since this probably isn't your primary firearm safe, you really just need to make sure curious kids or guests can't get into your safe and that smash-and-grab burglars won't be able to just break off the lock or just walk off with the safe so that they can open it on their own time.

Size:

Your safe should have internal dimensions large enough to store a full-sized handgun and ideally a spare mag or two, but external dimensions small enough to reasonably fit in your nightstand drawer and to be opened while inside.
This first safe is a great choice if you want to safely store a gun where you can get to it in the middle of the night, but don't have a lot to spend. It's an overall good safe, but it's not without its disadvantages.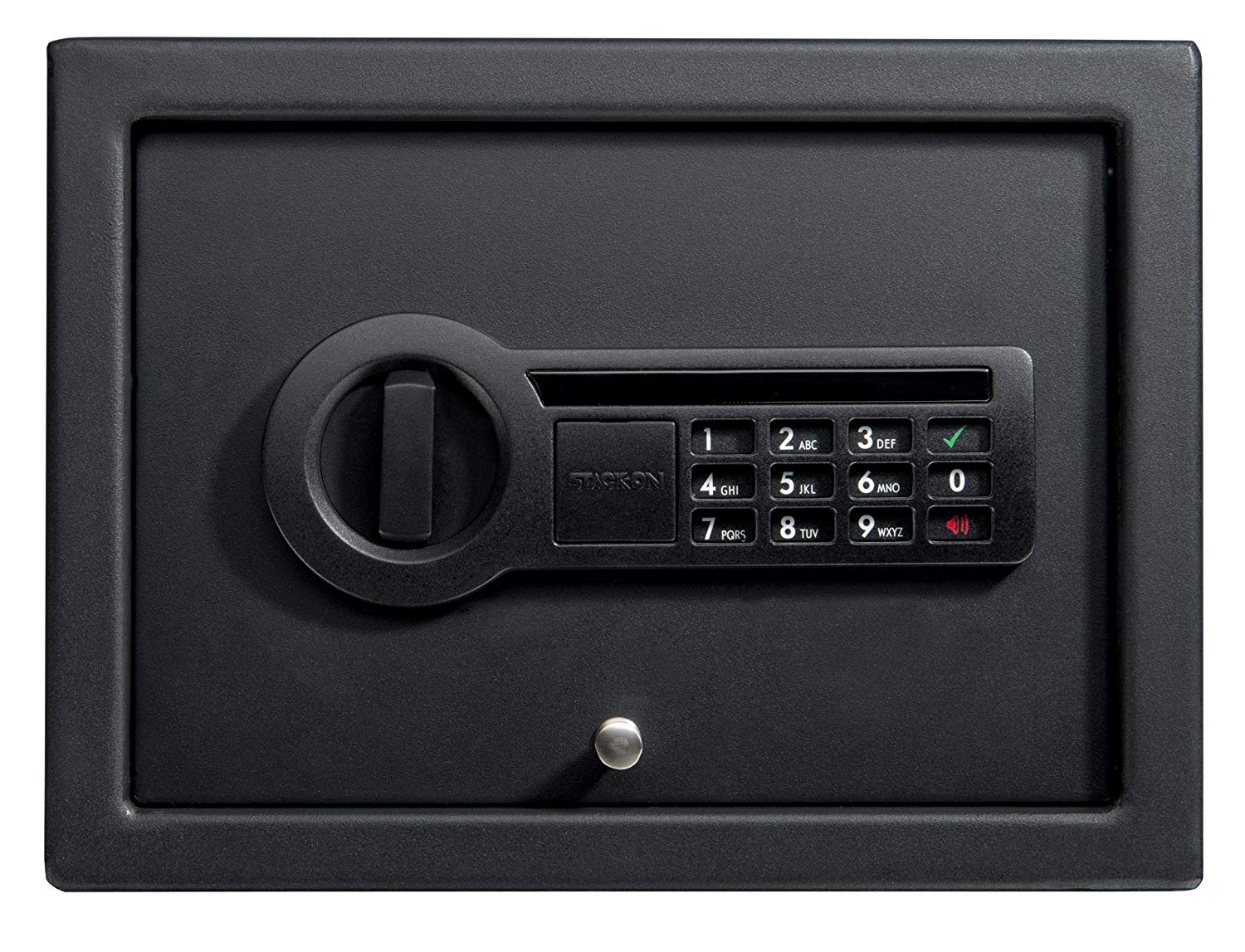 Stack-ON PDS-1500
Pros
Keypad, biometric, and key access
Fits in most nightstand drawers
Pry-resistant
Cons
Unlocking the safe can be a little complicated under pressure
Accessibility
You can access your gun pretty quickly, in just two to three seconds, using the keypad input option or biometric fingerprint scanner. However, the opening in the top of the safe is smaller than the safe itself, so your gun can get hung up on occasion as you pull it out of the safe.
You'll want to practice to make sure you have the input down. You have to hit the star (*) button after you input your code, but it can be easy to forget this step. The knob to release the door can also be a bit tricky and you may sometimes need to rotate it counter-clockwise to cause it to reset before turning it clockwise to actually allow the door to open, especially with older models.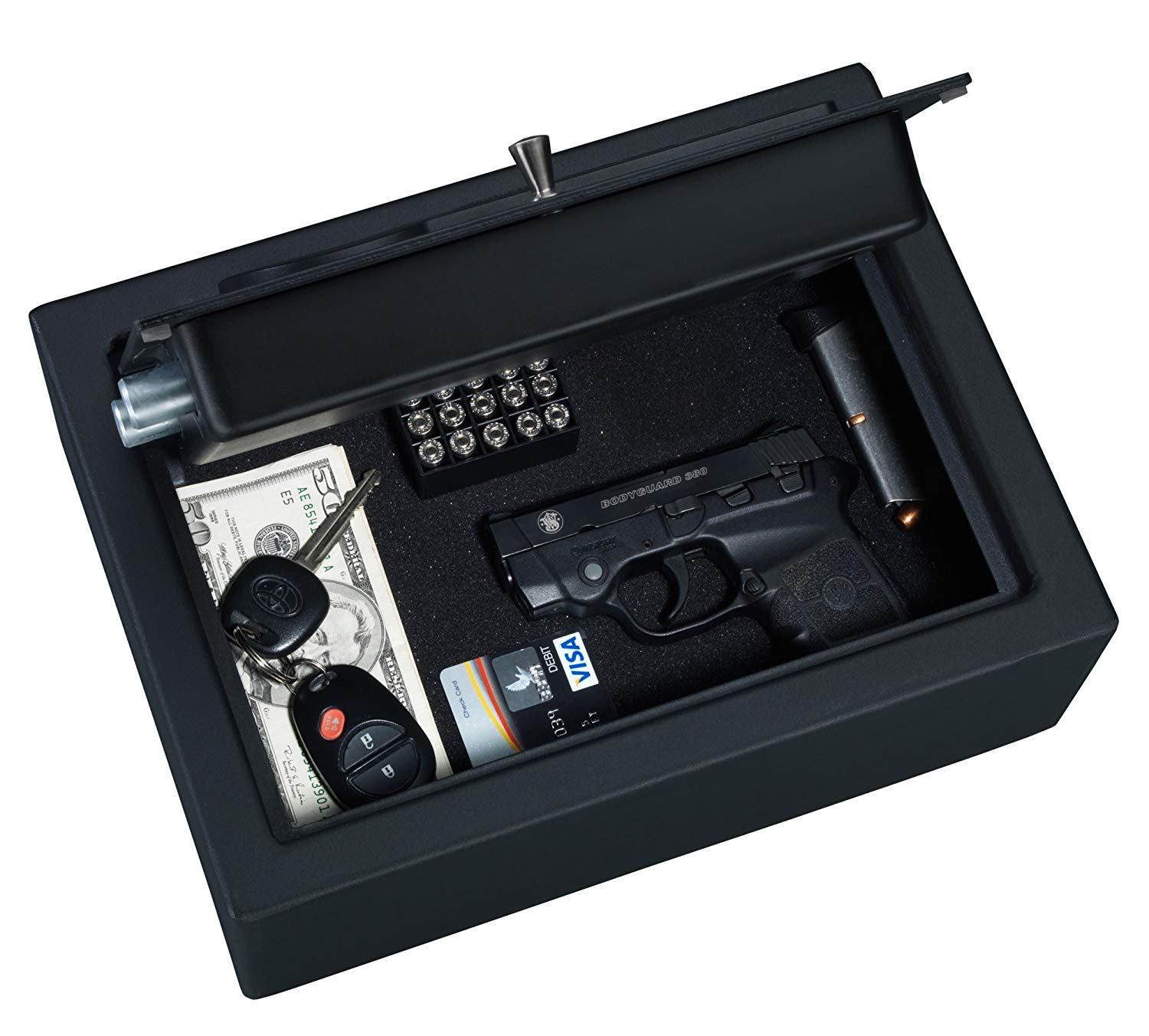 To avoid some of this difficulty, you can input the combination and turn the knob without actually opening the safe door. Do that before you go to bed and all you have to do if you hear something go bump in the night is open the door and grab your gun. Just remember to relock your safe every morning.
Protection
This safe is well-constructed and pry resistant.
It has backup key access, but the lock is hidden behind the brand nameplate, so people who aren't familiar with the safe won't know it's there. Unfortunately, the lock doesn't seem to be the most secure so you may want to swap it out or render it unusable with a little super-glue.
The safe is mountable to keep it from walking off.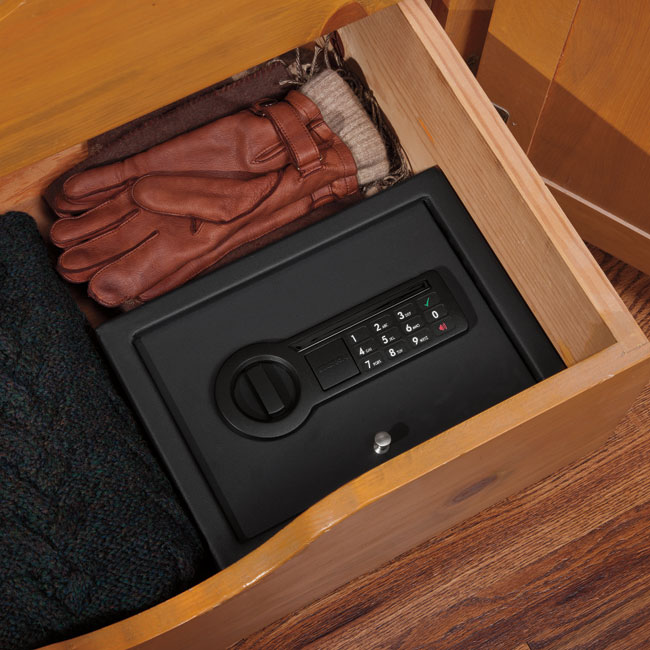 Size
The internal dimensions of this safe are 11.5" x 8.25" x 2.25″, large enough to easily fit a full-size pistol, plus one or two spare mags.
The external dimensions are 12" x 8.75" x 4.5″, so you shouldn't have a problem fitting it in most drawers.
The GunVault SpeedVault and MiniVault are both solid options for those who are on a budget and the SpeedVault is also ideal for people who don't have a drawer in their bedside table but still want some bedside protection.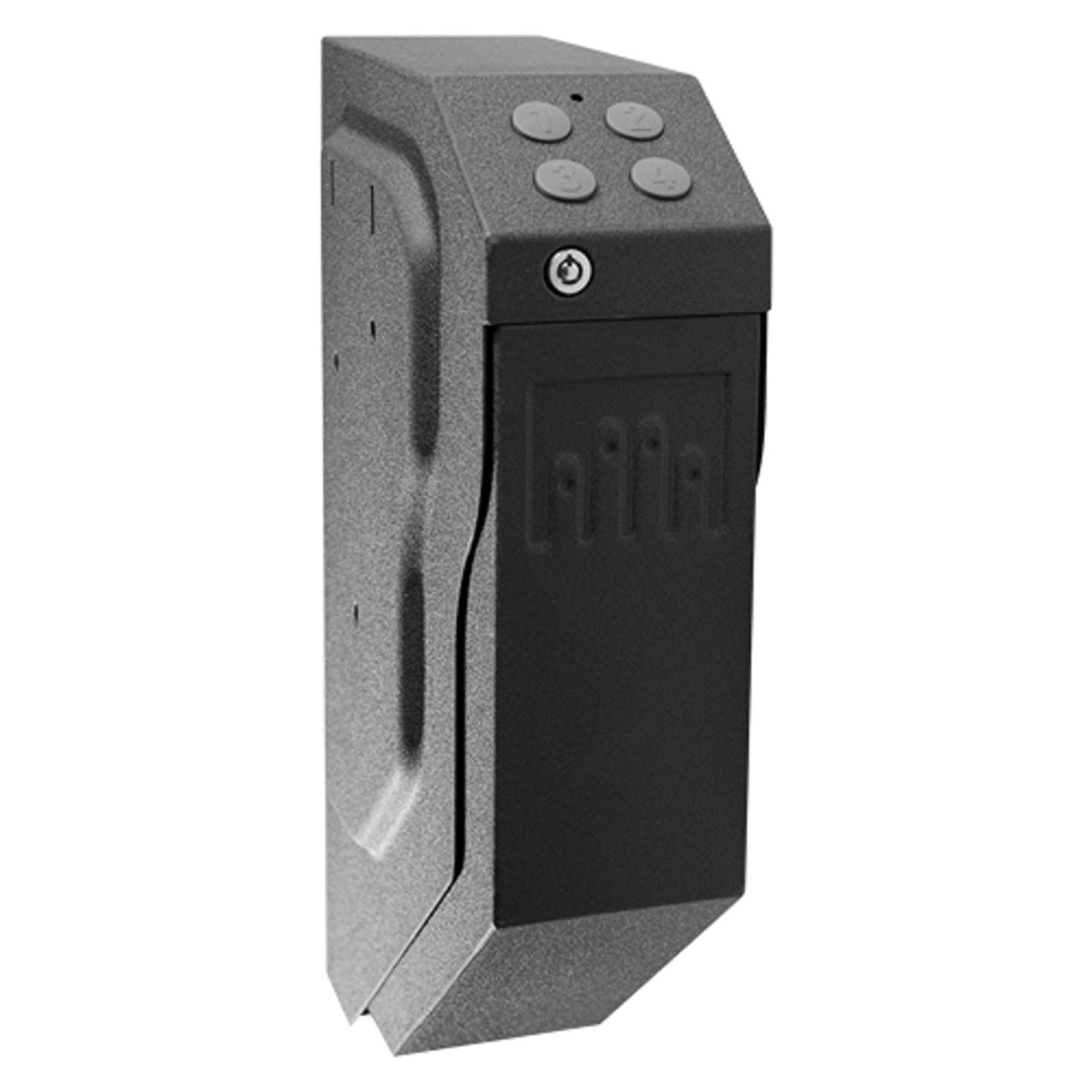 GunVault SV500 SpeedVault
Pros
Key pad and key access
Small size is perfect for mounting nearly anywhere
Automatic lockout after too many wrong codes
Cons
Digital keypad requires battery to operate
Small size doesn't leave room for spare magazines
Accessibility
Both come standard as digital safes with a keypad that you can easily feel in the dark, allowing you to open the safe without being able to see it.
You can access a gun in the SpeedVault within two seconds and one in the MiniVault even faster.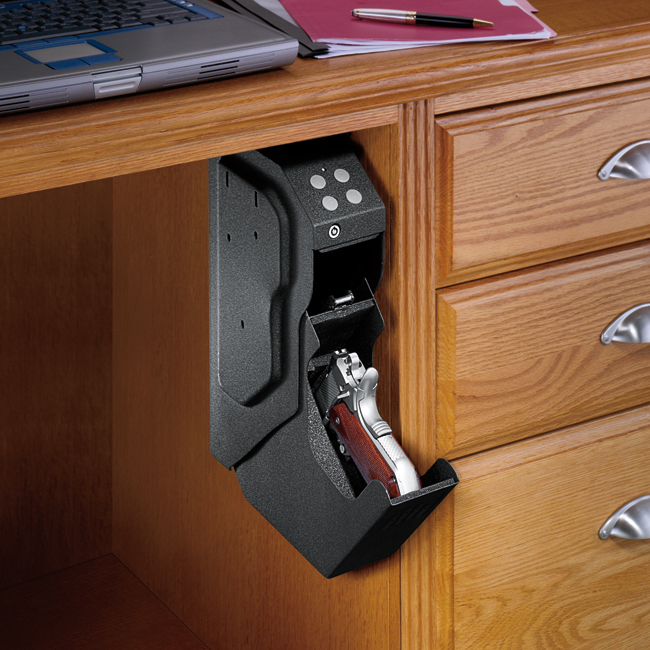 Relying on a digital lock does mean that you need to make sure the batteries are fresh or risk not being able to use the keypad to access your gun. Both have a key override that can be used even when the safe doesn't have power, but having to use it will definitely slow you down.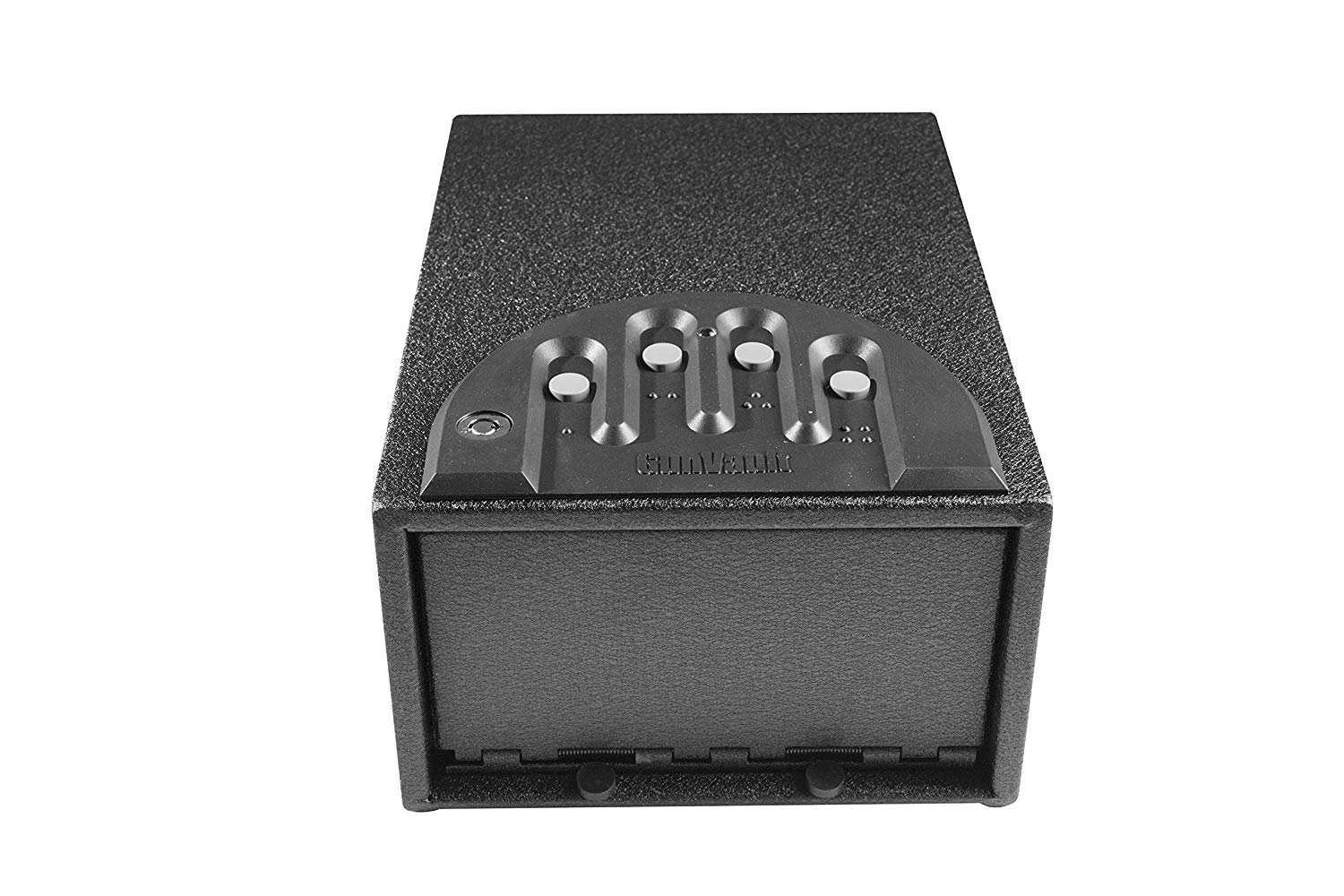 GunVault GV1000S MiniVault
Pros
Simple keypad and key access
Sized for a pistol and spare magazines
Pry- and drop-resistant
Cons
Digital lock requires charged batteries to operate
Protection
GunVault makes high-quality safes that can't be easily pried open or broken through.
About 12 million combinations are possible and the safe enters a lockout mode after too many incorrect attempts, so it's also unlikely that someone could simply guess the combination.
And if you want even more protection, both the MiniVault and the SpeedVault are available in biometric versions.
The safes have a key override to help you get in if for some reason you can't use the electric lock, but you'll, of course, want to keep the key hidden separately from the safe.
You can mount the MiniVault in your drawer to keep it from walking off, while the SpeedVault can be discreetly mounted under your bedside table or even to the side of the bed or wall.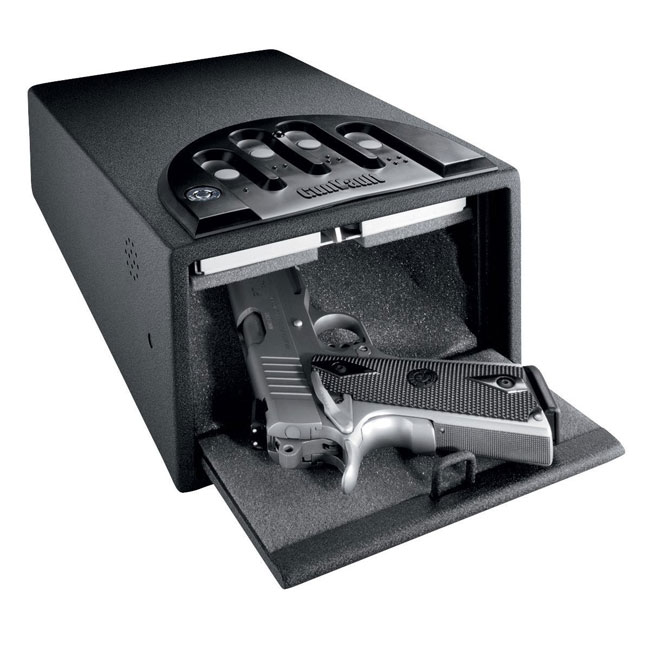 Size
The SpeedVault is the perfect size to hold a full-sized 1911, with interior dimensions of 8.5″ x 2.6″ x 5.75″. It's pretty streamlined on the outside, too, with exterior dimensions of 13″ x 3.5″ x 6.5″.
The MiniVault is a little bit more spacious, with interior dimensions of 3″ x 7″ x 11″, so you could throw in a spare mag or two as well. The safe has exterior dimensions of 5.25″ x 8.125″ x 12″, so it should fit in most drawers.
If you need a larger or smaller safe, check out other models from GunVault that offer the same features in different sizes.
The Fort Knox FTK-PB is a simple, mechanical handgun safe that offers excellent quality across all of our criteria.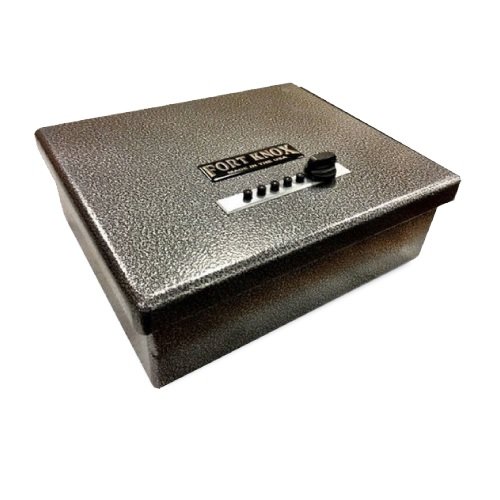 Pros
Mechanical lock is easy to open in the dark and doesn't need power
Heavy construction and pre-drilled mounting holes secure the safe
Fits in a bedside drawer easily
Cons
Limited combination options
Accessibility
Fort Knox calls this a "Simplex" safe because the unlocking mechanism consists of just five mechanical buttons and a knob rather than fussing around with biometrics or electronics keys or dials.
All you have to do to open the safe is put in your code then rotate the knob clockwise, and you'll be in your safe in about 1.5 seconds.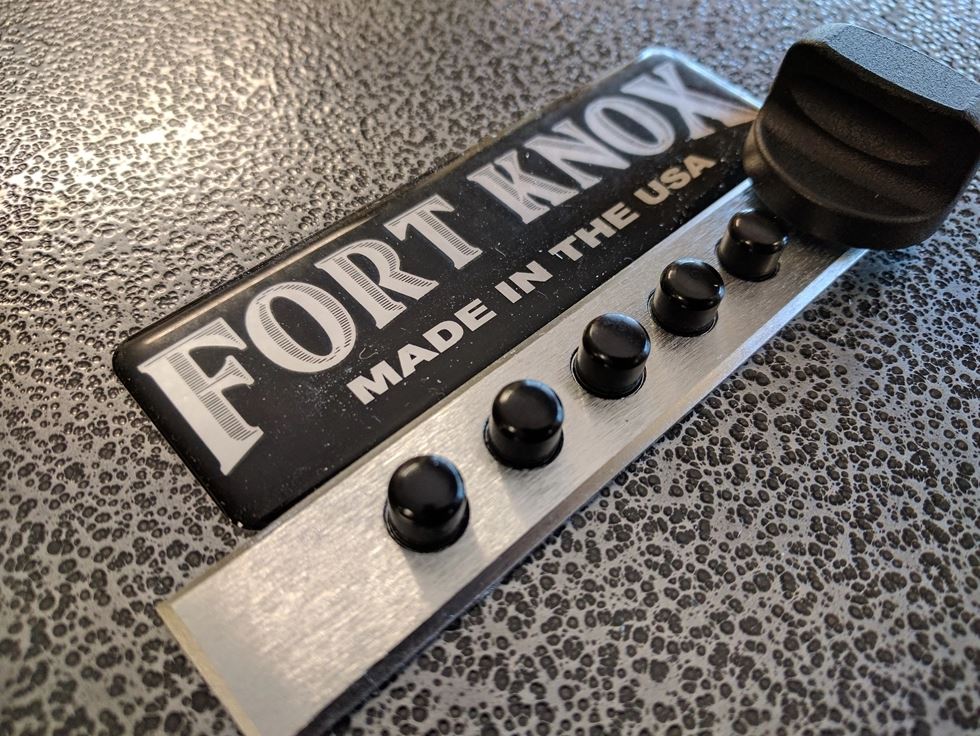 Mechanical locks may seem old school and low-tech, but they actually offer some significant advantages.
There's no reliance on a power source, there's no risk of read errors, and feedback beeps won't tip off home invaders that you're getting a gun.
Protection
This safe has 3/16″ steel doors and 10 gauge steel bodies. Folded corners and edges make the safe resistant to prying.
It also has pre-drilled holes for mounting, but the solid construction means it's heavy enough, 22 pounds, that most smash-and-grab burglars would ignore it for something more easily taken. Still, there's no reason to risk it–so mount it anyway.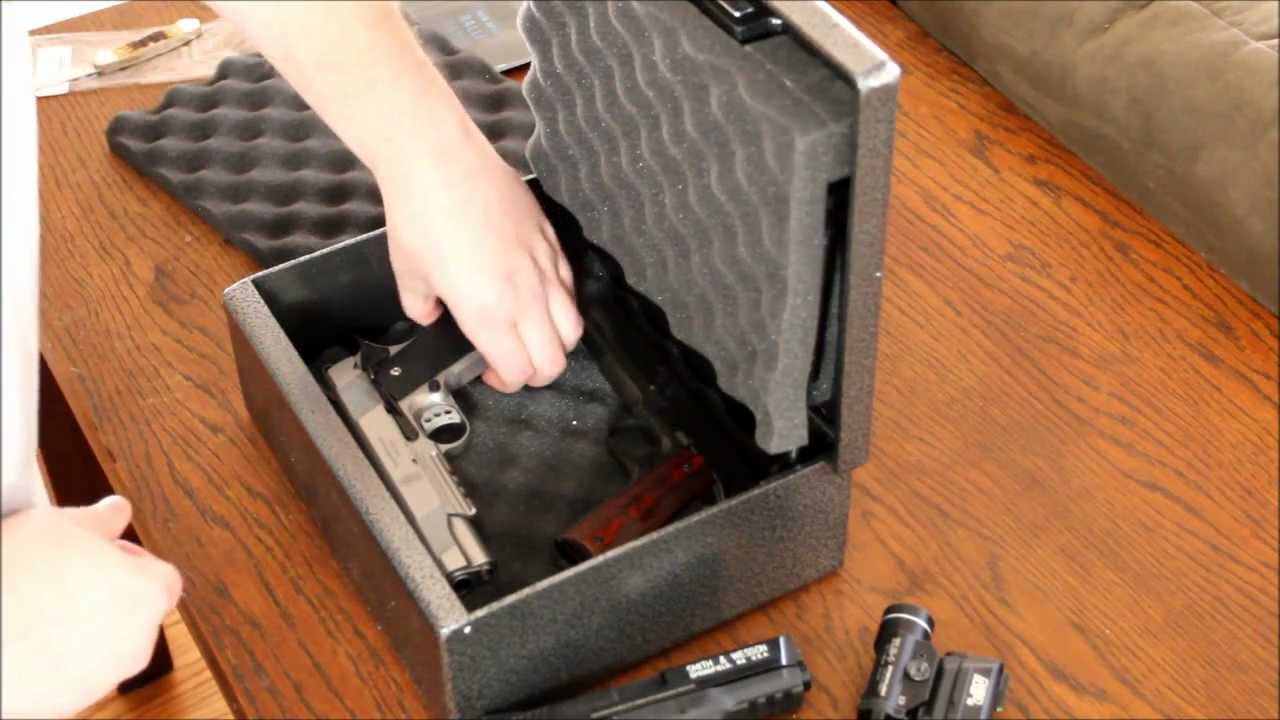 The carpeted and foam-padded interior protects the safe's contents from scuffs and scratches.
The one issue: with only 1081 possible combinations, a bright enough child could systematically work through all the possibilities fairly quickly.
Size
The interior of the safe is 10.25" x 3.625" x 8.25″, plenty large enough for at least one full-sized handgun and a spare mag or two.
The exterior is 10.26" x 12.5" x 4.25".
These last two safes are in some ways the opposite of the Fort Knox safe we just discussed, but that's not a bad thing.
The VT10i and the larger VT20i from Vaultek look high tech because they are high tech. If you want a sleek looking safe with cutting edge technology, these are the way to go.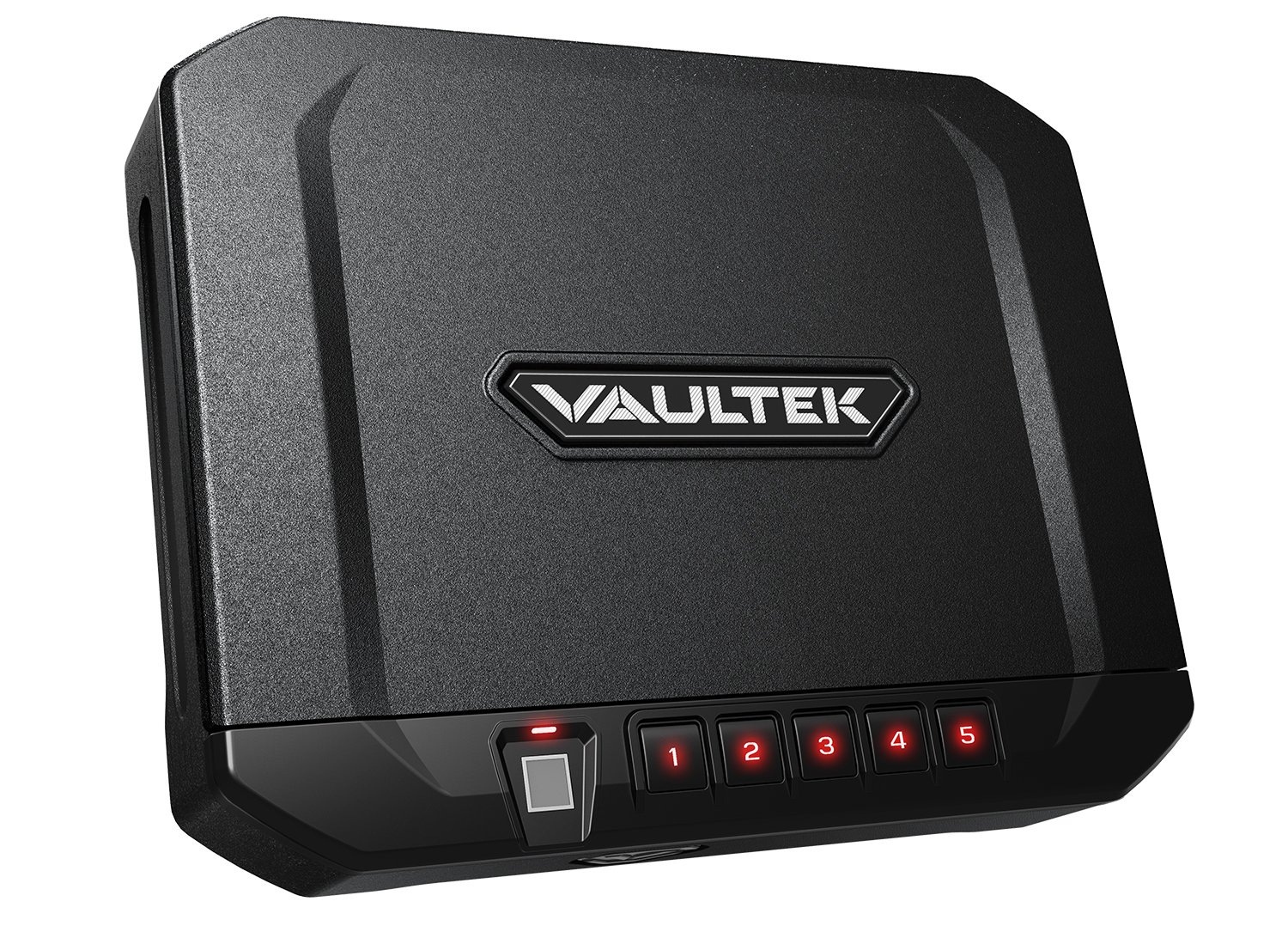 Vaultek VT10i
Pros
Keycode, biometric, key, and smartphone app access
Mounting holes and cable system to secure the safe
Small size is perfect for small spaces
Cons
Requires a charged battery to use electronic access
Accessibility
You can access your firearm in any of four ways: a key, a numeric code, your fingerprint, or the Vaultek Smart App which uses Bluetooth to connect to your safe.
The fingerprint scanner can be a bit dodgy if your fingers are wet, but it seems pretty unlikely that you'll have wet fingers if you wake up in the middle of the night needing to protect your family. The other methods are completely reliable.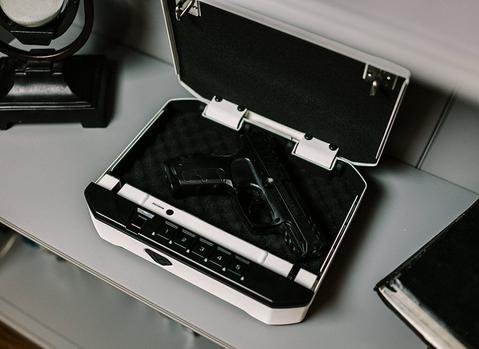 If you want to use one of the electronic methods, you'll need to make sure you keep the safe charged. Its battery should last about three months before it needs to be recharged.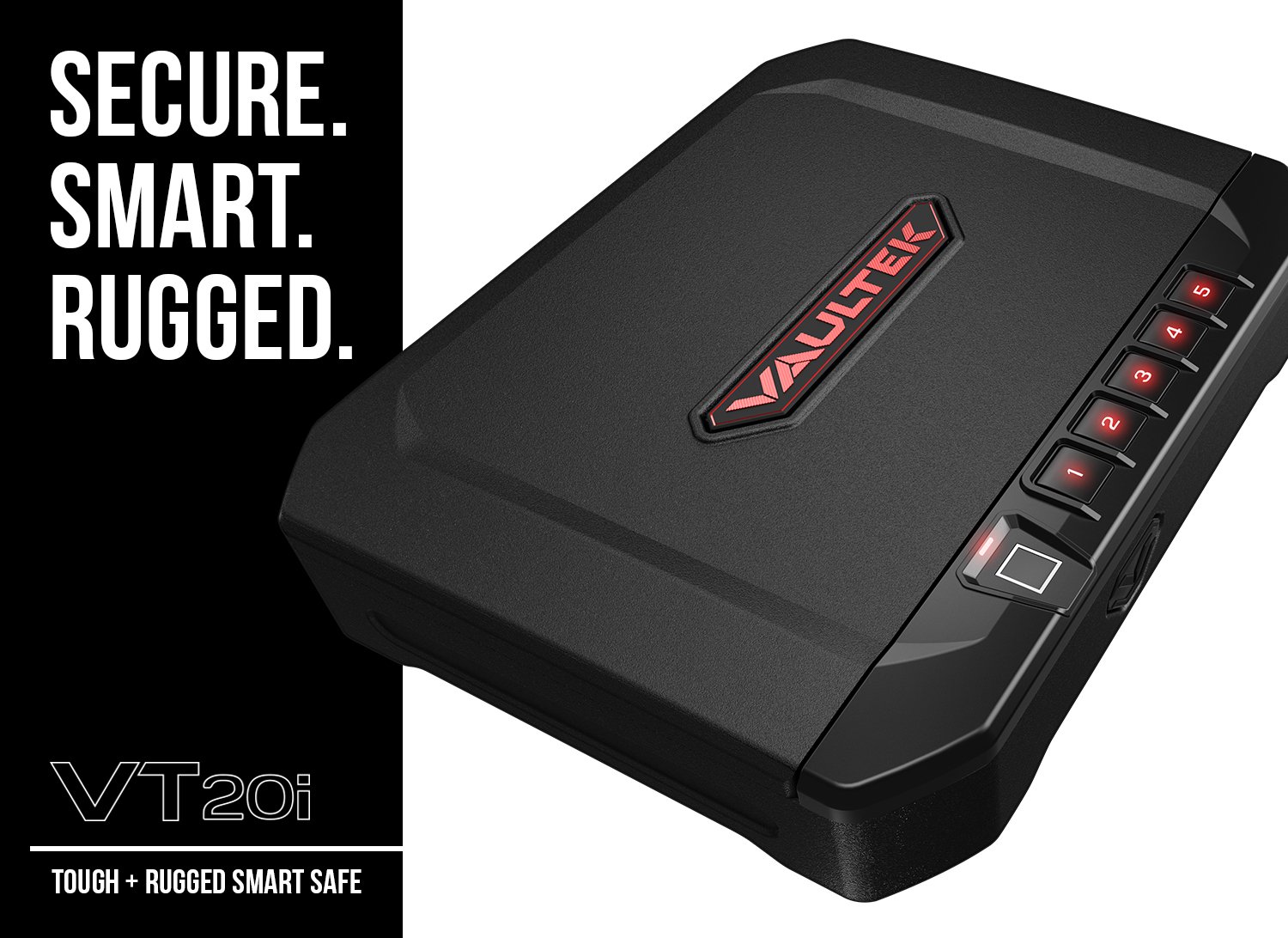 Vaultek VT20i
Pros
Can be accessed from your smartphone
Slightly larger than the VT10i
Easily mounted
Protection
These safes are pry-resistant made from 16-gauge steel, so they'll stand up to most impacts.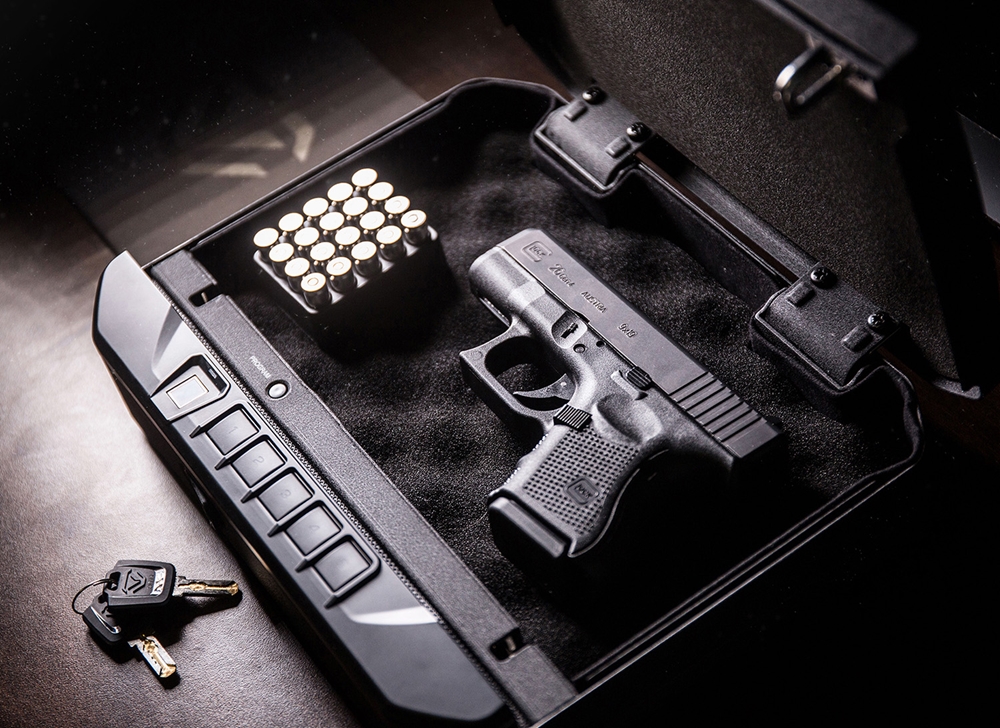 They have two pre-drilled holes for mounting, plus a cable attachment to secure the safe if for some reason you can't or don't want to mount it.
Size
Vaultek advertises that the VT10i and the VT20i will each fit a pistol and a spare mag, but realistically you could probably fit a couple of spare mags in the VT10i alongside your handgun and at least three in the VT20i.
More specifically, the VT10i's internal dimensions are 9.875″ x 5.375″ x 1.5″, while the VT20i's are 11″ x 5.75″ x 2″.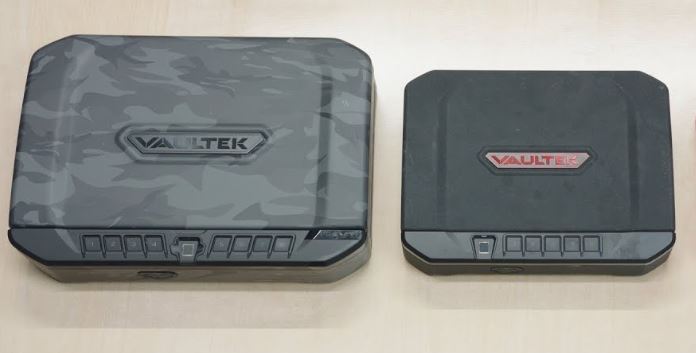 Both will fit easily inside most drawers. The VT10i measures in at 10.5″ x 8.5″ x 2.125″ and the VT20i measures 11.5″ x 9″ x 2.625″.
Conclusion
So there you have it. While you may have started out overwhelmed with choice, now you know of a few bedside gun safe options to help you balance accessibility with security. And with options across a range of price points, one of these is sure to work with your budget.
Which bedside handgun safe did you choose? What's your home defense handgun of choice? Let us know in the comments! Now if you still need something to put in your handgun safe, check out our guide to Beginner Home Defense Handguns.