At first glance, the Ruger Mini Thirty autoloading rifle may not seem like much, but this rifle can trace its bloodlines back to some of the most respected military rifles–the M1 Garand and the M14.

Ruger's Mini series has been around since 1973 in some form or other, and these rifles' enduring popularity is a testament to their excellence and simplicity.
The Mini Thirty, introduced in 1987, is a close relative of the Ruger Mini-14 (a scaled-down version of the beloved M14).
What sets the Mini Thirty apart from its family is its caliber–it's chambered in 7.62×39mm. This is the same round used by AK-47s, which is why the Mini Thirty is often hailed as an alternative to an AK build.
Piqued your interest? Let's take a closer look and see what the Mini Thirty is all about.
Fit and Finish
You can find the Ruger Mini Thirty in six different models, depending on what you're looking for in a rifle. Some lean more towards the Ranch Rifle side of the family, while others take the path of the Tactical Rifle.
The basic model of the Mini Thirty is the Model 5804, which features the same classic good looks as the Mini-14 Ranch Rifle, only chambered in 7.62x39mm.
While the wood and stainless steel look may be less popular today, it's hard to deny there's a certain appeal to the simplicity–especially if you're looking for a rifle that is fairly inconspicuous and non-threatening (Lookin' at you, AR-15).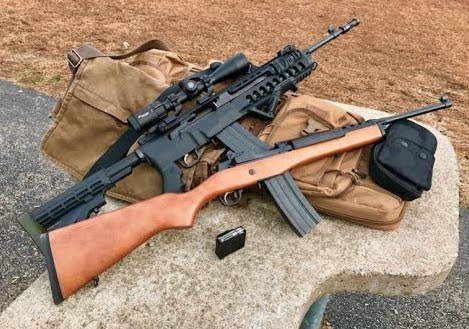 And for you polymer fans out there, the Model 5806 is the polymer version of the 5804. You can also find other models of the Mini Thirty with either polymer or wood stocks, too.

As mentioned above, the Mini Thirty is descended from the designs of the M1 and the M14. It uses a Garand-style action with a fixed-piston gas system–one of the most reliable and capable actions out there.
The compactness and intuitive controls of the Mini Thirty's action makes it a popular option for recreational shooters, hunters, and survivalists, as well as those looking to add a legendary design to their collection.
The Mini Thirty features a matte stainless steel barrel that is 18.5" long with a 1:10" twist rate. The barrel is cold hammer-forged for durability and accuracy.
Ruger designed the Mini Thirty with maneuverability in mind, which is why this gun is popular with ranchers and hunters. It clocks in at only 7 pounds and is 37.5" long overall, so you can effortlessly carry this rifle all day.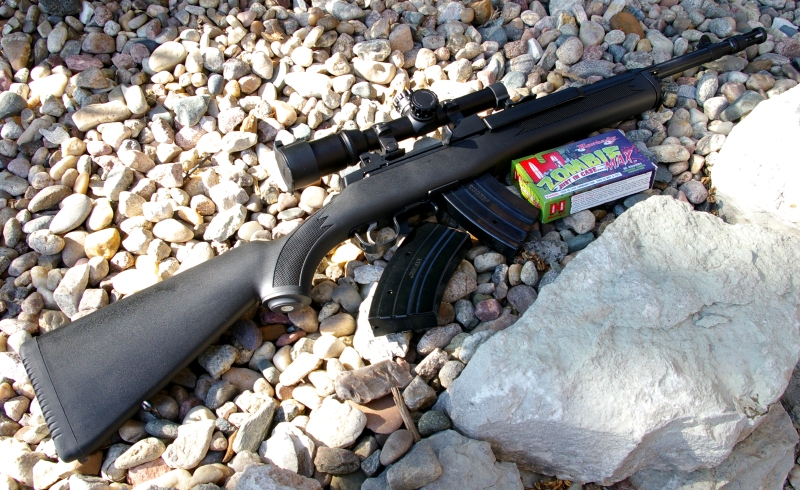 It's also worth noting that 7.62x39mm is a popular hunting round for game like deer and predators, since it is illegal in many places to hunt deer with calibers smaller than 6mm.
You'll still get enough power to take down game, while using a smaller, lighter round.
The safety is located at the front of the trigger guard. Pushing the lever forward allows you to fire, and pulling it back puts the safety back on.
It's ambidextrous, intuitive, and very easy to tell when the safety is on or off, since it partially blocks the trigger guard opening when engaged.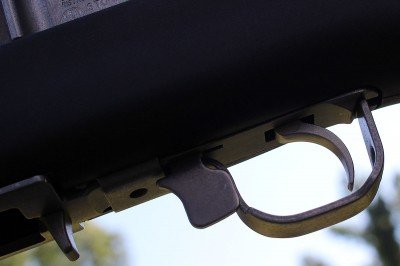 You can see the Mini Thirty's military lineage in its adjustable iron sights that are remarkably similar to the M1. A bladed front sight and an adjustable ghost ring rear sight make it easy to quickly pick up a sight picture.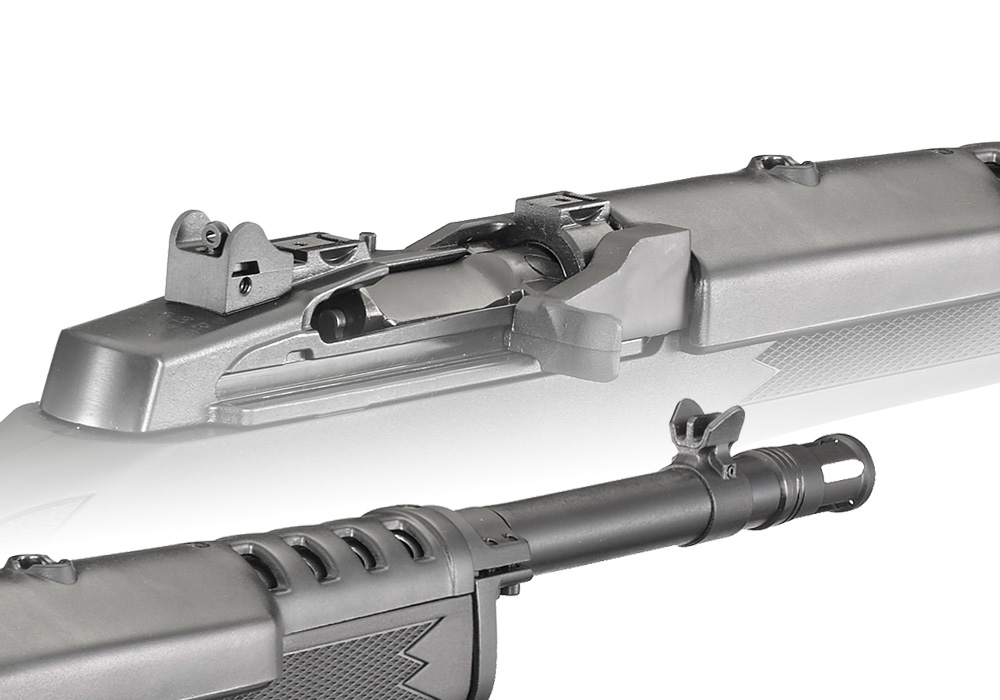 The Mini Thirty's receiver also has machined scope mounts for the included one-inch scope rings, which provides a stable surface to mount a scope. The receiver is also drilled and tapped for mounting a Picatinny rail, which is also included.
Trigger
Reviewers report that the trigger breaks cleanly with a pull of about 5.1 pounds. It features a two-stage trigger, which means there is a little bit of creep in the trigger, but it is very smooth to pull.
The trigger itself is wide smooth, perfect for long range days. For a target rifle, the Mini Thirty's trigger can be a little heavy, but for just about any other use, it's not too bad.
Accuracy and Recoil
Whether using the Mini Thirty for hunting, target practice, or defense, the accuracy is definitely up to the job.
Reviewers were surprised to find out that the rifle was still hitting steel up to 300 yards out, though most reported that the accuracy was best in the 100- to 150-yard range.
At 100 yards, one reviewer was shooting 1.5" to 2" groups with Hornady 123gr SST BLACK. Another averaged 2.7" groups with several different ammo types at 100 yards.
When it comes to taking down game or varmints, accuracy at 150 yards should be plenty. The front sight is on the thicker side, which means that targets can be obscured by the sight if the distance is too great.
One quirk of the Mini Thirty that does put a dent in its accuracy is its habit to heat up quickly and start scattering rounds. After 4 or 5 shots, the bore may heat up enough to cause a noticeable decline in accuracy.
If you're hunting, this isn't likely to be a problem. For plinking at the range, though, you might have an issue.
Despite the light weight of this rifle, the recoil is surprisingly soft and easy to control. The Mini Thirty is a great rifle for new shooters or shooters with a smaller stature, since it isn't too heavy and doesn't kick hard.
Reliability
Like its predecessors, the Mini Thirty is renowned for its reliability. It relies on an action that has been in production since the 1930s and is still in use by law enforcement agencies and civilians today.
Reviewers didn't report any feed issues with the Mini Thirty, though one did note that the action on a brand new one can be a little rough for the first few hundred shots. A little extra lubrication and some breaking in seemed to clear up the problem.
If you like to reload rounds–good luck. The Mini Thirty launches spent casings with a great deal of enthusiasm, so you'll get a fun game of hide-and-seek after range days if you don't use a spotter to track them.
One thing to watch out for is aftermarket magazines. There have been reliability problems with some brands, so, when in doubt, stick to factory magazines.
Magazines and Mag Release
The Mini Thirty comes with proprietary 5-round magazines, though some models are available with 20 round magazines. Ruger ships this rifle with two fully steel magazines.
Unfortunately, the Mini Thirty isn't compatible with AK magazines, even though the two rifles use the same caliber.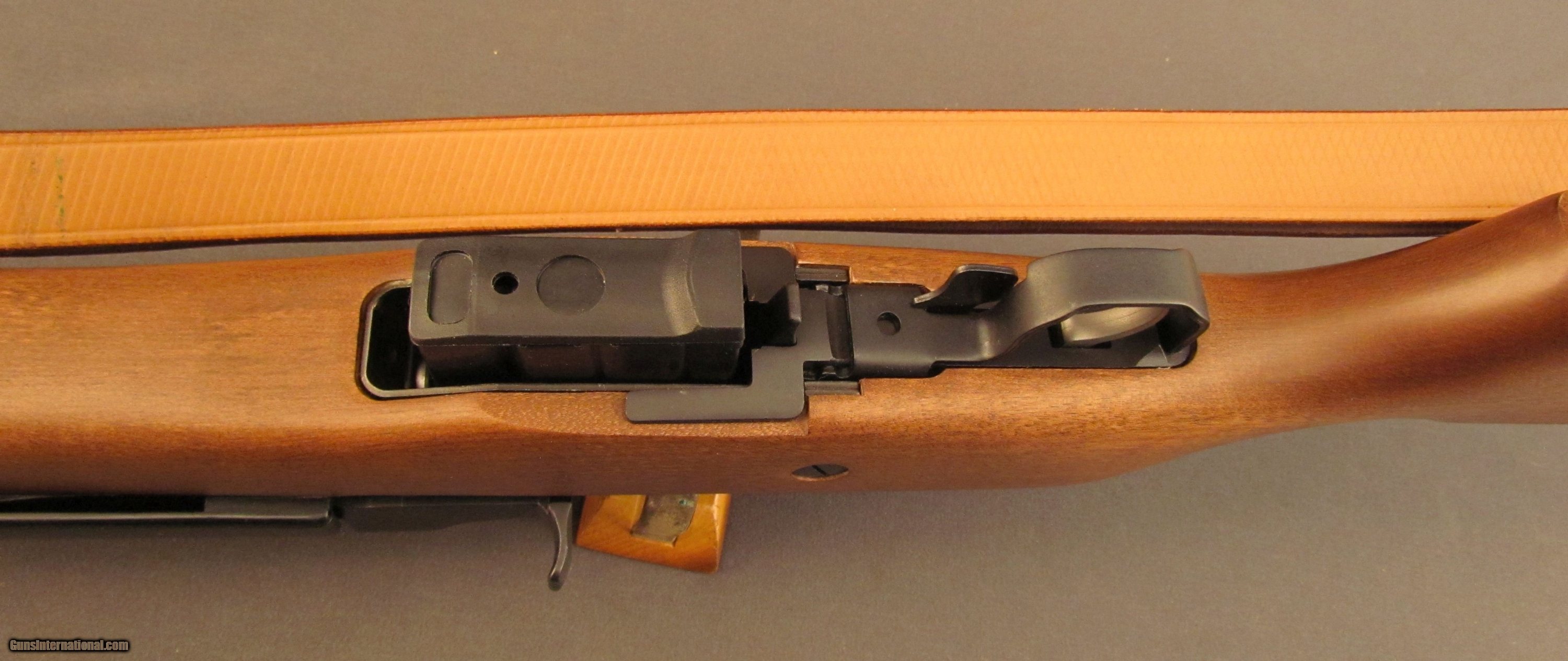 Loading the Mini Thirty is a breeze–just rock the magazine into place and pull the charging handle back.
The Ruger Mini Thirty has a magazine release lever located just to the rear of the magazine well, which is necessary to remove the small 5-round magazines. Like the safety, it's also easy to use and ambidextrous.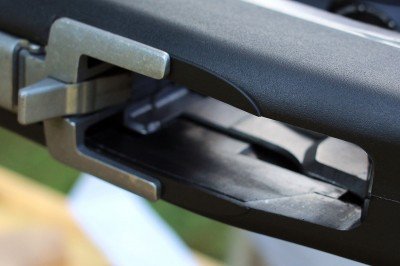 You can load the Mini Thirty from the top with loose ammo, but unlike its Garand ancestors, you can't use a stripper clip with it–at least not without aftermarket mods.
Maintenance & Disassembly
As seen in the video above, the Mini Thirty breaks down very similarly to its older brother, the Mini-14. Ruger recommends that you use moderate lubrication for your Mini Thirty.
Its self-cleaning gas system makes this reliable rifle pretty easy to maintain.
With regular maintenance, you can expect your Mini Thirty to keep shooting as long as you are.
Specs at a Glance:
Type: Semi-Auto

Caliber: 7.62x39mm

Capacity: 5 stock, larger magazines available

Weight: 6.7lbs

Barrel: 18.5"

Overall Length: 37.50″

Construction: Hardwood and stainless steel
Bang for Your Buck
There's no real way around it–Mini Thirty rifles cost a pretty penny. With an MSRP of $1069, you're looking to spend about twice what you would on a pretty decent AR-15.
We do love the Mini Thirty, though, and it can be well worth the cost, thanks to its incredible reliability and pretty decent accuracy.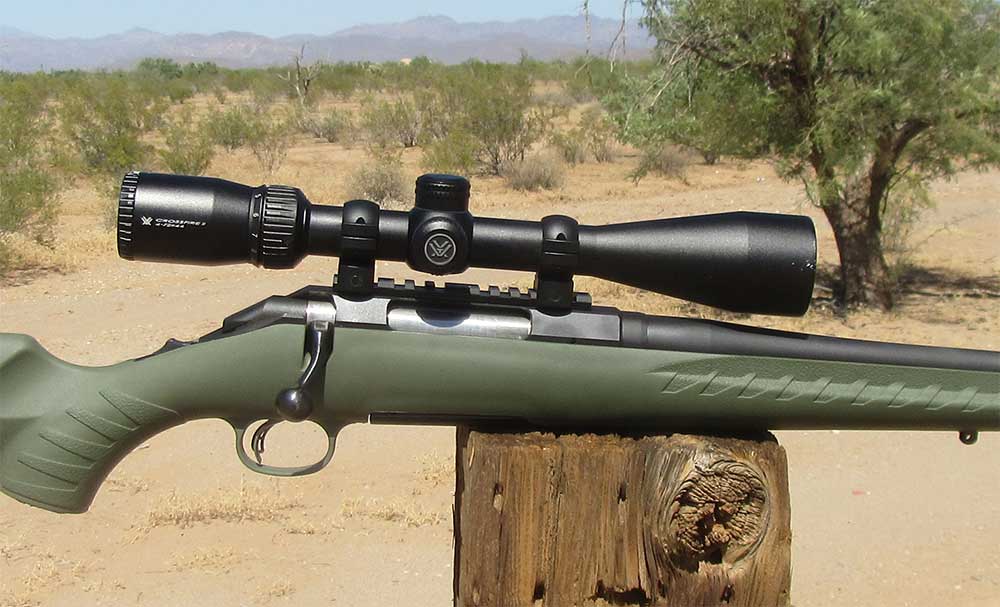 If you want to increase the capabilities of your Mini Thirty, there's also a huge array of aftermarket parts to choose from, including match barrels, optics, triggers, and more.
You can fine-tune your rifle to meet your exact needs–and even cut down on its size with a folding stock for a truly portable work rifle.
Upgrades
We wouldn't be doing a good job of telling you all about the Mini Thirty without telling you about the best upgrades available for it, now would we?
Luckily for you, there is plenty you can customize on your Mini Thirty. Here's a handful of our top picks.
Barrel whipping can be a problem with the Mini Thirty, especially after long strings of fire at the range. The Accu-Strut Barrel Stabilizer takes care of that little problem easily, though.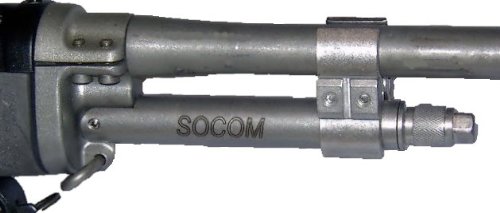 Accu-Strut Barrel Stabilizer
Pros
Reduces group size and vertical stringing
Quick installation
Lightweight
Cons
Less effective on newer, tapered barrels
It clamps on to your barrel and can reduce your group size by up to 75% and prevent vertical stringing. It bolts on in mere minutes, so you don't need to fuss with it.
Red dots are popping up just about everywhere, so why not on top of your Mini Thirty? Sure, the benign-looking Ranch Rifle may not look like a prime candidate for one, but what's stopping you?
After all, with the GG&G Red Dot Mount, your Mini Thirty can enjoy a little tactical goodness, too–not to mention your eyes!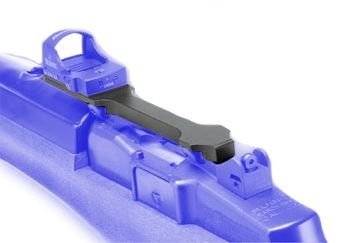 GG&G Red Dot Mount
Pros
Cut just for Mini Thirtys
Accommodates most red dot sights
Easy to install
Cons
Doesn't have Picatinny or Weaver grooves
This will fit all Mini-14 and Mini Thirty models, and the relief cut into the rail means you won't have to worry about the mount interfering with casing ejection.
Looking to really cut down on the size of your Mini Thirty? A folding stock like the ATI Mini-14 Strikeforce stock can make your compact rifle even easier to store, carry, and transport.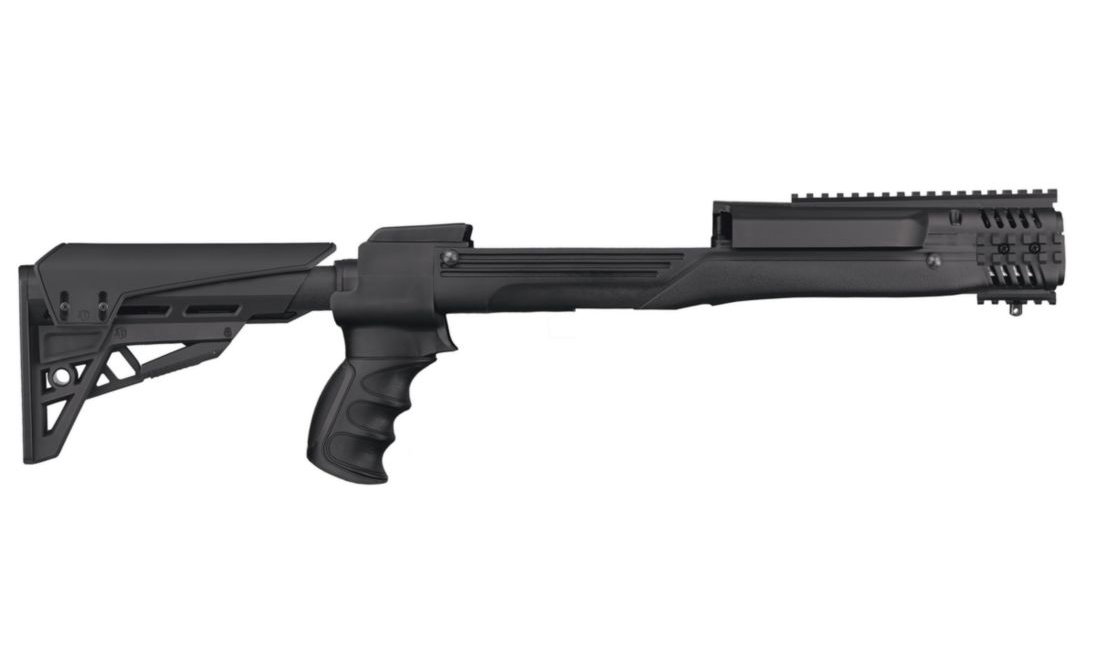 ATI Mini-14 Strikeforce Folding Stock
Pros
Collapsible, six-position, weatherproof stock
Removable, adjustable cheek-pad system with tall and short pads
Glass-reinforced polymer construction
This particular one features six positions, is weatherproof, and made of durable Dupont glass-reinforced polymer for rugged dependability.
If you're going to carry your Mini Thirty around the ranch or on a hunting trip, you're going to want a comfortable, durable sling that's a breeze to adjust–link the Blue Force Gear Vickers Sling.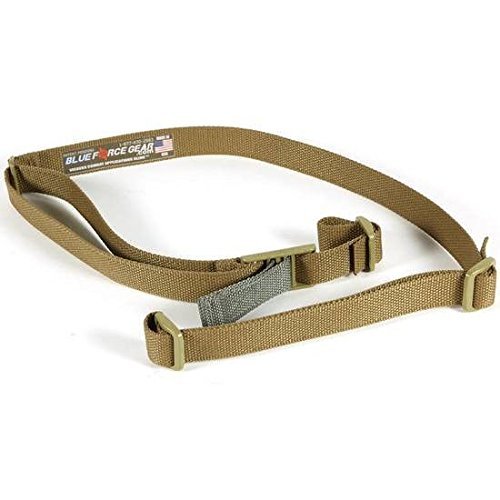 Blue Force Gear Vickers Sling
Pros
Durable construction
Easy adjustability
Comfortable to carry
Cons
Length may be short for larger people or bulky clothing
Based on a combat-tested design, this two-point sling is ready to go wherever you do. It's simple to adjust the length for quick transitions and hardy enough for even the most rugger, off-the-grid trips.
The Mini Thirty's trigger is pretty dang heavy, but M*CARBO's Trigger Spring Kit is the perfect solution to that issue! This American-made, all-steel spring gives you a 30% reduction in your trigger pull, without the grittiness of the factory trigger.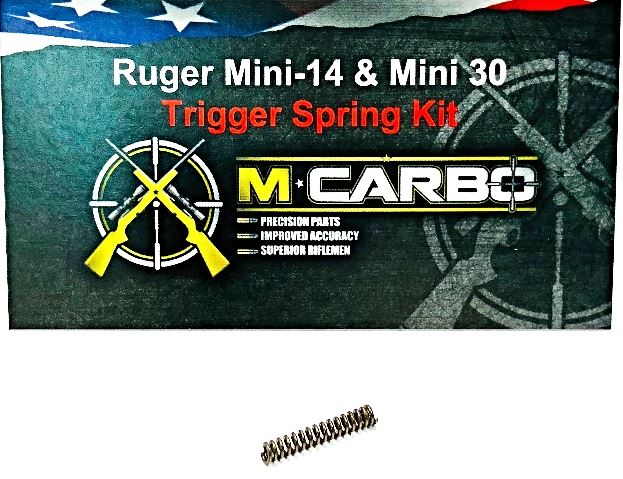 M*CARBO Ruger Mini Thirty Trigger Spring Kit
Pros
Drops trigger pull weight to 4.25 lbs
American Spring Steel ASTM A228 Music Wire & 302 Stainless Steel Spring Wire
Protected by the M*CARBO 100% Lifetime Guarantee
Cons
Installation can be tricky
Conclusion
Functionally, the Ruger Mini Thirty works a whole lot like an AK or an AR. The main difference between this friendly Ranch Rifle and those "assault rifles" mostly boils down to one thing–looks.
If you live somewhere that might not be too friendly to an AR-lookalike, the Mini Thirty gives you the same functionality, without the intimidating appearance.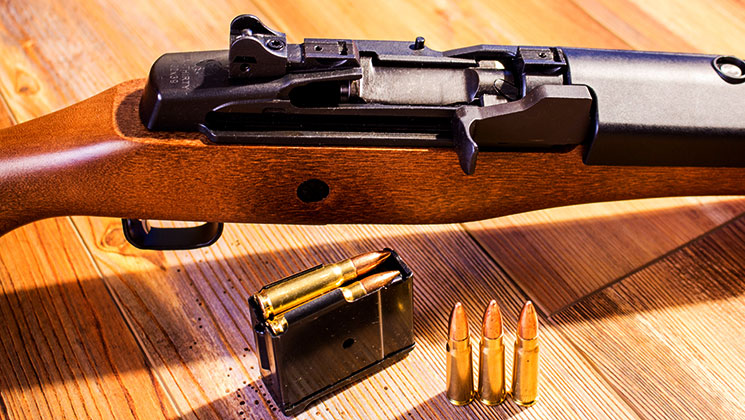 If you're looking for an AK alternative, or are a fan of the M1 and M14, you'll probably want to take a look at the Mini Thirty.
This rifle is a fantastically designed, incredibly reliable rifle that you can take from the shooting range to the open range, all without giving a second thought to whether it's up for the job at hand.
Overall rating: 8/10 stars
Which do you prefer: the Mini Thirty or an AK-47? Do you own a Mini Thirty? Tell us about it in the comments! Still figuring out what's right for you? Check out our rifle caliber guide to learn more!