.308 Winchester is an iconic, incredibly popular long-range cartridge and it has an outstanding reputation among target shooters, hunters, police, and military alike. 
Sure, in recent years other long-range rounds have come onto the scene, adding competition and even outperforming .308 Winchester, especially at longer distances, but .308 Win has still managed to endure with its excellent reputation completely intact.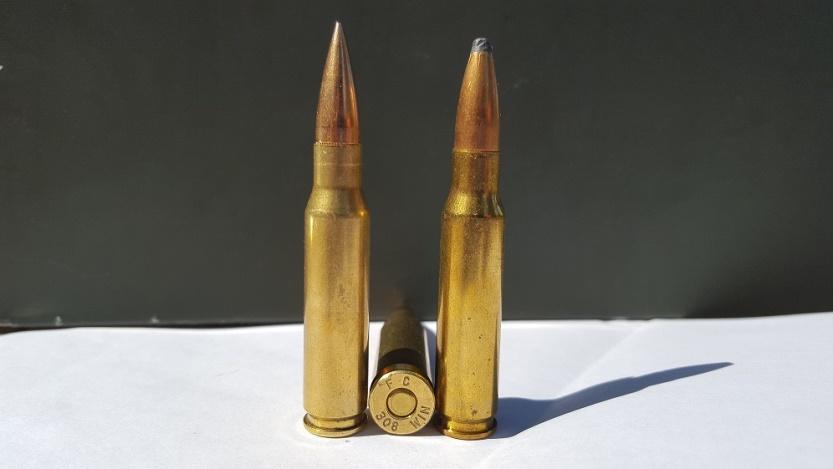 Why has this little round managed to continue to do so well, even with such strong competition?
Settle in and read on to find out. In this guide, we'll talk about the background of .308 Winchester, what it's good for, and some of the best .308 factory rounds on the market today.
Let's get started.
History & Use of .308 Winchester
.308 Winchester was introduced in 1952 and is the cartridge from which 7.62x51mm NATO, adopted by NATO two years later to replace .30-06, is derived. .308 Win and 7.62x51mm NATO are similar enough to be used interchangeably in rifles chambered for one of the rounds, but .308 Win is typically loaded to higher pressures.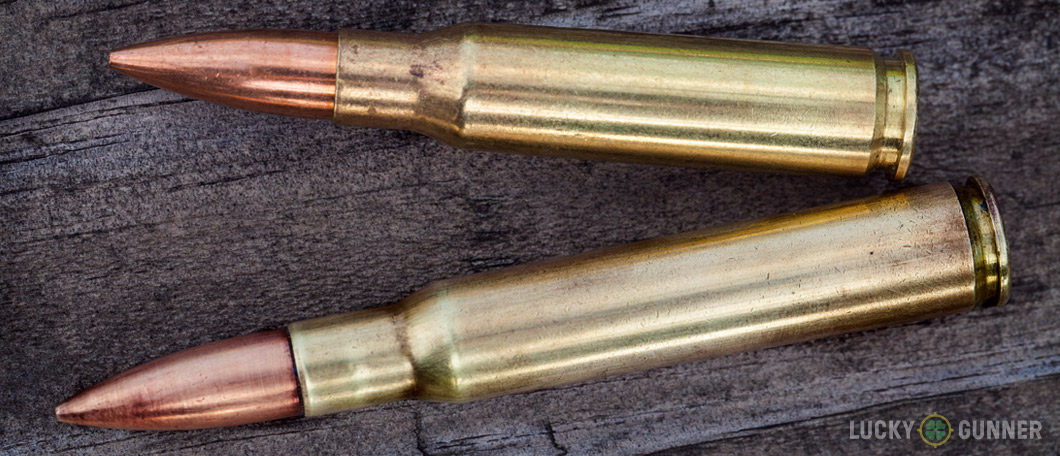 It didn't just replace .30-06 as a combat round. .30-06 also used to be the round of choice for civilian long-range shooters and hunters.
Since its introduction, however, .308 has become the world's most popular short-action, big-game hunting cartridge thanks to its short cartridge. It's also popularly used for other types of hunting, as well as various forms of competition and target shooting, in addition to police and military sharpshooting and sniping. 
Depending on the individual round and the skill of the shooter, .308 can be effective up to about 800 rounds (though other rounds are best suited for distances longer than about 400 to 500 yards).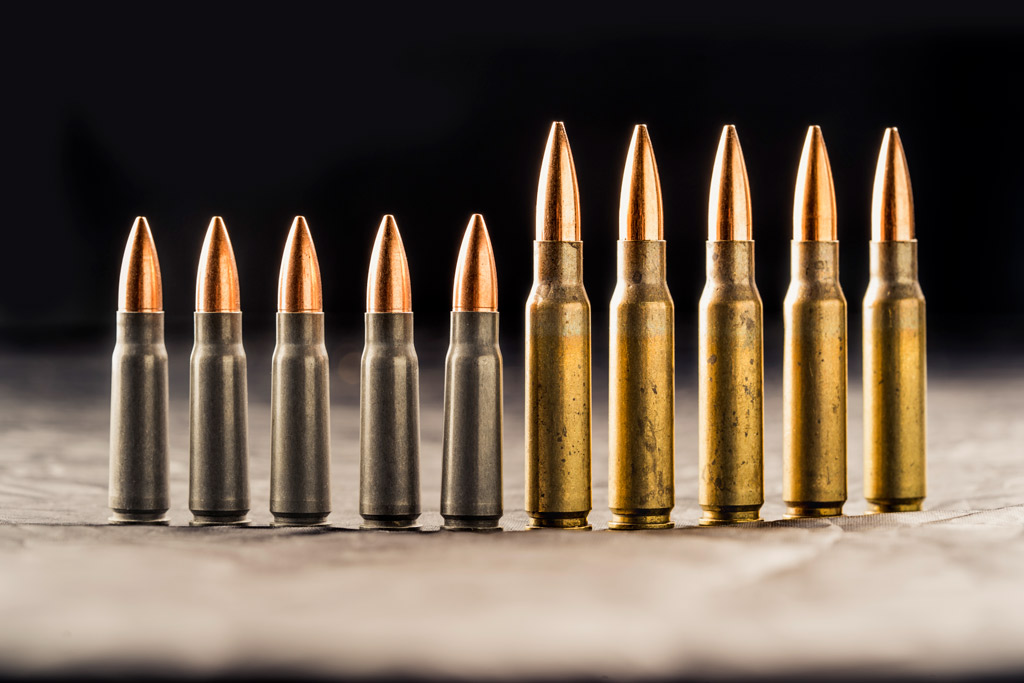 It's particularly suited for hunting game like deer, bighorn sheep, and wild boar, but it's also a great round for target shooting, whether competitively or recreationally. It's the most popular caliber in Heavy Metal 3 Gun competition and is also common in Precision Rifle competitions.
Why .308?
Now you know what .308 Win is used for, by why choose .308 over other rounds?
For one, it's popular. Not that the masses are necessarily good at choosing the best round, but there is something to be said for a round that can be found pretty much anywhere ammunition is sold, from large, non-specialized chains, like Walmart and Dicks, to your local gun shops.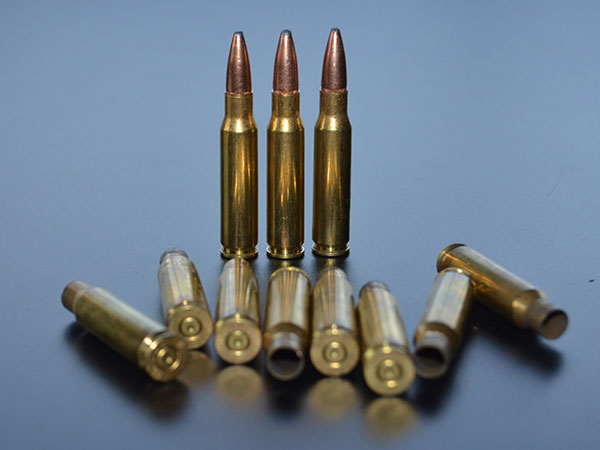 And it's cyclical: the popularity of the round means it's easy to find in stores, which means that lots of people use it for the convenience and since lots of people use it, pretty much everyone that sells ammo stocks it and on and on and on…
And the enduring popularity of .308 means that's unlikely to change anytime soon, so there's no risk of it suddenly becoming hard to find like with new, trendy calibers like 6.5 Creedmoor and .224 Valkyrie. 
It's also a versatile, easy to handle round. It performs well against both targets and game in ranges up to around 500 yards, yet it still has pretty light recoil, making it a great choice for new or small frame shooters, or for shooting all day.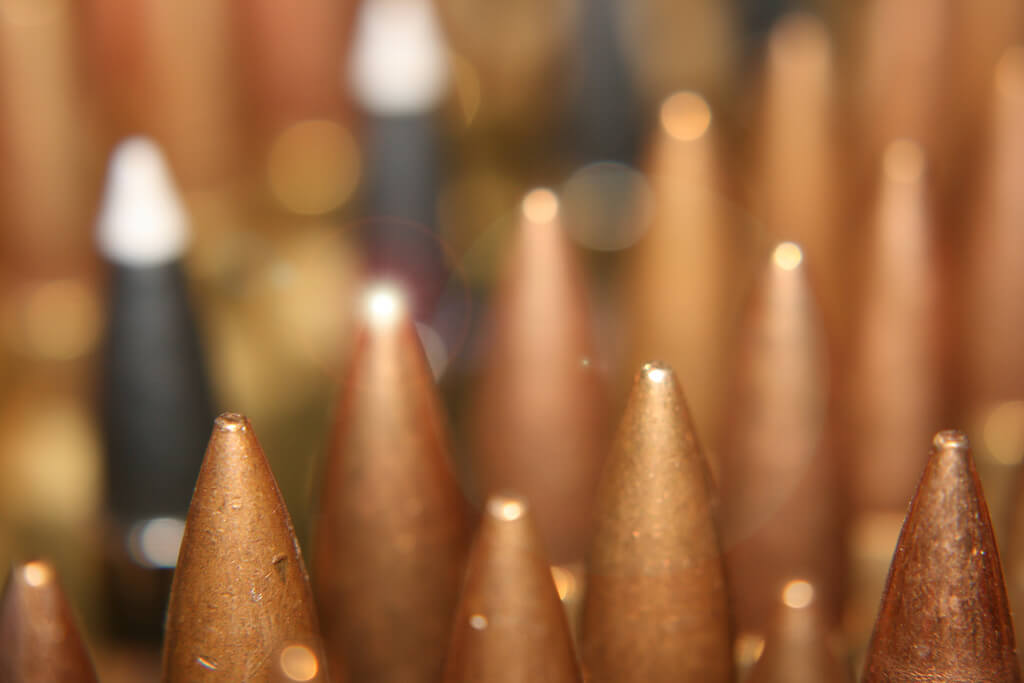 Plus, since manufacturers are confident in its sales performance and therefore willing to make so much of it, it helps keep the price down.
They're also willing to make a bunch of different types and have to compete with one another to create rounds that stand out, meaning there's a huge selection of really high quality .308 ammo out there, and at really appealing prices. 
Sold on .308 Winchester? Let's move on to some of your best options, depending on your purpose.
Best .308 Ammunition for Target Shooting
Let's start with an affordable ammo that does the job when all you want to do is spend some time sending bullets downrange. 
Lake City ammo is surplus from the Lake City Army Ammunition Plant (LCAAP) in Independence, Missouri, which produces small round ammunition for the US Army. 
This means that the price is variable, depending on how much surplus is available, but it tends to be pretty low, especially for really great mil-spec ammunition that performs much better than the average plinking round. 
Lake City .308 is certainly not match-grade and won't give you the same high-level performance and tight groups that match grade ammo does, but it does make a great round for training for competition without having to spend a ton of money on match grade ammo.
And, since it was designed for combat, it's highly reliable with malfunctions practically unheard of.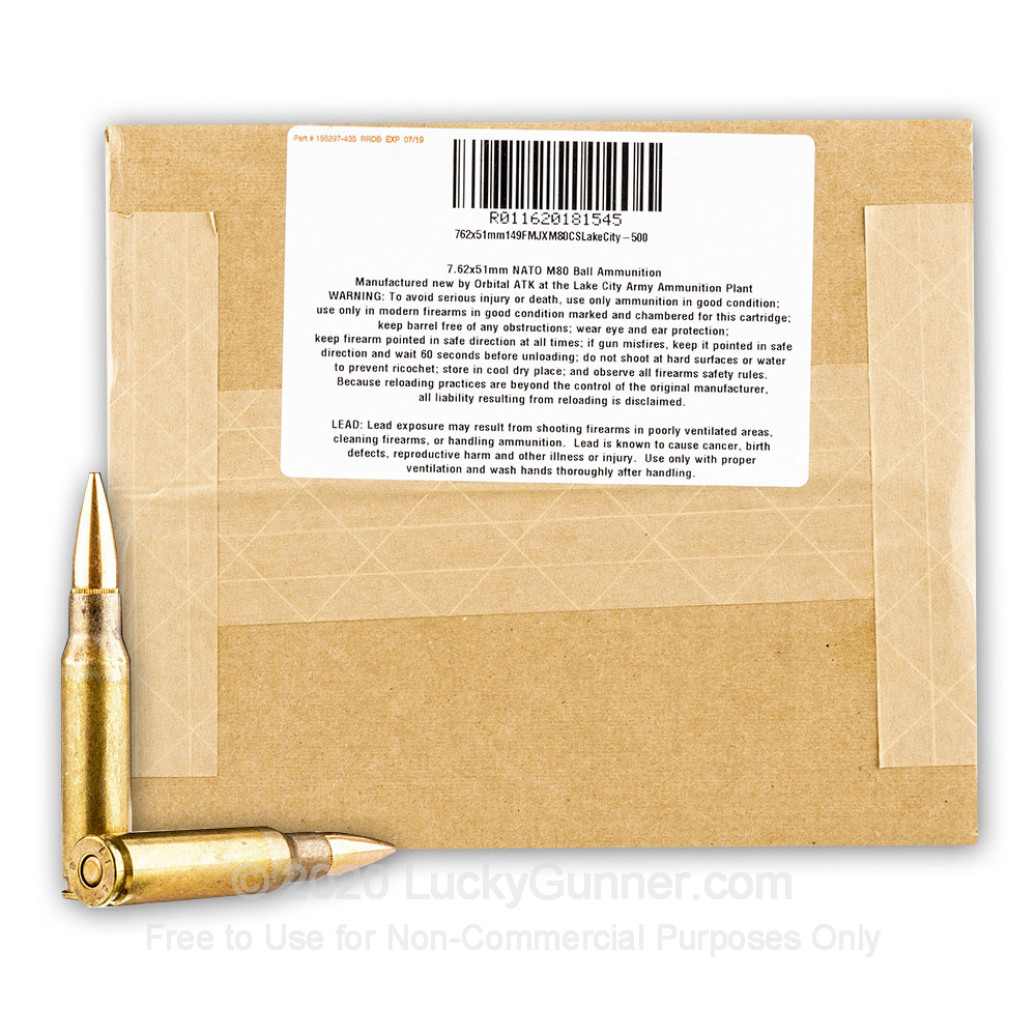 Lake City 149gr FMJ .308
Pros
Great value
Mil-spec rounds
Reliable performance
Quick Specs:
Use: Plinking & Training
Bullet Weight: 149 gr
Muzzle Velocity: 2790 fps
Type: FMJ
For more serious target shooting like competition or match training, you'll want something like Federal Premium Sierra Matchking Gold Medal. 
It's about as good as you can get for a match round without a custom hand load and is a great alternative for when you can't be bothered to hand load, or otherwise need rounds now and don't have hand loads, well, on hand. 
We can manage half MOA groups with it—not too bad for off the shelf rounds.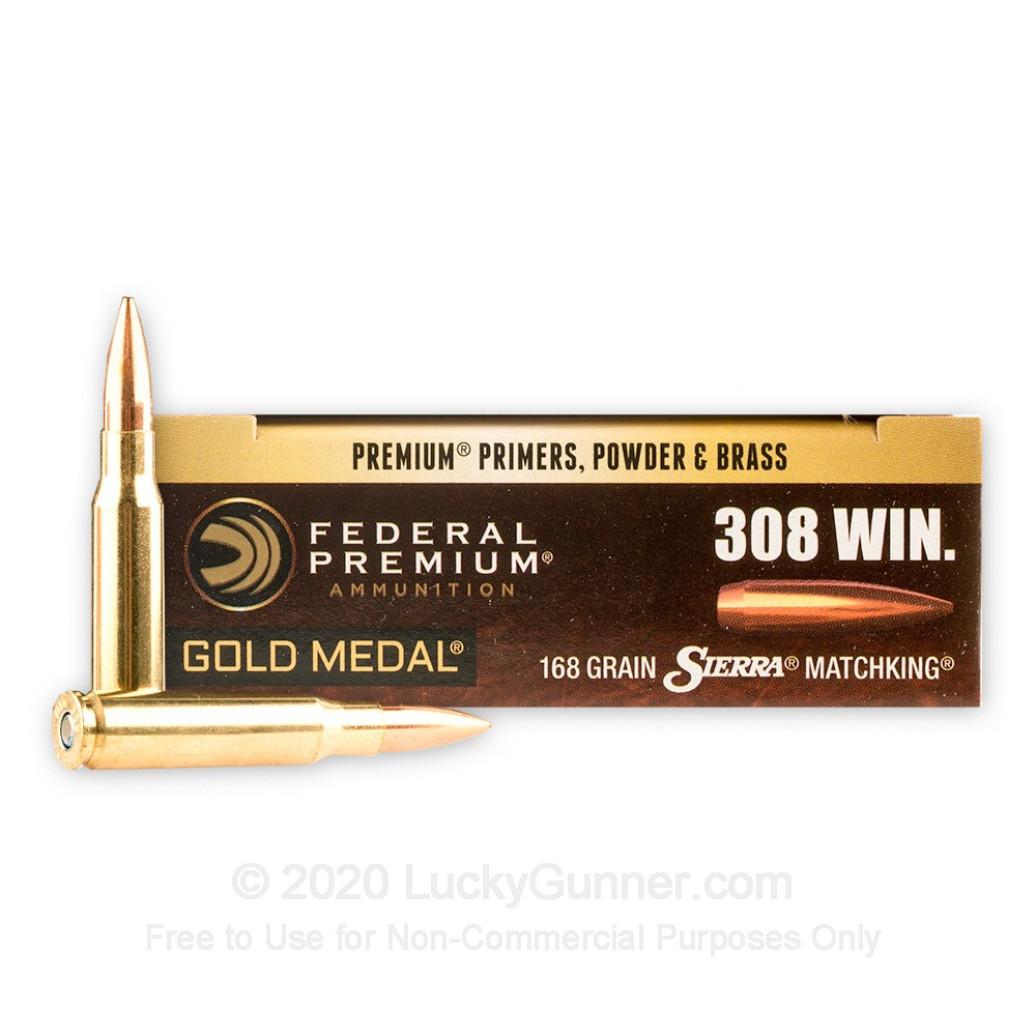 Federal Premium Sierra Matchking Gold Medal, 168gr .308
Pros
Match-grade quality without the handloading
Great for precision training
Awesome off-the-shelf-performance
Cons
A bit expensive for plinking
Quick Specs:
Use: Match & Match Training
Bullet Weight: 168 gr
Muzzle Velocity: 2650 fps
Muzzle Energy: 2619 ft lbs
Type: Hollow-Point Boat Tail
Hornady BTHP Match is another good round for competition and match training and one of the most popular rounds for that purpose.
It's especially good for long-distance shots and really stretches out the accurate distance of your favorite .308 rifle. With a decent long-range rifle, it's not too hard to get sub-MOA groups.
While it's not quite as accurate as Federal Premium Sierra Matchking Gold Medal, it's definitely no slouch either and is still a great option if you don't have hand loads.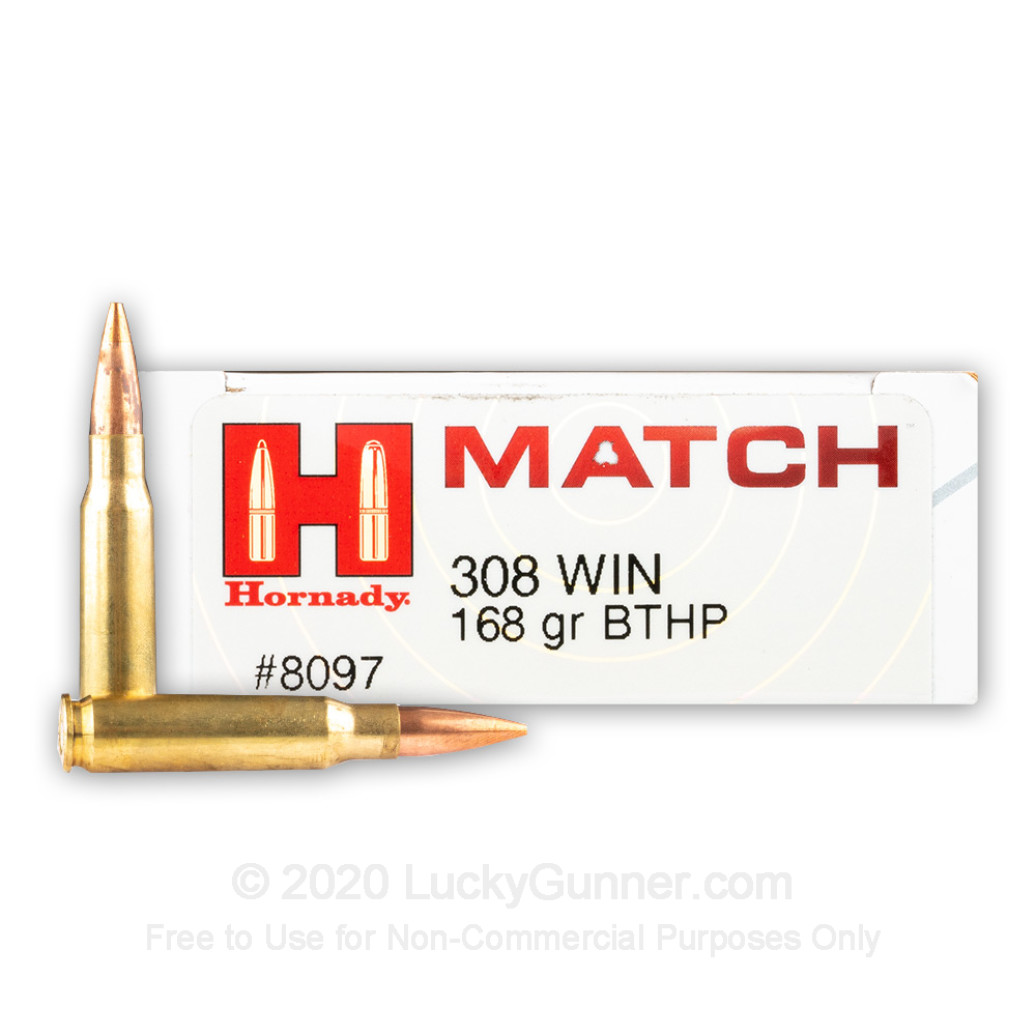 Hornady BTHP Match, 168 gr .308
Pros
Great for distance shooting
Popular and easy to find
Capable of sub-MOA groups
Cons
Not as accurate as other target ammos
Quick Specs:
Use: Match & Match Training
Bullet Weight: 168 gr
Muzzle Velocity: 2700 fps
Muzzle Energy: 2719 ft lbs
Type: Hollow-Point Boat Tail
Best .308 Ammunition for Hunting
Federal Premium designed the Federal Fusion line specifically for whitetail deer hunters, the first ammo manufacturer to do so, and this ammo serves that purpose very well. 
During manufacturing, Federal Premium puts Fusion bullets through a special electro-chemical process, which causes the lead core to join with the copper jacket, preventing core-jacket separation and increasing weight retention at impact, so that the bullet is more lethal, with deeper penetration when it expands upon entry into the target.
Fusion bullets also have a proprietary skived tip for superior accuracy and consistent expansion.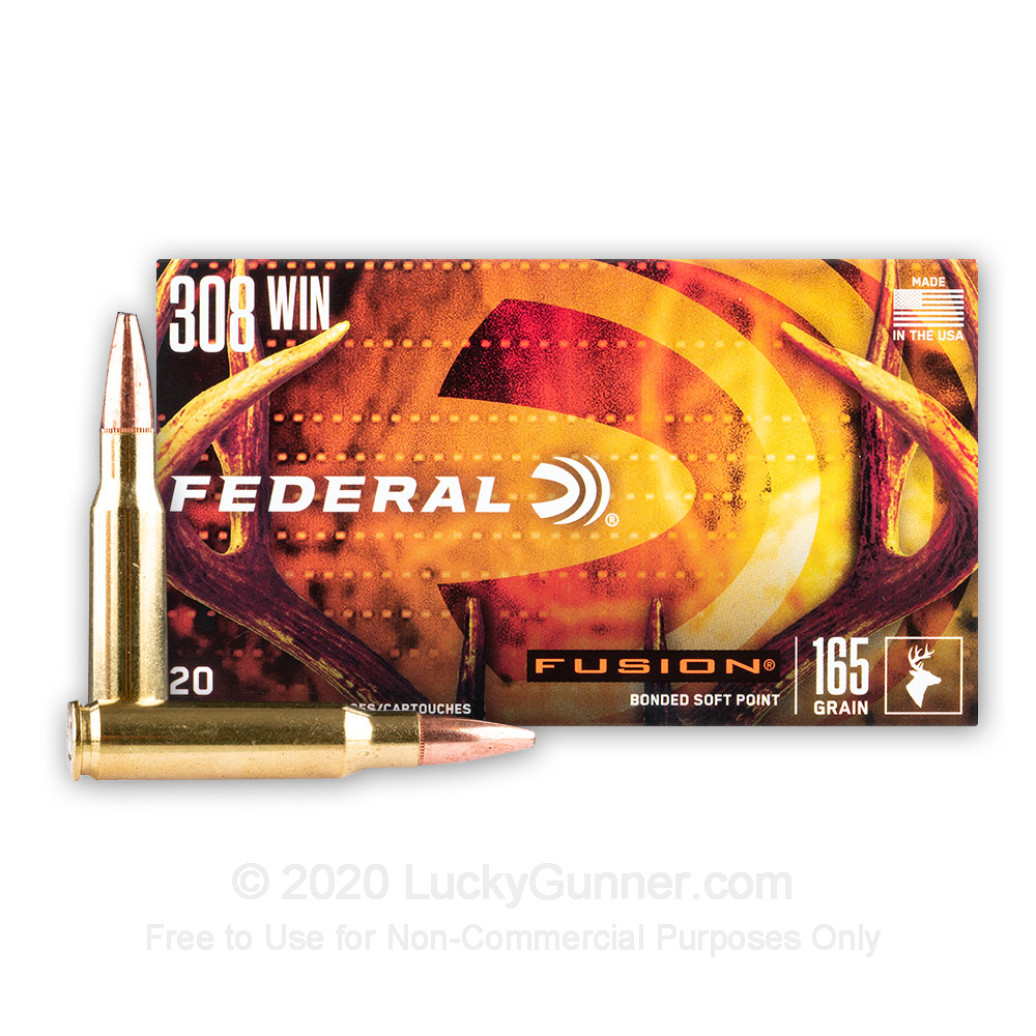 Federal Fusion, 165 gr .308
Pros
Designed for whitetail deer hunting
Electro-chemically treated bullets
Great weight retention
Quick Specs:
Use: Deer hunting
Bullet Weight: 165 gr
Muzzle Velocity: 2700 fps
Muzzle Energy: 2671 ft lbs
Type: Fusion
Though not explicitly designed for this purpose, Remington Core Lokt rounds are very popular whitetail rounds, especially for mid-range and closer. It does just fine for other mid-sized game, like boar, as well. 
The PSP stands for "Pointed Soft Point" and means that the bullet has a Spitzer shape, leading to higher velocity which, in turn, leads to flatter flight. The jacket is designed for consistent expansion to just under twice the bullet's starting diameter, while the bullet's core is mechanically locked in place for deeper penetration.
All of this leads to a more accurate, more deadly round, though it doesn't match the level of the Federal Fusion rounds we just discussed. On the other hand, it's also about 10 cents cheaper per round than the Federal Fusion and even more when it goes on sale, which is fairly often.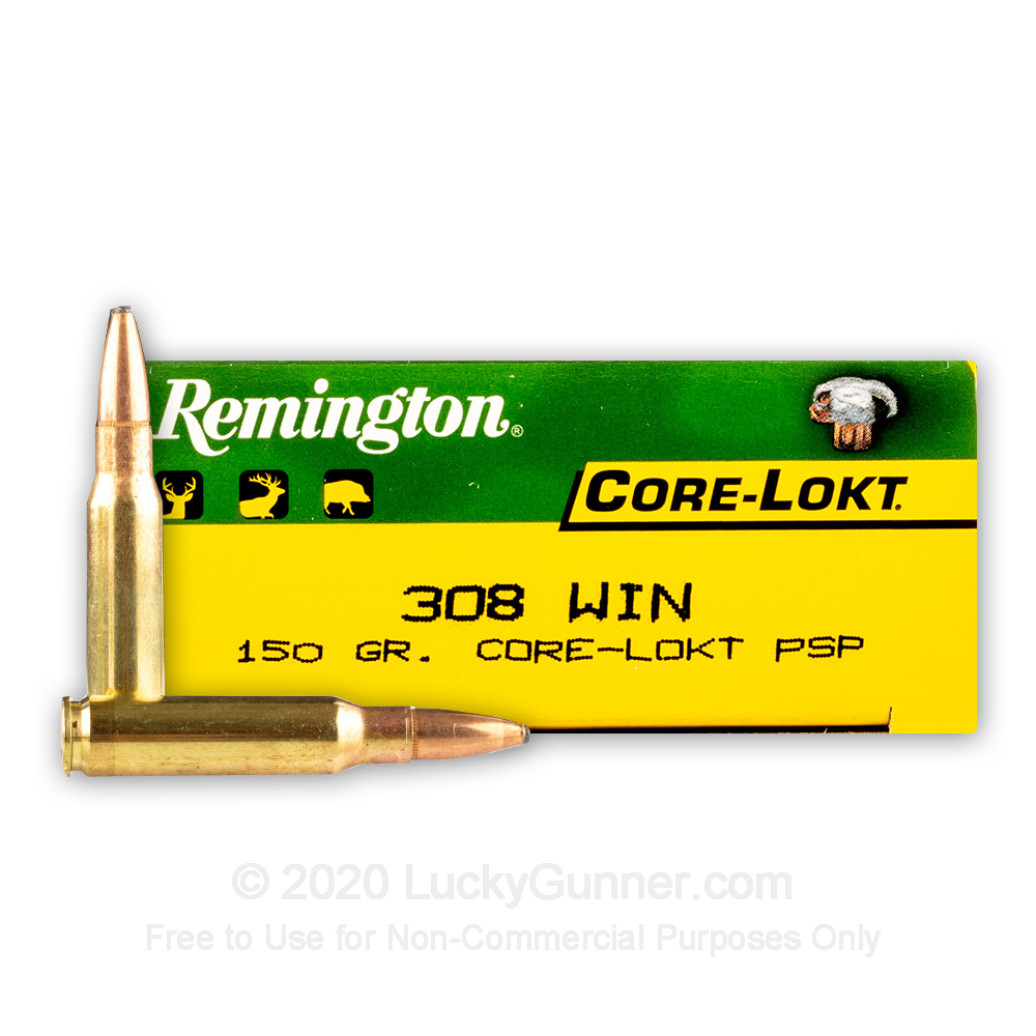 Remington Core Lokt 150gr PSP .308
Pros
Higher velocity bullets
Bullet's core is mechanically locked
Often on sale
Cons
Less damage than other rounds
Quick Specs:
Use: Hunting Mid-Size Game
Bullet Weight: 150 gr
Muzzle Velocity: 2820 fps
Muzzle Energy: 2648 ft lbs
Type: Pointed Soft-Point (PSP)
Last up is Hornady American Whitetail which, as the name suggests, is another round designed with whitetail deer hunting in mind, but it's suitable for other mid-size game, as well as large game.
What really makes American Whitetail stand out is the InterLock bullet, a patented Hornady design. Hornady's InterLock bullets are not dissimilar to Remington's Core Lokt bullets, with have exposed lead tips and jackets that mechanically lock to the bullet's core.
This leads to strong weight retention, consistent expansion, and excellent ballistic performance all the way up to and through the point at which the bullet makes impact with its target.
The round's ideal range is around 80 to 175 yards and it's particularly well suited for bolt action rifles.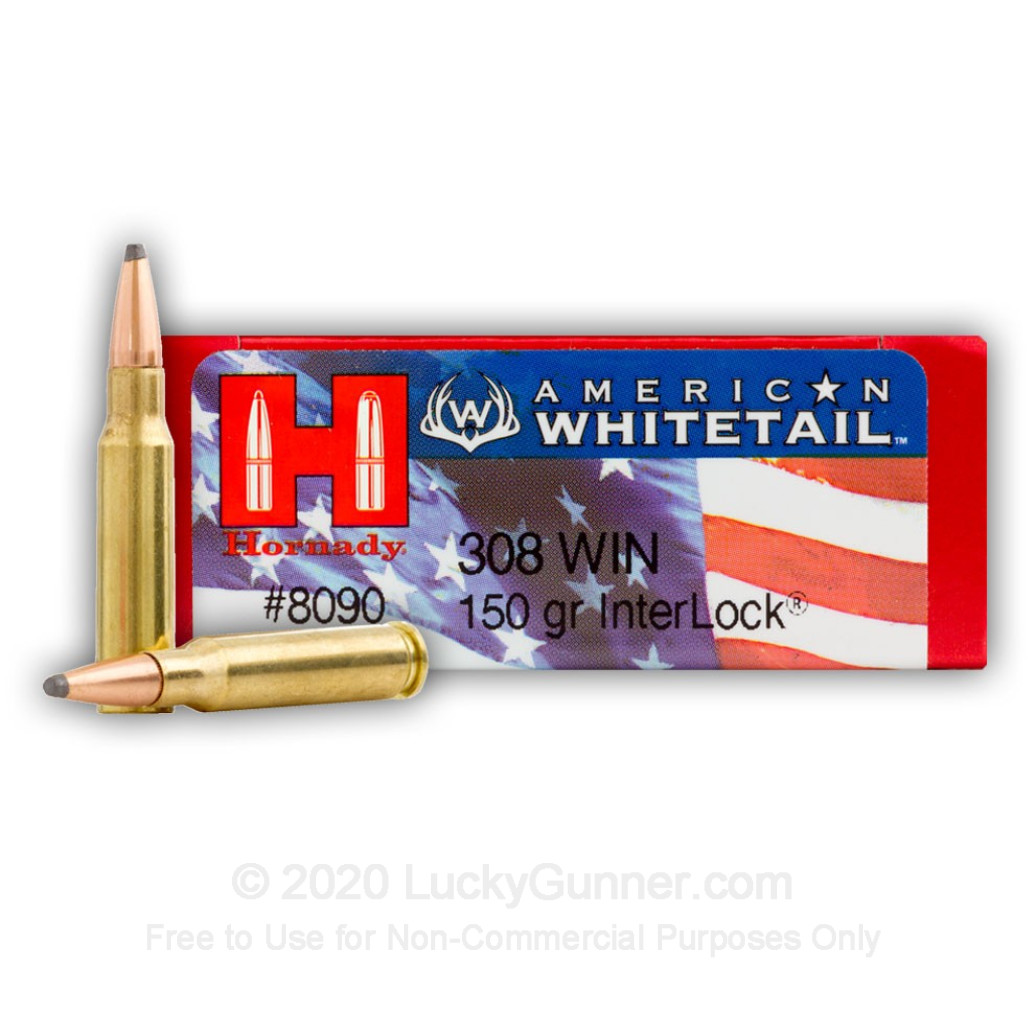 Hornady 150 gr InterLock SP American Whitetail .308
Pros
Strong weight retention
Consistent expansion
Mechanically locked bullet core
Cons
80 to 175 yards idea range
Quick Specs:
Use: Deer Hunting
Bullet Weight: 150 gr
Muzzle Velocity: 2820 fps
Muzzle Energy: 2649 ft lbs
Type: Soft-Point (SP)
Parting Shots
.308 Winchester is an excellent general-purpose round, and these are just a few of the strongest examples. These will all serve you really well, but don't be afraid to get out there and experiment with several different rounds to find one that works well with your rifle and for your purposes. 
Or take your ammunition to the next level by handloading your own custom rounds.
And if you're still not sure that .308 is right for you, check out our guide to rifle calibers to learn more about the different options available to you. If you know you want to go with .308 but aren't sure which rifle you want to choose, check out our list of the best long-range rifles for beginners to find some great options.
Do you have a favorite .308 round? A favorite .308 rifle? What's your preferred use for .308 Win? Let us know and share any other thoughts you have in the comments.