Red dot and holo sights are great when things are up close and personal, but what about at longer distances? In these situations, adding a magnifier can help you extend the range of your optic and get more out of it.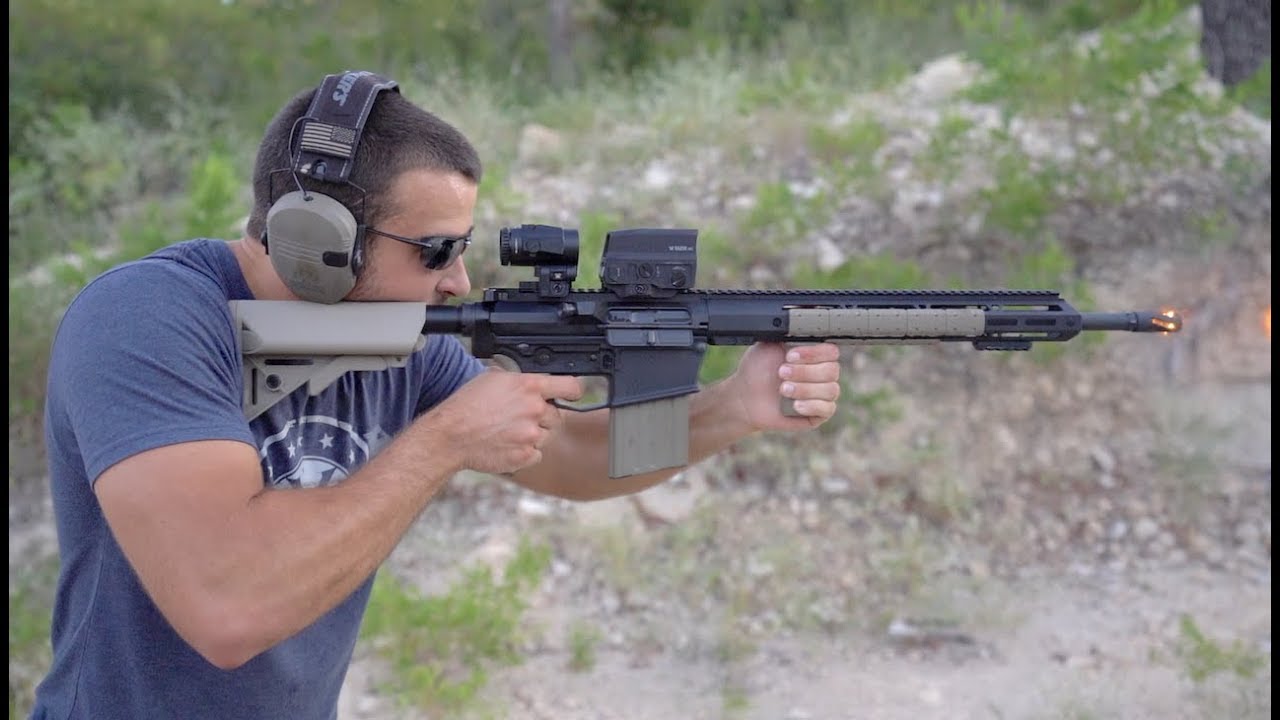 There are tons of optics out there for you to choose from and a wide range of prices, but in many cases, the price doesn't actually reflect the quality of the magnifier. And let's be honest: we're not all in a position to drop $400 or more on a magnifier without a mount.
But you're in luck, because we've put together this guide to 3x magnifiers to help you find the best ones at a variety of price points. 
Read on to find the perfect 3x magnifier for you and your budget.
Best 3x Magnifiers
So what do you think? Did we convince you to go with one particular magnifier? Do you have another magnifier of choice that we didn't include here? Let us know in the comments!
EOTech has a reputation for killer optics and the EOTech Model G33 Magnifier is the perfect complement to any of their holographic sights. If you've used a previous model of magnifier from EOTech, this one is like that, but better.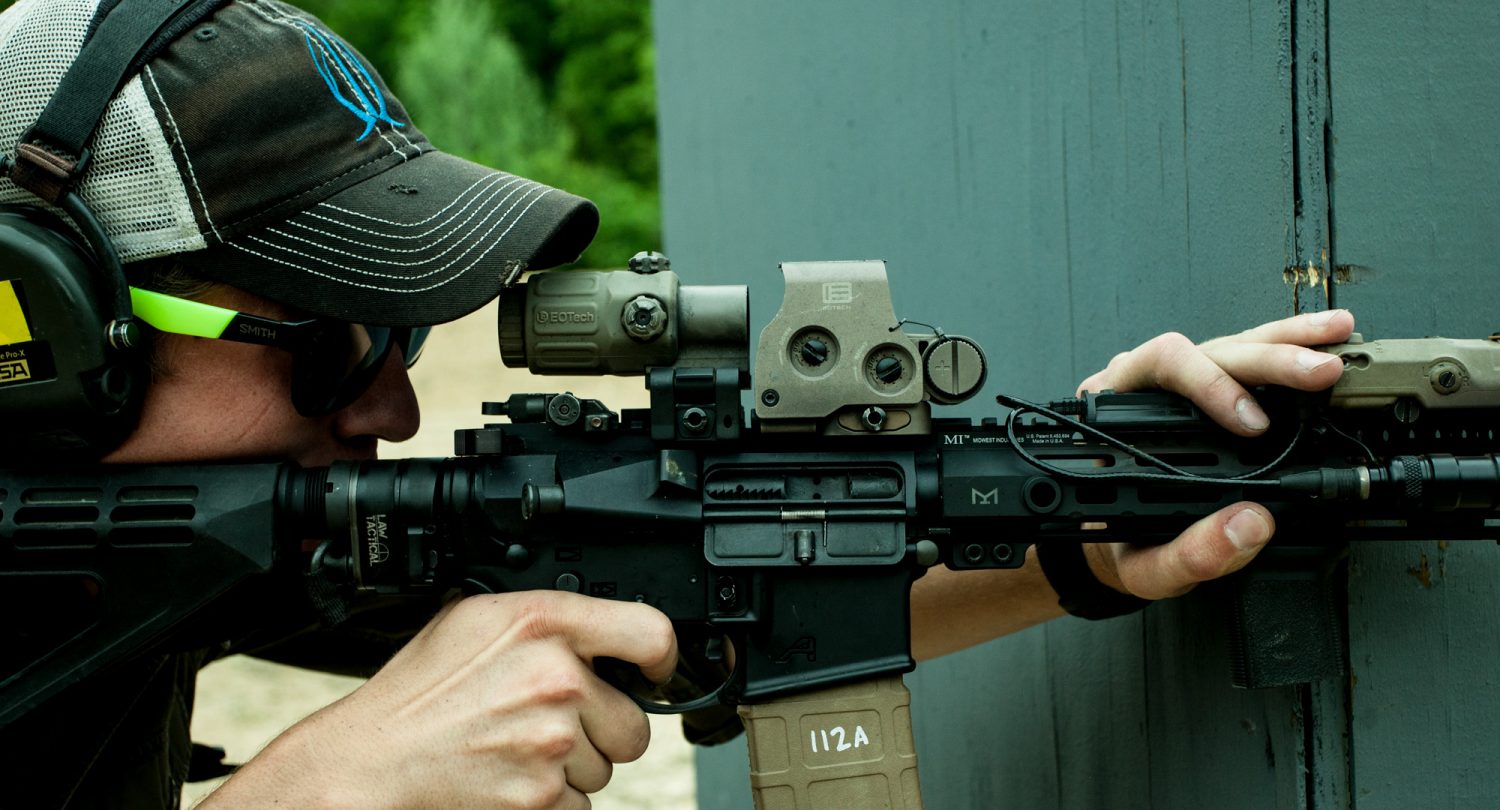 It's smaller and lighter than previous models but has a larger field-of-view. It also has an adjustable diopter for better focusing and an improved easy to use switch-to-side mount that makes it simple to swap between 1x and 3x magnification levels. 
The weaver-style mount is quick and easy to install and allows you to swap which side the magnifier flips to so right-handed shooters can have it flip to the right and vice-versa. 
The magnifier itself has fog-resistant sealing to make sure that moisture stays on the right side of the crystal clear lenses. It's submersible up to 33 feet, so it'll definitely stand up in whatever weather you find yourself in.
The EOTech Model G33 offers a field of view of 7.3° and eye relief of 2.2 inches.
The magnifier comes in both black and tan.
Obviously this is a high-end magnifier, but the downside is that it also comes with a high-end price tag and not all of us can afford to drop that kind of cash on a magnifier (though EOTech's 10-year warranty does help justify the cost).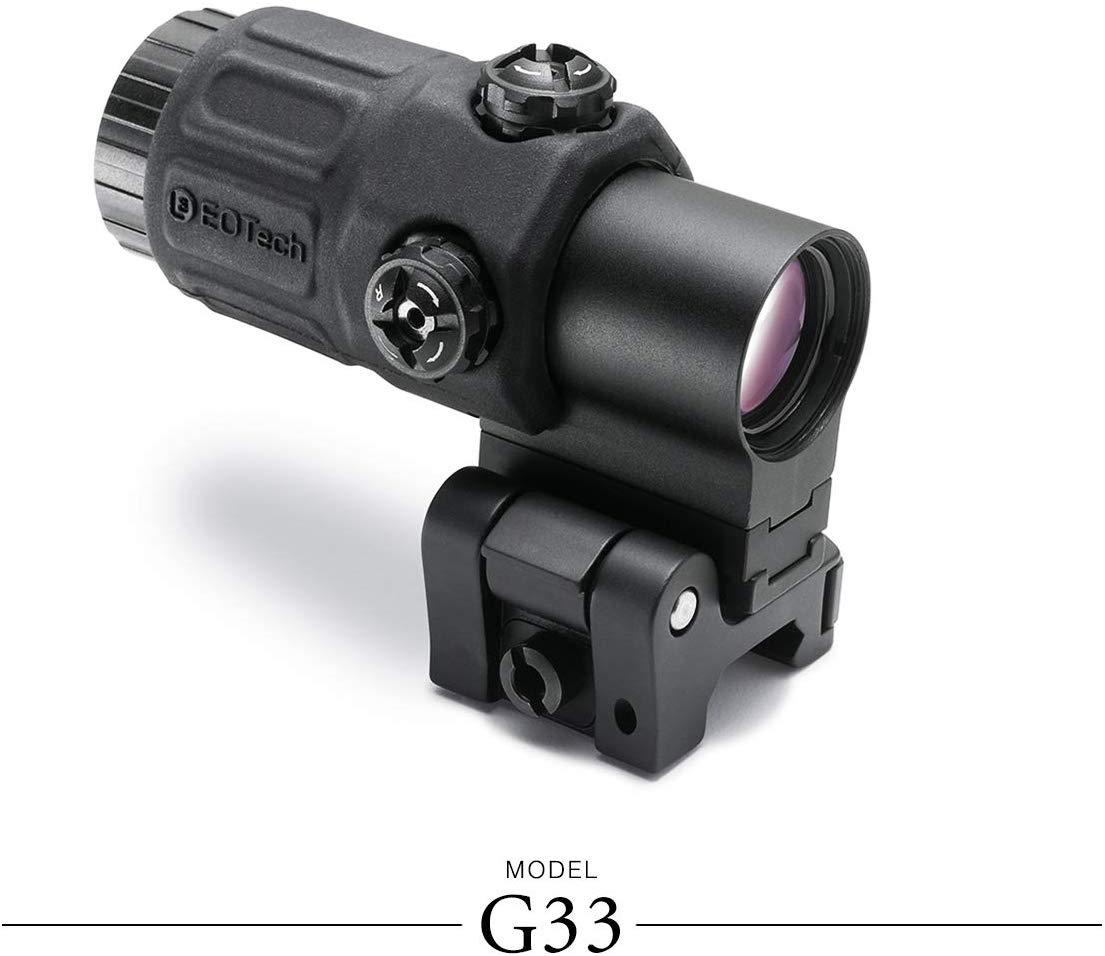 EOTech Model G33 Magnifier
In fact, it comes in at about twice the price of the next most expensive magnifier on our list. 
Speaking of which…
Meet the Burris AR-Tripler, a more affordable, but still high-quality 3x magnifier.
This magnifier is made out of rugged, lightweight aircraft-grade aluminum with a weather-protection coating. It also has a multi-coated 30 mm objective lens, which provides a crisp picture in a variety of light conditions.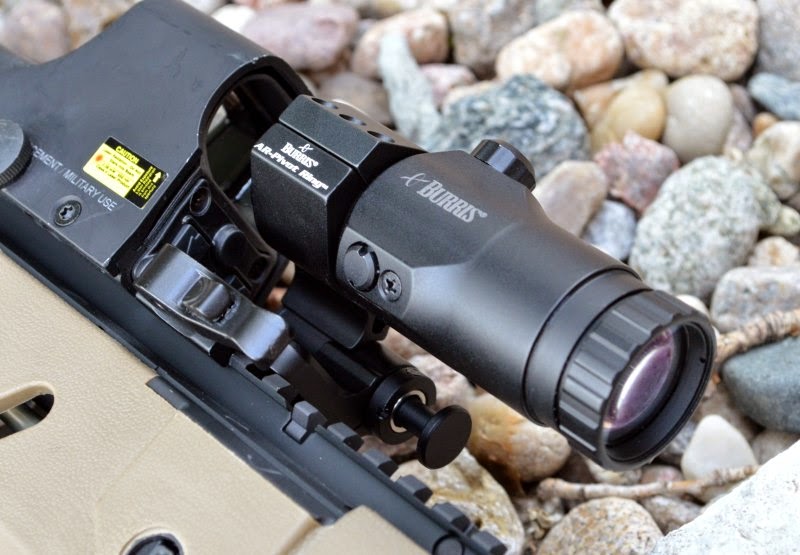 The lens offers a pretty solid field of view of 44 feet and 100 yards, and eye relief is decent at approximately 2.5 inches. You get 80 MOA of adjustment on both windage and elevation.
Like the EOTech option, this magnifier can be easily pivoted to the side and back to switch back and forth between 3x to 1x magnification just by pushing a button. 
Unlike the EOTech option, this magnifier can be used with almost any 1 power optic – and on virtually any weapon.
The easy to use pivot ring, Picatinny rail mount, and quick detach thumb lever makes this magnifier incredibly simple to install.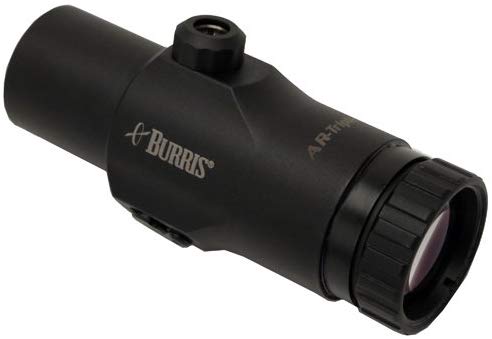 The magnifier comes with a durable protective case, but if something does happen to your magnifier, a lifetime warranty protects your investment. Between that and just the all-around quality of this magnifier, the Burris AR-Tripler offers value that's hard to beat.
A slightly less expensive option and another great value is the Vortex 3x Magnifier.
It has a built-in flip mount that can be switched between flipping to the left or right side. The mount is easy to use with just your off hand.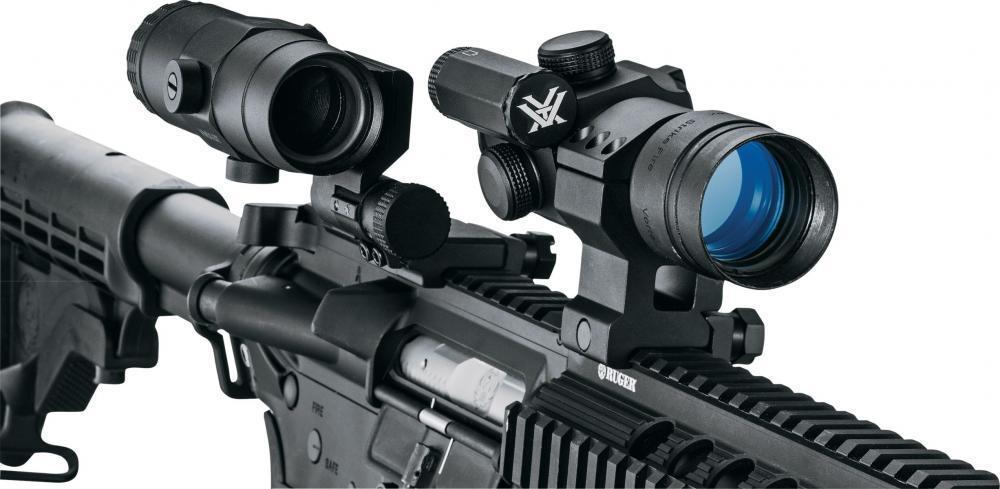 The clarity of the glass on the magnifier is comparable to that of more expensive magnifiers. It offers a 38.2-foot field of view and eye relief of 2.2 inches.
The lens is multi-coated for superior light transmission and the body is made of durable and light hard-coat-anodized machined aluminum. The magnifier is also internally nitrogen purged for water- and fog-proofness. 
And it has a lifetime warranty so you know your hard-earned money wasn't wasted if something happens anyway.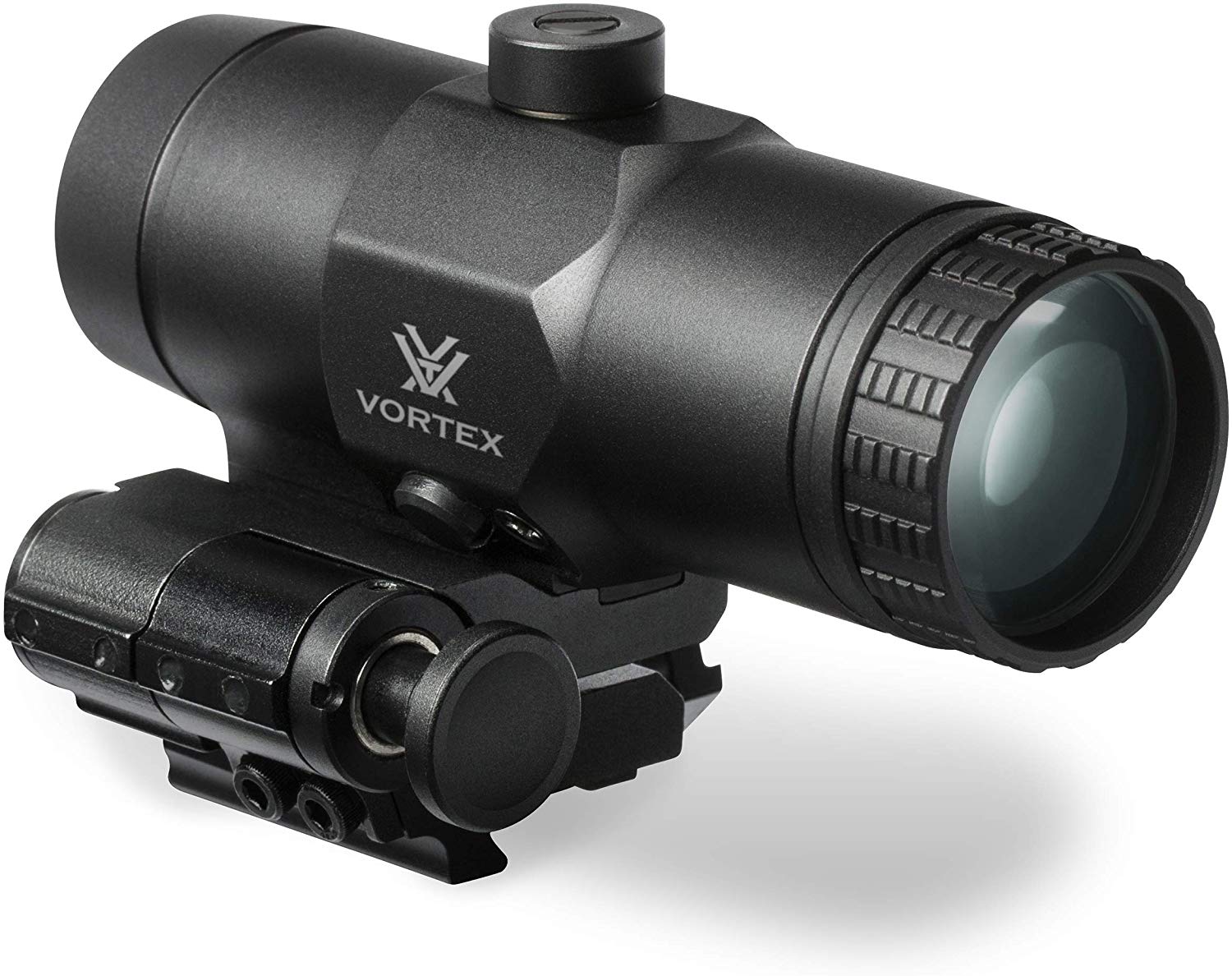 Vortex VMX-3T 3x Magnifier
The Vortex VMX-3T Magnifier is very lightweight, only 11.5 ounces, and slim enough that you can use Magpul backup iron sights underneath. This makes it a great option for those who like to switch between various sighting options in the field.
Last up and the most budget-friendly of the bunch is the Primary Arms 3x LER Magnifier Gen IV.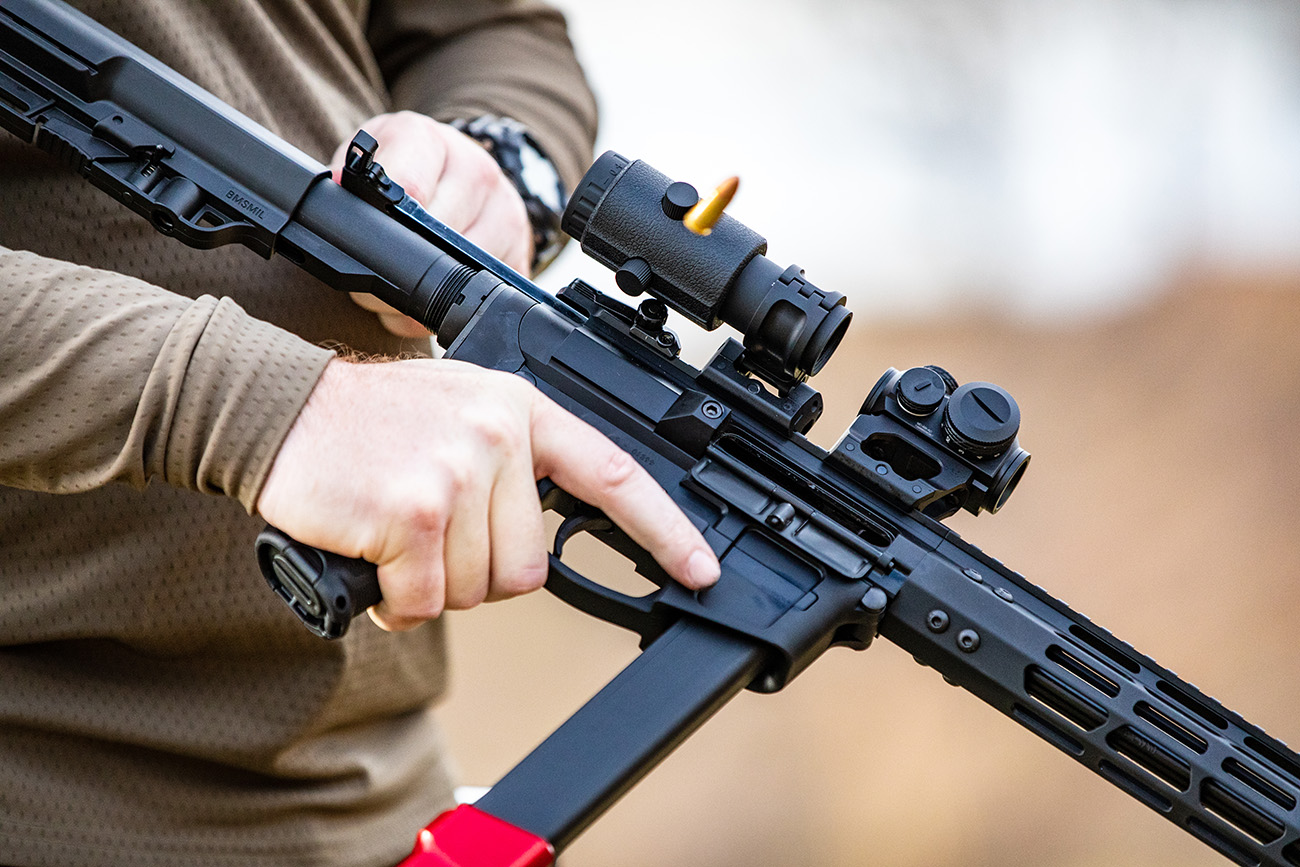 It'll cost you only about $100. However, it doesn't come with a mount, so you'll need to pick up one of those as well. Primary Arms has a few magnifier mounts ranging in price from about $50 to $80, but you could use a mount from another company too. We recommend opting for a flip to side option for the convenience. 
Regardless, even with the added cost of purchasing a mount, you're still paying less than you would for any of the other 3x magnifiers on this list. 
Anyway, back to the magnifier itself.
With the Gen IV version, Primary Arms has improved the clarity of the lens so it's now on par with the Vortex magnifier above, extended the eye relief to 2.64 inches, and widened the field of view to 37.93 feet.
The magnifier is waterproof and fog proof, and has a rubber sleeve to protect it from impacts.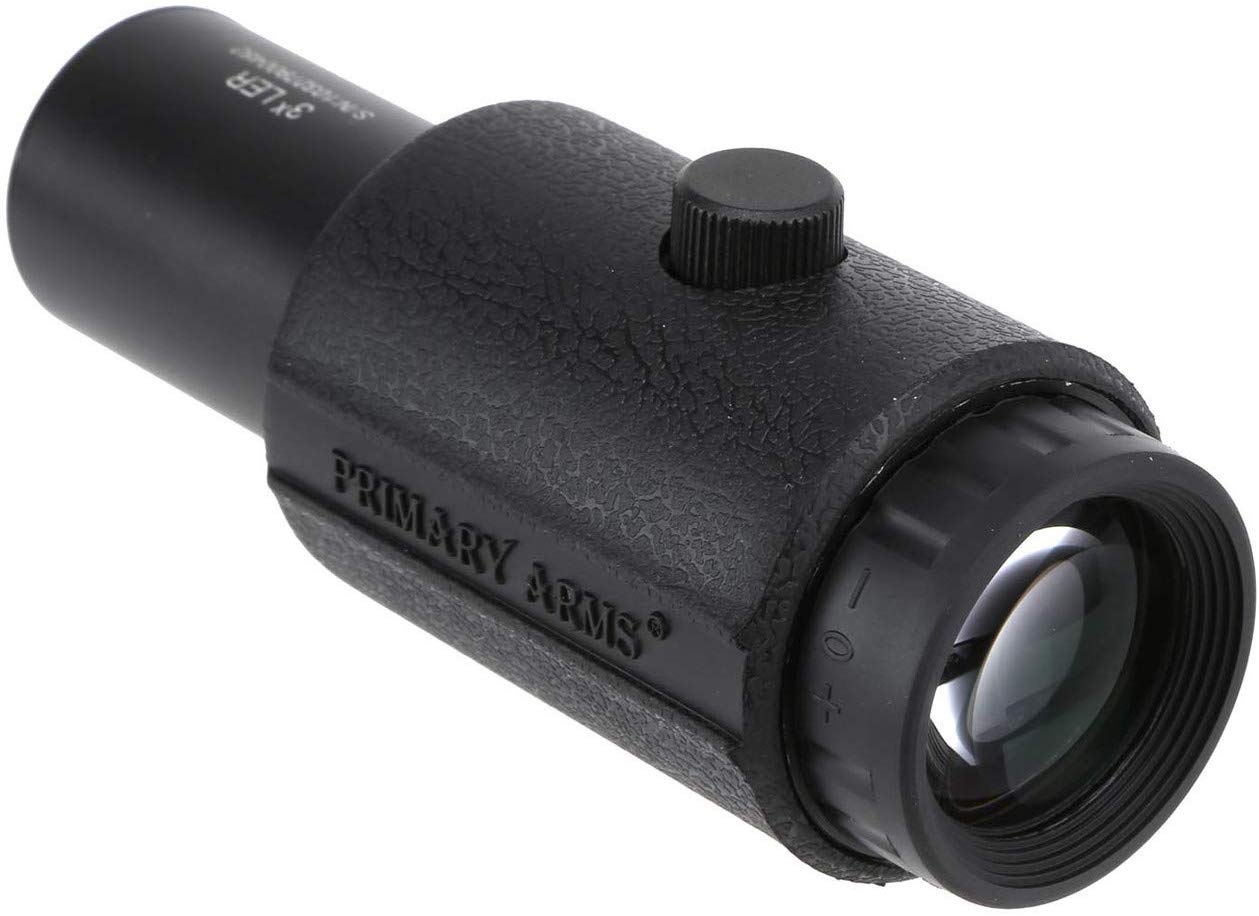 Primary Arms 3x LER Magnifier Gen IV
Aside from the lack of mount, the other downside to this magnifier is that it's bigger and (once you factor in the weight of a mount) heavier than the other magnifiers on this list. You'll have to decide for yourself how much of a problem that is. 
Conclusion
Here's our final rundown:
If you want the best value for your dollar, then go with either the Burris or Vortex magnifiers.
If you just want the best and money is no object, then the EoTech Model G33 is hard to beat.
And if you have a limited budget, don't worry: the Primary Arms 3x magnifier will still do you just fine, especially if you already have a good optic to pair it with. 
On that note, if you're still looking for the perfect red dot to go with your 3x magnifier or are just interested in seeing what's out there, check out the Best Red Dot Optics for Under $200 and the Best AR-15 Optics. 
So what do you think? Did we convince you to go with one particular magnifier? Do you have another magnifier of choice that we didn't include here? Let us know in the comments!