.45 ACP, also called .45 Auto, is one of the leading handguns rounds for personal defense with an excellent reputation for both stopping power and reliability among military, law enforcement, and civilians alike.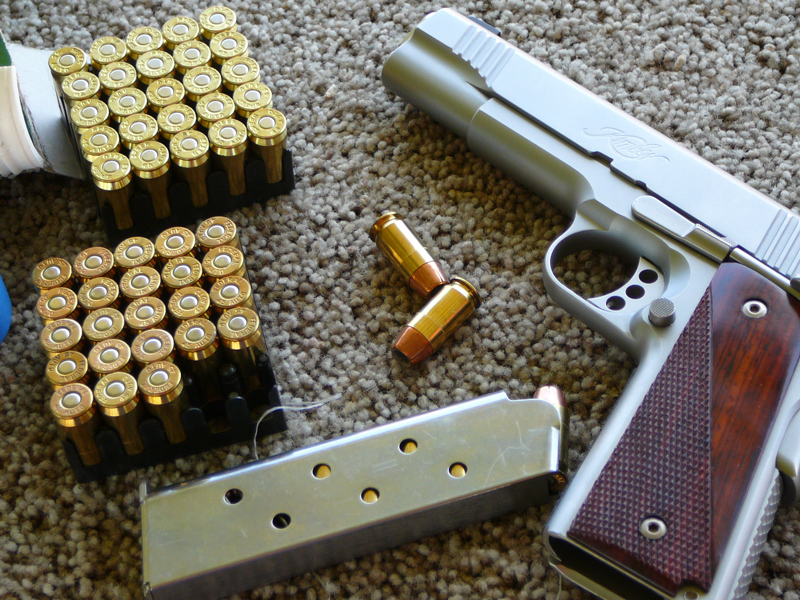 Of course, there are plenty of other options out there–like 9mm, 11mm, .40 S&W, and .380 ACP–but .45 ACP has earned itself a devoted following that's happy to preach all the reasons that they think it's the best handgun round for self-defense.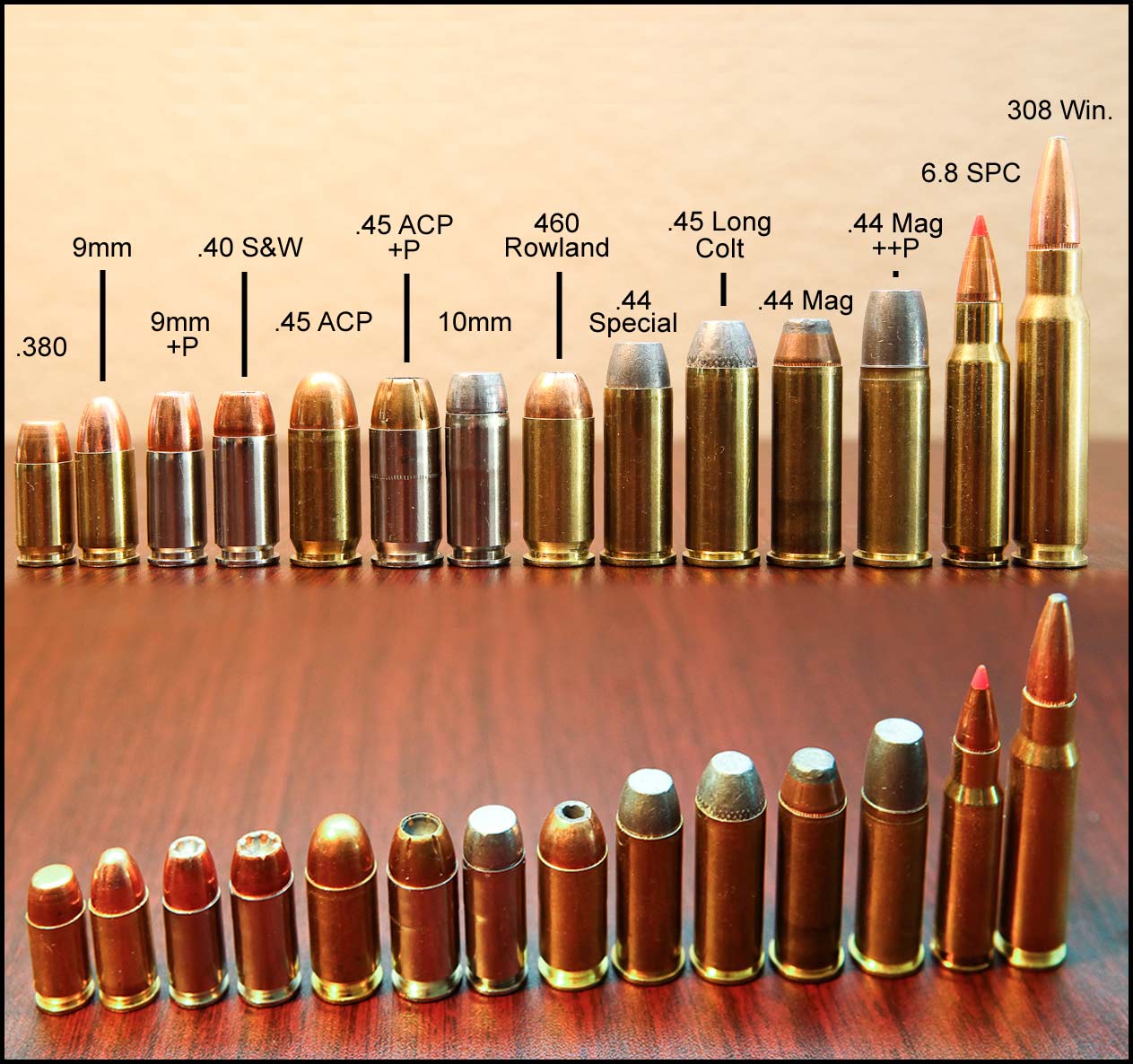 Maybe you're part of that following or maybe you're just doing some research to help you pick a caliber for your first (or next) handgun. 
Either way, settle in to learn a bit about the history and advantages of this venerable round before we dive into some of our top .45 ACP ammunition recommendations for personal defense and at the range.
.45 ACP History
In 1904, the U.S. Army decided that a .45 caliber was the minimum acceptable caliber for service handguns after smaller caliber rounds failed to stop Moro warriors during the American-Philippine War, while .45 Colt was found to have sufficient stopping power.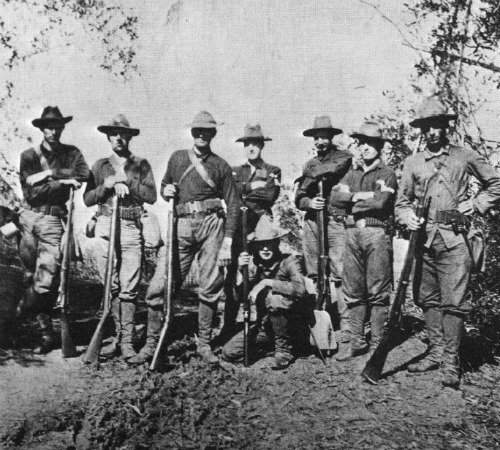 So, in 1905, they asked Colt to enlarge the .41 caliber round that they had already been working with Browning to develop, resulting in the earliest version of the .45 ACP cartridge. At the same time, Colt also increased the caliber of the pistol that they had been working on to go with the .41 caliber round.
But the round wasn't finished yet. It, along with the pistol, still had to go through trials to compare them with round and pistol combinations from five other competing manufacturers: Bergmann, Deutsche Waffen und Munitionsfabriken (DWM), Savage Arms Company, Knoble, Webley, and White-Merrill.
Only Colt, Savage Arms, and DWM passed the initial phase, conducted in 1906, but DWM elected to withdraw at this point, for reasons that we can only speculate about since they never volunteered an explanation of their own.
But the round still wasn't finished and Savage and Colt both had issues to address.
The next round of trials went from 1907 to 1911. One particularly standout round involved shooting six thousand rounds from a single pistol over two days, only cooling the pistols by submerging them in water.
The Savage pistol had 37 malfunctions, which isn't too bad for testing that rigorous but doesn't compare to Colt's zero malfunctions.
At last, in 1911, after a series of successful trials, .45 ACP and the pistol designed to match it were both formally adopted by the Army, with the pistol being dubbed the Colt M1911. You may have heard of it.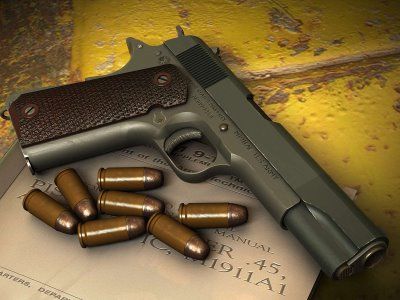 Why .45 ACP?
Even more than a century later, .45 is one of the most popular defensive rounds among not just military, but also law enforcement and civilians, and for good reason. 
To this day, .45 ACP is still the go-to round for 1911s, but there are also many other guns available chambered for .45 ACP.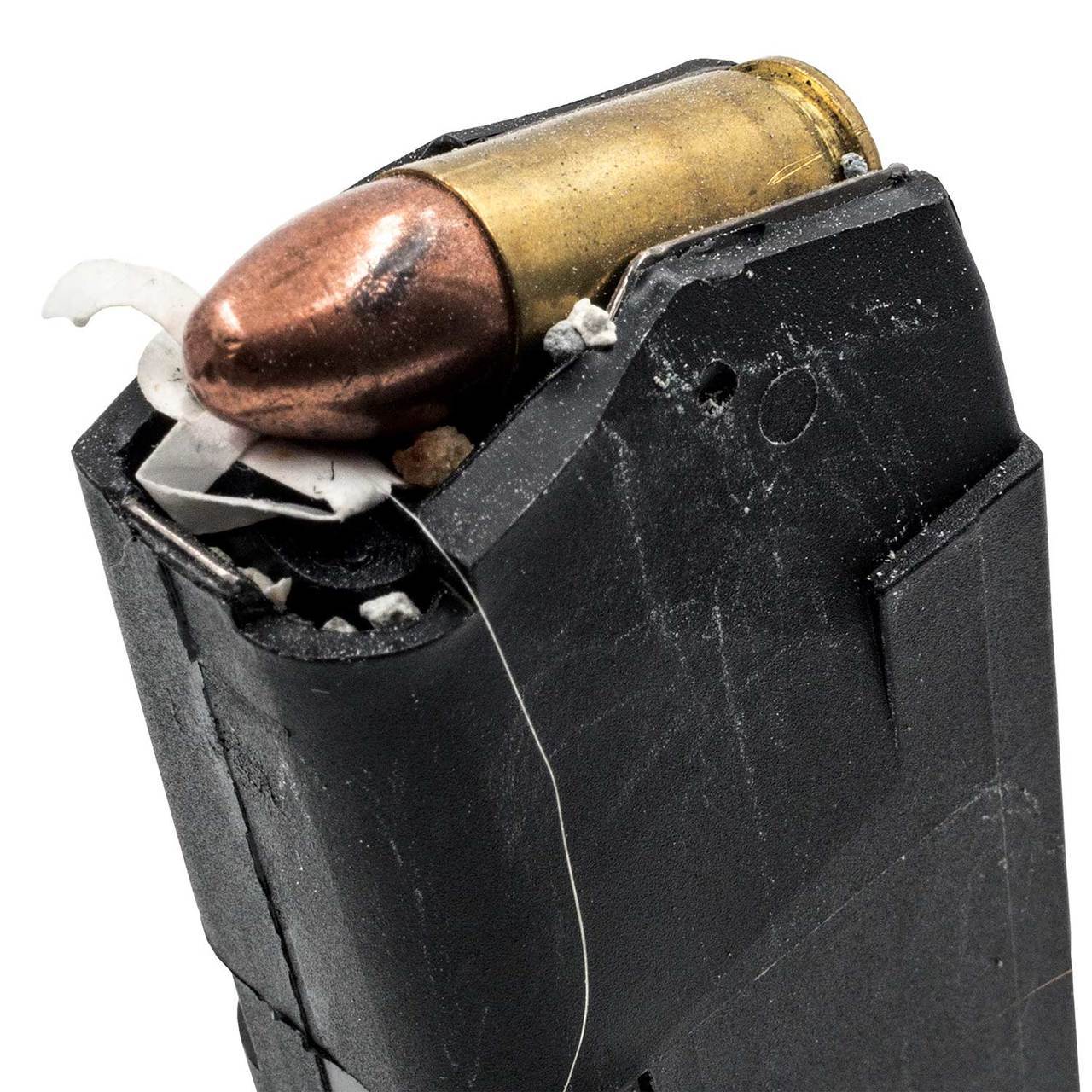 Why?
Well, .45 ACP was designed for optimal stopping power against even the toughest assailants with the least desire for self-preservation, so saying it makes an excellent self-defense round seems like something of an understatement. 
Sure, the 9mm versus .45 ACP debate rages on, despite who knows how many articles and blog posts that claim to definitively put the debate to rest and 9mm is still the best selling handgun round, but many people still prefer .45 ACP for its stopping power and association with the M1911, and it's frequently considered the best handgun round for self-defense.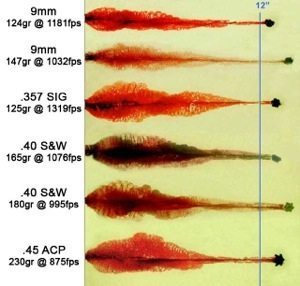 In addition, .45 ACP is not only powerful but also heavily reliable. And, after all, there is no situation in which the stakes are higher than in a personal defense scenario. 
In these moments, you need rounds that just work: they should chamber smoothly with no malfunctions and they should have the stopping power necessary to neutralize the threat. Anything less can be the difference between life and death.
Speaking of which, let's get to the recommendations.
Best .45 ACP Ammo for Self Defense
Winchester is obviously a huge name in firearms which, at least in theory, offers some assurance of the quality of all the products that they manufacture. 
Winchester Supreme Elite PDX-1 rounds are certainly up to the Winchester standard. They're at the upper end of the scale in terms of cost, but they also offer high-end performance.
These rounds use the Winchester Ranger Bonded bullet. The core of these bullets is chemically fused to the jacket to prevent core-jacket separation and improve weight retention, making them more effective when they come up against barriers like clothing and bone.
It's the same bullet in a larger caliber as the 180 gr .40S&W load used by the FBI for their service weapons.
It offers wide, consistent expansion to .652" and penetration that meets FBI standards. The hollow point helps with controlled penetration, and average penetration is about 18" in ballistics gel tests.
This round is also highly reliable and malfunctions are exceedingly rare, especially in the short bursts of shots used in most personal defense situations. The nickel-plated brass casing prevents corrosion and promotes reliable feeding, while the boxer-style priming system allows for easy reloading.
It's a high energy round designed for optimal terminal ballistics and perfect for personal defense.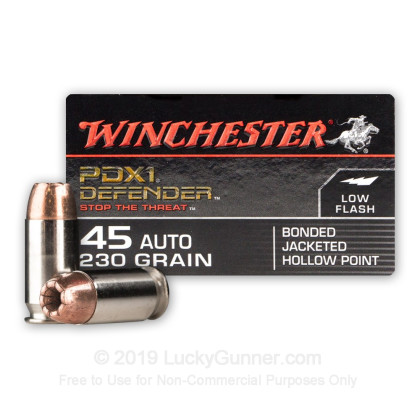 Winchester Supreme Elite PDX-1 230 gr .45 ACP
Pros
High end performance
Consistent expansion
Nickel-plated brass casing
Quick Specs:
Bullet Weight: 230 gr
Muzzle Velocity: 882 ft/sec
Muzzle Energy: 432 ft lbs
Bullet Type: Jacketed Hollow-Point (JHP)
Average Penetration: 17.9"
Average Expansion: .652"
Like Winchester is one of the biggest names in guns, Federal Premium is one of the biggest names in ammunition, and the Personal Defense HST line is a popular line of defensive rounds from .380 Auto up to .45 ACP.
Like the Winchester round we just discussed, Personal Defense HST rounds are also designed to meet FBI and other law enforcement requirements, and they're used by many law enforcement agencies around the United States.
In constructing these rounds, Federal Premium improved upon their well-known and well-loved Hydra-Shok bullet, which you may already be familiar with if you're already familiar with Federal's products. 
The bullets aren't bonded, but they're still excellently made, with 13.4" average penetration in ballistics gel tests and consistent expansion to an average of .84". Federal also specially designed the bullet's hollow point to prevent it from getting plugged when shooting through barriers and clothing, as can happen with other rounds.
The case is nickel-plated brass for reliability and corrosion resistance and the rounds are boxer-primed.
Federal advertises that these rounds have a muzzle velocity of 890 feet per second, which is pretty solid anyway, but some shooters actually report recording even higher velocities in certain firearms.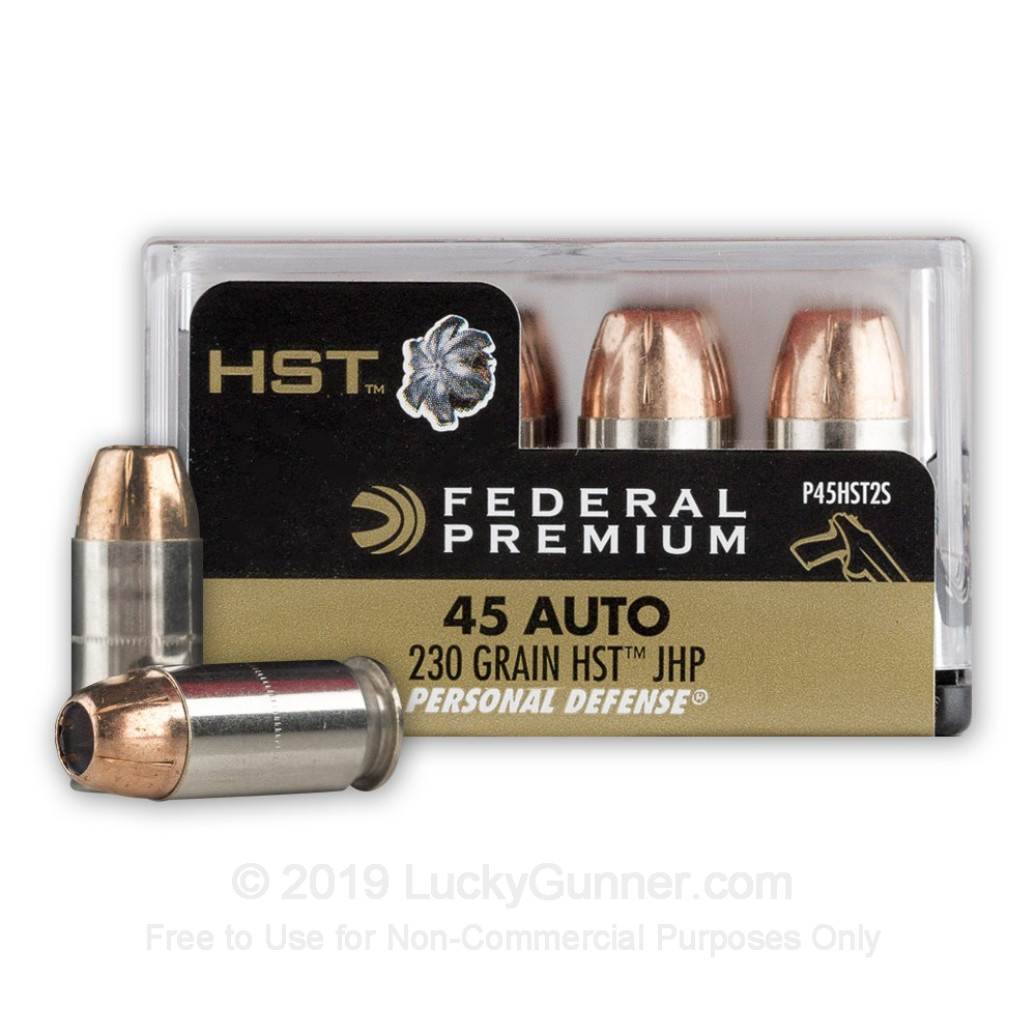 Federal Premium Personal Defense HST 230 gr .45 ACP
Pros
Great expansion and penetration
Designed to prevent the hollow point from plugging
Boxer primed
Quick Specs:
Bullet Weight: 230 gr
Muzzle Velocity: 890 ft/sec
Muzzle Energy: 404 ft lbs
Bullet Type: Jacketed Hollow-Point (JHP)
Average Penetration: 13.4"
Average Expansion: .840"
This next round is has been around for quite a while and was designed for law enforcement, so you know it has reliable stopping power. It continues to be a popular round among law enforcement today.
While Speer Gold Dot doesn't offer as much penetration as other rounds, it's a good option if you're concerned about over-penetration. With an average penetration of 12.9" in ballistics gel tests, it's still got enough penetration for self-defense, but with far less risk of over-penetration than other high-end defensive rounds.
It offers excellent, consistent expansion, up to .707" on average. Bullets are chemically bonded and alloy coated, preventing separation, improving weight retention, enhancing bullet strength, and encourage clean firing.
In addition to their excellent stopping power, these rounds feed reliably just about every time. 
Like the other rounds we've discussed so far, Speer Gold Dot rounds have a nickel-plated case with a boxer priming system.
Speer also offers a .45 ACP Gold Dot round with a 185-grain bullet, which offers higher velocity and energy, slightly improved expansion, and average penetration that's about an inch deeper, making it better for longer barreled handguns.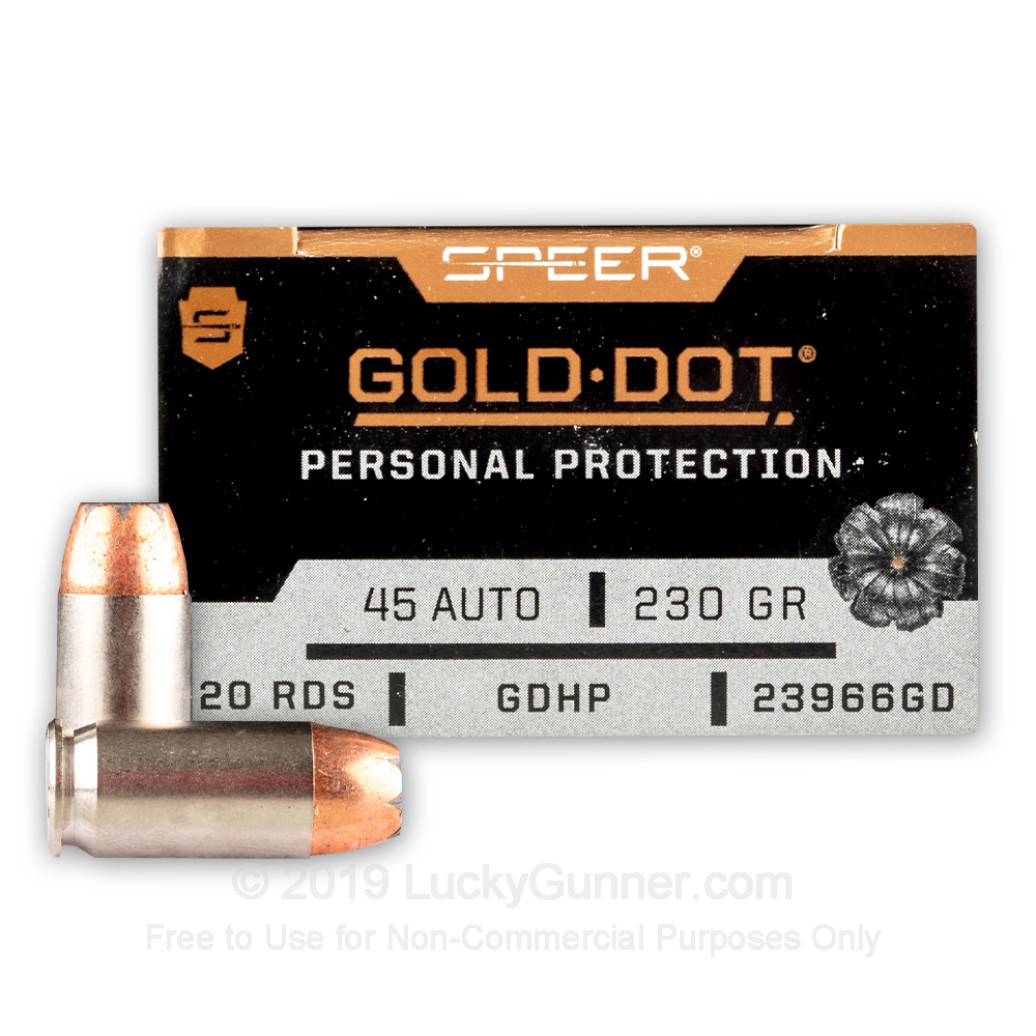 Speer Gold Dot 230 gr .45 ACP
Pros
Chemically bonded, alloy coated bullets
Reliable feed
Clean firing
Quick Specs:
Bullet Weight: 230 gr
Muzzle Velocity: 890 ft/sec
Muzzle Energy: 405 ft lbs
Bullet Type: Jacketed Hollow-Point (JHP)
Average Penetration: 12.9"
Average Expansion: .707"
This last personal defense round is from Hornady, another big name in ammo, and this list just wouldn't be complete without it. While we have it categorized as a personal-defense round, it's really an excellent all-around cartridge for not just self-defense, but also match shooting and even hunting medium-sized and smaller game. 
The Custom product line is one of Hornady's best, but it's more affordable than a lot of other high-end bullets, making it great for shooters on a budget. 
The brass cases are carefully designed and selected to ensure corrosion resistance, reliable feeding, and that they have the necessary hardness and pressure resistance. On the other hand, plain brass isn't as good for reloading as the nickel-plated alternative, but you can still reload these cartridges. 
Of course, that doesn't really matter if you weren't planning on reloading anyway. (Though if you're interested in reloading but aren't sure how to get started, you can learn more from our Beginner's Guide to Reloading.)
The powder is carefully loaded for the right level of pressure as well as consistency between rounds. Rounds are boxer primed.
These rounds feature Hornady's XTP bullet, which has several excellent features of its own. 
It's a jacketed hollow point, a design that allows for high-impact energy transfer and good expansion.
The jacket is strategically scored and varies in thickness across the length of the bullet, features which both work to keep the bullet's expansion controlled and consistent. In addition, the jacket protects the bullet's nose to ensure proper feeding and expansion. 
Finally, the core density is completely uniform to keep the bullet stable in flight and make sure the bullet expands evenly and consistently when it hits its target.
In addition, this round has a lighter bullet than the other rounds we've discussed, which allows for slightly higher velocity, but also somewhat lower energy.
All of these features combine to create a reliable round with excellent accuracy, impressive expansion, and deep penetration.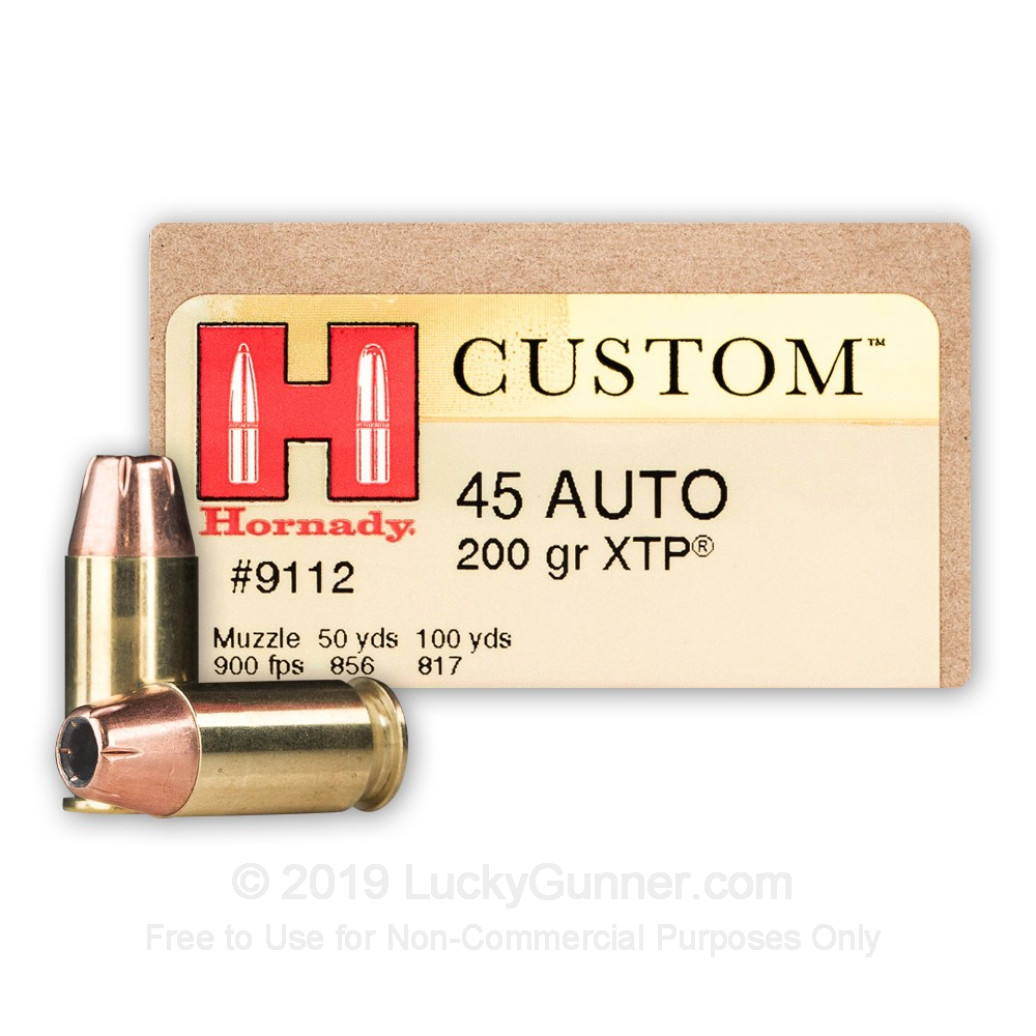 Hornady Custom .45 ACP 200 gr XTP
Pros
Corrosion resistant
Consistent, reliable pressure
Controlled, even expansion
There's also a great +P, 230-grain version, but that should only be used with firearms approved to handle the extra pressure.
For all of you reloaders, the bullet can also be purchased by itself, as well as in 185-grain and 230-grain versions
Quick Specs:
Bullet Weight: 200 gr
Muzzle Velocity: 900 ft/sec
Muzzle Energy: 360 ft lbs
Bullet Type: Jacketed Hollow-Point (JHP)
Average Penetration: 18.1"
Average Expansion: .555"
Best .45 ACP Ammo for the Range
Of course, you don't want to use up your good defensive ammo hitting targets, but that doesn't mean you want to use just any junk either. Here are our top picks for training and just-for-fun shooting at the range.
American Eagle is a Federal Premium brand so, as we already discussed, it's backed by one of the biggest names in ammo. American Eagle is a solid, mid-range product line across all calibers, including .45 ACP, and is one of Federal's more popular lines.
With similar energy and velocity to defensive rounds, American Eagle .45 ACP is ideal for training, as the similar ballistic performance helps match the recoil of defensive rounds so your training is more effective.
Another huge advantage of these rounds is that they're really easy to find. You can walk into just about anywhere that sells ammo, pick up a box of these, and know exactly what you're getting: a reliable round with consistent performance.
The big downside of these rounds is the trayless packaging. It makes the boxes smaller, but once you've removed more than a few rounds, the remaining cartridges tend to jumble, making loading inconvenient.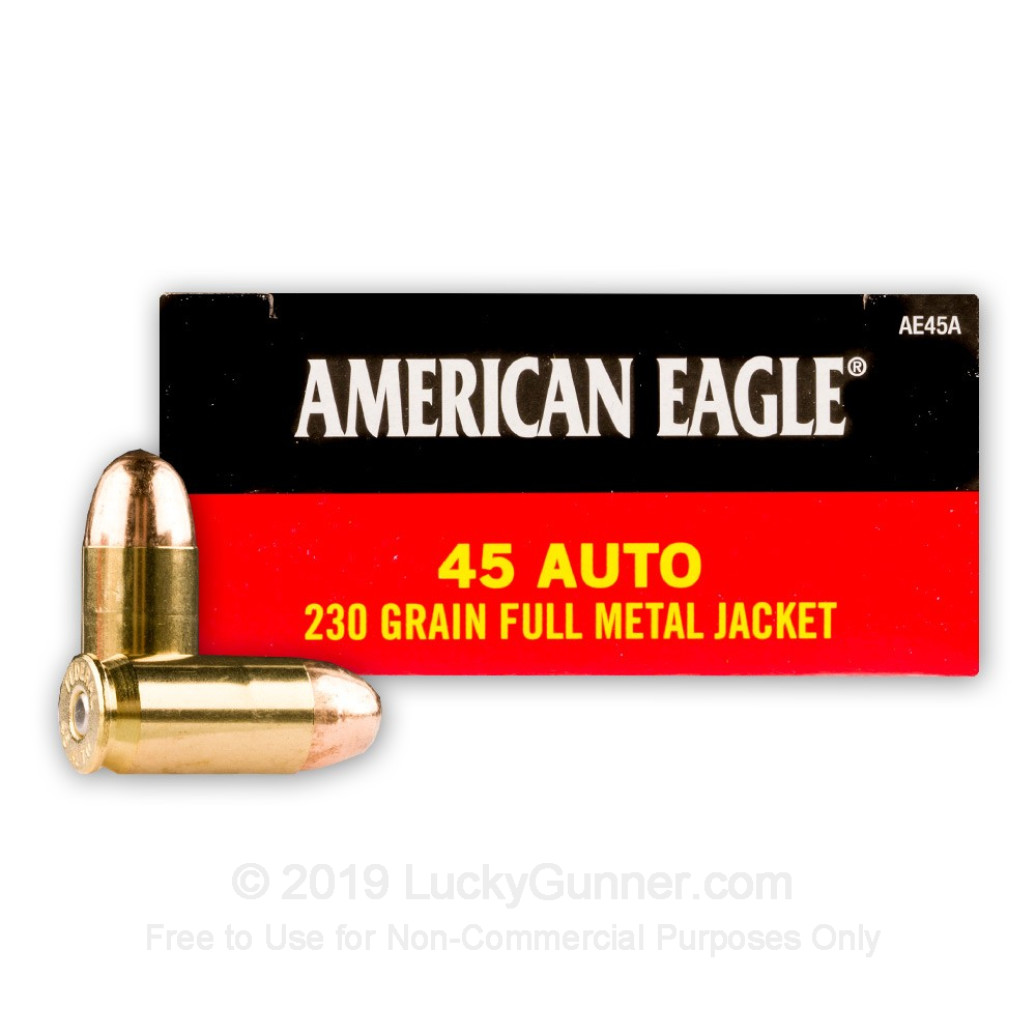 Federal Premium 230 gr .45 Auto American Eagle
Pros
Ideal for training for defense
Really, really easy to find in stock
Consistent performer
Cons
Trayless packaging is messy
Quick Specs:
Bullet Weight: 230 gr
Muzzle Velocity: 890 ft/sec
Muzzle Energy: 404 ft lbs
Bullet Type: Full Metal Jacket (FMJ)
Blazer Brass ammunition, made by CCI, is one of the cheapest, if not the cheapest, brass case round you'll find in most stores.
It's not bad ammo, though. It just has a simple design that makes it cheap to manufacture and allows CCI to pass the savings to you. It's highly reliable and has pretty good ballistics, too.
Blazer Brass is best for recreational shooting, with lower velocity and energy than most defensive rounds. However, it has sharper recoil than most other FMJ rounds and a heavy case that allows for deeper penetration, so it's still not bad for training when budgets are really limited.
Reloaders should note that Blazer Brass uses small pistol primers rather than the larger ones found on most .45 ACP rounds. That doesn't make a difference in performance, but it's something reloaders should be aware of.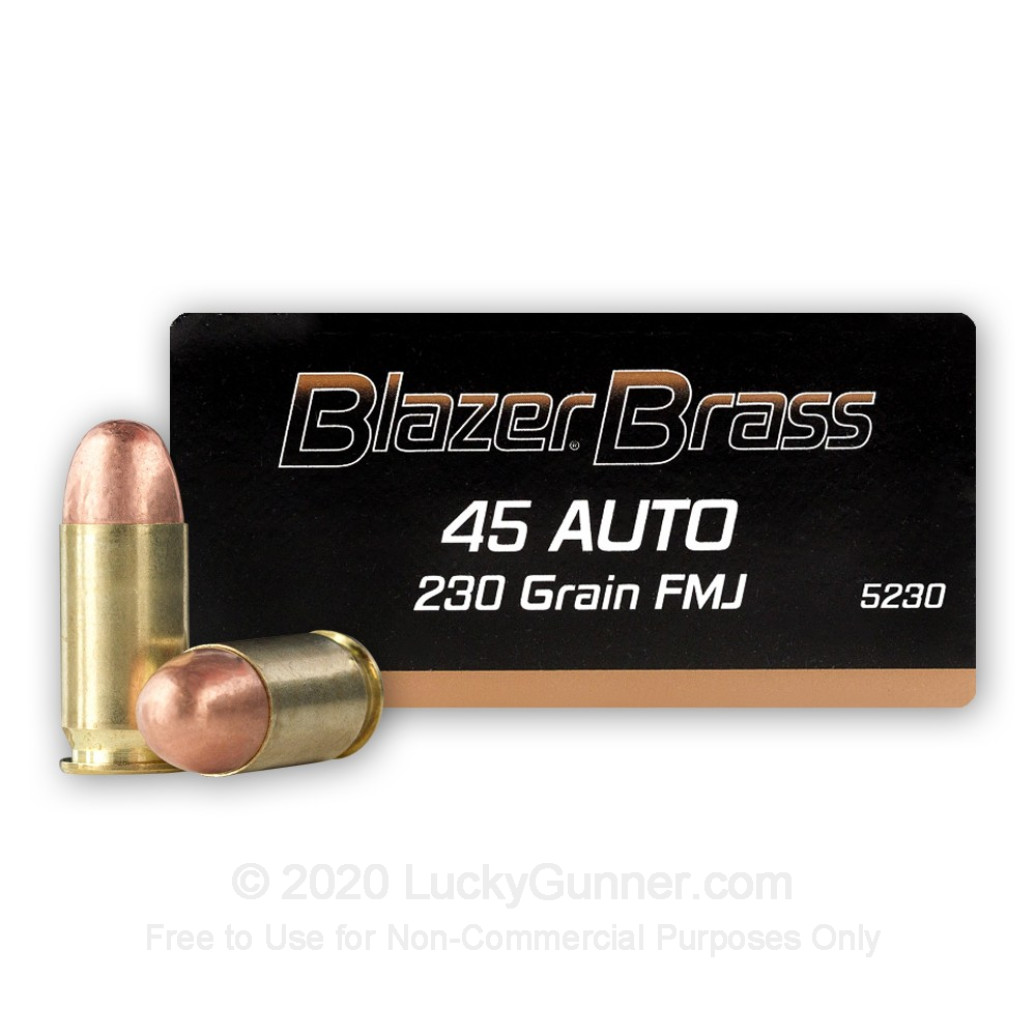 Blazer Brass .45 ACP 230 Gr
Pros
Super cheap
Great for recreational shooting
Good ballistics
Quick Specs:
Bullet Weight: 230 gr
Muzzle Velocity: 830 ft/sec
Muzzle Energy: 352 ft lbs
Bullet Type: Full Metal Jacket (FMJ)
You've probably heard of Magtech, but you may not be aware that they're part of the larger CBC Global Ammunition, a holding made up of numerous ammunition companies around the world that provides ammo for a variety of purposes.
Sellier & Bellot is another one of their popular brands. They produce more than 1.5 billion rounds annually, a good bit of which goes to NATO and other military and law enforcement agencies. 
This allows Magtech exceptional control over every step of the production process of their ammo, including the primer, powder, projectile, and brass, which ensures quality and lowers the cost.
In turn, this has allowed Magtech to establish their current reputation as a trustworthy brand that makes reliable rounds that are super affordable, especially in bulk, without being low quality.
Despite the low cost, the ballistics of their 230 gr FMC (just another name for FMJ) rounds aren't too shabby, though they don't match the defensive rounds we've chosen.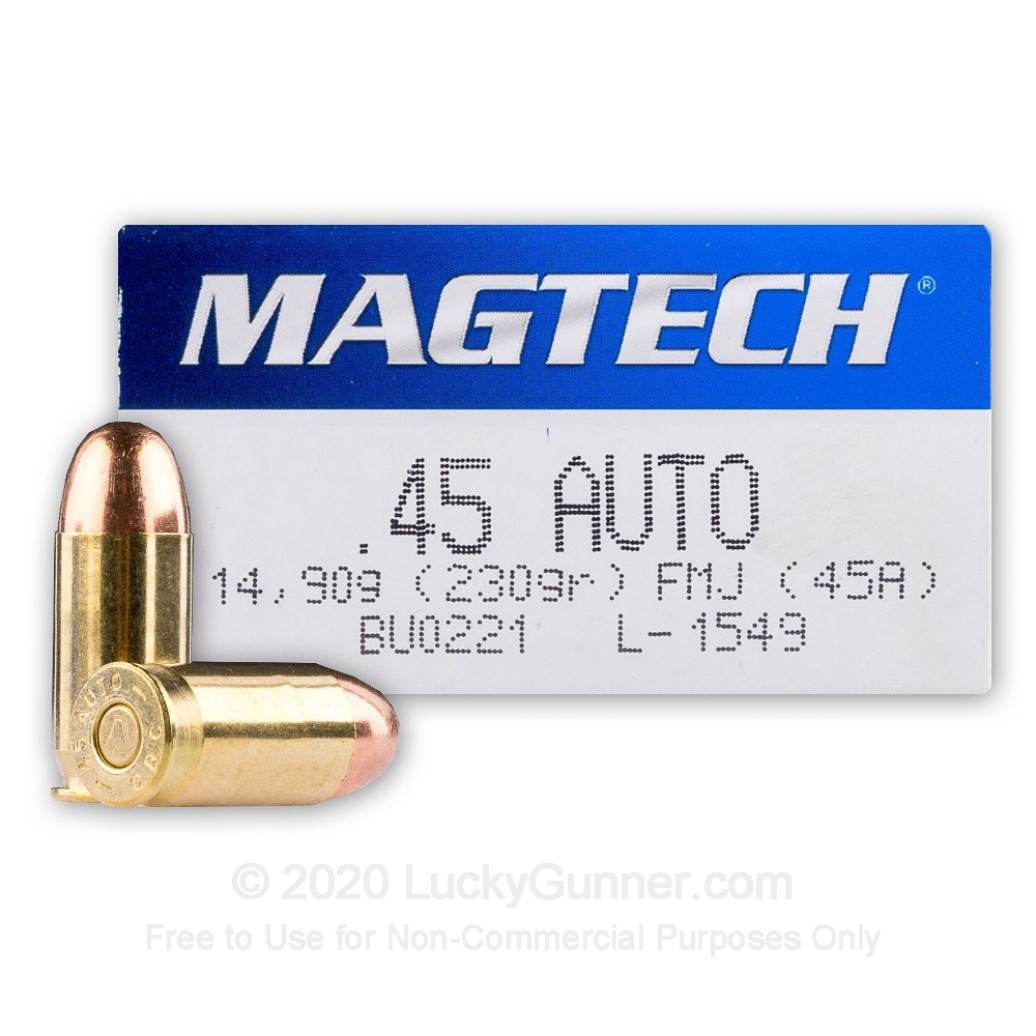 Magtech .45 ACP 230 Gr
Pros
Reliable
Affordable
High quality target ammo
This makes them great for recreational shooting or for new shooters to go through while they learn how to use their new gun since cheap rounds allow you to put a lot of rounds through your gun without emptying your wallet.
Quick Specs:
Bullet Weight: 230 gr
Muzzle Velocity: 837 ft/sec
Muzzle Energy: 358 ft lbs
Bullet Type: Full Metal Case (FMC)/Full Metal Jacket (FMJ)
Parting Shots
Despite all the competition out there, .45 ACP remains one of the most popular defensive handgun calibers, even more than a century after it was first conceived.
While the enduring popularity of the Colt Model 1911 has surely contributed to this, the vast selection of non-1911 handguns chambered in .45 ACP makes it clear that the round has also remained so successful due to its own strengths.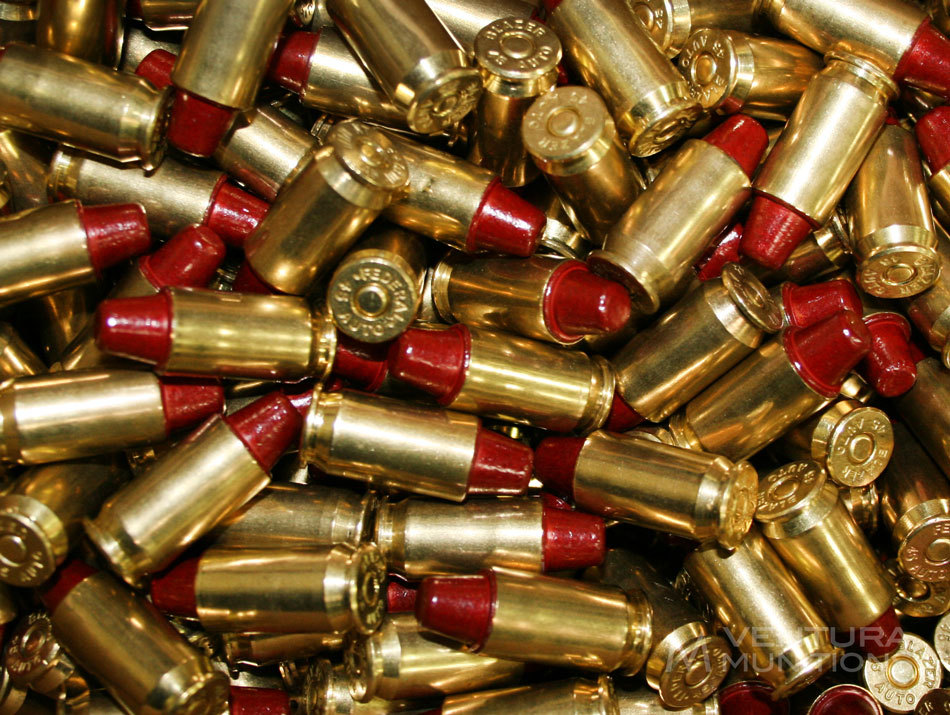 All of the rounds that we've recommended here exemplify those strengths, but this is by no means a complete list of all of the good .45 ACP rounds on the market. These are all great rounds that will serve you well, but you should also feel free to experiment with the different options available to you. 
Or, if you're still in the process of choosing a gun and aren't sure whether .45 ACP is the right caliber for you, check out our Bullet Caliber Guide to get the low down on a bunch of the most common calibers.
What's your .45 ACP round of choice? What do you shoot it out of? Answer these questions and ask your own in the comments.