Tired of being poked and prodded by your CCW? The Taurus Curve may be for you.
Or it may not be.
This rather… unique…  take on a sub-compact concealed carry weapon has sparked some heated debates.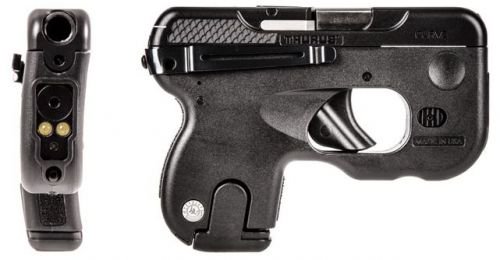 While some reviewers sing its praises, others refer to it with the less-than-affectionate nickname the "Taurus Turd."
Whether you love it or hate it, you've got to give Taurus props for bravely stepping well outside the norm of CCWs and creating the Curve.
Want to hear what we have to think about it?
Well, you're in the right place! We're going to take a closer look at all the details of the Taurus Curve, including the fit and finish, trigger, accuracy, reliability, and even some upgrades.
Let's get to it.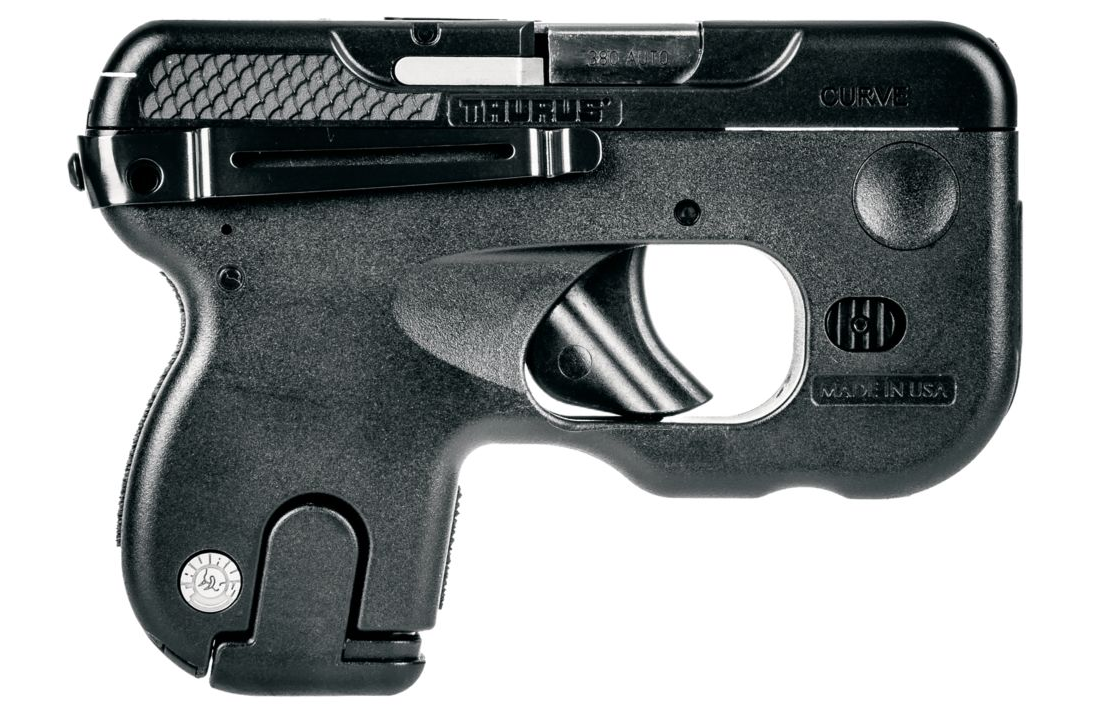 Taurus Curve
Pros
Curved frame to fit against your body
Chambered in .380 ACP
Heavily beveled corners for your comfort
Cons
Sighting systems are not accurate or easy to use
Accuracy is subpar
Fit and Finish
The most noticeable thing you'll see taking the Curve out of the box (which is also curved, of course) is that it well… curves.
Specifically, the Taurus Curve is engineered to mold to the right side of a shooter's body comfortably, with the intention of reducing the bulk of the gun and preventing printing.
To this end, Taurus has also done some serious revamping of what a pistol is supposed to look like. There are no sharp edges in sight on the Curve, and no features to snag as you draw–including sights.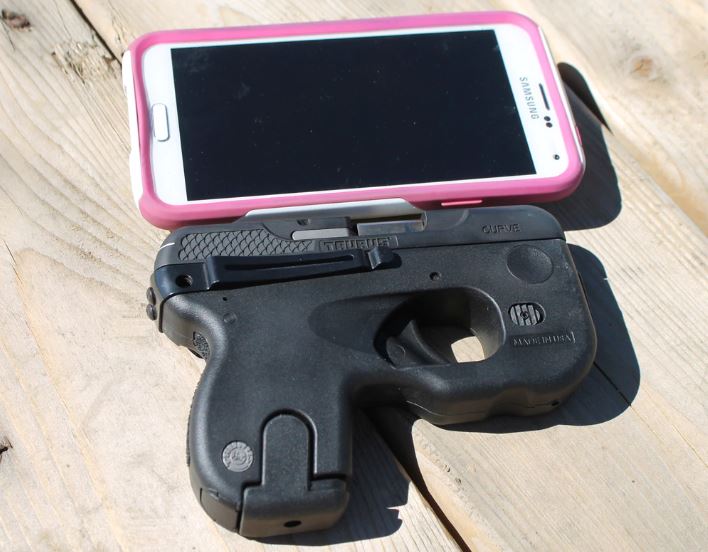 The polymer frame and the steel slide are both heavily beveled to reduce sharp corners and prevent poking, cutting, or scratching. The heavily radiused slide also means that the barrel itself is cut off at an angle, reminiscent of a slant brake on an AK.
Taurus chambered the Curve in .380 ACP, which is a pretty popular round for pocket guns. While some may argue that this round doesn't have a lot of stopping power, the small size lends itself well to smaller CCWs.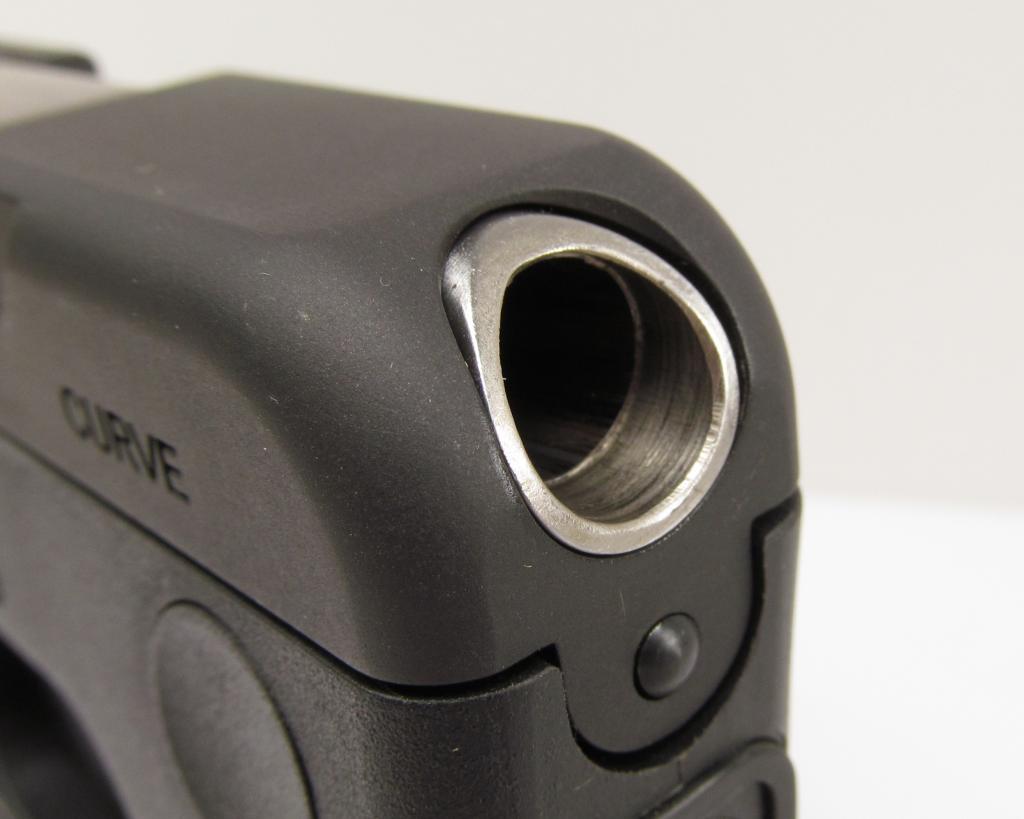 As mentioned above, the Curve has no traditional iron sights or optics. Its super-low profile shape is meant to tuck against your body and be snag free, so obviously, adding anything to the top of the slide is a no-go.
Instead, the Curve features a white crosshair painted on the back of the receiver, the idea being that you center the crosshair on the target using your handy-dandy binocular vision (that's with both eyes open, not with magnification) and blast away.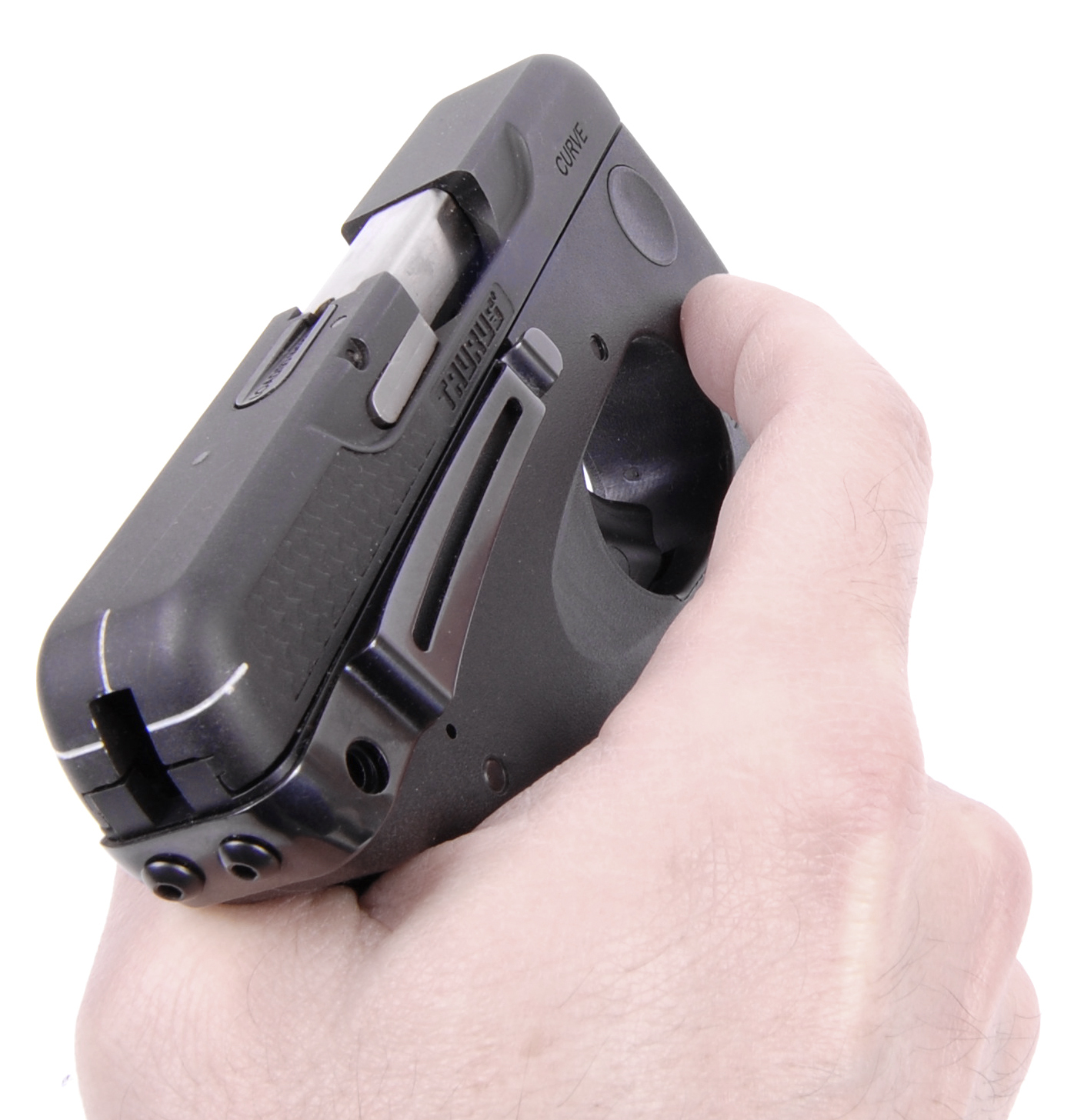 The Curve does feature a notched loaded chamber indicator, which some reviewers used as a makeshift sight.
We can see the idea behind this funky system–you're not going to be shooting with match accuracy at an assailant that's within a few yards of you–statistically the most deadly distance in an attack. You've got a lot more leeway when it comes to placing your shots on a target a few yards away.
Taurus did equip the Curve with a built-in light and laser combo that is molded into the forward side of the trigger guard. No accessory rails needed here! The programmable switch can activate the laser, the light, or both together.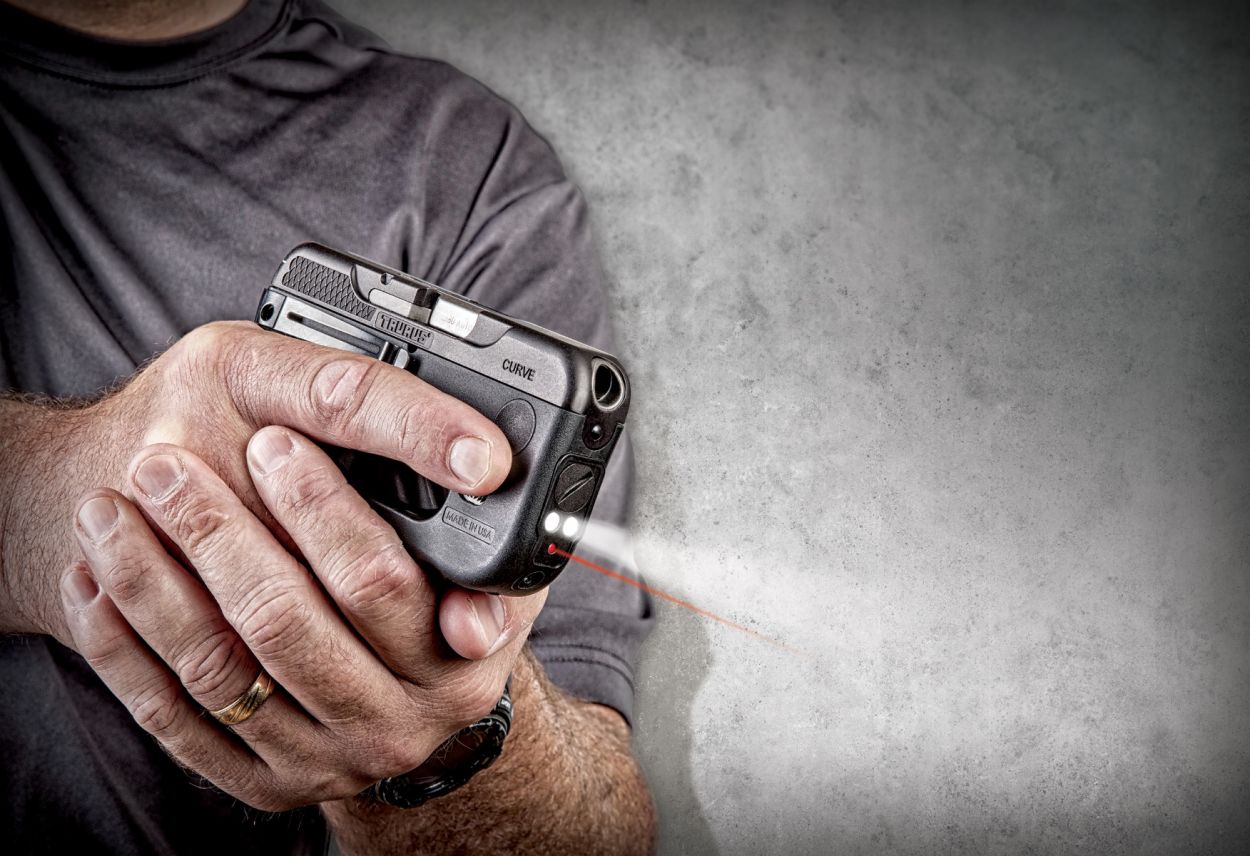 The slide on the Curve, while heavily beveled, does feature textured side panels that can help you get a better grip on the slide to pull it back. There's not a lot of material, though, so anything that can help you get a better grip is a must in our eyes.
Finally, the grip. Now, the namesake curve is definitely most noticeable in the grip. In fact, it's so curved we kind of had to wonder if the straight magazines supplied with the gun were right for it.
This curve lets it rest against your hip (or butt, or stomach, or ankle, or wherever you want to carry), and it also lets it nuzzle into your hand. Sorry, lefties, there's only a right-handed version of the Curve.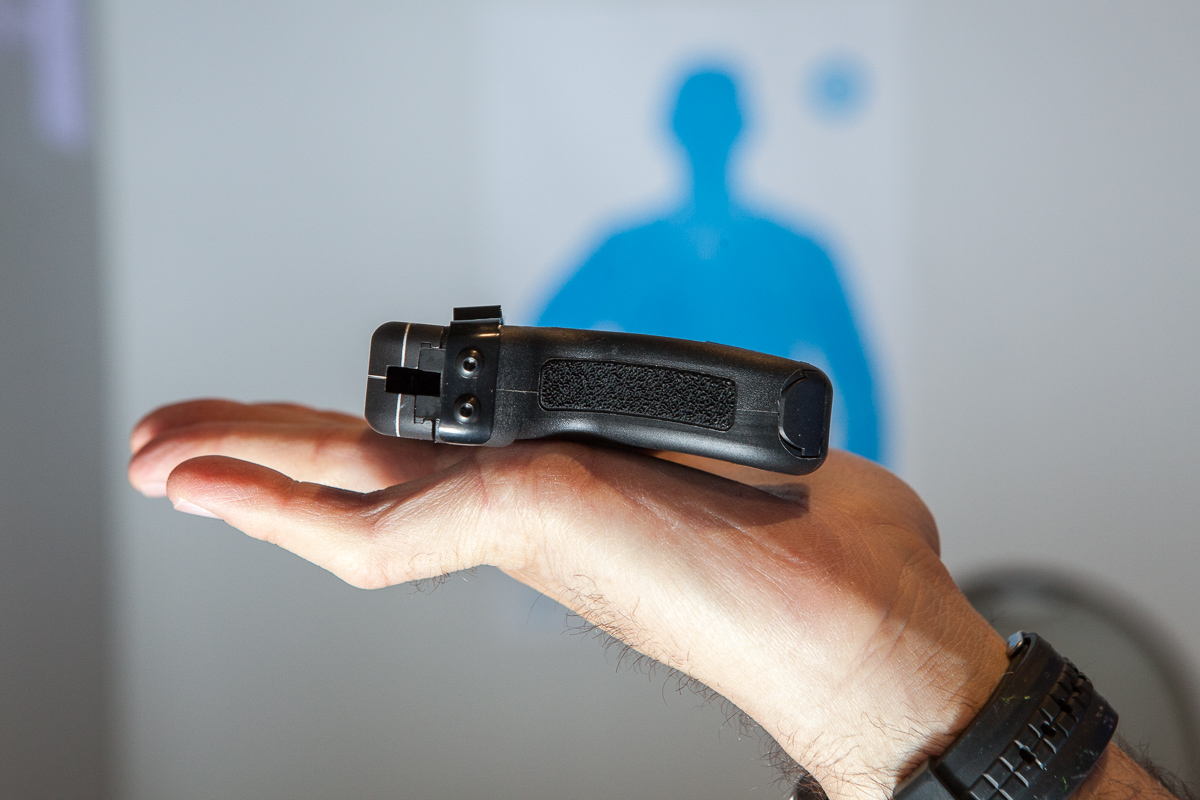 The grip itself is rather petite, but it does lend itself well to nestling deeply in your hand. The added stippling on the back strap and the front strap is welcome since there's just not that much to hold onto.
Shooters with bigger hands may find that their bottom finger (or two) are left hanging, but for smaller shooters, the Curve might be a good fit.
Trigger
The trigger in the Taurus Curve doesn't have many fans, and that's for a number of reasons. It's a double action-style trigger, without being a true double action. This means that every pull of the trigger is very long and a little heavy, but you don't get the cocking benefit of an actual double action trigger.
If you have a misfire (which can happen, and does tend to happen to the Curve), you have to work the slide to clear the chamber and re-cock the hammer.
The trigger weighs in between 5 and 7 pounds, depending on the tester, but most put it at around 6 pounds. You'll definitely need to be deliberate with your trigger presses.
Accuracy and Recoil
The Curve was definitely designed with close-quarters use in mind. It's remarkably accurate for a gun that doesn't have sights, but I still suspect that if you're more than a few yards away or smaller than the broad side of a barn, you won't have to worry too much about someone wielding one of these bad boys.
In darker settings, you have the option of using the laser to find your target, but there's little else you can do except point, shoot, and hope for the best.
Recoil is surprisingly light and easy to manage, considering how little grip you have to hold onto. The locked breech operation helps to absorb recoil, and the milled-down slide lacks the mass to make it too unwieldy.
The bore axis is quite low, and, due to its compact size, the Curve's frame encourages you to place your hand close to the axis, giving you more control.
Reliability
When your life is on the line and you're reaching for your CCW, what's the one noise you don't want to hear when you pull the trigger? That's right–click.
Reliability should be the end-all, be-all stat for a personal defense weapon, and the Taurus Curve doesn't really get a passing grade.
Reviewers struggled to get consistent reliability out of the gun, facing misfires and jams, especially when using hollowpoint ammunition. Light strikes was a significant issue across ammo brands, and without the convenience of a true double action, you can't just pull the trigger again to strike the round again.
If you're looking to empty a magazine quickly into a threat, the Curve may just leave you hanging.
Additionally, without sights, you're extra reliant on your laser to help you with target acquisition. Several reviewers reported difficulty turning on the laser and keeping it on while firing.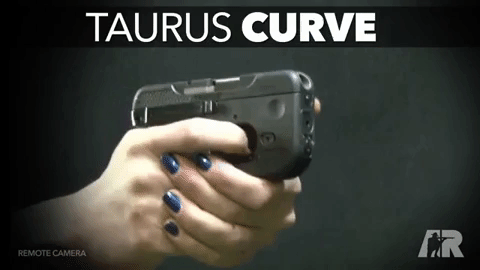 Obviously, your sighting systems switching off in the middle of a gunfight is less-than-ideal, so it may be worth looking into an upgraded unit (we'll talk more about those down below).
Magazines and Mag Release
One of the more curious features of the Curve is the completely straight 6-round magazine it comes with. While the two things look like they don't belong together, the curved grip is offset to the magazine, giving it a straight mag well, despite appearances.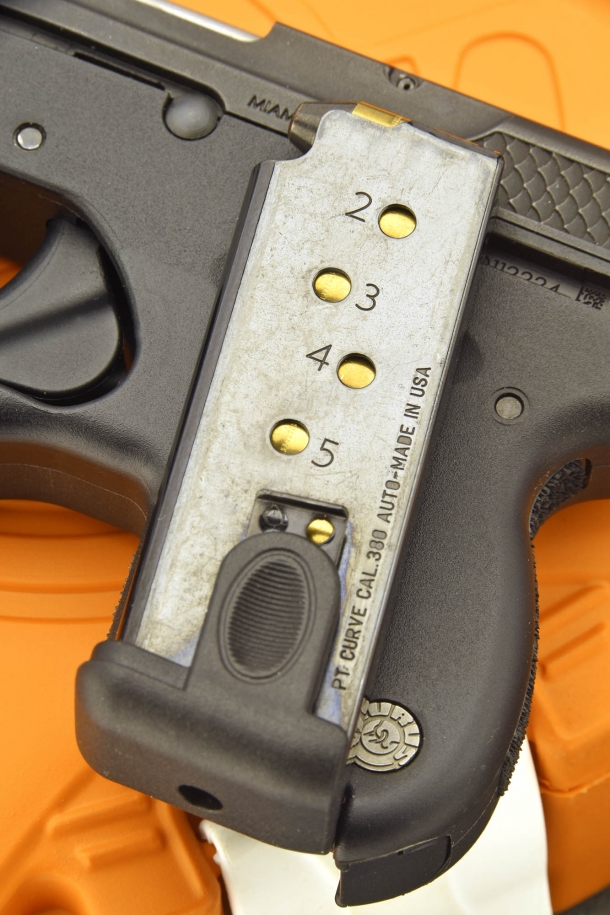 The Curve doesn't have a traditional mag release lever or button. Instead, you have to grip the magazine's baseplate and pull it out. While it saves on internal components and space, this system makes for slow reloads and can be difficult for those lacking the hand strength to grip the mag tight enough.
We do have to give props to Taurus for including not just one, but two magazines with the Curve–even though you definitely need them because you can only carry 6-plus-1, otherwise.
Holster
If you're looking for a holster that'll work with the Curve, let me stop you right there. The Curve comes with a build in belt clip and an injection-molded plastic trigger guard, so you don't have to deal with pesky holsters.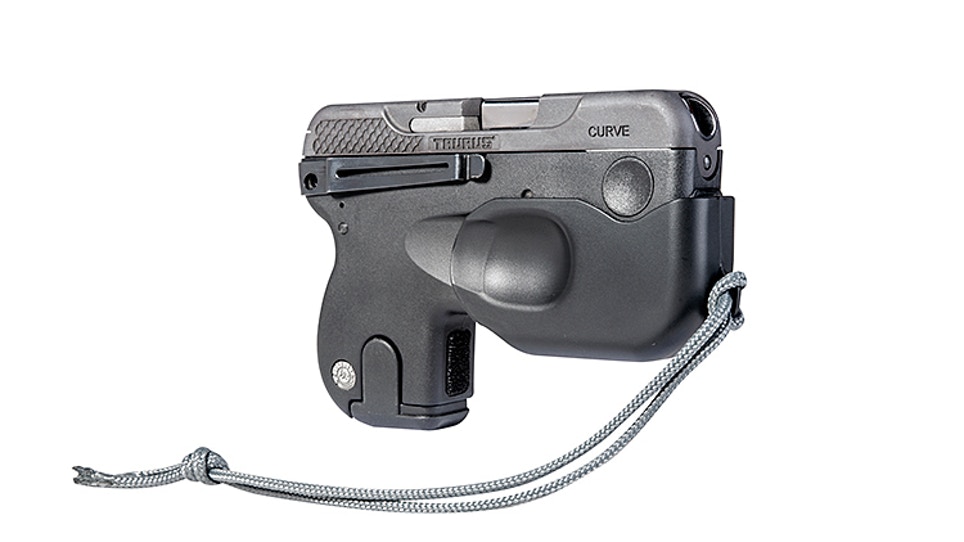 Simply attach the lanyard of the trigger guard to your belt, secure it over the trigger, and stuff the whole thing in your pants. When you draw, in theory, you'll yank the gun free of the trigger guard when it hits the end of the lanyard.
Obviously, the learning curve to doing this comfortably (and safely) is a bit steep, so take your time to practice the motion with an unloaded gun.
Maintenance & Disassembly
Breaking down the Curve seems to be a bit hit and miss for reviewers. Some report it as being very simple to do, while others struggled with it. The hardest part seemed to be removing the first pin, which allowed you to takedown the rest of the gun.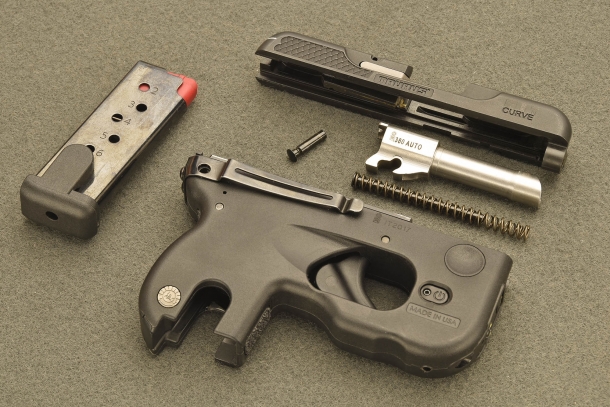 Specs at a Glance:
Type: Semi-auto

Caliber:

.380 ACP

Capacity: 6 plus 1

Weight:

10.2 oz.

Barrel:

2.5"

Overall Length:

5.18"

Construction: Stainless steel, carbon steel, and polymer

Trigger: Double action only, no refires

Safeties: Loaded chamber indicator, Taurus Security System
Bang for Your Buck
Price-wise, the Curve does beat out some of the competition, like the venerable Glock 42. If you're looking for an ultra-concealed carry option and you've got some experience behind a trigger, you might just enjoy the complexities of the Curve.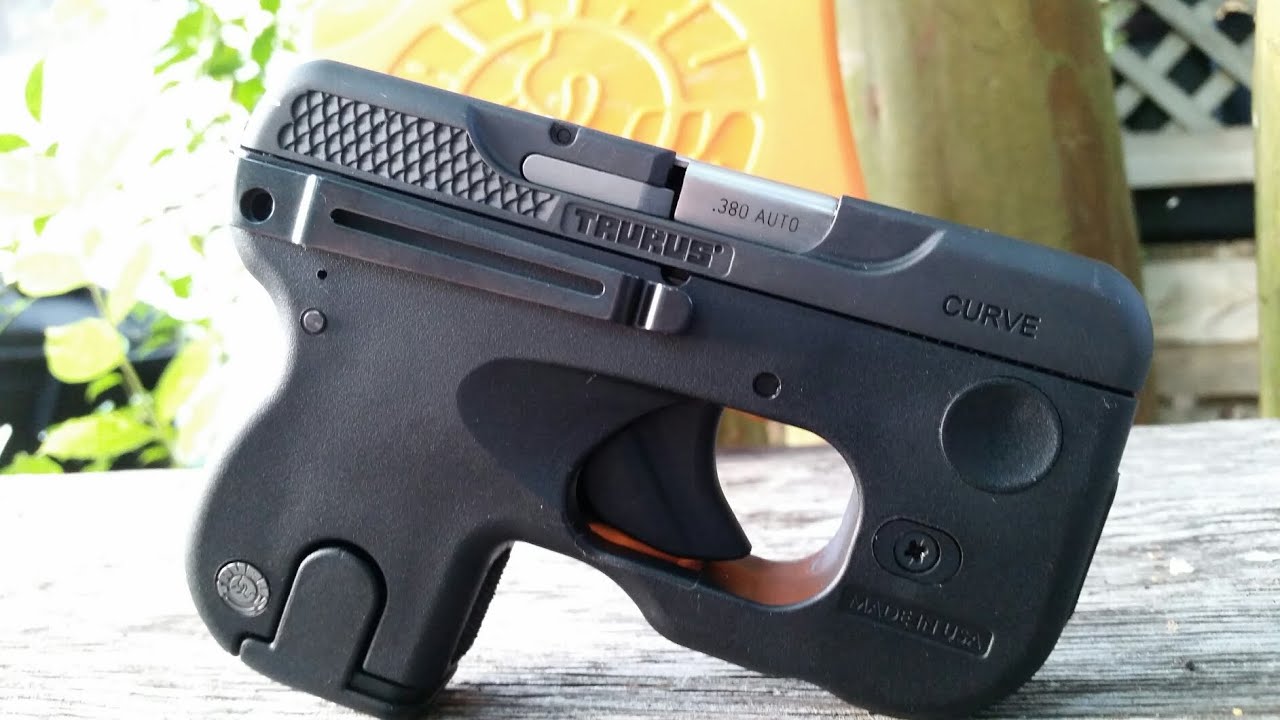 For new shooters, southpaws, and anyone who wants to consistently hit their target, we recommend looking elsewhere.
The Curve is a fun idea, but ultimately, it falls far short of our hopes for it.
Upgrades
If you do have your heart absolutely set on getting a Taurus Curve, the least we can do is point you in the direction of some upgrades.
Here are a few options we found that we think will make your experience with the Curve a little sweeter.
Lights & Lasers
Since the light/laser combo that comes standard with the Curve is notoriously finnicky, we're starting off with some alternatives, each designed just for this gun.
First up, the Viridian Weapon Tech Taurus Curve Red Laser. This laser and light unit takes advantage of their ECR Instant-On technology with the included trigger guard. When drawn from the trigger guard, the lase and light will automatically activate, giving you ready light and aim points when you need them.
It has adjustable windage and elevation, a 6-hour battery life, and is housed in a sturdy aluminum shell for durability that lasts.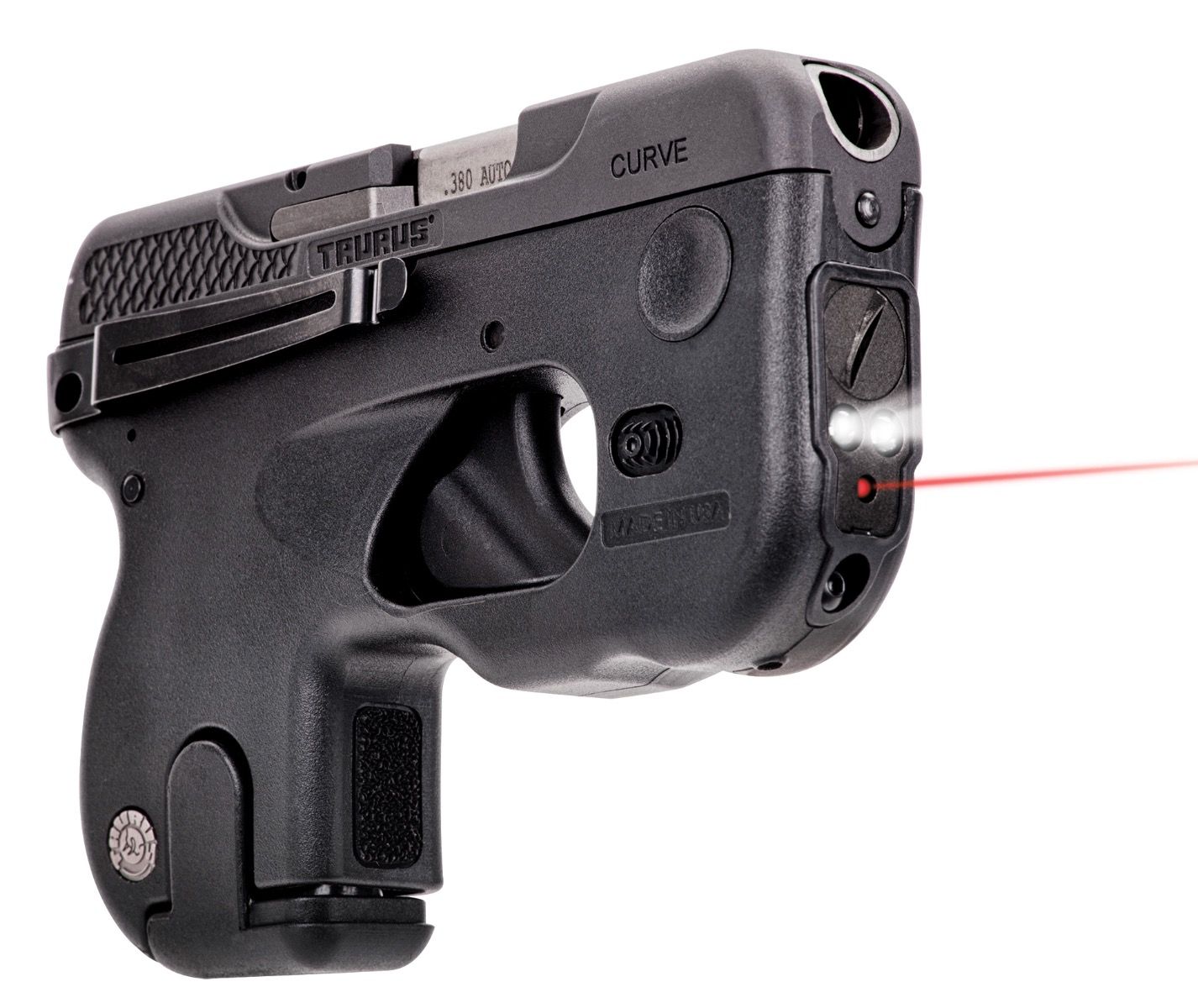 Viridian Taurus Curve Red Laser
Pros
ECR Instant-On feature turns on your laser as you draw
Aluminum construction
Three settings lets you customize your light and laser
If you're looking for something a little more basic, Laserlyte has you covered. This laser/light unit has three modes: laser, light, and both. You save battery with an auto-off feature that turns off the unit after 6 minutes, so it's not on when you don't need it. It also features an aluminum construction and an external battery cap for easy battery changes.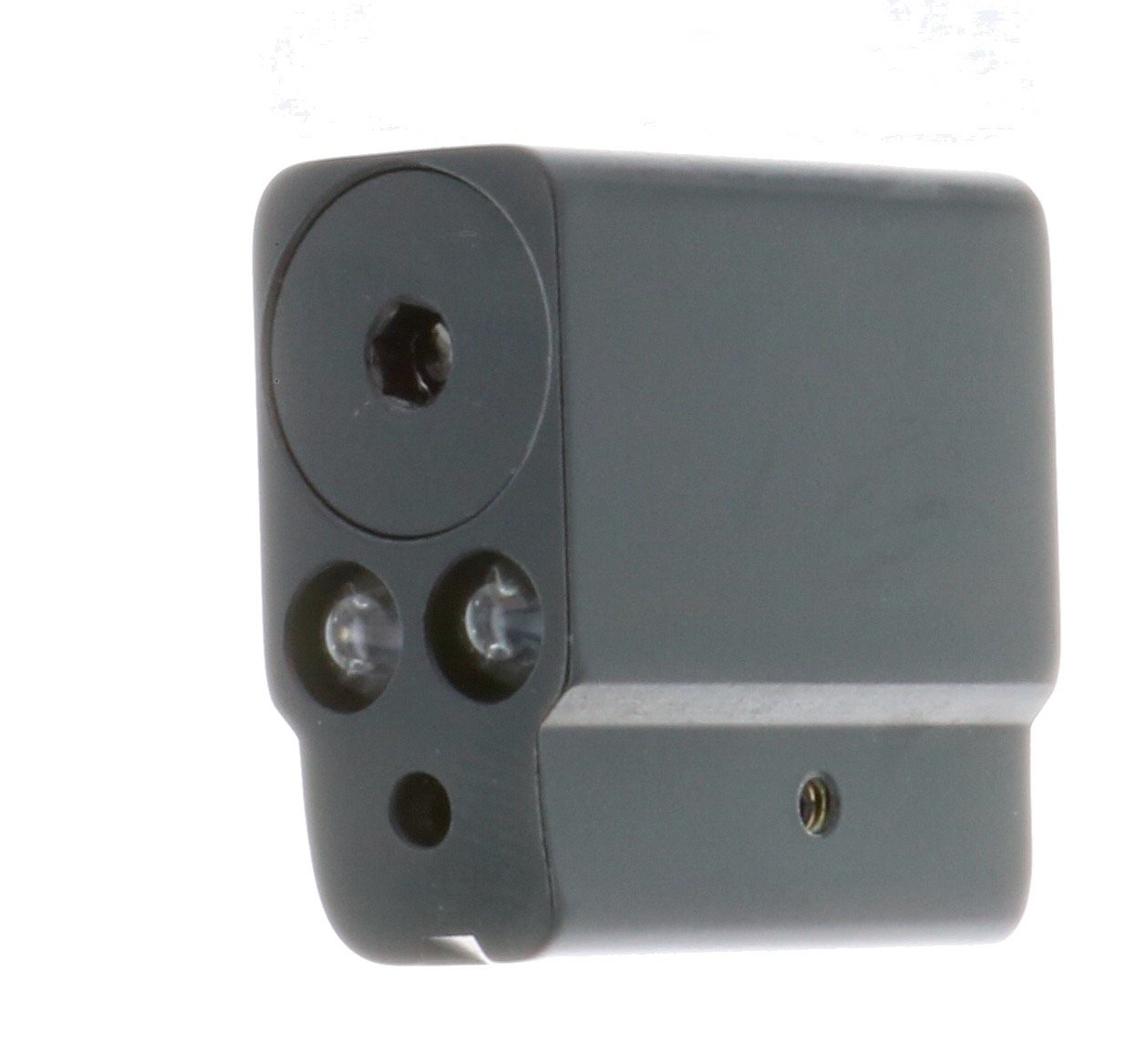 Laserlyte Red Laser for Taurus Curve
Pros
Eternal battery cap for easy battery changes
6-minute auto-off setting
3 light/laser settings
Cons
Can be hard to turn on/off
Grips
There's a little bit of stippling on the back strap and the front strap of the Curve's grip, but if you're looking for more texture, these grip decals from TractionGrips are the way to go. Easily applied, they're custom-cut just for your Curve and will give you the traction you need to keep shooting comfortably.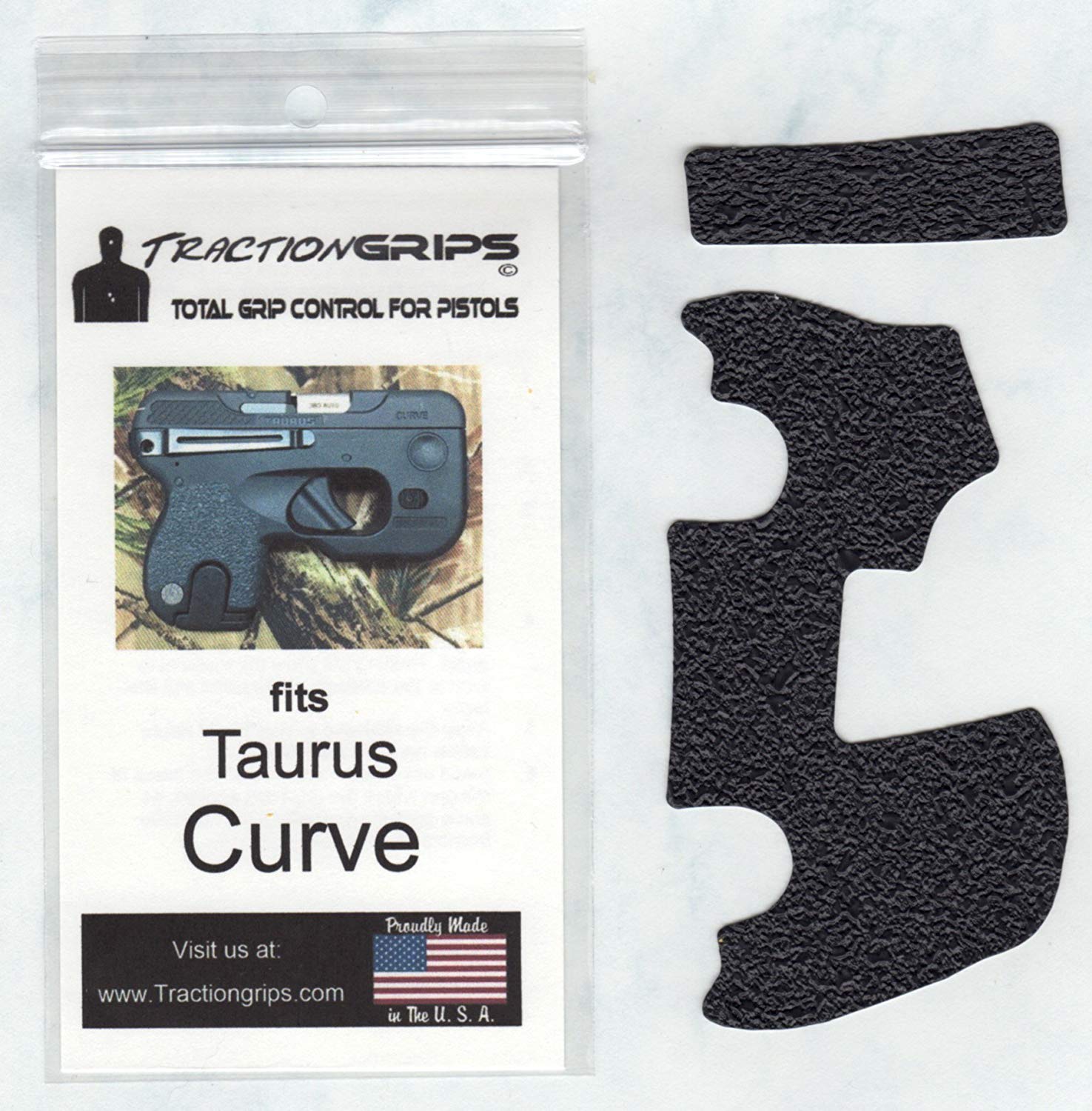 TractionGrips Grip Decal Set
Pros
Easy to apply decals
Adds better traction to your Curve grip
Holster
Not a fan of the trigger guard? Want another option to carry around your Curve in a pocket without it screaming "I HAVE A GUN IN MY PANTS!"? The wallet holster from Kevin's Concealment Holsters is here for you.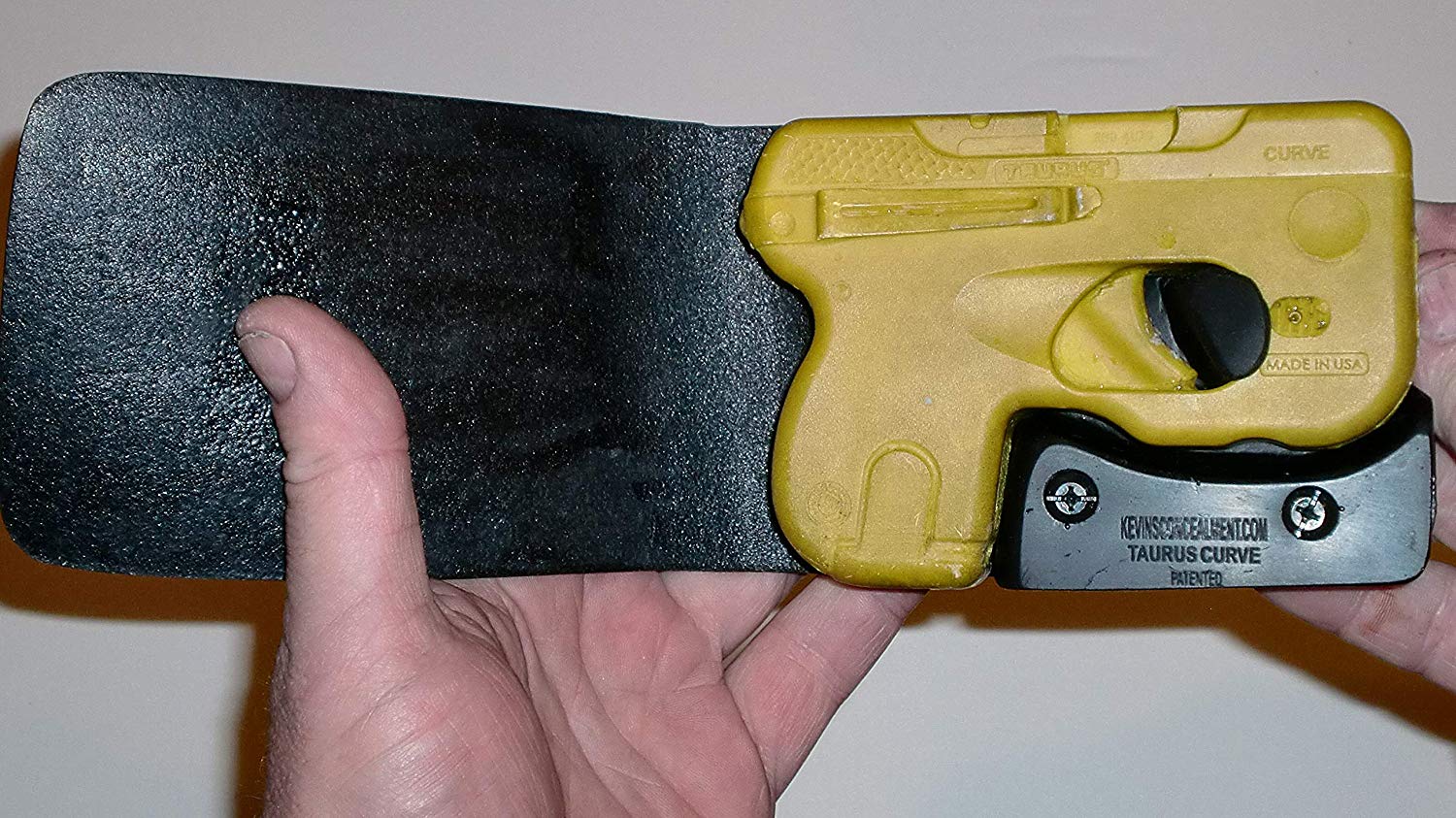 Kevin's Concealment Wallet Holster for Curve
Pros
Protects your gun from scratches and dings
Disguises the shape of your gun in your pocket
Leather and molded plastic construction
Cons
Drawing and using your gun is slow
This rectangular, leather holster clips your Curve in place and folds around it, completely obscuring the shape of your gun. Rather than a suspiciously gun-shaped print, you'll simply see a rectangular shape, which easily passes for a wallet or smartphone in your pocket.
As a bonus, it protects your gun from scrapes and dings.
Conclusion
We're all for pushing the envelope when it comes to gun design, and a truly radical CCW is something we're on the lookout for. Sadly, the Taurus Curve simply isn't it.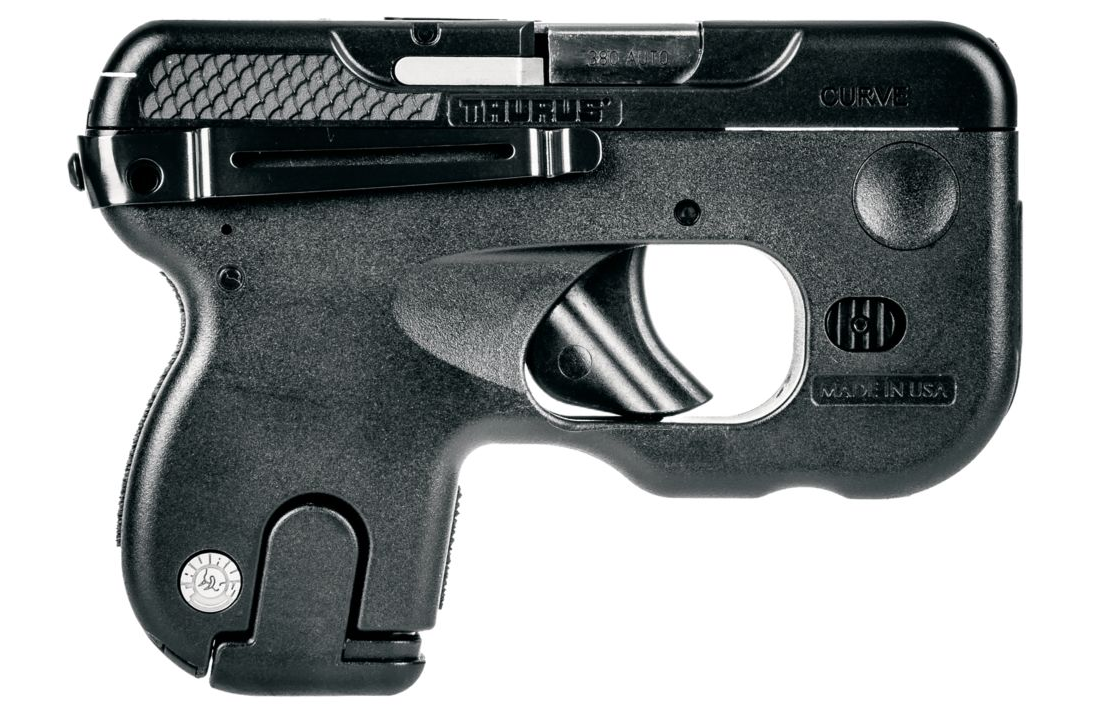 Taurus Curve
Pros
Curved frame to fit against your body
Chambered in .380 ACP
Heavily beveled corners for your comfort
Cons
Sighting systems are not accurate or easy to use
Accuracy is subpar
The concept is undeniably unique, but the follow-through falls far short of expectations. Also, we're a little afraid to just clip that thing to our belt like a gas station pocket knife, knowing it could very well shoot us in the leg.
Overall rating: 2.5/10 stars
Have you tried out the Taurus Curve? What did you think of it? We'd love to hear about it in the comments! If you're in the market for a CCW, don't forget to check out our review of the best .380 ACP carry guns.