Looking for something to replace your trusty iron sights and make your firearms even more intuitive to aim?
Welcome to the wonderful world of red dots! You'll be acquiring targets in no time with one of these trusty little optics.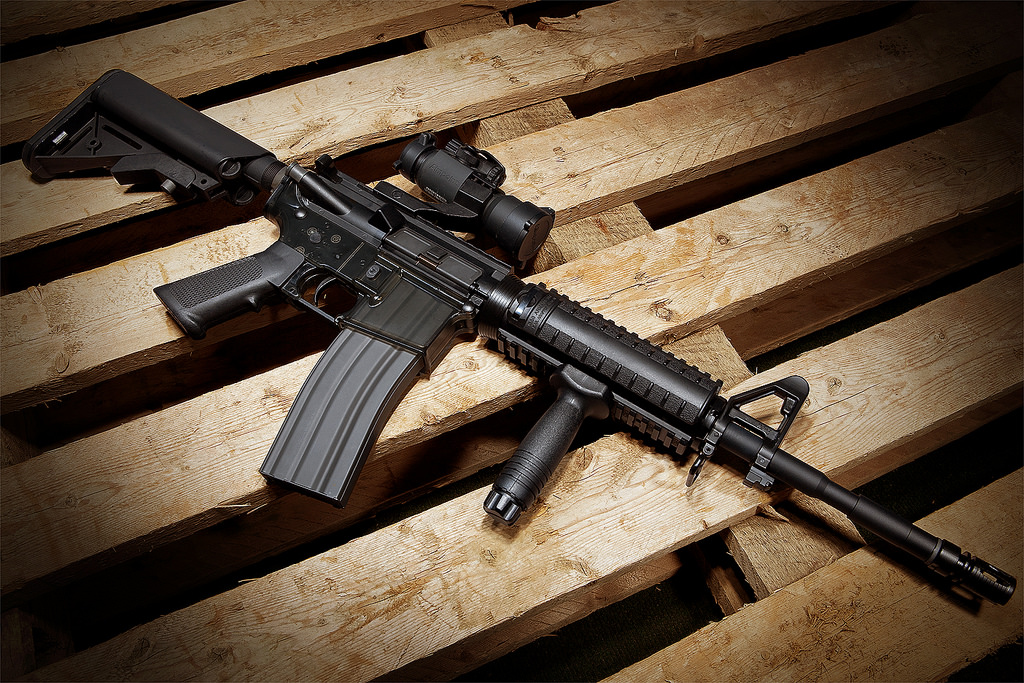 So, there are a ton of different red dot options out there–and it can get downright confusing real quick if you don't know what you're looking for. 
From the ultra-deluxe and battle-tested to the range-reliable and budget bests, we're walking you through our top red dot picks for your rifle or pistol.
But first, let's talk a little more about red dots and why you might want one.
Why Get a Red Dot?
When I was younger, my dad used to tell me "When you can hit the bullseye every time with iron sights, then you can try an optic." 
It's true–using iron sights can give you a strong grasp of shooting fundamentals and improve your marksmanship, but what about those times when you need to get on target quickly, and you're not looking to drive nails while you're at it?
Red dots come in handy for plenty of reasons, including their ease of use. But having video game aiming isn't the only reason you might want a red dot.
Here are a few more reasons to consider adding a red dot to your set up.
Co-Witnessing
It's very possible that electronic optics can fail, but red dots can be set up in such a way that you can still use your iron sights, without needing to remove the red dot.
You can set up your firearm for either absolute co-witness or lower third co-witness. Absolute co-witness occurs when your iron sights and red dot are directly in line with each other.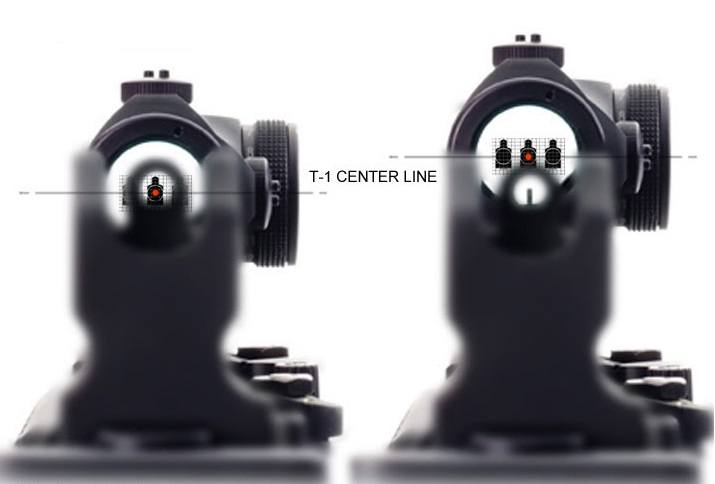 Lower third co-witness is when your iron sights are in line with the lower third of your red dot's eye box. This way, your iron sights aren't filling up your view, until you drop your face a little lower and move them into your view.
Eye Relief
When we talk about eye relief, we're talking about the distance you need to have between your eyes and the sight (or scope) in order for it to work properly. It's especially important for scoped shooting, but you still need to keep it in mind with iron sights.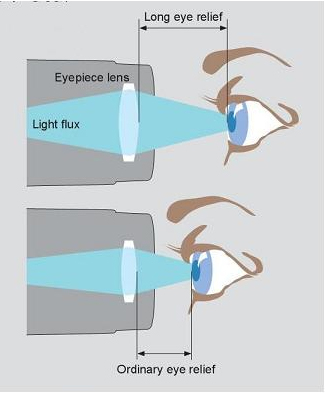 When using a red dot, however, the dot will be on target, no matter how much you like to cozy up to your optics.
Parallax Issues
When you use a scope or iron sights, you have to account for parallax–or the way your view changes as you move your head around. If you have one eye closed and sight in, then close that eye and open the other, you'll suddenly be way off target, right? That's parallax.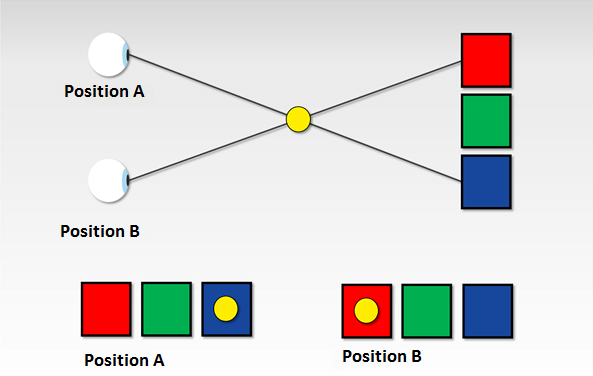 Guess what? With a red dot, it doesn't matter where your head is, because red dots work regardless. You can get nice and comfy with your gun, and it won't mess up your aim.
Keeping Both Eyes Open
Ever find yourself squinting down your iron sights, only to pull back and realize that there's someone the next bench over and you didn't even realize it? It can be easy to get tunnel vision behind iron sights, but red dots let you shoot with both eyes open.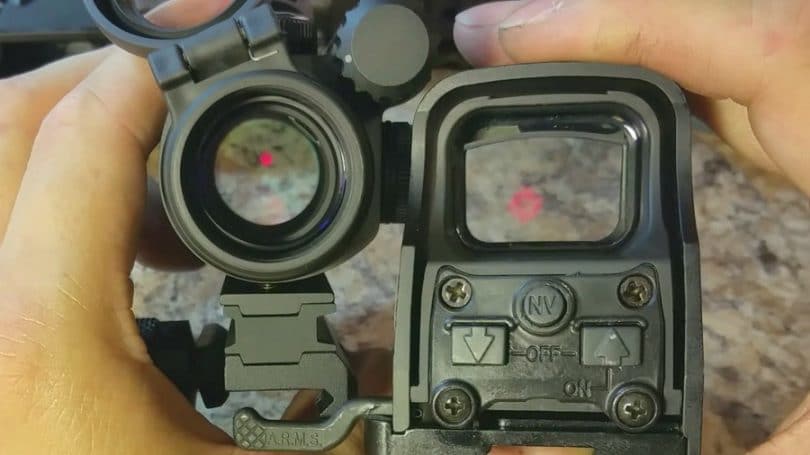 It makes a huge difference in keeping you aware of your surroundings and preventing surprises from potential threats in your periphery.
Now that we've talked about why you might want a red dot, let's look at some of our favorite red dots! We're breaking it down into the best red dots for rifles, the best for pistols, and the best holographic sights, so you can browse easily!
Best Red Dot Sights for Rifles
First things first–let's talk about those long guns. These red dots are ready to rock at the range, help you protect your home, and a handful of them even have seen time on the front lines.
Let's start this list off with the best of the best–the Aimpoint Patrol Rifle Optic. It's a popular pick around the Firearm Review office because of its ability to transition from plinking at the range to the heat of battle.
It's bombproof, house fire-proof, and battle-tested. Not to mention it has a 30,000 (yes, thirty thousand) hour runtime, so you don't have to worry about leaving it on in the safe. Or changing the batteries like, ever.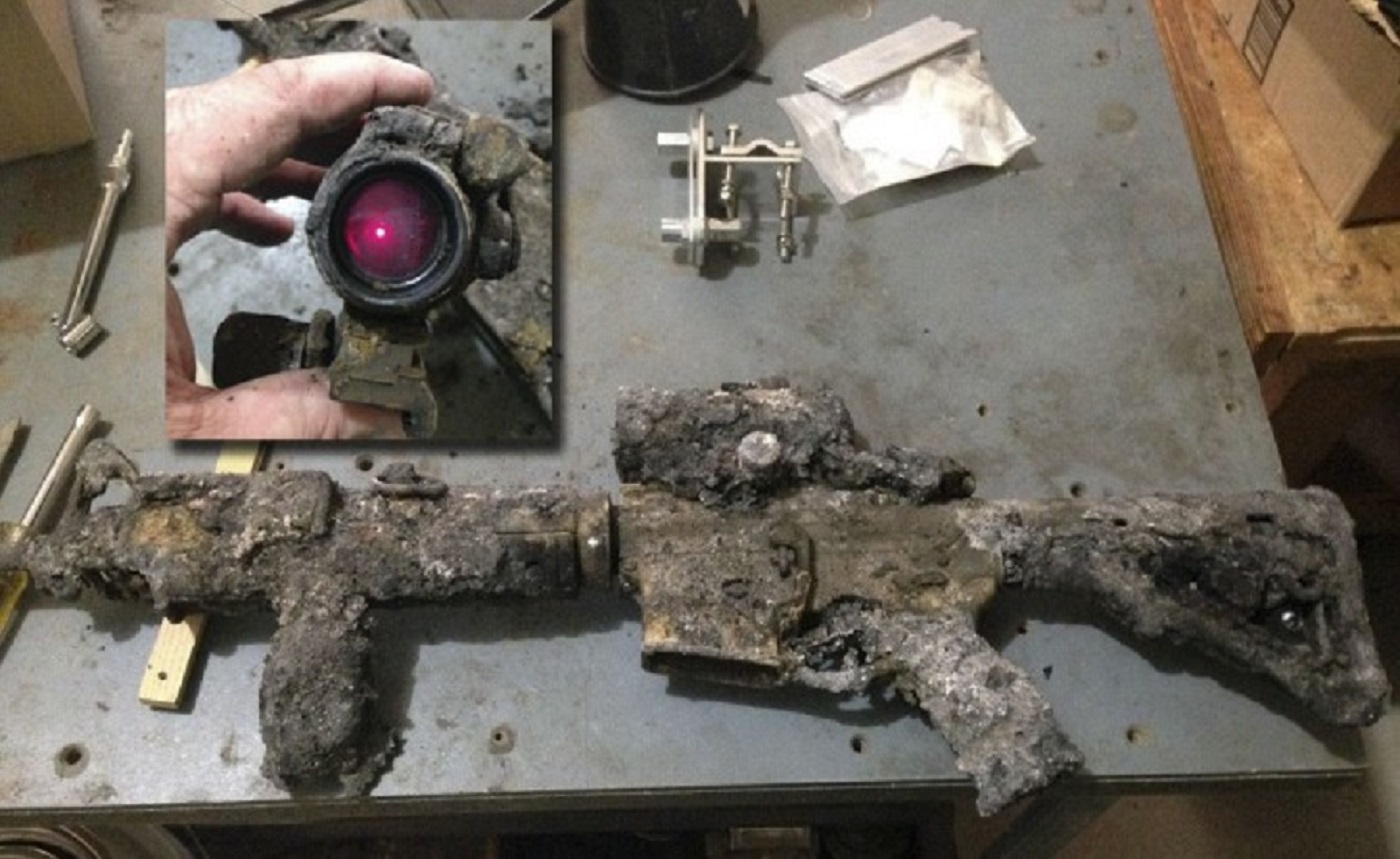 It's got a clean 2 MOA dot (covering 2 inches of target at 100 yards), is waterproof up to 150 feet, and is night vision compatible. Did we mention that it can operate in temperatures ranging from -49 to 160 degrees Fahrenheit? Yeah–it's just that cool.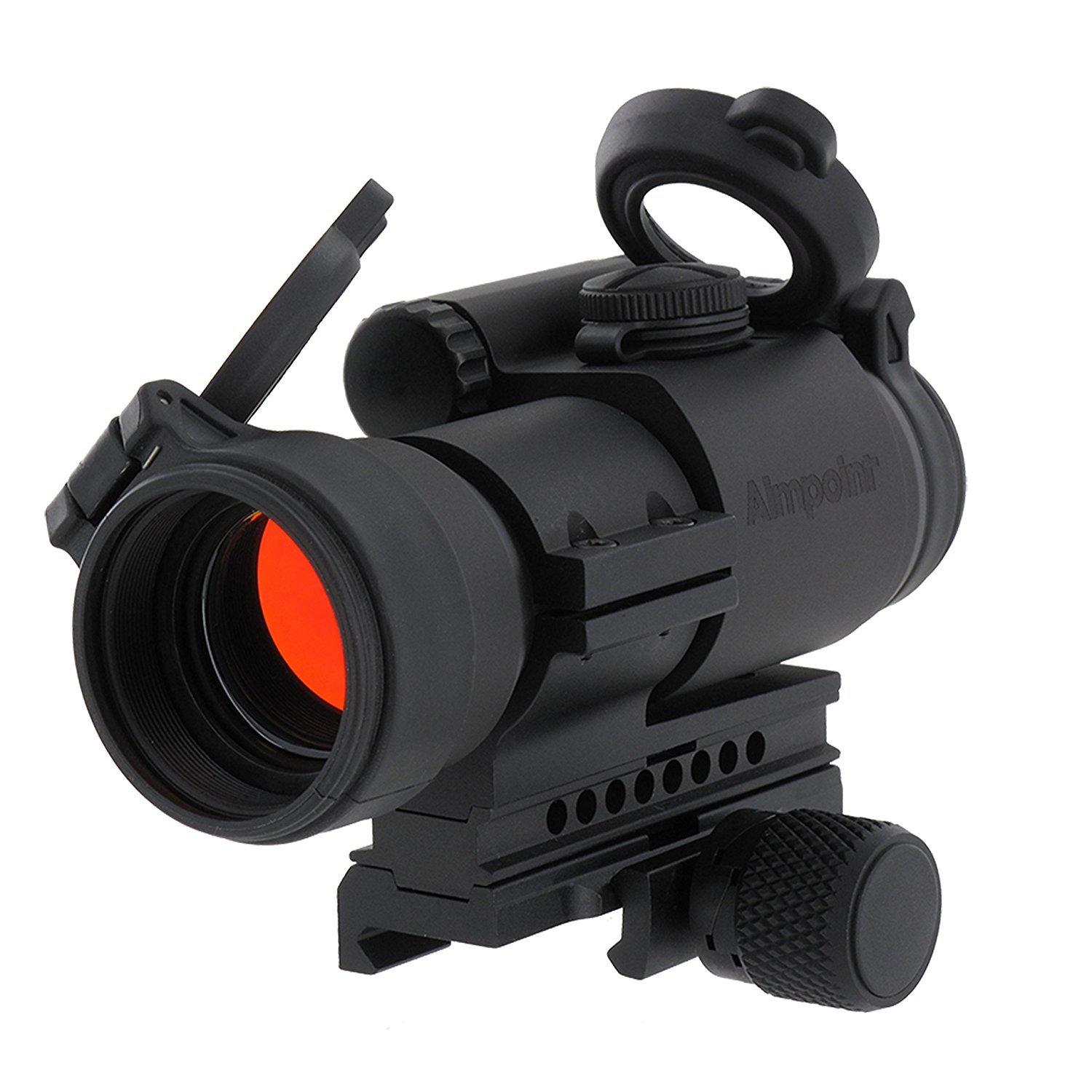 You can beat this thing up, test it on thousands of rounds of range time, and forget to turn it off, and it won't even blink.
So, you might not have $400 to drop on a red dot, and that's okay–you still can find some great deals on good-quality red dots that aren't going to make your wallet cry uncle.
One of these is the Holosun HS403C, a red dot that gives you a whole lot of bang for your buck. It's stood up to some serious torture testing, including drops, submersion, and heat, without fussing, and it's a little over a quarter of the price of the Aimpoint PRO.
It's also got a 2 MOA dot, 50,000 hours of battery life, and is not only night vision compatible, but is also waterproof up to 1 meter.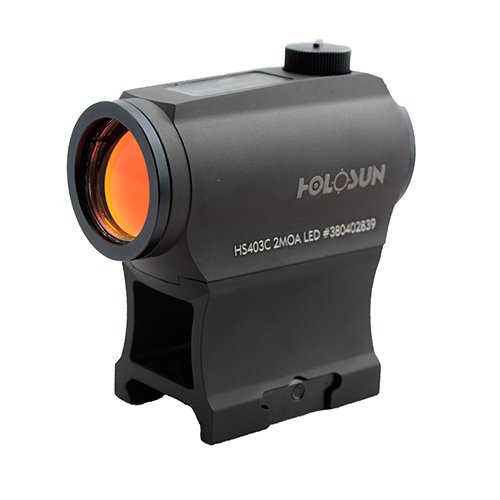 Holosun HS403C Red Dot
Pros
Solar panel for battery savings
50k hour battery life
Waterproof up to 1 meter
Cons
Battery is hard to remove
Short of shipping out, this red dot should cover just about every need you might have. We also love that it comes with a decent riser, so you can check that off your wishlist, too!
Looking for a first red dot, but aren't sold on spending more than $100 to try it out? Looking to stretch your budget for your next build as far as it will go? Well, don't you worry–the Bushnell TRS-25 is up for the task.
This budget red dot isn't half-bad–the glass could be clearer, but it'll get the job done, and even stand up to some wear and tear while you're at it.
While you could find cheaper, don't do it. The Bushnell red dot is about the cheapest we can recommend–any lower and you're on your own.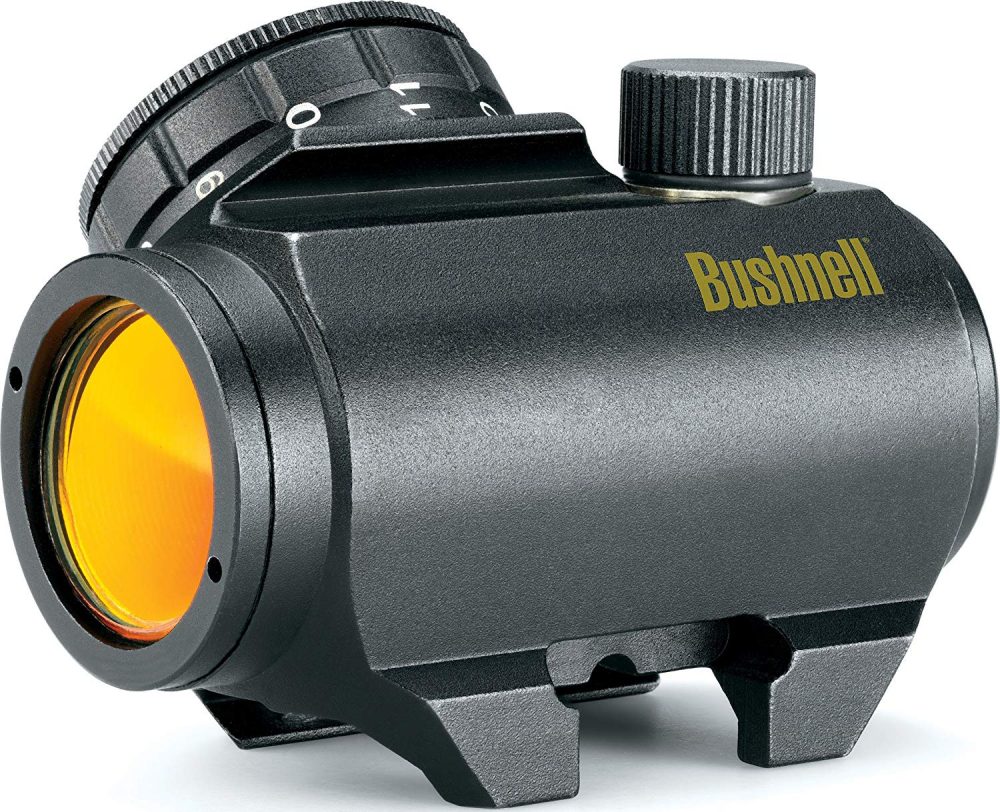 Bushnell TRS-25
Pros
Cheap and effective
Durable
Several mounting options
Don't forget to pair it with a riser, like the UTG 1" Slim Riser, to mount it at the perfect height for an AR-15.
Best Pistol Red Dots
Micro red dots mean that you no longer have to resign yourself to shooting your handguns with boring old iron sights. These ones are small enough to slap on your pistol.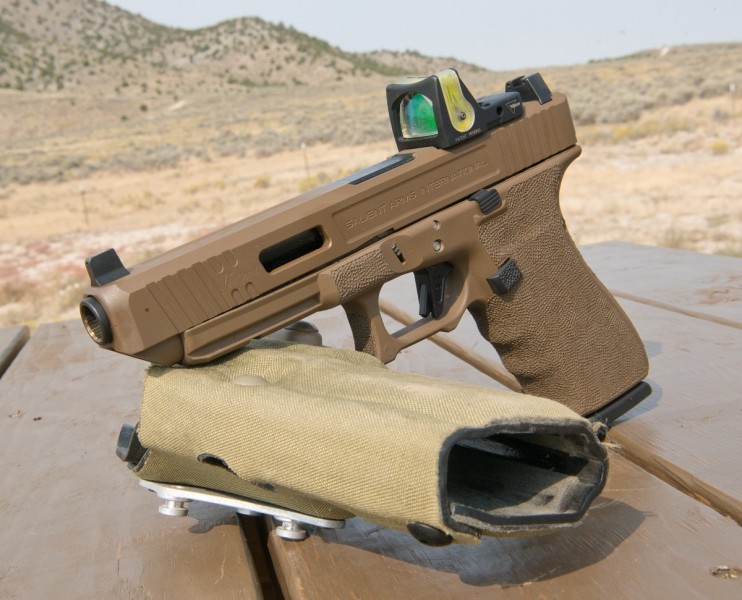 We cover a much wider variety of optics in our more in-depth look at the best pistol red dots, but here are our favorites that we just have to recommend.
If you're running a competition pistol, you're going to want to go with an RMR. It's the most popular cut, so if you're going to upgrade your slide, it's going to be RMR-ready.
The Trijicon RMR Type 2 is a professionally trusted micro red dot, and it's for a good reason. It has 4 years of continuous-on battery life and is night vision compatible.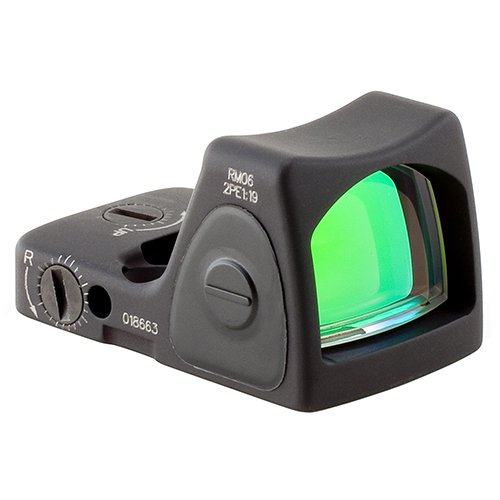 Trijicon RMR Type 2 Red Dot Sight
Pros
Compatible with most popular pistols
Incredibly rugged
Low forward glare
Cons
Expensive
Battery door is on the bottom of the sight
However, it also is pretty dang expensive, so it might be hard to justify the cost if you're just plinking at the range or slapping it on your bedside pistol.
For the rest of us, there are still micro red dot options that don't cost us a limb or two. We're particularly fond of the Vortex Venom, which is about half the price of the Trijicon RMR.
It's a very small red dot with a low profile, which makes it great for duty guns or carry weapons, since it won't get in your way when you don't need it. It also has a Picatinny rail mount for all your other pistols or rifles, so it works extra hard.
You can find it with either a 3 MOA or a 6 MOA dot, so you don't have to sacrifice precision. It's a little harder to find slides cut for the Venom, but there are adapters available to help you fit your new red dot to your gun.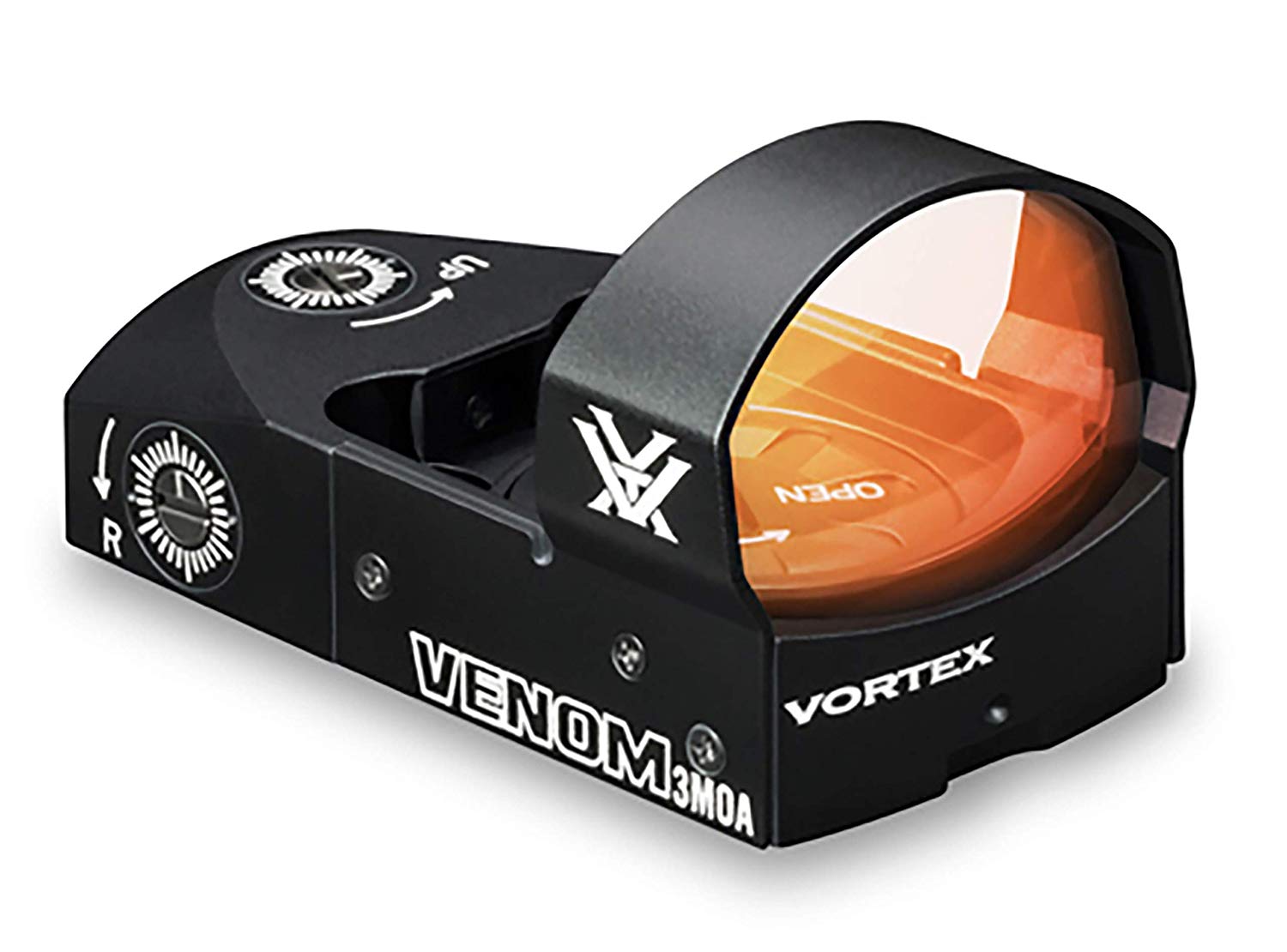 Vortex Venom Red Dot Sight
Pros
Up to 30,000 hours of battery life
14-hour automatic shutoff
Lifetime warranty
Cons
Brightness levels can be difficult to set
Best Holographic Sights
If you're looking for something a little different, holographic sights might be up your alley. True holographic sights work a little differently than red dots, but at their core, they're really pretty similar. 
Not to mention, some manufacturers are combining red dot technology with holographic sensibilities for some unique hybrid optics.
First, we have to talk about the real deal: the EOTech EXPS-2. This is a true holographic sight, which means that it has a slightly different technology powering it (learn about the differences between red dots and holo sights here).
Even though it's powered by different tech, holographic sights work a lot like red dots, and with EOTech's pioneering reticle, you get fantastic precision and target acquisition. The outer ring is 68 MOA, while the inner dot is just 1 MOA.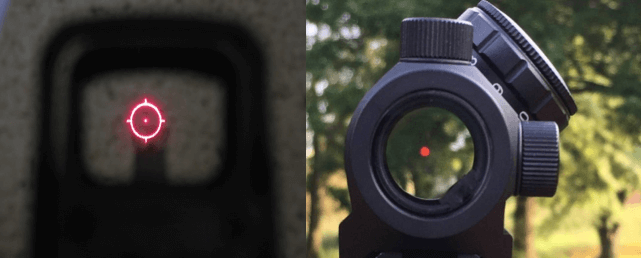 We also love the huge window you get with holographic sights, which make it a lot easier to see what is going on around the target. It's also trusted by many of our servicemen and women and has seen plenty of action to earn its reputation.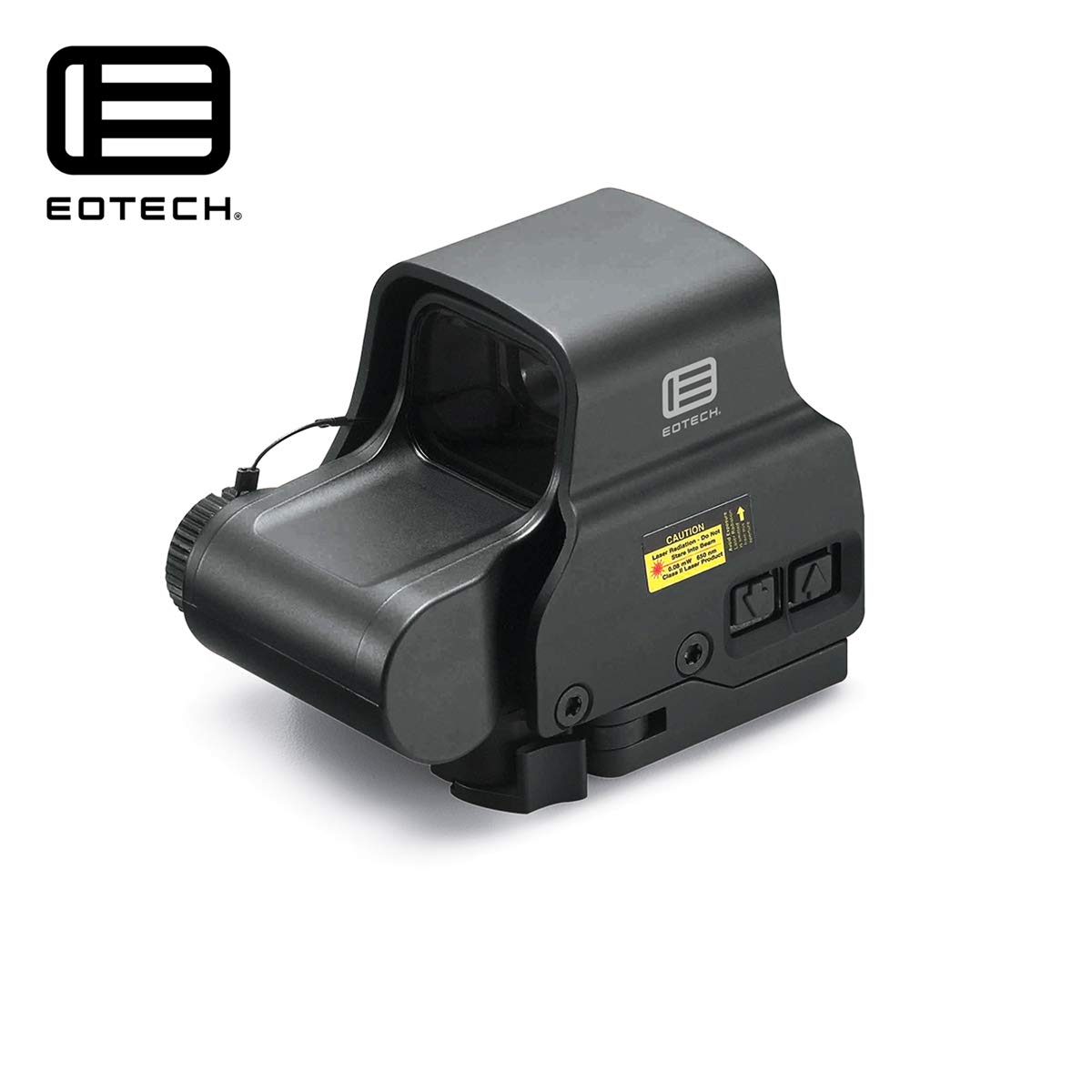 EOTech EXPS 2-0
Pros
Holographic technology works, even when obstructed
Easy to pick up targets with
Extremely durable and tolerant of bad conditions
Unfortunately, holographic sights have significantly less battery life than their red dot counterparts–only 600 hours for the EXPS-2.
And of course, we need to present a more budget option for your forrays into holo sights! The Holosun 501C isn't a true holographic sight, but rather a red dot with a holographic reticle.
It's sort of the best of both worlds, with a great view window, awesome battery life, and the benefit of a holographic reticle for quick, precise shots.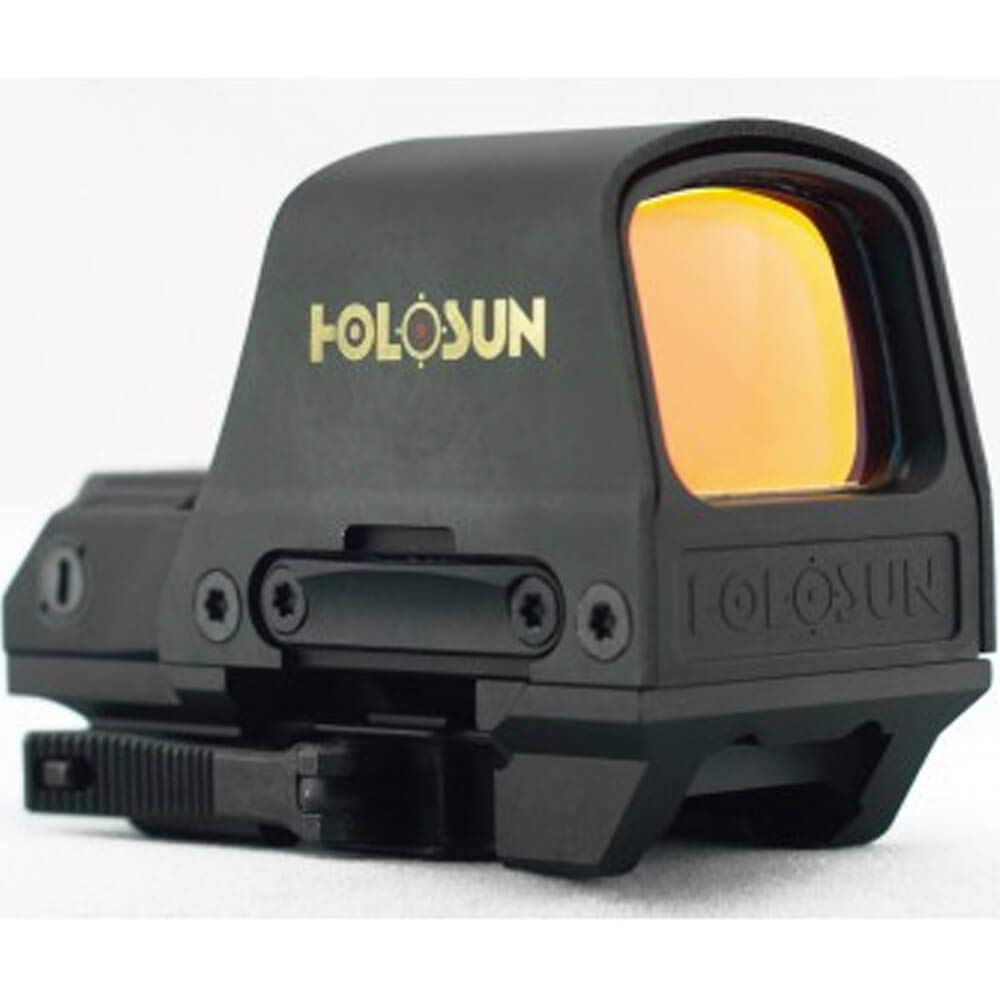 Holosun 501C
Pros
Holographic-style reticle
Long battery life
Durable design
Cons
No holographic projection
It also has a teeny solar panel on top that takes over for your battery in the sun–not that you really need to worry about that when the battery life is already 50,000 hours!
In Conclusion
So that's it! Our favorite red dots for every occasion. We hope we've introduced you to something you'll love.
Anything you'd have added to our list? Do you use any of these? Leave us a comment about it! Get up close and personal with the best long-range scopes, while you're at it.