Want to ring steel at 1000 yards, but don't know where to get started?

If you're feeling a bit daunted about all the different choices of scopes out there, or maybe a little confused about the different terminology (the difference between first and second focal plane,  parallax, etc.), you're in the right place.
We're going to go over everything you need to know about choosing a long-range scope, from how to budget for one, to basic terminology.
Then we're going to give you a good jumping-off point in the form of our favorite scopes, and why we think they're the best out of the dozens that we've tested.
Deciding on a Budget
One big benefit of the huge amount of competition in the world of long-range scopes is the drastic reduction in the price of quality optics, and the amount of new optics that have been released at more affordable prices.
The old adage used to be "spend as much on your scope as you do on your rifle," which worked pretty well before the big surge in interest in hitting targets that are very, very far away. Since then, prices have come down, and the market has shifted.
Now, we're going to stand behind the idea of "get as much scope as you can afford." There's a scope out there that will work with your budget, we promise. The best advice we can give is to get the best scope you can, and if possible, get more scope than you need.
Why?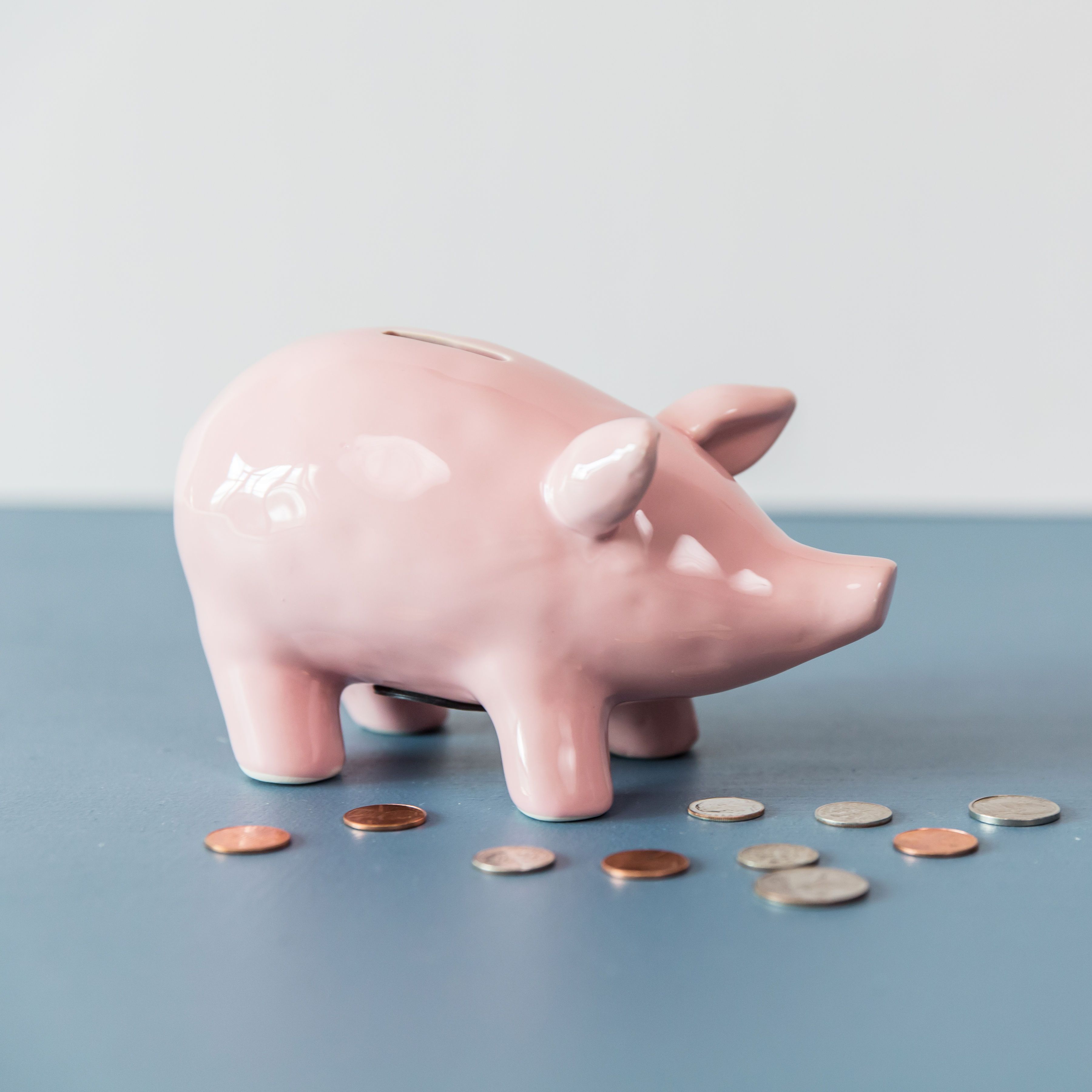 Well for one, your scope is more likely to hold you back than your rifle, especially when you're first starting out with long-range shooting. Second, you can always transfer your scope to another rifle, so it makes more sense to invest there as you're more likely to keep using it.
Alright, with that out of the way, let's clear up some of this confusing terminology.
Basic Terms
There's a lot of jargon tossed around when discussing optics, and it can get confusing when you don't know what all the terms mean, and frustrating when you have to stop and look things up, or ask someone that's more knowledgeable.
Feel free to skip this section if you already know all the fancy lingo and just want to see our recommendations.
Scope Labeling Terms
First, we have to talk about the way scopes are labeled.
Let's take a look at the Vortex Viper PST II 5-25×50 for an example. The "Viper PST II" is just a marketing name, but what about the numbers?
This is a standardized way to indicate the magnification range of the scope, as well as the objective lens size in millimeters. So, the 5-25  part tells us that this scope can zoom out to 5x magnification, and can zoom in all the way to 25x magnification.
This is about the range most people recommend for long-range shooting, though some prefer 4-16x or something similar, but that's on the low end, especially for newer rifles shooting precision cartridges like 6mm Creedmoor, 6.5mm Creedmoor, .300 PRC, .300 WM, etc.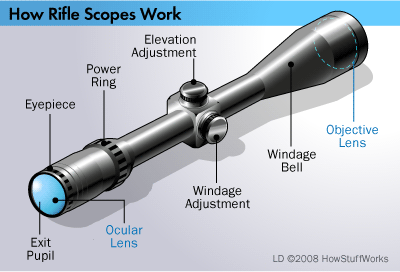 Now the 50 in that label means that the objective lens, the larger one that's closest to the muzzle, is 50mm in diameter. This matters for two reasons.
One, the diameter of your objective lens is going to dictate how high you have to mount your scope. Two, the diameter of the scope dictates the amount of light the scope can bring in. A larger diameter = more light, but also more height required over your bore, which can prohibit you from getting a consistent cheek weld.
Windage and Elevation
When you hear people talking about windage and elevation adjustments, they're talking about adjusting the scope left and right (windage) or up and down (elevation).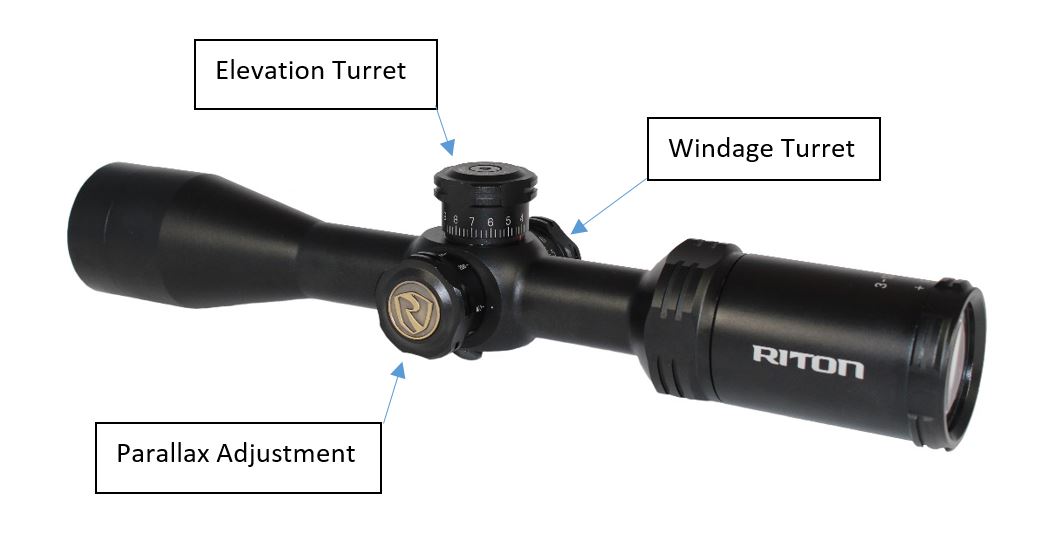 You may also hear these terms used to talk about the hash marks or lines in a scope that indicate where you should hold based on how much your bullet is going to drop vertically, or how much it's going to drift left or right due to wind.
First Focal Plane (FFP) vs Second Focal Plane (SFP)
This refers to where the reticle is located, and how it behaves under magnification. If the reticle is in the first focal plane, then the size of the reticle changes in relation to the target based on your magnification settings.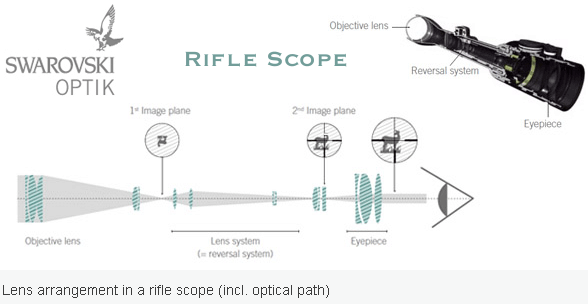 This means that as your magnification changes, your reticle will change with it, which in turn means that your windage and elevation hash marks will always indicate the same distance.
This is great for using the lines in the scope to estimate distance at less than maximum magnification, but also means that the lines can appear to thick at extreme distances, and can obscure your view of the target.
Alternatively, an SFP scope will have a reticle that stays the same size regardless of your level of magnification. That means your reticle is less likely to obscure your target, but you can't use your windage and elevation hash marks unless you're at the max magnification setting.
Eye Relief and Eye Box
Eye relief is simply the distance you have to have your eye away from the scope to see everything clearly. This is important because you really don't want a scope that has a short eye relief on a hard-recoiling rifle. That's how you get a neat little scar above your eye that tells everyone that your scope smacked you around.
You want to aim for 3" or greater when looking at eye relief, and lean towards at least 3.5" if you're shooting magnum calibers.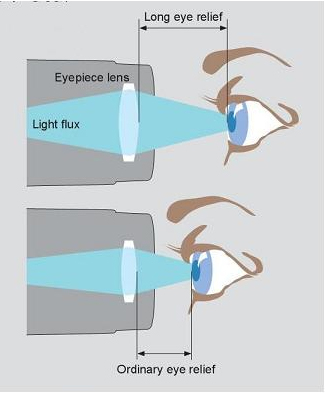 The eye box is related to this and is just the "sweet spot" where you can see everything at all magnifications. When we say a scope has a "forgiving" eye box, we just mean that the scope isn't super picky about you having your eye the exact same distance away from the eyepiece each time.
A scope with a wider eye box will be much easier to use in dynamic situations like hunting or PRS competition, so this is definitely something to be aware of.
Parallax
Parallax is what happens when the focal plane of your target and the focal plane of the reticle within the scope are different. Basically, when you move your head around while looking through your scope, the reticle should stay centered and not move around on the target.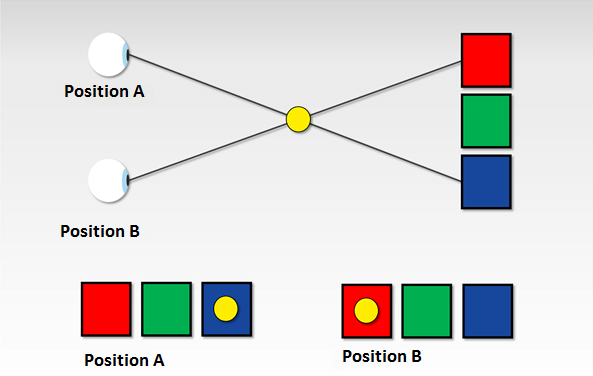 If your parallax isn't adjusted properly, the reticle will move with your head and change where it appears to be on the target. On scopes designed for shorter ranges, parallax is typically set from the factory at a certain "good enough" setting.
On serious long-range scopes, parallax will be adjustable by the user, allowing you to tweak it based on how you're shooting.
Field of View
How much of the target area you can see through the scope. This is usually expressed as a number of feet at 100 yards, and lets you know how far you can see to the right and to the left within the scope.
MOA vs Mil
MOA stands for "minute of angle" and Mil is short for "milliradians." Both of these are angular measurements that we use to track adjustments in our scope, as well as to measure the representative distance of the lines in your scope.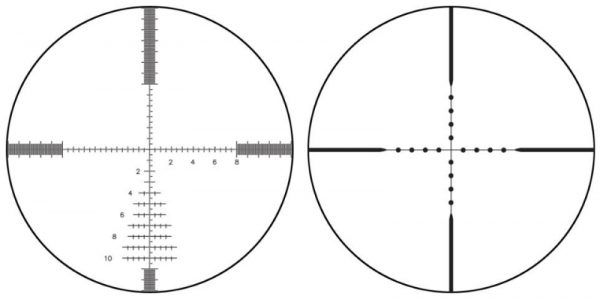 You're going to have to learn the difference between these two, and learn how to use one of them, but that's beyond the scope of this article (pun intended).
For now, know that it doesn't really matter all that much which one you go with, but Mil has become the "meta" of sorts with sports like PRS, and is beginning to be more popular with serious shooters.
Either one will do just fine, just as long as you know how to use the system your scope uses.
Best Long Range Scopes
Now, the part you came here for–our favorite picks for the best long-range scopes! We're going to run you through the best of the best for every budget, whether you're looking for a great value or have cash to burn.
What matters to us is that you find a scope you love.
Athlon is a company that has quickly made a name for itself as a budget-focused optics brand that provides an excellent value. They have since expanded to include some very expensive high-end scopes in their lineup, but the less expensive and mid-range optics they offer are still their most popular products.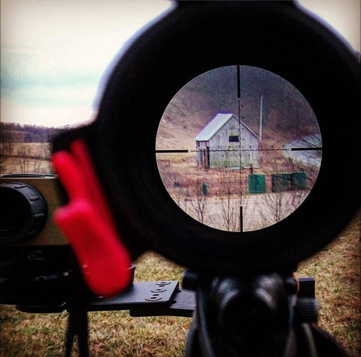 And that's right where the Ares BTR 4.5-27×50 sits. This is one of the best scopes under $1000, and you can sometimes catch it on sale for around $700 if you're willing to wait for something like a Black Friday sale.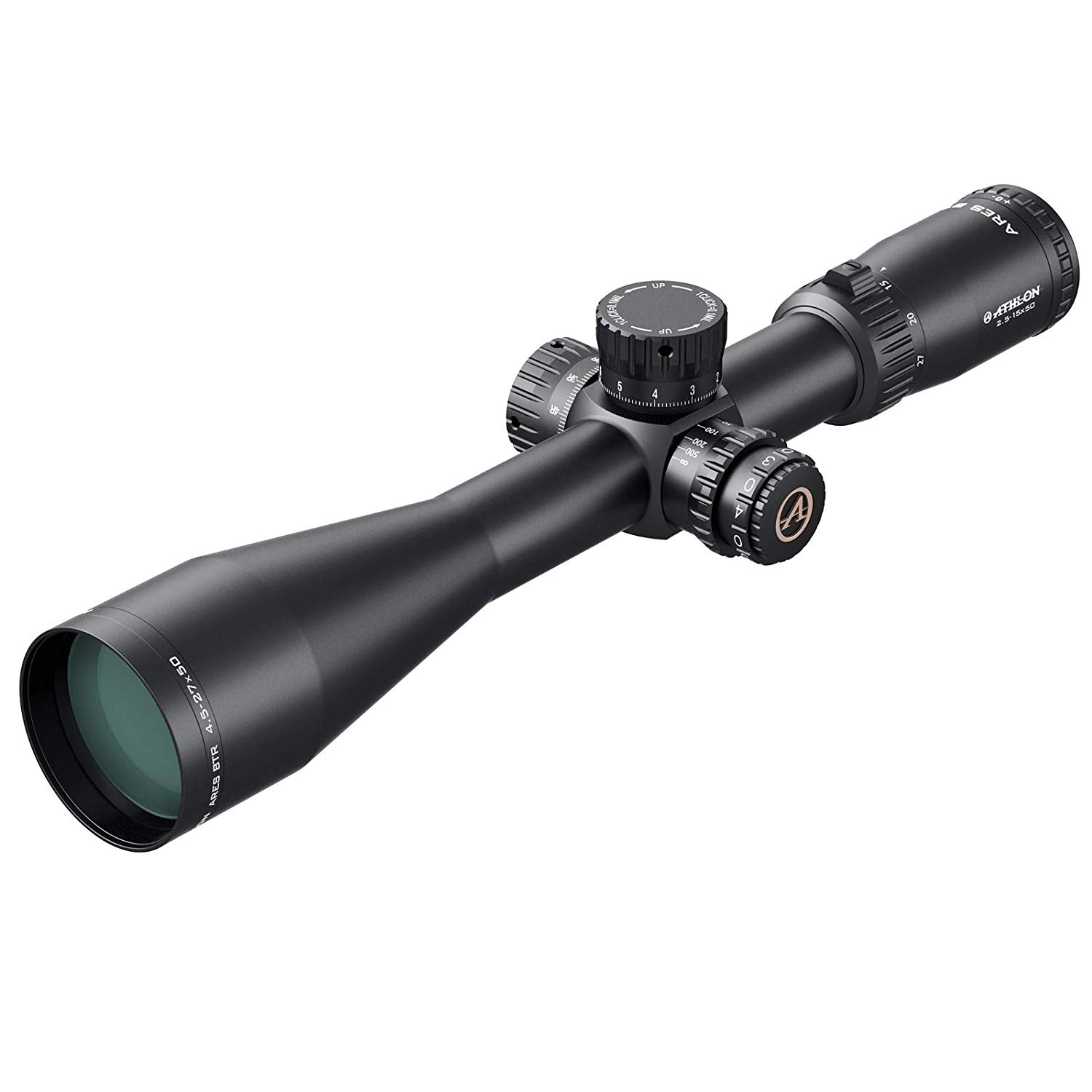 Athlon Optics Ares BTR 4.5-27x50
Pros
Clear glass
Great quality for the price
Fully multicoated optics
Cons
Adjustments aren't the crispest
The adjustment turrets for windage and elevation aren't the crispest, but they are more than tactile enough that adjustments are easy, even with gloves on.
Finally, the Ares BTR has some of the clearest glass at this price point, making it easy to find your target whether you're hunting, or competing. After that, it's all up to you to put the rounds on target.
If Athalon has made a name in the world of wallet-friendly optics, then Vortex is the name.
Vortex made their fortune producing some shockingly high-quality products, and then selling them at even more shockingly-low prices. The Strike Eagle 4-24×50 is one of those that almost seems too cheap when you first look at it.
At under $400, it's definitely positioned as an entry-level optic, and some of the features they chose to leave out reflect that. That said, this is almost certainly the best long-range optic in this price range.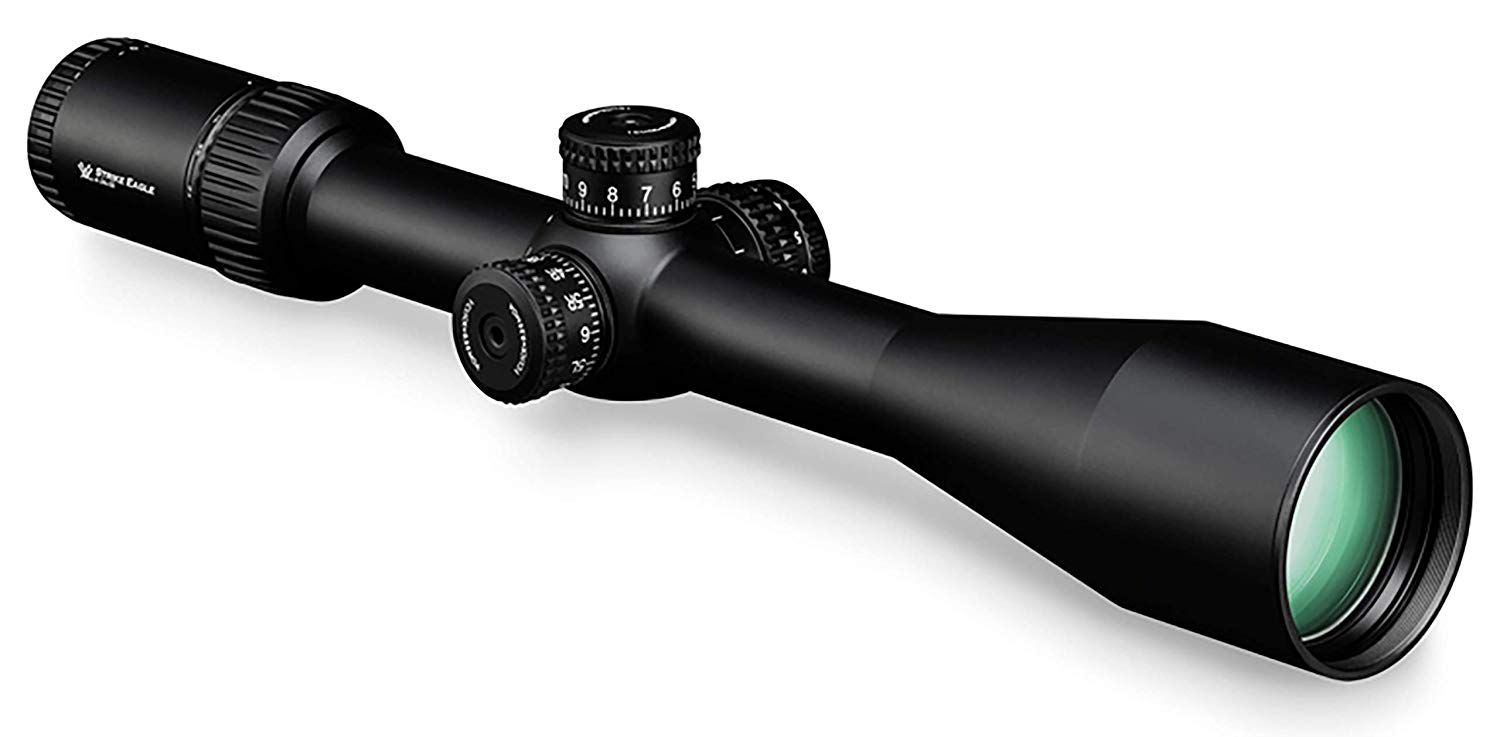 Vortex Strike Eagle SFP 4-24x50 
Pros
Waterproof and fog proof
Zero resettable, tactical style turrets
Under $400
That said, there are some issues.
For one, it's an SFP scope which is generally less desirable than an FFP scope.
Two, the glass isn't as stellar as most of the other options on this list, though it is very good for the price. You'll definitely notice some distortion around the edges of the scope, but nothing that's distracting or that will interfere with spotting a target.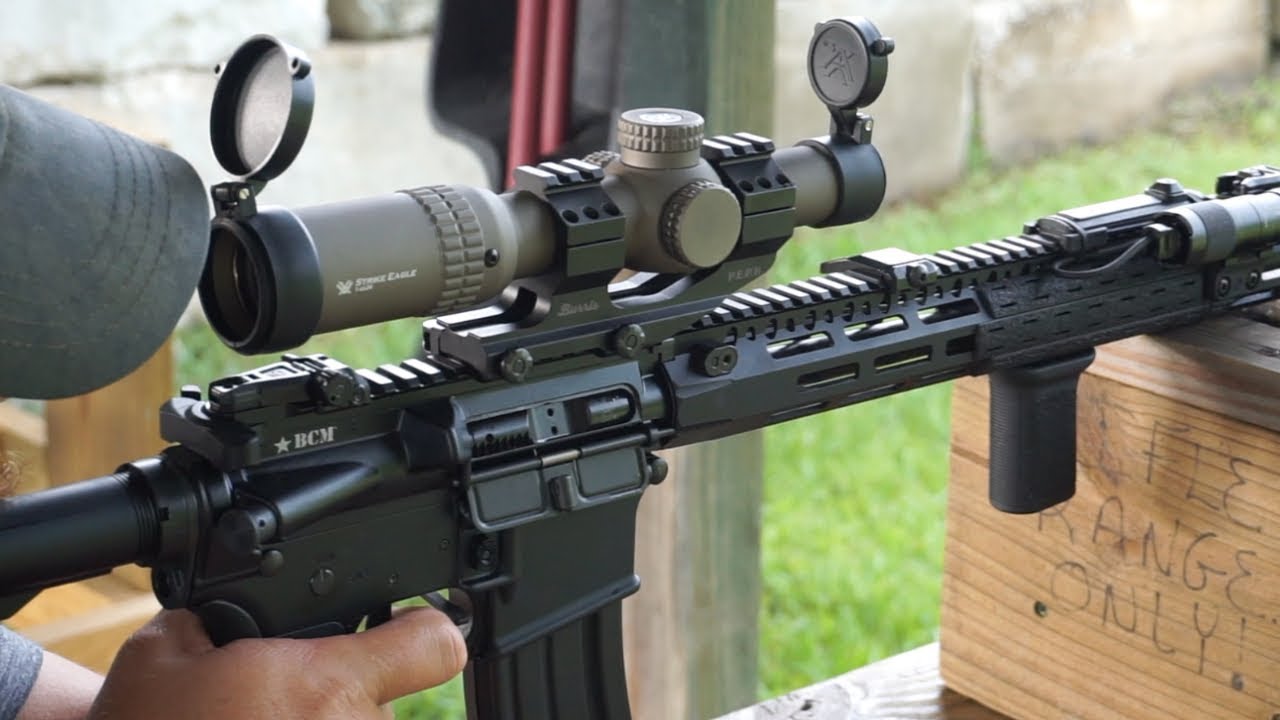 The eye relief is a totally standard 3.5" which is good for just about all but the most stoutly-recoiling rifles. The eye box is a little bit picky, but you should be fine, especially at lower magnifications.
Finally, the adjustment knobs are not great. The turrets on this scope are fairly bog-standard and roughly machined, so you don't get that tactile "click" that we'd like to see, nor do you get things like an Off position in between each illumination adjustment for the reticle.
But all in all, you get what you pay for, or in this case, you get an awful lot for what you pay for. Some features of more expensive optics are notably missing, but for the price, it's very hard to complain.
Oh, and Vortex has a lifetime, no questions asked warranty that's one of the best in the industry, so you can always buy from them with confidence.
If you're not sold on the Strike Eagle because of some of the features that have been left out, or some of the corners that have been cut, you might be very happy with the Viper PST Gen II.
Right out of the gate, the glass is much clearer, even at the highest magnification setting. Looking at the two side by side, the Viper is much brighter as well, especially in low lighting conditions. The eye box is also a good bit more forgiving.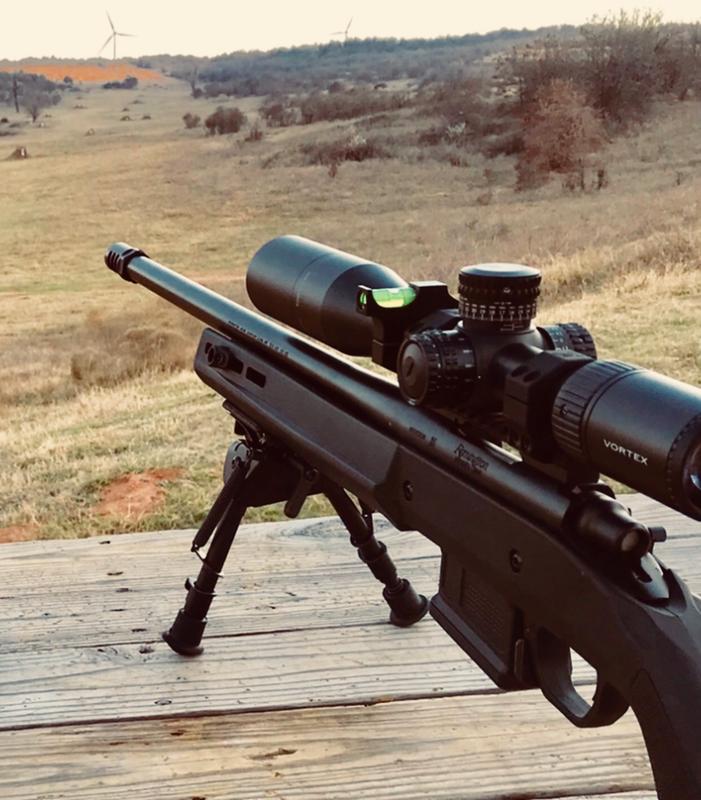 The turrets, which are kind of mushy and difficult to turn on the Strike Eagle are nice and crisp on the Viper, with adjustments giving you plenty of audible and tactile feedback so you can be confident in making your changes, even without looking.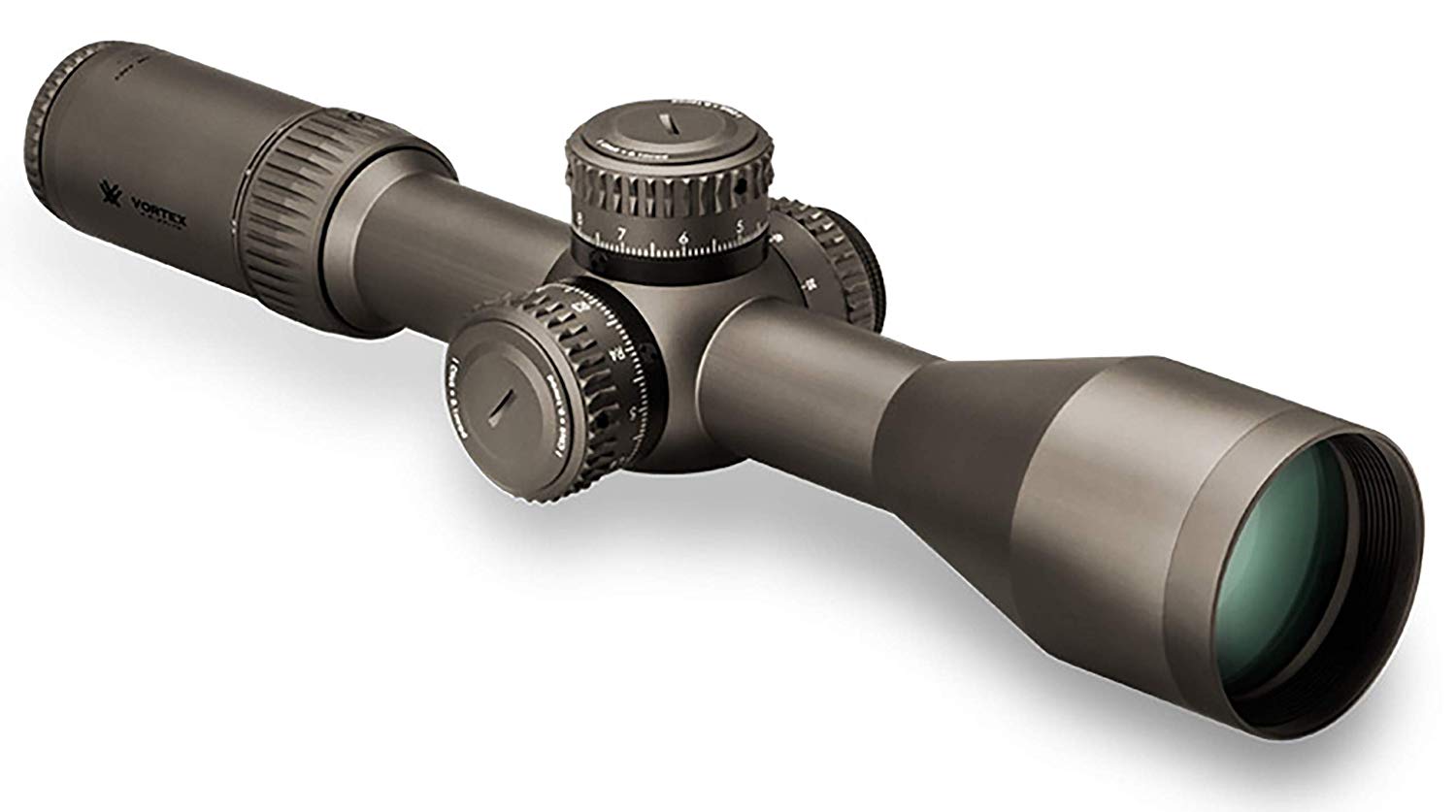 Vortex Viper PST Gen II 5-25x50
Pros
Clear glass and bright FOV
Audible and tactile feedback on adjustment turrets
Armortek lens coatings
Cons
Zero turrents are free spinning
Unlike the Strike Eagle, the Viper has a labeled parallax adjustment, as well as an off setting in between each brightness level on the illumination dial, meaning that you can switch the optic off without losing your settings, or having to turn the knob all the way back around to zero.
Speaking of zero, this optic has a zero stop, which prevents you from dialing back past your original zero on accident, which is great for stressful, fast-paced situations, whether you're scoping in on that trophy buck, or adjusting your windage on the fly in the middle of a PRS stage.
Rounding out the options from Vortex is the Razor HD Gen II. The Razor HD Gen II is an incredibly popular mid-range optic with high-end performance. It's so good that almost a third of the top-ranked PRS shooters used it in competition last year.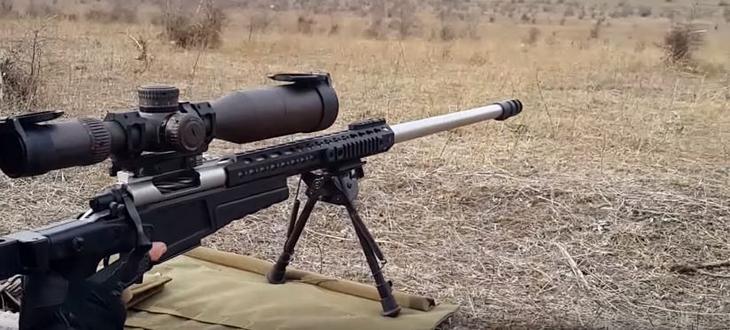 The glass is so clear you'll hardly realize you're looking through a scope, and turret adjustment is absolutely excellent.
You have a number of reticle options, from MRAD-style reticles to the more PRS-focused Christmas trees with etched holdover lines.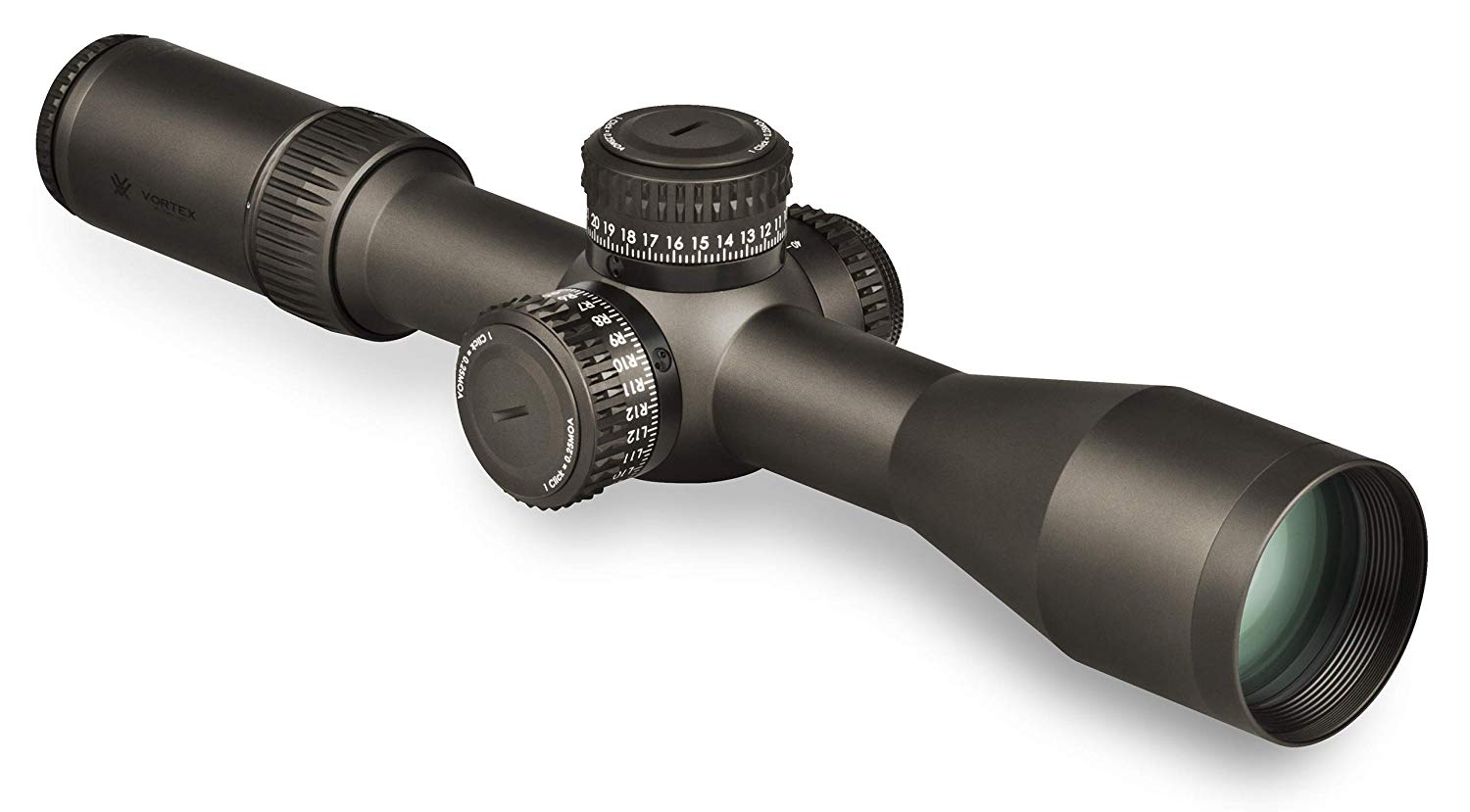 Vortex Razor HD Gen II 4.5-27x56
Pros
Single-piece, aircraft-grade aluminum construction
Waterproof and fog proof
Armortek lens coatings
The only problems you may have with it are only going to be solved by spending more money for better turrets or clearer glass, but for most folks, the juice isn't going to be worth the squeeze.
German glass, like in the Schmidt and Bender optic we'll talk about in a bit, might be clearer, but glass clarity becomes difficult to measure outside of the lab after a certain point, and the HD Gen II is certainly past it.
Overall, Vortex really hit it out of the park with this one, to the point where other optics makers are starting to really sit up and take notice, and PRS pros are ditching more expensive optics for the rugged and reliable HD Gen II.
EOTech is one of the most well-known names in optics, but they aren't really well known for their long-range scopes.
That may be about to change with the Vudu 5-25×50.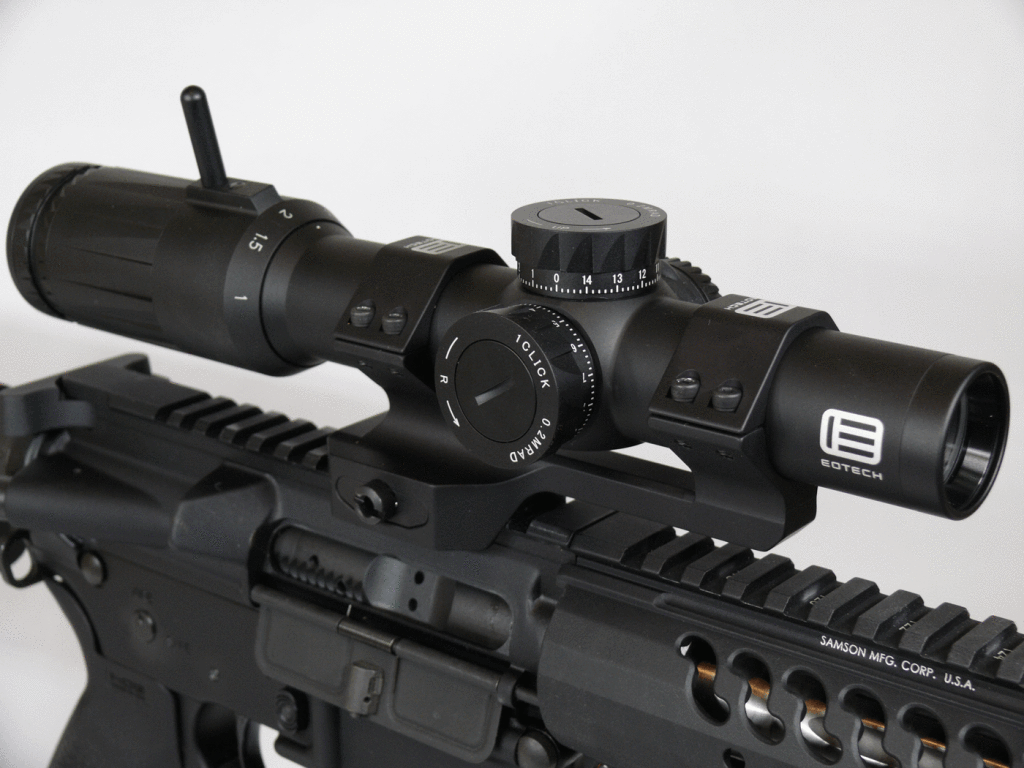 This scope is relatively short compared to other optics, making it ideal for use with night vision or for use in a lightweight build.
The glass is crystal clear, and the reticle is a fairly standard MRAD that makes us think EOTech didn't want to stray too far from their military audience. There's very little (if any) distortion at all magnification levels, and the reticle is fine enough that doesn't obscure too much of your target at higher magnification either.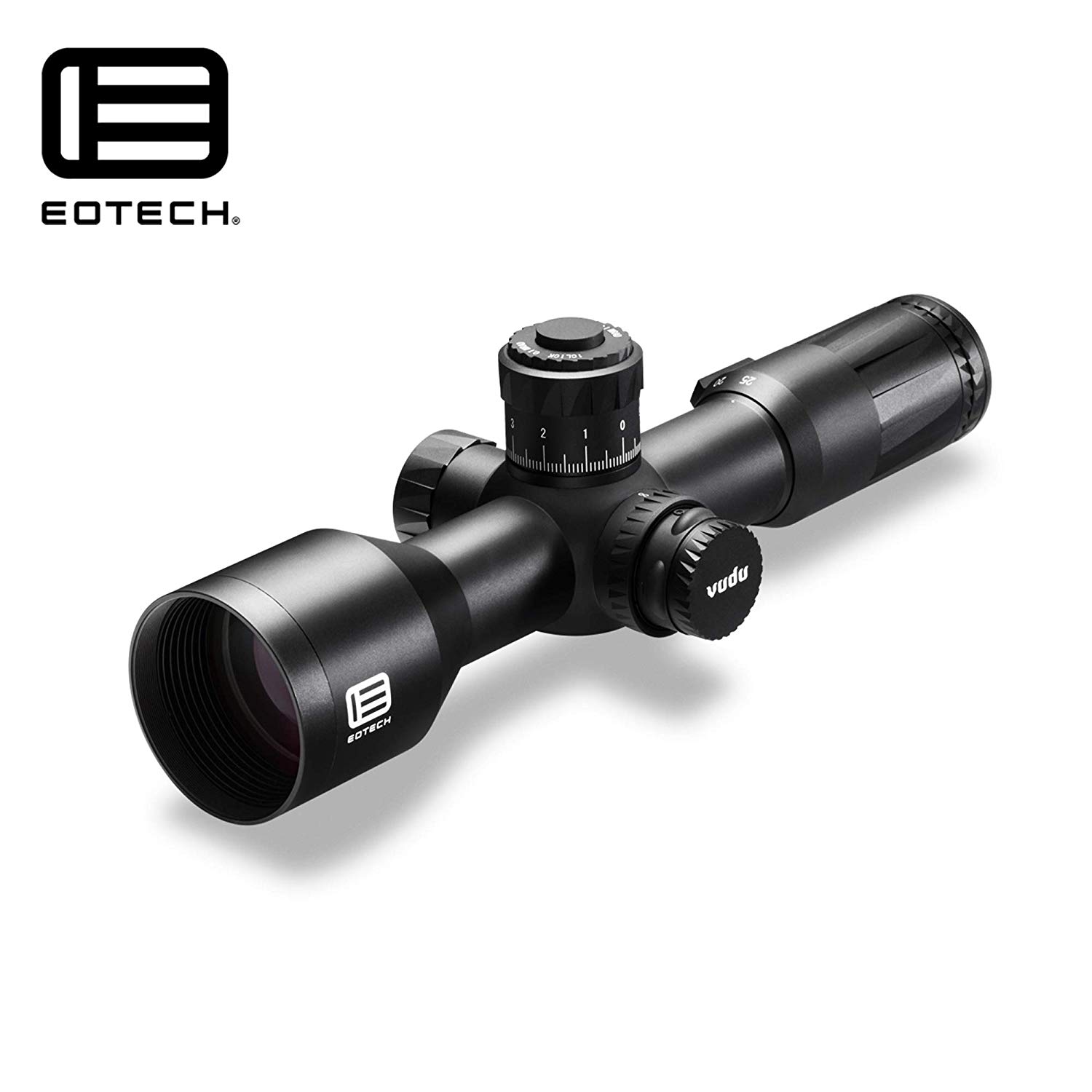 EOTech Vudu 5-25x50
Pros
Water, shock & fog resistant
EOTECH Vudu Advantage limited lifetime warranty
MRAD reticle
Cons
Illumination controlled by buttons
The turrets are a little bit different from the norm, with a locking mechanism on the elevation turret, and a cap on the windage turret (though it's still waterproof if you remove the cap). This is similar to the Nightforce ATACR which we'll get to in a minute.
Parallax and illumination are on a combined turret and are easy to adjust, though you have to use two buttons to adjust the illumination. All part of the sacrifice for such a compact scope, and not too inconvenient once you get used to it.
This is one of the more expensive scopes on this list, but the quality more than makes up for the cost of entry. The Vudu 5-25×50 is a well-designed optic that is sure to turn the heads of more tactical shooters.
Burris has been slowly growing as a manufacturer these past few years, and their XTR II 5-25×50 is a good indicator that they're still on the rise.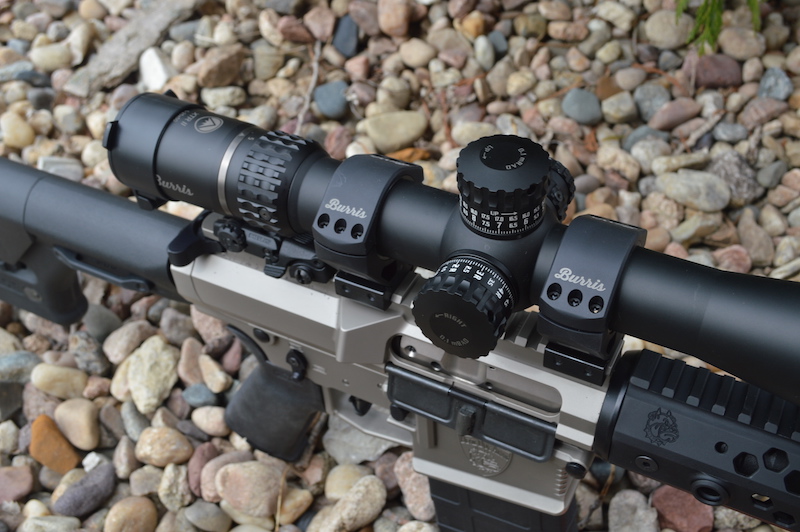 The clutter-free SCR reticle and the stunningly clear glass makes this an excellent hunting scope. The busier "Christmas tree" reticles are more of a PRS thing, but you can still do very well with the XTR II there if you want.
Eye relief is around 3.5", but the eye box is little tetchy so make sure you have a consistent cheek weld and a rifle that supports that.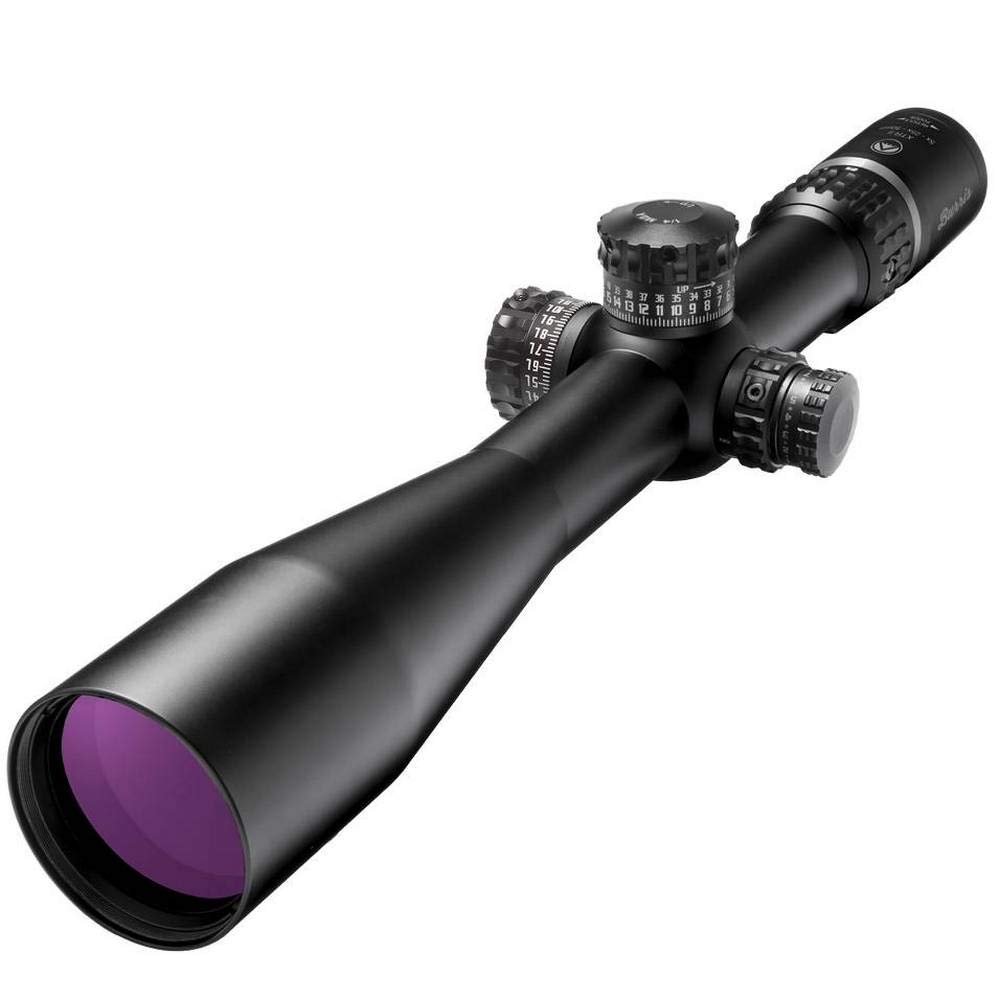 Burris XTR 5-25x50
Pros
Clutter-free SCR reticle
Turrets stay in place well
Illumination settings include off setting between levels
The only other real issue is that the turrets are a little bit stiffer than most, but this is mostly a preference thing. They're definitely not going to get accidentally turned unless you really try to knock them around, and they're plenty crisp and tactile so you know when you're adjusting.
Other than that, this scope is a fantastic value. Parallax is easy to adjust, and you get the off settings in between illumination adjustments.
Overall, it feels very solid, and the finish is tough and durable. It makes a great option in the sub-$1000 range, and you're not going to be disappointed in it for the price.
Leupold is another familiar name in optics, and one of the most prominent when it comes to rifle scopes. Their Mark 5HD 5-25×56 is one of their newer offerings, and it really shows that Leupold isn't resting on their laurels.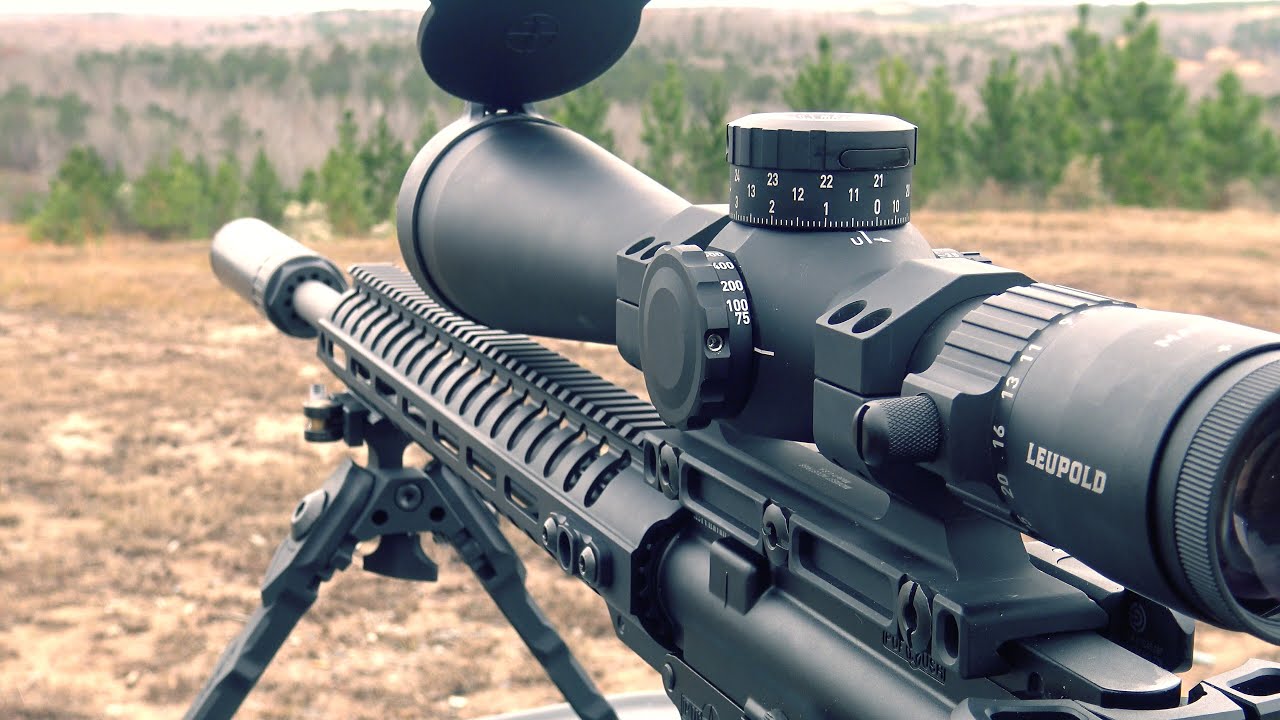 You have a wide variety of reticle options (with more supposedly on the way) and the glass is as good as it gets without going to a NASA telescope.
This is a military-style scope so most of the reticles are most optimized for 12-16x magnification for use with night vision and thermal scopes, but it works well at any magnification, with or without an additional optic.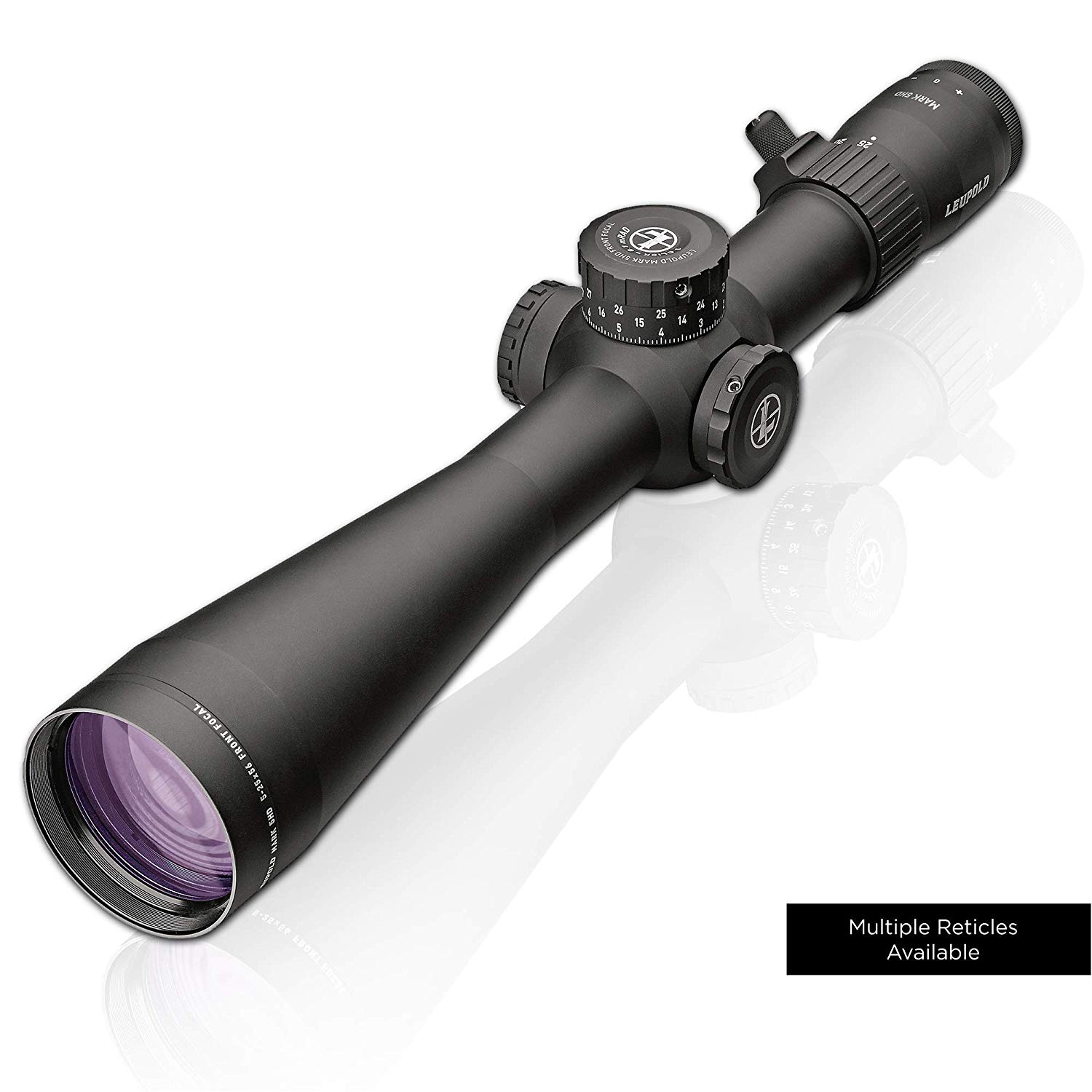 Leupold Mark 5HD 5-25x56
Pros
Variety of reticle option
100% Waterproof, fog proof, & shockproof
Extreme military-standard scratch resistance
Cons
Some reticles are very busy
Eye relief is pretty standard, and the eye box is maybe the most forgiving on this list. The larger objective lens like ones in the Razor HD Gen II and the final two entries on this list let in a ton of light, which brightens everything up nicely in low light.
You get zero stops, as well as locking turrets, and the turrets have good tactile and audio feedback so you know when you've adjusted something. Windage is capped since most of the reticles include stadia for adjusting as needed without dialing.
Overall, Leupold brought all of their considerable experience to bear when designing this scope and it shows, from the overall high-quality fit and finish to the relatively light weight.
This is an optic that will do well no matter what is asked of it, and will be equally at home on custom PRS rifle as it will a battered and worn tactical rifle on a battlefield.
If you've looked up "best long-range scope" you might have already known this scope was going to be on the list.
Schmidt & Bender is widely believed (rightfully so) to be one of the very best, if not the best optics manufacturers on the planet. Their optics are used by US Special Operations Forces, along with many other top-tier military and police units around the world.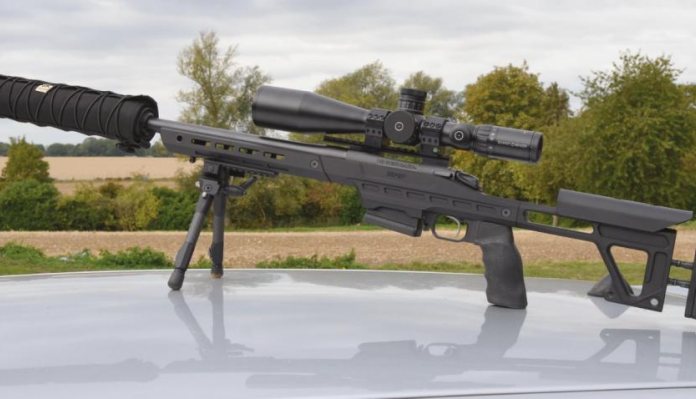 In short, they know their business, and that's plainly obvious with the PMII 5-25×56.
Right off the bat, it has the clearest glass on this list, with virtually no artifacts, distortion, or other issues.

Schmidt & Bender PMII 5-25x56
Pros
Trusted by US Special Operations Forces
Forgiving
Plenty of reticle options
You have a number of reticle options to choose from, and most are geared towards hunting/tactical shooting, or competition, but there are some "plain" options as well that aren't so busy if that's what you're looking for.
Eye relief is that standard 3.5" again, and the eye box is extremely forgiving so you won't struggle to bring things into focus.
Adjustment knobs feel positively luxurious, and parallax is dead on so you just turn and go to shooting. Overall fit and finish is amazing and is designed to stand up to the roughest treatment imaginable during battlefield use.
You really just can't do much better than this scope… but it is expensive. That said, if you've got the cash available, you aren't going to feel disappointed with your purchase.
Final Thoughts
There are an awful lot of optics out there that can help you hit targets at 1000 yards, but many of them also hold you back in one way or another (especially at the price you pay for them).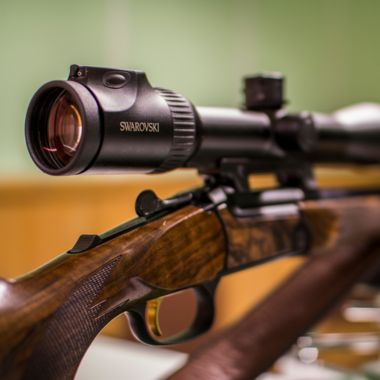 These are the best long-range rifle scopes around, and each one of them provides the features you need at a price that makes sense for what you get. Value is important, but so is performance, and these optics have both in spades.
Which of these long-range rifle scopes is your favorite? Do you have a personal pick that's not on the list? Let us know in the comments! Break into precision shooting by taking a look at our guide to the best long-range and precision rifles.