Want to make sure you have a safe, fun, and successful time at the shooting range? 
Then make sure you have all the right gear.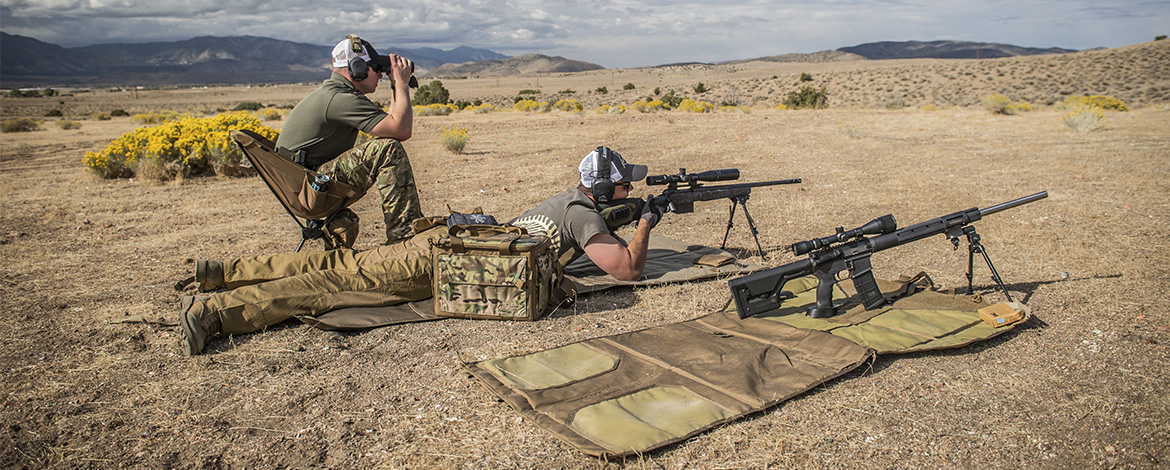 We're going to talk about all your range day essentials, give you some suggestions for ways to take your range time up a notch, and share some next-level gear that most of us don't come close to needing (but is ridiculously fun!).
Let's get started!
Range Day Essentials
These are the things you'll want to be sure to bring with you every time you go to the range, whether you're working on your handgun skills or polishing up your long-range precison.
Range Bag
Let's start with the bag itself.
You want something rugged and durable with plenty of space for all your stuff. If it has lots of pockets, that's even better.
We like Osage River Range bags, particularly the Standard size, which is 18" x 13" x 10". It has two movable dividers in the main compartment and five external pockets, the two largest of which have seven handgun mag holsters a piece. 
The Light Duty size is a scaled-down version with dimensions of 13.5" x 10.5" x 7.5". It has a single divider in the main compartment and five external pockets, but only five handgun mag holsters in the two largest.
Both sizes are available in four colors, have both hand and shoulder carry straps, and have rubberized feet to protect the bottom of the bag while it's on the ground. They're also super packable, so they store easily if you prefer to completely unpack your range bag between trips.
Other solid options include the Orca Tactical range bag and the 5.11 Tactical range bag. 
Pro tip: add a luggage tag to the outside to make it clear which bag is yours. 
Guns
This seems obvious, but since you probably aren't keeping your guns in your range bag at all times (you are keeping them in a gun safe, right?), a reminder doesn't hurt. You don't want to glance at your empty handgun case and forget that you didn't actually put your gun in there.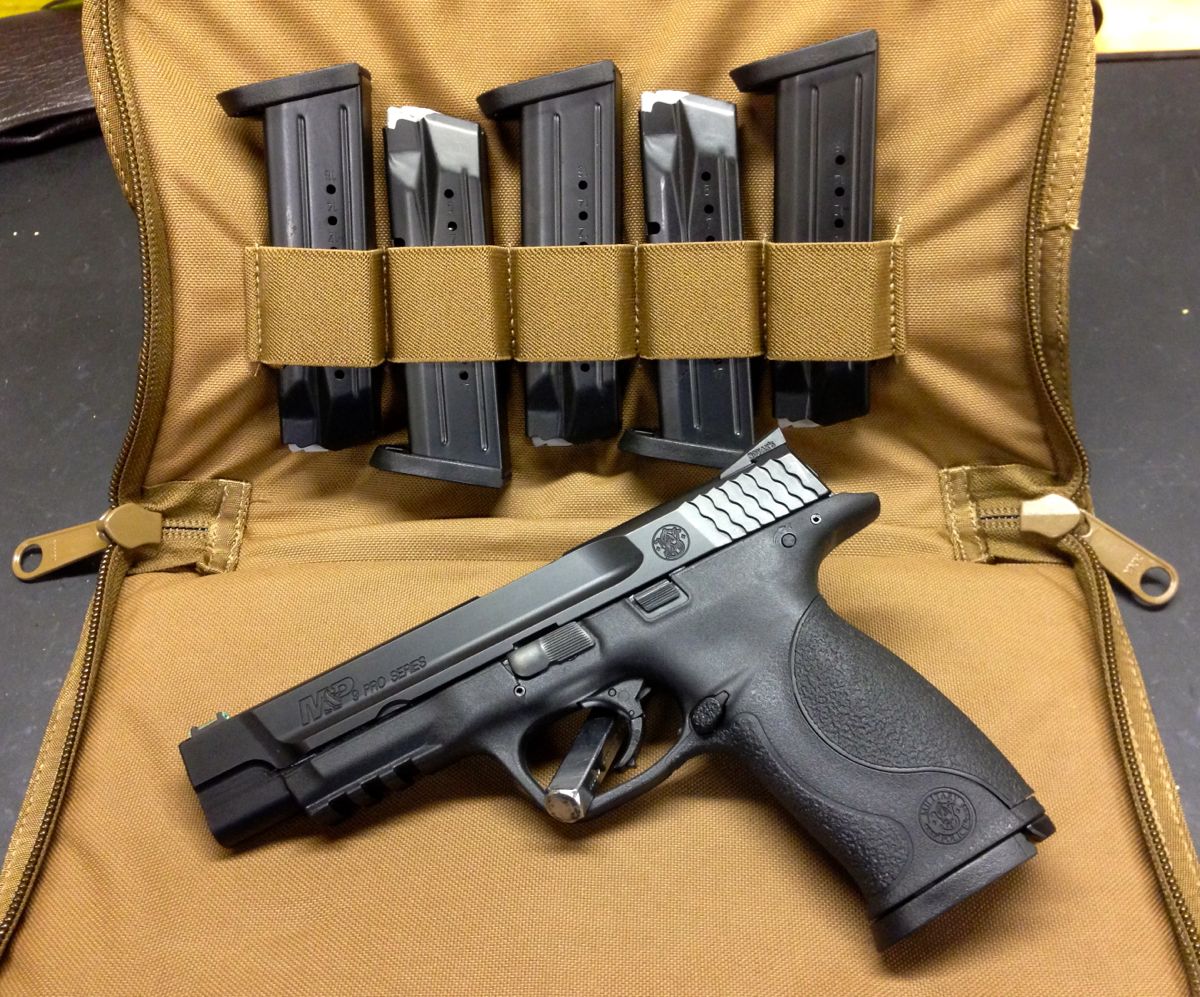 Ear & Eye Protection
Speaking of range rules, virtually all ranges require hearing and vision protection. Most provide hearing and vision protection for a low cost, but you'll probably be more comfortable on your own.
Plus–you don't have to wonder who wore it before you. 
There are lots of different levels when it comes to hearing and vision protection, but since at least having something to protect both your ears and your eyes is a necessity, I'm going to just go through all your options here.
The basic level of hearing protection is foam earplugs. They're cheap, easy to use, and don't risk messing with your cheek weld, but they can be uncomfortable.
You can also DIY your own custom earplugs with the Radians Custom Molded Earplugs kit for a more comfortable fit. Add a neck cord to make them harder to lose and help you to quickly identify which side is which.
For more complete protection, we recommend doubling up with ear muffs like 3M Peltor Shotgunner II earmuffs. They offer good protection but are shaped to avoid interfering with your cheek weld. 
Electronic ear muffs like Howard Leight Impact Sport earmuffs are a great option to protect your ears, and they don't have to break the bank, either. These earmuffs use noise-canceling technology to limit loud sounds while amplifying voices and ambient noise for a more natural listening experience.
For the ultimate in luxury hearing protection, go with something like MSA Sordin Supreme X earmuffs. 
Check out our hearing protection guide to learn more about protecting your ears.
Fortunately, choosing eye protection is less complicated.
Radians Revelation shooting glasses are a good low budget option while Oakley Radars offer a custom fit and excellent coverage for those who are able and willing to shell out more for their protective eyewear.
Get more recommendations, especially if you need eye protection that can be worn over your corrective eyewear, from our shooting eye protection guide.
Portable Cleaning Kit
You don't need a full cleaning kit, but you do want to have a few essentials. 
Hoppes Universal Gun Cleaning Kit and the caliber specific Otis Technology Patriot Series kit are both great options.
If you have a scope or similar optic, you should also have lens wipes or lens cleaner and a soft cloth.
Screwdriver, Allen Wrench Set, and Multi-tool.
You may also find yourself needing tools to make minor repairs or switch out accessories. A multi-head screwdriver and an allen wrench set will cover most needs. 
Go ahead and throw in a good multi-tool, like the Leatherman Skeletool or Gerber Diesel Multi-Plier, too. You never know when those things are going to come in handy.
Targets
If your range doesn't have targets, you'll definitely want to bring your own, but even if they do you might want to bring some that make it clearer where you're hitting.
We particularly like reactive targets like Splatterblast targets and AR500 steel targets like Shoot Steel targets.
If your range doesn't provide them, make sure you have a target stand as well.
You may also want to include a staple gun (with spare staples) or tape to hang up your targets.
Ammo & Magazines
Your gun is useless without ammo and you don't want to be stuck paying range prices for ammo if you forget. Check out our guide to the Best Places to Buy Ammo Online to get a good deal.
Make sure you bring plenty and grab some extra mags to give yourself more time shooting and less time loading.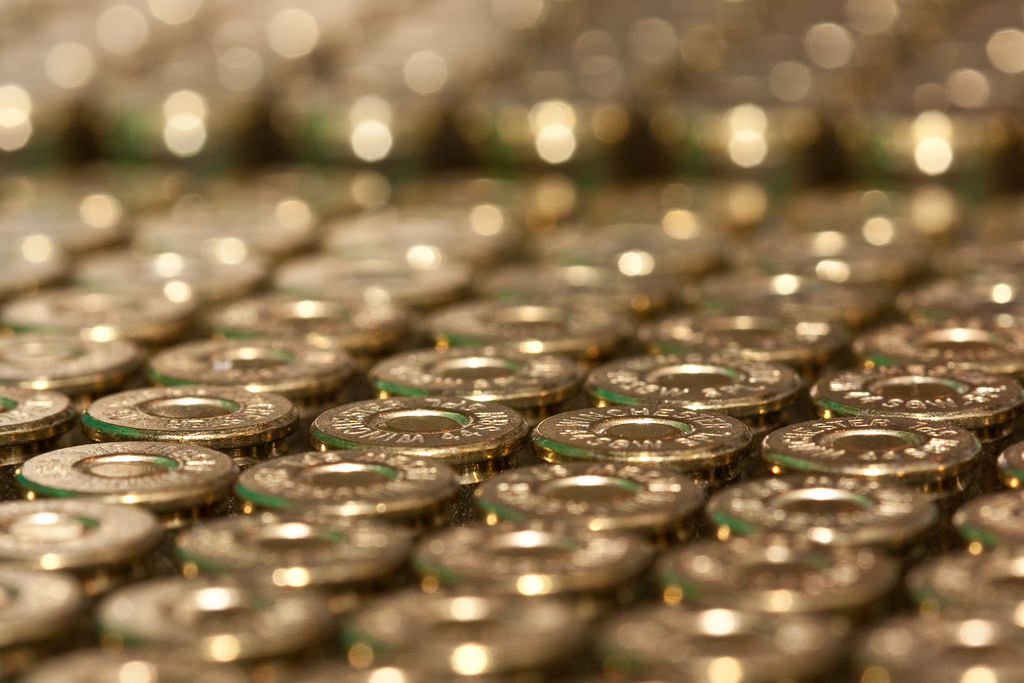 Go ahead and grab an ammo can, too. It's a great way to store and move small stuff and can be used as a gun rest in a pinch.
Gun Case
Keep your guns protected in a case like the Uncle Mike's Medium Pistol Rug.
For long guns, try something like the Bulldog Cases Extreme Scoped Rifle Case.
First Aid Kit
Hopefully, you never need a first aid kit, but you definitely don't want to be caught without one. 
Even a basic first-aid kit can come in handy, but if you're at the range, it's a good idea to make sure you're ready to handle more major trauma. You'll want, at the very least a CAT tourniquet and QuikClot gauze.
Check out our guide on building your own IFAK for a more comprehensive rundown of making a range-ready kit.
Pen & Paper
Use them to make notes, record results, log training, and more. This is one of those things that you may not need often, but you'll really miss when you do need it. 
Whatever notebook or pen you have at home, but if you want something cooler, Rite in the Rain makes awesome weatherproof field notebooks and all-weather pens. 
Non-Essential but Nice to Have
This section includes things that you don't necessarily need, but do go a long way in making your range time easier and more enjoyable.
Magazine Loader/Unloader
Technically not essential, but they might as well be. Mag loaders and unloaders save time and effort, not to mention your thumbs. 
We like these MagLula loaders. 
Shooting Front & Rear Bags
Front and rear bags help you stabilize your shot, which is great for precision shooting or putting a new rifle through its paces. We're a fan of the Caldwell DeadShot set, that includes both the front and the rear bag.
Shooting Mat
It's nice to have something between you and the ground when you want to shoot prone.
Though not exactly known for great products, NCStar's VISM Rifle Case and Shooting Mat is actually a pretty solid rifle bag and shooting mat in one. It holds two rifles and rings in at about the same price as most other shooting mats.
Or you can just use a yoga mat if you happen to have one sitting around or just want to save a bit of money.
Brass Catcher
Your range will probably require you to pick up your spent brass, so make things easier by using a brass catcher. 
Plus, you can always hold onto your brass for reloading.
Spotting Scope
A spotting scope makes it easier to quickly zero and lets you see where your rounds are hitting without having to get up close to your target—and in the line of fire of other shooters. 
The Celestron 55250 and the Bushnell TrophyXLT are both solid options. Each is easily adjustable and offers a 45° viewing angle to reduce neck strain. 
The Bushnell also comes with a tripod to make finding the right spot easier and then keep the spot in your viewfinder.
Shot Timer
Whether you're a competition shooter or just want to be as quick as possible in a defensive situation, a shot timer is a handy tool to compliment your drills. Try to beat your previous times or compare yourself to your favorite professional shooters.
Competition Electronics is the OG manufacturer of shot timers and their Pocket Pro II is the improved version of that original shot timer. It's reliable, accurate, and probably the most common shot timer.
However, if you typically drill at a busy range, you might want to go with the Shotmaxx-2 Shot Timer since it uses an accelerometer to trigger the timer and therefore only tracks your shots, not those of the people around you.
There are also shot timer apps for your smartphone. There are some decent ones that will do okay if you're on a budget, but a designated shot timer will generally do much better. 
Shooting Gloves
Shooting gloves protect you from hot or cold metal and the cuts, pinches, and scrapes that can happen while shooting. 
Magpul Technical Gloves are a good, affordable option, but check out our list of the best shooting gloves for more recommendations.
Measurement Tools
Electronic calipers are a great way to precisely check the size of your groupings, but a ruler or tape measuring tape work too if you're willing to sacrifice a little bit of precision.
Other Odds & Ends
Depending on the exact conditions of your range and how long you plan on being there, you may also want to bring things like:
Food and water, plus a cooler to put them in

Sun protection

Hand warmers

Rain gear

Hand sanitizer or wipes

A large, heavy-duty trash bag for any muddy gear

A folding chair

A change of clothes

Extra layers

A flashlight
Next Level Range Gear
If you're shooting very long-range, hand load your rounds, or are a competitive shooter trying to make their shots as precise as possible, you might want to add some of these things to your range bag as well.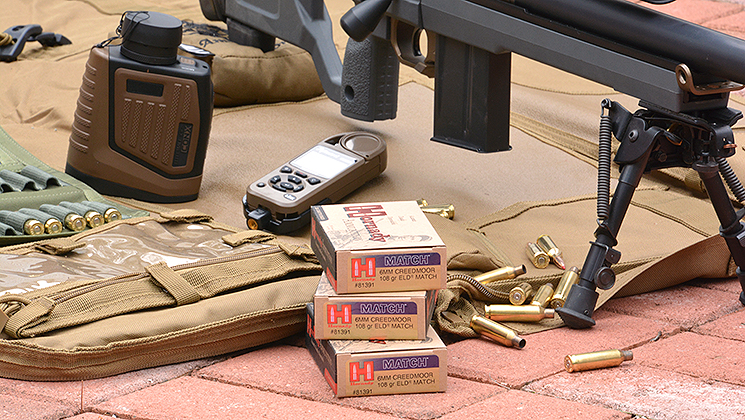 Chronograph
Use a chronograph like the MagnetoSpeed Sporter Barrel Mount to check the velocity of your ammo, whether hand-loaded or store-bought. Then input the velocity into your preferred shooting app to get your holds.
Rangefinder
Precision over long distances requires you to know how far away from you your target is. A laser rangefinder tells you just that so you can make the necessary adjustments and be as accurate as possible.
The Vortex Optics Ranger 1500 is a good middle of the road option.
Weather Meter
Distance isn't the only thing you need to account for when it comes to long-distance shooting. Use a weather meter like this one from Kestrel to find out the wind, pressure, and temperature.
Lead Sled
Lead sleds are another stability tool. They're not as versatile or portable as shooting bags, bipods, or shooting sticks, but they're excellent for reducing recoil. They're a must for when you're shooting with high energy rounds.
Conclusion
So that's just about all the range gear that you need or might want to include in your range bag–or your precision shooting wishlist.
To make sure you remember everything every time you go to the range, either print this article or create your own custom checklist to stick in your range bag. Double-check it before you go shooting and whip it out again to make sure you're taking everything back with you.
Bonus points if you laminate it and use a dry erase marker!
Is there anything you think we missed? Do you have suggestions for how to organize or store range gear? Let us know! Looking to add to your arsenal? Here's the best places to buy guns online.