Shooting in low-light situations can be challenging…
But in the instance of an event like a home invasion, your ability to shoot accurately without much light can be critical. That doesn't mean you have to practice taking shots in the dark, though!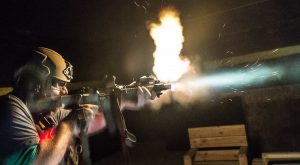 Adding a flashlight to your AR-15 can give you the advantage you need in low-light conditions. Don't know where to start shopping for your next AR flashlight?
Well, you're in luck–today we're going to go over a few of our favorite AR-15 flashlights. We're also going to show you how to choose the right one for you, talk about where and how to mount the flashlight on your AR-15, and review a few tips for getting the most out of your AR-15 flashlight.
In other words, by the time that we're finished, you'll know everything you need to know about AR-15 flashlights.
Now let's shine a little light on the subject!
Why Have a Flashlight Mounted to Your AR-15?
Not convinced that having a flashlight for your AR-15 is actually helpful, let alone necessary? There are a few primary reasons why mounting a flashlight to your AR-15 might be a good idea.
The first is hunting at night. Of course, night hunting isn't legal in all areas and we only recommend doing it if the law allows you to. That being said, nighttime is often the best time for hunting pests like raccoons and wild hogs–but only if you can see them.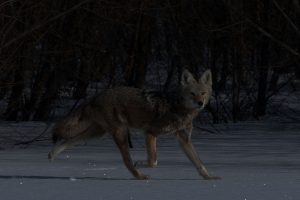 The second reason is nighttime competitions, a style of competition that is quickly becoming more and more popular. Nighttime competitions put a new spin on range shooting and showcase an extra level of the shooters' skills. Having a mounted flashlight is essential for these competitions.
Last, AR-15 flashlights are essential for home defense–especially home defense indoors and at night, when night-vision and thermal optics aren't as practical. You need to be able to avoid hazards and line up your shot but shouldn't have to carry a flashlight or rely on being able to access light switches or lamps.
Now one quick reminder before we move on: You already know (or at least you should) that you should never fire a gun without first clearly identifying the target.
That rustle in the woods may be your neighbor's friendly dog rather than a wild hog, and those footsteps in the kitchen may be your roommate or child getting a glass of water rather than an intruder. A mounted flashlight can help you quickly verify the target.
How to Choose an AR-15 Flashlight
Now that you've seen why having an AR-15 flashlight is a good idea, let's talk about how to find the right one for your needs.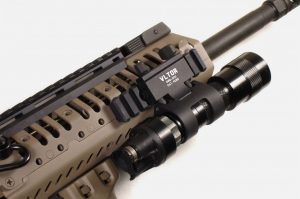 There are a few factors that you should look at when shopping, such as the ones below.
Dependability & Durability
Your flashlight should be easy to use and should turn on whenever you press the power button. It should also be shock and water resistant so it can stand up to the elements, drops and knocks, and wear and tear from typical use.
Light Quality
When we say to consider the light quality, we don't mean how nice the flashlight is–we mean the actual light produced.
First, consider the brightness of the light, which will be measured in lumens. More lumens means a brighter light. 300-600 lumens is sufficient for close range, but if you're hunting or competing in a longer range competition, you'll want a brighter light.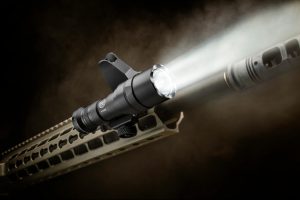 Second, you'll want to look at the width of the beam. This is mostly a matter of personal preference. However, for hunting and home defense, you may want a wider beam to help you see as much as possible, while competition shooters may prefer a more focused beam.
The final detail you may want to consider is the color of the light. This is again mostly a matter of personal preference, but most people prefer a cool, true white light.
Size & Weight
The AR-15 is a lightweight rifle and you don't want a light that will add too much weight or make your rifle unbalanced. You also don't want a light that is too bulky to be practical or to be used with other accessories. Small, light-weight lights are your friend.
Battery Life
You want a strong battery with a long life, but you also want to make sure that the light doesn't require excessive amounts of power, placing limits on the possible battery life. LED lights are usually your best bet for getting a bright light and long battery life in the same flashlight.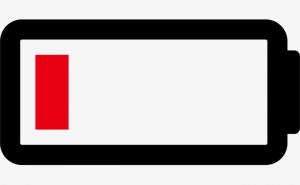 Price & Warranty
Finally, be a savvy consumer and look at the price and warranty. After all, finding the perfect AR-15 flashlight for you doesn't matter if you can't afford it anyway, but you can find high-quality options for all budgets.
AR-15 flashlights are also an investment, so make sure that you're covered should you discover that your flashlight has some sort of defect by checking out the manufacturer's warranty.
How to Mount an AR-15 Flashlight
There are tons of different options when it comes to how to mount your AR-15 flashlight, but it really comes down to your individual needs and preferences.
If you want to mount your flashlight on the top of your rifle, think about if it will interfere with your optics or sight. Do you use a sling for your rifle? Ensure that the light won't be in the way.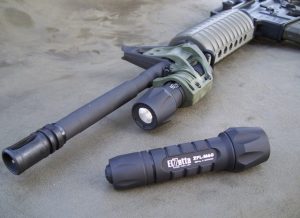 Most importantly, make sure your light can be easily accessed. Some shooters believe that their light is most easily accessed when mounted opposite from their dominant hand. A light with a remote switch allows you to place the switch in a convenient position and mount your flashlight wherever you'd like.
Your flashlight also may or may not come with a mount. If it doesn't, a simple 1 in. ring mount will do the job just fine. If you want something a little fancier, you can do that too.
Top AR-15 Flashlight Picks
So now that we've gone over why you would want an AR-15 flashlight in the first place, what you need from your light, and the best mounting options for your flashlight, let's move on to the actual flashlight recommendations. 
These AR-15 flashlights are our top choices, and we'll explain just why we love each one. Let's find your new AR-15 flashlight!
Specs at a Glance:
Max Lumens: 800 or 700 with 400mW IR

Battery: 2x 123A

Run time: 2 hours or 4 hours (IR)

Weight: 4 oz

Length: 5.32 in.

Diameter: 1.13 in.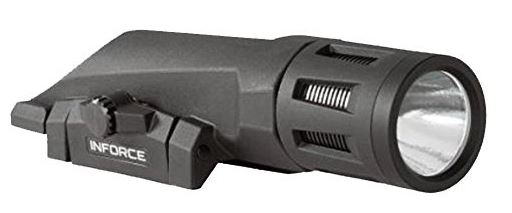 Inforce WMLx, Gen 2
Pros
Integrated MIL-STD-1913 mounting system
Constant, strobe, and momentary flash functions
800 lumens
Cons
Polymer body doesn't stand up to heat well
There are two different versions of this light. One is a pure white light version that puts out 800 lumens.
The other is a dual light made to be used with night vision goggles (NVGs). One setting puts out 700 lumens of white light, but in exchange for losing that 100 lumens of brightness, you get a second setting that puts out 400 mW of infrared light (IR). That IR really helps the details stand out when you are using NVGs.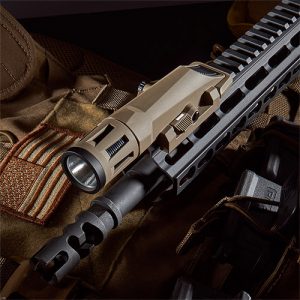 At 700 and 800 lumens, both versions of the WMLx are very bright, especially in the center where the light is more concentrated.
Both versions of the WMLx have constant, strobe, and momentary flash functions to suit all possible needs. The light's pressure switch allows you to switch between functions and is easily accessible at the back of the light.
The WMLx uses an integrated MIL-STD-1913 mounting system.
Specs at a Glance:
Max Lumens: 600

Battery: 2x 123A

Runtime: 1.75 hours

Weight: 4 oz

Length: 3.6 in.

Diameter: 1.124 in.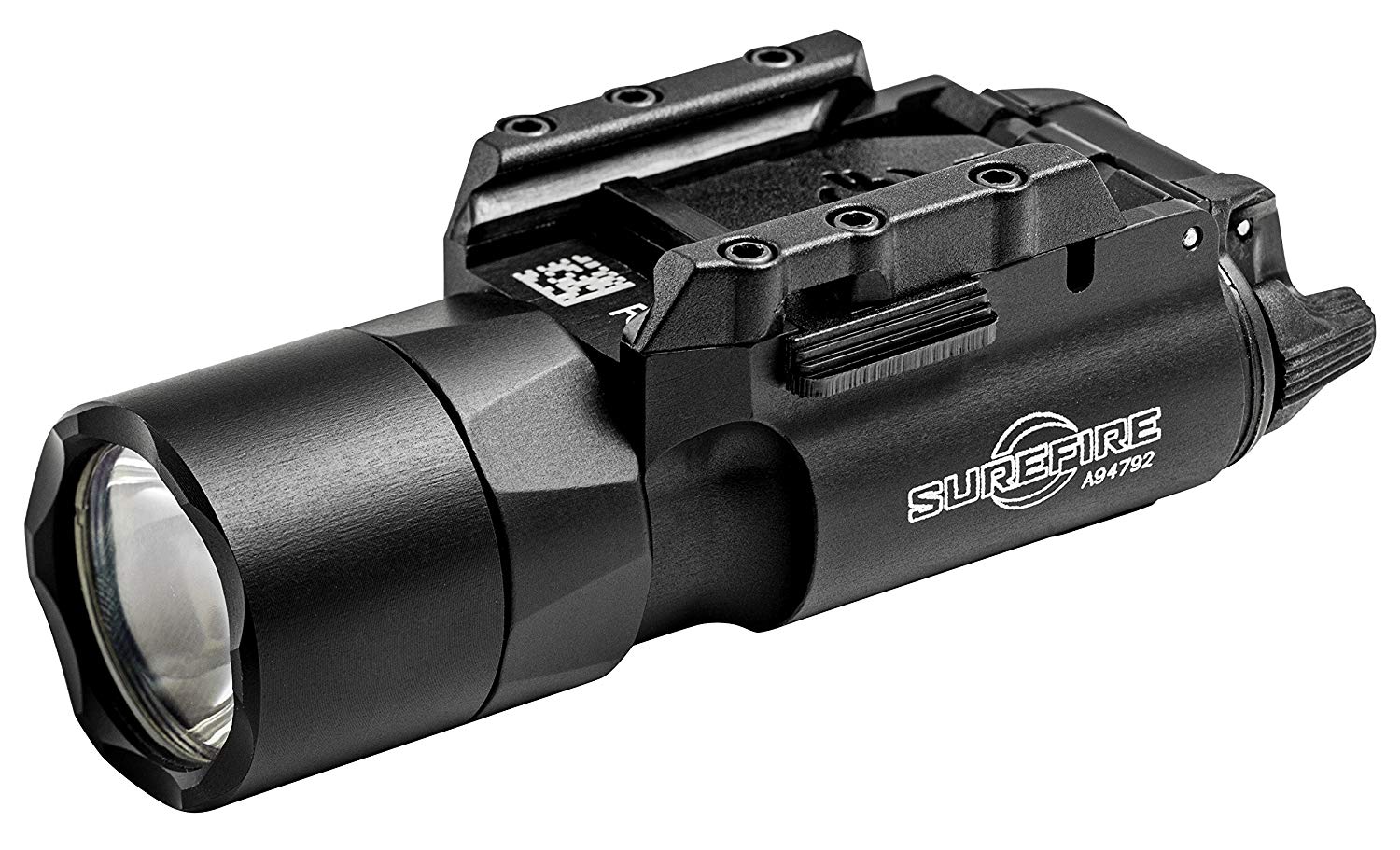 Surefire X300 Ultra LED WeaponLight
Pros
Can be used on both handguns and long guns
600 lumens in the yellow-green light spectrum
Controls located at the back of the light
Cons
Large size compared to other lights on the market
Expensive
The SureFire X300 was primarily designed for handguns, but it also makes an excellent light for long guns like the AR-15. Because it can be used with handguns, the X300 is more compact and lightweight than most lights designed with the AR-15 in mind.
SureFire offers the X300 with either a T-Slot mounting system or a Rail-Lock mounting system. Both are incredibly easy to use and attach the light securely attach to the rail of your AR-15. You can also easily switch the light between your favorite handguns and rifles as needed, lending the X300 an extra degree of versatility.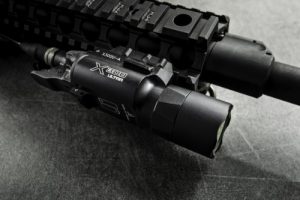 The SureFire X300's controls are located on the back of the light, making them easy to access and operate, even under pressure in a stressful situation.
The X300 is an excellent, high-quality light, but it's also the most expensive on this list.
Specs at a Glance:
Max Lumens: 600

Battery: 2x CR123

Runtime: Not listed

Weight: 4 oz.

Length: Not listed

Diameter: Not listed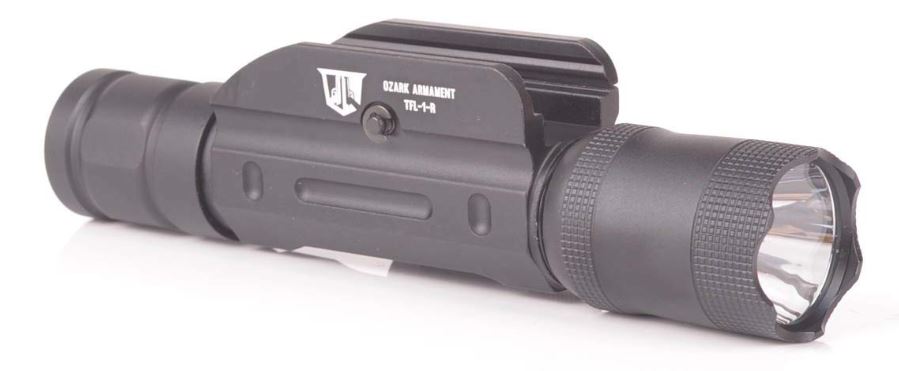 Ozark Armament Rail Mount LED Rifle Light
Pros
Remote pressure switch for easy operation
Controls located at the rear of the light
Affordable
Cons
No locking mechanism to keep light in place on the rail
Not waterproof
Ozark Armament Rail Mount LED Rifle Light is the most budget-friendly AR-15 flashlight on this list at only a fraction of the price of most other AR-15 flashlights.
This light's coolest feature is its remote pressure switch that allows you to more conveniently turn the light off and on. The light also has a tail switch that allows you to turn the light on and off, as well as to activate the strobe function and cycle through the high, medium, and low light settings.
The light beam itself is sufficiently bright and has a very cool tone, but it doesn't have as concentrated of a beam as other lights on this list.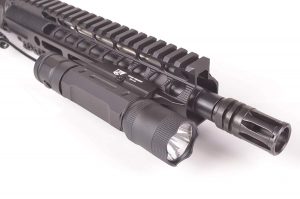 There are a couple of disadvantages other to this light as well.
For one, it isn't completely waterproof, so you'll have to be more careful with it, especially for outdoor use.
The mounting system also leaves a bit to be desired. The light mounts to any standard Picatinny rail but it has no lock bar, so it's held on by friction only, making sliding a risk, especially at higher calibers. The pressure pad's adhesion is also lacking; many users report it falling off within just one or two uses.
However, if you have a very limited budget, the Ozark Armament Rail Mount LED Rifle Light is still an affordable AR-15 flashlight option that will get the job done.
Specs at a Glance:
Max Lumens: 625

Battery: 2x 123A

Runtime: 1.5 hours (high), 21 hours (low)

Weight: 5 oz.

Length: 5 in.

Diameter: 1.2 in.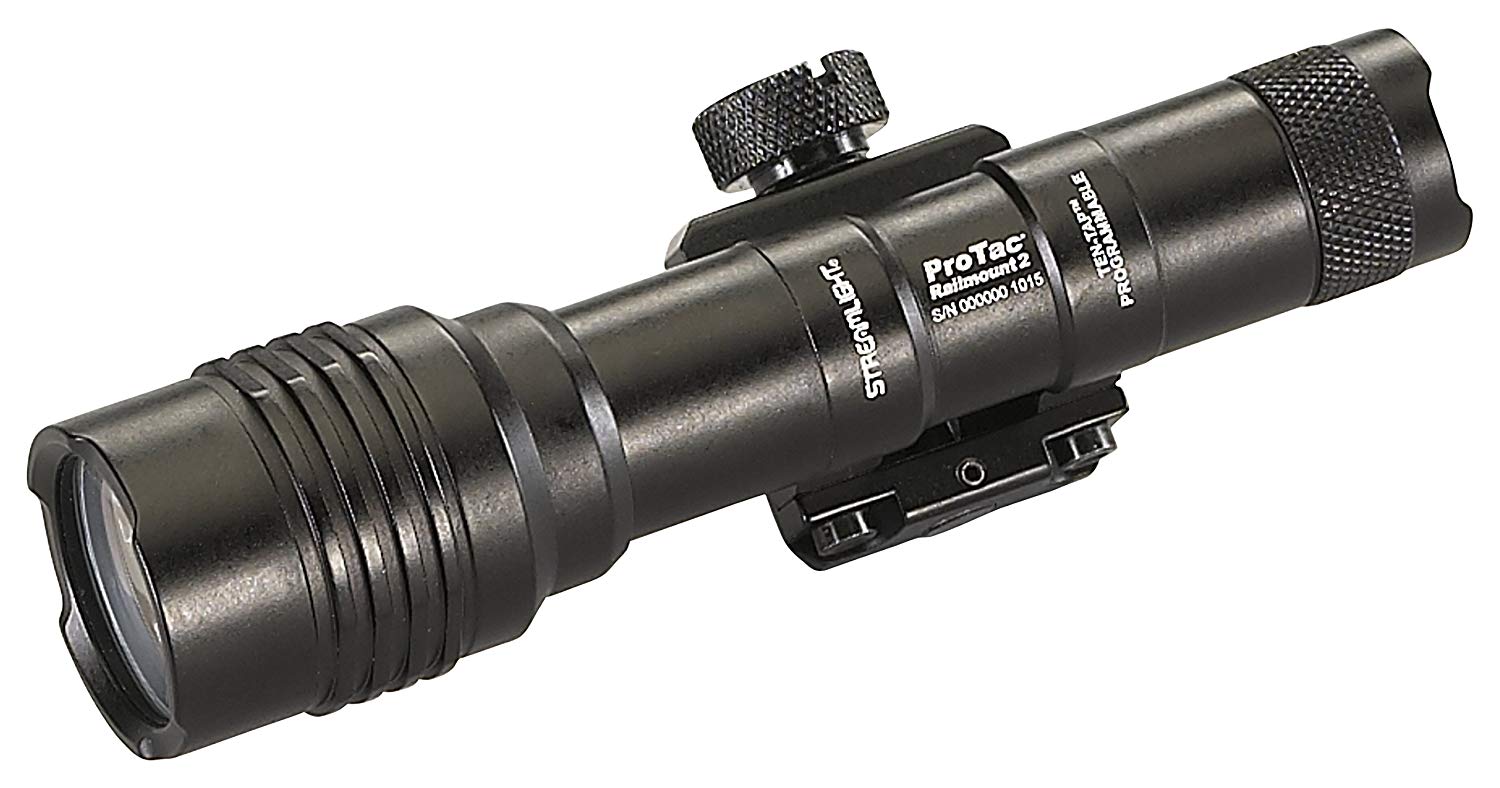 Streamlight ProTac Rail Mount 2 Long Gun Light
Pros
Ten Tap feature allows you to easily set your preferred light modes
Remote and tail switch control options
Picatinny mount
Cons
Beam isn't as sharp as it could be
The length of this light can make mounting a bit of a challenge
If you have a bit more freedom in your budget, but still not enough to allow for the Surefire X300 or Inforce WMLx, then the Streamlight ProTac Rail Mount 2 Long Gun Light is the way to go.
Like the Ozark Armament Rifle Light, the ProTac Rail Mount 2 has both a remote switch and a tail switch, but with two different options for mounting (double-sided tape or rail mounted inserts), you can feel a lot more confident that it will stay securely attached to your AR-15.
If you still prefer to go without the remote switch, Streamlight also includes a regular endcap so that you can swap out the switch. Zip ties are also included to help with cable management.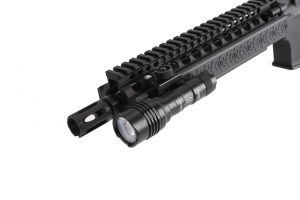 The light itself attaches with a Picatinny mount.
At 625 lumens, the only light on this list that's brighter is the Inforce WMLx, but the light is also a bit cooler than that of the Surefire X300.
The light has high, low, and strobe modes, but the Ten Tap programming feature can be used to set it to just the modes you need.
Tips for Using Your AR-15 Flashlight
Now that we've shown you our favorite AR-15 lights, let's finish up with some tips to for staying safe and getting the most out of your flashlight:
Don't forget basic safety. Your gun is pointing where you light is pointing, so don't use your flashlight to illuminate anything you don't want a bullet going through.

You should never be using a firearm or accessory for the first time with a loaded gun. You may even want to consider taking a course specific to gun-mounted flashlights before using your AR-15 flashlight for hunting, competition, or self-defense. Nighttime shooting events are also an opportunity to practice.

Don't forget the importance of regular training either–practicing with your flashlight is essential for keeping at the top of your game. 

In a defensive situation, do not turn your light on until necessary to avoid giving away your location.

Never use your AR-15 flashlight as a regular flashlight. You want it to have the fullest possible battery when you actually need it.

Keep wires away from the gas block to avoid melting.

Put tape over the lens of the light when you aren't using it to protect it from scratches, smudges, and carbon build-up. A rubber pencil eraser is an inexpensive tool for cleaning your lens, and it works better than just about any purpose made product.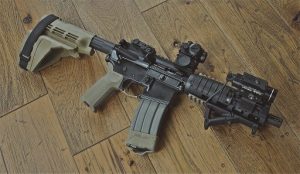 Final Thoughts
All of these flashlights are great choices, but our overall favorite is the SureFire X300. The best value, however, comes from the Inforce WMLx or the Streamlight ProTac.
The Inforce is a little bit lighter, is a good bit brighter, and has the option of IR capability, but the Streamlight has a remote switch which makes it easier to use. For the most budget-friendly options, check out the Ozark Armament Rifle Light.
And if you still can't choose, just go to your local gun store and handle a few to see which you like the best.
Do you use a flashlight on your AR-15? Do you have a favorite from our list, or another you recommend? Let us know in the comments! Keep discovering the best upgrades for your AR-15 with our guide on the best optics for your AR-15, from red dots to scopes.