Now, you know there's got to be a better way to get your gun from Point A to Point B without just carrying it out in the open, but how are you going to sort through the thousands of gun cases out there to find the right one?
Well, lucky for you, our team at Firearm Review has been around the shooting range a time or two and we know a bit about gun cases.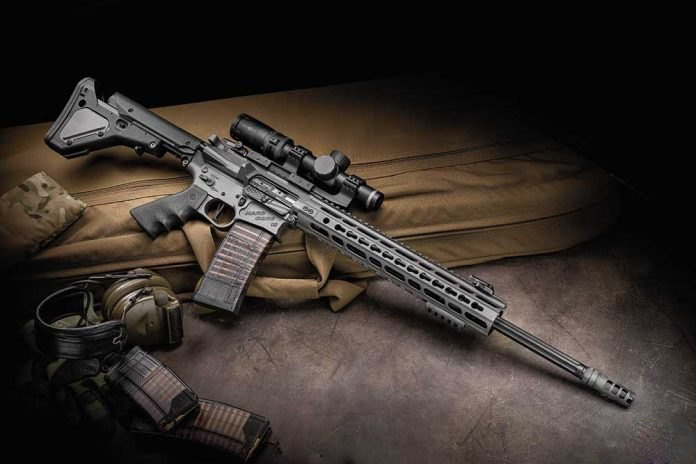 As we said, there are practically endless options when it comes to gun cases, including hard cases, soft cases, pistol rugs, and even covert cases to help conceal just what it is you're carrying. We've rounded up a few of our top picks for each kind, just for you.
No matter what type, all of these cases are totally equipped to keep your gun safe and sound whether you use them to store or transport your weapons.
Let's get down to it.
Rifle & Shotgun Cases
We'll kick things off with some cases for your long guns.
Savior Equipment is a relative newcomer on the gun case market, but they've quickly earned themselves a reputation for quality and affordable gun cases. 
You have a few different options to choose from.
The American Classic line features three accessory pouches, perfect for storing ammo and accessories, mounted on an additional external double pistol pocket on the front of the bag.  Inside the pistol pocket are two padded pistol sleeves, two additional zipper pockets, and plenty of space between them for storing extra small gear like magazines.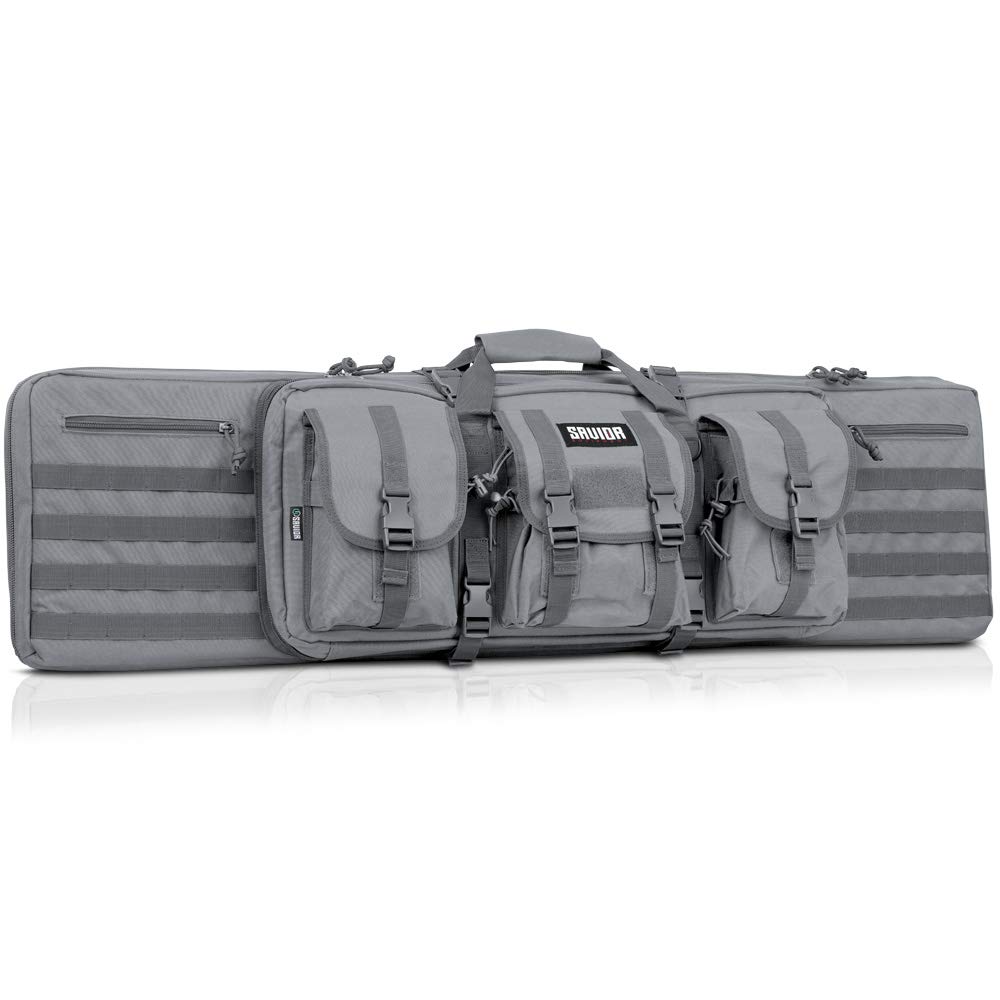 Savior Equipment American Classic Tactical Gun Bag
Pros
Holds two rifles and two pistols
Lockable zippers
Lifetime warranty
American Classic cases come in 24", 28", 32", 36", 42", 46", 51", and 55" lengths. 
The 36" and longer lengths also have molle grids on either side of the centered pouches, running to each end of the case. There are additional flat zipper pockets behind the molle grids. These sizes also have both a hand carry handle and removable, adjustable backpack straps for easy portability. The backpack straps have additional molle grids and a D ring on each strap. 
The shorter cases, which Savior Equipment calls the "Shorty" version, just have the pouches and a hand-carry handle. 
The Urban Warfare line is similar. The primary difference is that these bags feature two accessory pockets on either end of the front of the bag with a longer double pistol pocket between them. The inside of the pistol pocket is more or less the same as the inside of the one on American Classic cases, but the additional zipper pockets are mesh. 
On the outside of the pistol pocket, there's a large molle grid across the outside of the pocket and a velcro panel along the top. There are two more flat zipper pouches behind the molle panel.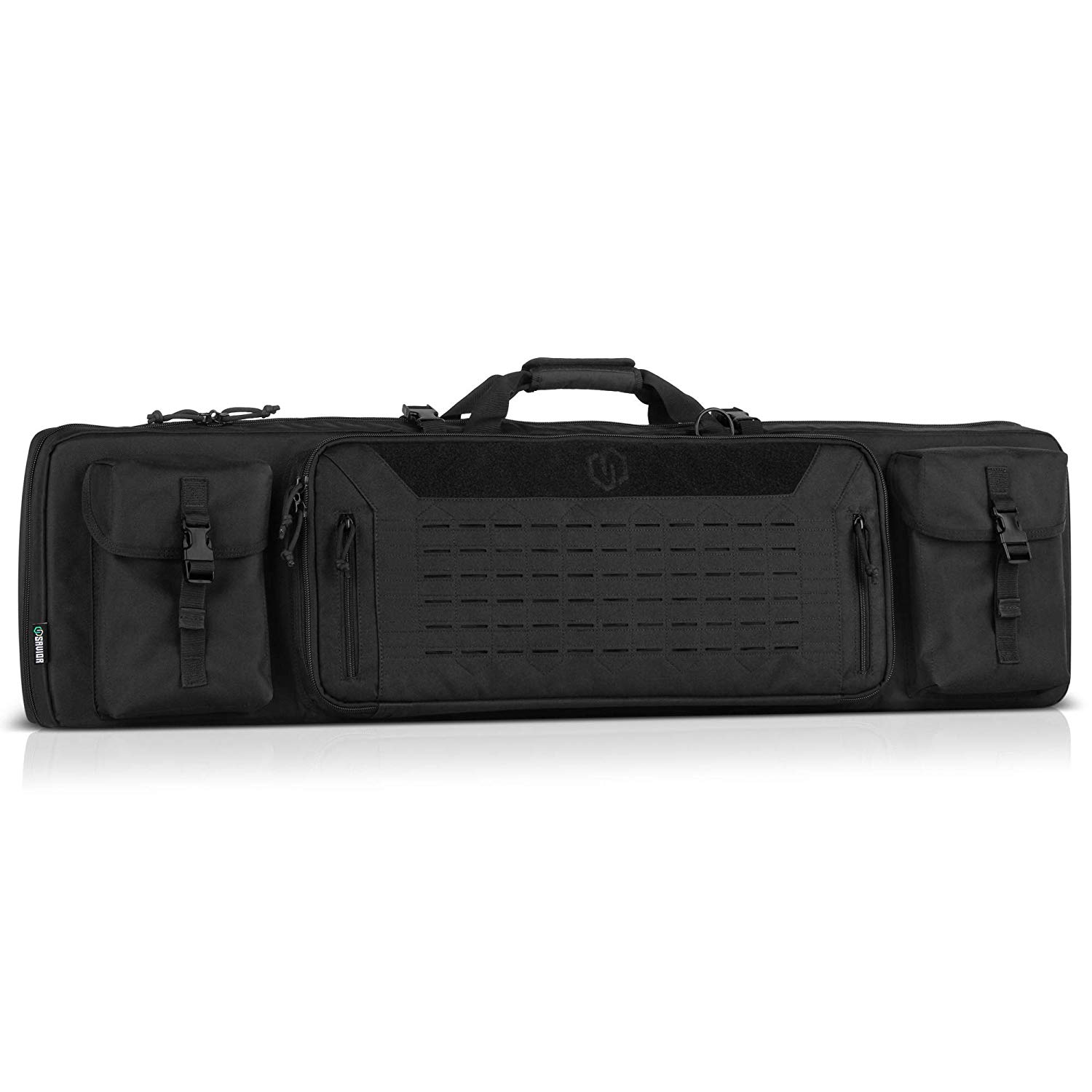 Savior Equipment Urban Warfare Tactical Gun Bag
Pros
Tons of storage options
MOLLE Grid exterior
Backpack, handle, and shoulder strap carry
Cons
Padding needs improvement
Like the American Classic cases, the Urban Warfare cases have both a hand carry handle and removable, adjustable backpack straps with additional molle grids. The Urban Warfare line also has an additional drag handle (though to extend the life of your bag, Savior Equipment recommends against dragging the bag if you don't need to) and an adjustable shoulder strap. 
On the back of the bag, there are also four strips of molle grid running along in the narrow direction, two more flat zipper pocket, and a see-through credit card sized pocket perfect for putting your contact info, carry permit, or range membership card. 
The Urban Warfare line comes in 36", 42", 46", 51", and 55" lengths.
Each style comes in four different colors and holds up to two rifles and two pistols with additional pockets for gear. A full length padded divider keeps your guns from scuffing each other inside the bag. The divider in the Urban Warfare bags is removable. 
Okay, so NcStar doesn't have a great reputation and for the most part, it's been pretty fairly earned. 
However, the NcStar VISM Rifle Case and Shooting Mat is a decent budget bag. 
The straps aren't comfortable enough for a long trek and the fabric isn't thick or padded enough for rougher excursions, but it's intuitively designed to keep your gear organized with removable zipper pouches, a clear plastic window for storing maps or ballistic charts, and molle panels.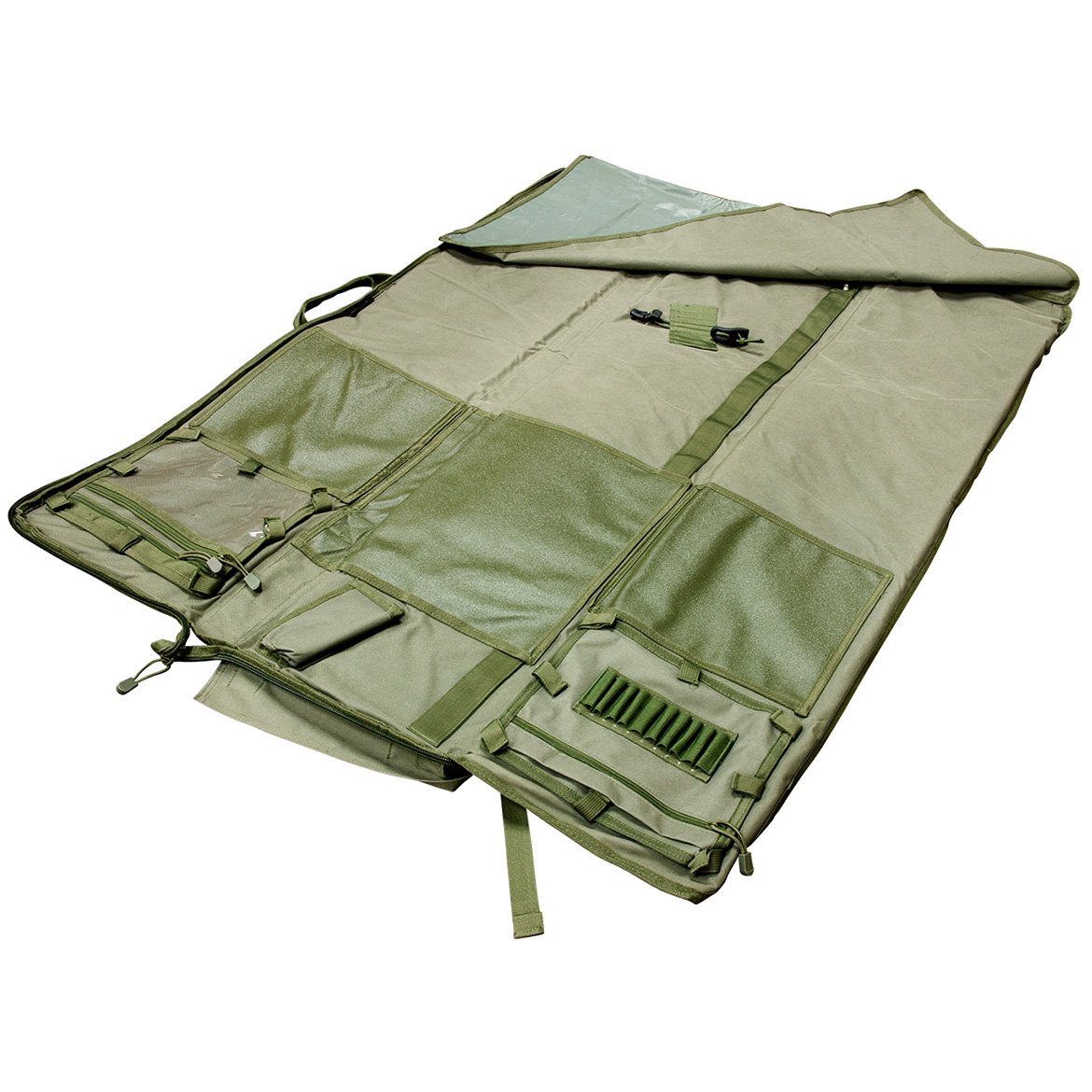 NcStar VISM Rifle Case Shooting Mat
Pros
Holds two rifles for easy transport
Backpack straps and carry handles make it easy to carry
Lots of accessory storage
Cons
Rifle retention is poor and there are snaps that can rub your rifle
It also unfolds into a really nice shooting mat, with padded panels for comfort, slip-resistant elbow panels, an extendable lower panel to keep your feet off the ground, and even 10 individual cartridge holders for quicker reloads.
These features combine to make the VISM Rifle Case and Shooting Mat good option for long-range shooters to take to the gun range.
If you'd prefer a hard case, the Plano SE Series is a great place to start. 
You have three size options to choose from. 
First is the SE Series Single Scoped Rifle Case, which fits, as you can probably guess, a single rifle with a high-mount 50mm scope.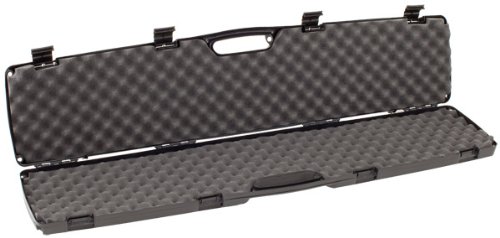 Plano Gun Guard SE Single Rifle Case
Pros
Padded hard case stands up to abuse
Padlock tabs
Steel hinges
Next is the SE Series Double Scoped Rifle/Shotgun Case, which fits two rifles with high-mount 50mm scopes or two shotguns with room to spare for extra gear. Last is the SE Series Rimfire/Sporting Gun Case. As the name suggests, this one is sized for a rimfire or sporting gun.
Apart from the size differences, all three have pretty much equivalent features, like high-density interlocking foam, steel hinge pins, and a contoured, recessed handle. 
They also all have padlock tabs on the handles, but if you're looking to fly with your long gun, I suggest going with one of the next couple of recommendations. These cases are great for affordable home storage though.
One sturdier option is also from Plano. 
The Plano All Weather Rifle/Shotgun Case is waterproof and dustproof thanks to the Dri-Loc® seal. It also features pre-perforated pluck foam that you can customize for your long gun of choice, four heavy-duty, dual-stage, lockable clamp latches, and a pressure release valve. This case is made of industrial-strength plastic, an upgrade from the SE Series.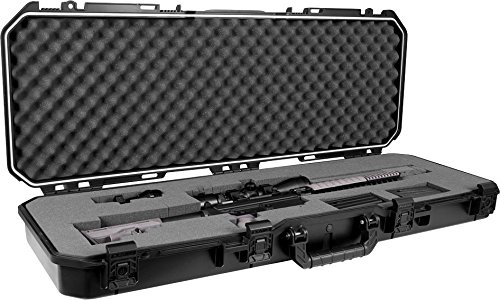 Plano All Weather Tactical Gun Case
Pros
Dual-stage lockable latches
Air tight and weatherproof
Great for flying
In short, this case can hold up to most anything you can throw at it.
It comes in 36", 42", and 52" lengths.
For a top of the line hard case, look no further than Pelican.
Plano All Weather cases may be able to stand up to most things, but Pelican cases can stand up to just about everything. 
Any of Pelican's rifle cases will serve you just fine, but if you want a more specific recommendation, the Protector Series is a good place to start.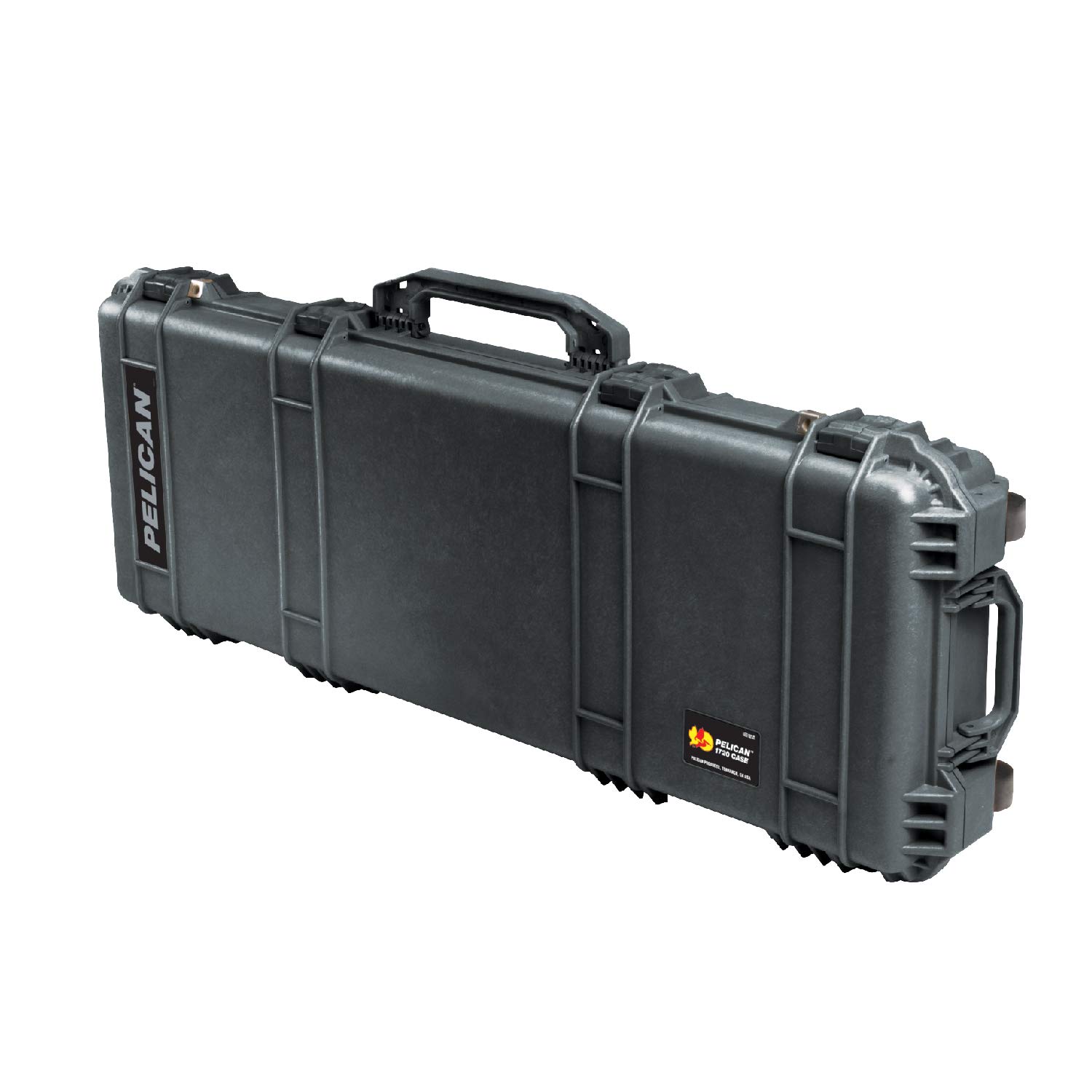 Pelican 1720 Rifle Case
Pros
Watertight
Pressure equalization valve
Stainless steel-reinforced padlock tabs
These cases are waterproof, dust-proof, and crush-proof, and have a pressure equalization valve to balance pressure as you change altitudes and keep water out. They also have wheels for easy transportation, top and side handles, interior open cell foam for a customized fit, and stainless steel padlock and hardware protectors.
Pelican makes these cases in dozens of configurations, the vast majority of which aren't for rifles. We do have a few favorite rifle-sized Protector cases though.
The Pelican 1700 has interior dimensions of 35.75" x 13.50" x 5.25", perfect for a takedown rifle or AR. The Pelican 1720 will fit most rifles within its 42" x 13.5" x 5.25" interior dimensions.
Finally, you can put a pair of rifles or larger long guns in the Pelican 1750, which has interior dimensions of 50.5" x 13.5" x 5.25".
Handgun Cases
Now let's talk about some cases perfect for the smaller guns in your arsenal. 
Since we talked about the Pelican Protector Series already, we won't repeat all the series's benefits. Instead, let's just go over a few different options in the series that are good for handguns.
The Pelican 1200 is a nice, smaller option with room for a pistol and an extra one or two magazines. Its internal dimensions are 9.25" x 7.12" x 4.12".
At the larger end is the Pelican 1500, which can hold up to about five pistols within its 16.8″ × 11.2″ × 6.1″ interior.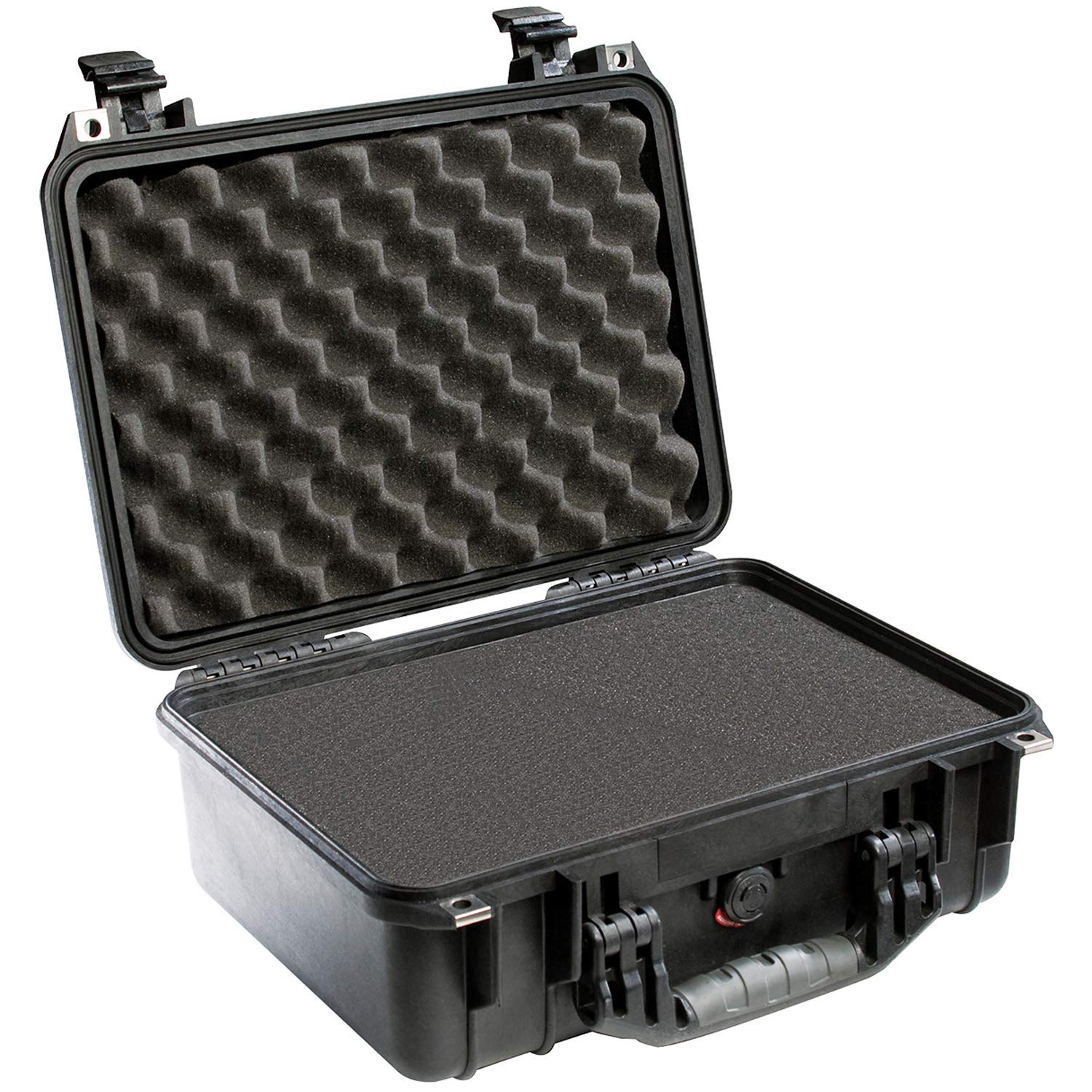 Pelican 1450 Pistol Case
Pros
Waterproof, dustproof, and crushproof
Customizable foam interior
Secure latches and padlock tabs
The Pelican 1450 is a good middle-of-the-road option, measuring 14.7″ × 10.2″ × 6.1″ inside.
Our last hard case recommendations are MTM Case-Gard Pistol Cases.
These cases aren't anything extraordinary, but they're very budget-friendly, don't feature any prominent firearms words or imagery, and are a bit more rugged than whatever case your handgun came with, and come in three sizes.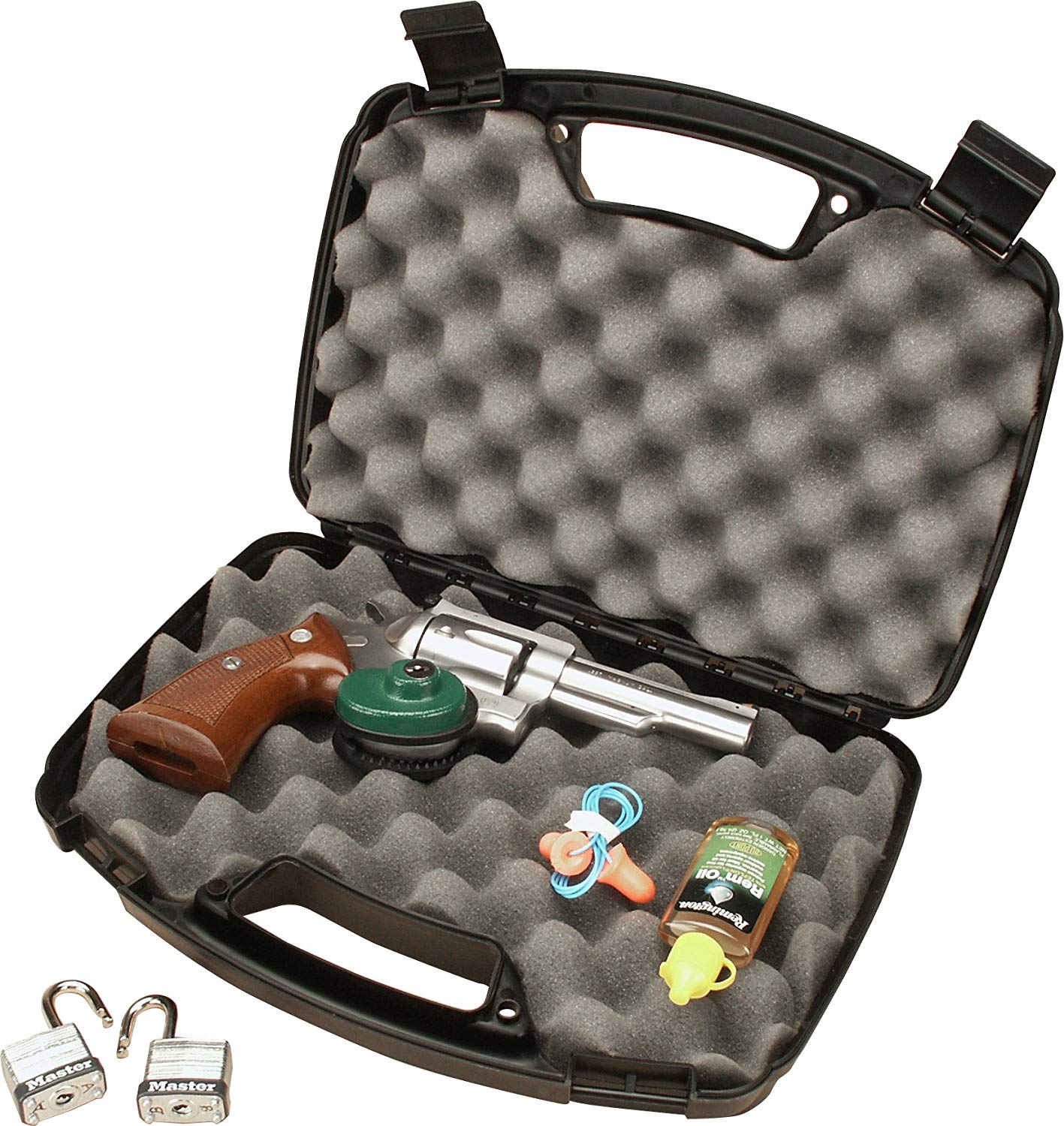 MTM Case-Gard Hard Pistol Cases
Pros
Very budget friendly
Double padlock tabs for security
Rugged plastic and foam construction
The MTM Single Handgun Case holds pistols and scoped revolvers with up to 6" barrels, and the MTM Case-Gard Two Handgun Case holds a pair of handguns with up to 8" barrels. Last, the MTM Case-Gard Four Pistol Handgun Case holds up to four 8" barrel handguns.
Let's move back into soft cases. 
Soft pistol cases are good for protecting your pistol after you tuck it into your range bag without taking up too much extra space. 
One good nondescript and budget-friendly option is Uncle Mike's Pistol Rug. It's padded for your gun's protection and zips completely open to act as a gun. Uncle Mike's Pistol Rug comes in three sizes.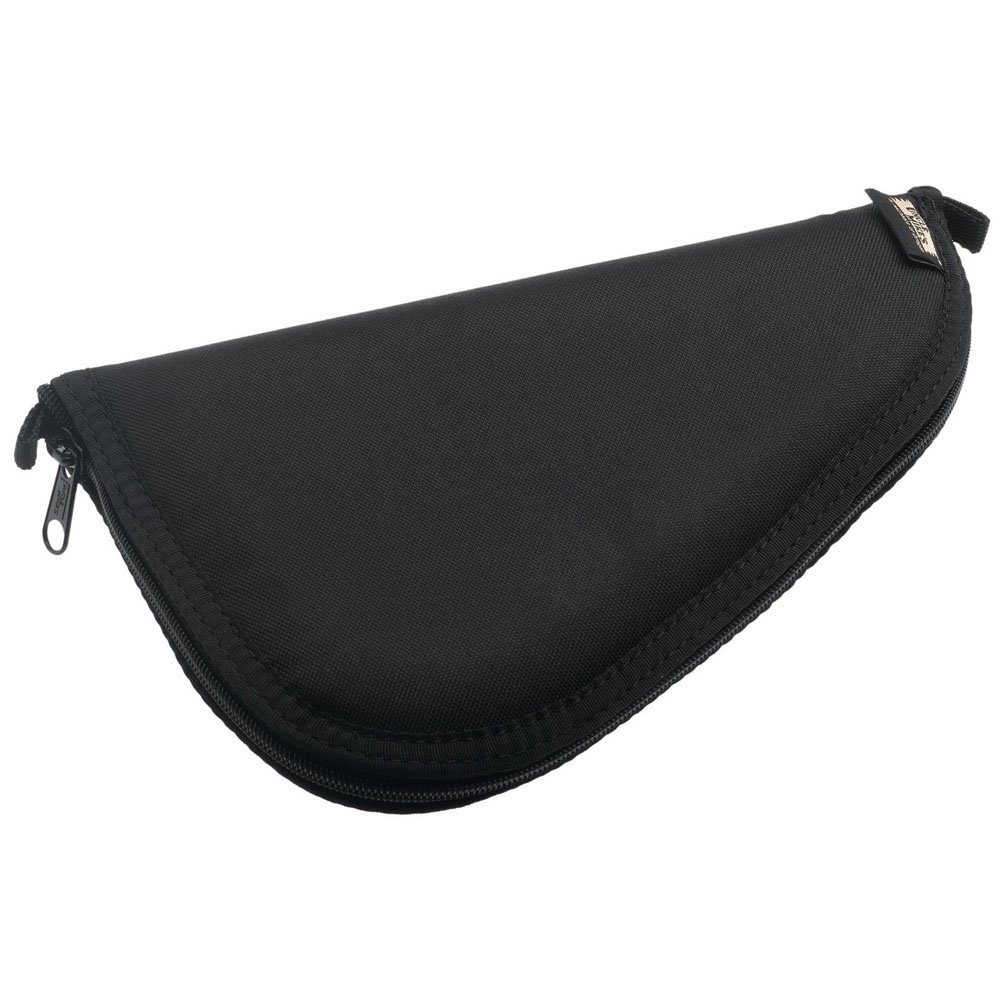 Uncle Mike's Medium Pistol Rug
Pros
Zips open on two sides to lie flat for a pistol rest
Locking zipper pulls
Accommodates a variety of guns
Cons
Doesn't have space for magazines
The small size Pistol Rug fits most 2" to 3" barrel revolvers, the medium size Pistol Rug fits most 3" to 4" revolvers and most 4" to 5" barrel pistols, and the large size Pistol Rug fits most handguns with barrels 7.5" or smaller.
Finally, the G.P.S. Handgunner Backpack is a handgun case and range-bag in one, perfect for those who mostly or only carry pistols and revolvers to the range. It's popular among competitive and recreational shooters alike due to its large capacity and how easy it makes keeping your gear organized and accessible while you shoot.
The bag has designated pockets made to fit all your shooting essentials, including 12 magazines, eye protection, earmuffs, targets, tacks, a stapler, tape, cleaning supplies, plus other items that often get stored in range bags, like your keys, phone, and GPS.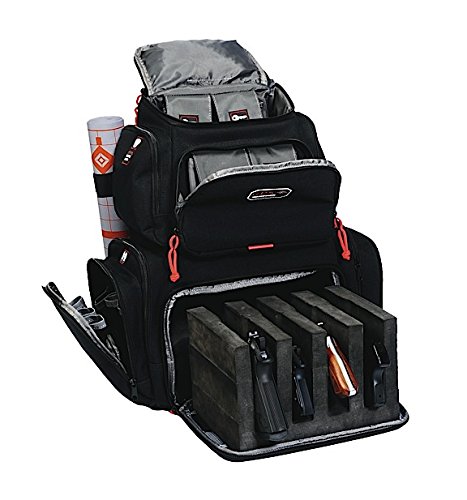 G.P.S. Handgunner Backpack
Pros
Space for 4 pistols
Plenty of storage for range gear
Compact size for the capacity
This also ensures that your gear is protected and is always in the same place, making it easy to find. In addition, the pockets have little pictures on them, giving you a visual cue of what's where so you don't have to go digging around while you learn where everything goes. 
To make it even easier, the backpack is free standing which is great for keeping things accessible. 
As for the handguns themselves, up to four guns can be stored vertically in the cradle at the bottom of the backpack, which keeps the weight in the bag well distributed if you have to carry your bag very far. The cradle also slides out of the bag, again, for easy access.
Discreet Cases
Last, let's talk about a few ways to transport your firearms without making it obvious that you're carrying firearms. After all, not everyone needs to know that you're carrying a gun, have one stored in your home, or are transporting one in your car.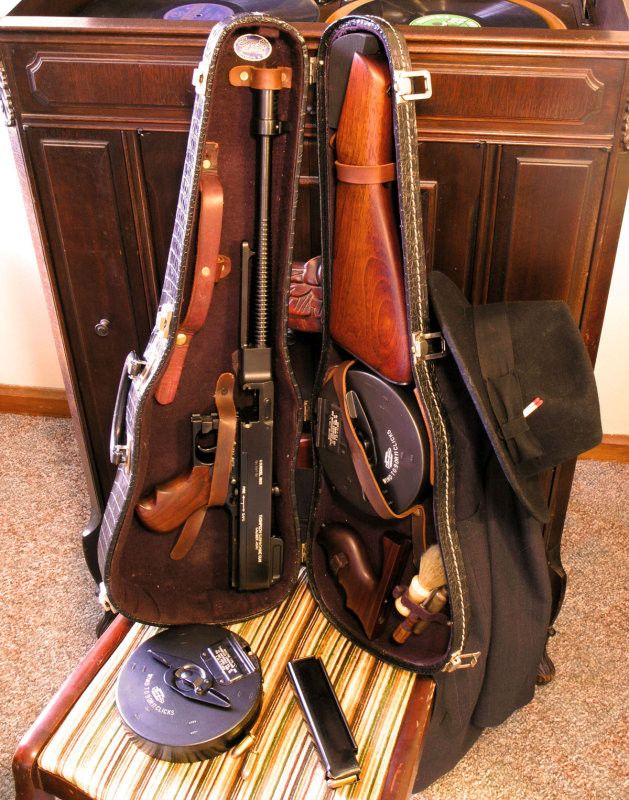 Guitar Cases
There are plenty of covert gun cases that are made to look like a guitar case. These cases generally cost more, but they're designed to keep your gun safe and secure and to organize your ammo and other gear.
Hazard 4 makes a good wearable soft case, the Battle Axe.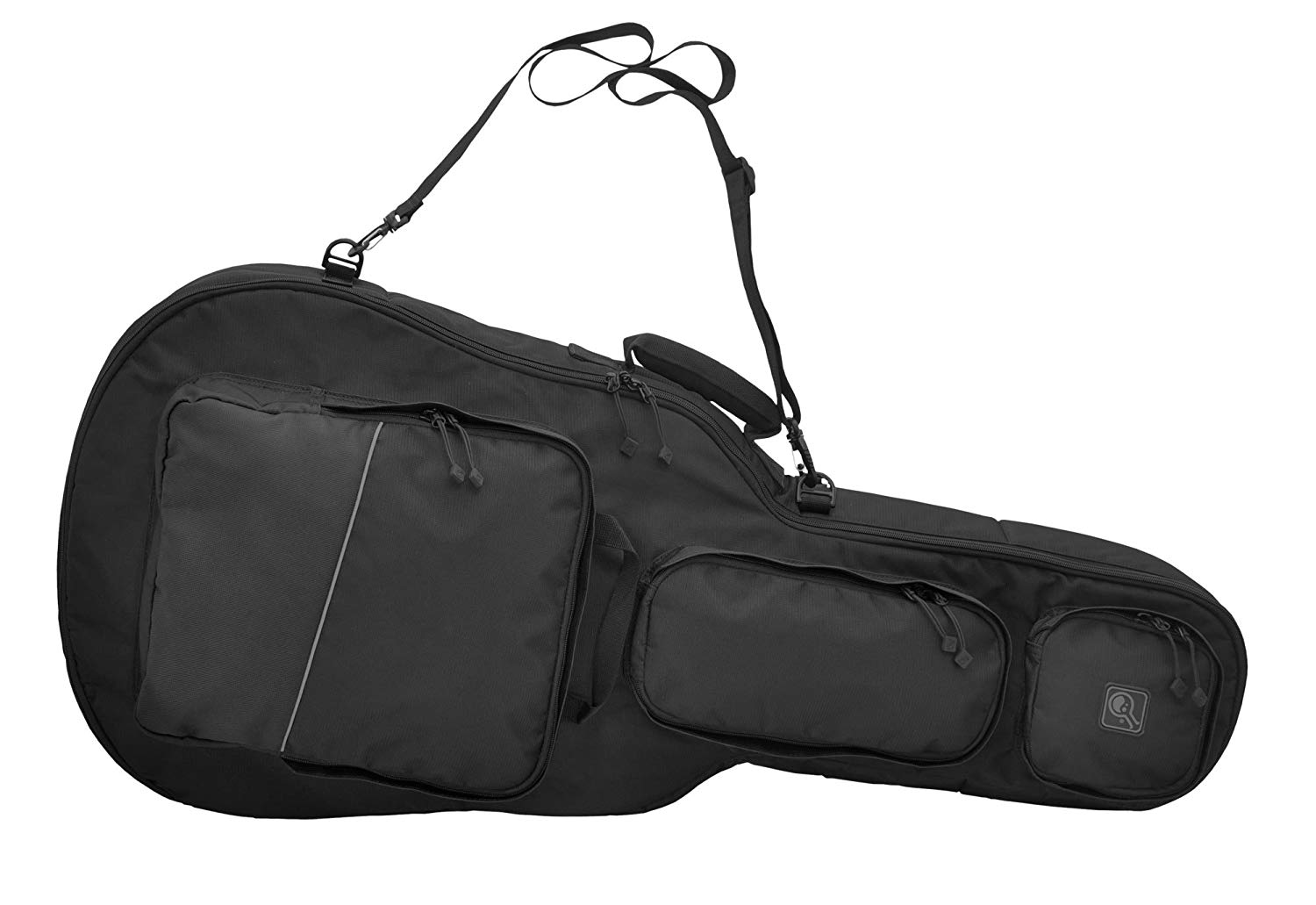 HAZARD 4 Battle Axe Guitar-Shaped Padded Rifle Case
Pros
Detailed soft case looks just like a guitar case
Padded and sized for carbine length rifles
Locking buckle
Cons
Doesn't fit longer rifles
If you want a hard case, Savior Equipment's Ultimate Guitar Case is another good choice.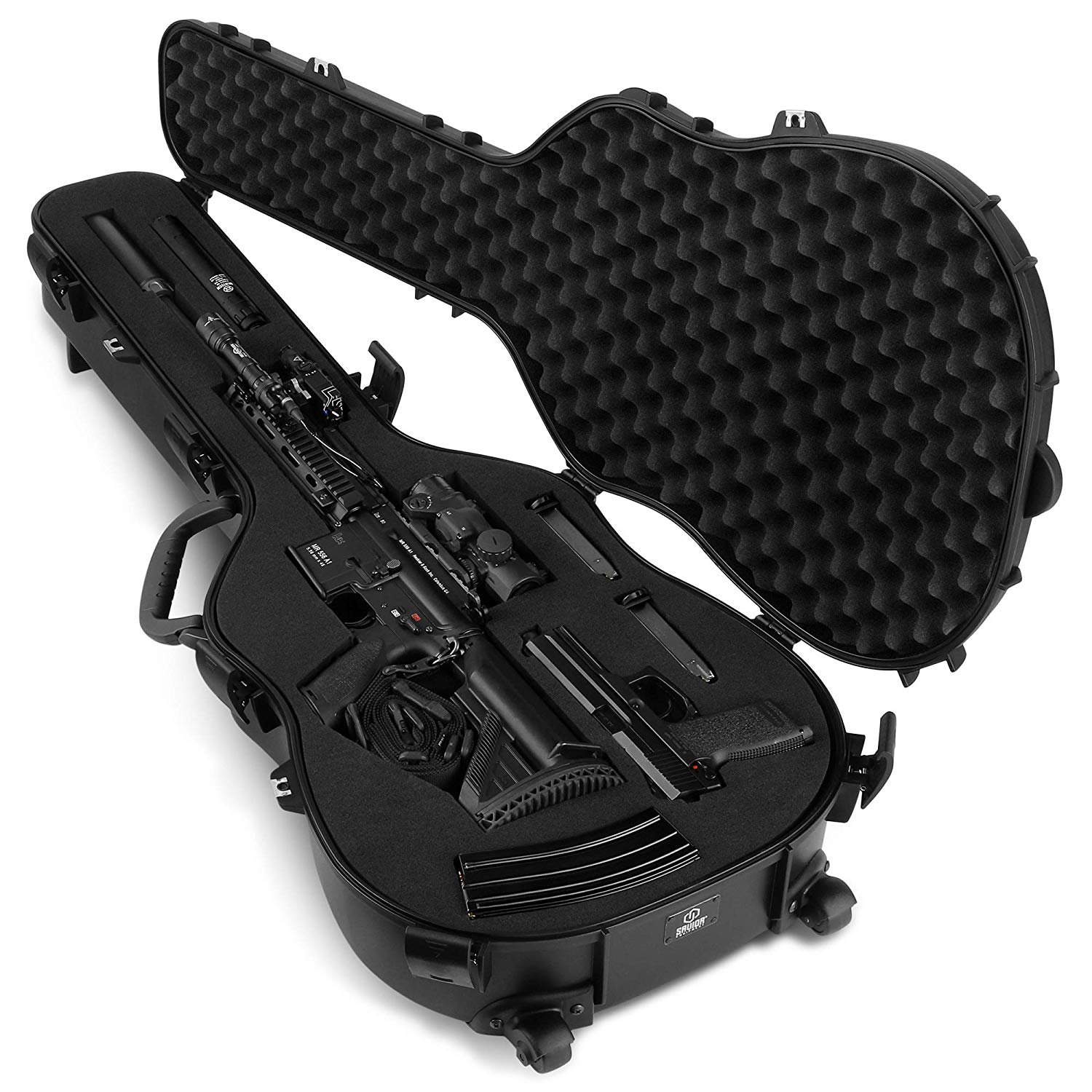 Savior Equipment Tactical Discreet Gun Carrier Guitar Case
Pros
Lockable hard shell case
3 customizable foam inserts
Lifetime warranty
Tennis Bags
Racket bags are well sized for broken down rifles, ARs, and a bunch of pistols in soft cases. The multi-compartment bags, in particular, are great for carrying multiple guns. 
If you want an actual gun case that's just disguised as a racket bag, the Hazard 4 Dropshot bag has straps to hold an AR firmly in place, plus an extra compartment with plenty of space for spare mags and other accessories.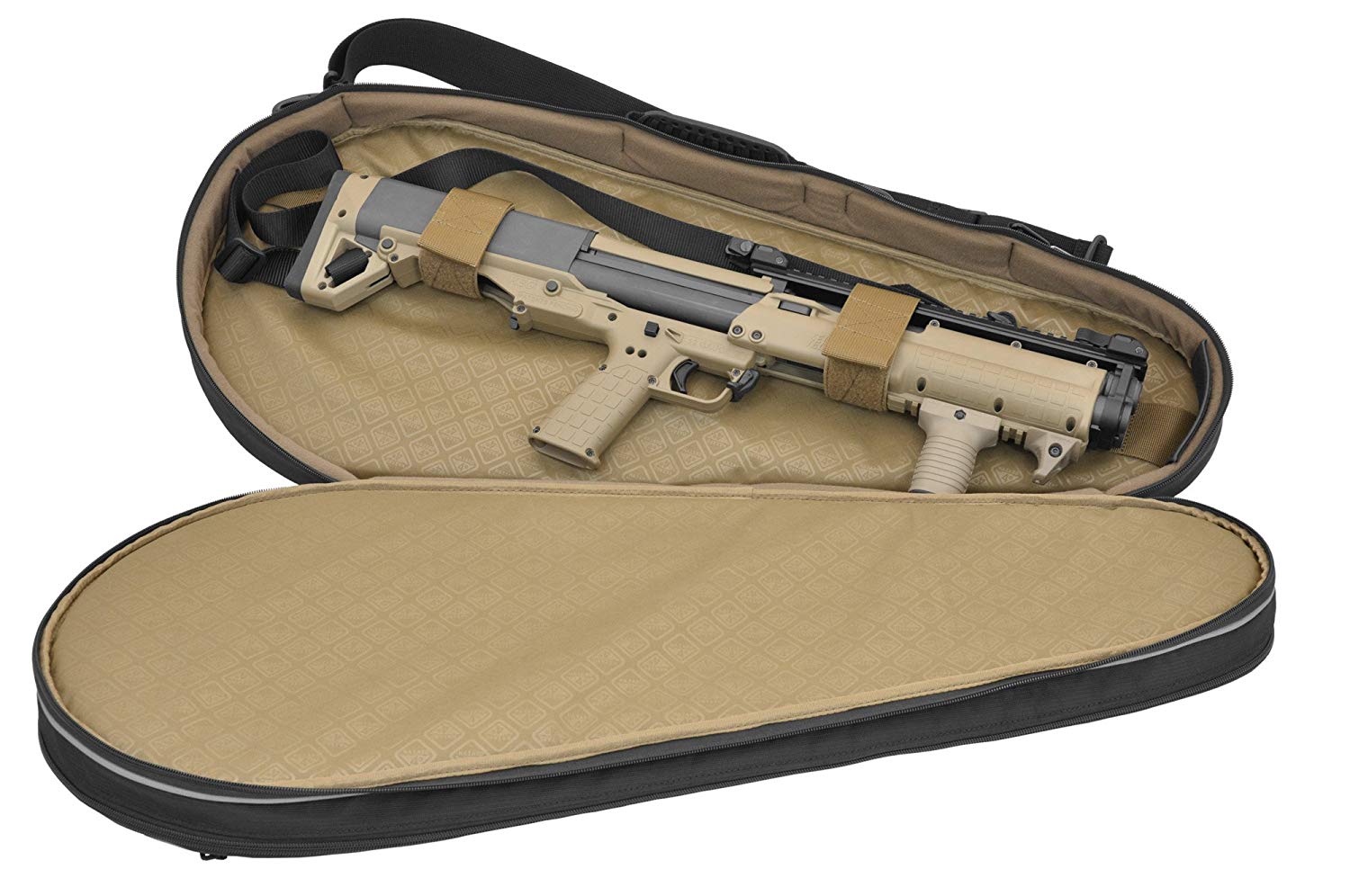 HAZARD 4 Dropshot Racket CCW Padded Case
Pros
Discrete appearance
Plenty of storage for magazines and accessories
Moveable tiedowns
Conclusion
So now you have a plethora of options for storing and toting your firearms, but why should you spring for a new case? 
Multiple guns in a shared larger case is generally a more space-efficient option than a bunch of single factory gun cases. In addition, the large logos on most factory cases advertise to anyone who sees them, exactly what's inside the case. 
Finally, for air travel or other trips that can be rough on firearms and delicate accessories like optics, you want something more durable than most factory cases.
So what kind of case do you like for your firearms? Do you have a recommendation that didn't make it on our list? Let us know. And for more info on safe gun storage, check out our round-up of the Best Bedside Gun Safes.