The SIG Sauer P365 has been out for about two years now, making this the perfect time to look back at this little gun and see if it really stands up to all the hype that surrounded it when it was first announced.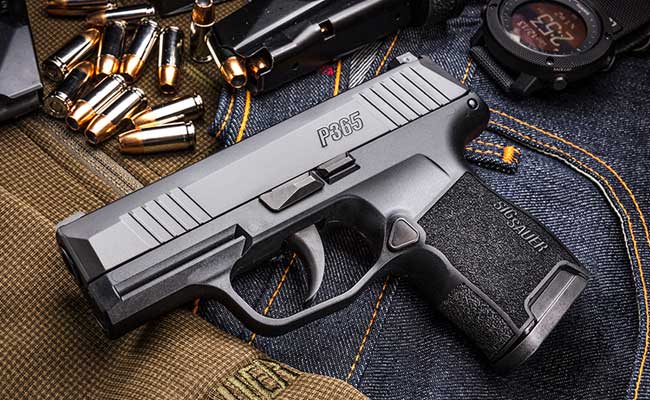 For those who aren't familiar with the P365 and the buzz surrounding it, this pistol caught the firearms industry's collective attention because it's a tiny subcompact pistol, about the size of the Glock 43, but with a whopping 10+1 round capacity.
If we didn't know better, we'd say the physics on that just don't work out, but it's true.
The P365 did experience some issues at first, which ended up halting production for a while, but once that was fixed and the new version hit the market, the P365 became began getting a lot of hype once again.
But is the Sig Sauer P365 worth all that buzz? 
Here we'll take a look at just about every aspect of this little pistol one by one to discover if its reputation is deserved and, if it is, who might be interested in adding one to their personal gun safe.
Let's get down to it.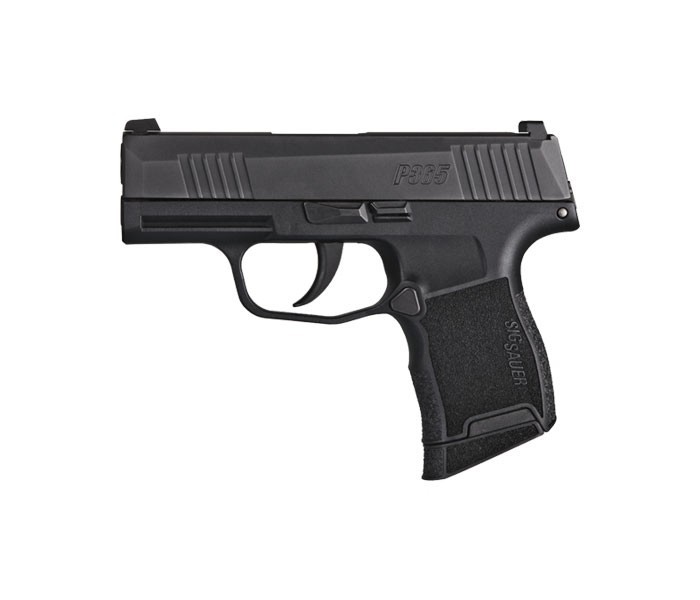 Sig Sauer P365
Pros
Micro compact with a 10+1 capacity
Comes with an extended grip mag for better control
Manageable recoil, even with high-power rounds
Cons
The tiny frame can be hard to hold for larger-handed shooters
Fit & Finish
To start, we need to emphasize once again that this is a truly tiny gun. 
It's just 5.8 inches long, 4.3 inches tall, and 1 wide, with a barrel that's just over 3 inches.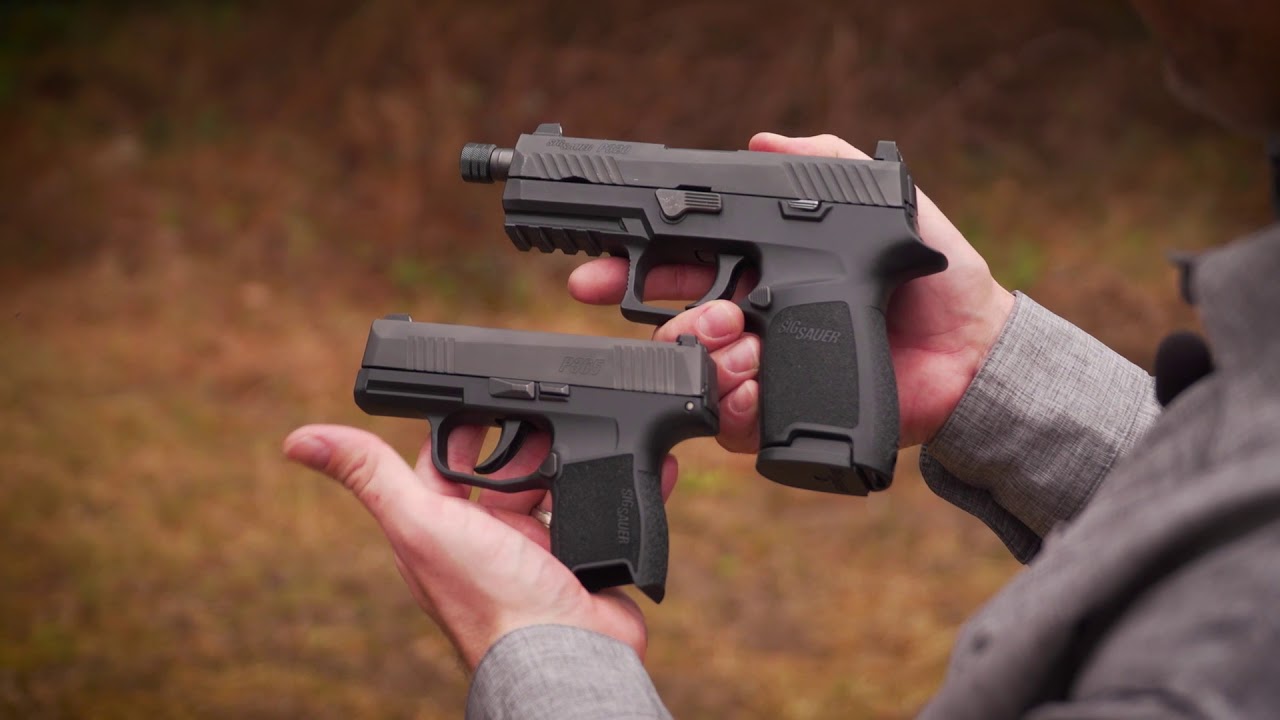 But while many micro-compacts are less than comfortable to hold and difficult to control, the P365 is actually quite ergonomic. It's not as comfortable as a full-sized pistol, but that's just part of the trade-off with small guns like this.
If you find a subcompact that's just as comfortable as a full-sized pistol–let us know. 
The grip has a palm swell to help it fit the shape of the hand and is textured to help keep your grip secure despite the small size. In addition, the trigger guard is undercut to allow you to fit more of your hand on the grip. 
Similarly, one of the two magazines that come with the gun has a nice, textured pinky rest to allow for even more surface area contact between the grip and the hand for those who don't mind adding a little bit to the overall height of the gun.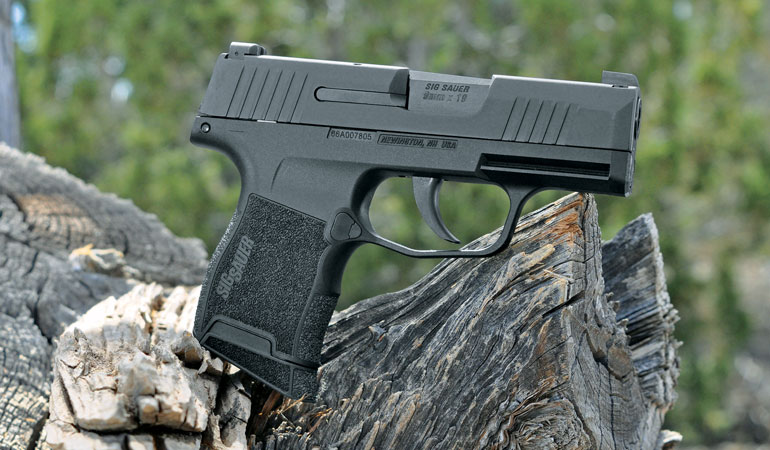 Plus it's just more comfortable than the dangling pinky. And after all, this is shooting, not a tea party.
The gun's controls are easy to reach and use with your hand on the grip, though with a gun this small, SIG could only put the controls so far away. The downside is that many users find that their thumb ends up resting on the slide lock, which can prevent it from locking after your final shot.
In addition, the P365's slide is much easier to rack than those of most other small guns like this one, so it's great for shooters with less hand strength.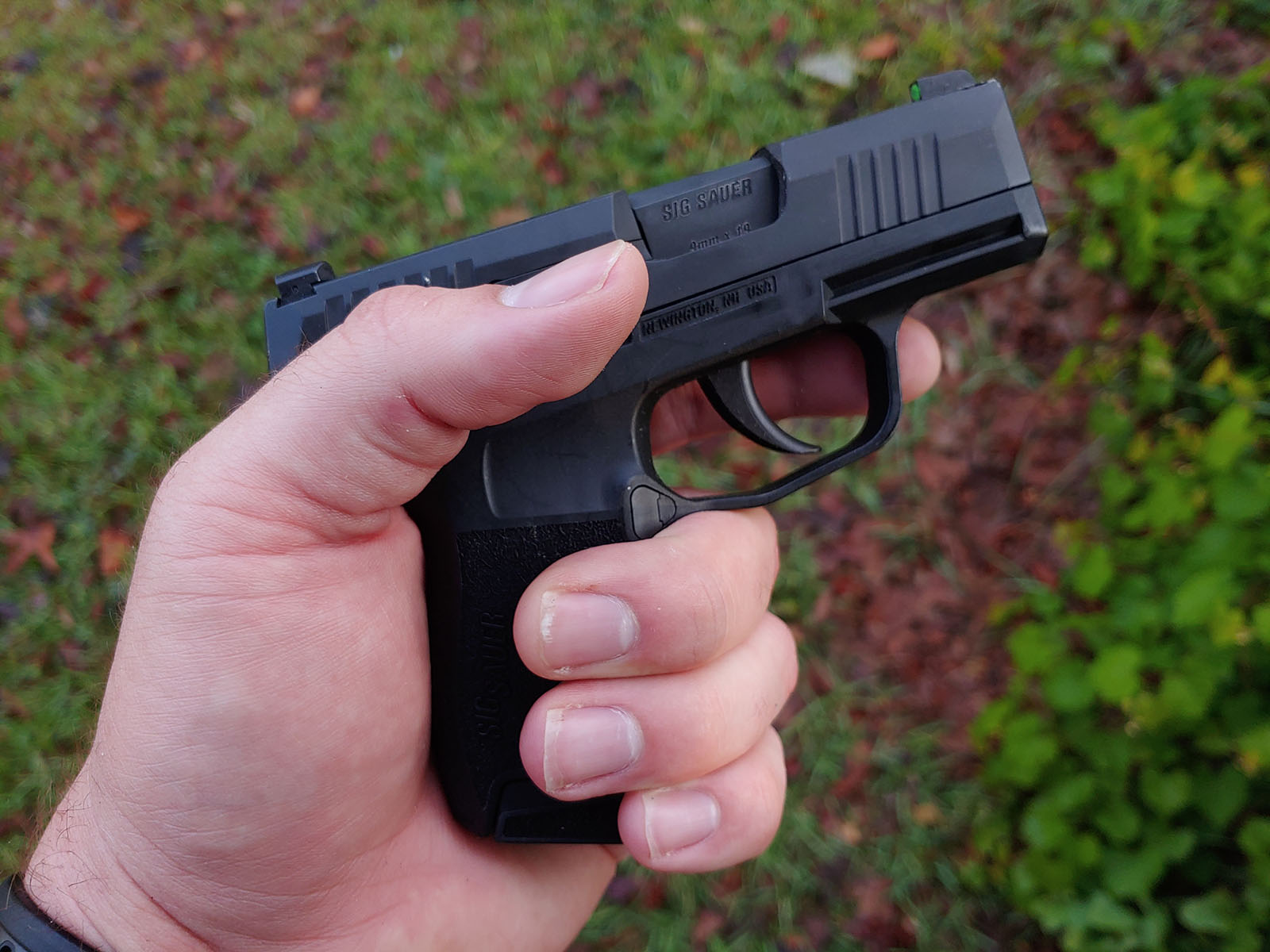 While the small size of the P365 is a liability when it comes to grip, it's a huge strength when it comes to carry and concealment. 
It's small enough that it's easy to forget you're even carrying it in the first place if you're also using a comfortable holster, and it's incredibly easy to conceal without having to dress around it too much.
In fact, unless you frequently wear form-fitting clothes, you may not have to worry about dressing around it at all.
The SIG Sauer P365 has SIG's XRay3 day-night sights, a tritium three-dot sight set which we love. The front sight is a tritium vial with a green ring around it for excellent visibility in both high and low light situations, while the rear is blacked out except for two tritium vials on either side of the notch and is serrated to minimize glare. 
Trigger
The SIG Sauer P365's trigger is great, better than those of pretty much all of its competitors. It's definitely not match-grade, but is definitely well above the average stock trigger.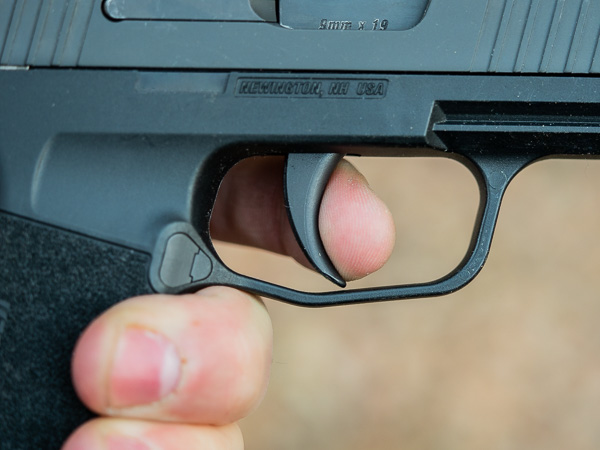 It's very comfortable under your finger with a curved plastic face. The trigger press itself is crisp, and smooth with a nice clean break. The trigger has a weight of 6 pounds, but many shooters say that it pulls so cleanly and comfortably that it feels like less. 
The travel is only a quarter of an inch with no observable overtravel.
The reset is short with both audible and tactile indicators. There's no creep or stacking. 
Accuracy & Recoil
With a gun this small, recoil is going to be comparatively heavy and the short sight radius hurts the accuracy, but SIG has done a lot to help mitigate these with the P365.
For one, there are all of the things that we talked about in the first section that help you get a fuller, firmer grip. Then there's the high visibility of the sights to help you get the most out of the short radius. Finally, that smooth, crisp trigger helps prevent you from inadvertently moving the gun when you pull the trigger.
All of that allows the gun to be quite accurate up to 25 yards, even when shooting quickly as you would in a defensive situation. This is especially the case after some practice with the gun, which you should be doing anyway if you're carrying it as a defensive weapon. 
Of course, the gun performs its best much closer to the target than 25 yards and with such a short barrel, the accuracy of the P365 drops quickly beyond about 30 yards, but that's not what this gun is for anyway. It's definitely intended for close-quarters combat.
Overall, the SIG Sauer P365 is a very pleasant, comfortable gun to shoot and feels like you're shooting a gun much larger than it is which, again, makes it an excellent subcompact for shooters with less hand strength.  
Reliability
Early versions of this pistol had some reliability issues, making reliability the weak spot on a lot of early reviews. With the Gen2 release, however, those reliability issues seem to be taken care of and we haven't experienced any issues regardless of the ammo we put into it. 
Everything has consistently loaded, cycled, and ejected the way it's supposed to, and we've experienced no parts failure either. This is true about the gun both straight from SIG and after a while with normal maintenance. 
Magazines & Mag Release
As we said, the P365 has a 10 + 1 round capacity and one of the magazines it ships with has a pink extension. The other, also 10 rounds, fits flush to be base of the grip.
That said, loading a full magazine when there's already a round in the chamber isn't easy and requires forcing. If you're not willing to deal with that every time, it's really more of a 10 or 9 + 1 capacity pistol.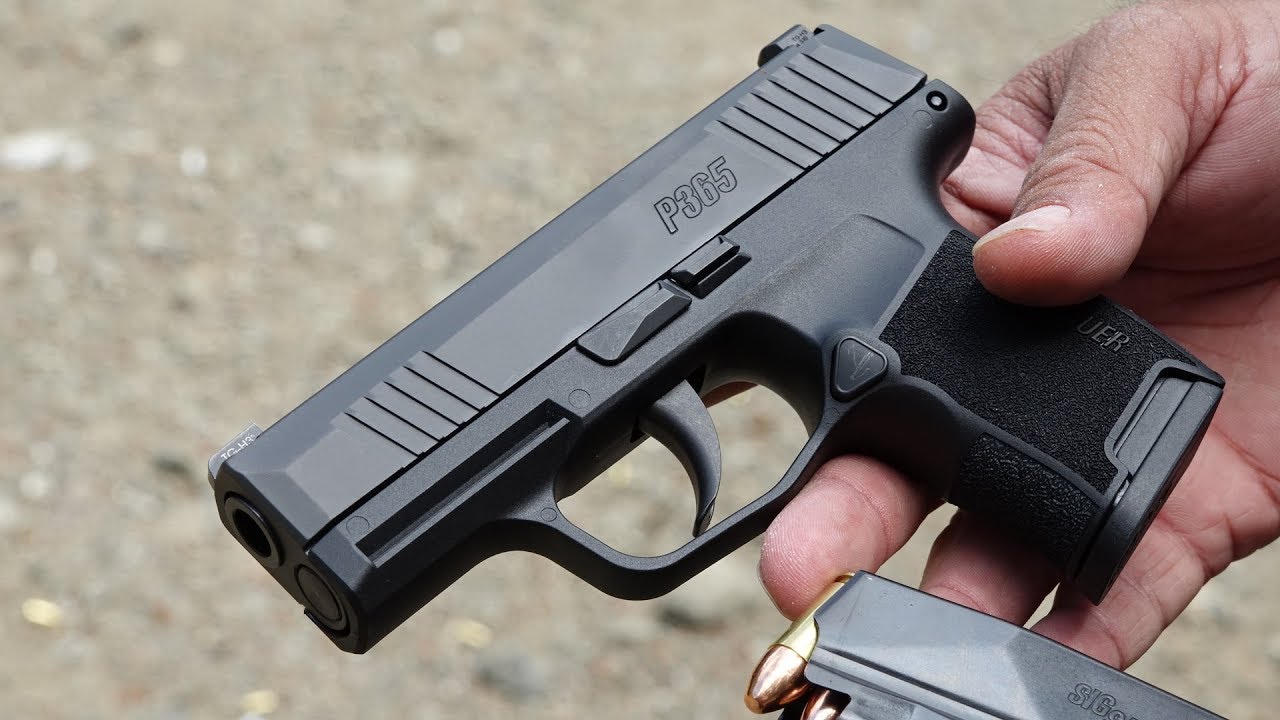 Of course, that's still about 50 percent higher than the capacity of the Glock 43 and most other subcompacts, so we can't complain about it too much.
If you'd like even higher capacity, SIG also makes extended magazines for the P365 with 12 and 15 round capacities that you can purchase separately, putting you at about twice the capacity of the Smith & Wesson M&P Shield.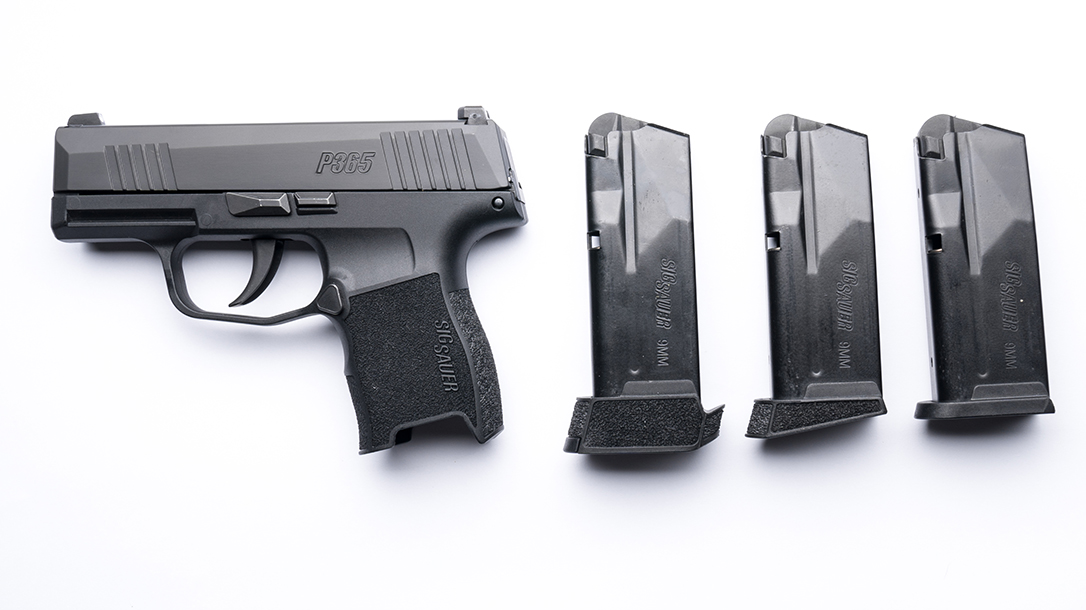 The extended mags obviously also extend the height and length of the gun a bit, but not too much. Some shooters may actually prefer having a bit more length to grip onto anyway. 
All capacities have witness holes at 5 and 10 rounds to help you keep track of which mags are loaded and which aren't. The 15 round capacity mag has an additional witness hole at 15 rounds, which is visible even when the magazine is loaded, so you can tell at a glance whether or not it's full.
The magazines aren't perfect though. They often don't drop free smoothly and can sometimes catch your hand during reloading.
The small, low-profile, triangular mag release is pretty typical for a subcompact, but if you're used to larger pistols, it may take some getting used to.
And, while it's not strictly a virtue of the magazine or mag release, this seems like the most logical place to note that the SIG Sauer P365 is rated for +P ammunition. Good news for those that would like to use a higher pressure ammo.
Maintenance & Disassembly
There's not much to say here since breaking down the SIG P365 is so intuitive and straightforward.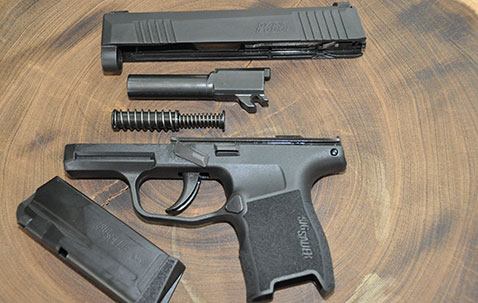 The pieces fit tightly and securely, but you don't have to manhandle to get them apart, a clear indicator of the quality of the craftsmanship. You also don't have to pull the trigger to disassemble the P365, which is a huge plus for safety in our book. Of course, you should still always check to make sure any gun is completely unloaded before disassembling it — safety is your responsibility. 
No extra maintenance is required beyond the normal to keep this gun in reliable working condition. Don't consider that justification to skip routine maintenance though. 
Specs at a Glance:
Type: Striker-fired semi-auto
Caliber: 9mm Luger
Capacity: 10 + 1
Weight: 17.8 ounces
Barrel: 3.1 inches, carbon steel
Length: 5.8 inches
Height: 4.3 inches
Width: 1 inch
Construction: Stainless steel frame and slide with a polymer grip
Trigger: Standard striker
Bang for Your Buck
The MSRP on the SIG Sauer P365 is $599.99, but it typically retails for about $100 less than that.
That does make it higher priced than most of its competitors. For reference, that's about $20 to $50 more than the Glock 43 and about $100 more than both the Smith & Wesson M&P Shield and the Walther PPS M2. 
We think that the extra capacity and overall excellent performance of the Sig Sauer makes it more than competitive, however, and it's definitely worth the extra money if you have the room in your budget.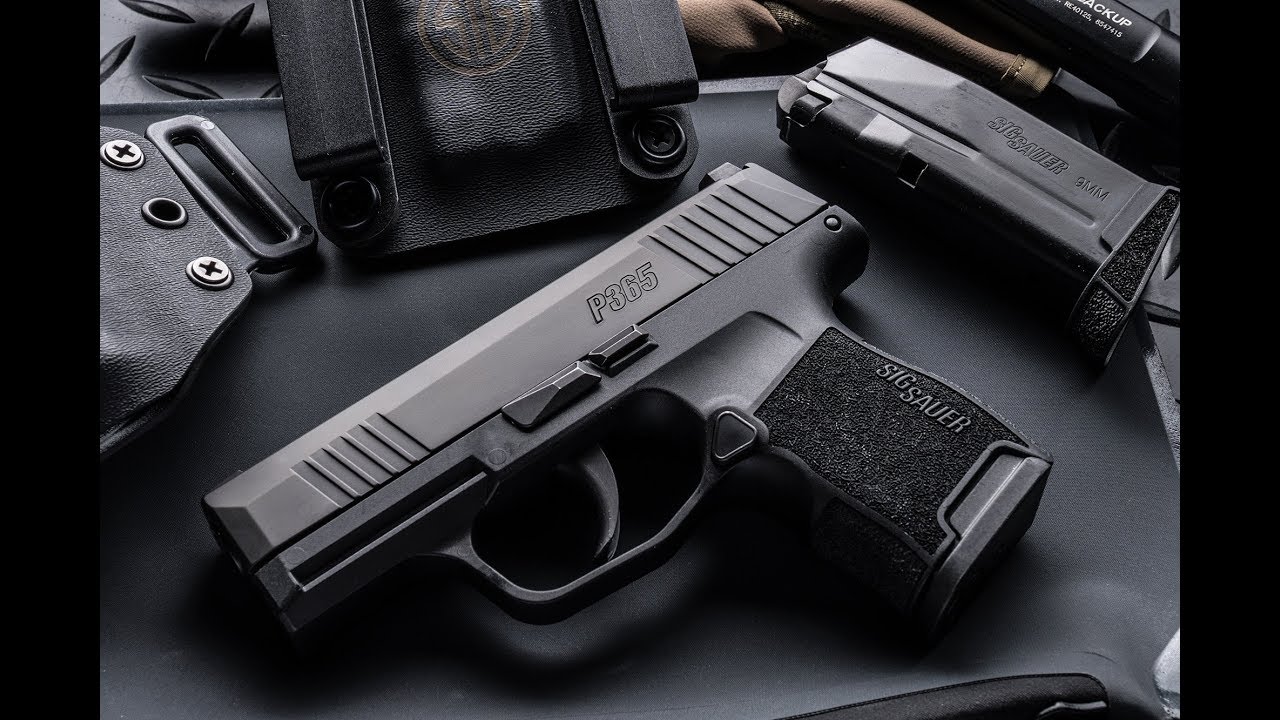 Likewise, the magazines sell for about $40 to $50, depending on capacity and retailer, which is about $10 to $20 more than competitors'. Remember, though, that each P365 magazine holds quite a bit more than those it's being compared against. If you compare the cost per round, the P365's magazines are actually a better value. 
We do with that SIG had included the 12 round capacity extended mag rather than the 10 round one with the pinky rest, since the 12 round mag is functionally the same in terms of grip but also provides those two additional rounds.
Holster & Upgrades
Initially, the availability of accessories and upgrades for the SIG Sauer P365 was pretty lousy, but that's not too atypical for a freshly released gun. All the other companies have to get a chance to learn more about it before they can release products for it, plus they need a chance to see what problems consumers are having with it so they can try to sell them products to fix them. 
Now that the pistol has been around for a couple of years, the availability of accessories and upgrades is much improved. Of course, you can't expect the same sort of support as more iconic platforms, but you also couldn't expect much more from a gun that's only been out for a couple of years.
Let's go ahead and talk about a few of our favorites.
Lights
Night sights are great and all, but for truly low light situations like duty carry or home defense, you may want to outfit your P365 with a light.
These are a couple that we love, but check out the Best Pistol Flashlights for some of our other favorite lights.
The Streamlight TLR-6 was specifically designed for subcompact weapons like the P365. There are different versions for different guns, with the P365 version fitting onto the P365's proprietary rail system and over the trigger guard and frame, so you need to make sure you're buying the version of the TLR-6 that's compatible with the P365.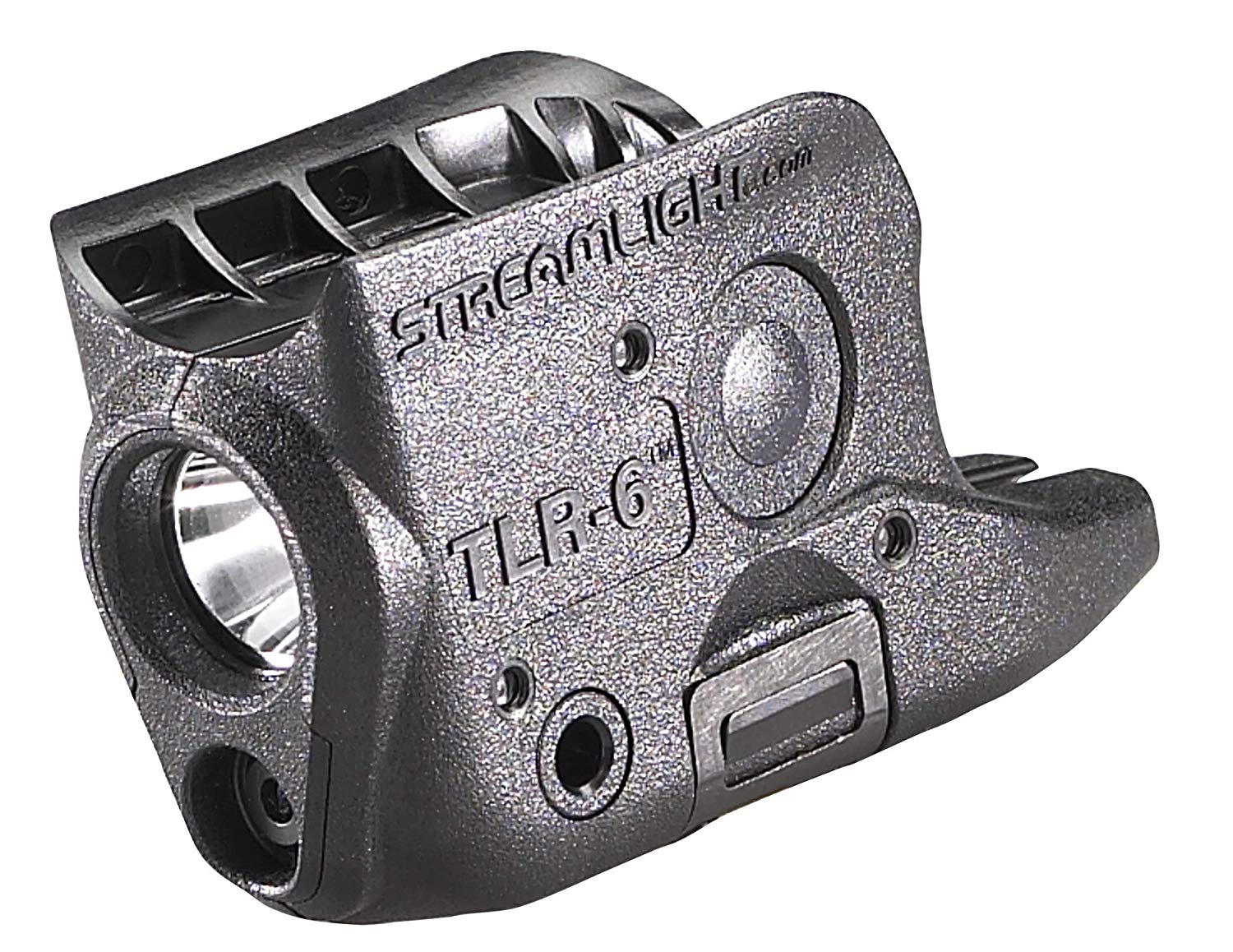 Streamlight TLR-6
Pros
100 lumens
1.270 ounces
1 hour runtime with a 10 minute auto shut off
Cons
Need the right model for your specific gun
This somewhat custom design is a huge advantage, ensuring that the TLR-6 adds minimal weight and bulk to the tiny pistol, which could easily be overwhelmed and unbalanced by a light.
Another advantage of the TLR-6 is that it's a light and laser in one, with multiple modes that allow you to choose to use the light only, laser only, or both at the same time using simple push-button controls. There are controls on each side, so it's ambidextrous, and the controls are easy to use with your trigger finger or supporting hand's thumb.
Night Sights
As we said, SIG's XRAY3 sights are great, but personal tastes vary. If the factory sights aren't your thing, here's another set that you may prefer.
Truglo Fiber Optic Front and Rear
Fiber optic sights are a solid alternative to tritium, and these Truglo sets are an excellent set of fiber optic sights. 
The fiber optic on the front sight is red and contrasts nicely with the green fiber optics on the rear sight, making lining them up quick and easy. They're best for use in well-lit conditions, but are still visible enough for low light if necessary.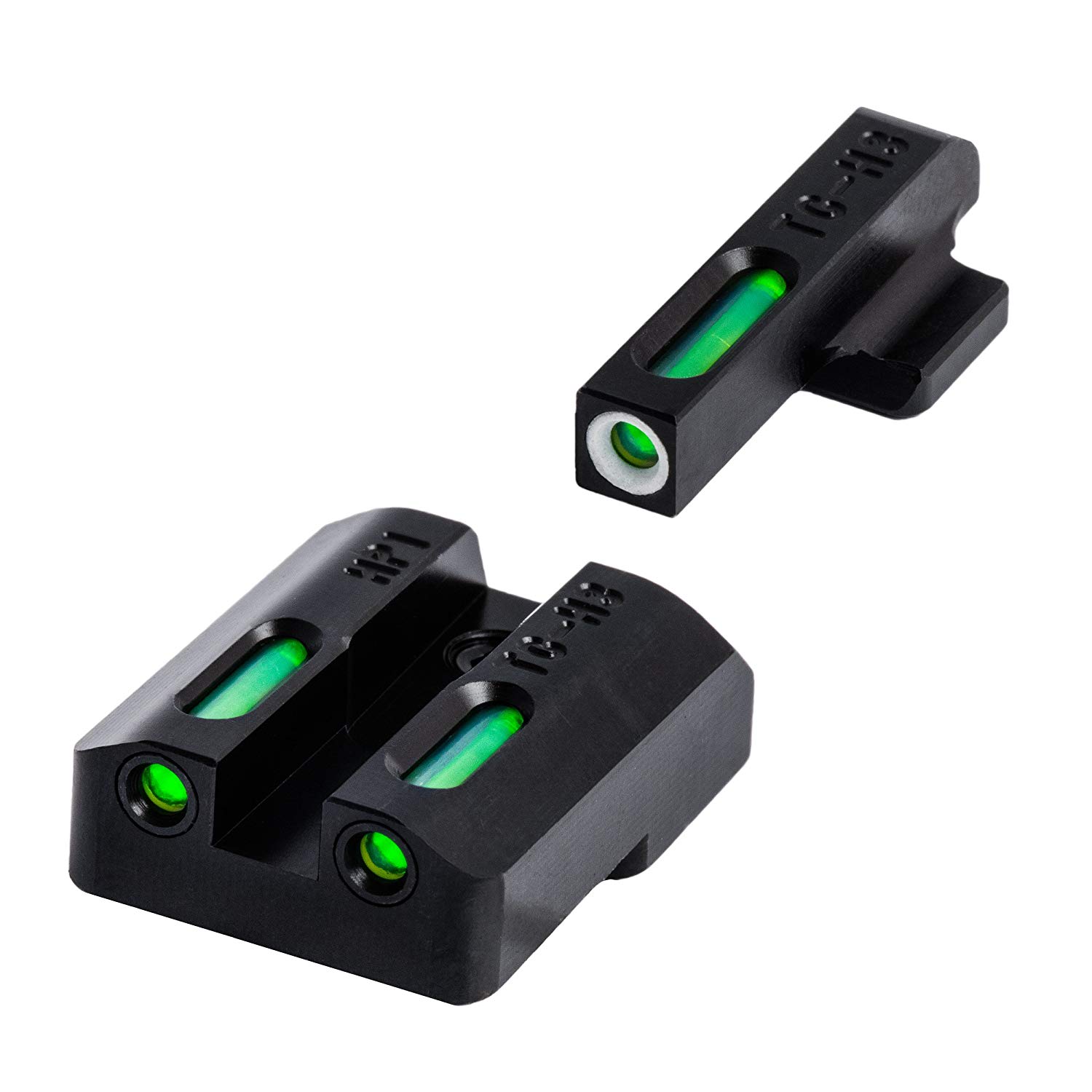 Truglo TFX Tritium and Fiber-Optic Xtreme Handgun Sights
Pros
Fiber optic and tritium powered
Compact, snag-free design
Cons
Tritium loses brightness over time, and the entire unit will need to be replaced
SIG Sauer uses various standard sights across various weapons with the different sights numbered to clarify which ones a particular gun uses. Make sure you get the Truglo sight set with the SIG #6 front sight and #8 rear sight to ensure they work with your P365.
Outside of the fiber optics, these sights are made from CNC machined steel and have a snag-free design. They're also designed to fit well in standard P365 holsters.
Speaking of which…
Holsters
If you're going to carry your P365, you need something to carry it in. Much of choosing a holster is simply up to your personal preferences, but we do want to go ahead and tell you about one that we love. 
Crossbreed DropSlide OWB Holster
We specifically wanted to mention the Crossbreed DropSlide OWB Holster because it's available in a version designed to fit a P365 with the Streamlight TLR-6 light attached.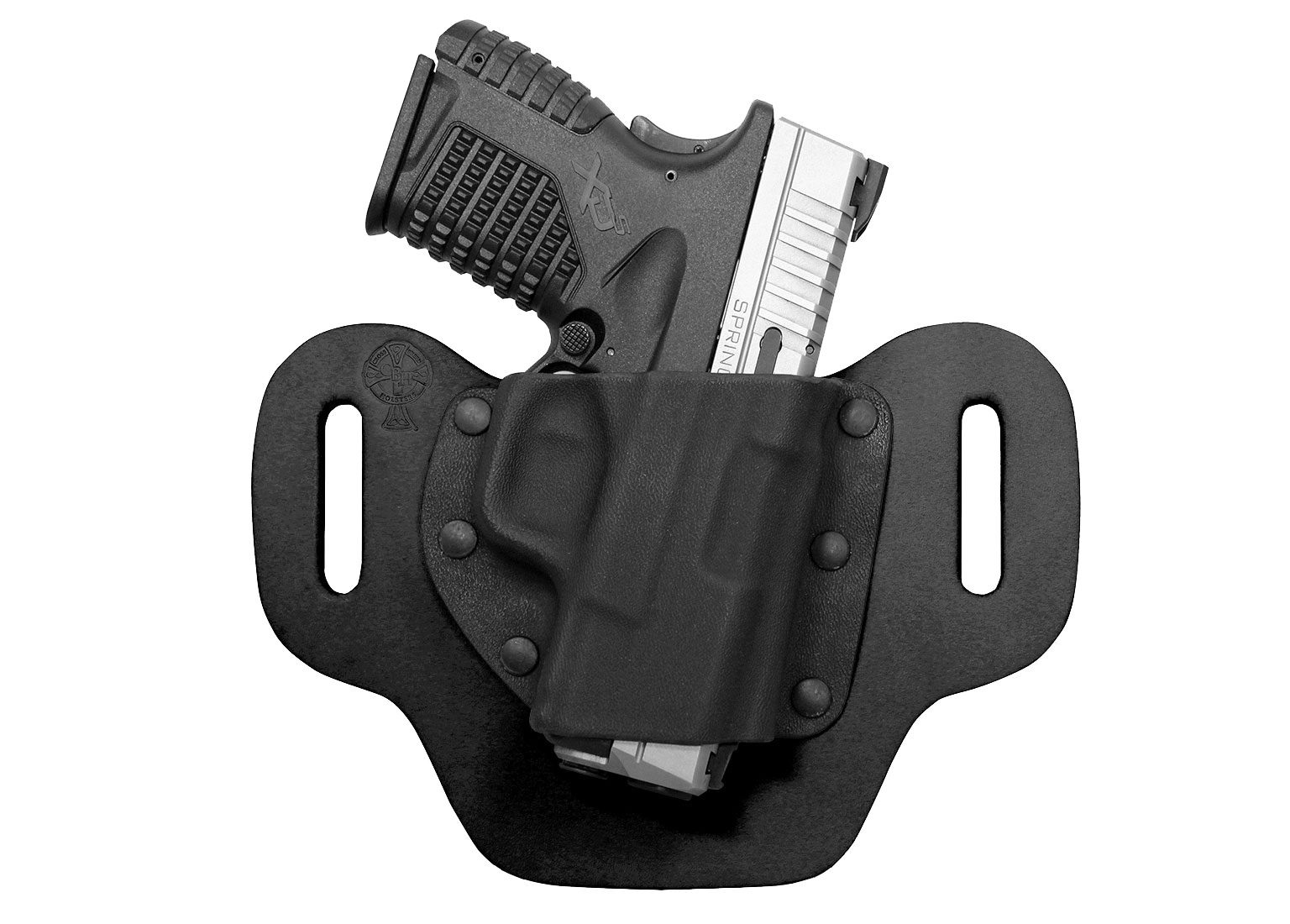 Crossbreed DropSlide OWB Holster
Pros
Custom molded Kydex holster
Soft leather backing
Designed to allow a full grip when drawing
It fits close to the body and the leather backing allows the holster to move with you, while Kydex on the other side keeps the trigger covered and the gun protected. It also adds minimal bulk to the P365 so it's still very easy to conceal, despite being an OWB holster.
Crossbreed makes IWB holster options as well, including ones that work with the P365 and TLR-6. 
If you'd like more guidance on picking a holster, be sure to check out our Best CCW Holsters guide, which discusses the types of holsters available, what to look for in a holster, and several of our favorites of a variety of different types, including a few other Crossbreed options.
Conclusion
The SIG Sauer P365 has experienced something of a rollercoaster since it came out, first being the subject of a ton of buzz, then facing blowback for a few issues, and then rectifying those issues before re-earning an excellent reputation.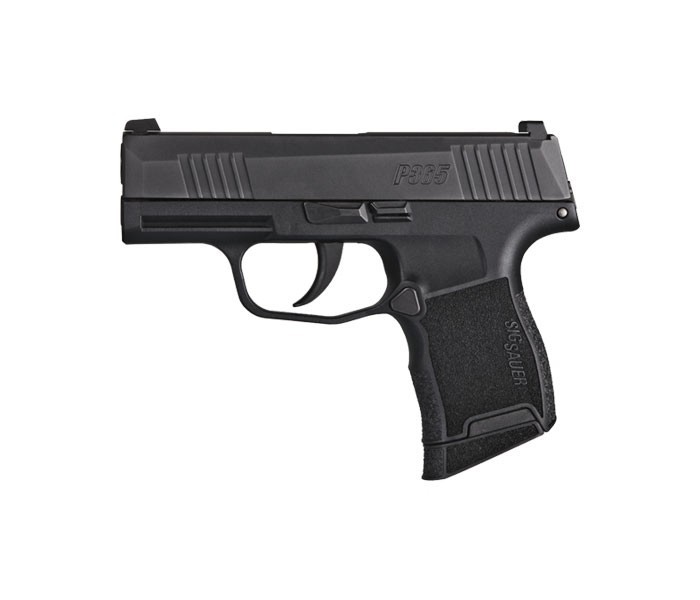 Sig Sauer P365
Pros
Micro compact with a 10+1 capacity
Comes with an extended grip mag for better control
Manageable recoil, even with high-power rounds
Cons
The tiny frame can be hard to hold for larger-handed shooters
It's now a very popular concealed carry pistol because it's tiny and easy to conceal, but still has an excellent capacity and is easier to control than competing subcompacts. And, of course, it's also just a delight to shoot. 
Have you shot the SIG Sauer P365? Do you agree with our analysis? Is there another subcompact 9mm that you prefer? Let us know and ask any questions that you still have in the comments. Check out some of our other best CCW picks!