You may know them as some of the most common firearms on the planet, and for a good reason!
Glocks have garnered a decades-long reputation for accuracy, reliability, and ruggedness. They are frequently cited as some of the finest firearms ever made, and they are carried by more people than any other handgun in the world.
That said, Glock handguns are very utilitarian in design. If you enjoy that look, great!
However, if you want something a little more in line with your own personal preferences, there are a number of ways to "pretty up" a Glock without compromising one single bit of their legendary performance.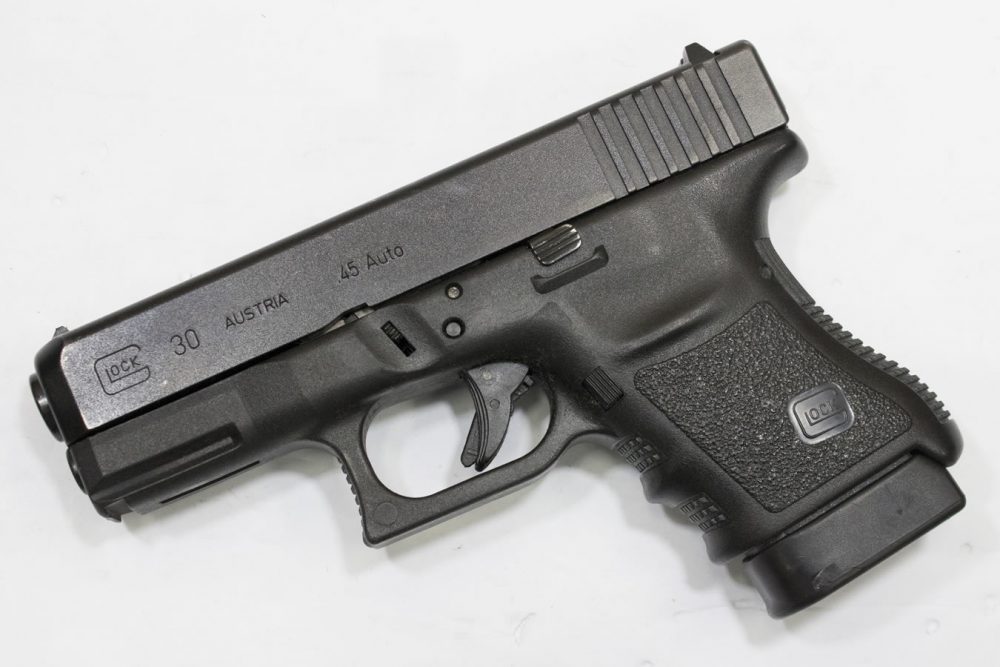 If you're looking to change things up for a different look, one of the best places to start is your slide. The slide is a very visible, easily customized part of your handgun, and since there are so many Glock part makers, you can get a huge variety of custom-machined and colored slides for your Glock.
Best of all? Many of these have lightening cuts, improved cocking serrations, and barrel porting that all actually improve use and performance, as well the visual appeal, of your Glock.
Sound like something you're interested in? Here are the best aftermarket slides for Glocks, as well as some additional info and ideas on upgrading to a new slide. 
Reasons to Upgrade Your Glock Slide
Let's talk a little more about the reasons to upgrade.
First, there are aesthetic concerns. Glocks are a lot of things, but few people call them pretty out of the box. With a slide upgrade, all that can change.
You can add slide windows, serrations, barrel fluting, and a huge variety of custom finishes in a wide range of colors. We would say this is definitely an improvement in the looks department. If you're not too worried about appearances, there still are plenty of reasons to upgrade your Glock.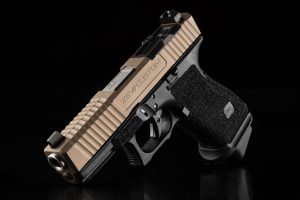 For instance, how does less recoil sound? The cuts and windows on the slide that expose the barrel aren't just for looking cool. They're for keeping cool, too.
These cuts allow your barrel and slide to vent heat better, which is going to result in less wear on the barrel and slide contact surfaces. After all, heat is the enemy of material longevity, so anything you can do to reduce heat is best for your gun's lifespan.
The other objective improvement of updating your slide is the ability to lessen the reciprocating mass of the slide. In any firearm with a reciprocating slide, the movement of the slide can have a dramatic impact on recoil and muzzle flip, which can make accurate rapid follow-up shots difficult.
An upgraded slide can reduce the moving mass, which can make the recoil impulse move more directly toward the rear of the weapon. This means that you'll find you have an easier time controlling the recoil and that the recoil doesn't move your sights out of alignment as much.
These types of slides also typically have forward cocking serrations so that you can better grip the front of the gun to rack the slide from there. These additional serrations can add versatility to how you handle your Glock.
Finally, if you want to add a red dot optic to your pistol for competition or for carrying, you'll need a slide cutout for the base of the optic or mounting plate. An upgraded slide gives you the option to have the red dot of your choice, like a Vortex Venom or Burris Fastfire (or any of the other fantastic small red dots), on top to help you get on target faster and more precisely.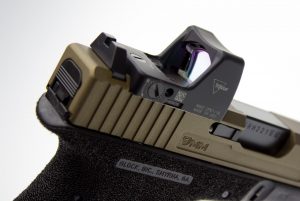 Slide Recommendations
Sold on the idea of a new slide for your Glock? Let's look at some of the best options that are out there. These are the brands that you can't go wrong with, so you can feel free to choose whatever design or combination of features and finishes you want.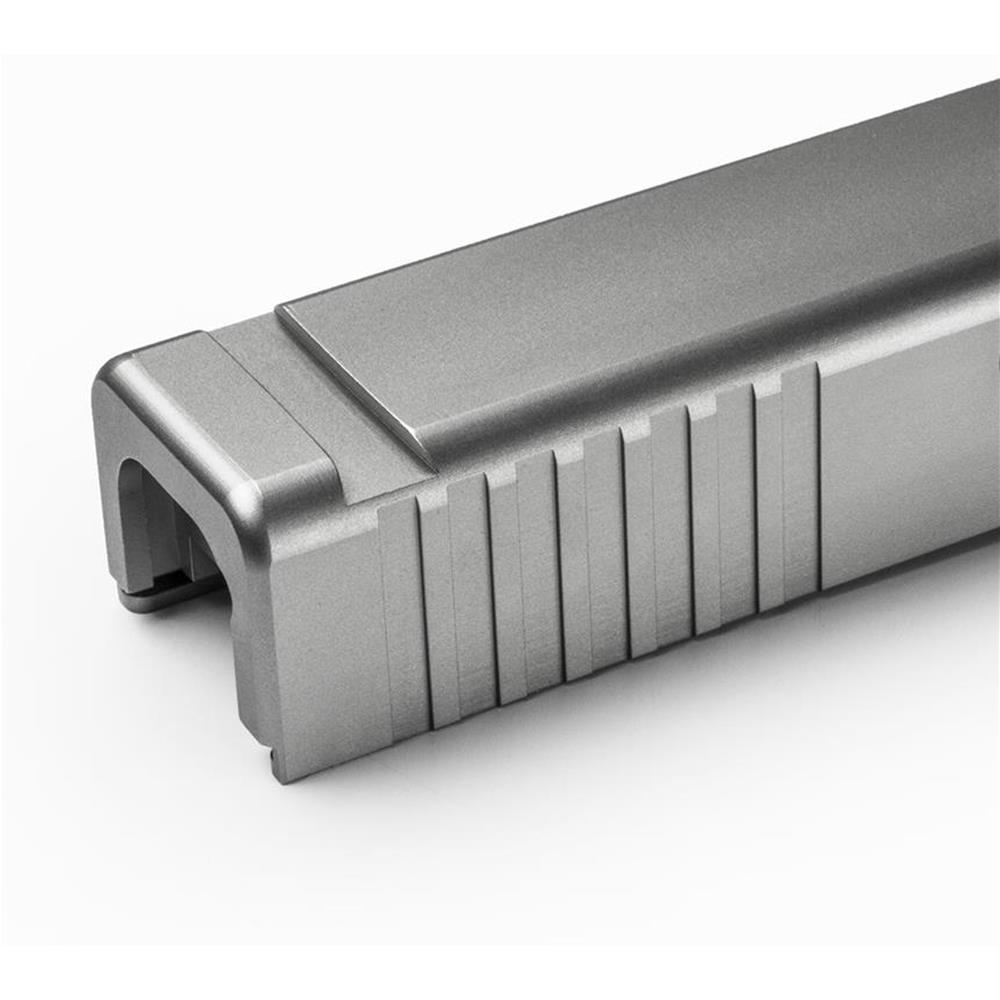 Lone Wolf AlphaWolf G-17 Gen 4 Slide
Pros
Industry-leading customization
Excellent customer service
A wide variety of parts to build finished slides
Cons
Custom finishes can be expensive
Certain designs are very popular and frequently out of stock
Lone Wolf is probably the most recognizable name in aftermarket Glock parts, so it's probably no surprise that they make slides as well. In fact, you may know Lone Wolf as the company who puts out the "Not-a-Glock" Glock that uses no factory Glock parts whatsoever. The frame is the big seller there, but the slides they make are just as notable.
This company makes everything you could want for your Glock, from simple OEM-clone slides that you can get unfinished and sightless to your choice in custom finishes, colors, machined designs, and optic cutouts. Best of all, you get a Lone Wolf barrel with your complete slides, which means you can enjoy the industry-leading performance of a Lone Wolf match barrel for that extra bit of accuracy.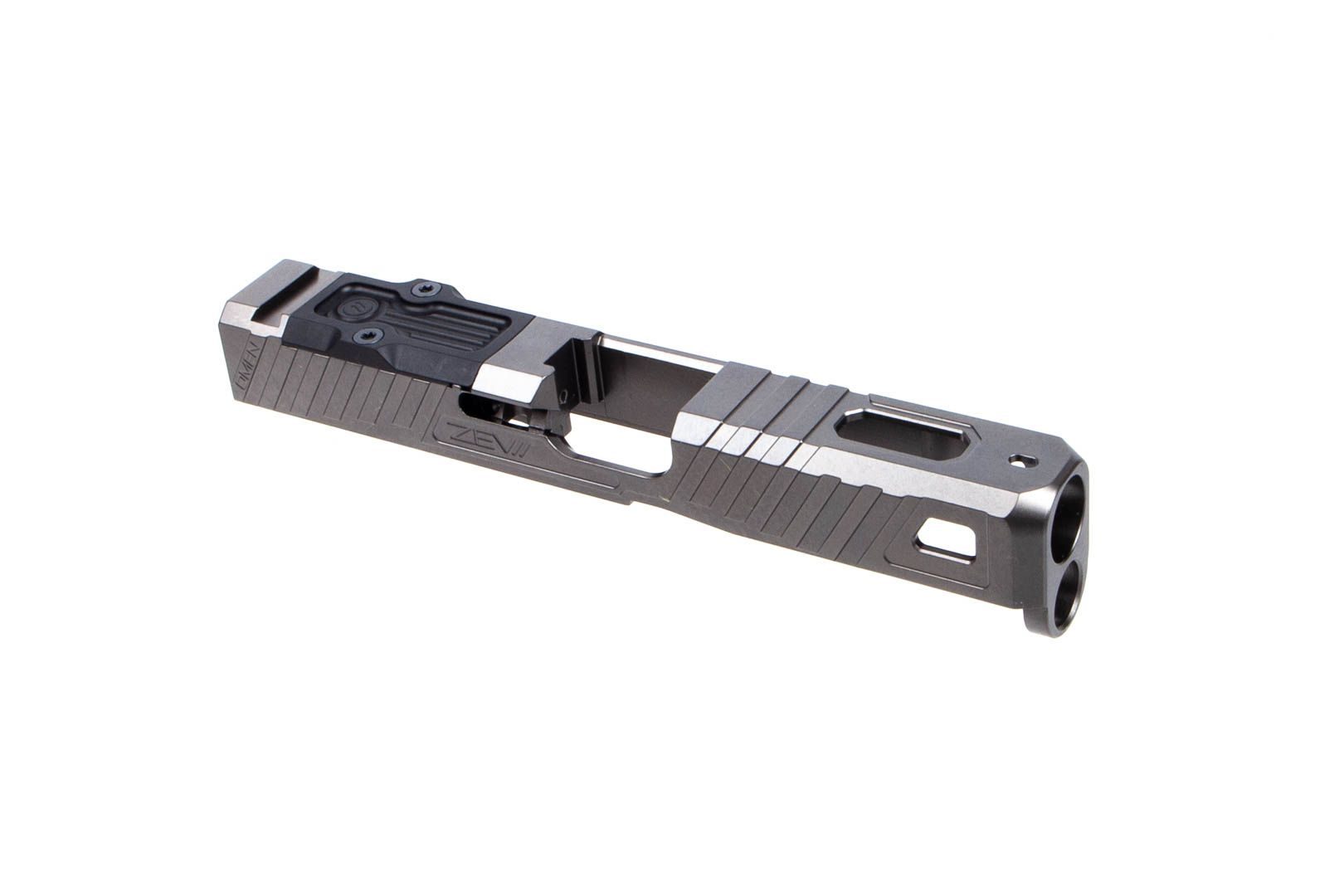 ZEV Dragonfly Glock Slide
Pros
Some of the best and most varied appearance options
Contender for best machining in the industry
Variety of other aftermarket parts such as barrels and triggers
Cons
Can easily be more expensive than an entire factory Glock depending on options
After Lone Wolf, ZEV is probably the second-most recognizable aftermarket Glock manufacturers. In years past, they were primarily known for their excellent competition triggers. Today, they're earning a reputation for some of not only the most well-machined aftermarket Glock slides but for some of the best-looking ones. 
They have some very unique designs and a large variety of options for those who want to make sure they never see another gun like theirs at the range. If you're looking to build something that's one-of-a-kind and attractive, but still incredibly functional and accurate, ZEV is a great place to start. They have a host of barrels as well, so you can mix and match to end up with something that's truly unique.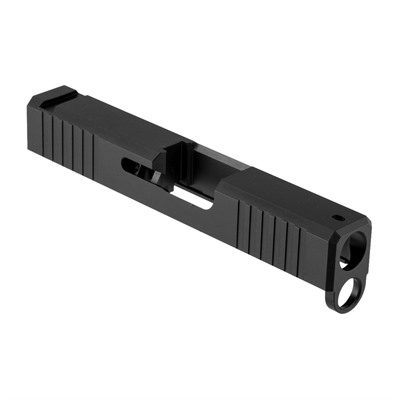 Brownells Glock G43 Slide
Pros
Affordable
A large amount of stock
Great functional and aesthetic options
Brownells is the number one name in aftermarket everything for guns, so it's no surprise that they also carry a number of options for aftermarket Glock slides. Unlike some of the other manufacturers on this list, Brownells seems to be aiming hard at the mid-range market with very competently designed and machined, but still very affordable, slides.
If you're looking for a simple slide that's maybe been lightened slightly or cut for an optic, Brownells is the place to go. That said, don't let the cost fool you. These slides are very well made.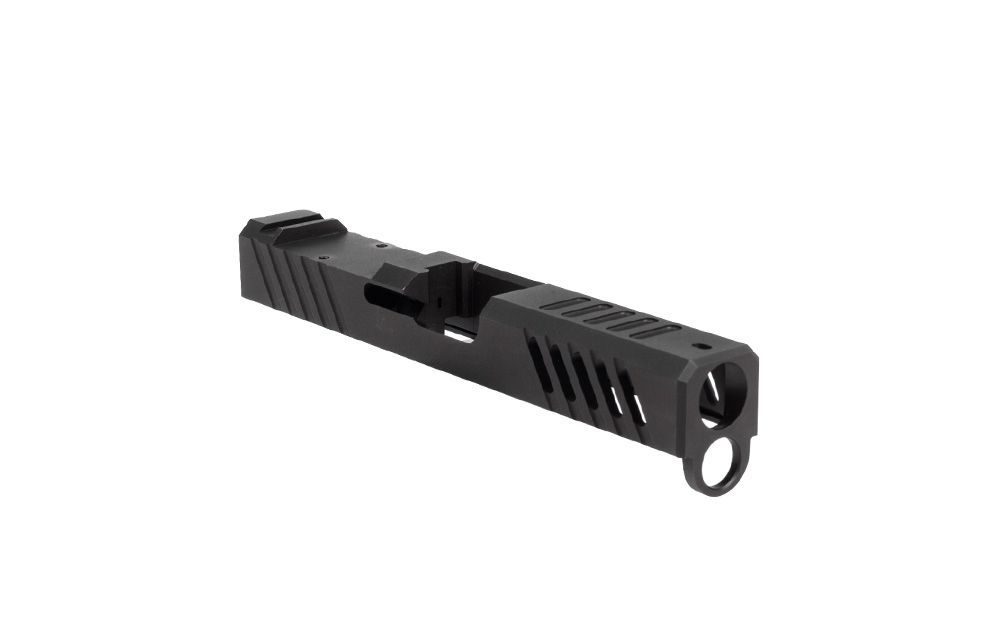 Grey Ghost Precision G-19 Slide
Pros
Industry-leading machining quality and precision
A wide variety of options
Excellent competition and match-grade packages
Cons
Can be relatively expensive
Grey Ghost Precision is a relative newcomer to the world of aftermarket Glock slides, but don't mistake newness with inexperience. They're one of the finest machine shops period–let alone one of the finest slide and part makers for Glock. They have a variety of awesome slides cut for optics, for weight reduction, and just to look really good sitting on top of your handgun. What makes them stand out, though, is the machining quality.
Everything about these slides, from the coatings to the machine finishing speaks to a level of attention to detail that you don't often see. Grey Ghost truly knows their stuff and has proven that time and time again with slides that have won competitions due to their tight tolerances and match accuracy. If you're buying a complete slide from them, you'll also get one of the very best barrels out there.
Suarez International specializes in extremely functional and practical slide upgrades for your Glock. While they definitely do put a lot of thought and effort into designing their slides, their main focus is on slides designed for specific circumstances.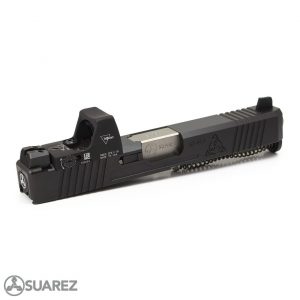 What circumstances, you ask?
Slides from Suarez International are specifically beveled and rounded in strategic places to keep the pistol comfortable in whatever position you choose to carry. Their slides also featured a widened, modified ejection port that keeps spent brass away from your face and increasing reliability.
Finally, you can get your Suarez International slide cut for most every optic option that's out there. They specialize in RMR-cut slides for those who favor Trijicon products (or the optics that use RMR-style mounts).
Parting Shots
While Glocks may not be the prettiest handguns out of the box, you can absolutely upgrade the look of your Glock without compromising any of the legendary reliability, accuracy, and performance. Best of all, these aftermarket slides not only improve the looks and leave that OEM performance intact–they can actually improve on that performance with features such as lower mass, better barrels, optics cutouts, and cocking serrations.
If you're looking to upgrade your Glock, or just want a fun gunsmithing project, picking up a slide from one of these fantastic manufacturers is a great choice.
What do you think of these Glock slides? Which one are you most interested in? Let us know in the comments below! Don't forget to check out our guide on the best magazines for your Glock, too.