Shooting isn't always the cheapest hobby.  
For starters, there are the guns themselves—an inexpensive firearm is still at least a couple hundred dollars.  Then you have to pay for each shot you take in the form of ammo, not to mention cleaning supplies.  And if you want to upgrade your gun, that's even more money.
But it doesn't have to be that much more.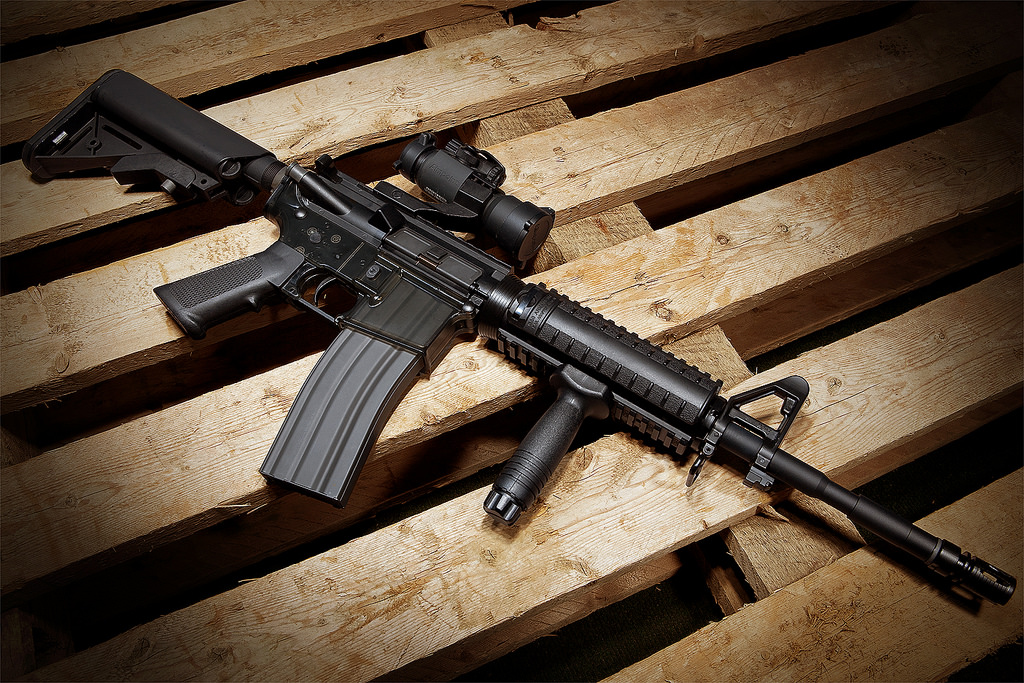 Today, we're going to talk about one way to upgrade your weapon that doesn't have to cost an arm and a leg: red dot sights.
Sure, red dots can be expensive, but there are affordable options.  In fact, quality red dot sights are available for less than $100 dollars, and I'm going to show you a few of them.
These red dots are a great opportunity to see how you like using a red dot sight, but they're also high enough quality for long-term use.
Let's start with a simple red dot sight designed for the AR-15.
The DDHB Red Dot Reflex Sight from Dagger Defense is often called a clone of either the 552 Holographic Sight or the XPS2-1, both from EOTech, a well-known manufacturer of high-end optics.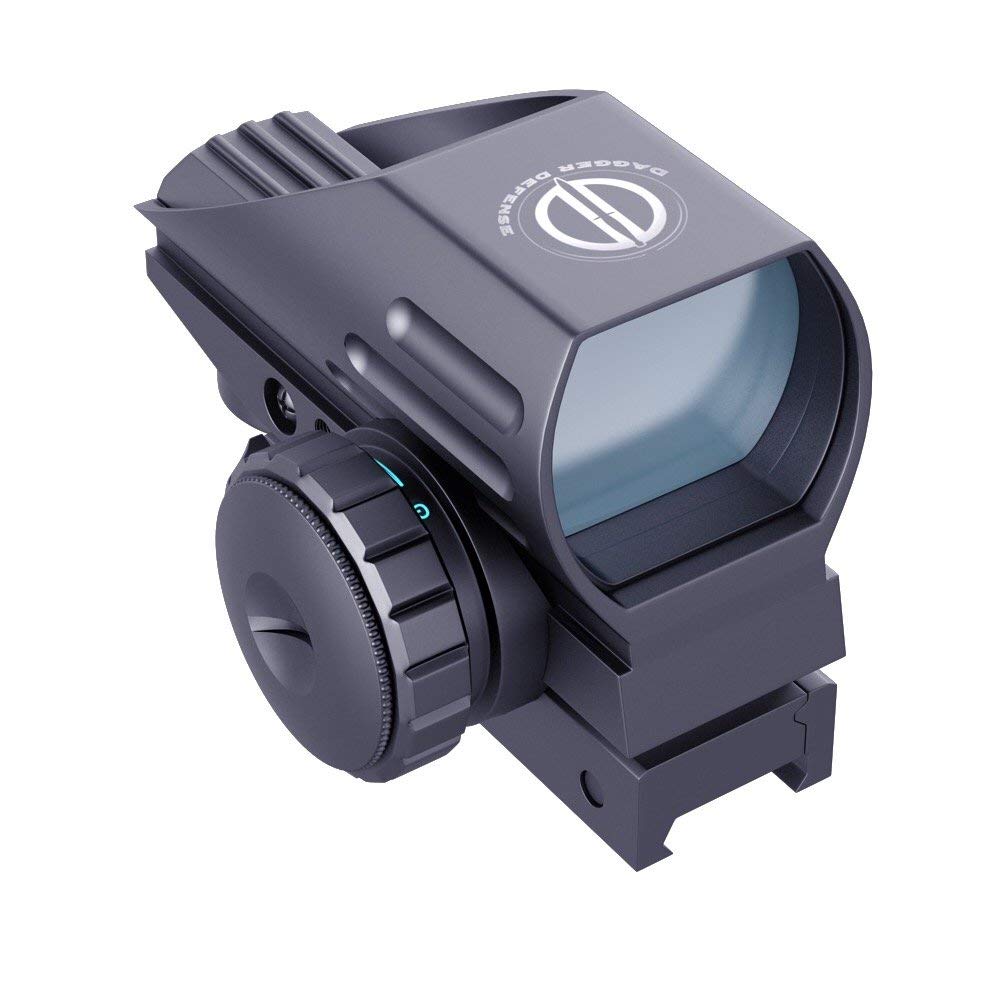 Dagger Defense DDHB
Pros
Ultra cheap
Reasonably durable for the price
Cons
Very bare bones
Plinking quality only - do not trust for self or home defense
Whether it was intended as a knock-off or not, the DDHB Red Dot is very similar to the two from EOTech, but at a much lower price point.  Each of the EOTech sights costs about $500, while the Dagger Defense DDHB rings up at less than a tenth of that price, around $40.
You definitely don't get just a tenth of the quality though.
It has both red and green dots, and four different position reticles.
It's easy to adjust windage and elevation as long as you have the included hex wrench, and the sight is practically zeroed out of the box.  Despite being designed for the AR platform, the Dagger Defense DDHB Red Dot Reflex Sight is also super easy to install on a rifle, shotgun, or even a handgun with enough rail space and will stand up against recoil without needing to be adjusted.
Aircraft grade aluminum makes the Dagger Defense DDHB Red Dot Reflex Sight lightweight, yet durable.  
Finally, the DDHB is water-resistant, so feel free to use it on a rainy day, though I wouldn't go leaving it sitting in puddles since it's not waterproof.
Quick Specs:
Reticle: 1 MOA

Aperture: 33mm

Length: 82mm

Weight: 291g

Field of View: 15.8m @ 100m

Rail Type: Picatinny

In the Box: Sight, CR2032 Battery, 2 Allen Wrenches, Cleaning Cloth, Instruction Manual
The AT3 RD-50 Micro Red Dot Reflex Sight is another affordable red dot that was intended for the AR platform but works for just about anything with a large enough rail.  It's a little more expensive than the red dot above from Dagger Defense, around $75, but you also get a little more.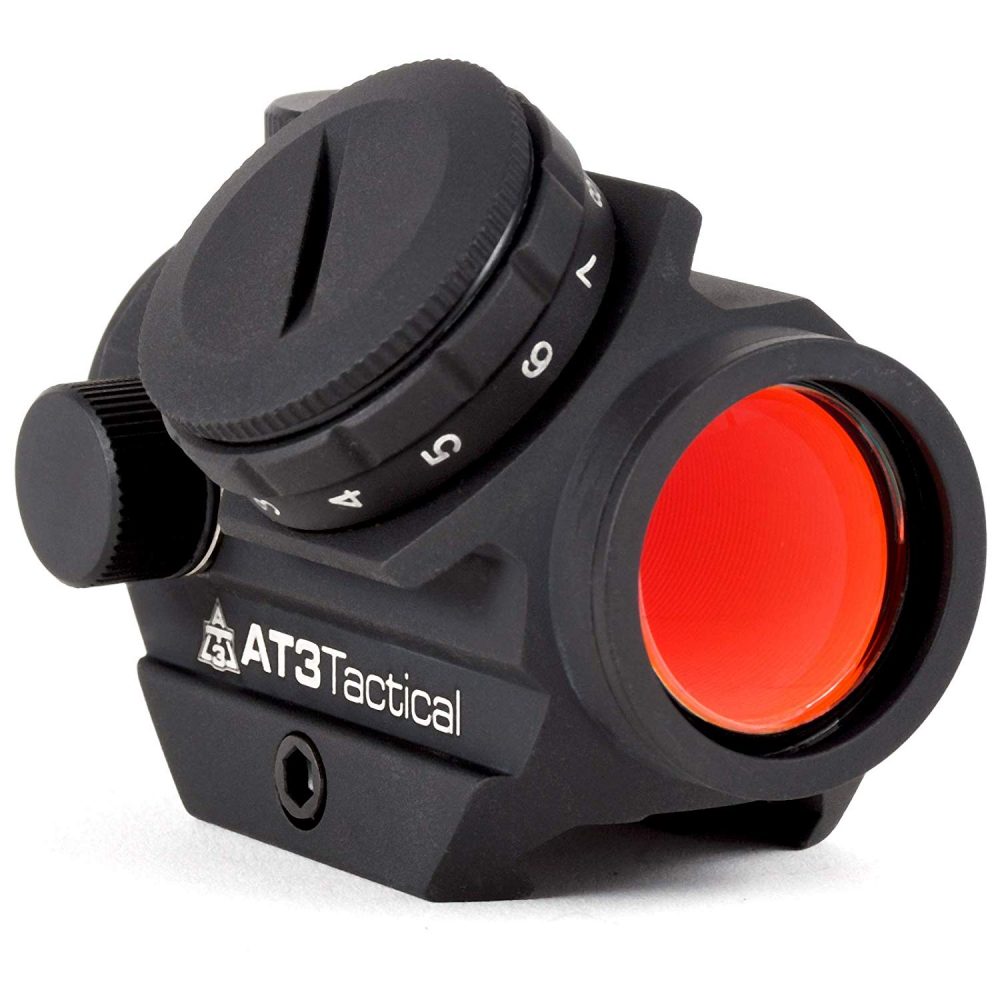 AT3 Tactical RD-50 Micro Reflex Red Dot Sight
Pros
Very high value for cost
Fully waterproof
Cons
1 MOA clicks means zeroing will be a bit rougher
The crisp 2 MOA red dot is highly adjustable and facilitates both-eyes-open shooting, with an adjustability range of +/- 35 MOA.  Windage and elevation adjustments have a click value of 1 MOA per click. You can't hear clicks, but you can clearly feel them.
The sight has 11 different brightness settings, which give you great performance in all light settings, but it's not night vision compatible.  
You can easily switch between brightness settings and adjust windage and elevation using the dials on the side of the sight.  No tools are required for any adjustments, so it's easy to do in the field.
Expect up to 50,000 hours of battery life on the lowest brightness setting.
The anodized aluminum casing on this sight is waterproof, not just water-resistant, so no worries about fogging or water damage.  The amber lens is multi-coated for scratch resistance and a clearer view of both the reticle and your target.
The casing doesn't scratch easily either, but the matte black finish helps minimize the appearance of any blemishes that do show up.  And you don't need to worry too much about bumps affecting the internal components either; they're shockproof.
Quick Specs:
Reticle: 2 MOA Dot

Aperture: 22 mm

Length: 61.8 mm

Weight: 3.6 oz

Field of View: Unlimited

Rail Type: Picatinny or Weaver

In the Box: Red Dot Sight, Rubber Bikini Cover, Instruction Sheet, Lens Cloth, Allen Wrench
We're getting closer to the $100 mark with both of these last two sights, but both still slide in just below it.  
Primary Arms is known for their middle of the road red dots that balance quality and affordability.  This one, the MD-RBGII, is one of their most affordable options, around $90, but it's still a very high-quality sight.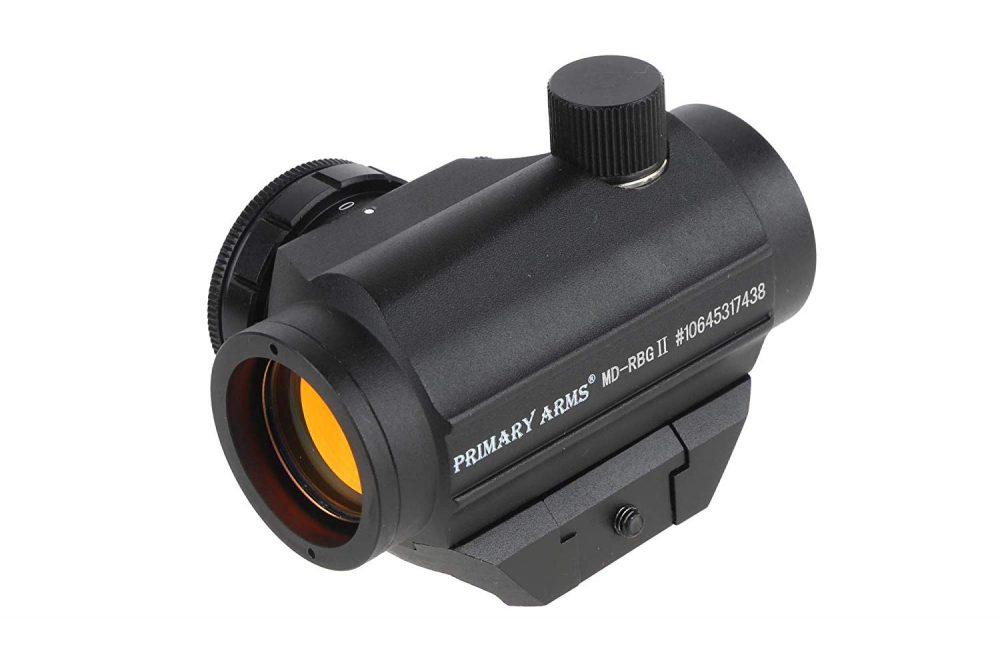 Primary Arms Micro Red Dot Sight
Pros
Base mount included
11 brightness settings
Cons
Only a 1 year limited warranty
Like the other red dots we've talked about, the MD-RBGII has an aircraft grade aluminum 6061  casing. Without the turret caps, the sight is water resistant, but with the turret caps on, it's waterproof up to six feet.  It's also fog resistant.
And like the AT3 RD-50 Micro Red Dot Reflex Sight, the MD-RBGII has 11 different brightness settings, but the MD-RBGII is also night vision compatible.  
Also unlike the AT3 RD-50, however, the MD-RBGII is not advertised as shockproof, so you'll want to be careful to minimize bumps.  The matte black hard coat anodized finish should minimize scuffs and scratches if bumps or drops do happen.
The anti-reflective lens is fully multi-coated and scratch resistant, and it's canted for superior dot projection.
The MD-RBGII comes with a Picatinny rail mount, but it's removable and compatible with just about all aftermarket mounts, so you can switch it out for a mount for whatever rail system you prefer.
The MD-RBGII has a battery life of approximately 1000 hours at the medium brightness setting.
Windage and elevation can easily be adjusted without tools and have a click value of 1/2 MOA per click.
Quick Specs:
Reticle: 2 MOA Dot

Length: 66.5 mm

Weight: 4.1.oz

Rail Type: Picatinny (But rail mount is removable)

In the Box: Sight, Bikini Lens Cover, Removable Picatinny Rail Mount, CR2032 Battery
Bushnell has a long history as one of the biggest names in high-performance optics (including both firearm optics and binoculars), but that doesn't mean that you have to spend a fortune to get a Bushnell sight.  
The Bushnell TRS-25 is one of the best-known budget red dots on the market.  In fact, it's probably the easiest red dot on this list to find both in-store and online.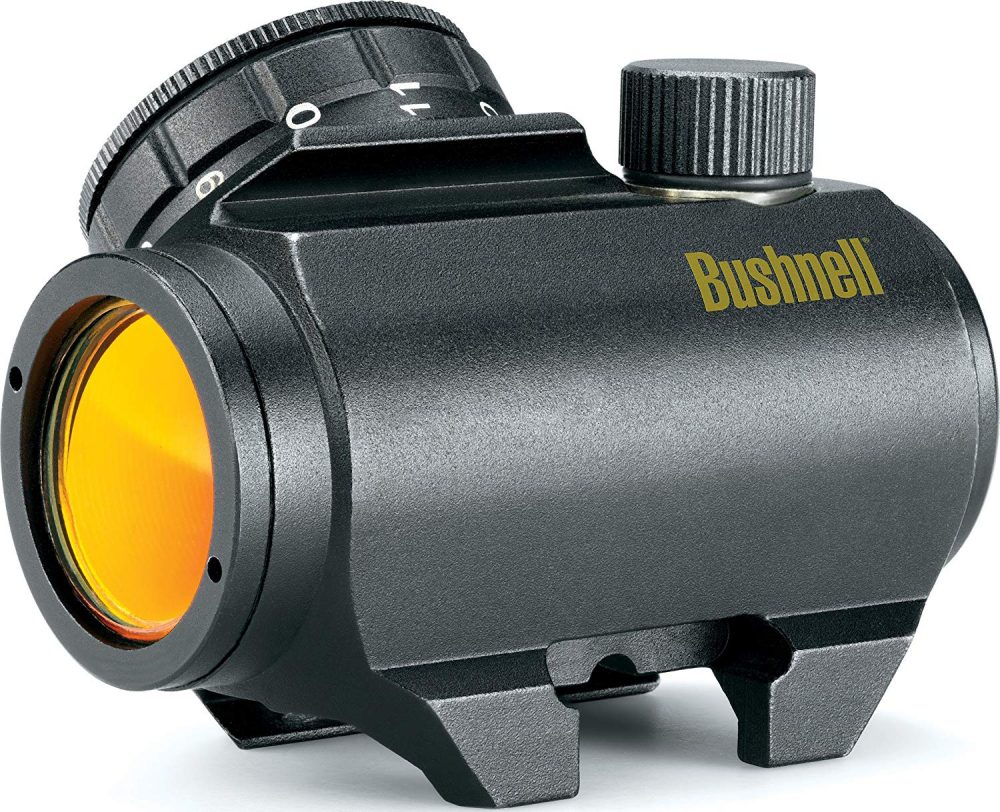 Bushnell Trophy TRS-25
Pros
Best Quality to Value to Cost Ratio for budget Red Dot
3 MOA dot for very fast target accusation
Base included
Cons
3 MOA dot is not precise at long range (150+ yard)
Be careful where you buy it though.  In most places, this sight retails for $90 or more, but you can find it on Amazon for about $50.  Now, this sight is every bit worth the $90, but why pay almost twice the price if you don't have to?
The Bushnell TRS-25 is waterproof (up to 10 feet), fog proof, and shockproof to give you the best sight quality even in the worst conditions.  The optics are multi-coated with Amber-Bright™ high contrast lens coating. Like the other sights we've covered, it has a matte black finish.
It has 11 brightness settings and an advertised 3000 hours of battery life at the lowest setting.  
The sight has a very low profile, which is great for keeping your rifle sleek and preventing bumps, but some shooters may have a hard time getting a good cheek weld and will prefer to use it with a riser.
You can use this sight on just about any gun with enough rail space and won't have to worry about it losing its zero.
Quick Specs:
Reticle: 3 MOA Dot

Length: 2.4 in. (6.8mm)

Weight: 3.7 oz. (106g)

Field of View: Unlimited

Rail Type: Picatinny or Weaver

In the Box: Sight, CR2032 battery
Conclusion
Are these sights going to give you the same precision as a sight costing several hundred dollars?
Maybe not, but they're still great options for medium range hunting, competition, home or personal defense, or just killing time at the range.
Whether you're on a tight budget or just want to find out how you like shooting with a red dot without investing too much, any of these red dots are a great way to get started with red dots.
Now let's hear from you!
Have you ever used one of these red dots? Do you have another favorite red dot sight that's less than $100? Do you think high-end budget red dots are worth the money? Share your thoughts and ask any questions you have about red dot sights in the comments!