Sometimes you need to be able to find your target in the dark–and night-vision goggles probably an option.
But do you know what is? Pistol lights.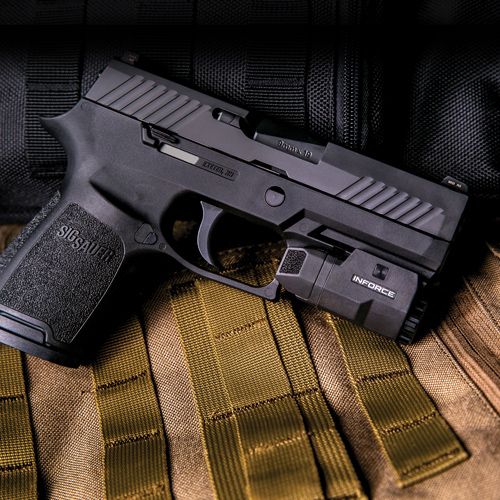 Let's take a look at some of the reasons you might want a pistol light, what features to look for, and finally–the best pistol lights on the market!
The Advantages of a Pistol Light
The most obvious advantage is improving your range and clarity of sight in the dark, light in defensive situations after dark.
This is an advantage at home since flipping a light switch takes valuable time–if you're even able to get to one if there's an intruder in your home. Since you don't exactly get to control the lighting in very many public spaces, a pistol light can also come in handy.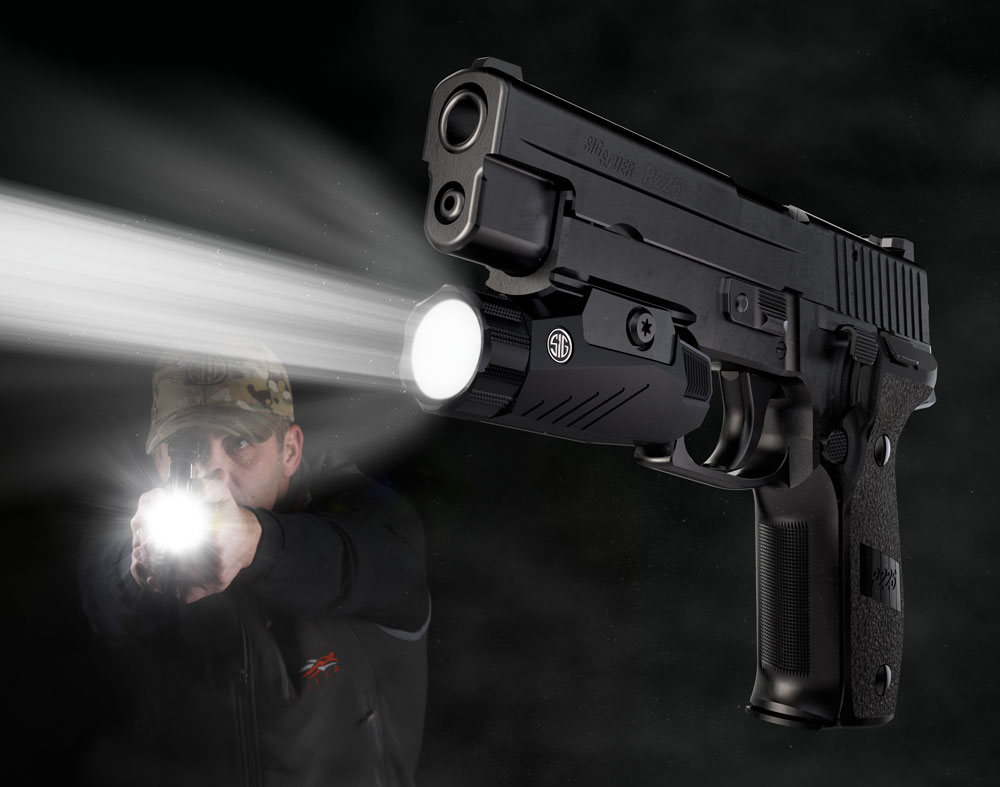 That light isn't only helpful in protecting yourself from an attacker though. You can also use your pistol light in the same ways you'd use a flashlight, such as looking for obstacles, finding things in the dark, and signaling for help.
Sure, night vision can do pretty much the same thing (minus signaling), but a flashlight on your pistol is already mounted and ready to go and doesn't narrow your field of view. There's no need to put it on like night vision goggles or lean in close like a night vision optic. 
As a side benefit, the added weight to the front end of your handgun reduces muzzle flip.
Pistol Light Features
There are a few things you should pay attention to when choosing a pistol light.
Durability & Reliability
You need to be able to count on your light coming on whenever you flip the switch and continuing to function until you turn it off. This is easy to take for granted until your light fails to do just that.
This isn't the place to sacrifice quality for cost, so don't just get the cheapest thing you can find. Expect to spend $100 or so at the very least.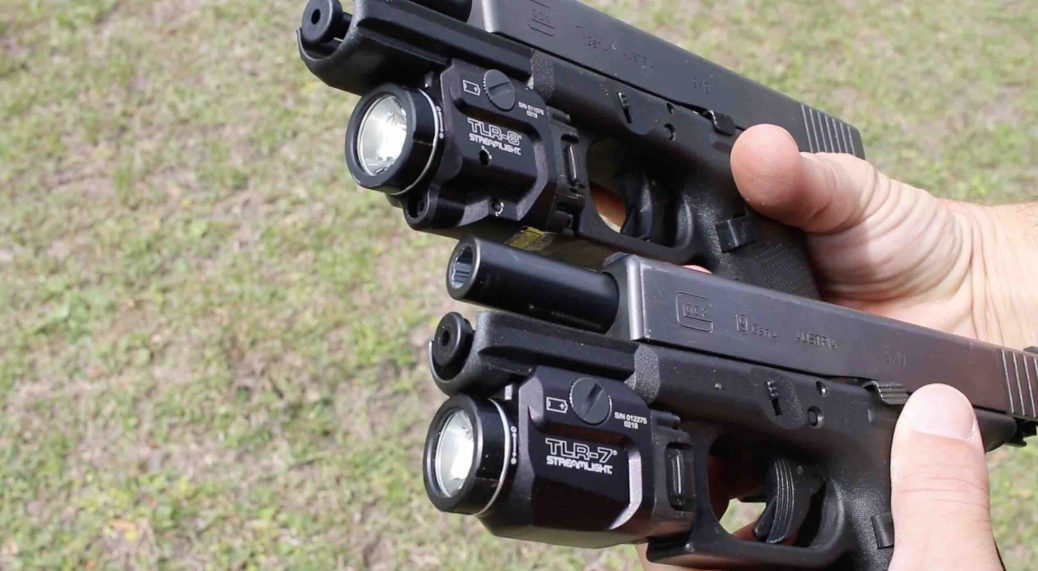 Make sure your light is made of durable, resilient materials to ensure that it stays reliable for as long as possible. This is especially important for lights for CCW guns since they're more likely to take bumps and scrapes.
Speaking of which, make sure your light stays securely attached to your firearm so you don't lose it in the middle of using it.
Many lights are also waterproof so you don't have to worry about them in wet weather.
Easy to Use
Your light should operate intuitively and have switches that are easy to access without having to lower the firearm or remove your hand. 
Look for ambidextrous switches on the rear of the device.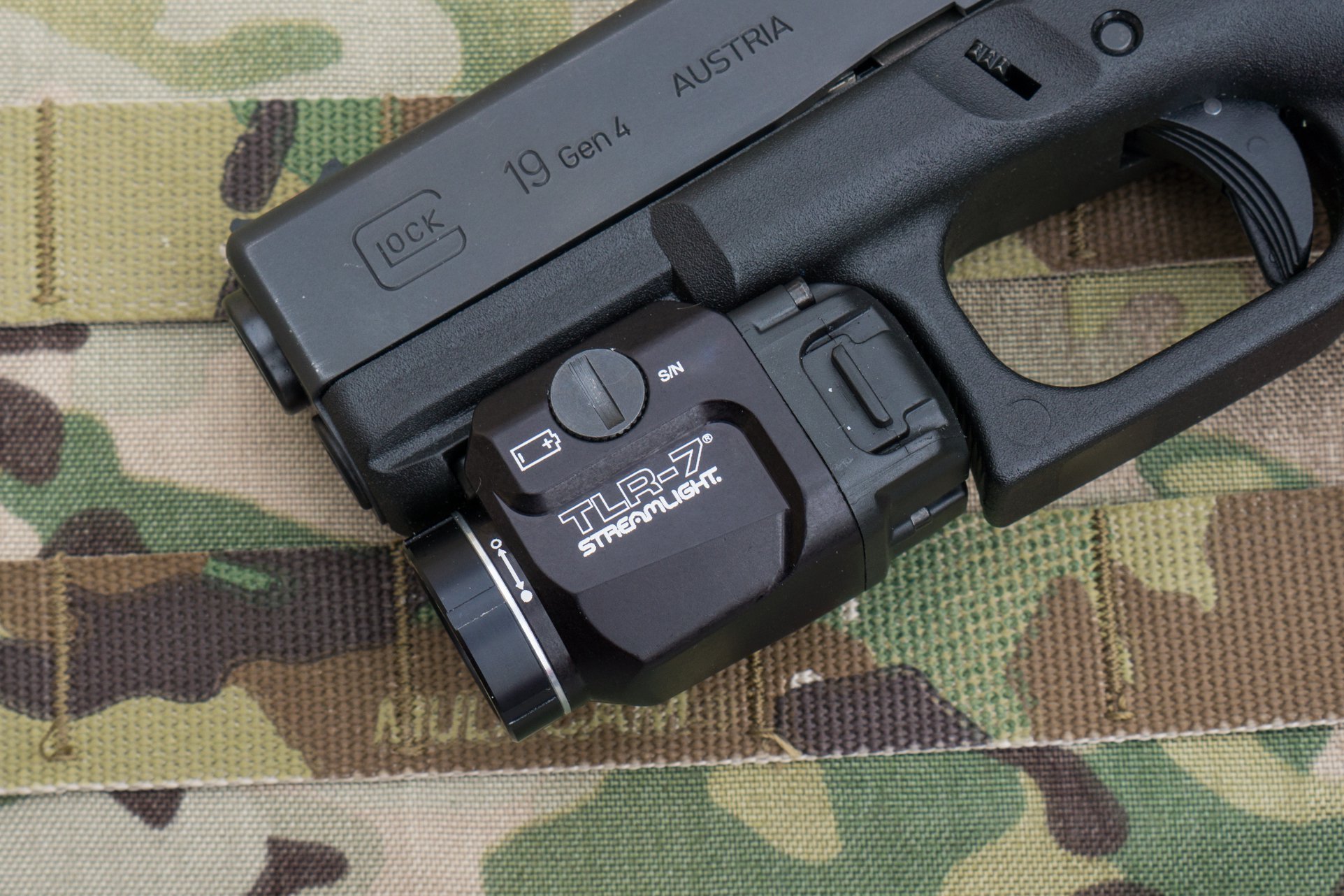 Some lights have lockout systems to prevent accidentally turning the light on. These are great, but make sure they're easy to undo so you aren't delayed when you actually need the light.
Some have remote switches that can be added to the light so you can place the switch where you're most comfortable. These aren't usually necessary, but might be nice for those that have short fingers in proportion to the size of the gun.
Brightness
Brightness is measured in lumens.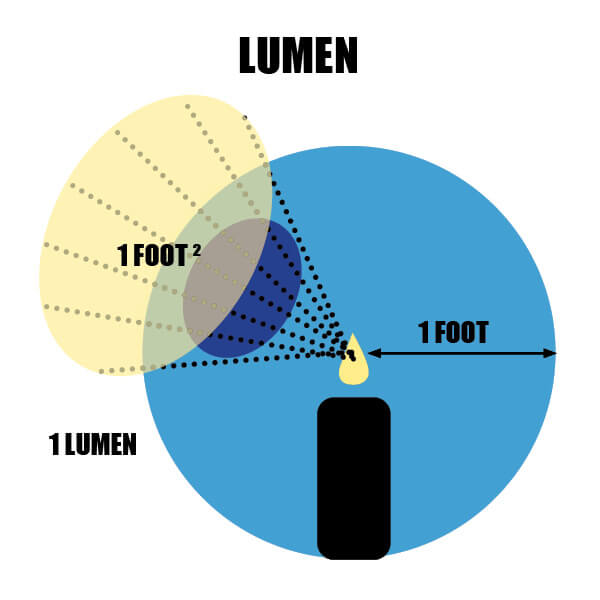 Many people's instinct is to go for as many lumens as possible and there are some advantages to a very bright light. For one, it can startle an attacker and lead them to flee when it becomes apparent that they don't have the upper hand they thought they did. A sudden bright light can also temporarily blind an attacker.
On the other hand, a light that's too bright can blind you, too, especially reflecting off of light-colored walls. Bright lights can also dull your natural acclimation to low light, so you're more likely to miss something or someone coming at you from outside the beam of your flashlight.
Different people recommend different ranges of brightness, some recommending as low as 100 lumens while others say you need as much as 1000. It mostly comes down to personal preference and the situation you're working in. For indoor use, you'll generally want a lower light than for outdoor use.
If you can, try some flashlights of different brightnesses in the type of space where you expect to use your light to see what suits you the most.
Modes
In addition to the off and constant-on settings, pistol lights may also have some other modes that you can choose from. 
A momentary-on setting allows you to flash the light for only as long as you're pushing the button. This is handy for signaling, blinding an attacker, and for searching an area quickly if you're trying to avoid detection. 
If you want to take advantage of this feature, you may want to choose a lower lumen light since a bright light can easily be reflected and blind you. In addition, you may not be able to search as quickly as you would like if your eyes have to adjust very much to the sudden brightness.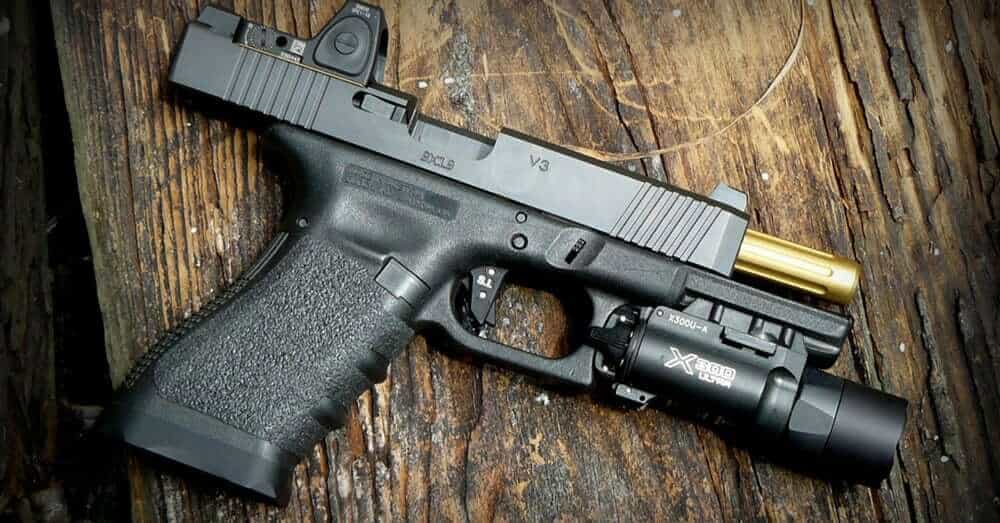 In a strobe setting, the light flashes continuously. This can be disorienting for an attacker, but like the momentary-on setting, it can do the same to you if the light reflects back.
Some lights have lasers for aiming that can be used alongside or separately from the white light. Red lasers are the most popular, but green lasers are also common.
Others have infrared settings that compliment night vision gear you already have and don't give away your position. Unless you have night vision that you plan on using with it, however, you probably don't need infrared.
Make sure you're familiar with what modes your light has, how to turn them on, and how to switch between them. The last thing you want in a defensive situation is to have to fumble with your light, trying to find the right setting.
Best Pistol Lights
Streamlight is widely considered one of the top, if not the top, manufacturers of pistol lights and we have a few different options from Streamlight on this list.
The Streamlight TLR-1, however, is one of their most popular and well-reviewed options.  It comes in a standard version and a high-lumen version, the Streamlight TLR-1 HL.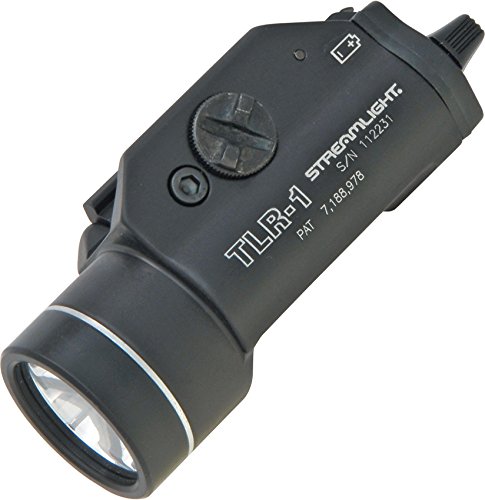 Streamlight TLR-1 Weapon Light
Pros
300 lumens
2.5-hour battery life
Water and dustproof
The standard TLR-1 is 300 lumens and has a 2.5-hour battery life. The TLR-1 HL is 800 lumens with 1.75 hours of run time. They produce a cool-toned light. They create a wide beam with a center focus.
Both are well-sized for both compact and full-size handguns. They're 3.39" long and weigh 4.18 ounces.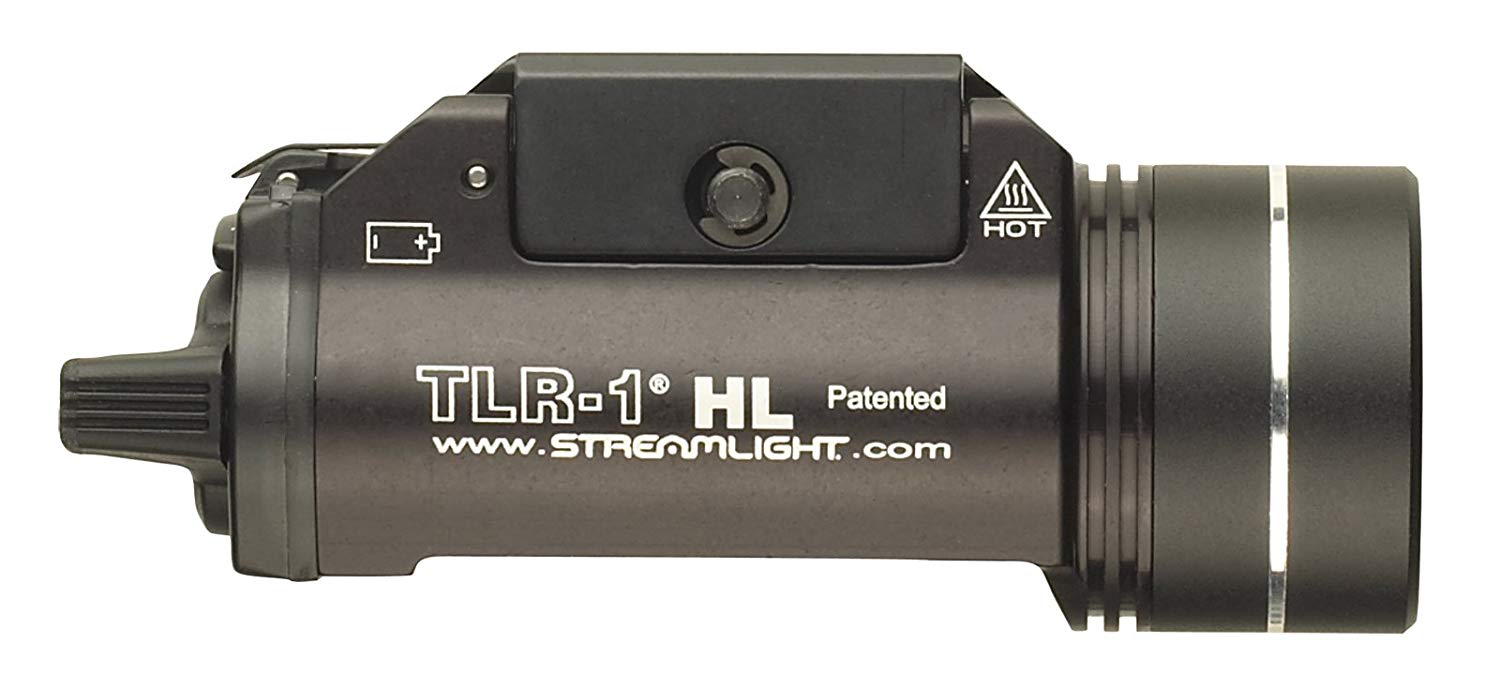 Streamlight TLR-1 HL Weapon Light
Pros
800 lumens
1.75 hours of run time
One-handed snap-on attachment
Cons
Adapters are needed to fit different pistols
The rail grip clamp system makes it easy to affix and tighten the light with one hand and no tools without putting your hand in front of your gun's muzzle. The light mounts directly to Glock-style and Picatinny rails, and keys for Glock-style, Picatinny, Beretta 90two, S&W 99 and S&W TSW are included. The momentary/steady on/off switch is ambidextrous.
The light has solid-state current regulation for consistent illumination and runs on 2 CR123A batteries.
It's also waterproof and durable, made from 6000 series machined aircraft aluminum with an anodized finish along with shock-mounted glass lens.
The Streamlight TLR-2 is similar to the TLR-1, but it also has a laser. 
It's the same length, but since it has the laser as well, it's a little taller and heavier, weighing 6.4 ounces. It's still a great size for both compact and full-size handguns.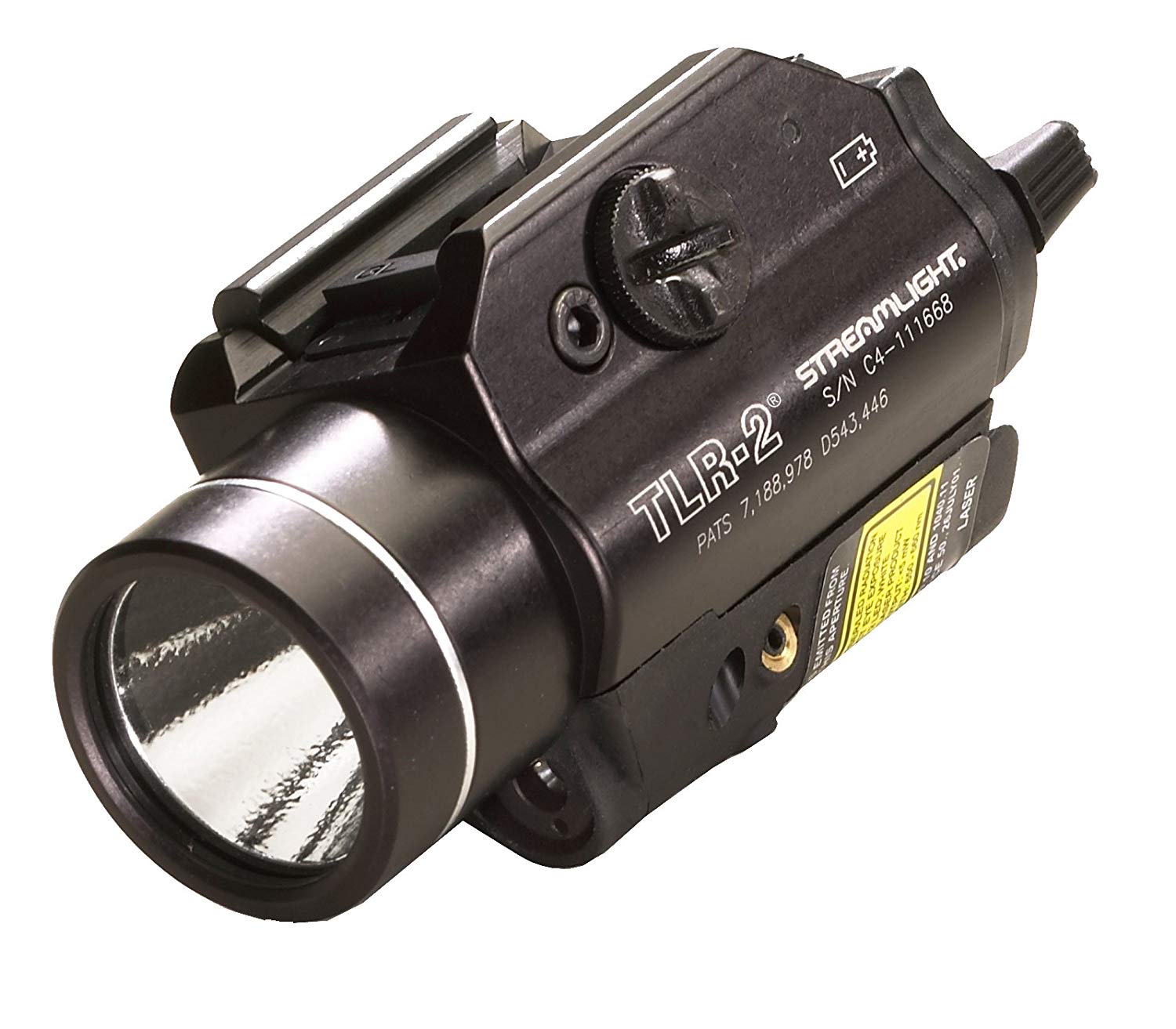 Streamlight TLR-2
Pros
Up to 2.5 hr. runtime (laser-only mode runs 45+ hrs.)
300 lumens
Red laser sight
It has the same ambidextrous switch and is also durably made. It has pretty much the same beam as the TLR-1 and like the TLR-1, in both standard and high lumen versions.
By default, the TLR-2 has a red laser, but green laser versions are available in both the 300-lumen version and the high lumen version.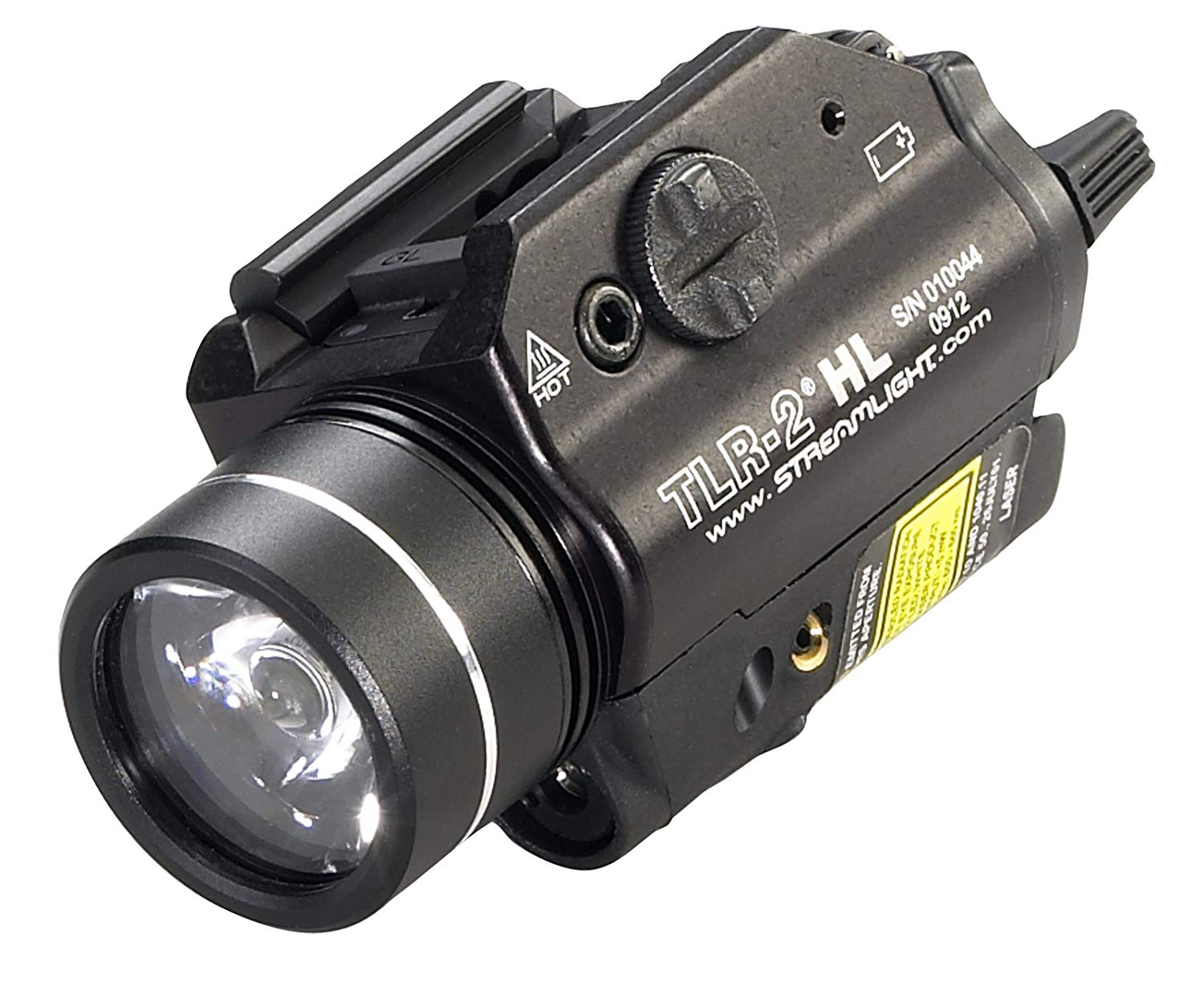 Streamlight TLR-2 HL
Pros
4.8 ounce weight
800 lumens
Visible red laser
Cons
Zeroing the laser can be a challenge on the VP9
You can also get it with a strobe function.
Running the laser only, the Streamlight TLR-2 has a 48-hour battery life.
The Streamlight TLR-7 was designed with compact handguns in mind, so it's shorter than the TLR-1 and TLR-2, just 2.15 inches long and 2.4 ounces in weight.
It uses a push-button on/off switch that lets you choose between momentary-on (by gently pressing and holding the button) and constant-on (by pushing the button more forcefully). The button is a little small, though, so it can be tricky to use the momentary-on function.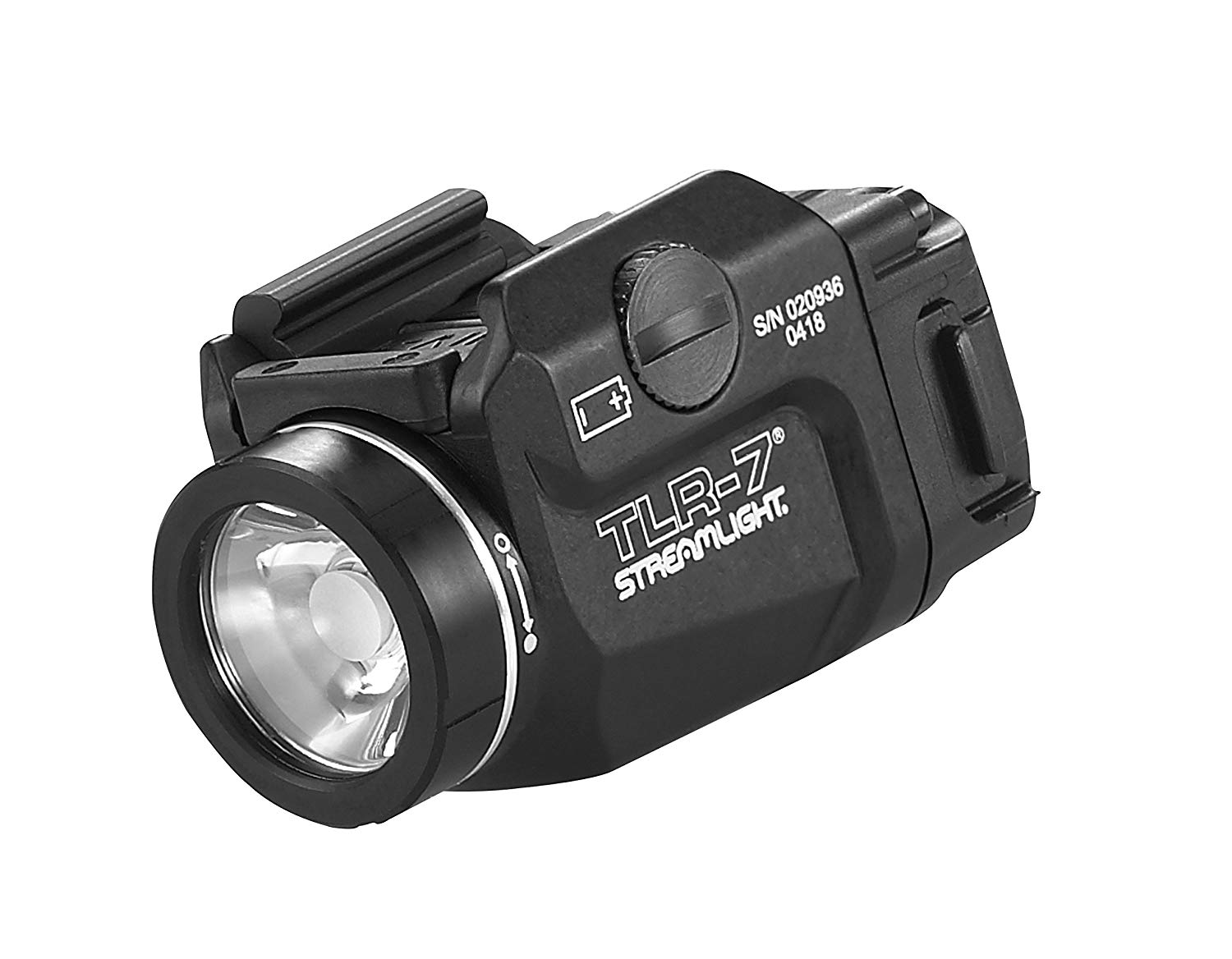 Streamlight TLR-7
Pros
2.4 ounces
500 lumens
Ambidextrous on/off switch
Cons
Controls can be difficult to use
This light uses a 500 lumen LED, but it has a soft yellow tone more like a traditional incandescent bulb, which is easier on the vision. The beam is widely spread but focused in the center. 
The TLR-7 uses one CR123A battery and has a 1.5-hour battery life.
The light is water-resistant, has a lockout system that stops it from accidentally turning on, and has an easy to use rail clamp system. Left and right side switches allow ambidextrous use.
The Streamlight TLR-8 is to the TLR-7 what the TLR-2 is to the TLR-1. That is to say, it's the same thing but with a laser, and since it has a laser, it's also a little taller and heavier (2.64 ounces). 
The laser is well focused and highly visible in the dark. Using laser only, the TLR-8 has an 18-hour battery life. By default, the TLR-8 has a red laser, but it's also available as the Streamlight TLR-8G with a green laser.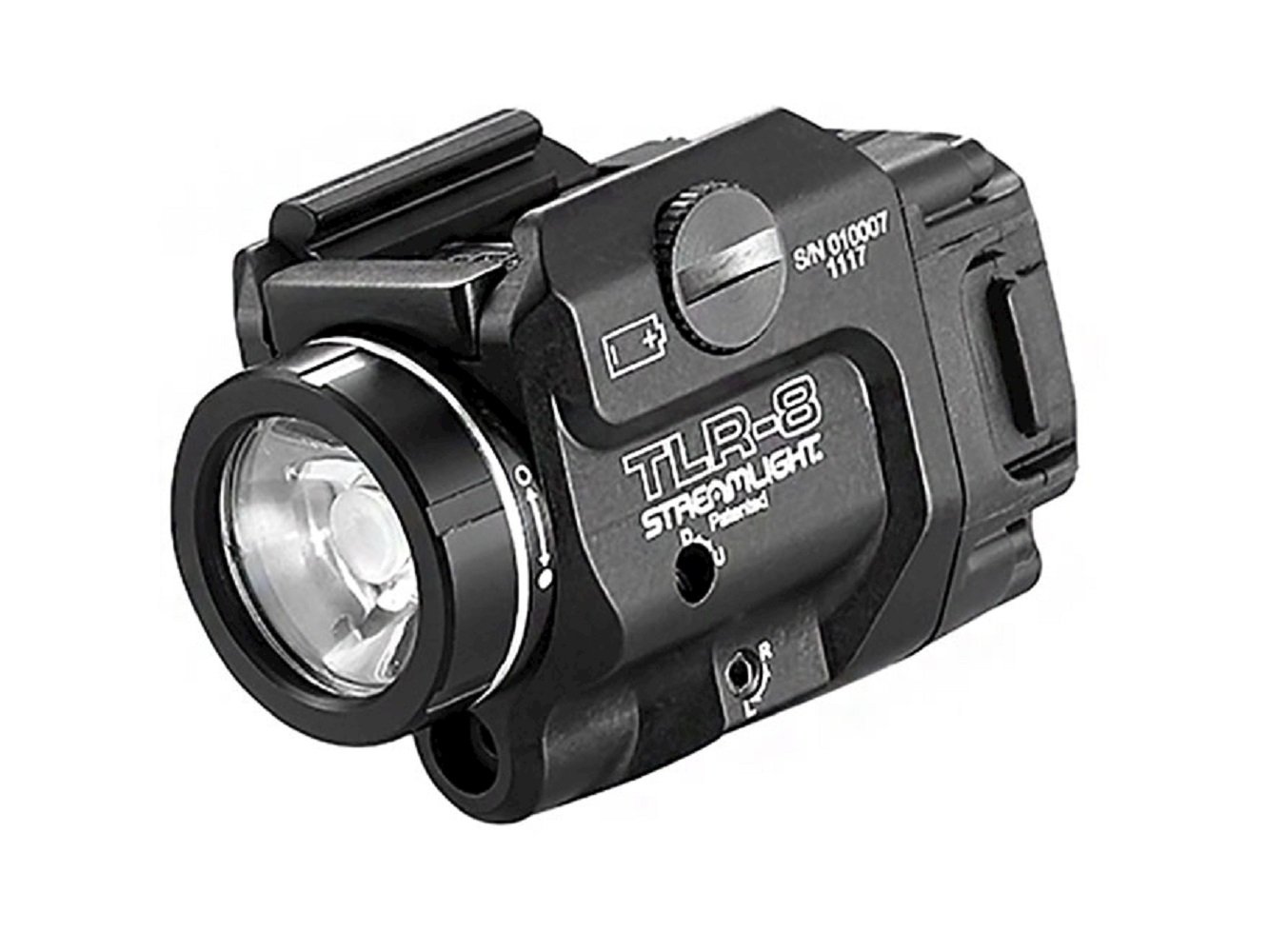 Streamlight TLR-8
Pros
500 lumens
1.5 hours (light only or light/laser combo); runs 18 hours (laser only)
Durable, anodized machined aluminum construction.
We'll leave it at that so we can go ahead and move on.
The Streamlight TLR-6 is a brand new addition to the TLR line-up, but it's been immediately well received. 
It's a tiny light, designed for sub-compact pistols that don't have a rail to attach a light to or just have a smaller footprint to work with. This makes it a great option for putting a light on your everyday CCW.
It's compatible with a wide variety of sub-compacts from manufacturers including Glock, Smith & Wesson, Kimber, Kahr, Sig Sauer, and more.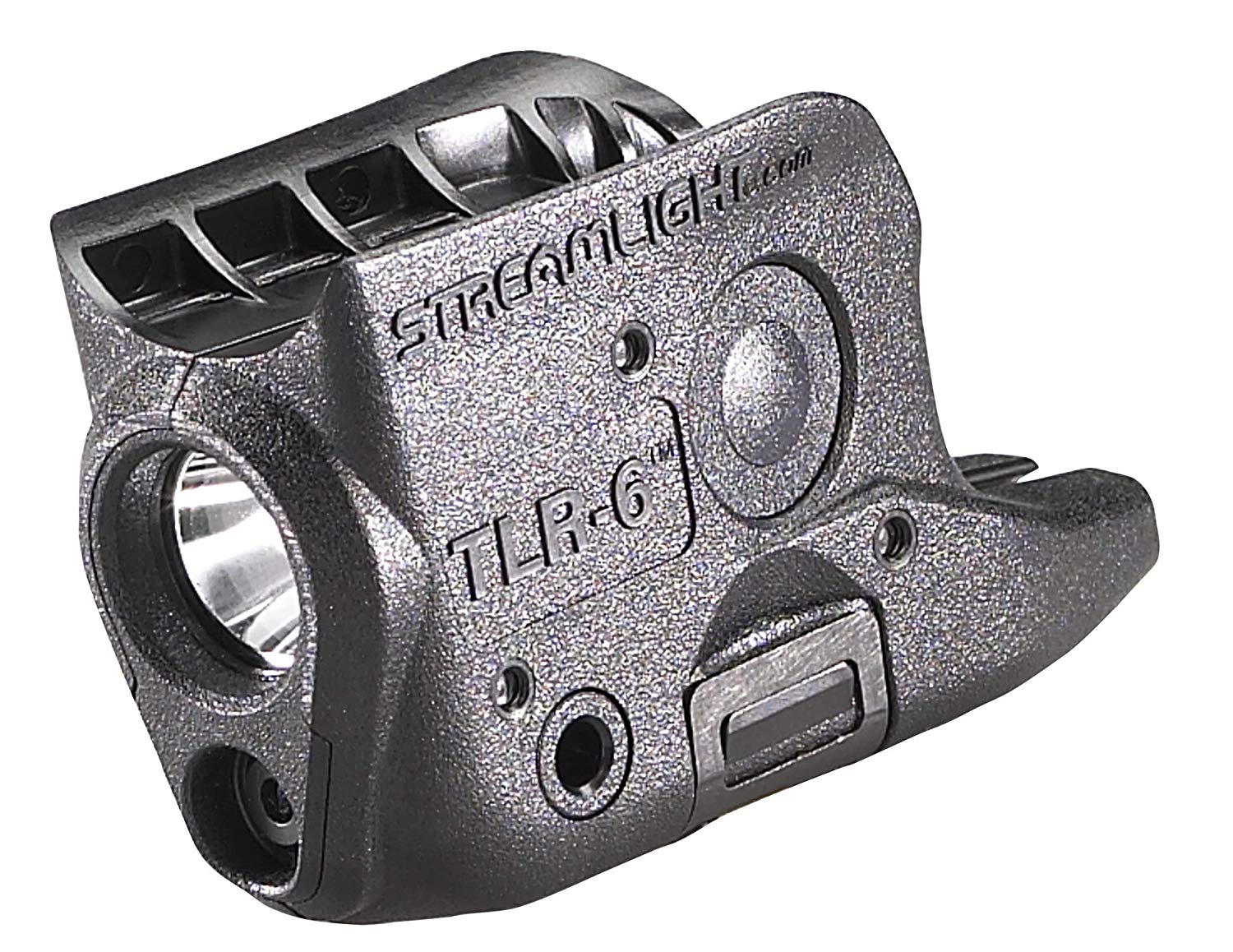 Streamlight TLR-6
Pros
100 lumens
1.270 ounces
1 hour runtime with a 10 minute auto shut off
Cons
Need the right model for your specific gun
Check out the complete compatibility list to see if it works with your sub-compact of choice. There are different models for different guns, so you want to be sure you choose the right one for your handgun.
It doesn't have different brightness options like the other TLR models, but you can get versions with or without a laser. Every TLR-6 is 100 lumens, which isn't as bright as many other options, but is certainly enough to do the job. 
You can run the laser only, the LED light only, or both at the same time, switching between with a convenient push-button.
The TLR-6 is just as durable as its larger siblings, though it's only 2.2" to 2.97" long, depending on the model, and weighs between 1.12 and 1.27 ounces. 
Don't get the impression that Streamlight is the only company that makes handgun lights worth having though. 
InForce is another excellent pistol flashlight company and we like the InForce APL Gen 3 in particular.
Gen 3 was introduced in January 2017, so it's not especially new, but you may also be familiar with the older generations of the APL which also had excellent reviews.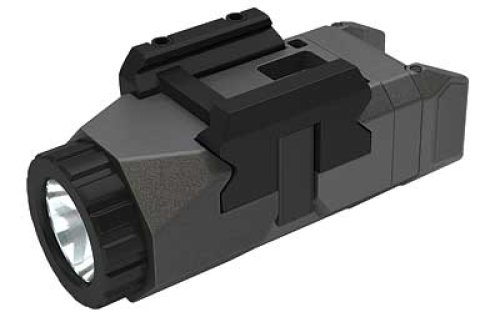 InForce APL Gen 3
Pros
200 Lumens
1.5 hours of run time
Ambidextrous controls
The InForce APL Gen 3 is just as lightweight as the previous generation at only 2.95 ounces, but it also offers many improvements. 
For one, Gen 3 is brighter, with a 400 lumen light compared to the previous 200 lumen light. It has a 1.5 hour run time powered by a single CR123A battery.
Gen 3 also has an improved aluminum rail clamping system. It's stronger and more durable, yet also sleeker than previous designs. 
Gen 3 features improved texturing on the activation paddles to avoid slippage. The light can be switched between momentary and continuous operation modes and features an easy to use lockout system to make sure the light isn't turned on accidentally. The on/off switch is ambidextrous.
The body is durable and high impact resistant thanks to its glass-reinforced polymer construction. It's just over 3" long, so it's a good size for full-size and compact handguns.
One warning: many people who had early versions of Gen 3 began experiencing flickering after a few weeks to a few months of typical use. InForce has fixed this issue on newer versions, however, so this light isn't something you want to buy second hand. 
The InFocre APL Gen 3 is available in black and in flat dark earth.
The InForce APLc is a smaller but similar option.
If you're looking for the best of the best, the Surefire X300 Ultra can't be beaten. 
It's the longest light on this list, 3.6", but that's actually an advantage since it puts the lens of the light outside of the muzzle blast, even on full-sized handguns, keeping the lens clean and the light shining its brightest. And since this light is so popular, there are plenty of holsters that accommodate it despite its size.
It has an ambidextrous toggle switch at the rear of the light, pretty much the same as Streamlight uses for most of their lights.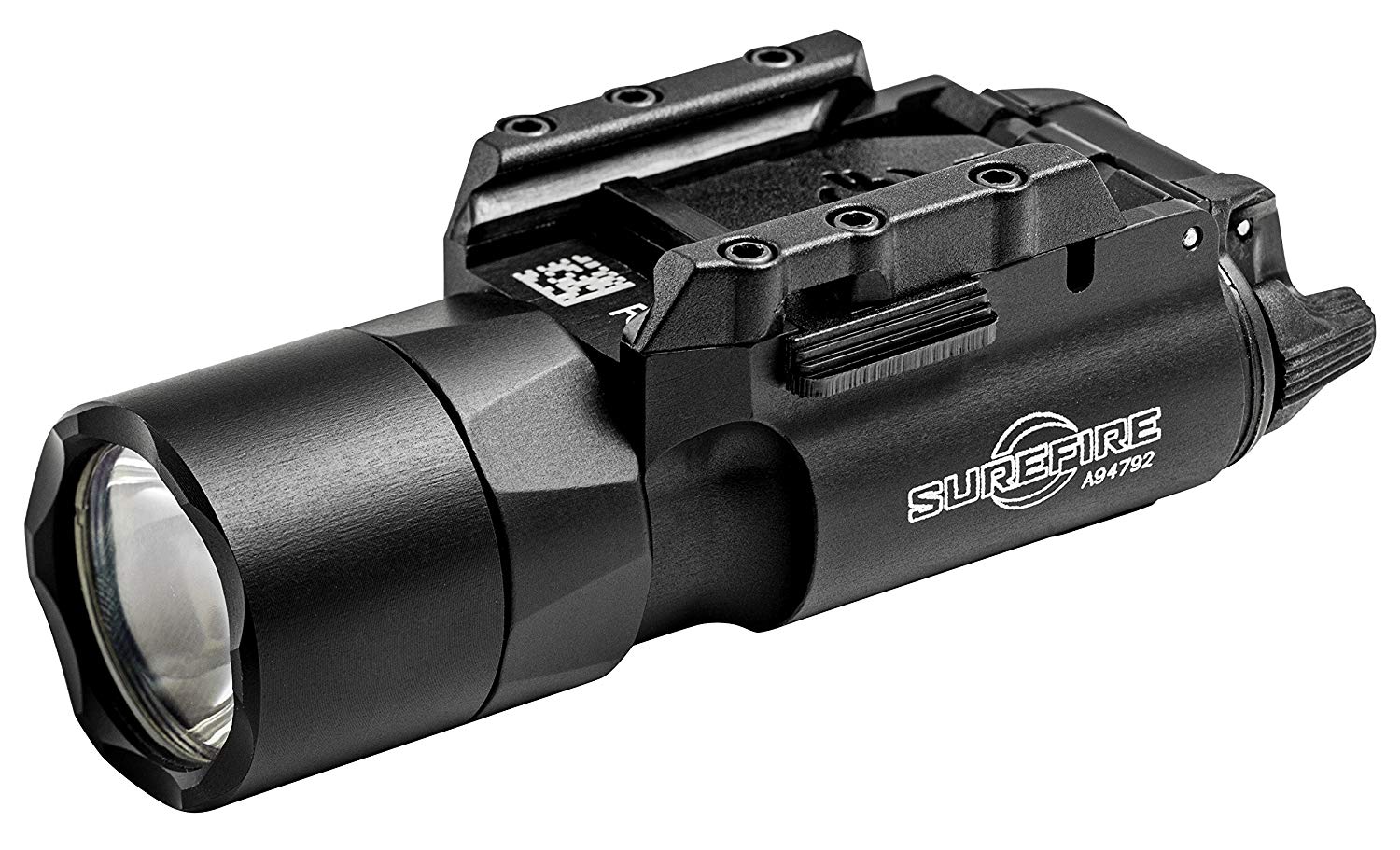 Surefire X300 Ultra LED WeaponLight
Pros
Can be used on both handguns and long guns
600 lumens in the yellow-green light spectrum
Controls located at the back of the light
Cons
Large size compared to other lights on the market
Expensive
It comes in three models.
The SureFire X300V has a 350-lumen white LED light, a 120mW infrared LED light, and a Rail-Lock mounting system. The infrared option makes it ideal for use with night vision so you don't have to give away your position to see.
It has a 2.5 hour run time on white light only and a 16.75 hour run time on infrared and is only available in black. 
The other two models, the SureFire X300U-A and X300U-B, have higher intensity, 1000 lumen white LEDs, but no infrared function. They both have a 1.25 hour run time and are each available in black or tan.
The SureFire X300U-A has a T-slot thumbscrew clamp mounting system. The SureFire X300U-B has a Rail-Lock mounting system.
All models are waterproof and made with a high-strength aerospace aluminum housing with a mil-spec anodized coating. They also include ambidextrous momentary- and constant-on switches.
They all use two CR123A batteries. 
The SureFire X400 Ultra series is essentially the same as the X300 Ultra series, but also has your choice of a red or green laser.
Other Things to Know
Cleaning
Carbon dust from the muzzle blast settles on your light's lens and can quickly and easily reduce your light's brightness. 
Taping the lens off with masking or painters tape when training goes a long way to keep it clean, but you also need to make sure that you clean the lens after shooting with the light unshielded.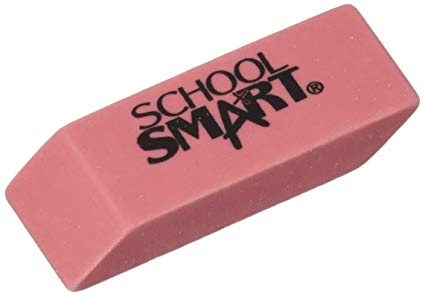 Fortunately, cleaning your light is simple. Just use a pencil eraser to pick up the carbon, then follow with a soft, clean lens cloth to remove any smudges from the eraser and leftover adhesive.
Holsters
If you plan on placing your light on your CCW, you'll need to get a holster that facilitates this. There are plenty of options out there, especially for these lights since they're all pretty popular. OWB holsters are usually the easiest to find.
Also, if you have a bedside gun safe, car safe, travel case, or similar that you need to be able to fit your gun in, make sure you know whether it fits your handgun with the light installed. 
Batteries
Don't pinch pennies on batteries if you want to get the most out of your pistol light.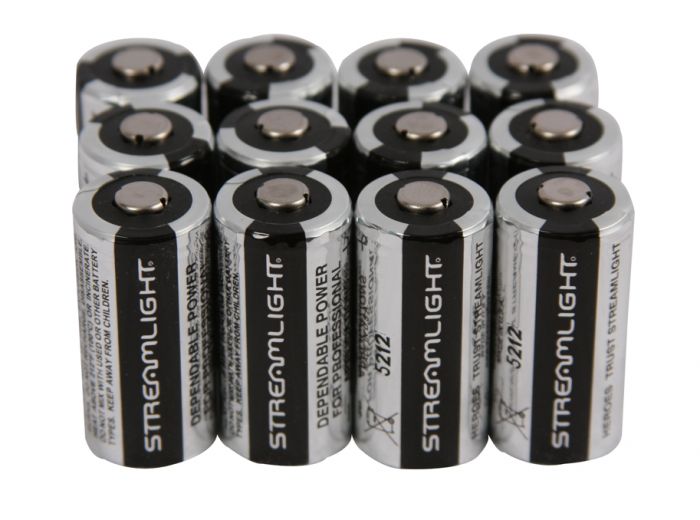 Most of these lights use CR123A batteries. Streamlight makes some great ones, as does Surefire.
Streamlight also makes good CR-1/3N batteries, which the Streamlight TLR-6 uses.
Conclusion
So there's everything you need to know about pistol lights and a few of our recommendations for the best ones you can buy. 
If you have the cash to spend, the SureFire X300 Ultra is without question the way to go. Otherwise, the Streamlight TLR-1 and Inforce APL Gen 3 are excellent basic lights for both compact and full-size handguns. The Streamlight TLR-2 is a good step up for those who also want a laser.
Subcompact shooters can't go wrong with the Streamlight TLR-6. High lumen junkies will like the Streamlight TLR-2 HL models and the Surefire X300-U models.
So what's your choice in pistol lights? Is there another you think should have made it to this list? Do you still have questions about pistol lights? Let us know in the comments. Looking for an EDC light to add to your kit? We've got you covered in our guide to the best EDC lights!