Pistol-caliber carbines (PCCs) are becoming increasingly popular these days, which prompts the question: what is the best PCC out there?
Many people find themselves daunted by the number of pistol-caliber carbine options out there and don't know how to choose.
If that's you, don't worry–you've come to the right place.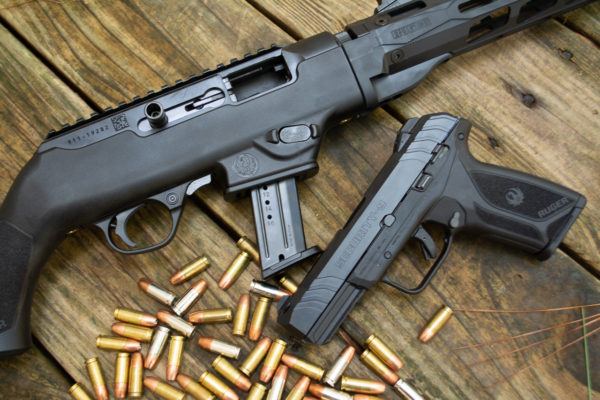 We're going to go over everything you need to know about pistol-caliber carbines, including a little background on PCCs, how to choose the best PCC for your particular needs and finally, our list of the best pistol-caliber carbines around.
Sounds good? 
Then let's jump in!
Why a Pistol Caliber Carbine?
The pistol-caliber carbine may seem like a relatively new trend. However, the idea of a slightly shortened, rifle-length gun chambered in a pistol caliber has its roots in the 19th century.
Looking back at the history of the American West, it's easy to see the origins of modern pistol caliber carbines. A carbine chambered in the same caliber as their sidearms was a very practical notion for those venturing far from civilization in the Old West.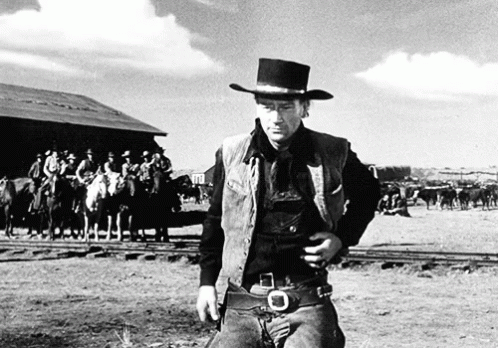 There were a number of perks for having your sidearm and your rifle chambered in the same caliber: only needing to carry one type of ammo, increased stopping power and distance over your sidearm, and a distinct lack of recoil, just to name a few.
These days, modern versions of those carbines are very popular for more or less the same reasons.
PCCs are a handy gun to have around the homestead or for hunting small game. They're a viable home-defense gun, with less opportunity for over-penetration.
On top of that, PCC competition has become a big part of 3-Gun and USPSA, so you have those options available if you want to have an absolute blast ripping through a few boxes of ammo and making new friends.
Best of all, using the same ammo as your pistol (and the same magazines in many cases) means fewer types of ammo to buy and store. Win-win!
Finally, they're just plain fun. Tearing through a magazine in a rifle without recoil, knowing you're only putting about $10 in ammo into a berm, is a surefire way to leave a smile on anyone's face.
Choosing a PCC over a Rifle or a Handgun?
With all that said, why would you choose a PCC over a handgun?
At the end of the day, it really just depends on your circumstances and your specific needs, whatever they happen to be. For hunting small game and plinking, a carbine like this is cheaper to feed than a rifle and more effective than a handgun.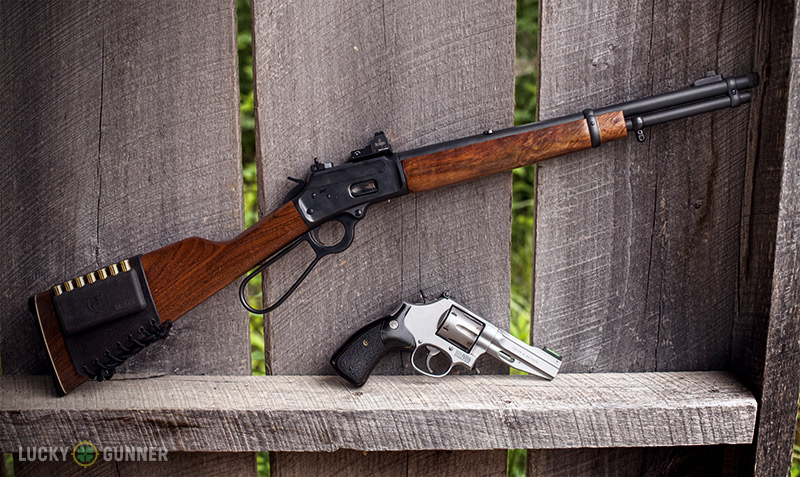 When it comes to home defense, a pistol-caliber carbine is easier to aim than a pistol and has more power, but it's also less likely to over-penetrate.
Of course, there are trade-offs though. A pistol is more concealable, while a rifle has more stopping power. 
Despite the downsides, a PCC certainly has its place and can be a great complement to a handgun, especially if they share a caliber.
What Caliber Should I Choose?
Speaking of caliber, which is best for a PCC?
We generally recommend getting one in the same caliber as your preferred carry gun. The ammo savings and convenience of having more guns in the same caliber are always nice. On top of that, having a pistol and a carbine in the same caliber is great for a bug out gun setup, or for leaving the carbine in your vehicle.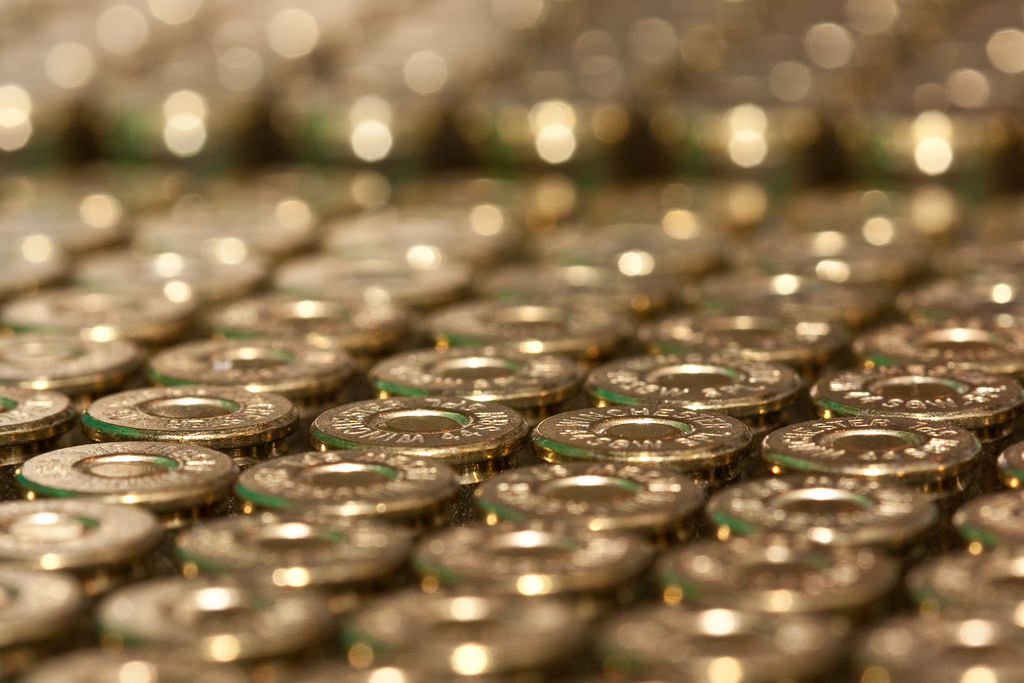 Overall though, you can really just get whatever caliber you want, whether your reasons for it are for fun or practicality. 
9mm is cheaper than other ammo so you can shoot it more, .45 ACP is (arguably) more fun to shoot, and .40 S&W is, well, certainly also an option. You can also get PCCs in .22WMR, which for argument's sake we'll call a pistol caliber. 
Finally, you can go old school and get one in .357 Magnum or .38 Special to match a revolver, just to play out your childhood cowboy dreams.
The Best Pistol-Caliber Carbines for The Money
There are a number of excellent PCCs on the market today, which can make it hard to choose the best one for your intended use. 
We tested all of the most popular offerings to see which ones performed the best, and which ones were the best value for their price tag. 
This is going to be controversial, but the Hi-Point 995TS is actually a pretty fantastic gun.
We're not going to try and convince anyone that Hi-Point is a paragon of accuracy, reliability, or quality; far from it, in fact. However, they are cheap. And sometimes, that's all that you need.
In the case of the 995TS, we think it is enough. It's decently reliable, accurate enough for plinking, and easy to use.

Hi-Point 995TS
Pros
Super affordable
Reasonably accurate and reliable for the price
Simple blowback action
Cons
It's a Hi-Point and people will make fun of you
One of the biggest draws of a pistol-caliber carbine is the fact that they're both cheaper to buy and cheaper to shoot than a rifle, but still more stable than a pistol. 
In that aspect, the 995TS works wonderfully, despite its less-than-impressive pedigree. For $250, it really isn't bad, and you don't have to worry about it getting knocked around in your toolbox, and you won't need to panic if it falls out of the boat.
The blowback action is simple and honestly shockingly reliable for something in this price bracket. The one weak point is the magazines and they can cause feed issues, but this isn't a defensive firearm. This is a fun plinking gun that you might occasionally use to shoot a varmint with. 
For that, the 995 and the 995TS are both excellent options.
Ruger's new PCC has quickly made a name for itself thanks to its reliability, clever take-down design, and a solid feature set, all of which are available at Ruger's traditional affordable prices.
There are multiple models available, including the recently released M-LOK models with free-float handguards that are just begging to be used in PCC competition. 
The take-down feature makes an already handy gun even easier to transport and store, and the blowback action uses a dead blow weight that shortens bolt travel and translates to even less recoil and almost no muzzle rise.

Ruger PC Carbine
Pros
Modeled after the 10/22 Takedown mechanism
Chambered in 9mm
Dead blow weight that shortens bolt travel
You also get a reversible mag release and charging handle, and a match-grade barrel on even the cheapest models. You also have the option for a threaded barrel for use with a suppressor or other muzzle device.
Best of all, you get the opportunity to use Ruger Security-series mags, or the ever-popular Glock magazines, and you can get the carbine in 9mm or .40S&W. You can also get a magazine well insert that allows you to use Ruger American Pistol magazines if you already have one of those (or want one). 
All this for under $500 isn't bad at all, and you get Ruger's excellent reputation for reliability and customer service in the bargain.
Kel-Tec is a small, Florida-based manufacturer that built a name on innovative designs. Some of their designs have been hit-or-miss, but the Kel-Tec Sub 2000 is definitely a hit.
This folding carbine may be the ultimate backup/bug-out gun and is available with mag wells to accept GLOCK, Beretta, S&W, or SIG magazines. 
The folding design makes it easy to store, and the fact that it weighs under 5lbs makes it a solid choice for a backpack gun. It's 30.5" in length when unfolded, making it extremely handy in tight spaces. 

Kel-Tec Sub 2000
Pros
Folding, minimalist design
Lightweight
Lifetime warranty
Cons
Plastic components can jam up
It's also extremely accurate, with a factory-standard fiber-optic front sight, and its popularity means you have a ton of after-market upgrades and replacement parts available. 
Oh, and if anything breaks, Kel-Tec backs it with a lifetime warranty, so you're covered no matter what. 
CZ has been gaining in popularity in America in recent years, and one of their most sought-after offerings is the Scorpion EVO 3 S1.
The Evo is an updated version of CZ's Scorpion machine pistol that is civilian-legal, and ready for your competition or home-defense needs. 
You have an M-LOK handguard available, a match-grade barrel that delivers superb accuracy, and a lightweight polymer frame that keeps the gun easy to maneuver without compromising on strength or reliability. 

CZ Scorpion EVO 3 S1
Pros
Match-grade barrel
M-LOK handguard
Lightweight
Also, it's worth noting that the included iron sights are some of the best in the industry and are perfectly usable as-is, but you also get a full-length top rail should you want to mount the optic of your choice.
The CZ Scorpion Evo 3 is one of the best carbines on the market today, and the wealth of factory options as well as the broad aftermarket support means that you will have no problem getting one that suits your needs, whether you want to tear up at the next USPSA match, or defend life and liberty around your home.
H&K is another well-known and well-liked European manufacturer with a strong reputation for quality, and a strong following here in the US.
Their USC carbine is a civilian version of their incredibly-successful UMP carbine that you've almost certainly seen dozens of times in film, TV shows, or video games.
The USC is a .45-caliber carbine that delivers excellent accuracy and reliability, and at under 36" in length and under six pounds in weight, it's a pretty handy package as well.

Heckler & Koch USC
Pros
.45-caliber carbine
Corrosion-proof polymer construction
Compact, lightweight design
Cons
Futuristic design may not be for everyone
Like the UMP, the USC is designed to be a combat-capable gun that's easy to maneuver in tight spaces. It's definitely a little overkill for plinking or varmint shooting, but for self-defense or serious competition, it's definitely a solid choice.
The gun is made primarily of a corrosion-proof polymer, and the finish and coatings on the rest of the gun are designed to withstand saltwater, mud, sweat, oil, solvents, and other chemicals, so you end up with a gun that's ready to be ridden hard and put away wet.
You also get an ambidextrous safety and a cozy rubber buttpad and cheek rest, making this one of the more comfortable carbines to shoot on this list–and that's really saying something. 
JP Rifles are some of the best firearms around. They make some of the most desirable (and expensive) competition-focused guns on the planet, and they've taken home many trophies at the National level in the hands of professional shooters. 
Their GMR-15 is a competition-tuned AR-style rifle with a host of features that make it easier to use including a flared mag well and extended mag release. You also get a match-grade barrel and trigger that deliver 3MOA accuracy out to 100 yards, which is about the limit of the 9mm cartridge.

JP Rifles GMR-15
Pros
3 MOA accuracy out to 100 yards
Blowback-operated carbine
Flared mag well and extended mag release
It is also incredibly reliable and dependably locks back on an empty mag. Finally, it takes GLOCK mags, making it ideal for both competition or home-defense.
All in all, you could certainly do worse than the GMR-15—and it's going to cost you either a lot of time or a lot of money to do much better. 
Final Thoughts on Pistol Caliber Carbines
Pistol-caliber carbines may not be a new idea, but they're definitely still a good idea. 
These handy firearms are great for everything from plinking to self-defense, and everything in between. They make for fun range toys, as well as serious self-defense options, and they're easy enough for anyone to shoot. They even make great training guns for new or young shooters!
Which of these pistol-caliber carbines do you think is the best? Is there one that you want? Or maybe you have a favorite we left out? Let us know in the comments below! Train like a pro with our list of the best range gear.