Struggling to stay on target with your Glock 19? You're not alone.
One of the Glock 19's shortcomings is its sights. Now there's nothing outright wrong with the standard, bucket-and-ball sights per se, but there's nothing really great about them either.
Fortunately, it's incredibly easy to switch them out for a better option that will help your accuracy and target acquisition. And, since it's Glock, there are plenty of aftermarket options to choose from–including some seriously awesome night sights.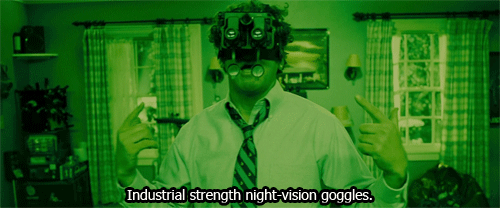 But before you go off exploring your options by yourself, keep reading this list to avoid overwhelm and narrow down your options to some of the best night sights for the Glock 19.
Best Glock 19 Aftermarket Sights
Trijicon is one of the biggest names in gun optics, from scopes to iron sights. They're a favorite among law enforcement and they set the industry standard for tritium sights. Their HD XR Night Sights are an excellent tritium three-dot option and an excellent example of why Trijicon is so highly regarded.
These sights feature tritium-phosphor filled glass lamps for improved visibility in low-light and no light settings (or just for people who can stand to have a little bit of extra visual help), though they still do best with a fair amount of ambient light.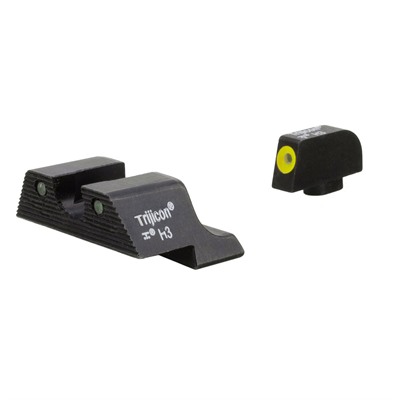 Trijicon HD XR Night Sights
Pros
Photoluminescent markings
Sapphire windows for increased light clarity
Durable construction for a long life
Cons
Some fitting may be required
As we said, this is a three-dot sight, so there are two lamps on the rear sight, positioned on either side of a U shaped notch, while the third is centered on the front sight. Just line the three dots up so they're positioned in a straight line with all of them visible and you're ready to start shooting. 
Surrounding the tritium lamp centered on the front sight is a circle of photoluminescent paint in the buyer's choice of orange or yellow, which draws the eye and will continue to glow in the dark for 15 to 20 minutes after light exposure to full charge.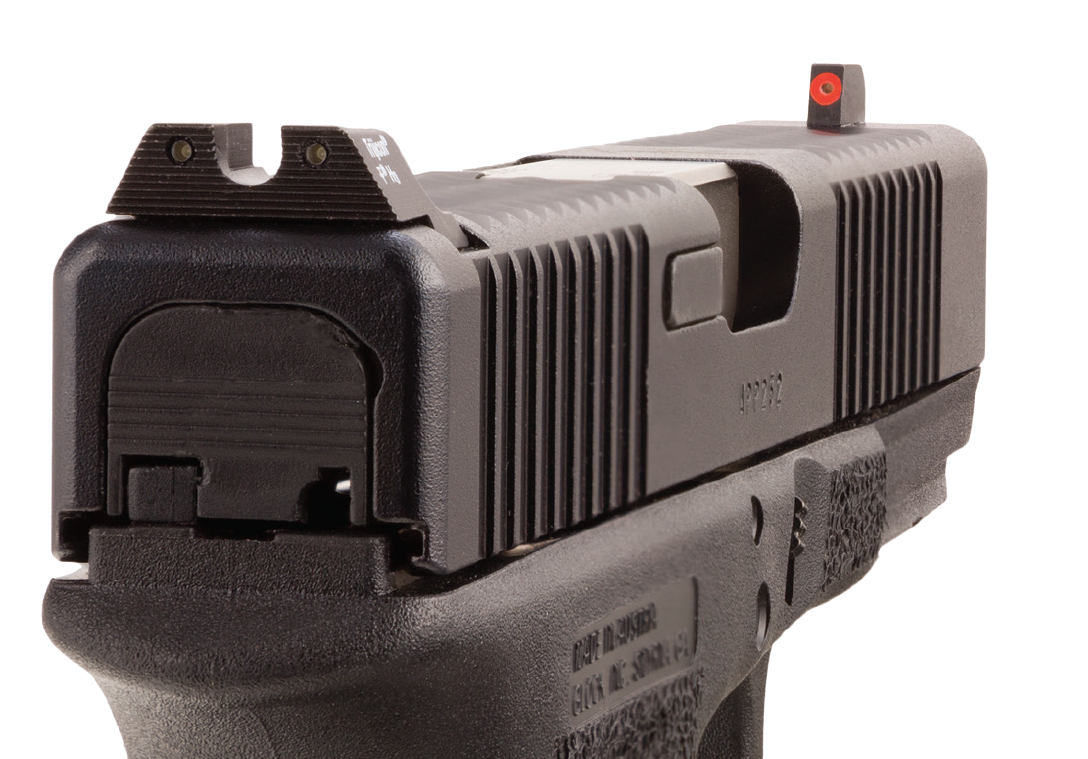 Any sufficiently bright light can be used to recharge the sights, such as the sun, a lamp or overhead light fixture, or a flashlight. Of course, the brighter the light the faster the charge.
In addition, Trijicon designed these sights to be very heavy duty.
A black aluminum housing surrounding the tritium lamps protects them from recoil and harsh cleaning agents, a rubber cushion between the lamp and housing offers additional shock protection, and sapphire windows on the lamps improve light distribution. 
The sights attach very securely to the slide, so you don't have to worry about losing them. Installing these sights isn't quite as easy as some others on this list, but it's still pretty straightforward.
And on top of all that, a 12-year warranty guarantees a bright glow for years to come.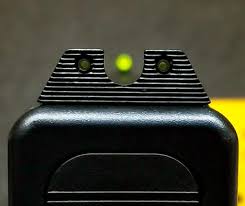 The front sight is thinner than most to create a larger field of view, which in turn makes it easier to keep an eye on your target. At the same time, the rounded bottom of the notch in the rear sight makes centering the front sight faster and easier.
With all of that said, these sights have a short to mid-range and are designed for self-defense rather than competition.
The other big downside of Trijicon HD XR Night Sights is the cost: these sights typically sell for between about $140 and $150. 
Another high-quality option (that, at about $125, also happens to be a bit of a step down in price) is the DXT Big Dot from XS Sights, another big name in gun sights.
The Big Dot is an i-dot sight, which means that it has a dot centered on the front sight and vertical line centered on the back sight. To aim, orient the dot over the line so together they look like a dotted letter "i."

XS Sights DXT Big Dot Night Sights
Pros
"i-dot" sight
Bright white PVC inserts
Shallow V-shape rear sight
Cons
Less accurate than 3-dot sights
Both parts of the "i" are made from tritium lamps for visibility in dark environments. The lamps on both sights are surrounded by bright white PVC inserts for a stark contrast against the steel bodies' blue anti-corrosive finishes. 
XS Sights chose PVC for this purpose of luminescent paint because PVC is more durable and can't be scratched off the sight, but still bright enough to be visible in bright light and even in quite low light.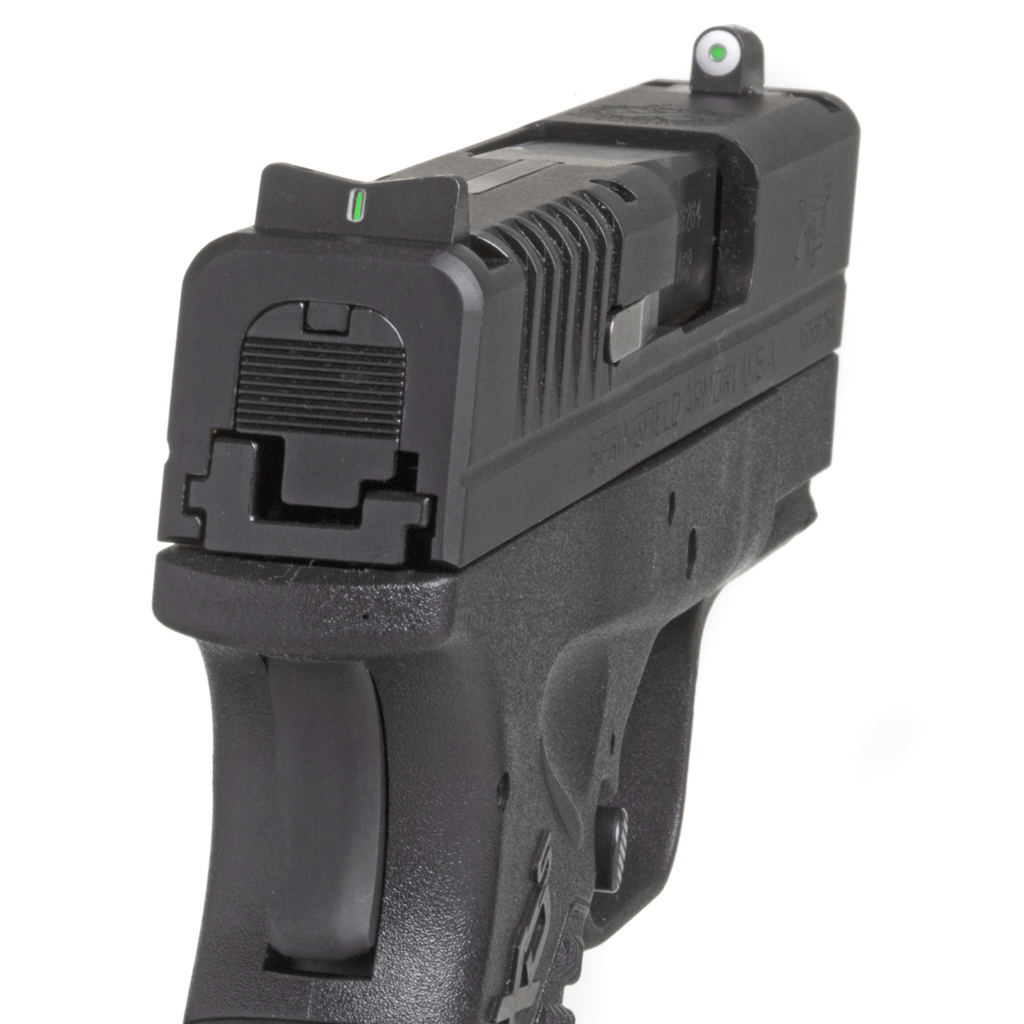 Obviously it's not as visible in the dark as luminescent paint would be, but since tritium is highly visible in the dark, it all works out.
The front sight, in particular, has a thicker band of PVC, extending almost all the way to the edge of the sight, hence the name "Big Dot." It was designed this way to make it easier to line up with the back sight, the top of which has a shallow V shape in which to center the front sight rather than the more traditional notch. 
Still, most people don't find i-dot sights as accurate as three dots. The size of the front sight makes it difficult to track small targets, especially at much distance, so DXT Big Dot Night Sights are best suited for close range.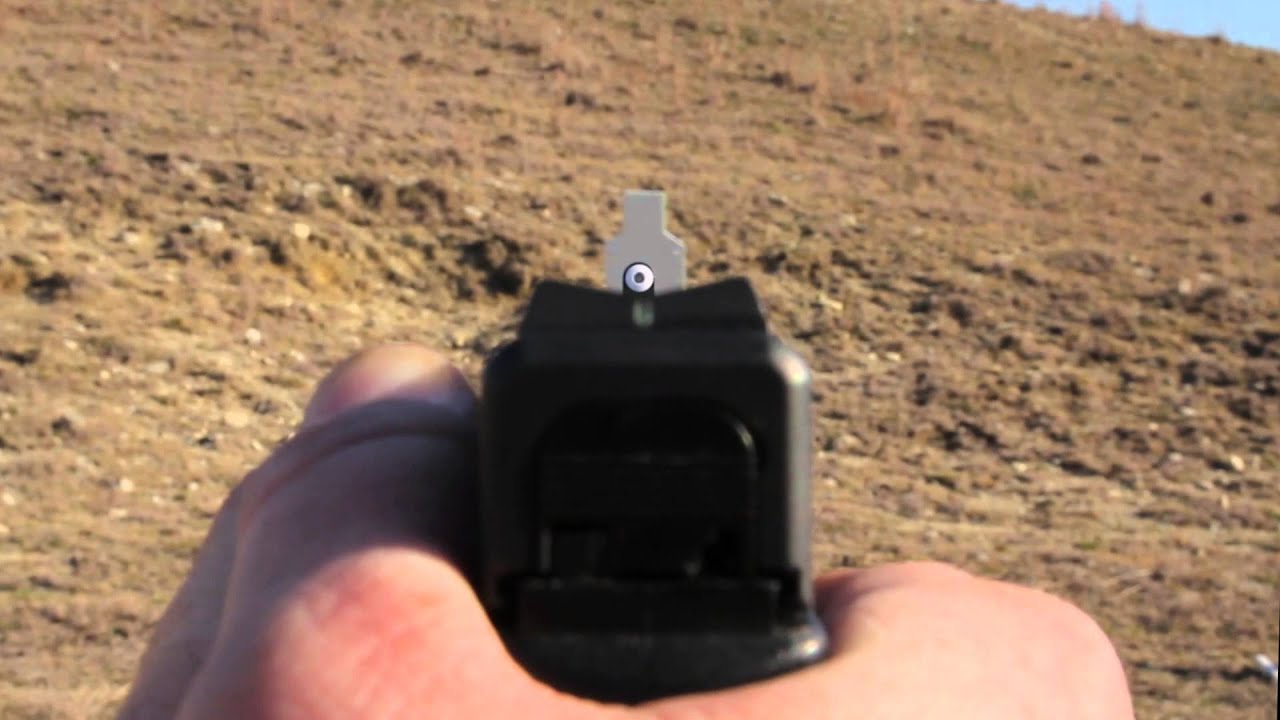 On the other hand, they have a low profile, snag-free design that easily fits into a standard Glock 19 holster, they come in suppressor and optic height options, and they're easy to install with absolutely no special tools required.
This is another three-dot sight system like the Trijicon HD XR Night Sights, but TruGlo Brite Site TFX Pro Night Sights are somewhat unique in that they hybridize fiber optic and tritium sights, combining the best features of both into the same set of night sights.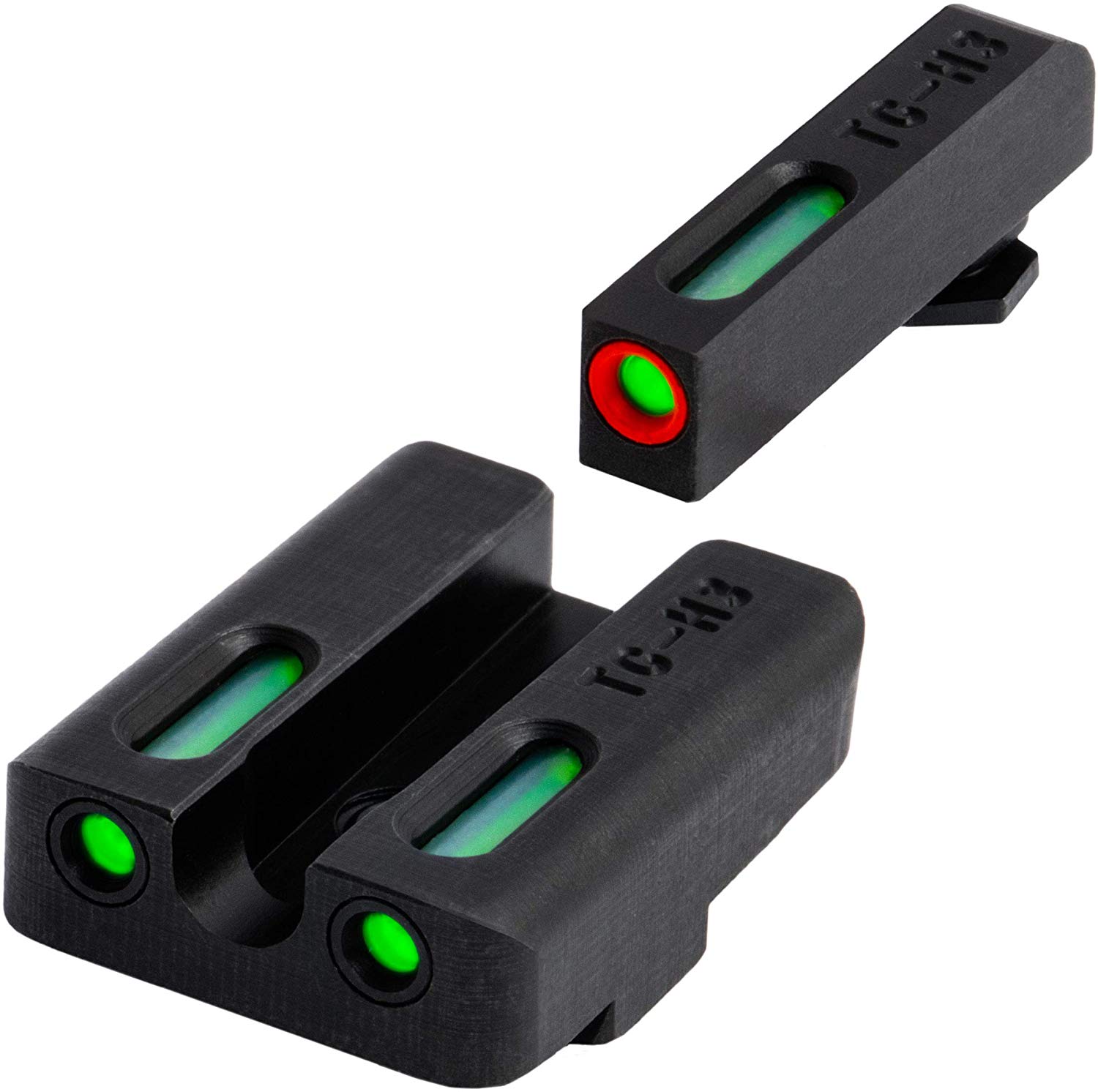 TruGlo Brite Site TFX Pro Night Sights
Pros
Oange-red fiber optic ring
Hermetically sealed tritium lamp
Angled edge for one-handed sighting
Cons
Taller than average, so may snag easier
The front sight has a hermetically-sealed tritium lamp surrounded by contrasting orange-red fiber optic ring. The fiber optics transmit light from tritium, making the sight brighter so it's faster and easier to use.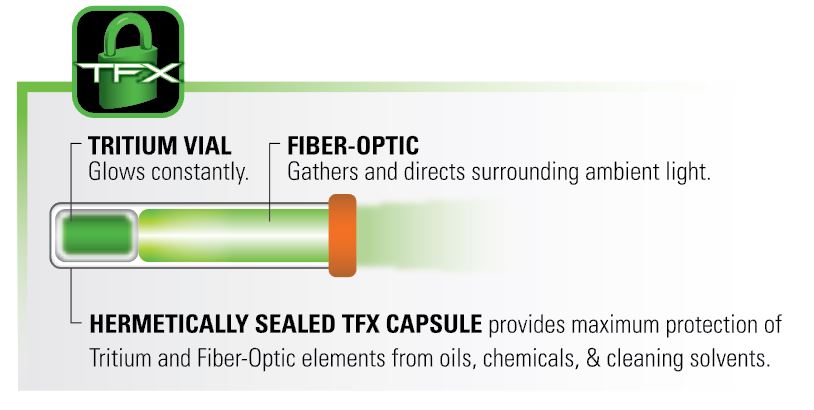 This combination is truly eye-catching and, in fact, some shooters say that it can be overwhelming during the day, so you might want to skip it if you have sensitive eyes.
On the rear sight, two more hermetically-sealed tritium lamps sit on either side of the U-shaped notch. The rear sight also has an angled edge for one-handed sighting in emergencies.
Both sights are made from CNC steel with an anodized finish to protect them from scratches and abrasions. Iron housing surrounds the tritium and fiber optics, protecting them from impact and recoil.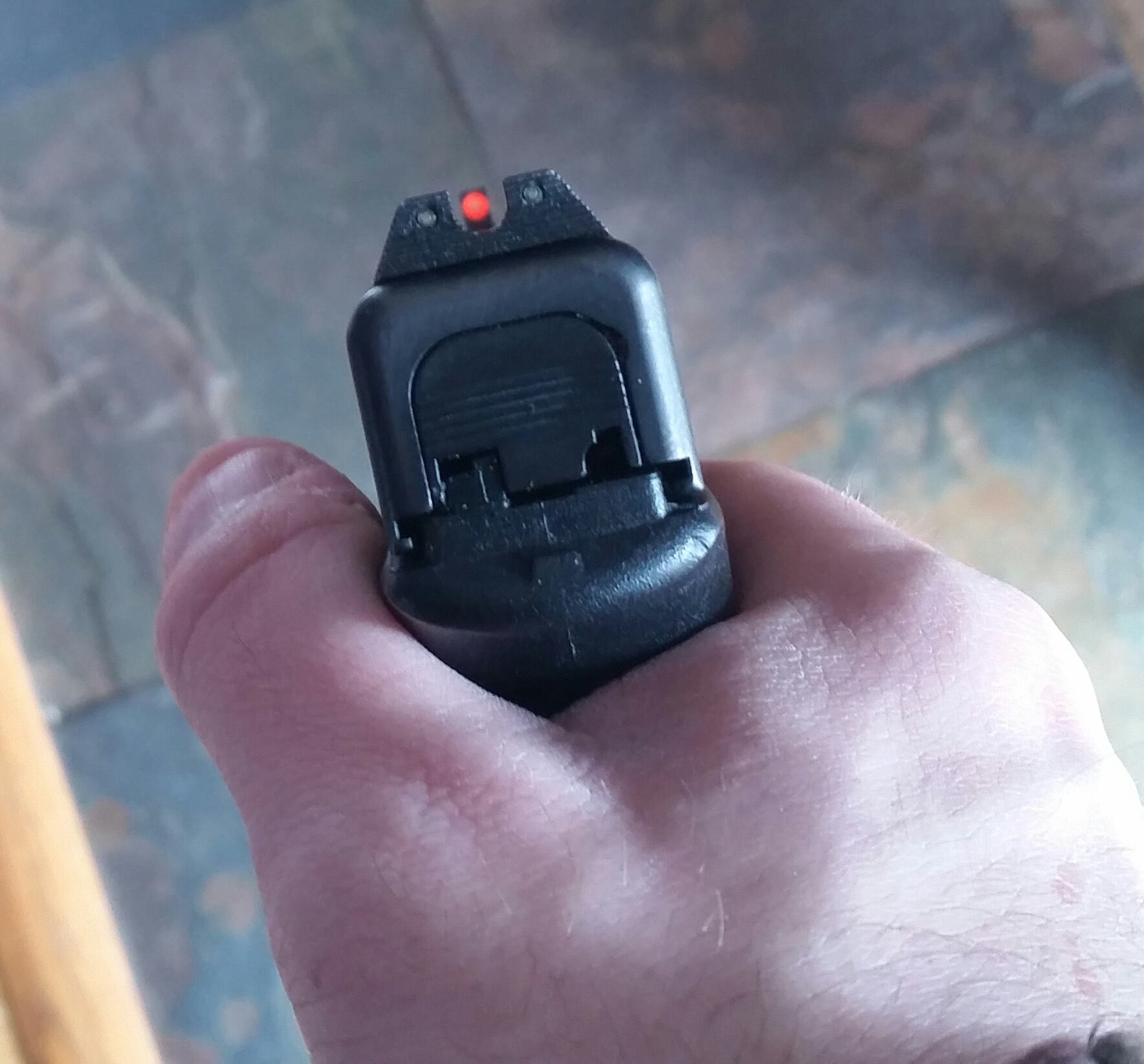 The front sight is raised for faster, easier target acquisition so these sights are taller than the standard ones. This means they may not work with all holsters and increases the risk of snagging on the holster or your clothing when you draw your weapon, but the outer corners of the sights are rounded to help prevent this.
And as an added bonus, these sights are very easy to install.
All of these features come at about the same budget as the Trijicon and XS Sights sights that we've already discussed, but if these first few options are all out of your price range, don't worry. These next couple of options are great sights at more accessible price points.
At only about $75, these budget-friendly night sights from AmeriGlo are a great value, which probably explains why they're one of the most popular night sight sets for the Glock 19.
AmeriGlo Pro-IDOT Sights are two dot sights and kind of a mix of the three sights that we've already talked about:
You line up the lamp on the front sight above the lamp on the rear sight like with the XS Sights DXT Big Dot, though the lamp on this rear sight is round rather than elongated.
The rear sight uses a U notch like TruGlo Brite Site TFX Pro Sights and Trijicon HD XR Night Sights (but squared at the bottom) instead of the shallow V that the DXT Big Dot uses. 
Also like the TFX Pro Sights, the front tritium lamp on AmeriGlo Pro-IDOT sights is outlined with fiber optics, though here you get to choose between white, orange, or yellow fiber optics. 
AmeriGlo's tritium lamps are actually even made by Trijicon and have the same aluminum housing and sapphire windows for durability and protection that the tritium lamps on Trijicon's HD XR Night Sights do (with the same 12-year warranty).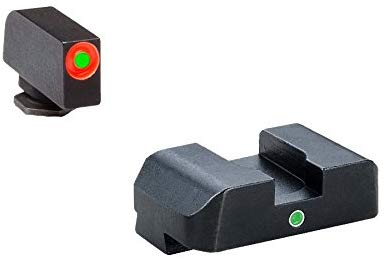 AmeriGlo Pro-IDOT Night Sights
Pros
Great effective range
Full steel alloy sights
Short, compact design
Cons
Harder to line up than a 3-dot system
One thing that's unique to AmeriGlo Pro-IDOT Sights (at least on this list, anyway), however, is that the dot on the rear sight is smaller than the one on the front sight in order to make it clear in low light situations which dot is on which sight.
The dot on the front sight is actually just a touch larger than the one on the standard Glock front sight. This allows more light to pass through the tritium tube so it glows brighter.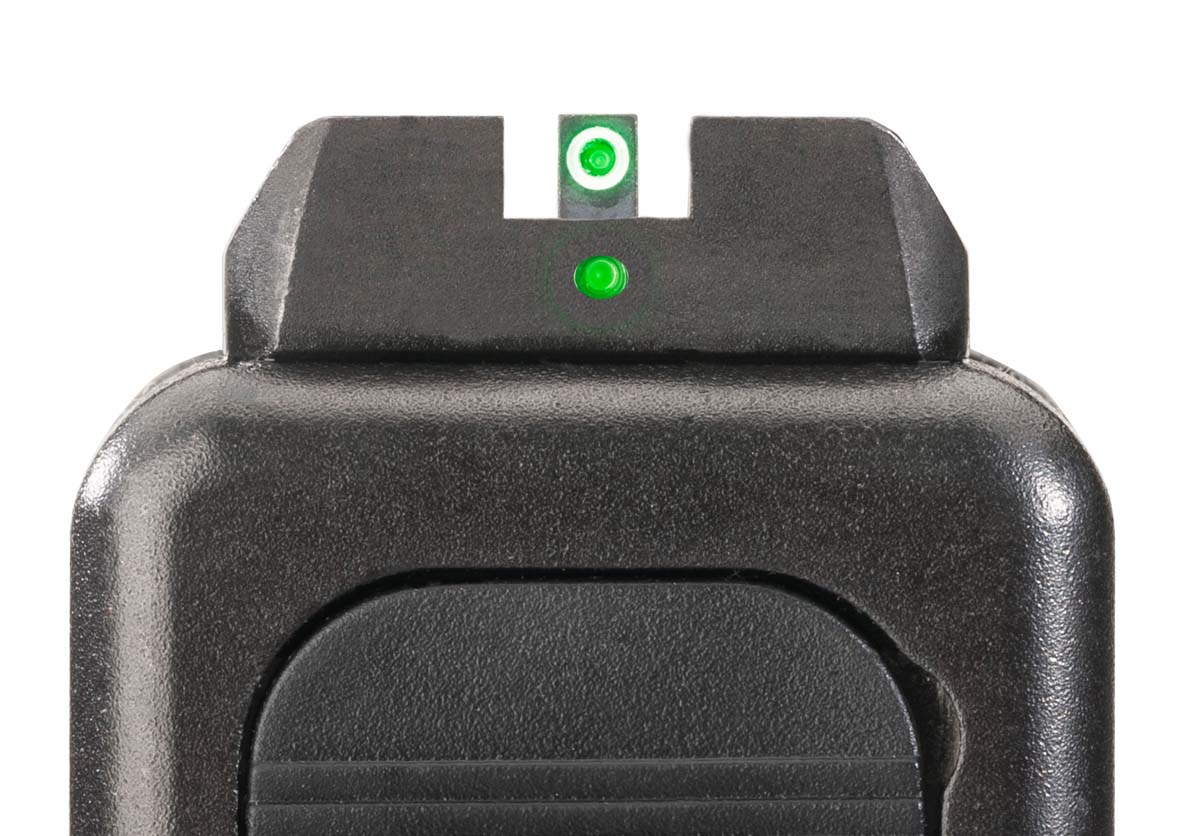 The rear sight is deeper than the standard Glock back sight, stretching all the way back to the end of the slide. This minimizes glare and extends the effective range of the sights to a few dozen yards, making these sights a strong choice for competition guns.
These features make AmeriGlo Pro-IDOT Sights very easy to use, but there may be a learning curve for shooters used to three-dot sights, after which many of those shooters will find AmeriGlo Pro-IDOT Sights faster and easier to use than most three dots.
Both sights have full steel alloy bodies for durability and a corrosion-resistant black oxide finish. They're low-profile (though they still sit higher than the standard Glock sights) and are unlikely to snag or impede drawing or holster use. The short stature of the sights also allows for easy single-hand slide operation in emergencies.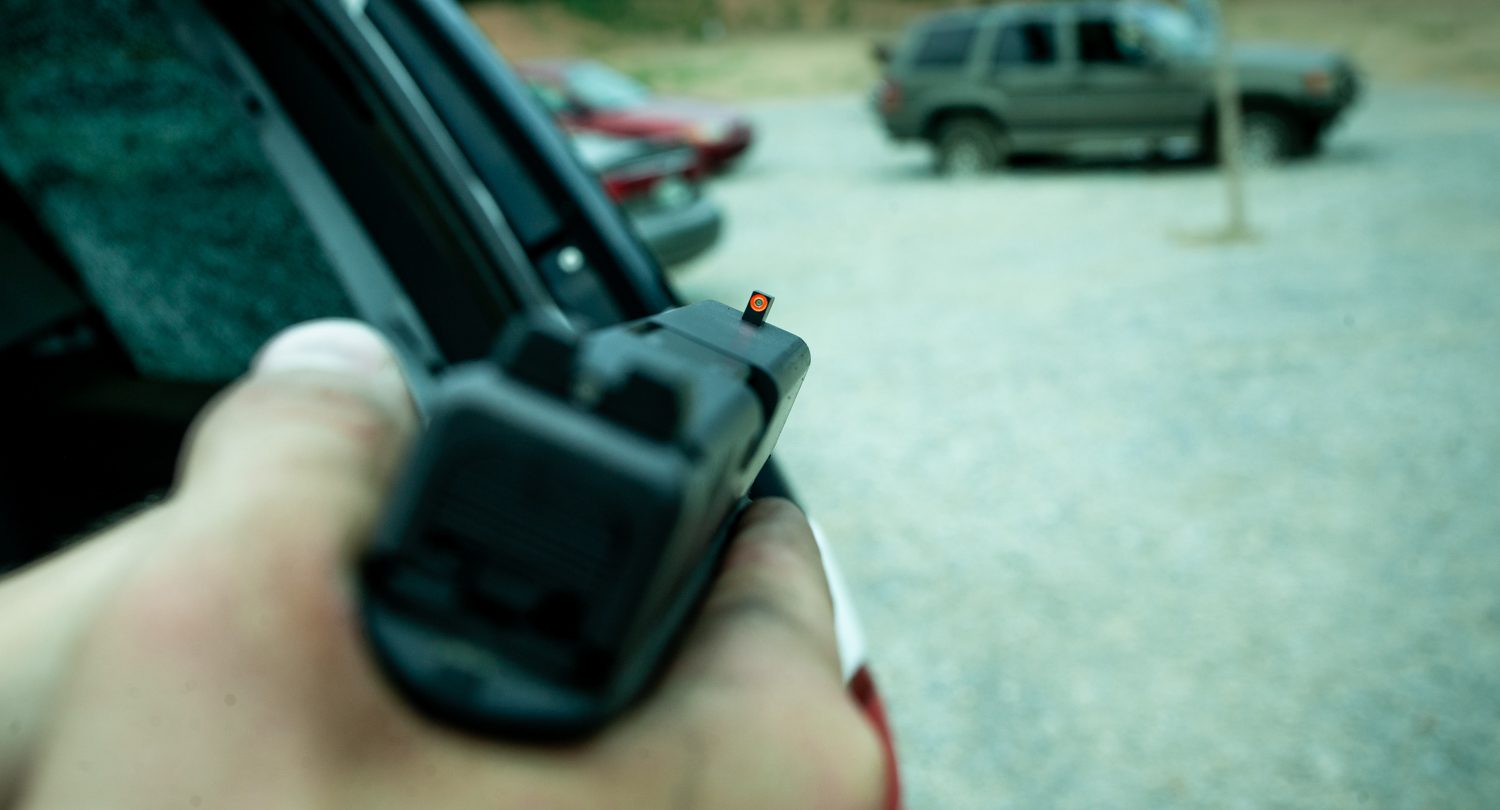 But you don't get all of this at such a low price without at least some disadvantages. 
These sights require dovetail installation, which can be kind of finicky, so you may need to hire a gunsmith to do the actual installing, though it shouldn't set you back very much. Despite that inconvenience, these sights, especially the front sight, still don't attach as securely as the other sights we've discussed so far.
Finally, don't let the fact that the standard Glock 19 sights are less than optimal convince you that you should overlook Glock altogether when searching for upgraded sights: These three-dot sights are the sights that Glock should have just put on their pistols to begin with.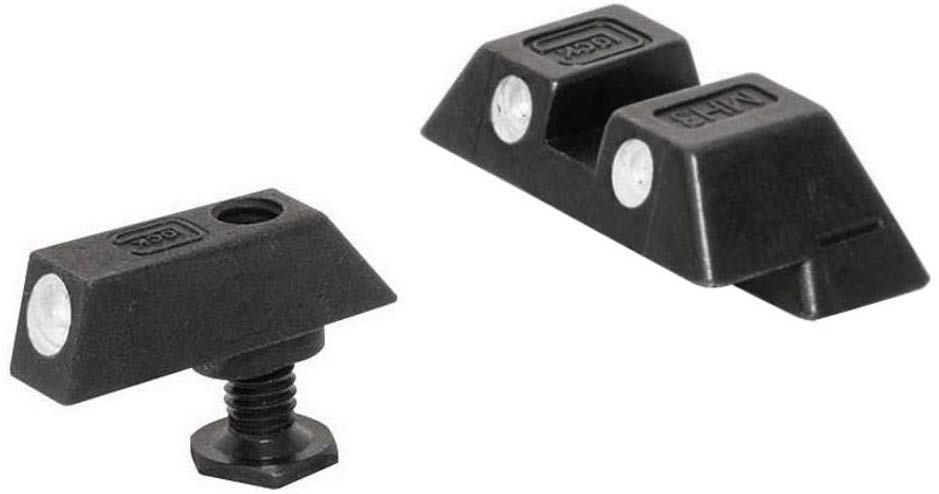 Glock Factory Three Dot Night Sights
Pros
Easy to install
Completely compatible with other Glock OEM parts
Variety of rear sight heights available
But at least they manufacture them for us to make the switch ourselves. These sights feature a simple design, but they're also easy to use, easy to install (with the Glock front sight install tool), and easy on your wallet.
And since they're OEM, you know they're totally compatible with your Glock and will fit securely, plus they look and feel very natural at home on your Glock's slide.
They're made of steel instead of polymer-like the standard sights, so they're much more durable. They also have tritium inserts circled by high-contrast white dots, so they're actually luminescent instead of just painted, making them great for both day and night.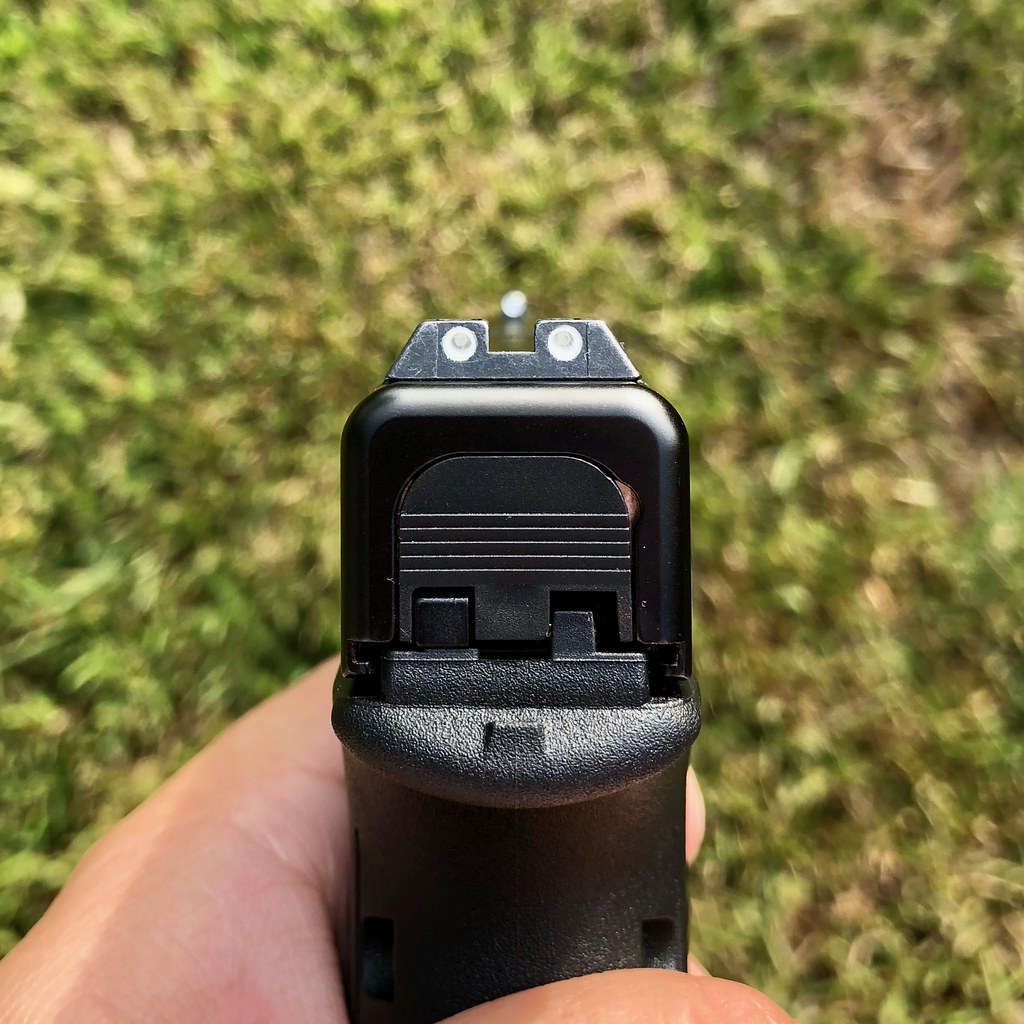 The tritium isn't as bright as others on this list and takes longer to fully charge in the light, but it's hard to beat for the price. Similarly, the notch in the rear sight is narrower than those on the other sights that we've talked about here, but it's still plenty wide enough for prompt target acquisition.
Despite the lack of extra bells and whistles, these sights are accurate, provide fast target acquisition, and are functional in a wide variety of light conditions. 
The front sight only comes in one configuration, but the rear sight is available in 6.1mm, 6.5mm, 6.9mm, and 7.3mm heights.
We prefer the 6.5mm as a nice middle of the road size for the G19, but you can also buy the front and rear sights individually quite affordably, so you can play around with the different heights to see what suits you.
Parting Shots
When it comes to tricking out your Glock, you're always going to have a ton of options available, and the ability to meet any budget. Even if your wallet is a little light, you can still get some fantastic night sights for your Glock 19–you just have to know where to look. 
Fortunately for you, we've done all the work for you!
What night sights is your Glock rocking? Have you had a really good (or really bad) experience with another sight Share it all in the comments below. Not quite what you were looking for? Then head on over to our list of recommended pistol red dot sights for something a little different.