If you're looking for the perfect, all-around gun cleaning kit to keep your pride and joy all shined up, we've got some bad news.
There isn't one.
We know, we're as shocked as you are that not one kit met our extraordinarily high standards for what constitutes the perfect gun cleaning kit, but now it's time for some good news–we found four of them that got pretty dang close.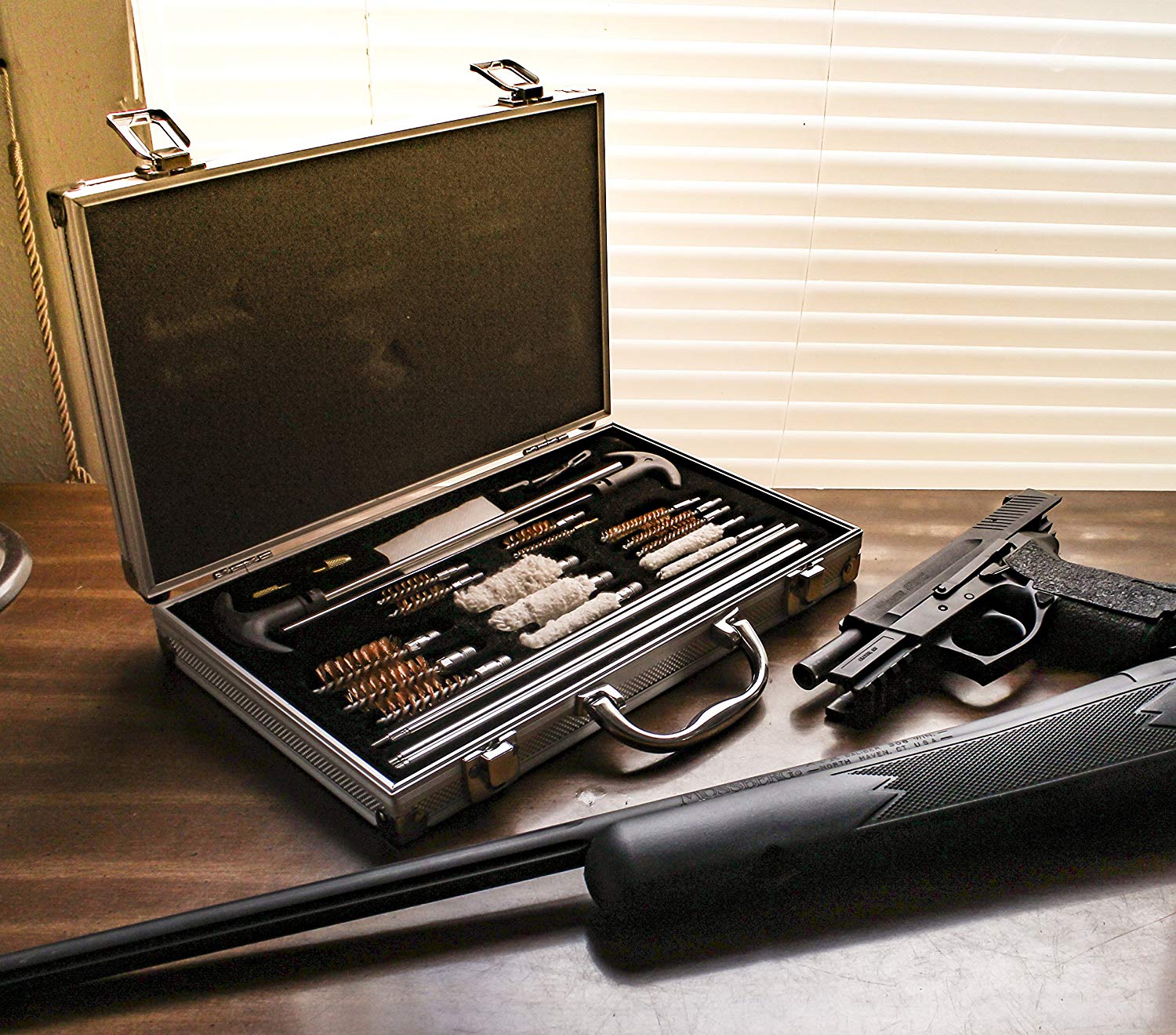 We're going to go over them and help you find the one that's best for your needs, as well as talk about some of the stand-alone products you need to make your kit truly perfect. We'll also go over a few tips for using these kits.
Whether you've got a pistol, a shotgun, a precision rifle, or a trusty AR, we're going to talk about what you need to keep it running smoothly and make cleaning a breeze.
How to Clean a Gun: The Basics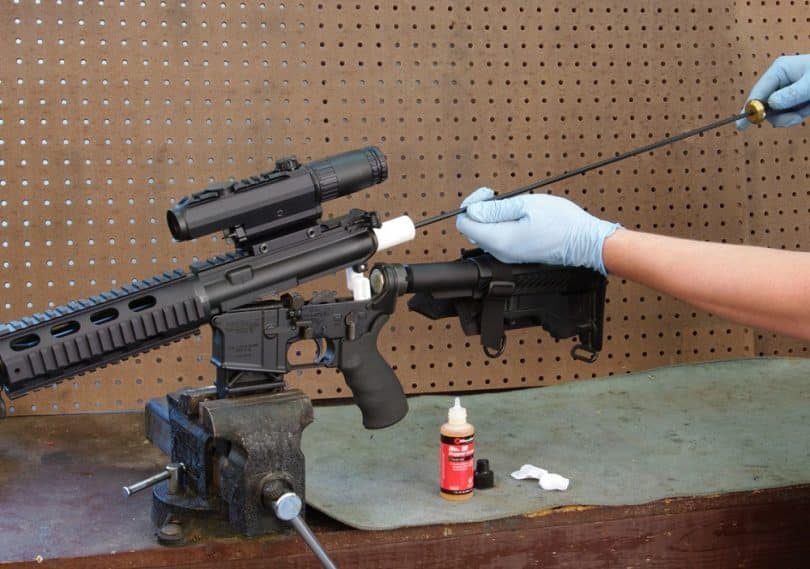 While cleaning your specific firearm may have its own intricacies, there are still a few basics that every gun needs. Whether you're cleaning a handgun, a rifle, or a shotgun, these basic steps will still apply:
Unload and strip your firearm into the major component groups.

Run a solvent through your barrel with the correct brush.

(Optional) Wet a clean patch with copper remover, run it through your barrel, let it sit for a few minutes, and run another clean patch through the barrel to remove everything.

Use a towel, cleaning patches, and Q-Tips to wipe everything off as best you can.

Spray solvent on the dirty areas and wipe off until your cloth or patch comes away clean.

Run a bore brush through a few times.

Using a clean patch, run it through the barrel until satisfied you've removed all the grime and solvent.

Lightly oil your rails, springs, and bearing surfaces as necessary.

Run an oily patch through the barrel.

Reassemble your gun and perform a safety check.
How often you clean is up to you, but we recommend cleaning every few hundred rounds. Your gun will probably run just fine for thousands of rounds with minimal maintenance, but why do that if you can keep it in top shape with a few simple steps?
Here's a great video going over the basics of cleaning and lubing your gun:
What Tools Do You Need to Clean and Lubricate a Gun?
Cleaning kits contain all the tools you need to keep your gun clean, but what are they? Let's take a closer look at the essentials for keeping your firearm in top shape.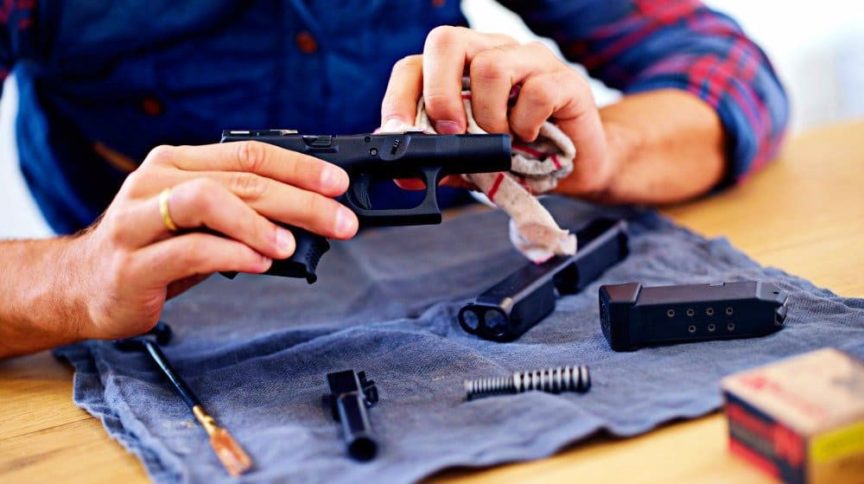 Cleaning Rods
There's a variety out there, but there are just a few things to know. You want a rod that is made of a softer material than your steel barrel, such as brass or carbon fiber. This is to avoid damaging your barrel, crown, or rifling.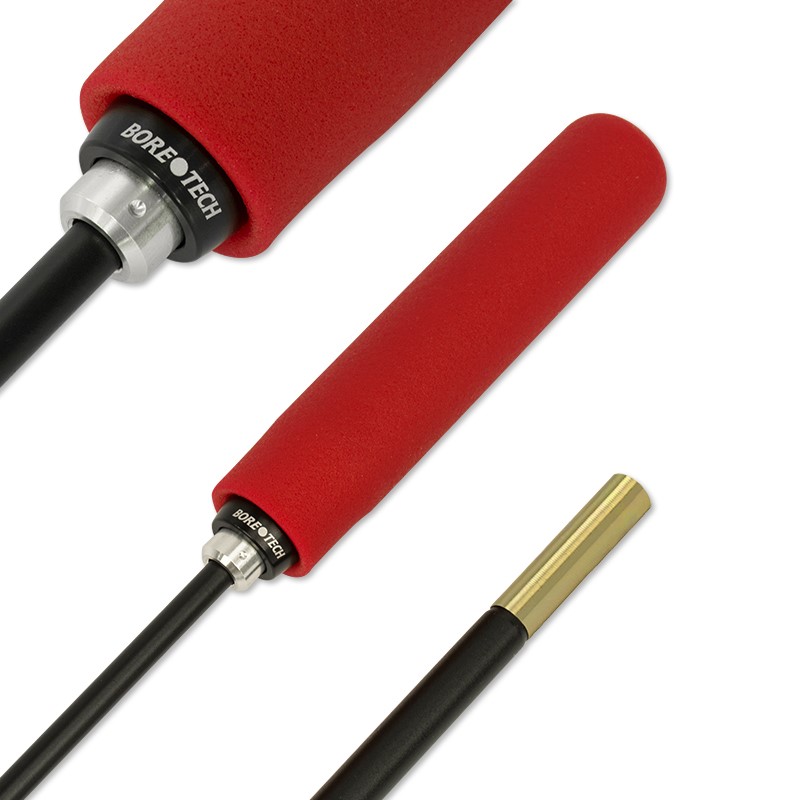 A segmented rod can be adjusted for barrels of all lengths, but a solid, rifle-length rod doesn't have any joints that might catch oh the inside of the bore when cleaning your long guns.
Loops or Jags
These attachments, commonly made of nylon or brass, fit into the end of your cleaning rod and hold cleaning patches in place for use.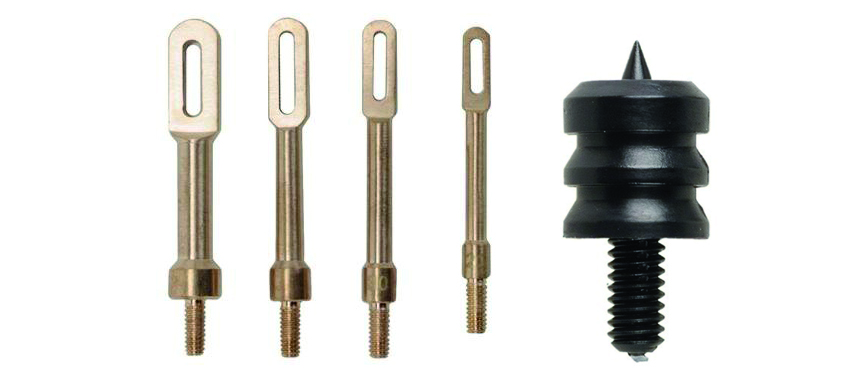 Jags have a small point at the end, which is pushed through the middle of a cleaning patch and holds the patch in place when it is pushed through the barrel. A loop is just that–a narrow loop, like the eye of a needle, through which you thread your patch.
Patches
Cotton patches have practically limitless uses for cleaning your gun and they come in bulk, so stock up. You want to use a fresh patch every time you need one, since reusing dirty patches will just spread fouling around and not actually clean.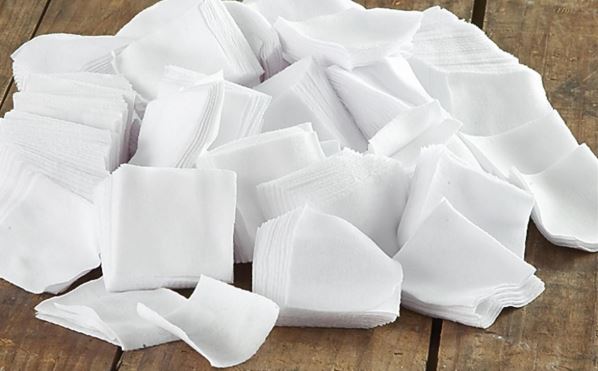 They can be used for cleaning your bore, wiping down your action and rails, and even cleaning the outer surfaces of your gun.
Cleaning Brushes
Brushes are a necessary part of cleaning, but you also want to make sure that they won't damage your barrel. Cleaning brushes screw onto the end of your cleaning rod so you can scrub down your bore.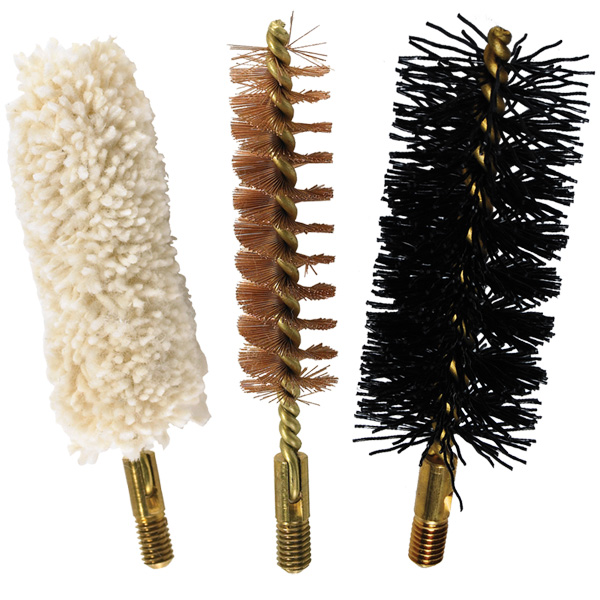 Bronze and nylon brushes are pretty popular, though bronze brushes are better for heavier cleaning. You'll need a brush for each caliber of gun you clean, and they'll need to be replaced as they become worn out.
Cleaners and Lubricants
It seems like there's a huge variety of cleaners, solvents, degreasers, and lubricants out there, and everyone has an opinion on which is the best. Here's what each one does, and why you need it:
Solvents

remove fouling, such as lead and carbon, from the bore. You apply a solvent first.

Degreasers

remove dirt and oil from all the moving parts of a gun, leaving a fresh surface. These are applied second.

Lubricants

lubricate moving parts and protect against rust and wear. You apply lubricants after cleaning.

Protectants

repel water and help prevent rust and corrosion. They are applied last if you expect to expose your firearm to harsh or very wet environments.

Utility Brush
These brushes are designed to get into all the nooks and crannies of your gun, such as slide grooves and trigger parts. You can find these brushes in nylon for general cleaning and brass for tougher cleaning jobs.
Best Gun Cleaning Kits
Now, the part you came here for–our top picks for the best complete gun cleaning kits! Here are the ones we think will get the job done for you, an why we like them.
Our top choice for a cleaning kit is the M-Pro 7 Tactical Gun Cleaning Kit since it comes with everything you need, including the oil and cleaner.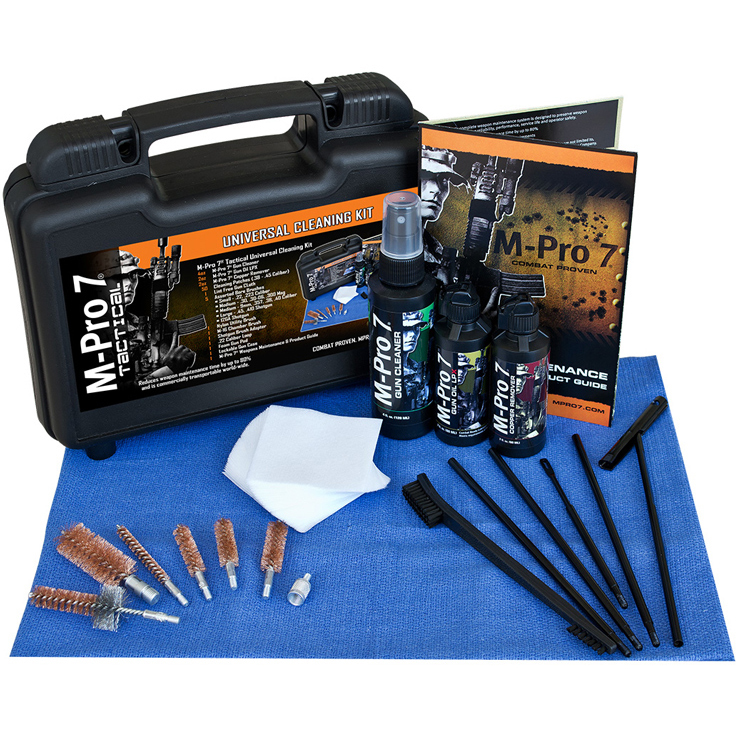 M-Pro 7 Tactical Gun Cleaning Kit
Pros
Includes a lint-free silicone cloth
Comes with oil, cleaner, and copper solvent
Brushes to clean every caliber
Cons
Case is a tight fit if you want to add your own supplies
Some other reasons this kit plain rocks include the clearly labeled brushes and tips, which go from .22 to 12 gauge and the tough clamshell case that protects all your gear. You even get a silicone cloth to wipe down the surface of your gun. 
On a budget? The Winchester Cleaning Kit is a pretty great deal. It covers every caliber from .22 to 12 gauge. It comes in a nice enough case, but there's definitely no mistaking this kit for high-end.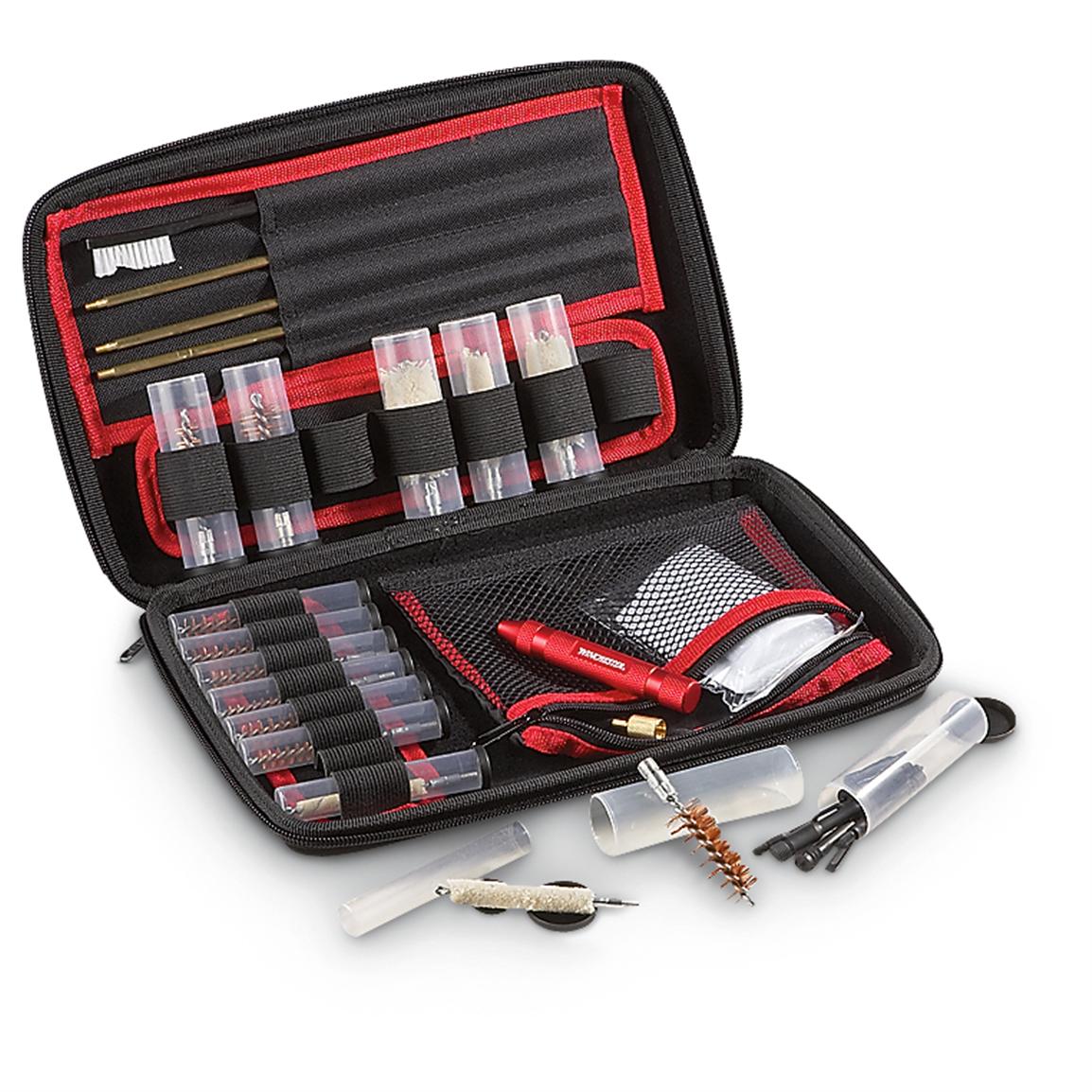 Winchester 32 Piece Universal Cleaning Kit
Pros
Huge variety of brushes
Very affordable, complete kit
Cons
Doesn't come with oil or cleaner
It comes with two sets of barrel-safe brass rods and copper brushes. The brushes are surprisingly good quality and are marked with the caliber. 
The kit comes with patches, but you'll definitely need to get more, especially since you need lots of them. You'll need to add your own oil and gun cleaner to the kit, but good luck fitting them in the box.
We'll talk more about what cleaners and lubricants we recommend below, but we think you can't go wrong with M-Pro 7.
So, there's a lot of these green canvas gun cleaning kits running around under different brands, and they're all pretty much the same thing–an ultra-basic cleaning kit that's a great bargain, especially for a backup kit.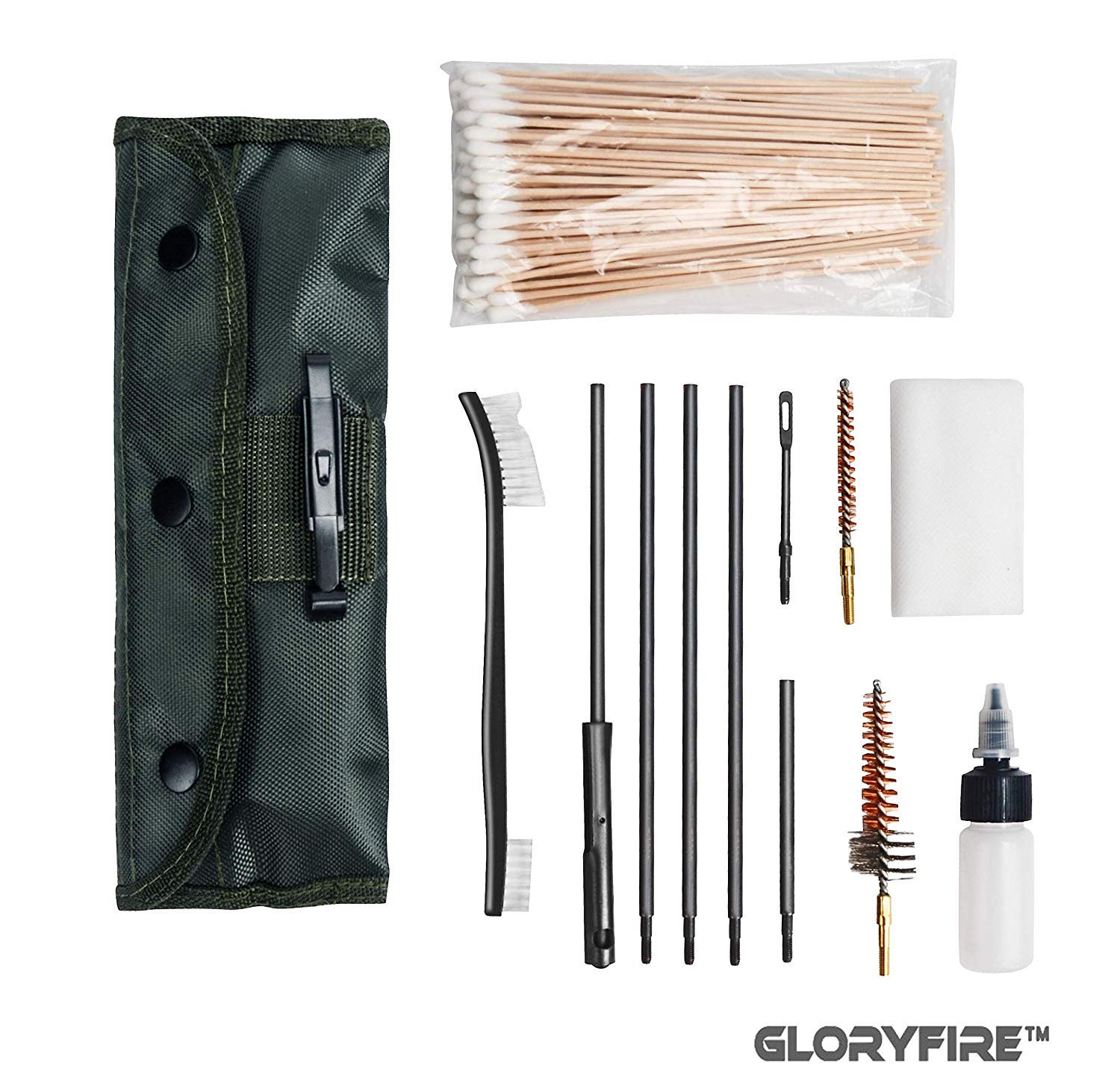 Gloryfire Universal Gun Cleaning Kit
Pros
Basic kit for cleaning a variety of guns
Compact size for a portable kit
Sturdy canvas pouch
They come with swabs, a 5-piece metal cleaning rod, a loop, a brass brush, a chamber brush, a nylon utility brush, and an empty bottle for oil or solvent.
You'll need to add your own cleaner and lubricant, as well as plenty of cotton patches. We probably wouldn't keep this around as our only cleaning kit, but its compact size is perfect for tossing in a range bag to clear issues that may come up.
If you only own a handgun, or need a super compact kit, try out the Real Avid Gun Boss Handgun Cleaning Kit. It'll handle any pistol between .22 and .45 caliber, so your home defense handgun, CCW, and range plinker all are covered.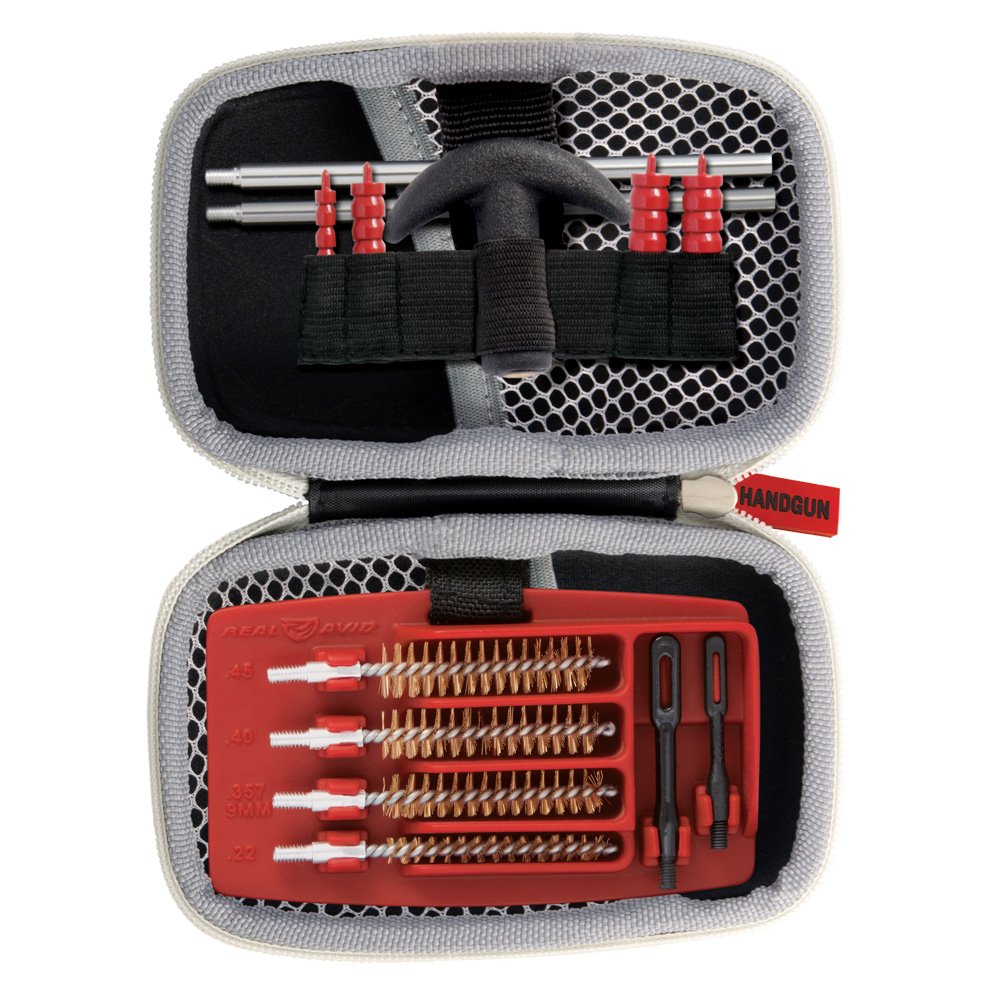 Real Avid Gun Boss Handgun Cleaning Kit
Pros
Teeny kit is great for tight storage spaces
Contains brushes for all handgun calibers
Sturdy tools and kit
Since the cleaning rods are sized for handgun-length barrels, it's a bit limited, but that also means that the kit is teeny tiny. 
We liked how sturdy everything felt, so we feel like this box can take a beating, even in your trunk or range bag. 
What we didn't like, however, is that it didn't come with cleaner or oil, and you're pretty much out of luck fitting anything else in the petite case.
Best Gun Cleaner (And Oil, Grease, and Copper Solvent)
Everyone out there has a favorite gun cleaner and lubricant, and they all have some pretty strong opinions about why their picks are the best and everyone else is wrong.
We're pretty sure you don't need to be able to eat your gun oil, and it's quite possible that what they issued you in the military thirty years ago might not be (or even ever was) the best of the best.
So, let's talk about what we've tried, and what we've found we liked.
Like most shooters, we started with good ol' Hoppes No. 9. It's cheap, it's a great cleaner, and it's easy to find. It's also incredibly corrosive and will trash your hands if you don't wear gloves. The fumes can also get to you if you're not in a really well-ventilated area, too.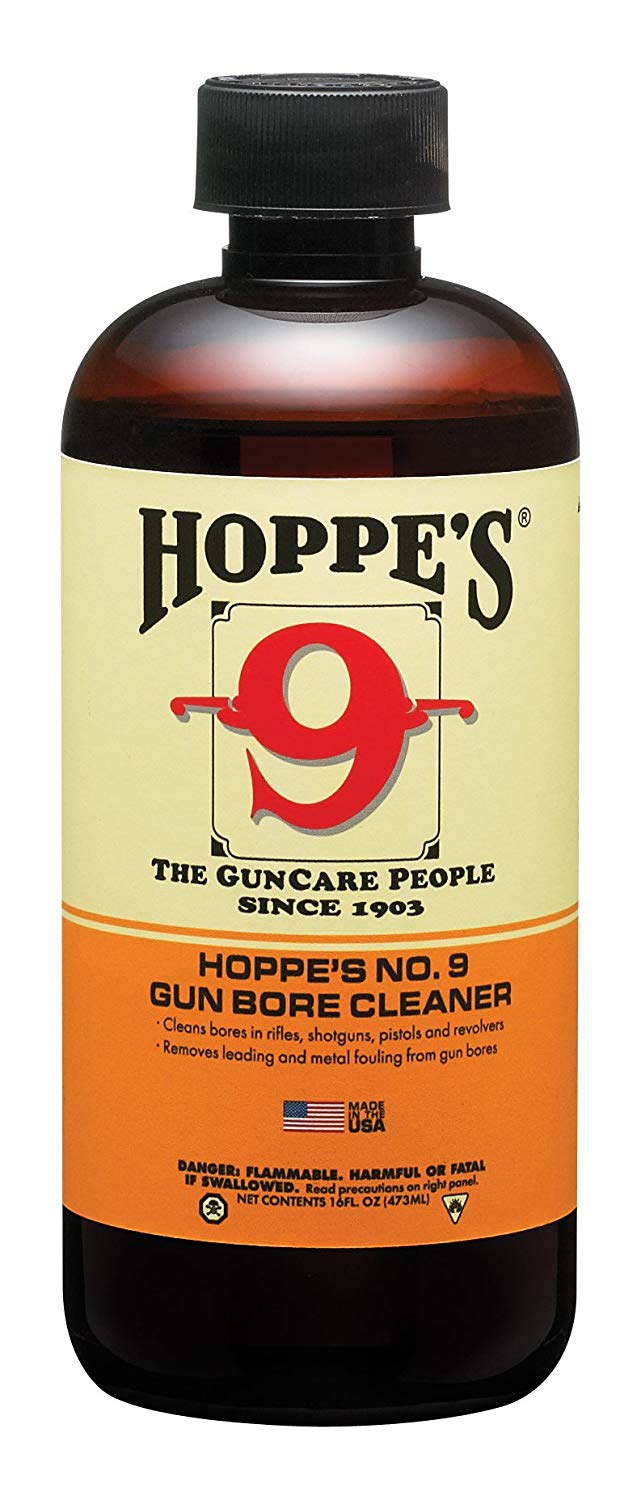 Hoppes No. 9
Pros
Heavy duty cleaner
Affordable and easy to find
Rapid penetration for fast cleaning
Our reigning favorite, M-Pro 7 Gun Cleaner is just as good as Hoppe's, but way less caustic. For us, we've enjoyed using it a lot more, especially when cleaning guns indoors. We do recommend wearing gloves, though, even if this is safer for your fingers.

M-Pro 7 Gun Cleaner
Pros
Pleasant scent
Works rapidly
Doubles as a copper solvent
Cons
Leaves a sticky residue if not wiped away
We're big fans of M-Pro 7 around here, and that includes their gun oil. It's cheap, it works, it's biodegradable. We've even found that it smells pretty good, so cleaning guns in the house with this stuff probably won't get you in too much trouble.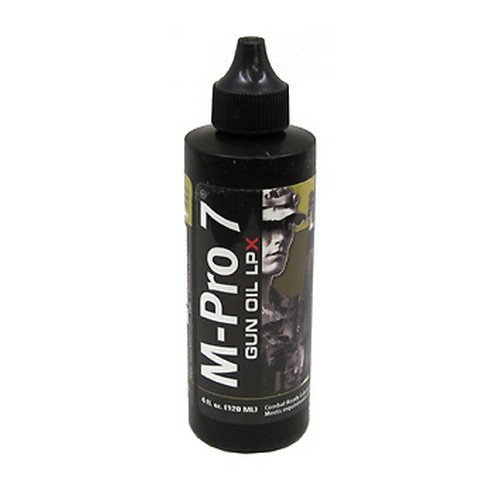 M-Pro 7 Gun Oil
Pros
Biodegradable
Pleasant scent
Easy to apply
Militec-1 isn't your typical gun oil. This "dry impregnated lubrication" uses a dry synthetic molecular bond to adhere and lubricate your gun, which means that it leaves no residue behind when properly applied.

Militec-1 Lubricant
Pros
Won't affect tolerances
Bonds to metal to protect it
Smells nice
The application process is a bit complex and involves heat, but done correctly, you will see why this product has a cult following. And it even smells nice.
Other Popular Options
There are, like we said, a ton of options out there. While the above cleaners and oils are our favorites, there are some others that are pretty popular, too. This list also includes some combo CLPs, which clean, lubricate, and protect.
Gun Grease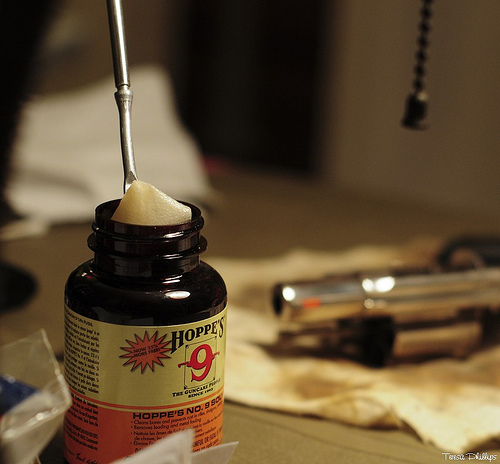 Ever hear the old adage, "oil if it turns, grease if it slides?" Well, guess what kind of friction your slide rails are being exposed to? That's why we like to use gun grease for our rails, since it stays on longer under normal use. We like:
Copper Cleaners
You don't need these products often, unless you're precision shooting, but if you notice your gun's accuracy degrading, it might be time for a copper cleaner, like:
Useful Extras
As always, we have a few recommendations for some things you might find useful to add to your kit. The kits above are great, but sometimes, you just need a little bit more.
We briefly touched on why a one-piece rifle cleaning rod can up your cleaning game for precision rifles above, but we didn't make a recommendation. We like the Tipton Rifle Cleaning Rod for our precision rigs, since the solid construction means there's nothing to get caught or scratch your lands and grooves.

Tipton Rifle Cleaning Rod
Pros
Sturdy
Solid construction prevents snags and scratches
Available in a variety of lengths
Bore snakes are great space savers for compact kits and can come in handy for keeping your barrel clean. These tools take care of the large particles, scrubs your barrel clean, and swabs out the residue, all in one pass. If you're short on time or on patience, bore snakes, like the Hoppe's Bore Snake, are the way to go.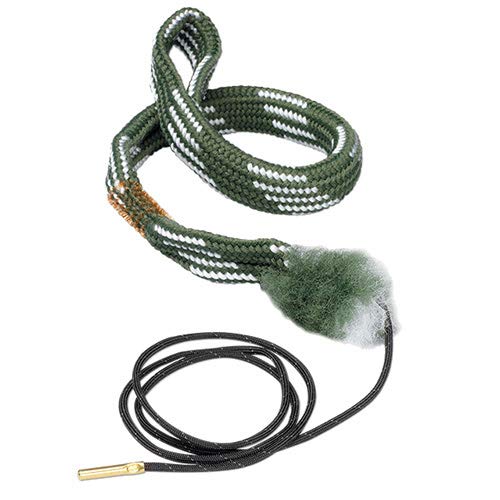 Hoppe's Bore Snake
Pros
3 steps of cleaning in one
Fast to use
Space saver
Some people don't like bore snakes because you're running something through your barrel that was run through barrels before–kind of like using a dirty cleaning patch. Bore snakes aren't actually that hard to keep clean though, so you can have a clean pass, every time.
Simply throw the bore snake in a delicates bag or a pillowcase and wash them in the washing machine on its own.
You can never have enough cleaning patches. Seriously, just add Hoppe's Cleaning Patches to your Christmas list from here 'til eternity, because you'll use them. While you can use a piece of old T-shirt in a pinch, patches are cheap, easy to keep on hand, and pre-cut for all your cleaning needs.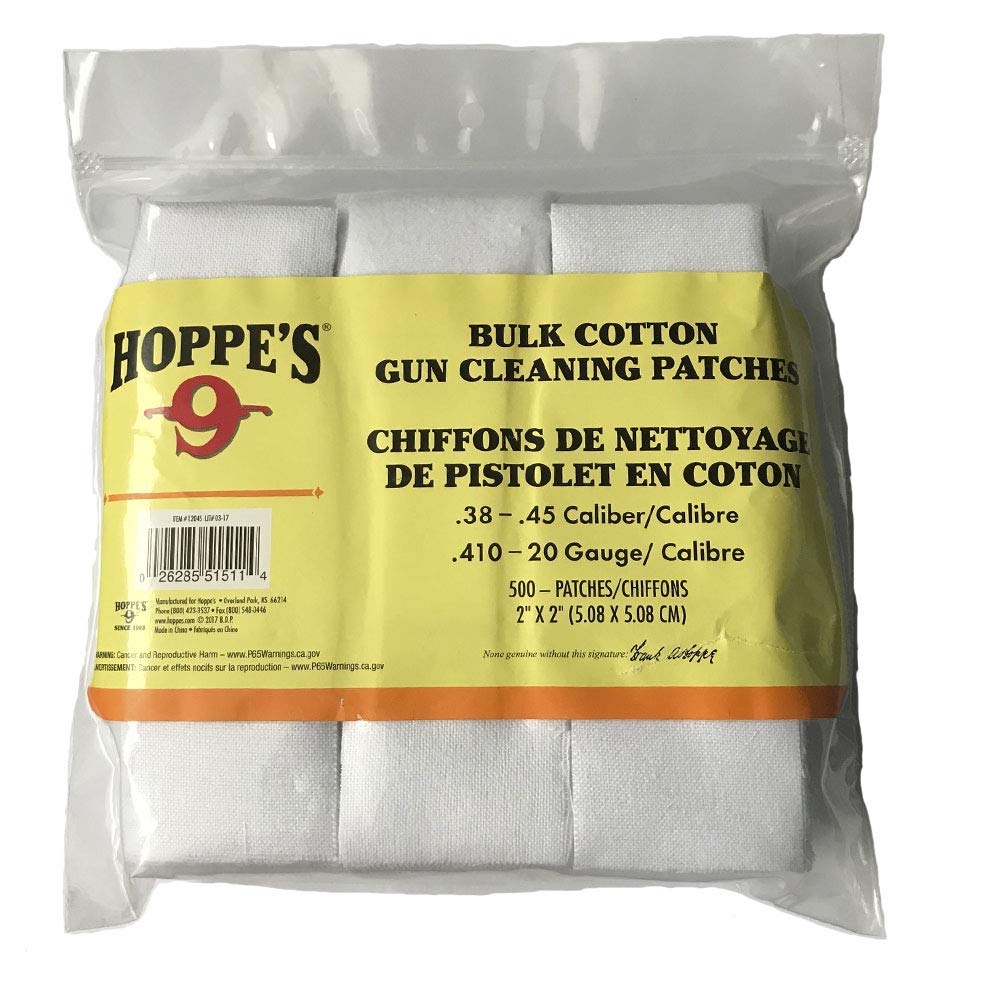 Hoppe's Cleaning Patches
Pros
100% cotton
Bulk pack for all your cleaning needs
Cons
You're buying these for the rest of forever
AR's are known for being notoriously dirty guns, and the carbon buildup they can get is no joke–but neither is the Real Avid MSR Scraper. It'll chew through even the toughest carbon deposits to help keep your AR-15 shooting and shooting and shooting.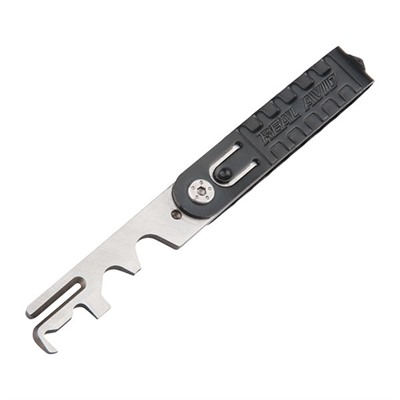 Real Avid MSR Scraper
Pros
Clears carbon build up easily
Precision cuts to reach every corner
Sturdy construction
Finishing Touches
So, to sum it all up–we're pretty sure the perfect gun cleaning kit doesn't exist, but we're a big fan of the M-Pro 7 kit. It'll handle all your needs in style.
For those with only pistols to worry about, the ultra-compact Real Avid Handgun kit is a space saver and cuts down on unneeded tools.
A great budget buy is the Winchester Universal kit or the Gloryfire Universal kit, especially for those looking to start small.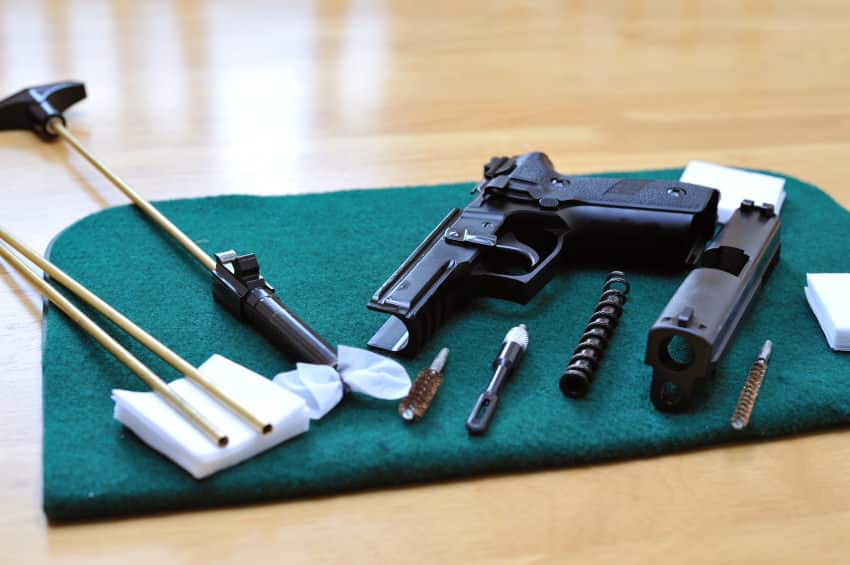 So that's it–let us know in the comments below if you've got a favorite kit… or a favorite oil and cleaner. Don't forget to check out the best precision rifles for beginners!